---
Miami Heat President Pat Riley Confirms LeBron & Savannah James Are Having A Girl!
Posted: 19 Jun 2014 11:25 PM PDT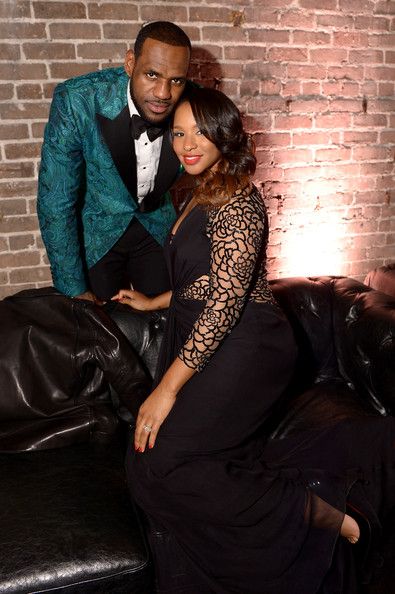 LeBron James has a busy off-season ahead. He's got decisions to make about his next career move. But one decision was already made for him: The gender of his & wife Savannah's newborn baby.
Deets inside..
We've been talking about the new James kid on the way since the top of 2014. And sources made it known that the couple really wanted a girl, their wishes have been granted.
While giving a post-game interview with media Thursday about what he did when the Heat lost the NBA championships, the candid Pat Riley let something ut of the bag.
"Savannah now is going to have a little baby girl to join her in the fight against the two boys and LeBron, which she needs."
Oh? Sweet! Hope this little reveal doesn't affect Bron Bron's decision about whether or not he will become a free agent. Since the Heat execs can't keep a secret...
Congrats LeBron & Savannah!
Photo: Getty
Meagan Good SIZZLES On The Cover Of "Rolling Out," Talks Being A SEXY Preacher's Wife, Going NUDE For A Role & Those Religious Critics
Posted: 19 Jun 2014 04:19 PM PDT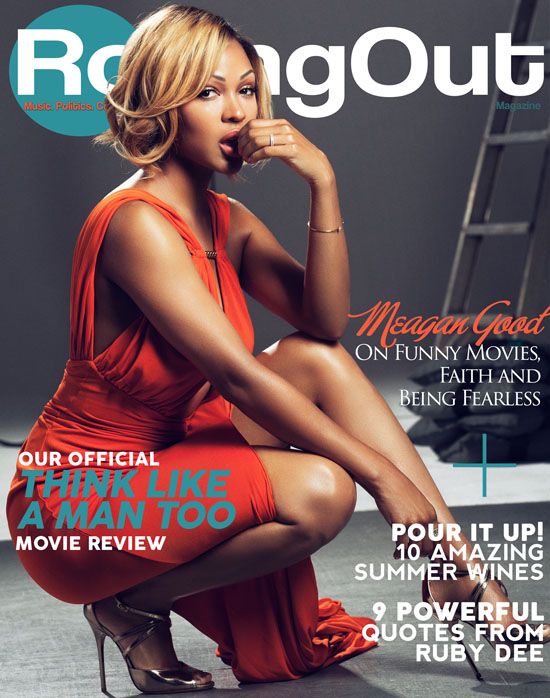 Meagan Good is heating up the magazine circuit with her brand new cover for Rolling Out magazine. And she's dishing on what it's like to be a Preacher's wife while being sexy, double standards aimed at black actresses in Hollywood and whether she'll ever go nude for a movie. All that and more inside….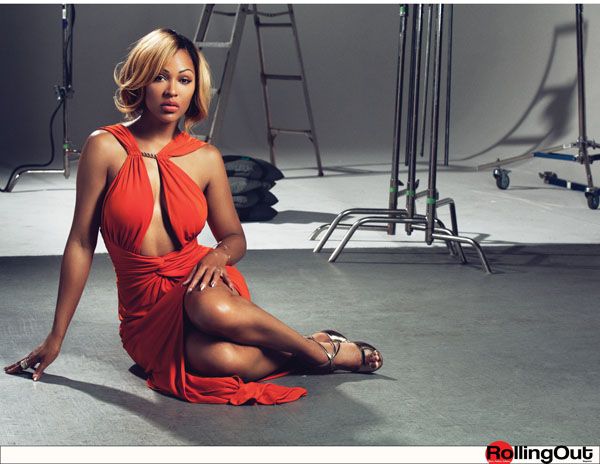 Meagan Good has been all over lately, hitting up tons of TV shows and movie premieres, promoting the summer flick Think Like A Man Too. And to continue on her media campaign, she landed the cover of the newest issue of Rolling Out magazine. And she looks HOT.
Rocking a seductive plunging burnt orange gown and vibrant yellow high-split gown, the sultry TLAM2 star discussed how she feels about those who criticize her on her wardrobe as a minister's wife and how she lives her life to please God and no one else.
She dished on whether or not she'll ever go completely nude for a movie role, double standards directed at black Hollywood actresses and also what she has learned from being married to her preacher/film executive husband, DeVon Franklin.

Here are the highlights:
On being sexy:
"I really don't think there's anything wrong with being sexy," she says matter-of-factly. "God created our bodies as women. He created us to be beautiful, to be sexy, to be powerful, to be fearless — to be amazing. I do respect and understand the fact that when you come into the sanctuary, you need to be dressed appropriately because you are not the star — Jesus is the star. That I agree with 100 percent." While she understands that dressing appropriately is necessary, Good also wants more people to recognize that "appropriate" is always relative. Especially outside of Sunday morning service.

On "religious" people who criticize her:
"I feel like religion can get very judgmental and a lot of people don't approach you with love," she says, pausing thoughtfully. "I try to be conscious of the responsibility I have as a Christian, but if I did everything everyone told me to do or tried to please everyone, I couldn't have my hair a particular way, I couldn't wear certain clothes, I couldn't play certain characters, I can't hang out with certain people, can't wear a certain amount of makeup — and you can't let people run your life. You have to look to God. People will fall in line."

On getting nude for a movie role:
"I have no problem with nudity — it just has to not be exploitative and it has to be important to tell the story," she explains. "It depends on the script, the character, the story, the tone of the movie — all of those things. I commend women of every nationality that are bold enough to tell a story in a way that's fearless. I just haven't found a project where I felt it was necessary to do that. The scenes I've come across seemed exploitative and I just didn't do it.

On there being a double standard between white and black actresses in Hollywood:
"If Angelina Jolie goes topless, everyone goes 'Wow, she's so badass, so committed to her craft,' " Good says. "But if Halle Berry goes topless, everyone's like 'She's a slut. She probably took a bunch of money to do that.' People attack her with unsavory names. And it's unfortunate. Halle is one my favorite actresses — I've looked up to her since I began this journey. There's definitely a double standard but I can't put my finger on exactly why that is. If someone is telling a story, they should go to whatever extent that they're comfortable with to tell the story. Whatever they feel is necessary."

On what being married to her husband DeVon Franklin has taught her:
"Marriage has taught me that it's OK to let somebody take care of me. That it's OK to depend on somebody," Good says. "I grew up being responsible for a lot of things — since I was 15 [I was] taking care of a lot of people. My father is amazing, but he wasn't in the home, so my mother raised us with the mentality of not needing anybody. We were never the girls that went after the guy that had the money because we were taught to have our own money. I've always been extremely independent to the point where it probably intimidated some guys. Now, it's nice to just feel like it's not a bad thing to trust someone to have your best interest at heart.

Peep her hot spread below: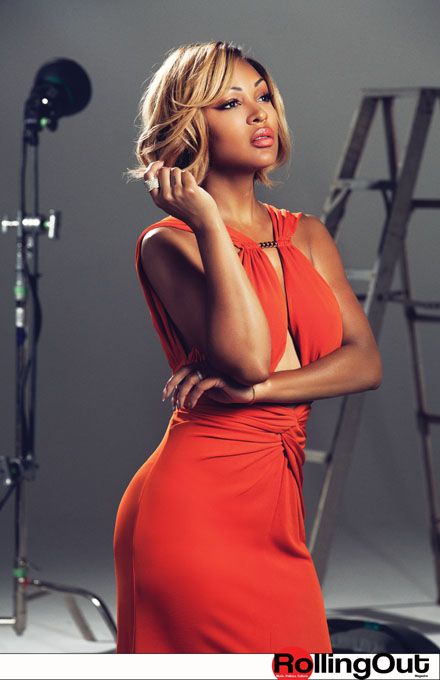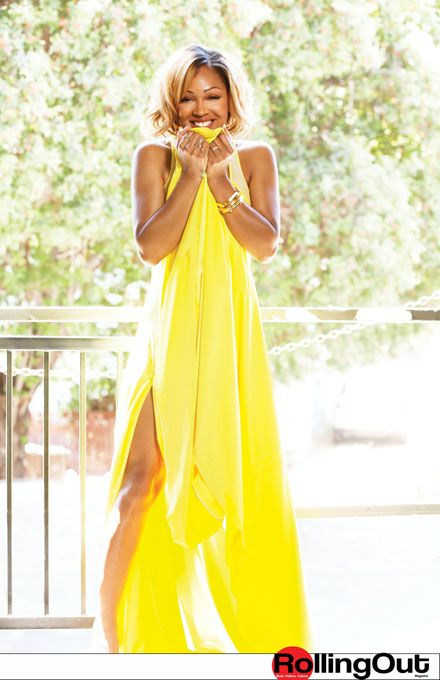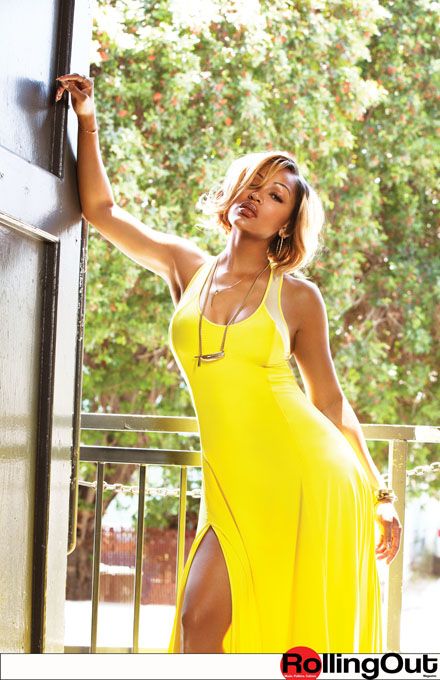 Loves it!
Check out Meagan's full interview here.
Photos: DeWayne Rogers Photography Studio
Beyonce SHARES "On The Run" Pics, ANNOUNCES "Beyonce X:10" For HBO + D'Angelo PLANNING A 2014 Album And Tour?
Posted: 19 Jun 2014 03:35 PM PDT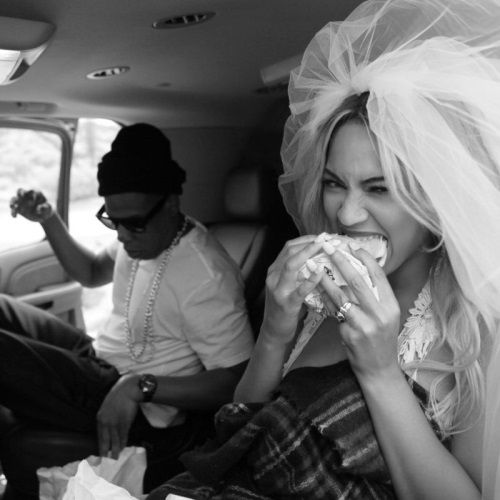 Beyonce shared pics from her "On The Run" mini-movie shoot. See photos inside and get the deets on "Beyonce X:10" and D'Angelo's upcoming tour and album.
As Beyonce and Jay Z prepare to hit the road with their "On The Run" tour (which kicks off in Miami, FL on June 25th), she uploaded pics and stills from their "On The Run" promo film (starring Blake Lively, Rashida & Kidada Jones).
Also, HBO announced that it will air four 10-minute segments from Beyonce's Mrs. Carter World Tour ahead of "True Blood." Dubbed "Beyonce: X10," the segments will air Sundays at 8:55 p.m. Eastern starting June 29 during the final season of "True Blood."
See movie stills here: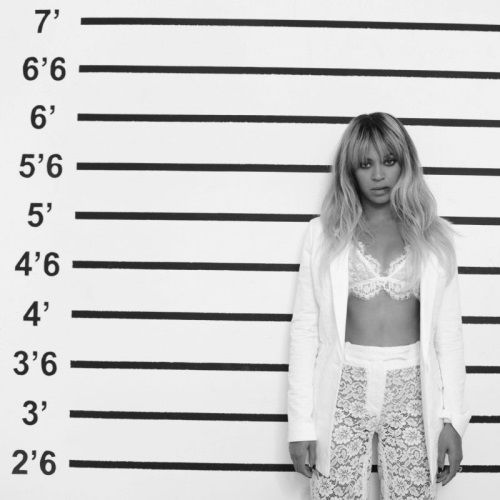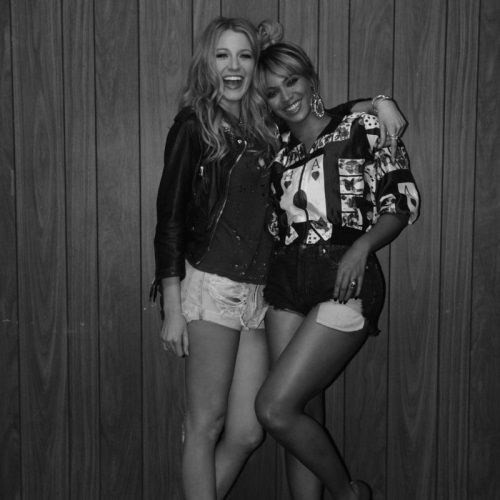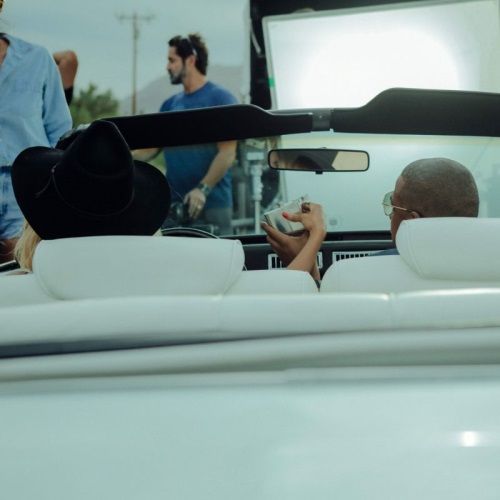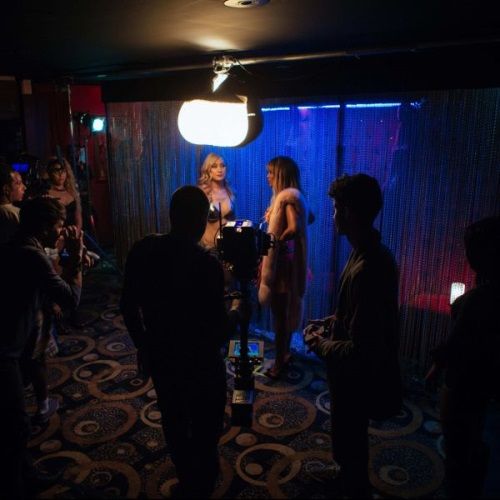 In other music news.....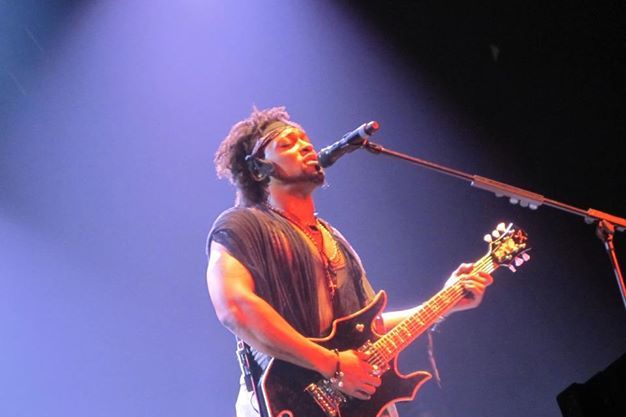 Will 2014 be the year D'Angelo makes his official comeback? It seems like it. D'angelo's manager Kevin Liles, who recently revealed that he and wife Erika are expecting their second child, told Billboard that we should expect something this year.
He said,
""Here's the thing: with D'Angelo it was a process. He didn't perform for 10 years and he's been working on an album for the past 12 years. I actually got him to go out and do 30 shows [in 2011-2012], and then we did some 'Brothers in Arms' shows. I said, 'We have to get motivated around what people want to hear from you, and what does it mean to come back to that space?' He very bluntly put it, 'Kev, the studio and the stage: that's my lifeblood. Now that I've touched it again, now that I see it again, I wanna be sure that the baby I'm about to have -- the album -- that I take it to the point where it's all it can be.'

"There'll be an album this year: there's 14 records so far, we might have a couple of bonus records, but all the recording is basically done and we're mixing and mastering now. Definitely, he'll be back.

"We'll probably start an international tour in October, we'll come back [to the States]. We're doing a James Brown tribute in August [at the Hollywood Bowl] and some one-off things. But the touring will probably start in October and 2015."
Hmmmm.....a new album and tour in 2014? How will it sound? Kevin added,
"To limit it to soul is not the case, because there is a rock influence. But at the same time, it's very melodic and there's an influence of all the things he loves: there's James Brown, there's Prince, and everything people grew up loving D'Angelo for, from 'Brown Sugar' to 'Voodoo.' It's a mixture and an evolution of where he is right now. And you have to think that when you have the opportunity to work 10 years on an album, that album's truly gonna be what you want it to be. Is it limited to the kind of sound that he did with the earlier records? No, it's not."
Welcome back D'Angelo. We're here for some renewed sexiness....
Photos via Beyonce.com/Getty
BABY WORKOUT: Kelly Rowland Shows Off Her New Baby Bump....During Yoga!
Posted: 19 Jun 2014 02:48 PM PDT
It's the very first look at Kelly Rowland's burgeoning baby bump! Check out how the singer showed the world that baby belly inside..
After revealing her pregnancy on Instagram recently, Kelly Rowland is already doing a little pre-natal yoga. And she's giving us a peek at her baby belly while she was in the middle of her meditation.
We wouldn't be surprised if these "Ommmmmm"'s turn into a pregnancy workout video. Kelly's already got a few workout DVDs under her belt with good friend and celebrity trainer Jeanette Jenkins, so will keeping that baby belly and pregnancy body in shape her next project? Hmmm....
Either way, the new Mrs. Witherspoon is as gorgeous as we thought she would be with that mommy-to-be glow.
Photo: Kelly's IG
MOVIES: Boris Kodjoe, Sharon Leal, Tasha Smith & Tyson Beckford Star In Zane's "Addicted" (Trailer) + Arlen Escarpeta CAST As Bobby Brown In "Whitney" Bio
Posted: 19 Jun 2014 12:39 PM PDT
Sharon Leal and Boris Kodjoe star in the erotic thriller "Addicted." Watch the steamy trailer inside and see the actor who'll play Bobby Brown in the "Whitney Houston" Bio Pic......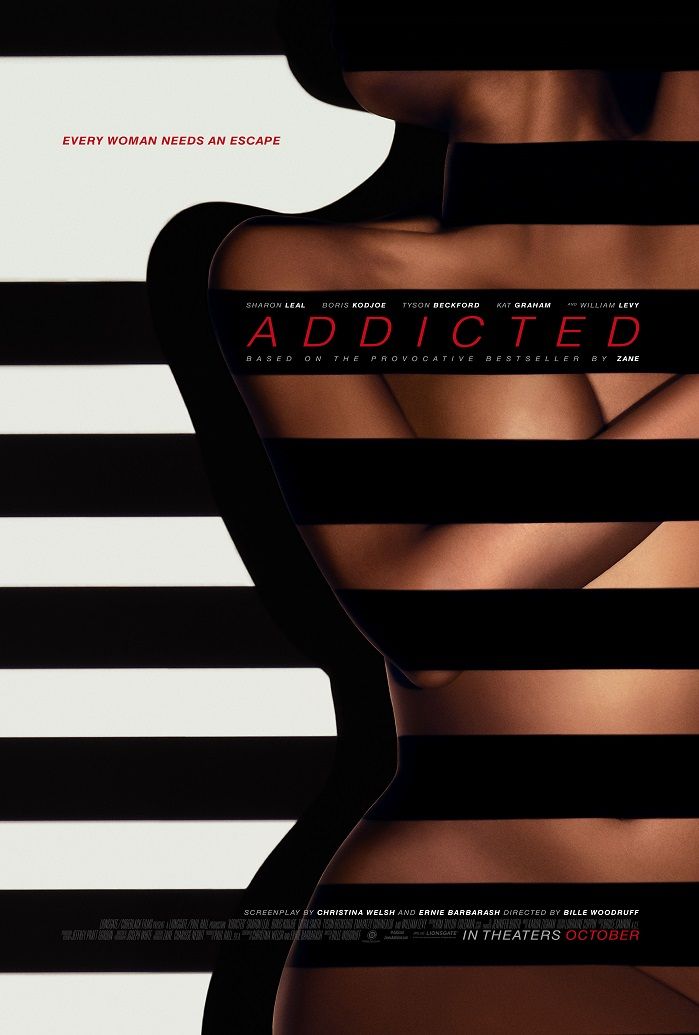 Sharon Leal, Boris Kodjoe, Tasha Smith and Tyson Beckford star in "Addicted" a new film adaptation based on Zane's bestselling book.
Directed by Bille Woodruff and written by Christina Welsh and Ernie Barbarash, the film stars Sharon Leal as Zoe Reynard, a professional woman who life is consumed by her sex addiction. Although she's married to Boris....she has affairs with Tyson and a slew other beautiful men. The film will debut October 10, 2014. In the meantime, watch the trailer....
It looks like 50 Shades Of Grey will have some competition this year....
On television...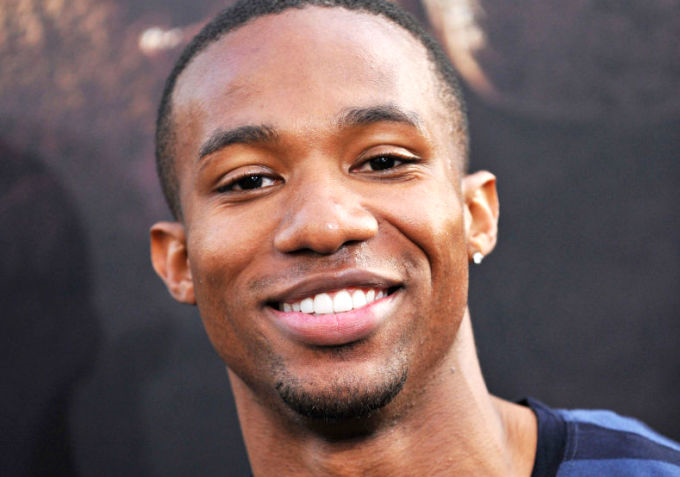 "Star Trek Into Darkness" actor Arlen Escarpeta has been picked to star as Bobby Brown in Lifetime's upcoming "Whitney Houston" Bio Pic. Arlen will join YaYa DaCosta in the Angela Bassett-directed film which will chronicle Whitney & Bobby's doomed relationship. The film will debut in 2015.
Photos via Getty Images/Blackfilm.com/Arlen Escarpeta Twitter
MORE PROMO ROUNDS: The Men of "Think Like A Man Too" Host Intimate Discussion In NYC + The Entire Cast Visits BET's "106 & Park"
Posted: 19 Jun 2014 11:35 AM PDT
Tomorrow is the grand premiere of Think Like A Man Too and the guys held an intimate conversation with colleagues at the 40/40 club in NYC last night. But before that, the entire cast hit up BET's "106 & Park." Check it inside…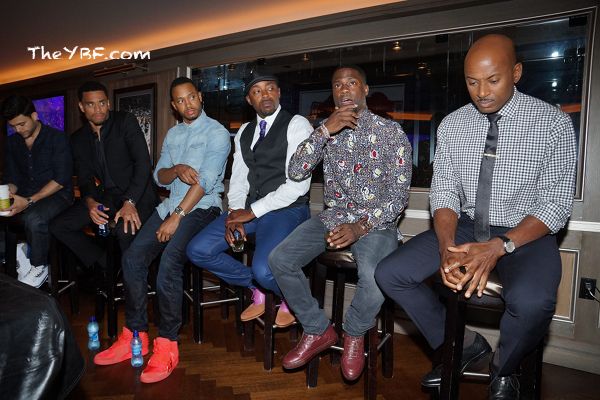 In case you have been under a rock lately, the Think Like A Man Too cast has been trekking all over the U.S. as they promote the highly-anticipated rom-com sequel. And last night, the guys of the cast held an intimate conversation with fans and colleagues at Jay Z's 40/40 club in New York.
Kevin Hart, Michael Ealy, Terrence J, Romany Malco, Jerry Ferrara and producer Will Packer got together to discuss all the fun they had while filming the movie and how they've all grown to become one big family.
Before hitting the 40/40 club…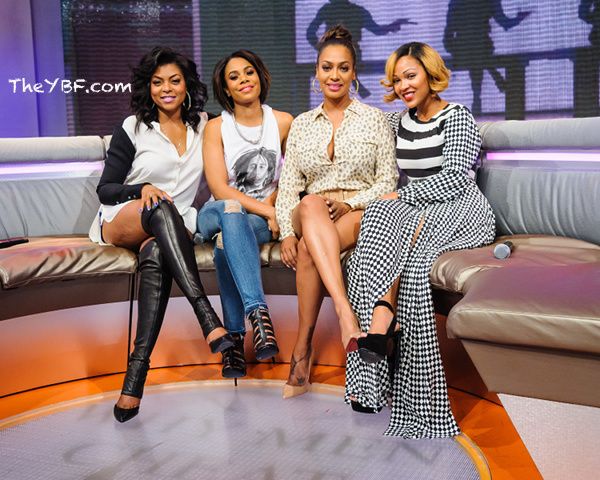 The guys met up with the ladies of TLAM2 on BET's "106 & Park." And the ladies all looked totally fab talking it up on the set.
Taraji P. Henson, Regina Hall, Lala Anthony and Meagan Good stopped by the countdown show making their last press rounds before the film hits theaters on tomorrow.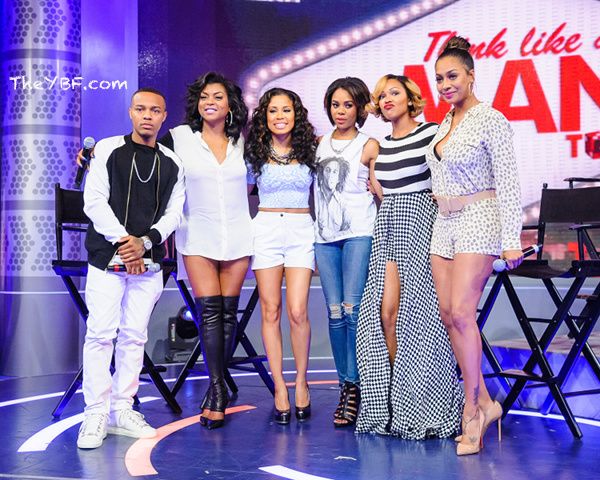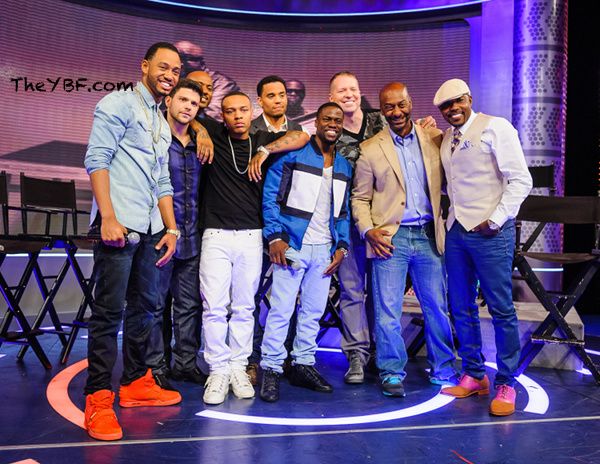 You can catch their interviews on "106 & Park" on Friday, the same day as the movie hits theaters!
Photos via Johnny Nunez/ C.Smith/ WENN.com
FASHION LOVERS: KeKe Palmer, Rachel Roy & More Celebrate Vera Wang's Store Opening + Kanye Out With The Fashion Honchos In Florence
Posted: 19 Jun 2014 09:59 AM PDT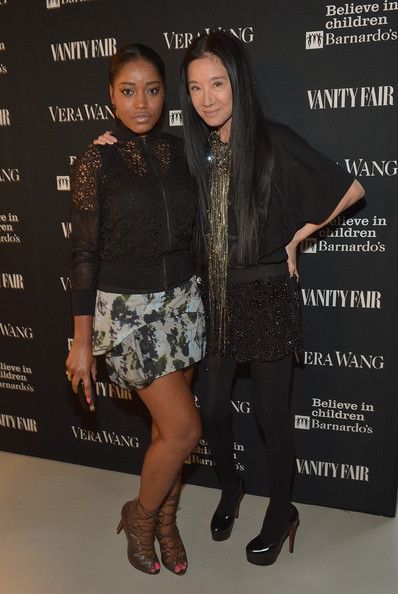 KeKe Palmer, Rachel Roy & Kat Graham kept it fab for Vera Wang's big store opening on Rodeo Drive last night. Check the pics inside, plus Kanye West chillin' with the fashion honchos in Italy He also has something to say about his Annie Leibowitz statements.....
Fab chick KeKe Palmer hit the Vanity Fair party for Vera Wang's opening of her store on Rodeo Drive in Beverly Hills last night: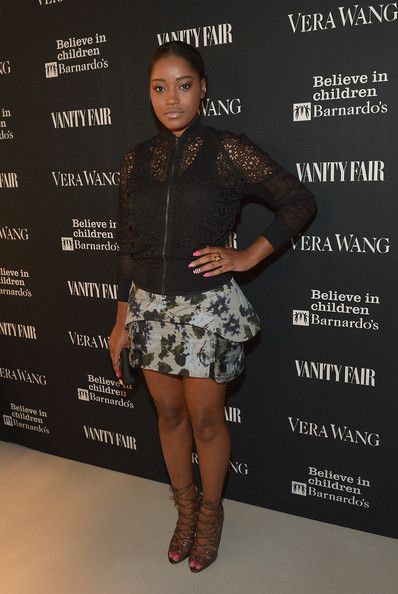 She's rocking a printed peplum skit and lace jacket from the Vera Wang Resort '15 collection. And paired it all with lace up shoes from Schultz and a Swarovski clutch.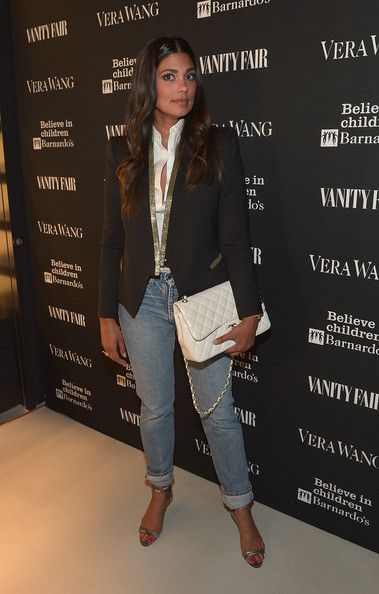 Rachel Roy was there to support fellow designer Vera, keeping it low key yet still fab in jeans, a smart metallic trimmed blazer and sandals.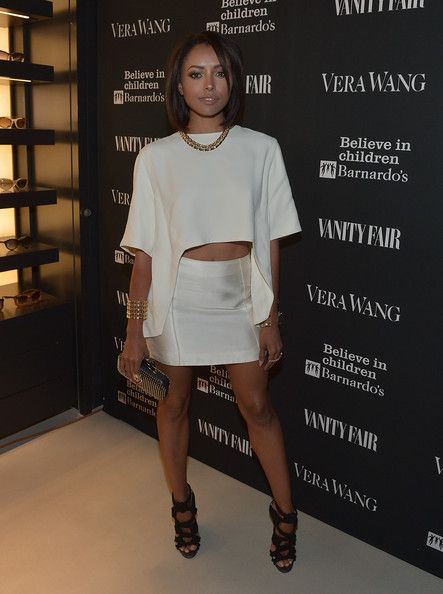 Kat Graham often does the most, but we kinda like it this time.
Over in Cannes: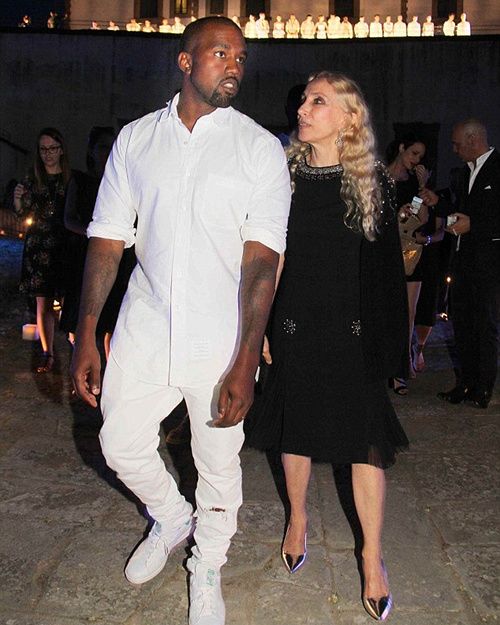 Mr. West is on his fashion ish after appearing at the Cannes Lion Conference where he dished up his usual nuggets of quotables. He jetted over to Florence (where he just visited during his honeymoon) for Pitti Uomo's magical night of Scervino at Fort Belvedere in Florence.
What's Pitti Uomo you ask? Something Kanye likely drools over every year. It's a bi-annual tradeshow event that was invented in 1972. During the four day stint, retailers, buyers, and editors come together to view upcoming collections and art. So it's like Art Basel meets Fashion Week.
At the week's big charity event last night, Kanye was spotted with Italian actress Asia Argento, designer Ermanno Daelli, Franca Sozzani (EIC of Vogue Italia) and Toni Scervino (founder of Ermanno Scervino Italian fashion brand).
Looks like he was in his zone. Manwhile, Kanye put out a statement today abotu his comments about Annie Leibovitz during his Cannes Lions Conference chit chat. He revealed to the audience his frustration that the legendary photographer backed out of snapping his & his wife's wedding the day befoe the wedding. Now, he's making a clarification, so he says. It goes as follows:
Kanye West's comments about Annie Leibovitz while speaking at the 2014 Cannes Lions International Advertising Festival have been taken out of context and sensationalized.

Although Kanye expressed frustration that he was not able to collaborate with Annie Leibovitz at his recent wedding, he is not assigning blame, and is not accusing Annie in any way. Kanye and Annie's representatives were in negotiations for weeks that were not completed by the time of the wedding.

"Annie would have been happy to do the portrait but she was never confirmed," said a representative for Leibovitz.

It was Kanye's dream to bring together for the wedding his favorite creatives - Ricardo Tisci on the dress, Vanessa Beecroft on the experience, and Andrea Bocelli - Kim's favorite singer - singing Kim's favorite song as she walked down the aisle. The first choice to capture one of the most special days in Kim and Kanye's life: Annie Leibowitz.

Annie Leibovitz - the legendary photographer responsible for Kim and Kanye's recent Vogue cover - is not known to shoot weddings. But Kanye West dreams big. He loves and respects Annie as a true artist and wanted to bring her eye for beauty to the imagery of the event. In his Cannes Lions panel with Steve Stoute and tech guru godfather Ben Horowitz, Kanye was referencing Annie as an example of how to merge culture and tech.

"Picture this," said Kanye. "The most-liked Instagram photo of all time, shot by Annie Leibowitz. Oh, I'm sorry for dreaming out loud. Again."
Photos: Splash/Getty