---
FAB DADS: How Celeb Dads Spent Their Father's Day
Posted: 16 Jun 2014 08:35 AM PDT
Yesterday was Father's Day and we've rounded up a few pics of our fave celeb dads spending quality time with their adorable kiddies. Come inside to peep the cute daddy moments…
Reunited and it feels so good! Bobby Brown and his daughter Bobbi Kristina buried the hatchet for a special Father's Day dinner, after not seeing eye-to-eye since Whitney Houston's untimely death.
Bobbi Kris was ecstatic to see her father as she ran into his arms to greet him tweeting, "Hahaha I got a running start!..(: @KingBobbyBrown (:"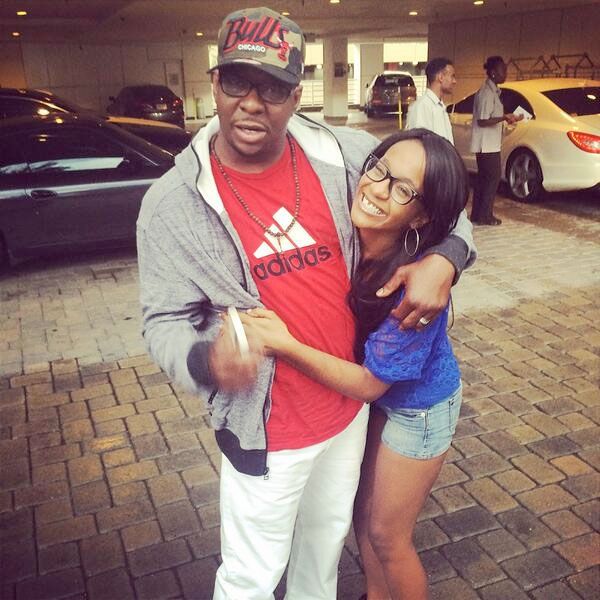 The two embraced and smiled for a cute father-daughter pic. He literally spit her out. Glad they reconnected.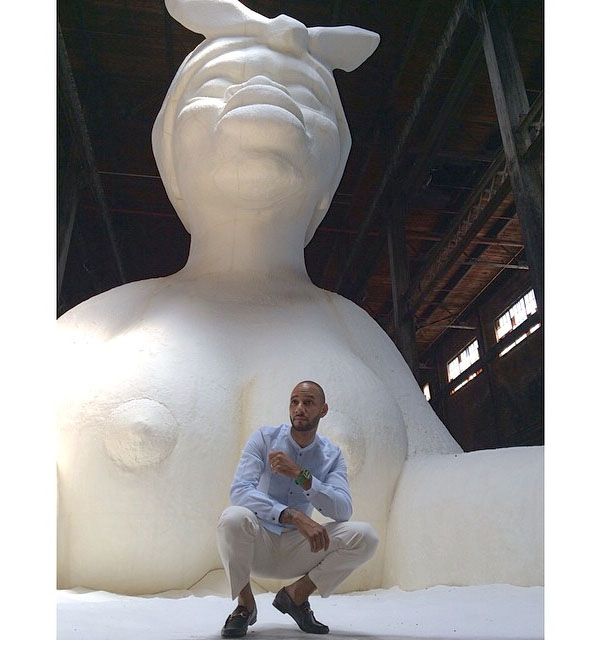 Harvard business student Swizz Beatz spent his Father's Day in Brooklyn viewing Kara Walker's colossal "A Subtlety" sugar sphinx at the Domino Sugar Factory.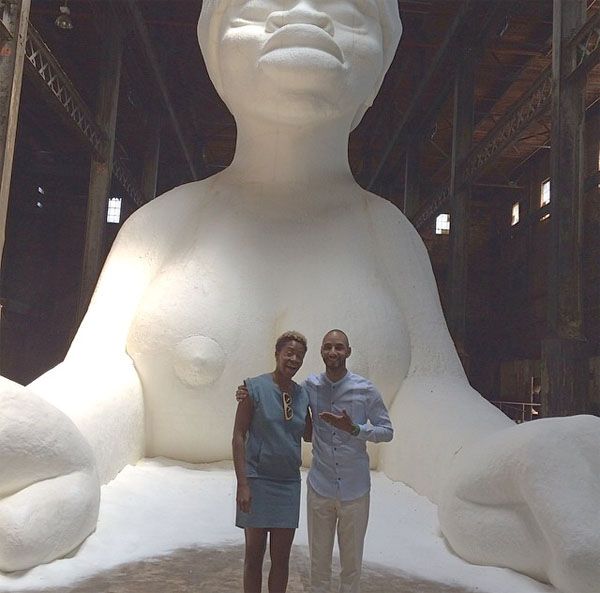 Swizz even caught up with the amazing Kara Walker and snapped a pic in front of her astonishing sculpture.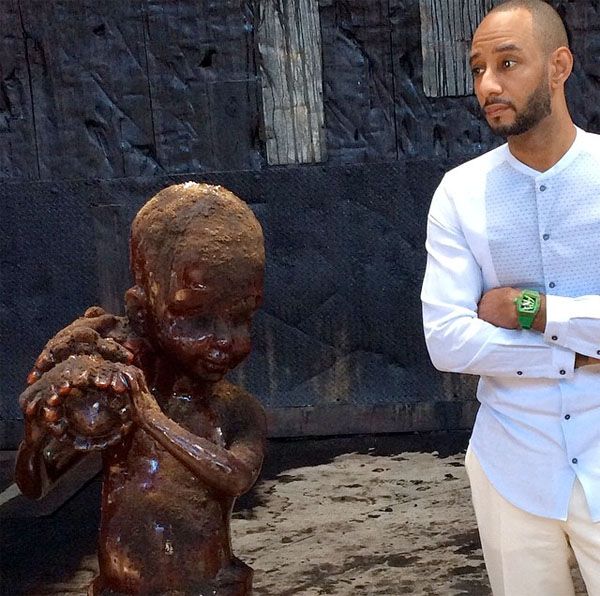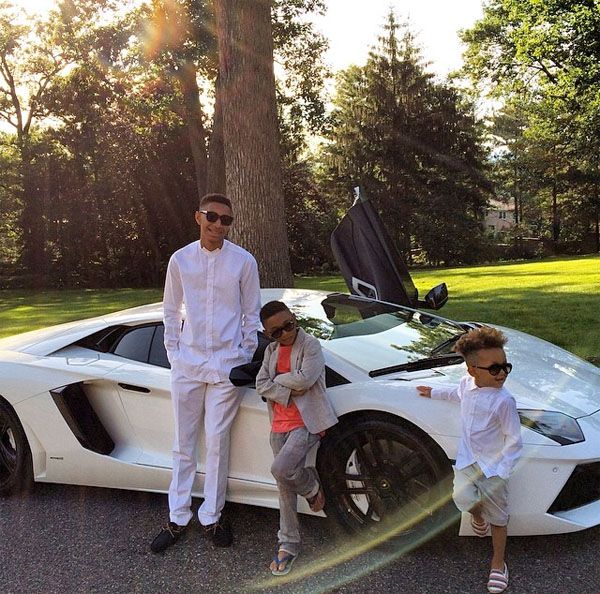 He later caught up with his boys Kasseem Jr., Prince and Egypt to spend the rest of his day surrounded by his boys. They cleaned up so nice...looking like mini GQ models!
Kanye West spent his Father's Day with his adorable baby girl North West, celebrating her first birthday. Following their day at the museum, the family of three took it back to their hotel room where they watched the San Antonio Spurs defeat the Miami Heat (104-87) and fell asleep as they watched.
Kim wrote, "We played so hard they passed out while we were watching the game! Happy Father's Day to the best daddy in the world! The way you love our daughter and protect her makes me filled with so much love!"
Funny man Kevin Hart was smiling from ear-to-ear as he spent his Father's Day with his children Heaven and Hendrix. Kevin wrote, "Me & my bighead babies....The level of love that I have for them can't be described!!!! I do it all for them.....WE ARE THE "HARTS" #Family #FathersDay #WeLookGoodAsAunit #TheyAreStuntingLikeTheirDaddy
Kevin's girlfriend Eniko joined in to celebrate for a Father's Day meal with the family. Kevin captioned, "The best Fathers Day EVER..... #Harts #TheyGrowUpSoFast #iDontWantThisDayToEnd #IveBeenSmilingEarToEarAllDamnDay #GottaLoveEm"
And during dinner, the Harts competed in a staring contest to see who could stare without blinking for the longest:
He said, "We just had an intense stare off at dinner....this game can get violent....I won every time!!!! #fathersdayFun #gottaloveem"
Too cute.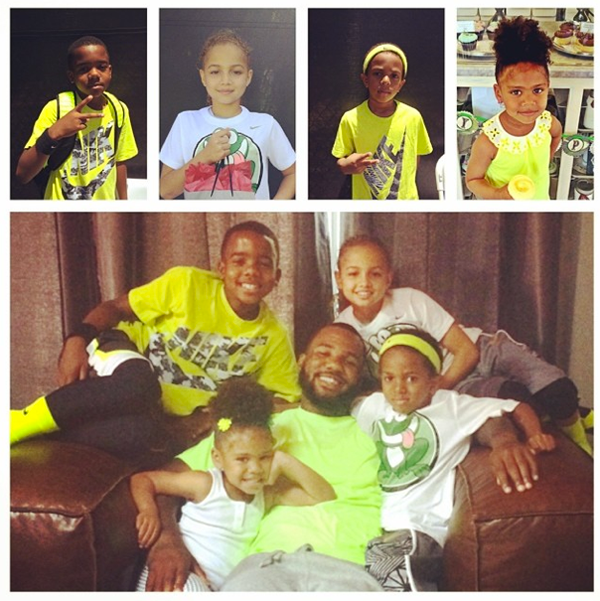 The Game rounded up his handsome sons Harlem and King and his adorable daughter Cali Dream for a day of basketball at the Southern California Frogg Allstars Father's Day Shootout Tournament.

Game wrote a heart melting Father's Day message saying, "Happy Fathers Day to me........ Ever since I 1st found out I was going to have @harlemtaylor I knew the type of FATHER I could be if given the right tools so while he was in the womb... I worked my ass off to become a millionaire before his birth & just like I set out to do... I made it happen !!! & although the financial aspect was taken care of at that point... That wasn't even 1/2 of what I needed to be a REAL FATHER. Once he was born, my heart took over & since then I've been blessed with 3 other beautiful gifts in @littlemisscali @daddyslilworld & @kingjusticetaylor.... Each of them mean the world to me & as long as God allows me to breathe here on earth.. NOTHING will EVER stop me from being everything these 4 need. Not a tear will hit the ground.... Not a frown will last & any bad day will have to wait til tomorrow because MINE mean THE WORLD to me !!!! It is my life's mission to make sure they grow to become loving, compassionate & successful adults with all the right tools to survive in a world that can be cruel at times..... Cali, Justice, Madison & Harlem... Daddy Loves You..... & that will NEVER CHANGE !!!!!!!!!!!!!!!!!! Happy Father's Day to all REAL FATHERS out there..... I appreciate you for helping shape the future..... & for the DEAD BEATS.... It ain't too late, everything counts... Step it up NOW - The Game
Nelly spent his Father's Day with his dad Cornell Haynes Sr. along with his son Cornell Haynes III and his daughter Chanel. We see where Nelly gets his good looks from.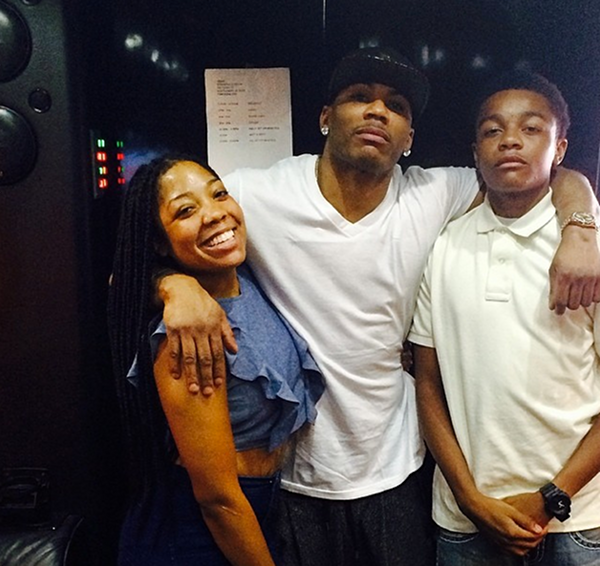 He snapped a pic with his son and daughter with the caption, "These are my REASONS..!! "My Reasons to,My Reason not too,My Reasons why,My Reasons why not, My Reasons why and how I live...!"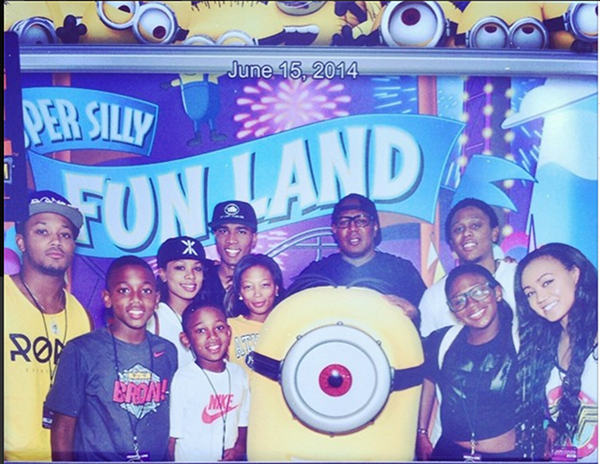 Master P rounded up his gang and took them all to Universal Studios to celebrate Father's Day. After all of the drama going on between him and his ex-wife over custody of their children, it's nice he was able to have them on his special day.
Think Like A Man Too producer Will Packer and his family enjoyed their day on a boat. Will captioned his Father's Day as the "Best Father's Day Ever" Nice.
Don't forget, Think Like A Man Too hits theaters June 20th!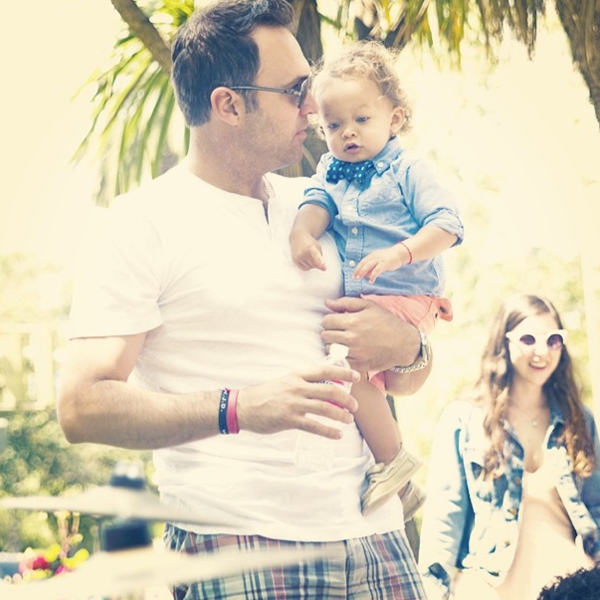 And Tamera Mowry's husband Adam Housley spent his Father's Day at a car show in Napa, Cali. Tamera posted a sincere Father's Day message to her hubby saying, "Happy Father's Day! To see our son Aden look up and be comforted in your arms brings me great peace and joy. Not only are you a great husband. You are an amazing father to our son. We love you @adamhousley"
EXTRAS:
1. Today would have been Tupac's 43rd birthday so we would like to send a special Happy Birthday to the Hip Hop legend.
Photos: Kevin's IG/Game's IG/Tamera's IG/Nelly's IG/Bobbi's IG/Will's IG/Kim's IG

RAPPER'S DELIGHT: Drake SMOKES WEED ONSTAGE With Wiz Khalifa + Ice Cube's "22 Jump Street" Makes Box Office History + Did Lil' Wayne SQUASH His Beef With Justin Bieber's Manager
Posted: 16 Jun 2014 07:58 AM PDT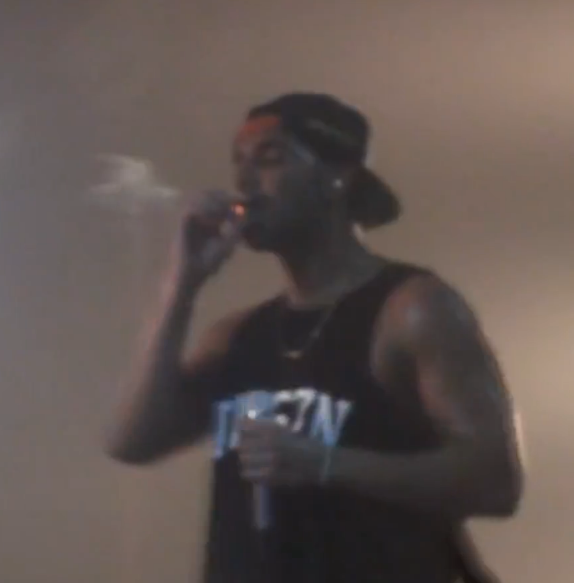 Drake behaved badly with a blunt AND rapper Wiz Khalifa over the weekend. Watch him "light up" inside and get the deets on Ice Cube's box office success....
Drake performed in Houston over the weekend and he did something he's never done before....smoked weed onstage! He hit the stage in Houston at Warehouse Live (with special quest Wiz Khalifa) and he took a few pulls from Wiz's blunt. His antics were a part of Houston Appreciation Weekend...and it looks like he appreciate's Houston's finest herbs.
At the movies....
Ice Cube, who stars as Captain Dickinson in 22 Jump Street, helped make box office history over the weekend as the flick grossed $60 million, making it the second biggest for an R-rated comedy in history. "22 Jump Street" nearly doubled the $36 million debut of its predecessor, 21 Jump Street. Congrats to Ice Cube! He's currently in production of the NWA-biopic that stars his son, O'Shea Jackson Jr.
In other entertainment news....
A while back we told you about a "beef" between Lil' Wayne and Justin Bieber's manager Scooter Braun. You'll recall that Weezy posted a video that could easily have been interpreted as a threat. Now...TMZ reports that the two have squashed their beef. What happened? Sources close to Wayne say both men chalked up the beef to a huge misunderstanding and Wayne's protege Twist may have exaggerated some of the details that initially set Wayne off. Good for them.
EXTRAS:
1. Make sure to check our Instagram (@TheYBFDaily) for our winners of the #RealYBFDad Contest.
Photos via Lil' Wayne's instagram/Getty Images
Kanye & Kim CELEBRATE North's FIRST Birthday At The Children's Museum Of New York + Kanye TAKES A Nap With North
Posted: 16 Jun 2014 06:13 AM PDT
Kanye & Kim Kardashian West celebrated the first birthday of their daughter North with a big outing in New York City. Find out where they went inside...
After he performed at Bonnaroo, Kanye and Kim jetted off to NYC for the first birthday of little North West. The newlywed parents spent the day at the Children's Museum of New York to mark the occasion.
Following their day at the museum, the couple retired to their hotel room where they watched the San Antonio Spurs defeat the Miami Heat (104-87).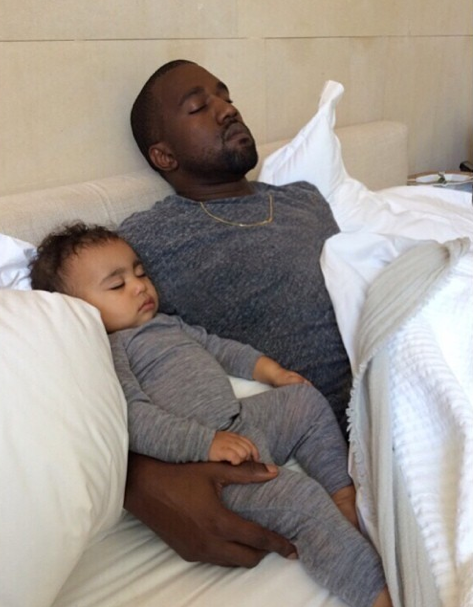 On Instagram, Kim posted an adorable snapshot of North and Kanye napping together after their busy day. This was actually Kanye's second father's day as North was 1-day-old when Father's Day rolled around last year. Kim wrote, "We played so hard they passed out while we were watching the game! Happy Father's Day to the best daddy in the world! The way you love our daughter and protect her makes me filled with so much love!"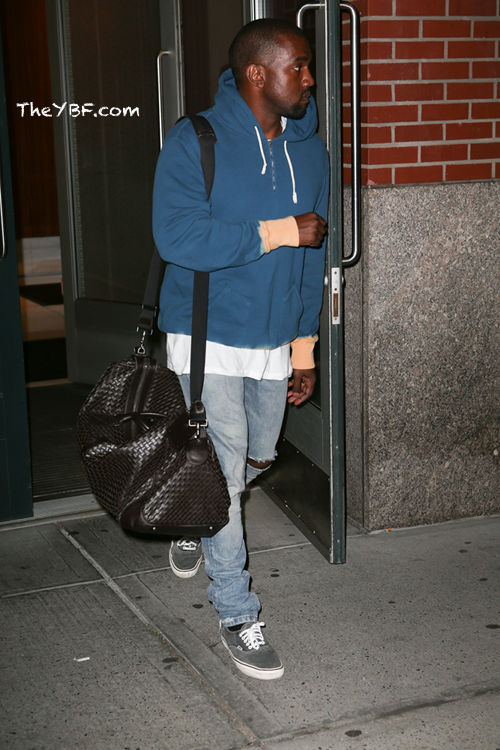 Late last night, Kanye was spotted leaving the hotel following his day with Kim and North. E! News reports that the Kardashians are throwing a huge bash for North in Los Angeles next week.
Photos via Splash/INF/Kim's Instagram
BABY DEBUT: Ciara Reveals First Pic Of BABY FUTURE!
Posted: 15 Jun 2014 01:09 PM PDT
Adorable alert! Ciara just revealed the first pic of her and her fiance Future's son...Baby Future! Check it inside...
To celebrate Father's Day, Ciara let the world in on the first look at her & Future's 3-week-old baby boy, dressed in his own custom gear already. She posted the above pic saying:
Hey Dad aka Big @Future. Baby Future Loves You. #HappyFathersDay
Awww.
She also posted a pic of Future & Baby Future bonding on the day of birth saying:
From The Moment Baby Future Arrived, He Was Holding Your Hand So Tight, He Knew You Were Dad. Seeing That Melted My Heart... When I Look At Him, I See You Shining Through, And That's One Of The Most Beautiful Things Ever! You Are Truly One Of The Realist, Most Caring, Hard Working, Loving Dads In The World, and I'm So Proud Of You.I Love You. Happy Fathers Day @Future.
Precious.
Photos: Ciara's IG