---
Tichina Arnold READS French Montana For Filth In The Most Nice-Nasty Way After He Tries To Come For Her
Posted: 08 Jun 2014 09:45 AM PDT
"Don't come for me…unless I send for you." And Tichina Arnold sent for rapper French Montana after he posted a meme of the former "Martin" actress. And she went....IN! Get the juicy deets inside…
"A Day Late And A Dollar Short" actress Tichina Arnold didn't take to French Montana posting a funny meme of her to his Instagram too kindly. And she read this man for filth. While using SAT words and all.
The former "Martin" actress took to her Instagram and delivered a nice-nasty read to the Moroccan-born rapper, who is currently dating reality star Khloe Kardashian (although neither of them have formally admitted it).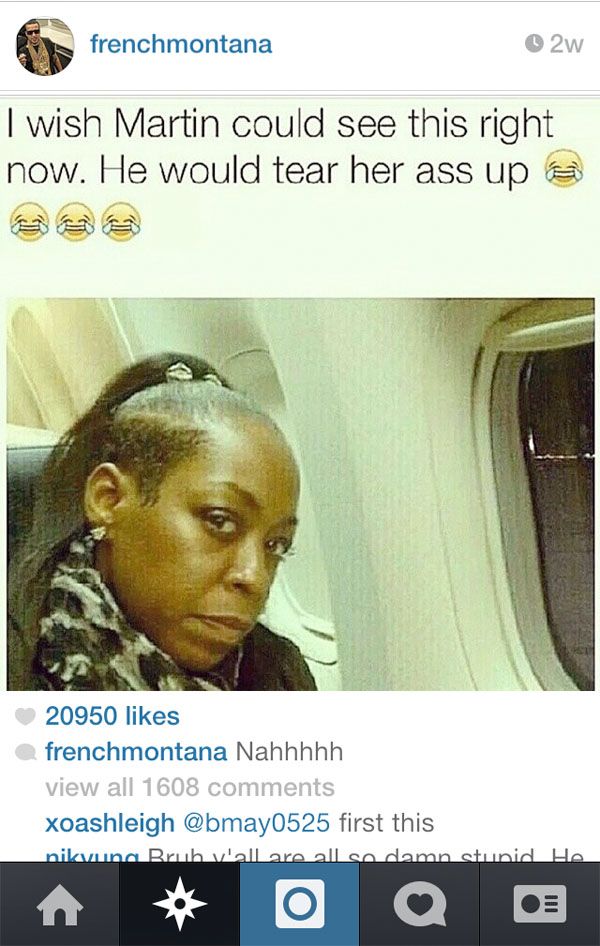 A few weeks ago, French posted a picture of Tichina on an airplane (above) with a very interesting hairstyle to say the least. The meme's caption read, "I wish Martin could see this right now. He would tear her a** up."
Clearly not one to take jabs lightly, Tichina responded in an open message to the "Pop That" rapper today.
In her message, Tichina basically questioned WHO exactly is French Montana and WHAT is it that he does. In the classiest read, she also questioned his contributions to society and offered to link him up with individuals who have "serious inquiries" in regards to hiring him…#theulimateshade.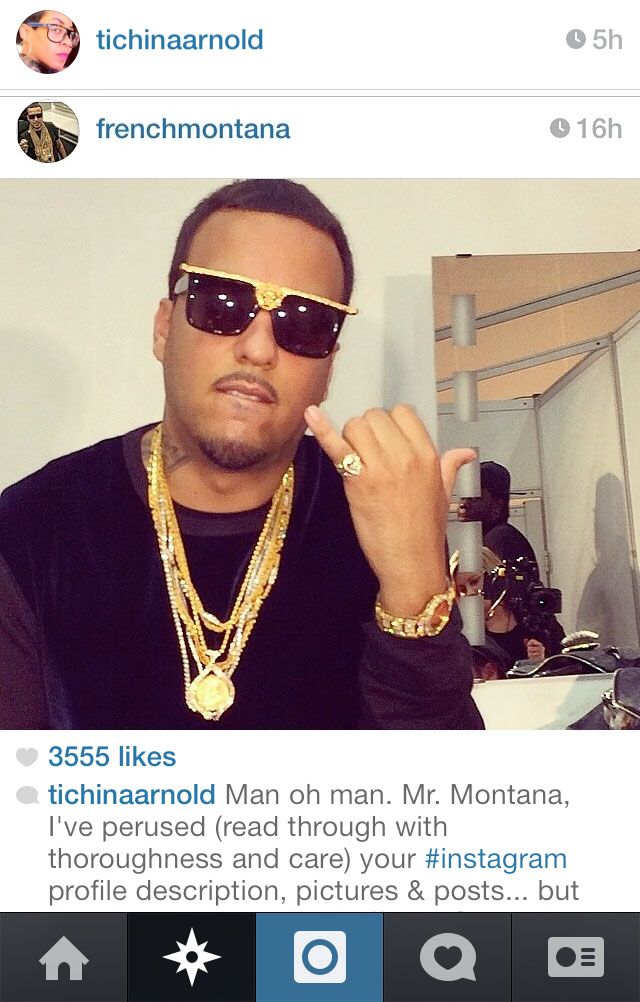 The caption read:
Man oh man. Mr. Montana, I've perused (read through with thoroughness and care) your #instagram profile description, pictures & posts... but despite my determined effort, I STILL don't have a CLUE to one very simple question... "Who ARE you?".. I mean other than reading that you've dated a Kardashian, and you seem to enjoy taking extraneous pictures with LEGITIMATE celebrities, I'm baffled (perplexed, confused) as to WHO you are & WHAT you actually DO? How do you contribute to society? What do you do to HELP those in need? What philanthropic works have you done? Are you on the board of any charitable organizations? Do you posses your own charitable organization? Do you own your name? How many of your followers are actually REAL followers and not computer generated? Oh.. And one other thing, if you are gonna post or repost things about other people (such as myself). FYI: Maybe you should put more effort into aligning yourself with people who can ASSIST you with building your brand for longevity, only THEN will you be prepared to (as your boy Martin would so clearly put it) "Stomp with the big dogs". But either way, I'm pleased to know you are a true fan of the Martin show despite what criticisms you have. Your continued support is proof that for over 30 years, I have CONTRIBUTED something of VALUE on television to many people (including yourself) and many generations and hopefully more to come. Hit me up and maybe I can hook you into individuals who have "Serious Inquiries" regarding hiring you. I just need to know what exactly it is that you are SELLING, because unfortunately, I STILL don't know. Keep your head up & GOD Bless! TICHINA ... Oh! One more thing, if you know of anyone who has an auto immune disease such as #Lupus, go check out my 501c3 organization at www.wewinfoundation.org - Unfortunately thousands of women (and men) battle with this constant life threatening #autoimmune #disease everyday. It would be AMAZING if you made a donation instead of losing 40k in one on one basketball bets with your cohorts. Your positive & monetary support would be GREATLY appreciated. Thank you for your time.
Bloop!
EXTRAS: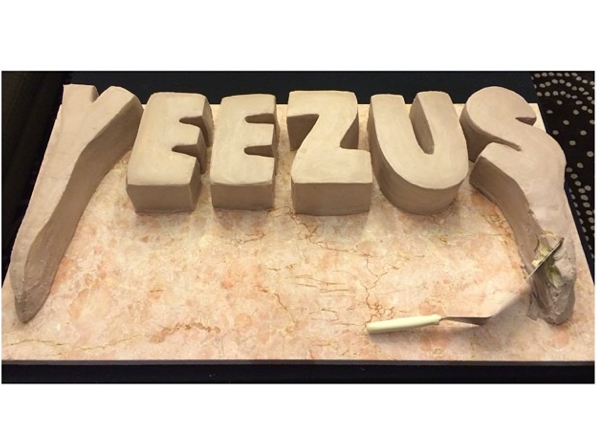 1. Today is Kanye West's 37th birthday! Yeezy's new wife Kim Kardashian gave a special shoutout on her Instagram wishing her husband a Happy Birthday and shared his "YEEZUS" birthday cake (above). Mrs. West wrote, "Happy Birthday to my husband and best friend in the entire world! You have changed my life in more ways than you know! The way you look at life inspires me! I love you so much!!!"
2. Talk about a deal! Shaquille O'Neal sold his 5-bedroom, 4-bathroom Orlando home for…TEN dollars! STORY

Photos: Tichina's IG/French's IG/Kim's IG
Kevin Hart & Rihanna WIN At Spike TV's 2014 Guys Choice Awards + More Celebs Hit The Carpet
Posted: 08 Jun 2014 08:45 AM PDT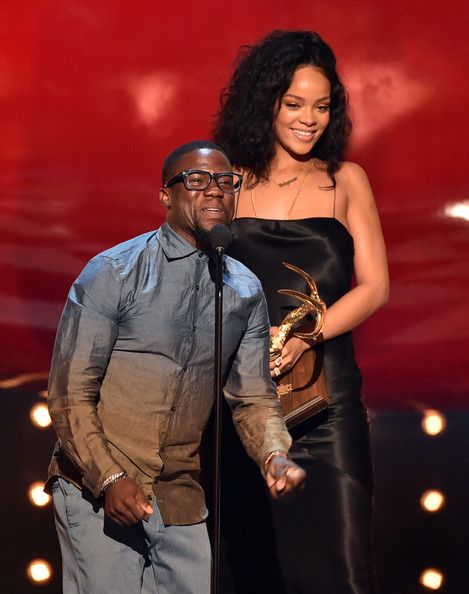 Spike TV's Guys Choice Awards were held in Cali last night. And Rihanna, Kevin Hart, Rapheal Saddiq, Chrissy Teigen, and Damon Wayans Jr. were among the attendees. See the celebs inside….and why Kevin & Rihanna won their MANtlers...
That Rihanna reign just won't let up. After accepting the CFDA Fashion Icon Award, Rihanna was recognized by Spike TV for their first ever Most Desirable Woman Award at the 2014 Guys Choice Awards at Sony Pictures Studios in California yesterday.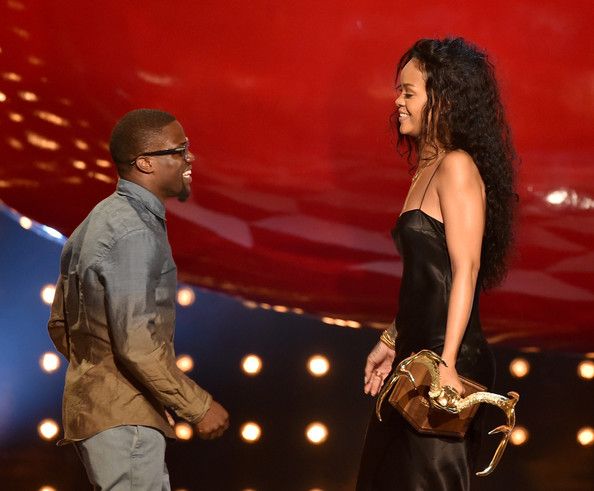 Rih took a different approach for this event after her jaw-droppin see-though CFDA gown. The "most desirable" one kept it simple and sexy in a long black silk dress as she accepted her gold plated "Mantlers" from funny man Kevin Hart. The Pop princess tweeted, "My first pair of Mantlers! Thank you @Spiketv, excited to be getting Most Desirable at #GuysChoice airing Weds 6/11".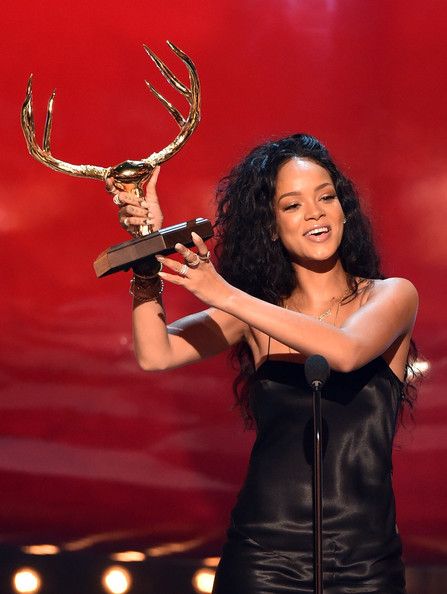 And Kevin Hart was presented with the "King of Comedy" award for his comedic takeover: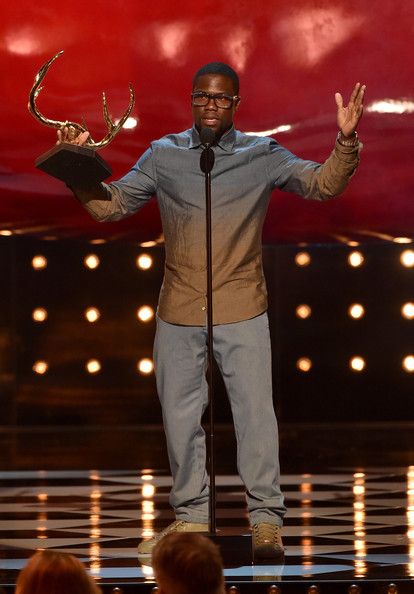 Congrats to them!
Rih also got a chance to be silly with Aaron Paul from her favorite TV series "Breaking Bad." She posted the pic above with the caption, "My life has been completed!!! #Pinkman4President".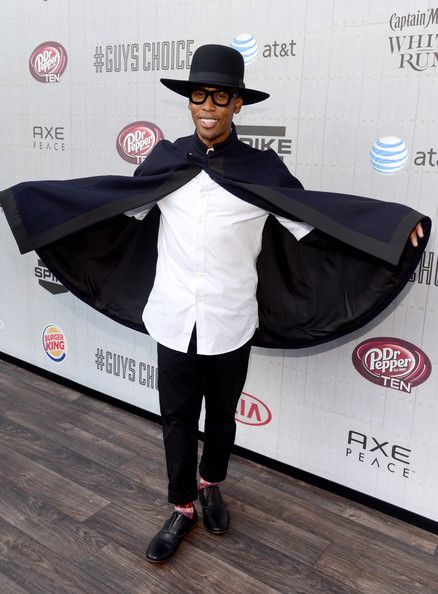 Raphael Saadiq (in a very…interesting ensemble) was there to take the stage to perform.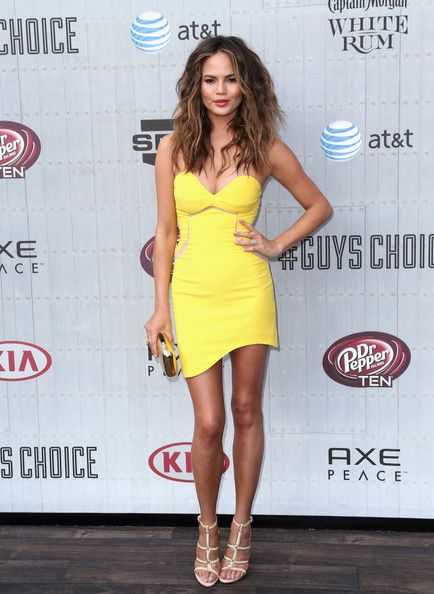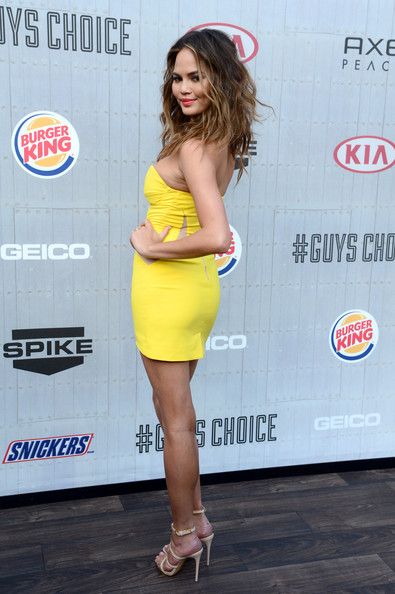 John Legend's wife/model Chrissy Teigen lit up the carpet in a yellow crepe and mesh Three Floor mini dress to present an award. She finished her look with a pair of nude Casadei sandals and Koutur clutch.
Damon Wayans Jr. presented an award alongside his "Let's Be Cops" co-star Jake Johnson.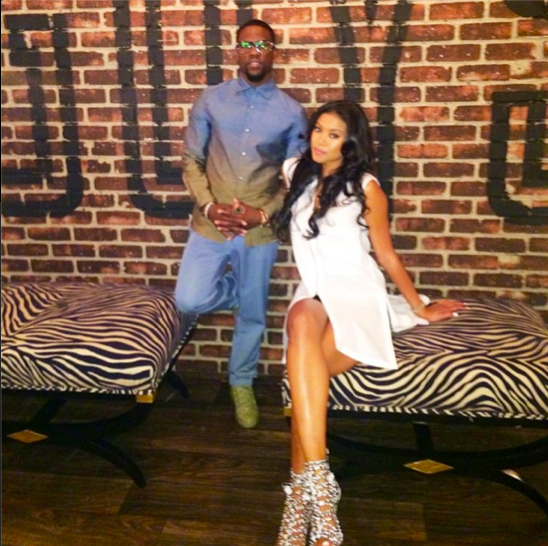 Kevin and his girlfriend Eniko Parrish posed it up backstage, showing off her sparkly Sophia Webster booties. The ever supportive girlfriend said, "Backstage at the 2014 "spike guys choice awards!" Congrats on receiving your "KING OF COMEDY" award my KING! @kevinhart4real".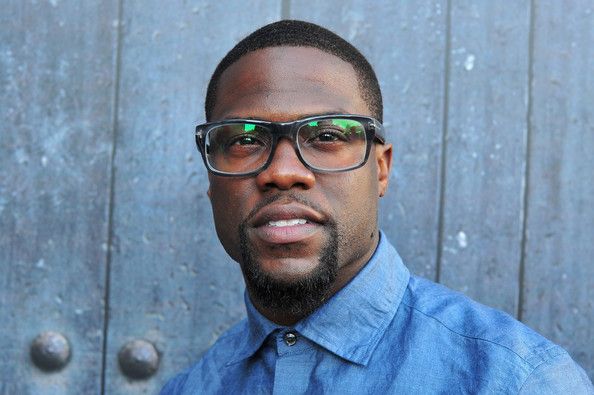 Fab times!
Photos: Frazer Harrison/Getty/Rihanna's Twitter/Eniko's IG
VEGAS NIGHTS: Gabby Union Keeps It WHITE HOT To Celebrate Her "VEGAS" Magazine Cover
Posted: 08 Jun 2014 07:41 AM PDT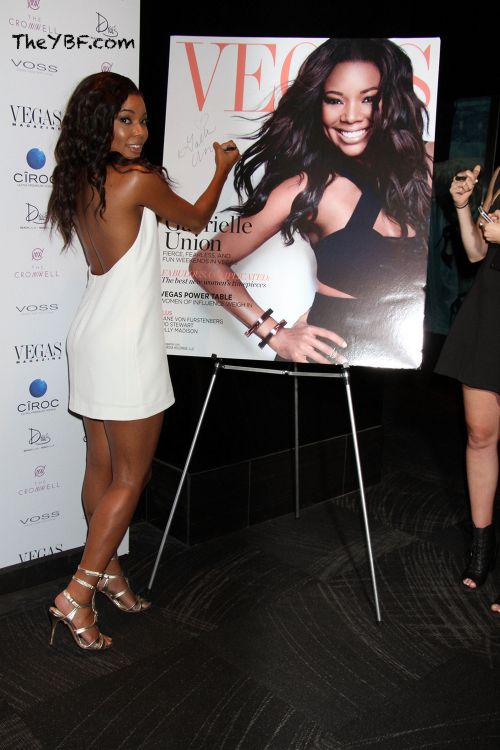 After another long day of press rounds in L.A. for her upcoming flick Think Like A Man Too, Gabby Union quickly jetted to Las Vegas afterwards to celebrate the release of her new VEGAS magazine cover.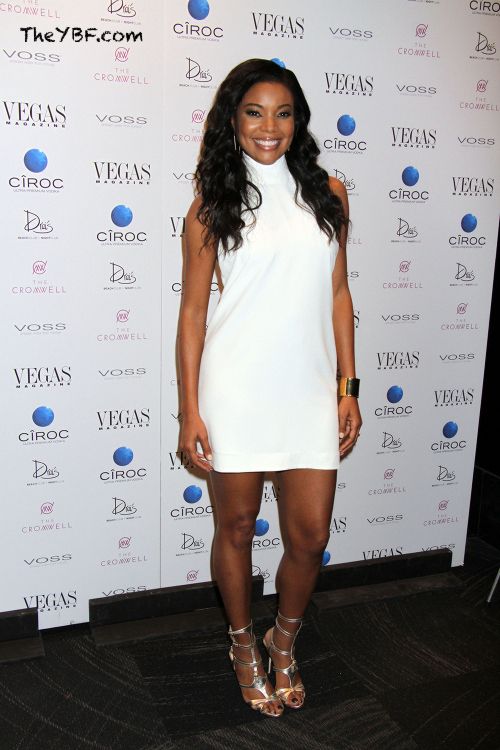 Well, hello Ms. Union! Gabby threw on her white mini dress gold strappy heels for the premiere of her new cover of VEGAS magazine. The 41-year-old hit the mag's 11th anniversary party at Drai's Beach Club & Nightclub in Las Vegas Saturday night. And made sure to show off her brand new sexy cover.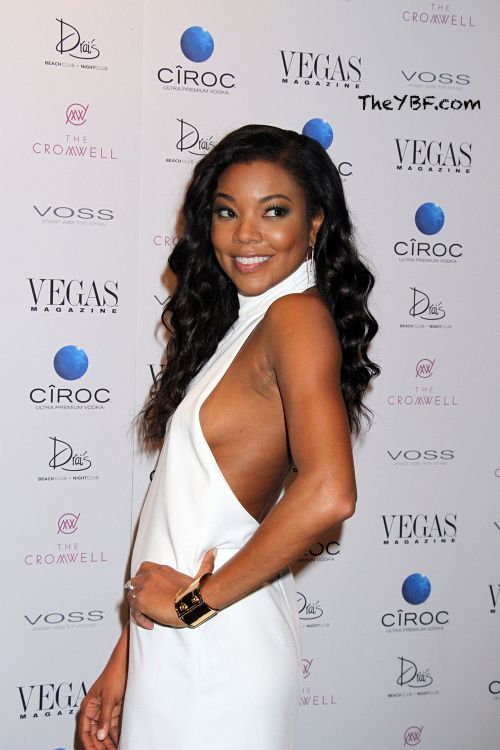 She's a busy girl these days. She's in the midst of filming the new season of "Being Mary Jane", in the middle of a promo tour for her upcoming ensemble flick Think Like A Man Too (out June 20th), she's on the the July 2014 ESSENCE cover, and she's cheering on her fiancé Dwyane Wade who is balling out in the NBA Finals. Hopefully she gets to see her boo take on the Spurs again tonight in Game 2. And hopefully...the air conditioner is working in the AT&T Center this time.
Looking gorge Gabby! Check out her cover spread and highlights from the interview HERE.
Photos: WENN/Pacific Coast News
IN CASE YOU MISSED IT: Michelle Obama DELIVERS Rousing Speech At Dr. Maya Angelou's Memorial Service EVERY Woman Should Hear
Posted: 08 Jun 2014 06:43 AM PDT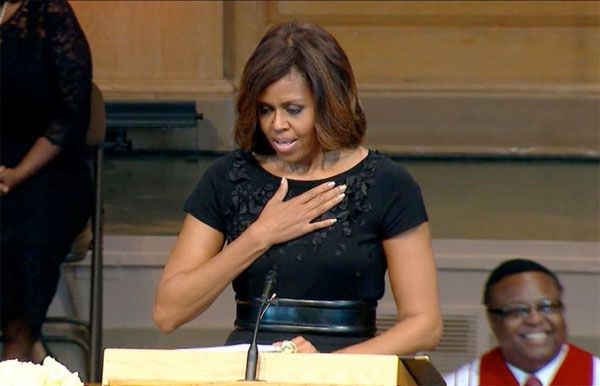 Dr. Maya Angelou's memorial service was held at Wake Forest University yesterday and First Lady Michelle Obama delivered an inspiring speech that every black girl and black woman should hear. Also, Oprah delivered an emotional speech of her own. Check it inside…
On Saturday, iconic poet and civil rights leader Dr. Maya Angelou was remembered in a memorial service at Wake Forest University, where she taught for more than 33 years. Dr. Maya Angelou died in her home in North Carolina after battling health issues. First Lady Michelle Obama, Oprah, former president Bill Clinton, Cicely Tyson and many others attended the ceremony to pay their respects to The Phenomenal Woman.
FLOTUS Michelle Obama delivered an invigorating speech, detailing how Maya Angelou's affirming power with her words carried her from a little black girl from Chicago to the White House. It was amazing to hear the First Lady talk about her many struggles as a young black girl that turned her into the powerful black woman she is today. Definitely something we, as black women, can all relate to.
She spoke about Dr. Angelou's words encouraging her when the world still questioned her black womanhood and black beauty on the campaign trail and beyond.
Here's Mrs. O's full speech transcript:
MRS. OBAMA: Thank you so much. (Applause.) My heart is so full. My heart is so full. Bebe -- Oprah, why did you do that? Just why did you put me after this? (Laughter.)

To the family, Guy, to all of you; to the friends; President Clinton; Oprah; my mother, Cicely Tyson; Ambassador Young -- let me just share something with you. My mother, Marian Robinson, never cares about anything I do. (Laughter.) But when Dr. Maya Angelou passed, she said, you're going, aren't you? I said, well, Mom, I'm not really sure, I have to check with my schedule. She said, you are going, right? (Laughter.) I said, well, I'm going to get back to you but I have to check with the people, figure it out. I came back up to her room when I found out that I was scheduled to go, and she said, that's good, now I'm happy. (Laughter.)

It is such a profound honor, truly, a profound honor, to be here today on behalf of myself and my husband as we celebrate one of the greatest spirits our world has ever known, our dear friend, Dr. Maya Angelou.

In the Book of Psalms it reads: "I praise you, for I am fearfully and wonderfully made. Wonderful are your works; my soul knows it very well. My frame was not hidden from you when I was being made in secret, intricately woven in the depths of the Earth." What a perfect description of Maya Angelou, and the gift she gave to her family and to all who loved her.

She taught us that we are each wonderfully made, intricately woven, and put on this Earth for a purpose far greater than we could ever imagine. And when I think about Maya Angelou, I think about the affirming power of her words.

The first time I read "Phenomenal Woman", I was struck by how she celebrated black women's beauty like no one had ever dared to before. (Applause.) Our curves, our stride, our strength, our grace. Her words were clever and sassy; they were powerful and sexual and boastful. And in that one singular poem, Maya Angelou spoke to the essence of black women, but she also graced us with an anthem for all women –- a call for all of us to embrace our God-given beauty.

And, oh, how desperately black girls needed that message. As a young woman, I needed that message. As a child, my first doll was Malibu Barbie. (Laughter.) That was the standard for perfection. That was what the world told me to aspire to. But then I discovered Maya Angelou, and her words lifted me right out of my own little head.

Her message was very simple. She told us that our worth has nothing to do with what the world might say. Instead, she said, "Each of us comes from the creator trailing wisps of glory." She reminded us that we must each find our own voice, decide our own value, and then announce it to the world with all the pride and joy that is our birthright as members of the human race.

Dr. Angelou's words sustained me on every step of my journey –- through lonely moments in ivy-covered classrooms and colorless skyscrapers; through blissful moments mothering two splendid baby girls; through long years on the campaign trail where, at times, my very womanhood was dissected and questioned. For me, that was the power of Maya Angelou's words –- words so powerful that they carried a little black girl from the South Side of Chicago all the way to the White House. (Applause.)

And today, as First Lady, whenever the term "authentic" is used to describe me, I take it as a tremendous compliment, because I know that I am following in the footsteps of great women like Maya Angelou. But really, I'm just a beginner -- I am baby-authentic. (Laughter.) Maya Angelou, now she was the original, she was the master. For at a time when there were such stifling constraints on how black women could exist in the world, she serenely disregarded all the rules with fiercely passionate, unapologetic self. She was comfortable in every last inch of her glorious brown skin.

But for Dr. Angelou, her own transition was never enough. You see, she didn't just want to be phenomenal herself, she wanted all of us to be phenomenal right alongside her. (Applause.) So that's what she did throughout her lifetime -– she gathered so many of us under her wing. I wish I was a daughter, but I was right under that wing sharing her wisdom, her genius, and her boundless love.

I first came into her presence in 2008, when she spoke at a campaign rally here in North Carolina. At that point, she was in a wheelchair, hooked up to an oxygen tank to help her breathe. But let me tell you, she rolled up like she owned the place. (Laughter.) She took the stage, as she always did, like she'd been born there. And I was so completely awed and overwhelmed by her presence I could barely concentrate on what she was saying to me.

But while I don't remember her exact words, I do remember exactly how she made me feel. (Applause.) She made me feel like I owned the place, too. She made me feel like I had been born on that stage right next to her. And I remember thinking to myself, "Maya Angelou knows who I am, and she's rooting for me. So, now I'm good. I can do this. I can do this." (Applause.)

And that's really true for us all, because in so many ways, Maya Angelou knew us. She knew our hope, our pain, our ambition, our fear, our anger, our shame. And she assured us that despite it all –- in fact, because of it all -– we were good. And in doing so, she paved the way for me and Oprah and so many others just to be our good, old, black-woman selves. (Applause.)

She showed us that eventually, if we stayed true to who we are, then the world would embrace us. (Applause.) And she did this not just for black women, but for all women, for all human beings. She taught us all that it is okay to be your regular old self, whatever that is –- your poor self, your broken self, your brilliant, bold, phenomenal self.

That was Maya Angelou's reach. She touched me. She touched all of you. She touched people all across the globe, including a young white woman from Kansas who named her daughter after Maya, and raised her son to be the first black President of the United States. (Applause.)

So when I heard that Dr. Angelou had passed, while I felt a deep sense of loss, I also felt a profound sense of peace. Because there is no question that Maya Angelou will always be with us, because there was something truly divine about Maya. I know that now, as always, she is right where she belongs.

May her memory be a blessing to us all. Thank you. God bless. (Applause.)
Check it:
Before Michelle Obama took the podium, Oprah delivered an emotional speech of her fondest memories of Dr. Angelou. She talked about how the legendary poet was like a mother figure to her and how she became the ultimate teacher in her life.
"The loss I feel, I cannot describe," Winfrey said, her voice wavering as she fought back tears. "It's like something I have never felt before. She was my spiritual queen mother and everything that that word implies. She was the ultimate teacher. She taught me the poetry of courage and respect."
Here Oprah's full speech below:
Inspirational.
R.I.P. Dr. Angelou.
Photo: Ustream
UPDATE: Tracy Morgan's Friend James "Jimmy Mack" McNair Killed In Car Crash, Tractor Trailer Driver CHARGED
Posted: 08 Jun 2014 05:48 AM PDT
The identity of the fatality from the car crash that landed Tracy Morgan in intensive care has been revealed. The man killed was also a comedian and a good friend of Tracy's. Deets inside…
More sad news:
You'll recall Tracy Morgan and his entourage were traveling in a limo bus that overturned around 1AM on the New Jersey Turnpike in Robbinsville. One man was killed and three others (including Tracy) were critically injured.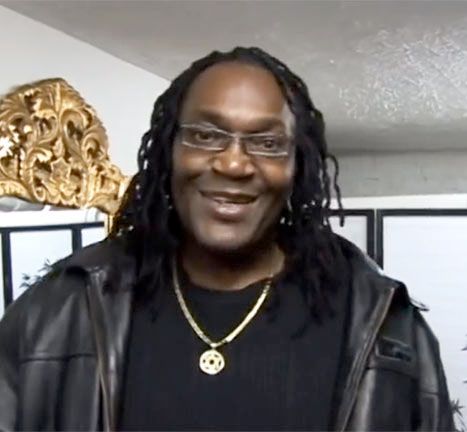 According to police, 63-year-old comedian James "Jimmy Mack" McNair of Peekskill, NY was the passenger inside the limo bus who lost his life in the six-vehicle crash, which involved two tractor trailers, two cars, an SUV and the limo bus Tracy and crew were riding in. Jimmy Mack was a close friend of the comedian.
Initial reports indicated there were seven injured people, but the prosecutor's statement confirms there were actually four. Two of Tracy's friends/comedians Harris Stanton and Ardie Fuqua are among those who were critically injured.
It's said that a tractor trailer rear-ended slow moving traffic which caused the accident. Police have charged 35-year-old Georgia Wal-Mart truck driver Kevin Roper with one count of death by auto and four counts of assault by auto.
Sgt. Gregory Williams of New Jersey State Police said:
"NJSP says the driver of the tractor-trailer failed to observe slow-moving traffic ahead," Williams said. "At the last minute, he swerved to try and avoid the Mercedes limo bus but struck it from behind, forcing the limo to rotate and overturn."
The former "30 Rock" star and his crew were traveling from Delaware where Tracy performed at the Dover Downs Hotel and Casino on Friday. Ardie Fuqua posted the picture above from the event just after his show before they started to make their way back to NYC. He captioned, "This is what it looks like from the stage to see a standing ovation from 1500 people. Then we traveled back to NYC in style in a luxury Mercedes Sprinter. Road life is a good life! #tracymorgan"
Tracy's publicist released a statement on Saturday on Tracy's condition saying,
"Tracy remains in critical condition at Robert Wood Johnson Hospital. He sustained these injuries in an accident that occurred early this morning as one of several passengers in a chauffeured SUV returning from a tour date in Delaware. His family is now with him and he is receiving excellent care. We don't anticipate much of a change in his condition today but will provide a further update once more information becomes available."

Here's raw video footage of the accident site:
Last month, the former "SNL" star had signed a deal for a new untitled comedy series on NBC which was expected to debut in January 2015.
We are keeping them all in our prayers and will keep you updated...
The Randomness:
1. A 50 Cent Affiliate has been arrested in the Slowbucks chain snatching case. STORY
Photos: Getty/YouTube/Ardie's IG