---
Jennifer Lopez PROMOTES Her New Album With T.I. On "106 & Park" + Chops It Up With The Breakfast Club About Her New Network NuvoTV + Hits "Wendy Williams" To Dish On BEING SINGLE Again
Posted: 19 Jun 2014 09:03 AM PDT
Seems like everyone is on their promo ish lately. And Jenny From The Block is making her rounds (along with her mom) after the release of her new album, A.K.A. Get the latest interviews from her recent stops inside….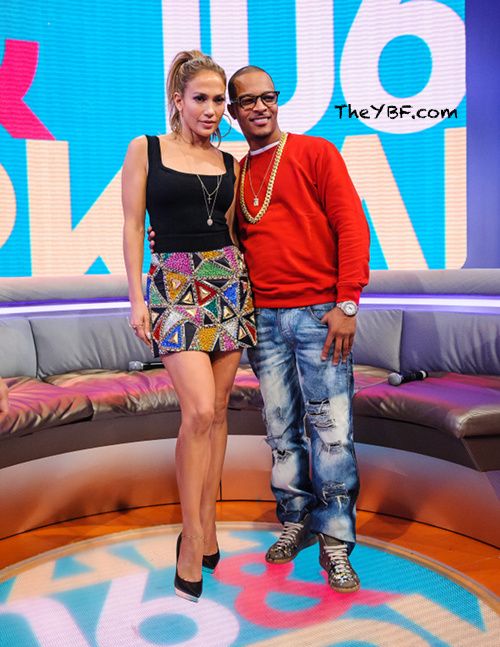 On yesterday, Jennifer Lopez (whose divorce from Marc Anthony was recently finalized) hit up "106 & Park" alongside T.I. (who appears on her album) to promote her new album A.K.A.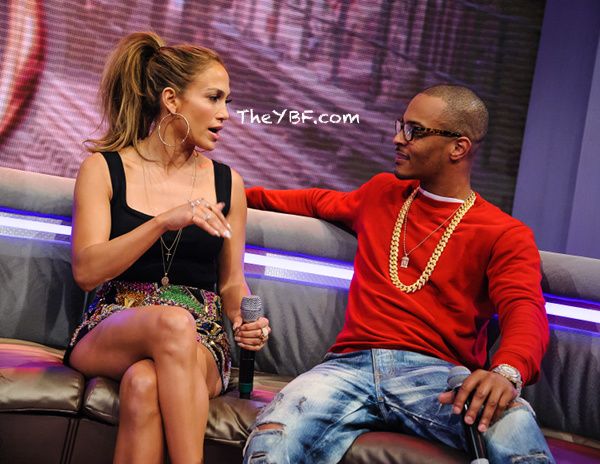 And while she was there, J. Lo dished on her first-ever hometown concert, her World Cup opening performance, reveals how Tip hopped on the "A.K.A." track and working with Rick Ross.
Check it:
Tip surprises JLo:
Working with Rick Ross:
Then this morning the "I Luh Ya Papi" singer trekked it to Power 105's The Breakfast Club to talk about why she decided to do music again, her television network NuvoTV and why she thinks she intimidates men. Here are the highlights:
On why she decided to come back and do music:
She said she's back to do music because I love it. "I just can't stay away from it. Even when I'm not putting records out, I'm making music."

On her new television network NuvoTV:

"NUVO is a network that is geared toward the modern Latino. Which is…not Spanish speaking. Yes, we are in touch with our culture. Yes, we do speak Spanish but we also speak English. We grew up here. And there's no real programming or anything on TV that's really geared toward that even though it's a huge demographic."

On why she thinks she intimidates men:
She said she thinks it can be overwhelming being in a relationship with her. She said it takes a very strong and self-aware man to be with her and he has to be ok with standing on the sideline sometimes.

On who's her favorite rapper for all time:
Nas

On how she stays in shape:
She credits dancing and working out a lot as to how she keeps her banging bod.

On performing in her hometown:
Jenny said there aren't a lot of venues in the Bronx and that's why she hadn't performed there. She said Yankee stadium is huge so she wasn't sure if she could sell it out.

On if she has sex toys:
She said she had some before but doesn't currently have any.

On working with Chris Brown:
She said it was great. They worked in the studio together on the track. She said she loves the songs he wrote on her album. He wrote "Same Girl," "Booty," and "Emotions."


On her kids Max & Emme:
She said her children have a very active life. She said she has security for them and they have a nanny that takes them to museums and things like that.

Check it:
And after the Breakfast Club...
The sexy 44-year-old singer (who celebrates a birthday July 24th) hit up the "Wendy Williams Show."
She chopped it up with Wendy about about the stage entrance mishap during her performance of the official FIFA World Cup anthem with Pit Bull.
Is she currently single? Yes…and has been for a couple of months. She said she loves being in love and its something she has always cherished. She talked about how devastating it was to get a divorce from Marc Anthony after being married for seven years.
J. Lo said her children started school this year and have a pretty full life. They're smart, beautiful and loving…everything a parent could ask for. Aww…
Will she be returning as a judge on "American Idol?" She's not sure yet. With her new album, touring and other projects she has to figure out if she can work it in her schedule. She revealed she actually loves doing the show because she gets to talk about music and would like to come back. So we shall see…
Check it:
Photos: Splash News/Wendy's IG
VIDEOS: Common's "Kingdom" Featuring Vince Staples + Nicky Minaj, John Legend, Jhene Aiko & August Alsina CONFIRMED For 2014 BET Awards
Posted: 19 Jun 2014 08:17 AM PDT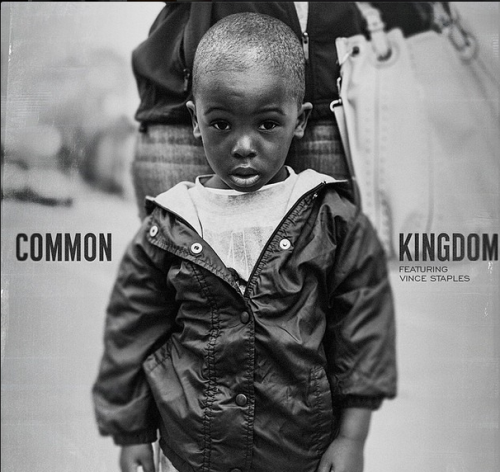 We've got Common's latest video, "Kingdom" featuring Vince Staples. Watch it inside and find out who's been added to the growing list of performers at the 2014 BET Awards.
In the Hype Williams-directed clip "Kingdom", Common sheds light on the dark and gritty streets of Chicago with XXL Freshman class rapper Vince Staples. The song was produced by No I.D. and appears on Common's 10th album Nobody's Smiling (July 22nd). Common discussed the video treatment for the 8-minute clip with MTV:
"Nobody's Smiling was really a thought that came about because of all the violence that was going on in Chicago. It happens in Chicago, but it's happening around the world in many ways. It may not be to the numbers that's happening in Chicago, but it's happening in the inner-cities all over America. It's really a call to action."
Watch "Kingdom":
2014 BET Awards update...
The 2014 BET Awards, hosted by Chris Rock, will be held at the STAPLES Center on Sunday, June 29, 2014. In addition to previously announced performer (Mary J. Blige, Trey Songz and Jennifer Hudson, K. Michelle, Mack Wilds) BET has confirmed Nicki Minaj, nine time Grammy Award Winner John Legend, singer-songwriter Jhene Aiko and August Alsina. "106 & Park" hosts Bow Wow and Keshia Chante and actor Larenz Tate have been added as presenters.
EXTRAS:
1. Sean John president Jeff Tweedy busted for DWI. Story.
TV FAB: 50 Cent On "WWHL," Reveals Who He Thinks Is The Most Overrated Rapper & How He Would Have Responded If Solange Attacked Him Like She Did Jay Z
Posted: 19 Jun 2014 07:19 AM PDT
50 Cent made a stop by Bravo's "Watch What Happens Live" to chop it up with Andy Cohen to promote his newly released album Animal Ambition and his new STARZ series "Power." In true 50 fashion, he held nothing back when asked who was the most overrated rapper, how he felt when he was confronted by Beyonce and he also weighed in on what he would do if Solange confronted him like she did Jay Z. More inside…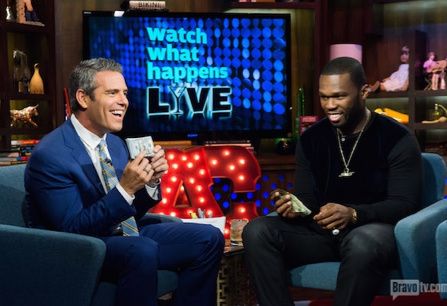 50 Cent made a stop by BRAVO's "WWHL" alongside TLAM2/"Entourage" star Jerry Ferrara to promote his latest projects. And of course, when you ask 50 anything…he holds nothing back.
Wearing a Alexander McQueen shirt, John Varvatos denim and Tom Ford shoes, 50 Cent dished on who he thinks is the most overrated Hip Hop artist. Who did he name? Jay Z!
50 said, "It's better to be overrated than underpaid."
Good point.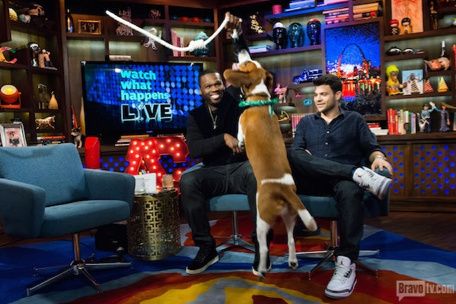 He also explained what it was like to be yelled at by Beyonce. Remember when he revealed Bey once confronted him about having a beef with Jay?
Well, he said her breath doesn't smell and when it happened…he just accepted it because he didn't want to do anything back with all of the paparazzi around.
Has he ever slept with Kim Kardashian? 50 says no. He also said they never dated…just took pictures together in Australia at the MTV Awards.
He also called his rumored ex-girl Chelsea Handler…"gator. " Well alright.
Check it:
50 explains how he would have reacted if Solange attacked him in an elevator like she did Jay Z at Met Ball:
50 reveals his upcoming birthday plans will be covered on ESPN:
Photos via BRAVO
COVER GUY: "The Mogul Next Door" Rickey Smiley Tells UPTOWN About Being The BEST Father He Can & BUILDING His Brand
Posted: 19 Jun 2014 06:38 AM PDT
Radio/tv/film star Rickey Smiley covers the June/July 2014 issue of UPTOWN Magazine where he opens up about fatherhood, building his brand and preparing for the next phase of his career. More inside....
Rickey throws up the "hooks" in honor of Omega Psi Phi Fraternity, Inc. on his dapper cover. This guy has changed a lot over the years...in a very good way.
The June/July 2014 issue of UPTOWN features an in-depth profile of comedian Rickey Smiley, host of "The Rickey Smiley Morning Show" (reaching 10 million people daily), "The Rickey Smiley Show" (his popular sitcom on TVOne), and "Dish Nation" (the highly-rated, national nightly pop culture roundup on FOX-TV).
Inside, he opens up about his struggles, his rise to stardom, the loves of his life and his road to becoming a media mogul. Here are the highlights:
On his career thus far: "I've just had some great and wonderful opportunities but my opportunities now are just going through the roof. I have a diction coach now. I've been practicing. I read the teleprompter every day so I'm prepared."
On today's comedy: "It's not about telling jokes anymore. You have to be a great storyteller. You got to bring people into your neighborhood. You got to be animated and years of experience [will] get you into that space and you just crack people up. And don't take yourself so serious. That's what brought on my success."
On building his brand: "I am excited about building the Rickey Smiley brand. I love having a sitcom and working on the set all day. I love having a syndicated radio show, getting up every morning and making people laugh all over the country and then taping Dish Nation. It's hard work and that's what it takes to get to the top and we're on our way."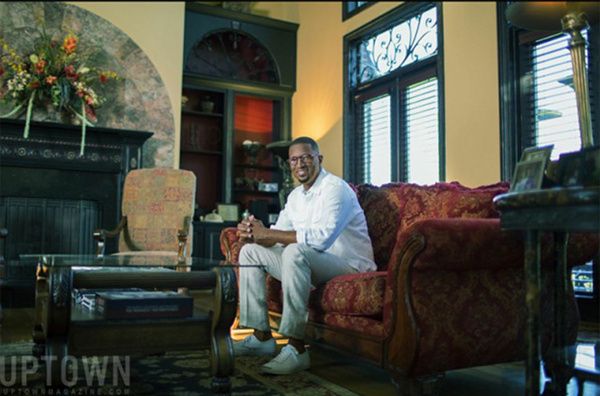 On his Lil Darryl routine: "Lil Darryl changed my life. It changed everybody's life. That year every [fraternity and sorority], whoever had a line that year and the year after that and the year after that, somebody on line was named Lil Darryl. Even my Lil Darryl First 48 probably got a million hits on YouTube. Lil Darryl got a vine video that's hilarious. I got kids that love Lil Darryl that were not even born when I first did it. Lil Darryl has been reborn."
On being Steve Harvey's protege: "Steve Harvey put me on. He came to Birmingham and decided he was going to work with me. I was blessed to open up for his [tour] The Kings of Comedy a few times. I would have to be in the hotel lobby early to ride in the limousine with Steve and I was a nervous wreck."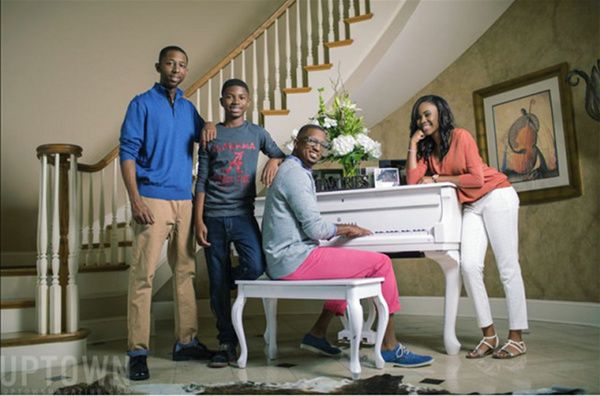 On being a father: "I enjoy being the best father I can be and being an awesome father to the fatherless. My dad was murdered and taken away from me when I was 7 so I know what it's like growing up without a dad. To be able to fill that void for somebody else is just incredible. I would actually pay money to do it."
Watch Ricky & Uptown Magazine BTS here:
The issue is on newsstands now.......
Photos via UPTOWN/James Anthony
SO THAT EXPLAINS IT....Angie Martinez SIGNS Clear Channel Media DEAL, HEADING To Power 105 In NYC & 103.5 In Miami
Posted: 19 Jun 2014 05:47 AM PDT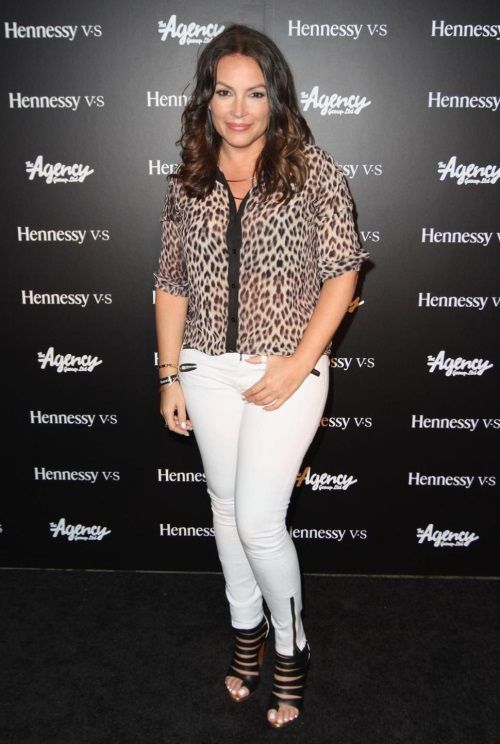 "The Voice of New York" Angie Martinez is heading to Power 105 - the biggest rival of her former station, Hot 97. Get the deets on Angie's new gig inside.....
Yesterday we brought you news about Angie Martinez's resignation from Hot 97....and now we know why. Angie signed a deal with Clear Channel which will put her on Power 105 in NYC and midday on 103.5 in Miami. Clear Channel announced the move in a press release...
And now the shade.....the deal is MAJOR because Angie made a "chess" move by leaving Hot 97 for its biggest rival 105.1. Power 105 didn't waste anytime firing a shot at Hot 97 by retweeting Angie's resignation.
Shady.......
Photos via Getty Images
Lupita Nyong'o Graces The Cover Of VOGUE's July 2014 Issue
Posted: 19 Jun 2014 05:12 AM PDT
Now that we've finally caught our breath after seeing Lupita Nyong'o's brand new cover of VOGUE magazine, we're sharing all the stunning photos and details from her cover story.
Get it all inside....
If it wasn't official before, it's official now: Lupita Nyong'o has had the best 2013-2014 EVER. The breath taking Oscar winner is giving life to the new July '14 cover of VOGUE magazine. And even though this is her first VOGUE cover, chick slays effortlessly.
Her sumptuous photoshoot was done in May in Marrakech, shot by Mikael Jansson. She may have been a serious film student just over a year ago, but now, Ms. Nyong'o could teach more than a few lessons on model behavior.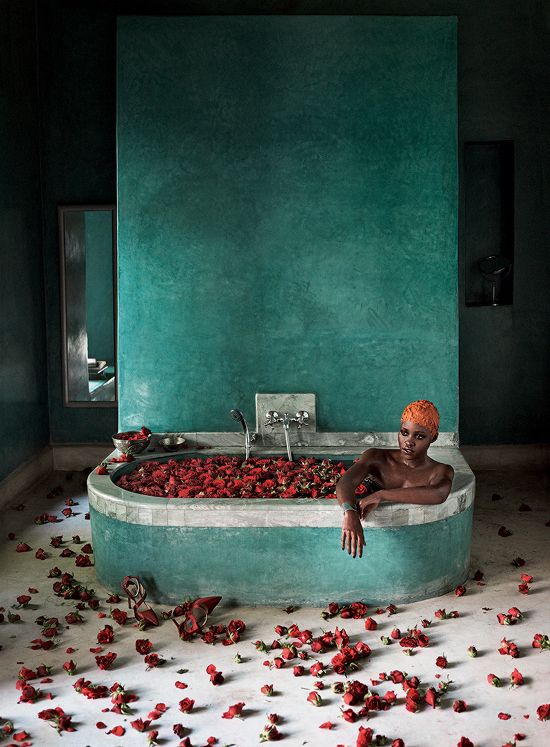 With pics shot in places like a luxe spa that imitates a castle-like fort in the middle of the Palmeraie at El Fenn hotel (above she's wearing a Janis by Janis Savitt silver cuff with Prada red satin heels), chick still outshines the gorgeous scenery.
The new face of Lancôme did over 60 promotional events this past Award season, and pretty much shut down every single one becoming an IT girl of fashion. So it's only right the fashion bible--who's still catching shade for that Kanye & Kim cover--gives her the shine she deserves.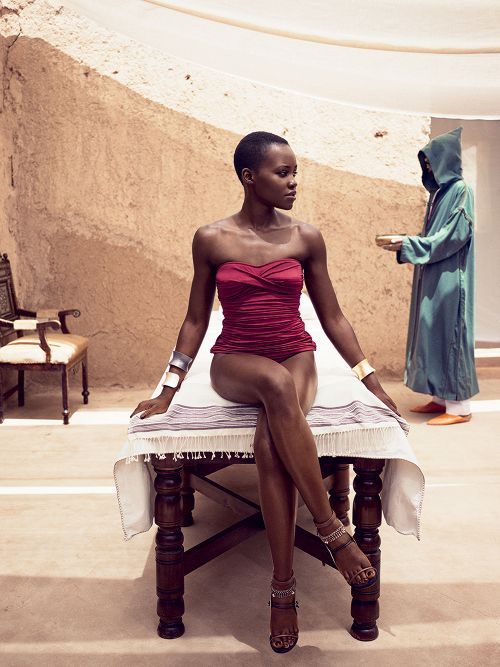 (J. Crew swimsuit)
Here's a few of the highlights from one of Miu Miu's newest faces--
On her seemingly sudden stardom trajectory
"It just feels like the entertainment industry exploded into my life. People who seemed so distant all of a sudden were right in front of me and recognizing me—before I recognized them!"
On her first paparazzi experience
"For a split second I looked behind me to see who they were flashing at—and it was me! That was, I think, the beginning of the end of my anonymity."

On her prom dress before graduating from an all-boys high school in Nairobi (that girls were only allowed to enter via placement tests)

"It was a velvet miniskirt with a matching little top and an iridescent silver translucent fabric that flowed to the ground," she remembers. "It was kind of ridiculous, but it was fabulous at the time."
On her Pinterest board she brought to her first meeting with stylist Micaela Erlanger
Bold color, interesting print, interesting silhouette—simple but architectural and feminine," Erlanger remembers. "Elegance, but with a sense of humor."
On their epic six-hour fittings
"It's a job; it's work, you know! We'd just try, try, try, try, try, try, try. At first it was very daunting, but I ended up really having fun with it."

Their choices have run the gamut from Christopher Kane and Sacai to custom Prada and Chanel Haute Couture. Most times, she adds, "especially for the bigger awards, the dress let me know it was going to be worn. It's quite scary when you fall in love with a dress, because it's nothing to do with your brain. It's like a gut reaction."
On that epic Golden Globes dress
"We got goose bumps," remembers [herstylist] of that fitting. "I told her, 'This is going to be a game-changer.' And it was."
On her red carpet life
Before she embarked on her fashion marathon, "everyone said, 'Brace yourself, Lupita! Keep a granola bar in that clutch of yours!' " she confides. "I didn't really understand what they meant, and it was only once it was past that I realized that my body had been holding on by a thread to get through this very intense experience. Nothing can prepare you for awards season," she continues. "The red carpet feels like a war zone, except you cannot fly or fight; you just have to stand there and take it." She considers for a moment. "I hope they don't make that the big quote!" she says, laughing. "Because that would be sad! Tell them not to do that!"

"My family is very close-knit," she explains. "My aunt, who was an actor herself, would get all us children together to write and perform plays. I loved manipulating my parents' emotions."
On her journey to the Oscar
"I had already gotten the nomination, which was truly, truly astounding, and enough," she remembers. "Even in my dreams of being an actor, my dream was not in the celebrity. My dream was in the work that I wanted to do."

When her name was read out, the experience was, as she recalls, "very confusing, very numbing. I was just repeating my name in my head, so I didn't know whether I had said my name or they had said my name! And then my little brother screamed, and time was suspended and it was just noise in my head."
Check out her full story over at VOGUE. More gorgeous pics from her spread are below:
Givenchy by Riccardo Tisci marigold bodysuit. Spinelli Kilcollin linked bangles. Georg Jensen double bangle.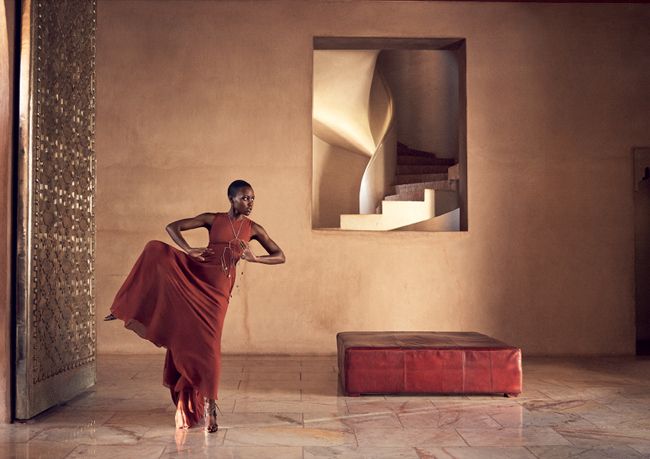 Vera Wang Collection copper trapeze dress. Ann Demeulemeester necklace. Pebble London ring. Casadei for Prabal Gurung heels
Rodarte metallic lace dress with sequins. Judy Geib Plus Alpha diamond–and–gold filigree earrings. Fred Leighton amber necklace
Proenza Schouler flock-printed cutout dress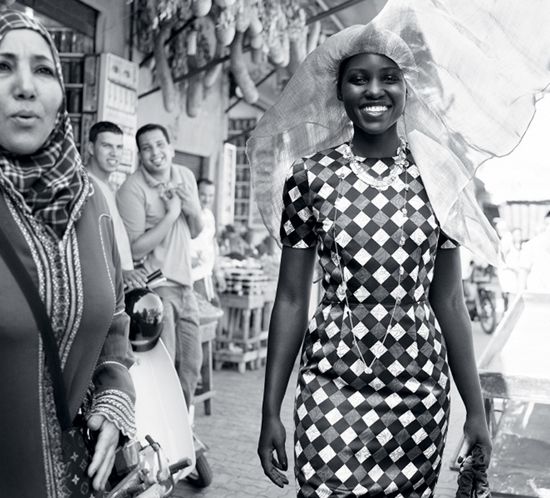 Jonathan Saunders check-and-floral printed dress. Ann Demeulemeester by Elvis Pompilio fine straw hat. Me&Ro necklaces.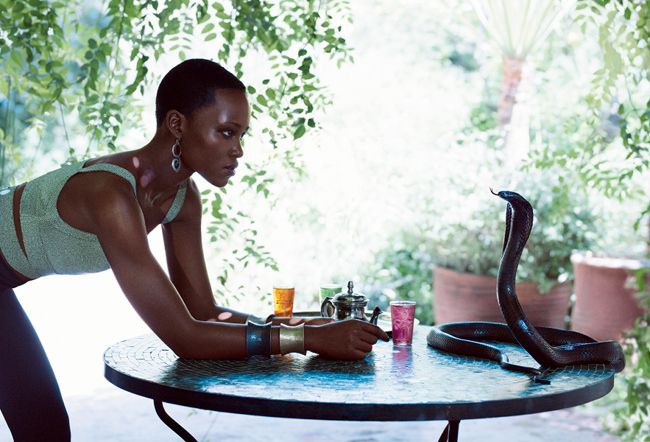 T by Alexander Wang knit top. Jonas Studio earring. Yossi Harari corset cuffs.
Photographed by Mikael Jansson
SPORTS FAB: San Antonio Spurs CELEBRATE Their FIFTH NBA Championship Win With River Parade & Ceremony
Posted: 18 Jun 2014 06:06 PM PDT
The San Antonio Spurs have won their fifth NBA championship. And to celebrate, the city of San Antonio came out for a victory river parade celebration to honor their beloved team. Peep the parade pics inside…
The San Antonio spurs defeated the Miami Heat (104-87) during Game 5 on Sunday in their hometown and now it's time to celebrate!
The city of San Antonio invited the community out to honor the Spurs with a river parade on the River Walk. Following the championship parade, the celebration will move to the Alamodome for a special ceremony.
San Antonio mayor Julian Castro released a statement on the team's fifth win saying,
"The City is proud of our Spurs. This fifth championship cements the Spurs' legacy as one of the greatest sports franchises in history."
Tim Duncan, Finals MVP winner Kawhi Leonard (who landed on the newest cover of Sports Illustrated), Tony Parker, Minau Ginobli, Danny Green, the rest of the Spurs players, head coach Greg Popovich, assistant coaches and the entire organization came out to show off their latest NBA championship trophy.

Peep the parade pics below: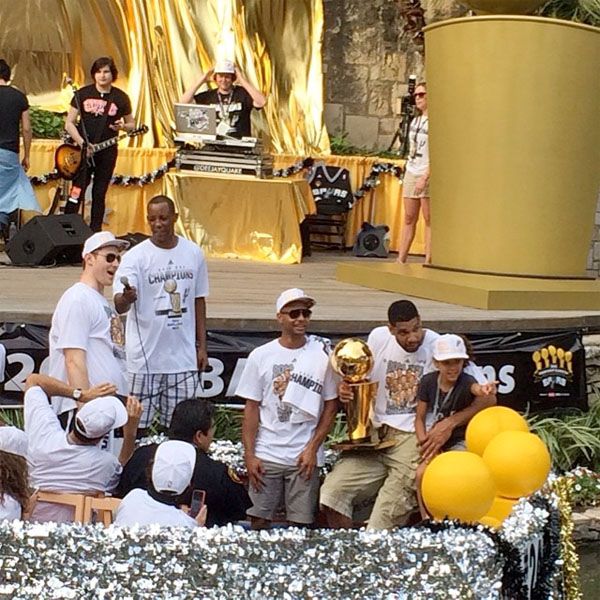 Tim Duncan spotted holding the championship trophy and his daughter Sydney alongside teammates Patrick "Patty" Mills and Aron Baynes on the mic.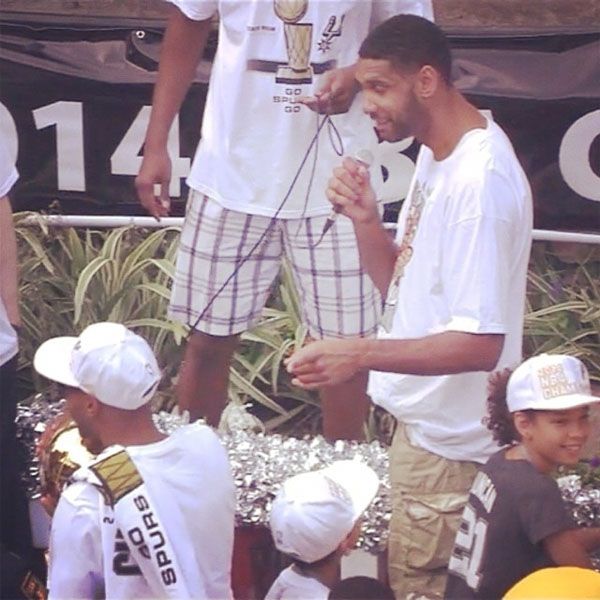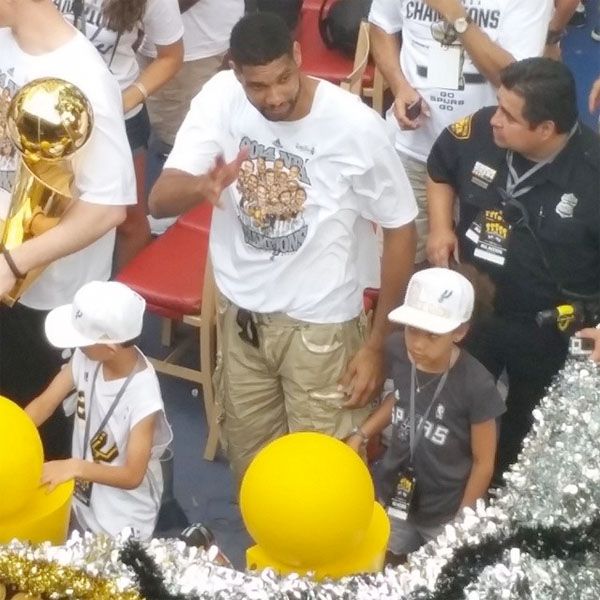 Tim Duncan has won a total of five NBA championships in 17 seasons, all with San Antonio. He is the 2nd player in NBA history to win an NBA championship in three different decades. He is also the first and only player to achieve this accomplishment as a starting player on each of the championship teams. Work!
22-year-old Kawhi Leonard (above) became the youngest NBA Finals MVP since Magic Johnson in 1980.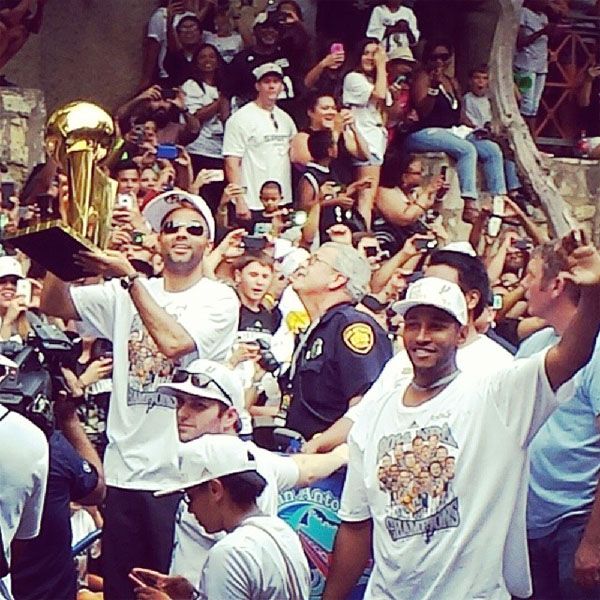 Tony Parker showing off the Spurs' FIFTH NBA championship trophy. This makes Tony's 4th championship ring.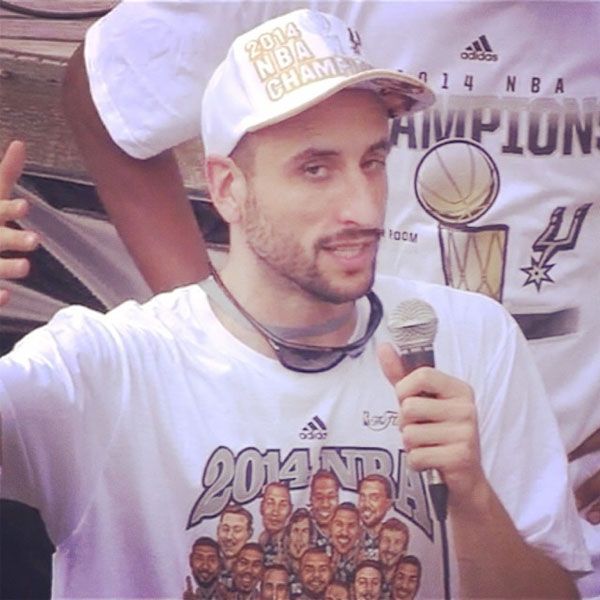 This win also marks Manu Ginobili 4th championship ring.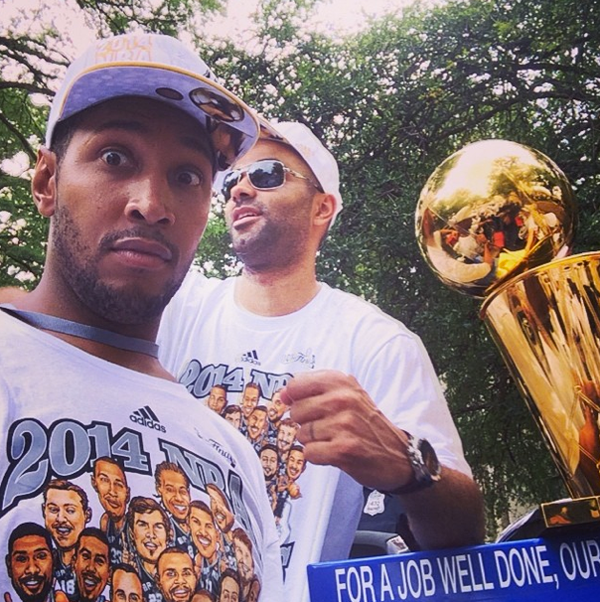 Frenchmen Boris Diaw and Tony Parker were ready for the festivities.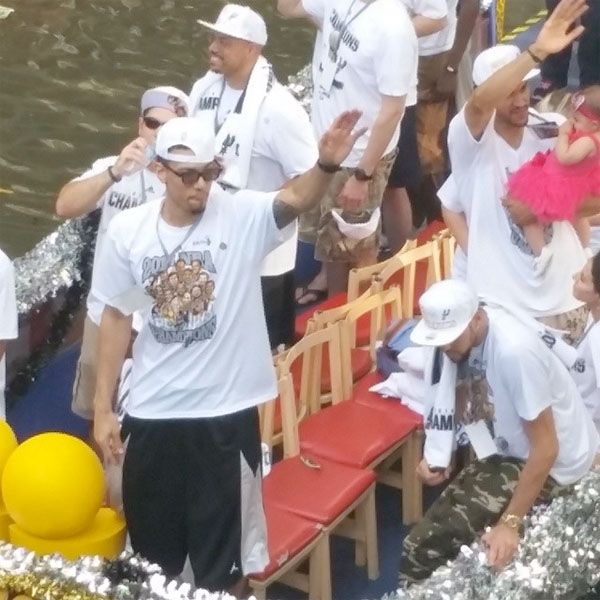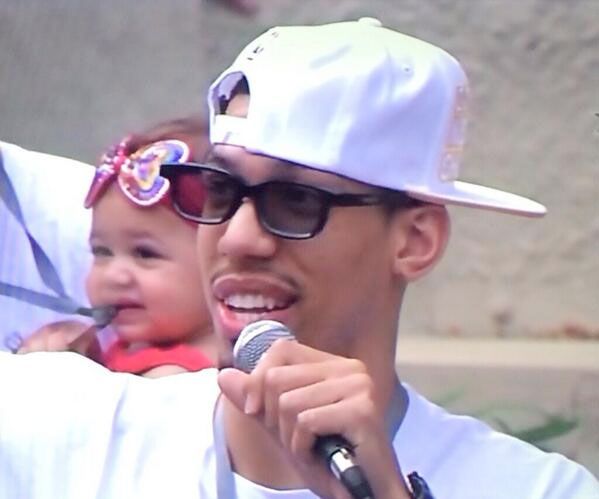 And Danny Green hopped on the mic.
Peep how hype the crowd is:
Fun times.
Photos: Spurs Facebook/Boris' IG/@VisitSanAntonio/@Spurs_Texano/@troy2782/@ashleyhodes21/@justina0425/@6_22_87/@moments_2count
PROMO ROUND UP: TLAM2 Cast Chop It Up On "GMA" & "The View" + Michael Ealy OPENS UP About His Son On "Wendy Williams" + Kevin Hart MANS Up For A Roller Coaster Ride On "Jimmy Fallon"
Posted: 18 Jun 2014 02:56 PM PDT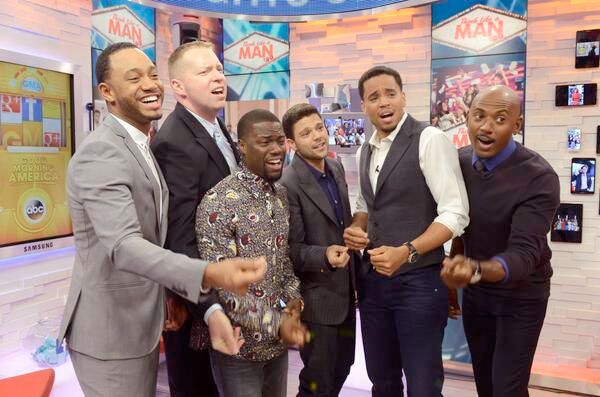 We are days away before Think Like A Man Too hits theaters and the cast have been uber busy on the promo circuit. Check out the round up of their latest promo stops and interviews inside…
The Think Like A Man Too cast has literally been everywhere lately, promoting their upcoming sequel to the 2012 box-office hit.
First the guys of the cast hit up "Good Morning America" to discuss the Vegas-set sequel. They revealed all of the characters evolve in the sequel and that this time around the film focuses more on maintaining their friendships along with their relationships.
When Gary Owen was asked about his wife in the movie, he revealed working with a white wife was like "Broke Back Mountain" because he's used to black women. Oh...
Check it:
Then on another daytime show....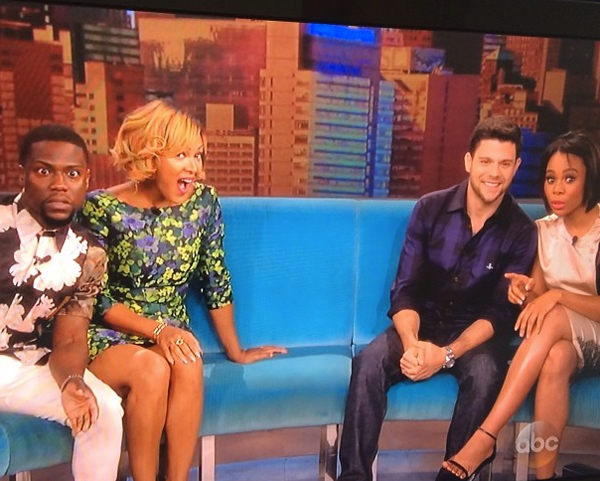 Kevin Hart, Regina Hall, Meagan Good and Jerry Ferrara visited the ladies on "The View" to promote their highly anticipated rom-com sequel.
On another daytime talk show…
Michael Ealy hit up the "Wendy Williams Show" on his TLMA2 promo run to dish on the upcoming rom-com and he also revealed details about his son and wife, Khatira Rafiqzada.
The sexy actor said the TLAM sequel is way funnier than the first and explained how the girls come together for a battle of the sexes. The couples battle it out in Las Vegas to see who can have the most fun.
Wendy didn't waste any time to ask him about his personal life (which he rarely talks about) and surprisingly, he dropped a few nuggets.
When asked how he keeps his personal life so private he said,
"It's not really that hard. I don't live my life in that way. I don't live my life in the social way. I don't put everything out on social media. At the same time, I've always been private ever since I was in high school. I learned then if you want something to work, if it means that much to you, keep it to yourself."
He then talked about his wife Khatira Rafiqzada and his son, Elijah Rakim. The TLAM2 star revealed his wife is from Afghanistan and they have been married for two years and dated four years before they got married.
So how did he spend his Father's Day?
"I had just gotten back in town from the road. My wife went to go get her hair done because we had date night that night, so it was just me and him. We ran some errands, took him to CVS to get him some swim diapers."
Check it:
Cute.
And last night…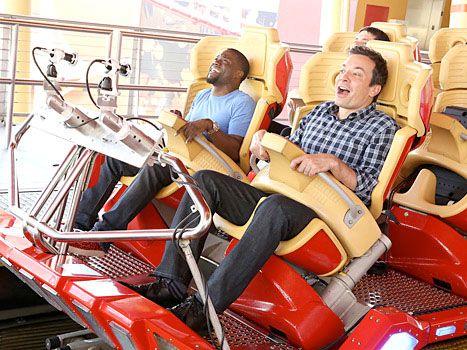 Kevin Hart made a press round for TLAM2 on the "The Tonight Show Starring Jimmy Fallon." Although he's terrified of rollercoasters, Kevin was convinced by Jimmy to hop on the Rip Ride Rockit rollercoaster at Universal Studios in Hollywood. And the video footage of them on the ride is hilarious.
Peep Kevin's rollercoaster ride below:
Kevin also talked about the time he hosted WWE Raw and his close encouter with wrestler Triple H. Check it below:
BONUS: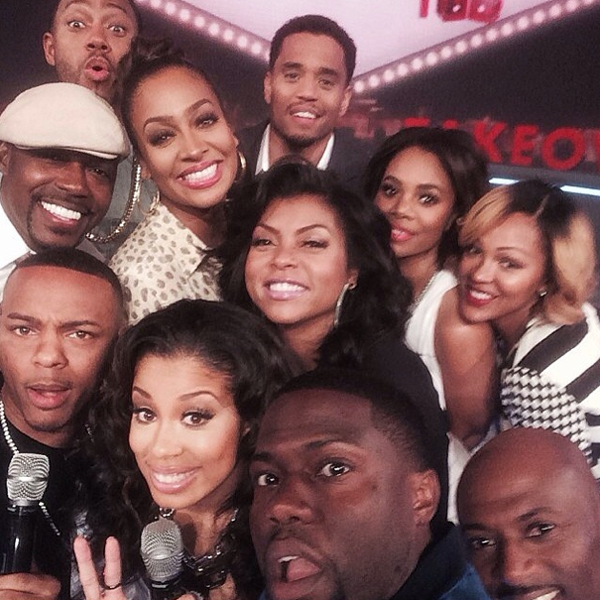 The entire cast met up at BET's "106 & Park" for yet another promo round for TLAM2 and snapped a cute "usie" with hosts Bow Wow and Keisha Chante.
Think Like A Man Too hits theaters this Friday, June 20th!
Fun times!
Photo: PEOPLE/ Douglas Gorenstein/NBC/NBCU Photo Bank/Taraji's IG/Meagan's IG

Robin Thicke Reveals "PAULA" Album Cover And Tracklisting
Posted: 18 Jun 2014 02:44 PM PDT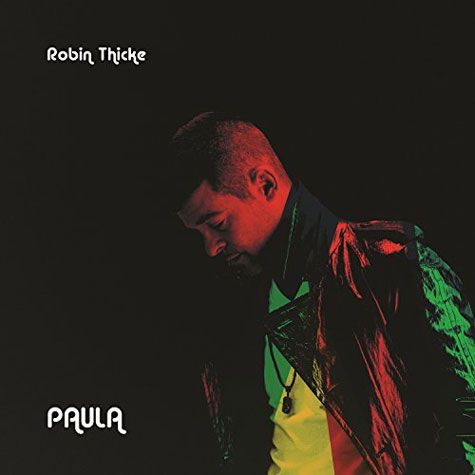 Robin Thicke revealed the cover art for his next album, Paula, along with the tracklisting. More inside....
In what may be his last attempt at winning back estranged wife Paula Patton, Robin Thicke has named his upcoming album Paula. Paula, Robin's seventh album, is the follow-up to the international smash Blurred Lines which brought a level of success that many folks blamed for ruining his marriage. All 14-songs were written and produced by Robin and clearly make reference to Paula, with whom he shares a son, Julian.
Paula Tracklisting:
1. "You're My Fantasy"
2. "Get Her Back"
3. "Still Madly Crazy"
4. "Lock the Door"
5. "Whatever I Want"
6. "Living in New York City"
7. "Love Can Grow Back"
8. "Black Tar Cloud"
9. "Too Little Too Late"
10. "Tippy Toes"
11. "Something Bad"
12. "The Opposite of Me"
13. "Time of Your Life"
14. "Forever Love"
Paula arrives July 1st.
OH SNAP: Hot 97 LEGEND Angie Martinez Makes ABRUPT Exit From The Airwaves, ANNOUNCES Resignation
Posted: 18 Jun 2014 02:14 PM PDT
Angie Martinez sent shockwaves through New York City when she announced her resignation from NYC's Hot 97, the legendary flagship station of Hip Hop where her voice reigned supreme for over a decade. More inside...
New York lost an icon today when radio personality Angie Martinez (who dropped a verse on Lil' Kim's "Ladies Night" remix) announced that she's leaving the station to pursue other options. On Instagram, she wrote,
"Today I resigned from HOT97. I am grateful to the Emmis family for my time with the company and the immeasurable way that it has shaped my life. We made history together in so many ways and I will cherish those memories and my friendships forever. This was one of the toughest decisions I've ever had to make but ultimately it is time to move on, to grow and to be challenged in new ways. Saying goodbye is always emotional and bitter sweet but I am extremely excited about the future. Thank you HOT97 and most importantly....the listeners... for an unimaginable journey. Today will be my last show stay tuned.... Love, angie"
Folks have been listening to Angie since..forever. So it's pretty odd and abrupt for her to make an announcement that TODAY is her last day. No big send off...for the anchor of the station? Hmmm...sounds like some drama is going on behind the scenes.
We're sure there's a backstory...but Angie is keeping the true nature of her resignation to herself (for now). We wish her well and we'll stay tuned.
Photo via Angie Martinez's Instagram
FIRST LOOK: The OFFICIAL Cast Photo From The Upcoming NWA Bio-Pic "STRAIGHT OUTTA COMPTON"
Posted: 18 Jun 2014 12:58 PM PDT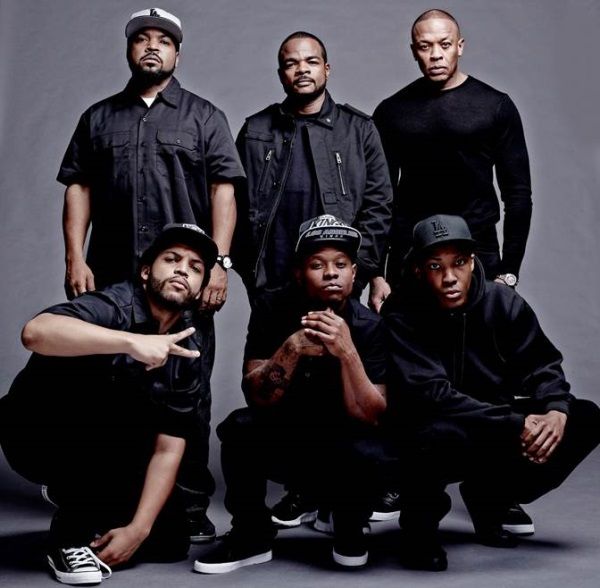 Director F. Gary Gray and producers Ice Cube and Dr. Dre posed with the cast of Straight Outta Compton for their first official cast photo today. See the pic inside....
Cruising into theaters on August 14, 2015, Universal Pictures has just revealed the release date for the highly-anticipated biopic #StraightOuttaCompton.
Earlier, we told you about Ice Cube's son, O'Shea Jackson Jr. signing on to play him and now we have an official cast photo featuring other cast members.
In the first photo of the cast, O'Shea Jackson Jr., Jason Mitchell and Corey Hawkins star as Ice Cube, Eazy-E and Dr. Dre.
The film is directed by F. Gary Gray (Friday, Set It Off,) and produced by original N.W.A. members Ice Cube and Dr. Dre, and Eazy E's widow Tomica Woods-Wright. Will Packer serves as executive producer. Here's the synopsis:
"In the mid-1980s, the streets of Compton, California, were some of the most dangerous in the country. When five young men translated their experiences growing up into brutally honest music that rebelled against abusive authority, they gave an explosive voice to a silenced generation. Following the meteoric rise and fall of N.W.A., STRAIGHT OUTTA COMPTON tells the astonishing story of how these youngsters revolutionized music and pop culture forever the moment they told the world the truth about life in the hood and ignited a cultural war."

Congrats to the cast! We're here for this.
Photo via Todd MacMillan/Universal Pictures
T.I. DISCUSSES Azealia Banks & Floyd Mayweather Beefs, "The Family Hustle" Spin-Off Shows, His Marital Issues With Tiny & More
Posted: 18 Jun 2014 11:05 AM PDT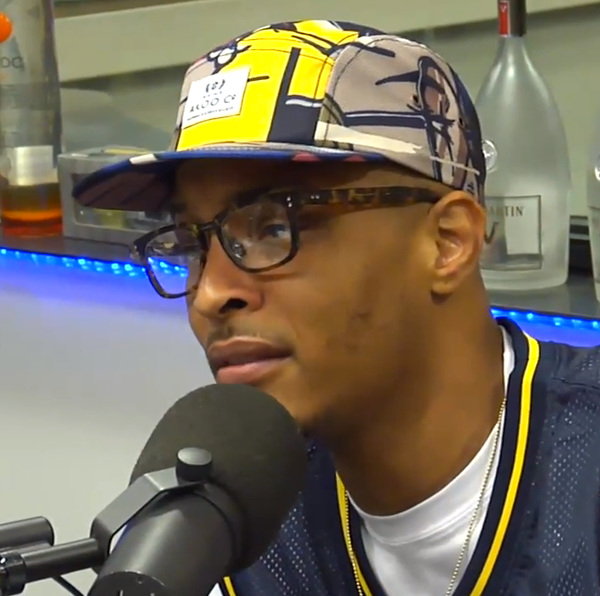 T.I. hit up Power 105's The Breakfast Club this morning where he discussed the many dramatic happenings he has been involved in recently. Find out what he had to say about his beef with Azealia Banks & Floyd Mayweather, his reality show "The Family Hustle," his marital drama and more when you go inside…
The Kang of the South made a stop by the Breakfast Club this morning to promote his new track "No Mediocre" with Iggy Azalea. And of course, there was plenty to discuss.
You'll recall, Tip was allegedly involved in an altercation with Floyd Mayweather Memorial Day weekend. So he dished on that, plus why he dragged Azealia Banks on Instagram yesterday. And, of course, all of the marital drama between he and his wife.

Tip touched on all those topics and started with his beef with boxing champ Floyd Mayweather (he said he doesn't talk after any of his fights).
About his beef with raptress Azealia Banks, he said he has a 'no tolerance policy' when it comes to him and his family. Meow.
As for his reality show "The Family Hustle", Tiny and T.I. will have their own spin-off shows. So where does that leave their marriage and the family show? Hmm...
And about his reality show "Sisterhood of Hip Hop", he said he created the show for Iggy but she didn't want to star on the show. Probably the smartest move she's made.
TIP pretty much danced around the questions involving his marital issues with his wife Tiny. But he did talk about his Akoo and Hustle Gang clothing lines (making $10 million), his upcoming album Paperwork: The Motion Picture (coming in September) and new projects he would like to work on.
Check it:
Photo: The Breakfast Club