---
Columbus Short's ESTRANGED Wife INVESTIGATED For ATTACK Video + Antoine Dodson Says He Doesn't Want His Son To Be GAY
Posted: 01 Jun 2014 06:32 AM PDT
For Sunday Shockers...Antoine Dodson says he wouldn't be "shocked" if his son was gay, but will "help him" if he is, while Columbus Short's estranged wife is being investigated for her own violent behavior. More inside....
By now, we all know Columbus Short has a hot temper. And you'll recall that his estranged wife Tanee McCall isn't afraid to open a can of whup-ass either. Now, the fight video we posted (between Tanee and Columbus' friend Tilly Key) reportedly has LAPD's interest.
A few days ago, Tilly went to the cops after she noticed some "suspicious" followers on Twitter and began receiving strange phone calls. The last straw was when Tanee "favorited" one of Tilly's tweets. Tilly immediately shut her down...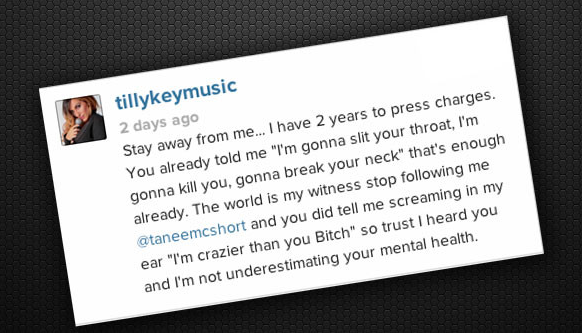 Tilly has filed a police report and the cops want to speak with Tanee! SMH....this will be messy.
In case you missed it, here's the fight clip:
In other shockers....
Antoine Dodson is saying out loud what many people are already thinking.
As we watched him renounce his "homosexual lifestyle" and father a child over the course of a few months, he told TMZ that's he wouldn't be surprised if his son dabbled in the "lifestyle" and he 'd try to help him. "I wouldn't be shocked because I lived that life before," adding, "I would try and get him help."
While Antoine believes gays can be "fixed", he added that he'd love his son either way. "Even if he couldn't be fixed it doesn't matter because I still support him no matter what."
Alrighty then....
Photos via Antonie's Instagram/Getty/TMZ
SUNDRESS CUTIE: Lupita Nyong'o GETS FAB At Veuve Clicquot Polo Classic
Posted: 31 May 2014 05:39 PM PDT
Style slayer Lupita Nyong'o rocked a patterned black & white sundress for Saturday's seventh annual Veuve Clicquot Polo Classic in Jersey City. Check out her cute look inside at the luxe socialite event of spring....
Leave it to Lupita to go from red carpet goddess to Polo match goddess effortlessly. Rocking her large hat, cocktail dress and wedges, the Non-Stop actress made her way to Liberty State Park in Jersey City Saturday afternoon to pop a few bottles of Vueve Cliquot champagne at one of the biggest social events of the season.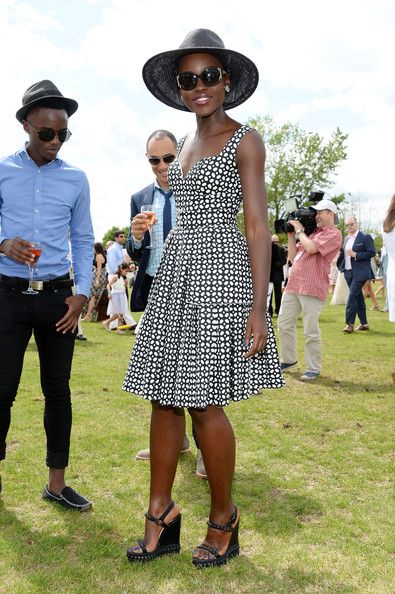 The gorgeous gal posed it up with fellow celebs Dakota Johnson, Julianne Moore, Olivia Munn, Behati Prinsloo and Busy Philipps on the grounds as they watched the match and sipped some bubbly.
Next up for the Oscar winner: She reportedly just nabbed the film rights to Chimamanda Ngozi Adichie's best-selling novel Americanah. So it looks like a possible biopic or film inspired by the author is in play.
Photos: Getty
Kimora Lee Throws 5-Year-Old Kenzo A Spiderman-Pool Party + All The Simmons Girls Help Celebrate
Posted: 31 May 2014 04:57 PM PDT
It was family time at Kimora's place today as she hosted her youngest kiddie Kenzo Lee Hounsou's 5th birthday party. Check out all the Spiderman-pool party fun with his sisters and family inside...
Kimora's nieces (yes, she still considers them her nieces, as expected, despite her divorce from Russell Simmons) Angela and Vanessa Simmons trekked it over to Kenzo Lee's big birthday bash today. His sisters 11-year-old Aoki & 14-year-old Ming Lee were there to party it up too, along with Vanessa's newborn baby Ava Marie.
The fam snapped an adorable photo at the party, which also served as little Ava's very first party ever. Way to kick off a grand life little one!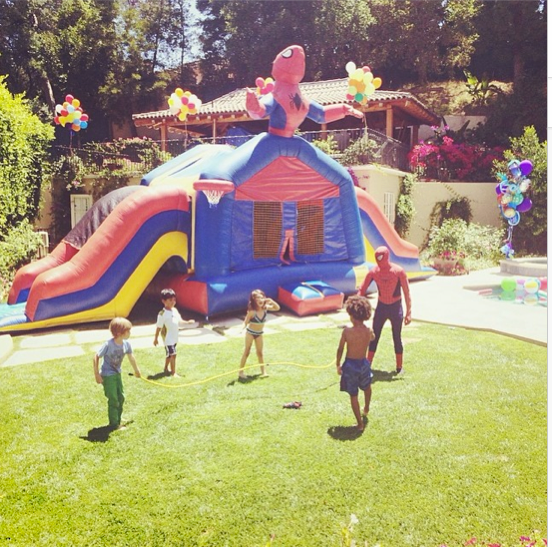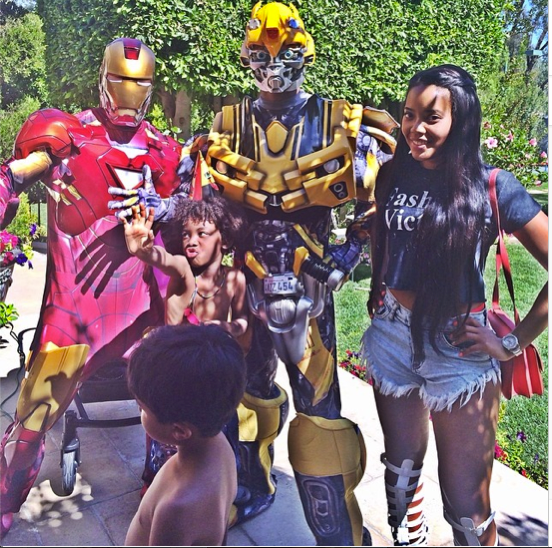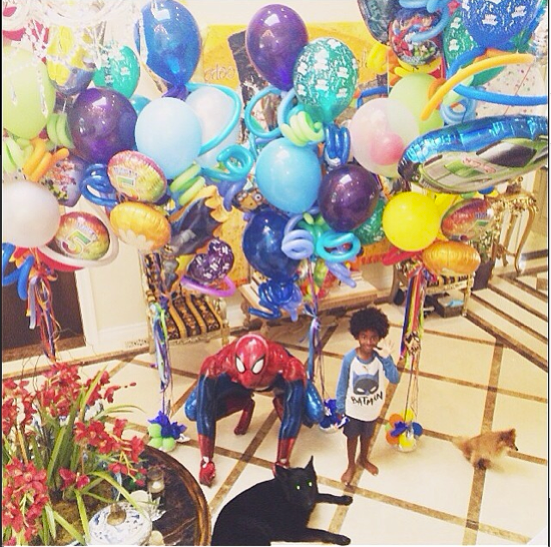 Kenzo, who turned 5 on Friday, had Spidey playing jump rope and snapping flicks. Gotta love it.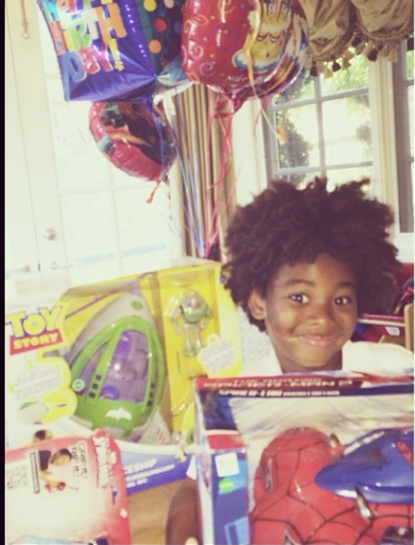 And the little Spidey fan copped plenty of gifts to keep him busy.
Fun times!
Photos: Kimora's IG/Vanessa's IG/Angela's IG
WORKIN' IN THE RAIN: The Carters Spotted All Smiles Leaving The Office
Posted: 31 May 2014 08:44 AM PDT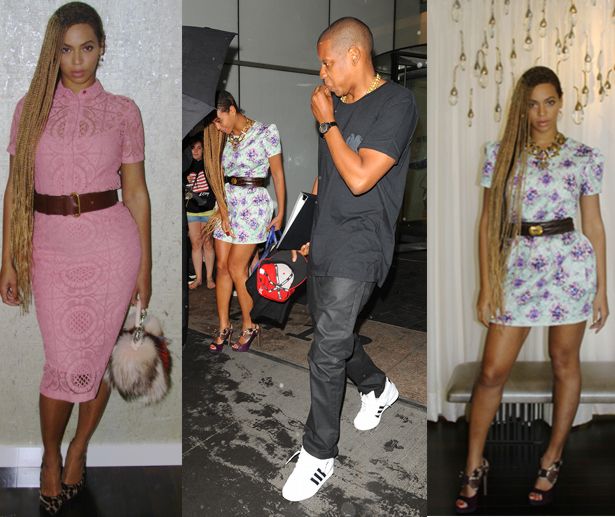 The Carters are still working away on the On The Run Tour as Jay & Bey were spotted leaving their Manhattan office in the rain Friday night. Check the pics inside...
In midtown Manhattan Friday, Beyonce & Jay-Z braved the rain, with Jay letting his wife take the umbrellas to shade those braids, while leaving their office:
Bey kept it sexy in a floral belted mini dress and purple and gold heels with a blue croc bag. Lots of colors going on here....
Mrs. C showed off her super toned gams, and even posted her own pic:
The "XO" chick showed off a new look today--belted of course--on her own account from inside the Parkwood Entertainment offices:
Seems she's in the lace curve-hugging pencil skirt mood these days. You feelin' it?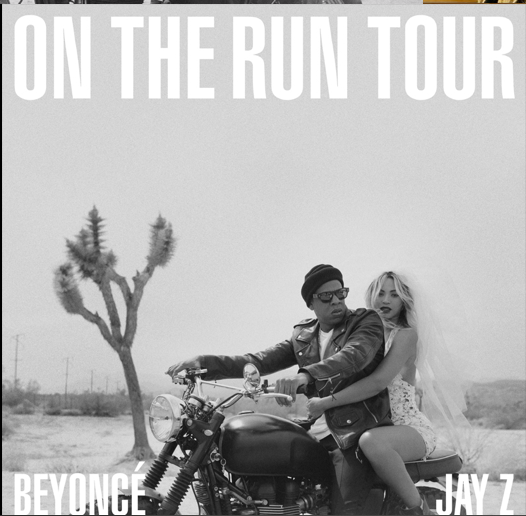 She also posted a new promo pic for the On The Run Tour. Hot.
Photos: Splash/Beyonce's Tumblr