---
COUPLEDOM: Russell Westbrook & Girlfriend Nina BOOGIE Board In Hawaii + Reggie Bush & Girlfriend Lilit Make Press Rounds In Aussie Land
Posted: 18 Jun 2014 09:51 AM PDT
The 2013-14 NBA season is over and OKC baller Russell Westbrook is really enjoying his time off with his girlfriend Nina Earl. Meanwhile, Reggie Bush and his girlfriend Lilit Avagyan were spotted in Australia as the sexy Detroit Lions baller made some promo rounds for the NFL.
Peep their candids inside…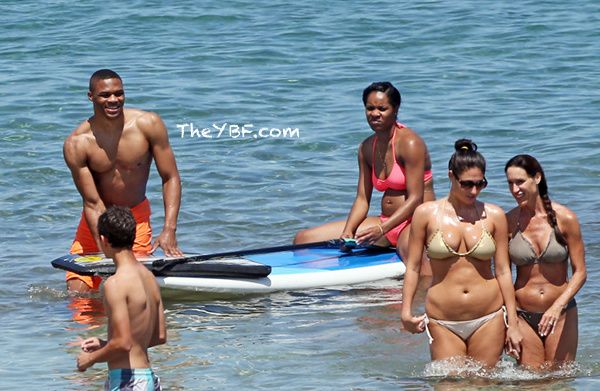 After getting defeated by the San Antonio Spurs in the NBA playoffs, Oklahoma City Thunder point guard Russell Westbrook had some free time. So he and his girlfriend Nina Earl trekked it to Maui.
The twosome hit up the beach for some fun in the sun as they enjoyed boogie boarding and paddle boarding. Peep Nina's face in the pic above, she looks totally over it. Ha!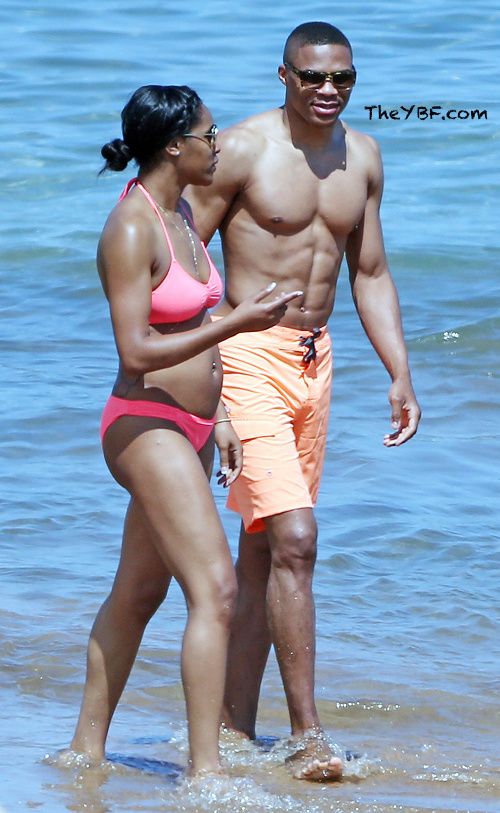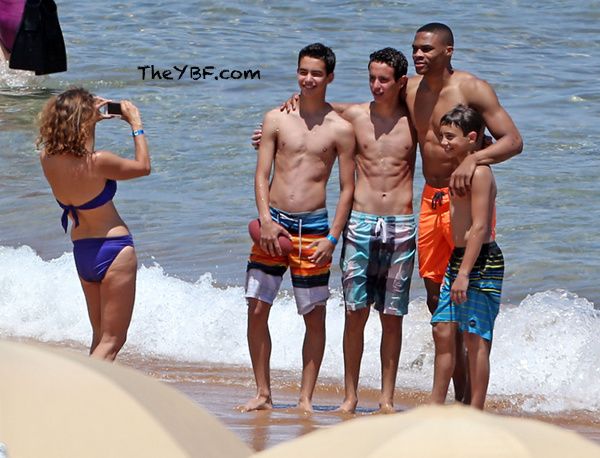 The NBA baller also stopped for a photo-op with some young OKC fans on the shore. Russell loves the kids.
And in Australia....
Detroit Lions running back Reggie Bush and his girlfriend (possible fiancee) Lilit Avagyan made a stop at Culture Kings clothing store in the Pitt Street Mall in Sydney, Australia.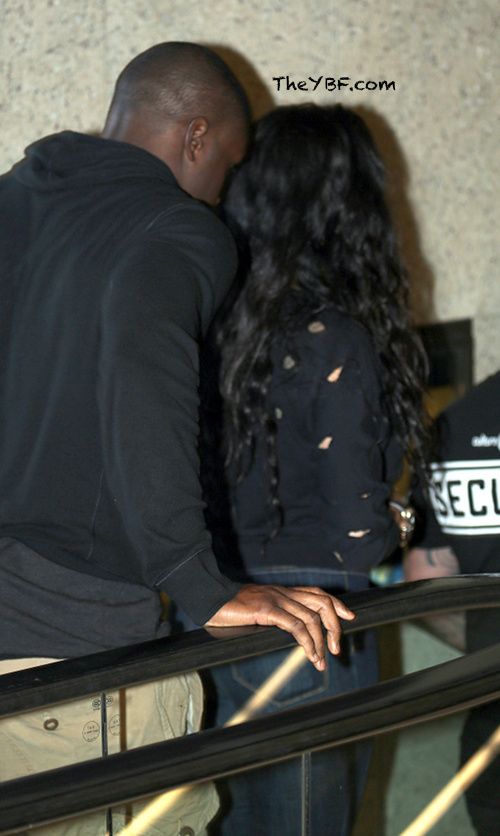 The sexy NFL baller is on the promo circuit to promote the NFL coming to Australia this year. Australia will host three regular season games (including a game between the Detroit Lions and the Atlanta Falcons), which will actually be played at London's Wembley Stadium. And it seems Aussies are excited about it because all three games are already sold out.
Australia's Seven Network has signed a five-year deal to be Australia's official broadcaster of NFL games. Since the continent is 14 hours ahead of Eastern Standard Time, it's unclear how the time difference will affect the broadcasting of games.
Check out the sexy Mr. Bush chatting up Australia's #1 talk show "Sunrise" about the new deal:
Photos: FAME/INF
STEAMY SHOOTS: Beyonce's New "Heat Wild Orchid" Fragrance Ad + Jennifer Hudson's New Bikini Pics From Mexico
Posted: 18 Jun 2014 09:03 AM PDT
Beyonce unveiled a new ad for her fragrance HEAT WILD ORCHID. See the steamy photo inside along with a new bikini photo of Jennifer Hudson.
In August, cosmetics counters around the world will cop Beyonce Heat Wild Orchid, a new parfum created in collaboration with Firmenich Perfumer Honorine Blanc combining the scents of pomegranate, coconut water and boysenberry. In a statement about the fragrance, it's described as an 'enticing, mouth-watering fragrance that emits a fierce, feminine energy.' Interesting...

Hopefully, Bey's new scent will outperform her concert sales. While no one would call the "On The Run" tour a flop, tickets aren't selling as fast as promoters would have hoped. In many large venues (Dallas, Atlanta, Miami) there are THOUSANDS of seats still available (the tour starts in July). Yikes. Yet and still, having 11 thousand seat available out of 90K is nothing to scoff at. Especially since most people in the same genre can barely fill a theater, let alone a stadium..
In Mexico...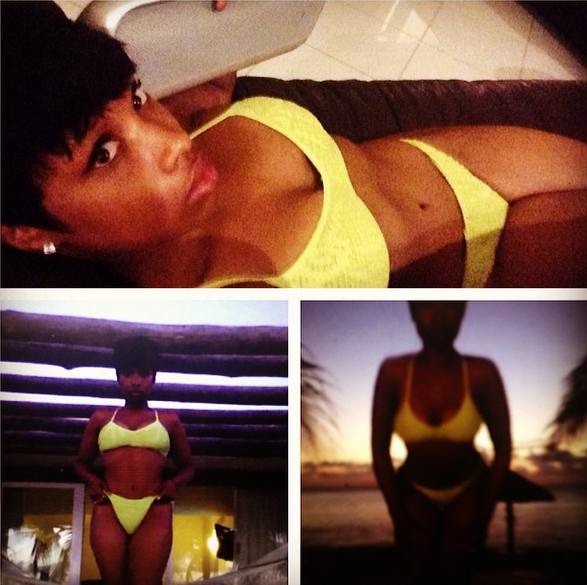 Oscar-winner Jennifer Hudson flew down to Mexico for some R&R this week. While on the beach, Jen showed off her hot bikini body with the caption, "It would take mexico to get me to play on the beach ! I'm so not that girl ! But I work hard , I deserve it right ! Plus, I earned it !"
Earlier this week, Jen released the video for "Walk It Out" featuring Timbaland, a single from her third album.
Looking fab chick!
Photos via Beyonce Parfums/Jennifer's Instagram
GET FEATURED: We Want Your #YBFGraduate Instagram Pics!
Posted: 18 Jun 2014 08:41 AM PDT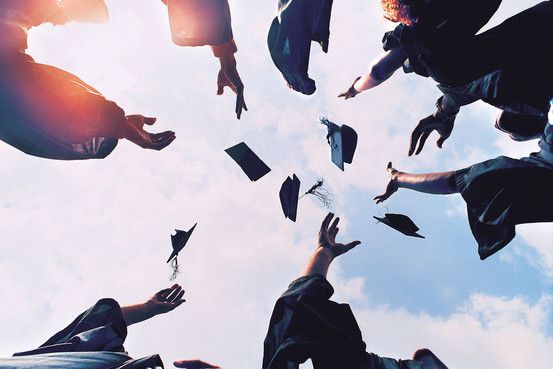 We've got another fun feature on our newly launched Instagram @TheYBFDaily (Follow us HERE!).
Are you a YBF Grad? We want to celebrate this FAB accomplishment with you! Post your BEST Graduation pic using #YBFGraduate. We'll shout you out/repost our faves on IG all week....
Kids, teens, and adults, we want to see your BEST graduation pics! Send us your #YBFGraduation pics via Instagram only. We're featuring our favorite entries. And....GO!
Congrats to the Class of 2014!
(We cannot see entries from private accounts.)
VIDEO FAB: Michelle Williams' "Say Yes" Ft. Beyonce & Kelly Rowland
Posted: 18 Jun 2014 08:02 AM PDT
If you've been waiting to see a mini Destiny's Child reunion, you're in luck. The video treatment for Michelle Williams' new gospel track "Say Yes," featuring her former Destiny's Child band mates Beyonce and Kelly Rowland has been released. And we have the new video inside…
Michelle Williams is gearing up for the release of her upcoming gospel album Journey to Freedom (scheduled to drop in September).
To kick things off, Ms. Williams premiered a sneak peek (but we've already got the FULL video) for her first single "Say Yes" this AM on "Good Morning America". She discussed her role as a mentor on the upcoming Oxygen network series "Fix My Choir" with gospel music legend Shirley Caesar and Mary Mary.
Michelle, Beyonce, Kelly (who recently revealed she's pregnant) tried to secretly film the visuals for Michelle's newest track last month, but once the word got out that the former girl group was on the set in someone's house in New Jersey, fans completely lost it!
Previously, we showed you the first picture from the set with Beyonce, Michelle and Kelly (above). And now the official video is finally here.
Check it:
EXTRAS:
Watch Michelle, Beyonce and Kelly (who described Michelle's new song as "infectious") go behind the scenes with ABC NEWS during the "Say Yes" shoot.
Photos: Erik Umphery/The Hollywood Reporter

Aaliyah's Family Gearing Up To Shut Down LIFETIME'S Planned Bio-Pic
Posted: 18 Jun 2014 07:12 AM PDT
The family of deceased singing sensation Aaliyah is not pleased by LIFETIME's plan to produce a film based on the singer's life. Get the deets on their plans to torpedo the production inside...
Any plans to turn the life of Aaliyah into a small screen film will be blocked by the singer's family - says Barry Hankerson, Aaliyah's uncle and former manager. But will they prevail?
Barry told TMZ that the family has contacted a lawyer and vows to block any attempt LIFETIME makes to produce the film or use Aaliyah's music. Their main issue is that NO ONE from the network asked for their involvement! We can only guess how they feel about the Aaliyah casting decision.
You'll recall a similar situtation a few years ago when the family shut down Drake's plans to release an album dedicated to Aaliyah.
Additionally, much like Whitney Houston's family, they believe their "star" deserves the silver-screen treatment. Your thoughts?
The Randomness:
1. For some reason, "BBW: LA" star Jackie Christie "allegedly" thought it was a good idea to post her boobs. NSFW PIC
2. Jay Z is getting his own drink. STORY
Photo via Getty Images
VIDEO FAB: T.I. & Iggy Azalea's "No Mediocre" Video
Posted: 18 Jun 2014 06:21 AM PDT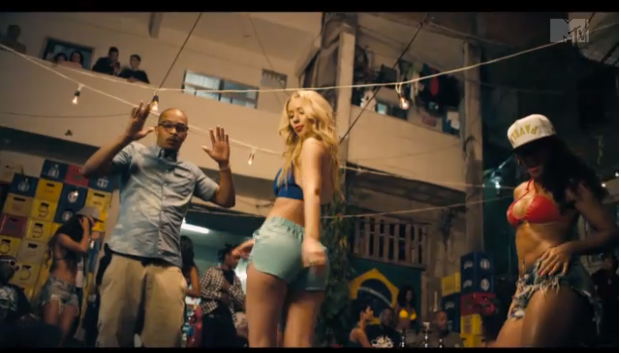 T.I. & Iggy Azalea just dropped their brand new video for their new collabo "No Mediocre", just a day after they dropped the track. Check out the Hustle Gang rappers' Brazilian adventures inside...
TIP and Iggy pulled a page out of Snoop & Pharrell's book (for their "Beautiful" vid) and filmed their visuals for "No Mediocre" in Brazil. While surrounded by a bevy of Brazilian beauties, the duo hop from one thing to another all over the streets of a Brazilian city.
The track will appear on The Kang's upcoming album Paperwork, out later this year. Check out the video above.
By the way, in case you missed it, TIP and Azealia Banks got into a serious war of words over this track. Azealia said TIP's frontin' with his song since his wife is mediocre, then the Harrises popped back. Hard.
The Ladies Of TLAM2 Get FAB For "GMA"
Posted: 17 Jun 2014 07:09 PM PDT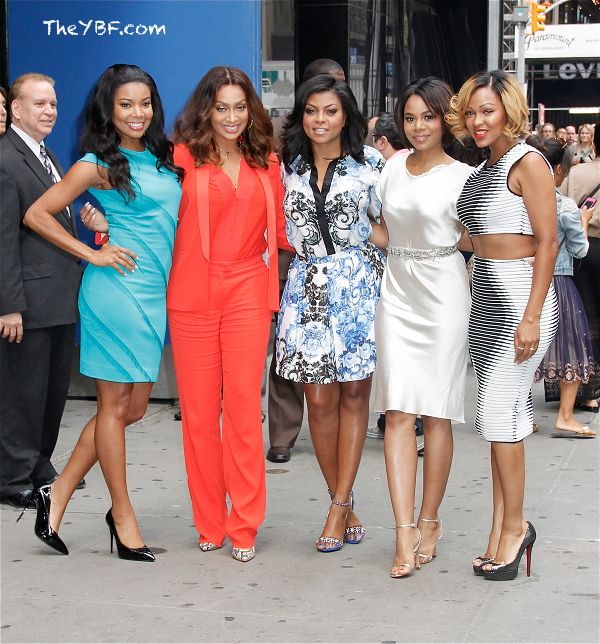 The ladies of TLAM2 brightened up "Good Morning America" this AM. Check out Gabby, LaLa, Taraji, Regina and Meagan doing what they do best inside...
As folks count down the days to the premiere of their big movie, the ladies took over "GMA" today looking fabulous,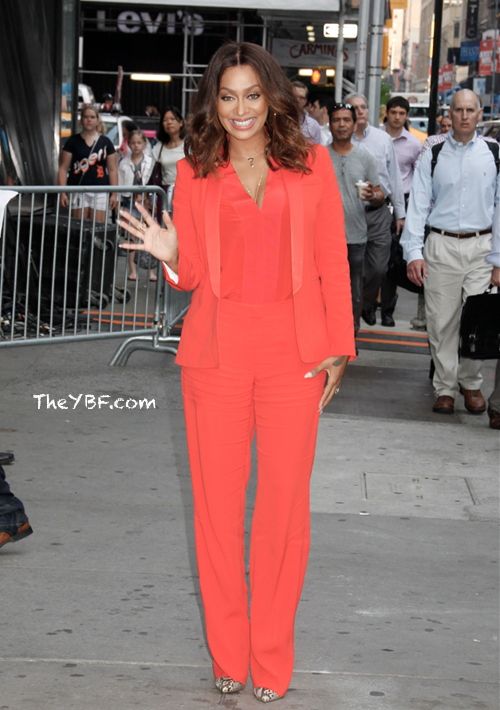 LaLa Anthony slayed in this coral monotone suit and snakeskin pumps.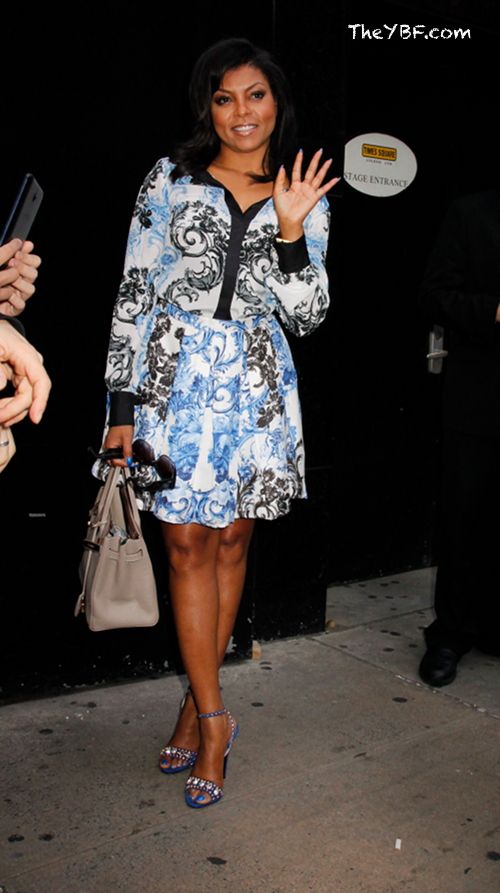 Taraji kept it pretty in a print on print skirt and blouse look. And topped off her look with a pair of hot Prada shoes.
gabby kept it simple in a turquoise dress and a pair of black stiletto pumps.
And she flossed that huge engagement ring in the makeup chair at "GMA".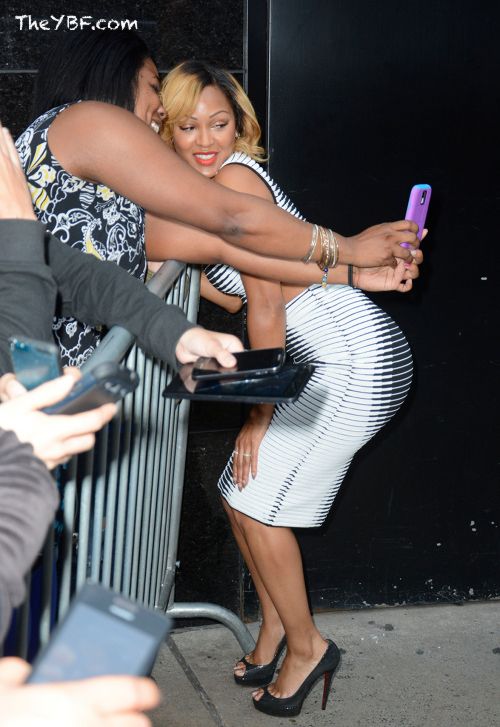 And Meagan Good, who celebrated her 2-year wedding anniversary with DeVon Franklin a few days ago, balanced herself in her Louboutins to snap a cute pic with fans in her matchy matchy crop top and skirt look.
Check out the ladies chit chatting it up and playing some games with Robin Roberts below:
Photos: Splash
OPEN LETTER: India Arie BLASTS Blue Ivy's Hair Critics, "It's NOT OK To Make Fun Of Children!"
Posted: 17 Jun 2014 04:10 PM PDT
"I Am Not My Hair" singer India Arie took issue with adults criticizing Blue Ivy's hair. Read her open letter inside and watch the creator of the infamous petition backtrack and say she meant it all as a joke!
When India Arie penned "I Am Not My Hair" in 2007, we're sure she didn't expect that she'd find herself defending the hair of a 2-year-old....but she is.
India was offended by the online petition started by Jasmine Toliver, who expressed "concern" about the care given to Blue Ivy's head (or lack thereof). India's points of contention were making fun of a children and using insults to deny a person's humanity. She tweeted,
My thoughts on #BlueIvy's Hair
Why does Anyone get the idea that its ok to make fun of a child?
In public no less?

This celebrity culture that hypnotizes people into thinking a person is LITERALLY NOT REAL because you see them on television is a spell the watcher HIM or HER SELF MUST BREAK.

Blue Ivy -- is a CHILD.

and ANYONE thinking to themselves right now:

"But she was born with a silver spoon in her mouth so what does it matter what I say"

Denying ANY PERSON their humanity , is a GAME we should ALL stop playing.

WHY?

Because it's the kind of PERSON YOU WANT TO BE.

Why NOT be a person who is loving towards human kind as a whole AND people as individuals?
WHY NOT be a person protects the hearts of children?

I think! all these people making negative comments would feel the SAME WAY if Blue Ivy's hair were TOO DONE. If she had a relaxer, of Hair pulled too tight at the edges.

being gentle with a child's hair is simply appropriate - this goes the same for ALL children.

come ya'll Lol

Were ARE better than this.

India
And you knew this was gonna happen......the BEYGENCY intervened too!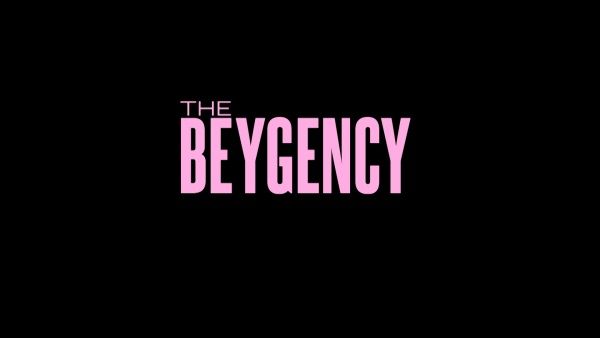 Once the Beyhive found out the name of the woman behind the petition, it didn't take long before they all started to sting that ass! Now....Jasmine is backtracking, assuring everyone that this was all a joke. A little misunderstanding. Some light-hearted fun. Via her alleged Facebook.....
Jasmine has a point....why did the world stop when the petition went viral? Or, it could be looked at as a symptom of a deeper rooted social problem, blacks & image, that SHOULD be discussed.
Speak on it...
Photos via Splash/India Arie's Facebook
TV FAB: Gabrielle Union ON "WWHL" Reveals Her Best On-Screen Lover, Says She Does "Tricks" To Comfort D-Wade When The Heat Lose, Was Once Friends With Sheree Whitfield!
Posted: 17 Jun 2014 03:13 PM PDT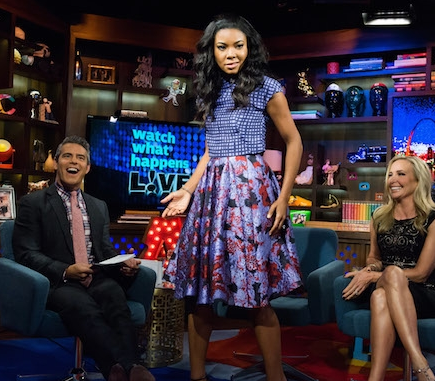 "Being Mary Jane" star Gabrielle Union stopped by Bravo's "WWHL" to promote this week's release of TLAM2. She's dishing up how fiance Dwyane Wade gets "special" treatment whenever the Miami Heat lose a game. Oww. More inside....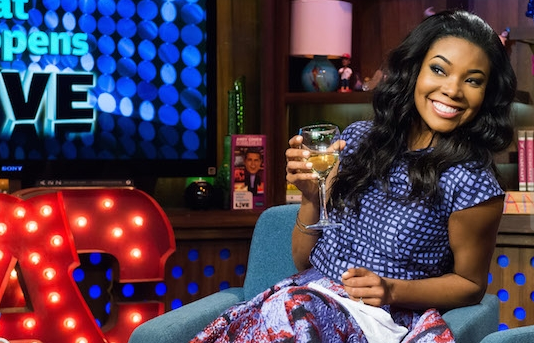 Actress Gabrielle Union (who's styled by Rachel Zoe) dropped in on Bravo's Clubhouse last night to tape "WWHL" alongside "Real Housewives of OC" star Shannon, and to promote TLAM2. Wearing Lela Rose and Stuart Weitzman shoes, she talked about her outfit and color inspiration on Instagram, "Total brain fart on "Watch What Happens Live" when asked what i was wearing and I replied "Purple" It's actually one of my fave looks... Oh and my Miami trainer who I forgot to name is @damhas who put me on with the 80 sec workout ... It was late people.. Forgive me"
Looking this cute, we totally do.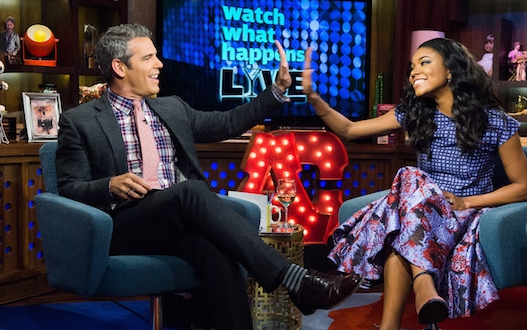 What did we learn from Gabby's segment? Well....she says her TLAM2 co-star Jerry Ferrara is her best "on-screen" lover. And when Andy asked if she and Dwyane have rough nights after a Miami Heat loss, she revealed that she likes to pull out "tricks" to help D Wade get over losing a game. Meow.
Also, Gabby said she was friends with Sheree Whitfield before her "RHOA" days when she owned one of the hottest boutiques in Atlanta.
See the clips here:
Gabrielle Union reveals her best on-screen lover:
How is Gabby handling the Heat's loss:
Gabrielle on knowing the REAL Sheree Whitfield versus the "RHOA" character:
EXTRAS:
Earlier this morning, the TLAM2 ladies appeared on GMA to promote TLAM2's release. Don't forget, the Mary J. Blige-helmed soundtrack is available today and the film hits theaters on Friday.
Photo via Gabrielle's Instagram/BRAVO
Chris Brown Hits The Studio With Justin Bieber + Drops Freestyle Over Drake's "0-100" Beat
Posted: 17 Jun 2014 02:21 PM PDT
Looks like Chris Brown is back to work with his homies. Not only has he already hit the studio with folks like Boosie and Tyga, he teaming up with Justin Bieber on something new for their fans. Deets inside, plus his brand new freestyle over his frenemy's track....
Justin Bieber posted a pic with Chris Brown int he studio today, telling their fans they just cooked up something for them. And it seems they've been working for a few days on something new. This pic was also posted a few days ago with Akon and others:
Glad Chris is back on his grind. But we can only wonder what this new song is going to sound like.
Meanwhile, Chris just flipped his frenemy Drake's new track "0-100". In his defense, the beat his hot and plenty of rappers have put in their 2 cents on it with some type of freestyle or remix. Or is Chris waving the white flag? Here's Chris' verse:
Photos: Justin's IG/Chris' IG
WHAT'S BEEF?!: Azealia Banks SHADES T.I.'s Wife After The Release Of His "No Mediocre" Track, Tip RESPONDS + Is Mimi Faust Supporting "No Reckless Internet Posting" After PROFITING From The RECKLESS Posting Of Her Sex Tape?
Posted: 17 Jun 2014 12:42 PM PDT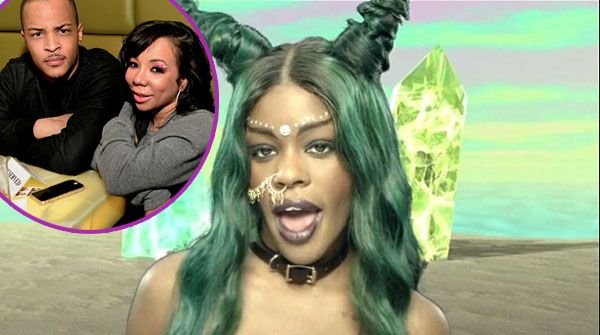 More trouble in the Harris household…but this time it's T.I. & Tiny vs. Azealia Banks!
Meanwhile, Mimi Faust held an open discussion on Twitter last night and said she would not be entertaining reckless posting. Oh, really? Get all the deets inside….
Mr. & Mrs. Harris are going to war and this time it's not with each other. Azealia Banks is stirring up the pot after the release of Tip's "No Mediocre," featuring her arch nemesis Iggy Azalea.
On the track, Tip talks about not wanting a "mediocre" chick which caused Azealia to pop off on Twitter going after Tiny. The rap chick made claims that Tiny doesn't know how to read and that she has a "meth face," whatever that means. But we're guessing she's trying to say Tip says he doesn't want a mediocre chick...but his wife IS mediocre.
In her first tweet, the Harlem rapptress fired off some subliminal shade tweeting,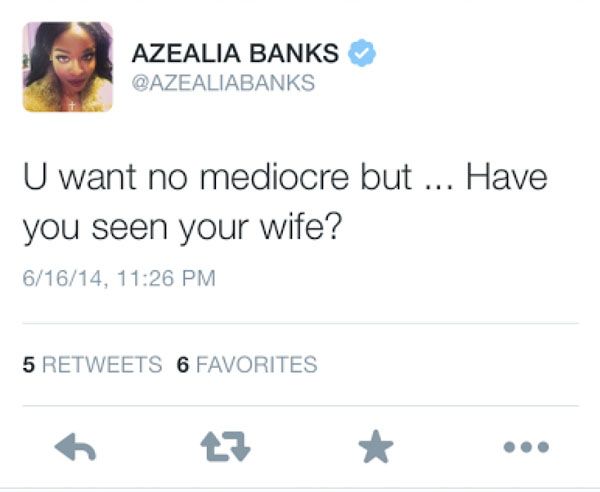 "U want no mediocre but… Have you seen your wife?" It SEEMS she's saying Tiny isn't anything out of the ordinary. Of course, she deleted the tweet but she continued her rant this morning with a slew of tweets (read from the bottom up):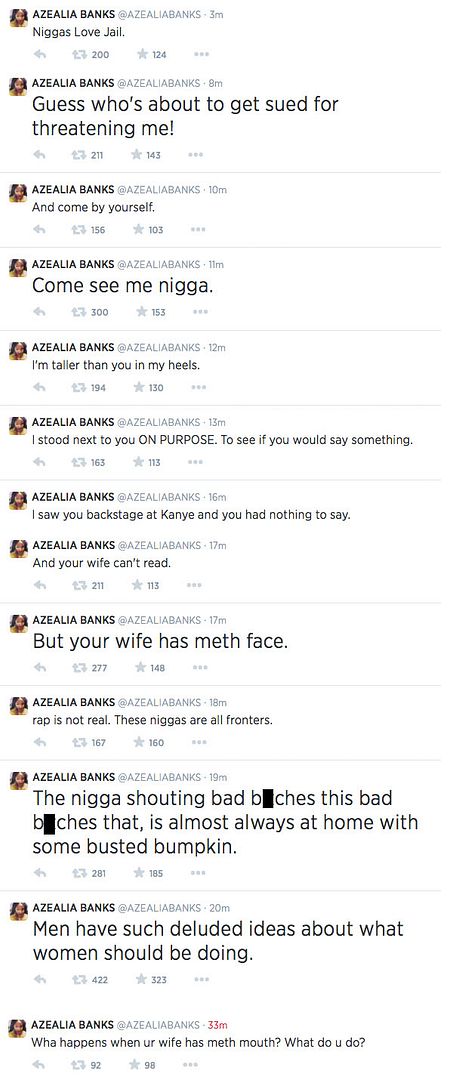 Sheesh!
Tiny must have gotten wind of Ms. Banks' Twitter antics and posted a subliminal message on her Instagram:
And then her hubby stepped in goin IN on Azealia, posting a picture of the rapptress with a nasty and possibly threatening message saying,
"U musty-mouthed-thot-bot-bad-body-syphilis-lipped-rectum-vomit-unimportant-ugggggly-monstrosity-of-a-maggot-ass BIIIIIIIITCCHHHH!!!!!! If u speak ill of my family again..... I WILL END YOU!!!!!! #OnPHIL #OnDOE #NoBuuulllshit people fall down stairs daily.... U better watch yo step,u ungly-ass Gremlin-baby #nerveofdisCretin #fuckouttahea"
Lordt!
Hear T.I. ft. Iggy "No Mediocre" track below:
Meanwhile...
"LAHH ATL" star Mimi Faust held an open discussion on Twitter last night, inviting her fans to ask her any burning questions they have been dying to ask her. You know, one of the usual bright ideas from the "LAHH ATL" cast.
She tweeted:
Tonight I am doing an ask Mimi anything, but I will not entertain reckless internet posting!!

— Mimi Faust (@MimiFaust) June 17, 2014
She referenced "No Reckless Internet Posting"…which is a campaign started by Waka Flocka's mom/manager Deb Antney (who has apeared on "LAHH"). Deb started the campaign after her youngest son Kayo Redd took his own life. She believes part of the reason her son took his life was because of all the negativity she and his brother Waka were receiving from trolls on the Internet.
Now Mimi appears to have hopped on the bandwagon, supporting the cause. Mimi has posted the "NO R.I.P." logo on her Instagram and seems to be supporting the movement with her latest tweet. But…isn't this the same woman who happily profited from the reckless posting of her sex tape? Oh...

Photos: ATLpics.net/Tip's IG/Mimi's IG
MJB's "A Night To Remember" Video + J.Lo's "Booty" Rockin' Everywhere In New Teaser
Posted: 17 Jun 2014 11:50 AM PDT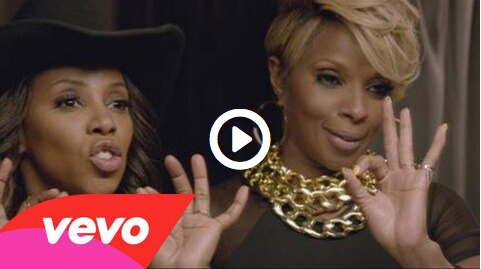 To celebrate today's album release, Mary J. Blige dropped her new video for "Night To Remember". Check it inside, plus J.Lo trying to claim the twerk throne....
On her brand new album, which is the soundtrack for the Think Like A Man Too movie, MJB re-invented Shalamar's "Night To Remember." And now, she's dropped the video. Check out MJB and her girl, celebrity stylist June Ambrose, living it up below:
Also in videos: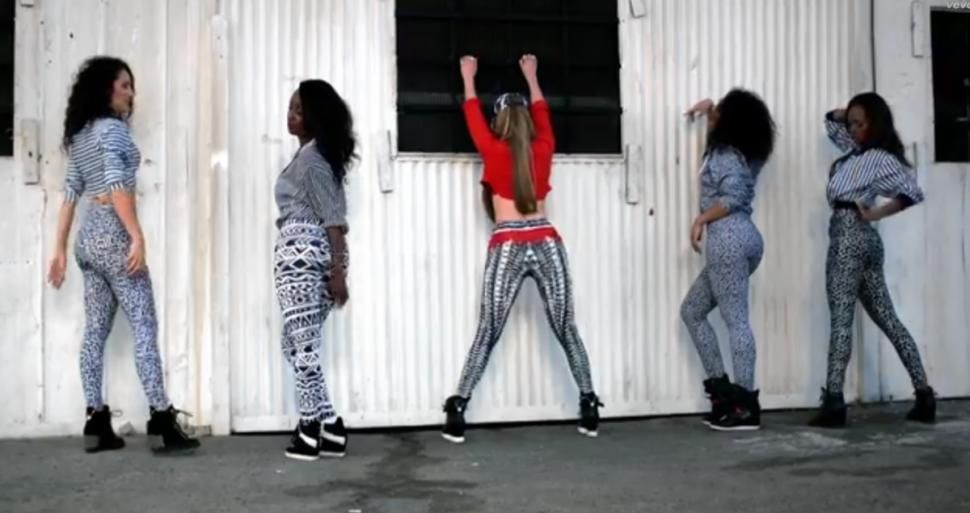 Yep, J.Lo's back on the block. In a crop top and leggings and twerking & popping for her almost-45-year-old life. And she's giving some chicks a run for their money. Check out the new twerk anthem "Booty" off her upcoming AKA album below:
You're welcome.
SHE'S BACK: Porsha Williams Talks Her Return To "Real Housewives of Atlanta"
Posted: 17 Jun 2014 10:26 AM PDT
The infamous showdown between Porsha Williams and Kenya Moore at the "RHOA" reunion taping had us all wondering if Porsha would be returning to the show. And now the "Flatline" singer has revealed that she will be retuning to the hit BRAVO reality series. Get the latest on her return inside…
Is Porsha Williams returning to "Real Housewives of Atlanta?" According to her…yes!
The "Flatline" singer has been keeping busy filling in as a co-host on The Ricky Smiley Morning Show for the summer. And the topic of her returning to "RHOA" came up where she confirmed she WILL be returning to show.
As you know, Ms. Porsha beat down her co-star Kenya Moore during the "RHOA" reunion taping which resulted in Kenya filing assault charges and Porsha having to turn herself into police. And not to mention, her first ever mugshot…which was uber glam by the way.
During the radio segment, it was announced that Ms. Porsha would be returning to the show. Despite her arrest, the "Flatline" singer said (referring to herself in third person) that she deserves another chance and that the fans are interested in her life so she should come back.
She said,
"I believe she deserves the opportunity. She should be able to come back. You know, people are interested in her life. I think it's great for her."
Check it:
Earlier this week, a fan tweeted Porsha asking if she would be returning to the show and she confirmed we would be seeing her next season.
She tweeted:
"@housewives_: #dishnation Are you coming back for a new season? @Porsha4real"Yes I'll be back! ☺ #DishNation Are you Ready!!??

— #FLATLINE Avail NOW (@Porsha4real) June 12, 2014
Do you think Porsha should come back? We have our thoughts, and we're not mad at the decision.
Photos: Porsha's IG
HE WANTS THE BEST: Kanye Says He "Had To Have Kim" Because She's The "Number One Woman In The World", Admits He EDITED Wedding Photos...For FOUR Days!
Posted: 17 Jun 2014 09:34 AM PDT
Why did Kanye West take Kim Kardashian as his lawfully wedded wife? Because she's the number one woman in the world and he only deals with the best! It was that simple. More about Kanye wanting the "Number Ones" of life inside....
You think you know Kanye West....but he's always dropping some semi-surprising eyebrow raising nuggets for us. Ye, (shown above in Cannes with Steve Stoute and Ben Horowitz) recently participated in a talk entitled "Translation: Technology, Culture, and Consumer Adoption: Learning to Read the Cultural Landscape" held at the Palais des Festivals during the Cannes Lions Conference, the biggest advertising festival in the world.
During the discussion, the talented Kanye offered a glimpse into his world and how he arrives at decisions about music, fashion and even marriage. He said:
'Throughout my entire life because of the way my parents raised me, I was like "I have to work with the number one"
So how'd that play out in terms of music Kanye? 'I can't work with anyone but Jay Z because that's the number one.' Guess that shuts down the "beef" rumors brewing between the two. Makes sense, right?

What about fashion? 'I can't represent any company but Louis Vuitton because that's the number one.'
What about love: 'I can't be with any girl but Kim because that's the girl I look at her pictures the most, I get turned on the most.'
Of course. That's what's MOST important in a marriage. Now....what would life be like if the world tried to deprive Kanye of having the best? 'It's like Michaelangelo told he's not allowed to carve with marble but told he's got to use cement or something like that.'
Another thing....Kanye believes that his "access" to getting the best is a step forward for civil rights because he's Black and now he, too, can have nice things too. "Before Obama, there was Jesse Jackson, there were different people, talking about blacks particularly in America that were not allowed to drink from the cleanest fountain, to work with the best resources."
Wanting to be "number one" also translated into Kanye's wedding photos too. During the talk, he revealed that it took him FOUR days to edit their first "official" wedding photo because "I still want my wedding photos to look like Annie Leibovitz's photos."
Ye' said Kim DID NOT want to wait a long time to upload the pic (no shocker there), but he convinced her otherwise.
"Can you imagine telling someone who wants to just Instagram a photo, who's the number one person on Instagram, "We need to work on the colour of the flower wall", or the idea that it's a Givenchy dress, and it's not about the name Givenchy, it's about the talent that is Riccardo Tisci - and how important Kim is to the internet. 'And the fact the number one most-liked photo [on Instagram] has a kind of aesthetic was a win for what the mission is, which is raising the palette. 'It was a long time,...'
You can't be mad at him for always aiming to step up his game. With superficial ish and beyond....

EXTRAS:
Just in case you think Kanye became "arrogant" after he became successful, Dave Chappelle can prove that Kanye was ALWAYS the Kanye that we know now. This week, he told Jimmy Fallon about the first time he met Kanye. It's a true "Kanye" story. Check it above at the 4:05 mark.
Photos via Micaela McLucas/Splash/Kris Jenner's Instagram