---
VIDEO FAB: Kelly Rowland's "The Game" Video For Pepsi's 'Beats Of The Beautiful Game' Album
Posted: 12 Jun 2014 09:13 AM PDT
Mom-to-be Kelly Rowland lended her vocals in a new track titled "The Game" for Pepsi's soccer-inspired visual album Beats of the Beautiful Game. And now the visuals have surfaced. Check it inside…
Beyonce isn't the only Destiny's Child member to nab a partnership with soft drink giant Pepsi.
Last week, Kelly Rowland released a new track titled "The Game" for Pepsi's soccer-inspired visual album Beats of the Beautiful Game. And since the FIFA World Cup kicked off today the video treatment for the track been released.
Although Mrs. Witherspoon doesn't star in the Spike Lee-directed video, it instead follows a young boy as he makes his way through Brazil to the World Cup stadium.
When asked about the new offering Kelly said,
"I was immediately attracted to 'The Game' because I can identify with its theme of overcoming challenges and finding your voice. It's a very important message and I'm honored to partner with Pepsi on a project that brings the worlds of music, sports, and film together. As an artist—and a huge film and sports fan—it's been an incredible experience."

The 11-track visual album will also feature Janelle Monae, Rita Ora, Don Omar, Santigold, super-producer Timbaland and more.
Check out the warm and fuzzy vid below:
P.S. TEAM USA takes on Ghana in the first game of the World Cup on Monday!
Photo: Getty
Uzo "Crazy Eyes" Aduba's FUNNY OR DIE "OITNB" Audition Video + Tatyana Ali SPOTTED In The Rain At Charity Breakfast
Posted: 12 Jun 2014 08:48 AM PDT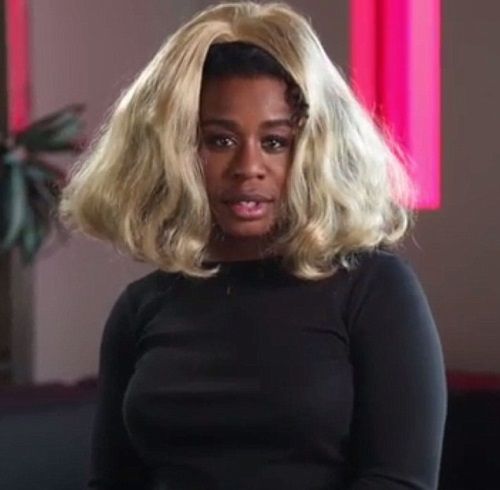 Uzo Aduba starts in a hilarious Funny Or Die video where she auditions for each "Orange Is The New Black" role...with the exception the "Crazy Eyes" character (that made her famous). Watch the video inside and see Tatyana Ali headed to the Catwalk For Charity show.
Orange Is The New Black star Uzo Aduba, who plays the mentally-unstable Suzanne "Crazy Eyes" Warren character, taped a hilarious Funny Or Die spoof video where she auditions for "other" roles from the hit Netflix show. Check it below:
Uzo tweeted, 'Replay. Thank you @funnyordie for having me!! Fun(ny or die) times!! #crazyeyes'"
On the streets of Miami.....
"Fresh Prince of Bel Air" alum Tatyana Ali was spotted walk through the rain in Miam recently. but still managed to look fab in her vintage wde leg pants and python Ron Donovan shoes.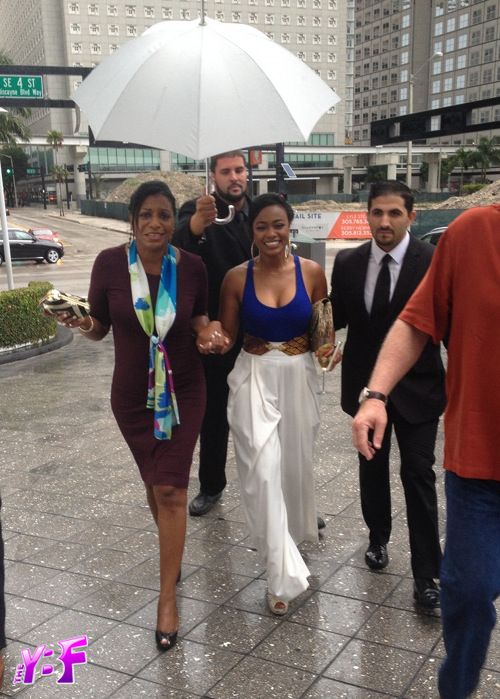 The gorgeous actress/singer was en route to the JW Marriott Marquis for Breakfast with Santa's annual fundraising lunch and fashion show CATWALK FOR CHARITY. She joined actor Brian White and RHOA star Cynthia Bailey at the event.
Tatyana, who attended with her aunt Tia Marcia and posed it up with Janice Combs, recently completed filming a rom-com November Rule with LaLa Anthony and Faizon Love.
Cute.
Phots via Uzo's Instagram
Jay Z's "Reported" Mistress Files LAWSUITS Against Media Outlets Over False Cheating Rumors + Beyonce Rocks HOT Blonde Bob In SECOND Toyota "Get Going" Ad
Posted: 12 Jun 2014 07:41 AM PDT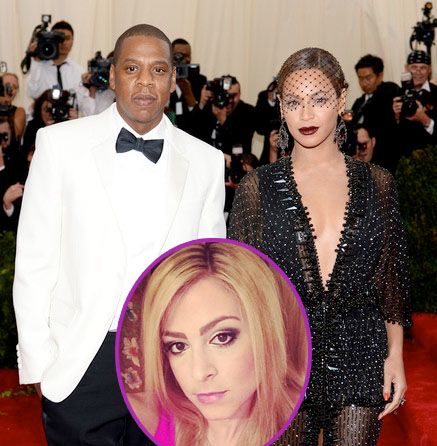 Reality TV star Casey Cohen is fighting back against rumors of her cheating with Jay Z…legally. She's firing off cease and desist letters claiming she NEVER slept with Hov and the rumors are simply not true. Also, Beyonce gets fierce in the brand new Toyota "Get Going" campaign. Get the deets and peep Bey's hot ad when you go inside….
Ever since elevatorgate shocked the world, crazy rumors about Jay Z cheating on Beyonce started circulating like crazy. You know certain media loves to take an inch and run a mile. And now, one woman is taking matters into her own hands to clear her name in all of the madness.
BRAVO's "Princesses: Long Island" star Casey Cohen (who is currently a VIP hostess at 1Oak in NYC) was named as the woman who Jay was allegedly secretly cheating on Bey with. In Touch (among other media outlets) reported Hov would visit her in NYC and that they were carrying out a secret affair AT the club...often.
According to TMZ, Casey says all of the cheating reports are bogus and that she has "never been in love or intimate" with Jay Z. The reality star has hired a lawyer who has issued out cease and desist letters to several magazines such as In Touch (owned by Bauer Media Group) and claims all of the Bauer articles are "a foul and phony mistress-rumor."
Casey wants every single post about her allegedly being Hov's side chick removed and is demanding a public apology from the media group to her, Jay Z and Beyonce.
Messy…
Speaking of The Carters….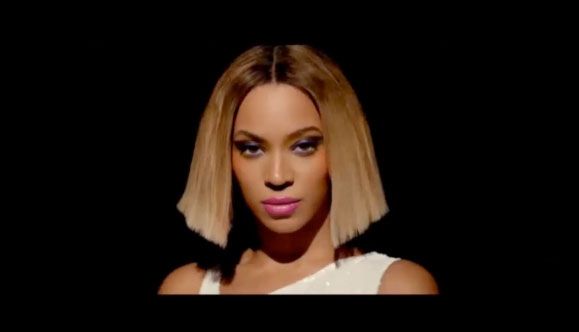 Beyonce is clearly not letting those foolish cheating rumors get in the way of her greatness.
In the midst of prepping for her joint "On The Run" tour with her hubby, Queen Bey teamed up with Toyota for the second time for their "Get Going" campaign.
In the brand new 30-second commercial, Bey rocks a blunt cut blonde bob as she performs her "XO" track from her self-titled visual album. And we're loving it.
Check it:
BONUS: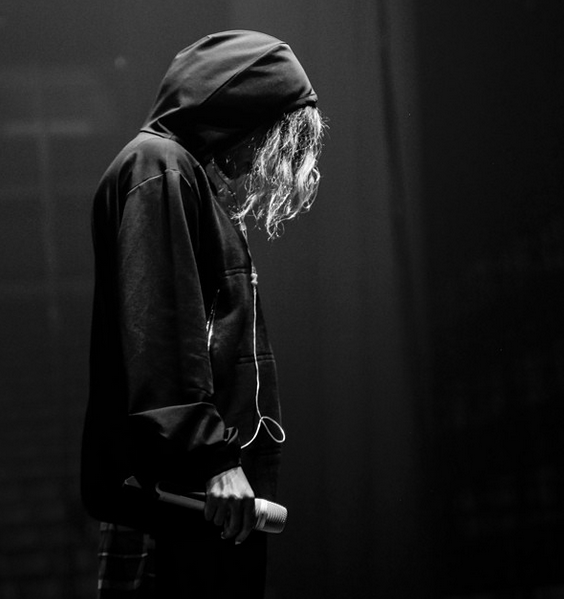 As she preps for the "On The Run" tour with her hubby, Bey shared a new rehearsal pic on Instagram today.
Photos: Wire/Casey's IG

GET CANDID WITH THE WESTS: MORE Pics From Kanye & Kim Kardashian West's Wedding Album
Posted: 12 Jun 2014 07:01 AM PDT
More pictures from Kanye and Kim's wedding album have surfaced. See new photos and candids from the Forte di Belvedere affair inside....
Baby North was a vision while looking adorable in white for her parents' wedding last month.
As Kanye & Kim Kardashian West enjoy more of their honeymoon vacay in Mexico (see pics on our new Instagram), we've got new pics from their wedding album. In the gorgeous family photo atop, Kanye, Kim and baby North are shown shortly after the ceremony. The pic above, shows an intimate moment from Kanye's chat with pastor Rich Wilkerson Jr. before the ceremony.
Famed singer Andrea Bocelli sang "Ave Maria" as Kim walked down the aisle, in addition to his well known song "Con te partirò." Kanye loves a simplistic while over-the-top event.
So was Kanye laying down the law to his new sisters-in-law (Kourtney, Khloe, Kylie, Kendall) and mother-in-law Kris Jenner before the ceremony? One thing's for sure, they seem to respect him and value his opinions. We're sure he has plenty....
Photos via E! Online
RED CARPET RETURN! New Mom Kerry Washington GETS FAB For Women In Film Awards
Posted: 12 Jun 2014 06:07 AM PDT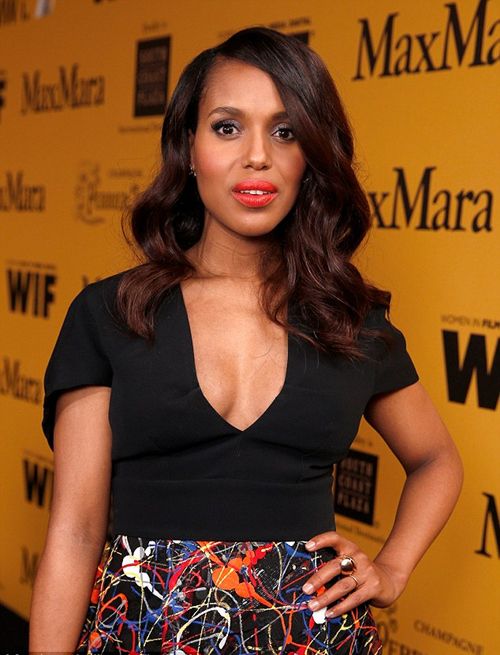 Hello Hot Mama! Our head Gladiator is making a triumphant return back to the red carpet. Check out Kerry Washington's new mommy glow at last night's Women In Film Awards inside...
As expected, for the last almost two months, Kerry Washington has been hidden away at home devoting all her attention to her and her hubby Nnamdi's, newborn baby girl Isabelle. But now, the "Scandal" star is ready to throw on her heels and gorgeous dresses again to hit a red carpet or two.
Kerry Washington made her way to the Women In Film 2014 Crystal + Lucy Awards at the Hyatt Regency Century Plaza in Century City, CA last night.
And she did so in orange Christian Louboutin "Geo" pumps with a colorful cap toe, a bold deep orange lip, and a plunging black blouse and splatter paint-print skirt with a sheer hem, both from the Sportmax Fall 2014 collection. And, we kinda love it. Perfect for a chic spring look that shows off those new curves of hers.
Kerry posed it up with one of her idols, Diahann Carroll, at the event before Kerry herself was honored with her own award for excellence in television.
The fab chick posed it up with fellow honorees Eva Longoria and Max Mara Global Ambassador Nicola Maramotti: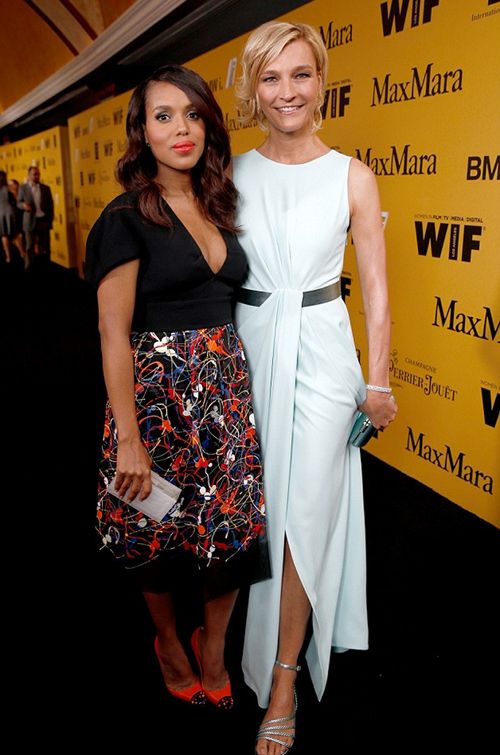 And she was presented her award by 'Scandal" creator Shonda Rhimes:
And Tracee Ellis Ross was there to celebrate her good friend. Gorgeous.
Kerry revealed yesterday via the L.A. Times, in her first post-baby interview, that she feels blessed to have her baby girl and career. Up next for her: "Scandal" is reportedly slated for a 2015 return, according to this site...but we're going to keep hope alive for a Fall 2014 return. Kerry will also serve as keynote speaker, to speak about using her social media platforms for her causes, at the upcoming BlogHer conference in NYC at the end of July.
Photos: Getty/Invision/AP
"A Different World" -- Oprah Reunion?! + "Power" Gets Renewed For Season 2 ALREADY
Posted: 11 Jun 2014 06:27 PM PDT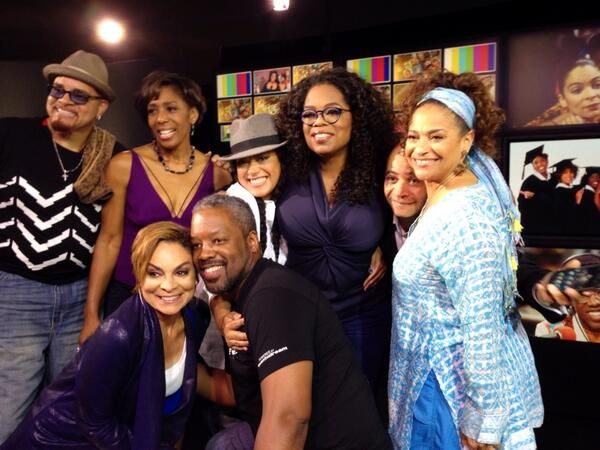 It's a different world! No, really. The cast of "A Different World" seems to have had a reunion with Oprah in tow. Check the pics inside, plus Omari Hardwick, Naturi Naughton & 50 Cent's show "Power" getting a super early renewal...
If you freaked out when you saw that reunion pic above, you aren't alone. Cree Summer tweeted a pic of the "Different World" case reuniting today....and Oprah seemed to be at the helm. Are they working on some type of reunion show or a "Where Are They Now?" show or an episode of "Next Chapter"? We surely hope so.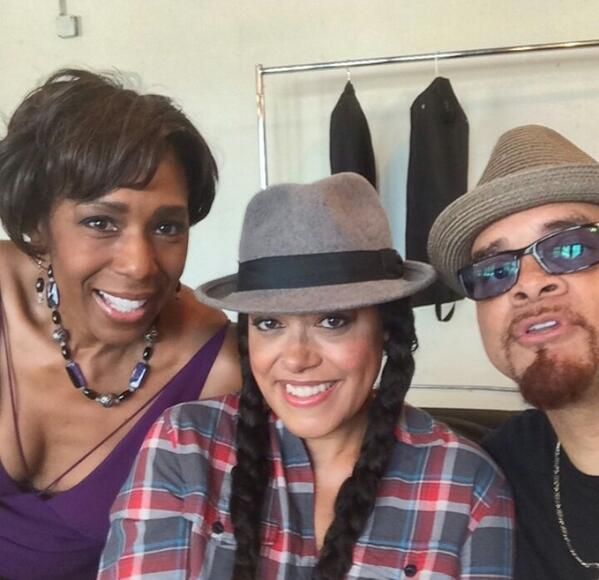 Jada Pinkett Smith (who is currently vacaying in Hawaii with the fam, catch that on our IG in case you missed it) was missing from the photos. Cree is staying mum about it all, tweeting the pics and saying only, "Freddie won't tell."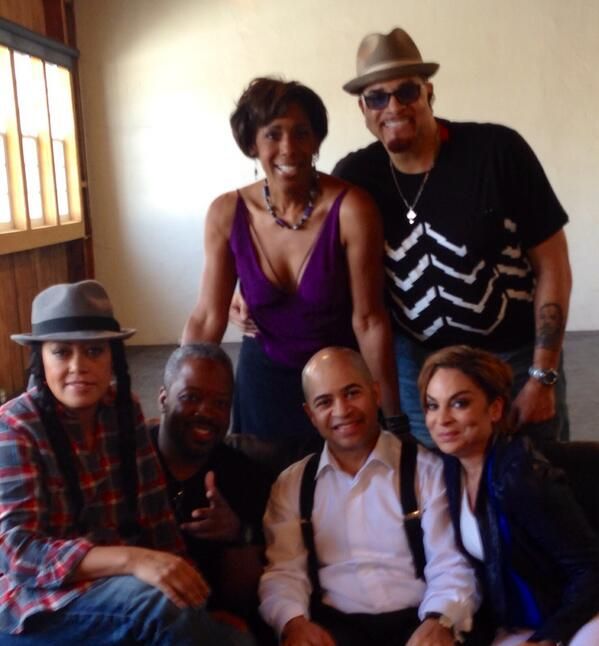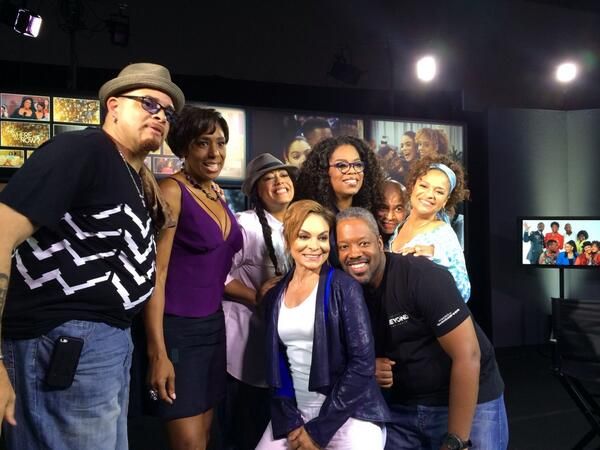 Can't wait to see what they're up to!
And in other TV news, "Power" has already gotten renewed for a second season less than a week after the premiere episode aired. The STARZ show, executive produced by 50 Cent, is actually a pretty good watch. If you love power, money, illegal (and immoral) activities made sexy by a drug kingpin played by Omari Hardwick who's attempting to go above board...you'll love this.
Production is set to begin on the 10-episode second season in and around New York, as well as at its home base at Steiner Studios in Brooklyn this September.
The eight-episode first season of this crime drama is set in two different worlds, the glamorous New York club scene and the brutal drug trade, and follows James "Ghost" St. Patrick (and his wife Tasha, played by Naturi Naughton) as he attempts to leave his illegitimate lifestyle behind.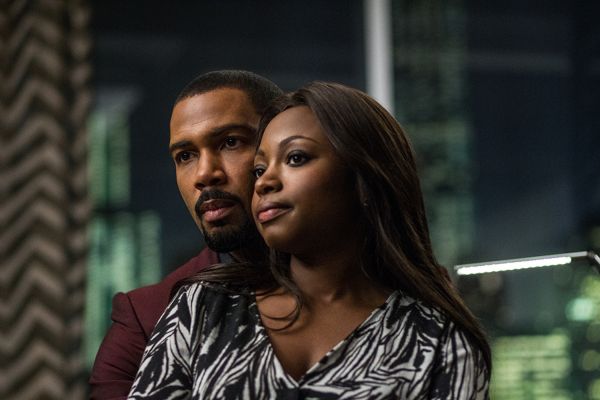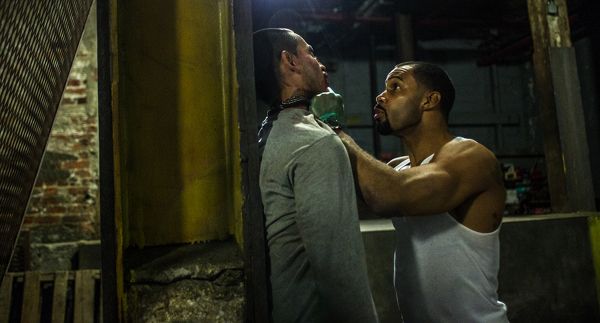 And believe us when we say, Omari's shower and love making scenes are WELL worth the watch. Have at it....
Photos: STARZ/Cree's Twitter
Erykah Badu COVERS Mantra Magazine's 2014 June/July, DISHES On Being A Doula, MOTHERHOOD & What Makes Her Happy
Posted: 11 Jun 2014 04:51 PM PDT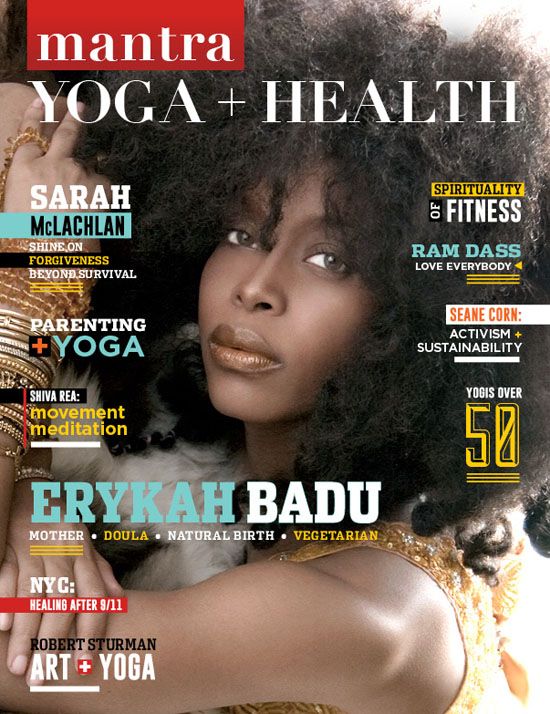 Erykah Badu got fab with her 'fro for the cover of Mantra Magazine's latest issue. And the mother-of-three is giving a candid peek into her life as a mother, a doula, a yogi and reveals what ultimately makes her happy. More inside...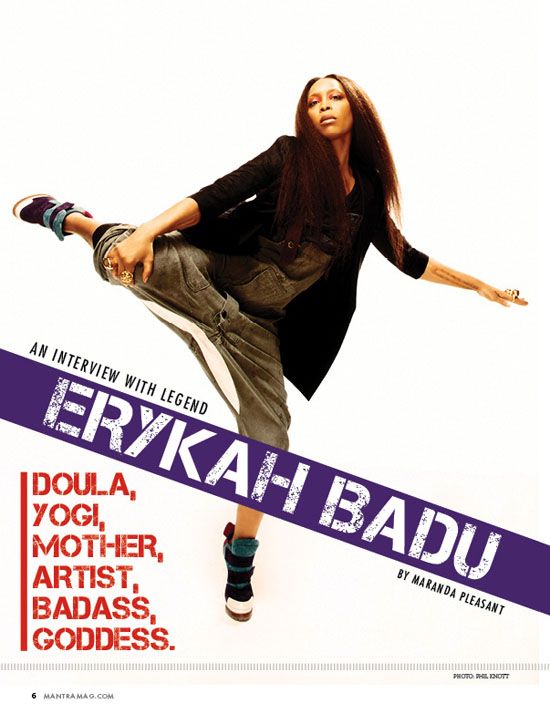 Erykah Badu is the cover girl for Mantra Magazine's 2014 June /July issue and is serving up some serious fabulouness.
When the singer/mother/goddess isn't oferring up sex advice for the masses on social media, she's sharing a few personal and funny moments about her interesting life.
In the interview, the 43-year-old singer dished on motherhood reflecting on the time she was giving birth to her daughter and she ended up having to deliver the baby herself! She said the doctors weren't ready and didn't have their gloves on, so she had to catch her. Ha!
She revealed what makes her happy saying, "My medicine is being in love you know, I'm in love. And when I'm in love I glow, and my face is happy, and my heart is light and happy. And my children are happy."
And she talked about being a doula for life coming into the world and also by those dying. She opened up revealing she sits "by the bedsides of people who are dying." She also offered up praises to her own doula who helped her along in her pregnancies.
The Givenchy ambassador's last request? "Please put that in the article: Women are gods."
And that's why we love Ms. Badu.

Peep her spread below: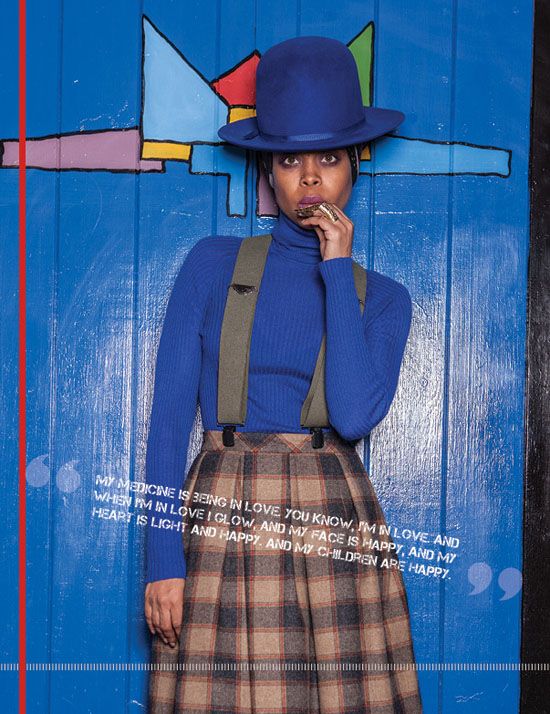 Loves it.
Photos: Lionwolf
FESTIVAL FUN: Meelah Williams, Musiq Soulchild, Marlo Hampton & Mila J Hit Up 'Live In The Park' Showcase In Atlanta
Posted: 11 Jun 2014 12:30 PM PDT
Summer is quickly approaching and as the heat turns up, the outdoor festivities kick off. Last night, Meelah Williams, Musiq Soulchild, Marlo Hampton and Mila J had a chill evening at the Live In The Park event. See their pics inside…
"R&B Diva" Meelah Williams, Musiq Soulchild, "RHOA" co-star Marlo Hampton and Jhene Aiko's older sister Mila J all trekked to Midtown's Park Tavern in Atlanta for a laid-back, chill type evening of live musical performances as they sipped on a little bubbly.
The live music showcase offered the YBF folks some good eats, cocktails and live R&B music performances by old and new school artists as they overlooked a scenic backdrop of the city.
New "R&B Divas" star Meelah Williams landed a spot on the roster to perform some of her classic 702 tracks and also some of her newly released material. Meelah has a new track titled "Give It To You" featuring her son's father Musiq Soulchild and we're actually feeling the track. You can download it from iTunes here. She debuted a new blonde bombshell 'do dressed in a black laser top and black skirt.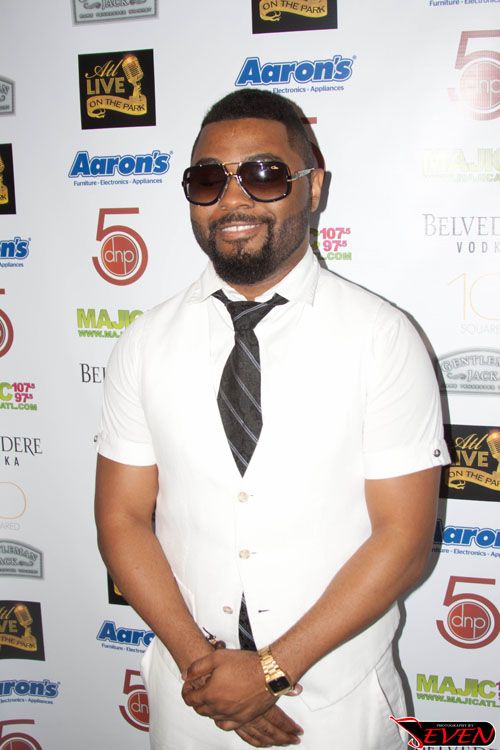 Musiq Soulchild was also in attendance to support his son's mother Meelah, lending his vocals to assist the "Diva" with their new track. Meelah and Musiq seem to have this co-parenting thing down pat. The two teamed up earlier this year to host a star-studded benefit concert for Autism, a disease their son Zac lives with.
Former "RHOA" star Marlo Hampton and a friend posed it up during the event. Marlo was channeling her wild side with a cheetah print top and snakeskin skirt.
And Jhene Aiko's older sister/R&B singer Mila J came out for the festivities with an L.A. style type tease rocking a R.I.P. Tupac jersey shirt and ripped denim shorts. The "Smoke, Drink, Break-Up" singer has a new remix to Usher's "Good Kisser" that you can check out here. Mila's currently gearing up to release her sophomore album MILA.
Fun times!
Photos: Seven
PROGRESS REPORT: Funnyman Tracy Morgan STILL In CRITICAL Condition, His Estranged Mom Alicia Warden COMPLAINS About Access + Accused Truck Driver DENIES Sleep Deprivation And PLEADS NOT GUILTY (UPDATE)
Posted: 11 Jun 2014 12:15 PM PDT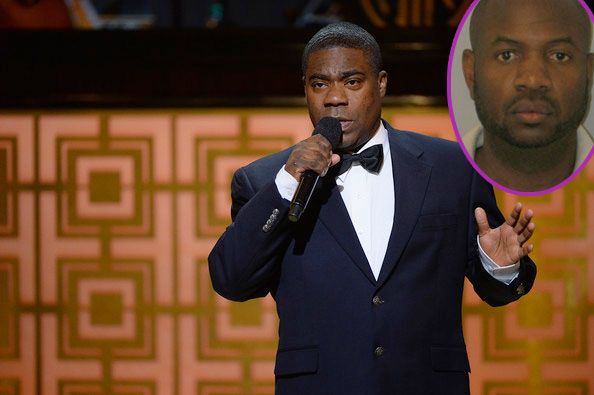 We have updates concerning the Tracy Morgan car crash that left four wounded, one dead and landed Tracy in critical condition. Check out the updates inside and read what the accused truck driver said in his own defense.
Over the weekend, former "30 Rock" actor/comedian Tracy Morgan was critically injured along with four others around 1AM Saturday morning after the limo bus they were traveling in was rear-ended by a Wal-Mart 18-wheeler on the New Jersey Turnpike in Robbinsville. The six-vehicle pileup claimed the life of Tracy's good friend and writer James "Jimmy Mack" McNair.
Today, the HuffPost reports that state police released audio recordings from three 911 calls made after the accident. "It's a terrible accident," a woman tells the dispatcher in one of the calls. "The car flipped. It's on its side. It's two vehicles and a Wal-Mart truck."
Also, Tracy is now listed in critical but stable condition as the controversial details of the crash are laid out in court and old family wounds are revealed in the press.
TMZ reported on the strained relationship between Tracy and his mom, Alicia Warden, who claims Tracy's fiancee Megan Wollover won't allow her to see him. Although Alicia spent 5 mins in Tracy's room on Sunday, she complained that Megan has a grudge against her and prevented her from seeing him on Saturday.
"All I wanted was for our family to be alone with him. I wanted to pray over him and couldn't do that because so many people were in the room." Alicia also revealed that she only learned about the accident through television reports.
*******
In new developments, Kevin Roper (inset), the truck driver behind the wheel of the Wal-Mart truck, is speaking out on his own behalf and STRONGLY denying reports that he suffered from sleep deprivation.
He says that a criminal complaint filed by police that states he hadn't slept in 24-hours is bogus. He blames the report on cops trying to cover their ass. He used his Twitter account to vent his frustration: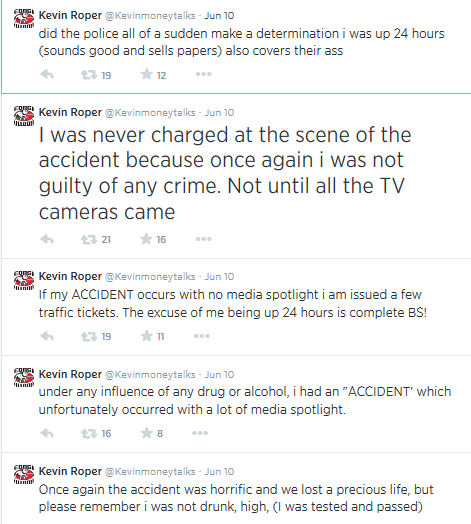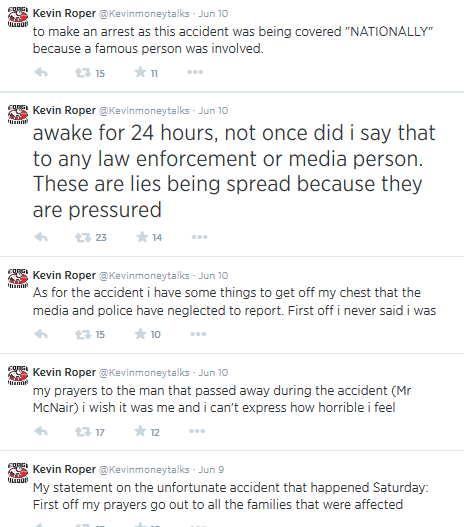 While police have charged Kevin with one count of death by auto and four counts of assault by auto, he claims he was NOT drunk, NOT high, and NOT suffering from sleep deprivation. He'll be arraigned at 3 p.m. ET in Middlesex County Superior Court in New Jersey.
UPDATE:
In court today, Kevin pleaded not guilty during his arraignment amid accusations he had not slept for 24 hours before the crash.
Photo via Tracy's Twitter/Facebook/AP
Beyonce DONATES $125K To TED's "Baby Incubator" Designer For Possible Life-Saving Innovation + Shonda Rhimes To Graduates -- REAL Activisim Requires More Than #Hashtags!
Posted: 11 Jun 2014 11:55 AM PDT
Beyonce donated $125K to a design team who believe their baby incubator can potentially save thousands of lives. Get more deets on the design inside and watch Shonda Rhimes encourage the class of 2014 to live their dreams (and accept the trade-offs) inside....
Proving she's a diva who cares, Beyonce donated $125,000 to Embrace Innovations, an organization founded by Jane Chen (second from the right) that designed and distributes an infant warmer, a low-cost alternative to the incubator. The announcement was made at last week's anniversary party for Gucci's Chime for Change and after Jane's TEDWomen 2013 talk.
Bey's donation will fund pilot testing of the device (shaped like a tiny sleeping bag) in Ethiopia, Ghana, Kenya, Malawi, Mali, Nigeria, Rwanda, Senegal, Tanzania and Uganda, and could save the lives of 1,900 underweight babies.
Thanks Bey!
In case you missed it..........
Pastor Rudy Rasmus of St. John's United Methodist Church in Houston, defended his most famous parishioner to The Grio. When asked if Beyonce's music contradicts the purity of Christianity, here's what he said:
"I've answered that question many times and the answer is still the same. Beyoncé is a consummate entertainer, and an entertainer entertains. Is the entertainer's entertainment an expression of that person's life and reality? I don't know. But I know when Arnold Schwarzenegger straps on a 30 caliber cannon and blows planes out of the sky, nobody asks the question, 'Arnold why are you walking around for those 90 minutes in that suit with that 30 caliber cannon? What kind of person are you?' I don't think I've heard that question. But at the end of the day, Arnold Schwarzenegger is an entertainer.
He added, "The world would void an extreme talent if we silenced her or censored her."
Well said. Sounds like the Pastor just gave the congregation permission to be sexy. Carry on....
In other news...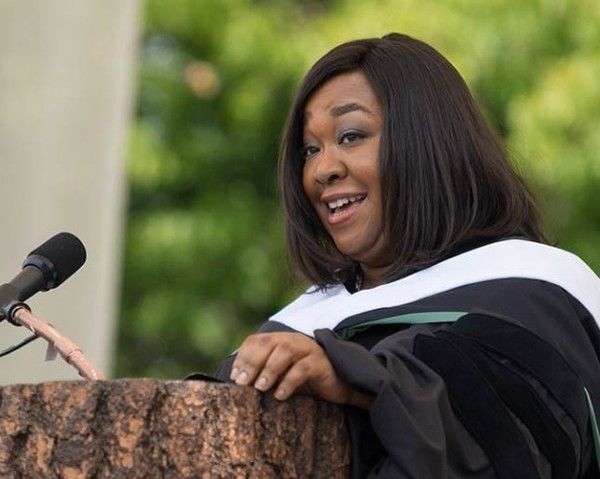 Famed Emmy-winning producer Shonda Rhimes, who graduated from Dartmouth in 1991, addressed the university's graduating class of 2014 recently. And she shockingly told the graduates that they should give up on "having it all" because it doesn't exist. When you think about it....she's probably right. There's always a trade off. But maybe we can have it all...just not all at the same time.
She also had a few things to saw about Facebook activists.....CHANGE requires MORE than a cute hashtag. Get up off your butt and do something. #catchit.
The creator of hits "Scandal" and "Grey's Anatomy" also had other pearls of wisdom. Here are the highlights:
Stop Dreaming Already
"Dreams are lovely. But they are just dreams. Fleeting, ephemeral, pretty. But dreams do not come true just because you dream them. It's hard work that makes things happen. It's hard work that creates change."

...And Start Doing
"You want to be a writer? A writer is someone who writes every day, so start writing. You don't have a job? Get one. Any job. Don't sit at home waiting for the magical opportunity. Who are you? Prince William? No. Get a job. Go to work. Do something until you can do something else."

Don't Let Hashtags Replace Activism
"A hashtag does not make you Dr. King. A hashtag does not change anything. It's a hashtag. It's you, sitting on your butt, typing on your computer and then going back to binge-watching your favorite show. I do it all the time. For me, it's Game of Thrones. Volunteer some hours. Focus on something outside yourself. Devote a slice of your energies towards making the world suck less every week."

Forget About "Having It All" Because Perfection is Impossible
"If I am accepting a prestigious award, I am missing my baby's first swim lesson. If I am at my daughter's debut in her school musical, I am missing Sandra Oh's last scene ever being filmed at Grey's Anatomy. If I am succeeding at one, I am inevitably failing at the other. That is the tradeoff. That is the Faustian bargain one makes with the devil that comes with being a powerful working woman who is also a powerful mother. You never feel a hundred percent OK; you never get your sea legs; you are always a little nauseous. Something is always lost."

Stop Trying to Be Someone Else, and Focus On Being Yourself
"You know what I wanted to be? I wanted to be Nobel Prize Winning Author Toni Morrison. That was my dream. [...] Guess what? I couldn't be Nobel Prize winning author Toni Morrison. Because Toni Morrison already had that job and she wasn't interested in giving it up. [...] [Eventually I figured out that] I could dream about being Toni Morrison. Or I could do. At film school, I discovered an entirely new way of telling stories. A way that suited me. A way that brought me joy. A way that flipped this switch in my brain and changed the way I saw the world. Years later, I had dinner with Toni Morrison. All she wanted to talk about was Grey's Anatomy. That never would have happened if I hadn't stopped dreaming of becoming her and gotten busy becoming myself."

Count Your Blessings
"Yes, it is hard out there. But hard is relative. I come from a middle-class family, my parents are academics, I was born after the civil rights movement, I was a toddler during the women's movement, I live in the United States of America, all of which means I'm allowed to own my freedom, my rights, my voice, and my uterus; and I went to Dartmouth and I earned an Ivy League degree. The lint in my navel that accumulated while I gazed at it as I suffered from feeling lost about how hard it was to not feel special after graduation ... that navel lint was embarrassed for me. Elsewhere in the world, girls are harmed simply because they want to get an education. Slavery still exists. Children still die from malnutrition. ... So yes, tomorrow may suck for you—as it did for me. But as you stare at the lint in your navel, have some perspective. We are incredibly lucky. We have been given a gift."
Watch the speech here:
Photos via Dartmouth's Instagram/Music World Entertainment
Meagan Good TALKS Relationship Book "The Wait" & Wedding Deets On "Jimmy Kimmel" + Nicole Ari Parker Talks Sexy Natural Hair & More On "Wendy"
Posted: 11 Jun 2014 11:20 AM PDT
Meagan Good hit up "Jimmy Kimmel Live" in Hollywood yesterday looking fab in a light cognac colored ruffled jumpsuit and nude Louboutins. And Nicole Ari Parker debuted a new natrual look on the "Wendy Williams Show." See their fab interviews inside...
In the midst of promoting her upcoming summer flick Think Like A Man Too, Meagan Good hit up the "Jimmy Kimmel Live" show to talk about a new relationship book she will be releasing, co-written by her minister husband DeVon Franklin.
As you may know by now, Meagan (posing above with How to Train Your Dragon 2 star Gerard Butler) and her preacher/ movie executive husband waited a whole year until they were married to have sex. And now…they're writing a book about staying celibate before marriage. It's titled, "The Wait." She revealed DeVon was actually celibate 11 years prior to them getting together.
The TLAM2 star also dished on their wedding details revealing they waited an hour and a half before starting their ceremony because they wanted to get married as the sun set. She also said she had a bridesmaid that showed up late for their wedding, getting there 20 minutes before they walked down the aisle. CP Time in full effect.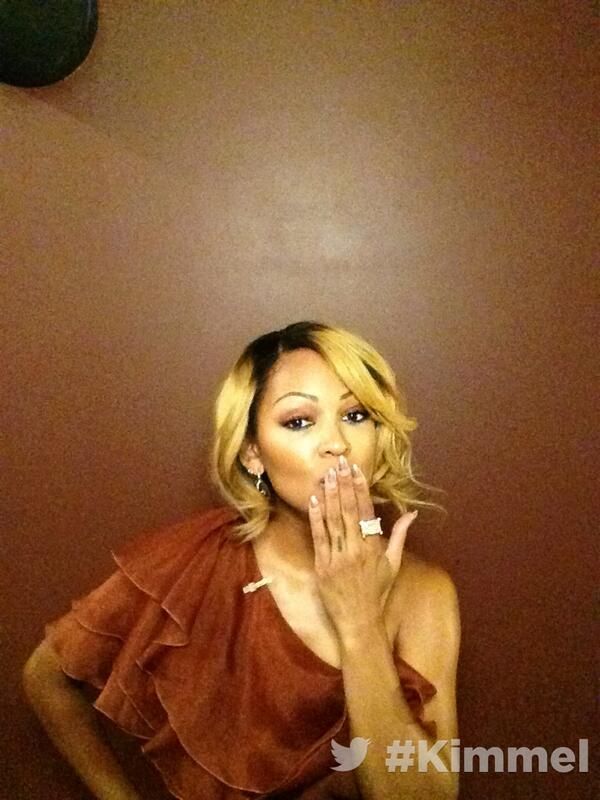 Check out the gorgeous chick below:
Meanwhile: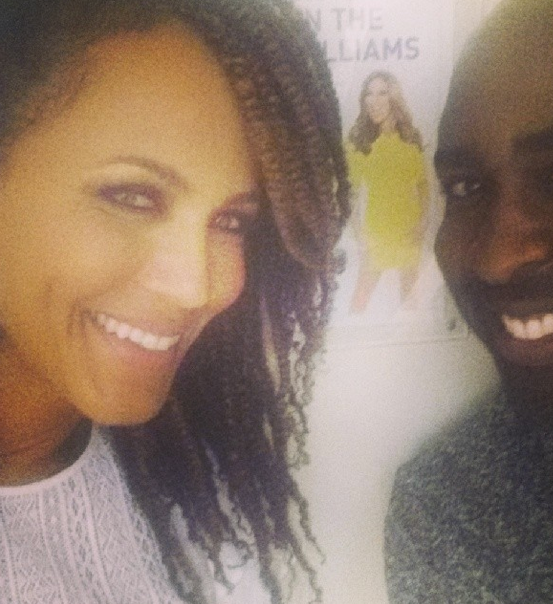 Nicole Ari Parker sat down with Wendy Williams this morning to dish on going natural and her role in the new crime mystery television series, "Murder in the First."
The fab mommy-of-two is currently transitioning to her natural hair state and to help her with the transition, she opted for some baby curl twists with blonde highlights. And we love it! Nicole has already taped all of her episodes, so she's free to do what she wants to her hair. She revealed she wears wigs on the show and loves them. She said, "I'm addicted to wigs. It's not your grandmother's wig anymore."
Nicole also talked about her new role in the TNT network legal drama series "Murder in the First," joining her former Brown Sugar co-star Taye Diggs. The naturalista will play a tough district attorney named Sonia Perez who will oversee a high-profile murder case that plays out throughout the entire season.
Check it:
"Murder in the First" premiered June 9th and you can catch it every Monday at 10PM on TNT.
Will you be watching?
Photos: RHS/Splash News/Jimmy Kimmel's Twitter/Nicole's IG

BABY FAB: Jesse Williams LUNCHES With Wife Aryn & Adorable Daughter Sadie
Posted: 11 Jun 2014 10:27 AM PDT
Cuteness overload! Hottie Jesse Williams was spotted in NYC grabbing lunch with his wife Aryn Drake Lee and their adorable infant daughter Sadie. This is the first time we've seen their little bundle of joy, and she is absolutely beautiful. Peep the cute family candids inside…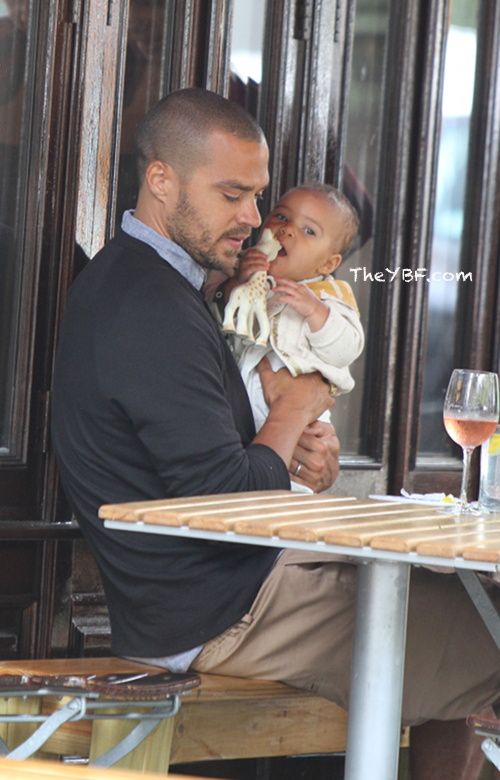 Too cute for words! "Grey's Anatomy" star Jesse Williams and his wife Aryn Drake Lee welcomed their new bundle of joy Sadie back in December and now we finally get to see her adorableness.
The proud parents lunched on pork belly buns in the Meatpacking district in Manhattan with their beautiful infant daughter Sadie. And she is looking JUST like her daddy.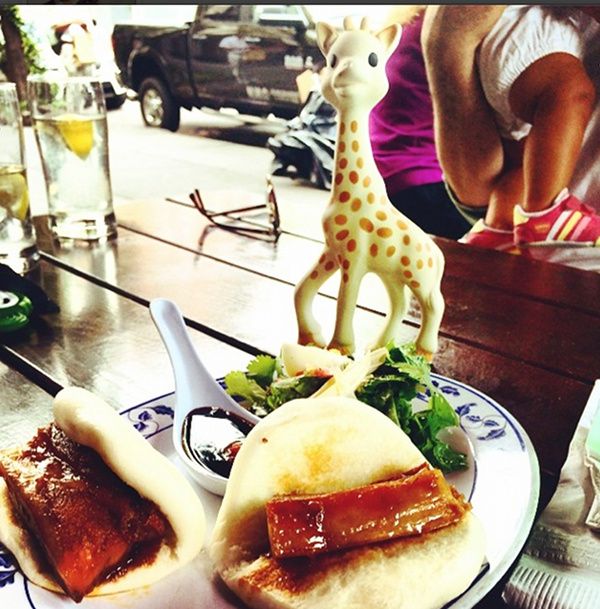 Jesse posted a picture of their lunch with baby Sadie's feet in the corner with the caption, "Pork Belly Buns (and other evidence of the Good Life)" Yum!
The 32-year-old Temple University alum is currently working with President Obama for the My Brother's Keeper Initiative. The Initiative is raising money to improve educational opportunities for young men of color. Work!
Extras:
1. Floyd Mayweather was just named the richest athlete by FORBES magazine. STORY

Photos: Jose Perez / Splash News
ENTER NOW: #RealYBFDad Instagram Contest!
Posted: 11 Jun 2014 09:55 AM PDT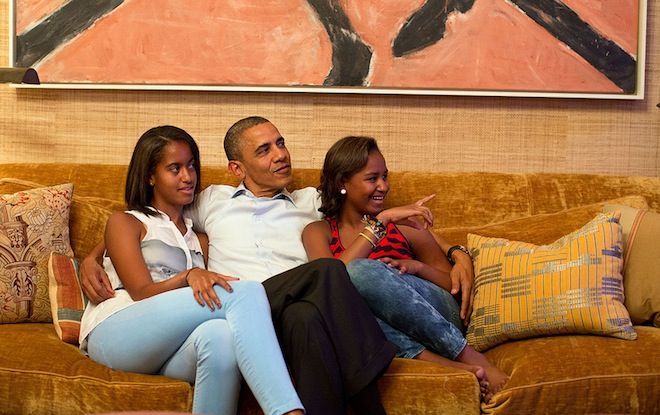 Just in time for Father's Day, we're launching the #RealYBFDad contest! No celebs, just real people. And it's all going down via our newly launched INSTAGRAM (@TheYBFDaily)! Deets inside...
We love those celeb dads who kill us with cuteness as they care for their kiddies. Now, we want to see the REAL LIFE dads who are just as amazing every single day. We're sure plenty of our readers fit the bill!
Do you or a loved one set an example of excellent fatherhood? Then round up your pics and a fab story about why...and ENTER NOW!
Using the hashtag #RealYBFDad on Instagram, post either a pic (WITH caption) or a video that explains why you or a loved one is the epitome of a #RealYBFDad.
Don't forget that hashtag! Enter until Saturday, June 14th. We'll feature the winning entry on Fathers Day, June 15th!
Good luck to the #RealYBFDad contestants!
FOLLOW YBF ON INSTAGRAM: TheYBFDaily
(We will not be able to see hashtag entries from private IG accounts.)