---
R. Kelly & Andrea Kelly's Youngest Child Reveals Transgender Journey, Says ""I Believe I Am A Boy" + Gets Support From Mom, No Word From Dad
Posted: 11 Jun 2014 09:15 AM PDT
Jaya (Jay) Kelly, the youngest child of R. Kelly and reality star Andrea Kelly, has come out as transgender and is making the transition from female to male. See what Jay says about his journey and his mom's support inside...
Jay Kelly, the youngest child of Hollywood Exes star Andrea Kelly and ex-husband R. Kelly, is speaking out about plans to transition from female to male. Born 13 years ago as Jaya Kelly, Jay (on Instagram as @mi_ylno_namuh) talks about his journey and transition on Ask.fm where he answers questions from anonymous users.
From his answers, we've learned that he's identified as a boy since he was 6 or 7, his mom Andrea is VERY supportive, his big sister shows him love and support by calling him "handsome". But (as of 3-months ago), R. Kelly is unaware of his child's new identity, according to In Touch Weekly. Also, he still has "female" organs and wears a chest binder, but plans to take testosterone and have gender reassignment surgery.
Jay on Andrea: "[My mom] was like, 'Baby, you know I love you if you were bi, gay, [lesbian], you name it and I would still love you so much. She was very proud of me, I was like, 'Thank you mum for accepting the fact that I'm a transgender.'

Jay on his sister: "And same with my sister, she told me that she was proud of me, and respects me by calling me handsome and calling me her little brother now, and I love her for that, so you know it was great for me."

Jay on his transition: "I believe I am a boy and want surgery, and the medication to help me who I was supposed to be."
Kudos to Jay Kelly on being brave. Now.....is R. Kelly too busy searching for Black Panties to reach out to his child? We'd like to know....
Photos via Jay Kelly's Instagram
LaLa Anthony, Michael Ealy & Will Packer Chop It Up At Miami 'TLAM 2' Screening + They Give Us Their Dating Rules & More!
Posted: 11 Jun 2014 08:11 AM PDT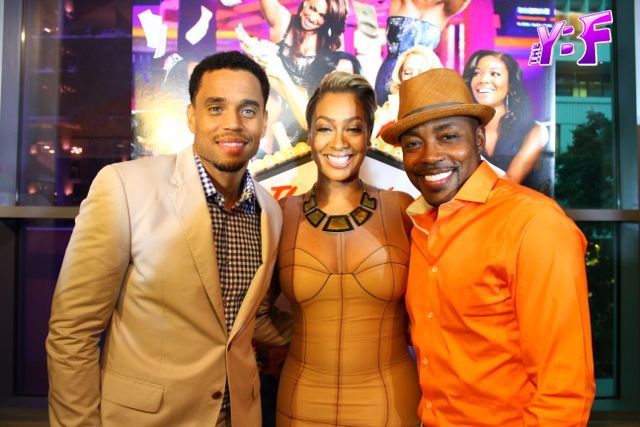 Michael Ealy, LaLa Anthony and Will Packer were on the move once again yesterday and jetted to Miami for a special screening of Think Like A Man 2. TheYBF.com was on the scene, and we've got pics and our chitchats with the stars inside...
Last night at the REGAL South Beach, TheYBF.com mixed it up with stars from the Think Like A Man Too flick at the screening.

LaLa, rocking a sexy nude 5th & Mercer dress, dished on aiming for movie stardom. Especially since she seems to play everybody's best friend in plenty of new shows and movies, from Baggage Claim to "Power" to TLAM. She dished to us on the carpet:
"I am getting good at being the best friend. Power is on right now, it premiered Saturday, you will see my character Lakeisha Grant continue to grow and I also wrapped up a movie that Queen Latifah Executive Produced called November Room which will be out soon and I am out on the grind, figuring out my next move but in the meantime I have my book which I am turning into a movie as well, I have my clothing line for The Mercer and my makeup line Motives for LaLa. I am definitely keeping myself busy. "

And about whether her own Love Playbook conflicts with author Steve Harvey's rules in the TLAM series, LaLa tells us:
"No not always a guys perspective on a relationship and a woman's is totally different. There are some of the same stuff, but guys are able to take the emotion out of relationships and out of things, women on the other hand, what makes it so great is that we are so emotional but at times that hurts us and you see a lot of that in this movie. I am excited to see what everyone here in Miami thinks of the film. "

Hottie Michael Ealy showed up looking all kinds of good. And yes ladies, the married man knows how important it is to understand the opposite sex. We can help you understand Michael.....
(Stay tuned for that interview!)
Producer Will Packer, who is about to make TLAM 2 his third box office hit of the year, revealed to our Miami Correspondent Adrienne just how he does it:
"It's about paying attention, it's about knowing what the audiences like, and it's about delivering. The expectations are a lot higher this time around. We've got to deliver more. It's bigger and better. You know what, this cast is so cool and they enjoy themselves and they like to have fun. So this movie is really like a sneak inside their lives. If you were to put them together in Vegas and told them to go have fun over the weekend, this is what would happen. It's like we just let the cameras run."

Loves it.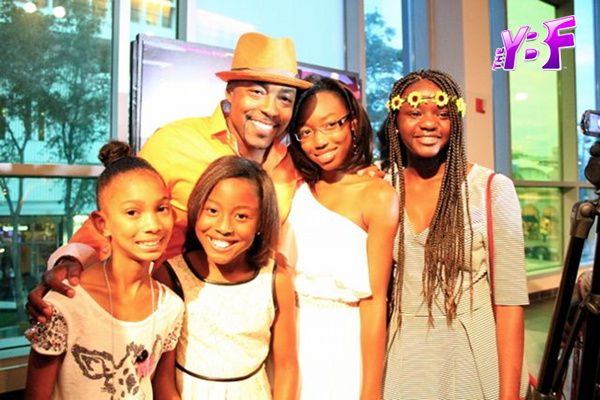 Will hit the scene with his two daughters Maya and Nija Packer (from a previous marriage) and their friends.
And Sybrina Fulton, mom of Trayvon Martin and activist, was also there to support the film.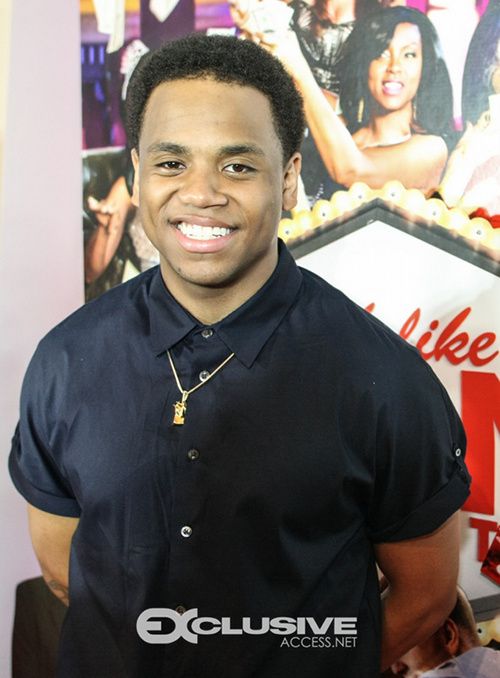 Cutie Mack Wilds gave us what makes for a good date...and a bad one. You know, from a man's point of view.
"I mean everyone has had a horrible date. I think it's just one of those awkward energy dates, maybe I just asked a wrong question or she might have and it just turned the whole trajectory (sp)? of the date off. But yeah we all have been through one of those one or two times."
But a good one:
"When all pistols are firing off at the same time. It's when, I guess the mood is right, the set up is right, the food is right, everything complements each other that's what makes the date even better and better as the day or evening goes on."
And his take on Steve Harvey giving out "secrets" to the game:
"Kevin Hart is a fool [laughs], I love that Steve Harvey wrote a rule book, not necessarily that he is snitching or telling anybody's secret, like a players guide. If you are going to play the game this how you need to play it."
Look who else showed up:
Janice Combs. Mama Combs even told us to let her fix her wig before we snapped a pic.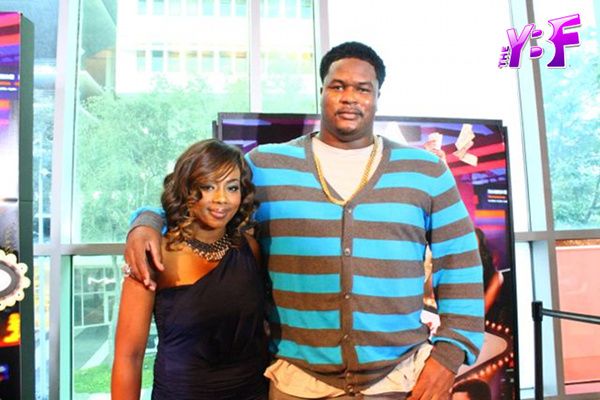 NFL free agent Bryant McKinnie brought his girlfriend on the carpet.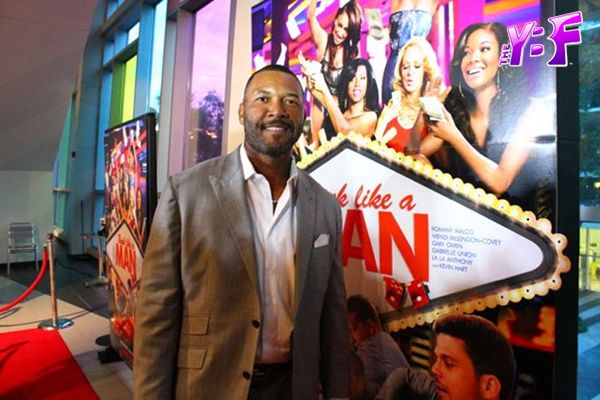 DJ Irie and legendary MLB baller Gary Sheffield came out for the event.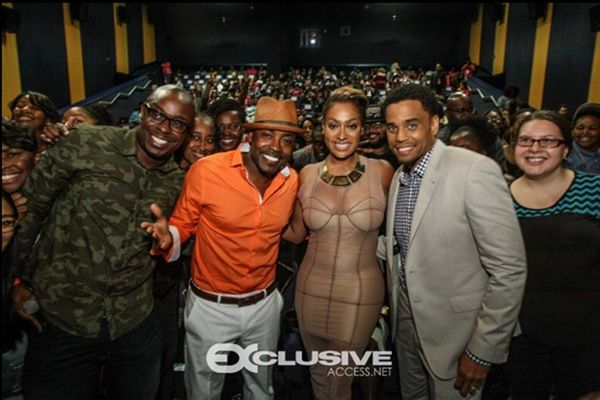 TLAM2 comes out June 20th!
Photos: ExclusiveAccess.net/DJ Apollon for TheYBF.com
HAPPY MOM: Kerry Washington Appears In FIRST Post-Baby Interview, Feels "Really Blessed"
Posted: 11 Jun 2014 06:35 AM PDT
Kerry Washington sat for her first interview since giving birth to daughter Isabelle Amarachi Asomugha where she described herself as "really blessed." Watch it inside........
Emmy-nominated actress Kerry Washington is famously private about her personal life (she both married and gave birth under the radar), but a rare peek behind the curtain happened during her first post-birth interview with the LA Times.
The fabulous Kerry sat down to talk about Olivia Pope and her "perfect imperfections", but a clever Twitter user enticed the "Scandal" star into sharing her feelings about mommyhood and her daughter Isabelle.
A fan asked, "Now that you're a mom will it be bittersweet to go back to work?"
Kerry revealed, "So tricky because you know I don't talk about this stuff...But I will say I feel really, really blessed. I just feel really blessed that I'm kind of living extraordinary dreams come true in my work life and in my personal life."
Congrats to Kerry and her husband Nnamdi. Oh.....and thanks for sharing.
Watch the interview here:
OH BABY: Kelly Rowland Announces Pregnancy...With Instagram Pic!
Posted: 10 Jun 2014 04:59 PM PDT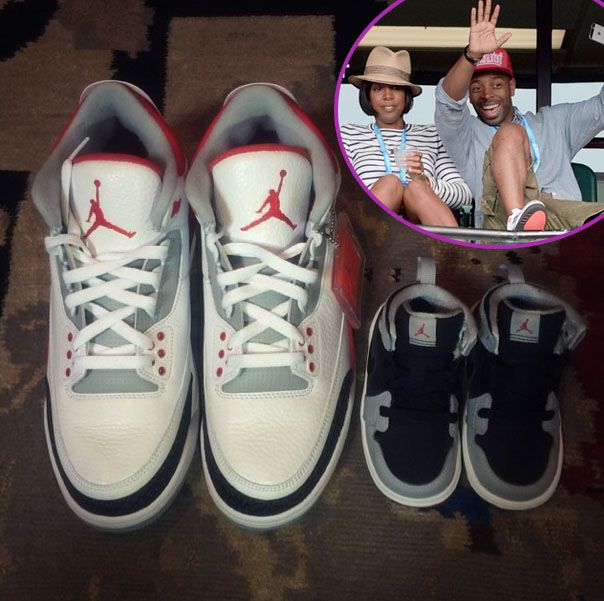 Looks like Blue Ivy will soon have a new play mate. Kelly Rowland just announced she and her husband Tim Witherspoon are pregnant. Check out the cute reveal inside...
After secretly tying the knot in an intimate ceremony in Costa Rica last month, Kelly Rowland and her manager-turned-husband Tim Witherspoon are now pregnant with child!
The singer definitely had that pregnancy "glow" at 2014 American Ballet Theatre Opening Night Spring Gala last month. And we mentioned she was possibly hiding a bump under that blousy shirt she rocked to last night's TLAM 2 premiere.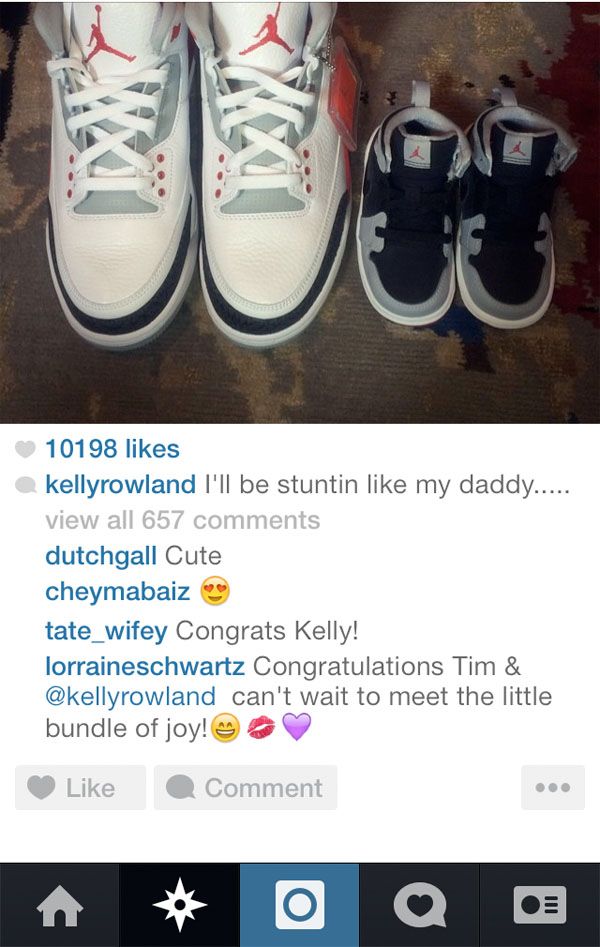 In a cute Instagram post, Kelly snapped a pic of two pairs of Jordans...one adult pair and one baby pair with the caption, "I'll be stuntin like my daddy....."
We're sort of shocked Kelly took to her IG to announce that she's with child since she has been secretive about her relationship with her now husband. And it seems the announcement is legit because her good friend/celebrity jeweler Lorraine Schwartz congratulated the expectant mother and her hubby on their arrival. And her bestie/business partner, celebrity trainer Jeanette Jenkins, also posted a congrats message.
She's going to be a gorgeous mommy-to-be! Congrats to the couple!
Photos:INF/Splash/Kelly's IG
YBF KIDS: Ice Cube's Son O'Shea Jackson Jr. CONFIRMED To Play Him In N.W.A. Biopic 'Straight Outta Compton' + "The Real" RELEASES New TV Promos
Posted: 10 Jun 2014 04:14 PM PDT
Ice Cube's son has been cast to play him in the new Ice Cube/Dr. Dre-produced NWA bio-pic. Get the casting deets inside and see the new promos for "The Real"....
Filming is set to begin on "Straight Outta Compton", a biopic that chronicles the rise of controversial gangsta rap group NWA. Directed by famed Friday director F. Gary Gray, the film will be produced by original NWA members Ice Cube, Dr. Dre and Eazy E's widow Tomica Woods-Wright.
According to The Wrap, Ice Cube lobbied executives at Universal executives to hire O'Shea - despite his lack of acting experience...but young Cube still went through the audition progress. And it seems like he nailed it! TLAM2 director Will Packer and Cube Vision's Matt Alvarez are also producing the project. We love it already. Ain't nothing wrong with a little bit of nepotism in Black Hollywood....
And are you ready for "The Real"? Hosts Tamar Braxton, Tamera Mowry-Housley, Loni Love, Jeannie Mai and Adrienne Bailon will have their full season debut on Monday, September 15th on the Fox Television Stations and in national syndication and we've got their promos.
Nice!
Extras:
1. RIAA Names Eminem First Artist To Earn Two Digital Diamond Awards STORY
Photo via GREGG DEGUIRE/WIREIMAGE
TV FAB: LIFETIME Reveals New Docu-Series "BAPS" Trailer + Kerry Washington Will Make Her FIRST Post Baby TV Appearance At The 2014 BET Awards
Posted: 10 Jun 2014 02:03 PM PDT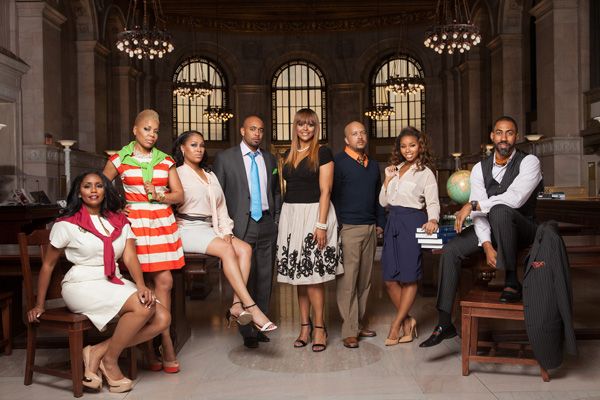 We told you about the new docu-series highlighting some of St. Louis' most privileged and affluent African-Americans. And now the trailer and official premiere date has been released. Peep the trailer and get the deets on Kerry Washington's post-baby return to television inside…
Seems this summer will be offering an array of shows to keep us entertained as we try to keep cool inside. A new docu-series is coming to LIFETIME titled "BAPs" to help balance the continued ratchetness we see on every other reality television series.
Debuting July 23rd at 10PM EST, "BAPs" pulls back the curtain on an exclusive, privileged and cultured group of African-American friends from St. Louis who are self-proclaimed Black American Princesses and Princes. Following lifelong friends who are educated and sophisticated, each episode will give us a peek into their affluent lifestyles and social circles.
The press release reads:
Dressed to the nines with egos to spare, there is no shortage of conflict, humor and heart among the group that includes Anisha, Kristen, Gina, Jason, Riccarda and Brandon. With a dynamic that can change from BFFs to frenemies at the drop of a hat, together they attend St. Louis' most exclusive social institutions and events… but no occasion is conflict-free. Competing to be the most successful and beautiful person in their circle is sure to bind and divide them, especially when Anisha's boyfriend, Kendrick, and his niece, Rai-Rai, represent everything a BAP is not.
Check the trailer below:
Mark your calendars. "BAPs" will premiere on Wednesday, July 23rd at 10PM EST on LIFETIME.
Also coming to television…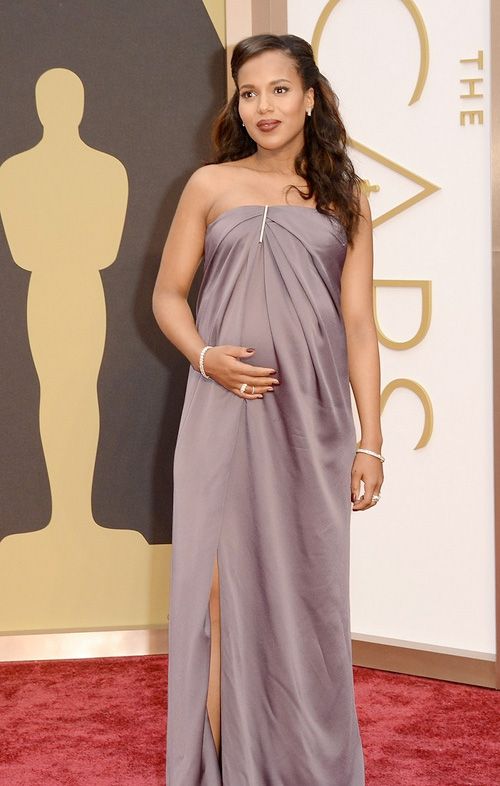 Kerry Washington (above glowing at the 2014 Oscar Awards) will be making her very first post-baby debut as a presenter at the 2014 BET Awards. The "Scandal" star likes to keep her personal life extra private so we have yet to see what the new mommy or the baby looks like these days.
You'll recall we didn't even learn about her giving birth to her baby girl Isabelle Amarachi Asomugha until TWO weeks after she entered the world. Isabelle was reportedly born on April 21st at Cedars-Sinai Medical Center in L.A. And she also went under everyone's radar secretly marrying retired NFL baller Nnamdi Asomugha in Idaho last June. Chick clearly learned a thing or two from OPA.
Along with Kerry, Robin Thicke is set to perform a brand new track and we will also be entertained with performances by Pharrell Williams, Usher, Jennifer Hudson, Lil Wayne, Trey Songz and Lionel Richie.
Hosted by funny man Chris Rock, the 2014 BET Awards will air live on Sunday, June 29th at 8PM EST from the Nokia Theatre L.A.
Photos: Richard Knapp/Lifetime/Getty

SPEAK ON IT: Is A TIME Magazine Journalist Trying To RAIN On Audra McDonald's HISTORICAL Shine?
Posted: 10 Jun 2014 01:28 PM PDT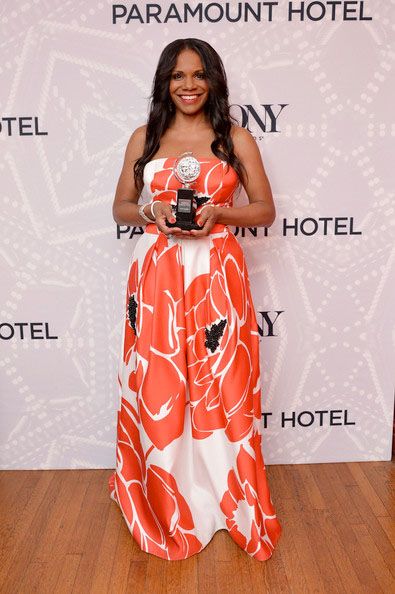 Broadway starlet Audra McDonald made history recently after taking home her record-breaking SIXTH Tony Award in acting. But of course, someone has to rain on her historical feat. Find out what one very opinionated mother had to nick-pick about when you go inside…
Clearly defying the odds with winning SIX Tony Awards in acting, Audra McDonald nabbed a spot in history for her hard work and dedication to her craft. A major accomplishment to be very proud of since no one else has copped six Tonys for acting, and won in each category.
But…as we all know there has to be at least ONE person to pick apart every little detail and twist it to make it seem like something...else.
While giving her tearful Tony Award acceptance speech for winning the leading actress award for her performance in Lady Day at Emerson's Bar & Grill, Audra started with thanking her parents (her father is deceased) for everything they have done to get her to where she is today...including NOT medicating her for hyperactivity.
She said,
"I'm going to start with the most important people in my life cause I don't want to forget them. I want to thank my mom and my dad up in heaven for disobeying the doctor's orders and not medicating their hyperactive girl and finding out what she was into instead and pushing her into the theater."
TIME magazine writer Belinda Luscombe wrote an open letter to Audra, picking apart her opening to her speech from a mother's point-of-view who DOES medicate their hyperactive child. In the letter she said,
But here's the thing. One of my kids doesn't learn very well without the meds. We've tried the theater, sports, music, wearing him out, getting him more sleep, meditation, diet, being super-disciplinarian, being not too disciplinarian, art, bribery and shouting. We even tried chewing gum for a while. Oh man, that stuff is hard to remove. We tried a lot of techniques, some of them more seriously than others, because we are human and have jobs and other children. But the thing that worked best, that enabled him to learn to read and stopped him from getting into trouble at school, was medicine.

I'm sure that you were not personally judging me and other concerned parents when you thanked your parents for not putting you on Ritalin. I'm sure you weren't trying to prescribe from the podium. And obviously, you have thrived, against some serious odds. But damn it, you're not making it any easier to live with our hard decisions. There's anxiety and then there's Audra-induced anxiety, which is more dramatic and accomplished than the regular sort. I'm equally sure your parents also drove you to rehearsal a lot, or ran lines with you, or calmed you down if you had stage fright or told you not to chew your nails. You couldn't have mentioned that instead?

The chances of anybody winning six Tonys are extremely slender (again, bravo). If by giving my child medication, I have reduced his chances of getting that gong even further, so be it. He may not be Audra-level awesome, but he's going to get though school. I'm O.K. with that.
The leading Broadway darling didn't seem to be advising parents to NOT medicate their children (if that's what works for them), but merely explained what worked for her and her family. But we all know how much of a hot button issue this is amongst the parenting world.
Some facts we dug up on Audra show she (like any other human being) has been through many obstacles and persevered to get to her history making moment.
In a new interview with NewYork.com, she opened up about the one time she tried to take her own life saying, "As I mentioned in my interview with (CBS Sunday Morning's) Mo Rocca, it is not something I am ashamed of or proud of. It is just a part of who I am. I'm really open about talking about that experience because it's in my closet. If I pull it out and say 'That was what happened' no one can shock me with it later."
And a fun fact we learned about Audra is that her A Raisin In The Sun co-star Diddy would start every show by giving her a kiss on her cheek. She revealed, "Sean is such a gentleman and I always felt comfortable with him. We actually had a ritual before the start of every show. Sean would kiss me on the cheek before the start of every performance [of 2004's A Raisin in the Sun]. He did it every night until the show closed."
How sweet. Check out more about the fab chick HERE.
And check out the opening to Audra's 2014 Tony Award acceptance speech below:
So we have to ask...after hearing Audra's speech and reading a mother's response about medicating children with hyperactivity, do you think the journalist was trying to dampen her historical shine? Or do you agree?
SPEAK ON IT!
Photo: Getty
DEADBEAT DADS: Stevie J BUSTED In Atlanta For OWING $1 Million In BACK CHILD SUPPORT!
Posted: 10 Jun 2014 12:10 PM PDT
<
"LAHH ATL" star Stevie J was arrested in Georgia because of the $1 Million he owes in child support. Watch Sleaz-O do the perp walk inside.....
Thanks to all of the "fronting" he does on reality tv (fancy cars, McMansions, expensive parties) Stevie J's "other" reality caught up with him recently when cops cuffed him at his mansion in Atlanta.
The LAHH ATL star was busted because he owes over a million dollars in child support! According to reports, TMZ says Stevie was ordered to pay his ex-girlfriend, former record executive Carol Antoinette Bennett (whom he shares two children with) $6,600 a month in child support back in 1999.
As he continued to makes millions for Sean "Diddy Combs (Stevie was one of Bad Boy's top producers) and others, his support was raised to $8500K/month. But.....everything dried up in 2001 and he stopped paying. Now, the "Honey" producer owes a whopping $1,107,412!
He was just arrested at home in Georgia and locked up. Although he's expected to post bail soon....he'll still face criminal charges in NYC.
Damn homie.
Watch the perp walk below:
Photo: Stevie's IG
STEAK NIGHT: Ne-Yo & Mystery Woman, Amber Rose And Gilbert Arenas & Laura Govan DINE OUT At BOA
Posted: 10 Jun 2014 11:00 AM PDT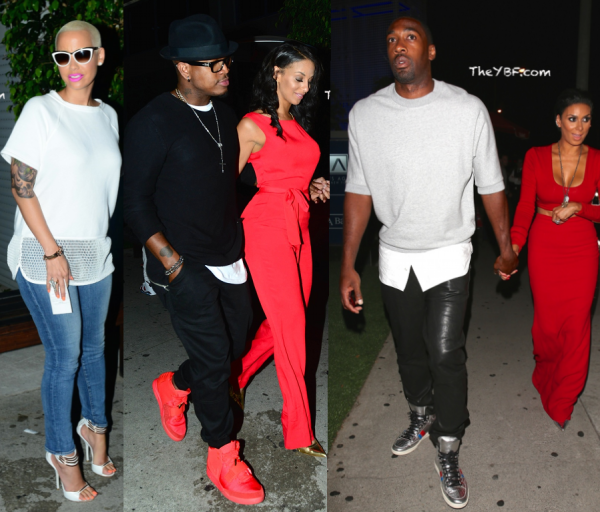 Filet Mignon and baked potatoes were in high demand last night as Black Hollywood descended on BOA. See Amber Rose, Ne-Yo and his date and others at the LA eatery inside....
The T-Bones at BOA must be delicious.....because plenty of folks were out getting a piece last night! Or...maybe it's the wanted attention from the paparazzi that know is ALWAYS outside the restaurant.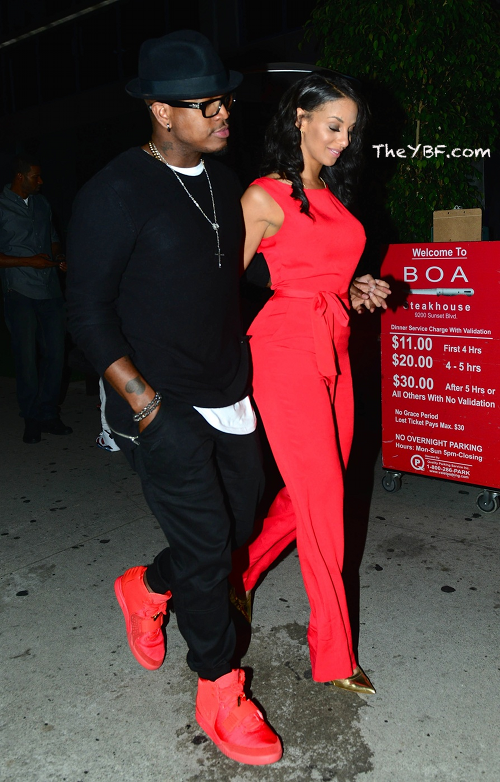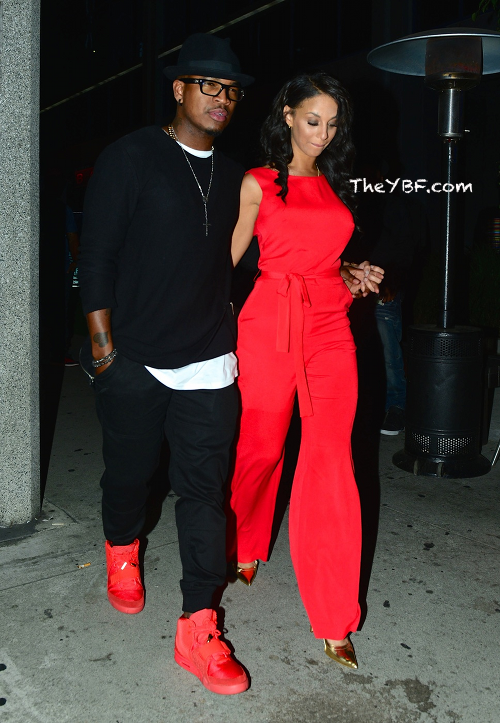 Ne-Yo, who recently released "Money Can't Buy" from his upcoming disc Non-Fiction, was spotted out with a mystery chick.
While his former fiancee Monyetta Shaw is filming "Atlanta Exes", Ne-Yo is busy working with a current chick. Well aren't they cute...matching red looks. Or something.
And the "current" situation seems just like his type...
Mama Rose left Baby Bash at home so she could step out to get some camera action and some dinner.
Akon, who's on Raekwon's new "Call of Duty" single, stepped out in his Adidas. Like, the whole track suit and shoes.
Gilbert Arenas and Laura Govan stepped out hand-in-hand after the TLAM 2 premiere. Is Laura's love of fashion rubbing off on her man and those Givenchy sneakers? Looks like it...
Photos via Devone Byrd, PacificCoastNews

FAMILY DRAMA: T.I.'s Mother PLEADS With Tiny To Have A SERIOUS Talk With Her Son…On INSTAGRAM! + Master P LOSES Custody Of His Kids, Claims He Wasn't Aware Of Court Date
Posted: 10 Jun 2014 10:05 AM PDT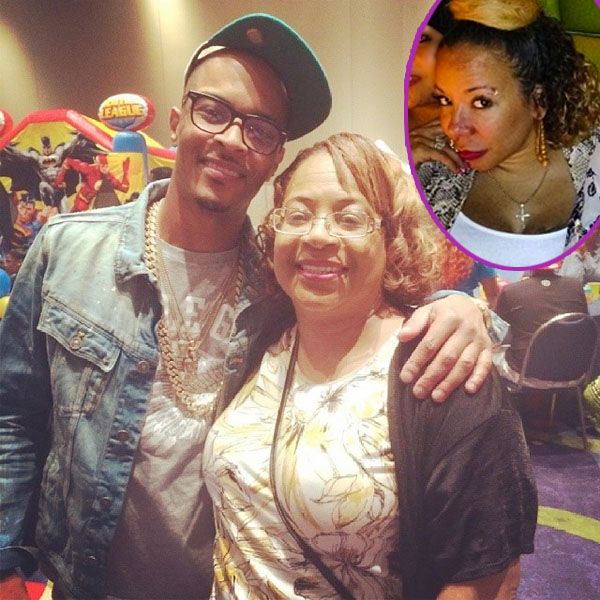 The drama continues in the Harris and Miller households! T.I.'s mom has hopped in the middle of her son and his wife Tiny's marital issues. And guess how she reached out to Tiny? On Instagram, of course!
Also, Master P recently lost custody of his children with his estranged wife Sonya Miller! Get the latest on all the family drama inside…
Seems the "Family Hustle" has turned into the "Family Spectacle" after the Harris family marital issues have been blasted all over social media. The Kang of the South and his wife have been going back and forth on social media over the past few months, airing out all of their dirty laundry.
Guess T.I.'s mom Violeta Morgan felt it was time for her to speak up for her son regarding their issues. So she did...on Instagram. Sighs...
Tiny has been doing her solo thing recently. Memorial Day weekend she was partying it up in L.A. with Floyd Mayweather, which (allegedly) resulted in Tip confronting the boxing champ and an all out brawl breaking out.
And over the weekend, Tiny hit up Atlanta's Buckhead Bottle Bar with her girlfriends Toya Wright and Tamar Braxton, posting IG pics of them having a good time. Tip's mom stepped in…but probably not in the best way.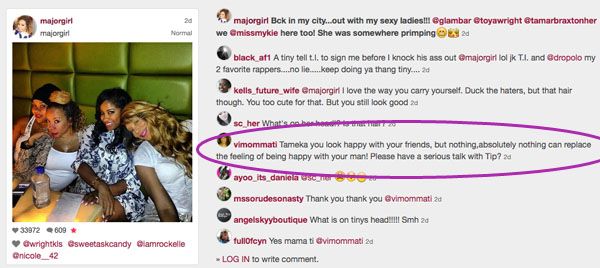 Under a pic of Tiny posing it up with Toya and Tamar (above), Tip's mom left the comment, "Tameka you look happy with your friends, but nothing,absolutely nothing can replace the feeling of being happy with your man! Please have a serious talk with Tip?"
We agree with Mama Tip...but did she have to post this to her Instagram? She couldn't pick up the phone and give Tiny a call or shoot her a text? Damn.
And Mama Tip didn't stop there. She also clapped back at fans who commented on her no longer wearing her wedding ring:
She posted, "Just because you don't see a ring doesn't mean that there is no commitment!"
Hmm...Tiny hasn't been wearing her ring in public much at all. Back in March, when asked about her ring when she was on the "Wendy Williams Show" she claimed she wasn't wearing it because she jammed her finger and couldn't fit it. Finger still jammed? Hmm...
We really hope these two can work out their issues whether they decide to stay together or not. But we hope they work it out somehow...OFF social media.
And in the Miller household...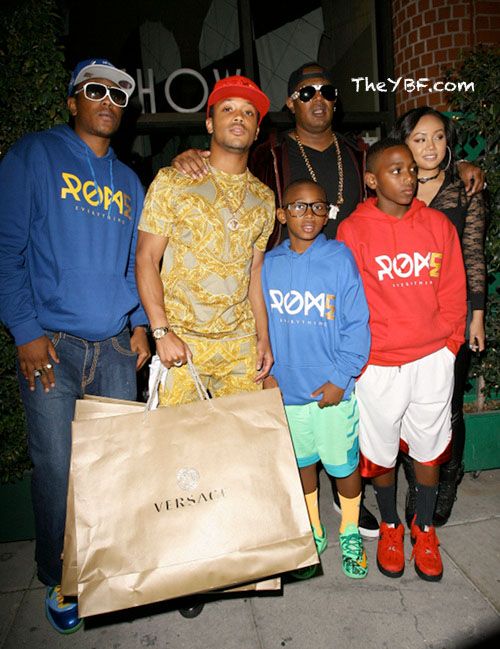 Master P's estranged wife came out in winner in the latest custody battle of their four children. Apparently, Sonya was granted sole physical and legal custody of 17-year-old Tytyana, 14-year-old Italy, 13-year-old Hercy, and 9-year-old Mercy because P didn't show up for court!
Daddy Miller has to pay a hefty fine for being a no-show. According to TMZ, he was ordered to pay Sonya's $75,000 legal bill which included sanctions for him not appearing in court. Damn!
But wait…P said he was never summoned to court and that's the reason he was a no-show.
In a statement released by P, he said he was at his daughter's school at the time of the hearing and had no clue they had a court date. He claims Sonya is an unfit mother and is only concerned about herself and if anything happens to his children while in her care, he's taking legal action.
Check it:
"At the time of the court hearing that I was not aware of, I was actually at my daughter, Italy's school speaking with her principal. My daughter is failing in all of her courses and has 21 unexcused absences during this school year. Italy is the only child living with her mother and is not getting the proper guidance nor direction as to making wise choices. Her mother allowed her to go to Disneyland on a school day during finals week. Half of the time her mother doesn't even know where she is or who's she's with. This is disappointing and embarrassing to me. I just got back into town from holding basketball camps in Kentucky helping at-risk youth and have to come back home to deal with negativity in my own family. How can a judge grant custody to an unfit mother who's only motive for gaining custody is to get more money? Sonya's only concern is herself, partying and hanging out with her friends. Her attorneys are only involved to seek financial gain. No one is really looking out for the best interest of our kids. It's all about money. She said out of her own mouth that she was tired of the kids, that's the reason why I came and got them from their mother the first time. I didn't need the court or judge to tell me to do what's right for my kids, that's what I want to do and that's my lifelong commitment to all of my kids. Sonya knows that she has a drug and alcohol addiction, everyone else will see that there is a real problem because that's something you can only hide for so long. If anything happens to my kids while they're in her custody, I will be suing her attorneys as well as the court system for not properly investigating this case. You know what's really sad, that gossip media outlets like TMZ are constantly covering this without getting real facts. I know that I'm not perfect and I can't change anyone but myself. I'm going to put this in God's hands, keep praying for my family and keep doing the right thing."

You'll recall, P is currently shopping around a new reality show featuring his family tentatively titled, "The Miller Dynasty." With all the drama surrounding his nasty divorce to his estranged wife, her alleged drug abuse and welfare claims, it will probably get picked up a lot sooner than later.
Messy...
Photos: INF/Splash/T.I.'s Mom IG/Tiny's IG
POWER COUPLE: Magic & Cookie Johnson Talk Almost Separating, Reconnecting & Donald Sterling For The Cover Of EBONY Magazine
Posted: 10 Jun 2014 09:22 AM PDT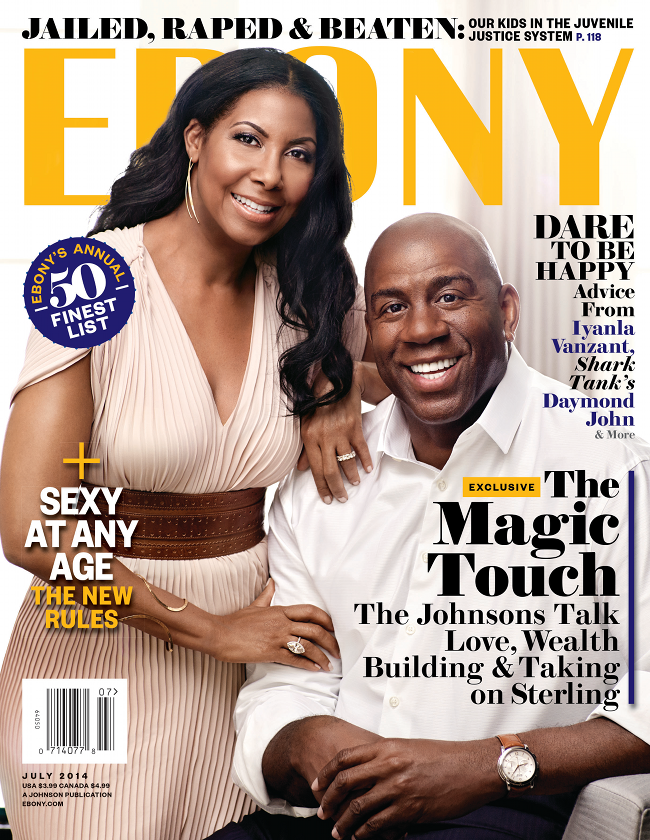 Magic Johnson and Cookie Johnson are keeping it 100 when it comes to their past marital woes. Check out the couple, who's now 22-years-strong, covering the July 2014 issue of EBONY magazine, and what they had to say about keeping their marriage together...and that damn Donald Sterling.
Power couple Magic and Cookie Johnson are on the cover of EBONY magazine as they exclusively discuss weathering the storm around the recent controversy concerning Donald Sterling, their business endeavors, how they keep their love going as empty nesters and living life with HIV.
L.A. Dodgers part-owner Magic said about the media frenzy surrounding Sterling's remarks:
"I'm glad that I was able to stand up for our people and be the voice."
And so are we.
The Johnsons have been married for 22 years and dated 14 years prior (wow!), so they're a couple with proven longevity. So how are they making their love last? The two kept it 100 aout the ups and downs, and almost ending it.
Cookie admitted:
"We had our ups and downs. We had a period where we were about to separate. There was a point where I was home all the time; he was working," she continued. "Sometimes you start growing apart a little because he's seeing new adventurous stuff. He's out in the world. He's growing. [But] I'm stagnant."
Magic revealed that it was he who had to learn to make changes.
"If I had kept going [that way] and the kids left, we would probably be divorced. Now we're so connected to each other, but it took that situation to bring us back." He also added, "I've always told Cookie, 'The only thing I wanted was to grow old with you.' [Now] we just look at each other and say how blessed we are."
Meanwhile, Cookie has become a businesswoman herself with her own premium denim line, CJ, and Magic admits it made him look at her in a new light.
"It's so sexy," he says with a wink. "It is beautiful to see her become this brand; this CEO."
Get it!
The In the issue, which hits stands today, the couple discusses Magic's HIV status and being thankful he can see his kids grow up, the Johnson's sense of fashion, their children, and being empty-nesters now that EJ and sister and brother are out of the house.
The Randomness:
1. Sasha Obama is a teenager! The First Daughter turns the big 1-3 today.