---
TO ALL DADS: Happy Father's Day 2014! [BIG GALLERY INSIDE!]
Posted: 15 Jun 2014 06:44 AM PDT
Father's Day has been called one of the most underrated holidays....but not here. We put Father's Day on par with the most important days of the year (and yes, fathers should be celebrated daily). TheYBF.com is giving shine to ALL of the fabulous Dads who set an example for their fans and beyond. Come inside and celebrate with our tribute to celebrity Dads....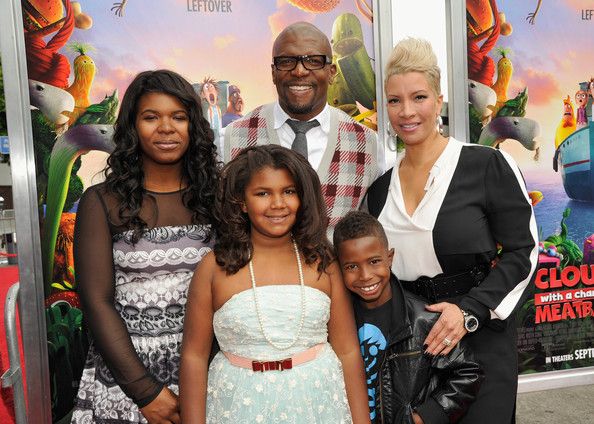 We often see celebrity parents out and about with their little ones, and today, we're going to give the fab Dads their due. These fellas are leading men of industry, the silver screen, heads of large corporations, musical geniuses and fashion moguls. But most importantly, their most fulfilling role is DAD.
In our gallery we celebrate these men, and we'd also like to highlight those celebs whom we don't often see out and about with their kids.Yyou might not know that Deion Sanders has a whole football team or that Caron Butler (of the OKC Thunder) has three daughters who look just like him! Here we go....
In the pic atop, proud papa Terry Crews, who stars in Blended and Brooklyn Nine-Nine, fiercely defends fatherhood in his new tome Manhood where here shares his thoughts on preparing kids for their future. Here's his advice to men:
Here are three things a father should teach his children:
1. How to lose. It's really not win or lose, it's win or learn! Show your child how to not internalize failure but to grow from it. There is no one smarter or better than you, there are only those who with practice and a good attitude became better at something they were once not good at.

2. How to win. Overconfidence keeps you from being receptive to new ideas and better ways of doing things. Never brag or gloat but know that good today doesn't always mean great tomorrow. Humility is not saying you are no good at something -- but just submission to the fact you don't know everything.

3. How to apologize. Every human being goofs things up, and the first step in making things right is owning up to your mistake and apologizing. I often tell my kids if they do something wrong and they tell me the truth and apologize without trying to cover it up, they won't get into trouble. But if they DO try to cover up what they've done wrong, consequences are guaranteed."
Loves it. A few of ou other faves:
ESPN personality and football/baseball legend Deion Sanders and his fiancee Tracee Edmonds are among those couples who show that blended families can be successful.
In his legendary Never Scared special, funnyman Chris Rock joked that a Dad's main role is to keep his daughters off the pole.
When he's off thecourt, Amar'e Stoudemire has taken a particular interest in making sure his children understand their Jewish roots. We've spotted them on several family vacations to Israel. Oh, and he also just wrote a cookbook!
OKC Thunder baller Caron Butler is a doting dad to his three girls (Mia, Ava & Gia). He also co-parents his two oldest kids in Racine, Wisconsin (Caron, Jr & Camary).
Lil' Wayne has made his blended family work. You never REALLY read about his baby mama drama in the news! Say what you will about him having so many baby mamas, but he has always shown he's a great dad. Recently, he took his eldest daughter Reginae for a driving lesson:
Toya Wright shared this caption on Instagram "I'm not gonna be able to tell her anything now.... Her daddy finally let her drive him around. I started letting her drive me around a few months ago to get practice.... Wayne not so much. lol ( he wasn't having it.) I see somebody gave in. #coparenting #myprincessgrowingup"

Check out tons more of our celebrity dads in the gallery below!
Photos via Getty Image/Various Instagram Pages/Facebook
JUST MARRIED: Eve & Maximillion Cooper WED In Ibiza! [UPDATED With More Pics]
Posted: 14 Jun 2014 02:47 PM PDT
Eve is now officially Mrs. Cooper! The raptress married her longtime man Maximillion Cooper today in Ibiza, Spain. And we've got all the details and the couple's first pic as a married couple inside. [UPDATED with more pics.]
Today in Ibiza, E-V-E got hitched to her man of four years, officially becoming Mrs. Maximillion Cooper. And stepmom to his two children (one pictured above).
The couple exchanged vows in a sunset beach wedding at 8p.m. (local time) in front of guests who were asked to dress in elegant beach attire.
The wedding was a culmination of a series of events spanning four days. According to Us Weekly:
On Wednesday, family and friends gathered for a fun night out at Pacha club.

The next day, they got the chance to catch a tan poolside while artists and DJs performed live for them at Destino.

On Friday, the couple hosted a champagne reception at their villa, and dined at LIO restaurant overlooking yachts and the Old Town.
And Saturday was the big day where Eve became a married woman, just six months after getting engaged. Check out more pics of Eve walking down the aisle in her gorgeous embroidered Alice Temperley gown, being escorted by her mother, Julia Wilch-Jeffers, and leaving the hotel in a classic ride:
Eve's new husband told E! News afer the wedding, "I'm so happy to make Eve my wife. The whole experience has been amazing and we are both so happy to have tied the knot."

Eve said after the wedding, "We met on the 2010 Gumball 3000 rally, so it only seemed right to have the wedding at the finish of this year's rally in Ibiza, which was the final stop on this year's event. We couldn't be happier to celebrate such a special day with all our family and friends."

The raptress also celebrated her bachelorette party in April with a group of girlfriends, including Mashonda.
And just a little while before the big wedding, Maximillion held his annual Gumball 3000 race. This year, the drivers and their luxury cars started in Miami & Atlanta and ended in Ibiza.
The couple snapped one of their first pics together as a married couple (above), and it was posted by their good friend rapper Bun B.
Congrats!
Photo: Bun B's IG/Tony Hawk's IG/Splash

OUT & ABOUT: Faith Evans & Kelly Price Do Lunch At Villa Blanca + KeKe Palmer Keeps It Cute At "Animal" Screening
Posted: 14 Jun 2014 12:16 PM PDT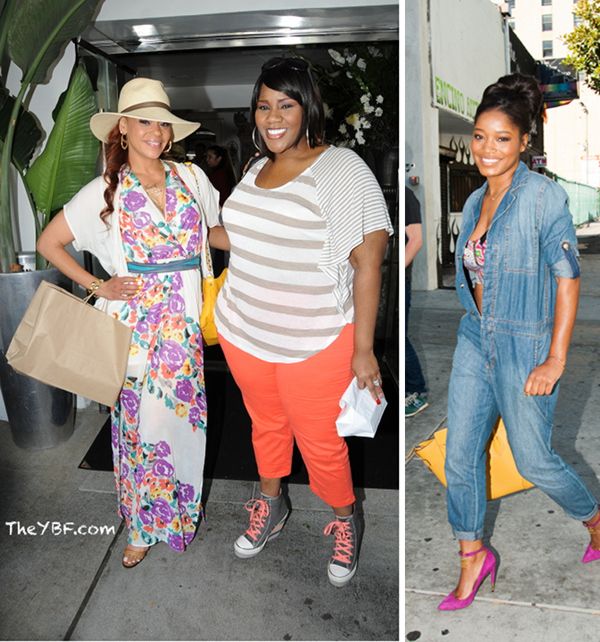 The YBF ladies were out and about in L.A. yesterday. Check out pics of former "R&B Divas" Faith Evans and Kelly Price grabbing lunch and KeKe Palmer keeping it chic and sexy at her movie premiere....
KeKe Palmer hit the screening for her new film Animal yesterday in L.A,, hair whipped into a bun and skin glowing like perfection. The upcoming BET talk show host rocked a cute Current/Elliot "The Mechanic" denim jumpsuit, Tom Ford Padlock Anke-Wrap Suede Pumps, her yellow Céline bag, and a printed zip-front Band of Gypsies bustier for her big event.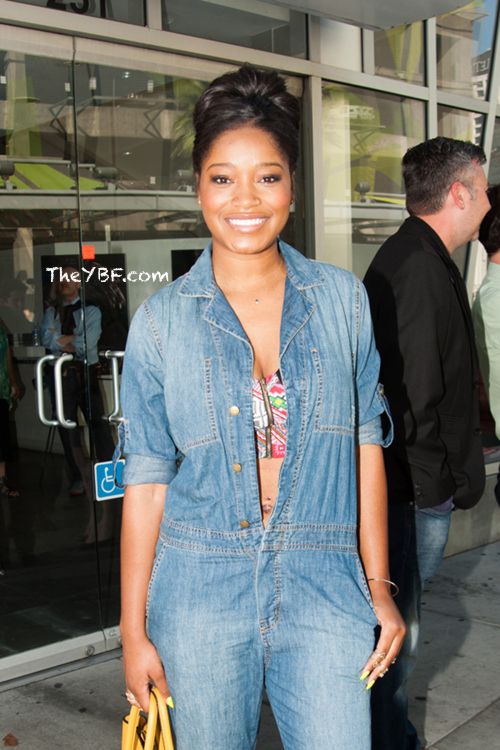 And we're loving it on her.
The 20-year-old singer/actress plays "Alissa" in the horror/thriller, which is out June 17th in limited theaters. Here's the synopsis:
When plans for a weekend vacation hit a dead end, a group of close-knit friends find themselves stranded in unfamiliar territory, pursued by a menacing, blood thirsty predator. Holed up in an isolated cabin, tensions mount as long-buried secrets are revealed. As the body count rises, the group must put their differences aside and fight for survival.
Hope her character defeats the horror movie odds and survives! By the way, her new talk show, "Just KeKe", debuts on BET June 30th.
Elsewhere in L.A. yesterday: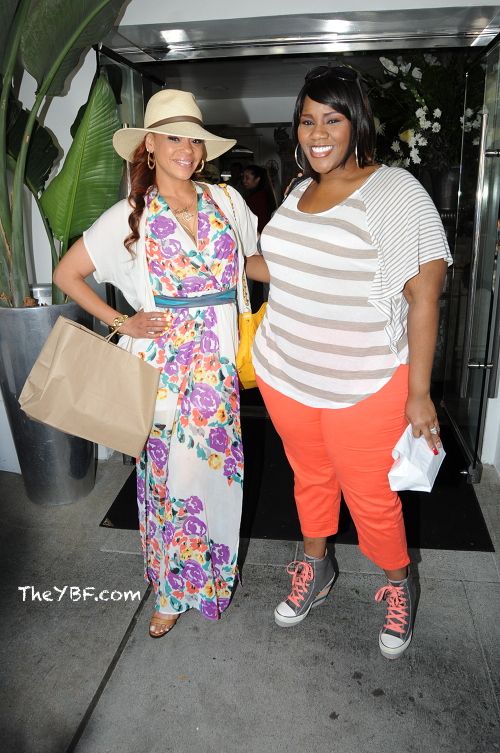 Faith Evans and Kelly Price hit up Villa Blanca restaurant in Beverly Hills, likely to rehash all the drama from "R&B Divas". The twosome posed it up while leaving out, and took time to snap pics with all the fans who asked.
Kelly is obsessed with sneaker wedges it seems...in every color. And Faith kept it summery in a floral maxi dress and an oversized hat.
The ladies hopped in the car together before driving off. Wonder what's up next for them. Because it doesn't seem either will be returning to the TvOne franchise...
Photos: Pacific Coast News/Splash
LAST DAY TO ENTER: #RealYBFDad Instagram Contest!
Posted: 14 Jun 2014 11:24 AM PDT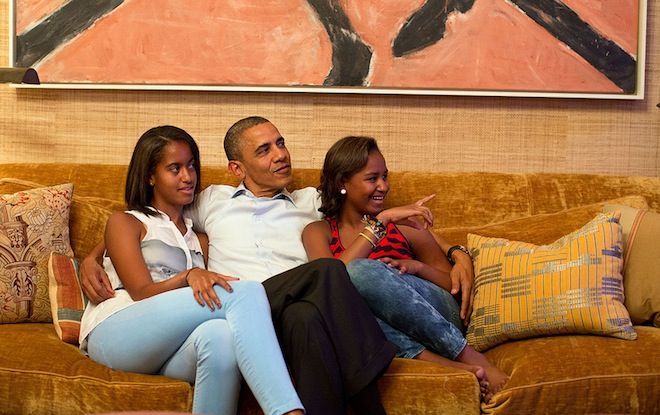 Just in time for Father's Day, we're launching the #RealYBFDad contest! No celebs, just real people. And it's all going down via our newly launched INSTAGRAM (@TheYBFDaily)! Deets inside...
We love those celeb dads who kill us with cuteness as they care for their kiddies. Now, we want to see the REAL LIFE dads who are just as amazing every single day. We're sure plenty of our readers fit the bill!
Do you or a loved one set an example of excellent fatherhood? Then round up your pics and a fab story about why...and ENTER NOW!
Using the hashtag #RealYBFDad on Instagram, post either a pic (WITH caption) or a video that explains why you or a loved one is the epitome of a #RealYBFDad.
Don't forget that hashtag! Today's the last day to enter! We'll feature the winning entry on Fathers Day, June 15th!
Good luck to the #RealYBFDad contestants!
FOLLOW YBF ON INSTAGRAM: TheYBFDaily
(We will not be able to see hashtag entries from private IG accounts.)
BONNAROO 2014: Janelle Monae Lets Down Her Curls + Kanye's Masked Headlining Performance
Posted: 14 Jun 2014 10:25 AM PDT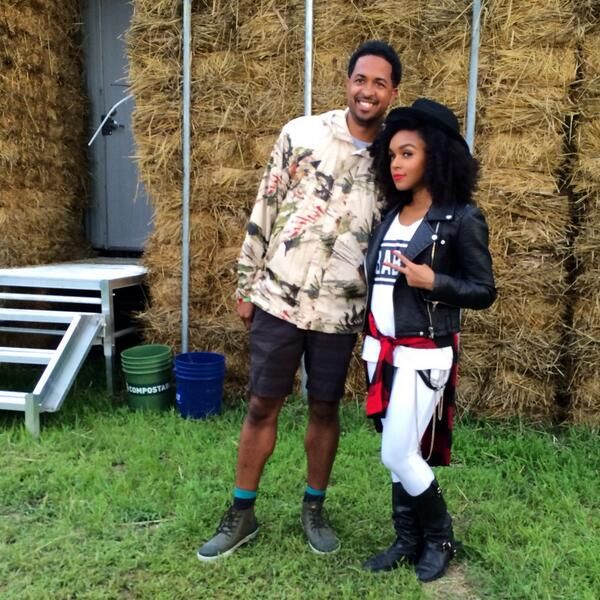 Janelle Monae let down her curls after her big performance at the Bonnaroo Arts & Music Festival last night. Check out her super fab pics, plus headliner Kanye West's masked performance inside...
Oh yes! We're totally loving Janelle Monae's curly 'do at yesterday's Bonnaroo Festival in Manchester, Tennessee. The YBF chick chatted up FUSE tv and Revolt TV after her big performance, and rocked a rare 'do topped off with a cute hat and a moto-chic look:
Cute!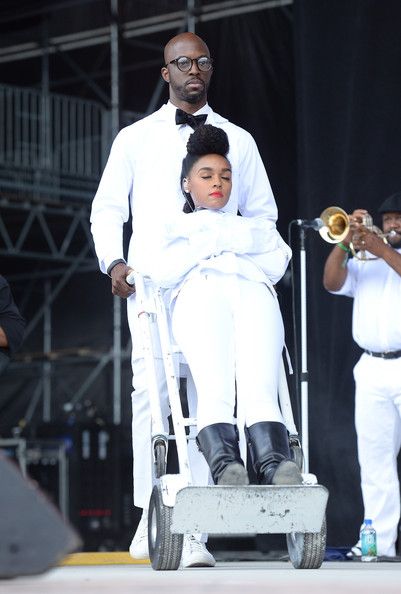 But beforehand when she took the stage, the Electric Lady was her usual self with her hair in her signature poof and her black & white uniform: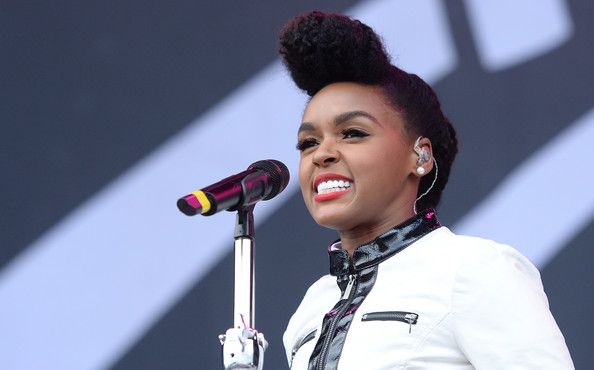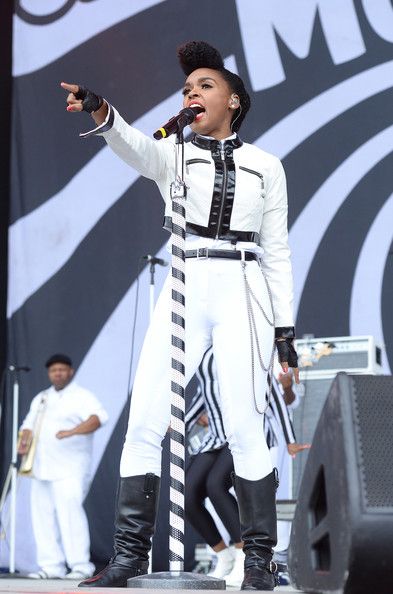 Such a cutie either way.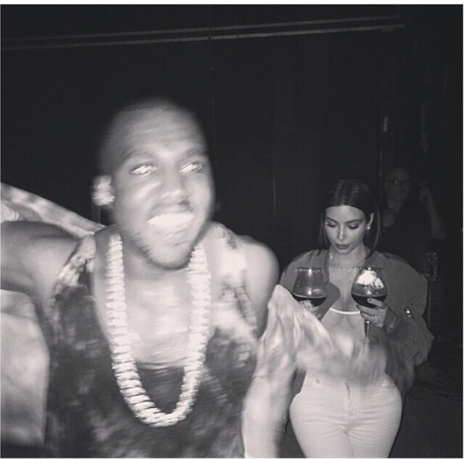 And the headliner for the night was Kanye West. He had the new Mrs. West right by his side carrying a glass of wine for both him and her after his juiced up performance in front of 100,000 fans.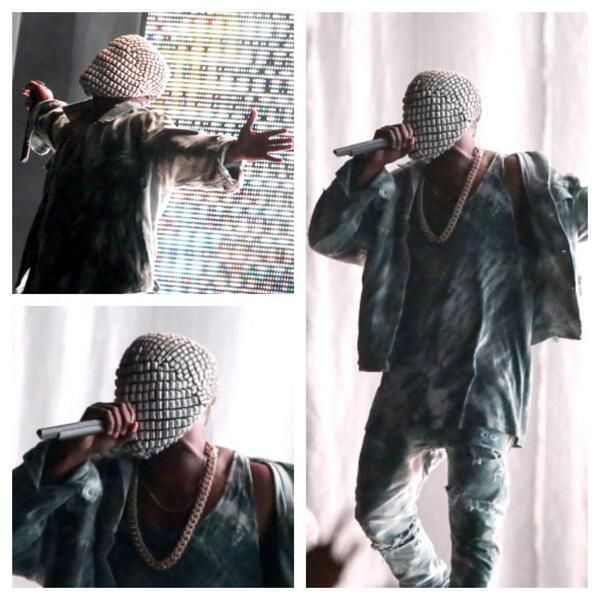 'Ye rocked a studded mask throughout his performance, just 1 day after his second honeymoon in Mexico. Reportedly the twosome made a quick stop in L.A. to pick up their baby girl along the way.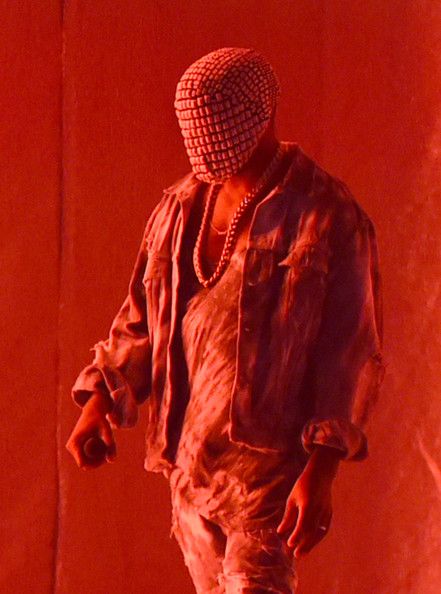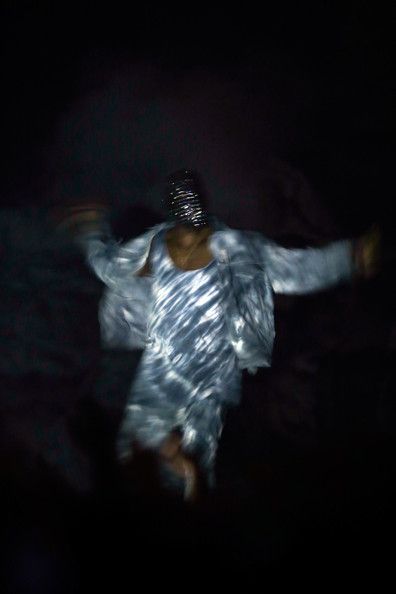 Dude is never boring, we can say that. P.S. Baby North West turns 1 tomorrow!
Photos: Fuse TV's twitter/Revolt Tv's IG/Getty