---
Vanessa Simmons HITS The Party Scene With Sister Angela Simmons, Karrueche, Ne-Yo & More At TOXIC Day Party
Posted: 09 Jun 2014 08:22 AM PDT
Over the weekend, new mommy Vanessa Simmons took a break from motherhood and hit up the party scene with her little sister Angela Simmons, Karrueche, Ne-Yo and more. Peep the party picks from the ToXic Day Party inside…
Every new mom needs a break from time-to-time and new mom of one Vanessa Simmons did just that.
On Saturday, the eldest Simmons daughter hit up ToXic Day Party in Hollywood with her little sister Angela Simmons (who hosted the event) for some good times with good people. The Simmons girls partied with Karrueche Tran, Ne-Yo, "BBW: LA" star Jackie Christie's daughter Chantel Christie (who celebrated her 21st birthday), Denver Broncos baller TJ Ward, famed video director Little X and rapper Young Berg.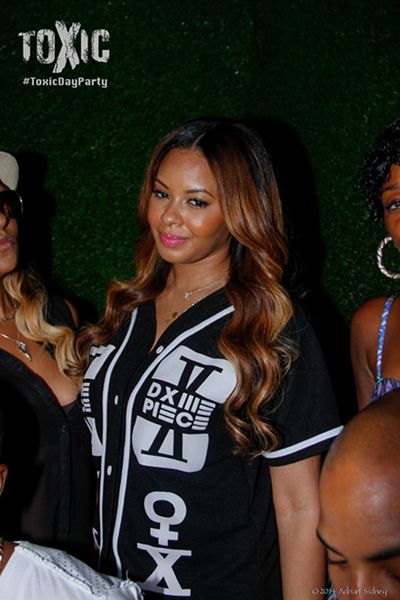 For her first party outing since giving birth to baby Ava, V rocked a cute and casual Dimepiece baseball button-up paired with white distressed jeans. She's looking fabulous post-baby. We will be seeing more of the new mom since she landed a new gig. V will be hosting a new fashion competition show coming to LIFETIME titled "Threads."
Angela Simmons was tapped as the host for the weekend festivities and she sizzled in a white meshed dress with fire red pumps. The fitness fanatic could possibly have a new project up her sleeve. The toned Simmons was spotted flaunting her summer bod in Beverly Hills for lunch with fitness guru Jeanette Jenkins.
After welcoming home her boo Chris Brown with a big celeb-filled bash, Karrueche partied it up with friends.
And Kae posed it up alongside Angela for a cute pic.
Ne-Yo came out to get the party started. He surprised party goers debuting a brand new, never-heard-before track for their listening pleasures.
Peep the party flicks below: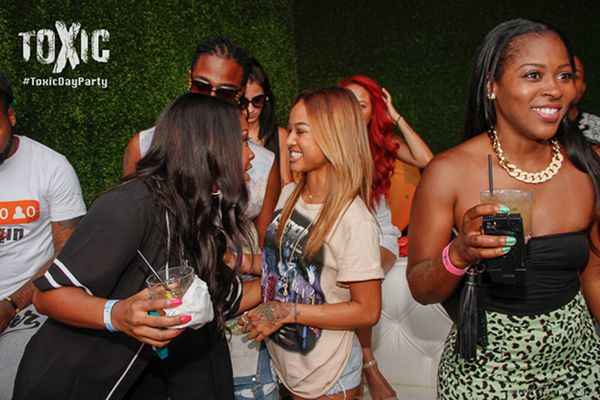 Girls just want to have fun!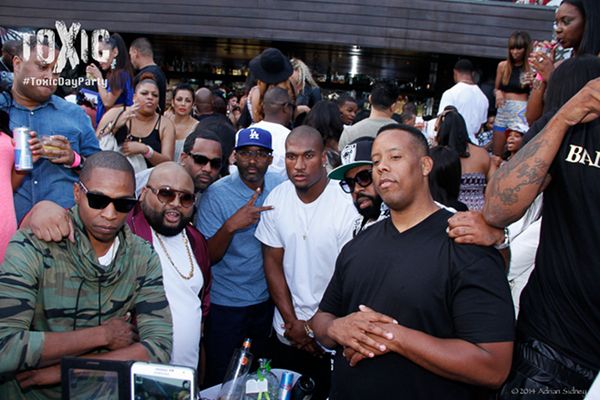 Oh..Hey Todd Tucker! Kandi's husband was also in attendance to party it up with Jazze Pha and friends.
Fun times.
Photos: Arnold Turner for BarTabz/Angela Simmons' IG/@missdiddyla
SPOTTED: Rihanna DINES At Her Favorite EATERY With Coldplay's Chris Martin
Posted: 09 Jun 2014 07:50 AM PDT
Bad gal RiRi was spotted outside of her favorite West Coast restaurant last night on her way to meet a very famous dinner guest. Find out who she met inside....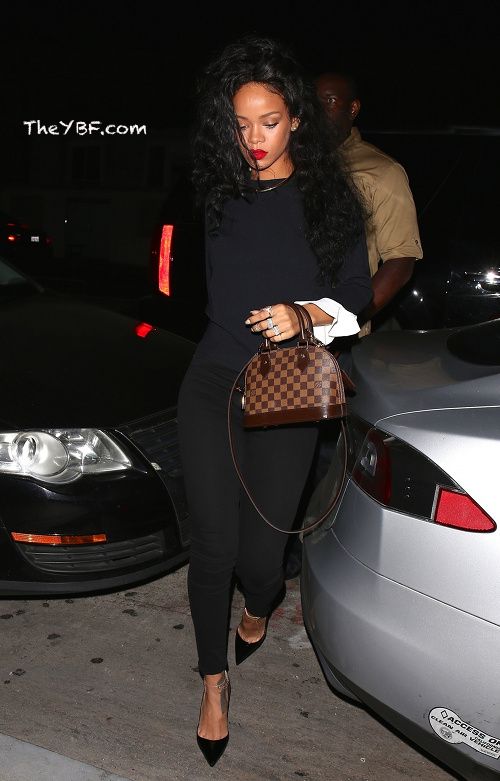 Rihanna, whom Spike TV presented their first ever Most Desirable Woman Award at the 2014 Guys Choice Awards over the weekend, was spotted walking into Giorgio Baldi in Santa Monica last night. The hot spot is one of Rihanna's favorite eateries and we've spotted her dining there many times.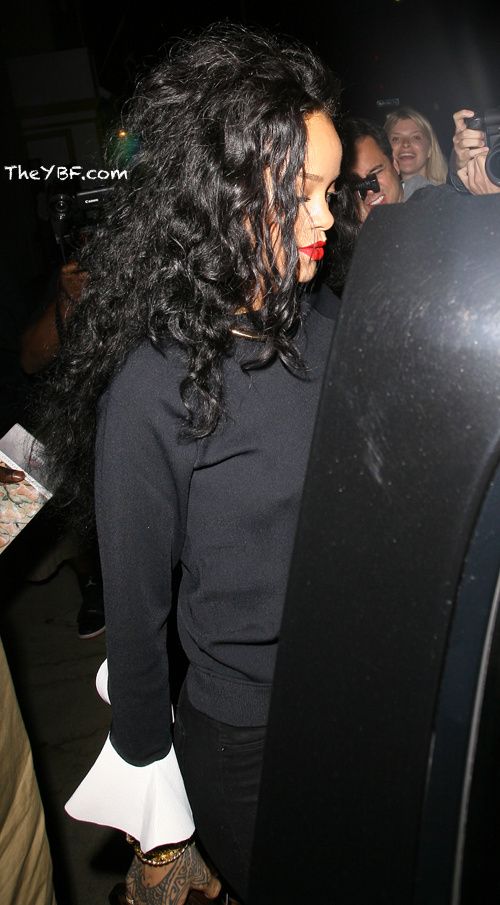 Rihanna's dinner outfit was a far cry from her controversial CFDA Fashion Icon garment. The "Phresh Out The Runway" singer looked casual and demure in a black and white blouse, black skinny jeans and pointed-toe black Christian Louboutin pumps.
Rihanna's dinner guest was Coldplay frontman Chris Martin (see more pics here). Fans of RiRi will recall that she was a featured artist on the group's "Princess Of China" hit a few years ago. Perhaps they discussed another collaboration over dinner?
Photos via Splash News
FUN & FIGHTS: Chris Brown SHOOTS Hoops Post Jail Release + FIGHT Breaks Out During Master P's Youth Basketball Game
Posted: 09 Jun 2014 07:17 AM PDT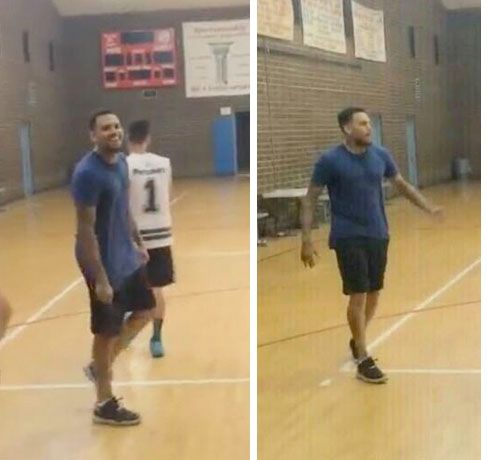 Since being released from jail last week, Chris Brown hit up a gym to shoot some hoops with friends. Speaking of basketball, a huge brawl broke out during a basketball game that Master P was coaching. See Breezy in the paint and video of the fight that broke out during P's game inside….
After partying it up with Karrueche and some of his celeb friends following his release, Chris Brown made his way to the gym yesterday to shoot a few hoops with some friends.
In a new video posted to Breezy's YouTube, we see a fuller Breezy working on his basketball skills, shooting from the three-point line.
Dude has to brush up on his skills because we all know how much Breezy loves basketball. The "Loyal" singer has flexed his basketball expertise during many celeb basketball game events.
Check it:
And at another basketball game....
A huge brawl broke out during one of Master P's youth basketball games. P was leading his youth basketball team "The P Miller Ballers" during a tournament at a high school gym in Tennessee back in March when a group of adults started FIGHTING on the court during the game.
Not sure what caused the melee but one dude got hit in the back of the head with a red steel chair. It was a mess!
Luckily, P wasn't involved in the fight and was not hurt. Check the foolishness above.
Sighs…we have to do better.
Photos/Video: YouTube/TMZ
NEW FACES: Nigerian Model Adeola Ariyo Selected As Elizabeth Arden's 1st African Ambassador
Posted: 09 Jun 2014 05:43 AM PDT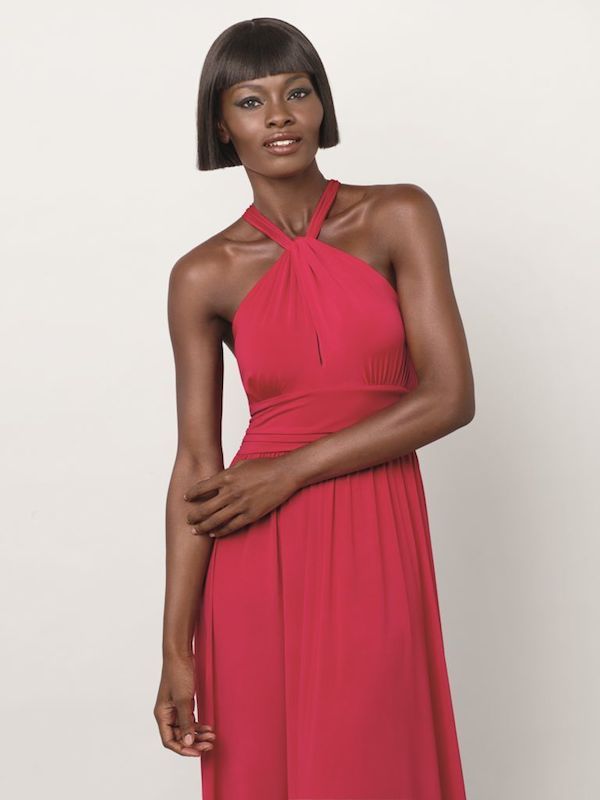 Gorgeous model Adeola Ariyo has made fashion history as Elizabeth Arden's first African Brand Ambassador. Meet the Nigerian-born beauty inside....
Landing a cosmetics contract is a huge deal for a model and signing on to become a global ambassador for one of the largest brands is an even bigger feat. Recently, Nigerian-born model Adeola Ariyo made history with Elizabeth Arden selected her as their first brand ambassador in Africa.
Corne Nel, Managing Director of Elizabeth Arden in Africa, said "With this appointment, beauty powerhouse Elizabeth Arden is growing its footprint in Africa. 'Expanding into Africa is an exciting venture for our brand. It's an opportunity to really celebrate African beauty.'
Adeloa, who's also appeared in Sports Illustrated, was celebrated by ELLE editor, Jackie Burger, who said,
'What stands out for me about Adeola is that she truly represents the Elizabeth Arden brand. She is the best choice for the beauty house, because she embodies incredible beauty and substance. Adeola is well travelled and truly committed to young women on the African continent. She is sincere and authentic, and what shines through is that she is here to represent African women and educate us about beauty and what beauty means today.'
Celebrating her landmark accomplishment, Adeola, who began modeling at the age of 13 in London, said, 'Being chosen as an Elizabeth Arden Brand Ambassador in Africa is an incredible honor. Elizabeth Arden herself was an entrepreneur, a women's advocate and champion for holistic beauty, inspiring women all over the world. I'm proud to be associated with a brand that embodies such important values.'
Congrats Adeola....we'll be watching.

Photos via Adeola's Twitter
Audra McDonald Makes HISTORY With 6th TONY Award Win! + Fantasia, T.I. & More Hit The TONY Awards Stage
Posted: 08 Jun 2014 09:48 PM PDT
She's a history maker! Find out how Audra McDonald became the first person in history to win 6 Tony Awards in acting, plus Fantasia, LL, TI. and more make appearances....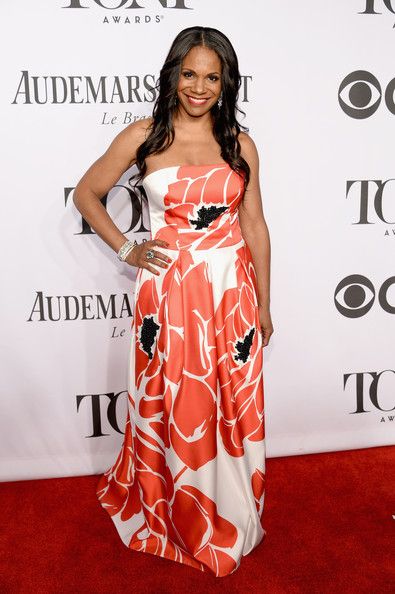 From starring in "Private Practice" to playing roles on Broadway, Audra McDonald has become a Broadway darling. And Sunday night at the 68th Annual Tony Awards at Radio City Music Hall in NYC, she made history. The YBF chick copped her SIXTH Tony Award. This is a major accomplishment as no one else has copped 6 in acting, and won in each category.
The person who comes close is Julie Harris, who received five for performance and one for Lifetime Achievement.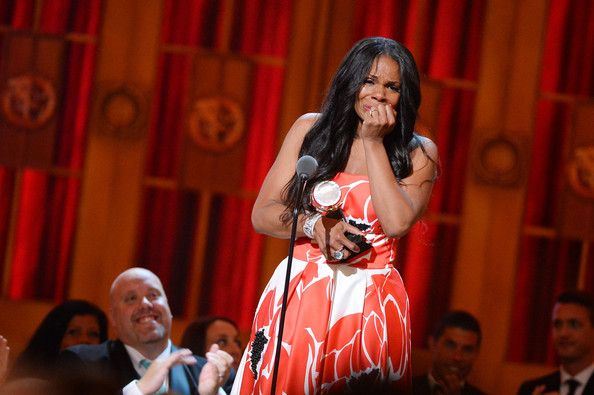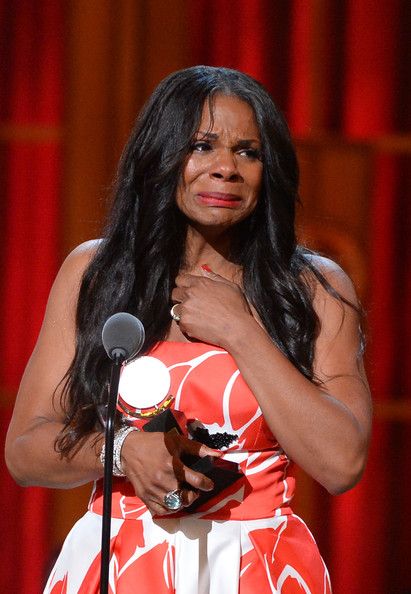 Audra took the stage during her acceptance speech and broke down into a fit of tears.
And she was all smiles backstage while holding her award. The mom of 1, who rocked a pretty printed black & white gown for the occasion, is currently starring in Lady Day at Emerson's Bar & Grill, a story where she channels the late Billie Holiday in a lounge by belting out her music.
During the live show, which aired on CBS, Audra won Best Leading Actress in a Play for Lady Day. Her previous honors for her performances in "The Gershwins' Porgy and Bess," "Carousel," "Master Class," "Ragtime" and "A Raisin in the Sun."
Congrats Audra!
On the red carpet.....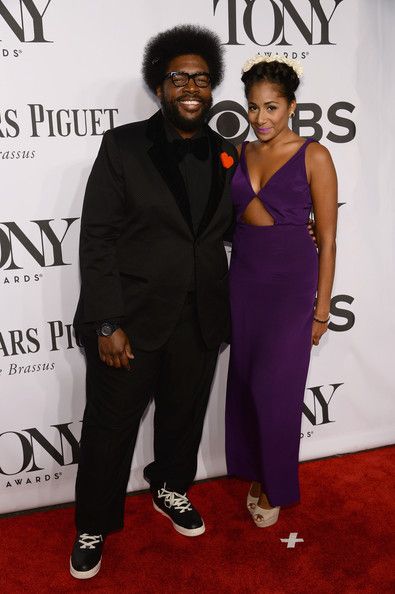 The Roots leader Questlove aka Ahmir-Khalib Thompson attended the show.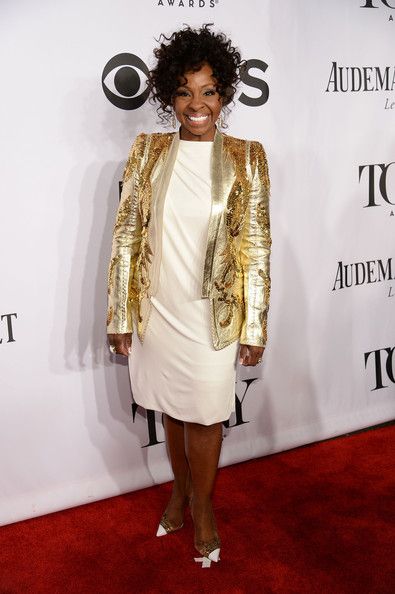 Music icon Gladys Knight performed a song from the hit musicial "After Midnight."
T.I., who hit the stage to rap with Hugh Jackman and LL Cool J, brought along his daughter Deyjah Imani Harris. During an interview on the red carpet with Alicia Quarles (below) T.I. was asked about the Floyd Mayweather incident. He told her he has never been one to be played with.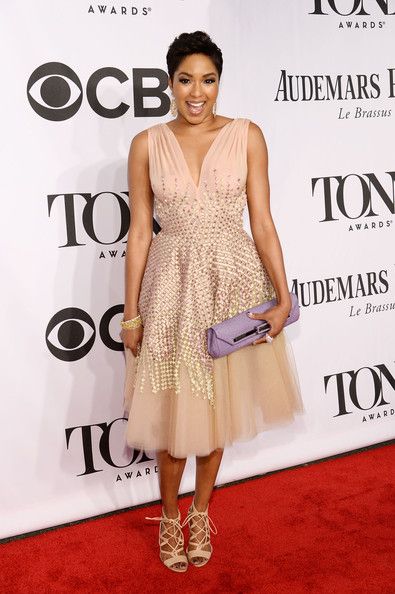 TV personality Alicia Quarles walked the red carpet.
"A Raisin In The Sun" star Anika Noni Rose, wearing Badgley Mischka, showed off her gorgeous legs.
Samuel Jackson escorted wife, LaTanya Richardson Jackson down the red carpet. LaTanya starred in "A Raisin In The Sun."
Legendary Broadway star and Tony winner Ben Vereen supported his fellow actors.
Inside.....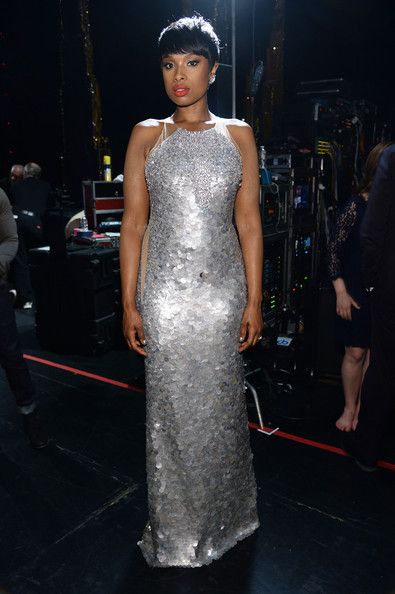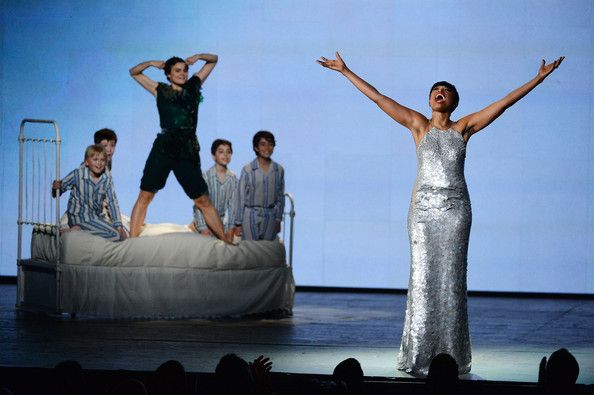 Oscar winner Jennifer Hudson, in a Kaufmanfranco Fall 2013 silver paillette gown, hit the stage to perform "Neverland" from Harvey Weinstein's upcoming musical, "Finding Neverland."
Actress Sophie Okonedo won the Tony Award for Best Performance by an Actress in a Featured Role in a Play for 'A Raisin in the Sun'. And she posed it up in the Paramount Hotel Winners' Room ith her new piece.
If you're confused about this, you aren't the only one. T.I. & LL Cool J made a surprising appearance on stage with TONY Award host Hugh Jackman. Check out the trio performing "Music Man Rap 2014" below: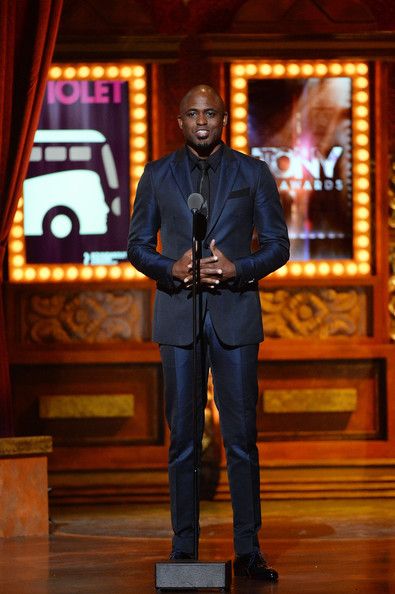 Wayne Brady was on hand to present.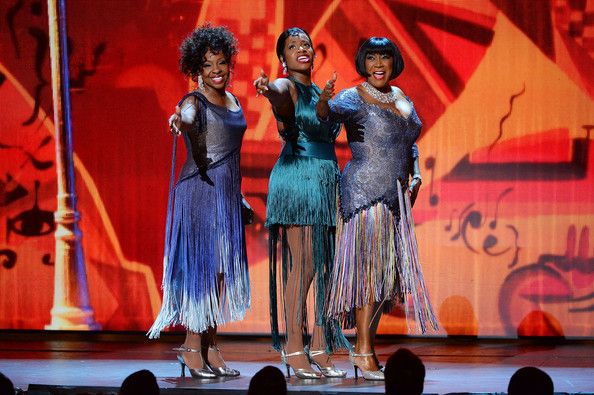 Well looky here. Fantasia, who recently starred in the Award Winning production "After Midnight", joined legends Patti LaBelle and Gladys Knight for an amazing performance. Check it out below:
Also winners Sunday night: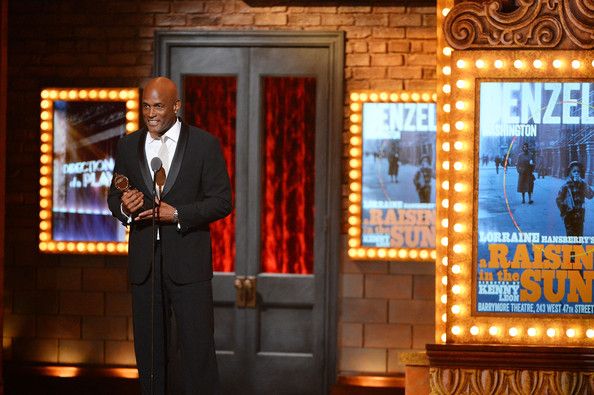 Kenny Leon accepted the award for Best Direction of a Play for "A Raisin In The Sun".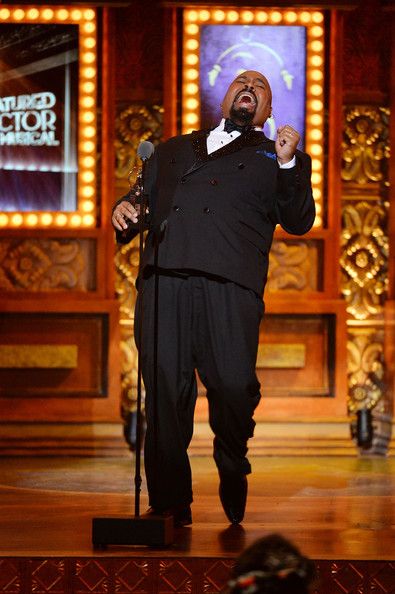 James Monroe Iglehart accepted the award for Best Performance by an Actor in a Featured Role in a Musical for "Aladdin". Yep, he played Genie.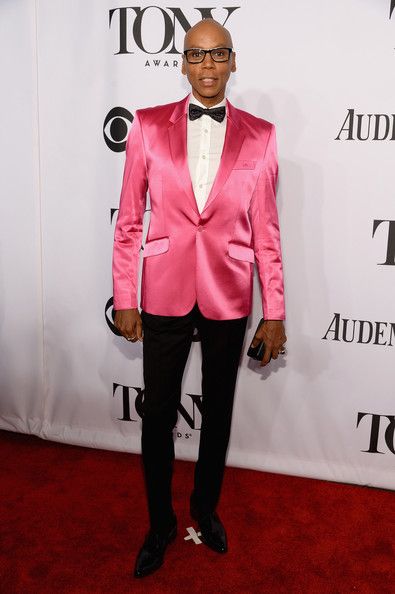 RuPaul made a statement in his hot pink blazer.
Lead actress Nikki M. James performed onstage with the cast of 'Les Miserables' during the Awards.
And Samuel L. Jackson looked dapper while presenting as well.
Congrats to all the winners.
Photos: Getty/Theo Wargo/Getty Images North America