---
Stevie J's New York Property At Risk of Getting SNATCHED Over Failure To Pay Child Support
Posted: 14 Jun 2014 08:49 AM PDT
When it rains, it pours. Not only was Stevie J. arrested in Georgia for his outstanding $1 million child support bill last week, but once he posted bail and started popping bottles, news surfaced that the state of New York is ready to confiscate his property!
Deets inside...
Since "LAHH ATL" star Stevie J doesn't seem to be concerned about paying off his $1.2 million child support debt, and would rather pop expensive bottles of champagne in the club, the state of New York is ready to snatch up his property to pay the bill.
And it doesn't help he has an ADDITIONAL four--yes, four--income tax liens due to owing the Feds close to $400,000.
According to reports:
TMZ has obtained documents issued by the state informing Stevie it now has the power to seize any property he owns. Interestingly, the state sent Stevie 4 separate notifications between 2011 and 2013 ... all of which he apparently ignored.

TMZ broke the story, Stevie was arrested Monday at his home in Georgia for failing to pay the support.

This guy's also an alleged deadbeat with the IRS -- we've learned there are FOUR income tax liens against him totaling $371,000.
So you ignore four notifications about taxes, but make sure you spend time paying for plenty of new body parts on your wife, a new restaurant (which we hear is ALREADY shut down), and parties?
Foolywang material....
Photo: Prince Williams/ATLPics.net
LIKE MOTHER, LIKE DAUGHTER: Evelyn Lozada Surprises Shaniece With A Mercedes Benz Truck For Her 21st Birthday
Posted: 14 Jun 2014 08:02 AM PDT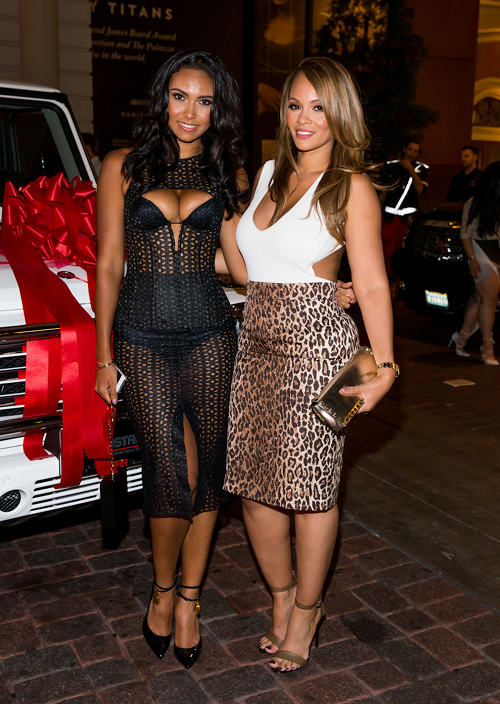 Evelyn Lozada may be busy with her newborn baby boy Carl Crawford Jr., but the former "Basketball Wives" star always has time...and gifts...for her oldest kid Shaniece. Check out the $100K birthday surprise inside....
While daughter Shaniece Hairston was celebrating her 21st Birthday at The Venetian in Las Vegas last night, reality star Evelyn Lozada made a surprise appearance....with a new Mercedes Benz G550 in tow: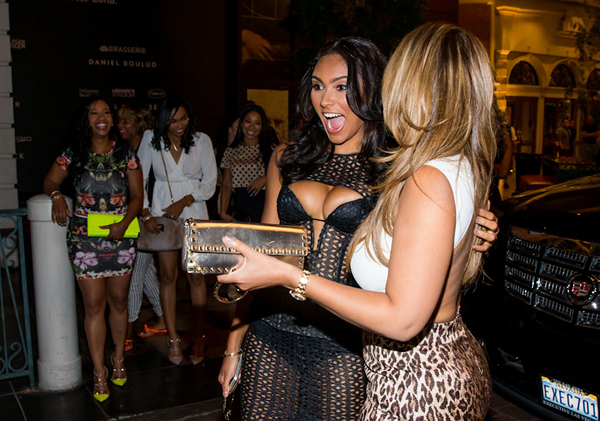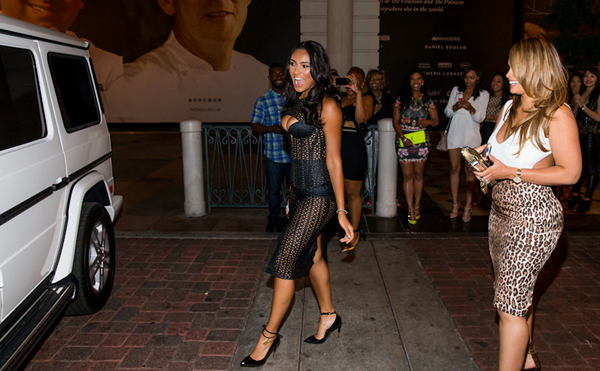 Shaniece looked super excited walking over to her new whip (in her Tom Ford shoes), and just as excited to see her mom. Why not put all that new money (and her own money she banked) to use by spending it on your babies? Ev is looking good though post-baby, and she's already dished on how she dropped 30 pounds so far.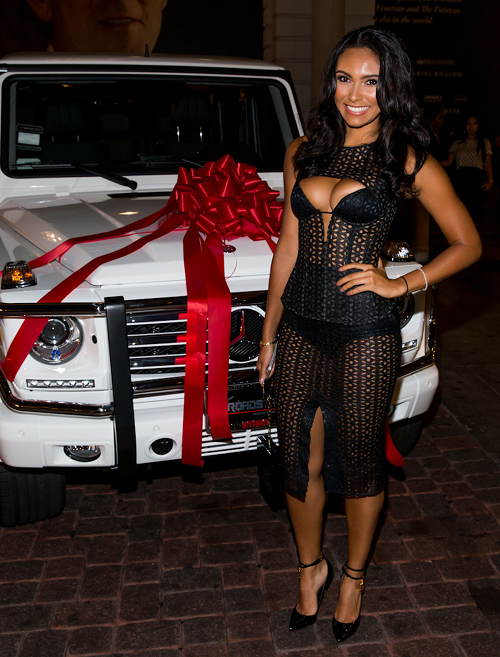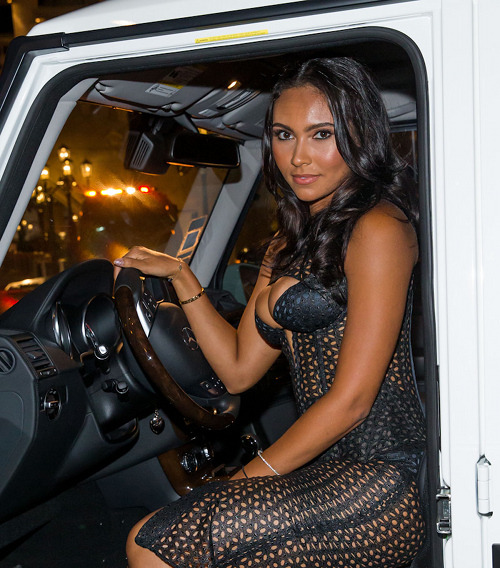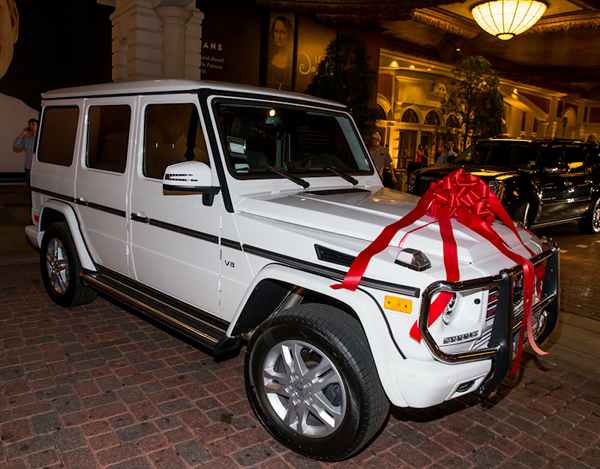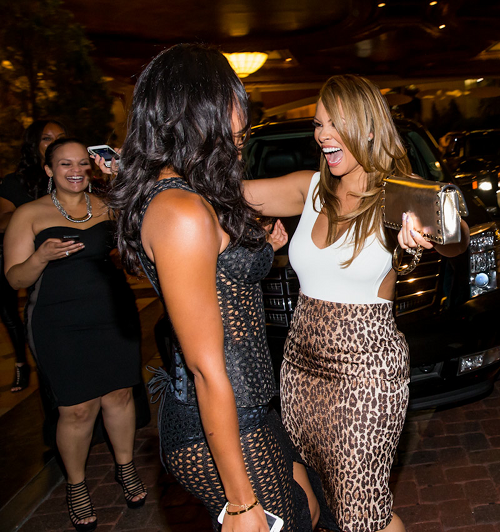 The gorgeous Shaniece showed off her new ride...and her chi-chis...in a few pics. Fab times for the mommy daughter duo!
Photos: Erik Kabik/ Retna
Is "Orange Is The New Black" Star Samara "Poussey" Wiley DATING One Of The Show's Writers? + Stacey Dash Has A NEW Boo…A MUCH Younger Aspiring Model
Posted: 13 Jun 2014 03:12 PM PDT
So it seems to be a case of art imitating life...possibly. Samara "Poussey" Wiley from "Orange Is The New Black" is allegedly dating one of the writers on the show. Plus, Stacey Dash has a new boy toy…and he's around the same age as her son. Deets inside…
"Orange Is The New Black" star Poussey Washington (real name Samara Wiley) has become a fan favorite of the hit Netflix original series. And it seems she may have a new love interest…OFF set.
Enters "OITNB" writer Lauren Morelli. Lauren was previously married to her husband (who had been battling a life threatening disease) after 6-years-old of being in a committed relationship. The two tied the knot 6-months before the series began shooting. But during the taping of the show, Lauren had an "a-ha" moment and all of sudden realized…she was gay.
Soon after, she realized the lesbian storylines she was writing for the show, ultimately became her real-life truth so she decided to leave her husband.
In an open letter where she comes out of the closet, she writes, "I went through it all on set: I fell in love with a woman, and I watched my life play out on screen. I encourage you to embrace your own narrative, whatever that may be. It will be worth the effort."
Fast forward to now… it seems she has her eyes fixed on one of the actors on the show…Poussey.
Poussey and Lauren seem real chummy with one another, posting kissy pics (atop) as they celebrated Poussey's brithday and flicks of them hanging out and grabbing dinner on their Instagrams: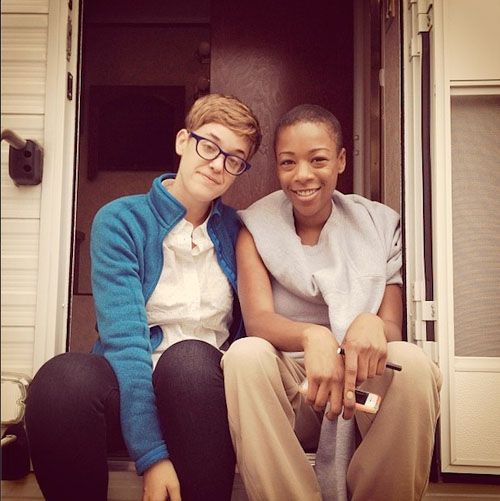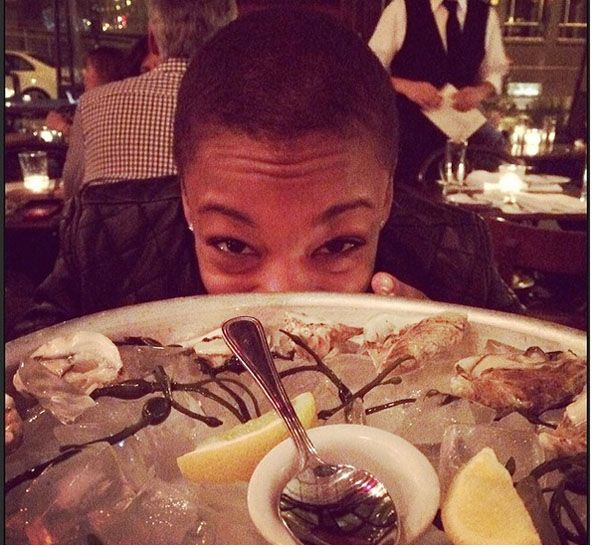 In the photo above, Poussey captions, "Me n @lomorelli. One of my favorite writers from @OITNB. Love you, Lo!" Hmm…
Have they found love?
Speaking of Poussey...
Poussey ditched the baggy sweatshirt and khaki slacks and got uber glam, serving up some serious model behavior for the cover of Bello Magazine. The new star dished on the drastic change in her life since "OITNB" phenomenal success and how much fun she she's having on the set, working with people she refers to as family.
Peep her sexy spread below: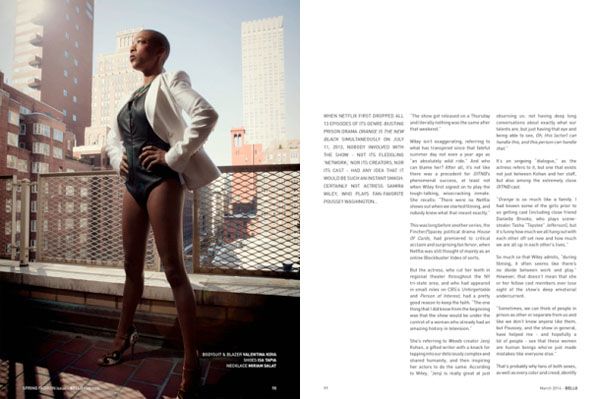 Loves it.
You can check out the full interview and her full spread here.
And in other relationship news...
Stacey Dash has landed her a new boy toy. And dude is around the same age as her son!
The new FOX News contributor is on major cougar status after she snatched up 25-year-old budding actor Michael Evers. As you may know, Stacey has two children from previous relationships and her eldest son is 24-years-old. Mmhmm…
The 47-year-old actress was spotted on a morning hike with her new boy toy in L.A. recently (above) showing off her killer abs. Michael seems to have a thing for older women since he was previously linked to "Mob Wives: Chicago" star Nora Schweihs.
A source told the Daily Mail,
"Michael is the Ashton Kutcher of West Hollywood – he's already dated Nora Schweihs from Mob Wives and she was a LOT older than him! But he really likes Stacey and he's taken her hiking and to the Sunset Tower Hotel and she's taking him with her to New York next month."

Well alright...
Photos: Aleksandar Tomovic/Pacific Coast News/Samara's IG/ Lauren's IG

TEASER: The Braxtons Sisters EXPLODE In Season Four "Braxton Family Values" Trailer
Posted: 13 Jun 2014 02:54 PM PDT
The season four teaser for "BFV" is out and it looks like the sisters have reached a breaking point. Is this their (Tamar's) last season? Watch the explosive new trailer inside...
Get ready to gag. The BFV teaser is only 30 seconds....but it's MANY things! Did Traci try to beat up Tamar? Which sister is Traci threatening with criminal charges? Why is Towanda having a mental breakdown and breaking glasses at the dinner table...with Mama Evelyn and Papa Braxton AT said table? Will this really be Tamar's last season?
These questions (along with many others) will be answered this fall. We are SO here for this one....
EXTRAS:
1. Sherri Shepherd's estranged husband Lamar Sally is now asking the court to SEAL the divorce docs...and Sherri is prohibited from speaking about their surrogate. (even though the only one talking is SAL). STORY
2. Remember Biz Markie? Well, he's on a healthy living tip these days and has paired up with a healthy soda company. STORY
Photo via BFV Facebook Page
5 Celebs Who PROBABLY Won't Be Getting A Father's Day Gift
Posted: 13 Jun 2014 02:01 PM PDT
Father's Day is approaching, and while some fathers will be getting showered with gifts & praise from their loved ones, we rounded up a list of fathers who likely won't be receiving a Father's Day. And it's solely based on their (alleged) wack baby daddy antics this year. Find out who made the list inside….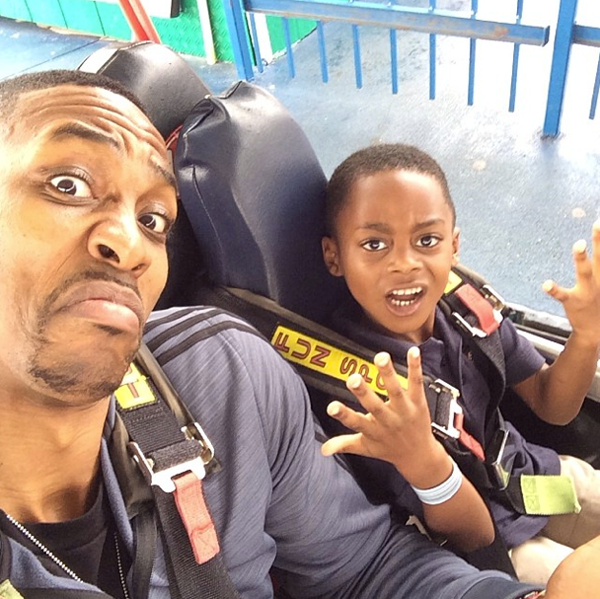 First up…Houston Rockets star Dwight Howard.
We all know by now Dwight has a slew of children by various different women, but the only child he claims to date, is his son Braylon (above). He shares with former "BBW" star Royce Reed and tried, repeatedly, tossing gag orders while she shot her show. He reportedly has five children by five different women but there are only three confirmed in other ways: Royce's son, fitness queen Hope Alexa (who has his daughter Jayde) and his newest baby with his secret girlfriend.
Most recently, the NBA baller had a baby boy in June of 2013 by a woman named Christine Vest (who he has been dating since 2011). Not sure if they're still together after it was reported that Dwight told Christine to stay in Orlando while he plays in Houston. It was also rumored that Christine told a girlfriend that Dwight ordered her not to reveal him as the father of her son. (She does, though, post obvious hints on her Instagram.)
Remember how he tried nonstop to get Royce off of "Basketball Wives" and she wasn't even able to speak his name? And let's not forget, dude was allegedly spotted in a Florida hotel room recently with some seemingly underage girls.
As far as his children go, Royce has taken to social media to confirm her son's siblings with Hope and Christine so we do know for sure he has at least three. As for why he only publicly claims Royce's son is still a mystery to us. For the children's sake, let's HOPE this dude is providing for ALL of them financially, emotionally and physically.
Next up...Stevie J.
No surprise this guy made the list. "LAHH ATL" star Stevie J (pictured above with his five children) was just busted earlier this week in his Atlanta mansion for owing over $1 million in back child support! Stevie was ordered to pay his ex-girlfriend, former record executive Carol Antoinette Bennett (whom he shares two children with) $6,600 a month in child support back in 1999. His child support amount then went up to $8,500 when he was working as a producer for Diddy's Bad Boy record label. In 2001, money got tight and he just decided NOT to pay. Now he owes a whopping $1,107,412!
On top of that, one of his other baby mamas and co-star Mimi Faust has been very vocal about Stevie NOT supporting their daughter Eva. She claims Stevie doesn't give her a dime to help take care of their daughter. Not to mention, he also has two other children from previous relationships. So that's five children, four baby mamas…and allegedly no child support. Sighs…

The next dad on the list… R. Kelly.
As he travels the nation on his Black Panties tour, R. Kelly seems to too busy to be bothered with what's currently going on in his children's lives.
Kelly's youngest daughter Jaya (Jay) Kelly who he shares with "Hollywood Exes" star Andrea Kelly, allegedly recently came out as transgendered. His 13-year-old daughter is in the process of transitioning from female to male and revealed he's identified as a boy since he was 6 or 7.
Jay says his mother has been super supportive of his decision but his father doesn't even have a clue. According to him, as of three months ago, R. Kelly has been unaware of his new identity.
Papa Knowles is next on the list.
Matthew Knowles (pictured above with his new wife Gena Charmaine Avery) possibly won't be getting a Father's Day gift from his estranged daughters Beyonce and Solange, and he likely won't be getting one from his son Nixon either. Papa Knowles and his baby mama Alexsandra Wright (the woman he cheated on Tina Knowles with and made a baby) have been going through a nasty child support battle ever since little Nixon was born.
Alexsandra has alleged Matthew has threatened her, leaving her afraid for her life and their son's life. She made claims that he had not paid her any child support forcing her to seek government assistance to provide for their son. At one point, Matthew was paying his share of child support but stopped after he claimed he had a finanicial hardship.
Since then, a judge sided with Matthew dropping the monthly amount of his child support payments since he claimed his annual income drastically dropped after Beyonce fired him in 2011. But beyond the money issue, Matthew still allegedly doesn't totally acknowledge the fact that he has a son (outside of saying he's paid his support money) and still has not seen him! Sad...

And last but not least...50 Cent!
He rounds out the list for simply being a wack a** baby daddy, according to his baby's mother and his own child. You'll recall 50 allegedly disowned his eldest son Marquise last year via text message. During the text message rant, he allegedly said, "I don't have a son anymore...... I will have nothing to do with you. Don't text me ever again." And questions paternity "I need a blood test cause that d*ck sucking b*tch you call mom was f*cking the hole time." Sighs...
Since their spat, 50 and Marquise have not really spoken. And when it was time for Marquise to walk across the stage to graduate from high school this year, his dad was a total no-show! Marquise was upset his father didn't witness his huge accomplishment and took to Facebook to air out his frustrations saying, "Yea I broke down , I was really excited to see my pops at my graduation today but he never showed up smh. My sister and mama is always there for me just know that you wasn't. I did it without you." 50's response was that he "didn't know" about the graduation.
Recently, 50 has embraced fatherhood again posting pictures to his Instagram of his youngest son Sire Jackson. You'll recall 50 tried to keep Sire (whose mother is former video vixen Daphne Joy) a secret…one we didn't even know about until she filed domestic violence charges against him. And now the domestic violence incident doesn't seem too far-fetched, since 50's first baby mama (Marquise's mother) also claimes 50 abused her as well. Chile...
And then we have two dads who made the honorable mentions list, since they are pretty good fathers to their older children, but drama filled with their "break babys" and things.
Honorable Mention #1: Ludacris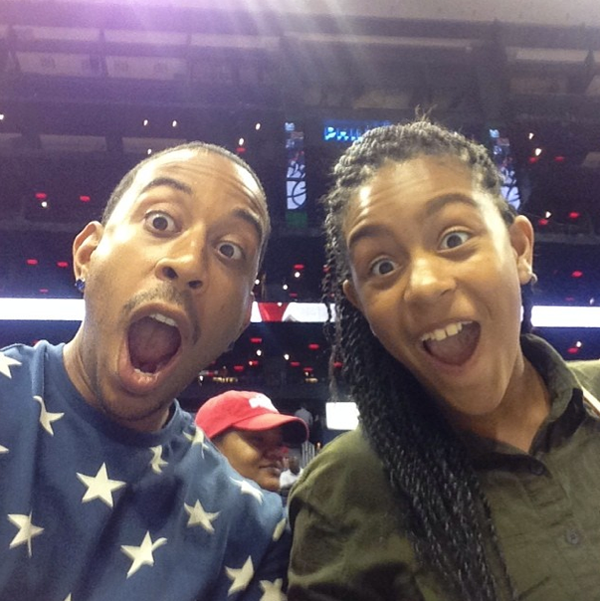 Ludacris seems to have daddy-duty on lock when it comes to his eldest daughter Karma (seen above), but with his newest baby girl, he has been getting the serious side-eye.
Luda impregnated a woman named Tamika Fuller (who is said to be a friend from high school) while on a break (so he claims) from his current girlfriend Eudoxiee. Since baby Cai Bella entered the world, there has been a nasty child support and custody battle between her two parents.
Luda tried to get a cap on his child support payments to Tamika claiming he couldn't afford the ordered amount. All while traveling the world on vacays in private hets. THEN, he filed for custody of his daughter, demanding full physical custody AND child support from Tamika.
A Georgia judge quickly shot his request down. Tamika was granted full physical custody of their daughter Cai Bella, on the grounds that being with her mother is in the best interest of the child. Not only that, he ended up having to pay ALL of her attorney fees which totaled to $35K, plus an additional $2,000 after his motion to have Tamika found in contempt was denied. This dude...

Honorable Mention #2: Tyrese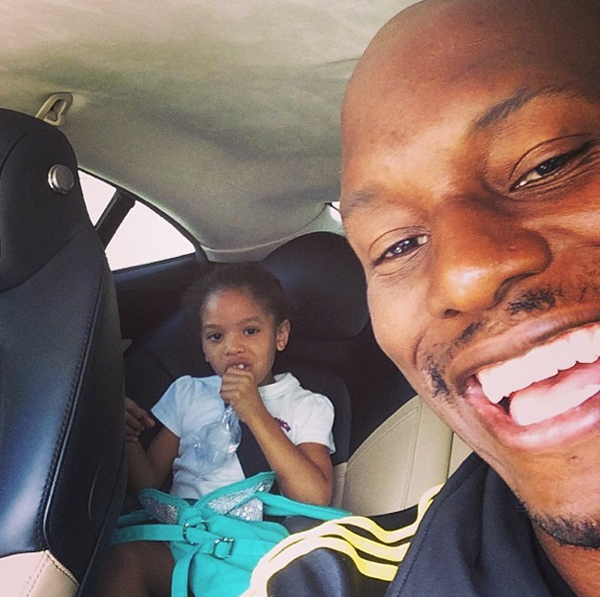 The man who loves to preach about everyone else's problems...
We've seen Ty with his daughter Shayla (whom he shares with ex-wife Norma Mitchell) on many occasions and he seems to be the perfect doting father. His ex-wife thinks otherwise.
You'll recall that Norma received a sizable alimony and child support settlement a few years ago, but now they're going through a nasty custody battle over Shayla.
According to Norma, Ty ditched spending time with his daughter to have fun partying in Dubai. In his defense, he said he went to Dubai on business but Norma really isn't trying to hear it. They're currently working out the kinks in their custody battle over their daughter.

Photos: Dwight's IG/Stevie's IG/50's IG/Luda's IG/Tyrese's IG

Chris Brown, Logan Browning & More Hit The Def Jam Comedy Show + Chris Hits The Studio With BOOSIE!
Posted: 13 Jun 2014 12:58 PM PDT
Chris Brown is making the most of his time as a free man. He hit up the Def Jam Comedy Show in L.A. this week, and also hit the studio with fellow free man Boosie today. Check the pics from the comedy show and more inside...
Chris Brown, Karrueche (not pictured), and more hit up All Def Comedy Live presented by Russell Simmons (powered by Miss Diddy of The Brand Group). Good to know he's doing some POSITIVE activities to keep himself busy.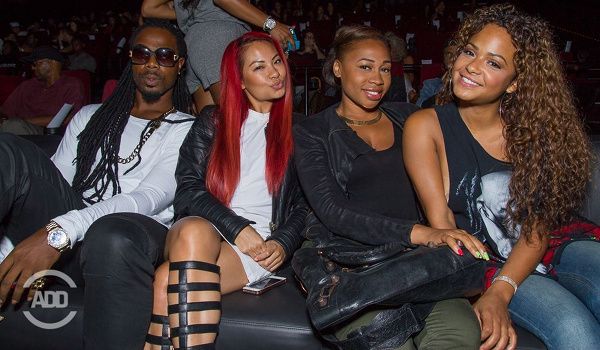 Christina Milian was there with friends laughing it up with those cute curls.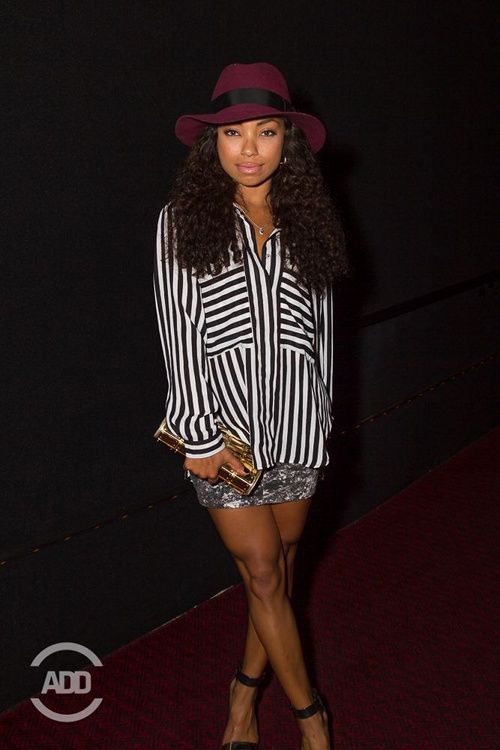 The fabulous Logan Browning of "Hit The Floor" posed it up with rapper J.Cole and more.
Eva Marcille was there with cousin Terrell Mullin watching Tony Rock and others hit the stage with jokes.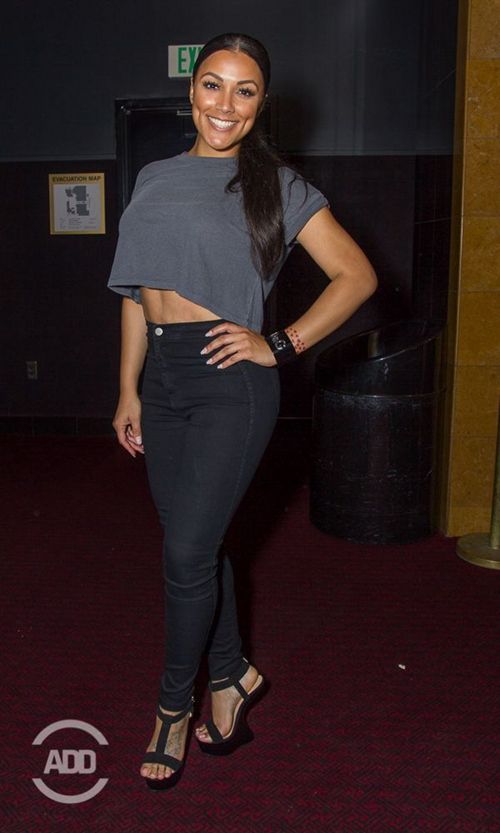 Floyd Mayweather's ex (and Nelly's current?) Miss Jackson was was there.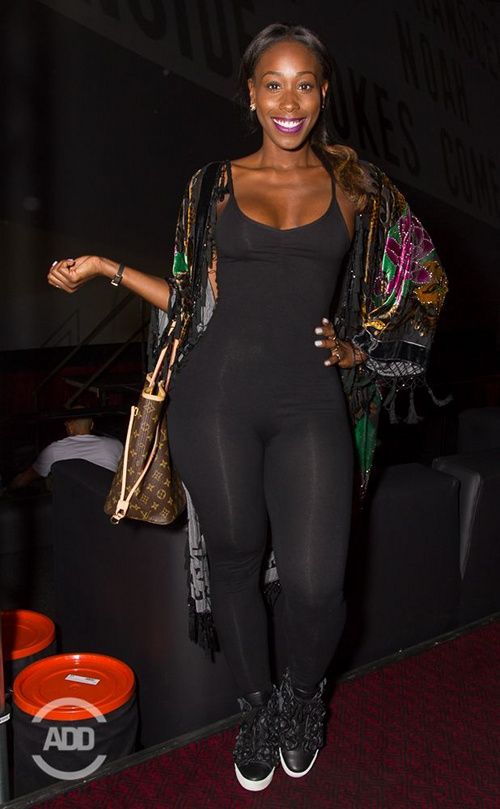 And so was video vixen Bria Myles in this catsuit and fringed caftan.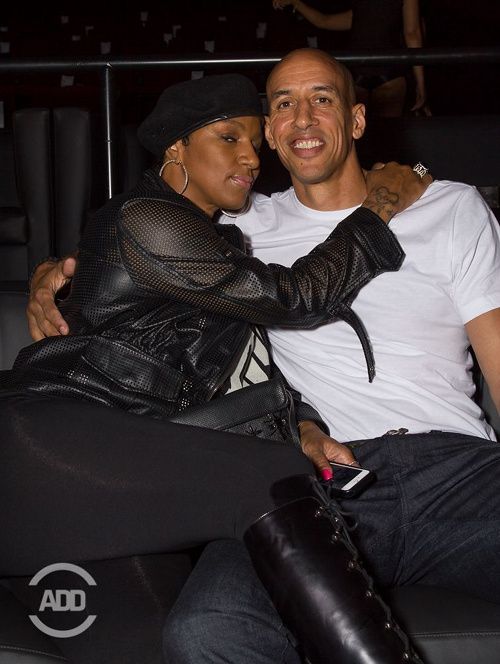 And of course, Jackie Christie was all up on her man Doug at the show. These two...
It looks like Chris is back in the studio working away. Today, he and fellow newly freed rapper Boosie linked up with Tyga, probably to record something new for the streets: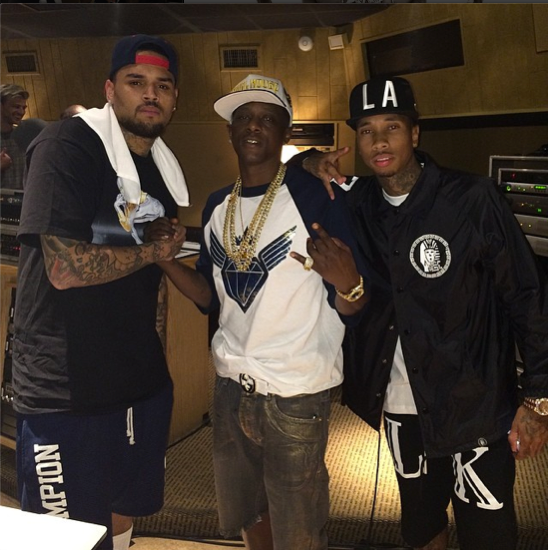 We shall see...
Photos: Kass for The Brand Group/ADD/Boosie's IG
UNFAZED: Stevie J PARTIES In Atlanta As A FREE Man With Wife Joseline & "LAHH ATL" Cast
Posted: 13 Jun 2014 11:57 AM PDT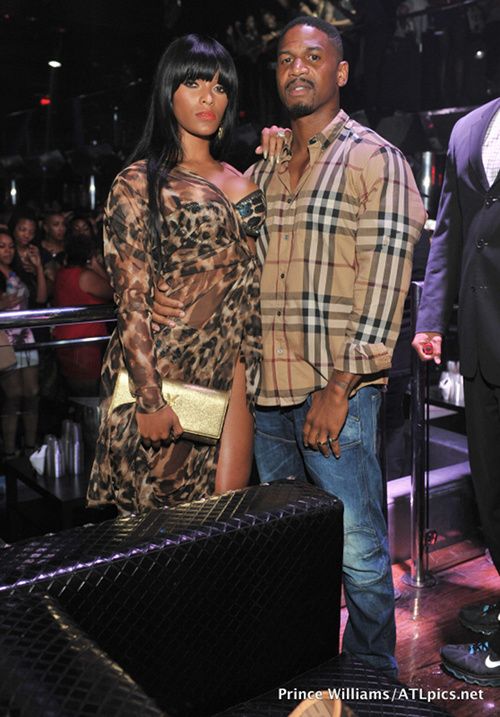 Stevie J has been released on bond and is now living it up as a free man after he was arrested for owing $1M in back child support. Stevie, along with his wife Joseline, hit up an Atlanta nightclub with his "LAHH ATL" co-stars. See their party pics inside…
Stevie J is home! And he's super happy about it.
Last night, the "Love & Hip: ATL" cast hit up Reign nightclub in Midtown Atlanta to celebrate Stevie's release. Stevie J, Joseline, Benzino, Karlie Redd, Lil Scrappy and Bambi partied it up by popping bottles and sharing laughs.
You'll recall, Sleazy was busted a few days ago at his Georgia home for owing over one million dollars in back child support. Since posting his $25,000 bond on Wednesday, his attorney is denying prosecutors' allegations that his client owes $1 million in child support.
The Associated Press caught up with the LAHH star after his release and he's excited since being set free from the big house. He said, "It feels great. I'm home with my wife. I'm just ready to get this behind me." We bet.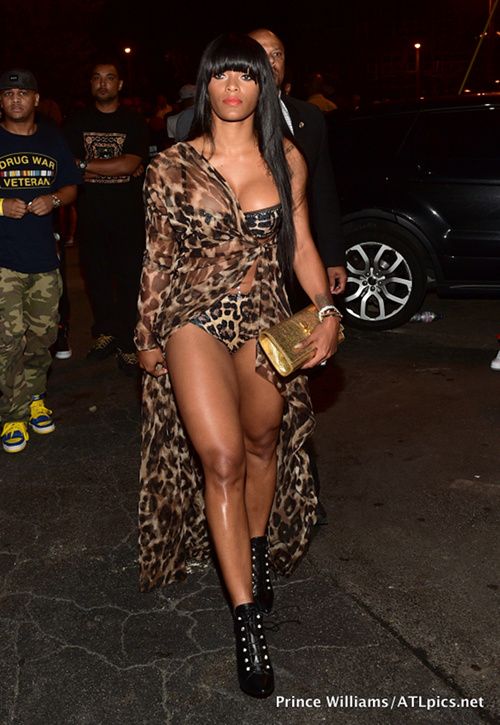 And of course, his wife Joseline Hernandez was there, color coordinating (and clashing prints) with her man, to celebrate Steebie's return.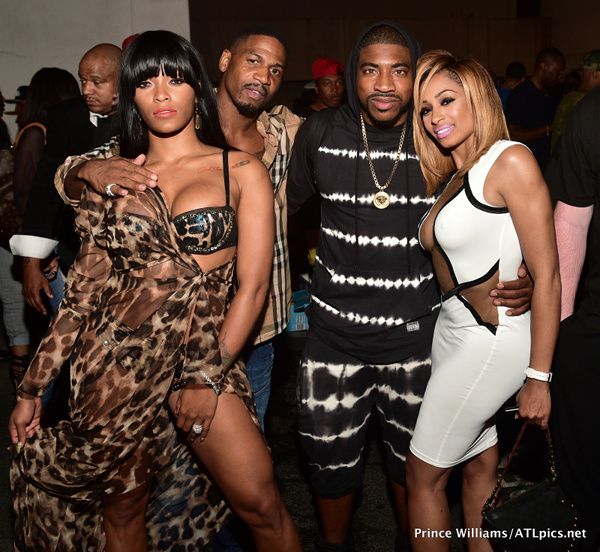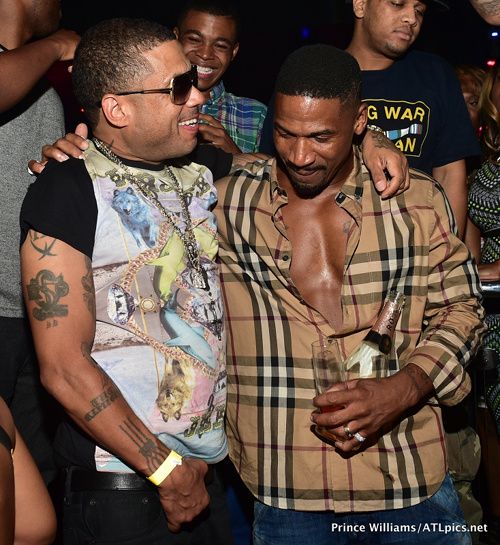 Stevie's business partner and friend Benzino was happy to welcome his friend home.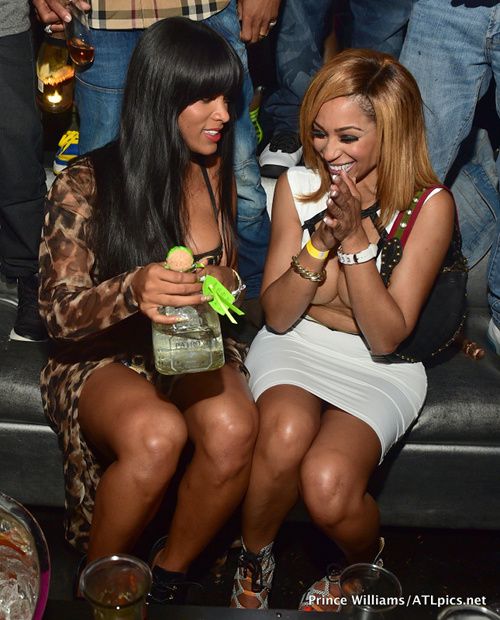 And Zino's ex-Karlie Redd (rocking a white & black-trimmed VERY cut-out dress) and Joseline seemed pretty chummy with one another at the party. Wonder if they were talking about Zino's new chick Althea. Either way, this dress choice for Karlie chile....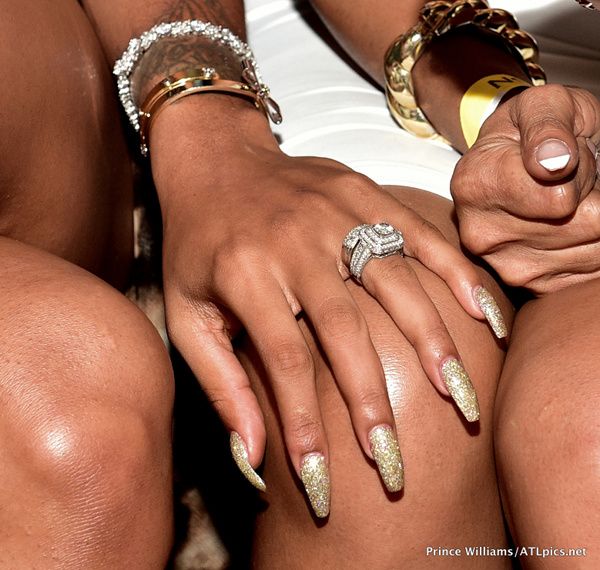 Joseline made sure to floss that huge rock Steebie (possibly) gave her! If Stevie can afford this investment (even though we hear she's had it since her last relationship), we're sure he can put something down on his outstanding back child support bill.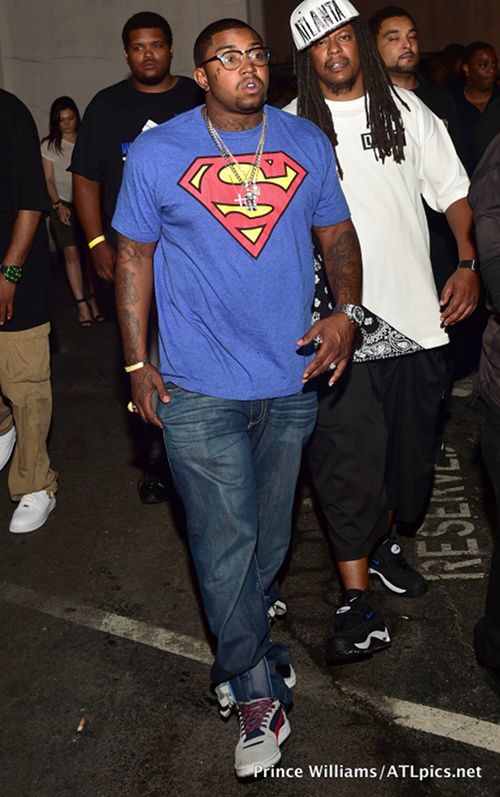 Lil Scrappy relieved some stress as he took a few puffs. Scrappy is currently going through some financial troubles.
According to the Jasmine Brand, Scrappy owes $150,000 to a man named Chancy Hope who won a judgment against the rapper. Not only that, Scrappy also owes Heavy Rotation (a concert booking company) a total of $108,510.38 over another lawsuit. Sighs…
But his boo (or not) Bambi didn't have any worries as she partied it up with friends.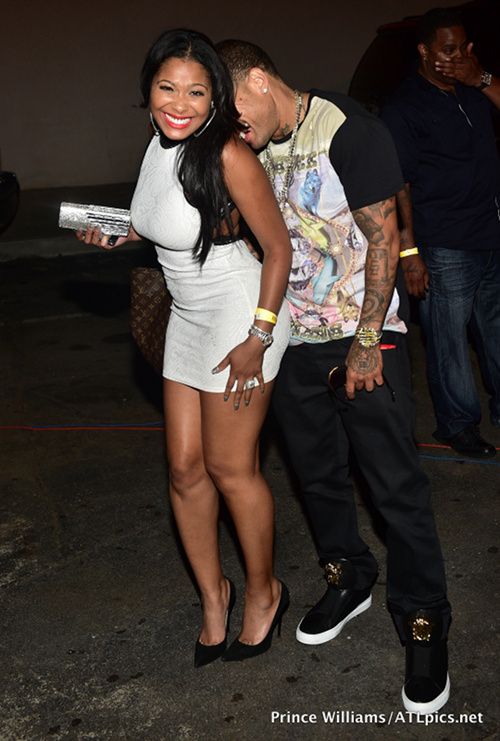 And of course, Zino's girlfriend Althea accompanied her man to the party.
Fun times, or whatever...
Photos: Prince Williams/ATLpics.net
EVENTS: Meagan Good & Michael Ealy At Philly's "TLAM2" Premiere + Kevin Liles RUBS Erika's BABY BUMP At The Go N'Syde Bottle Launch Party
Posted: 13 Jun 2014 11:06 AM PDT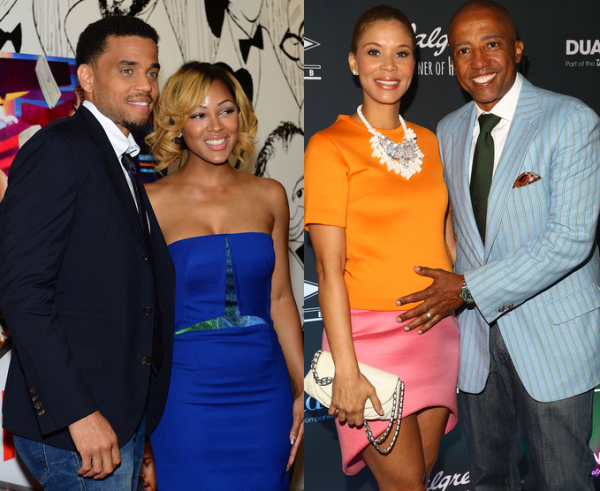 Meagan Good and Michael Ealy headed to Philly to promote TLAM2 while Kevin & Erika Liles celerated their baby bump and launched a new drink at the 40/40 club in NYC. More inside......
Michael Ealy and Meagan Good, both looking polished and hot, walked the red carpet at Sony Pictures' "Think Like a Man Too" screening at Prince Music Theatre in Philadelphia last night.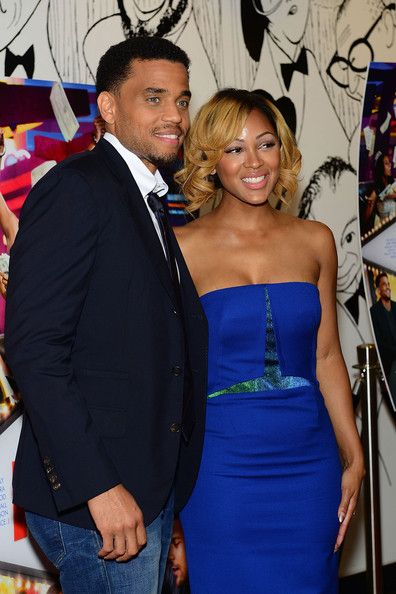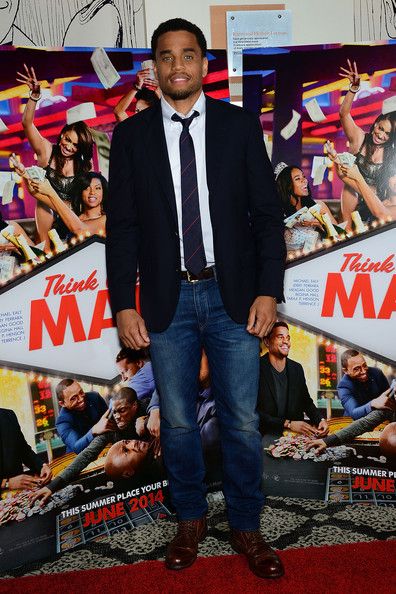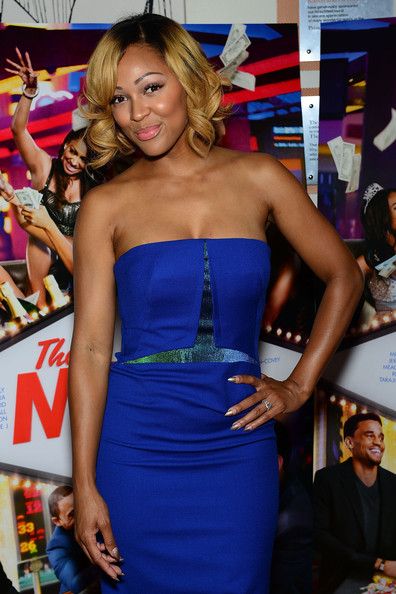 Michael, Meagan and the rest of the cast have been working overtime promoting the film which lands in movie houses on June 20.
During an exclusive interview with TheYBF.com a few days ago, Michael shared with us that he'll be on the road with TLAM2 all week, but luckily, he'll be home for Father's Day. Here's what he loves about Father's Day:
"Those moments that you don't catch on camera. The moments where it's just you and him in the room, you are together as a family and you are the only people in the world that exist."
Don't forget....June 20th, and the soundtrack hits stores on June 17th.
In other events........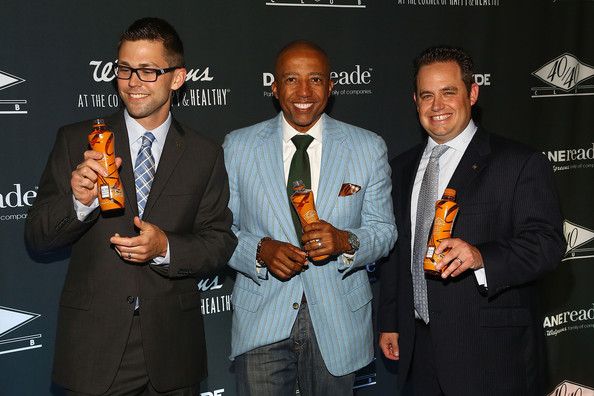 Last night, Kevin Lile, joined by Joseph Mazurkiewicz and Glenn Figenholtz, celebrated the launch of Go N'Syde's 40/40 Bottle with a party at NYC's 40/40 club. Kevin as the Chief Creative Officer and exclusive Curator of Content for Go N'Syde, a interactive tea-based beverage company that has released collaborations with Mariah Carey "Butterfly" and now the "40/40" club.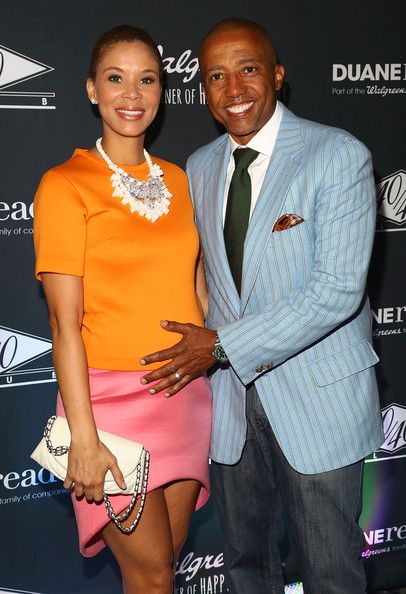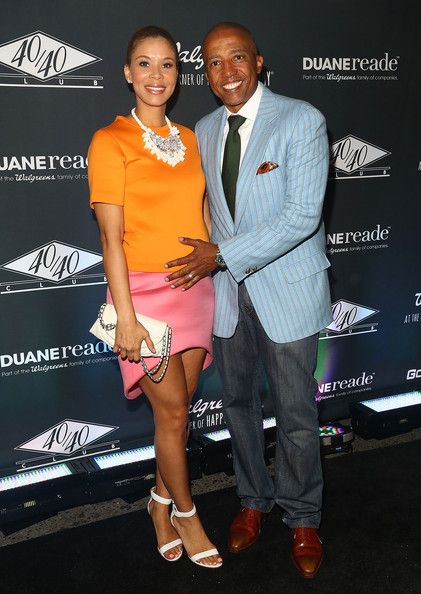 Kevin attended with his glowing wife Erika. The couple are expecting their second child together.
Kid Capri was there.
Jermaine Dupri, who produced Mariah's latest album, was among the attendees.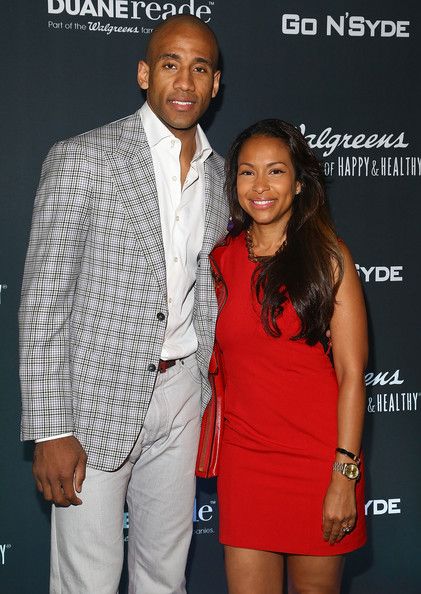 WEEN Founder Valeisha Butterfield attended with hubby Dahntay Jones (of the Indiana Pacers). Cute couple!
Photos via Lisa Lake/Astrid Stawiarz/Getty Images North America
IN CASE YOU MISSED: Why Are Syleena Johnson, Tamar Braxton and KeKe Wyatt Commenting On Blue Ivy's Hair?! + MORE Dates Added To "On The Run" Tour
Posted: 13 Jun 2014 09:52 AM PDT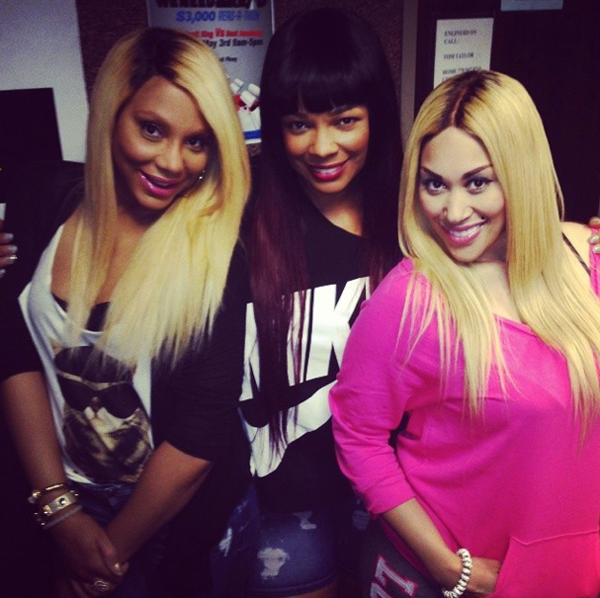 The Internet has been a-buzz ever since a foolish petition popped up pleading for Beyonce and Jay Z to comb little Blue Ivy's hair. And now, reality stars Syleena Johnson, Tamar Braxton and KeKe Wyatt have added their two cents. See what they said and find out the newest stop The Carters will be rolling through inside…
Seems everyone has an opinion when it comes to Beyonce and Jay Z's daughter Blue Ivy's hair. So much so, an online petition has popped up online pleading for the power couple to comb it. Is it possible Beyonce, who grew up in a hair salon owned by her mother, actually DOES comb Blue's hair, but like most 2 year olds, they get to twirling their hair and messing it up throughout the day? Or are people really convinced the Carters purposely do nothing to the child's head? Or...should a 2-year-old's hair be of this much concern to anyone period?
Now, some reality TV stars are giving their personal opinion on what the Hip Hop parents should do with Blue's natural hair.
In case you missed it, "R&B Divas" Syleena Johnson & KeKe Wyatt and "Braxton Family Values" star Tamar Braxton hit up V103's Ryan Cameron Show to fill in for oen of the hosts and to be guests. And when they got on the topic of Blue Ivy's mane, the three singing divas had plenty to say.
KeKe sounded off first, "Ain't nothing wrong with being natural. I get natural, but you still got to grease natural and comb natural. Amen. And wash and condition and then you won't have the 'beady-age.'"
Syleena chimed in, "She's giving me Terrence Trent D'Arby!"
Then Tamar said, "I just think it just needs product, that's it. No shade!"
And then Syleena went left saying, "She's giving me ODB on this one though," referencing the late rapper Old Dirty Bastard's wild mane.
The ladies also dished on Lil Kim's daughter's name and baby shower and Master P losing custody of his children.

Check it:
Do you think they took it too far?
And in concert news...
While folks are concerned about their daughter's mane, The Carters added a new city to their joint "On The Run" tour today. The power couple will be trekking it overseas to Paris at the Stade de France stadium on September 12 & 13th.
The European tour tickets go on pre-sale for the Beyhive on Tuesday, June 17th, which you can cop here.
Photos: Syleena's IG