---
Back To The Bronx: Jennifer Lopez THROWS Free Concert At Orchard Beach, Brings Out Ja Rule, Fat Joe, French Montana...And Khloe Kardashian And TI
Posted: 05 Jun 2014 09:00 AM PDT
Jennifer Lopez brought out Ja Rule, Fat Joe and French Montana for a free concert in the Bronx that celebrated the upcoming release of her "A.K.A." disc. See Jenny back on the block along with TI and Khloe backstage.....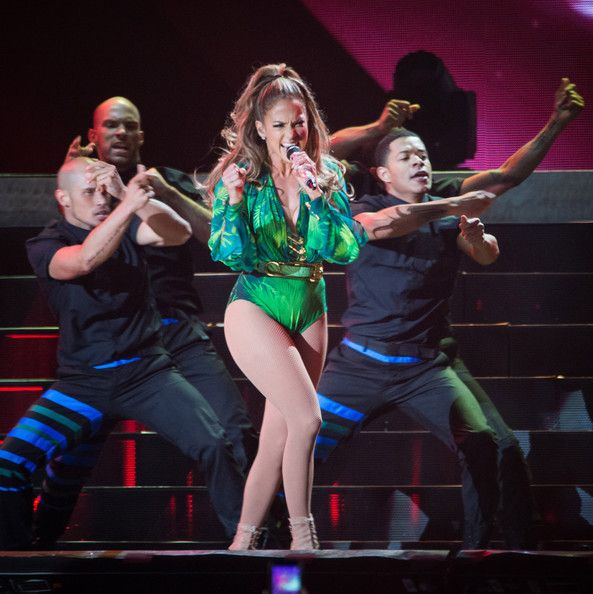 Jennifer Lopez made a triumphant return to her birthplace (The Bronx, NY) for a free 90-min concert to celebrate her success in showbiz and the pending release of her A.K.A. album. The concert took place at Orchard Beach in Pelham Bay Park as part of a national music series sponsored by State Farm Insurance.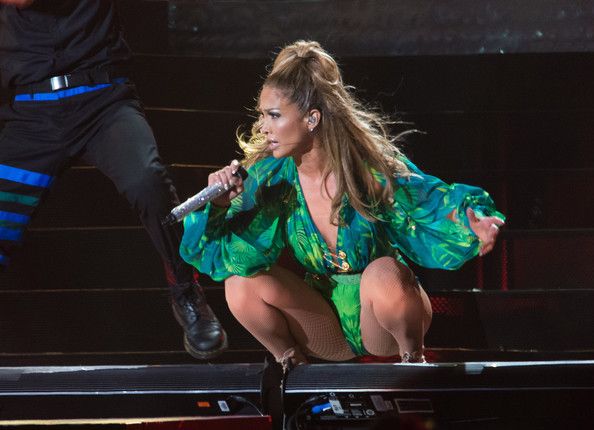 As she raced through a string of hits, Jenny From The Block had several memorable fashion moments including a custom-made 'Versus' Versace green palm-print long-sleeved bodysuit that recreated her iconic Grammy 2000 Versace gown.
Ja Rule came out to perform his rhymes from two of JLo's biggest hits "I'm Real" and "Ain't It Funny." Sigh. Those were the days, weren't they?
French Montana was also on hand to spit his line from Jenny's most recent hit "I Luh Ya Papi."
Backstage, we spotted Fat Joe (who's appeared on several JLo singles), Murder Inc. founder and former J Lo producer Irv Gotti, and French's girlfriend Khloe Kardashian. Those two...
Khloe and French posed with Benny Medina, J Lo's longtime manager.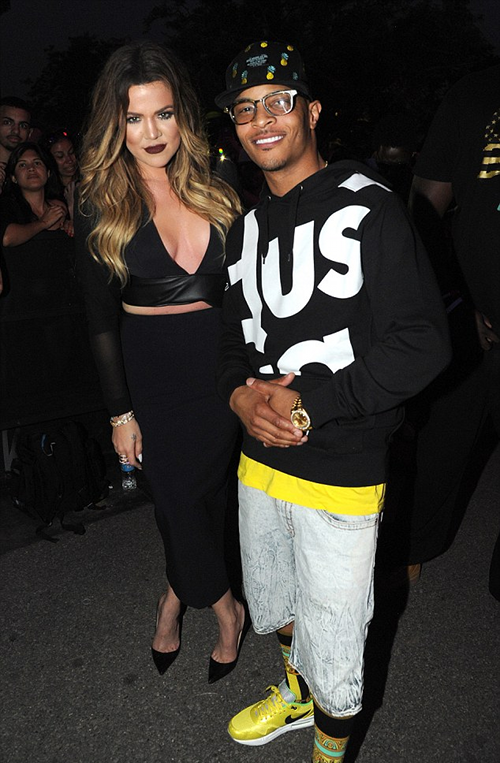 TI was also spotted backstage. He and Khloe posed for a few pics.
Watch Jennifer Lopez Feat. Ja Rule "Ain't it Funny" & "I'm Real":
Watch Jennifer & Fat Joe "Lean Back":
Also........
During an interview that aired this morning on GMA, Jennifer and her sister Lydia discussed launching a new healthy childhood center with the Montefiore Medical Center in the Bronx.
Photos via Dave Kotinsky/Getty Images North America/WireImage/Splash/Instagram
Rihanna Hits The Hard Rock In Paris To Launch 'Clara Lionel Foundation' For Her Grandparents, Donates $200,000
Posted: 05 Jun 2014 08:01 AM PDT
Rihanna had a super busy day in Paris yesterday. After launching her new ROGUE fragrance at Sephora on the Champs-Élysées, the CFDA Fashion Icon made her way to Hard Rock Paris where she made a huge announcement. Pics and deets inside...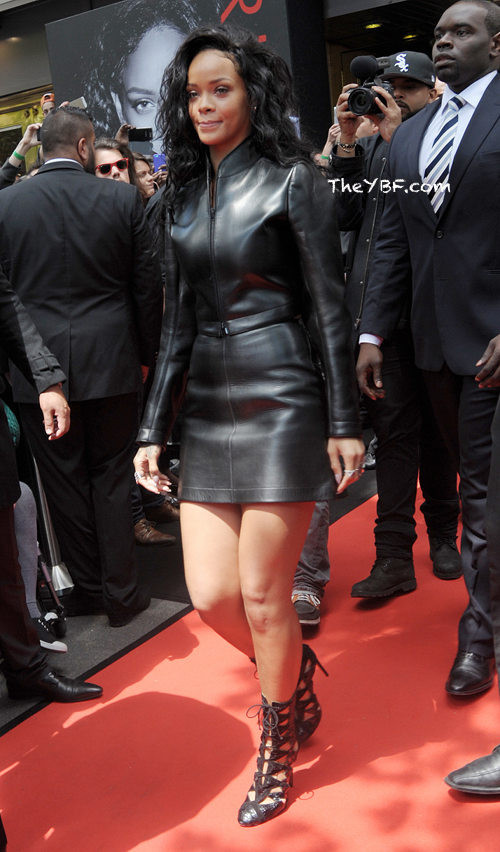 Dressed in a hot leather mini dress and sexy lace up booties, Rihanna hit the Hard Rock in Paris yesterday to bring a few of her most recognizable looks to the iconic rock and roll museum. And to also launch her Limited Edition Artist Spotlight shirt (a collabo involving her photographers Gomillion & Leopold), which will be on sale on Hard Rock's website & select Cafes: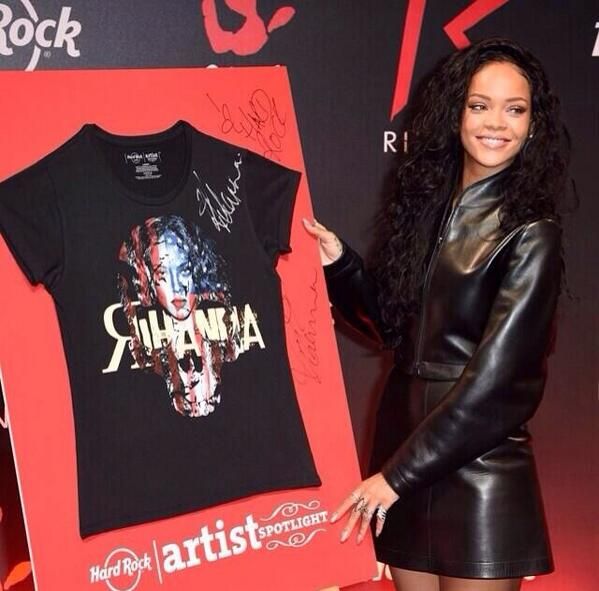 And the big news didn't stop there. Rihanna announced that she's launching the Clara Lionel Foundation in honor of her beloved grandparents. Her grandmother Clara Brathwaite (whom she called GranGran Dolly) passed away in 2012, and she's still very close to her grandfather, Lionel Brathwaite, who lives in Brooklyn.
And she kicked things off with her own $200,000 donation: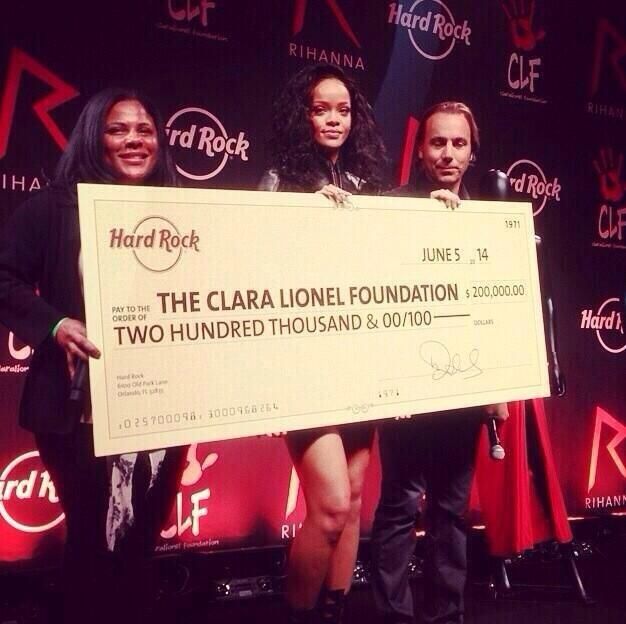 Nice!
Check out video of the French Navy (her french fans) going wild:
And she also went to dinner with Balmain's Creative Director Olivier Rousteing in another all black look.
Fab times!
Photos/Videos: @musicmadmarc, @mistressofnz, @Rihplays IG, @RihannaDaily
Eve PARTIES With Fiance Maximillion Cooper, Tahiry & Bun B At The Gumball 3000 Rally Kick Off Party In Miami
Posted: 05 Jun 2014 06:55 AM PDT
Eve and her fiance Maximillion Cooper partied in Miami last night to kick off Gumball 3000. See them alongside Tahiry, Bun B and more inside...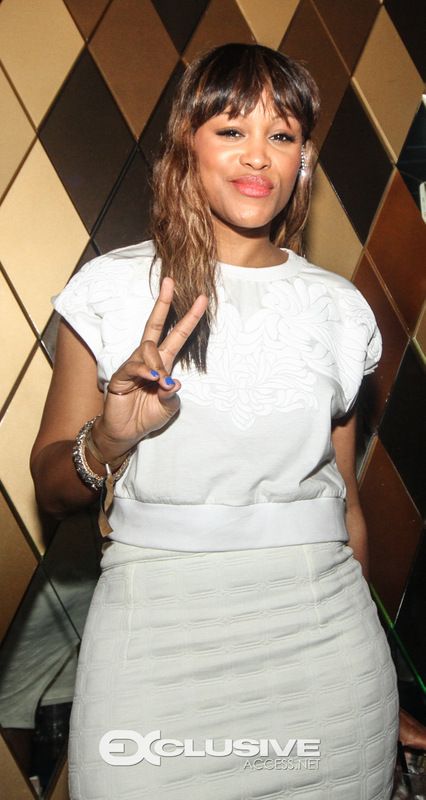 Eve is having a bit of fun before her big wedding day. She and fiance Maximillion Cooper (atop) kicked off his Annual Gumball 3000 Miami 2 Ibiza Rally at Wall last night at the W on South Beach.
The 3,000-mile motor rally starts on Miami Beach today and all the fancy cars (and even fancier drivers) will race from Miami to Atlanta, then to New York, and then across the Atlantic into Europe before ending in Ibiza. And the 3000 mile drive goes down from now until June 11th.

The big race around the world is a precursor to the couple's big wedding which we reported will take place at the Blue Marlin megaclub in Ibiza, Spain in June. Nice!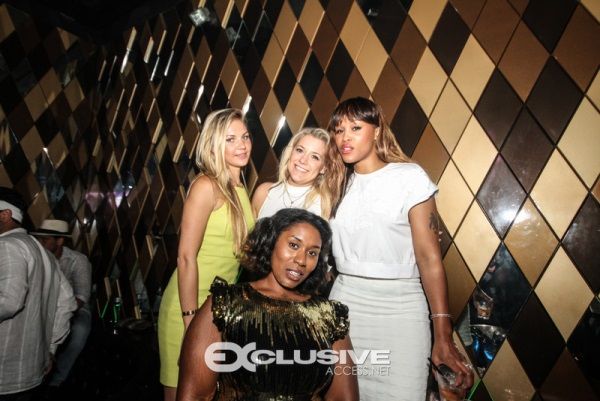 A few of Eve's girls, some of whom attended her bachelorette party, were there to celebrate the kick off.
Other celebs in the building included "LAHH" star Tahiry, Rapper Bun B (who drove in Gumball 3000 last year), DJ Trauma, Pleasure P and EDM superstar DJ deadmau5.
BONUS:
Speaking of Tahiry, she did an interview with British radio host Tim Westwood where she called out a few chicks for having "fake" bodies. *Quick side eye* Tahiry claims her own body/big booty is due to healthy eating and exercise.
So how do you know when a butt is fake? She says you have to look at the ratio. Big butt + no thighs = fake. Yep, we figured that out a while ago thanks to SO many examples in the industry.
Her opinion on butt shots: "Stop cheating ladies. I'm tired of women asking me if my butt is fake." For the record, she says "I'm natural."
Alrighty then...
Photos via Thaddeus/www.ExclusiveAccess.Net

PRETTY IN PINK: Beyonce Goes HOT PINK While Out With Jay Z, While Solange Keeps It PINK-Y At Gucci Beauty Event
Posted: 05 Jun 2014 06:20 AM PDT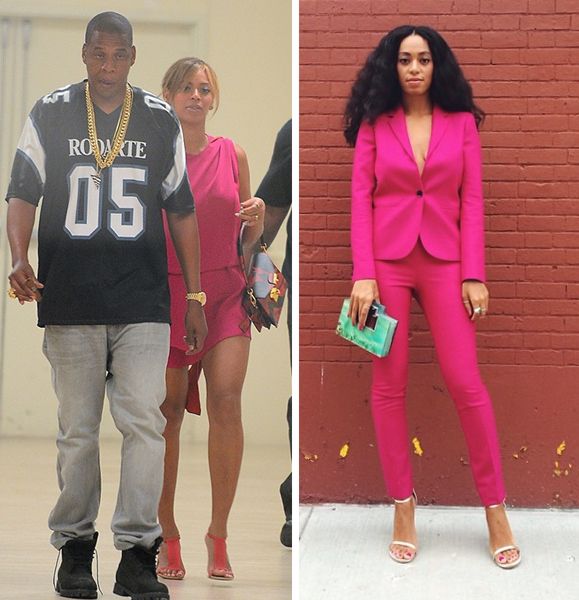 After spending the evening together at the GUCCI Chime For Change event Tuesday night, sisters Beyonce & Solange Knowles headed out separately last night...but both rocked hot pink looks.
Check out their fabness inside..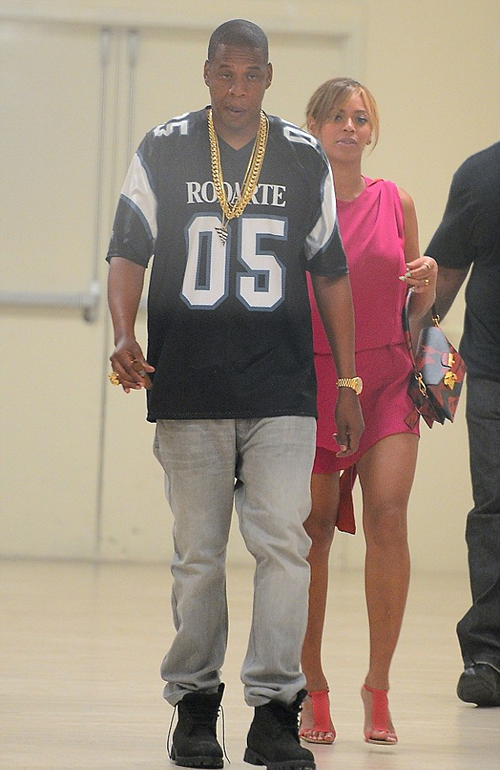 After spending Tuesday with her little sis the previous night, it was time for QT with the husband. Last night in NYC, Beyoncé rocked a flirty pink mini dress and pair of sexy heels with a semi-matching purse as she headed to and from her office in Manhattan. And Mr. Carter was right behind her in his Rodarte jersey tee: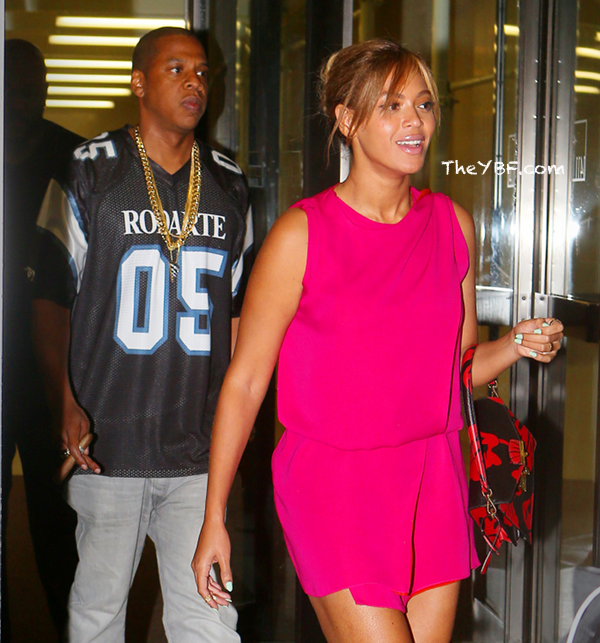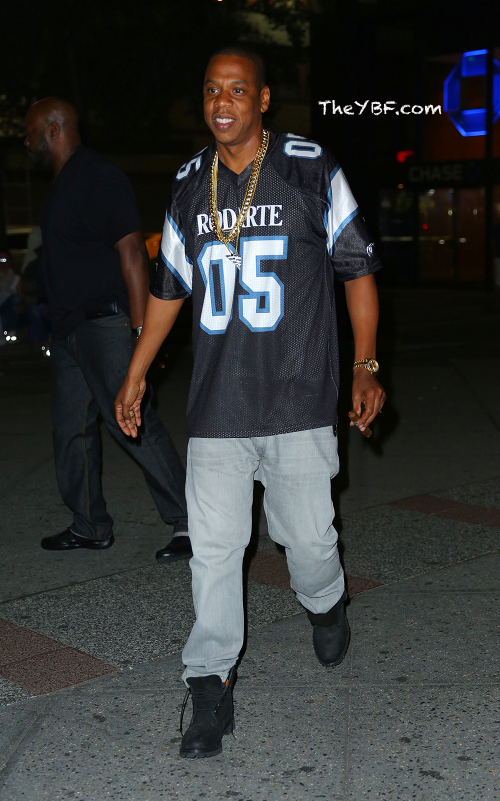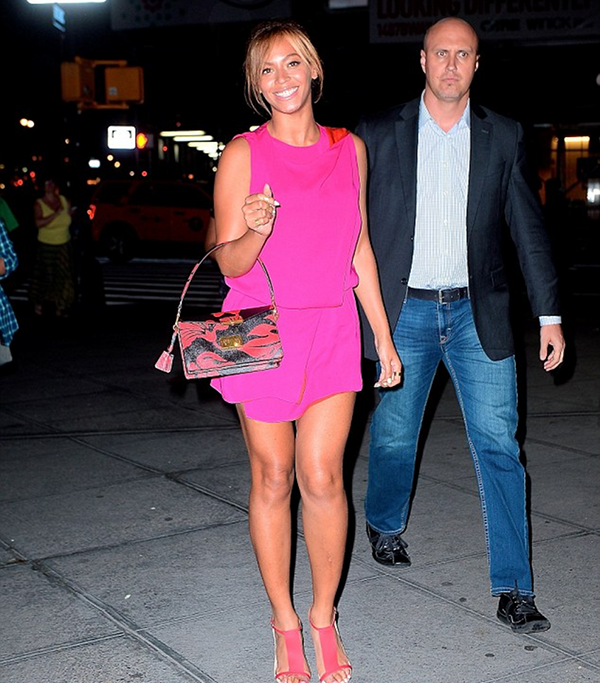 Bey was all smiles after donating half a million dollars to the Gucci charity the previous night.
And elsewhere in NYC last night, Solange hit another Gucci event. But this time, it was for Gucci Beauty and was hosted by Creative Director Frida Gianni. Solo posed it up with celeb stylist Rachel Zoe: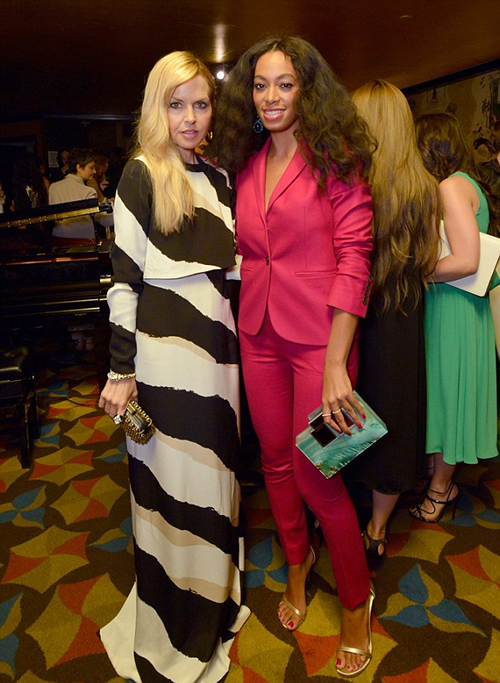 Absolutely adore this look. She's killing the bold pantsuit game these days.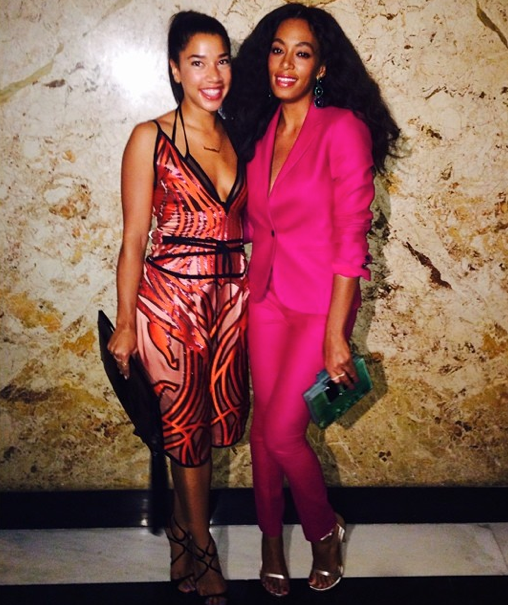 She posed it up with her good friend Hannah Bronfman and jewelry designer Jennifer Myer while showing off her turquoise earrings and matching clutch.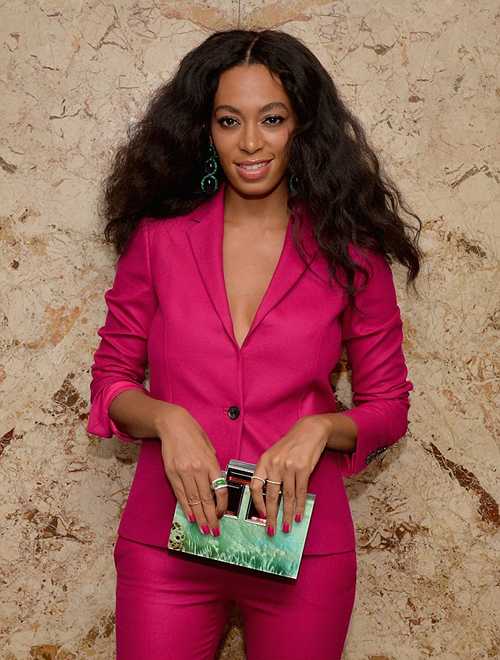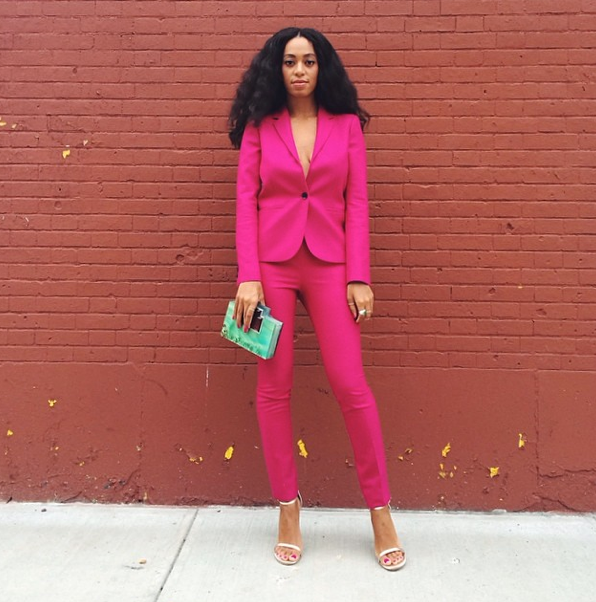 Totally fabulous. Loves it!
BONUS: Check out The Carters in motion handling the paparazzi like pros:
The Randomness:
1. Tamar Braxton is involved in a lawsuit thanks to a songwriter claiming the "One On One Fun" song was stolen. STORY
Photos: Splash/Wireimage
BOSS TALK: Swizz Beatz Talks Harvard Business School & Empire Building, Explains His Vacay With Alicia & Mashonda
Posted: 04 Jun 2014 04:38 PM PDT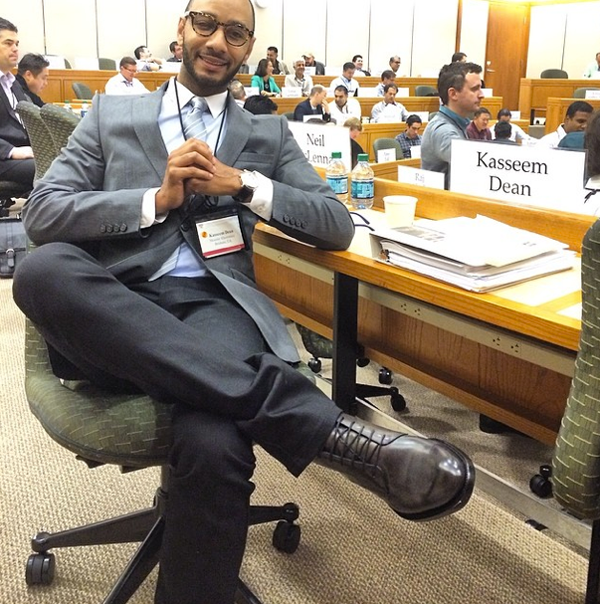 If we're going to take a lesson from anyone on how to build an empire with the most savvy and creative moves possible, it's Swizzy.
Swizz Beatz shares his college life experience being a business student at Harvard Business School in a new interview. Find out what he said about living the college life, building his empire and that controversial vacay with his wife....and ex-wife….
After partying at at Carmelo Anthony's 30th birthday bash with his wife and mother, producer turned Harvard student Swizz Beatz stopped by Power 105's Breakfast Club to share his college life experience and how he's adamant about continuing to build his brand. Alicia Keys' hubby also talked about actually living in a dorm on Harvard campus, owning his own studio, helping LaLa pick Carmelo Anthony's birthday present and working on music with DMX.

Here are the highlights:
On why he decided to go back to school:
"I just felt like you got to keep graduating your brand. A lot of people get complacent with their success and things that they have done before and I just wasn't comfortable with that because I started transitioning from being a producer to being a business owner. And I would be in theses rooms and no matter how big the deal is or how good it is people would still look at me like 'oh, he's the rapper guy,' 'he's the rapper friend.' I was like we all in this meeting because of what I'm bringing to the table. Being that I really didn't have those credentials to go with those different things, I didn't feel I was getting the respect I deserved so I said you know what, let me go sharpen my pencil a lil bit. Really walk back in these rooms a different person and a different man. And really invest that time into myself."

On if he's living at Harvard:
Swizz said he's staying in a dorm on campus and he doesn't have a room mate. He sleeps in a twin bed, has his own shower and his room is really smart. He decided to stay on campus to get the real college experience.

On his "owners program" academia:
Swizz admits that he's a small guy in his class. He said he's taking classes with people who's companies are making billions of dollars a year. A great place to network. He said it's the hardest class to get into in Harvard and you already have to already be successful and they fact check your resume.

On what made him build his own studio:
Swizz reveals he teamed up with his wife Alicia Keys and her main engineer to build the studio. He wanted to have a 5 star studio so when artist come in, they feel good.

On LaLa thanking him after she gave Carmelo Anthony his Corvette:
He said La and Melo are family so he helped her with choosing the car and hooking her up with the dealer.

On him responding to rumors about him cheating:
Swizz said he doesn't really respond on a lot of different things but the rumor about him sleeping with a fitness trainer, he couldn't let it slide. He said he kept quiet about his other "issues" due to his kids being involved and decided not to say anything (i.e. Mashonda)
On him vacationing with Alicia AND his ex-Mashonda:
"I thought that was a very positive message but even in that people still want the waters to be dark. They was saying all types of stuff. No, man there's kids involved. We got to go to graduations for a long time. We got to go to games for a long time. And our personal things that we threw in the past, that's the past. It's going on 5 years already. Mashonda, she didn't like fly on vacation, she happen to be over there already. She happen to be over there and she wanted to see our son."
So there we have it.
Check it:
Get it done Swizz!
The Randomness:
1. Donald Sterling seems to have had a change of heart after reports reveal he will now sell the Clippers to Microsoft CEO Steve Ballmer for $2 billion. STORY

Photos: Swizz's IG
IN CASE YOU MISSED IT: Inside Dr. Dre's 3.6 Acre, $40 Million Mega-Mansion
Posted: 04 Jun 2014 03:59 PM PDT
Dr. Dre isn't wasting anytime flaunting his increased wealth thanks to the sale of his company BEATS he sold his part owenership in to Apple. Take a peek inside a $40 Million palace when you hit the jump...
Although FORBES made sure to shut down the notion that Dr. Dre is in the Billionaire's Club (he's just a couple hundred million shy)....that won't stop him from living like one. The BEATS co-founder plunked down $40 Million to purchase a mega-mansion formerly owned by supermodel Gisele Bundchen and NFL QB Tom Brady.
The Brentwood, CA palace is 3.5 acres and includes a professional grade home gym, an infinity pool, a waterfall and motor court. We managed to grab a few interior pics of the STUPID BIG pad from a profile Architectural Digest ran on Gisele. And we're fantasizing with every pic.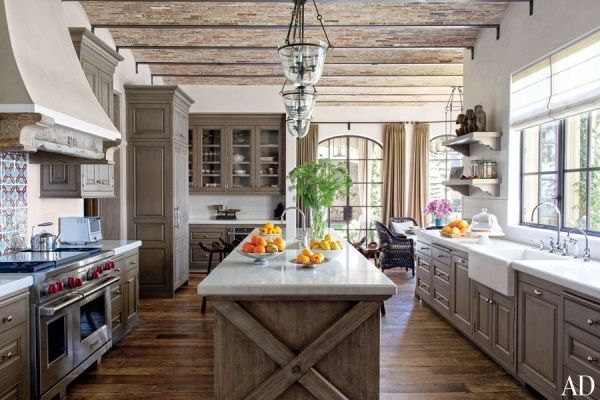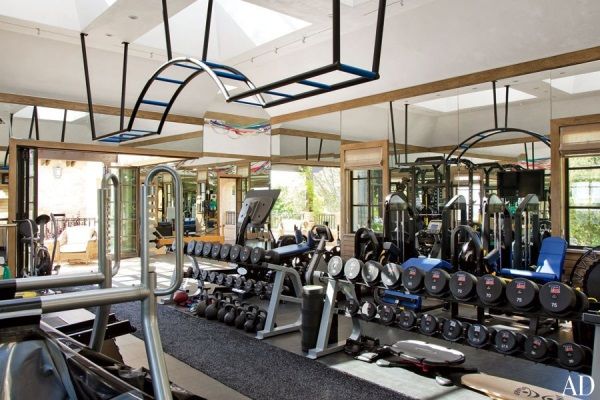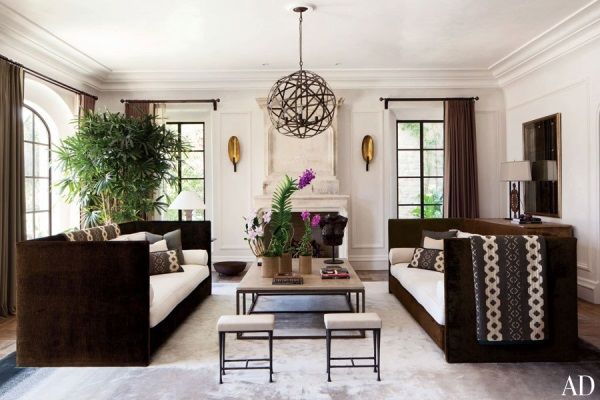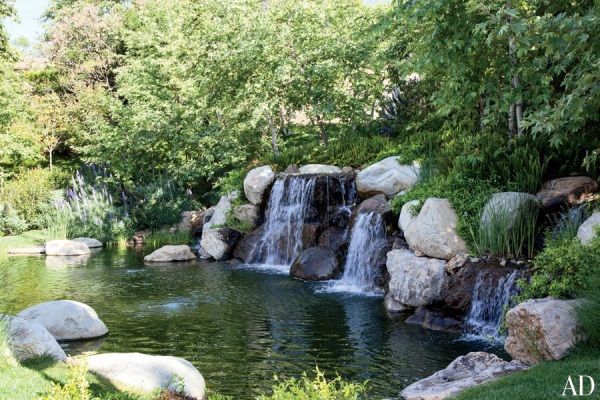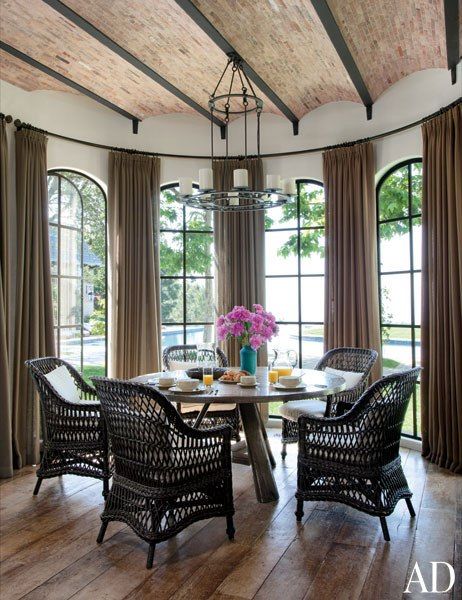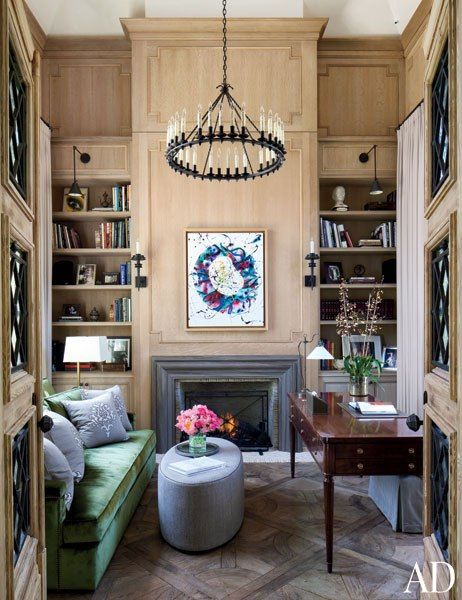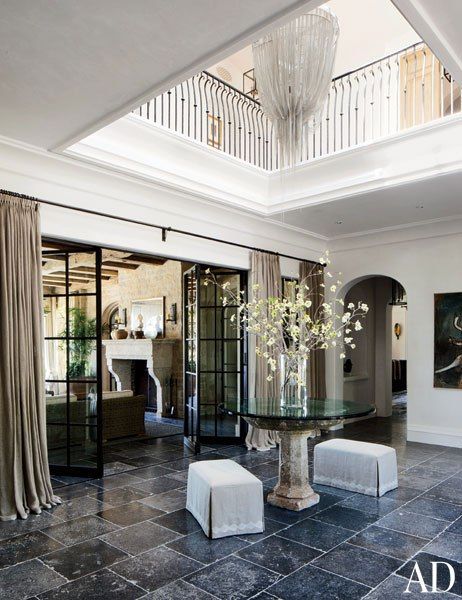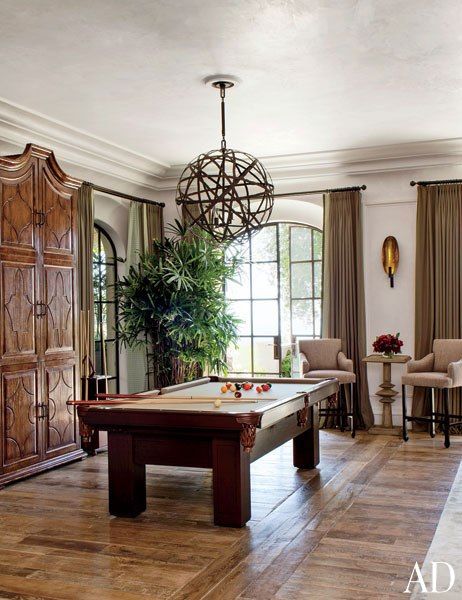 Must be nice......
Photos via Architectural Digest
Vanessa Simmons Hosting NEW Fashion Competition Show "Threads" + New Makeover Series "Girlfriend Intervention" Features 4 YBF Chicks
Posted: 04 Jun 2014 01:40 PM PDT
Fab new mommy Vanessa Simmons has landed a new gig as a host for a new fashion designing show on Lifetime. Also coming to the network, for some reason, a new series following four African-American women who give makeovers to white women to help restore their confidence. Get all the deets inside…
Vanessa Simmons is getting back to work and will now juggle motherhood with newborn Ava Marie Wayans and her career now that she's landed a hosting gig on a new Lifetime series, "Threads"
America's most talented aspiring fashion designers will be competing for a whopping $25,000 prize, a scholarship to the Fashion Institute of Design & Merchandising (FIDM) in Los Angeles and a top of the line sewing and embroidery studio courtesy of Brother International Corporation.
Each week, three new contestants will put their designing skills to the test in fast-paced, unpredictable challenges to take home the grand prize. This definitely screams "Project Runway" geared toward a younger audience.
Ava's mommy is joining judges "Project Runway" season 4 winner Christian Siriano, Seventeen Fashion Director Gina Kelly, Accessories Editor Jasmine Snow and YouTube style guru Ingrid Nilsen. And actress/dancer Zendaya will also be brought on as a special guest.
Can't wait!
And in another new Lifetime series….
"Girlfriend Intervention" is a new unscripted series following four stylish African American women who are seeking white women to give them complete makeovers to help make positive change in their lives.
The four hosts consist of beauty pro Tracy Balan, home & sanctuary guru Nikki Chu, style & fashion maven Tiffiny Dixon and soul coach Tanisha Thomas.
In the press release about the show:
Making over their wardrobes, beauty routines, homes and minds, they teach these women how to embrace and celebrate their lives, speak their mind, lighten up and love themselves again. Our four experts carry themselves with a great deal of pride, style and, most importantly, self-confidence. Where does it come from and how can it be obtained? Who better to teach a woman how to get that sparkle in her eye and spring back in her step? Each week, Girlfriend Intervention follows a woman whose personal space and self-esteem are in desperate need of a major makeover and a life-giving dose of diva inspiration.
Will you be watching?
Photos: Vanessa Simmon's IG

Rihanna Parades Around Paris After "Rogue" Fragrance Launch At Sephora
Posted: 04 Jun 2014 12:12 PM PDT
Rihanna was spotted grabbing pizza for lunch in Paris today after launching her new perfume "Rogue" at Sephora. Check out the pretty gal braving the rain inside...
RiRi is launching her Rogue fragrance at the Sephora on the Champs-Élysées in Paris today, and she kept it chic yet comfy in military pants, a matching Balmain khaki leather cross over top with chain cutouts and heels. And, of course, she made it work.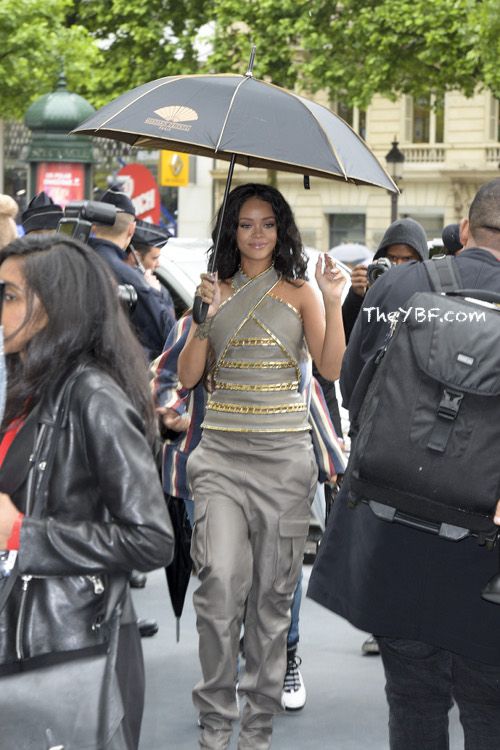 And she and her assistant Jen made a beeline for the yummy Pizza Pino to grab some lunch.
By the way, the "What Now" singer hilariously reposted "Family Guy"'s rendition of her CFDA see through gown that took the internet by storm this week. And she gave them her own Twitter salute:
He gets it! pic.twitter.com/bWLbcFw32B

— Rihanna (@rihanna) June 4, 2014
Hilar.
Photos: INF/Rihanna's Twitter
Pharrell Williams COVERS Elle UK's July Issue In Controversial Native American Headdress + Don Cheadle Starts Campaign To Fund Miles Davis Project
Posted: 04 Jun 2014 09:36 AM PDT
Pharrell Williams nabbed the cover of Elle UK's newest issue and controversy is already brewing behind P rocking a Native American war bonnet. Also, Don Cheadle is currently trying to raise money to fund his Miles Davis Project. See P's spread and get the deets on Don's new project inside…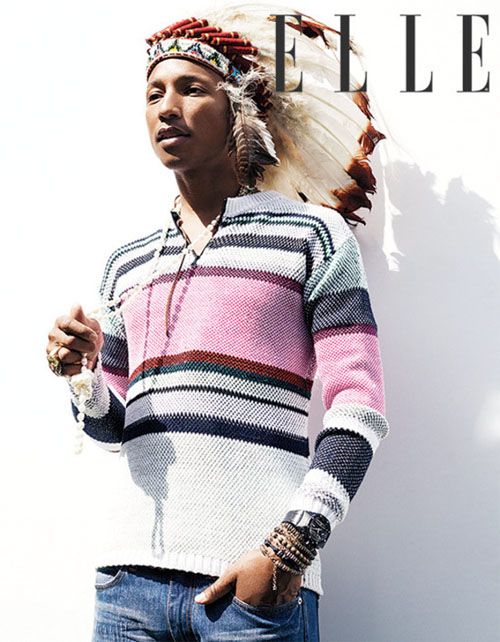 [UPDATE]: Pharrell has issued an apology via his rep after receiving negative backlash over his ELLE UK cover wearing a Native American headdress.
He said:
"I respect and honor every kind of race, background and culture. I am genuinely sorry," a rep for the star issued in a statement to the Daily News.

......
Pharrell Williams is having one hell of a year and to add to his accolades, he has landed on the cover of a special collector's edition of the July 2014 issue of Elle UK magazine.
Donning an elaborate Native American headdress, the superproducer ditched his now famous Vivienne Westwood hat for Elle UK's issue that features cult male icons on collector's edition covers.
In the cover story P talked about how his wife, Helen, helps shape his creativity, his Vivienne Westwood hat and understanding the value of people and things.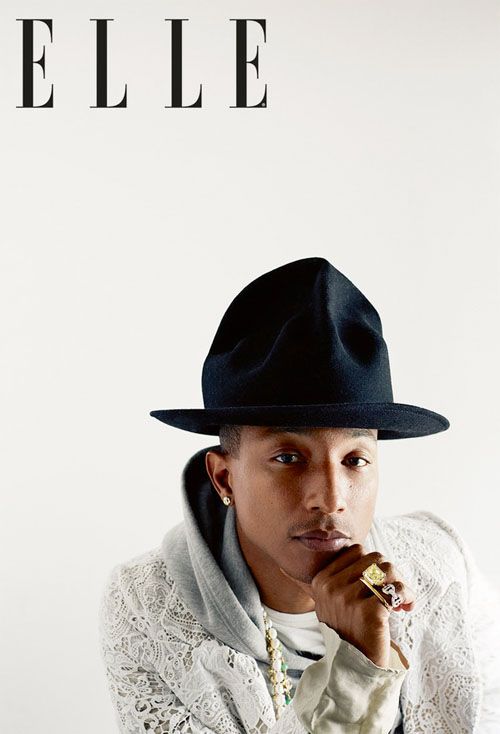 On how Helen helps his creativity: "We just motivated each other as friends. She pushes me. I push her."

On his Vivienne Westwood hat: "I remembered (Malcolm McLaren's) Buffalo Gals video, where he wears the hat. I actually wore it five years before I was photographed in it, it's just that no-one was paying attention at the time."

On good manners and understanding the value of things: "I wasn't always that way. I took a lot of years to understand the value of things and the value of the people you work with," he continued. "The value of your fans who ultimately hold you high and lift you up. We're just hang gliders, dude, and they are carrying us around."

Peep the behind-the-scenes-video of P's Elle UK cover here.
You can check out P's full spread and interview in the July issue of ELLE, out June 5th.
Meanwhile, people are already up-in-arms over P rocking a feathered warbonnet on the magazine cover. One comment on the magazine's site reads, "This is so wrong, obviously. Ignorance is not bliss, especially for those of us on the receiving end. Ignorant or indifferent - end result is the same."
And another comment reads, "Blatant disrespect to Native people and cultural traditions is really disgusting. As a major magazine, you should already know better."
Did you find his cover offensive?
And in movie news....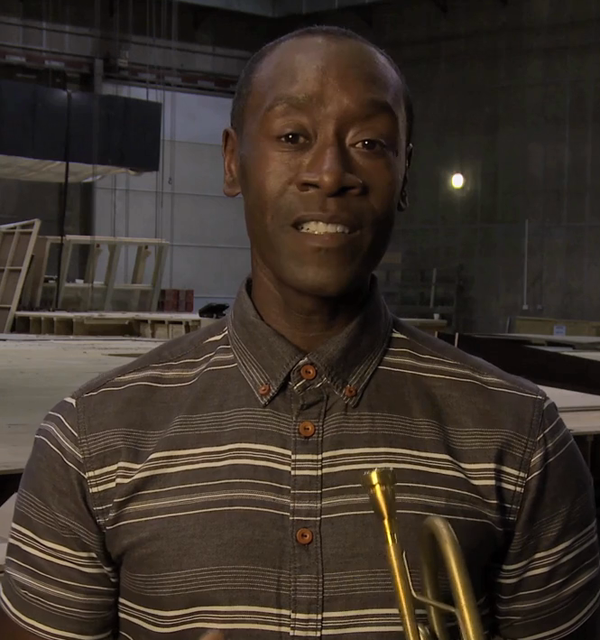 "House of Lies" actor Don Cheadle is gearing up for his feature directorial debut in a new project he's working on titled, Miles Ahead.
Miles Ahead will be a movie based on the life and music of legendary jazz musician Miles Davis. He has started a "social experience" in the making of the movie to help raise money to fund the new project.
In an Indiegogo Campaign Don writes:
Music has always been one of my passions. Since 6th grade, when I started listening to my parents' Miles Davis records, his artistry has been an inspiration to me; he was someone who only ever followed a path as a runway to create a new one.

Surprisingly, Miles' life, his passion, his creativity, his fire have never been brought to life in a film and the fact that his family has chosen me to do this now is an honor.

I want to tell a story that Miles himself would have wanted to see, something hip, cool, alive and AHEAD.

I've taken my marching orders from Miles' mandates ("Play what's not there." "Fear no mistakes. There are none.") and focused in on a very specific point in his life to explore his relationship with his muse, his voice, his fears and challenges to come out of his silent period and return to the music. I'm hopefully making a movie that tells a story many people can relate to, jazz fan or not.

MILES AHEAD is not just about the music. It's about what we all face at one time or another in our lives; questions about who we really are, what we have to say and how will we say it. How will we ultimately be defined and who gets to say so?

Speaking of defining, in Miles' illustrious career, he played everything from show tunes to acid rock. That's why he rejected the term "jazz" and preferred to have his work defined as "social music."

It makes perfect sense therefore to make MILES AHEAD a Social Experience.
I'm here on Indiegogo to invite you to connect with us NOW.

I want you to be a part of our journey, our story. Be a part of bringing a great story to life and help us take that experience to the next level. Here are some of the "Thank You" perks for being a part of MILES AHEAD.
Check it:
Don hopes to reach a goal of $325,000 by July 10, 2014. Loves it!
Check out all the perks with each donation here.
Photos: Doug Inglish/ELLE UK