---
Drake & Rihanna HUG IT OUT Courtside At The Clippers Game
Posted: 10 Apr 2014 10:15 AM PDT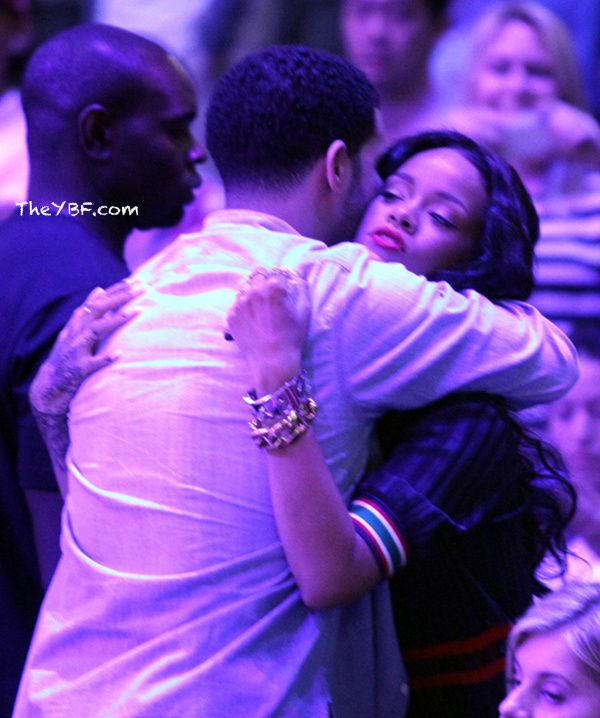 Fresh off pics of the pop diva bottomless and on all fours leaking to the net, Rihanna and Drake were spotted boo'd up courtside at the L.A. Clippers game last night. Check the pics inside...
Well aren't they sweet. Rih pulled herself away from her bestie Melissa, who was also with her courtside, to great her rumored boo Drake at the Clippers vs. OKC game Wednesday night.
While Melissa was decked out in Grace Jones gear, RiRi kept it simple in a sweater dress and sneakers as she knocked back some drinks: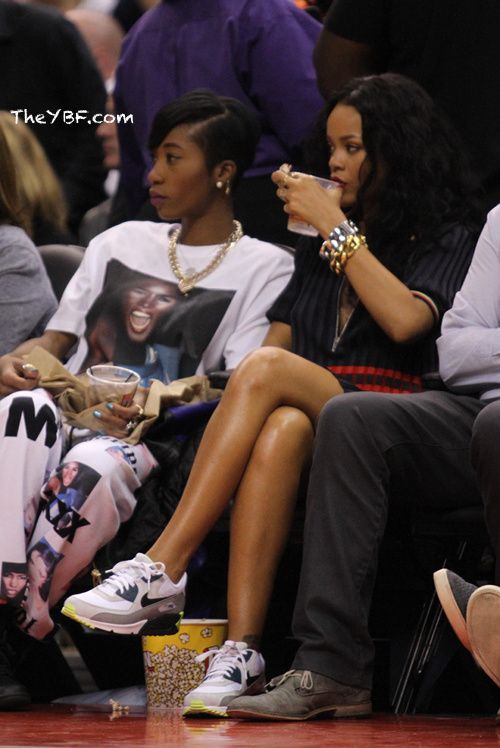 But it was all eyes on her man, who oddly wasn't sitting with her throughout the game, after that: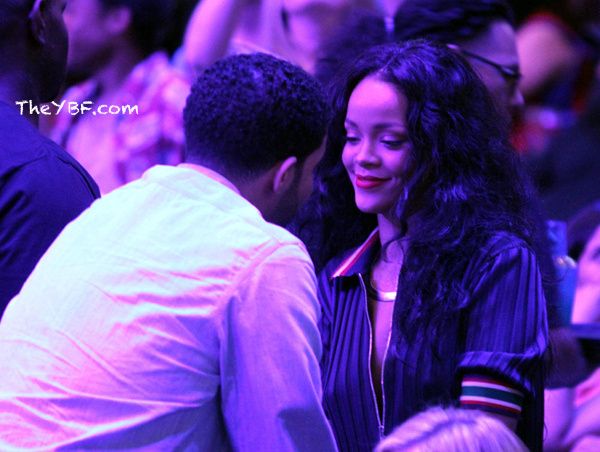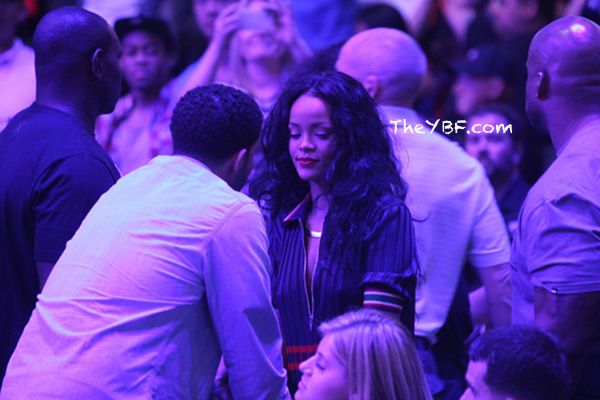 And their intimate convo left Drake cheesin' like this:
The twosome also spent some time together at Melissa's birthday party earlier this week. Looks like all is well with them...for now.
The Randomness:
1. The family of Nate Dogg is now waging war over the now foreclosed home the rapper left to his kids. STORY
Photos: Splash
I'M SO HOOD: Lil Mo Explains Her New Boy Toy...And Why She Calls Herself The "HOOD Kim K."
Posted: 10 Apr 2014 09:19 AM PDT
Lil Mo is speaking out on why she chose to name herself the "hood Kim Kardashian." Find out why she chose her new persona and deets on her man "Dynamite" inside…
As the premiere of the upcoming season of "R&B Divas: L.A." approaches, R&B diva Lil Mo is speaking out on why she calls herself the "Hood Kim Kardashian."
Last month, Lil Mo dubbed herself the hood Kim K. after news broke that she and her gospel singer husband Phillip Bryant had called it quits. She revealed she is indeed seeing someone else, professional boxer Karl "Dynamite" Dargan. They seem madly in love (for now) and the two have created their own Instagram account where they share pics of what they've got going on.
The break-up from her husband seemed rather sudden, but Mo said they had been having problems for a while.
In a recent interview with True Exclusives, Mo dished on why she's the hood version of the reality star and confirmed (again) that she and her new boy toy are getting married.
She said:
"When I say the hood Kim Kardashian, it means that I grew up around family so all I know is love. So no matter how many times I get married or divorced or whatever the case may be, I believe in love. I'm not just going to be anyone's baby mother. I'm not just going to be with a random boyfriend that's just dating and on the scene giving a Lindsey Lohan tease or Jennifer Aniston tease, I feel so bad for her. So I'm just going to give a Kim Kardashian tease. When we humping we getting married. Yea I do have a boyfriend, his name is Karl "Dynamite" Dargen and that's my boyfriend and I'm going to marry him. Cause I'm not just going to go at him and just play with him…like who does that? That's f*ckin' wack. Alright so I cleared the air."
Umm…ok. By the way, the reality star is gearing up for the release of her mixtape No Shit Sherlock out April 18th.
Check the interview below:
The R&B diva is gearing up for the release of her upcoming mixtape, No Sh*t Sherlock which is expected to drop April 18th. Mo recently released a cover of Nicki Minaj's "Lookin A** N*gga" where she switched it up, spitting bars on the track.
Check it:
Guess the mixtape will feature more tracks of her rapping…
The season 2 premiere for "R&B Divas: L.A." (with new castmates Chrisette Michele and Leela James) will debut on July 10th at 10/9c on TV One.
Photos: @thedynamoshow
HOT MAMAS: Mel B Twerks Out For A Work Out + Terri Vaughn Announces She's PREGNANT With Baby #3
Posted: 10 Apr 2014 08:06 AM PDT
Hot mama of three Mel B. is twerkin' a little something to stay in shape. And we're not mad. Check out how she finds time to shape up that booty between plenty of jobs and being a wife and mom, plus actress Terri Vaughn is expecting!
She's always had a body to drool over. And now, Mel B. is giving us a peek into one of the workouts she does to look....like this. The "America's Got Talent" judge, Australian radio station 2Day FM host and (former) Spice Girl had her own private Lex Twerkout class with founder, Lexy Panterra.

And this is what happened: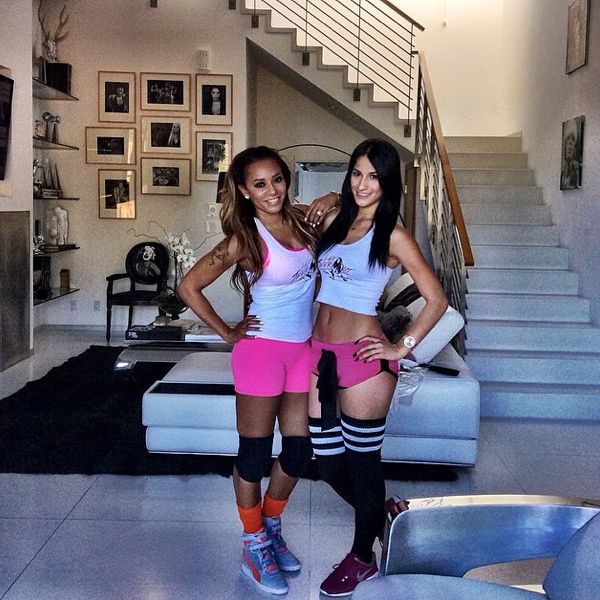 We're sure she showed some of her work to her hubby Stephen too...
And in other hot mommy news, YBF actress Terri Vaughn is also about to become a mom of 3! The "Soul Food" actress announced to the world via the second season of Cocoa Fab's home decorating web series "The Organized Home" show that she's expecting again.
And you can get a little peek at her bump below while she was filming the show:
She and husband Karon Riley have two boys Daylen, 12 (from Terri's previous marriage) and Kal'El, 5. The 44-year-old, who we STILL see as Lovita Alizay Jenkins Robinson, shared:
"I feel so excited to be able to grow our family and bring another life into the world. Mentally, physically and spiritually I feel grounded and ready to receive this blessing! I'm grateful to be chosen by God to be a mother."
Congrats Terri and fam!
Photos: Terri's IG/Mel's IG/@twerkout's IG
NEW MUSIC -- Elle Varner's "Little Do You Know"
Posted: 10 Apr 2014 07:05 AM PDT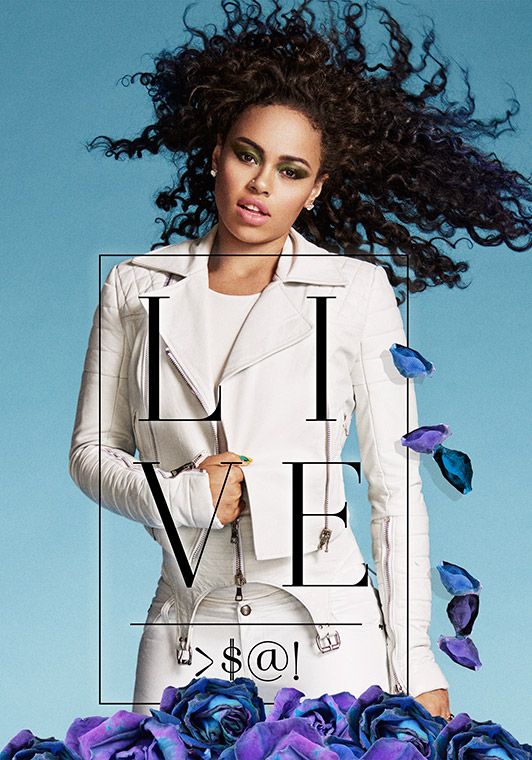 As Elle Varner continues on with her #4LetterProject, she's dropped a third new song that gives us the raspy and heartfelt love sound we've come to love from her.
Check out her newest track "Little Do You Know" inside....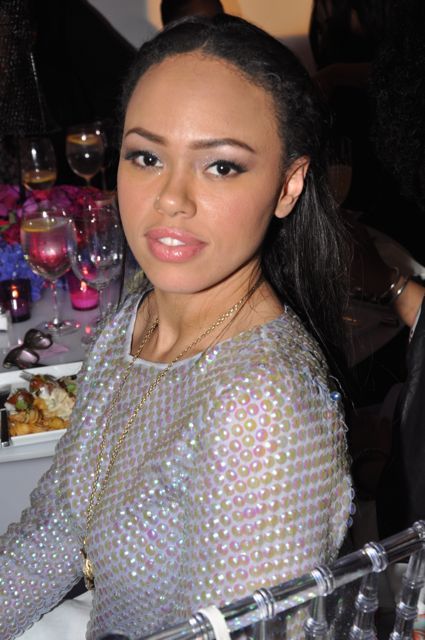 Fresh off attending OWN's "Love In The City" premiere in NYC yesterday (pictured above), 25-year-old Elle Varner is giving us more grown and sexy music to vibe to. She released "Little Did You Know" as the third offering from her #4LetterProject, which is all about the different stages of love. And this one is about Living.
The fab chick's upcoming album Four Letter Word (L.O.V.E.) has yet to receive an official release date, but we're twiddling our thumbs waiting.

Check out the new track below:
And in case you missed it, peep "Cold Case" and "See Me Tonight".
Photos: ElleVarner.com/Stephen Knight
CRUEL BREAKUP! Big Sean CONFIRMS He Called Off The Engagement, Naya REPORTEDLY Accuses Him Of Jacking A Rolex!
Posted: 09 Apr 2014 07:07 PM PDT
So much for their joint Holiday card, coupled up magazine shoots and all that wedding talk. Big Sean and Naya Rivera have called off their engagement. Surprise surprise. Get the deets on the fallout inside...
It may be a cruel summer for this couple. After a year of being a totally in-gushy-love couple and writing songs about each other, Rapper Big Sean and fiancée Naya Rivera have broken up. And Big Sean confirms it was HIM who ixnayed their engagement and wedding plans. Sean also claims all the cheating rumors going around (some reports say he admitted to Naya he cheated on her and SHE called it off), are 100% false.
People magazine reports via Sean's rep:
"After careful thought and much consideration, Sean has made the difficult decision to call the wedding off."

"The recent rumors and accusations reported by so-called or fake sources are simply untrue. Sean wishes Naya nothing but the best and it is still his hope that they can continue to work through their issues privately. We will not be commenting again on this matter."
As for what REALLY led Sean to call off this engagement, it's not confirmed, but anyone with two eyes could see it's a VERY big possibility the "convenience" of their relationship possibly wore off. PR relationships rarely make it down the aisle. But the twosome did get something out of it. Sean got what he and his boys may call a "celeb upgrade" and Naya got Sean to spit a few bars on her debut single to help validate her as an artist.
But this ish isn't ending all that smoothly. Naya supposedly tweeted (and quickly snatched down) a super shady accusation that called Big Sean out for stealing a Rolex from "a lady" (meaning her).
Whether or not this is doctored is still up for discussion. But sources tell media that Sean gave Naya a watch that HE bought for himself when he first "made it big." And he never gave it to her to keep, only to wear. So he simply took back what was his, allegedly.
Wonder what Sean's ex girlfriends think after Naya sang her song "Sorry Not Sorry" for them....
Photos: Wireimage/Naya's IG/Twitter
FORE! Beyonce Shows Off Her Bikini Golf Skills On Vacay With Hubby Hov & Baby Blue
Posted: 09 Apr 2014 06:18 PM PDT
It looks like the Carters have taken a family vacay to celebrate Beyonce and Jay Z's sixth wedding anniversary. And Bey is putting her bangin' bikini bod on full display in the intimate new pics she shared....from the golf course and their sexy resort.
Check the pics inside...
Ahhh the good life. Where you golf in your hot bikini and take in the ocean front views with your wine and your husband. And your adorable baby girl.
OUT cover girl Beyonce Knowles is celebrating love and happiness with her husband Jay Z and daughter Blue Ivy. The "Drunk In Love" chick let down the partition so we could see inside their sexy and fun tropical vacay: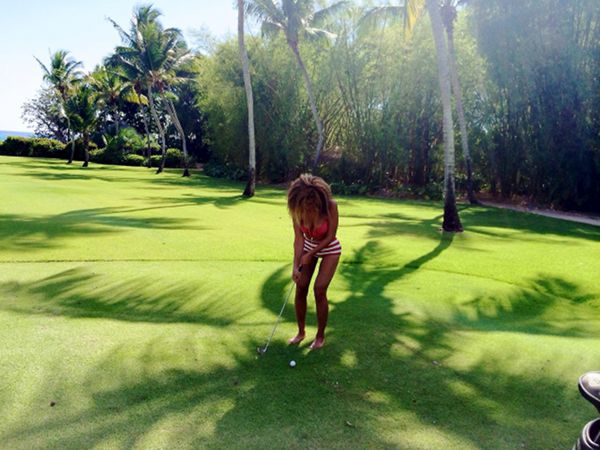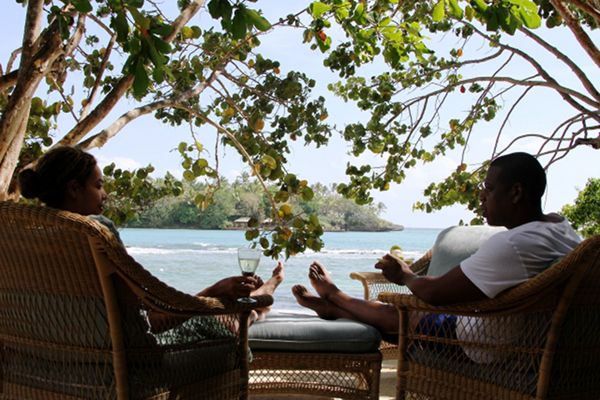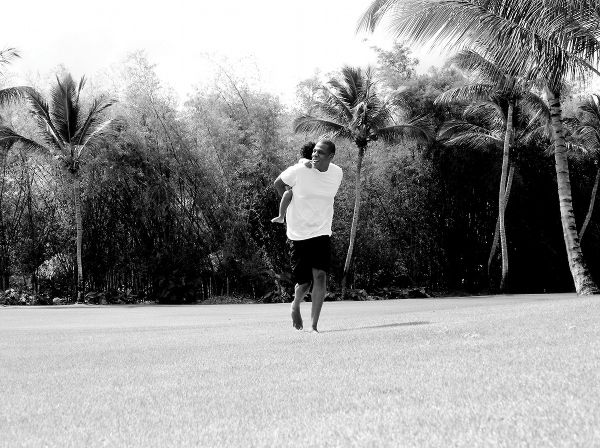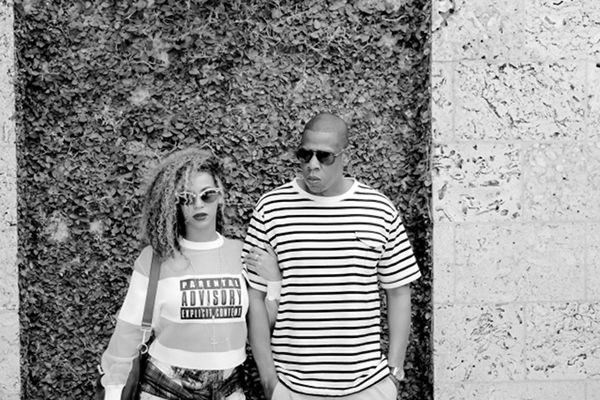 Check out the full gallery below of our fave pics. Or click HERE.
Photos: Beyonce's Tumblr
NeNe Leakes Talks "RHOA" Reunion BRAWL + Michelle Williams Reveals Most Embarrassing Moments...Including That "106 & Park" Fall!
Posted: 09 Apr 2014 05:02 PM PDT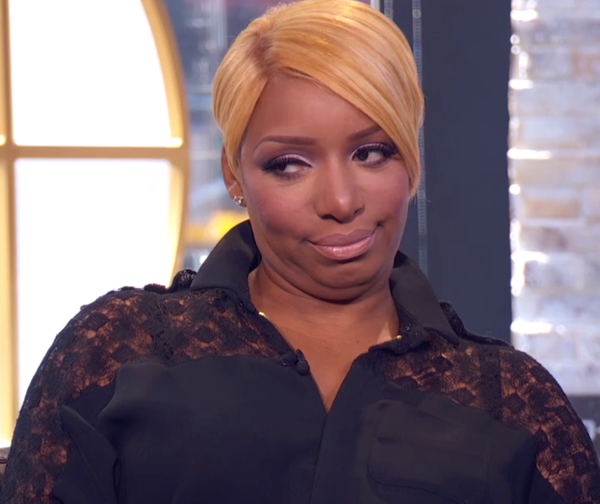 Finally some tea has been spilled! Well, just a bit. NeNe Leakes has revealed that her "RHOA" castmates Kenya Moore and Porsha Williams got physical during the reunion taping, with one castmate getting knocked out! Plus, Michelle Williams relives her most embarrassing moments of her career when you go inside…
"RHOA" star and "DWTS" contestant NeNe Leakes sat down with Nick Lachey for VH1's Big Morning Buzz Live along with her "DWTS" partner Tony Dovolani. The two talked about swapping partners and NeNe's music troubles but she spilled some real tea on Kenya Moore and Porsha Williams' physical altercation that went down at the "RHOA" reunion show taping.
You'll recall a brawl reportedly broke out between drama queen Kenya and Ms. Porsha at the "RHOA" reunion taping. A 911 call placed by Kenya was released where Kenya is heard telling the operator, "I've just been assaulted.....She hit me in my head and was fighting me! Hitting Me!"
The "Flatline"singer has remained mum on the altercation commenting she couldn't speak on it but NeNe didn't hesitate to comment on the brawl saying,
"There was a physical confrontation that happened at the reunion," said NeNe, "One was provoked; the other one knocked her out."

Bloop! NeNe said she doesn't condone violence, but welcomes a good read and a little shade throwing. The "DWTS" star also confirmed producers welcome a good argument, but they should never lay their hands on one another, which she confirmed happened at the reunion taping.
So was alcohol to blame? Not at all…according to NeNe alcohol was not permitted. She also spoke on Kenya Moore's "Celebrity Apprentice" gig in which she said the producers will keep Kenya around for the drama. She expects the show will have plenty of drama because this season has "a lot of drama queens."
Take a listen to what NeNe had to say about the brawl below:
And in another interview…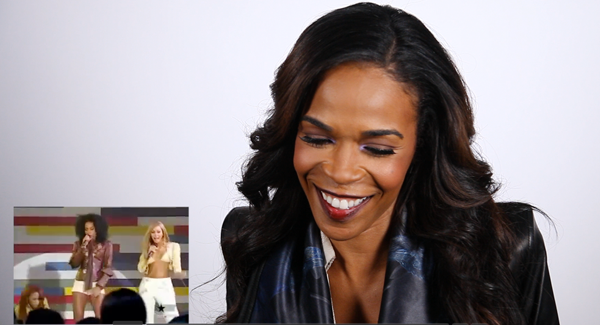 Who could forget former Destiny's Child member Michelle Williams' big spill on "106 & Park" as they performed "Solider"?:
Thanks to technology, it's forever sketched in our minds and at the push of a button, we can relive the entire funny ass scenario. Michelle did a Most Embarrassing Moments segment with TIME magazine. And she blamed a loop on her pants getting caught into her heel, which caused her to topple over.
Michelle (who has a new reality show coming soon titled, "Fix My Choir") seems to have gotten over that mishap and a few others…like this:
As she hit the carpet for the World Music Awards, the reporter asked her, "You sing?" in which Michelle politely walked away from. Michelle has brushed herself off and can now laugh at these moments.
In an interview with TIME, the 33-year-old singer was asked to react to some of her most embarrassing moments as part of her new campaign for Playtex. Michelle is encouraging women to share their most embarrassing moments and to share how they overcame them….so what better way to do that than to go down memory lane herself.
But don't feel sorry for #PoorMichelle, she thanks the haters who keep her relevant and keep her pockets FAT. Ha!
Check out Michelle as she laughs off her top embarrassing moments below:
Photos: VH1/TIME
NEW MUSIC -- Michael Jackson's "Xscape"
Posted: 09 Apr 2014 04:23 PM PDT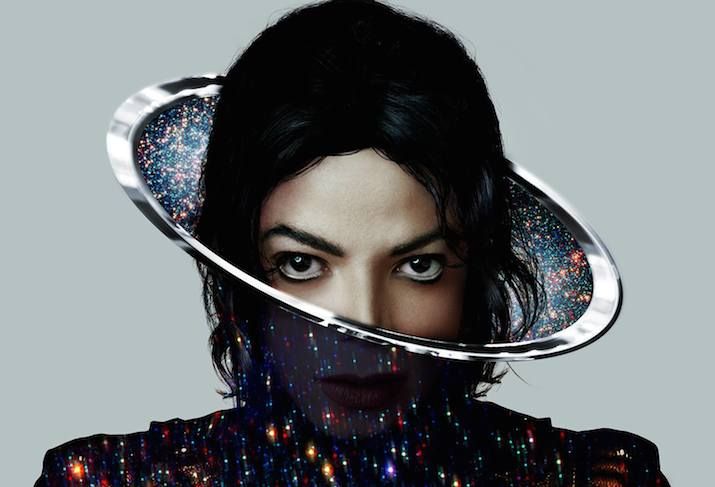 Michael Jackson's full "Xscape" sing has hit the net. Judge for yourself inside if the song fits MJ's legacy...
With the Xscape album on the way, fully headed up by L.A. Reid, the title track "Xscape" is now out in full for fans to digest.
The Rodney Jerkins-produced track is an attempt to connect MJ's legacy with a younger generation, according to OkayPlayer. The sound is extra contemporary.
Check out the track below. The album is set for a May 13th release.
IN THE NUDE: Rihanna Spotted BOTTOMLESS & On All Fours....For French Magazine Photoshoot
Posted: 09 Apr 2014 02:41 PM PDT
Known for showing off her bangin' ass bod (whether on magazine covers or on her Instagram), Rihanna was seen BOTTOMLESS, wearing a deeply plunged v-neck crop top for a photoshoot recently. There's nowhere this chick won't go. Deets on the NSFW pics when you go inside…
After celebrating her bestie Melissa Forde's birthday last night (above) and getting close with Drake, Rihanna was caught totally NAKED…from the waist down, while set assistants watered her down as she perched her booty in the air for a semi-nude photoshoot in L.A.
When you've shown everything else, why not, right?
The Bajan beauty channeled her inner sex kitten as she posed seductively (face down, a$$ up), wearing ONLY a mini-crop top, showing off the bikini line from her golden tan. Rih even exposed a bit of "nipplelage" as she changed positions for the perfect shot. One report says the photoshoot is for a French magazine...which we're sure plenty of men...and women...can hardly wait to get their hands on once it's released.
We can't post the NSFW pics here, but you can check out the plethora of semi-nudes HERE.
In other news, bad gal RiRi is gearing up to perform "Monster" with rapper Eminem at the 2014 MTV Movie Awards, which will be streaming on Jay Z's Life+Times website. You can catch Rihanna & Eminem's live performance Sunday, April 13th at 9/8c on MTV.
Hey, if you got it (which she definitely does), flaunt it...
*cues Drake's "Come Thru"*...
Photo: VLEX PHOTOS for SIX 27 BRANDING
Ashanti Rocks The "Queen Latifah Show" Stage & Films New "Fallout Asylum" Movie + BTS Of Keyshia Cole's "Rick James" Video
Posted: 09 Apr 2014 02:28 PM PDT
Ashanti is still putting in work after dropping her most recent independent album, Braveheart. Check out the fab chick belting out "I Got It" on "The Queen Latifah Show" stage, plus her first pic on the set of hr new movie. Plus, Keyshia Cole is giving folks a BTS sneak peek of her and Juicy J's "Rick James" video...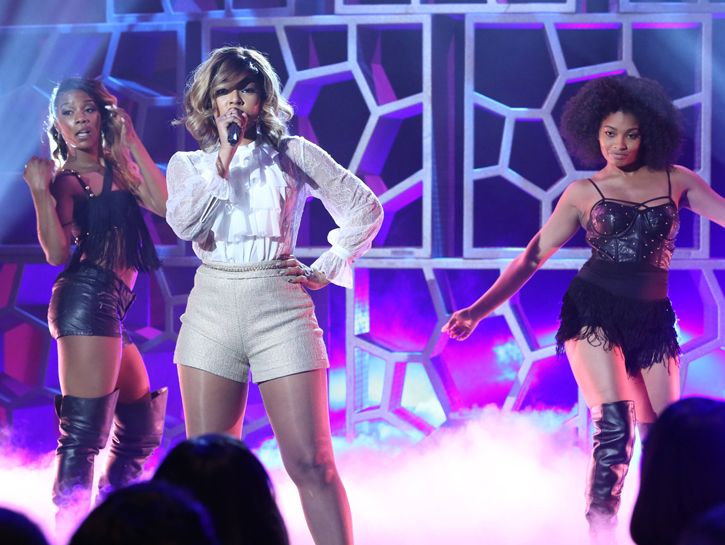 Ashanti is looking good and sounding...ok...while out promoting her Braveheart album. She hit up Queen Latifah's show recently and her performance of "I Got It" just aired. Check it below:
Meanwhile, she's got a new movie on the way called Fallout Asylum. She posted a pic of herself on the set (atop) looking like a wicked wild wild west chick. The movie, where Ashanti plays the character of "The Preacher", is a sci fi thriller she's filming in Canada that's set to hit the US this September.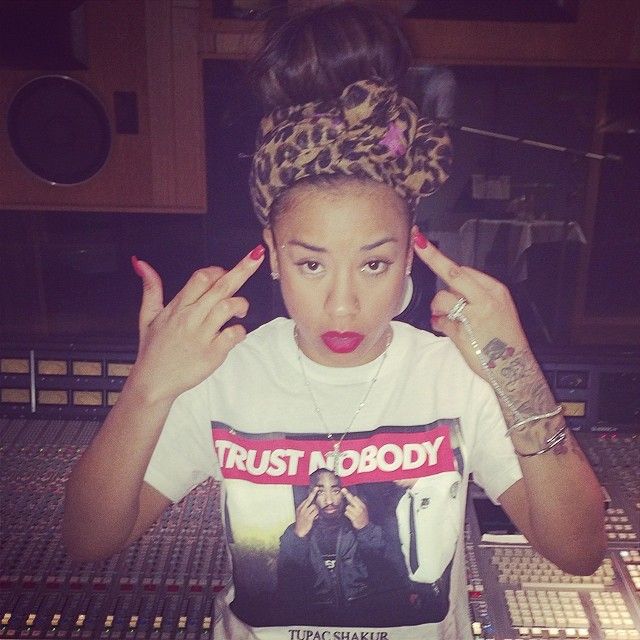 Speaking of Behind The Scenes peeks, Keyshia Cole is tightening up her new "Rick James" video:
FUSE TV has the first look at the visuals for the Juicy J-laced track that will appear on Keyshia's upcoming Point of No Return album. Key Key said about the John Colombo directed vid, "I wanted this to be as fun as possible because I've never really done a song like that."
Check out the sneak peek above where Keyshia and her girls ride out on glow bikes to go check up on her man who's cheating. You know, the usual.
Photos: Keyshia's IG, Ashanti's IG, Queen Latifah Show
Keshia Knight Pulliam Celebrates Her 35th Birthday With A New Body & New Projects
Posted: 09 Apr 2014 01:25 PM PDT
It's Aries season and Keshia Knight Pulliam is celebrating 35 years of life. Come inside to celebrate with the former "Cosby" kid inside…
She went from cute Rudy Huxtable on the NBC sitcom "The Cosby Show," to a grown woman creating a new lane for herself. Keshia Knight Pulliam turns 35 years-old today and to celebrate, she announced a new family-business venture she's working on "Keshia's Kitchen," which she's creating with her brother Mshon Pulliam. It seems her new project will highlight healthy eats as she's been promoting her new healthy lifestyle.
Keshia is currently filming for the upcoming season of "Celebrity Apprentice" alongside actress Vivicia A. Fox and "RHOA" star Kenya Moore as she was spotted recently serving up pies in Manhattan. But Keshia seems to have her cravings under control…
Showing off her slim and trim new bod, the New Jersey native is going all out for her birthday. She's allowing herself to indulge in a cheat day (which we ALL know so easily turns into a cheat week) after hitting the gym extra hard as she prepares for her Jamaican getaway.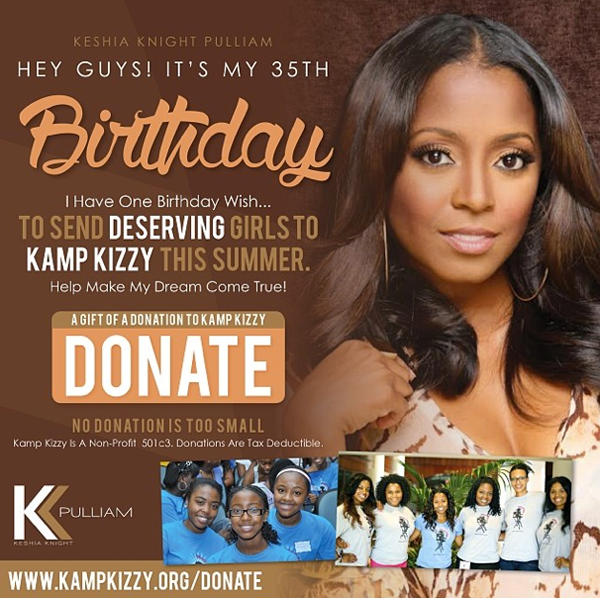 And in honor of her 35th birthday, Keshia is raising money to send deserving young ladies to her all-girls camp, Kamp Kizzy. Kamp Kizzy Foundation is helping young girls in the Atlanta area to work on challenging issues such as self-esteem, empowerment and motivation, daring young women to dream BIG. They also provide a safe, loving environment for young girls to learn and grow into individual awareness and the discovery of their own personal power. Nice!
We are looking forward to seeing Ms. Pulliam on primetime TV soon and hope she reaches her goal for Kamp Kizzy.
Happy Birthday Keshia!
Photos: Keisha Knight Pulliams' IG

NEW 'DO: Nick Cannon DITCHES Cheetah-Print Hair NOW Donning A WHITE Skunk Streak + Janelle Monae Gets ELECTRIC On 'Today Show'
Posted: 09 Apr 2014 12:52 PM PDT
Nick Cannon has axed his cheetah-print hair for another animal…a skunk. You gotta admit..he knows how to play around and get your attention while having some fun. Check out pics of Nick's newest hair dye and Janelle Monae's electrifying performance on the Today Show inside…
Nick Cannon has switched up his hair as he continues to promote his new album White People Party Music, which dropped April 1st.
Channeling his white alter ego Connor Smallnut, the "America's Got Talent" host dons a new white streak going down the middle of his head after ditching his cheetah-print hair.
Nick was spotted at the NBC Universal's Summer Press Day at Langham Hotel in Pasadena, CA on yesterday in all white which matched his new dyed 'do.
So what bought on the color change? Well…producers for "America's Got Talent" advised him to get rid of the cheetah-print for the audition taping in New York. He changed it up for the auditions but it didn't take him long to parade around in a new crazy style.
And what's going on with the calf-length brocade pedal pushers paired with these Dr. Martens white boots? Only Nick. Gotta love him.
Nick revealed his new color job with a close-up sharing, "We want the Skunk!!! #ncredible #OnMyCrazyShit #EnglishPunkRock80sFlow":
Oh Nick...
And on daytime TV this morning...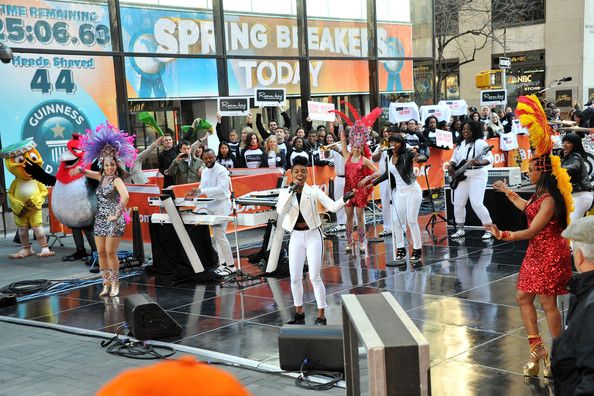 After bringing Rio Carnival to "American Idol," Janelle Monae hit the stage on the Today Show this morning performing her Rio 2 soundtrack single "What Is Love, as well as "Electric Lady" and "Dance Apocalyptic" at the Rockefeller Plaza in NYC.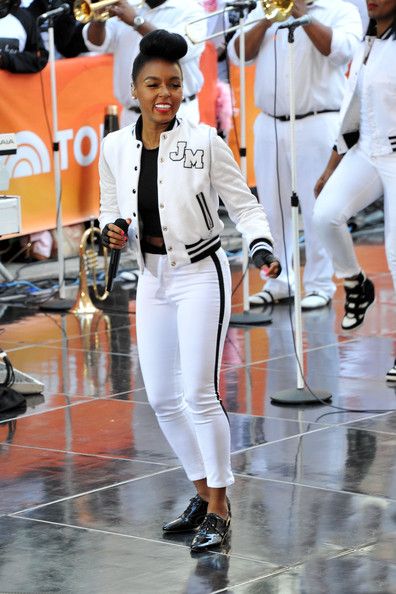 In her signature black and white attire, the "Electric Lady" lit up the stage with colorful carnival dancers and busting out her vivacious dance moves as the crowd danced to the vibrant beat.
Check out Janelle's 'Today Show' performances below:
"What Is Love":
"Electric Lady":
"Dance Apocalyptic":
Rio 2 hits theaters this Friday, April 11th.
The Randomness:
1. Master P's wife accuses him of kidnapping their kids...again. STORY
2. Drake is set to host this summer's ESPY awards. STORY
Photos: Splash/ Michael Buckner/Ben Gabbe/Getty
French Montana's Estranged Wife WARNS Khloe Kardashian, "Be Careful, Things Are Not What They Seem"
Posted: 09 Apr 2014 11:56 AM PDT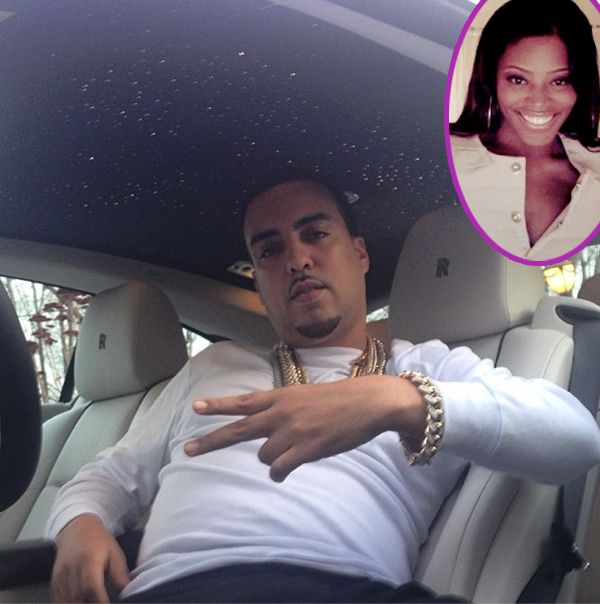 In case you didn't know, rapper French Montana is LEGALLY married and his estranged wife has a message for Frenchie's new rumored boo, Khloe Kardashian. Find out what she had to say inside…
Moroccan-born rapper French Montana (aka Karim Kharbouch) has been spending a lot of his free time with the a member of the family who loves all things black and rich, Khloe K. The two were reportedly searching for homes in L.A. AND spotted hugged up as they entered a strip club in Arizona.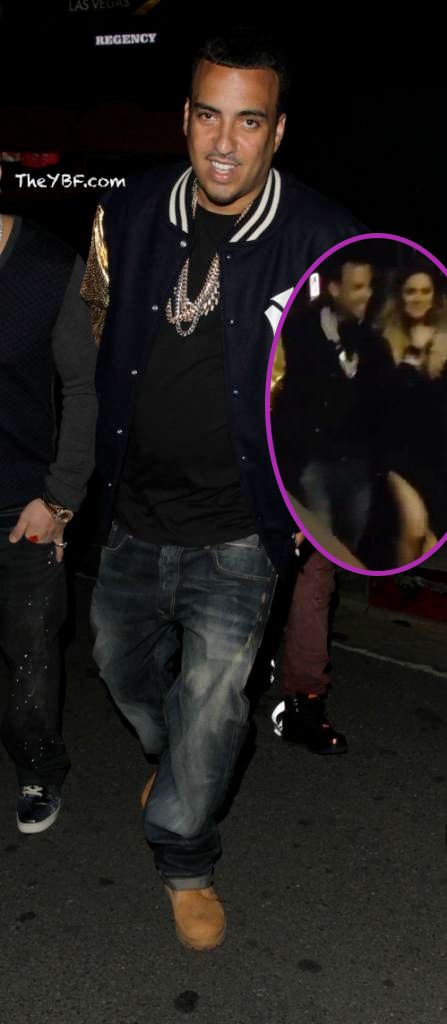 Sources tell Life & Style the two have allegedly been dating for a month now. Eyewitnesses at a video shoot last month in L.A. say Frenchie had a hard time staying foucused on shooting the video because Khloe "was kissing his neck and hanging on him." Oh?
Frenchie is still legally married (which he has tried his damndest to keep a secret) and his estranged wife Deen Kharbouch wants to warn Khloe Kardashian (who recently split from her husband Lamar Odom) that everything that glitters isn't gold.
Deen spoke to Life & Style magazine about her husband's rumored relationship with the reality TV star saying, "She has to be careful. Things are not what they seem."
You'll recall, Deen vented her frustration on Twitter back in 2012 where she remarked that he "flipped" on her as soon as he got a little success. The couple had been together 7 years and married for six before he split, leaving behind their 4-year-old son, Kruz.
"He and I worked together to put him where he is. As soon as he popped, it was as if Kruz and I didn't exist. He practically abandoned us."
The "Pop That" rapper has been making his $7,000 a month child support payments as they go through their divorce, but Deen isn't completely satisfied with that because French was forced by a judge to make those payments saying, "I had to go to court for that."
Check out Deen's full interview in Life & Style on newsstands now.
But we still want to know…what happened to Trina?
The Randomness:
1. UMASS college basketball player Derrick Gordon reveals he's gay. STORY
Photos: PCN/French Montana's IG

Kandi & Todd Tucker's OFFICIAL Wedding Photo & $20,000 Gown + Did Bridesmaid Fantasia Ruin Reception With A DRUNKEN TOAST?!
Posted: 09 Apr 2014 10:58 AM PDT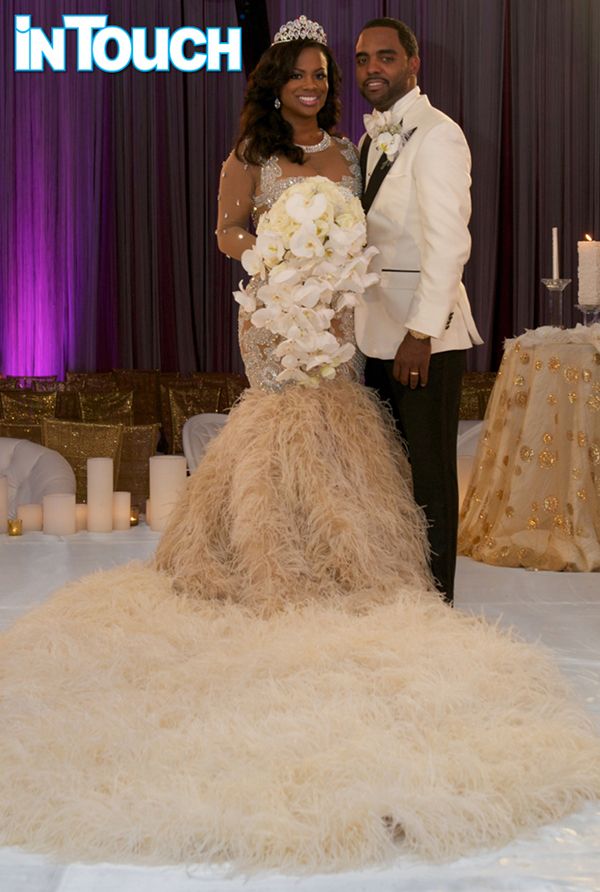 So that wedding (mini) dress Tameka "Tiny" Harris posted of Kandi Burruss' wasn't the wedding dress afterall. Kandi's ACTUAL wedding dress is a $20,000 feathered custom creation by Reco Chappele. Check out the Tucker's official wedding photo, plus the drama with Kandi's bridesmaid Fantasia!
Kandi & Todd became Mr. & Mrs. Tucker on April 4th. Now, their official wedding photo is out. And that wedding gown is full of dramatics. Kandi, who sparkled from her tiara to her toes, said, "The whole thing was like a fairy tale!"
And a custom $20,000 Reco Chappele custom wedding gown with a 12-foot train and bottom half made of ostrich feathers is indeed fairy tale like.
The nuptials, which didn't go down without shade thrown from Mama Joyce, took place at Atlanta's Le Fais Do-Do event facility in front of 300 guests. It will air on Kandi's upcoming wedding spinoff special on Bravo.
Kandi revealed to In Touch Weekly about planning this huge wedding in just a month, "I didn't know if I was going to be able to pull this all together....I couldn't wait around hoping things would get better. I just had to do it and hope for the best."
Agreed!
And Mama Joyce may have had some shady ish to say afterwards, but at the ceremony and reception, the mother of the bride was on her best behavior. Moms told In Touch Weekly, "Time will tell if Todd gets my blessing, but if Kandi's happy, then I need to be happy for her."
This woman...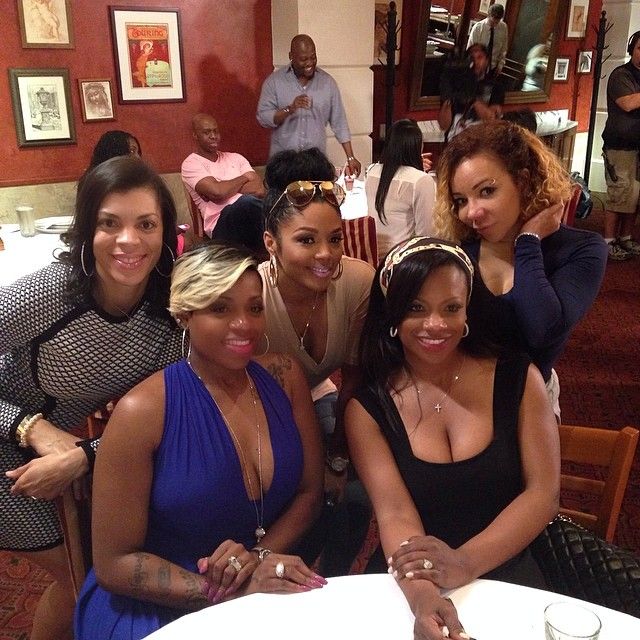 Kandi's bridesmaids--who all wore white--included matron of honor Tamera Wynn, maid of honor Carmon Cambrice (wonder what Mama Joyce had to say about THAT!), former Xscape groupmate Tiny, Fantasia Barrino, Love & Hip Hop Atlanta's Rasheeda Frost, and RHOA's Phaedra Parks and Joyce Dallas.
We've also learned co-stars NeNe Leakes and Kenya Moore were not at Kandi's wedding.
And speaking of Fanny....we hear she CUT UP at the reception!
Tabloids were reporting that Fantasia--had allegedly too much to drink--was cursing and using completely inappropriate language throughout her toast. Kandi was supposedly horrified and left the wedding.
However, Sherri Shepherd--who attended the wedding--revealed today on "The View" a little nugget of info. She said she's bound by a confidentiality agreement she had to take a picture with (LOL), but she knows Kandi did NOT leave her wedding. She was dancing the night away.
Sherri said she was not going to confirm or deny the story about Fantasia (her body language totally confirmed it though), but she posed the question of whether you would allow your bridesmaid to give a toast if you KNOW their behavior changes with alcohol.
Ha!
*UPDATE* Kandi has now told media that she was NOT offended by Fabtasia's F-bomb filled wedding speech. They've been friends a long time, and the bride loved it all.
Photos: S2S; In Touch Weekly; Tiny's IG