---
SPOTTED: Maxwell Catches Some Waves In Miami With Rumored New Model Boo
Posted: 03 Apr 2014 09:24 AM PDT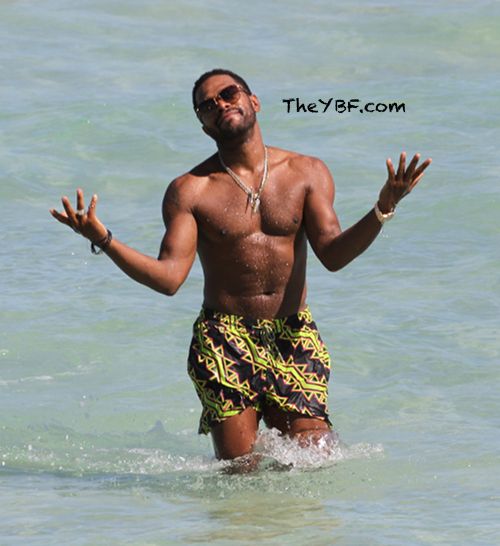 As Maxwell continues to work on his upcoming album in Miami, he hasn't missed a beat during his downtime catching waves on the beach. Check out the pics of the R&B crooner and his rumored model piece inside…
Back in February, Maxwell was spotted spending much of his free time with former "106 & Park" co-host Julissa Bermudez and sexy model Chanel Iman, but now he has turned his attention to Lithuanian model Deimante Guobyte.
Dude stays with some company, right?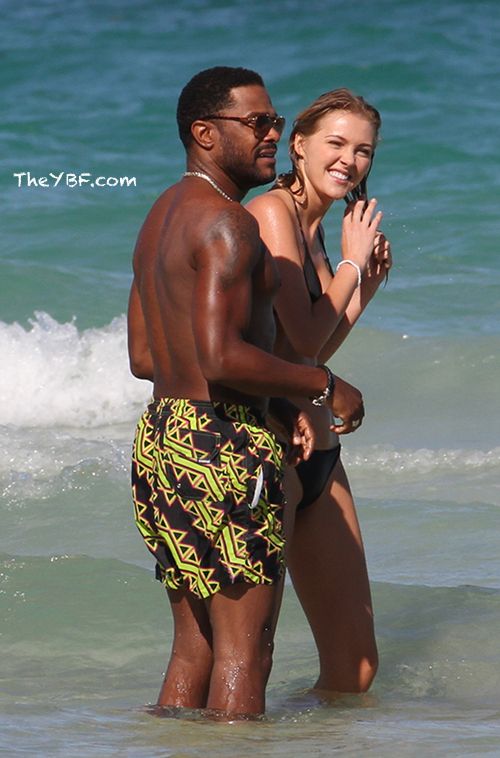 The "Fire We Make" singer took a break from the studio to soak up some sun with Deimante Guobyte as they frolicked in the ocean. Maxwell loves the ladies...all of them.
Although he's been spending a lot of his time on the beach, Maxwell is actually putting in work in the studio. A few weeks ago, he linked up with Roc Nation singer Melanie Fiona (pictured pool side at SoHo House) and multimedia artist Melo-X.
Photos: Splash/@meloxtra
IN CONCERT: Mack Wilds Covers D'Angelo And Michael Jackson, Brings Out Jadakiss At NYC's Highline Ballroom
Posted: 03 Apr 2014 08:24 AM PDT
Mack Wilds performed at the Highline Ballroom where he covered D'Angelo & Michael Jackson and brought out Jadakiss. See clips inside...
Last night, Grammy nominee Mack Wilds (whom we last saw getting a lapdance from Sevyn Streeter) hit the stage at NYC's Highline Ballroom where he channeled Michael Jackson and D'Angelo and brought out special guests Jadakiss, Maino & DJ Khaled. Enjoy....
"Own It" featuring Jadakiss:
"Remember The Time":
"How Does It Feel":
Troy Ave, Maino & DJ Khalid
BONUS:
HOT 97 has revealed the lineup for Summer Jam 2014.
The Randomness:
1. 2 Chainz charged with felony drug possession for sizzurp. Story.
Photo via Mack Wilds' Twitter
Apollo Nida Defends Himself About Alleged Charity Scheme Drama
Posted: 03 Apr 2014 07:27 AM PDT
Apollo Nida has been caught up in yet another alleged scheme--this time involving a charity. He struck back against the organization who accused him of attempting to scam them for money.
Get the deets inside...
Radar Online reports that Chase DeCarlo of Dio Bambini reached out to Apollo to host a charity event in Chicago, which would be for battered women and children.
Apparently, Apollo asked for a $2K appearance fee, some of which he felt he contractually should have received up front. However, Dio Bambini says they were "feeling really leery" about giving the "RHOA" star a deposit for the event, since it was scheduled to take place weeks after Apollo's impending court date. DeCarlo said Apollo was "pressuring me to book him."
While some folks are asking why a charity organization would want a convicted felon affiliated with their event in the first place, Dio Bambini claims to Radar that Apollo was trying to stick them for their paper:
"At first I thought he would do it for free," DeCarlo says. "His people were saying … he wouldn't mind appearing."

DeCarlo says, "At first it was like, 'Ok, I'll do it for $2,000.'" Then, DeCarlo says he bargained him down to "about $1,200. It's still a lot, but we're still in discussion. He just sent me a contract for $2,000!"

"We're trying to get Kandi to come too, and she said she would come for free," DeCarlo reveals. "I'm still talking with my people to see if it's worth it getting Apollo to come at all. We have people with a better background willing to do it for free, so I don't know."
Apollo responded to Radar saying:
"Not only am I facing legal troubles, but to have something like this [happen]?" Nida tells Radar exclusively. "…I get attacked for doing good things."

"There's a clause that says if I don't show it's refunded," he explains. As for the $2,000 fee, he says, "I'm not going to go to a charity event in Chicago for free," since he would need to pay for travel and expenses. As such, Nida says his proposed fee of $2,000 was "very generous."
Then...he took to Youtube to speak out.
Phaedra Parks' husband said he received a "disturbing phone call" from his manager that some drama about a charity event he was supposedly going to make an appearance at, has gone viral. Apollo said that the organization, which does not a 501(c) designation, contacted his booking agents to appear at an event.
Apollo says they sent over the contract and it included a 15% deposit to him. No money was exchanged and the contract was not signed, then all of a sudden, Apollo says, he was accused of trying to scheme money from them. Apollo said the $2K he requested wasn't for profit, but instead was for lodging, travel, etc.
"For someone to do this to me, it's completely erratic behavior. Right now there are circumstances going on that you all know about. I have a lot of people who are supporting. And there's a lot of haters who aren't. For you to try to mess up a brand, Apollo Fitness, Apollo Nida is a brand. So for you to say something so derogatory...

All of my contracts are official."
A mess.
Photo: Apollo's IG
NEW MUSIC - Keyshia Cole Ft. Iggy Azalea's "I'm Coming Out" [FULL]
Posted: 02 Apr 2014 07:08 PM PDT
Keyshia Cole is back with a new song called "I'm Coming Out" featuring rapper chick Iggy Azalea. Check out their "Mo' Money Mo' Problems" recreation inside...
KC & Iggy teamed up for a track that will appear on the soundtrack of the upcoming comedy chick flick The Other Woman.
"I'm Coming Out" showcases both the singer and the raptress talking about the things they talk about best....all over Diana Ross' "I'm Coming Out" sample.
The Other Woman, which co-stars Nicki Minaj with leading ladies Cameron Diaz, Kate Upton and Leslie Mann, hits theaters April 25th.
Peep the track below:
Photos: Keyshia's IG, Twentieth Century Fox
BALLERS GIVE BACK: Russell Westbrook & His OKC Teammates Host 4th Annual 'Why Not?' Bowling Charity Event
Posted: 02 Apr 2014 05:26 PM PDT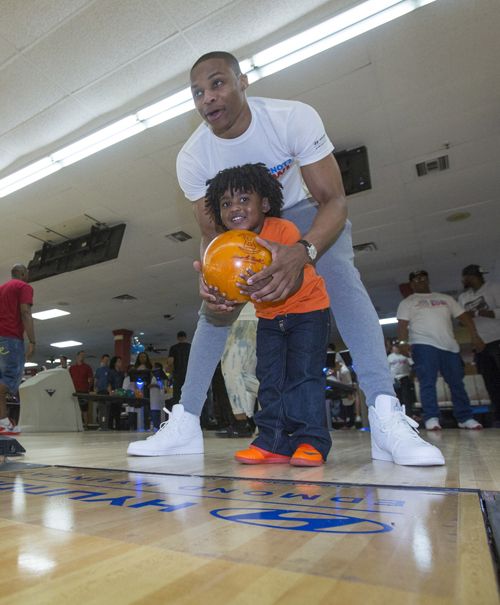 After their win against the Utah Jazz on Sunday, Oklahoma City Thunder guard Russell Westbrook along with his teammates Kevin Durant, Thabo Sefolosha, Kendrick Perkins, and Serge Ibaka paid it forward with a charity bowling event. Check out the pics of the NBA ballers and the deets inside…
On Monday, Oklahoma City Thunder guard Russell Westbrook gathered up a few of his OKC teammates to host his 4th annual "Why Not?" bowling charity event to benefit Russell's Why Not? Foundation. The foundation kicked off the event for the launch of their new website and their "Russell Reading Room" initiative, which will provide underprivileged students in Okalahoma city access to books.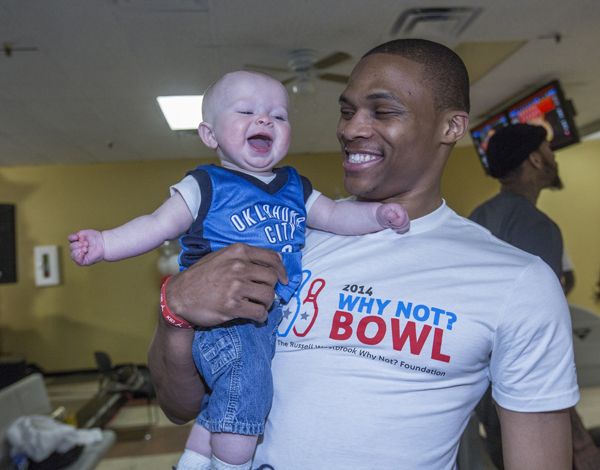 The charity event was a fun-filled evening complete with free bowling, contests and raffle donations. And...a few NBA cuties.
Russell's Why Not? Foundation is dedicated in supporting community-based education through its first reading room, which is intended to help bring high literacy to children in the area. Good cause!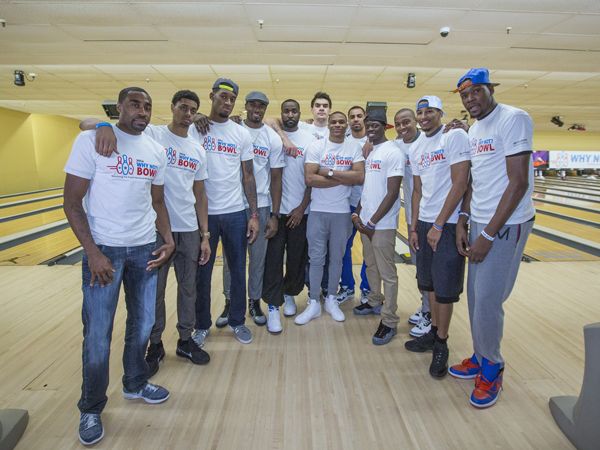 Love when celebs give back. Fun times.
DO WE BELIEVE IT: Rihanna Allegedly Turned Down A Tyler Perry Film Role Because Of Advice From Whitney Houston?!
Posted: 02 Apr 2014 04:45 PM PDT
Word on the street is that Rihanna has been dodging Tyler Perry's phone calls based on a "tip" she got from the late Whitney Houston. More inside...
We've heard that Rihanna is really anxious about making waves in Hollywood....but there's one director she's been avoiding. Supposedly. According to a report from RADAR ONLINE, Tyler Perry has been pursuing RiRi to star in one of his romantic comedies. BUT, she's not responding to him. Why? One source says that Whitney Houston once warned her that Tyler's films are for has-beens!
"Although Tyler has been courting Rihanna for a year and a half, hoping to build a movie around her, she has rejected the idea. Rihanna has pointedly avoided meeting with him!"
The source added,
"Whitney put her off Tyler by warning her bluntly that 'Tyler's films are for fading black stars, not rising ones. Rihanna so respected Whitney because in addition to being one of the biggest pop stars ever, she starred in hit movies such as The Bodyguard. She's ruling out doing a Tyler Perry-style romantic comedy because she thinks she works better in action roles, playing the tough girl."
Hmmm....we're not sure if we believe Whitney had a sit-down heart to heart with Rihanna about Tyler Perry....because who knew they were THAT close...and weren't Whitney and Tyler friends?
But you know Whitney loved to throw a bit of shade...
In other Rihanna news, 50 Cent hopes to grab her for sort type of collaboration (and it may include Drake). We're not mad at another Rihanna/Drake record (without 50 Cent).
Photos via Rihanna's Instagram
Janelle Monae Remakes "Heroes" For Pepsi's New Global Campaign + Bow Wow Returns For "Entourage" Film
Posted: 02 Apr 2014 04:22 PM PDT
Janelle Monae will be featured in Pepsi's new global campaign, remaking David Bowie's "Heroes." Plus, Bow Wow is on the set of a new movie. Read the deets inside…
For a celebration of music and football (soccer here in the U.S.), singer Janelle Monae has collaborated with Pepsi to recreate David Bowie's iconic "Heroes."
The "What Is Love" singer added her soulful spin on the 1977 single for Pepsi's global 2014 "Now Is What You Make It" campaign—which features a new series of shorts and a TV commercial that celebrate the game and music.
In the commercial, Janelle, alongside soccer players Robin van Persie, David Luiz, Sergio Agüero and Lionel Messi, will be featured on the streets of Rio De Janeiro (2014 World Cup host city) as they travel through a colorful, rhythmic journey uniting soccer, music and art.
The commercial will also feature interactive components, which will allow consumers to "CREATE THEIR OWN NOW" by unlocking additional content for a closer look into the lively streets of Rio.
"I love everything the film stands for. To me, it is all about that extraordinary burst of courage and passion which can embolden everyday people in a moment of spontaneity, which is also the message of David Bowie's venerable song," said Monáe. "I was honored to join Pepsi for this campaign and remind people that now more than ever, we can all be heroes."
Check out the BTS pics below: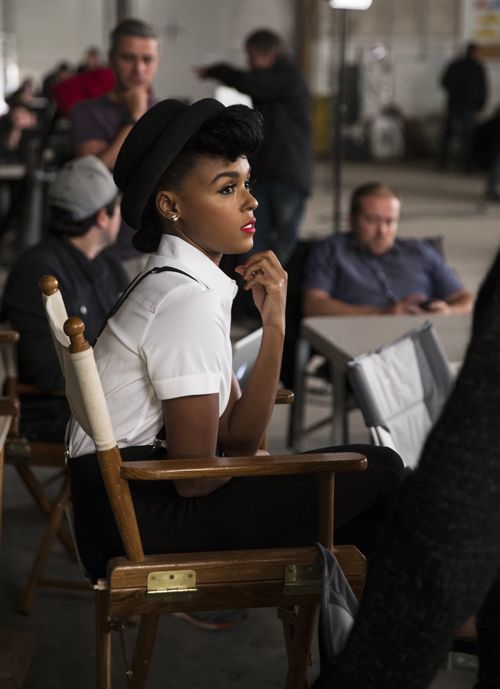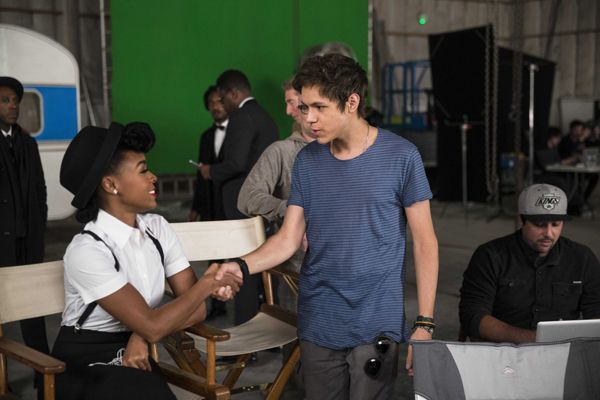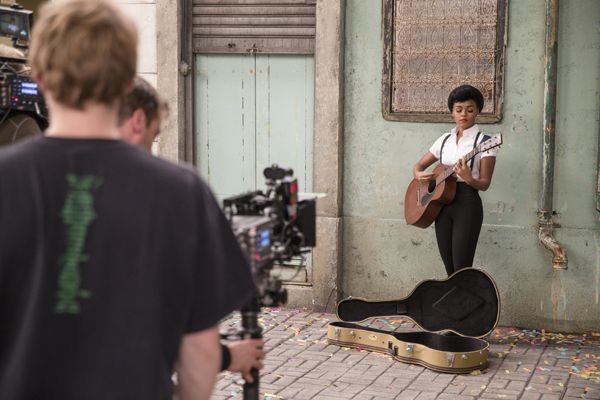 Loves it.
Check out Janelle's remake below:
"Heroes" is available for downalod on iTunes today.
And on another set…
Bow Wow is gearing up for his role as "Charlie" in the film new film "Entourage."
As you probably know by now, the HBO series "Entourage" is being made into a movie after the eighth season of the television series ended in 2010. The comedy-drama will keep it's original cast and is expected to be released in June of 2015.
Bow Wow made some appearances on the HBO series as comedian "Charlie," where he acted out his first ever sex scene on television. And now, he's returning for the movie. He was pictured on the set this week filming.

Nice.
Photos: Getty/Bow Wow's IG
FIRST LOOK: Zoe Kravitz Suits Up For Air Force Pilot Role In "Good Kill"
Posted: 02 Apr 2014 03:26 PM PDT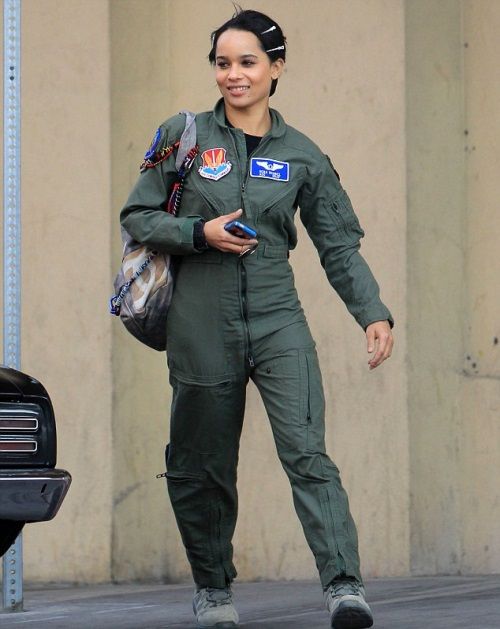 Hollywood royalty Zoe Kravitz was spotted on the set of her latest flick, "Good Kill." Get movie deets inside.....
Lenny & Lisa's daughter has landed another gig! And she was spotted suited up for the first time: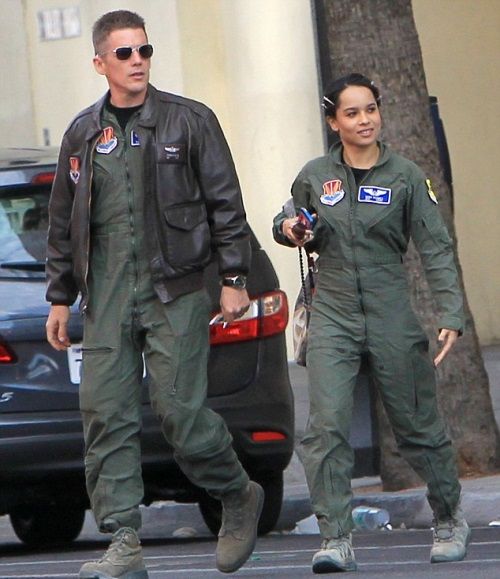 Yesterday, cutie Zoe Kravtiz (who currently stars in the hit film Divergent) was spotted in Las Vegas, NV on the set of her latest film, "Good Kill."
Zoe stars in the Air Force thriller with Ethan Hawke and "Mad Men" actress January Jones. Directed by Andrew Niccol, Ethan plays a pilot who questions his own ethical standing while operating drone attacks on the Taliban. Ad it looks like Zoe will be one of his pilot colleagues.
In addition to Nevada, Zoe and the cast have also shot scenes in Alburquerque, New Mexico. "Good Kill" is expected to hit the silver screen in 2015.
Photo via PCN
IN THE TWITTER STREETS: Black Twitter Goes IN On 'Marie Claire' Magazine After Calling Kendall Jenner's Cornrows "Bold" & "Epic"
Posted: 02 Apr 2014 02:51 PM PDT
Black Twitter is back at it! Monthly women's magazine Marie Claire is being dragged on Twitter after they posted a twitpic of Kendall Jenner on her family vacay in Thailand...wearing her new "epic level" braids. As if plenty of us (like Jill Scott above) haven't been wearing braids for years. Read the disgruntled tweets and apology when you go inside…
Fashion magazine Marie Claire (who prides themselves on delivering fresh information on fashion, style, hairstyles, and beauty) was ambushed this afternoon by Black Twitter and natural hair enthusiasts after the magazine labeled some ordinary braids "bold" and "epic." They apparently didn't receive the memo that black women have been rocking braids for years. And this particular style on Kendall Jenner is the opposite of bold and epic....it's so 90's.
It's like the Miley-Invented-Twerking foolish misconception all over again, you know, when people only respect or take notice of a cultural trend when a non-person-of-color co-signs it.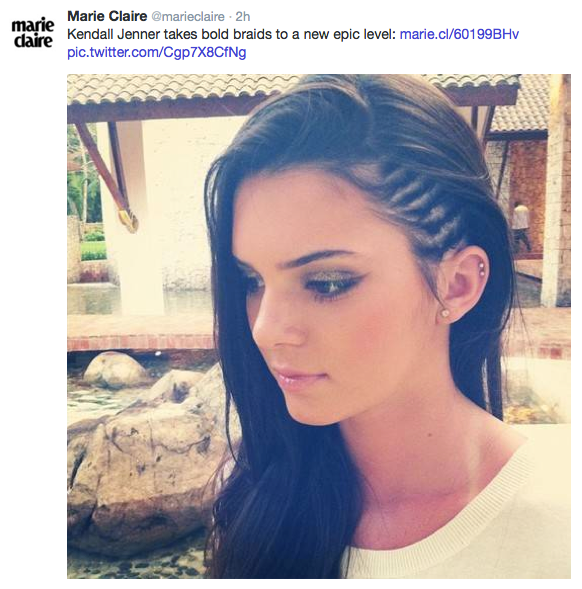 The women's magazine posted a picture of Kendall Jenner's hairstyle (above), showcasing a set of cornrows on the side of her head, describing the style as "bold" and taking the hair game to a "new epic level." Oh? Are they "bold" and "epic" because they're NOT on a woman or color?
Black Twitter instantly went IN on Marie Claire calling them out on their ignorance for using terms such as "new" and "epic" to describe a style black women (and men…i.e. Allen Iverson) have been wearing since…forever.
YBF chic Regan Gomez had PLENTY to say in response to Kendall's "bold braids" tweeting: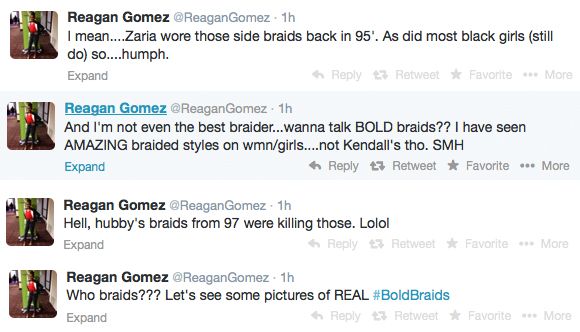 Ha!
Black Twitter and beyond outraged by the magazine's revelation tweeting:
Bold. New. EPIC! If only @marieclaire called any of the millions of brown and black girls rocking braids these terms with regularity.

— Pia Glenn (@PiaGlenn) April 2, 2014
It's going to be a LONG day for Marie Claire. The beautiful black queens are locked and loaded. It's about braids too?! Get em Team Natural!

— Dollar (@letmebegreat) April 2, 2014
Had it not been for @marieclaire, I would have never seen these type of #BoldBraids. Surely Black woman haven't been doing this for years.

— PrestonMitchum (@PrestonMitchum) April 2, 2014
Why don't you go to an elementary school with black girls & tell me once again how Kendall Jenner started cornrows as a trend? @marieclaire

— ✰ (@ohitsbarbara) April 2, 2014
AA women have been wearing braids (aka Corn Rows) for HUNDREDS of years, but Kendall Jenner wears them & its 'bold & epic' @marieclaire? OH.

— Stevie J.™ ©® (@TheRealStevieJ) April 2, 2014
Alicia Keys did this 10 years ago #BoldBraids MT @marieclaire: Kendall Jenner takes bold braids to a new epic level pic.twitter.com/KIiHHjpLiD

— Miss Laura (@LauraKMM) April 2, 2014
After the magazine's Twitter mentions erupted with backlash, they quickly tweeted an apology explaining they thought Kendall's hair looked great but didn't mean to offend or imply that cornrows were new:

Thoughts?
Photo: Marie Claire's Twitter
Nelly Makes His Ex Tae Heckard His #WCW, But Has Tae Moved On To NBA Baller Brandon Jennings?!
Posted: 02 Apr 2014 01:02 PM PDT
He want that old thing back! Nelly might be having second thoughts after he posted his ex-girl Tae Heckard as his #WomanCrushWednesday. Does Ashanti approve of this? Plus, Tae may have possibly moved on to NBA player Brandon Jennings…you know, Teyana Taylor's ex boo. Read all the deets…
As Ashanti treks across the country to promote her new album Braveheart, she has been openly talking about her and Nelly's situationship. At her album release party in Atlanta, we spotted the R&B singer facetiming with Nelly and she revealed that they are in a good place right now. We assume…together again.
Now, things will get a little more interesting after Nelly named his ex-girl Tae Heckard his "Woman Crush Wednesday" today:

He posted the pic above saying, "#WCW and so what...???? @lashontae aka Cookie ..." Oh really Nelly? Not sure Ashanti will be too happy after seeing this.
Last week, Tae posted (above) a quote about a man not really loving his woman but rather being with her because he didn't want to be alone. Sounds like a possible subliminal to her ex-boo, who got with her after breaking up with Ashanti.
Maybe Nelly saw Tae's post...
OR…Nelly could have gotten wind of rumors that Tae could be possibly cupcakin' with 24-year-old Detroit Pistons guard Brandon Jennings (above), who was previously linked to G.O.O.D. Music artist Teayana Taylor.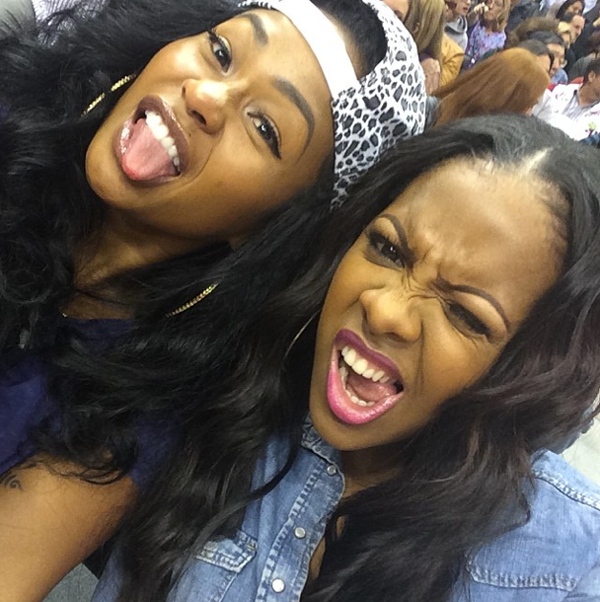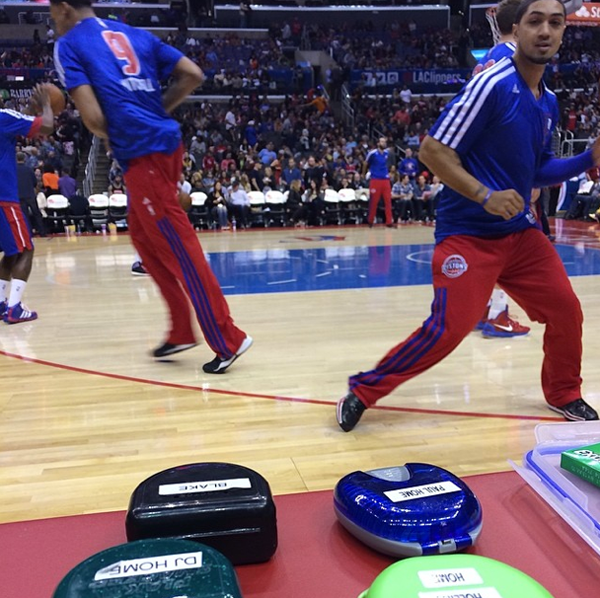 Although she's a die-hard Lakers fan, the model/vixen was front row courtside at a Pistons game last week where she shared, "It ain't my Lakers, but it'll do"
And a fan spotted the two together elsewhere:
Brandon is clearly a fan of Tae's after he was spotted holding a t-shirt with her face spray painted all over it and sending off "good morning" tweets: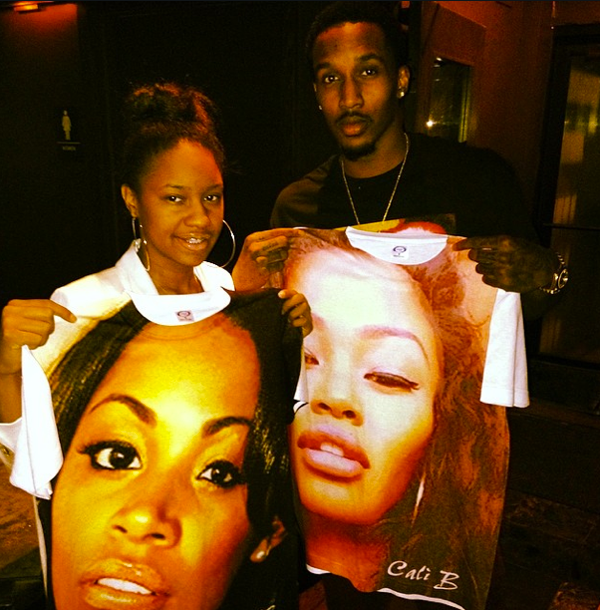 Mmmhmm...
Last month, Tae was flaunting her bikini bod on a beach where she hinted that there could possibly be a new man in her life (and used the hashtag #boolife" enough times). Was she hinting at Brandon?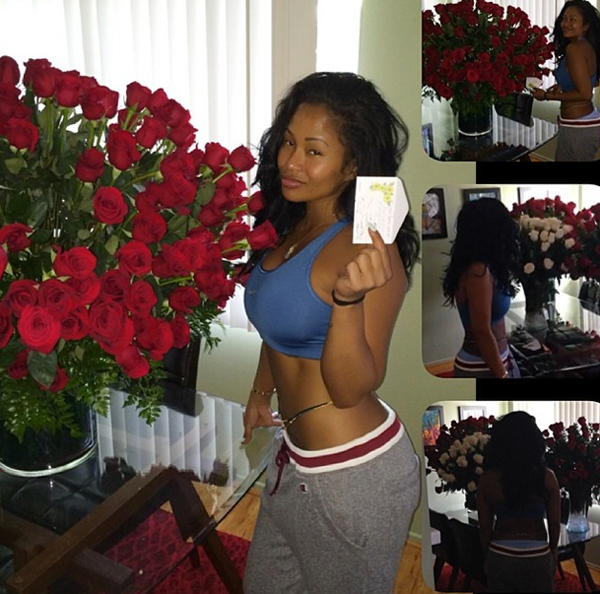 And here's Tae after receving a boatload of roses for her "birthmonth." Wonder who sent these…Nelly or Brandon?
Messy.

Photos: Nelly's IG/Tae's IG/@__theyoungb
Chad Ochocinco Says He STILL Loves Ex-Wife Evelyn Lozada & Explains Why He Just Can't Stay Faithful To One Woman
Posted: 02 Apr 2014 12:29 PM PDT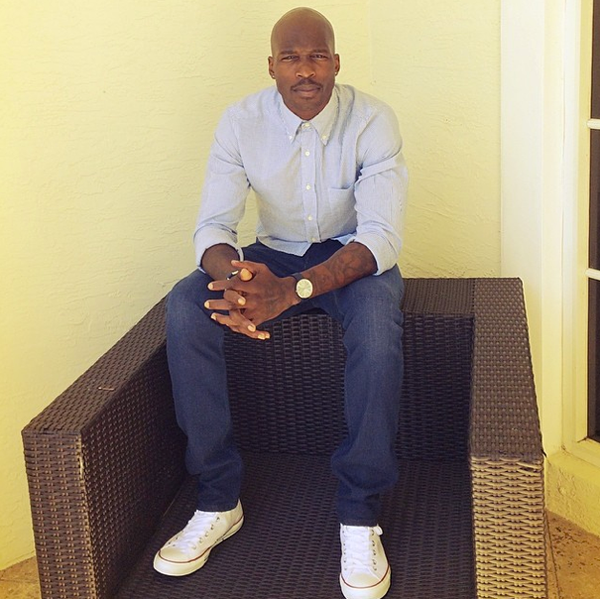 Former NFL star Chad Ochocinco is speaking out about his love for his ex-wife Evelyn Lozada, even after she has moved on with baseball player Carl Crawford. Find out what he said about Ev and his explanation of why he can't remain faithful inside…
Disgraced football star and former reality TV star Chad Ochocinco is opening up in a candid interview about the love he still has for his ex-wife Evelyn Lozada (who recently delivered a baby boy she shares with LA Dodgers baller Carl Crawford).
After Ocho and Ev's failed 40-day marriage, his 2012 arrest for domestic violence (for headbutting Ev) and going back and forth on Twitter on how he hates Ev one minute and then loves her the next, he's finally admitting that he does still have love for her and that he messed up.

Ochocinco sat down with Peter Bailey in South Beach for his NiteCap series and talked about wanting to finish his career in the NFL, how he's not disciplined enough to stay faithful to one woman and that he still loves his ex-wife, despite everything that went down.
Here are the highlights:
On if he still loves his ex-wife Evelyn:

"Love don't go nowhere like that. I will always love her. Matter of fact, I love every goddamn body to an extent. It ain't going no where. I got to know another Evelyn besides what everybody else knew. I don't care how she operate. I don't care what it looked like to society. I don't care how it all played itself out. I don't care the fact that she's moved on. I love that being."

On why he can't remain faithful:
"Discipline, I lack it. Dealing with one woman…it didn't have anything to do with South Beach or living in Miami. I don't care how fine you are..for every fine woman you see there's a dude who's tired of that same woman. Human nature is undefeated. What I've always done, even in past relationship, was tell the truth from jump. I never lied. Why sell you a dream? There are men out there that are willing to give their all and have the discipline to be able to give them that story book ending, that fairytale as I so call it. I think I'm good for that for about a good 6 months but at some point I don't care how fine you are, I'm going to lose interest."

On if he was himself on reality TV:
"Anytime I was on that camera, there was no script. I ain't role playing, I'm giving you Chad…that's raw and un-cut. Anything came out my mouth was raw and un-cut, never had a script."
Six months? He only gave Ev 40 days...
Check out the full interview below:
Photos: Ochocinco's IG/Evelyn's IG
Drake Salutes Johnny Manziel, Jennifer Lawrence & More On "Draft Day" + August Alsina Hits The "Arsenio" Stage
Posted: 02 Apr 2014 11:28 AM PDT
Drake pushed out a new track called "Draft Day", and it's an interesting salute to certain celeb friends...and those he wants to be more than friends. Check it inside, plus August Alsina rocking the "Arsenio" stage....
It's Draft Day...almost. And Drake spit out a new track where he shouts out his homie & Texas A&M's (shout out to my alma mater!) Heisman QB Johnny Manziel, has some words for Chance The Rapper, and tells Jennifer Lawrence he wants to get at her.
"On some Hunger Games s--t I would die for my District / Jennifer Lawrence you can really get it / I mean forreal, girl you know I had to do it for ya."
Oh, J-Law happens to be his semi-recent rumored boo Zoe Kravitz's BEST FRIEND. This guy...
Check out the track above as Drake raps over a sample of Lauryn Hill's "Doo-Wop".
And over on the "Arsenio Hall" show, newcomer August Alsina hit the stage with a medley Of 'Make It Home' & 'I Luv This'. Check it out below:
The New Orleans native's debut studio album, Testimony, is due out April 15th.
Photo: Drake's IG
UPDATE: Benzino's Nephew Gai Scott Talks Family Feud, Says Benzino Was THREATENING To KILL Him
Posted: 02 Apr 2014 10:29 AM PDT
Benzino's nephew Gai Scott is now speaking out on WHY he shot his uncle. Find out what he had to say inside…
A shooting occurred over the weekend which left "LAHH ATL" star Benzino in the hospital and his nephew, Gai Scott, with an armed assault with intent to murder charge. Benzino got caught in gunfire as he traveled to his mother's funeral in which he blames his nephew for. Zino said recently:
"In the past I felt like, yes, I felt like my sister and my nephew was taking advantage of my mother. Yes. I spoke up about it years ago. There had been loans taken out on her house."
Shocking to read that someone's nephew would shoot them as they go to bury their mother, but now Gai is speaking out on why he did it.
According to Gai, he shot Benzino because he feared for his life after Benzino allegedly sent threatening text messages saying he was going to kill him.
"I shot at him; I was in fear for my wife and a baby. He's been threatening my life."
According to the Boston Globe, Benzino had started sending threatening text messages in the week before the shooting and that's what prompted Gai (who is a legal gun owner) to purchase a gun. Gai claims when he pulled up alongside his uncle, Benzino verbally threatened to kill him. He allegedly saw Benzino flash a gun and that's when he grabbed his own gun and shot at his uncle. After his 9mm Walther pistol ran out of ammunition, he started firing a .45-caliber gun.
Gai will go before a judge today for a hearing in Plymouth District Court.
Goodness! Surely doesn't sound like clear cut self-defense, but that's for a court of law to determine.
Meanwhile, Benzino is happy to be home, showing off his bullet wounds and seems to be recovering just fine: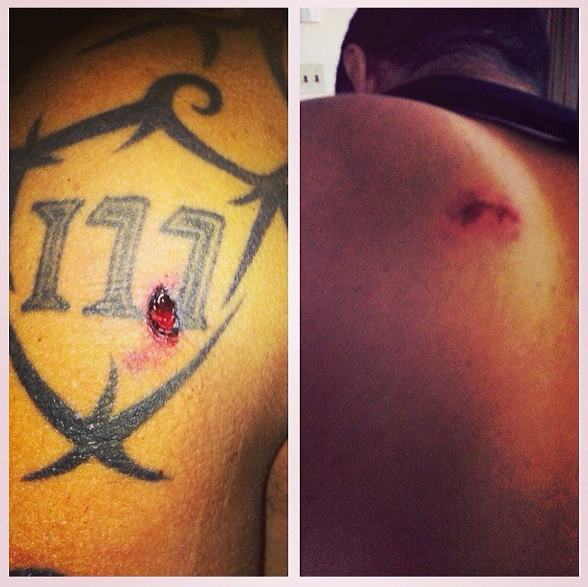 He captioned, "The one on the left went through the MadeMen shield and broke my bone, and still in there, the one on the right luckily just grazed my back #blessed"
The Randomness:
1. NFLer Ray Rice and his new wife will hold of until June for a reception after they had a "quiet and private" wedding last week. Story
Photo: WENN/Benzino's IG

Solange OPENS UP In ESSENCE About Her Journey As A Mother And Being A Style Icon
Posted: 02 Apr 2014 09:43 AM PDT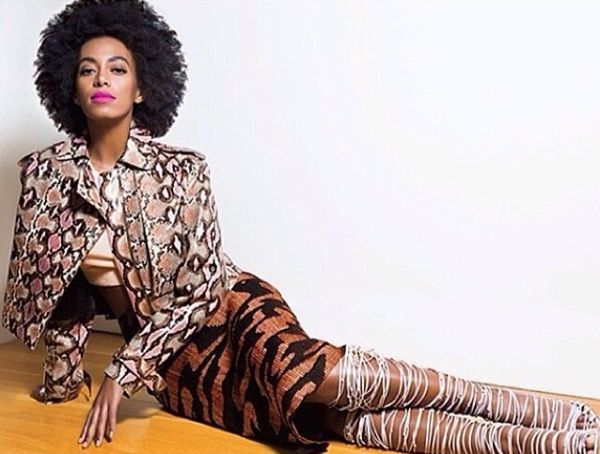 In the latest issue of ESSENCE, Solange opens up about being a mother and why she's uncomfortable with the term "style icon." More inside....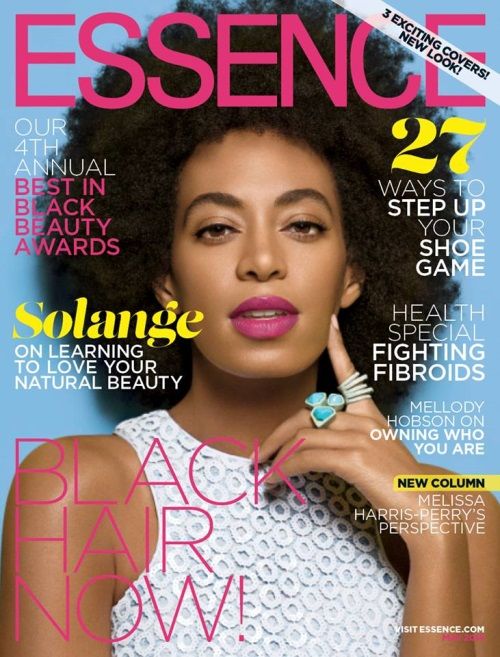 In the newly released ESSENCE Magazine's May 2014 BEAUTY issue, cover girl and soul singer Solange gets candid about her journey as a mother and how she really feels about the term "style icon." Here are the highlights:
On "style icon": "A lot of times I don't feel very deserving of that title, because it is such a rotation of inspiration that I get from…so many people. I interpret my style the best way I can, and I feel so appreciative that it's celebrated on that level."
On motherhood: "Motherhood is such an evolving journey. You really have to shape and mold your morals and values around that personality that has come into itself."
On her son's fearlessness: "Seeing that conviction and honesty with everything he does absolutely has made me a better person."

Go behind the cover in the new video below:
The May issue, also covered by Ledisi and Erykah Badu, hits newsstands April 4.
The Randomness:
1. Dwyane Wade has responded to Kobe Bryant's criticism of the Trayvon Martin outcry. STORY
Photos: Greg Lotus