---
NO BLACKS ALLOWED! Clippers Owner Tells (Half) Black Girlfriend To STOP BRINGING BLACKS TO THE GAME, They Are NOT Welcome!
Posted: 26 Apr 2014 07:36 AM PDT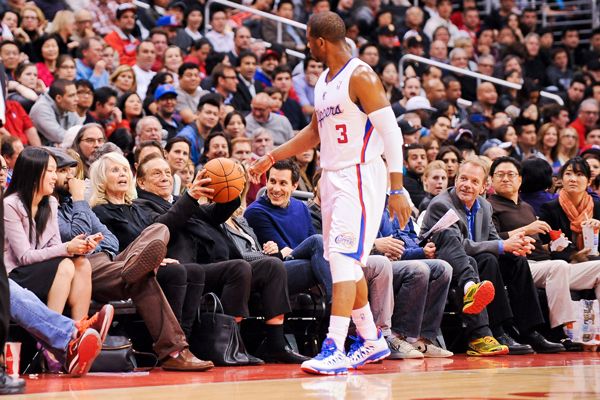 Well this is the saddest ish we've heard this week. Not because (gasp!), some multi-millionaire reared their racist head. We're no longer shocked by that. But it's incredibly sad that there has been hardly any uproar--not even from the players themselves--about the L.A. Clippers owner saying ON TAPE that black people--including Magic Johnson--are not welcomed at his games...and he doesn't even want blacks in pictures with him or his girlfriend.
For those who give a damn...deets inside....
You can't control racist assholes, but you damn sure can control the role YOU will have in their racist antics. The owner of the Los Angeles Clippers, Donald Sterling (seen above sitting courtside with the ball and eyeing Chris Paul), was caught on tape saying some disgustingly racist things about blacks. He's demanding her to stop "bringing blacks" to Clippers games and stop taking pictures with them (this time it was a picture with Magic Johnson) and posting those pictures publicly. He sounds absolutely disgusted by blacks. Which is nothing new. But here's the real gag--he said these things to his girlfriend V. Stiviano -- who is half black and half Mexican herself!
She's pictured with Sterling below:
And V. seemed to oblige his wishes since she removed the Instagram pics he was upset about. Anything for a multi-million dollar penis, right girl? Pathetic. Racist white men who love sexing black women is nothing new...but now that Sterling's ish is public, the black woman he's sexing actually comes off more pathetic than him.
Here's the tea from TMZ:
Sterling rails on Stiviano -- who ironically is black and Mexican -- for putting herself out in public with a black person (she has since taken the pic down). But it doesn't end there. You have to listen to the audio to fully grasp the magnitude of Sterling's racist worldview. Among the comments:

-- "It bothers me a lot that you want to broadcast that you're associating with black people. Do you have to?" (3:30)

-- "You can sleep with [black people]. You can bring them in, you can do whatever you want. The little I ask you is not to promote it on that ... and not to bring them to my games." (5:15)

-- "I'm just saying, in your lousy f******* Instagrams, you don't have to have yourself with, walking with black people." (7:45)

-- "...Don't put him [Magic] on an Instagram for the world to have to see so they have to call me. And don't bring him to my games." (9:13)

Sterling has a documented history of allegedly racist behavior -- he's been sued twice by the federal government for allegedly refusing to rent apartments to Blacks and Latinos.

He was also sued by former Clippers exec Elgin Baylor for racial discrimination -- though a jury was ultimately not convinced and shot down Baylor's case.
He's also been known to allegedly refer to players as "N*ggers".
And if you're confused on how an NBA owner can be A-OK with blacks PLAYING for him, but does not want blacks attending games or being publicly connected to his or his girlfriend's lives (and being racist in other parts of his life), don't be. Slave owners never thought of blacks as fully human and often hated blacks in general--yet blacks were allowed to work for and around their family, even take care of their children. Not to mention the sexual relations that occurred between slave owners and their slaves. And since the NBA is often said to be a vision of modern day slavery, it's a similar concept.
We can only wonder if the players, of all races, will actually use the power they rarely realize they have and refuse to play until the owner is ousted. Or is that asking for too much? Surely seems that way. There has been barely any uproar about these leaked tapes, so it seems many folks are OK with being utterly disrespected as a human being, as long as they get their check.
Hopefully those YBF celebs who are just dying to be seen courtside at the Clippers game will think twice about supporting a team with a seemingly VERY racist owner who does not even want them there. But asking a celeb to not let thirst outweigh what's morally right is....asking for a lot.
The leaders of the Clippers team--both on the court (like Chris Paul and Blake Griffin) and off the court need to speak up. If they don't, they are silently co-signing on being disrespected as a human being, publicly, by your pathetic ass employer. And that's an incredibly sad scenario for the world--including their own kids--to see. Accepting any and all treatment for the sake of a check is a dangerous situation. When you're touted as a leader and a role model, you have to act like a leader when it counts. Not just sit back and collect your millions at all costs, because of the easy cop out -- "There's nothing we can do about racist people". I expect more. I expect them to not act like million dollar slaves. Hopefully others do too.
By the way, Clippers players have remained mum since this story surfaced. But Magic commented: "It's a shame that Donald Sterling feels that way about African-Americans....He has a team full of amazing African-American basketball players that are working to bring a championship to Clippers fans. The Clippers also have a strong minority fan base."
We shall see...
Photos: Getty
Rihanna Leaves Her Bra At Home, Hits The Brooklyn Vs. Toronto Playoff Game With Drake's Homie (And NBA Draft Prospect) James Young
Posted: 25 Apr 2014 07:33 PM PDT
Rihanna was living it up courtside at the Barclays center for the Brooklyn vs. Toronto NBA payoff game Friday night. But it's who she hit the game with....and what she forgot at home that had folks all a-Twitter. Deets inside...
Oh, hey Rih. And Rih's nips. As soon as Rihanna walked into the Barclays Center to take her courtside seat, everyone had something to say about her bra-less, see-through white shirt that put her boobs on full display.
The hottie strutted in with her tight ripped jeans, her bestie Melissa....and top NBA draft prospect James Young: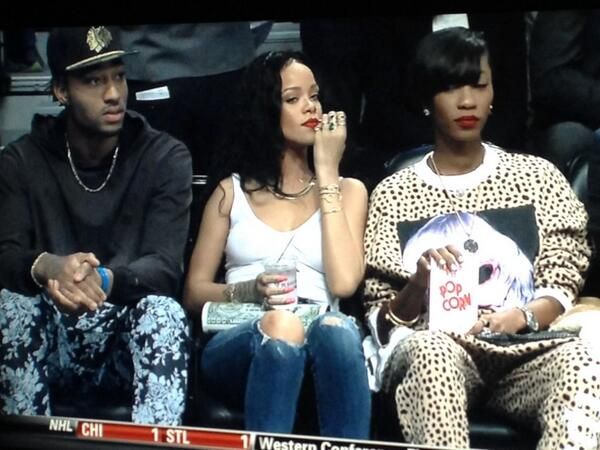 It's an odd pairing on the surface, but we did some digging and learned that James Young is not only a top NBA draft pick, but he also played on Drake's fave NCAA team, the University of Kentucky.
Drake was even spotted rocking his special created James Young logo jersey at the NCAA championship game a few weeks ago:
Interestingly, there have been (unconfirmed) rumors that Drake and Rihanna have cooled off their hot new relationship they never admitted to.
Maybe Drake just wanted his homie James and his homie-lover-friend Rihanna to bond over courtside tickets to see Toronto--the NBA team he's the official ambassador for.
Or maybe....
Photos/Videos: Brooklyn Nets' IG/ripcity3232's IG/rihannanavi420's IG
OH SNAP! Columbus Short Will NOT Be Returning To "Scandal" For Season 4
Posted: 25 Apr 2014 04:08 PM PDT
Olivia Pope & Associates just lost a Gladiator. Columbus Short has released a statement revealing he will NOT be returning for the 4th season. And word has it...he was FIRED! Read the deets inside…
With the recent drama—or better yet, scandal-- surrounding "Scandal" star Columbus Short allegedly threatening to kill his wife and take his own, we kinda saw this one coming.
Columbus will no longer be starring in ABC's hit scripted series "Scandal" when it returns for the 4th season. We were left on the edge of our seats in the season 3 finale when Columbus' character Harrison looked as if he was going to get shot by one of Papa Pope's agents. Guess we now know how it will end for Harrison on the show after he issued a statement revealing he's exiting the show.
In a statement released via his publicist, the actor said:
"At this time I must confirm my exit from a show I've called home for 3 years, with what is the most talented ensemble on television today. I would like to first thank [creator] Shonda Rhimes for the opportunity to work with such an amazing cast. Thank you GLADIATORS, who have supported me throughout my entire career and of course to ABC and Shondaland for allowing me to play such a pivotal role in the Scandal series. I have enjoyed every single minute of it. Everything must come to an end and unfortunately the time has come for Harrison Wright to exit the canvas. I wish nothing but the best for Shonda, Kerry and the rest of the cast, who have become like a second family to me in such a short amount of time. For this, I will forever be grateful."
You'll recall, Columbus was kicked out of his house by a judge after his wife filed for divorce (for the third time) and a restraining order against him after he allegedly tried to kill her. At the time of his and his wife's most recent altercation, he was in the process of being investigated by the LAPD for allegedly getting into a bar fight with another man, knocking him unconscious and breaking his nose.
Sources are saying ABC is firing him because of his personal scandal(s). Guess Shonda was nice enough to let him "step down" rather than just firing him.
Hope he gets it together. Because going back to those "Stomp The Yard" movies will NOT be what's hot....
Photo: Getty
FASHION FACE-OFF: Robin Roberts VS. Iman In Michael Kors
Posted: 25 Apr 2014 03:56 PM PDT
"GMA" anchor Robin Roberts is facing off against supermodel Iman as both ladies rocked a plunging Michael Kors dress this week. Decide who rocked it best inside...
Hello sexy ladies!
Robin Roberts was spotted heading to "Letterman" this week rocking a brown pleated Michael Kors dress from the Spring 2014 Collection ($2,995). She paired the dress, which has double slits and built-in embossed snakeskin belt, with a pair of black Jimmy Choo pumps and a David Yurman necklace as she was out promoting her new book Everybody's Got Something.
Iman rocked the exact same plunging neckline Michael Kors dress at today's Variety Power Of Women event in NYC. She hit up Cipriani 42nd Street in her ankle strap peep toe sandals and left her neckline bare.
So...
WHO RAN IT?!
Tamar Braxton BELTS OUT The National Anthem At Hawks vs. Pacers Playoff Game + Chrissy Teigen LASHES OUT On Twitter After Critics Called Her FAT!
Posted: 25 Apr 2014 03:24 PM PDT
Tamar Braxton opened up Game 3 playoff game between the Atlanta Hawks and Indiana Pacers with the National Anthem. Meanwhile, Chrissy Teigen ripped into commenters who called her fat on social media. Hear Tamar and find out what got Chrissy's panties in a bunch inside…
When she's not on Instagram sending "messages" to her husband's alleged side chicks, she's opening up NBA playoff games with her talented vocals.
Last night, Tamar Braxton kicked off NBA Playoff Game 3 between the Atlanta Hawks and the Indiana Pacers with her rendition of "The Star Spangled Banner" at Philips Arena. The "Love and War" singer is currently making her rounds on tour opening up for R. Kelly and will begin her own "Love and War" tour in Miami on May 16th.
While we all know Tamar can blow…some Twitter folks weren't impressed with her national anthem performance and made it VERY clear they weren't feeling it. But others felt she slayed her performance.
Check it:
Did she kill it or nah?
Meanwhile...
Might want to think twice before calling John Legend's woman fat!
Chrissy Teigen (pictured above at the 2014 MTV Movie Awards last week) went completely OFF on social media trolls who called her FAT after she posted a pic of herself in a white crop top and skirt while attending MTV's 2014 TV upfront presentation.
The Sports Illustrated cover girl, who is the FURTHEST thing from "fat", grabbed a screenshot of the negative comments and posted it on Twitter tweeting, "Honestly f*ck you all. Why do I even open anything up to you. In what other real life situation would you walk up to someone and tell them they're fat or gained weight? Seriously you are POS."
Damn!
Peep the tweets:
Wait...there's more:
She later apologized to some of her fans, blaming her Twitter rant on a long day saying:
Gotta love her...
Photos: YouTube/Chrissy's IG
A NEW DAY? Solange SWEARS OFF Signature Prints, EMBRACES New Style In ASOS Magazine
Posted: 25 Apr 2014 03:12 PM PDT
Are you ready for the NEW Solange Knowles? One of our favorite YBF fashionistas swears off prints, the very style that made her a top stylista, in a new ASOS pictorial. And she's revealing a new style. More inside.....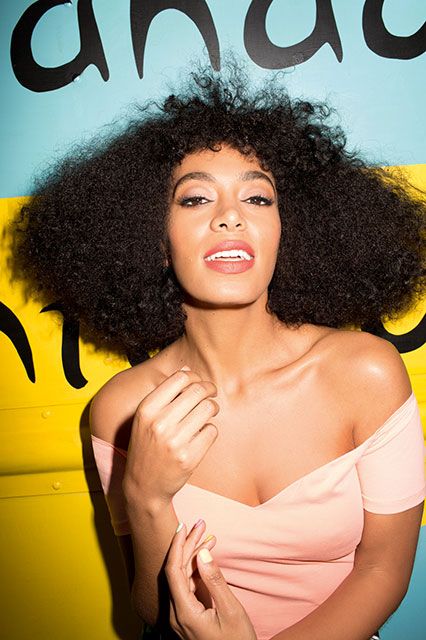 Any avid reader of TheYBF.com knows that we've embraced Solange Knowles for her love of prints. She's NEVER been afraid of colors, patterns, or contrasting materials....and we've respected & loved her for being an individual.
But in the lastest issue of ASOS, Solange has revealed that she's looking for something new. Something fresh. Something even more different.
While Soloange models a few "prints" for ASOS's JUNE 2014 issue, she revealed that she's ready for a style evolution...because too much is sometimes...TOO MUCH.
The super fab chick told the e-commerce fashion mag & site:
"I might be having a little evolution in my style"
"It's been a lot more subtle. I had a bit of print fatigue, it's been a part of who I am for as long as I can remember. But you want to evolve and experiment — that's part of the fun and joy of being a woman."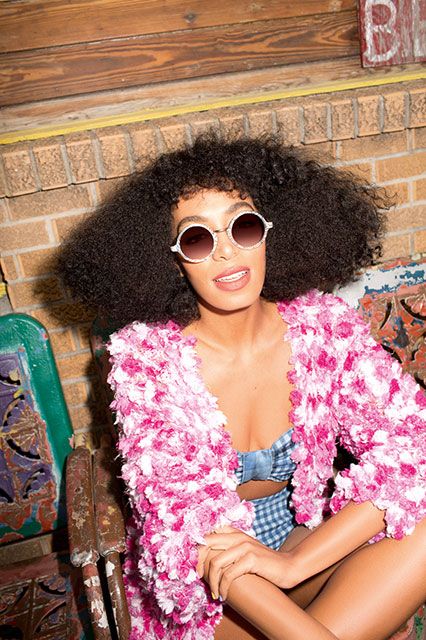 We're loving the pics....but are we ready to see Solange in solids?
Photos via BEN SULLIVAN/ASOS
SHOE FAB: Keyshia Cole Launches Second Steve Madden Shoe Collection At NYC Meet & Greet + Keyshia's "Next Time (Won't Give My Heart Away)" Video
Posted: 25 Apr 2014 02:02 PM PDT
Not only has Keyshia Cole been putting in work in the studio for her upcoming fifth studio album Point of No Return…she is also making moves in the retail industry with the launch of her second Steve Madden shoe collection. Check out pics of Keyshia's shoe line launch and her new video for "Next Time (Won't Give My Heart Away)" inside….
Keyshia Cole is on a quest to expand her brand with the launch of her second shoe line with fashion footwear designer Steve Madden.
On Thursday, the "Rick James" singer made her way to Macy's Herald Square in NYC for a meet and greet with adoring fans. Hosted by Steve Madden brand ambassador Julissa Bermudez, Keyshia appeared before a packed store of screaming fans to sign autographs and snap pics.

With her platform pumps, ankle booties and gladiator sandals in an array of colors and prints on display, KC gushed on her latest line saying, "As my second line with Steve Madden gets released, I want young women to feel they are the latest trendsetters, feeling sexy and being comfortable at the same time."
Keyshia and Julissa posed it up on the carpet rocking shoes from her new line. Key Key is wearing her KC-Maven gladiator sandal in pewter (which retails for $159) and Julissa is sporting the fire red peep-toe KC-FRNZY platform sandal (which also retails for $159).
Fab times.
Check out video of Keyshia's fans going wild during the event:
Chick has to get that money to handle that $162K tax lien…and that impending divorce.
Also...
Keyshia released new visuals for her second single produced by Mike WiLL Made-It, "Next Time (Won't Give My Heart Away)". In the Colin Tilley directed video, she sings about a broken heart she promises to never give away again. Check it out above.
Photos: Monica Schipper/Getty Images North America
YBF INTERVIEW: August Alsina's TESTIMONY On BRUTAL HONESTY, Why It's GOOD To "F*ck Up" & Standing By Chris Brown
Posted: 25 Apr 2014 12:03 PM PDT
As his debut disc Testimony tops the charts, Def Jam's August Alsina is speaking to TheYBF.com about sharing his journey, some of the media's biggest misconceptions about him and why he understands Chris Brown's struggle. More inside....
August Alsina is having a very good week. He first caught our eye (and ears) in 2012 as a new breakout artist collabo'ing with Lloyd on August's song "Sucka". And now, his debut album is making waves.
After years off hustling to break out of New Orleans' 9th ward, the Radio Killa/Def Jam artist has a gold single under her belt ("I Luv This Sh*t"), a chart topping album (Testimony sold 64K copies and debuted at #2 On The Billboard 200), and fans around the world are connecting to his mix of gritty story-telling, trap beats and R&B swag. During a 1-on-1 no-holds-barred interview with TheYBF.com, August comments on Chris Brown's legal troubles, clears up some of misconceptions and shares why he decided to be so revealing on his album.
On celebrating the success of Testimony:
"I'm finally being able to tell my story. Not only my story…just everybody in the struggle. Any struggle. Any shape, form or fashion. I finally got an outlet to speak on. I put so much of myself into the album that I really just want you to walk away with a piece of me. A piece of my soul. That's really what's its about. The album is for the people. A piece of my story. A piece of my heart. A piece of motivation."
On growing up in New Orleans (before and after Hurricane Katrina):
"New Orleans ain't the same. It's a different world out there now. There are different people in New Orleans that done came from all over. It's gotten way worse. More gritty. If you came up in New Orleans….you'd know the difference."
On vulnerability:
"Before I put the album out I thought to myself…how much do I give to the people? How much do I say? [I realized] my reality and my come up is not only my story...it's my family's story. But I never wanted anyone to feel like I was telling our business.
At a certain point, if you believe in your artistry, there's nothing to stop you from telling the truth. I just got to the point where I'm gonna tell the truth because I know that it may help some people."
On brutal honesty:
"I think that God sends you through a whole bunch of sh*t so you can speak on it. Not everybody lives your life and not everybody can do what you do. Not everyone knows your experience – if you can share and touch the next person why not do that?"
On the importance of f*cking up:
In each situation I always do what I feel is right. In any situation where I make a decision I'm gonna stand on it. If I make a decision there ain't no taking it back. I did it. It takes a f*ck up to know to do it the right way the next time. It takes a f*ck up to grow.
On the song "FML" (Fuck My Life) and Chris Brown:
It's like making it out of a situation, but still being trapped. At the end of the day, we're all using each other to come up. Some relationships are real…some are fake. People build you up on a platform just to see you fall and tear you down. That's were 'FML' comes from. Chris is a great guy....nobody understands. They just build you up so much. And everybody makes mistakes. The fact is...he makes his [mistakes] on tv. Ya'll see my f*ck ups. I don't see ya'lls.
On the biggest misconceptions about him:
A lot of people think I'm rude and cocky (remember the "106 & Park" outburst?). I'm far from that. I'm a real f*cking person. People make that assumption because I walk into a room and I don't have too much to say. But to be honest…this is real life for me. This is my lifestyle….I'm not gonna hold a random conversation with a random person.
------------
We like this guy.
Testimony is in stores now and can be downloaded here.
International fans can catch August during his upcoming international tour: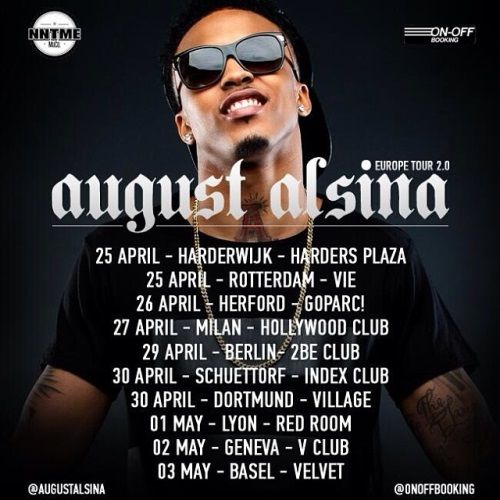 On Instagram...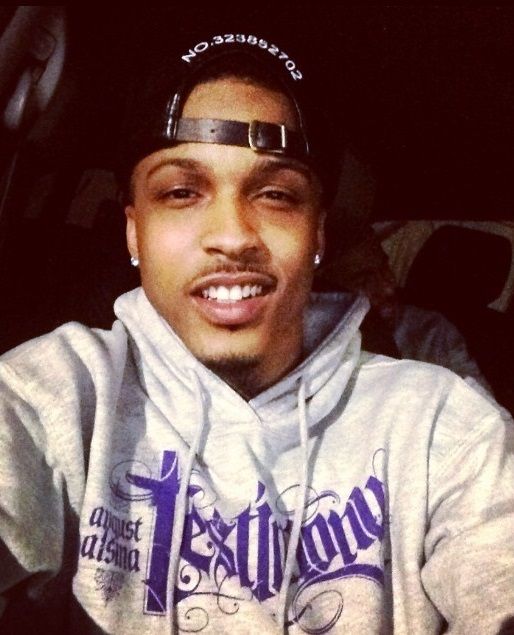 August posted, "Thank you guys for hearing & being apart of my #Testimony . I'm humbled. We gotta keep growing, take that #1 spot."

Photos via August Alsina's Instagram/Def Jam/Hannibal Matthews

EVENT FAB: Meelah Williams, LaTavia Roberson & Chef Roble DINE In Atlanta For BE Magazine's Influencers Dinner
Posted: 25 Apr 2014 11:33 AM PDT
New "R&B Divas" Meelah Williams & LaTavia Roberson along with Chef Roble partied in Atlanta last night for the #BEinfluencersDinner event. Check the BE Magazine cover girls' party pics inside…
After gracing the cover of BE Magazine's latest music issue, "R&B Divas: ATL" stars Meelah Williams and LaTavia Roberson along with "Chef Roblé & Co." star Roble Ali (who promoted his new cologne) hit up the magazine's "BEen Around the World" Influencers Dinner series last night in Atlanta.
The BE Influencers event kicked off with a French themed soiree complete with French inspired dishes prepared by Chef Kymmis, French wines and swanky out swag bags.
LaTavia and Chef Roble pose with the girls' BE Magazine music issue cover.
And LaTavia kept her fans in the loop on Twitter during the event, which won her a few complementary bottles of Smoke Liqueur for the best tweets of the night.
Fun times. And the ladies are looking great.
Catch "R&B Divas: Atlanta" every Wednesday at 10/9c on TV One. It's MUCH going on this season...
Photos: Tarilyn Johnson
Rihanna Gets PARADISE FEVER For Official VOGUE BRASIL Covers
Posted: 25 Apr 2014 10:37 AM PDT
Rihanna just shared the official new VOGUE Brasil cover with the world. And she's looking fabulous, as expected. Check the cover inside...
A previous version of Rihanna's VOGUE Brasil cover surfaced on the net over a week ago. That cover was unconfirmed, and could possibly be an additional alternate cover.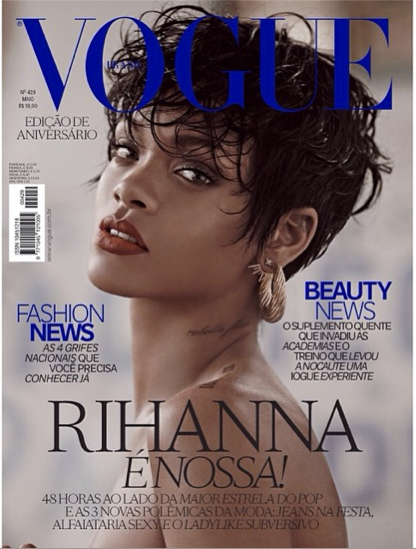 But the bad gal posted the official covers to her Instagram page today, showing off her sexy deep plunging, high slit dress against a back drop of palm trees in one. And a classically gorgeous shot of her face and wet short coif in another.
The entire spread was shot by photographer Mariano Vivanco in Brazil. Rih tweeted:
"Y'all some nosy heifers! Haaa! I can't take the Nhevi! Anyway…..I am the G in Vogue!! Is it too late now?"
Ha! Stunning covers for the 26-year-old pop princess.
Work!
Next up for Rih: The "Monster" tour with Eminem kicking off Augist 7th at the Rose Bowl in Pasadena.
Phoos: Rih's Instagram
'SPIDERMAN 2' NYC PREMIERE! Alicia Keys & Swizz Beatz, Pharrell & Rocket, Jamie Foxx & Annalise & More
Posted: 25 Apr 2014 10:06 AM PDT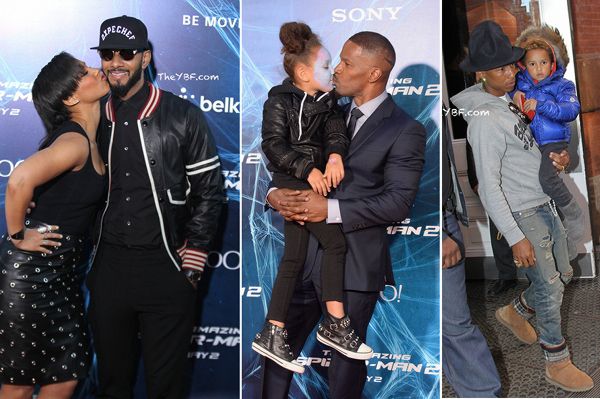 Last night in NYC, the YBF stars hit the carpet at the Ziegfeld Theater for the big Amazing Spiderman 2 premiere. Check out Alicia Keys and Swizz Beatz exchanging kisses, Jamie Foxx and his adorable daughter, Pharrell on daddy duty with Rocket and more...
Alicia Keys sexed up her Spidey senses as she hit the premiere of Spiderman 2 with her husband Swizz Beatz last night. The twosome got all kissy on the carpet before Alicia performed her, Kendrick Lamar's and Pharrell's song off the flick's soundtrack, "It's On Again".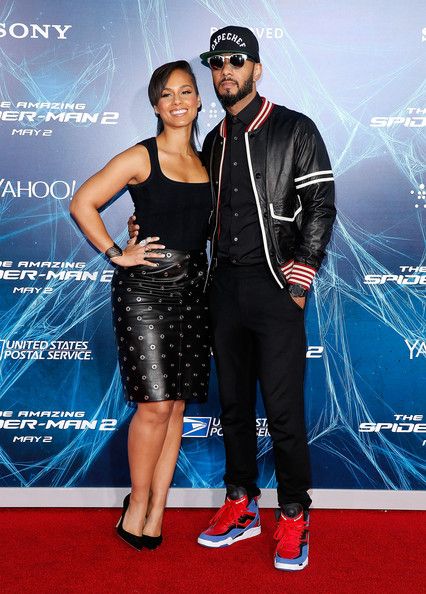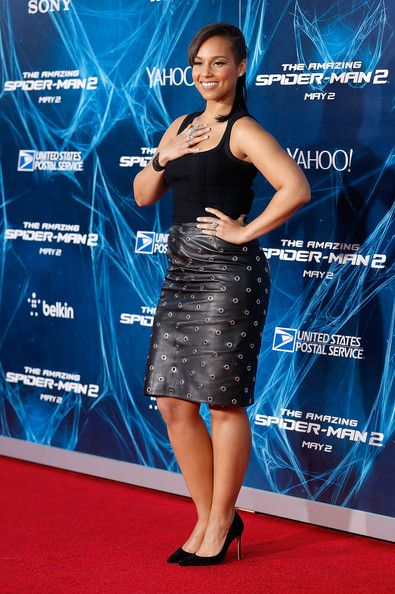 Chick is looking built these days.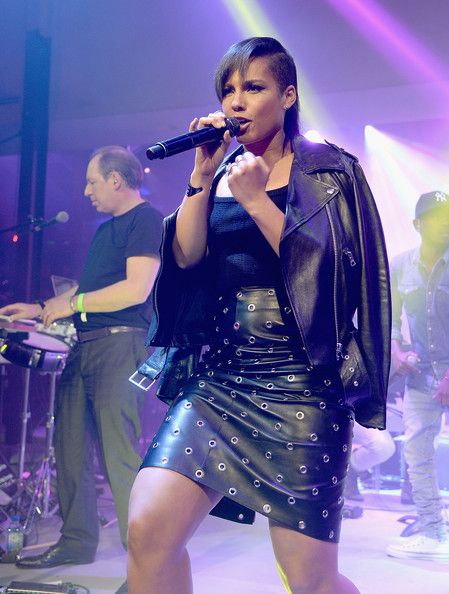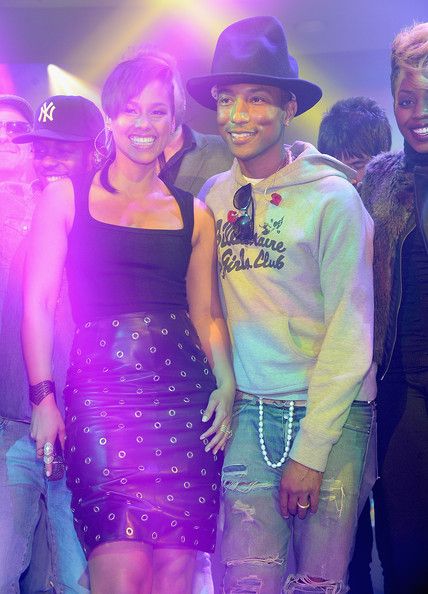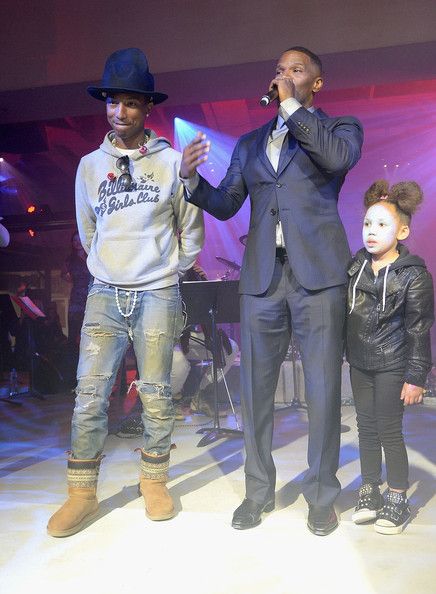 Jamie Foxx, who plays villain Electro in the movie, introduced the performance and had his daughter on hand with her face fully painted. Cute! But are those....UGG boots Mr. Williams? Or your version of them?
P and Helen were spoted arriving with son Rocket all bundled up: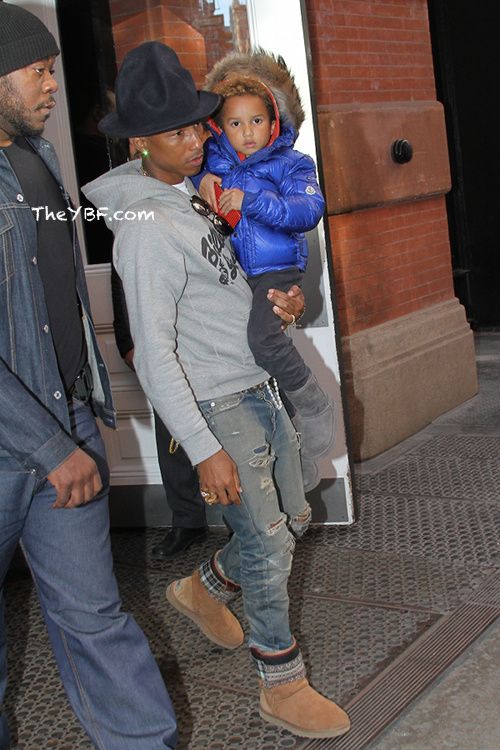 And they all stopped to chat with Russell Simmons while making their way from their hotel to the event.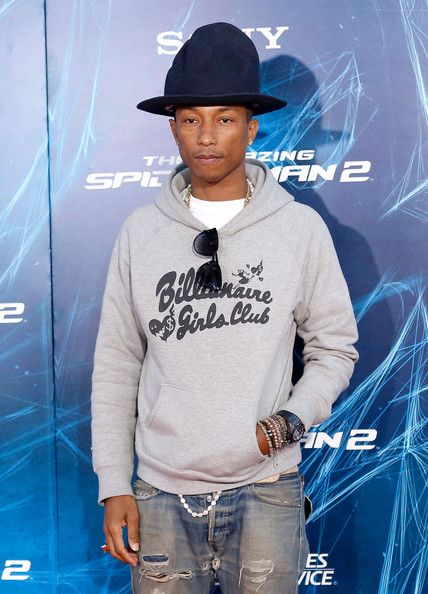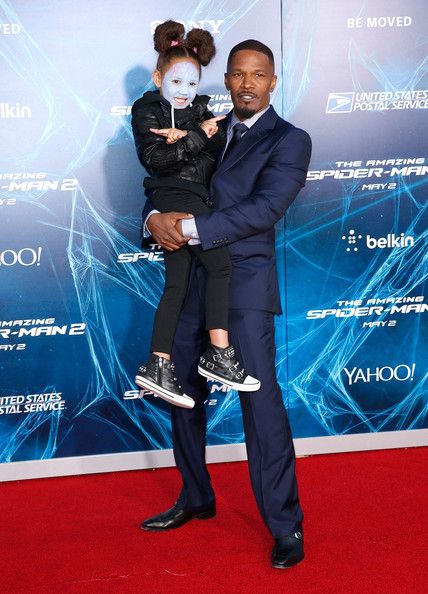 Jamie gave his little girl Annalise some kisses as they hit the carpet.
Selita Ebanks was there looking chic in a head to toe black and white Chloe look.
Montel Williams brought his wife Tara Fowler along.
And Kendrick hit the carpet before performing.
The sure-fire blockbuster hits theaters May 2nd. We'll be there...
Photos: Getty/PCN