---
OH: Mimi Faust On WHY She Made A Sex Tape And SHOWER ROD Tips + Lil' Scrappy Calls Diamond Out For LYING, Says He NEVER Abused Her
Posted: 22 Apr 2014 09:46 AM PDT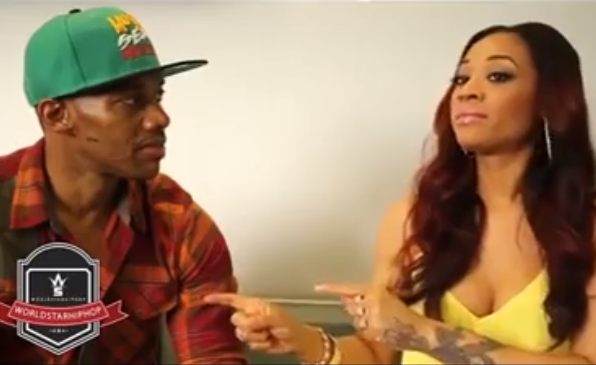 Mimi Faust and Nikko Smith explain why they made a sex tape and offer "shower rod" tips in a new interview. Watch the piece inside and get Lil' Scrappy's response to Diamond's accusations that he abused her.
Mimi Faust and Nikko are speaking out....as if their sex tape hasn't said enough! In a new interview, they explained that they enjoy taping their sexual escapades and had no intentions on their sex tape getting out. Also, Mimi said VH1 didn't have anything to do with the tape's production (so the lighting/camera angles/hair/body makeup was all done by herself and Nikko?), Stevie J's opinion doesn't matter, Joseline is jealous that she doesn't have the shine anymore and yes, she loves Nikko. Apparently having this type of "shine" is something to be proud of....
They ended the interview by offering "shower rod tips" (Mimi says your partner has to be able to support you) and they hinted that they MIGHT be working on a book about sexual positions.
Of course.....
In other LAHH ATL news.....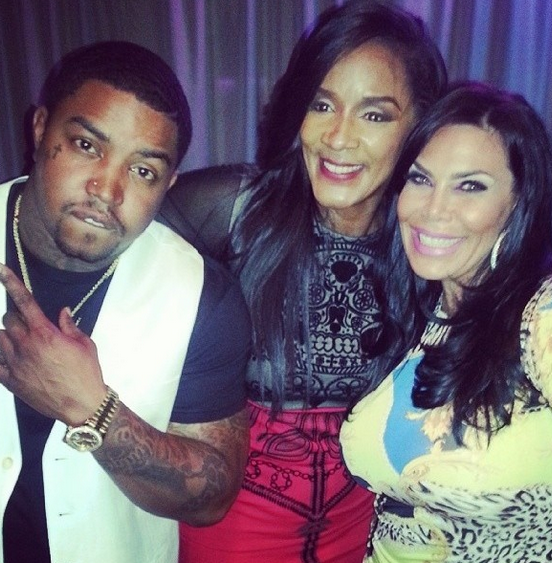 Lil' Scrappy and Mama Dee (shown above with "Mob Wives" star Renee Graziano who we're wondering about--what's different with her face?) are pissed about an interview Diamond did with The Breakfast Club.
Let's rewind back to the interview itself. Diamond (who'll appear on T.I.'s upcoming Oxygen-reality show "Sisterhood Of Hip Hop") made a few shocking allegations on The Breakfast Club about Lil Scrappy abusing her and she said Mama Dee ruined her credit!
On Lil Scrappy being abusive: "You wouldn't see me near him [Scrappy]. He just flawed. He's a b-tchass n-gga. No b-tchassness. [...] He was mentally abusive, physically abusive. We fought. You ain't beating my ass. We gon' fight! So if that's what you wanna call it, but if you fighting a n-gga, there ain't but so much you can win. He got some issues and need some help."

On Scrappy saying she cheated on him with Soulja Boy and Mama Dee ruining her credit: "We wasn't even together. We were living together but we were separated. I was supposed to move. I got his mother [Momma Dee] an apartment. And then she trashed and messed up my credit at one point in time. Terrorize, wrote all on my posters, 'Trick, Slut, Hoe.' I co-signed for her a condo. We [Diamond and Scrappy] were already separated and I was helping him raise his child. I was like, 'You got baby girl. Y'all keep the house and I'll get me an apartment. It's nothing.' That's when Momma Dee had her situation and she was getting put out. So I'm like, 'Sh-t, I damn sure ain't finna be in no house with Momma Dee.' I get her an apartment. 17 Street Lofts in Atlantic Station. Work, stack my bread a little bit more and get me a spot....He was already doing his thing. It's not my fault that I stepped out with somebody with who was younger, flyer and had more money. That sounds like a personal problem to me."
When the Prince of The South and The Queen of....the Prince...heard about the interview - they were not happy. The two promptly talked to TMZ and said Diamond is a "lying industry ho." Scrappy added that he bought "her $20K teeth and her fake ass." Scrap also claims he NEVER hit Diamond and her story about Gucci Mane slapping him is BS.
Watch Diamond go in on Scrappy and Mama Dee at (22:42):
Photos via Lil Scrappy's IG
Nicki Minaj Rocks Two Different Looks For "The Other Woman" Premiere + Tells "GMA" Why She's "Gone Natural"
Posted: 22 Apr 2014 08:35 AM PDT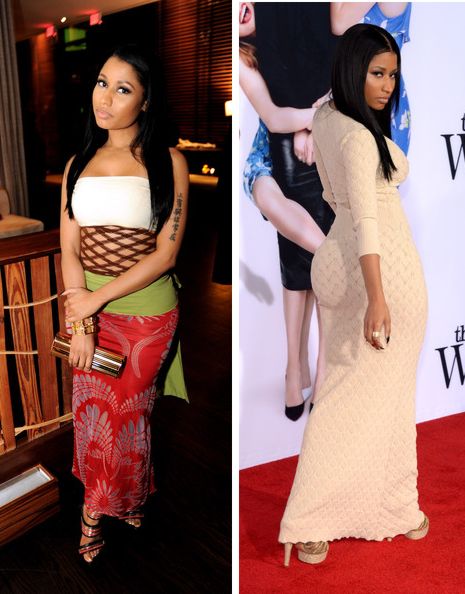 Nicki Minaj is finally dishing on why she switched up her look recently and is now giving us her natural steez. Plus, the rapstress hit the premiere of her upcoming flick The Other Woman last night in two different looks.
Check it inside....
Rocking a cream Alexander McQueen ribbed leaf knit gown ($2,835), Nicki Minaj served up a flawless nude face, her long natural tresses and claw-like nails for her big Hollywood premiere of Twentieth Century Fox's The Other Woman.
She showed up on the red carpet at the Regency Village Theatre Monday in Westwood, California showing off her ASSets in the curve hugging dress:
And she posed it up with co-stars Leslie Mann, Cameron Diaz and Kate Upton.
And at the afterparty:
Nicki arrived at the W Hotel in an interesting get-up. Can't decide what this is...or if we're feeling it. Almost like she plans to double as a belly dancer as the entertainment for the evening.
We feelin' it?
Nicki also spoke to "Good Morning America" this AM to dish about her new role as "Lydia" in The Other Woman. And while her character she plays is A-OK with dating married men, she says Onika Maraj is nothing like that when it comes to married men who date multiple women.
"No no no, I think marriage is sacred. If he wasn't married, I may play the game. I may enjoy that game. But if he's married, then you gotta go."
After talking about how nervous she was the first day on set, she said the pressure of getting her lines right in front of Cameron Diaz and getting her angles right in front of the camera were serious.
And while "Lydia" rocks a wig in the movie, Nicki is no longer doing that crazy wig ish herself. She revealed:
"Before my first album even came out, I said that on my third album, I would wear my natural hair. I did the wigs, I did the colors, I did the heavy makeup and all that stuff. And maybe I'm more confident in myself. I definitely think [having more confidence] is a valid argument."
Check out the full interview above.
Photos: Getty/Wenn/Nicki's IG

HAVING HIS SAY: Columbus Short APOLOGIZES For "TJMS" Interview, Says "I Was Not High Or Drunk"
Posted: 22 Apr 2014 08:04 AM PDT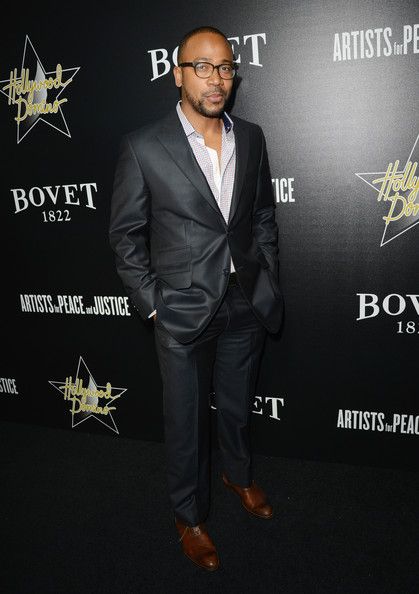 Columbus Short released a lengthy statement apologizing for his TJMS interview. You know, the one where he called Tom Joyner the N-word and gave the most awkward interview ever. Read the statement inside...
Following the "Scandal" finale, Columbus Short gave a very awkward interview to The Tom Joyner Morning Show that had many fans wondering about his mental state.
By now, we've all read reports about his violent streak and threats made against his wife...and the interview simply took it to another level. From his flippant attitude to his use of the "n" word....he had some explaining to do.
He has now released a statement where he's apologizing to his female fans, and also says he rarely using the "N" word and reassures viewers that he WAS NOT under the influence. Here it goes....
"TJMS, My sincerest apologies for the confusion over my appearance on your show last Friday morning. I am a long time supporter and admirer of The Tom Joyner Morning Show and I was looking forward to an opportunity to speak with you and your audience. Unfortunately, the early morning (approximately 5:45AM Pacific Time) following a late-night event had me at what some describe, less than my best.

To clarify a few of my statements:

1. I rarely use the "n" word and I could not have picked a worse time to do so. I deeply apologize for directing it towards you.

2. Regarding my statements about women being insecure, I am a strong believer and supporter of women and I am always amazed by all that our better halves accomplish. I come from a family of strong black women and I would never discredit or minimize their success. I have the deepest respect for women, their strength and innate beauty. To suggest anything else was never my intent. I simply wanted to emphasize that women have no reason to feel that way and my song, "Gave Ya", is meant to convey just that.

3. Lastly, just to clarify, I was not high, drunk or otherwise under the influence. I was simply exhausted. After a long day, the early call threw off my schedule.

This was no excuse – you and those who support me deserved better. Please accept my deepest apologies for any misunderstandings for that morning call. It would be an honor to appear on the TJMS in the future to set things right with your audience."
Does this change your opinion about him?
The Randomness:
1. Man accused of extorting Jay Z for his master recordings wants 100K, waiting on judge to determine rightful ownership. Story.
Photos via Getty Images
Amber Rose Rocks 4 Covers Of UNLEASH'D Magazine, Twerks It Up On the Set
Posted: 22 Apr 2014 07:14 AM PDT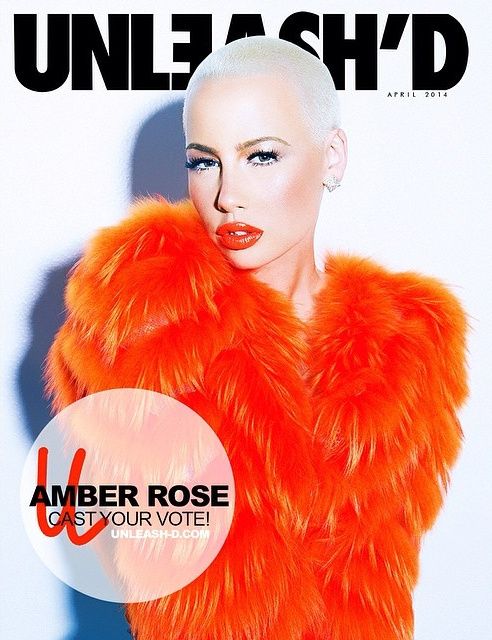 Amber Rose is getting back to her modeling career after marrying Wiz Khalifa and having his baby, Sebastian Tomaz. And this mama is looking pretty damn hot. Check the pics and twerk video from her Unleash'd shoot inside...
Mama Amber is rocking plenty of colorful looks in a stunning cover shoot for Unleash'd magazine, which describes itself a publication who displays profiles, music, photography, fashion and art in a visually striking magazine. And the mag is asking folks to vote on which shot they want as the final official cover.
The former dancer has turned her image into the chick who's a natural with modeling. And she's putting her skills on display. Check out the rest of her covers below: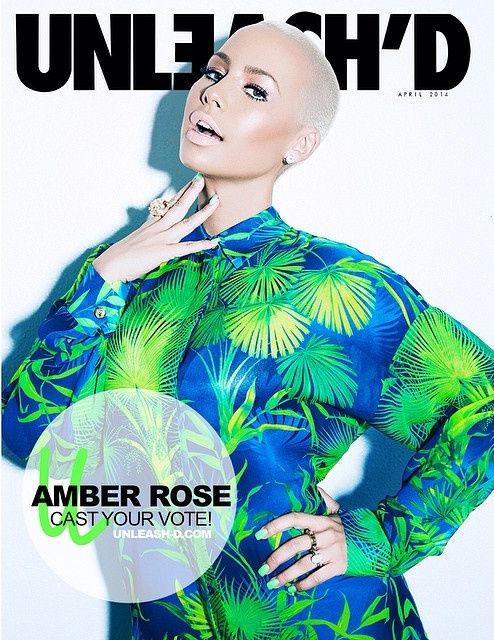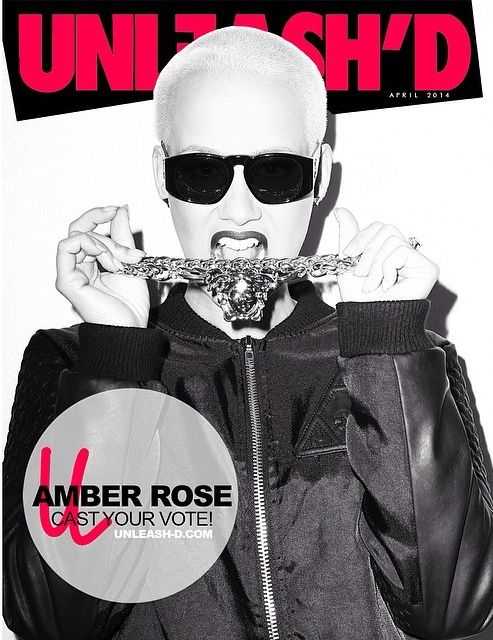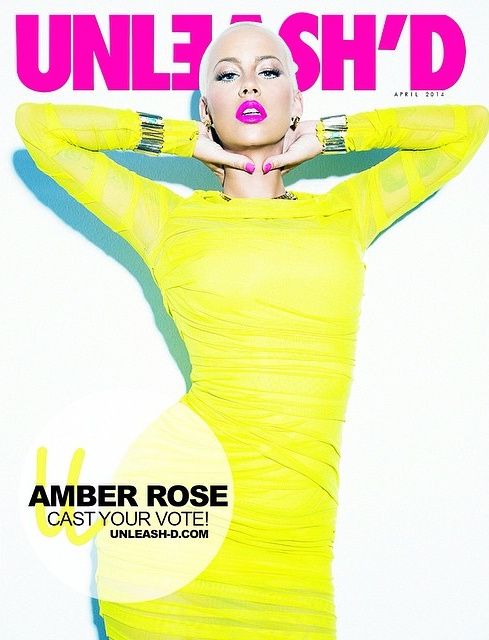 And while she was on set, she reminded folks she will never forget her moves from the strip club pole:
And video from her snapping pics:
Hot.
Photos/Video: Amber's IG
President Obama & First Lady Michelle Obama HOST White House Easter Egg Roll + Diddy, Mariah Carey, Swizz Beatz & More Celebrate Easter With Family
Posted: 21 Apr 2014 04:37 PM PDT
Easter Sunday was yesterday and we have a round up of some of your fave YBF celebrities enjoying the White House Easter festivities and cute pics of them spending time with their loved ones inside…
President Barack Obama and First Lady Michelle Obama kicked off the 136th annual White House Easter Egg Roll event today on the South Lawn at the White House with this year's theme being 'Hop into Healthy, Swing into Shape.'
On a beautiful sunny afternoon, President O and FLOTUS were spotted cheering on White House guests in a health and activity themed Easter egg roll race. The Obamas also enjoyed a fun filled day of live music, cooking, sports and storytelling with an expected 30,000 rotating guests.

President O sneaks in a quick kiss on his wife's cheek on the White House's Truman Balcony with the Easter Bunny close by.
And our Commander In Chief really got into the characters as he read the annual reading of Maurice Sendak's children's book, "Where the Wild Things Are." Cute.
Celebrity stylist June Ambrose attended the White House Easter Egg Roll event with her son Chance and daughter Summer.
Seems Big Sean is back to business as usual. After news broke that the G.O.O.D. rapper called it quits with his now ex-fiancee Naya Rivera, Big Sean was spotted at the White House alongside actor Jim Carey after his performance of "Right There" with Ariana Grande.
And this is how some of your other fave YBF celebrities celebrated Easter:
After storming the stage at Coachella last weekend, Diddy and the Combs Clan all got together to get in some family time for Resurrection Sunday. Diddy captioned the above pic, "Happy Resurrection Sunday! Happy Easter! Spend today with the ones you love! Wishing nothing but love and happiness to you and yours, Love #CombsFamily @quincy @princejdc @kingcombs #JessieJames #DlilaStar #FancyChancey"
Diddy's ex J.Lo spent time with her twins, boyfriend Casper, and her sister, cousins and fam at her home for Easter. How cute is this Easter decor?
Mariah Carey, hubby Nick Cannon and "Dem Babies" got in on some holiday fun posing in their bunny ears and dyed colorful Easter eggs:
Too cute!
And Swizz Beatz along with his wife Alicia Keys, his sons and his mom celebrated Easter surrounded by family members on a boat:
Check out Ariana Grande and Big Sean's "Right There" performance at the White House below:
Fun times!
Photos: Getty/Diddy's IG/ June Ambrose's IG/Big Sean's IG/Swizz Beatz IG/ Nick Saglimbeni
Lil Mo & Her Man "Dynamite" Out And About In NYC + Mo Releases "Loyal" Cover BLASTING Estranged Husband Philip Bryant
Posted: 21 Apr 2014 02:39 PM PDT
"R&B Divas: L.A." star Lil Mo and her new boy toy Karl "Dynamite" Dargan were seen hugged up as they walked the streets of New York City today. See their photos inside....
As the season 2 premiere of "R&B Divas: L.A." approaches, singer Lil Mo, in a rather interesting outfit and her new man Karl "Dynamite" Dargan were spotted in the streets of NYC.
The self-proclaimed "Hood Kim Kardashian" and her boxer boyfriend have been very open with their relationship after we revealed she had left her gospel singer husband Philip Bryant. The two have been parading around together showing off pics of their whereabouts on their joint-Instagram page.
Mo has been very vocal that she plans on marrying her much younger beau because she's not going to just be "anyone's baby mother" admitting, "When we humping we getting married." Oh.
We told you about Mo's new mixtape No Sh*t Sherlock (which dropped April 18th) and in her "Loyal" cover featuring raptress Da Brat she goes all the way in on her estranged husband Philip Bryant.
In the song she raps, "He said I ain't livin' right/Call Iyanla to fix my life/Don't be mad cuz a young boy cuffed your wife/It only took one try and I ain't think twice."
Damn!
Mo continued,
"Look back and now you look dumb. Won't you go tweet that, since you a thumb thug. See that a*s in court, yeah, my second divorce/N*gga f*ck your life/N*gga f*ck yo fort/What the f*ck I look like beating that dead horse/N*gga you is a corpse/N*gga you just lost…catch it."

"When a real n*gga love/a b*tch n*gga gonna be mad about/You shoulda been loyal."
Check it:
The season 2 premiere for "R&B Divas: L.A." (with new castmates Chrisette Michele and Leela James) will debut on July 10th at 10/9c on TV One.
Photos: GG/FAMEFLYNET
Posted: 21 Apr 2014 02:10 PM PDT
This 90s girl group starlet has gone on to become an international tv personality. Make your guess inside...
In the late 90s, this British diva was a member of one of the most successful girl groups of all time. Wait for it.......
The fab chick above (whom photographers cause fixing her undergarmets) is none other than "AGT" judge Mel B. Yesterday, Mel was spotted on her way to a photoshoot in Beverly Hills.
In between flicks of the camera, Mel took a few puffs from a cigarette.
Then....
Following the photoshoot, Mel was seen walking barefoot to a Cadillac Escalade when she changed clothes in the backseat. In other news, Mel recently wrapped up filming the new NBC series "The Pro" where she'll play Rob Lowe's girlfriend.
Photos via Juan Sharma/Bruja, Â/PacificCoastNews.

TALK SHOW CHICKS: Wendy Williams GLAMS UP New UPTOWN Magazine Cover + Keke Palmer Becomes YOUNGEST Talk Show Host In TV History
Posted: 21 Apr 2014 02:00 PM PDT
YBF actress Keke Palmer just landed a new gig as a talk show host and media personality Wendy Williams is gracing the newest cover of UPTOWN magazine. More inside…
Wendy Williams got glammed up for UPTOWN Magazine's April/May 2014 Travel issue as she donned an array of elegant gowns. During the UPTOWN interview, Wendy dished on her rise to the top in the media industry, racism, and the loves of her life…her husband and son.
On her career:
"I regret nothing in my radio career, nothing," says Williams, who also struggled with substance abuse during those times. She's publicly stated that she stopped using drugs in the late '90s because she wanted better for herself, which included being a wife and a mother. "I had to be that person back then to be the person I am today. The person who was on the radio then was authentically me. We all have our sloppy, greasy side. My original Wendy listeners, here in New York, they grew up with me. They come up to me all the time and say, 'Oh, I have been listening to you since I was 12.' I feel proud. I am glad that I have been able to evolve."

On her husband and her son:
"He is my manager, co-executive producer of the show and my biggest productive cheerleader. I love him." On January 20, 2014, while on-air, Williams broke out in tears, sobbing that her son, Kevin, Jr., 13, does not like her. Despite that emotional episode, she says she is not envious of her son's strong relationship with his father; in fact, it makes her proud. "I love that he has his father. It's a great thing, a black boy and his black father," she says before tearing up. She starts to cry. While reaching for a tissue, she whispers, "Sometimes, I will stand at our front door and watch Little Kev and his father drive off until I see the last puff of smoke from the car's exhaust. Then, I say to myself, 'It's good.'"

On racism:
"It makes me so proud that my black mother and my black father can sit in my audience and the camera can zoom in on them and, without them saying a word, the world sees: 'Oh my God, there is a full black family!' And my parents have been married for a hundred years! And, when my black husband and my black behind can pull up to my black son's school for a parent-teacher night and they see a full black family, that is really important. We need to discuss race not necessarily because I am being followed in the mall because someone knows that I am Wendy Williams, but because I am a black woman in the mall at 2 o'clock in the afternoon."
Here are the pics from her fabulous spread:
Fab!
Check out Wendy's full interview in UPTOWN magazine on newsstands now or check it out online here. Watch BTS video here.
In other tv news.....
YBF TV starlet Keke Palmer has added a new title to her resume. It was announced that Keke has nabbed her very own daily talk show that will air on BET. The show's working title is The Keke Palmer Project. The show has been picked up for an initial four-week run and will air Monday-Friday starting this July. The new gig will make Keke the youngest talk show host in TV history.
Sweet.
Photos: UPTOWN Magazine/Keke Palmer's IG

BUSTED: Former NFL Star Keyshawn Johnson ARRESTED For Allegedly STRIKING Ex-Girlfriend
Posted: 21 Apr 2014 01:00 PM PDT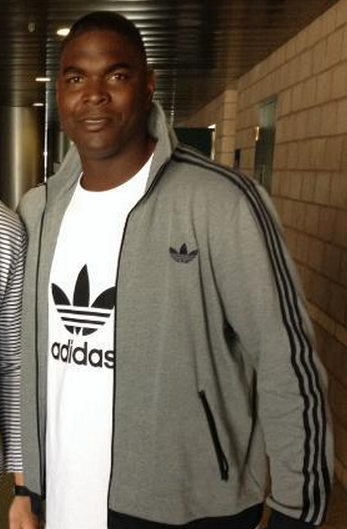 Former NFL star Keyshawn Johnson was arrested for a domestic dispute with his ex-girlfriend. Deets inside...
Keyshawn Johnson, a former NFL wide receiver with the Carolina Panthers and current ESPN football analyst, was arrested for domestic violence this morning.
TMZ Sports reports that a dispute erupted between Keyshawn and his ex-girlfriend in Calabasas, CA and it got physical. Law enforcement said Keyshawn smashed his ex's phone and caused a gash on her hand. Keyshawn was arrested for misdemeanor domestic battery after the alleged assault and released after he posted bail for 20K.
Story developing.....
Photos via Keyshawn Johnson Twitter
Chris Brown's Assault Trial DELAYED After Bodyguard Found GUILTY + Outkast HEADINES BET Experience At L.A. Live
Posted: 21 Apr 2014 12:00 PM PDT
Chris Brown's assault trial in Washington, DC has been delayed. Also, Outkast will hit the stage to headline at the BET Experience At L.A. Live event. Read all the deets inside…
After Chris Brown's misdemeanor assault trial started in Washington, DC today, things were quickly brought to a halt after Breezy's bodyguard was found guilty of misdemeanor assault.
Chris' bodyguard, Christopher Hollosy, admitted to punching the victim after the man allegedly tried to get inside of Breezy's tour bus outside the W Hotel near the White House last October. The judge in the case ruled he "was not justified" for hitting the man and found him guilty.
In an effort to avoid self-incrimination, the bodyguard plans to appeal his conviction and decided not to testify in Breezy's trail. Hollosy is a key witness in the "Loyal" singer's case so Breezy's trial has been delayed until Wednesday.
Days after his horrid mugshot was released, his on-again off-again girlfriend Karrueche, his mother Joyce and rapper Bow Wow showered Chris with support as they were spotted arriving to court on Friday.
If Breezy is convicted, it could land him in jail for up to four years.
In other news…

After two epic performances at Coachella Music & Arts festival for their reunion tour, it was announced that Outkast will be headlining this year at the BET Experience at L.A. LIVE at the Staples Center in Los Angeles on June 27th – 29th.
Celebrating 20 years since the release of their debut album Southernplayalisticadillacmuzik, the hip hop duo will take the stage at the Staples Center on Saturday, June 28th (the night before the BET Awards) along with performances by Rick Ross, A$AP Rocky, K. Michelle, Ty Dolla $ign, August Alsina and hosted by DJ Khaled.
The BET Experience at L.A. Live will also feature additional performances from Jill Scott, Maxwell, Trey Songz, Mary J. Blige and more.
Check out the weekend schedule below:
FRIDAY, JUNE 27, 2014
STAPLES CENTER
• GRAMMY® Award winning artists Maxwell and Jill Scott joined by Marsha Ambrosius and Candice Glover
CLUB NOKIA
• ComicView Live! Hosted by comedian, Sommore featuring comics, Karlous Miller, Lil Rel Howery, Ray Grady, Sydney Castillo and Zainab Johnson
• Future kicks off the Late Night Concert series with DJ Khaled and friends

SATURDAY, JUNE 28, 2014
STAPLES CENTER
• Outkast, Rick Ross, A$AP Rocky, K. Michelle, Ty Dolla $ign and August Alsina hosted by DJ Khaled
CLUB NOKIA
• Centric Presents: The Next Comedy All-Star hosted by comedian, Joe Torry featuring comics Red Grant, Gary G-Thang Johnson, Nika Williams, Malik S., Rudy Rush
• The Roots Present Hip-Hop with Special Guests

SUNDAY, JUNE 29, 2014
STAPLES CENTER
• Queen of Hip Hop Soul, GRAMMY® Award winning artist Mary J. Blige, Trey Songz, GRAMMY® and Oscar Award winning artist Jennifer Hudson
NOKIA THEATRE L.A. LIVE
• "BET AWARDS"

Nice!
Photos: Splash/Big Boi's IG
Drake Dines With Friends In Toronto...WITHOUT Rihanna + Drizzy Takes A JAB At Jay Z During Raptors vs. Nets Game
Posted: 21 Apr 2014 10:34 AM PDT
Canadian rapper Drake was spotted in his hometown, dining out with friends...sans his boo Rihanna. Check the pics and find out what Drake said about Jay inside…
After seeing Drizzy and Rihanna practically together everywhere lately, it's a surprise the two skipped out on celebrating Easter and 4/20 together. RiRi spent her 4/20 with a private smoke session with her bestie M. Dollas while Drake trekked back to his hometown where he was seen grabbing a bite to eat in Yorkville, Toronto with some friends.
After dining with hometown friends, Drizzy hit up the Toronoto Raptors vs. Brooklyn Nets game where he sat courtside at the Air Canada Centre.
Drizzy spoke to TSN commentators as he gave commentary of the game and suddenly took a jab at Jay Z and his beloved Nets saying:
"This [Raptors] is the people's team. Jay is somewhere eating a fondue plate. it's our time, we got to keep it competitive"
Seems the "Trophies" rapper is going to keep coming at Jay for his love of the finer things in life.
Check it:
In other Drizzy news…
Today, Drake will be hitting the stage at iHeartRadio's first-ever music awards show. The show will feature performances from Pharrell, Ariana Grande, Kendrick Lamar and others at L.A.'s Shrine Auditorium.
The iHeartRadio Music Awards will air on May 1st on NBC at 8pm/EST.
The Randomness:
1. Chance the Rapper had to cancel his Coachella set after becoming ill and hospitalized. STORY
Photos: PCN/@wordornd IG

SPOTTED: Angela Simmons & Sevyn Streeter AT The "Preserving the Beauty of Our Heritage" In-Store Experience
Posted: 21 Apr 2014 10:00 AM PDT
Angela Simmons & Sevyn Streeter posed for pics with fans at a recent Beautiful Textures event. See the photos inside....
On Saturday, "It Won't Stop" singer Sevyn Streeter took part in Beautiful Textures' "Preserving the Beauty of Our Heritage" in-store experience in Chicago.
The event was held at Walmart and also featured tv personality and business woman Angela Simmons.
The attendees took part in one-on-one interviews with Angela and Sevyn (who expressed their love of the products) and were treated to songs from Sevyn's debut EP, "Call Me Crazy, But..." The ladies also signed autographs and took pictures with their fans.
The event was hosted by WGCI's Loni Swain (grey sweatshirt) and featured WGCI's DJ Phantom on the turntables as Strength of Nature Global Brand Manager Camila Crews (far right) and Strength of Nature Global Marketing Director, Charlene Bastien-Dance (far left) who touted their products.
Photos www.ExclusiveAccess.Net/Thaddaeus McAdams
SUNDAY FUNDAY: The Carters Enjoy Easter Sunday With Bunny Ears & An Easter Bunny
Posted: 21 Apr 2014 09:00 AM PDT
Beyonce, Jay Z and Blue Ivy spent their Sunday afternoon with a private Easter egg hunt and the Easter bunny. See the cuteness inside…
Aww…how cute is this?!
After partying hard backstage for the second weekend of Coachella Saturday night, The Carters enjoyed their Easter Sunday afternoon along with daughter Blue Ivy and Bey's mother Tina Knowles for brunch at the Beverly Hills Hotel's Polo Lounge complete with a surprise appearance from the Easter bunny.
The uber stylish fam got white hot fresh as they spent some quality family time having an Easter egg hunt for Blue, complete with her very own Easter bunny.
Bey looked cute and comfortable in a white two-piece short set with gold bunny ears and gold sunglasses, while Blue rocked her little gold bunny ears with her white and gold Easter dress. Papa Jay kept it casual in a printed button-up, white jeans and Timbs as he held little Miss Blue's hand as they walked around the hotel.
The Carters have been full of surprises lately, including unexpected appearances at Coachella and a rumored joint tour this summer.
A few days ago, Bey was spotted in a wedding dress on the back of a motorcycle with Jay Z on the set of a new project. We predict the pic is from the duo's "Part 2 (On The Run)" video or visual content for their upcoming rumored tour…or both.
Too cute!
Photos: Beyonce's Tumblr