---
ON THE MOVE: Rihanna SHOWS Off Her Killer Legs As She Shops For Kids Clothes In Hollywood + Brandy Gets FUNKY FAB In NYC
Posted: 23 Apr 2014 09:46 AM PDT
It's starting to get a little warmer and celebs are out and about. Rihanna hit up a kids' store in Hollywood displaying her killer legs, while Brandy hit the streets of New York last night with her 'fro looking gorgeous. Check their candids inside…
RiRi loves the kids! The "Monster" singer was spotted in a pair of denim daisy dukes, striped blazer and fire red lippie as she made her way to luxury baby boutique Petit Tresor in West Hollywood.
We all know Rih doesn't have any kids and isn't currently pregnant, so she was likely shopping for a family member or friend to pick up some designer digs for the kiddies.

Hot.
After shopping it up in Hollywood, Rih headed to dinner at one of her absolute favorite restaurants, Giorgio Baldi in Santa Monica. She looked her usual fashionable self in an oversized denim jacket and cherry brown knee-high boots.
And another singer out and about…
"The Game" star Brandy Norwood seems to be taking her recent break-up in stride as she has been keeping herself busy with appearances and hitting up red carpet events.
Last night, the "Wildest Dreams" singer was spotted looking fab in a Fendi funky printed black & yellow ensemble as she made her way around NYC all smiles.
Loving her hair!
A few months ago, we told you Brandy and her fiancé/manager Ryan Press called it quits on their relationship but still remain friends as he is still part of her team. And it seems to be working out for both of them...for now. Brandy will be headlining a show in Toronto with 90s groups Blackstreet and Mint Condition this August.
Where have THEY been?
BONUS:
Speaking of Rihanna, newly signed Washington Redskins wide receiver DeSean Jackson was hanging out with rapper The Game in Hollywood a few nights ago when he spotted Rih pulling off from Lure nightclub (where they both partied separately at the ToXic day party).
DeSean saw his chance to get in a word with the Bajan beauty so he ran up on RiRi and held a quick convo with her as she sat in her ride. The Game was standing next to D-Jax as his wingman.
After their convo, Rih quickly rolled up the window leaving DeSean looking like a schoolgirl who'd just talked to their crush for the first time. Dude was laughing and smiling with his friends as he and The Game walked back into the club.
Check out their exchange and DeSean's giddy reaction above. Rih has these dudes OPEN....

Photos/Video: PacificCoastNews/ All Access Photo/ SPW / Splash News/TMZ
NEW MUSIC: Boots' "Dreams" Ft. Beyonce + Jada Pinkett's PSA On Human Trafficking
Posted: 23 Apr 2014 09:18 AM PDT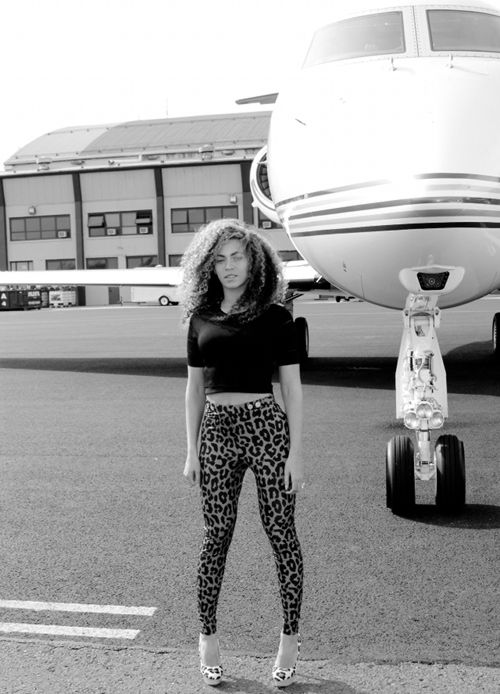 Beyonce lends her vocals to "Dreams" a new track from producer Boots, the mastermind behind "Partition" and "Drunk In Love." Listen to the track inside and watch Jada Pinkett's new PSA.
Boots aka Jordy Asher, the co-writer and producer of "Haunted," "Drunk in Love" "Partition" and "Jealous" from Beyonce's latest album, enlisted her to add some flavor to his single "Dreams."
The track appears on his upcoming mixtape WinterSpringSummerFall and sale proceeds will go to Day One, a non-profit organization devoted to teen dating violence. When asked about having Bey on the track, he told VOGUE,
"It's just a really cool testament to our friendship and relationship to do something like this. I feel like I've been given my wings to fly. It's the greatest kind of co-sign you could get, from someone who truly, truly believes in you."
Listen to "Boots"
In other news....
Jada Pinkett is in Atlanta working on a documentary about human trafficking and felt inspired to share her thoughts with her Facebook followers. We've been following Jada's journey to raise awareness about the global cause for a few years now and she seems more emblazoned than ever.
In the clip above, she focuses on how music and "messaging" sometimes convinces young women that stripping is a way to "come up." And how it can possibly lead to prostitution and women believing that manipulating men into exchanging sex for cash, is the definition of independence. Jada says struggles with issues like "women's choice" and "women's independence" and shares the dilemma she's trying to reconcile in her own mind.
Photos via Beyonce's Instagram/Jordy Asher via VOGUE
TV FAB: Kelis PERFORMS "Jerk Ribs" On "The Late Show With David Letterman"
Posted: 23 Apr 2014 08:19 AM PDT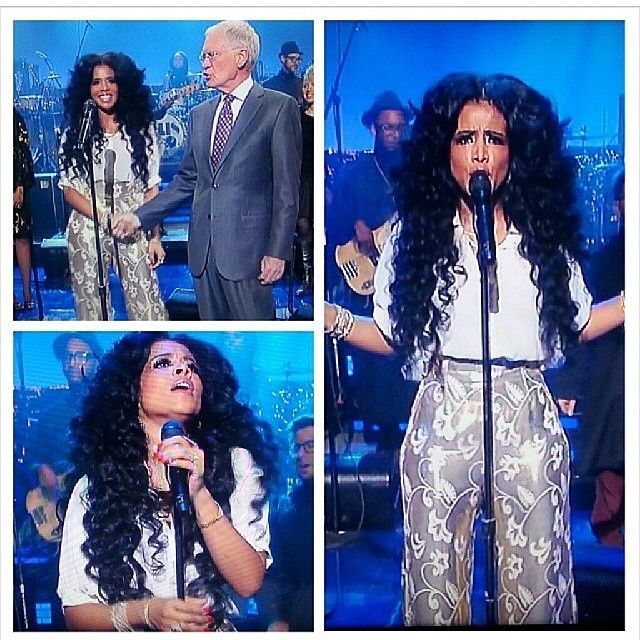 Kelis celebrated the release of FOOD with a performance of "Jerk Ribs" on the "Late Show." Watch the clip inside....
Kelis' latest album FOOD hit music stores yesterday and she rocked out with a performance on "The Late Show With David Letterman".
Kelis served the audience a helping of "Jerk Ribs", the first single from the new disc and also a popular recipe from her FOOD Network show "Saucy & Sweet." Following her performance, she and her team headed over to Mister H for the album's official release party. Fab times!
Watch the fab chick's performance below:
The Randomness:
1. The 2014 MTV VMAs are headed back to L.A. to The Forum in Inglewood on August 24th. STORY
2. The cough syrup that rappers love has been yanked off the market. STORY
Photos via Kelis' Instagram/Legendary Damon's IG

Lupita Nyong'o Is PEOPLE'S MOST BEAUTIFUL PERSON!
Posted: 23 Apr 2014 06:49 AM PDT
Lupita Nyong'o is OFFICIALLY having the best year ever. She was just named as PEOPLE Magazine's Most Beautiful Person! Deets inside...
PEOPLE Magazine has just announced its annual 50 Most Beautiful People issue. And while usually a YBF person gets a mention or two somewhere down the list....this year, the fairest of them all is Oscar winner Lupita Nyong'o!
She spoke about the honor in the new issue of PEOPLE, which she's covering, saying:
"It was exciting and just a major, major compliment. I was happy for all the girls who would see me on it and feel a little more seen."
Loves it!
The 31-year-old is arguably the best dressed person in Hollywood as well, and she's received every accolade possible this past year for her on screen talent, her off screen style and her message about beauty.
The Mexican born Kenyan beauty revealed how she first equated beauty with what she saw on television:
"Light skin and long, flowing, straight hair. Subconsciously you start to appreciate those things more than what you possess."
She said her mother, Dorothy, who is the managing director and head of PR for the Africa Cancer Foundation, "always said I was beautiful...And I finally believed her at some point."
And we're so glad she did! Because now, this flawless chick can relay that message to all the young women who are struggling to feel secure and worthy in a world so bombarded with unattainable (and skewed) images of beauty.
The 12 Years A Slave star, NonStop star and newest face of Lancôme said that as a teen, she dyed her hair every color -- except blonde -- and even went totally bald.
"It was very strange and very cold! It was scary but I like to dare myself."
As for the biggest compliment she's received:
"When I have been called beautiful with not one drop of makeup on. And also before I comb my hair or put on a pretty dress. Happiness is the most important thing."
Congrats Lupita! The Most Beautiful issue of PEOPLE is on newsstands this Friday.
Photos: Getty/PEOPLE
Kyla Pratt Shares ADORABLE Easter Pic With BOTH Daughters + Jhene Aiko HEATS UP GQ Magazine In Sexy Spread + Nia Long Gets NAKED For Allure
Posted: 22 Apr 2014 06:06 PM PDT
Kyla Pratt is all about her privacy after having a 2nd daughter without virtually anyone knowing. Rarely do we get to see Kyla's kids but recently she posted a pic of both of her darling daughters. Also, Jhene Aiko showed some skin for a GQ Magazine spread and Nia Long got nude for Allure. Check the adorable pics and Jhene's hot spread inside…
We told you not to long ago about "Let's Stay Together" actress Kyla Pratt literally having a second daughter with her boyfriend/tattoo artist Danny Kilpatrick without anyone knowing. But she recently shared the most adorable Easter shot of both of her adorable little girls.
3-year-old Lyric and almost 8-month-old baby girl (who's name we're still not sure of) were all smiles as they posed with the Easter bunny.
And Dad is loving being a father for the 2nd time around. Kyla's boyfriend also gushed on the cuteness of his new baby girl posting the picture above captioning, "About that Smile My momma said I sho kno how to make some Pretty babies Wuzup Pretty How u get So Pretty??? #KirkPatrickCamp My #POV #RightNow"
Cuteness.
And in a magazine shoot...
Singer Jhene Aiko has landed on pages in GQ Magazine for a sexy photo shoot displaying her toned, slim bod and flawless skin.
After hitting the stage at Coachella on both weekends, "The Worst" singer dished on they type of guys she prefers and how a guy can scoop up a chick like her, according to The Smoking Section.
"I'm pretty open-minded and so I like to give different types of guys chances. My ideal date would be driving with no destination and just talk, get to know each other, get lost. And I've actually done that with someone and it was a pretty good driving date. If it was was just like, 'Get ready' and then we're going mountain climbing, and I'm like, 'Wha? I have on flip flops.' I like to be spontaneous, but I don't like it to be a surprise.

"I grew up with all boys and so I've always been really rough. Now that I'm older, some guys feel like that's playing too much. Those aren't the guys for me anyway.

"'I just want to come up to you and tell you that you're really beautiful' and walk away. It makes you want to know more about why they came up to you. That's happened to me once and I still wonder about that guy."

Check the spread below:
Hot.
And in another sexy spread...
Single Moms Club actress Nia Long stripped all the way down (for the 2nd time after she posed nude while pregnant for EBONY in 2011) for the May issue of Allure magazine, along with Kristen Bell, Jenna Dewan Tatum and Minnie Driver.

The 43-year-old mother-of-two talks in the interview with the magazine about being uncomfortable naked, appreciating her body after it's transformation during pregnancy and how she prepped for the shoot.
"Posing nude is probably the most uncomfortable thing ever, and not from a spiritual sense. I'm still going naked. I can still take it off—two babies later. The point is to capture the true essence of beauty in our most comfortable state—and that is nude."

How did you prep for today's shoot? "I ran for 45 minutes this morning, and I haven't eaten a morsel. As soon as this is over, I'm grabbing a burger."

Have you ever skinny-dipped? "Oh, yes. It's kind of a thing I do on the regular."

Are there any body parts that make you self-conscious? "When you have kids, your body changes drastically. My boobs are not the same as they were before, I'm not going to lie."
We can only pray to look this good at ANY age…

Photos: Kyla's IG/Danny's IG/GQ/Allure
"Get Going" With Beyonce In BTS Video Of Toyota Commercial + Jermaine Dupri In Twitter War With Mariah Carey's Lambs
Posted: 22 Apr 2014 12:58 PM PDT
We have the behind the scenes of video of Beyonce in her Toyota "Get Going" commercial, plus deets on Mariah Carey fans having it out with producer Jermaine Dupri over Mimi's album delays inside…
In a behind the scenes look at Beyonce shooting for her Toyota campaign "Get Going" commercial, we get a sneak peek at the Queen in action as "XO" plays in the background.
You'll recall in the commercial, Bey tells the story of making her own decisions and facing the world with bravery, ever since she was a little girl.
During the shot, Mrs. Carter dished on the campaign sharing, "I feel like it's a very emotional spot. It goes through my growth and my childhood and who I wanted to be and who I have become."

Check it out below:
And in other music news…
Mariah Carey fans, or lambs as she likes to call them, have become frustrated with Jermaine Dupri as they patiently await the release of Mimi's newest album, The Art Of Letting Go. It's reported the highly anticipated album was pulled from Island Records release schedule and Mimi's lambs are pissed!
So what do they do? Take to Twitter to get some answers from the ATLien on WHY her album is still not being released. And they're pissed that it's been three years since the release of her last album.
Read the heated exchange of tweets below:
Is he mad or nah?
Of course Jermaine deleted the tweets soon after but we have to ask…what's the hold up?
Photos: Getty/Hennessy V.S

"RHOA" Nabs Record Reunion Show Ratings With 4.13 Million Views + Andy Cohen BANS Props!
Posted: 22 Apr 2014 12:21 PM PDT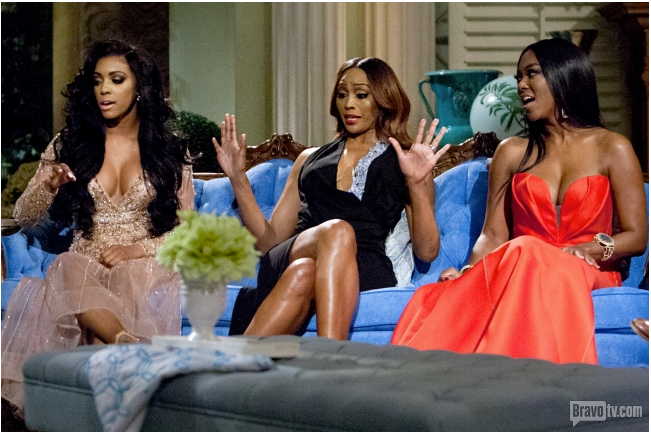 Well, it looks like Andy Cohen and Bravo got exactly what they wanted...all by allowing a hostile environment that provokes a group of black women to brawl on national tv. The "Real Housewives of Atlanta" reunion show--Part 1--nabbed record ratings for the network. Deets inside, plus the extra tardy response from Andy about props...
The Housewives and Bravo can now give themselves a pat on the back. They accomplished their mission of getting top ratings by any means necessary. And all of Bravo's promotion of the fight between Porsha and Kenya paid off.
Sunday's cable ratings are in and according to Zap2It, "RHOA" reunion won the night with 4.13 million viewers. This beats out the previous reunion ratings queen -- "The Real Housewives of New Jersey" -- who had around 3.8 million in a previous season. It even slightly beat out round 1 of the NBA playoffs on TNT Sunday night.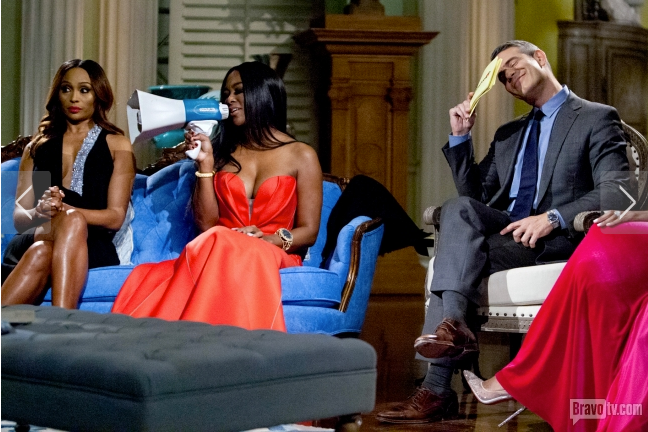 And now that the good folks involved got what they wanted after allowing Kenya Moore to provoke cast members with bullhorns and scepters in their personal space and laughing it up throughout the reunion show, Andy Cohen tweeted this tardy statement about the future of reunion shows:
It's official - no more props at reunions.

— Andy Cohen (@Andy) April 21, 2014
Oh....ok. Congrats to the ladies...
The Randomness:
1. VH1 Lays Off Majority of New York Development Team. STORY
Photos: Bravo
MESSY: Oprah's Stepmother Says Oprah KICKED Her Out Of Her Home Leaving Her HOMELESS!
Posted: 22 Apr 2014 11:20 AM PDT
Family feud! Oprah's stepmother is spilling some family tea on how Ms. Winfrey allegedly kicked her out of her home after 14 years, leaving her flat out homeless. Read the shocking allegations inside…
Around this time we start spring-cleaning and it seems Oprah is cleaning house. She is being accused of leaving her stepmother homeless!
Oprah Winfrey's stepmother is publicly speaking out for the very first time on a family feud she has had with the media queen. And according to her, Lady O played a major part in her failed marriage to Oprah's dad Vernon Winfrey.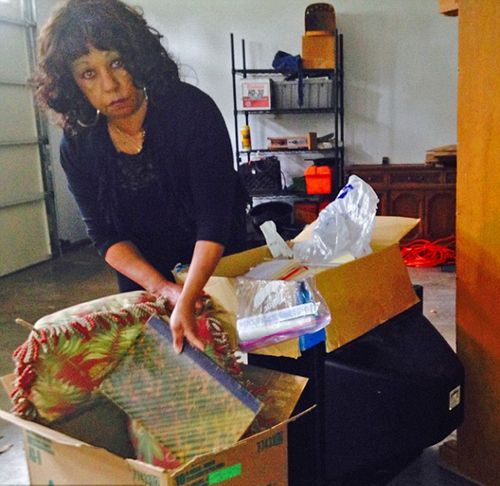 In an explosive candid interview with the Daily Mail, 66-year-old Barbara Winfrey (a former vice principal) reveals she's allegedly being kicked out of the home she shared with her husband for 14 years in the wake of their divorce.
Barbara was served with an eviction notice earlier this month and has until May 29th to leave the $1.4 million Nashville home.
"I have lost everything. It's not just a house, this is my home. All my memories are here," said Barbara.

"I'm trying to keep it together but there are some days I just don't understand how I could have made her so angry that she would kick me out on the street and think nothing about it. But that's Oprah – she's judge and jury."

Oprah bought a home in Nashville back in 2000 for her dad and her stepmother as a wedding gift. Barb claims once she and her now ex-husband decided to split, Vernon convinced Oprah to take back the home she had gifted them.
"I know people have read about this and thought, "Who does she think she is? Why should she get a million dollar home? But can you see it's not about that? It's about everything that went before. Look at how she has treated me. I laid my head next to her father for 14 years and she never thought me worthy of talking to. "
Barbara also went on to say that Oprah isn't the kind, caring person she portrays to be on television.
"Everything comes with stipulations but she doesn't tell you that and she doesn't tell you what they are."

"Some people can have money and be mentally rich – secure in what they have I guess. But others, how can I put it…some people you can't take the ghetto out of. That's Oprah, it's who she is and where she's from. She had money, everybody was going to know it and see it. But she had to be in control."
And she continued with her attacks on Lady O (brace yourselves):
'She was a horrible decorator. Money cannot buy you taste. She would put plaid with stripes and all sorts. In [her home in] Indiana she must have had 200 dolls, some of them looked like they could have gone back to the slave days, lined up on long benches in the hallway. It was creepy.'
....
And when she and Vernon arrived at Oprah's Chicago condo on one occasion she recalled, 'Oprah got on the intercom and announced, "Negroes in the house. Negroes in the house." She thought it was funny. I thought it was insulting. I'm older than her. I know what it means. She was reminding us of our low class.'
.....
'Her brand is that she's a nice, caring, generous, giving person. That's not how it is. She's controlling – it's all about control'.
Barbara also made claims that Oprah and Stedman are NOT together because they're madly in love but rather for convenience, money and a slew of shared secrets. She described Gayle and Oprah's relationship as "bizarre" and "unhealthy" and believes their friendship is the reason neither of them are married.
Read Part 1 of Barbara's full interview here. Stay tuned for Part 2…
This is so messy on so many levels…
Photos: Getty/Splash/Martin Cherry/Daily Mail/Barbara Winfrey
FROM CHIC TO CASUAL FAB: Selita Ebanks, Cynthia Bailey & Veronica Webb Get FAB For New Yorkers For Children Gala + Jada Pinkett Smith Goes Retro At LAX
Posted: 22 Apr 2014 10:24 AM PDT
Last night, Selita Ebanks, Cynthia Bailey & Veronica Webb came out to support the New Yorkers for children spring gala. And Jada Pinkett Smith kept it casual fab as she trekked through LAX on yesterday. Check out the YBF ladies serving red carpet fabulousness and casual fab when you go inside…
The 11th annual New Yorkers for Children's spring dinner dance to benefit youth in foster care in NYC was in full effect Monday night. The charity event was hosted by young people currently in foster care who are advocates and leaders in New Yorkers For Children programs. Nice!
Model Selita Ebanks hit the red carpet in a beautiful high-split Alon Livne gown with her hair swept to the back and barely there make-up. he paire dher look with the "So Kate" suede Louboutins, a Jacob & Co. bracelet and a Lauren x Khoo ring.
For the past five years, Selita has been involved with this organization after the former Victoria's Secret model revealed she went through the foster care system when she was very young. She revealed to Vanity Fair, "I was once a foster-care child at a very young age for a very short time, but it definitely did impact my life."
When asked what message she would like to deliver to the evening's attendees, she said, "I would tell them that, when they go home at night and take off their makeup, they should remember that they are just as human as the 12,000 foster children displaced here in New York."

After getting caught between Kenya Moore & Porsha Stewart's brawl (which resulted in a major nip slip) on the reunion show, "RHOA" star Cynthia Bailey was all smiles on the carpet in a black satin Kithe Brewster gown.
Cynthia posed with stylist/designer Kithe Brewster at the gala while donning one of his designs.
And model/actress Veronica Webb kept in fab in all white as she posed with her fiancé Chris del Gatto on the red carpet.
Also...
Fab mom Jada Pinkett Smith kept it causally cute as she walked through LAX airport on yesterday.
In a white tank shirt, pink distressed capris, a black fedora and polka dot & zebra print Christian Louboutin peep toe pumps, the Gotham actress ditched her red dyed tips for blonde highlights. Her daughter Willow recently showed off her new blonde crop cut…looking just like her mama.

40+ looks DAMN good...
Photos: D Dipasupil/Getty/INF