---
NSFW: TOP FUNNIEST Mimi Faust & Nikko Sex Tape MEMES + Joseline Hernandez RESPONDS To Mimi's "Granny Porn" Sex Tape Trailer [VIDEO]
Posted: 14 Apr 2014 04:25 PM PDT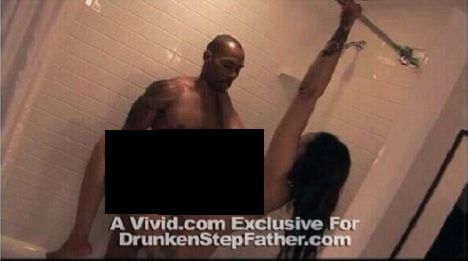 In a last ditch effort to remain relevant and to have an interesting storyline for "LAHH ATL," Mimi Faust and her boyfriend Nikko are releasing their homemade sex tape to the masses. And her co-star Joseline Hernandez had plenty to say about Mimi and her "granny porn." See the x-rated trailer and check out our collection of funny memes inside…
"Love & Hip Hop: Atlanta" star Mimi Faust and her man Nikko Smith have partnered up with VIVID to release their very own sex tape and how convenient that the trailer was released on the same day as the "LAHH ATL" trailer. Hmm...
We will get to see how this all unfolds in the upcoming season of "LAHH ATL" (premiering May 5th). In a VH1 press release, it explains how we will see Mimi having to cope with a "mysteriously" leaked sex tape starring her and boyfriend. Mysteriously leaked? Seems pretty strategically planned to us…
Since the release of the hardcore x-rated sex tape trailer video, it has captured many people's attention on social media, so we decided to gather our top funniest memes floating around on your timelines and Tumblrs, but you have to see the trailer first to understand the funnies in the memes.
WARNING! This is TOTALLY NSFW:
Wonder where the lighting guy stood? Lol...
Now check out our collection of memes that literally had us laughing out loud:
Former "LAHH" star K. Michelle got in a lick:
And of course Mimi's favorite person had to crack jokes on "old ladies" trying to be freaks, creating "granny porn":
Can you guess how many takes it took them to get the bathroom scene right without snapping that rod in half?
Photos: Vivid/@thecheesecakeking/@kellyayetee/@dammitman/@jayz_rib
Pharrell Williams Gets EMOTIONAL Shedding "Happy" Tears On "Oprah Prime" + Matthew Knowles PROMOTES New Book At Sync Summit
Posted: 14 Apr 2014 03:19 PM PDT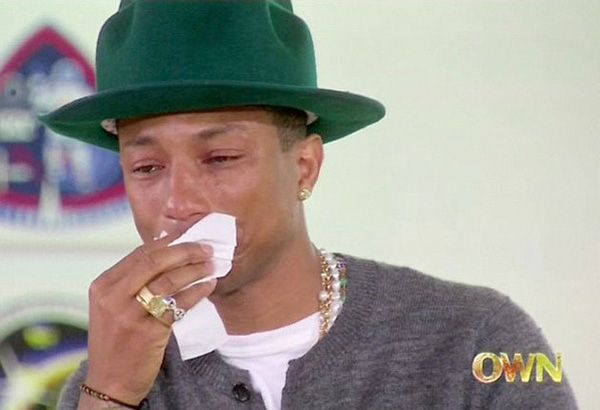 Super producer Pharrell Williams got so emtional on "Oprah Prime" he shedded tears of happiness, plus Matthew Knowles is promoting a new business and inspirational book. Read the deets inside...
After rocking the stage and going hoarse during his performance at Coachella this weekend, on Sunday night the premiere of Pharrell Williams' intimate sit-down with Oprah for her show "Oprah Prime" aired and it revealed a very sensitive side to the super producer.
We told you earlier that Pharrell was doing an interview with Lady O and in the interview P spoke with the media mogul about his rise to fame in the music industry and how his creative vision has propelled him to music superstardom. They also discuss his recent marriage to Helen Lasichanh, his upbringing in VA Beach and fatherhood.
But the "Happy" singer, in his green Vivienne Westwood hat, was bought to tears after Oprah showed him a video compilation of fans happily dancing to his chart-topping track.
"Why am I crying on 'Oprah'?" he asked as he fought back tears. He added, "It's overwhelming because I love what I do and I just appreciate the fact that people have believed in me for so long, that I can make it to this point to feel that," said a grateful Pharrell.
Check out a few clips from their candid interview where he explains why he named his son Rocket, the book that changed his life and his journey from producer to superstar below:
Also...
Matthew Knowles is making sure he keeps a check rolling in after it was announced that he would be the keynote speaker at the Sync Summit in the PCF Auditorium in Paris today. He's no stranger to the event as he delivered his first keynote speech with the Sync Summit last June.
The Sync Summit series offers high-level networking events for music supervisors, label executives, publishers, artists, brand managers and more in New York, Hollywood and Paris. So basically, If you work in the entertainment industry you definitely want to be in the building for networking opportunities and deal making.
And showing off his entrepreneurial skills (which did propel Bey to the top), Papa Knowles will also be promoting his new business book titled 10 Traits of Successful People: DNA of Achievers, which is scheduled to be published later this year.
Although Daddy Knowles isn't currently paying child support after getting caught up, he could definitely use the extra funds once he has to pay again.
Photos: OWN

BIRTHDAY FAB: Kevin Hart, Taraji P. Henson, LaLa Anthony, Michael Ealy & More Celebrate Will Packer's 40th With POSH Party In The Bahamas
Posted: 14 Apr 2014 03:05 PM PDT
Kevin Hart, Taraji P. Henson, La La Anthony, Michael Ealy, Angie Martinez and Tika Sumpter were among the celebs who traveled to the Bahamas for Will Packer's 40th birthday. Pics inside....
Famed Hollywood filmmaker Will Packer (Ride Along, Think Like A Man) celebrated his 40th birthday in Nassau, Bahamas in epic fashion with a group of his celebrity friends.
Will (shown above with director Tim Story and Kevin Hart) kicked off the festivities on Friday at the Atlantis resort's Cain Pool at the Cove Tower. The celebs were escorted (by private boat) to a private island soiree hosted by Perry Christie, Prime Minister of the Bahamas; Obie Wilchombe, Bahamian Minister of Tourism and Randy E. Rolle, Bahamas Consul General. While there, they dined on a seafood feast, live entertainment and were surprised by a traditional Bahamian Junkanoo parade. Then, The birthday celebration continued at Aura Nightclub inside the Royal Tower at Atlantis.
On Saturday, legendary baseball great Gary Sheffield, hosted all of Packer's family and friends at his Bahamian mansion for a day-long beach party sponsored by Ciroc and Crown Royal.
Will celebrated with fiancee Heather Hayslett, David Banner and The Honorable Terrinee L. Gund.
BET's Stephen Hill was there.
LaLa posed with Will and Heather.
Hey Kevin!
Funnyman Affion Crockett was there.
Atlanta Mayor Kasim Reed posed with the couple. Atlanta Mayor Kasim Reed posed with the couple. And Mayor Reed has plenty to celebrate after he proposed to his fiancée/former beauty queen Sarah-Elizabeth Langford AND is expecting their first baby!
Angie Martinez partied with Po Johnson.
Terrence J celebrated with Will.
Newlyweds Kandi and Todd posed with Tika Sumpter and Will.
Angie Beyince shared a few laughs with Will.
So......
What's next for Will? Think Like A Man Too hits theaters on June 20 and No Good Deed (a thriller starring Idris Elba and Taraji P. Henson) hits theaters on September 12th.
Photos via Thaddaeus/ExclusiveAccess.Net
MUSIC FAB: Jennifer Hudson "Walk It Out," ft. Timbaland, Wiz Khalifa "We Dem Boyz" Video + Jhene Aiko "Comfort Inn Ending" Freestyle
Posted: 14 Apr 2014 02:00 PM PDT
Inside, we have brand new music from J-Hud titled "Walk It Out," Wiz Khalifa's "We Dem Boyz" video and and Jhene Aiko freestlying on her new "Comfort Inn Ending." Check them all out....…
Jennifer Hudson has a new sound. The Oscar-winning songtress linked up with producer Timbaland and singer/songwriter Lyrica Anderson for the "Walk It Out" single, revealing a more sensual side to her amazing voice.
"I got you hypnotized / I got you staring from the look in your eyes / You wanna walk it out with me."

"Now boy you talkin' good sh*t, and I swear that you can get it," sings Jennifer.
Is that you J-Hud?
The Dreamgirl has an upcoming '70s inspired album including collaborations with Pharrell Williams, Babyface, and R. Kelly, who will feature on a soul track titled, "It's Your World."
Get hypnotized by J-Hud below:

Loving this!
And in new visuals...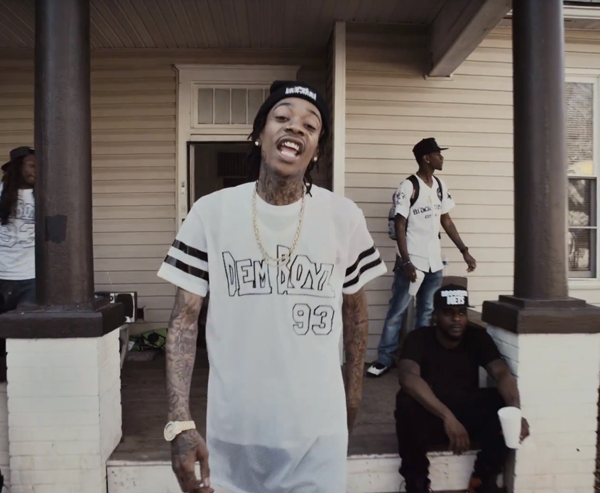 Wiz Khalifa hit the hood in a new video for "We Dem Boyz," a single from his upcoming album Blacc Hollywood.
In the Ethan Lader directed vid, Wiz joins in on a quick wake-and-bake session with his Taylor Gang homies and then starts walking down the block, where he bumps into Ty Dolla $ign. Soon after, he links up with up with B.o.B, Big K.R.I.T., and Rich Homie Quan and it becomes one big block party in the street.
Check it:
And in a new freestyle…
After surprising Coachella fans with Drake & Childish Gambino appearances, Jhene Aiko goes "Waiting To Exhale" on her cheating man by setting fire to his clothes and keying his car in the new "Comfort Inn Ending" Freestyle. The No I.D.-produced track is featured on Jhene's Sail Out EP and she's working on releasing her full LP titled Souled Out this summer.
See how Jhene finds comfort after ending her toxic relationship below:
Photos/Videos: VEVO/Rap-Up
MAGAZINES: Serena Williams On LEARNING To LOVE Her CURVES + BTS With Kerry Washington & Neutrogena
Posted: 14 Apr 2014 01:00 PM PDT
Serena Williams covers FITNESS Magazine where she open up about body image and loving her curves. See pics inside and see Kerry Washington making her first Neutrogena commercial.
In the May 2014 issue of FITNESS, tennis icon Serena Williams opens up about her body image and reveals that it took her many years to learn to love and appreciate her own skin. Here are the highlights:
Public Serena vs. private Serena
"I think of myself as two different people, There's the Serena Williams that everyone knows: She's crazy… She can't make a mistake... And she's angry and just not nice, to be honest. I'm only that person for three hours a day when I'm on the court. The rest of the time I'm just Serena. I'm the class clown. It's not the real me. Even for me, it's shocking to see. But in another way, it's kind of cool to know that I have everything together on the court, because I don't really have my life together personally."
On body image and insecurity:
When I was young I thought I should be built more like an athlete -long and lean- not with a womanly figure. But then people my age started coming up to me and saying, 'I love you because of the way you look.' That was really motivating. So I learned to be proud of my curves and embrace my large boobs. It's all about loving who you are and realizing that you're beautiful."
On having an healthy diet:
'It all started because I didn't want to bring bad food into the house.
I live with my sister, Venus, who has Sjögren's syndrome, an autoimmune disease. Before her problems I ate a lot of junk I also found out three years ago that I'm allergic to wheat, so I'm trying to eat a clean diet of natural, raw foods.'
book

Pick up Serena's issue of FITNESS today.
On television:
Kerry Washington (the new face of Neutrogena) posted BTS video from her first shoot with the brand. She captioned, "Yay! My 1st commercial with #Neutrogena debuts during #Scandal finale. BTS sneak peek. #VisiblyEven #NTGSpokesperson."

Photos via Kerry Washington's IG/FITNESS Magazine
WEDDING ERRANDS: Kanye West & Kim K SHOPPING For Wedding & Possible Venue Location In Paris
Posted: 14 Apr 2014 11:54 AM PDT
Kanye West and his fiancée Kim Kardashian were spotted hitting up luxe designer shops in Paris as they prep for their upcoming nuptials. See their candids inside…
Smile Yeezy! You're about to get married to (what he considers) your trophy chick.
Today, Kanye West and Kim Kardashian were spotted as they trekked through Paris running errands for their upcoming wedding ceremony. Kim was dressed as if she were heading out to a black tie event in a navy and silver embroidered ankle length dress paired with black booties, while Ye was laid back in a sweatshirt, jeans, and leopard print plimsolls.
The couple walked hand-in-hand as they hit up posh designer stores including Balmain, Givenchy and Lanvin. You'll recall Kim wore a Lanvin wedding dress for their VOGUE cover.

Yeezy got fitted for a custom-tailored suit at Cifonelli in preparation for their big day. We all know this will be a huge event, especially with Kris Jenner involved.
Soon after, the twosome enjoyed a visit to the Chateau de Louveciennes in Louveciennes, France - possibly considering it as the venue where they will exchange their vows. Must be nice...
Photos: INFphoto
VIDEO FAB: Alicia Keys ft. Pharrell Williams & Kendrick Lamar "It's On Again"
Posted: 14 Apr 2014 10:56 AM PDT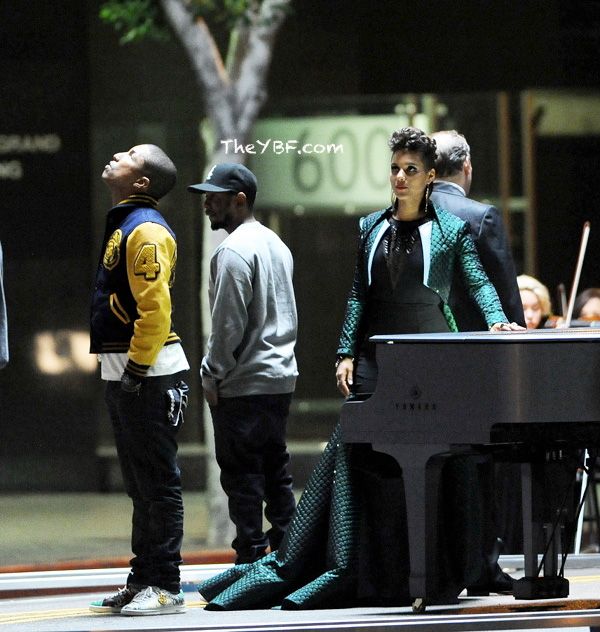 Alicia Keys tapped Kendrick Lamar and Pharrell to assist her on "It's On Again" from the Spiderman 2 soundtrack and the video has just been released. Peep Alicia, Pharrell & Kendrick join forces for the superhero track inside…
Alicia Keys, Pharrell Williams and Kendrick Lamar have released the video for the first single from The Amazing Spider-Man 2 (which features Jamie Foxx as Electro) soundtrack "It's On Again," which was shot in L.A. recently.
The video shows Skateboard P working behind the scenes as Alicia sings in an empty warehouse to the beat of the blinking lights inside the skyscrapers in downtown L.A. controlled by P. The video also features footage from the movie and a collaboration at the end from composer Hans Zimmer, Alicia, Kendrick & Pharrell.
Check it:
The Amazing Spider-Man 2 soundtrack drops April 22nd, while the film will debut in theaters on May 2nd.
Cousart/JFXimages/WENN.com/PCN
REALITY FAB: VH1 Releases New "Hollywood Exes" Artwork & Air Date + LaLa Anthony In The Bahamas & "LaLa's Full Court Life" Air Date
Posted: 14 Apr 2014 10:27 AM PDT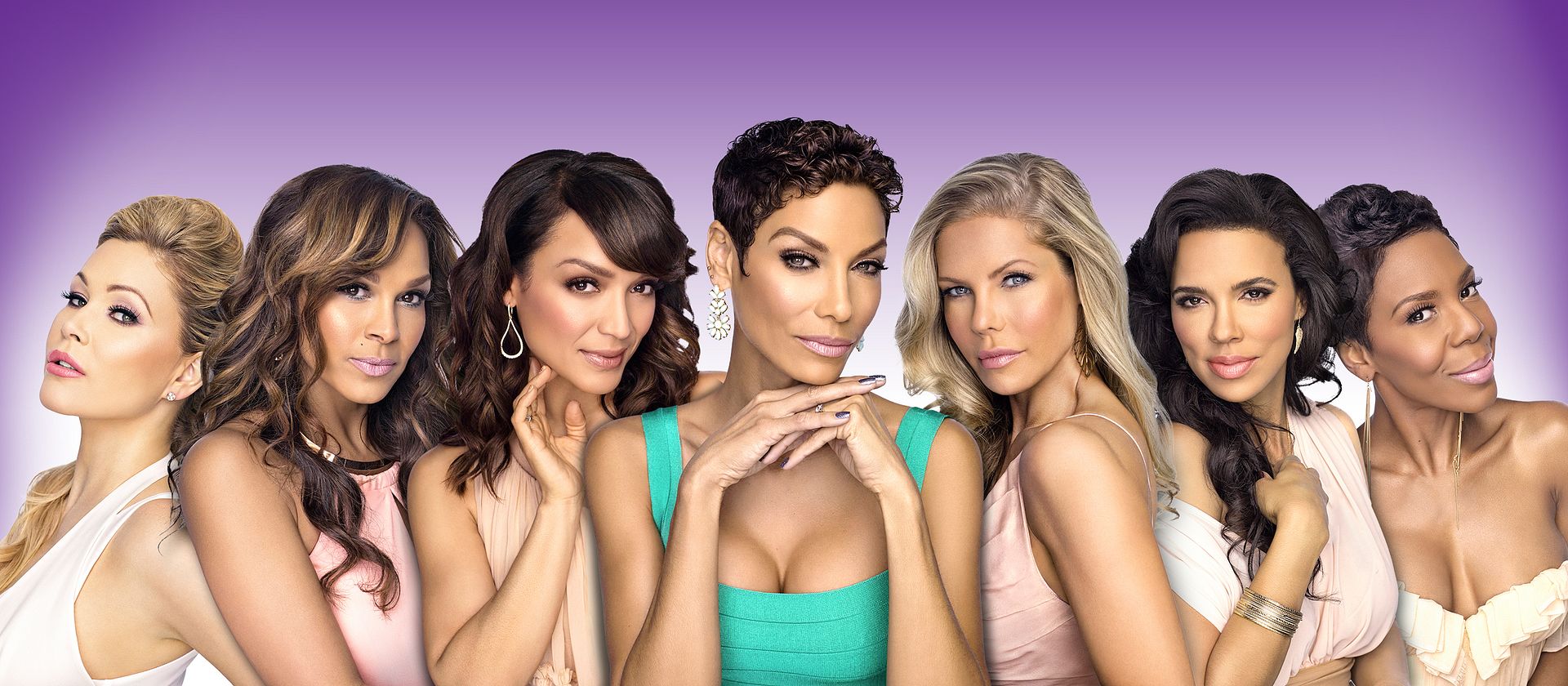 VH1 has released deets about the return of "Hollywood Exes" and "Lala's Full Court Life." More inside...
VH1 has released new art work for their hit series "Hollywood Exes" along with the new premiere date. Returning to televison on Wednesday, May 7th, 2014 at 9:00 PM ET/ PT, "Hollywood Exes" stars Nicole Murphy, Mayte Garcia, Sheree Fletcher, Andrea Kelly, Jessica Canseco, Shamicka Lawrence and newcomer Former Miss USA Shanna Moakler (ex-wife of Travis Barker).
But wait.....there's more!
"Atlanta Exes" featuring Tameka Raymond (ex-wife of Usher), Christina Johnson (ex-wife of Cee-Lo Green), Monyetta Shaw (ex-fiancé of Ne-Yo), Sheree Buchanan (ex-wife of former pro football player Ray Buchanan), and producer Torrei Hart (ex-wife of Kevin Hart) will premiere in the summer of 2014.
Also on VH1......
LaLa Anthony (shown above in a new photo from Will Packer's 40th birthday celebration in the Bahamas), is returning to VH1 with a new season of "LaLa's Full Court Life" on Wednesday, May 7th at 10PM ET/PT on VH1. This season, we'll see LaLa promoting her first book, The Love Playbook, a successful acting career, sold-out makeup line, Motives For La La and her clothing brand, 5th & Mercer. The show season will feature appearances from her friends Kelly Rowland, Trina, French Montana, Charlamagne Tha God and Swizz Beatz.
BONUS: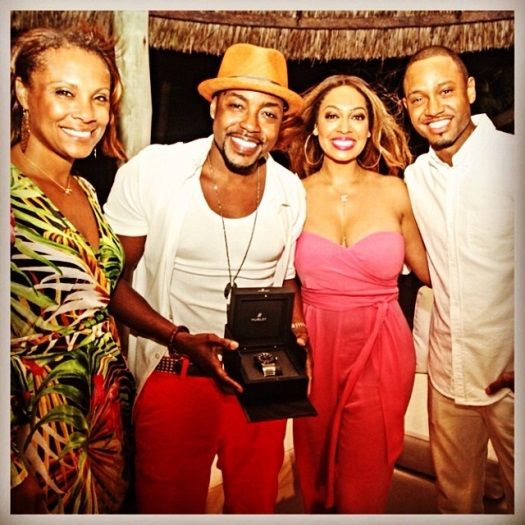 LaLa and Terrence J gifted Will with a watch for his birthday. Will said, "These are two of the dopest young actors in the game. I truly believe in their talent. They had me tearing up when they presented me with this DOPE ASS Hublot watch!!! Thank you @lala and @iamterrencej I love ya'll!!!"
Photos via LaLa's IG/Will Packer's Instagram/VH1
2014 COACHELLA EVENT FAB: Lance Gross, Karrueche, Jermaine Dupri & More Celebrate With Nas For 'Illmatic's' 20th Anniversary + Made in America Festival RETURNING To Philly
Posted: 14 Apr 2014 09:43 AM PDT
Yesterday, Nas kicked off the 20th anniversary for his classic album Illmatic with a brunch in Palm Springs. Check the pics of the fab event inside and read about the Made In America festival returning to Philly…
As Coachella wrapped up all the festivities for the first weekend of performances, Nas linked with Hennessy V.S to host an intimate brunch at the Ingleside Inn in Palm Springs. In case you didn't know, Nas is the face of the Hennessy V.S "Wild Rabbit" campaign.
As the Queensbridge rapper celebrates the 20th anniversary of his debut album Illmatic, he performed tracks from the legendary album before a packed audience with guests including Lance Gross, Karrueche, Jermaine Dupri, Lil Romeo, Eva Marcille and Damon Wayans:
Cutie Lance Gross and Nas stop for a photo-op.
Kae was all smiles with her Hennessy drink in her hand. Kae has been living it up at Coachella along with her bestie Christina Milian, riding Spyders with friends and stocking up on free gifts.
Jermaine Dupri came out to spin on the ones and twos.
And sexy Lil Romeo was spotted shirtless as he walked around with a drink in his hand. Lil Romeo sure doesn't look so "lil" these days...
After headlining Coachella on Saturday, Nas treated guests to an exclusive sneak peek of the "Time is Illmatic" documentary. The film revisits the making of Illmatic and gives fans a look at what fuels Nas to continuously innovate and push himself. "Time is Illmatic" will premiere at this year's Tribeca Film Festival on April 16th.
In other festival news, you'll recall that Jay Z's Budweiser Made In America festival was possibly moving from Philly to L.A....but it looks as if it will REMAIN in the city of brotherly love. Tickets are on pre-sale now. Nice!
Photos: Hennessy V.S