---
COUPLEDOM: Jason Derulo & Jordin Sparks At The iHeartRadio Theater + Flex Alexander & Shanice DINE OUT In LA
Posted: 16 Apr 2014 09:39 AM PDT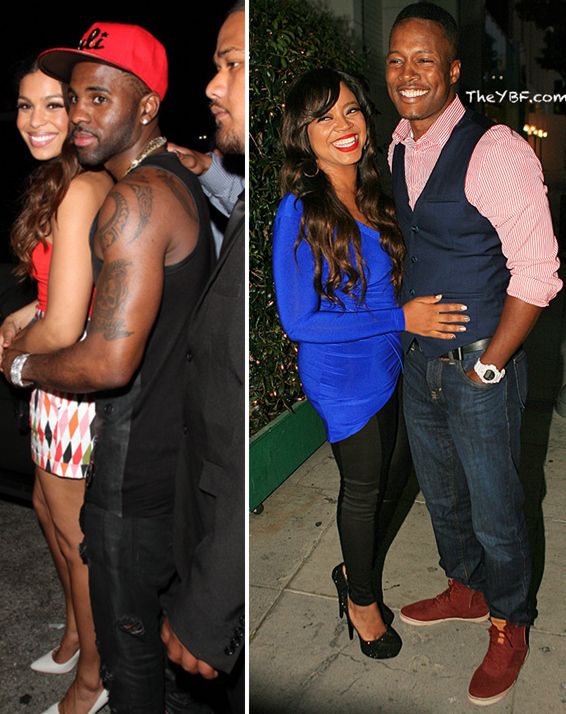 Hot YBF couple Jason Derulo & Jordin Sparks and Flex Alexander & Shanice were spotted out. See their candids...
"Kama Sutra" singer Jason Derulo and his cutie girlfriend Jordin Sparks were spotted at the iHeartRadio Theater in Burbank, California yesterday.
The adorable couple had just rocked the stage for Clear Channel's iHeartRadio Live series where they performed "Vertigo."
The exclusive performance was also a part of Jason's album release celebration for Talk Dirty (in stores now).
Afterwards, the couple dined at the Supperclub nightclub in Hollywood, California
In other couples' news.....
Funnyman Flex Alexander dined out at Mr. Chows in LA with his gorgeous wife Shanice.
These two just celebrated their 14th wedding anniversary this past Valentine's Day!
The rumor mill is buzzing that the "I Love Your Smile" singer and Flex are shopping a reality show. We'll keep you posted about developments....
Photos via Splash/Kevin Winter/Getty Images North America
Janelle Monae HONORED At Harvard College Women's Center + August Alsina's "Get Ya Money" ft. Fabolous Video
Posted: 16 Apr 2014 08:36 AM PDT
Soul singer Janelle Monae went Ivy League this weekend and New Orleans-native August Alsina has released "Get Ya Money" featuring Fabolous. Watch the video and find out why Janelle was honored at Harvard inside...
After headlining at Harvard's Yardfest 2014 over the weekend, Janelle Monae was awarded with the inaugural 2014 Award for Achievement in Arts and Media by the Harvard College Women's Center on yesterday. This award seeks to acknowledge a prominent performer who tackles questions of identity including sex, gender, and sexuality, in their performances.
The "Electric Lady" shared personal stories about her past, including how her mother and grandmother are credited for her success and revealed the significance behind her signature black and white tuxedo look she dons for her performances.
"Embrace the things that make you unique, even if it makes people uncomfortable," she said.
She revealed that her signature black-and-white tuxedo stage outfit is her paying homage to when she was a maid before she propelled in the music industry.
And she was also recognized as the 2014 Woman of the Year by the Black Men's Forum at their 20th annual Celebration of Black Women Gala. Nice!
Also...
August Alsina is ready for his close-up. The New Orleans native, who made headlines after a public spat with Trey Songz, tapped Fabolous as the guest star of his "Get Ya Money" single. It's the first track from his debut disc Testimony.
Check it:
"Get Ya Money" is on August Alsina's debut album Testimony, available on iTunes.
Photos: Bex Kwan
TV CHICKS: Tia Mowry Hardrict Gets ICE CREAM In LA + Tracey Edmonds RUMORED As Possible New Host Of "Extra"
Posted: 16 Apr 2014 07:58 AM PDT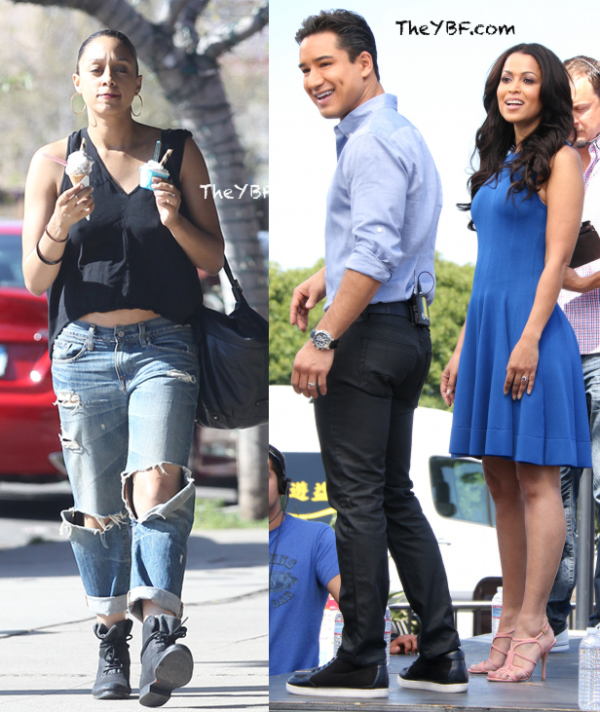 Small screen stars Tia Mowry Hardrict and Tracey Edmonds were spotted making moves in the Hollywood area. Find out what they were up to inside...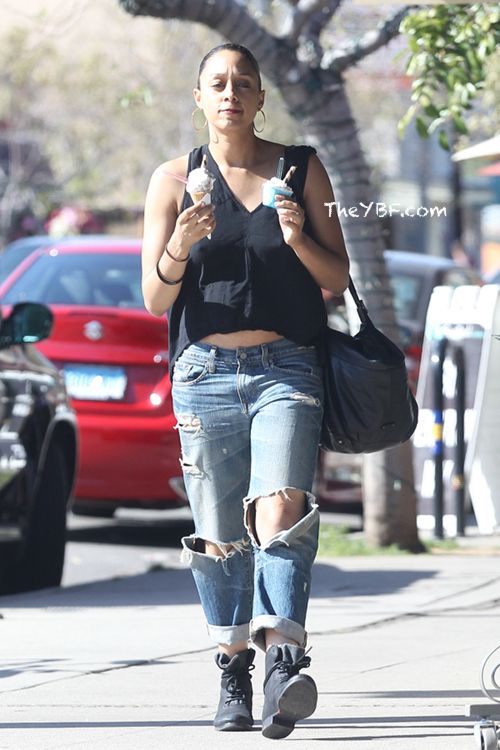 Tia Mowry Hardrict was spotted walking through LA yesterday.
While wearing a pair of ripped jeans and a short top, she carried TWO servings of ice cream. We wouldn't judge if they were BOTH for her. But her hubby Cory or her son Cree was probably nearby.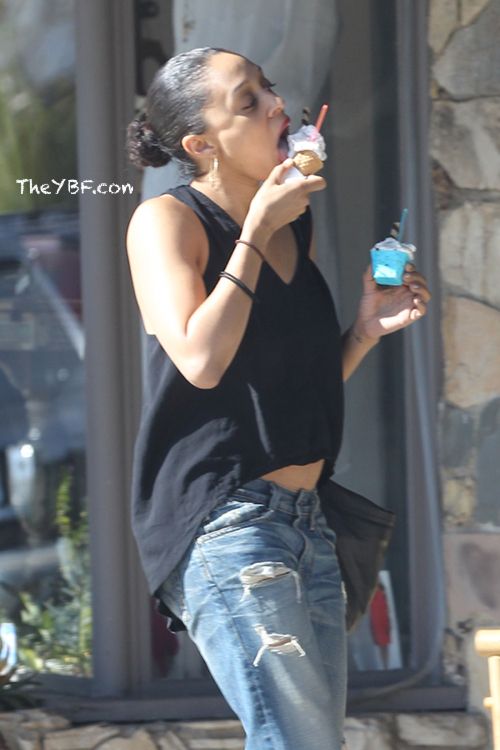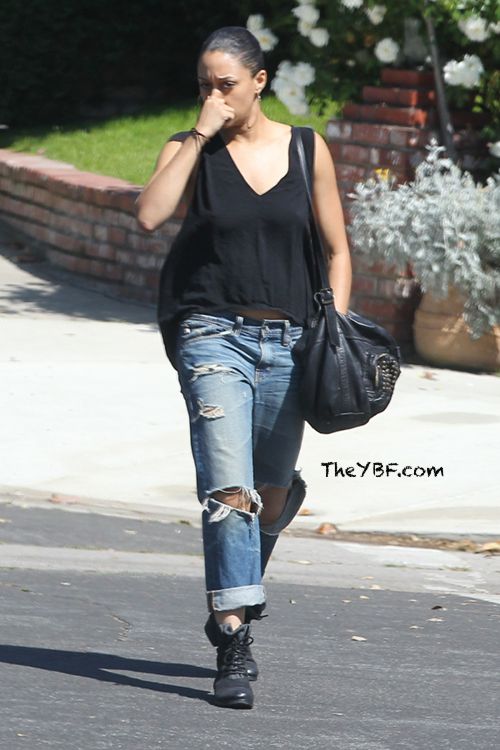 Tia (alongside her sister Tamera) is on the latest cover of EBONY Magazine where she opened up about the hardships she faced after "Sister, Sister" went off the air.
The "Instant Mom" tv star revealed:
"After Sister, Sister ended, nobody was calling. My sister and I were sick and tired of being sick and tired of sitting back and waiting for those phone calls. We had the mentality, 'We're not going to depend on anybody anymore, we're not going to let someone else's value of us diminish how we value ourselves, and we're going to put action in place.' We put our minds together and executed [our plans]."
And clearly, those plans are working!
In other television news....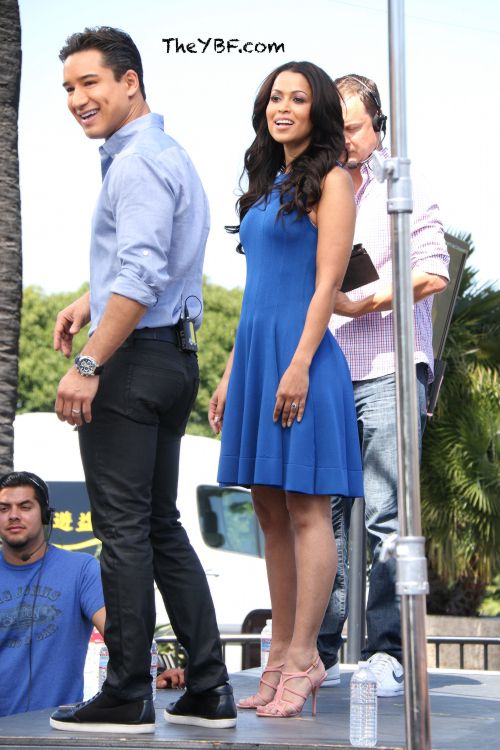 Tracey Edmonds, the beautiful girlfriend of Deion Sanders who regularly appears on "Deion's Family Playbook", was spotted filming scenes with Mario Lopez in The Grove yesterday. Producer Tracey, who's now billed as a "Special Correspondent" on "EXTRA", has been rumored as a possible co-host for Mario to replace Maria Menunos who was given the axe recently.
We hope her "audition" went well.
BONUS: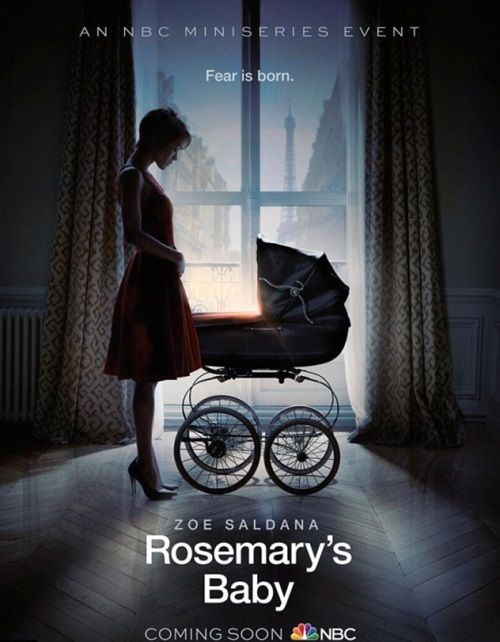 Earlier, we told you about Zoe Saldana starring in a remake of the classic suspence flick Rosemary's Baby and now we have an extended trailer. Directed by Oscar-nominated filmmaker Agnieszka Holland, Rosemary's Baby will air on Sunday May 11th on NBC.
Also...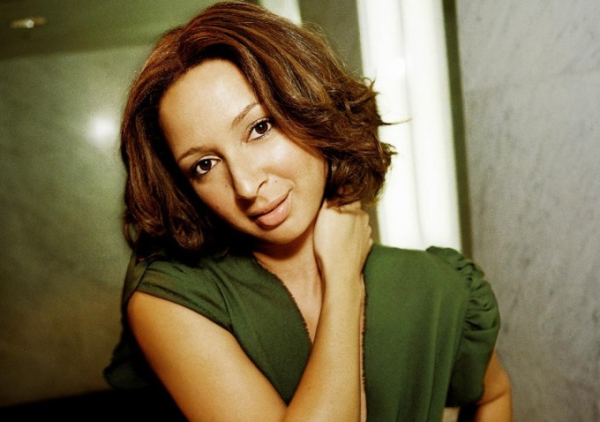 SNL-alum Maya Rudolph will star in the NBC special "The Maya Rudolph Show" for Monday, May 19 (10 pm ET/PT). Produced by Maya, David Javerbaum, Erin David, Dave Becky and SNL-creator Lorne Michaels as executive producer, the show is billed as a "classic variety show."
"The Maya Rudolph Show" will feature guest stars (and some SNL alums) Craig Robinson, Andy Samberg, Kristen Bell, Fred Armisen, Chris Parnell, and Sean Hayes ... and singer-songwriter Janelle Monae will serve as the musical guest. R&b singer-producer Raphael Saadiq will serve as bandleader.
NBC has not revealed if this will become a recurring series.
Photos via Maya Rudolph Twitter/Splash/PCN
DATE NIGHT: Mary J. Blige & Kendu Chow Down Courtside At The Clippers Game
Posted: 16 Apr 2014 02:21 AM PDT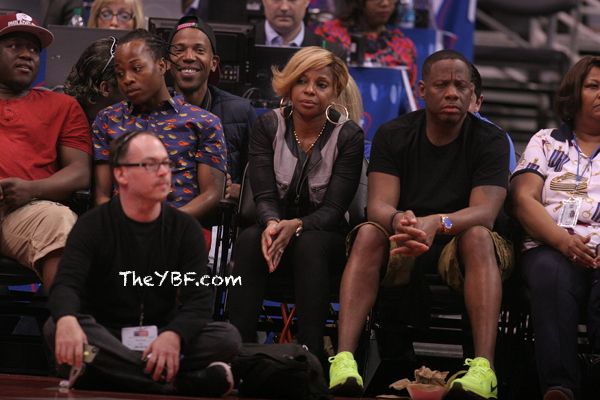 Mary J. Blige was spotted out at the Clippers game on a date night with husband Kendu Isaacs. And the twosome looked to be having a blast. Check it inside....
Sitting courtside while watching the Clippers defeat the Denver Nuggets at the Staples Center, MJB was spotted chomping down on some snacks while chillin' out with her hubby.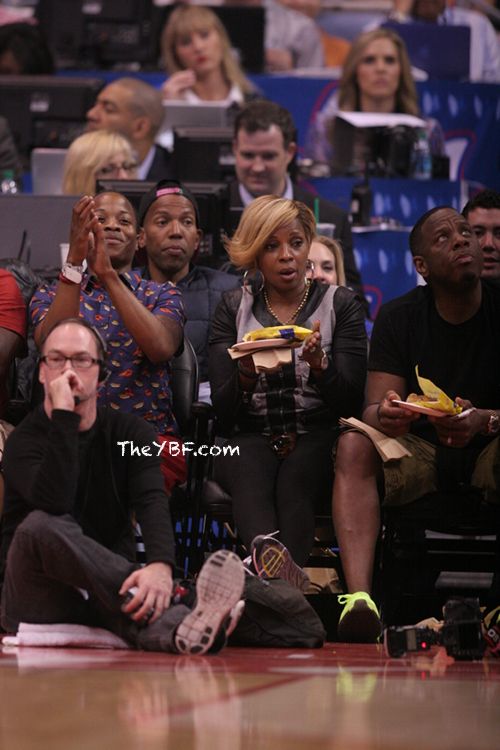 Over the weekend, she hit the stage at Coachella with Disclosure for their track "F for You" she's featured on. We see you Mary getting that EDM shine. Not mad.
Check out their performance below:
She's also set to rock out at ESSENCE Fest this summer on July 5th.
Photos: WENN
BEST OF BOTH WORLDS: Beyonce & Jay Z Set To Tour...TOGETHER...This Summer?
Posted: 15 Apr 2014 09:46 PM PDT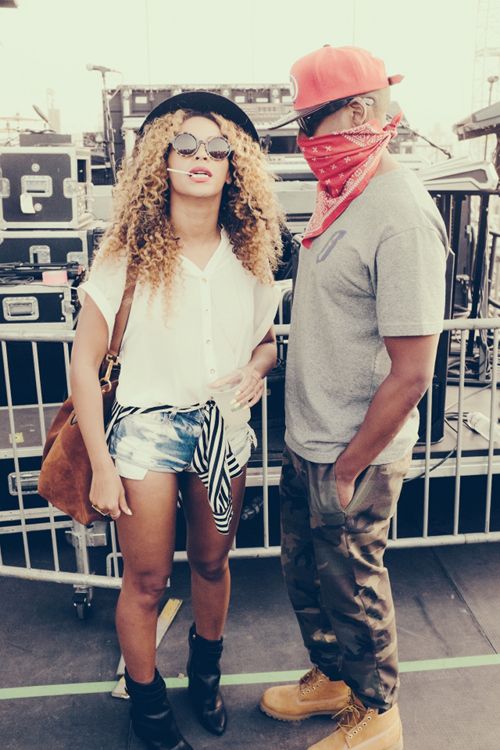 It's like the umpteenth surprise from the Carter clan in the last 6 months. One of Forbes' richest power couple is rumored to be going on tour...together...this summer. Deets inside...
After both made surprise performances at Coachella this past weekend (Beyonce crashing her sister Solange's set and Jay coming out to rock with frenemy Nas), a new rumor is swirling. The Carters are going on a joint tour this summer! Supposedly.
Word on the Page Six curb is that Yonce & Hov plan to announce a 20-stadium US tour that will start in late June. And it's quite possible, reportedly, the twosome will perform in New York on July 4.
Bey just wrapped her huge Mrs. Carter Show World Tour, while Jay recently wrapped his 58-city Magna Carta Holy Grail world tour. And they made millions of those, and performing together sporadically over the last few months.
It's a family affair. Couples who cake together....stay together.
Photos: Beyonce's Tumblr
August Alsina GOES OFF On '106 & Park' After Trey Songz Question + Nelly Claims He's 100%...SINGLE
Posted: 15 Apr 2014 06:27 PM PDT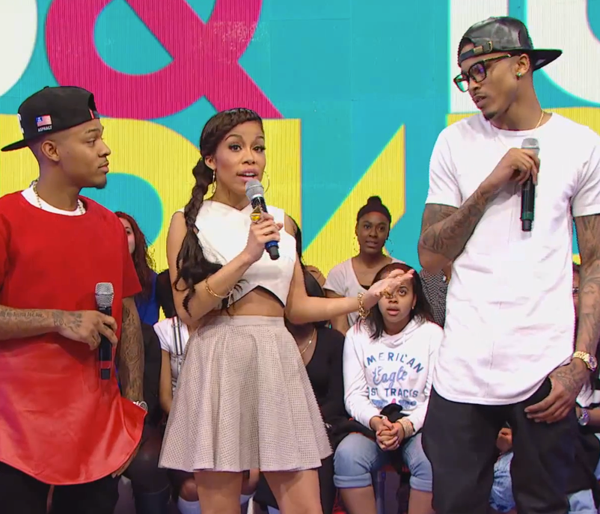 Newcomer August Alsina hit up '106 & Park' today and ish went totally left when he was asked about Trey Songz. Plus, Nelly is making claims that he's single as a dollar bill. Check the video of August talking sideways and Nelly's message when you go inside…
R&B singer August Alsina's debut album Testimony dropped today so he swung through '106 & Park' on the promo trail to debut a new video he has with Fabolous, "Grind & Pray/Get Ya Money."
In the interview, 106 host Keisha Chante asked the New Orleans singer if he and Trey Songz would ever be able to squash their beef and become friends again. You'll recall, August said he doesn't "f*ck" with Trigga because of his big ego and major attitude.
There was an unconfirmed rumor that Trey got a little big headed when he found out that he was taking the stage at a show before August. Guess Trey figured he should be the last performance when it comes to an upcoming artist. August admits he ended up not doing a show with Trey because he "can't deal with ni**as' egos and attitudes" so it's possible the rumor has some truth.
Whatever it is…the Testimony singer wants nothing to do with Trey. And he definitely doesn't feel like dealing with interviews asking about Trey after he specifically told producers NOT to ask about their "beef."
When asked about Trey…August, clearly annoyed, responded, "I just told y'all not to ask me that sh*t when I got up in here."
Keisha was pretty upset over his comment, clearly making sure not to look at him as he spoke, and then stormed off set as he introduced his new video. Oooh she mad.
Check it:
Ha!
And in other news…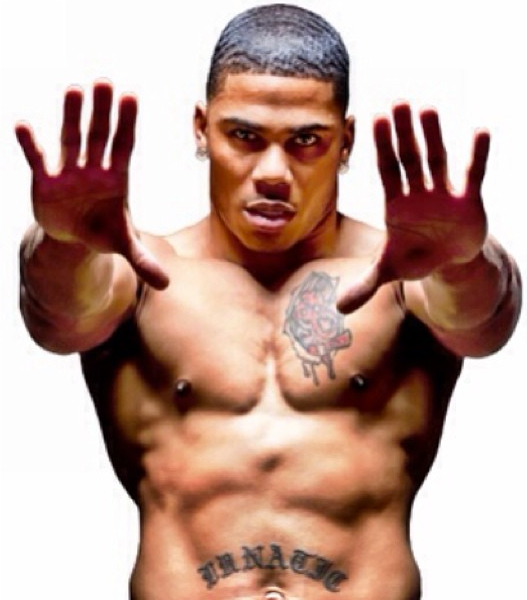 Nelly has a message for the masses…he's SINGLE! He may be single at the moment, but he definitely had some weird love "square" type situation going on.
We told you about him and Ashanti possibly getting back together after partying together during Super Bowl weekend (in matching furs) and facetiming during her Braveheart album release party.
Then Nelly threw a curve ball naming his former boo Tae Heckard his "Woman Crush Wednesday" on Instagram, calling her by her pet name "Cookie." Which could have been an attempt to get Tae's attention because she's been occupying her time by flirting with Detroit Pistons guard Brandon Jennings via Twitter. And seemingly in real life.
Nelly posted the picture above with the caption, "Hold up.... !! I'm 100% single...! So what...!!"
These "celeb" relationships can get so complicated sometimes...
Photos: BET/Nelly's IG
OH: Brandy Speaks On Split From Ryan Press
Posted: 15 Apr 2014 04:33 PM PDT
While Brandy refused to discuss her split from Ryan Press previously, she's talking now. Find out what she had to say about the breakup inside....
Back in February, we broke the news that "The Game" star Brandy and fiance Ryan called off their engagement. Sources close to the couple confirmed to us they decided to pull back on moving so fast.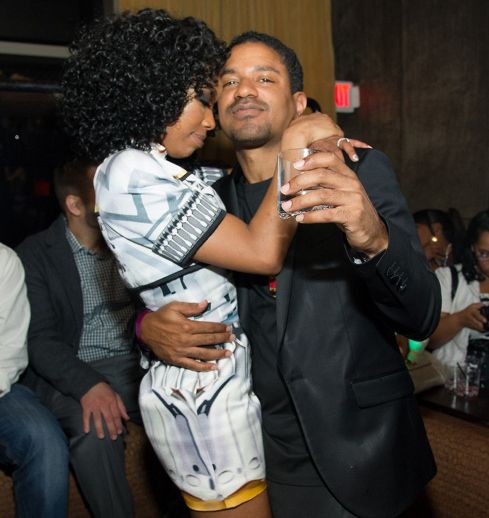 Brandy refused to speak about the breakup when asked about it on red carpets and events. We were even told that topic was totally off limits http://theybf.com/2014/03/26/ybf-interviews-brandy-dishes-on-her-%E2%80%... ">when we interviewed B Rocka on the set of TV Land's "Soul Man" recently. But, she decided to run to Us Weekly to speak on it, via her rep.
The magazine confirmed what we had already confirmed two months ago--the engagement is totally off.
"They are no longer together. The engagement is off, but the friendship is still on."

"They decided to take a step back and reevaluate the relationship. Brandy is 35 now -- that's what her whole #35 on Twitter is about, becoming her own woman."
Our source also told us a few months ago that they remain friends as he evens showed up to her birthday party. And her rep confirmed that as well:
"Brandy has a daughter and she still wants to be married and have more kids but she is working on so many other things right now....They haven't ended things on a bad note and they still speak all the time."
So, there you have it. Meanwhile, brandy is focusing on her award winning role as Chardonnay Pitts on BET's "The Game" and her new music.
She told VH1's Big Morning Buzz this AM about her upcoming new album, "It's a personal album, singing about life and a lot of things I've been going through lately."
We're sure.
And about that NAACP Award for Best Supporting Actress for her role on "The Game":
"I forgot what it was like to win an award. So it was very special to fill that energy and love in the room, but I was so happy to win for playing Chardonnay because it was my first role as an adult woman."
Check out the video below:

Big Morning Buzz Live, Nick Lachey, Full Episodes, Reality TV Shows, Big Morning Buzz Live
Photos: TheYBF.com/Al Powers
August Alsina & K Michelle's Impromptu "V.S.O.P." Performance + Puff Daddy Delivering Howard University's 2014 Commencement Address + 50 Cent's "Hustler" Video
Posted: 15 Apr 2014 01:44 PM PDT
August Alsina celebrated his Testimony album release with K. Michelle in NYC last night. See their performance inside and get deets about Diddy's upcoming commencement address and watch 50 Cent's new video.
August Alsina's album Testimony hits stores today and he celebrated with an album release party and sold out performance show at SOB's in NYC last night. A number of celebs came out to support him including Fabolous, Wale, DJ Khaled, Sebastian Mikael and Luke James. K. Michelle hopped on stage for a surprise performance of V.S.O.P." and took a shot at Mimi Faust and her boyfriend Nikko, when she insinuated that he isn't the real deal (and might like other men).
Check it out....
In other entertainment news....
Philanthropist and entertainment mogul Sean Combs (spotted above at Coachela over the weekend) will deliver the 146th Commencement address at Howard University on Saturday, May 10, 2014, The announcement was made by Interim President Wayne A.I. Frederic. Howard University will award degrees to more than 1800 students and present Puff Daddy (a student at Howard University in the late 1980s) with an honorary doctorate in humanities at the convocation. President Frederic said,
"In selecting the individuals who will be awarded honorary degrees, Howard University continues the tradition of identifying leaders whose work has clearly contributed to the advancement of their fields and the world.
We are honored to have Mr. Combs serve as our speaker. He sat in classrooms where our students sit, walked 'The Yard,' and like many students, his entrepreneurial spirit was sparked at Howard. We know he will inspire our class to work hard and to always strive for excellence."
Congrats Diddy!
In new videos...
50 Cent smoked a few cigars and rocked on a dapper suit in the new black-and-white Eif Rivera-directed clip for "Hustler." The song appears on 50's upcoming Animal Ambition disc (June 3rd). He'll also headline Hot 97′s Summer Jam on June 1 alongside Nas, Nicki Minaj, and Lil Wayne.
The Randomness:
1. A new Allen Iverson documentary will debut at 2014 Tribeca Film Festival. Story.

Photos via K Michelle's Twitter/Diddy's Instagram
FIX MY LIFE: Game's Ex Tiffney Cambridge Seeks Professional Help From Celebrity Life Coach Tony Gaskins
Posted: 15 Apr 2014 10:51 AM PDT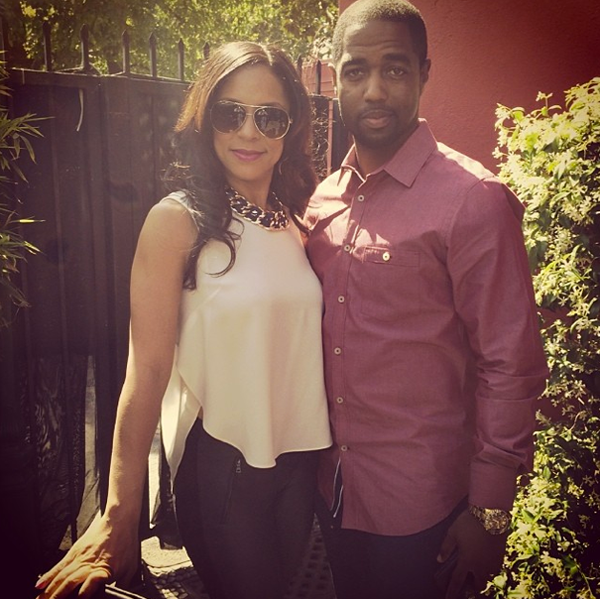 After taking out a restraining order against her on again off again fiancé The Game for allegedly beating her down, Tiffney Cambridge is seeking professional advice from celebrity life coach Tony Gaskins. Read the deets inside…
Days after filing a restraining order on her man The Game after he allegedly broke her nose during a physical altercation (in which he totally denies), Tiffney Cambridge is seeking professional help from celebrity life and relationship coach Tony Gaskins (above).
Tiffney's good friend "BBW LA" star Evelyn Lozada sought help from Tony after her failed marriage with former NFL star Chad Ochocinco, so it's no surprise he's helping Tiffney with the current drama in her relationship.
Alleged details of the rapper and his ex fiancée's altercation surfaced stating both of their children were injured during their fight, including their daughter's leg getting bloodied. TMZ reports after Tiffney tried to help their daughter, Game supposedly yelled, "Move the f*** out the way" then started degrading her by calling her a "b*tch," as he ripped off her clothing continuously hitting her.
The Compton rapper allegedly held Tiffney and the kids hostage before letting them go. Tiffney claims she went to the hospital the NEXT day and that's when she learned her nose was broken.
In an effort to get all of the madness behind her, Tiffney thanked Tony for helping her during her troubled time saying, "Thank u @tonygaskins for everything..all the talks, words of encouragement, guidance, and tough love are greatly appreciated. You've helped me so much on my journey. You're not only my life coach , you're my friend."
Not sure how we feel about people's life coach being in the lime light, being that your journey with your life coach should be a personal one. But to each their own...
As you know, they are in the middle of filming the new season of their reality show, "Married To The Game". We're hoping this isn't a publicity stunt to boost TV ratings because domestic violence is nothing to play with...
Photos: Tiffney's IG
The Randomness:
1. NeNe Leakes proves why she's an important asset to BRAVO after her sit down with Andy Cohen for "Watch What Happens Next" attracted 3.5 million viewers. NeNe's interview was Andy's largest audience for any episode of "WWHL." STORY
2. After beating breast cancer in 2008, "Good Morning America" host Robin Roberts reveals in her new book that she almost threw in the towel after she was diagnosed with MDS four years later. STORY
SPOTTED: Kobe & Vanessa Bryant Holding Hands At LAX
Posted: 15 Apr 2014 09:26 AM PDT
Kobe and his wife Vanessa Bryant were spotted at LAX this week spending some quality traveling time. See their candids inside....
He may have spent majority of the season on the injury list but Kobe seems to have made the most of it and reconnected with is fam. Photographers snapped Kobe Bryant and wife Vanessa as they arrived at LAX airport yesterday. The Bryants have been traveling a lot this season and making up for all those years Kobe spent majority of his time balling out.
Vanessa looked very comfy and cute in a pair of black flats, tights and a flowing grey top along with her black Birkin. You know, a logical choice for the airport...unlike some folks who are always on Team Too Much while jetsetting.
Although Kobe missed several games this season as he recovered from Achilles surgery, he's expected to be 100% for the 2014-2015 season. The Black Mamba will return...and go out with a bang before retirement!
Photos via INF/PCN
RUMOR CONTROL: Aretha Franklin CONFIRMS There Was NO FIGHT With Patti LaBelle, "I've Never Heard Anything Crazier"
Posted: 15 Apr 2014 08:50 AM PDT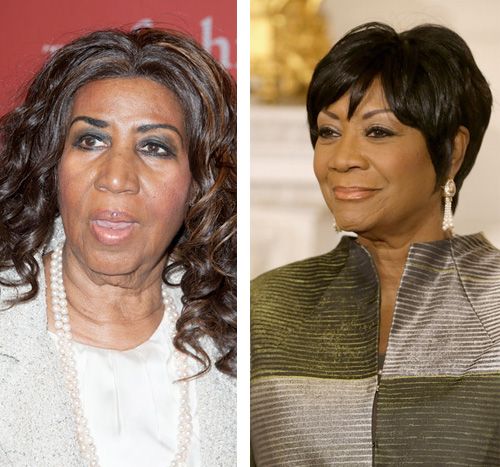 The legendary Aretha Franklin is responding to rumors that she was arrested after she and iconic singer Patti LaBelle got into a fight! Find out what she had to say about the crazy rumor inside…
Aretha is not here for the foolery, y'all! The Queen is speaking out against the preposterous rumors (which we saw yesterday and laughed at) that she was arrested after a fight ensued between her and iconic singer Patti LaBelle.
The rumor originated from a satire site that said Aretha and Patti got into a fight after the supposed beef they had at the "Women of Soul" event at the White House. It was said that Aretha threw some shade at Patti during the concert. And soon after, at an unnamed R&B/Soul event in Atlanta on March 20th, Patti supposedly confronted Aretha, which resulted in an alleged brawl between to the two.
It was falsely reported that Ms. Patti was arrested by the Atlanta Police Department and charged with assault and battery. She was supposedly released on a $10,000 bond and had a court date on April 16th.
As foolish as this sounds, Aretha released a statement this morning denying the queens were involved in an epic queen fight saying:
"I've never heard anything crazier—regarding myself and Patti allegedly fighting on March 20, in Atlanta. On March 20, I was in New York City readying for my birthday patty (Sorry. LOL. Laughing at my typo error). I meant PARTY, which we all had one fabulous time. Patti and I are cool and we always have been. I enjoyed her at the White House. Classic Patti.
There you have it.
Photos: Getty
COMING SOON: Tiny ANNOUNCES New Reality Show "The Real Hair Sytlists of Atlanta"
Posted: 15 Apr 2014 08:15 AM PDT
"The Family Hustle" star Tiny Harris is putting the spotlight on some of Atlanta's most popular hair stylists in a new reality show. Because we always need another ATL reality show. </sarcasm> More inside...
Yesterday, VH1 reality star Tiny Harris appeared at a press conference at the W in Buckhead to announce a new project.
With former "RHOA" personality Dewight Eubanks as host of the event (sigh), Tiny revealed that she, Shante Traynham (Executive Producer/Creator) and Mimi Carpenter (Executive Producer) are producing "The Real Hair Sytlists of Atlanta."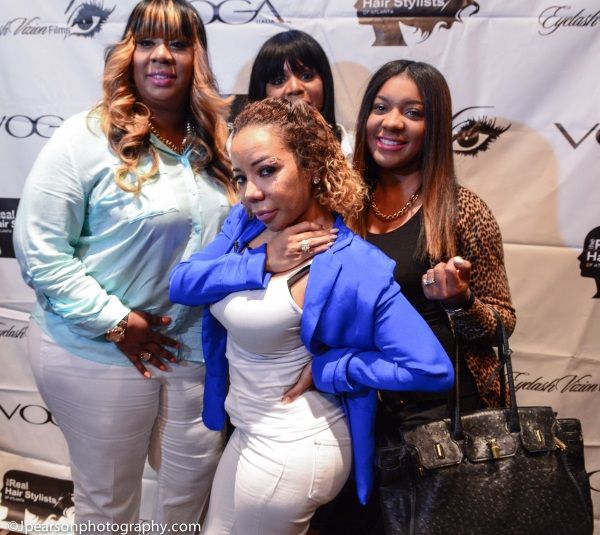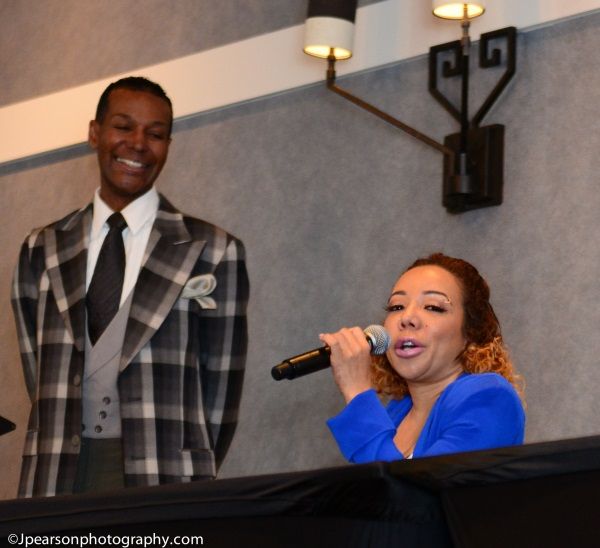 We suspect that this is the project she and her BFF Shekinah Anderson have been "working" towards on "The Family Hustle." Or maybe this is in addition to the new reality show Tiny spoke about recently, that will be much like Paris Hilton and Nicole Richie's "The Simple Life".
We will keep you posted as the show develops....
Photo: Jerome (Photo-J) Pearson