---
ON STAGE: Ashanti BARES Her "BRAVEHEART" At B.B. Kings Blues Club
Posted: 02 Apr 2014 09:07 AM PDT
Ashanti performed at B.B. Kings Blues Club in New York City to promote her latest album last night. See pics and video inside....
Ashanti showed off her bod and showcased her catalogue of hits during a standing-room only performance at B.B. Kings Blues Club in New York City. Her set included songs from Braveheart and a little audience participation too.....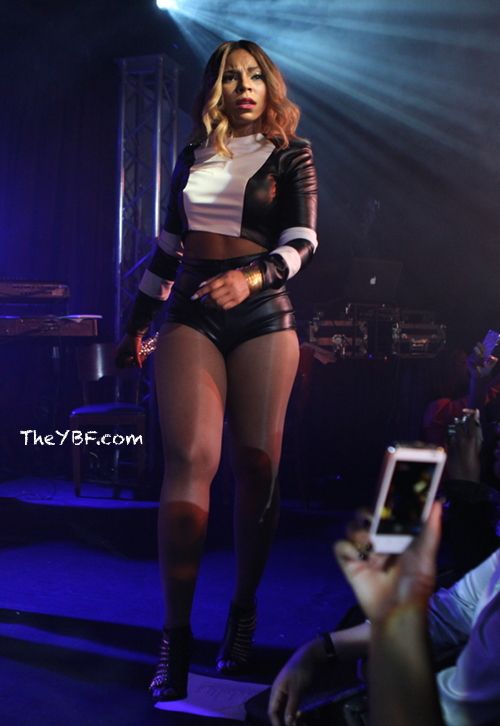 Chick needs to spill the deets on that workout regime. From bikini pics to the stage.....she's killing it!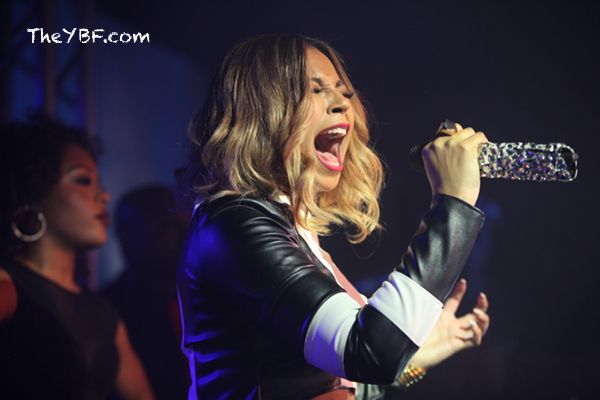 In other news, Ashanti will perform the National Anthem when boxer Manny Pacquiao takes on Timothy Bradley on April 12th.
Listen to "Baby" here:
'
"Wonderful" (Remix)"
Photos via Jackrule13's Twitter/WENN
BOYS WILL BE BOYS: Todd Tucker's BACHELOR PARTY With Apollo Nida, Peter Thomas, Kirk Frost....And LOTS Of Strippers!
Posted: 02 Apr 2014 07:28 AM PDT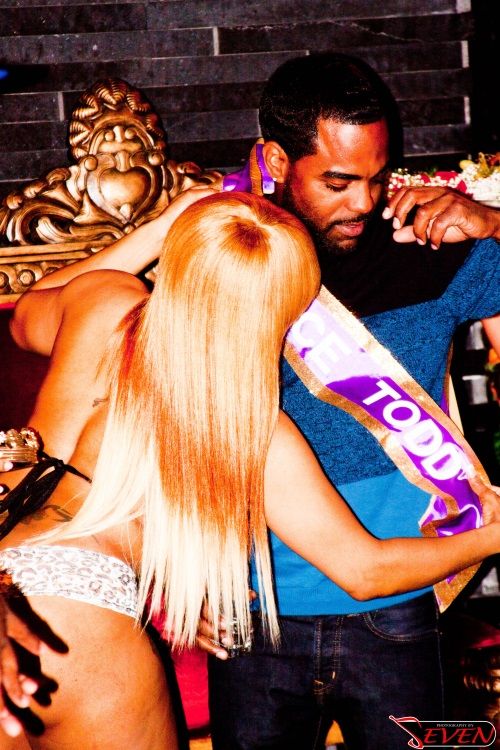 Todd Tucker's bachelor party included tons of strippers and some of his male reality star bretheren. See the NSFW (obviously) shenanigans inside....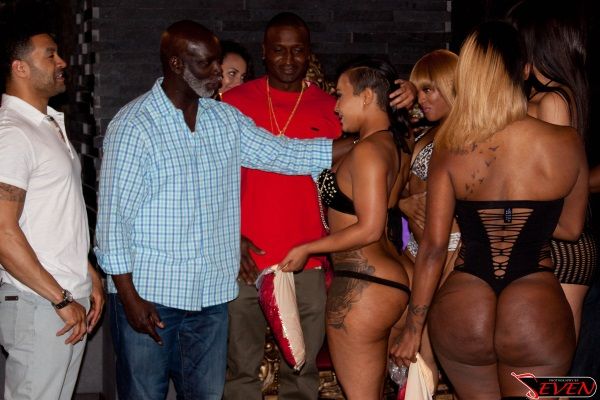 Forget Carmen....Mama Joyce is going to hit the roof when she sees the shenanigans that went down at Todd Tucker's bachelor party at Atlanta's Bar One (which is owned by Peter Thomas, of course).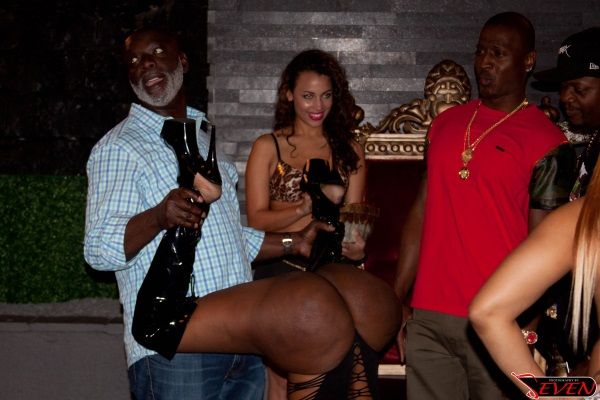 Some of Atlanta's most famously married reality stars (Peter, Kirk Frost and OF COURSE Apollo Nida) were entertained by ATL's finest. Handstands, lapdances, booty smacks....it all went down.
We wonder how many stacks Apollo dropped that night....or if his wife Phaedra is watching those pockets so they can pay legal fees?
The wedding date must be getting close, because Todd's "RHOA" star fianceè Kandi Burruss had her bachelorette party last weekend....with strippers included as well.
Photos via SEVEN Photography
DO WE LOVE IT?! Amber Rose's Fast Food Inspired Moschino Shirt Dress
Posted: 02 Apr 2014 05:17 AM PDT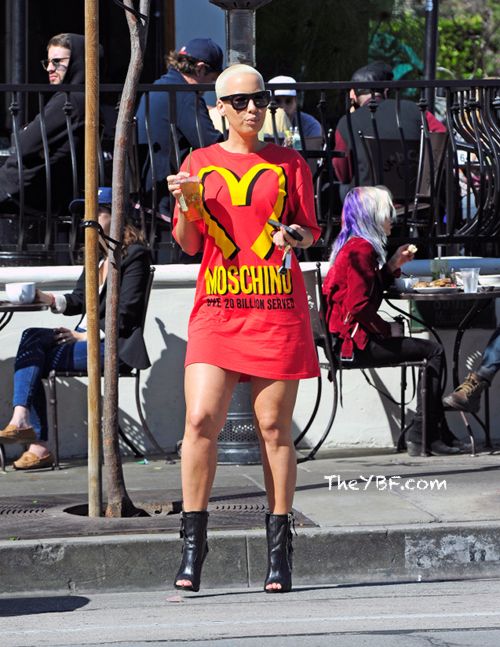 Amber Rose was spotted leaving Urth Cafe in West Hollywood Tuesday afternoon making a drink run...in a fast food inspired Moschino dress. Decide if we love it inside...
Now that she's getting that post baby back to snatched-status, Wiz Khalifa's wife Amber Rose is rocking fresh off the runway looks on her everyday coffee runs.
Amber showed off her legs in Jeremy Scott's super popular Moschino Fall F/W 2014 McDonald's inspired t-shirt dress:
She paired the look with a pair of black stiletto Giuseppe Zanotti ankle booties and her signature shades as she was spotted hopping in her baby blue Porsche 911 Carrera S.
So, about her look for her afternoon cafe run...
DO WE LOVE IT?!
Photos: Splash
Beyoncè & Jay Z Watch The Nets Win...With Champagne & A Lollipop Courtside + Made In America Festival May Move To L.A.?
Posted: 01 Apr 2014 11:39 PM PDT
Beyoncè and her curls were spotted courtside with husband Jay Z at the Barclay Center Tuesday night. And the twosome chilled out with champagne and lollipops as they watched the Nets slay the Rockets. Check out their cutesy date night inside...
It's been a while since we've seen the Carters at a nets game, but the former part-owner was front and center with wife Mrs. Carter on Tuesday. And Beyoncè proved that sometimes, a chick just wants an old school lollipop. You're never too old for it...
Jay Z and Beyoncé watch the Nets beat the Rockets 105-96 at Barclay's, with champagne and a lollipop pic.twitter.com/bVUgMtyZGX

— Bleacher Report (@BleacherReport) April 2, 2014
Beyoncé & JAY Z at the Brooklyn Nets game tonight pic.twitter.com/j6cdhAQChM

— Beyoncé Lite (@BeyonceLite) April 2, 2014
The two looked extra happy and cheerful as they sat with Ty Ty and co.
But before the game, Beyonce was spotted doing a little shoe shopping in Manhattan: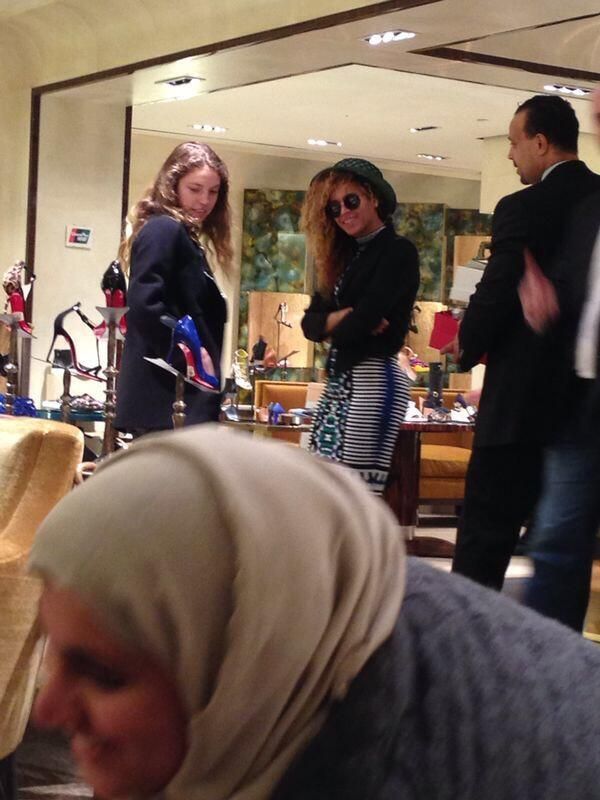 Cute.
And speaking of Jay, his Budweiser Made In America festival may be moving from Philly to L.A. this summer. The first two years of the festival experienced exponential growth, so it's no surprise the crew is looking for more space. And Los Angeles may give them just that.
The L.A. Times says:
Reports indicate that the festival is targeted for downtown's Grand Park and surrounding areas in front of and around City Hall.

A spokesman from the offices of Los Angeles Mayor Eric Garcetti would say only that "we are in discussions about a possible event," but a report on the website for public radio station KPCC-FM (89.3) stated that Councilman Jose Huizar had requested city services to not issue any permits for Made in America until it could be properly vetted.

Sources familiar with the festival indicated that the L.A. edition of Made in America was initially planned to be announced as early as April. L.A.'s Made in America is planned to be staged during the same weekend as the one in Philadelphia.

Documents posted by KPCC state that Made in America organizers were aiming for a total capacity of 50,000 people and that the festival would require street closures in the area around Grand Park for as many as 10 days.

LiveNation and Budweiser are staying mum about the move for now. So time will tell.
Photos: Bey_Legion's Twitter, AP Photo/John Minchillo, BleacherReport's Twitter, BaddieBeyQueen's IG, BeyonceLite's Twitter

Bikini Babe Bria Murphy Puffs & Plays In Maui + Michael Strahan Heading To "GMA"!
Posted: 01 Apr 2014 09:09 PM PDT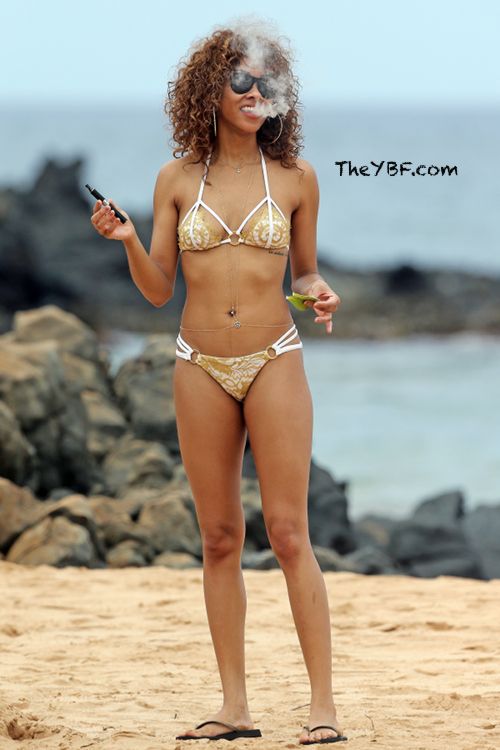 Eddie Murphy's oldest daughter Bria is showing off her modelesque bikini bod on the beaches of Maui on Tuesday. Check out the hottie giving us Rihanna vacay tease inside, plus her soon-to-be stepdad's BIG morning move....
When she's not trying her damndest to land a modeling contract with Victoria's Secret, Dark & Lovely spokesmodel Bria Murphy is spending her charmed life on a beach somewhere. The daughter of legendary actor Eddie Murphy and "Hollywood Exes" star Nicole Murphy was spotted playing around in a barely-there white & nude lace bikini today in Hawaii: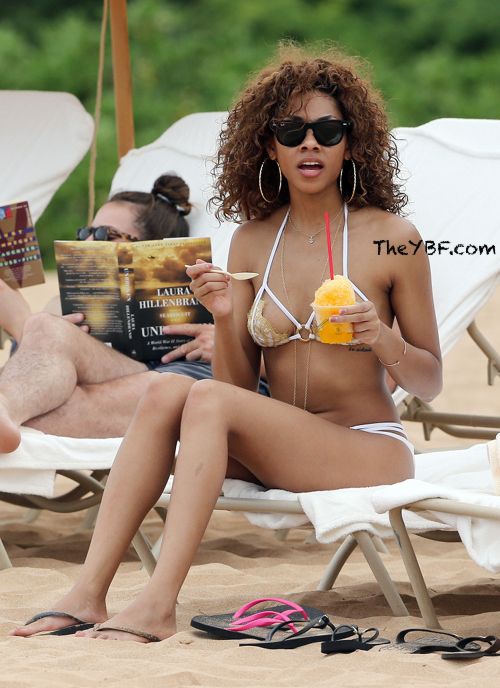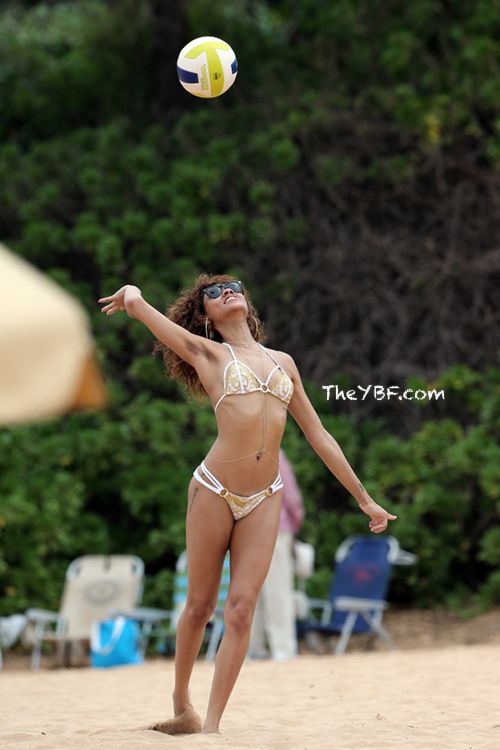 The 24-year-old hit a few volleyballs, snacked on snowballs and chilled out with friends. Must be nice....
Meanwhile, her almost-step-dad Michael Strahan is WINNING.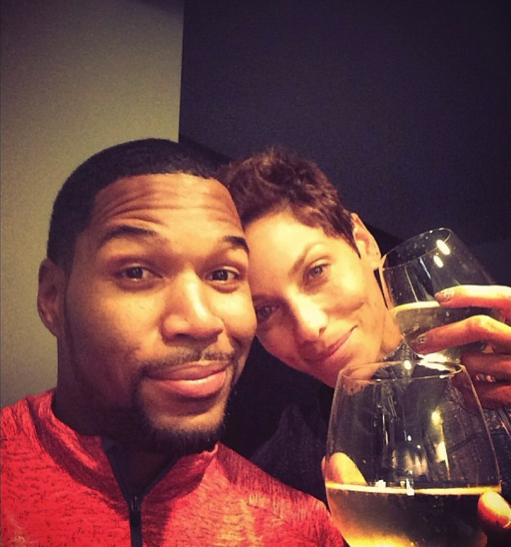 The hard working dude (who's planning a wedding with Nicole Murphy) just added yet ANOTHER job to his portfolio and is set to become the newest co-host on "Good Morning America"!
Yep. Deadline reports that he will keep his daily co-hosting gig at "Live with Kelly & Michael", but will additionally pop up during the 8AM hour on "GMA" beforehand to slide into Josh Elliot's spot. Since Josh was the resident co-host with sports corresponding experience, and he just left for NBC, it's only fitting Michael was offered to fill in.
However, a source tells People that Michael is not necessarily replacing Josh:
"He's not being brought in to replace Josh [Elliott, whose departure was announced Sunday]. He's not taking anyone's spot."
Well, sure seems like he is.
Reports state Kelly Ripa was also offered a "GMA" slot, but she decided to stick with only doing "Live".
If these few days a week work out, it looks like that "GMA" position could become a permanent one. Then he'll be one of the hardest working men on television, especially when the NFL season is underway and he's also doing his analyst duties for Fox Sports.
Very interesting. Major moves for Michael. Congrats!
Photos: Fame/Flynet, Michael's IG
WHERE HAS HE BEEN? Devante Swing RESURFACES At The Jacksons Concert
Posted: 01 Apr 2014 04:53 PM PDT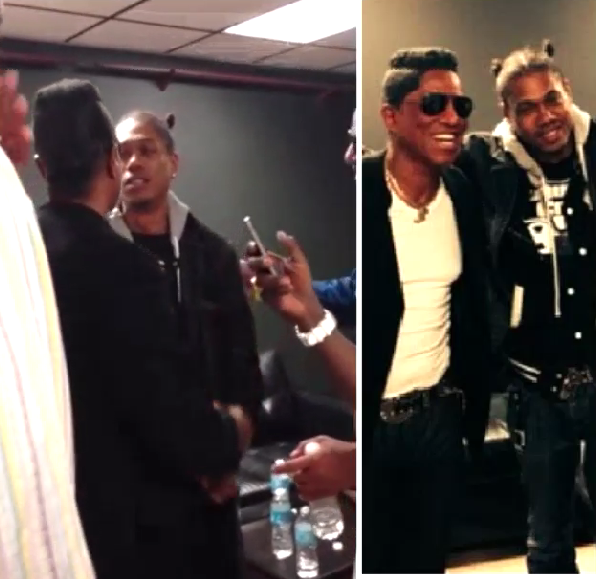 Fans of Jodeci will be pleased to learned that there was a rare "Devante" sighting in Las Vegas. Find out what famous clan he hooked up with inside.....
Devante Swing, the mastermind behind Jodeci, was spotted in Las Vegas recently. Via a fan account on Instagram (forever_devante), we got footage of Devante at Planet Hollywood Resot & Casino where he attended one of The Jacksons' concert.
According to "forever_devante", Devante is a huge fan of The Jacksons and has always experessed interest in working with them. Reportedly, he became very emotional during the backstage meet and greet (which also included Flavor Flav).
Elephant in the room: Why is Devante rocking those Miss Celie's Blues pigtails?
The Randomness:
1. R.I.P. Frankie Knuckles. STORY
2. LeBron James is really still trying this rap thing. STORY
Photos via Forever_Devante Instagram
HOT MAMA: Taraji P. Henson Sexes Up UPSCALE Magazine
Posted: 01 Apr 2014 03:53 PM PDT
Taraji P. Henson is putting her effortless hotness on full display for the cover of UPSCALE magazine. Check out the tv & movie star inside...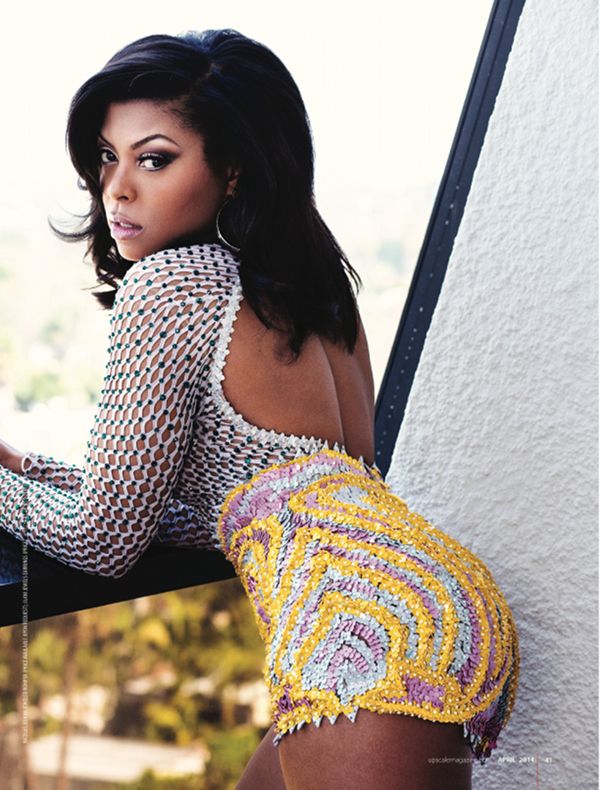 Oh...heeeeey Ms. Henson.
"Person of Interest" turned Think Like A Man Too star Taraji P. Henson is donning colorful beaded mini shorts and a laser cut beaded top for her cover and spread in the April 2014 issue of UPSCALE. Shot in L.A. at the Sofitel Hotel, 43-year-old Taraji, who recently hosted BET's Celebration of Gospel airing April 6th, is keeping it spring sexy for her spread.
The sexy mom of 19-year-old son Marcel talked about what happened after her Oscar nom, her REAL friends and being a black actress in Hollywood:
On what happened after her Oscar nomination and Tyler Perry: "People were like, 'you just get nominated for an Oscar and the first movie you do is a Tyler Perry film?' Well, it's not like Scorsese called me! Tyler was the only call i got the day after the Oscars. And he gave me a quote. Up until then, I had no quote. I was getting paid pennies to do movies. Tyler treated me like a queen."

On staying grounded/friendships: "I've got my road dogs who were with me before all other fame. My best friend in the whole wide world I've known since the seventh grade. My other girlfriend was my roommate at Howard. They are my backbone. They know me. When they see me, they look behind the eyes into my soul to see if I'm really alright."

On the realities of being a black actresses: "It's always a battle for black women; we're totally at the bottom of the totem pole. Look at the white girls. How many times have you seen Amy Adams in a period piece with a great actor like Meryl Streep or Christian Bale? And look at Jennifer Lawrence! Hits out the wazoo! How come we're not nominated every year? Because the scripts and the roles aren't there. It's not rocket science."

On love and dating: "Here's the deal. I'm no spring chicken. I'm not in my 20s dating around. I'm looking for happily ever after. So, once you get clear on what it is you're looking for, the pickings are slim, honey. I've left the whole continent of North America. i'm looking abroad."
She posted a few of her own behind the scenes pics showing off stylish looks from Cavalli and more, all styled by Wouri Vice:
Hot!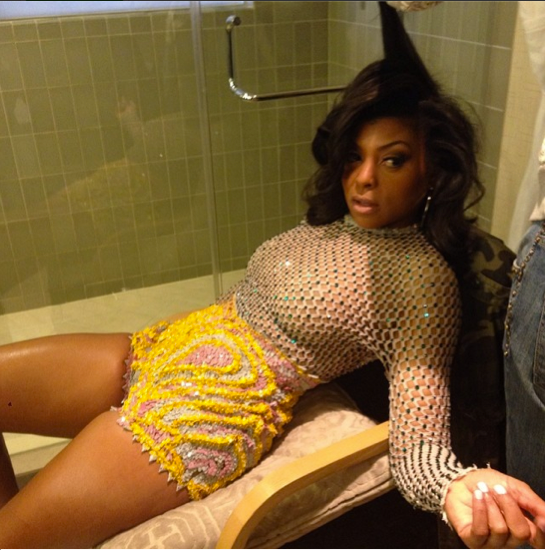 Photos: Taraji's IG/Allen Coley for UPSCALE

REAL YBF NEWS: Kwasi Enin ACCEPTED To Eight Ivy League Universities!
Posted: 01 Apr 2014 11:36 AM PDT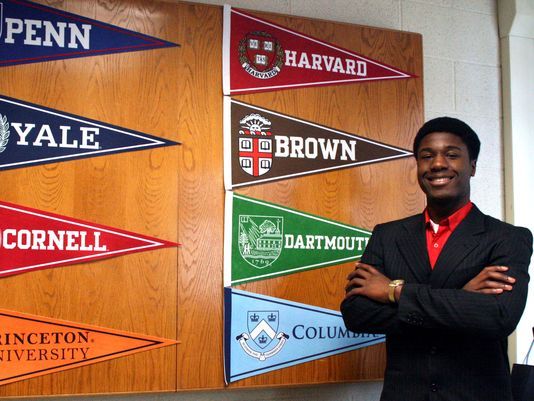 Kwasi Enin is a REAL YBFer who's making headlines for his academic success and bright future. And we're loving it. Find out more inside...
Do you remember those high school days when you waited to hear from your college of choice? Well, Kwasi Enin, a first generation American (his family is Ghanian) who is also a 17-year-old violist and aspiring physician from Shirley, N.Y. is in an enviable position. He gets to take his pick of ALL eight of the Ivy-League schools! They all want him.
Kwasi's accomplishment is EXTREMELY rare. Nancy Winkler, a guidance counselor at William Floyd High School told USA Today,
"My heart skipped a beat when he told me he was applying to all eight. It's a big deal when we have students apply to one or two Ivies. To get into one or two is huge. It was extraordinary."
So why are 8-top colleges vying for Kwasi? Check his receipts:
He ranks No. 11 in a class of 647 at William Floyd, a large public school on Long Island's south shore (top 2% of his class).
His SAT score (2,250 out of 2,400) puts him in the 99th percentile for African-American students.
He will also have taken 11 Advanced Placement courses by the time he graduates.
He's a musician who sings in the school's a capella group and volunteers at Stony Brook University Hospital's radiology department.
Right now, Kwasi, who credits his "helicoper parents" for keeping him on track, is reviewing all the financial packages before he makes a decision. Great move!
He also applied to four non-Ivy schools, and got into all 4 of those. They were Duke, Stony Brook University, SUNY Geneseo and Binghamton University.
We're sure we'll be hearing a lot from him in the future...
Stay in school kids!
UPDATE: Want to know what type of essay gets you into all 8 Ivies? Here's Kwasi's college essay submitted to the schools:
The Randomness:
1. Aisha Tyler's book "Self-Inflicted Wounds" being optioned as a tv show. Story.
DANCING QUEEN: NeNe Leakes Heads To Dinner With Gregg After "DWTS", Says Kenya Needs To "Fix Her Fake Booty"
Posted: 01 Apr 2014 11:23 AM PDT
NeNe Leakes cut up on the dance floor on "DWTS" last night, and then headed to dinner at Mr. Chow to celebrate with her husband Gregg. Check out their dinner date inside, plus how she did in the ballroom...
Last night, NeNe was spotted tip-toeing out of Mr. Chow in her Giuseppe Zanotti heels with her hubby Gregg, fresh off an emotional Rumba on "DWTS" to the couple's wedding ceremony song "I Believe In You & Me":
NeNe's been pulling double duty with practicing with her partner Tony Dovolani and partaking in the foolish "RHOA" reunion the other day. And now, she's taking shots at her co-stars. While leaving dinner, the paps asked NeNe about Kenya Moore and Porsha Williams. NeNe seems to have Porsha's back, but says Kenya needs to "fix her fake ass". Bloop.
Check out her emotional dance from last night below that got her some fab scores across the board:
Photos: Splash
Porsha Williams "Talks" Kenya Moore FIGHT, Divorce & More With Tom Joyner
Posted: 01 Apr 2014 11:03 AM PDT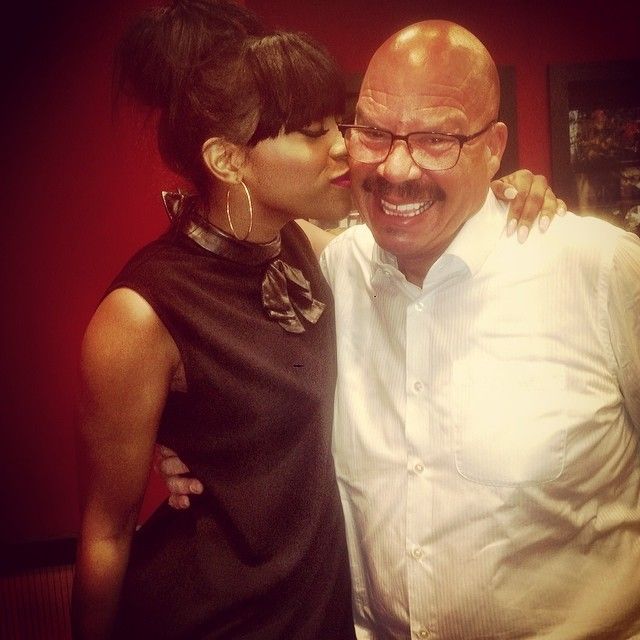 Porsha Williams appeared on the Tom Joyner Morning Show today where she discussed everything AND nothing. More inside....
With Kenya Moore's dramatic 911 call making the rounds, we were interested in what Porsha Williams had to say about the showdown. This morning, we hoped we'd have that chance when Porsha dropped by TJMS to promote her single "Flatline". But, unfortunately, the interview did just that....flatlined.
Outside of thanking Tom for his support (and a running "gag" that they're in a relationship), Porsha managed to avoid talking about the very things that make her semi "interesting":
Tell us about the RHOA reunion: "I'm under contract and can't speak on it."


Did you fight with Kenya?: "I can't say."


What can you say?: "That I went to the reunion show."


Did Kenya call 911? "No comment."


Will you join "another" reality show: "I'm not sure."


Are you friends with Kordell Stewart: "You know what, I've moved on from speaking about Kordell. I'm just in a place where I hope he's happy. However he's living...."
Porsha says there are maybe 2 or 3 episodes of "RHOA" remaining and then we will FINALLY get to see what happened at the reunion. Once it airs...then the ladies are free to say when they REALLY think.
Photos via Porsha Williams Instagram