---
ISLAND VACAY: Keshia Knight Pulliam CELEBRATES Her 35th Birthday In Jamaica With Boyfriend Big Tigger, Monyetta Shaw & Friends
Posted: 28 Apr 2014 07:39 AM PDT
Keshia Knight Pulliam celebrated her 35th birthday with a Jamaician getaway with her boo Big Tigger, friends Monyetta Shaw, celebrity publicist Arian Simone and others. Check their island pics inside…
Former "Cosby" kid Keshia Knight Pulliam is living it up on the beautiful island of Jamaica right now. She's celebrating her 35th birthday with her man and her girlfriends (complete with drinks, cruises and fun in the sun).
Keshia's actual birthday was April 9th....but who says a girl can't party the entire month? Keshia took a break from filming "Celebrity Apprentice" to get in some R&R in the Caribbean with her man V103 radio host boyfriend Big Tigger, "Atlanta Exes" star Monyetta Shaw, celebrity publicist Arian Simone and friends.

Keshia & crew enjoyed the sunny skies and crystal blue waters as they partied on a yacht, soaking up some rays and sharing laughs with one another.
Tigger posted the pic above with the caption, "Yepp.... I #Turnup on the #Ocean too.... #YachtFlow #Vacation #Needed. "Cuz we TurnUp every got dam where we go!!!"..."
Eat your heart out Ne-Yo! Monyetta soaked in some rays as she laid out on the yacht flaunting her bod in a teal and pink bikini. Chick needs to give up the deets on her workout plan.
Keesh shares a birthday kiss with a friend.
Friends, drinks & fun!
Fun times!
And what's a birthday without gifts?! Big Tigger copped his boo a pair of Jimmy Choo sandals for her born day. Keshia shared, "I love @jimmychooltd & he knows it... Can't wait to wear these!!! #HeLovesMe" Nice.
Happy Birthday Keshia!
Photos: Keshia's IG/ Big Tigger's IG/@susu44
HEY YOU! Rihanna POINTS The FINGER During The Nets Vs Raptors GAME
Posted: 28 Apr 2014 07:13 AM PDT
Rihanna was spotted courtside at the Net vs. Raptors game over the weekend...pointing out her favorite plays and players. More inside.....
Rihanna was spotted at the Barclays Center (again) where she watched Drake's favorite team, the Toronto Raptors, take on the Brooklyn Nets.
She wore a Christopher Kane camo print dress with a navy Isabel Marant varsity jacket and Nike Air Jordan hightops.
Her outfit was a striking departure from the nipple baring top she wore to an earlier game.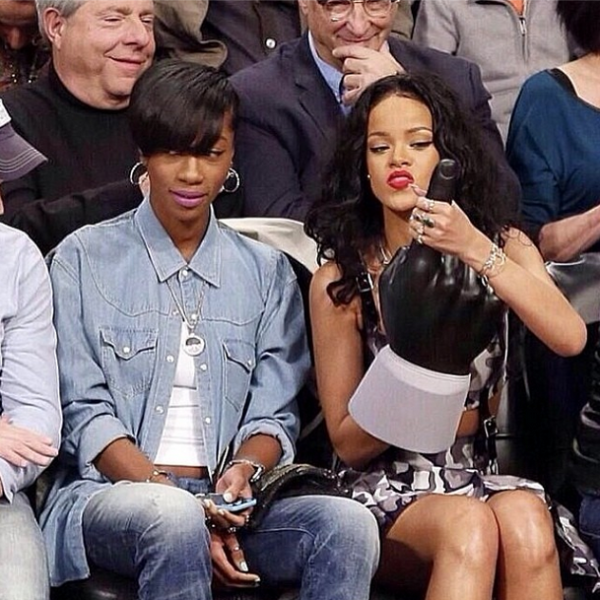 While sitting courtside with Melissa, she had a little fun with a "finger."
She and Mel cheered on their favorite team and literally pointed out some of their favorite moments. The Raptors won 87-79.

Photos via James Devaney/Splash
SCENE STEALER: Mama Joyce HIJACKS The Reunion, DROPS One-Liners About Swinging From The Pole, Weight Loss, The "B" Word And Having Her OWN Money
Posted: 28 Apr 2014 05:50 AM PDT
Mama Joyce auditioned for her "peach" last night in a hilarious laugh-a-minute "RHOA" reunion appearance which she capped off with her 40lbs weight loss regime.....get Todd Tucker as a son-in-law! More inside....
The "RHOA" season six reunion has MANY MANY highlights (or lowlights) from Kenya vs. Porsha to Nene vs. Cynthia, but one of the most unexpected and unforgettable moments from last night was the brief yet very memorable appearance of Mama Joyce.
Although Kandi sent word to Andy Cohen (on "WWHL") that her mom DOES NOT drink, we have to admit that Mama Joyce seemed two sheets to the wind....and it was entertaining.
Mama Joyce started IMMEDIATELY by revealing that she'd dropped 40lbs due to STRESS (aka Todd Tucker). Here are a few notable one-liners:
On Todd's mom:

She called me a bitch....she ain't got nothing!

On fighting:

It's been a long time but I can still wrap a good wig up.

On supporting her kids, stripping and NeNe:

(talking to Nene) I didn't go to no club, but believe me if the clubs was paying then what they paying now...hey baby...I would have been swinging on the pole too. With the body that I had back then......

On Money:

Let me get you straight...Mama still got bonds, a house that's completely paid for and money in the bank. Thank you very much. And every kind of diamond....AMEN.
See Mama Joyce set it off here:
Part III of the "RHOA" reunion airs Sunday 7/8ET.
BREAKING: Beyonce & Jay Z ANNOUNCE "ON THE RUN" Tour Dates
Posted: 28 Apr 2014 05:36 AM PDT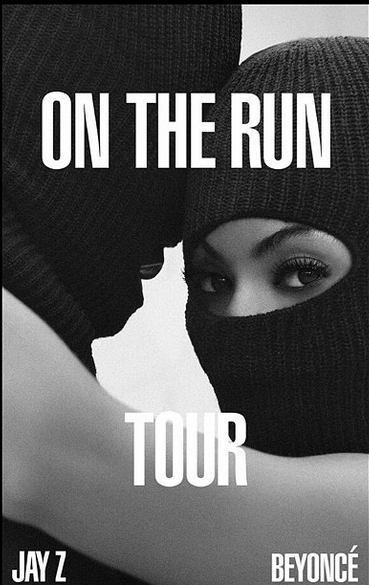 Beyonce and Jay Z are embarking on what will likely become one of the most anticipated and successful tours in music history. Find out when the King and Queen will be near you inside....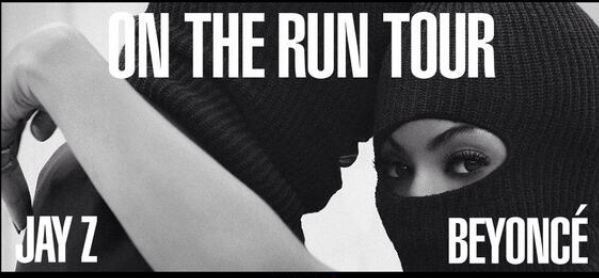 In the wee hours of the morning, Beyonce and Jay Z confirmed a rumor we'd hinted at a few weeks ago. They're going on tour together this summer!
Mr. & Mrs. Carter have announced dates for their upcoming "On The Run" Tour which kicks off on June 25th in Miami, FL. Advance access to purchase tickets from Tuesday, April 29 at 10am through Thursday, May 1 at 10pm are available to Chase credit and debit card members.
"On The Run: Beyonce and JAY Z," in partnership with #BeyGOOD, will donate $1 from every ticket purchased to the Shawn Carter Foundation to support students. Fans can also visit https://www.facebook.com/Beyonce or https://www.facebook.com/JayZ for more information about getting early access to tickets.
Photos via Beyonce.com
NeNe Leakes Has Her EXTRA LONG Say On Why She's Beefing With Cynthia AFTER They Made Up...Posts RECEIPTS!
Posted: 27 Apr 2014 08:13 PM PDT
The drama continued off screen after Round 2 of the "RHOA" reunion aired Sunday night. As for the drama between NeNe Leakes and Cynthia Bailey...NeNe's now ready to say her piece. And it's a LONG piece. Check out how she puts Cynthia on blast inside....and offers up text message receipts....
On Sunday night's reunion show installment, NeNe was upset that her frenemy Cynthia Bailey was attempting to bring up old ish...in front of the rest of the laadies. NeNe said she found it odd Cynthia had "forgiven" her for the "Peter stop acting like a b*tch" comment in October of last year. And they have spent tons of time together since then being Best Friends again--Thanksgiving, New Years Eve, Fashion Week and more.
So when Cynthia appeared to be shocked and appalled when the episode of the Peter/NeNe fight aired, NeNe accused Cynthia of letting the audience and 'outside talk' change her mind about making up with NeNe. And she also accused her of trying to create a storyline to save her job on the show, all at NeNe's expense.
After blowing Cynthia and her tears off on Sunday night's episode, NeNe said her FULL piece on IG after the show aired. She posted the pic above--pics of them together since October of last year--and said the below:
AS HOPEFUL AS I WAS 4 US 2 BE LIFE FRIENDS I'AM NOT SURPRISED OUR FRIENDSHIP HAS ENDED & IT TRULY SADDEN ME! REALITY FRIENDSHIPS NEVER LAST ANYWAY SO HOW FOOLISH WAS I TO THINK I HAD MADE SOMETHING SPECIAL! IT'S AMAZING WHAT PEOPLE R WILLING 2 DO 4 THE LOVE OF MONEY, RELEVANCY & 2 STAY ON TV. WITH CYNTHIA'S SELL OUT PERSONALITY & BLOW WITH THE WIND PERSONA I KNEW IT WAS ONLY A MATTER OF TIME! IT'S ALWAYS THE ONES THAT R THE CLOSEST TO U THAT WILL TURN ON U! I WAS TOTALLY BLINDSIDED BY ALL THIS! YES I SAID PETER WAS ACTING LIKE A BIOTCH N EARLY OCTOBER OF LAST YEAR & I HAVE APOLOGIZED NUMEROUS TIMES 4 IT! CYNTHIA & PETER ACCEPTED MY APOLOGY & WE SIMPLY MOVED ON! YES MOVED ON 2 TALKIN, TRAVELING & TEXTING SEVERAL TIMES A DAY AS WE ALWAYS DID! THE 4 OF US WENT 2 DINNER, CYNTHIA HOSTED MY CURVY GIRLS MODEL CALL @ BAR ONE & PETER WAS THERE 2 HELP OUT! THEY WERE @ THE HOSPITAL WITH ME, THEY SPENT THANKSGIVING @ MY HOME, WE CELEBRATED NEW YEARS EVE TOGETHER N VEGAS, WE WERE HANGING OUT TOGETHER DURING FASHION WEEK! SHE ATTENDED THE RED DRESS HEART TRUTH FASHION SHOW WITH ME & MICHAEL COSTELLO'S FASHION SHOW, WE CELEBRATED HER AN EARLY BIRTHDAY BRUNCH IN NYC @ LAVO! WHEN THE EPISODE AIRED 4 ALL 2 SEE & TWITTER-VERSE HAD THEIR SAY I GUESS SHE CHANGED HER MIND & DECIDED SHE NEEDED 2 BE MAD NEARLY 6 MONTHS LATER!.....I KNOW U TRYIN 2 PULL THE SYMPATHY CARD BUT IF U WERE SUCH A GOOD FRIEND? Y DIDNT U PULL ME ASIDE & TALK 2 ME ABT HOW U WERE FEELING INSTEAD OF DICING OUR FRIENDSHIP UP N FRONT OF A BUNCH OF PEOPLE WHO DONT CARE! SURELY I'AM WORTHY OF THAT CONSIDERING I HAVE CARRIED U ON MY BACK! I CAN ADMIT WHEN SOMETHING HURTS THE SAME WAY I CAN APOLOGIZE WHEN I'AM WRONG BUT HEY WHO CARES ABT A STUPID FRIENDSHIP WHEN U NEED 2 SECURE ANOTHER SEASON ON THE SHOW! THE SADDEST THING ABT BETRAYAL IS THAT IT NEVER COMES FROM THE ENEMY! 4 THE RECORD I DONT HATE U! I JUST HATE U TURNED INTO EVERYTHING U SAID U WOULD NEVER BE! GOOD BYE FRIEND!....PS: IF U OR ANYONE ELSE THINKS THE DEMISE OF OUR FRIENDSHIP IS YOUR STORY LINE 4 SEASON 7, THINK AGAIN FLIP FLOPPER
Oh, there's more. NeNe then posted a screenshot of the text message Cynthia sent her last October right after the Mexico incident was filmed, with Cynthia saying she had let it go and wasn't going to press any further in their next scenes together.
NeNe said: "Did u forget u sent me this text after Mexico the morning before Gregg & I shot the scene with u & Peter! Don't play dumb friend! I know u innocent." And she posted the below: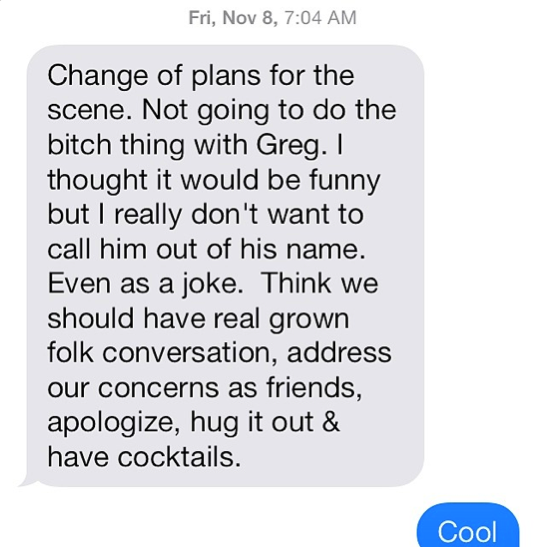 Check out the clips below to recap what went down on last night's reunion installment:
Photo: NeNe's IG
PARTY PEOPLE: Kevin Hart & Eniko Hit New Orleans JazzFest + Mya Sparkles At Haze In Vegas
Posted: 27 Apr 2014 07:09 PM PDT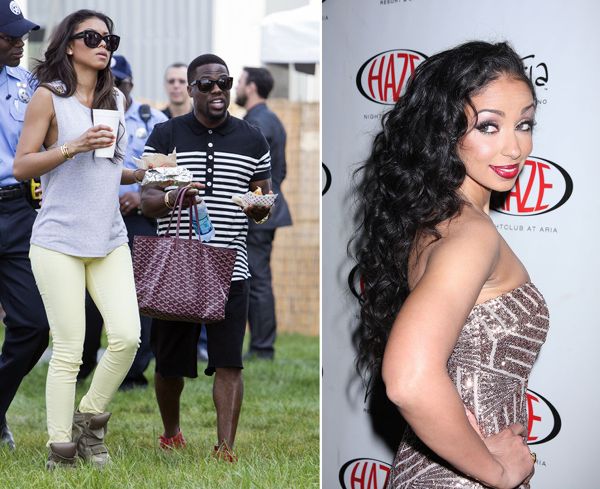 Kevin Hart is chillin' with girlfriend Eniko down in New Orleans at the first weekend of the Jazz Festival, and Mya is partying it up in Vegas. Check out how a few YBF celebs spent their weekend inside...
The annual New Orleans 10-day Jazz Festival kicked off this weekend, and Think Like A Man Too star Kevin Hart was there for the festivities with girlfriend Eniko.
The twosome were spotted grabbing some food and drinks before taking in some performances. And Kevin was even gentleman enough to carry his woman's Goyard bag for her.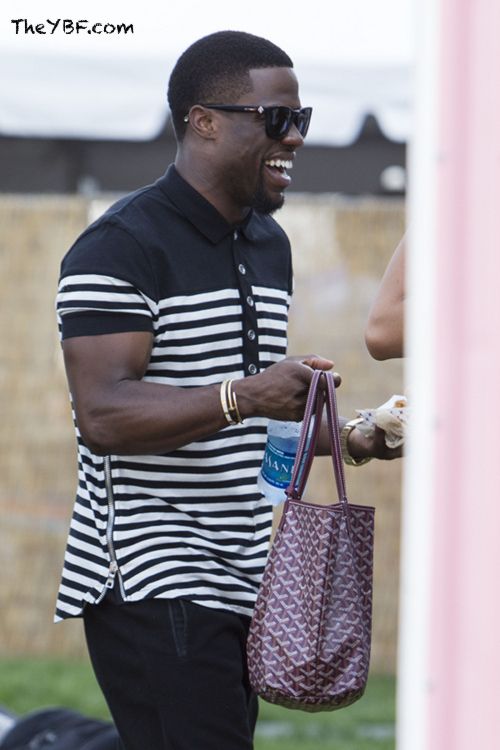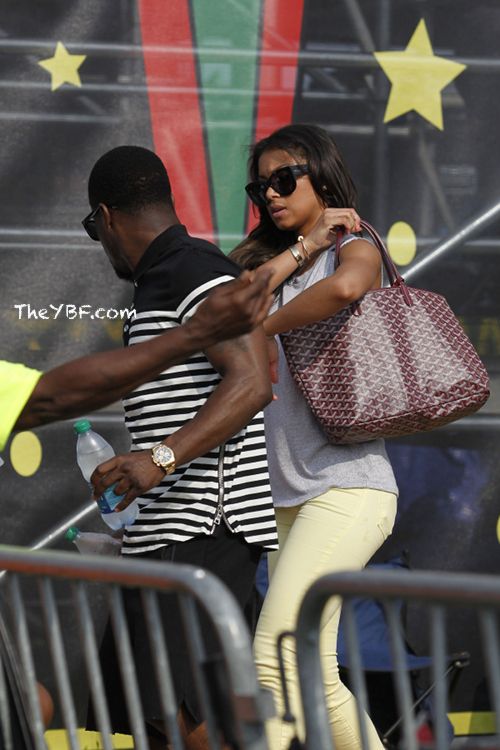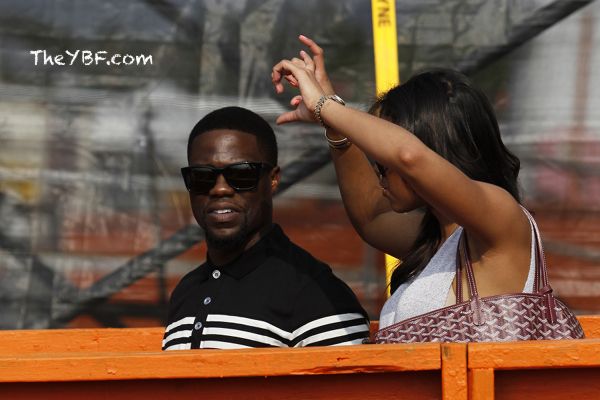 Fun times.
And over in Vegas, Mya hit the carpet at Haze Nightclub at the Aria Resort and Casino as she's promoting her new EP With Love: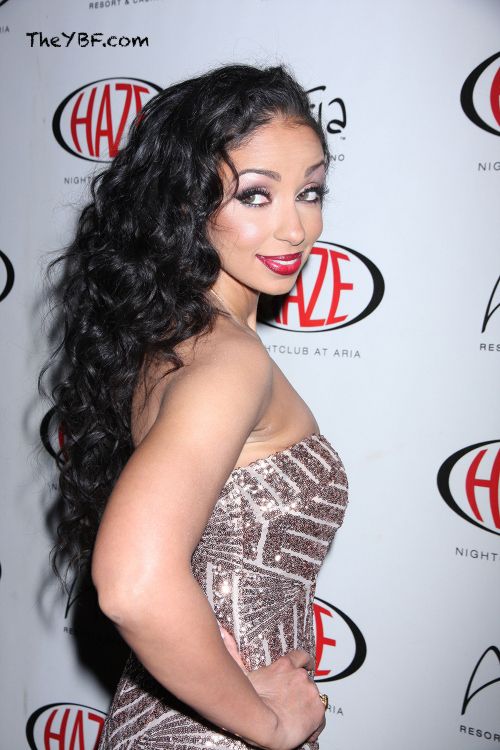 She's still looking great. Anybody cop that EP?
Photos: PCN
CLIPPERS TAKE A STAND--SILENT PROTEST! Players Unite At Midcourt During Warm-Ups To Remove CLIPPERS Emblem From Their Chest, Wearing BLACK ARM BANDS
Posted: 27 Apr 2014 01:50 PM PDT
Via a sign of silent protest, the Clippers players made a statement at the start of today's game against the Golden State Warriors minutes ago. Check it inside...
Amidst the fallout of the Clippers owner Donald Sterling's racist foolery, the Clippers team decided to make a joint statement in protest of their owner's actions.
The men huddled up at center court at beginning of their warm-ups, threw their official Clippers warm-up uniforms to the floor & wore their practice jerseys inside out. The Clippers emblem was nowhere to be found.
Throughout the game, Chris Paul is wearing a black t-shirt under his jersey and ALL players are wearing black bands around their arms, believed to be statements of black power.
#Clippers run out onto court, huddle up and remove their team issued gear, now all wearing red climalites inside out pic.twitter.com/JhhnUg3zpg

— Madelyn Burke (@MadelynBurke) April 27, 2014
At the very least, they've taken a definitive stand in condemning the racist remarks, which is extremely important on a platform as large as this. The world is watching. So are our children.
Thoughts?
P.S. Don Sterling's wife Shelly--yes, he's still legally married--traveled with the team. And she is AT the Clippers game in Oakland right now...cheering on the team. How convenient. We're still side-eyeing her and her possible role in the bugging/leaking of the audio. She's also the plaintiff who named Don's girlfriend V. in that previously mentioned embezzlement lawsuit...
Photos: @ArashMarkazi's Twitter, Madelyn Burke's Twitter

MORE Donald Sterling Audio Released! NAACP L.A. Branch IXNAYS His Upcoming Lifetime Achievement Award, Obama Denounces Racist Remarks
Posted: 27 Apr 2014 11:07 AM PDT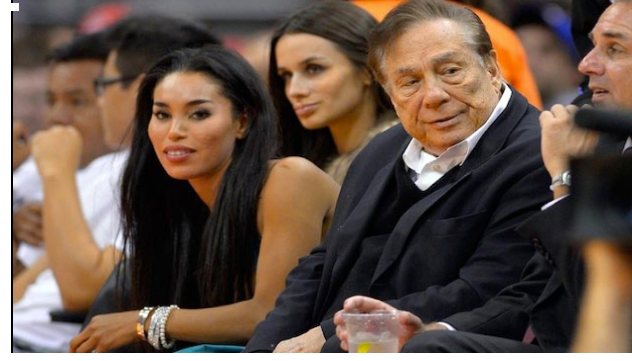 The foolery continues. MORE audio has been released in the racist case of L.A. Clippers owner Donald Sterling. Check out the latest extended tape inside where Don says he puts food on black people's tables and MUCH more, plus the NAACP's latest statement about his Lifetime Achievement Award....
While pouring this man Don Sterling some juice and catering to everything he wants, we can hear Don showing his true colors to 20-something girlfriend V.Stiviano on the extended leaked audio. Don really is trying to convince this woman, who we're pretty convinced only SOUNDS like she's baiting him but she likely just sounds like this all the time, that he's NOT a racist.
He actually believes that it's only the rest of world who's racist. And he's simply catering to who and what the racist people (who he obviously values) want and don't want to see.
GF: "I don't understand, I don't see your views. I wasn't raised the way you were raised."

Sterling: "Well then, if you don't feel -- don't come to my games. Don't bring black people, and don't come."

GF: "Do you know that you have a whole team that's black, that plays for you?"

Sterling: "You just, do I know? I support them and give them food, and clothes, and cars, and houses. Who gives it to them? Does someone else give it to them? Do I know that I have—Who makes the game? Do I make the game, or do they make the game? Is there 30 owners, that created the league?"
And there's more. V., who is half black and half Mexican, explained that she didn't remove MLB baller Matt Kemp from her Instagram pics (after their original fight over her posting IG pics with black people)...because he's MIXED and LIGHTER THAN HER:
V: Honey, if it makes you happy, I will remove all of the black people from my Instagram.

DS: You said that before, you said, "I understand."

V: I DID remove the people that were independently on my Instagram that are black.

DS: Then why did you start saying that you didn't? You just said that you didn't remove them. You didn't remove every—

V: I didn't remove Matt Kemp and Magic Johnson, but I thought—

DS: Why?

V: I thought Matt Kemp is mixed, and he was OK, just like me.

DS: OK.

V: He's lighter and whiter than me.

DS: OK.

V: I met his mother.

DS: You think I'm a racist, and wouldn't—

V: I don't think you're a racist.

DS: Yes you do. Yes you do.

V: I think you, you—

DS: Evil heart.

V: I don't think so. I think you have an amazing heart honey. I think the people around you have poisoned minds.
They then went on to a conversation of equating Don's beliefs, especially as a Jewish man, to that of the Holocaust. He wasn't pleased.
DS: It's the world! You go to Israel, the blacks are just treated like dogs.

V: So do you have to treat them like that too?

DS: The white Jews, there's white Jews and black Jews, do you understand?

V: And are the black Jews less than the white Jews?

DS: A hundred percent, fifty, a hundred percent.

V: And is that right?

DS: It isn't a question—we don't evaluate what's right and wrong, we live in a society. We live in a culture. We have to live within that culture.

V: But shouldn't we take a stand for what's wrong? And be the change and the difference?

DS: I don't want to change the culture, because I can't. It's too big and too [unknown].

V: But you can change yourself.

DS: I don't want to change. If my girl can't do what I want, I don't want the girl. I'll find a girl that will do what I want! Believe me. I thought you were that girl—because I tried to do what you want. But you're not that girl.
Check out Deadspin's full audio HERE.
Meanwhile, folks were up in arms this weekend when it was discovered that the L.A. branch of the NAACP was set to give Donald Sterling his SECOND Lifetime Achievement Award this month. After much outcry, the NAACP's California Conference President has put out a statement calling for all black fans to NOT go to games, as Sterling requested. And the L.A. branch has retracted the award:
#DonaldSterling will not be receiving a lifetime achievement award from the LA Branch of the NAACP. #MTP

— NAACP (@NAACP) April 27, 2014
Sterling has a long public history of lawsuits and accusations involving racial discrimination. So the question remains, why was this man ever considered for this award in the first place....and for the SECOND time?
President Obama has even weighed in on the matter, all the way in Malaysia today, calling Sterling's remarks "racist" and "incredibly offensive".
"I don't think I have to interpret those statements for you. They kind of speak for themselves.

"When ignorant folks want to advertise their ignorance, you don't really have to do anything, you just let them talk."

"I suspect the NBA is going to be deeply concerned in resolving this."

"We just have to be clear and steady in denouncing it, teaching our children differently but also (remain) hopeful that part of why some statements like this stand out so much is because there has been a shift in how we view ourselves."
Agreed!
In other news, the NBA has ordered Sterling to "stay home" instead of attending today's Clippers playoff game at the Oracle Arena in Oakland....