---
Michelle Williams Set To Play Mary Magdalene On A ROCK OPERA TOUR + Don Cheadle Chops It Up On "Chelsea Lately" About Getting High + T.I. Mad He Doesn't Have Guns For His Dating Daughters
Posted: 04 Apr 2014 09:57 AM PDT
Michelle Williams is putting on her church hat once again to star as Mary Magdalene in Jesus Christ Superstar. And she hit up "Good Morning America" today to talk all about it. Deets inside, plus Don Cheadle tells Chelsea Handler about getting high on the set of "House of Lies" and T.I. tells Arsenio why he's mad the government took his guns away....
Former Destiny's Child chick Michelle Williams is still singin'. And now, she's taking her fab church girl self on the road for a 50-city tour with the rock opera, Jesus Christ Superstar. And she's playing prostitute Mary Magdalene.
Michelle appeared on "Good Morning America" today with co-star Brandon Boyd to announce the tour and to belt out one of their songs.
As for Jesus Christ Superstar, the musical written by Andrew Lloyd Webber and Tim Rice about the last days of Jesus, the tour kicks off June 9th in New Orleans. Fun YBF fact: The original production earned five Tony Award nominations, including one for Ben Vereen, who played Judas.
Check out Michelle on "GMA" this morning below:
Oh, and Michelle saw y'alls #PoorMichelle hashtag yesterday. *Snickers* It was filled with pics and tweets of how Michelle is treated like Destiny's stepchild. Her response, though:
#PoorMichelle that's not what my accountant said! Y'all be blessed now..

— Michelle Williams (@RealMichelleW) April 3, 2014
Bloop.
As we gear up for this Sunday's season finale of "House of Lies" (this season was amazeballs by the way), star Don Cheadle is making his promo rounds. And he stopped by "Chelsea Lately" last night to dish about giving his co-star Kristen Bell a contact high....while she was pregnant!
Apparently, while the cast was doing a scene that involved getting someone high to steal business from them, they had fake blunts rolled....but someone in the cast decided to have a REAL one. That unnamed person said he wanted to see if he could get it introduced into the scene for real, and Kristen said she was OK with it....because she didn't think it was really real.
Needless to say, she was messed up. Check out the clip above.
Don's long time girlfriend Brigid Coulter (whom he shares two kids with) is also co-starring on the show this season as Mekhi Phifer's character's wife.
Also on late night: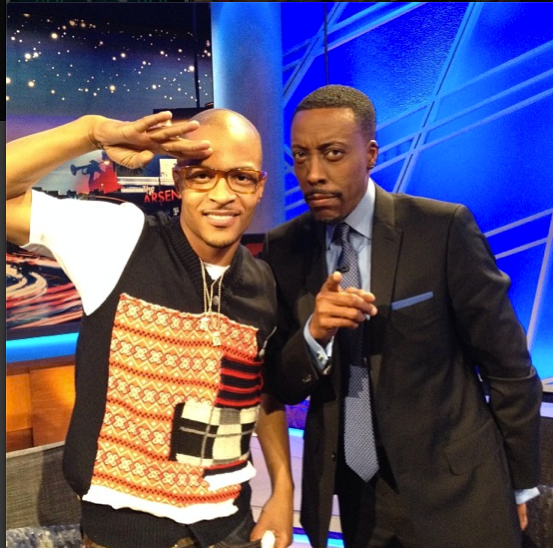 T.I., who's also starring on"House of Lies" this season, joined Arsenio Hall on the couch last night to talk about, of all things, parenting. His girls, Zonnique and Deyjah, are growing up and starting to date, which is hard for most fathers. But T.I. tells Arsenio it's even harder when the government has taken away all your guns. Ha!
Check out a few clips below:
T.I. On His Daughters Dating: 'The Government Got All My Guns Now'
T.I. Gives Parenting Advice To The Audience On Discipline, 'The Talk' & Social Media
T.I. Talks 'The Cosby Show,' DeSean Jackson & Blasting Out Co-Star Don Cheadles' Phone Number
Photos: GMA's Twitter, Arsenio's IG
Salon FIRES BACK At Lil Scrappy For "Racist" Accusation, Says Scrappy Was TWO Hours Late For Daughter's Party
Posted: 04 Apr 2014 08:57 AM PDT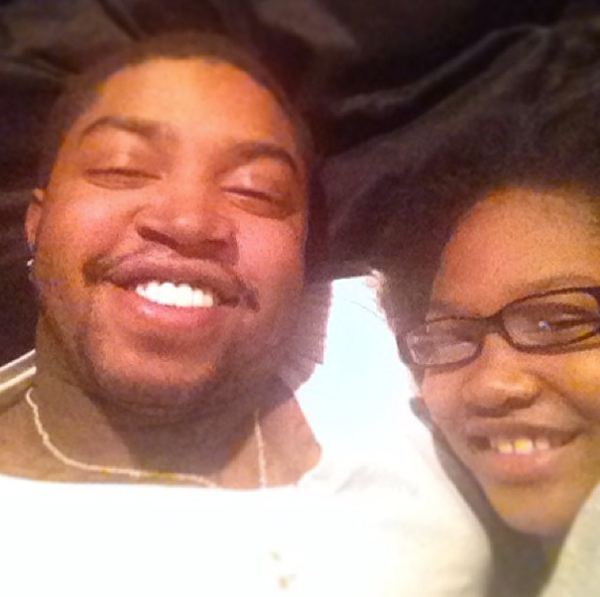 Lil Scrappy is claiming an Atlanta spa discriminated against him and his family for being black after they cancelled his daughter's party. The salon has now fired back saying they aren't racist, and Scrappy was just LATE. Read the deets when you go inside…
"LAHH ATL" star Lil Scrappy was ready to put "them paws" on someone after his daughter was left in tears when an Atlanta salon refused to serve his family. Why? Well…according to Scrappy, it was because they're black!
It was reported Scrappy put down a down payment to have his little girl, Emani's 9th birthday party at Glamour Girls Day Spa. Scrappy and Emani's mother, "LAHH ATL" star Erica Dixon, showed up and when they got there, the salon refused to let them in. They claim they were only 20 minutes late, but the salon said otherwise.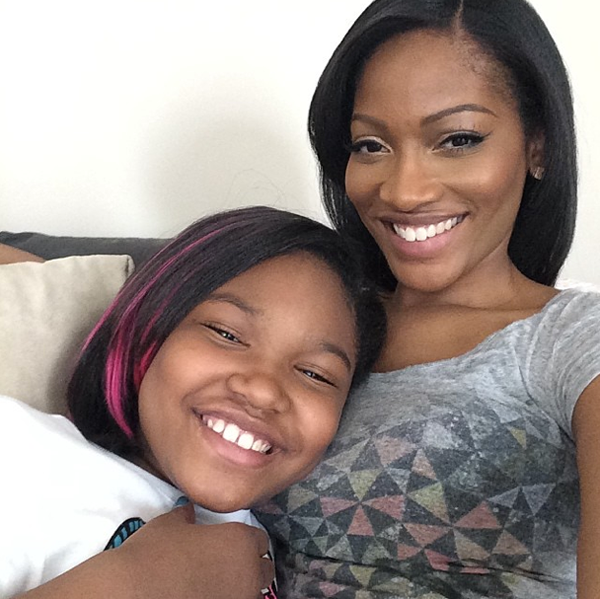 Scrappy got upset when they wouldn't let them in after he had already made a down payment and the salon owner allegedly told Scrappy they didn't want to serve "you people."
That set Scrappy off and the cops ended up being called because obviously, dude wanted his money back. He got half of his money back and the salon agreed to mail the rest.
Now, the salon is speaking out.
Glamor Girls Day Spa's owner Angela Shannon told TMZ she didn't let them in because they were extremely late and she had other customers waiting. She insisted it had nothing to do with them being black and confirmed she paid Scrappy a full refund of $275.42...with receipts to prove it.
Can't get mad if you operate on CP time. Allegedly.
The Randomness:
1. Angela Bassett will continue to star on "American Horror Story" for the FREAK SHOW installment. STORY
2. Nick Cannon's "I'm Racist" stand up comedy routine. STORY
Photos: Emani's IG/Erica Dixon's IG
DO WE LOVE IT?! Brandy's New Look -- 'Fro Action!
Posted: 04 Apr 2014 08:04 AM PDT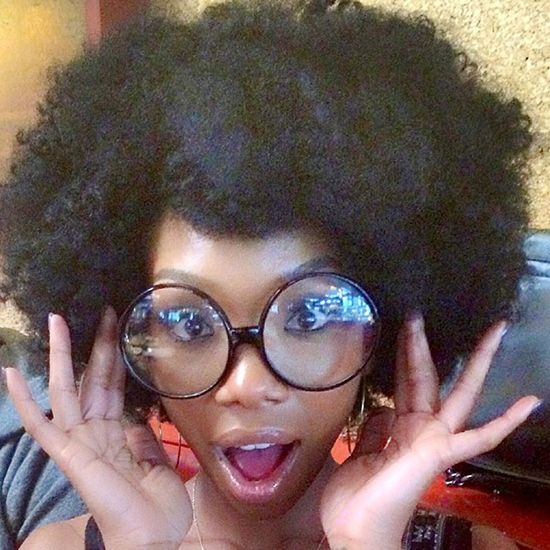 Well helloooo hair! Brandy Norwood has a new look...and she's clearly loving it with all the pics she snapped. But, do WE love it? Decide inside...
She's 'Fro happy! "The Game" star Brandy flossed her brand new afro on Instagram yesterday. And if anybody can pull it off, she surely can. The newly single singer/actress had some fun with her new look before she taped her appearance on "The Queen Latifah Show":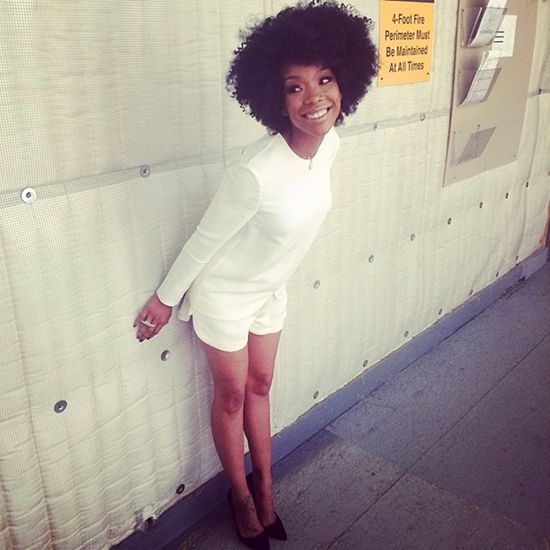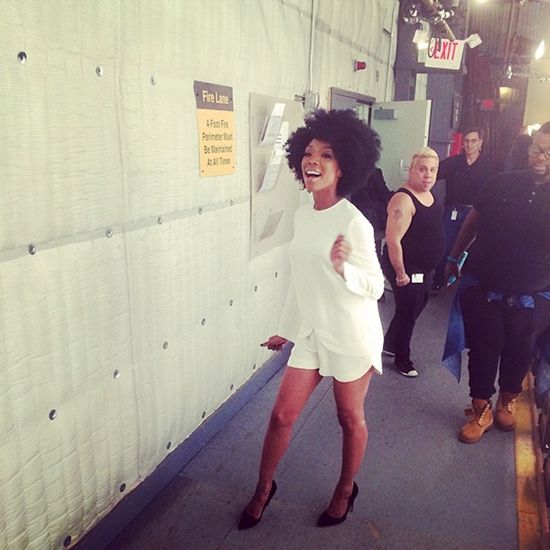 The fab chick said about her new hair, styled by her team Tym Wallace and Jasmine Ashley:
#badbish lol #fro #35 #us #dreamteam

My #fro looks better than yours, I can teach you, but I'mma have to charge!!
But before you believe that she's rocking her own natural tresses, we've learned Brandy is actually wearing Heat Free Hair's wefted 'For Kinks' collection of hair. Yup! It's a weave, but it looks pretty damn convincing.
Mrs. Chardonnay Pitts went on snapping pics to give us the full afro moment: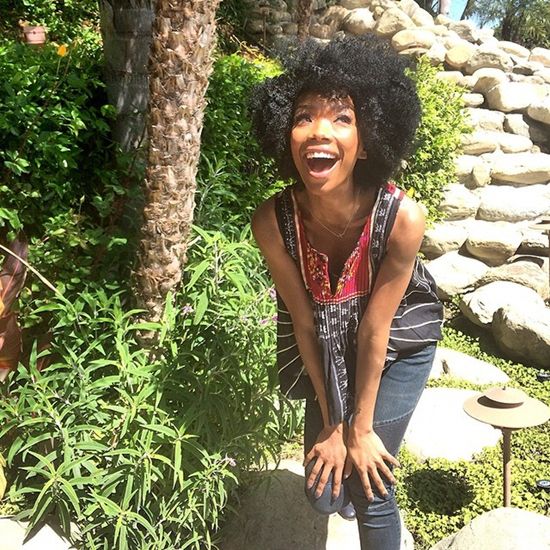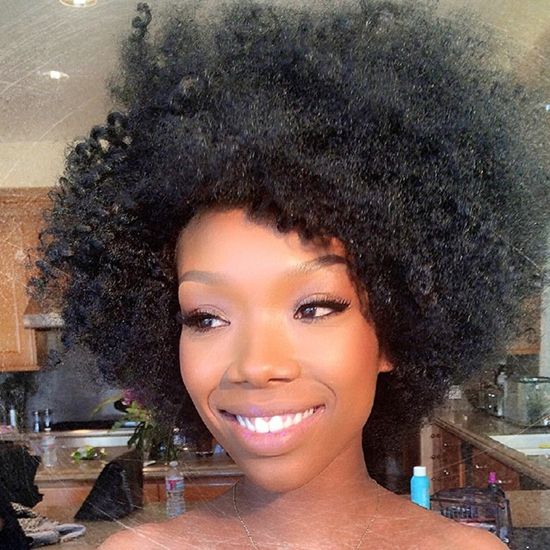 She posed it up with her publicist, Kita Williams.
Brandy even joked abut her mom now calling her Little Orphan Annie now:
Making fun of my #fro now. #haha #laughterishealing #orphanannie and Annie is what my mom calls me.. #sshhhh #donttellnobody
And she busted out with her impromptu version of "Tomorrow". Ha!
So....
DO WE LOVE IT?!
Photos: Brandy's IG
AWWW: Actor Brian White & Wife Paula Welcome Baby Girl LAYLA SIMONE!
Posted: 04 Apr 2014 07:19 AM PDT
Welcome to the world cutie! "Hostages" & "What My Husband Doesn't Know" actor Brian White and his wife Paula Da Silva just welcomed their brand new baby girl to the world. See little Layla Simone inside...
It's a girl for actor Brian White and his wife of 4 years Paula. And despite stirring up controversy with his words for black women right after his wedding with his Latina wife (as well as his controversial words about black reality stars), it seems he's moved on. And his new focus is this little adorable bundle of joy: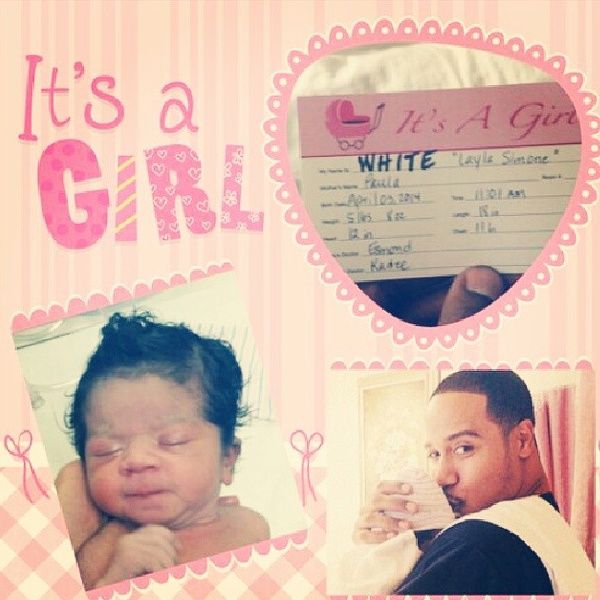 Baby Layla Simone was born at 11:01AM on Thursday morning. And the tiny bundle weighed in at 5 pounds, 8 ounces and 12 inches.
Brian was immediately on doting daddy duty snapping pics galore and cuddling up to his new precious cargo: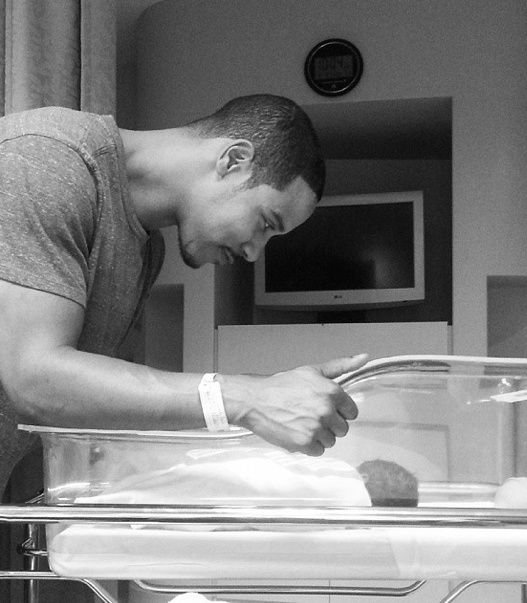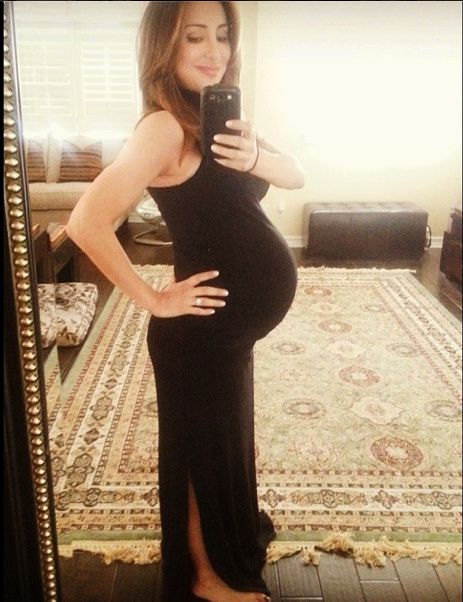 And just days before birthing that baby, Paula snapped a pic showing off her ready-to-pop bump.
Next up for Brian is a new movie called My Favorite Five starring Rochelle Aytes, Jay Ellis, DeRay Davis and more.
Congrats to the couple!
Photos: Paula's IG, Brian's IG
OH YES: Lupita Nyong'o Is The Brand New Face Of LANCOME!
Posted: 04 Apr 2014 06:46 AM PDT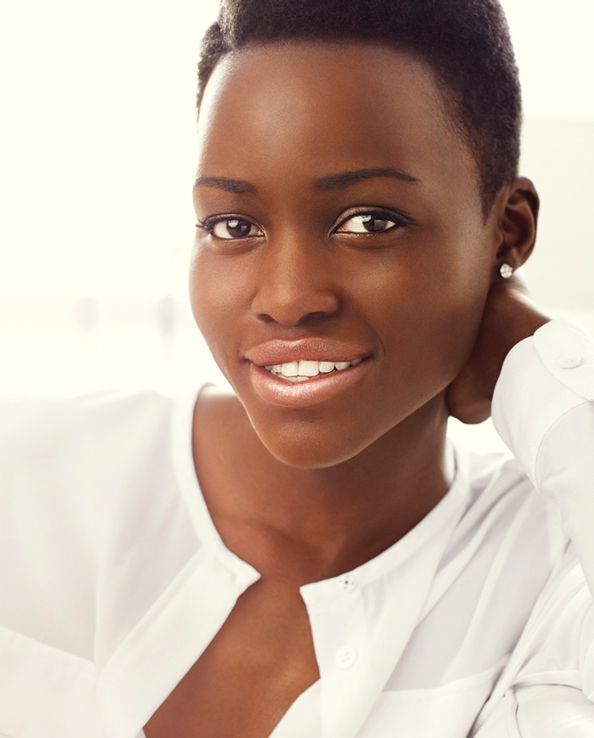 With that perfect face, flawless skin and even more flawless inner beauty, it was only a matter of time before Academy Award winner Lupita Nyong'o nabbed herself a beauty campaign. And today she is being announced as the newest face of Lancome!
This is major! Deets inside...
With two box office flicks and a Miu Miu campaign under her belt, gorgeous & talented newcomer Lupita is expanding her brand. Her official title: "Brand Ambassadress of Lancome"!
Lupita joins hot shot Lancome women Julia Roberts, Emma Watson, Kate Winslet, Penèlope Cruz, and YBF model Arlenis Sosa Pena as the newest member of the elite beauty brand's roster.
The 12 Years A Slave star, who is pictured above in her very first promo photo for Lancome, gushed about her new gig saying:
"I am truly honored to join the Maison Lancôme, a brand with such a prestigious history that I have always loved. I am particularly proud to represent its unique vision for women and the idea that beauty should not be dictated, but should instead be an expression of a woman's freedom to be herself."
Love it. We think she's found her calling...well, another one.
The 31-year-old's first campaigns will be seen this summer and will be shot by photographers Mert Alas and Marcus Piggott.
Congrats Lupita!
Photo: Lancome
Eva Marcille, Sundy Carter, Karrueche & More Hit Russell Simmons' Comedy Show In Hollywood + BTS Video Of Eminem & Rihanna's "Monster" Video
Posted: 03 Apr 2014 05:18 PM PDT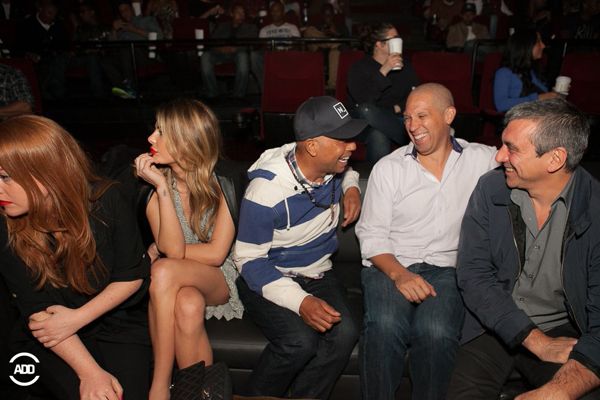 Last night, Russell Simmons brought on the laughs for his "ADD Comedy Live" show in Hollywood with Tony Rock hosting and other YBF celebs in attendance. Plus, see a BTS video of Eminem and Rihanna's "Monster" video when you go inside...
Entrepreneur Russell Simmons brings the funny to Hollywood on Wednesday nights with his "ADD Comedy Live" show at the Inside Jokes Comedy Club & Lounge in Los Angeles.
Yesterday, Russell Simmons and his All Def Digital company presented the sold-out "ADD Comedy Live" hosted by comedian Tony Rock. The packed house included model Eva Marcille, Chris Brown's boo thang Karrueche, "Baskebtball Wives: L.A." star Sundy Carter, actor/director Bill Duke and "Bad Girls Club" star Tanisha Thomas. Even Sticky Fingaz from the rap group Onyx made a rare appearance.
Check the pics:
New mommy Eva Marcille was on the scene spotted with "BBW LA" star Sundy Carter who was almost unrecognizable with her new hair color. We feelin' her new look?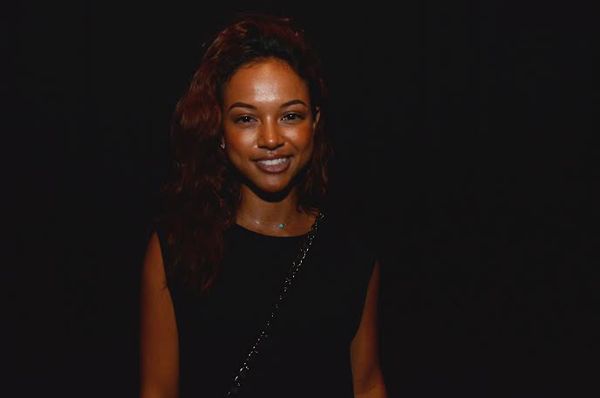 Karrueche was all smiles as she continues living the "almost" single life. Recently, she posted a video of herself on a call with Chris Brown where he declared he still loves her and she ate it all up.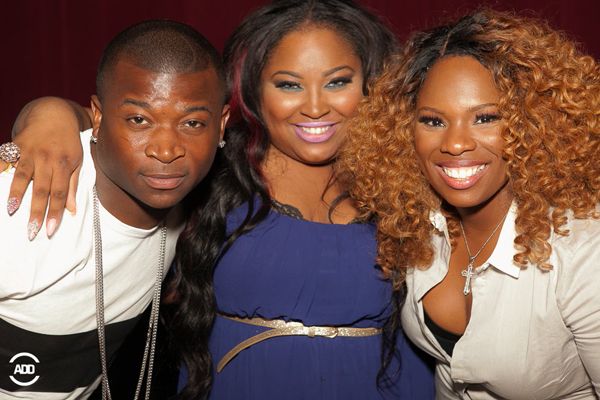 "Bad Girls Club" star Tanisha Thomas shared some laughs with friends.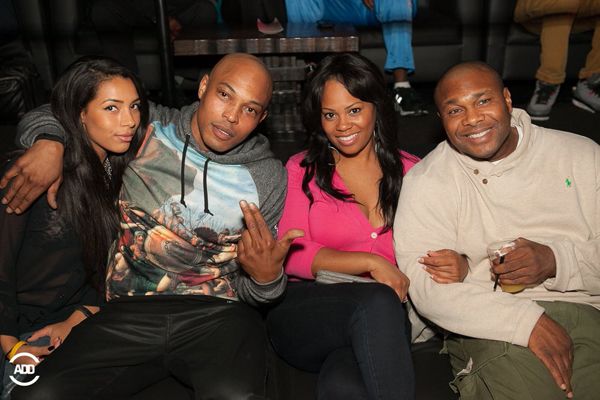 And Sticky Fingaz (where has HE been?) hung out for some laughs with his crew.
And in a BTS video….
Rihanna and Eminem give a behind the scenes look at their "Monster" video, directed by Rich Lee. In the video, Em confronts his demons with the help of a sexy hypnotist/clinician played by RiRi, which appears on Em's The Marshall Mathers LP 2.
And the two will collaborate on stage to perform their smash hit on their Monster mini-stadium tour, kicking off in August.
Check it:
Sweet.
COUPLEDOM: Zoe Saldana & Husband Marco Perego GET KISSY In Milan
Posted: 03 Apr 2014 03:44 PM PDT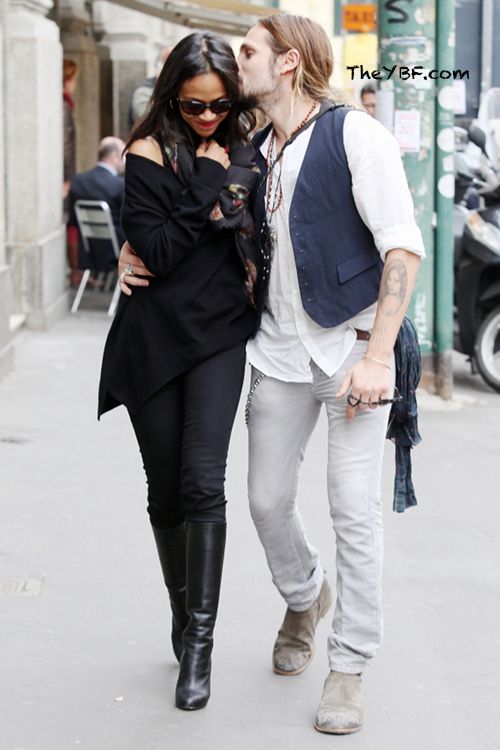 Zoe Saldana and her hubby Marco Perego was spotted in Milan, Italy. See pics inside.....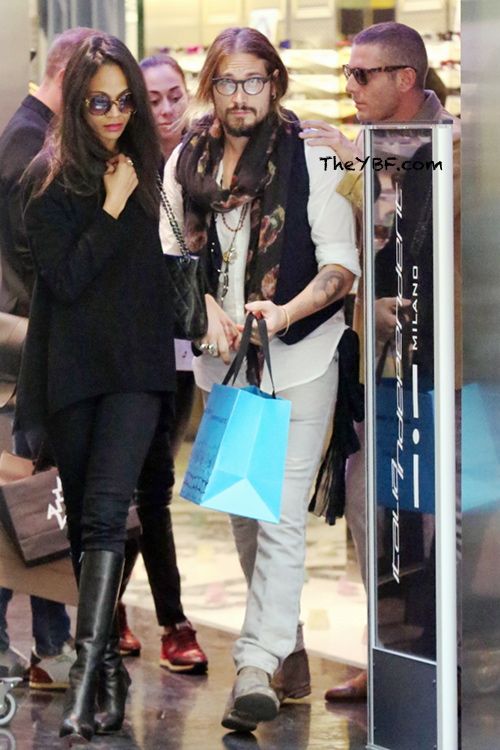 Actress Zoe Saldana strolled through the streets of Milan, Italy with her hot hubby Marco Perego yesterday. The fab couple also went shopping with Lapo Elkann, one of the heirs to Italy's famous Fiat empire.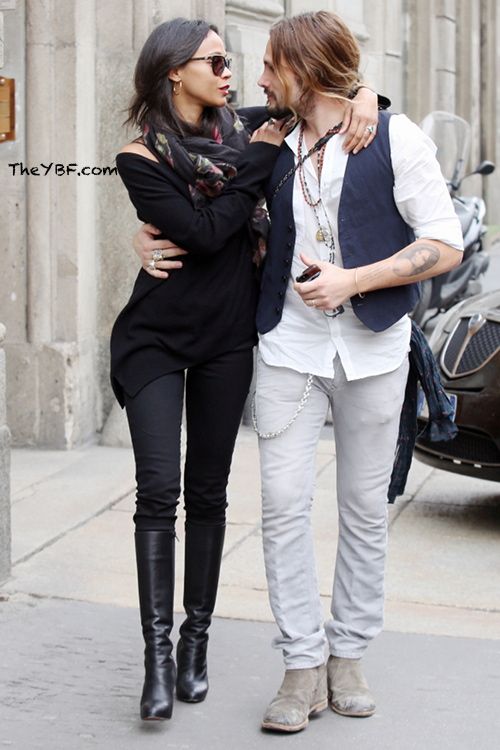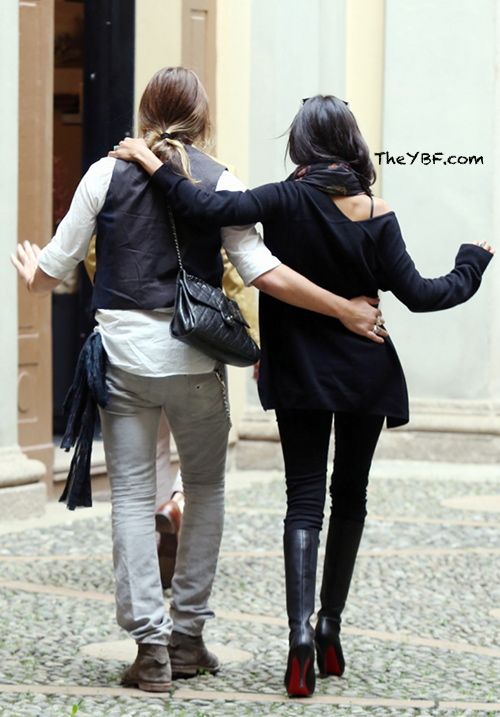 During their stroll, we noticed that Marco is comfortable enough with his masculinity to rock Zoe's Chanel bag across his body. Cute....it matches his scarf.
Watch Zoe's new Rosemary's Baby trailer below:
Photos via Splash News
BADDIE ALERT: Janelle Monae...Is That You Girl?!
Posted: 03 Apr 2014 01:49 PM PDT
Soulstress Janelle Monae let her hair down, kinda, and showed off a sexy side like we've never seen! See Janelle letting her "ladies" out to play inside....
We came across an uber-sexy undated photo of Janelle Monae with the Wondaland Arts Society. The group, which she co-founded, consists of a collective of artists musicians, singers, rappers, painters (including Roman GianArthur).
When she's with the WAS, it looks like she shows off a different side of herself. Wearing a short white dress with a plunging neckline, Jimmy Choo shoes and her hair pulled back, Janelle showed off her sexy side. We likey!
A few months ago, she told ESSENCE Magazine that she intentionally hides her sexy body so fans will focus on her music and NOT her assets. In other news, she recently dropped a cover of of David Bowie's "Heroes" saying,
"Bowie is part of my musical DNA in so many ways. And 'Heroes' is one of my favorite Bowie songs. When you love your favorite song, you want to keep some of the beautiful qualities of the original, but we brought Atlanta in the drums and wanted them to be thick and hit hard. It's like us reimagining it. I thought, 'If this song was in my dream, how would it get from our dream to my reality?'"

Also, she and M.I.A. are set to celebrate the launch of the Audi A3 tonight...via hologram. According to Pitchfork, they'll also perform two brand-new duets.
The sie reports, it's "the first hologram performance with integrated video mapping....and...utilizes 3D projection mapping to add layered depth of field perception with animated graphic content, the result of which will be an electric never-before-seen 3D bi-coastal performance."
Listen to "Heroes":
Drake Raps About Sipping Tea With Erykah Badu, Talks About Rihanna In "Days In The East"? + Marsha Ambrosius Gets Emotional On "Run"
Posted: 03 Apr 2014 12:59 PM PDT On the heels of releasing "Draft Day," Drake possibly raps about Rihanna and raps about sipping tea with Erykah Badu. Take a listen to Drake's recently released "Days In The East," plus, take a listen to Marsha Ambrosius' "Run" inside…
As Drake is known for rapping his emotions, his new track, co-produced by PARTYNEXTDOOR and "40", called "Day In The East" doesn't disappoint.
Following the release of "Draft Day," Drizzy released "Days In The East," which some have already heard being he performed it last month on a tour stop in Birmingham, England (RiRi missed this one, she hit up the Manchester show). It could possibly be a track that was scrapped off Nothing Was The Same.
About 3-minutes into the song, you can hear Rihanna vocals in the background singing, "I threw my hands in the air and said show me something" from her track "Stay." Hmm…
Rihanna and Drake spent some time in Amsterdam and they were spotted grabbing sushi. He makes a reference to their time together rapping, "Wakin' up in Amsterdam with the boy/You would probably kill another man for the boy"
And he also spits, "Ain't the first time cause I've lost you before/Had to get it back." Totally refers to his and RiRi's on-and-off relationship. Why do you think he and Chris Brown were fighting?
Dizzy also dished on an evening he spent with Erykah Badu, sipping tea, talking about the woman he loves. He rapped, "Remember one night I went to Erykah Badu house, she made tea for me/We talked about love and what life could really be for me/She said, 'when that sh*t is real, you just know'/ And I was thinking bout you, you already know." Mmhmm…we know.
Check the RiRi-laced track below:
And on another track...
Singer Marsha Ambrosius dropped a new song titled "Run," a month after the release of her Fvck & Love EP.
Marsha sings about running from the pain she feels after the end of her relationship but soon realizes he's not worth her tears and moves on. Marsha's upcoming album Friends & Lovers is expected to drop later thie year, which this track will appear.
Listen to "Run" below:

We feelin' it?
REPORT: Mathew Knowles' Son Headed To HOMELESS Shelter....ALLEGEDLY!?
Posted: 03 Apr 2014 12:04 PM PDT
There are reports that Beyoncé's & Solange half brother and his mother, Alexsandra Wright, may be moving to an LA-area homeless shelter! More inside.....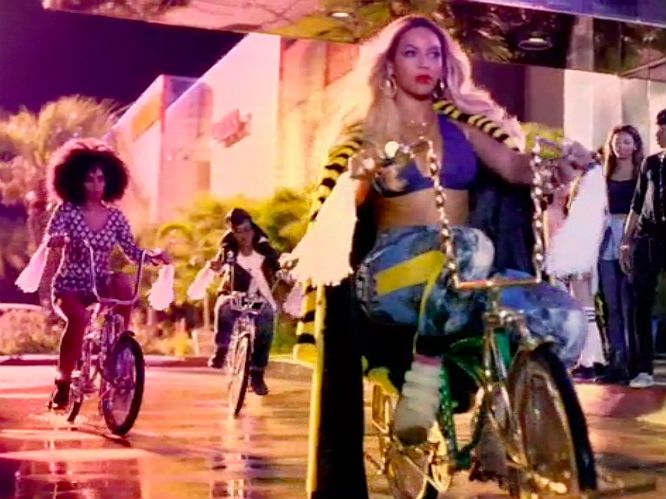 IN TOUCH Magazine is reporting that Alexsandra Wright, the mother of Mathew Knowles' son Nixon may be moving to an LA-area homeless shelter! Now....we think this is simply a ploy to garner attention and to embarass Mathew but we digress. She told the mag,
"Nixon deserves to know his family, and I hope one day he will meet his sister Beyoncé. I can't imagine how Beyoncé feels knowing she has a homeless brother. I know if I were in the same position, I would reach out. Maybe she is too busy."
So how did this happen? Well.....you'll recall that Mathew and Alex went to court last month and a judge retroactively reduced his payments from $12,000 to $2,400 per month because of his change in income. As a result, he won't have to make another payment for almost two years.
Now....it looks like Alex is out of luck as she's run through the money she's collected so far. She told IN TOUCH she's having severe financial hardships. SMH... you ALMOST want to feel sorry for her. ALMOST.
The Randomness:
1. Vybz Kartel just got sentenced to life in prison. STORY
Photos via Getty
SHE'S BACK: Jazmine Sullivan Performs At Sold-Out KOKO London Show, Gearing Up For Release Of COMEBACK Album
Posted: 03 Apr 2014 11:30 AM PDT
Jazmine Sullivan is BACK! After announcing she was taking a break from the music industry back in 2011, Jazmine Sullivan is now on the comeback trail. And we're here for it. Read the deets and check out her recent performance inside…
The 7-time Grammy nominated songstress Jazmine Sullivan is making a comeback after declaring she was leaving the music industry. She announced back in 2011 via Twitter:
"i promised myself when it wasn't fun anymore i wouldn't do it. and here i am. i love u all and appreciate u soooooo much. u have no idea how much u've inspired me and fed my ego," the singer shared. "but the truth is that i have to believe in me whether you all do or not. and thats what i'm lookin for. that belief in myself. me. I. i love us. thanks for being here for me and riding with me on this journey. let us continue. [sic]"

Now the 26-year-old Philly native is getting back on the scene with her first appearance at a sold-out show at KOKO London Theater this past Saturday.
She tweeted:
During Jazmine's set she sang a medley of her hits including "Bust Your Windows," "Lions, Tigers & Bears," "Need U Bad," "In Love With Another Man," and more while also performing some popular covers such as Daft Punk and Pharrell's "Get Lucky. She also debuted a new track of her own titled "Masterpiece" and it doesn't sound like she has missed a beat.
She thanked the screaming audience, "I'm glad to be back guys. Thank you for having me." During her show, she announced she will be releasing a new single soon which will be featured on her upcoming third album (following Fearless and Love Me Back). Stay tuned for that.
Check out the YBF chick's set below:
"Get Lucky":
"Bust Your Windows":
"Hold You Down":
"In Love With Another Man":
"Lions, Tigers & Bears":
"Need You Bad":
Loves it.
RED HOT: Angela Simmons Parties It Up In ATL
Posted: 03 Apr 2014 10:40 AM PDT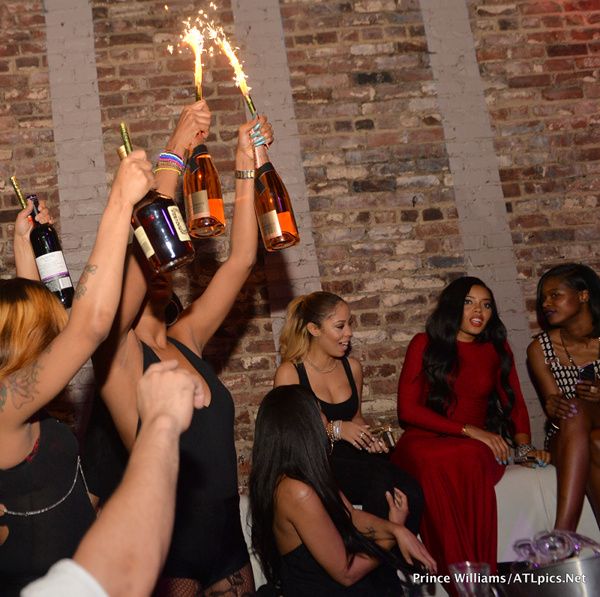 Angela Simmons was the host of Metro Fuxon last night in Atlanta, and she made a red hot appearance. Check out her look inside...
Hey hottie! Fashion maven Angela Simmons rocked a curve hugging long sleeved red dress and her nude pumps as she tip toed over to Metro Fuxon in the ATL last night.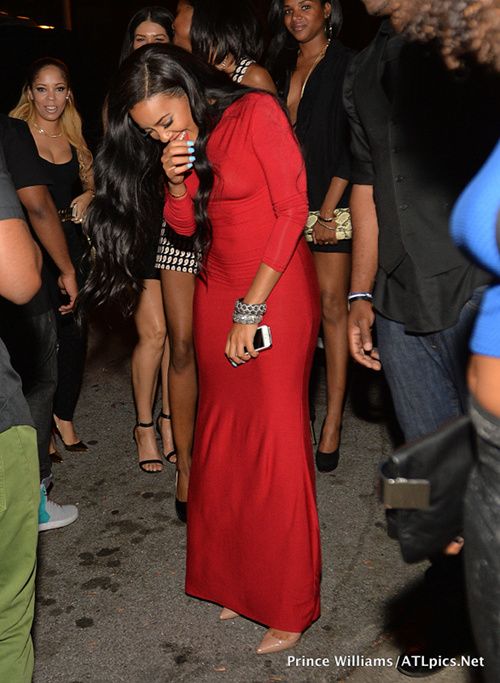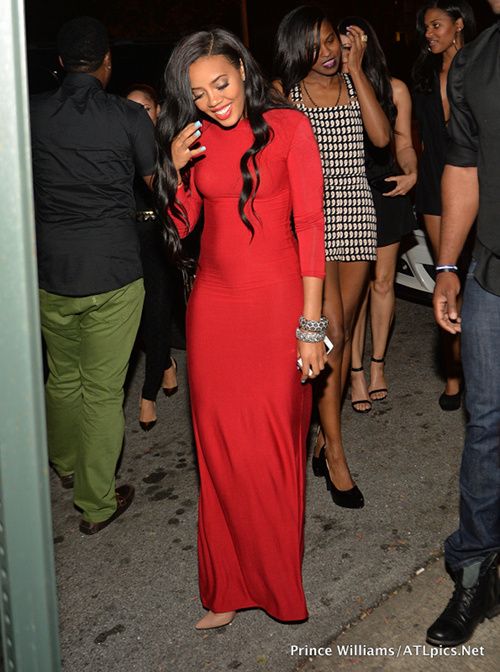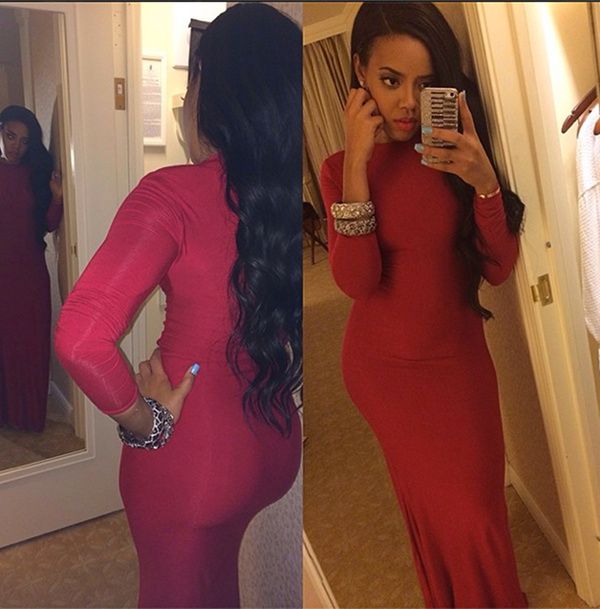 And the fitness queen showed off that bangin' bod she's been toning up in the gym daily. Clearly hard work pays off...
Karlie Redd of "LAHH ATL" was also there to party...for some reason.
The Randomness:
1. Toni Braxton will star in the upcoming OWN bipoic "My Name Is Love: The Darlene Love Story". And "The SIngle Moms Club" is now getting a series on OWN.
2. Someone offered $5 million for the new Wu-Tang album. STORY
Photos: Prince Williams/ATLPics.net