---
BEHAVING BADLY: Xzibit CHUCKS A Steel Chair At Rapper During Argument + Apollo Nida's Co-Conspirator SENTENCED To 5 Years!
Posted: 25 Apr 2014 09:11 AM PDT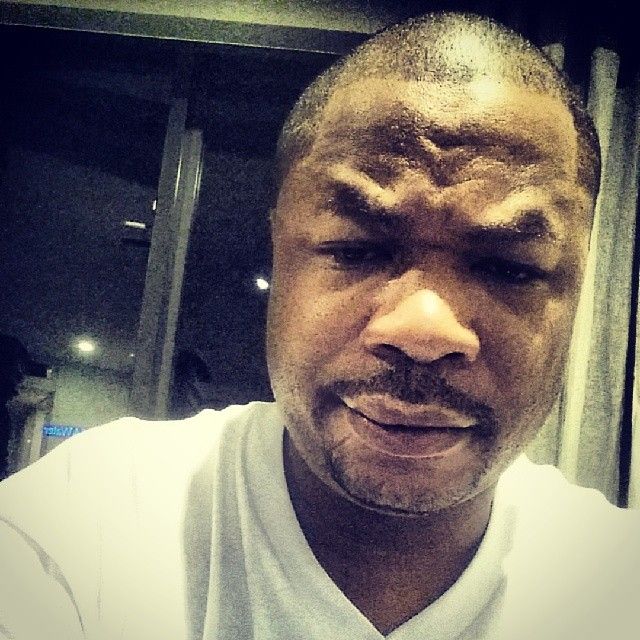 In today's BEHAVING BADLY files, rapper Xzibit threatens a fellow rapper with a steel chair and Apollo Nida's "alleged business partner" gets 5-years in jail. More inside....
Video of rapper Xzibit confronting a fellow rapper with a steel chair has surfaced!In the video posted to TMZ, we see the "Pimp My Ride" host in a heated confrontation (taped Wednesday) backstage at a concert in Adelaide, Australia.
A little backstory - Xzibit is confronting concert promoter/rapper Mastacraft about his sub-standard "ride" from the airport the fact that he had to take a cab (gasp!) to the show after the promoter went M.I.A.
During the fight, Xzibit tosses a chair! SIDEBAR: You'll notice that he PROTECTS his gold chain before he engages in conflict. Safety first!
In other foolywang....
Bad news for "RHOA" husband Apollo Nida. You'll recall that we've been following the legal woes of Phaedra's husband (he was arrested for fraud and identity theft charges) and we have BAD news about his co-conspirator Gayla St. Julien.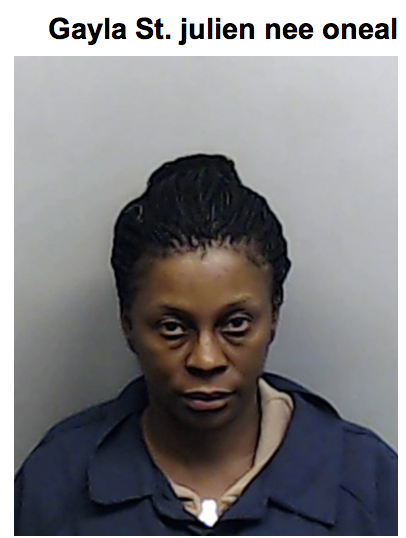 On Wednesday, a U.S. District Court sentenced Gayla to 61-months in prison after she pled guilty to conspiracy to commit mail, wire and bank fraud and aggravated identity theft. Keep in mind....these are the charges Apollo also faces. Bloop.
According to The Atlanta Journal Constitution, Apollo is in talks with the feds for a plea deal. We'll keep you posted....
The Randomness:
1. Rick Ross hit with lawsuit stemming from 2011 club brawl. Story.
Photos via Apollo's IG/Xzibit's IG/Stoopid Housewives

SUPER BOWL CHAMPS: Russell Wilson FILES For Divorce From Wife After TWO Years + Richard Sherman Speaks At Harvard On "The Modern Black Athlete"
Posted: 25 Apr 2014 07:59 AM PDT
Looks likes star quarterback Russell Wilson and his wife have called it quits. Meanwhile, his Seahawks teammate Richard Sherman is trying to "educate the uneducated," speaking at Harvard University about how the modern day black athlete is viewed in the media. Get the deets inside…
After winning the Super Bowl in February by defeating the Denver Broncos, you would think star quarterback Russell Wilson would be experiencing the best year of his life. Which he probably was…until now.
Russell has filed for divorce from his high school sweetheart, Ashton Meem-Wilson. The two married back in 2012, months before he was drafted in the NFL.
The 25-year-old Super Bowl champ released a statement on his "difficult decision" saying,
"I have made the difficult decision to file for divorce. Clearly, decisions like these don't come easy. Ashton and I respectfully ask for prayers, understanding and privacy during this difficult time. Moving forward, I will have no further comment on this personal matter."
The couple did not have any children together. And by the way, he's up for a contract re-negotiation affter this next season. Looks like he filed before moe of that cash came rolling in....
And in other Seahawks news…
Seahawks cornerback Richard Sherman received a lot of flack from his explosive (albeit warranted) rant against San Francisco 49ers wide receiver Michael Crabtree, after winning the NFC championship game earlier this year. Critics began labeling him a thug, amongst other things, for his emotional post-game tirade.
Now…the Stanford University grad who is the furthest thing from a thug wants to "educate the uneducated" about the modern day black athlete. In an attempt to change the perception of African-American men who play sports, Richard spoke at Ivy League school Harvard University during a session called "The Modern Black Male Athlete."
Richard, along with Houston Texans running back Arian Foster and Arizona Cardinals receiver Larry Fitzgerald, spoke in front of a packed standing-room only crowd about how black athletes are viewed by the media and racism.
"I don't regret anything about it. I chose my words very carefully, though I couldn't control my tone. My delivery left something to be desired. But I knew what I was doing. When they called me a 'thug,' I provoked a discussion."
Arian Foster added, "If you call Richard Sherman a thug, you have never seen a thug."
See Richard's post-game rant below:
Do you think if a white athlete had expressed his feelings the way Richard Sherman did, would they have labeled HIM a thug?
We have our thoughts, and we're going with NAH.
Photos: Russell Wilson's iG/Richard Sherman's

LATE NIGHT: "Baby Boy" Tyrese SURPRISES Taraji P. Henson On "Arsenio", Dishes On Their Legendary Sex Scene
Posted: 25 Apr 2014 07:44 AM PDT
Tyrese made a surprise appearance on "Arsenio" where he and Baby Boy Taraji P. Henson dished the behind-the-scens deets on their sex scene. Watch it inside....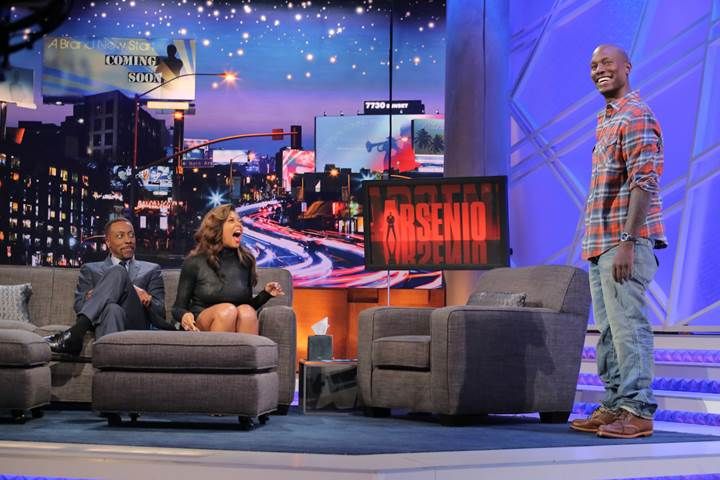 From The Rough star Taraji P. Henson stopped by The Arsenio Hall Show to promote her latest film (in theaters now) and to dish on one of her most memorable movies, Baby Boy.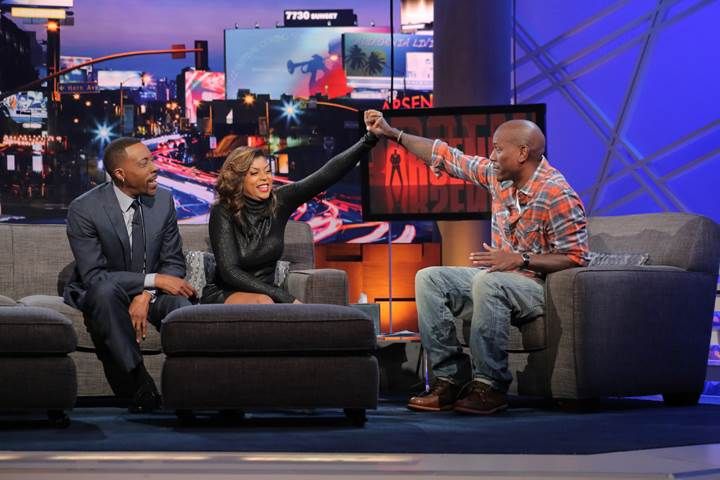 During their interview, Taraji joked that her co-star Tyrese "cried" about being naked on camera during their love scene. We believe it.
While sharing the story, Tyrese popped out to surprise Taraji and told the audience that he DID NOT cry and has no problem taking his clothes off!
Watch the interview and surprise here:
Photos via Arsenio's IG/The Arsenio Hall Show / Courtesy CBS Television Distribution
The Randomness:
1. Mariah Carey is attempting to go the Beyonce-surprise-album route....despite her album no longer being a surprise. STORY
2. Carol's Daughter stores have filed for bankruptcy. STORY
TV FAB: Kelis HINTS At New Boyfriend On "106 & Park", HOSTS "Food" RELEASE Party At Mister H
Posted: 25 Apr 2014 06:09 AM PDT
Kelis stopped by "106 & Park" yesterday to promote FOOD. Watch her interview inside...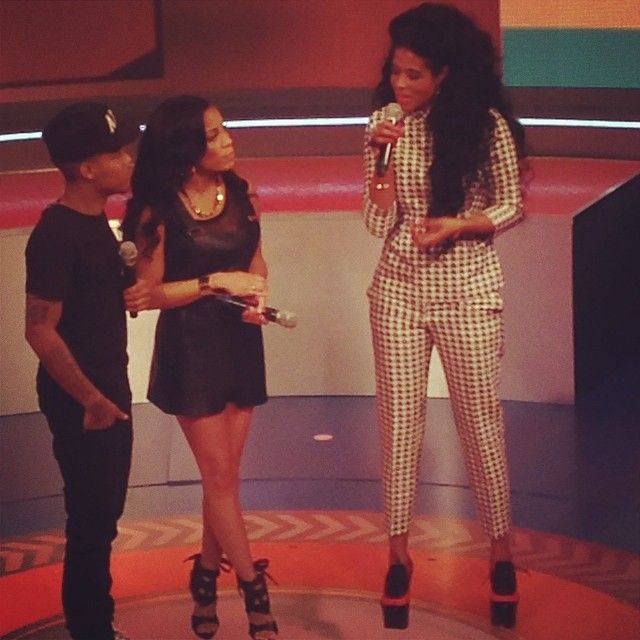 Kelis stopped by "106 & Park" to promote her new cd FOOD (in stores now) and she talked about her love of cooking and agreed that a "Kelis" restaurant would be a great idea.
She also talked about her love life. Does she have a boyfriend? Maybe. Perhaps. On her Instagram, she often posts pics of food with the tagline "Things I make for Him." When Bow Wow and Keshia Chante asked about "Him", Kelis didn't reveal HIS name but assured them that she's NOT talking about her son!
On the FOOD album's sound:
"I wanted to make an album I could sing for a long time....just the joy that the music we grew up to use to bring. I wanted to bring it back."

On her favorite foods to cook:
"I make sauces. Everything's better with sauce. Jerk sauce, hot sauce, bar b q sauce. I love sauce."
Check out a few videos below, including Kelis talking about natural hair:
Later that night.....
Kelis headed over to an album released party for FOOD at NYC hotspot Mister H.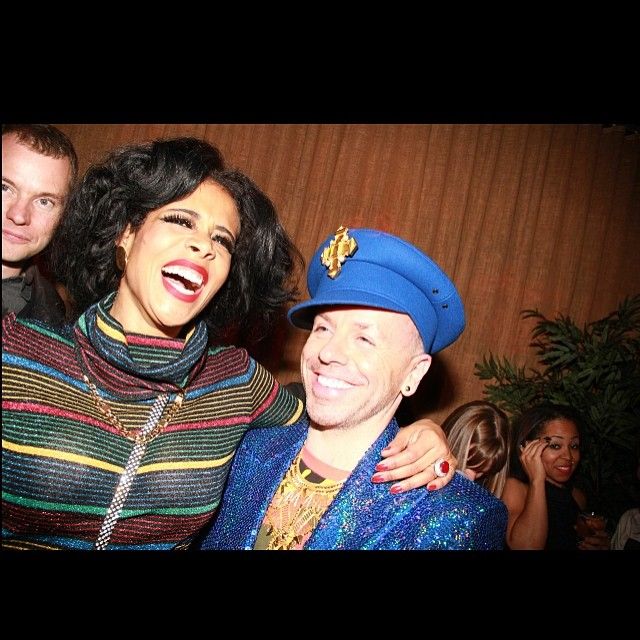 The party was hosted by NYC nightlife guru Legendary Damon.
Photos via Kelis' Instagram/106's IG

REALITY MOMS: NEW Reality Show RUMORED To Be In The Works -- Starring Mama Joyce, Tiny's Mom Dianne & More!
Posted: 24 Apr 2014 04:59 PM PDT
So it looks like a new reality show will be hitting TV soon and it will feature a few reality TV stars' moms. Find out deets inside…
We love a good spin-off and it looks like some reality TV moms have landed their very own show.
Now…there aren't many details but a source revealed names of the cast who are currently in the process of creating foolywang tv.
"RHOA" star Kandi (Burruss) Tucker's mom Mama Joyce, "Family Hustle" star Tiny's mom Dianne, "LAHH ATL" star Rasheeda's mom Shirlene, Atlanta rapper Cash Out's mom, an up-and-coming Atlanta rapper K Camp's mother who goes by Mama Camp and fallen rapper MC Breed's widow, Natasha Breed.
Our source tells us filming for the show has already started and it's currently being shopped to television networks.
It's no surprise Mama Joyce WOULD be starring in her own reality show after making headlines for bashing Kandi's husband Todd. We're not exactly sure if Kandi will be making any appearances on the show, but a source told us that Todd will be on show. Odd, we know.
Tiny's mother Dianne (pictured above/right with Toya Wright at Tamar's birthday party) will allegedly join the cast. Tiny is said to be making appearances on the brand new show.
Remember when Rasheeda's mom Shirlene rolled over Kirk's bike on "LAHH ATL"? Yea…she's supposedly going to be on the show.
Remember that song "Cashin' Out" that dropped in 2012 by Atlanta rapper Cash Out? Well…his mother will possibly be joining the cast and it looks like she will be an interesting character indeed. The tatted rapper's mother and her blue hue hit the red carpet at the 2012 BET Hip Hop Awards.
Atlanta rapper K Camp's mother, Mama Camp (above/middle), will allegedly be on the show. K Camp (right) is said to be joining his mother on the show as well.
And fallen rapper MC Breed's widow Natasha Breed (who resides in Atlanta with their 3 kids) is also said to be on the new show. MC Breed died suddenly in 2008 leaving her to defend his estate against the music industry. So we're guessing that will be her storyline.
Seems like everyone is from Atlanta, so a fitting title for the show would be "Real Moms Of Atlanta." No word on the actual title but that's our guess.
Will you be tuned in?
Photos: VH1/Kandi's IG/ Toya's IG/Natasha Breed's IG/K Camp's IG/Talking With Tami
WORK: Gabby Union, Brandy, KeKe Palmer, "The Game" Cast & More Do BET's UPFRONTS
Posted: 24 Apr 2014 04:55 PM PDT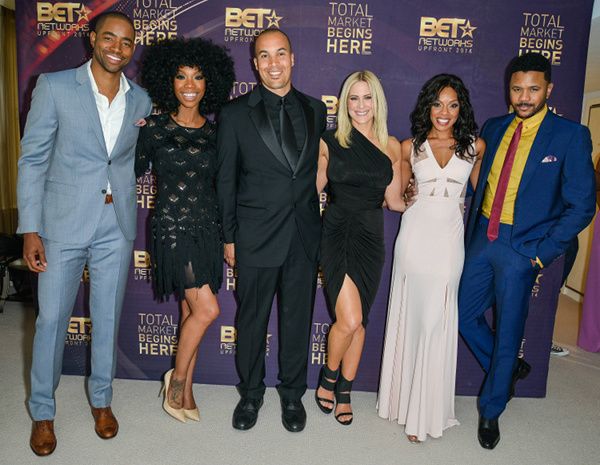 The stars of the BET network who kept their jobs for a new season of heir rspoective shows, and who are on their way to getting new shows, all made their way to the Ziegfeld Theatre last night in NYC for BET's UPFRONTS. And a few big announcements were made. Deets inside...
As "The Game" closes out its current season, it's gearing up for another. The entire cast was on hand to say Hi to the media last night.
Brandy looked gorgeous posing it up alongside KeKe Palmer, who will be hosting a new talkshow on the network this summer.

Teyana Taylor and Diggy Simmons are set to star in a new scripted series called "The Start Up". Here's the run down:
n The Start Up, hip-hop prince Diggy Simmons makes his scripted series debut as Blake Monroe, founder of TheJetsetters.com, an entertainment and lifestyle blog. The Start Up hones in on what it means to be young, gifted and digital, as Blake and his friends strategize for fame and financing while they navigate the freedoms and pressures of adulthood. Also stars Teyana Taylor, Bria Murphy, Allen Maldonado, Chris Brew, and Stephanie Charles. From Executive Producers Mara Brock Akil, Salim Akil, Kenya Barris, James DuBose, Kevin Liles and Laurie Dobbins.
Will you be watching?
Bow Wow and Keshia Chante are returning as hosts of "106 & Park" of course.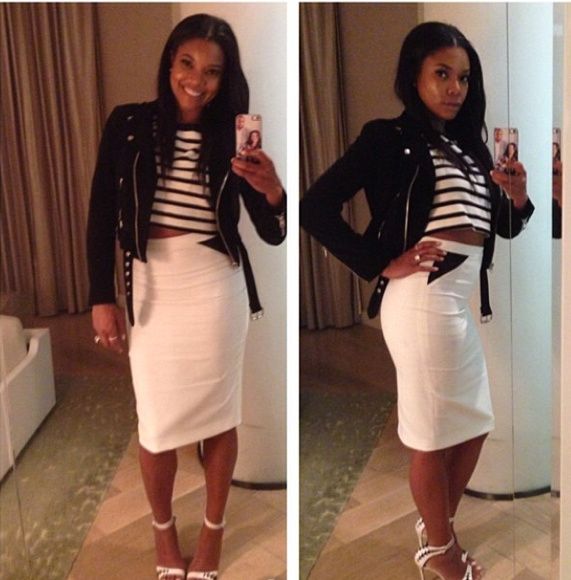 And celebs like Gabrielle Union will be returning for a new season of "Being Mary Jane". Check out the celebrity Instagram pics below from their fun night: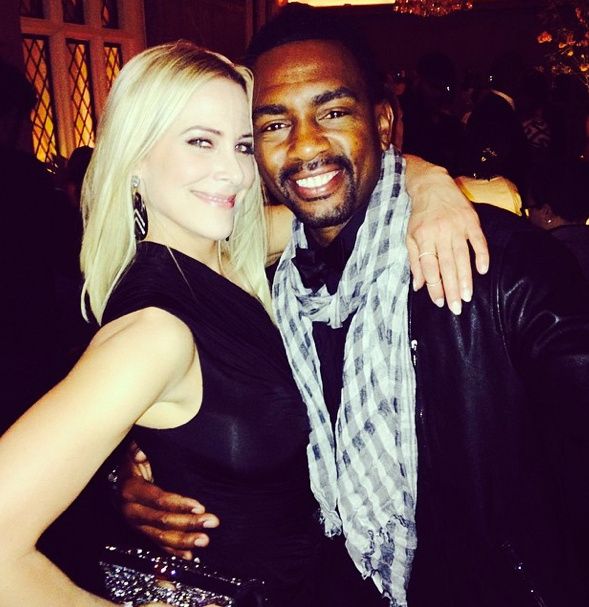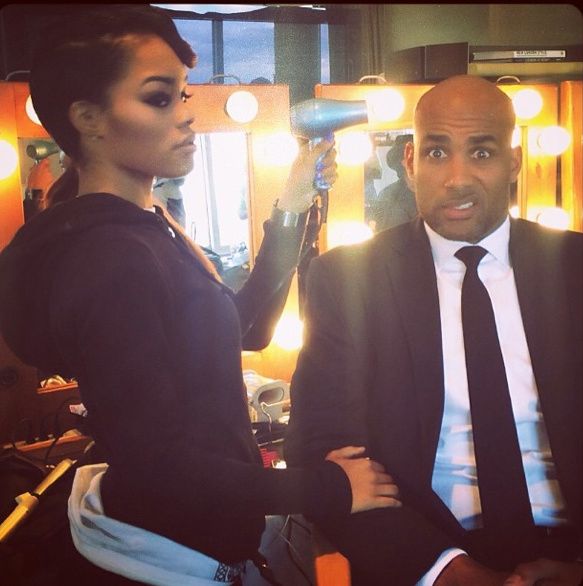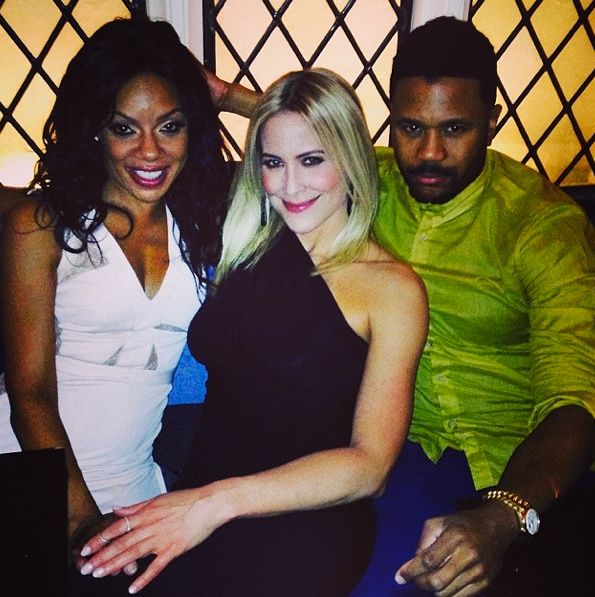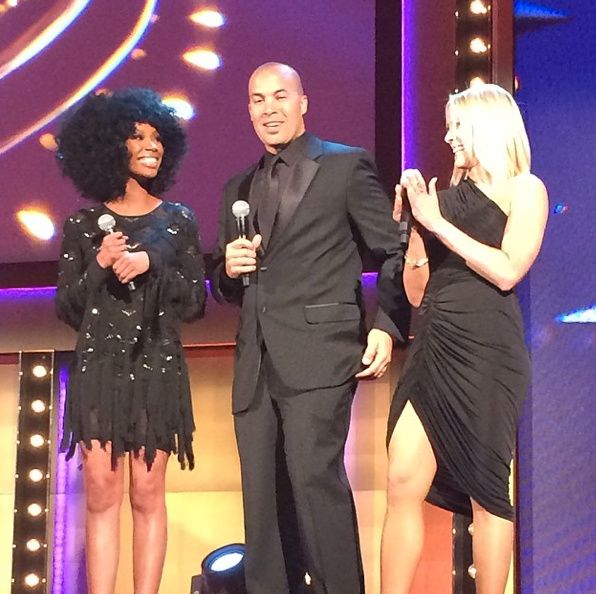 Hey Kelly Pitts!
Photos: Getty/Instagram
DO WE LOVE IT?!: Elle Varner's "F*ck It All"
Posted: 24 Apr 2014 03:36 PM PDT
Elle Varner is sick and tired and decided to just say "F*ck It All" after suffering a broken heart. Hear her new track inside…
"Cold Case" singer Elle Varner is gearing up for the release of her forthcoming sophomore album, 4 Letter Word. As you may already know, many of the album's tracks are dedicated to four-letter words that express the sentiment of each song.
In the fourth track released from her 4-letter word campaign, the songstress dedicates "F*ck It All" to the four letter word, loss.
In the Pop & Oak produced track, Elle, who previously dated NBA baller Iman Shumpert, sings through the pain after her heart is broken singing, "Be a piss drunk, b**** of a whore running around hoping maybe you will save me."
Wow...
Take a listen below:
DO WE LOVE IT?!
CHARITABLE GALS: Meagan Good, La'Myia Good & Kyla Pratt Do "The Greater Good" Launch Party
Posted: 24 Apr 2014 03:29 PM PDT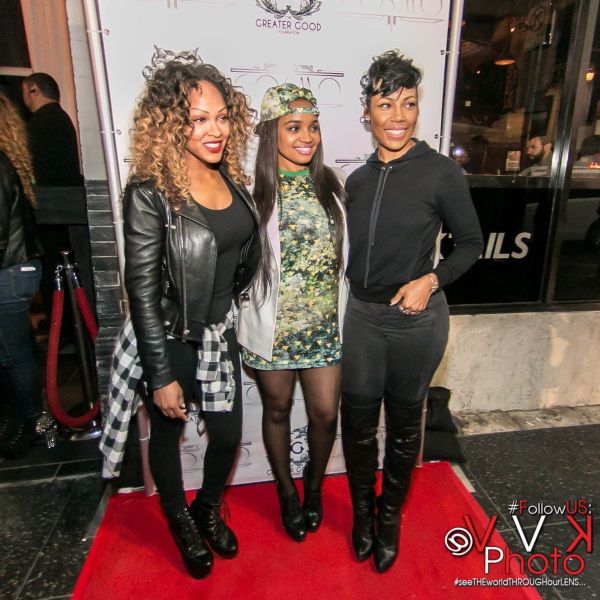 The Good sisters (Meagan & La'Myia) launched their new non-profit "The Greated Good" amid celebs like Kyla Pratt and Eric Bellinger. See their pics inside....
These types of GOODy GOODy two shoes are the kind we actually like.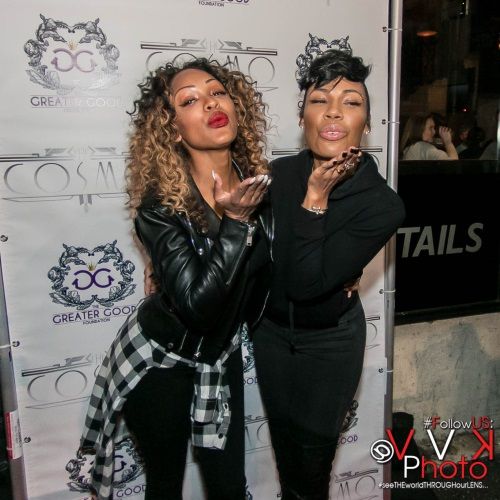 Last night, Meagan Good partied with her sister La'Myia Good at Cosmo Hollywood's #WCW night hot spot to celebrate the soft launch of their new non-profit foundation "The Greater Good."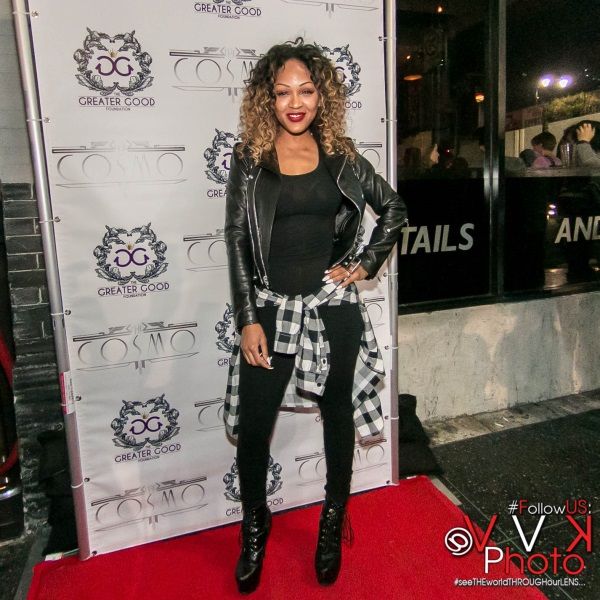 The Greater Good is geared toward providing positive programs and assistance to at-risk young girls.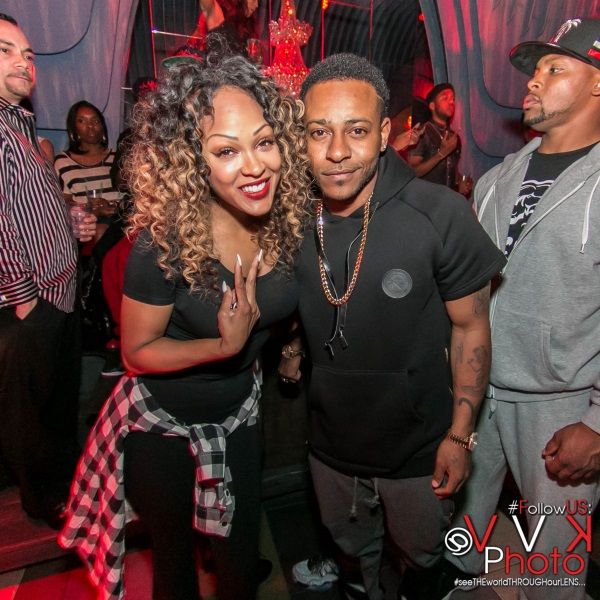 "I Don't Want Her" singer Eric Bellinger was on hand support The Greater Good.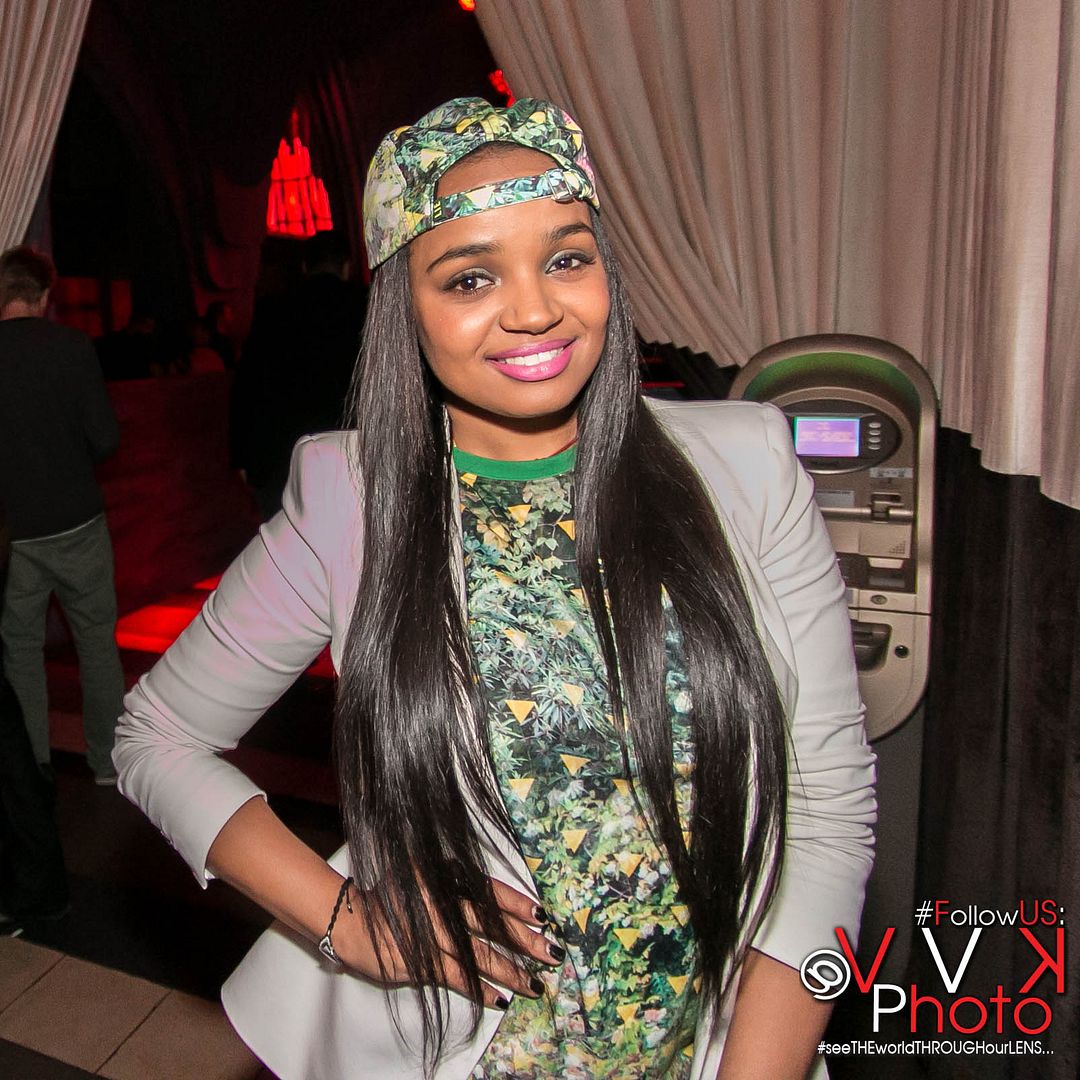 "Let's Stay Together" actress Kyla Pratt partied with the Good girls.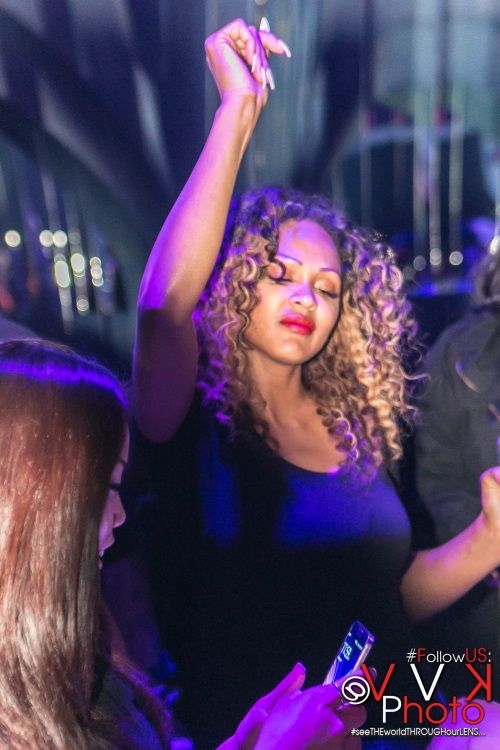 And this fall, Meagan will star in the NBC series "Babylon Fields."
Great cause!
Photos via VVK Photos
Future CELEBRATES 'Honest' Album Release With Dinner Party In NYC + Teyana Taylor Gets WEAVALICIOUS For Taylor'd Textures + Nicki Minaj TWERKS A Preview Of New Song
Posted: 24 Apr 2014 02:39 PM PDT
Future celebrated the release of his newest album, Honest last night in New York and Teyana Taylor showed off her new tresses from her new hair collection Taylor'd Textures.
Also, Nicki Minaj showed us what she's working with (again) posting a video of her twerking to one of her new tracks. Deets, pics & videos inside…
As we patiently await the arrival of Ciara and Future's baby boy, the "Move That Dope" rapper celebrated the release of his brand new LP, Honest with a dinner soiree at STK in NYC last night.
In an intimate four-course dinner hosted by Hennessy V.S., DJ Clue (below) and Epic Records CEO L.A. Reid joined the Atlanta rapper for good eats and specialty cocktails.

The Epic recording artist was all smiles as he mingled with guests, snapping pics and toasting it up to his success. He also delivered a speech, thanking everyone for their support during the making of his sophomore studio album.
Cheers!
And in another new project...
If you're looking for a new weave, Teyana Taylor has you covered.
The G.O.O.D. Music's first lady has teamed up with hair extension brand My Extensionz to launch her own line of weave, Taylor'd Textures.
There are very few times we see Teyana's hair out of place so it makes sense for the singer to release her own line of weave.
Taylor'd Textures provides all your hair extension needs including a mixture of Peruvian and Brazilian hair to mimic the texture of Teyana's signature curls.
Tey spoke on why she decided to create her own line of hair:
"I ran into a young lady who came over to me and was like "I love you! I love your movies! I love you as an artist! And I am so in love with your hair!" We began talking, and she was still raving about my hair, and in the middle of talking; her Mom came out and said "She has cancer." I was stunned! And just knowing all of the ailments that come from having cancer, I know one of the things that can be experienced during chemotherapy is hair loss" Teyana Taylor
Nice! But this chick releases everything but official new music. That could be changing though as she recently posted a pic outside of Def Jam studios saying "Finally" and hinted at something happening this May.
And during a studio twerk session…
Nicki Minaj is back to her attention seeking ways posting videos of her twerking it out in a pink jump suit as she previews one of her new tracks.
The Other Woman actress put her "ass"ets on display as she bounced her "finally famous" silicone filled booty around to her vocals in the background.
Check it:
Nicki joked with her fans, "This aint me. It's a friend of mine"
Oh Nicki…
Photos: Shareif Ziyadat/My Extensionz/Nicki's IG

GUESS WHO? The Owner Of This Awkward Prom Photo Is...
Posted: 24 Apr 2014 02:30 PM PDT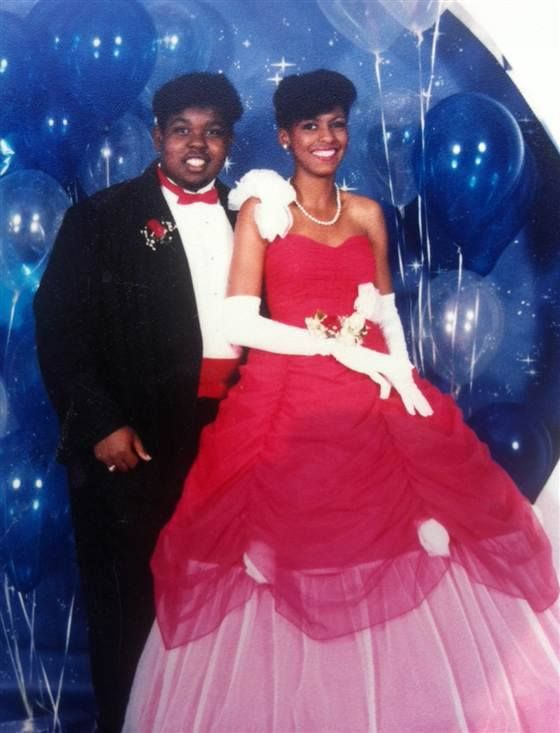 Can you guess the television personality in the prom pic above? Epicly awkward....
The young lady in the prom pic would eventually graudate and find herself in the homes of millions of Americans every morning. GUESS WHO.....
Wait for it.......
It's Tamron Hall. The fabulous Tamron, who is now the first black woman to co-anchor the TODAY Show's 9 a.m. hour, is also on MSNBC's NewsNation weekdays at 11 a.m. and Deadline Crime on DiscoveryID. And she posted the pic in honor the Today Show showing off their most awkward prom photos...
Hilarious.
Photo via Tamron's IG
Beyonce Releases "Pretty Hurts" Video (Officially) + Her Half Brother Nixon & His Mama Moved Into Public Assistance Housing
Posted: 24 Apr 2014 02:11 PM PDT
In conjunction with her brand new TIME magazine cover, The Most Influential Person, Beyonce Knowles, has officially put out her "Pretty Hurts" video. If you have the Beyonce album you've already seen it. But everyone can check it inside, plus the latest update from Alexsandra Wright...
"Pretty Hurts" serves as one of the "influential messages" songs off the Beyonce album. So it's only right today is its official release. Check out Mrs. Knowles Carter reliving her pageant days...with a twist. She and director Melina Matsoukas show the ugly side of what it takes to be beautiful.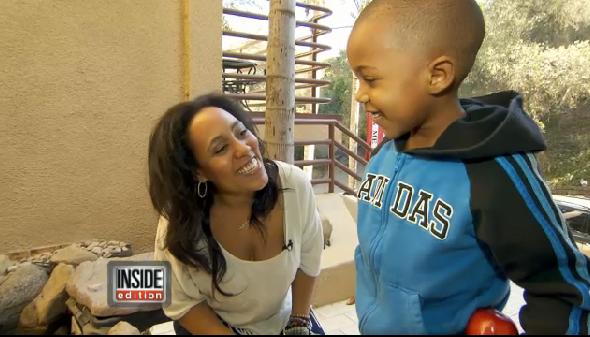 Meanwhile, Beyonce's half-brother Nixon is now living into public assistance housing ...with his mama Alexsandra Wright who apparently doesn't feel like getting a job.
When Mathew Knowles was given the OK to drop his $12K/month child support payments to about $2K/month, his baby moms Alexsandra packed up her home and moved into into public assistance housing with little Nixon.
And, of course, she brought Inside Edition along for the ride.
She told them at her new trailer home in a new interview airing today, "It's not Beyonce's fault. I don't hold her accountable. I hold the father of my child accountable....Take accountability. Stand up, do the right thing."
A published report insinuated that Alexsandra blamed Beyonce for their "hardship" since she's not helping them financially. She said:
"I got over a thousand of death threats last week alone. Because this article said I blamed Beyonce. And again, let me say for the record—it's not her fault. I've never blamed her. I want the best for her."
So that they do not go homeless, Alexsandra revealed that women's support group arranged for them to move into the home after she was forced to go on public assistance.
Sigh.
The segment airs tonight on Inside Edition.
Lupita Gearing Up To Star In New "Jungle Book" Movie, Meets With Alek Wek?! + Nicole Beharie & Kerry Washington Nab TIME & PEOPLE Honors
Posted: 24 Apr 2014 01:41 PM PDT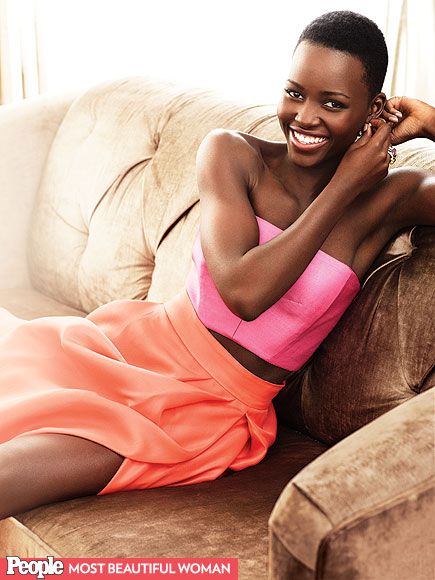 Lupita Nyong'o's up for a BIG new gig...so we hear! Check the deets inside, plus big news from Kerry Washington and Nicole Beharie...
We've been wondering what Lupita's next big Hollywood move would be. The Most Beautiful Person in the world--so says PEOPLE and pretty much everyone--is rumored by the Golden Globes to be up for a big animated film role with "The Jungle Book".
Scarlett Johansson and Lupita Nyong'o are reportedly in talks to join the upcoming Disney's 'Jungle Book' movie. #actors

— Golden Globe Awards (@goldenglobes) April 24, 2014
It would be a new version of the classic Disney flick. And we're so here for it. Woot!
By the way, she finally got to meet her idol, Alek Wek.
The twosome had a tea party to talk about all things "pretty" in honor of Lupita's latest honor. Fab!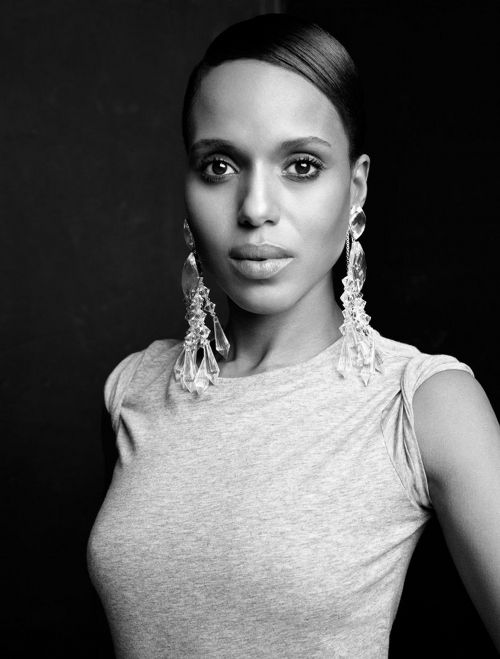 In the new TIME magazine's Top 100 Most Influential People issue, with 4 covers from Beyonce, GM's CEO Mary Barra, Robert Redford, and Jason Collins, YBF chick Kerry Washington is also featured amongst that Top 100.
Kerry's piece in TIME was written by White House Senior Advisor Valerie Jarrett. Yep...she's THAT influential. Check out what Ms. Jarrett had to say about our fave Gladiator below:
Setting aside the "scandalous" melodrama necessary to sustain a fictional series so titled, Kerry has offered up a fresh new archetype for what it means to lead while combining courage and compassion, strength and vulnerability, passion, steely discipline and unfailing loyalty. It is a role that makes full use of her distinctive talent for drawing in audiences with such authenticity that we often forget she is acting.

Kerry's work with the President's Committee on the Arts and the Humanities since 2009 is also a source of deep inspiration, using arts education to close achievement gaps and ignite passion among young people.

In a world that too often tells little girls to choose between womanhood and success, between femininity and a seat at the head of the table, both onscreen and off Kerry Washington embodies the promise that lives in all our young people to shape their own destinies and succeed as "gladiators" for the causes in which they believe.
Nice!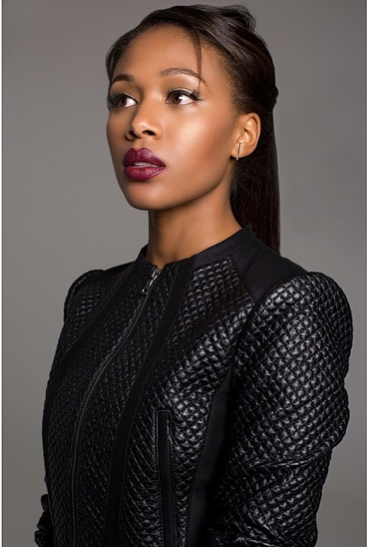 And "Sleepy Hollow" star Nicole Beharie is also getting her due. She's featured in PEOPLE mag's new Most beautiful issue. And her hot new shot was snapped by actor/photographer Lance Gross. Lance is also her former co-star in the football flick from Matthew Cherry, The Last Fall.
Pretty!
Photos: Lance's IG/People/TIME
HOT MAMA! Tamera Mowry Housley Shows Off Her Brand New Post Baby Bikini Body!
Posted: 24 Apr 2014 12:40 PM PDT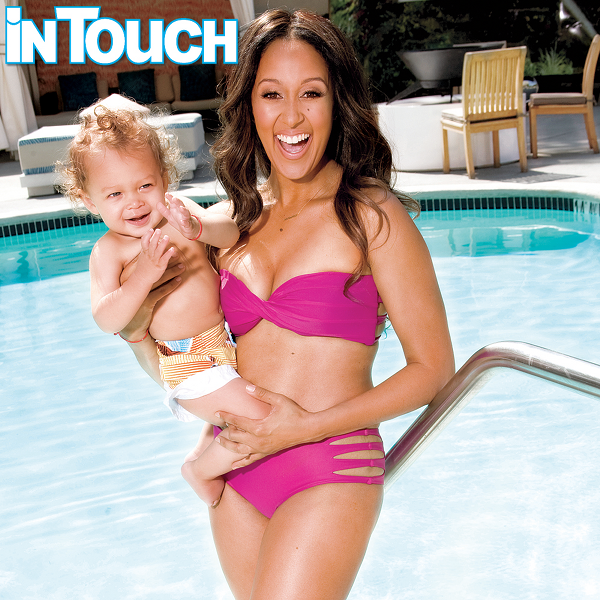 That Tamera Mowry Housley is looking straight flawless these days. Fresh off her EBONY magazine cover with twin sis Tia, mommy Tamera is serving up her post baby bikini body for the world to see.
Check it inside....
How adorable is this?! "The Real" co-host Tamera Mowry Housley is posing it up with her 1 and a half year old son, Aden, in the new issue of InTouch Weekly. And he's stealing his mommy's shine with all that cuteness.
Tamera dished on her post baby get-it-tight-and-right plan. She did it the RIGHT way....and she has no shame that it took her a year to snap back.
She revealed, "It's the first time I've been in a bikini since my honeymoon. I feel great!"
That means it's been three years since she's let anyone other than Mr. Adam Housley see what's under those clothes.
Tamera shared that she's now a svelte 127 pounds, and got there with her own healthy schedule. And about those Hollywood oms who are magically in perfect shape like, hours later it seems:
"I want to punch them in the face!"
She said about her process:
"I wanted to spend time bonding with my baby, not killing myself at the gym."
And when Aden stopped breast feeding at 7 months old, she cut 500 calories from her 1,700-calories-a-day breast-feeding diet and started working out five days a week.
Get it chick!
A full spread of Tamera's pics, her slimmed down jeans size, workout routine and 80-20 dieting method are in this week's issue of InTouch on newsstands now.
The Randomness:
1. A video vixen claims 50 Cent blacklisted her name in the industry telling people "Don't not attempt to work with this thirsty b*tch" ....and now she's suing for defamation. STORY
Photos: InTouch Weekly
NeNe Leakes Talks POSSIBLY Leaving "RHOA", Says It's A Blessing & A Curse
Posted: 24 Apr 2014 11:09 AM PDT
NeNe Leakes hit the couch with Arsenio Hall last night where she talked about possibly leaving the "RHOA" franchise, the negativity on the show and more. Find out what she had to say inside…
After lighting up the stage on "DWTS" in a salsa routine to Nelly's "Hot In Herre," "RHOA" star NeNe Leakes hit up "The Arsenio Hall Show" to dish on the explosive reunion show which resulted in a brawl between Kenya Moore and Porsha Stewart.
NeNe (the only original cast mate left on the show) broke down what led to the physical altercation between her co-stars, whether she's returning for another season, why she's #TeamPorsha and the negativity on the show.
She spilled about whether she wants to return for Season 7:
"I usually think that every season…I do and I end up back. Every season I think 'OMG this is driving me insane.' Here's the thing, for me it's like a blessing and a curse. It has definitely opened up so many doors of opportunity for me. I have been able to do some of everything just from being on this platform, but at the same time it can be very negative and draining and all of things. But also, it can put a lot of money in your pocket. Not just the show, other things can come to you."
When asked if Kenya being on the show is a blessing, being that she brings additional eyeballs to the show she responded,
"Oh please honey…we had eyeballs before Kenya came around. It's the truth, we did. We've always been the #1 show in the franchise."
Welp! Will the pay alone keep her on the show?
"The pay is OK, but I don't know if it's worth what you saw."

Check out the videos below:
NeNe talks about "RHOA" being a blessing…and a curse:
NeNe speaks on why she's #TeamPorsha:
Do you think NeNe is really going to leave "RHOA?" We have out throughts...and we doubt this attention loving chick is about to give up the biggest platform ever for serving up shade....
Photos: Arsenio Hall Show/NeNe's IG