---
THEY'RE BACK: "Love & Hip Hop: Atlanta" Season 3 Premieres May 5th, New Cast Member Confirmed!
Posted: 08 Apr 2014 09:46 AM PDT
All of the drama and craziness that makes for an interesting "Love & Hip Hop: Atlanta" episode will be returning to our TVs with the season 3 premiere airing May 5th! Find out the deets for the new season and who we're told has been confirmed to join the cast when you go inside…
After "LAHH NY" wrapped up it's season, it's now time for us to head back down south for drama with the "Love & Hip Hop: Atlanta" cast. If you're still into their ridiculous shenanigans.
Stevie J, Joseline Hernandez, Mimi Faust, Lil Scrappy, Erica Dixon, Benzino, Karlie Redd, Rasheeda and Kirk Frost are all expected to return to VH1 on Monday, May 5th for the 3rd season of the hit reality TV show. There's also a reported new cast member, rapper Young Joc, who confirmed on "106 & Park" that he would be joining the show as Karlie Redd's new boy toy.
Guess we will see how Karlie Redd and Benzino's "relationship" plays out with the addition of her new boo and Zino's new girl Althea "Thi Thi" Heart. Thi Thi has been nursing Benzino back to health after his nephew shot him recently.
Erica Dixon and Lil Scrappy were engaged the last time we saw them, but they have since parted ways and started relationships with other people. Scrappy hooked up with "Basketball Wives Miami" tried-to-be-a-castmember Bambi and Erica got into a relationship with model O'Shea Russell. According to reports, they are both single now, so it's possible we could see another reconciliation. They both celebrated their daughter Emani's 9th birthday together recently, although it ended with Emani in tears and Scrappy accusing a spa for being racist.
Stevie J and Joseline Hernandez allegedly jumped the broom this past summer so we may see the couple walking down the aisle...or something...this season. Stevie's baby mother Mimi Faust was last seen in a relationship with up-and-coming rapper Nikko. Rumors started to circulate that Nikko was on the down low and that he tried to holla at K. Michelle, so it will be interesting to see how their relationship will play out.

The big question surrounding Rasheeda and her husband Kirk Frost is…will these two remain married? Judging from the pics at their baby shower for their son Karter Frost, it seems as if the two may have worked things out. We shall see.
And let's not forget that rapper Waka Flocka Flame might be making a few appearances on "LAHH ATL" with his fiancée Tammy Rivera. And former Dirty Money singer Kalenna Harper along with her husband Tony will be joining the cast as well, as previously reported.
Let the drama, cat fights and foolywang begin! It's not always our cup of tea, but we know plenty of other folks love to sip.
"LAHH ATL" premieres on VH1 Monday, May 5th at 9pm/EST.

Photos: Prince Williams/ ATLPics.net

DOMESTIC DRAMA: Eva Marcille Reportedly Filed For A Restraining Order On Baby's Daddy Kevin McCall! + Ying Yang Twin Free From Jail After Allegedly Beating Wife
Posted: 08 Apr 2014 08:43 AM PDT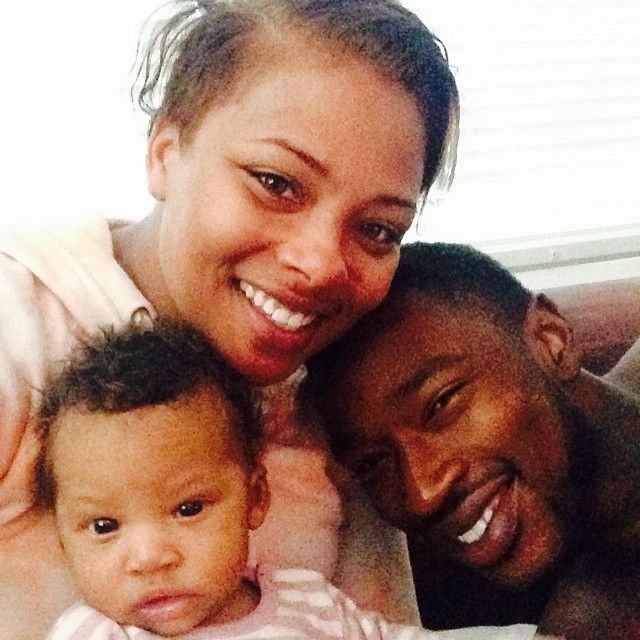 They may paint the picture of a perfect little family, but apparently, all ain't peachy keen in Eva Marcille and Kevin McCall's household. Eva reportedly filed for a restraining order against her baby's father after he allegedly became physically violent!
Deets inside, plus the Ying Yang Twin who just got out of jail for allegedly beating his wife!
Who knew Kevin McCall & Eva Marcille, who share 2 month old Marley Rae, had some serious drama going on behind closed doors?!
Reports allege that just days before the former "Top Model" chick posted the above photo saying "#FamilyFirst", she accused her boyfriend Kevin of going ballistic and kicking down doors and attempting to snatch their baby from her arms.
TMZ reports:
"America's Next Top Model" star Eva Marcille can't make her mind up -- days after she accused her baby daddy of violently kicking down several doors in their home and trying to snatch their child from her arms ... she posed in a smiley photo with him.

Eva obtained a restraining order against rapper BF Kevin McCall on March 28th, claiming he went ballistic during an argument and chased her around their home, trying to take their 2-month-old daughter.

Eva claims Kevin kicked down 4 doors during his rampage and even threatened to punch her.
Looks like she had a change of heart based on the pic she posted above. We reached out to Eva's rep for clarification, but we were told, "We do not comment on the personal lives of our clients."
Oh. Eva seems to be back to our party life as if all is well. She spent the evening with celeb pals Lauren London and Teyana Taylor last night: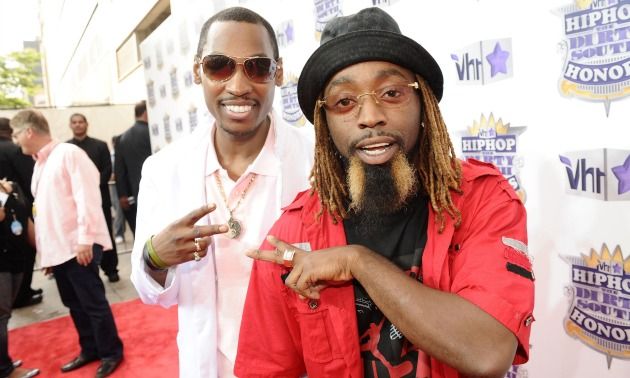 We told you previously about Deongelo Holmes of the Ying Yang Twins going to jail after allegedly knocking his wife, Porsche, in the head. And now, he's been freed after speeding only 24 hours in lock up.
He reportedly filed a No Contest plea deal in a Georgia court. And that deal required one day served in jail in exchange for a year long probation. He also has to do community service, attend a family violence program and cannot drink alcohol or engage in further violent activity with his wife.
We shall see...
Photos: Getty/Eva's IG
Nas Takes Over "The Tonight Show" + Future & Kanye West Say "I Won"
Posted: 08 Apr 2014 07:40 AM PDT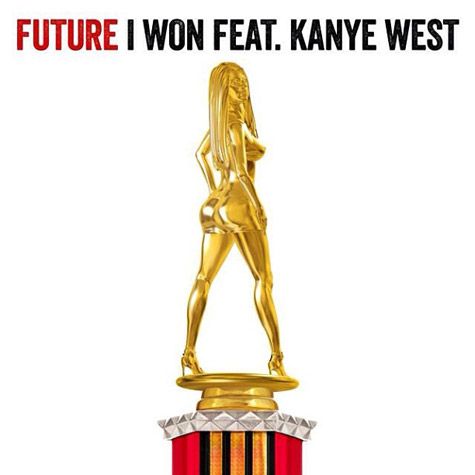 Future and Kanye West want y'all to know that they "won"...since they've got what they deem as trophy chicks. Check out their salute to their women on "I Won" inside, plus Nas taking over "The Tonight Show" with Q-Tip inside...
Kanye is back to convincing the world why his fiancée Kim K. is a trophy that he won. Why? Because he says he's the one who "won out" over the professional ballers. 'Ye raps on Future's new "I Won" track:
"I made it over NBA, NFL players, so everytime I score it's like the Super Bowl."
And he continues with how he piped her out on the "Bound 2" soft porn video and why all her sisters are trophies too:
"On that 'Bound' bike, I gave you only pipe / If people don't hate, then it won't be right / You can look at Kylie, Kendall, Kourtney, and Khloe / All your mama ever made was trophies, right."
Future boasts a bit about his fiancée Ciara as well. The two have already shot the beach-themed video with Hype Williams. Check out the track below which appears on Future's upcoming Honest album, due out April 22nd:
In other rap news, Nas made his way to Jimmy Fallon's stage to perform on "The Tonight Show". And Mr. Jones, who is celebrating the 20th anniversary of Illmatic, rocked out with Q-Tip for "The World Is Yours" and "One Love":
Check it.
Beyonce COVERS 'OUT' Magazine, Talks "Double Standards When It Comes To Sexuality" + Karrueche Remakes "Loyal" With Christina Milian & Teyana Taylor
Posted: 07 Apr 2014 04:44 PM PDT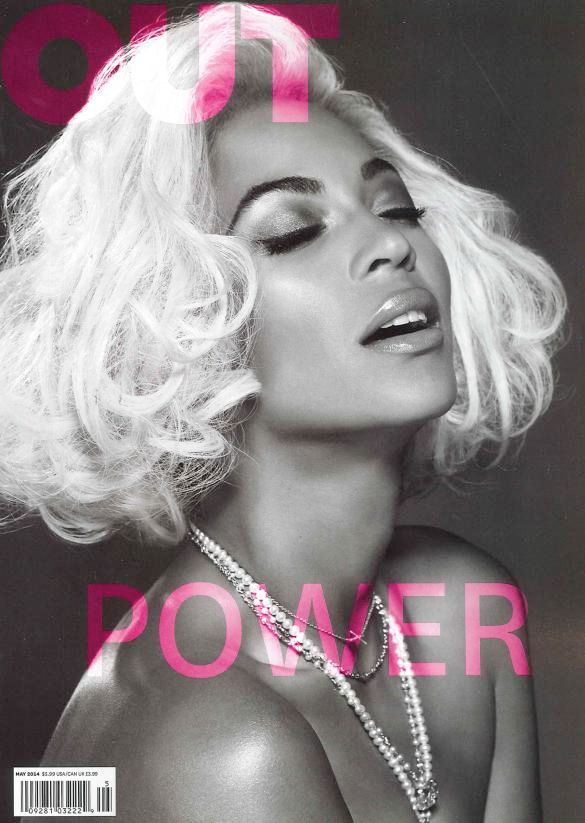 Beyonce talks sex as she graces the cover of OUT magazine, while Karrueche, Christina Milian and Teyana Taylor remake Chris Brown's "Loyal" video inside…
Beyonce is simply stunning on the cover of gay & lesbian OUT Magazine's May Power issue. In the interview, Bey gave her opinion on how it is a double standard in America when it comes to women expressing themselves as sexual beings.
"There is unbelievable power in ownership, and women should own their sexuality. There is a double standard when it comes to sexuality that still persists. Men are free and women are not. That is crazy."
Beyonce is a perfect example of being a woman who wants to explore her sexual side after the release of her visual album, which wasn't a traditional Bey album. King Bey sang songs that were a lot more sexual in nature, which many people had their own opinions about, but Bey says it doesn't matter who you are, it's ok to be sexual.
"The old lessons of submissiveness and fragility made us victims. Women are so much more than that. You can be a businesswoman, a mother, an artist, and a feminist — whatever you want to be — and still be a sexual being. It's not mutually exclusive."
You can catch the full spread in Out magazine later this month.
And in Karrueche news...
Kae with her bestie Christina Milian and her seemingly new bestie Teyana Taylor linked up recently to re-create her ex Chris Brown's club banger "Loyal" video.
As you may recall, Teyana and Breezy were rumored to be in a relationship but she confirmed they are JUST friends…with no benefits. So she's now on a #freebreezy campaign saying, "So this is what happenED. Lmfaoooooooooo #FreeBreezy @christinamilian @karrueche @ejking21 @whatsanyamind @jryanjl Free My Mutha F*CKin Bro tho!!! #LOYAL"
Oh T...
Check out the clips of Kae, Christina & Teyana remaking Breezy's "Loyal" below:
Photo/Videos: OUT Magazine/Teyana Taylor's IG
Lauryn Hill Performs "Lost Ones" At "Rock! Like A Girl" Concert Series + LisaRaye Supports ASPS Cancer At Charity Event In Honor Of Her Makeup Artist
Posted: 07 Apr 2014 02:24 PM PDT
Over the weekend Lauryn Hill hit the stage at Beverly Bond's "Rock! Like A Girl" concert series while LisaRaye hosted a charity event for cancer. Read the deets and check the pics when you go inside…
After clearing up more tax rumors, former Fugees singer Lauryn Hill served as the headliner for "Rock! Like A Girl" concert series on Saturday in Washington, D.C. at The Kennedy Center.
"Black Girls Rock!" creator Beverly Bonds (above) created "Rock! Like A Girl," a concert and conversation series gathering some of entertainment's biggest female names. Legendary raptress MC Lyte hosted the event along with local and national artists who performed in the honor of women everywhere.

Before Lauryn took the stage, Hip Hop violinist Miri Ben Ari performed a medley that included "Dim the Lights." Soon after, L. Boogie hit the stage performing remixes of her hits including "Lost Ones."
Ms. Hill and MC Lyte talked backstage. Lyte captioned, "Backstage at one of the most historic events for Women and music. Been a minute since I've seen my sister Lauryn Hill but it's always like a day has never passed. L Boogie blew the stage off the hinges!!! Amazing event @djbeverlybond #onemic #rocklikeagirl #herstory big ups to ALL the women who rocked the house tonight. Let's push our mission forth!!!"
Check out L. Boogie's "Lost Ones" performance below:
Watch "Fu-Gee-La"
Nice!
And on the other side of the country...
LisaRaye, in her all white, got on her hosting duties at the Kiss ASPS Cancer Goodybe charity event held at Nakeah's Cosmetics and Beauty Lounge in L.A.
The "Single Ladies" star greeted guests in honor of her makeup artist, Jemisha, who passed away a few years ago from a rare form of cancer called ASPS. Attendees were pampered with makeup application, brow sculpting, eyelash extensions and manicures as they raised money for ASPS awareness. Fab!
BONUS: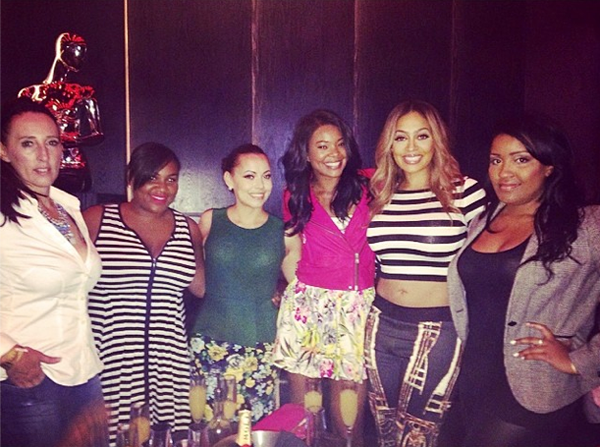 As the Miami Heat defeated the NY Knicks in Miami on yesterday, real basketball wives LaLa Anthony, Gabrielle Union and Adrienne Bosh got together to watch the game.
LaLa repped for her man in Miami as she got in some girl time with Gabby & Adrienne sharing, "Game fun in Miami with @mrsadriennebosh @gabunion @telltell_heart @misslimah @aprilbellephotos gotta cheer for my Knicks!"
Cute.
The Randomness:
1. Kanye West says Yeezi sneaker will hit stores in June. Story.
Photos/Video: Terrence Jennings/Ren'a Matthews/MC Lyte's IG/LaLa's IG/FabEmpire

SPEAKING OUT On ALLEGED ABUSE? Tiffney Cambridge POSTS Cryptic Instagram Message, "God Knows What Happened"
Posted: 07 Apr 2014 11:50 AM PDT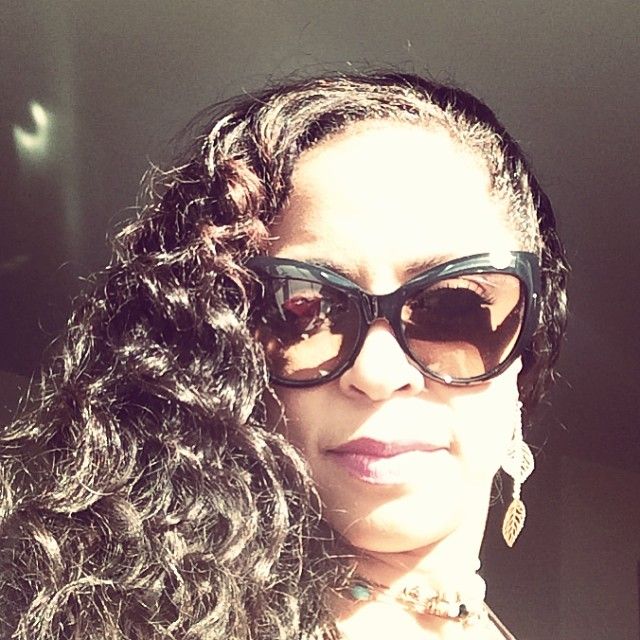 Tiffney Cambridge is speaking out about the abuse allegations directed at The Game...at least we THINK she's speaking out. See her cryptic Instagram post inside.....
Over the weekend we told you about the LAPD launching an investigation into an alleged domestic dispute between Tiffney Cambridge and rap star The Game. Although Jayceon has denied laying a hand on Tiffney, she posted this on Instagram....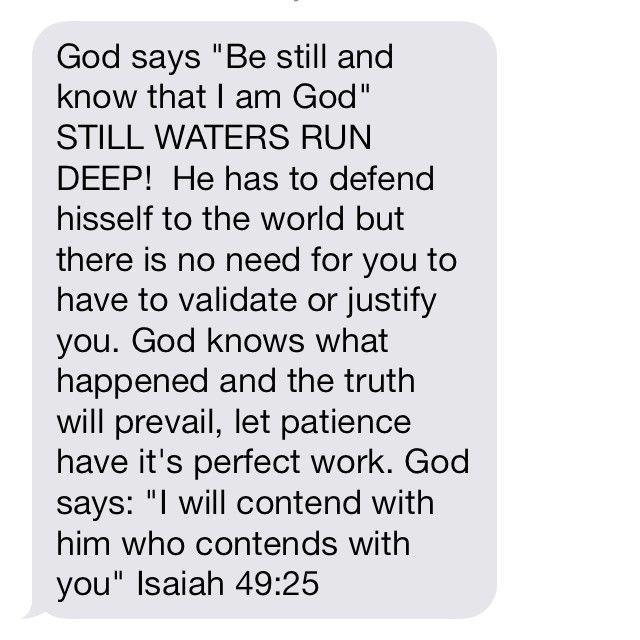 She tagged the post with the caption, "All I needed to see... Thank u Jesus. Thank u to my family, friends, & supporters..Nothing more to be said or explained". Alrighty then......
We believe this post was about her situation with Jayceon but we won't truly know until the third season of "Marrying The Game" airs. Hmm.....are they taking a page from T.I. & Tiny's book to get attention?
Photos via TIffney Cambridge Instagram
WHERE'S TRINA?! French Montana & Khloe Kardashian HUGGED UP As They Walk Into A Strip Club
Posted: 07 Apr 2014 11:27 AM PDT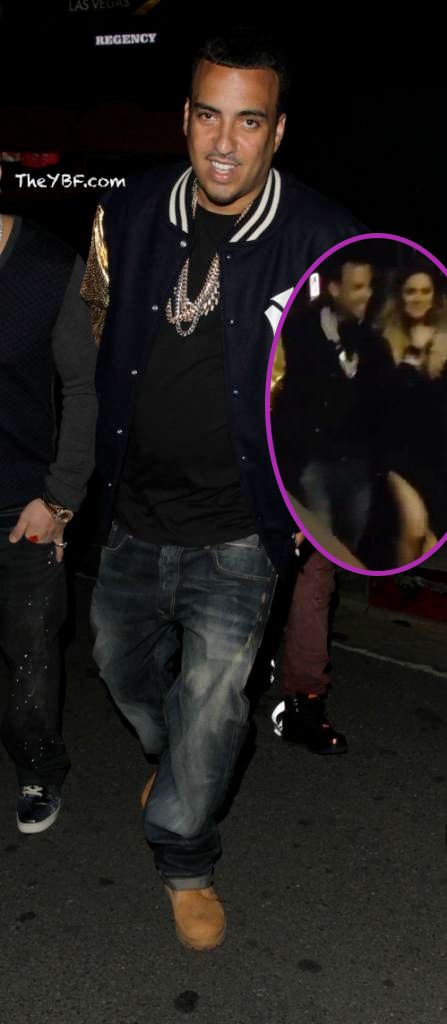 French Montana and newly single Khloe Kardashian have been getting quite close lately. Check the video of the two hugged up as they enter a strip club over the weekend inside…
After hitting up Diddy's son Christian Combs' "swervin" 16th birthday party at 1OAK in West Hollywood, rapper French Montana and Lamar Odom's soon-to-be ex-wife Khloe Kardashian hit up the strip club for the afterparty.
French and Khloe were spotted exceptionally close as they made their way inside strip club Pink Rhino in Phoenix, AZ over the weekend. TMZ spies caught the two and their entourages guzzling down 10 bottles of alcohol and dropped $7,000+ in ones for the strippers.
Sources say the couple was really into each other, as they remained "close" the entire night, snapping photos with fans but NEVER together. The two were supposedly house hunting earlier for French, where they looked at a 4,800 sq. ft. Hollywood Hills mansion, which would run French about $29,000 a month.
Guess Khloe has moved on from her failed marriage with Lamar Odom. Can't say we blame her. But um......where's Trina?
Check out video footage of Khloe & French trekking inside the strip club below:
Meanwhile…..
French Montana's rumored girlfriend Trina has posted cryptic Instagram quotes about walking away......
Possible splitsville for French & Trina? Time will tell...
Photos: PCN/Trina's IG
Jill Scott FLAUNTS Her AMAZING New Bod & Mystery Man At The 2014 UNCF 'Evening With The Stars' Event With Monica, Trey Songz & More
Posted: 07 Apr 2014 10:00 AM PDT
It was a night of stars! YBF celebs hit the carpet last night for UNCF's 2014 'Evening With The Stars' event in Atlanta. We've got pics from the event inside…
Some of our fave YBF celebs including Jill Scott, Monica, Trey Songz, Sevyn Streeter, the Braxton Sisters, Ron Isley, Mack Wilds and more hit the carpet at the UNCF Evening With The Stars event at the Boisfeuillet Jones Atlanta Civic Center last night.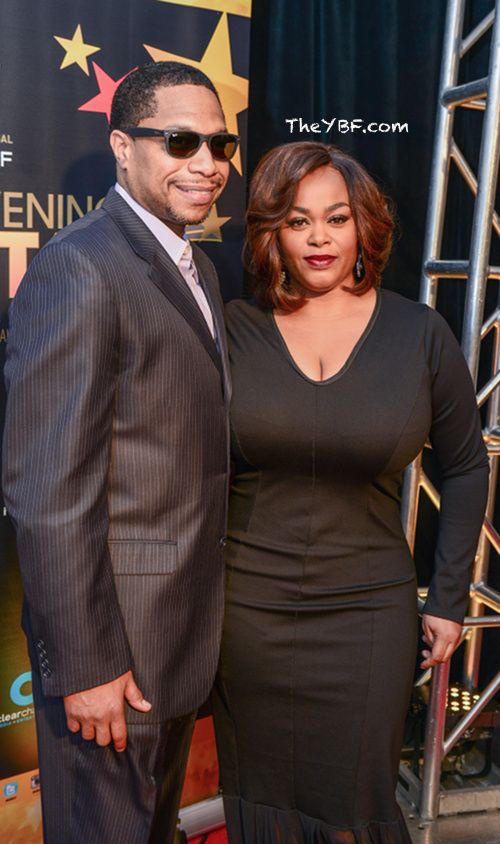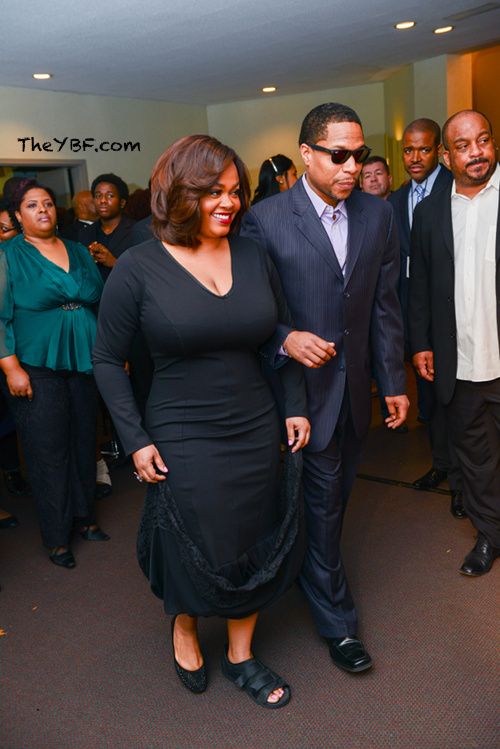 The star of the night was Jill Scott as she hit the red carpet displaying her trimmed physique alongside a mystery man. Jill (with her bandaged foot) has clearly been working hard in the gym and it has definitely paid off. She was the showstopper last night in a black hip hugging floor length dress, which showcased her new curves. Although Jill was working with one good foot, she still looked fabulous.
Jilly from Philly was the first to hit the stage, opening the show with a performance that had the entire theater rockin'.
Hot!
Funnyman Anthony Anderson bought his comedic commentary to the UNCF event last night and he was hilariously funny as he hosted the event. We hear Anthony had the entire audience in stitches and had a plethora of jokes about how Trey Songz's mother "could get it." Ha!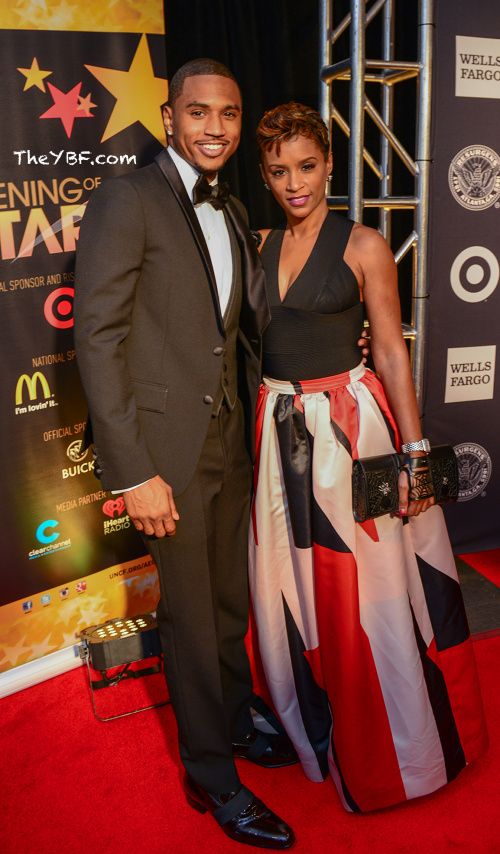 Seems Trey Songz and August Alsina put their differences aside last night as Trigga hit the carpet with his lovely mother April. Trey didn't perform but he did hop on stage after Anthony Anderson kept making jokes about his mama. Ha!
Monica was her usual glam self. "Miss Thang" (pictured above with Mr. Isley and his wife Kandy) came out with Mr. Biggs to perform "For The Love Of You" and the audience went wild. Seems Mr. Isley still has it.
Monica and newcomer August Alsina chilled back stage after his performance. Monica posted, "Me & My Lil Bro @augustalsina he KILLED it tonight #UNCF @Bet next Sunday at 10pm This is my #WatchThemLilGalsFace they went crazy when he hit the stage but his humility never wavered!! #Salute"
The Braxton Sisters looked absolutely gorge on the red carpet. Towanda was wearing a cute floral House of Chapele dress alongside her sister Trina who was joined by her "husband" Gabe Solis on the carpet.

Tamar, Trina and Towanda presented one of the scholarships to one of the recipients during the show.

Singer Sevyn Streeter (who was recently spotted giving out lap dances to Mack Wilds) looked cute in a white bandeau top and white flared slacks as she posed alongside Monica backstage.
Sevyn snapped a pic with host Anthony Anderson and her mother, all dressed in white.
Sevyn, record exec Kevin Liles, gospel singer Tye Tribbet and Trey Songz stopped backstage for a pic.
We see you Sevyn and Mack...
Fonzworth Bentley came out for the UNCF festivities.

And singer Kenny Lattimore was there to support the UNCF.
TheYBF.com was on the scene last night at the 'Evening With The Stars' UNCF event and our ATL correspondent Ms. Dia caught up with DJ Drama as he talked about the importance of an education and how education has impacted his career.
Check it:
The show premieres Sunday, April 13th at 10pm on BET.
Fab times!
Photos: E Jerome Pearson / Splash /Kandy Isley's IG/Monica's IG/Jill Scott's Twitter/@tashareikobrown/@blackoutmgnt/@treysongzgermany/@bowtyetrib/@itsrobinlori

DO WE LOVE IT: Lil Boosie's "Show Da World" Featuring Webbie (VIDEO)
Posted: 07 Apr 2014 09:57 AM PDT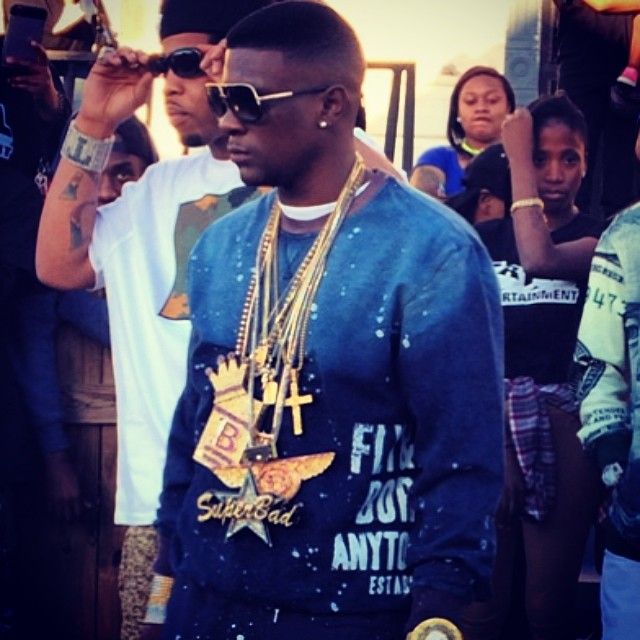 Lil Boosie teamed up with Webbie for his first official video since his release from prison. Watch "Show Da World" inside...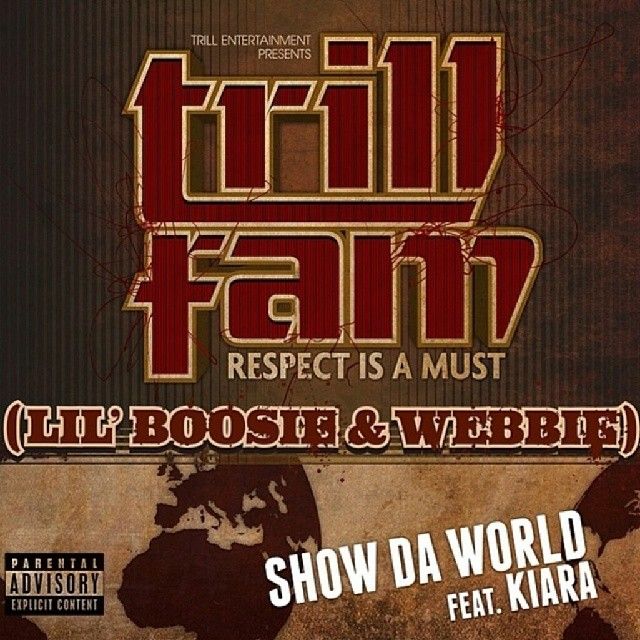 Are you ready for Lil Boosie's comeback single and video? Well...it's not what you might expect. Though he teams up with Webbie (the pair have done several tracks together "Betrayed", "I Represent") it's not a "twerk" fest. "Show Da World" (his first since his release) is a slow-paced tune, featuring the vocals of Kiara, that thanks Lil Boosie's fans for their support.
The black-and-white video was directed by G. Visuals and has cameos from DJ Drama, Slim Thug, Bobby V and Paul Wall. In other news, Boosie is also working on a new album and plans for a tour.
Watch "Show Da World":
DO WE LOVE IT?
Photos via Lil Boosie Instagram