---
FROM CANCUN WITH LOVE: "BBW" LA" Star Draya & Orlando Scandrick On VACAY In Cancun, Not Bothered By CHEATING Scandal
Posted: 06 Apr 2014 09:41 AM PDT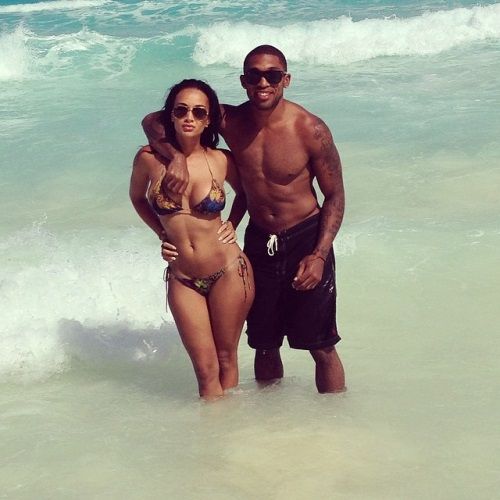 Draya Michelle and Orlando Scandrick headed to Cancun for the weekend where they partied, hit the beach and had a message for the naysayers. More inside...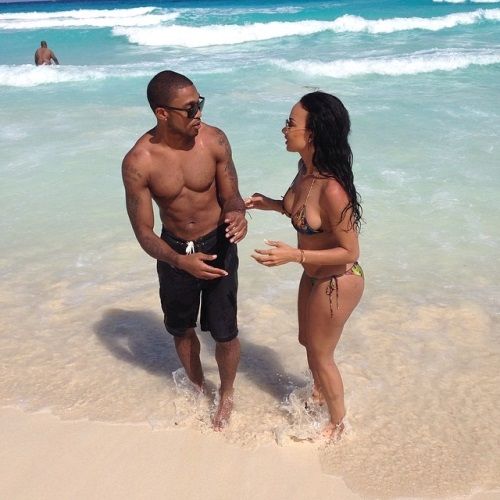 "Basketball Wives: LA" star Draya Michelle and her Dallas Cowboys beau Orlando Scandrick aren't letting Chantel Christie, Jackie Christie or anyone else stand in their way. At least that's what they want everyone to believe.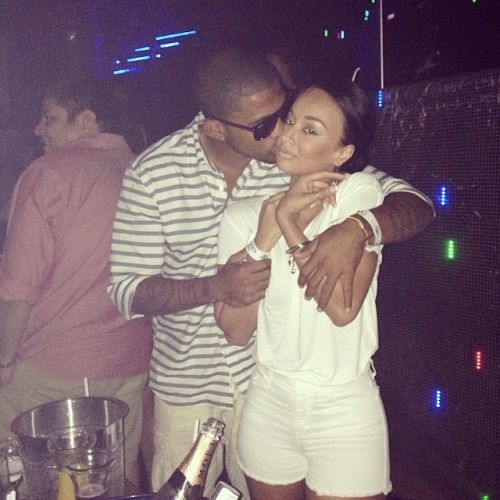 Draya posted plenty of pics saying, "Hello. WE see you"

She also said, "I'm a good person and my life is good because I deserve it. #idontmaketherules #sorrynotsorry".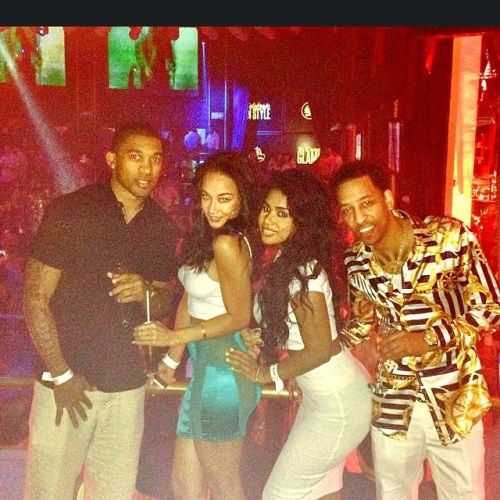 Draya isn't worried about cheating......why is anyone else, apparently...

And next week on BBW:
Not gonna lie. This season is damn near impossible to stomach. But, we're giving it chance...
Photos via SoDraya/itsrichgirlz Instagram
TV FAB: Kwasi Enin Does David Letterman's TOP TEN + Nas Talks DeSean Jackson And The Philly Eagles On "Real Time With Bill Maher"
Posted: 06 Apr 2014 09:04 AM PDT
Kwasi Enin appeared on David Lettermen while Nas talked politics and sports with Bill Maher. Watch the clips inside....
Kwasi Enin appeared on the Late Show with David Letterman where he offered advice, via Letterman's funny Top 10 list, on making a college application stand out. He would know since he got into all 8 ivy league schools. Good luck on writing those essays!
Also on late night....
Nas appeared on HBO's "Real Time With Bill Maher" where he discussed DeSean Jackson being released from the Philedelphia Eagles reportedly due to suspicion of gang ties.
When Bill posed the question, Nas replied, "I just wanna know who is the gang sign-ologist in the NFL. I didn't know they had crips and bloods on payroll." Nas argued Desean threw up signs...but signs for what? Who's to say it was a gang thing?
Check out the clip above.
Pharrell Rocks "SNL" With "Happy" & "Marilyn Monroe"
Posted: 06 Apr 2014 07:40 AM PDT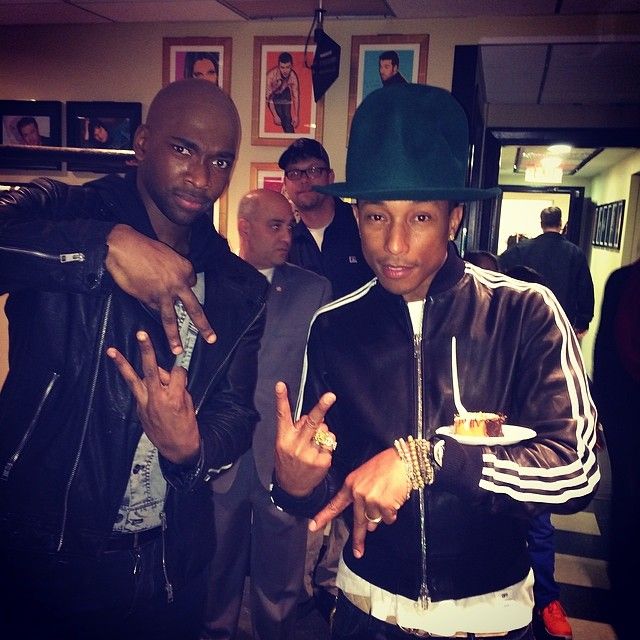 Pharrell celebrated his 41st birthday yesterday by being the musical guest on "Saturday Night Live"! Check out his performances inside and his fun with the cast...
Before he rocked the stage, Pharrell chopped it up with "SNL" star and fellow VA native Jay Pharoah. And the cast and crew showered P with birthday cake and laughs:
He said, "Wow...what an incredible night and the show hasn't even started. Thank you Saturday Night Live for the birthday cake and all the laughs."
Sweet!
He snapped pics after his performance with the kids from BLOC NYC agency who performed "Happy" with him, and his mentor Hans Zimmer and the string musicians:
Check out both of his fun performances below:
Nice!
Photos: Pharrell's IG
REVELATIONS: Pastor Mase & Wife Twyla Lied? Docs Prove They Are NOT Getting Back Together, Still Fighting Over Custody & Spousal Support
Posted: 06 Apr 2014 07:08 AM PDT
Newly discovered court documents revealed that Mase and his wife Twyla Betha actually split two years ago and have been "frontin" for their ATL congregation. Get more divorce revelations inside...
Remember we told you about Mase and Twyla getting a divorce...and then we found out they were back together? Well....all of that was a front. ALL OF IT.
It turns out, TMZ did some digging and Twyla filed legal separation documents in San Diego (right AFTER Mase filed for divorce in Atlanta). The docs revealed they split back in 2012. That means, every Sunday morning service, every communion, every baptism, every book fair, every lecture was under the cloud of a lie. They haven't been a "happily" married couple for YEARS. All the while, they've been peddling their book. So it looks like they played the part in order to sell their ish.
Well...now that the "truth" is out, we went over to the church website and the beautiful photos of the pastor and first lady all coupled up and talking about a good "marriage" have been replaced with an homage to "Footprints in the sand." Maybe they're asking the good Lawd to carry them into new relationships?
Photos via Mase's Instagram
MURPHY'S LAW: Shayne & Bria FLAUNT Their Bikini Bods In Hawaii
Posted: 05 Apr 2014 01:38 PM PDT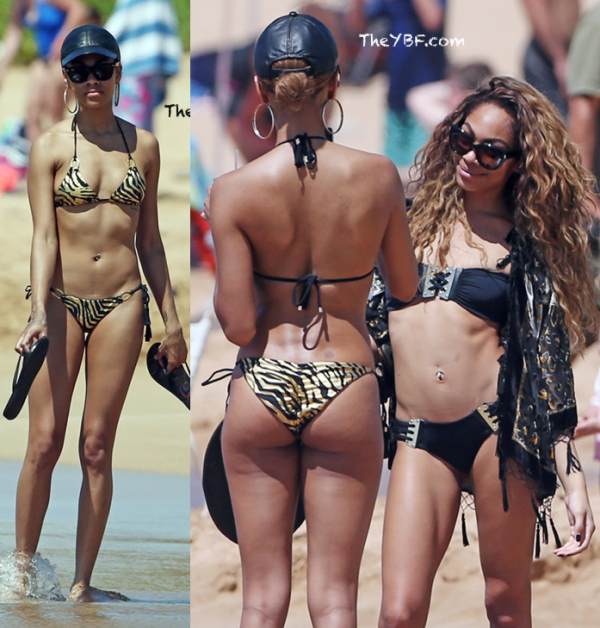 Shayne & Bria Murphy were spotted on the beach in Hawaii. See their modelesque pics inside...
The first rule of Murphy's Law is to look good in a bikini: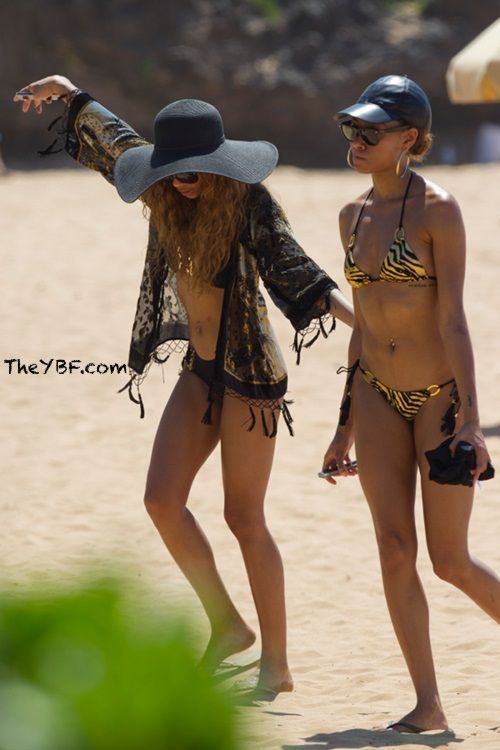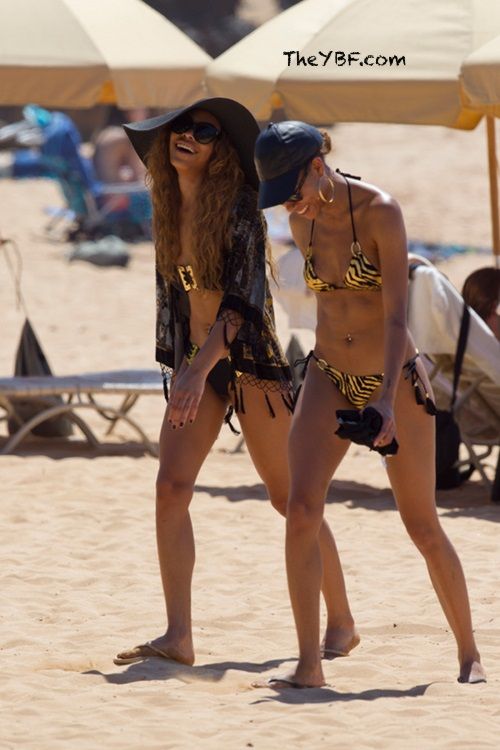 Shayne and Bria, the oldest daughters of Eddie and Nicole Murphy abide by the law....much like their fabulously fit mom. The twosome are on vacay...from what exactly we're not sure since their posh life IS a vacay....but everybody needs some beach life evey now and then: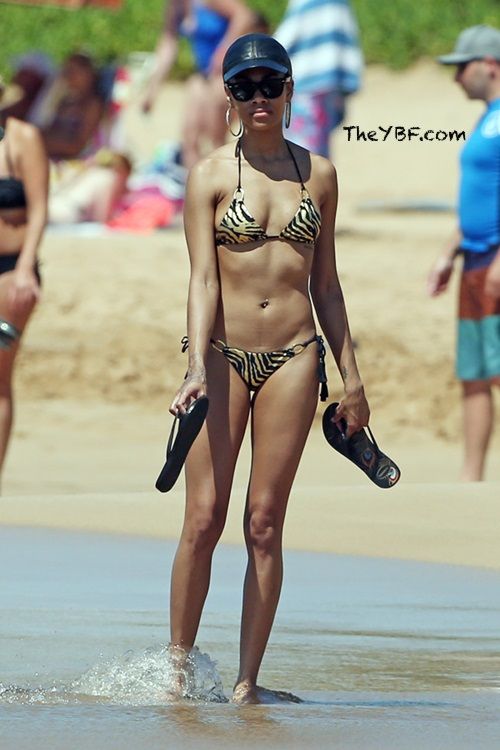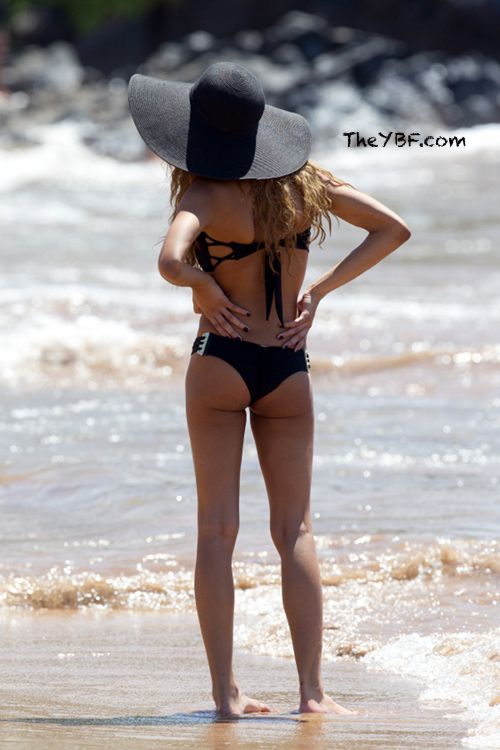 We hope the execs over at Victoria's Secret...or somewhere...are paying attention. Looking great ladies!
Photos via Splash/Flame/Flynet
Alicia Keys & Swizz Beatz Party It Up Alongside Mashonda, Angela Simmons, & More At Pharrell's SPONGEBOB Birthday Party
Posted: 05 Apr 2014 12:17 PM PDT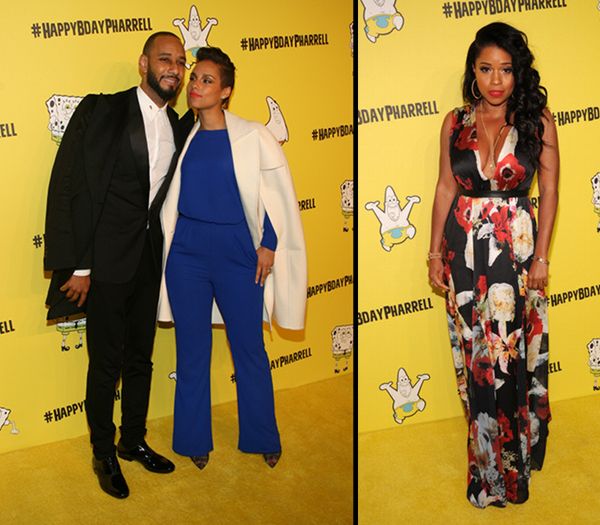 After vacaying ALL together in St. Barts recently, Swizz Beatz and wife Alicia Keys were partying it up with Swizz's ex-wife Mashonda at Pharrell's 41st birthday bash Friday night. Check out who else showed up inside...
Friday night, Swizz Beatz and Alicia Keys hit the yellow carpet for Pharrell's SpongeBob SquarePants themed 41st birthday party. It went down at 'Bikini Bottom' at Cipriani Wall Street in New York City, and Alicia was there to celebrate her long time friend and producer of her new album.

The couple looked fab, and even partied it up alongside Swizzy's ex Mashonda:
She looked nice as usual.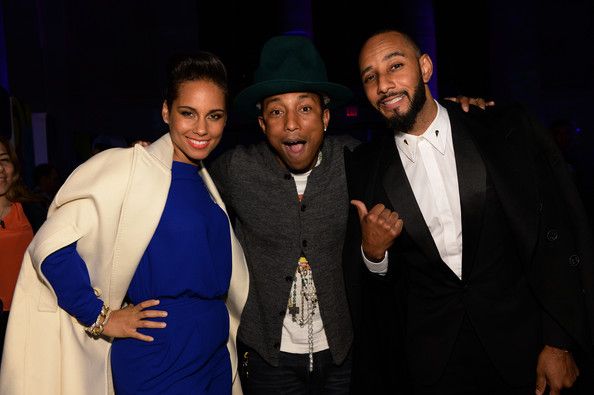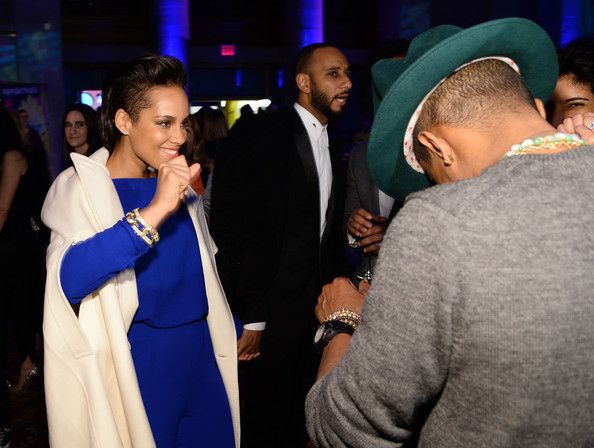 The party looked like fun times, and Pharrell kept it goofy with his wife Helen: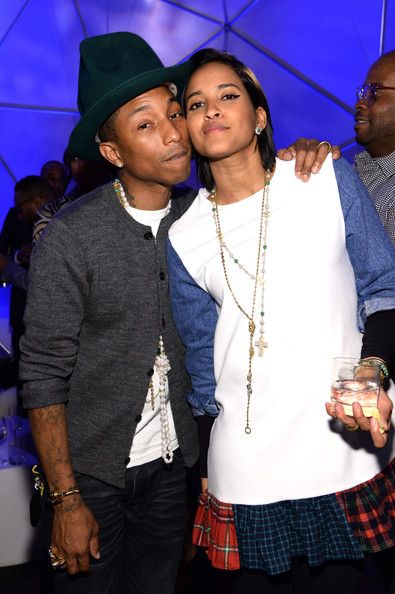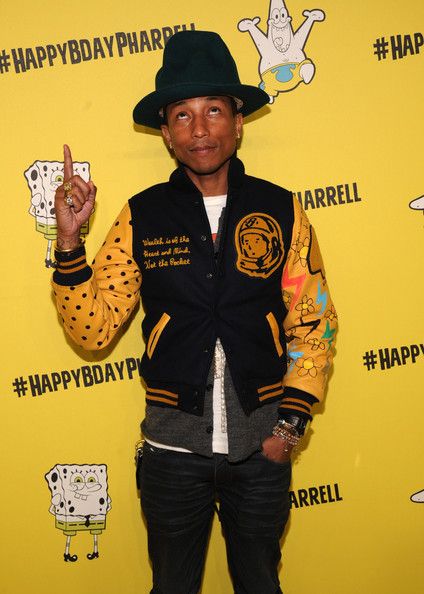 This cake!
His homie Soledad O'Brien came out to party.
Angela Simmons rocked an edgy and super cute look for the party: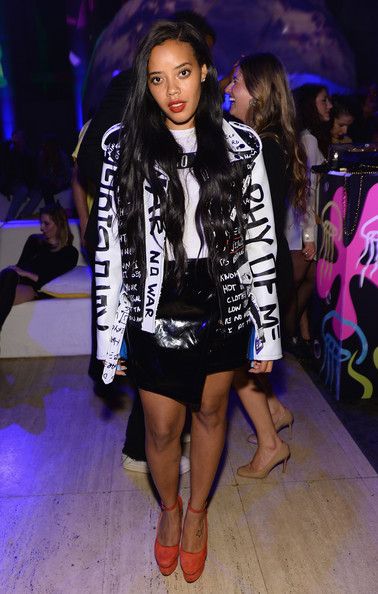 And model Chanel Iman kept it sexy in a white zip front dress:
Cute.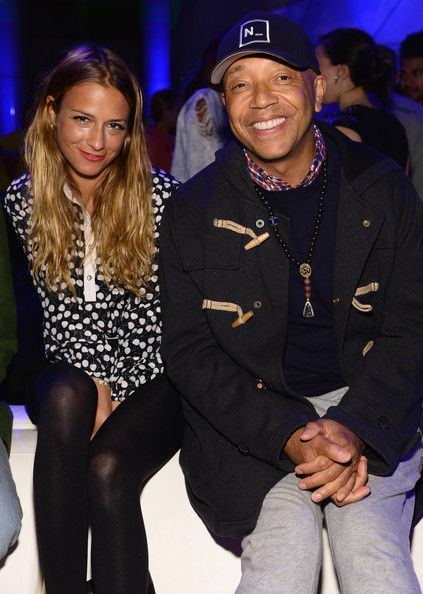 And Russell Simmons made an appearance at the homie's party.
Fab times!
Photos: Getty
"SWERVIN 16": Christian Combs CELEBRATES His 16th With LAVISH Bash
Posted: 05 Apr 2014 11:40 AM PDT
Christian Combs, Diddy's youngest son, celebrated his 16th birthday with a huge "Swervin 16" party in L.A. See pics from the bash inside...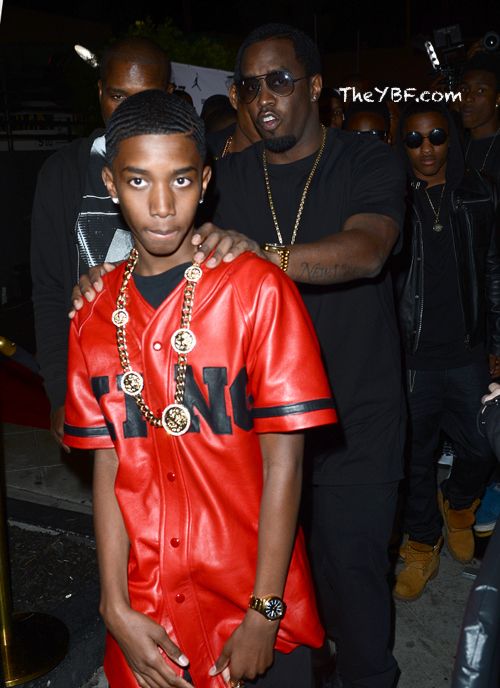 How does the son of one of the world's most famous men celebrate his 16th birthday? First.....
Daddy buys you a billboard. "Outside of the birthday party for @cyn_c3 @i surprised him with this billboard ! U should have seen his face!" -DIDDY
You pose with the billboard. "The first surprise of many from my dad, thanks pops. Hope to see y'all @ 1Oak tonight ! Cuz it's about to be a #swervin16 #billboard"
Then......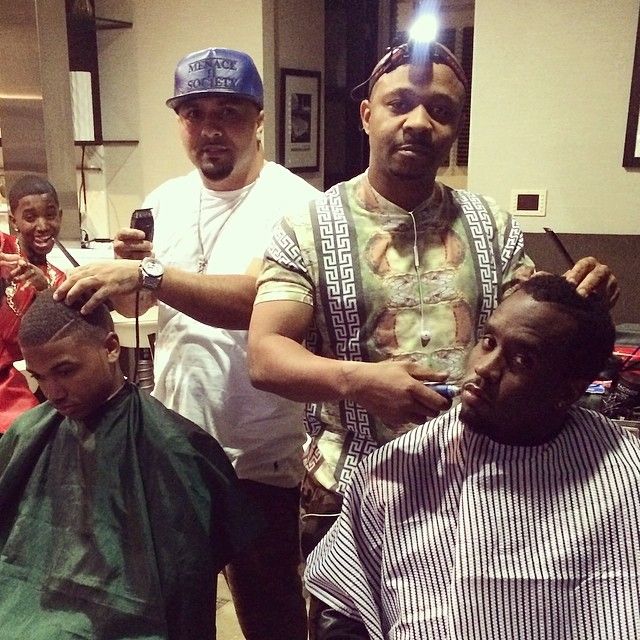 Catch a "fade" with your Dad. "We getting ready for @cyn_c3 party!" - Diddy
Next.....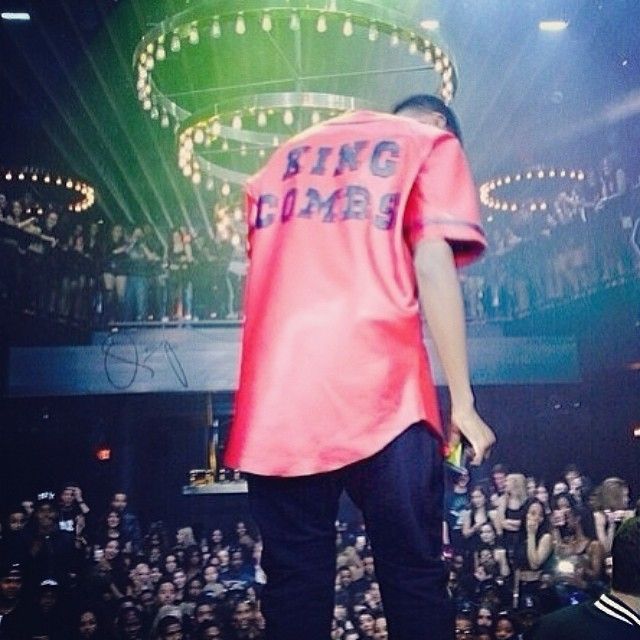 You head over to 1OAK in West Hollywood for a super LAVISH 16th birthday party with Khloe Kardashian, Selena Gomez, Kendall and Revolt TV co-host Kylie Jenner...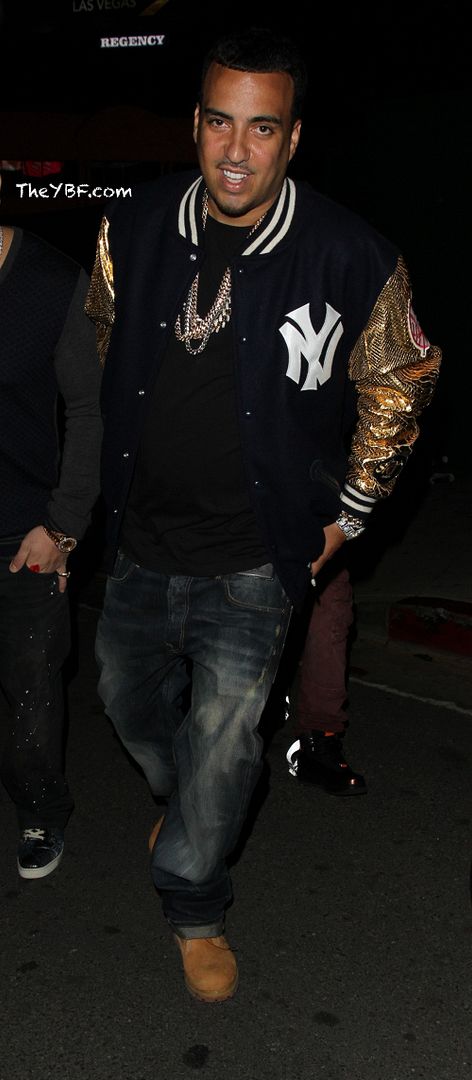 Bad Boy artist French Montana.....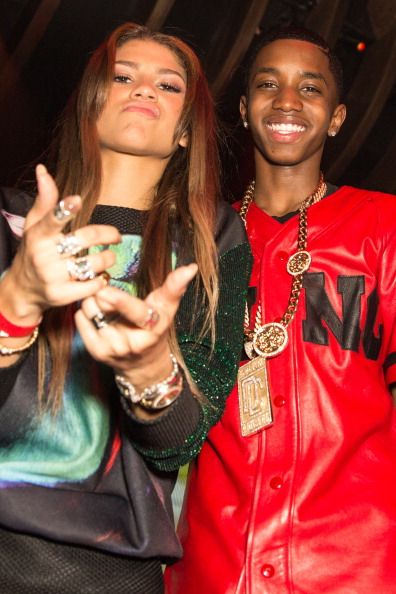 Singer,'DWTS" contestant and Disney Channel star Zendaya....
And your little sisters Chance, Jesse and D'lila.
Happy SWERVIN 16th birthday Christian!
Photos via Christian's IG/Diddy's IG/Summerissunny IG
FRESH FACE: WWE's Ariane "Cameron" Andrew COVERS "ROLLING OUT", DISHES On SUCCEEDING In A Male-Dominated Arena
Posted: 05 Apr 2014 10:23 AM PDT
We can't be the only ones obsessed with E's show "Total Divas". And now that the Funkadactyls have become two of our fave fab chicks, one half of the duo is getting her shine. The fabulous Ariane Andrew covers the latest issue of ROLLING OUT where the "Total Divas" star dishes on her success in a world of muscle-bound men. She's not your typical wrestler...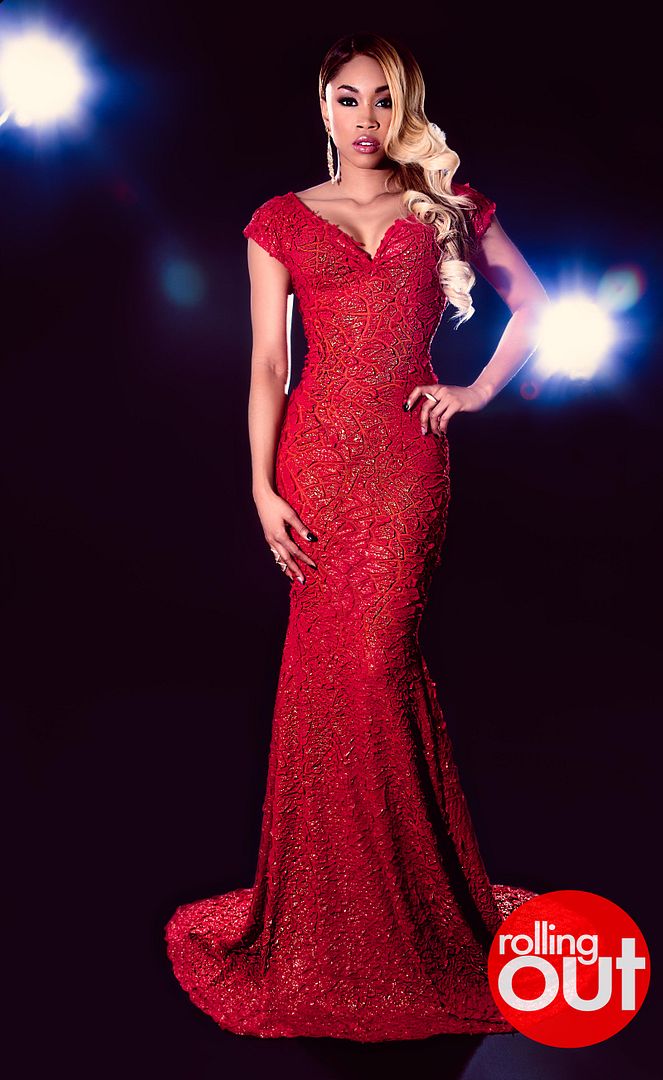 26-year-old Ariane Andrew, whose stage name is "Cameron", is breaking ground as one of the WWE Divas and stars of "WWE Monday Night Raw." Every week, she reaches nearly 280 million fans around the world as one of the handful of African Americans who've become franchise players in the field (see WWE's David Otunga).
During the first season of "Total Divas", we saw her struggle with fibroids and her (semi-funny) obsession with getting a boob job.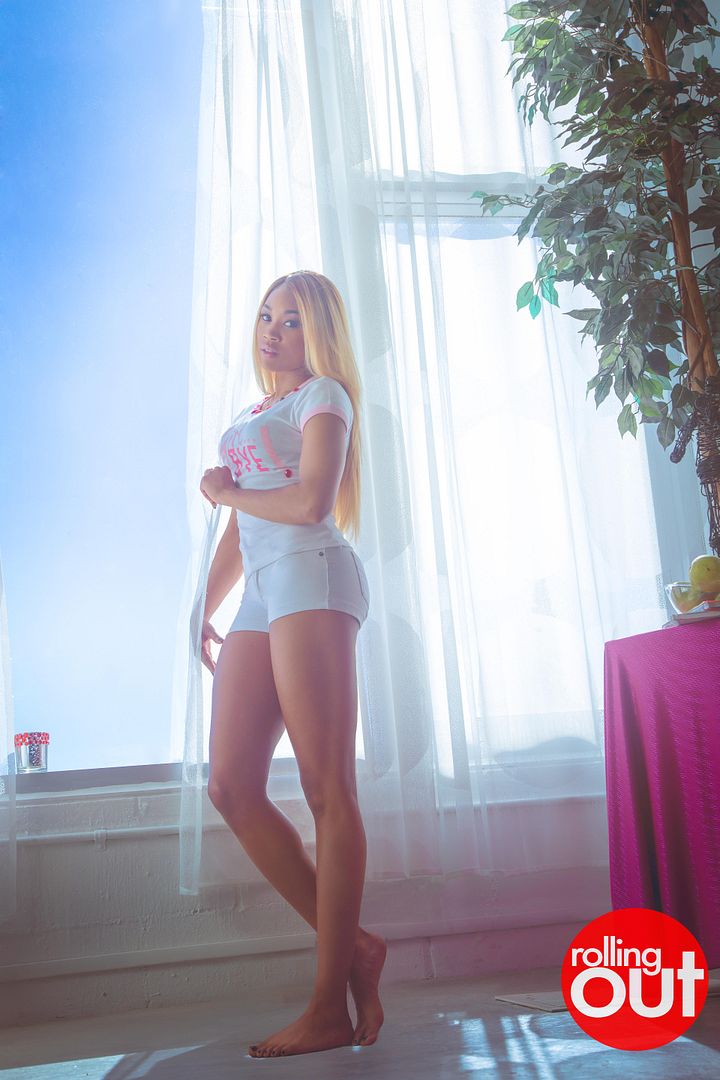 Now, fit and fab Ariane (who's WWE partner is fellow fab chick Trinity Fatu), is expanding her public persona with a cover story in ROLLING OUT. We get to know who she is outside of the ring and how she found success in a male-dominated field. Here are the highlights:
On being a role model:

I am happy to be black and a role model for little girls and boys to have an inspiration to look up to. WWE is a humongous, worldwide, international company. I am glad to be able to be a role model and to show kids [that] if you work hard, have dedication and have drive, you can achieve anything. The sky is the limit. You constantly see new demographics coming in and watching the show; especially now after 'Total Divas.'

On finding success in a male-dominated field:

This is a sport that is usually dominated by men. So it's awesome to be a strong, black American woman in a world that has been predominantly for men.

On her E! reality show "Total Divas":

"You have seven girls together so there's going to be talk, there's going to be drama and there's going to be breakups. It's a competitive world. You see all of us girls duke it out trying to make it to the top. At the end of the day, we are family and we come together and we are friends. But, you see the roller coaster of emotions."

On being a top wrestler:

No one can just get into the ring. It requires a lot of practice. I had to go into the Florida Championship Wrestling developmental program in Orlando, Fla. It's where the WWE superstars and divas go to train before they can make it to the main roster. Taking a bump is not easy. The people you see on TV doing this all trained hard. It looks easy, but it really isn't. You have to have thick skin and work hard to perform inside the ring.

On finding love and mainting a relationship:

With our job, we have very busy schedules and we are on the road a lot. It's not like any other sport where there is an off-season. We are constantly going. You miss birthdays and special occasions, but that's all a part of being in this business. Sometimes it can be difficult, but I feel like if you have someone who is strong and supportive and he's going to be down for you, then the relationship is going to be great. No matter what relationship you have, there [will] always be ups and downs. My boyfriend is amazing and strong; he is perfect sometimes. I feel like no matter which way you choose, relationships are going to have pros and cons. But, I love my man and he is super supportive.

On participating in Wrestemania 30 (April 6th, in New Orleans):

It's a dream to walk down that ramp at WrestleMania. I've been a part of WrestleMania before as a dancer, but my dream for this year is to actually step in the ring and be able to take action. It's an amazing experience. I'm definitely looking forward to WrestleMania.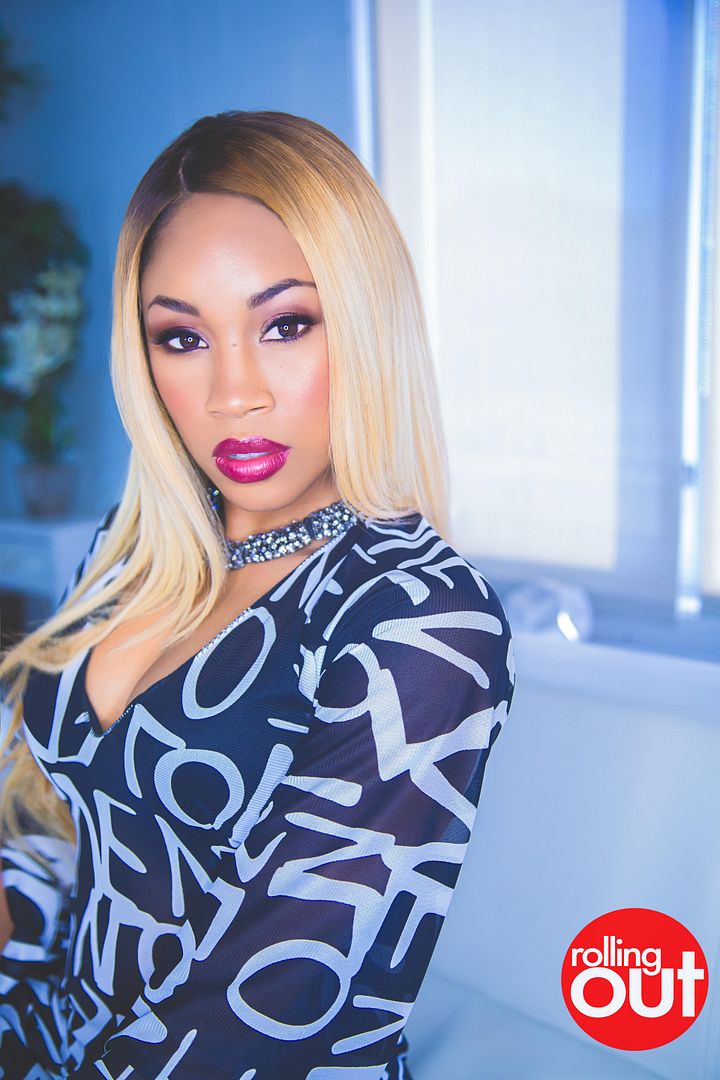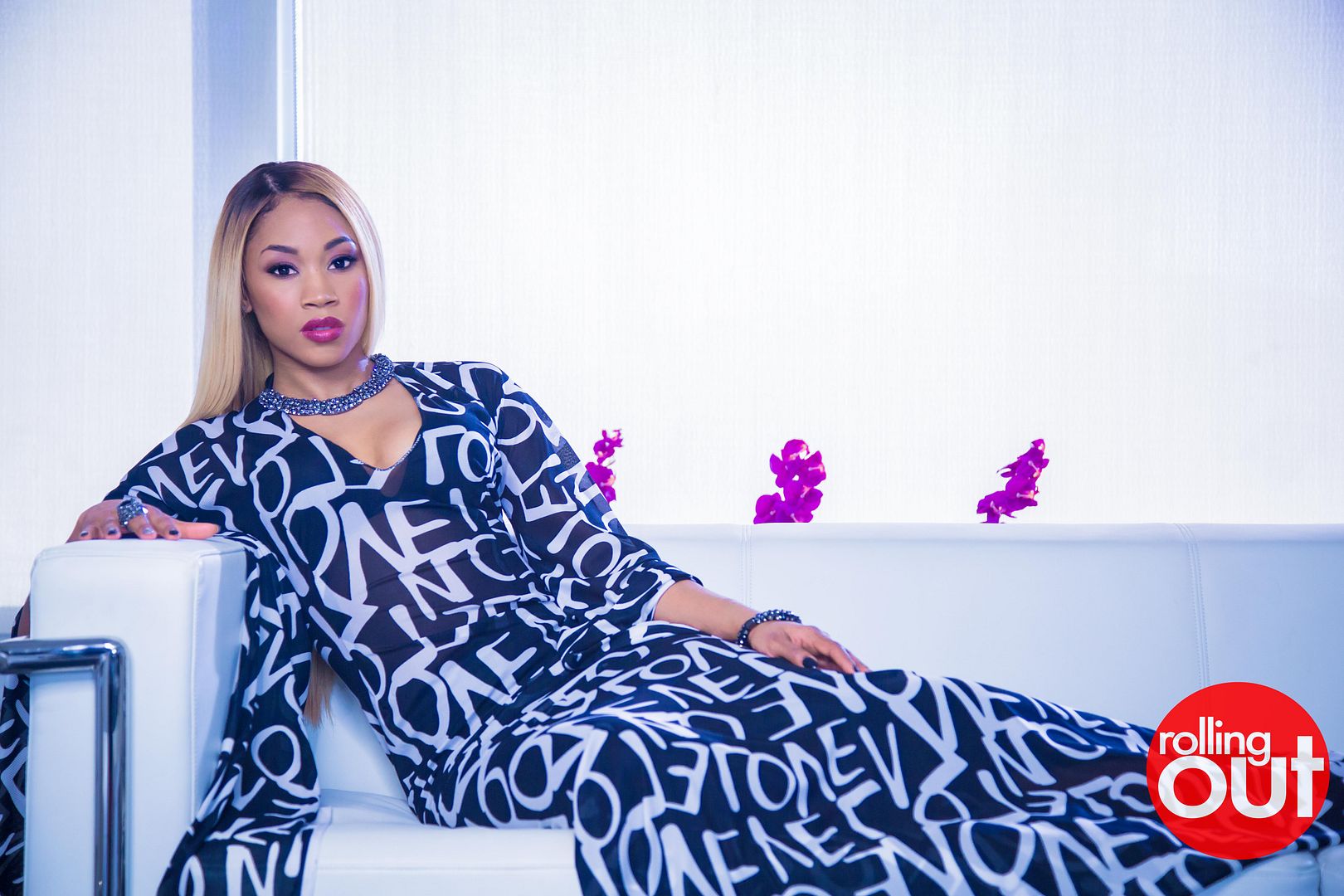 Loves it! Pick up your copy of Ariane's issue now.
Photos via ROLLING OUT