---
SPEAKING OUT: Kenya Moore's STATEMENT Regarding The Porsha Williams' ATTACK
Posted: 21 Apr 2014 08:23 AM PDT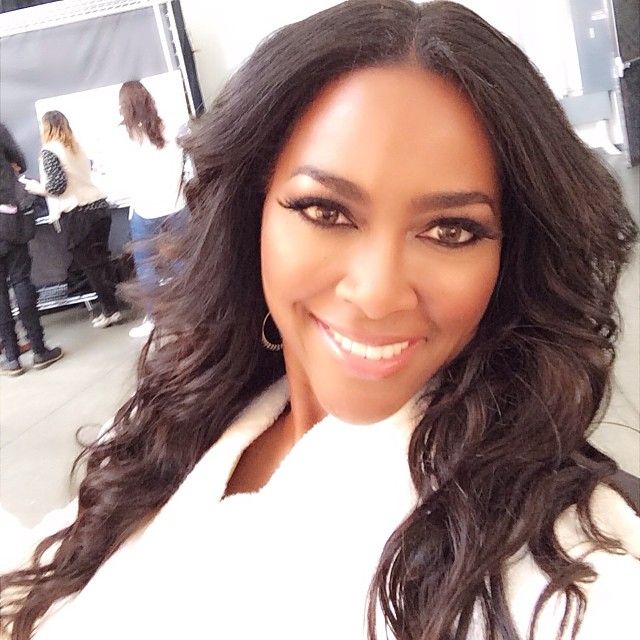 After weeks of speculation, Kenya Moore is finally about to speak about her "RHOA" fight with castmate Porsha Williams. Read her statement inside...
The highly publicized brawl between Kenya Moore and Porsha Williams aired during last night's "RHOA" reunion episode and now Kenya has released a statement about the incident:
During the taping of the Reunion Episode for the Real Housewives of Atlanta, I was violently attacked by Porsha Williams. The episode, which aired tonight, Sunday, April 20, 2014, was taped in front of an audience of over 50 people, which included cast, crew, guests and executives, who served as witnesses. I called 911 to report the incident. The Atlanta police conducted an independent investigation, which included viewing the raw footage of the incident. As a result, Porsha Williams was charged with battery. The authorities will decide her fate, not me.

There are many inflammatory statements made by cast members to and about each other particularly during the reunion tapings. Many have made untrue, denigrating, disparaging, and inflammatory statements against me in an attempt to provoke me, but I have never reacted in a violent way. My intellect and my brain are my most powerful weapons—not my fists. If people get so angry that they lose control and admittedly "black out" and resort to violence, those persons must be held responsible for their actions. Being a cast member on a reality show does not absolve people of their rights.

After being repeatedly attacked by an abusive boyfriend at the age of 17, if someone puts their hands on me, I will not just let it go. With that said, I sought self-defense training developed for the Israeli military. I've also been trained in weapons. I can take someone down in three moves. It took discipline for me not to respond in kind. As violent responses escalate, they can quickly result in severe injury or even death.

Being the second Black woman to be crowned Miss USA, there are little girls who look up to me. I would never want those girls, my nieces, or my future children to see me fighting anyone. That's the lesson we should all want to send, especially to young people—that no matter how angry someone makes you feel by what they say to or about you, violence is never an option. #stoptheviolence


SPEAK ON IT? Are you siding with Kenya or Porsha on this one?
Photo via Kenya's IG
SMOKERS UNITE: Rihanna & Bestie Melissa GET LIFTED For 4/20 At The Beach
Posted: 21 Apr 2014 07:37 AM PDT
While some folks celebrated Easter, others participated in National Marijuana Day (4/20) yesterday. Check out pics of Rihanna and her bestie Melissa Forde (M. Dollas) as they inhale inside...
After partying it up at The Return of #ToXicDayParty in Hollywood yesterday, Rihanna and her best bud Melissa hit the beach to celebrate national weed day.
Stoners everywhere unite on 4/20 in celebration of marijuana...and we all know how RiRi loves her Mary Jane! It was no surprise the she and M. Dollas burned a few blunts in celebration.

Rih posed in a black see-through mesh bodysuit with marijuana pasties covering her lady lumps along with an oversized denim shirt and Silver Spoon Attire kitten ears beanie. The Bajan beauty also rocked marijuana shaped earrings, green-framed sunglasses and a marijuana plant clutch.
Rih and M. Dollas lit their blunts as they danced to reggae music while hanging out at the beach.
The twosome got elevated as they watched the sun set with their feet up.
Check out video of Rih singing and grinding as she relished in the moment:
Fun times.
Photos: Rihanna's IG/Melissa' IG
BABY NEWS: Lil Kim REVEALS "It's A Girl!" + Ciara EATS An Ice Cream Cone, POSES With The Easter Bunny
Posted: 21 Apr 2014 06:20 AM PDT
Lil' Kim announced that she's having a baby girl while Ciara posed with the Easter bunny. More inside...
Over the weekend, Lil' Kim celebrated by revealing the sex of her baby (it's a girl) and that her bridal shower will be thrown by David Tutera. She captioned,
"Happy Easter everyone !!!! What a perfect day to share this wonderful news with U. The fab @davidtutera is throwing my royal baby shower for my lil' princess 5/10/14!!! Thank U for the awesome graphic @dustyaceti !!!! Muahhhh!!! #TeamLilKim. Love U all so much !!! Muahhhh !!!"

Congrats to Lil' Kim!
In other pregnancy news....
Mommy-to-be Ciara (who revealed she's having a little boy) was seen eating an ice cream cone. Was she having a pregnancy craving? She captioned, "Loving Butter Pecan These Days!:) #HappyEaster"
If you're wondering how Ciara spent Easter, she received a goodie bag from a friend. "Got The Cutest, Sweetest, Easter Bag From Sweet Little Sophie 2Day!:) #HappyEaster" Then.....
Cici posed with the Easter Bunny. Cute.

Photos via Ciara's IG/Lil' Kim's IG/Getty
SPEAK ON IT: Was Porsha Legitimately Provoked By Kenya & Her Props....Or Is Porsha Totally Wrong For Fighting?
Posted: 20 Apr 2014 10:50 PM PDT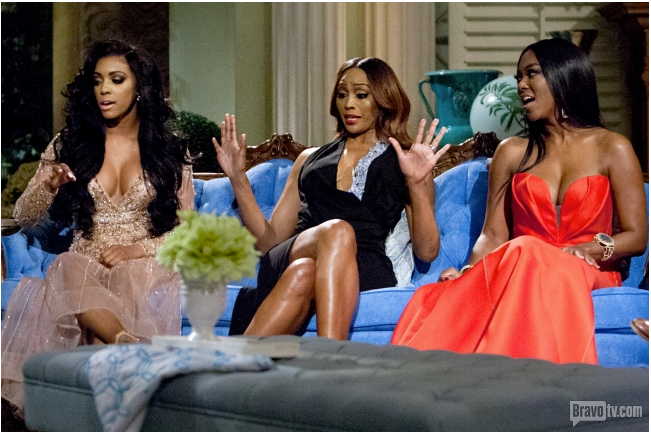 Now that Part 1 of the "Real Housewives of Atlanta" reunion special has aired, we can already discuss the epic foolery that popped off between Kenya Moore and Porsha Stewart...since it happened on this episode.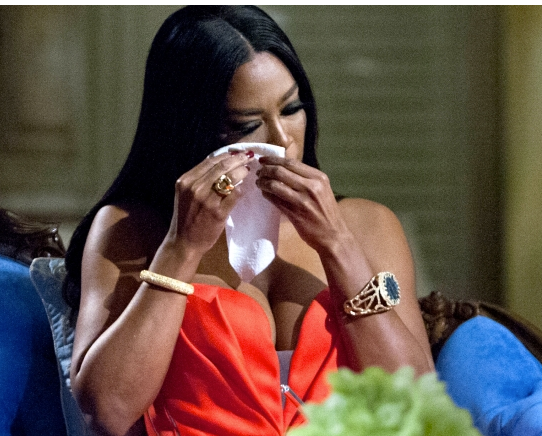 While Porsha set in her glistening Ralph and Russo London dress, and Kenya in a gorgeous red J. Mendel, the tension built up immediately.
So when Kenya pointed her scepter into what could be argued was Porsha's personal space, and then screamed at her through a megaphone calling her names, we already knew this ish wasn't going to end well.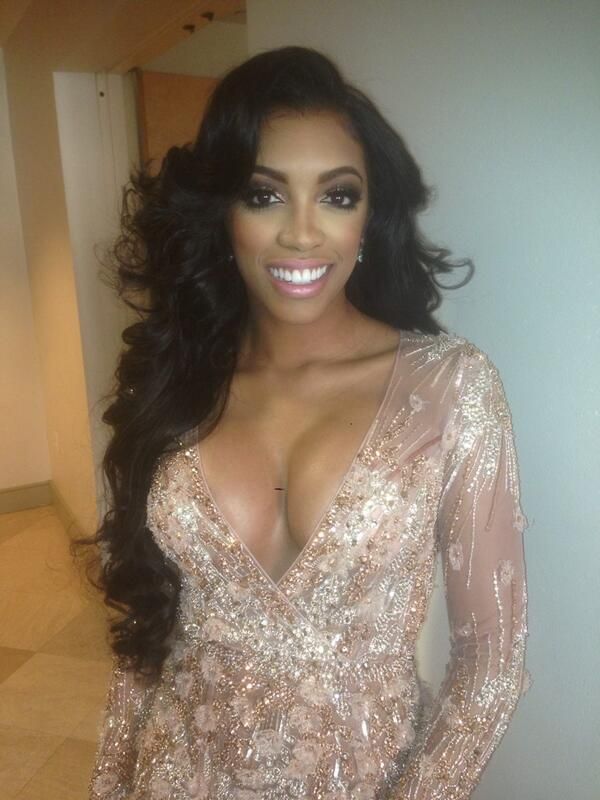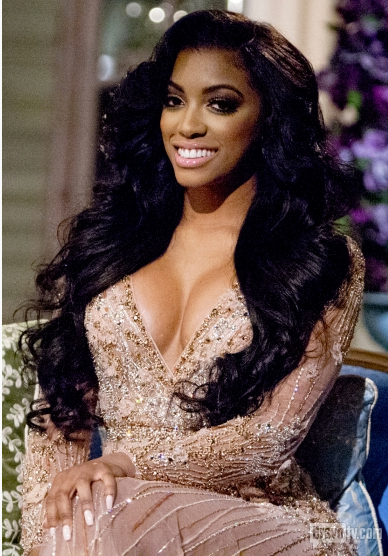 Kenya got in a few shots at Smarty Pants of the Year Porsha asking her to spell s-c-e-p-t-e-r. *Snickers* And Porsha went in about Kenya's Casper The Friendly Boyfriend, as Phaedra called him.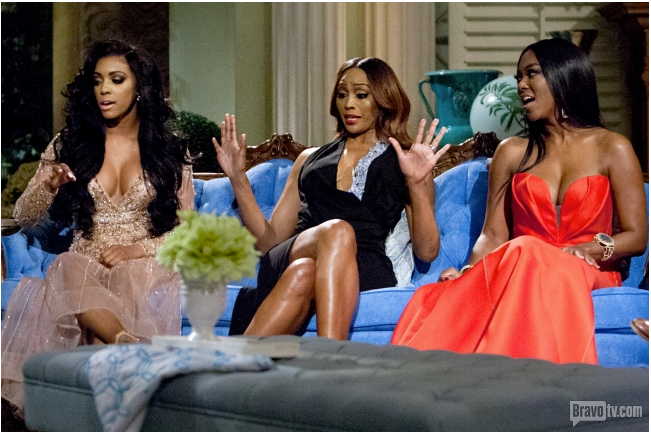 And once Porsha had enough of that scepter and that megaphone, she snatched Kenya's hair and dragged her to the ground...then rolled around screaming at HERSELF for letting it get to that point.
Check out all the clips below, including when host Andy Cohen acted all ~concerned~ and went to both ladies' dressing rooms to soothe them. And when he told Porsha to go home.
So...some may say (even the law may say) that a variation of assault is entering a person's personal space themselves or with an object. Porsha said out loud several times that she wanted Kenya to get out of her personal space with that scepter and megaphone--and her requests were ignored by Kenya, Bravo's production team and Andy Cohen.
Since Porsha is contractually obligated to come to and stay at the reunion show, was she simply reacting out of being pushed into a corner? Was she technically "assaulted" first by that scepter and that megaphone?
It's sad to see the hate spread on Easter Sunday the day Christ died for our sins. To the people anticipating a "beating" I pity your souls

— KENYA MOORE (@KenyaMoore) April 20, 2014
Or...Is Porsha totally wrong for becoming overtly physical and letting Kenya's words take her to a place of violence.....no matter if/how she was provoked? Kenya never actually touched Porsha, so did Porsha have a right to lunge at her and take the tension to a whole new level?
You decide....
Photos: Bravo
EASTER FRESH: The Obamas GET FAB For Easter Sunday Service
Posted: 20 Apr 2014 08:19 PM PDT
While you were at Easter Sunday service or getting ready to grub down on family dinner, President Obama, First Lady Michelle, and Sasha & Malia headed out of the White House looking flawless on their way to church.
Check the pic inside...
Looking so fresh and so clean in his cream linen suit, President Obama walked out of the White House today looking fly with his flawless First Lady Michelle. Around 10am, the First Fam headed to the 19th Street Baptist Church, a 175-year-old church with an African American congregation who is known to welcome both Democrats and Republican politicians alike.
Check out their departure and arrival above.
As for what they've been up to lately:
The Prez was snapped at an outdoor meeting and the pic was posted to his Twitter account with the caption, "Hello Spring."
And Mrs. O had some Easter fun with some kiddies, and will also host the White House Easter Egg Roll tomorrow morning on the White House Lawn: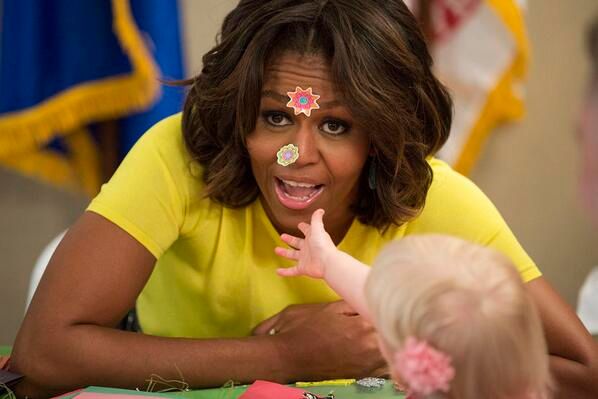 And recently, FLOTUS was interviewd by student Nene Sy about empowering women & girls for the @WomenInWorld Summit. Nice!
Photos/Video: AP/Barack Obama's Twitter/FLOTUS' Twitter
YBF KIDS: Julez Hits Coachella With Mom Solange & Alan + Willow Smith Gets BRIGHT At Coachella + Ming & Aoki Lee Simmons Hit Miami Beach With Russell
Posted: 20 Apr 2014 12:01 PM PDT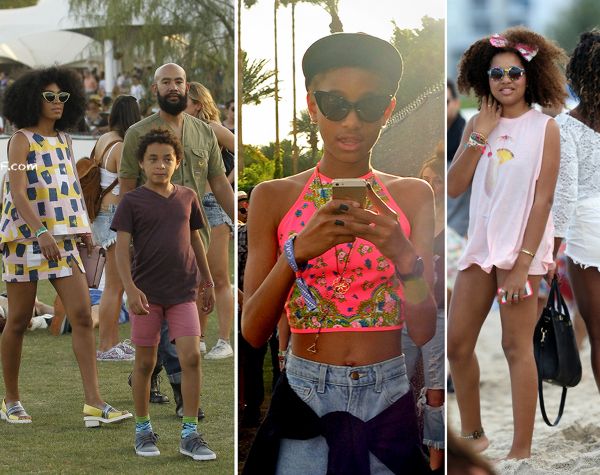 Your fave celeb kids spent the weekend playing on the beach...and on the fields at Coachella. Peep the pics inside of Julez, Willow Smith, and Aoki & Ming Lee Simmons....
Before Solange's performance on Saturday, she hit the Polo Fields in Indio, CA at Coachella to take her 9-year-old son Julez Smith, Jr. and boyfriend Alan to watch a few bands perform: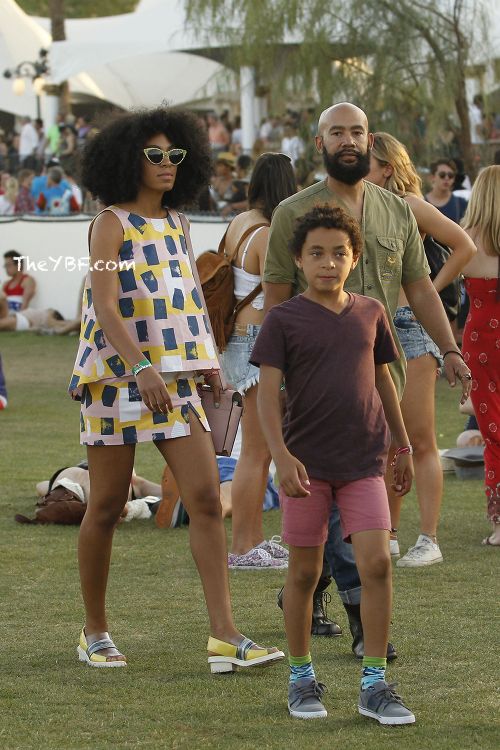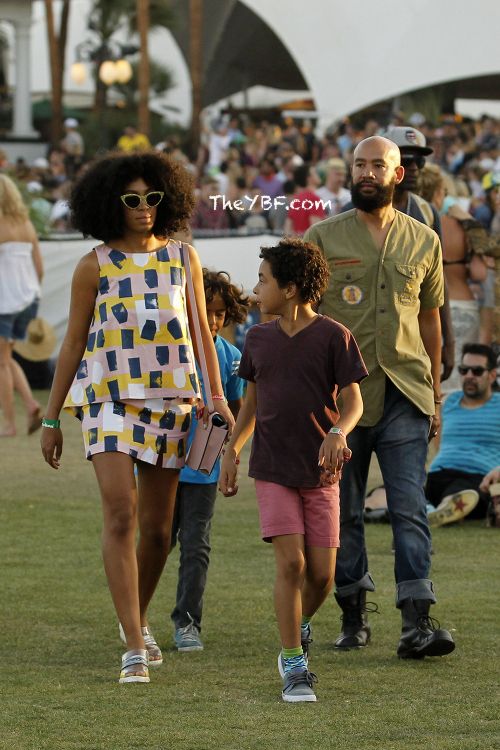 Look at Blue ivy's big cousin...growing up so fast!
And speaking of growing up fast: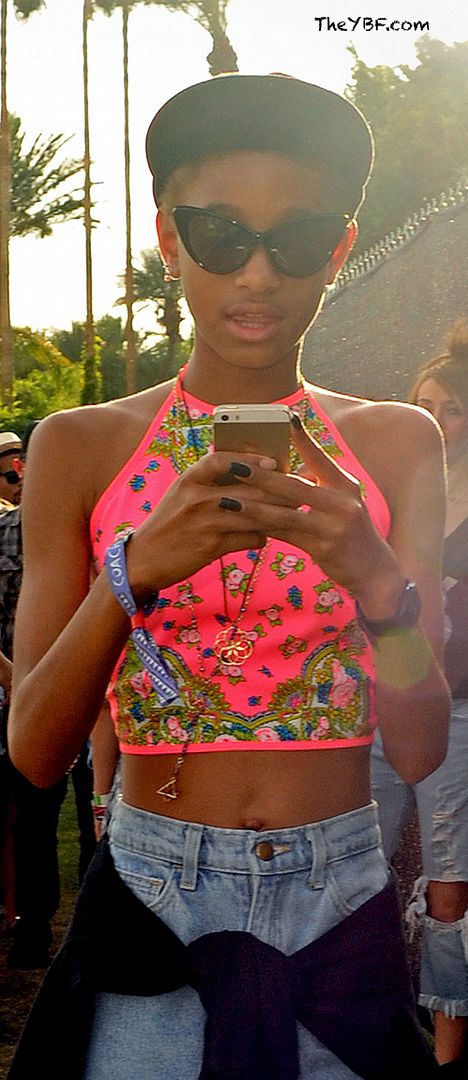 13-year-old Willow Smith hit up the second day (for weekend 2) of Coachella on Saturday with her homies the Jenner girls and her big brother Jaden. She kept it bright and funky in a multicolored halter top, jeans and more of her eclectic style.
And down in Miami: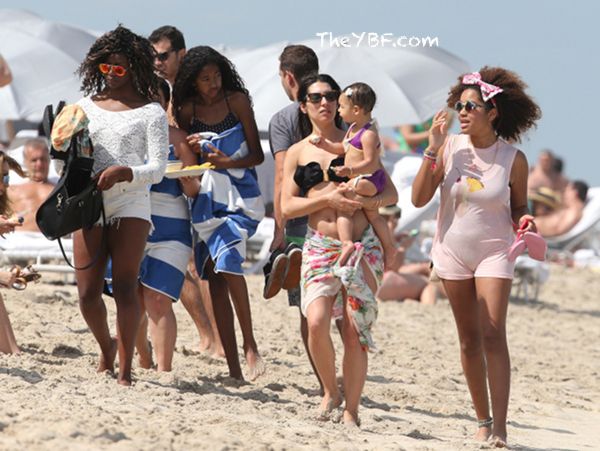 Aoki & Ming Lee Simmons were spotted on the beach with their dad Russell Simmons.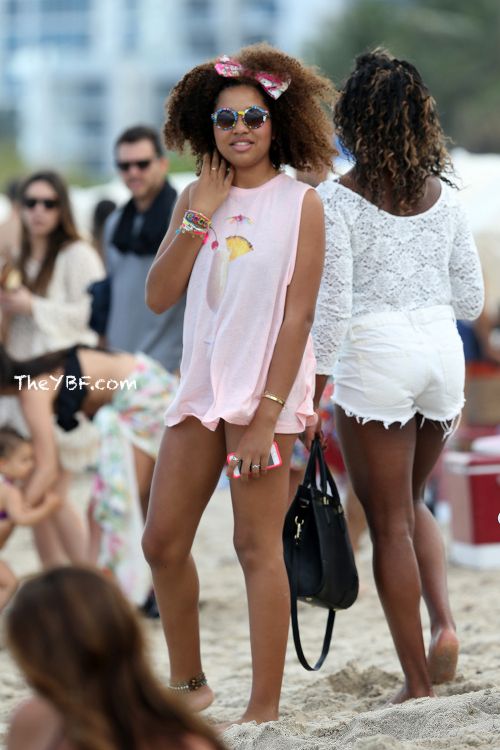 Ming is getting so tall! And the 14-year-old is looking like her mom, Kimora's, mini me.
Photos: Pacific Coast News
Tae Heckard & Brandon Jennings, Rihanna, The Game, MiMi Faust & More DRINK UP At TOXIC Day Party
Posted: 20 Apr 2014 11:18 AM PDT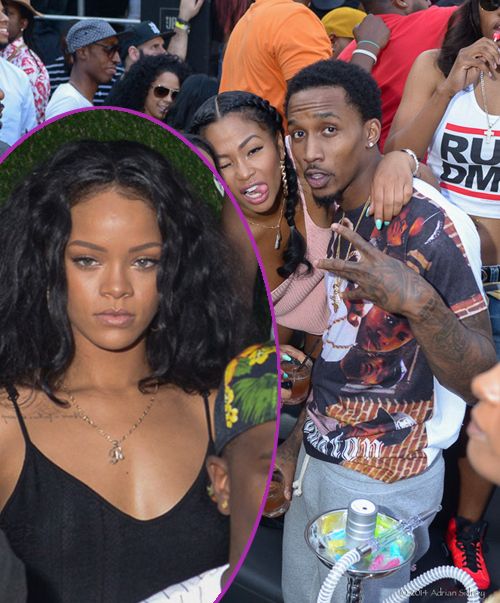 Celebs were out in full force at The Return of #ToXicDayParty in Hollywood yesterday afternoon. Check out Tae Heckard and baller Brandon Jennings boo'd up, Rihanna sippin' in the cut, The Game chillin' with his assistant, MiMi Faust making her post-porn rounds and more....
The celebs who skipped out on Coachella opted for TOXIC's big ass day party instead on Saturday. The extra celeb-packed party was powered by LAs Finest with DJ Drama & Don Cannon on the 1's and 2's.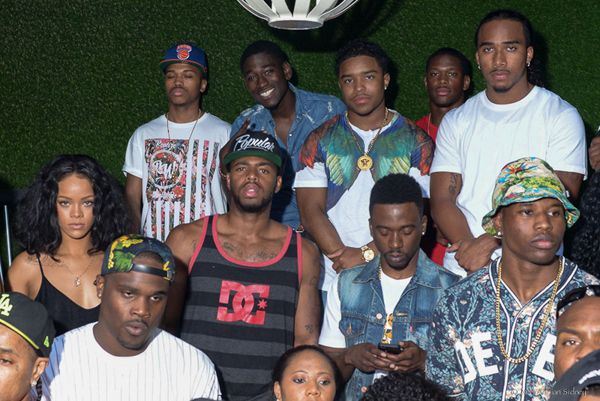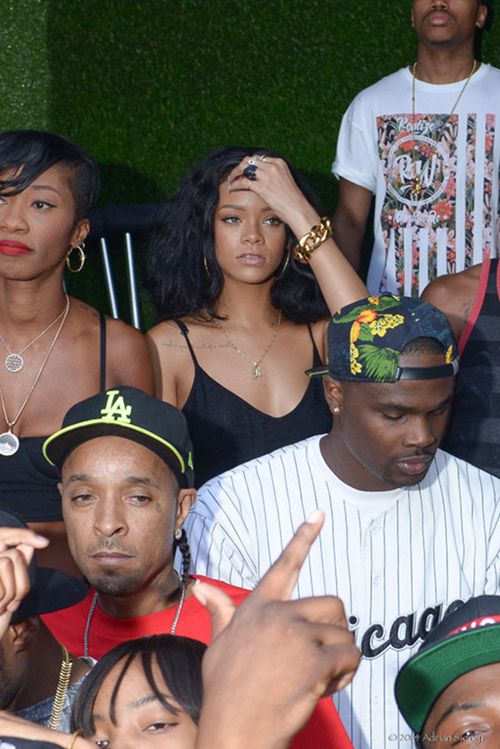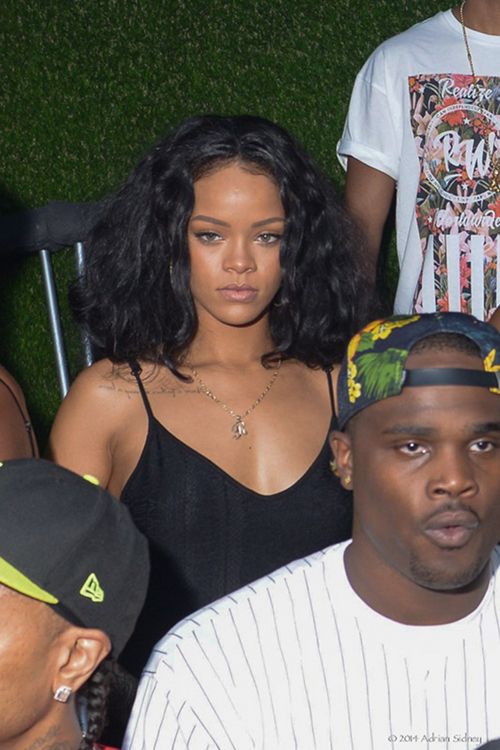 Rihanna made an appearance and was spotted posted up with her best friend Melissa and Justin Combs.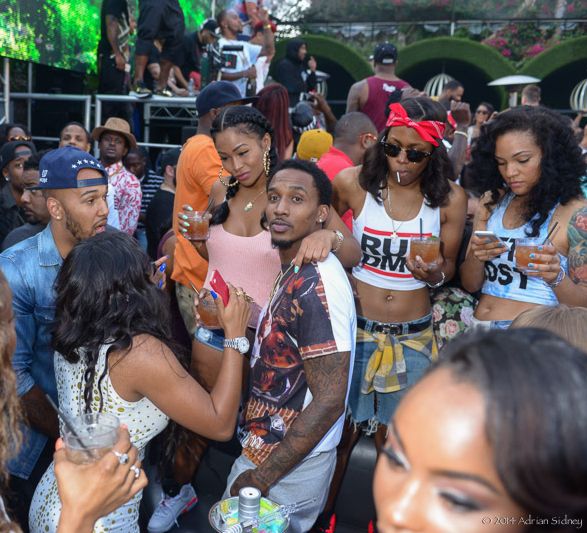 Tae Heckard and Pistons baller Brandon Jennings are getting more and more comfortable putting their relationship on public status. They were spotted posing it up with Miss Diddy LA and looking extra happy...together.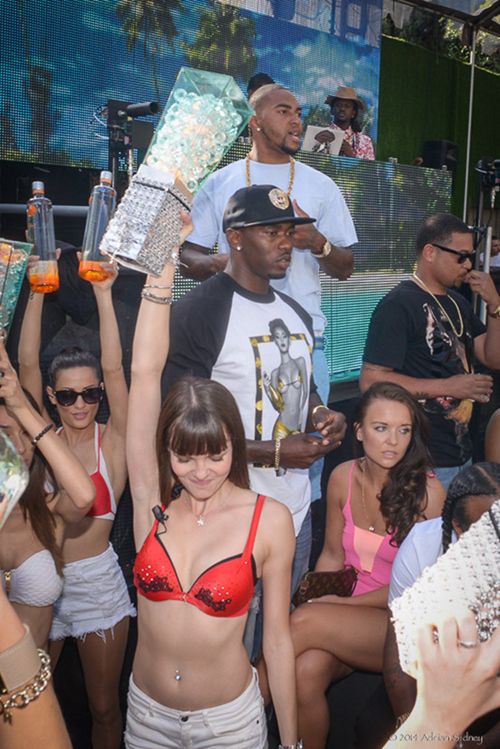 Redskins baller Desean Jackson made an appearance.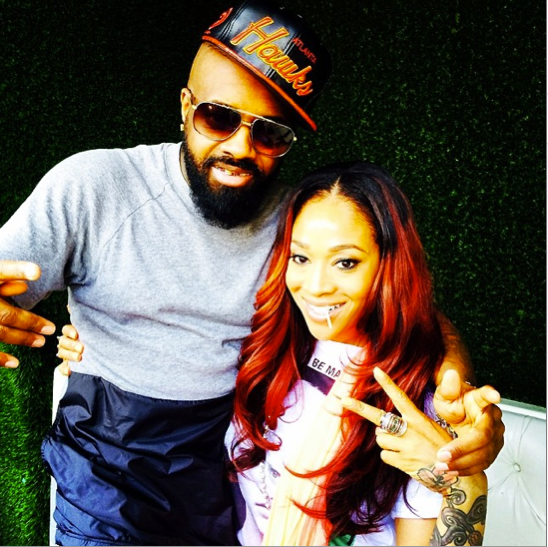 MiMi Faust is still milking her extended 15 minutes of fame. She was spotted posing it up with fellow ATLien Jermaine Dupri.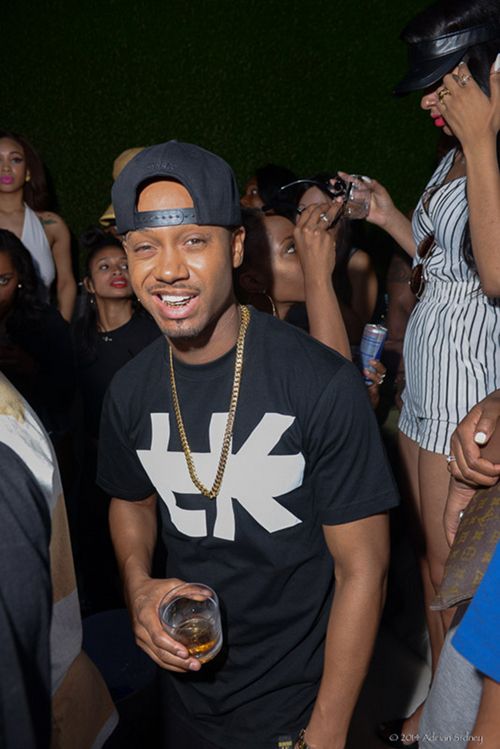 Think Like A Man Too star and E! News host Terrence J snapped in his grill and hit the party.
He knocked back some drinks with his homies Damien Dante Wayans, Fred, Chaka Zulu and more.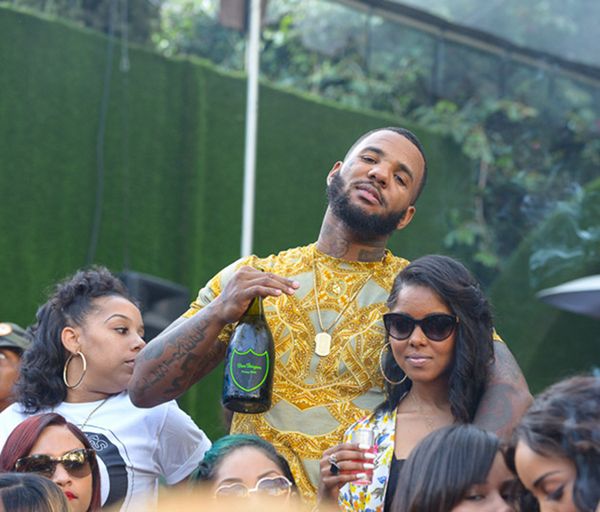 The Game looked worry-free while hugged up with his assistant Leaux Steez. He seems unfazed about all the drama going down with is estranged fiancée Tiffney Cambridge. All those restraining order and ish...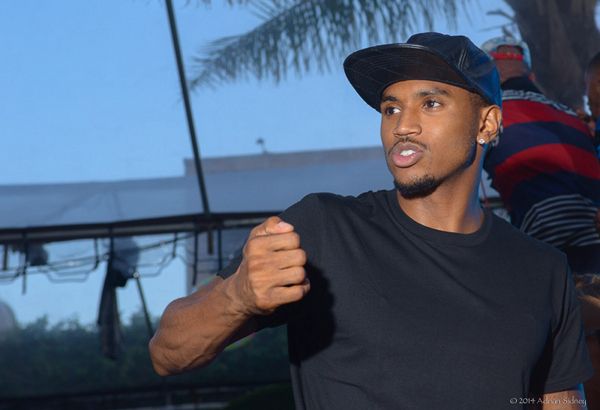 Trey Songz snapped some selfies with fans.
And Drama had the party on turnt status it seems. What did it smell like in there....
Photos: Adrian Sidney
COUPLEDOM: Meagan Good & DeVon Franklin's Cutesy Dinner Date + Jordin Sparks Flosses Hot New Bikini Bod In Vegas With Jason Derulo
Posted: 20 Apr 2014 10:30 AM PDT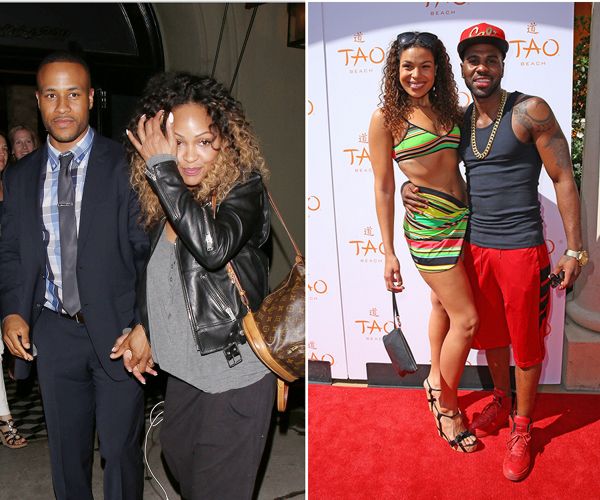 While Meagan Good and DeVon Franklin were all smiles at dinner in L.A. last night, Jordin Sparks was flossing that fab new bikini body in Vegas alongside her boyfriend Jason Derulo....
Actress Meagan Good was spotted leaving Craig's restaurant after having dinner with husband DeVon Franklin and family in West Hollywood. And she's rocking new curly hair that we're loving: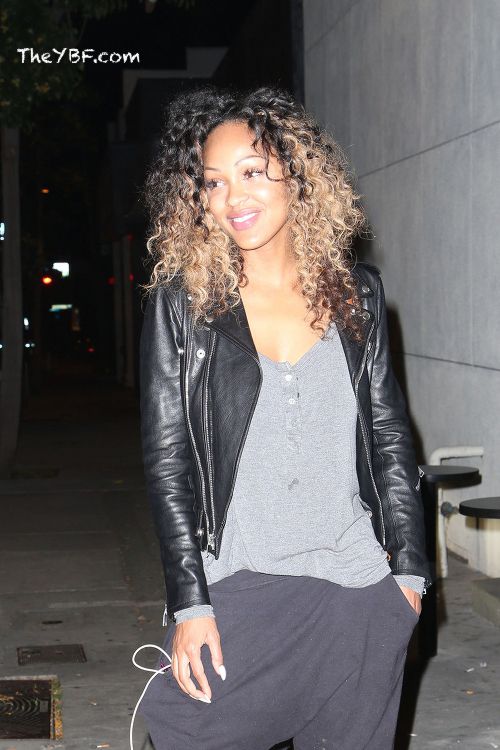 Cute! Meagan's gearing up for the full out promo tour for Think Like A Man Too: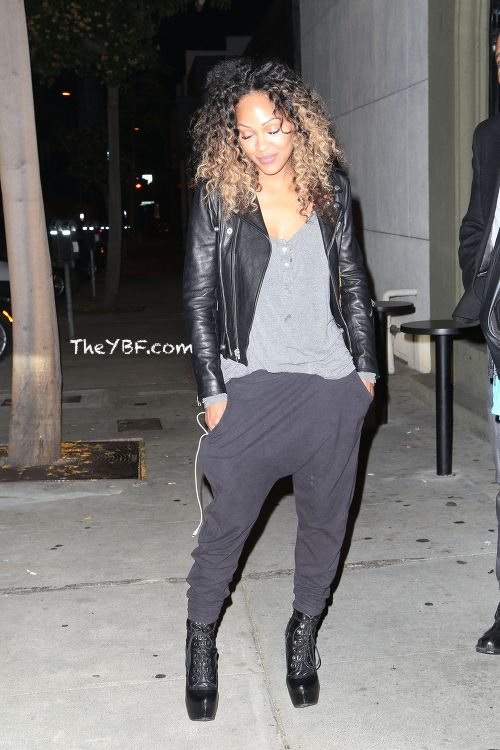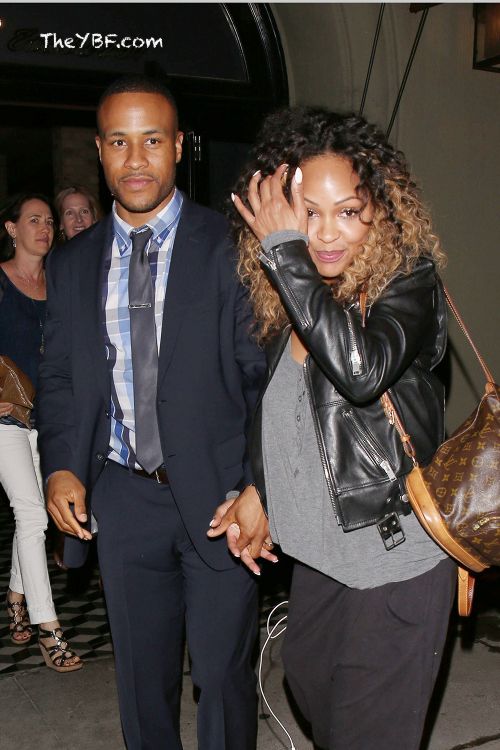 Casual, comfy and cute is her staple look. And we're feeling it.
In other couple's news: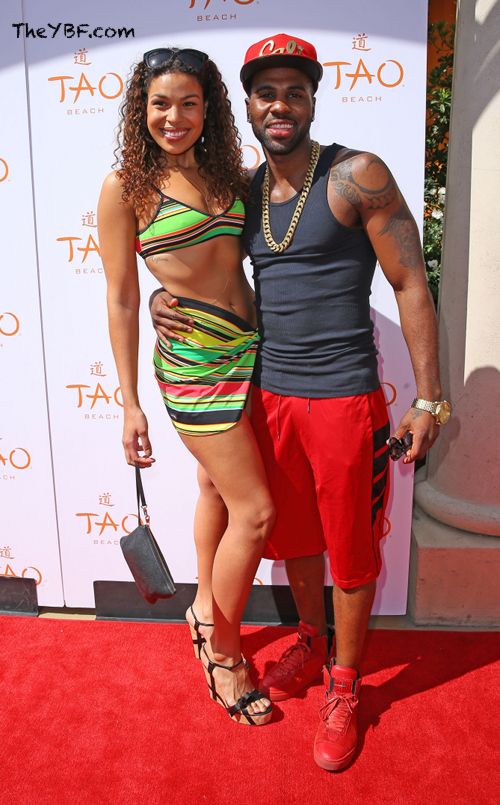 Yep, this is what Jordin Sparks is looking like now. The "No Air" singer has been in hard core workout mode for the last several months (or longer). And she showed off her progress in a tiny striped bikini (that she saved from the 90's) and Louboutin wedges on the red carpet at Tao Beach Season's grand opening in Vegas.
And her boo Jason Derulo was right by her side to hold on to those curves and to host the event.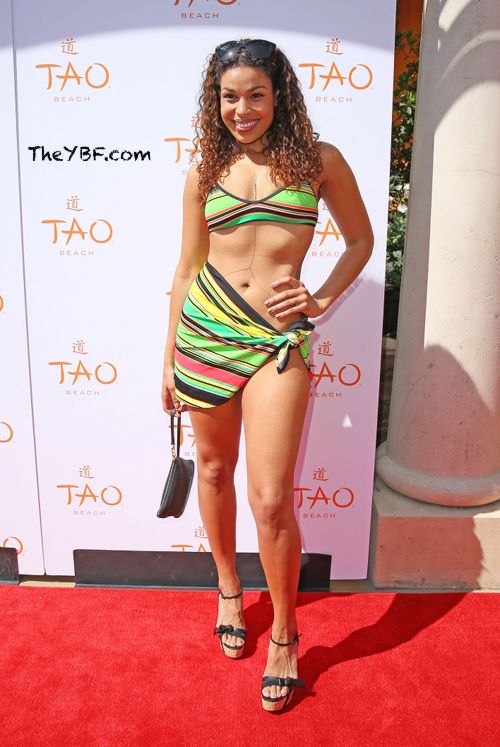 She told her fans about her big step she's taking by hitting such a public event in a barely-there swimsuit:
My bathing suit today! BIG step for me to wear something like this on a carpet. Yeah, yeah, yeah I know it was for a pool party...but for ME, this was HUGE. I'm still learning more about my health & body confidence everyday! I always want to keep growing! Some of the pics might look crazy & that's okay! Will there be some unflattering angles? Yeah. Will I have some jiggle here, some flab there? YUP. Am I continuously working to be fit & healthy? SURE AM! I've come a long way from where I was! I love my life! I love who I am & who I'm becoming!! One step at a time... (This bathing suit is Pan Dulce from the mid 90's. My parents owned a tanning salon for a bit & when they closed it, I kept all the extra suits. They didn't fit me then but they sure do now! I JUST took the tag off of this one today!!
We don't see any of these problem areas you speak of Jordin. Keep up the fabulous work!
More pics of the 24-year-old singer/actress hottie: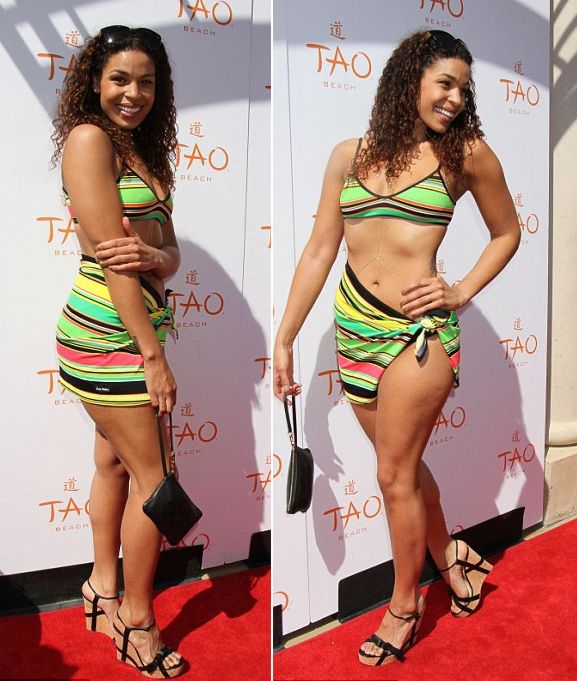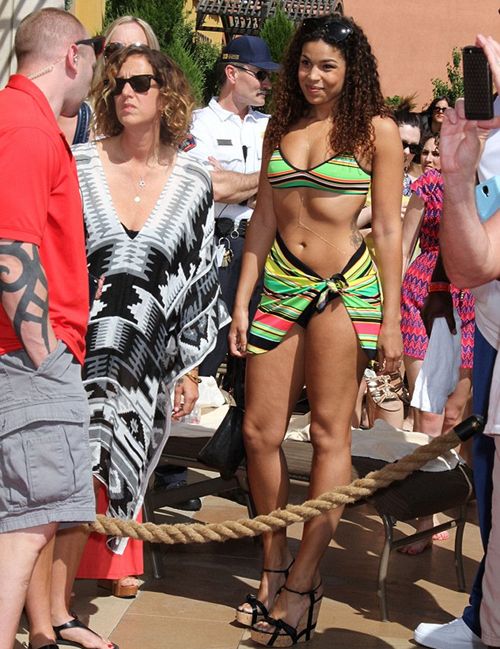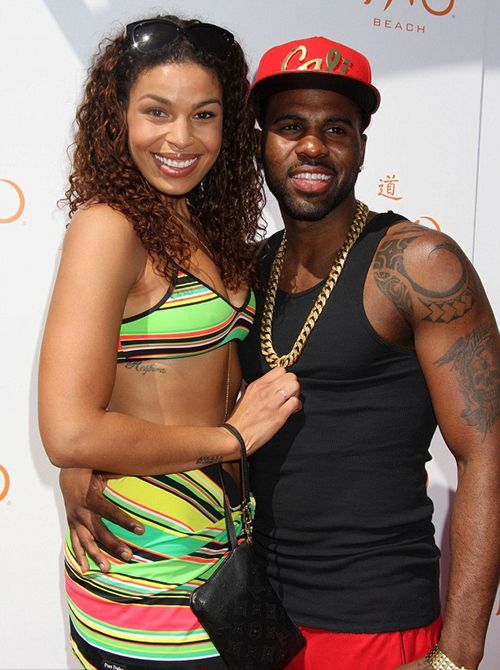 "Talk Dirty To Me" singer Jason recently revealed how the twosome are handling the "industry pressure" to get married:
'What we have is amazing and what we have is forever, so there is no rush. When the time is right and the stars are aligned perfectly. I always have to tell myself to not allow [speculation] to interfere in the beauty that we have, and I hope that she knows that as well.'
Do you....
Photos: WENN/Pacific Coast News