---
LISTEN UP: Jay Z Says "F*ck The NCAA" & Throws Subliminal Jab At Drake On DJ Khaled's "They Don't Love You No More"
Posted: 29 Apr 2014 08:55 AM PDT
Jay Z hopped on DJ Khaled's new track "They Don't Love You No More" and had a few choice words for the NCAA and fired a subliminal shot at Drake. Listen for yourself inside…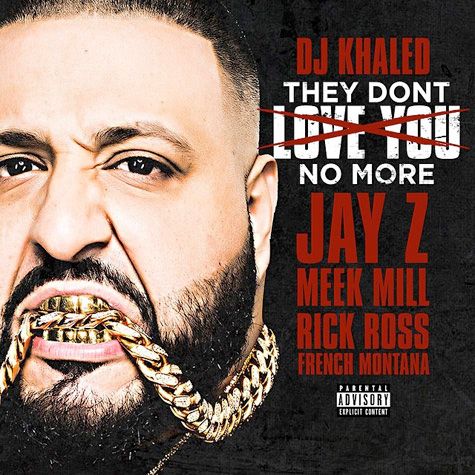 Seems Hip Hop heavyweight Jay Z is pissed off at the NCAA for not paying college athletes, so the rapper put the organization on blast in a verse on DJ Khaled's newly released track "They Don't Love You No More" featuring Rick Ross, Meek Mill and French Montana.
As you know, Jay Z founded sports agency Roc Nation Sports and is also a licensed NBA & MLB agent, so he's all about getting his clients paid. There has been recent debate surrounding college athletes getting paid for the large amounts of money they generate for the NCAA and their respective schools.
NCAA President Mark Emmert told CNBC "We want to make sure they get degrees, and that they really have the education that sets them up for life," Emmert said. "That's the game-changer here. Not the 3 to 4 percent who make it to the NBA."
Some feel athletes should see some of the profit they generate and Jay sides with that argument. He sent a special message to the NCAA in his new verse rapping,
"Got hella options/Like a college team/ Hit these bootleg n*ggas with the Heismeaaan/F*ck the NCAA, n*gga / Let a young n*gga get paid, n*gga"
But wait…there's more…
Jigga then takes a subliminal jab at Drake rapping,
"Wrong sports, boy, you know you soft as the lacrosse team"
You'll recall last week, Drizzy hit up a Toronto Raptors vs. Brooklyn Nets game where he threw in a jab at Jay. Talking to TSN commentators, Drizzy made a comment about Jay being too busy to attend his beloved Nets games saying, "Jay is somewhere eating a fondue plate."
Take a listen to Jay going in on the NCAA and Drizzy at the 3:23 mark below:
In other Jay Z news, The Carters recently confirmed they will be trekking across the nation for their 16-city "On The Run" tour. $1 from each ticket purchased will be donated to the Shawn Carter Foundation to support students. Pre-sale tix went on sale at 8AM this morning. Did you cop your pre-sale tix yet?
Photos: Getty
GQ MAN: Kevin Hart On Getting 'Whuppings', Wasting Money & Getting Along With His EX
Posted: 29 Apr 2014 08:17 AM PDT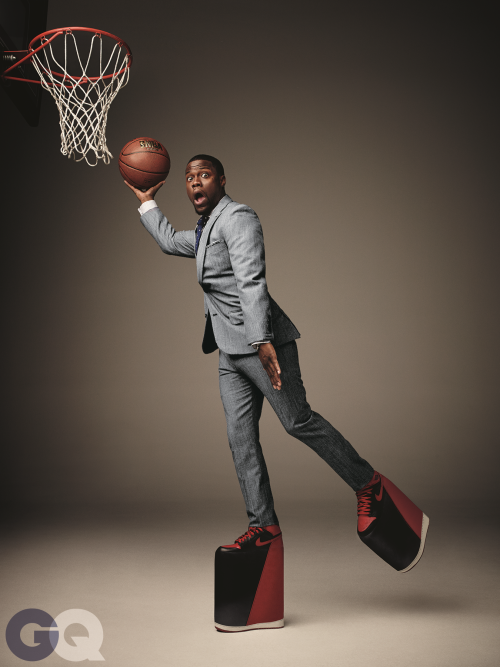 Think Like A Man Too star Kevin Hart talked to GQ this month about growing up in the Hart household and how me learned to respect money. More inside...
On the heels of a successful run with BET's "Real Husbands Of Hollywood" and the hit films Ride Along and About Last Night...and hitting up the New Orleans JazzFest this past weekend with girlfriend Eniko, Kevin Hart sat down with GQ for the May 2014 issue.
In a profile titled "Walking Tall with Kevin Hart", the biggest little man in Hollywood recants stories from childhood (his mom definitely believed in corporal punishment), learning to respect money (he blew his first big advance on clothes), and getting along with his reality star ex-wife Torrei Hart (he says they're happy..finally).
Here are the highlights:
On his core audience:
"You make yourself broad. You make yourself appealing. 'Hey, y'all, I'm cool with everybody.' That's my message."
On his upbringing:
"I got the stern end of the stick. It was kind of that iron fist. I am who I am today because of my mother."
On where the money went from his first development deal with ABC:
"I don't know where the hell it went. It's all in throwback jerseys and bomber jackets. That's why I have so much respect for money now."
On being on good terms with his ex-wife, actress Torrei Hart:
"We're very happy in the Hart household right now."
Kevin's Think Like A Man Too hits theatres on June 20th. The May 2014 issue of GQ is available now.
Photo via Peter Yang/GQ
Robin Roberts REVEALS On "Ellen" Why She Waited Almost 10 Years To Come Out Of The Closet
Posted: 29 Apr 2014 07:48 AM PDT
Robin Roberts revealed she was in a same-sex relationship back in December. Now the "GMA" host is opening up on why she waited so long to go public with her relationship with girlfriend Amber Laign. Find out what she said inside…
Earlier this year, "GMA" anchor Robin Roberts opened up about her not-so-secret 9-year relationship with massage therapist Amber Laign.
Despite going through very public health challenges (breast cancer and myelodysplastic syndrome) and the death of her mother, Robin was able to keep her relationship a secret until one day she decided to take "one for the team". She revealed via her Facebook that she was happily in love with a another woman saying," I have never been happier or healthier than I am right now."
But why was it a secret for so long?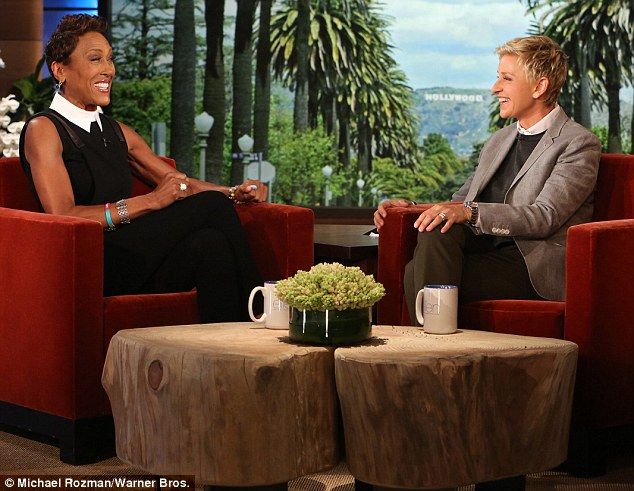 In an interview airing on "The Ellen Degeneres Show" today, 53-year-old Robin revealed she waited so long because her girlfriend is not a fan of the spotlight.
She said,
"Well because she doesn't really like spotlight. Like she's here right now. I can't get her to come out. You know not everyone wants to be in the spotlight."
"She's very, very supportive and she's been right there beside me every step of the way and it was actually the end of the year on my Facebook and I had been thanking my doctors, and nurses, my sister who was a perfect match and rightfully so."

"I asked her I said, I really want, I want to say thank you and in the book she takes the caregivers point of view and it's really funny that sometimes we didn't see the same thing eye to eye and I thought it was very powerful for people because there's so many that care for their loved ones and so to see her side of it and to see my side of it it was pretty interesting."
How sweet. Robin then went on to explain how she met the love of her life on a blind date:
"Mutual friends set us up on a blind date. I liked the fact that she had no idea who I was. She rarely followed sports, so she never saw me on ESPN, and her office mates at the time watched a different morning show … ouch!"
The "GMA" host has penned a new book titled Everybody's Got Something, and in the book she has a page dedicated to her girlfriend who stood by her side through everything she has had to endure.
Sweet!
Check Robin on "Ellen" below:
Photos: Robin Roberts' Twitter
NeNe Leakes ELIMINATED OFF "DWTS" + "LAHH ATL" Star Nikko Smith's "New Shower Rod" (Single)
Posted: 29 Apr 2014 07:21 AM PDT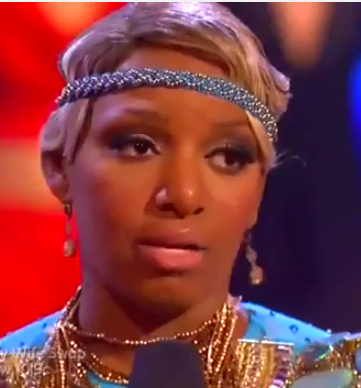 NeNe Leakes said goodbye to "DWTS" last night and we have her final dance. Watch NeNe's Argentine Tango inside and listen to Nikko Smith's new song ""New Shower Rod." Sighs.
NeNe Leakes said goodbye to two things week: Her friendship with Cynthia Bailey (via Instagram diss) and "DWTS" (via Argentine Tango). As she said farewell to the audience, she thanked her husband, sons and her fans. She told the audience that she was ""very proud" of herself for competing against Olympians.
NeNe appeared on "GMA" this morning and said she got further in the competition than she ever expected. She also tweeted: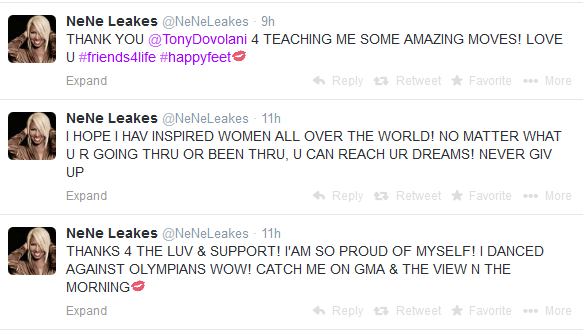 In new music....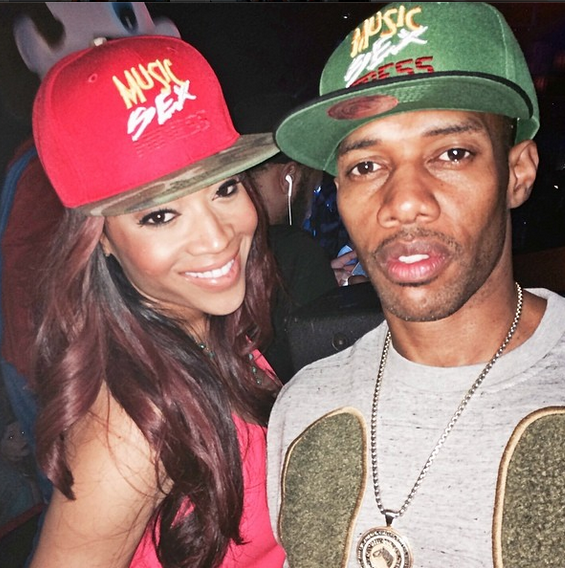 Mimi Faust's sex tape co-star Nikko Smith is riding his sudden wave of popularity by releasing a song called "New Shower Rod." How does he sound? HEAVILY Auto-Tuned. Will it be a hit? Ummm....let's just say he should be thinking about a follow-up (for the sex tape...not the song).
Listen to "New Shower Rod" here:
The Randomness:
1. NEXT singer Raphael Brown says he NEVER hit his wife, calls her an evil lying stripper. Story.
2. Rihanna's former bodyguard suing for defamation. Story.
Photo via Nikko's Instagram
Rihanna DINES With Bestie Melissa Forde In NYC + NEW Pics From RiRi's VOGUE Brasil Spread RELEASED
Posted: 28 Apr 2014 04:22 PM PDT
Rihanna was spotted grabbing a bite to eat with her bestie Melissa Forde (aka M. Dollas) in NYC today. Plus, new pics of Rih's VOGUE Brasil spread has surfaced. Check her candids and photoshot fab inside…
After hitting up the Raptors vs. Nets game last night and making a stop at the dentist the day before, Rihanna and best bud M. Dollas made their way for a bite to eat at one of RiRi's favorite NYC restaurants, Da Silvano.
Rih and M were spotted looking uber stylish as they walked hand-in-hand to the Italian eatery. The Pop princess showed off her toned abs in a cashmere sea foam green crop top and mini skirt paired with white heels, while M. Dollas rocked a multi-colored wool dress with nude pumps.
After dining with her bestie, Rih trekked to Roc Nation Sports' one-year anniversary luncheon at TAO Downtown.
And speaking of Rihanna...
After sharing the official cover for her VOGUE Brasil cover, RiRi released brand new additional pics from her spread. And of course, each shot is nothing but pure fabulousness.
Check the spread:
Hot.
Photos: FameFlynet/Rihanna's Instagram
RHOA NEWS: Apollo Nida OPENS UP On Pending Litigation & Marriage To Phaedra + Cynthia Bailey's OPEN LETTER On Friendship Gone Wrong
Posted: 28 Apr 2014 03:42 PM PDT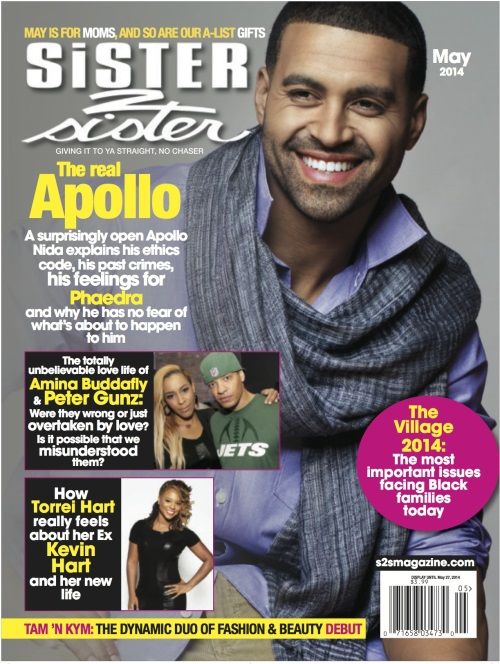 In RHOA news, Apollo Nida and Cynthia Bailey are opening up about the storylines that have caught the nation's attention: his alleged crimes and her failed friendship with NeNe Leakes. More inside...
In an exclusive interview with Sister2Sister Magazine, Apollo Nida, husband of "RHOA" star Phaedra Parks opened up (for the first time) about his legal drama and his marriage to Phaedra. Here are the highlights:
On his upbringing:
"My mom OD'd on heroin, actually in front of me when I was about 7"

On turning to religion while in prison (he was locked up for 6 years for racketeering)
"I studied three religions when I was down: Buddhism, Islam and Christianity. I also led a ministry when I was in there, like a congregation."

On falling for Phaedra:
"I really admired everything that she did as a woman. I think that we have lost sight of the true picture, which is that we did take an oath to God and we did build a family and a brand. Whatever has come of this reality fiasco, we have had two beautiful children, and at the end of the day, I only wish her the best."

WIll their marriage last:
"I can't say if it's going to last. But I hope that it does…I definitely love her.I've grown to love her more."

Is he nervous about facing serious charges of bank fraud and identity theft:
"I don'treally get nervous. And this is not just boasting or bragging. Phaedra – I'm sure she's nervous because at the end of the day, I'm putting my career in jeopardy."

In UPTOWN Magazine.....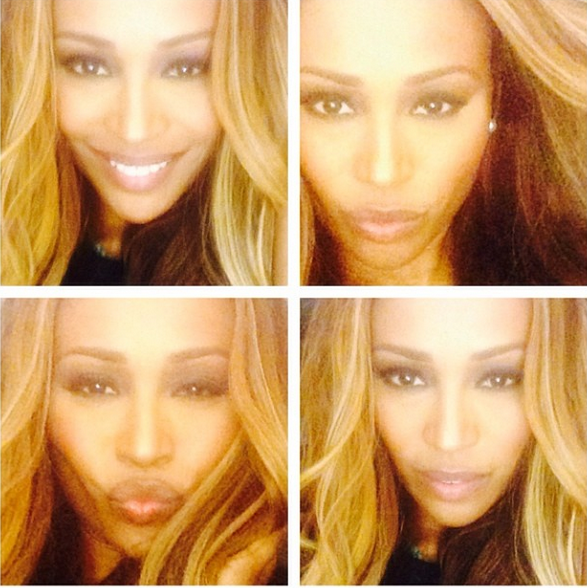 Cynthia Bailey penned an open letter to UPTOWN Magazine about her failed friendship with NeNe Leakes (in reponse to the RHOA Reunion and her "WWHL" appearance).
Here's a snippet:
Since the airing of the Watch What Happens Live episode featuring my fellow Real Housewives of Atlanta cast member Nene Leakes that essentially gave her a platform to show how vindictive and vicious she can really be, I have been bombarded with questions and requests for interviews about my views on what really transpired between Nene and I, and why our friendship ended.

I also have received hundreds of encouraging phone calls, emails, text messages and tweets from fans, friends, family and even high-powered entertainment industry leaders, who find it hard to believe that a friendship, which was mutually supportive could lead to such nastiness from Nene. So I think it is important for me to share my thoughts honestly and completely unfiltered.

First and foremost, the friendship you saw on camera between the two of us was genuine. We were very supportive of each other and talked every day. We even vacationed together outside of the show. In fact, when I joined the cast four seasons ago, I gravitated most towards Nene. She was a reality TV veteran of sorts who took me under her wing and helped me navigate this new territory. I genuinely liked Nene because she was funny, smart, shared a similar work ethic to mine and we both knew we wanted to make the absolute most out of the opportunity we had both received by being on the show. Being a member of the highest rated show in the Housewives franchise opens doors and leads to opportunities that some of us could never have dreamed of.

Now, for most of my adult life I have traveled the globe as a working fashion model, mingling with the rich and famous, and wearing the coveted designs of many of the world's most admired fashion houses. Yet, becoming a member of a weekly show formally introduced me to millions of people all over the world and brought about entirely new experiences. I fully embraced the opportunity, brought my family along for the ride and opened up my life for all to critique and judge. It's been difficult at times, but thrilling and equally fulfilling as well.
Read the full letter here....
Photos via S2S/Cynthia Bailey's IG
DADDY DUTY: The Game FINALLY Spends Time With His Children For Son's 7th Birthday + "Dem Babies" Get Cutesy With Dad Nick Cannon On Instagram
Posted: 28 Apr 2014 03:00 PM PDT
Rapper The Game and comedian Nick Cannon spent their weekends getting in some quality family time with their little ones. Check their cute family photos when you go inside…
It was a weekend full of family fun…with the dads!
After his alleged physical altercation with his now ex-fiancée Tiffney Cambridge, The Game finally got to spend some quality time with all of his kids…together. Game made claims that Tiffney was keeping his kids away from him but it seems she may have recently had a change of heart.
Game's son King Justice (whom he shares with Tiffney) turned 7-year-old recently and to celebrate, he gathered up his clan and took them to Disney Land for a weekend full of fun.
On Friday, Game was spotted lunchin' in L.A. with model/dancer Britt Lucio but soon got into daddy mode for a day out with the fam. Game rounded up a slew of kids and treated them to a day of roller coasters, games and Disney characters captionining the moment, "1/3rd of today's @disneyland squad for @kingjusticetaylor's weekend birthday #turnup #family #weekend #fun #disneyland #happybirthdayjustice"
Little Miss Cali is so adorably cute!
Game bought along his assistant LoLo for the fun-filled family day.
And cutie Cali seemed to extra excited as they made their way to park. She was captured in the backseat singing Iggy Azalea's "Fancy" on their way to the amusement park:
Too cute!
And another celeb dad on full daddy mode this weekend...
On Sunday, "AGT" host Nick Cannon spent his down time with his twins Monroe and Moroccan…or as Mariah likes to call them, "Dem Babies."
Little man Moroccan flexed his muscles in his "Dad's #1 Tough Guy" shirt. Too cute for words.
While his sister…or should we say little Ms.Mimi…posed it up just like her mama donning an "I Love Mommy" shirt with a caricature of her fabulous mother.
Nick captioned, "Her face says it all!! It's Monroe's World!!! #AProblemOnMyHands #GotMeWrappedAroundHerFinger"
Loves it!
Photos: The Game's IG/Nick Cannon's IG

BREAKING HER SILENCE: Porsha Williams SAYS "I Felt Threatened...The Scepter Was A Weapon" + KIA MOTORS JOINS Group Of Corporations Pulling SPONSORSHIP From LA Clippers
Posted: 28 Apr 2014 02:07 PM PDT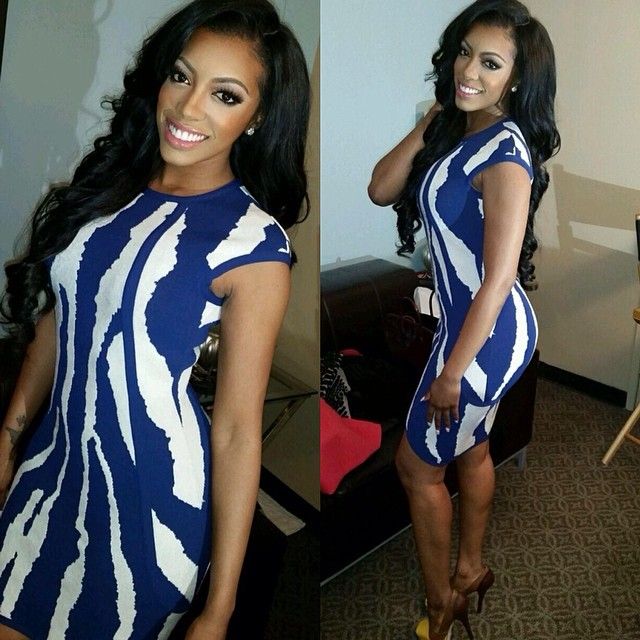 Porsha Williams has broken her silence regarding her fight with Kenya Moore. Find out what she said inside and see the growing list of corporations who are pulling sponsorship from the LA Clippers.
In an interview airing on Access Hollywood on Tuesday, Porsha Williams speaks out about the "RHOA" reunion fight and what led to her outrage. After the incident says, "I had regrets immediately after. "I saw the hate. I saw the anger. I saw all of that in Kenya's eye that moment. And I felt threatened, honestly I did, [the scepter] was a weapon."
Porsha also made remarks about her approach to reality tv versus some of her co-stars. "For Kenya, she looks at this as a job. It's a show to her; it's just entertainment...So she doesn't take anything seriously . . .Here I am living this real life and here she is portraying one."
And for the first time, she calls Kenya a bully. "It's not about team Porsha....I appreciate the love, but understand the deeper thing that's going on here, it's bullying. Bullying can happen as an adult, it can happen as a child, in college, or your work place, everywhere."
The Porsha Williams interview airs on Access Hollywood Live on Tuesday, April 30.
In sports news...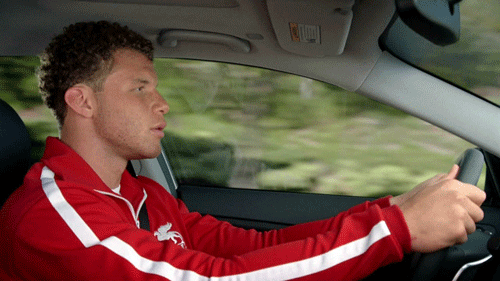 KIA Motors (which featured Blake Griffin as a spokesman) has joined the long list of corporations CarMax, State Farm, Virgin America, AQUAHydate, Red Bull) who've pulled sponsorship from the LA Clippers while the investigation into Donald Sterling's alleged comments continues. They've released this statement:
For now, State Farm Insurance (which features Chris Paul) has not pulled their sponsorship of the team.
Photos via Porsha's IG/Kia Motors
MODEL BEHAVIOR: Lupita Nyong'o Goes RETRO For Miu Miu's Eyewear Collection Campaign
Posted: 28 Apr 2014 01:17 PM PDT
Oscar winner "IT" girl Lupita Nyong'o gets gorgeous for Miu Miu's newest eyewear collection campaign. See Lupita's colorful retro commercial inside…
Can Lupita Nyong'o do any wrong? We say no!
After giving us a sneak peek behind the scenes look at her Most Beautiful PEOPLE shoot, the Most Beautiful Person in the world was tapped for luxury brand Miu Miu's Spring/Summer 2014 eyewear collection and of course, she looked amazing while doing so.
Shot by Inez and Vindoodh, the Miu Miu spokesmodel (along with actresses Elle Fanning, Bella Heathcote and Elizabeth Olsen) laughed it up, styled in a bold color-blocked outfit for the retro themed sunglasses campaign commercial.
Check Lupita's funky fun campaign below:
Loves it!
So what's next for the Kenyan beauty? It's rumored she will star in a new version of the animated film "The Jungle Book." Nice.
Photos: Inez van Lamsweerde and Vinoodh Matadin

CLARIFICATION: Laz Alonso DID NOT DEFEND Donald Sterling's RACIST Remarks
Posted: 28 Apr 2014 12:21 PM PDT
While numerous black celebs have come out AGAINST Clippers' owner Donald Sterling, Jumping The Broom star Laz Alonso has stepped on the frontline to defend the embattled businessman....sorta. See Laz's statement inside....
The Twitterverse attacked actor Laz Alonso after he posted a few tweets that some fans thought amounted to a defense of Donald Sterling's racist comments. Laz tweeted,
"Why r they makin such a big deal about #DonaldSterling?" Laz tweeted. "He was arguing with his girl who was clearly baiting him 2 say those things @clippers … In arguments of passion & despair people say horrible things they dont truly feel @clippers @ESPNLosAngeles #DonaldSterling … Making racial comments when either #roadraging or #arguing with a lover does not count!!! #Relax #emotions #passion @NBA @ESPNLosAngeles … Everybody acts holier than thou until u do the same. Dude was feeling insecure. End of story."
After fans began attacking him on his timeline, Laz offered a few follow up tweets that revealed he WAS NOT defending Donald, but wanted to offer a different perspective (in 140 characters or less) about intimate conversations between two adults.
He tweeted,
Lets take 4 example all the people calling names & being rude when I'm trying 2 hav a discussion. Do ur words right now define who u are?
He added,
Have u ever said something in an argument w ur lover & apologized afterwards? Emotions r high when ur in love. That distinction was my point
As Laz's conversation with his Twitter followers, do you agree that it is NOT wise to form an opinion about someone based on one conversation/discussion.
SPEAK ON IT?
UPDATE:
Here's Laz's OFFICIAL Statement regarding the Donald Sterling tweet (as told to Madame Noire),
"I made a mistake in speaking before I had all of the facts. First of all, I didn't know any of Donald Sterling's history prior to me tweeting that and that was my mistake. Had I known all of the history that this guy has, as far as racial discrimination and real estate discrimination, then that would've totally changed the way that I heard the conversation.

"At the time, when I tweeted that only part of the phone call had come out. I listened to the entire tape last night and the things that were said were disgusting. The part that I was tweeting about was specifically related to the pictures that he wanted her to take down and what I heard was a man who is extremely powerful and extremely wealthy, and old, and no matter how much money he has on the planet, he cannot get [his young girlfriend] to stop doing something that he's trying to control. He thinks she's one of his possessions."

"The point that I was trying to make was that it sounds like an insecure, over-controlling, wealthy dude who is heartbroken and is trying to control this young girl and he can't. And another thing that I heard is a man who is tremendously intimidated by Black men because no matter how much money he has he knows that his old behind can't do what the guys in the pictures that she's taking them with, and is obviously attracted to, can do. He's trying desperately to give her everything under the world to make her obey, but he can't control her. I heard desperation, and within that desperation, I heard an insecurity to black men, and racism, but at the core of what we were listening to was a man who was insecure and powerless, regardless of how much money he has. That's what I was attempting to get at, not defend a person that I don't know and I have no invested interest in.

"I did not know this guy's back story before I spoke and I should've. I can admit that there were some tweets that could've been better thought out before I started a debate."
Photos via Getty
GUESS WHO's BANGING Bikini Bod This Is...
Posted: 28 Apr 2014 11:58 AM PDT
This R&B singer relished in the accomplishments of her latest album by showing off her curves and new tan. Make your guess inside…
With a new LP dropping last month, this singer has been all over the nation recently, rocking out stages and hitting up radio stations for interviews……..
WAIT FOR IT..........
If you guessed Ashanti, you're right!
Taking a break from promoting her newest album, Braveheart, Ashanti slipped into a itty, bitty bikini to catch some rays as she put the "bullsh*t" aside and showed off her curves in a teal and yellow bikini.
She seemed unfazed by Nelly's recent "I'm 100% single" announcement as she laid out poolside in a Keva J swimsuit working on her "coco browness" tan.

She captioned, "With all the bullsh#t in life.. Ya gotta find chill time... @kevajswimwear #braveheart."
True indeed...
Photos: Ashanti's IG
DOUBLE THE FUN: Laura Govan & Gilbert Arenas THROWS Birthday Bash For BOTH Sons Alijah & Aloni
Posted: 28 Apr 2014 11:41 AM PDT
Over the weekend, Laura Govan and her man Gilbert Arenas were on double duty as they threw a joint birthday bash for their sons, 7-year-old Alijah and 3-year-old Aloni. Check the fam's fun party pics inside…
On Sunday, former "BBW LA" star Laura Govan and former NBA baller Gilbert Arenas held one big birthday bash for their young sons, Alijah & Aloni at the Sky High Trampoline Park in Woodland Hills, California.
The couple (who share four kids together) rented out the indoor trampoline park filled with bouncing rings, face painting and dodge ball. Fellow celeb friends in attendance included "Let's Stay Together" actress Kyla Pratt, Kevin Hart's ex-wife Torrei Hart, Martin Lawrence's ex-wife and "Hollywood Exes" star Shamicka Lawrence, radio personality Big Boy and others.
Gilbert appeared to be just as excited as the kids at the party. He shared some birthday love, hugging up on his 3-year-old son Aloni.
And he was spotted loving up on his daughter Hamiley during the party. Cute.
New mommy-of-two Kyla Pratt brought along big sister Lyric and the father of her children Danny Kilpatrick to join in on the bouncing activities. Looks like they left behind their newest baby girl being that she's only about 9-months-old and not quite old enough to jump on the trampolines.
We spotted Torrei Hart and her two children, Heaven and Hendrix, whom she shares with her ex-husband Kevin Hart. Torrei recently dished to TheYBF.com about her messy divorce from her Laugh At My Pain comedian husband. She revealed she's no longer dwelling on the past and has decided to focus her energy on their children and her new career. Torrei is also expected to star on VH1's reality series "Atlanta Exes" which will debut this summer.
Martin Lawrence's ex-wife Shamicka Lawrence was there. She posed alongside the former wife of Keenen Ivory Wayans, Daphne Wayans. We will get to see what Shamicka has been up to on May 7th when the premiere of "Hollywood Exes" airs.
Laura and Gilbert gifted their sons with two 4-foot tall cakes designed by Larenz Tate's wife Tomasina Tate (above). Little Aloni was surprised with a giant Despicable Me minion cake and Alijah enjoyed a huge volcano cake.
Big Boy was all smiles as he entered the party.
And Hamiley had a huge grin on her face as she got her arm candy.
Fun times!
Photos: The Nottingham Group
SNAPPING BACK: Cynthia Bailey Calls NeNe Leakes Her "Worst Enemy" + Nicki Minaj's "The Other Woman" DEBUTS At #1
Posted: 28 Apr 2014 10:32 AM PDT
Cynthia Bailey appeared on "WWHL" last night where she called NeNe Leakes her worst enemy. Watch the clip inside and get the deets on Nicki Minaj's movie debuting at number one.
Following the controversial "RHOA" reunion episode, Cynthia Bailey appeared on "WWHL" with singer Rita Ora and tv host Steve Wilkos.
The ladies both donned white with Cynthia stepping out in a Catherine Malandrino dress and Giuseppe Zanotti shoes while Rita wore a Michael Kors suit and Sofia Webster shoes.
Once "WWHL" got started, Cynthia gave her side of the NeNe Leakes fallout (even calling NeNe her enemy) and addressed how she felt about Nene's appearance on "WWHL" last week.
"I want people to know I was a very loyal friend to NeNe. However, I'm actually glad that she did that. It validated that she was never my friend she is actually my worst enemy. For her to go on national television and say such things it's just unheard of. We're not talking anymore, so that just means now all of the sudden I shouldn't be on the show because you (NeNe) think I shouldn't be on the show? NeNe doesn't control my destiny. God controls my destiny. I was relevant before the show, I'm relevant on the show and I will be relevant after the show."
What does Cynthia need from NeNe?
"It's about respect and accountability. She never thinks she's wrong about anything. she never wants to admit when she's wrong."
Cynthia also had a few words for NeNe (who suggesed that she be fired):
"First of all we won't even get into storyline because NeNe is the one who doesn't have a storyline. If anything NeNe should be glad that we got into because that was her storyline this season, so let's be clear about that. In regard to pulling someone aside, why didn't she pull me aside before she came on this show (wwhl) and tried to get me fired off the show?"

You'll recall that after last night's "RHOA" episode, things got VERY nasty on social media with NeNe attacking Cynthia on Instagram about "flip flopping" on her feelings and the downfall of their friendship.
We do hope that Cynthia (shown above with designer bff designer Kithe Brewster) will be able to patch things up with NeNe. But it's not looking good....
Part III of the "RHOA" reunion airs SUnday at 7/8E. In the meantime, watch Cynthia call NeNe her worst enemy:
In movie bits.....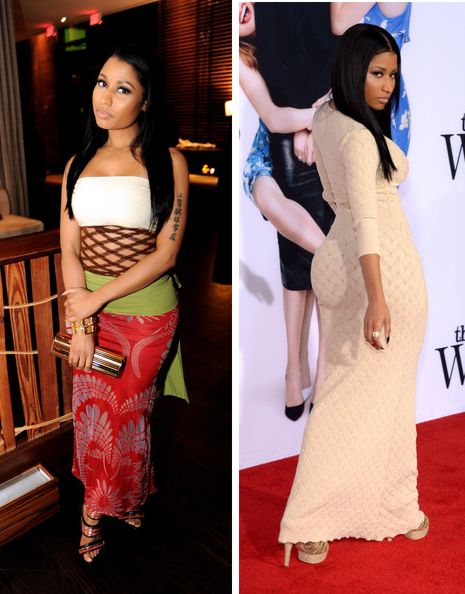 Nicki Minaj is topping the box office! Nicki's film debut The Other Woman, raked in $24.7 million on opening weekend and beat out Captain America. Nicki co-stars in the film with Cameron Diaz, Leslie Mann and Kate Upton.
Photos via Getty/Wenn/Nicki's IG/FameFlynet Pictures
Donald Sterling BEGS Now Ex-Girlfriend To "Make This Go Away," Her Lawyer Says She DIDN'T Leak The Audio!
Posted: 28 Apr 2014 10:06 AM PDT
Amid the controversy surrounding LA Clippers' owner Donald Sterling and his racist rant to his then girlfriend V. Stiviano, Donald is now desperately trying to save his a**. Find out what he asked his ex and get deets on who might have leaked the audio inside…
Since more audio has been released after the initial audio leak of Clippers owner Donald Sterling demanding his model ex-girlfriend V. Stiviano STOP bringing "blacks" to his games, he's now desperately attempting to keep more possibly incriminating tapes under wraps. Don believes his former mistress is in possession of more than 100+ hours of recordings which could be detrimental to his already tainted reputation.
If you're wondering why there "might" be more tapes....a source says V told friends that Don wanted her to record his conversations because he used the recordings to refresh his memory (remember....he's 80!).
But...after Clippers made a silent statement Sunday afternoon, Donald allegedly contacted his ex-girlfriend asking her "How can we make this go away?" What did she say? The response was...talk to my lawyers!
Now......V (via her lawyers) has released a statement to TMZ stating she was not the person who leaked the tapes:
"My firm represents Ms. V Stiviano who is a named defendant in a civil action brought by Rochelle H. Sterling in the Central Civil Superior Court, County of Los Angeles."

"This office understands that the currently released audio tape of approximately 15 minutes is a portion of approximately one (1) hour of overall audio recording of Mr. Donald T. Sterling and Ms. Stiviano, and is in fact legitimate."

"Ms. Stiviano did not release the tape(s) to any news media."
"Due to the present litigation and its absurd allegations, which Ms. Stiviano vehemently denies, Ms. Stiviano and this office have no comments at this time."
So.....if V didn't release the tapes, who else would have something to gain from this? ENTER Don's estranged wife Shelly (who sat courtside at the Clippers game on yesterday). In addition to seeking a divorce from Don, Shelly has filed a lawsuit against V making claims that she stole $1.8 million from Don.
Hmmm...This is MESSY. But it gets even dirtier.
There are reports that V is possibly working on writing a book (she's been posting pictures on Instagram with the tags #RandomHouse and #Simon&Schuster) and the whole "talk to my lawyers" statement may lead to settlement talks.
We'll keep you posted..
Photos: Getty