---
EVENT FAB: Lupita Nyong'o & Naomi Campbell GLAM IT UP At The GLAAD Media Awards
Posted: 13 Apr 2014 09:36 AM PDT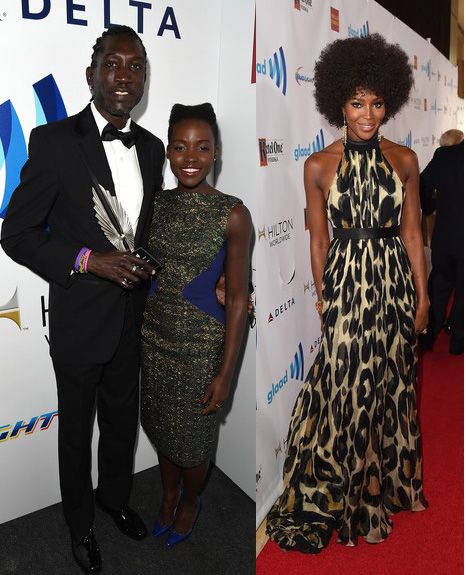 The 25th Annual GLAAD Media Awards went down last night with Lupita Nyong'o, Naomi Campbell and Laverne Cox in attendance. Check the pics of their gorgeous selves when you go inside….
The Gay & Lesbian Alliance Against Defamation (GLAAD) kicked off their 25th annual GLAAD Media Awards which acknowledges and honors various personalities in the media for their representation of the lesbian, gay, bisexual and transgender (LGBT) community.
Last night, IT girl Lupita Nyong'o was spotted on the red carpet at the 25th annual GLAAD Media Awards alongside actor John "Long Jones" Abdallah at the Beverly Hilton Hotel in L.A.
The Kenyan beauty is still serving up fashion fierceness as she rocked a glimmering green jacquard weaved Antonio Berardi pre-fall 2014 shift dress paired with cobalt blue Christian Louboutin pumps, accentuating the blue paneling on her dress. She completed her look with a glittery green Judith Leiber clutch, EF Collection earrings and red nails for a pop of color. Stunning.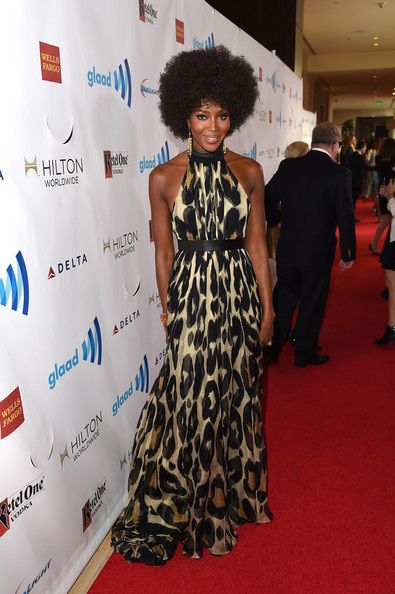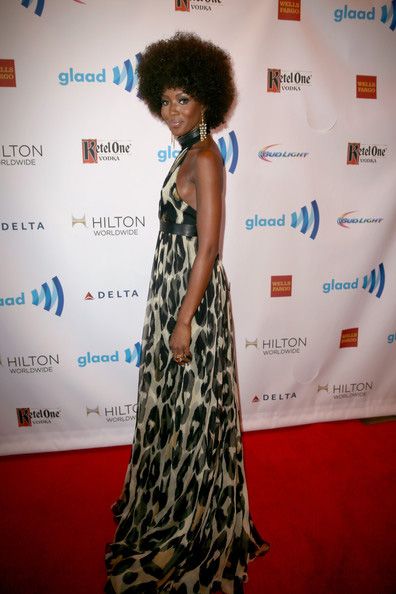 Supermodel Naomi Campbell and her fierce 'fro were pure perfection in a black and gold animal print dress on the red carpet. She accessorized her look with drop earrings and gold bangles as she smiled for photographers.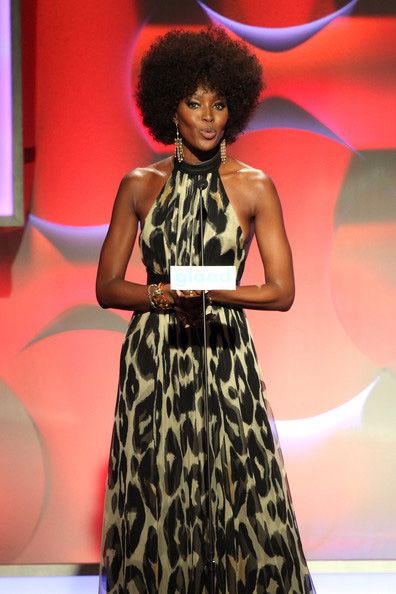 Yes NaNa!…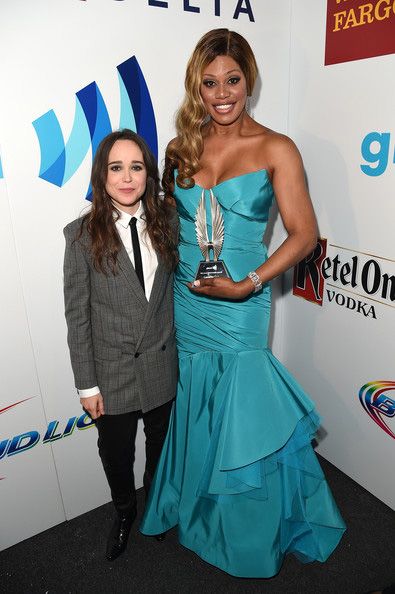 "Orange is the New Black" star Laverne Cox (pictured above with Canadian actress Ellen Page who recently announced she was bisexual) was presented with the Stephen F. Kolzak Award, which is given to a gay, lesbian, bisexual or transgender member of the entertainment community.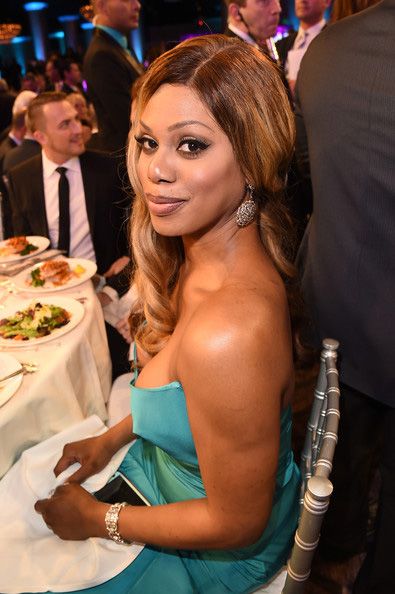 Congrats Laverne!
And Lupita & Naomi couldn't resist a cute selfie after just meeting each other. Naomi shared, " So lovely to meet you @lupitanyongo proud !!! #glaadawards @glaad"
Fab times.
Photos: Getty/Naomi's IG
COACHELLA 2014 PERFORMANCES: Pharrell Brings Out Diddy, Snoop Dogg & Gwen Stafani + Nas Brings Out Jay Z For "Dead Presidents" + Kid Cudi Performs In Red Crop Top
Posted: 13 Apr 2014 08:19 AM PDT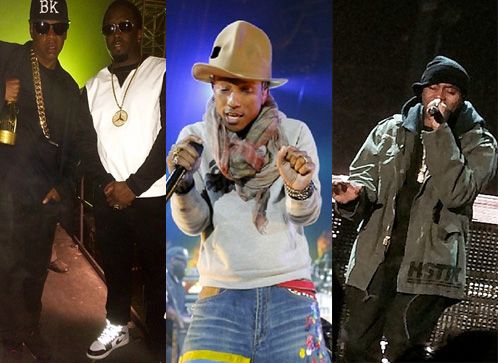 Coachella fans experienced an epic night of performances after Pharrell, Nas, Jay Z, Diddy, Nelly and Kid Cudi took the stage last night. Check last night's pics and videos of their performances when you go inside...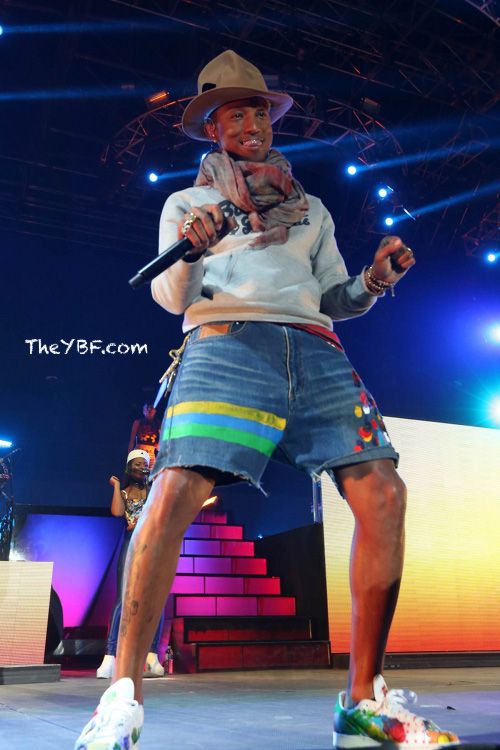 Skateboard P definitely stole the show--despite pretty much losing his voice thanks to the sandstorm--with his surprise guest appearances from the many celebs he's worked with. P and "that hat" performed many of his solo hits and then he started pulling surprise guest appearances from out of his magic hat. He also had a celeb filled audience of 100,000 Festival goers....with Jay Z, Beyonce, Tyler the Creator, Amber Rose and others watching the show.
Nelly hopped on stage with P to perform "Hot In Herre," then Diddy and Busta Rhymes took the stage with P to perform "Pass The Courvoisier."
Soon after, fans were surprised with a cameo from Snoop Dogg (or Snoop Lion as he's calling himself these days) for a performance of "Drop It Like It's Hot" & "Beautiful". Then he bought out singer Gwen Stefani, who's fresh off having her new baby, for "Hollaback Girl."
With a desert storm in full effect, P had to change up his set background because of all the dust/sand flying around. The wind and sand was getting to P as he tried to perform and had him sounding a bit off…and then his voice went completely out.
Hey Amber!
As Nas' 20th year anniversary of Illmatic approaches (with the release of his documentary at the Tribeca Film Festival on April 16th), the illest emcee headlined Day 2 of Coachella last night.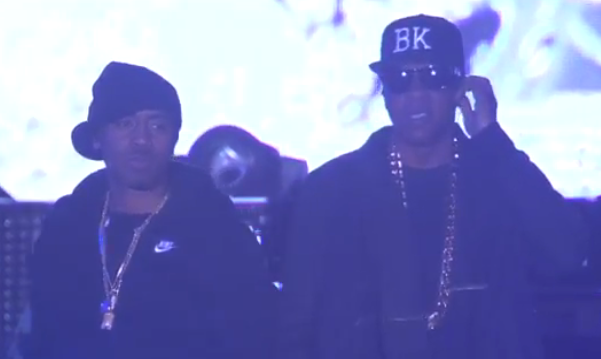 The 40-year-old rapper opened his set performing his debut album Illmatic from beginning to end. As Nas got to track #4 "The World Is Yours," he cut it short for Jay Z to take the stage with him and they performed their track "Dead Presidents". Then Jay performed "Where I'm From" solo. All you hip hop heads know exactly how epic this Coachella collabo is between these two.
Soon after, Diddy hit the stage for their classic hit "Hate Me Now,"with Nas closing his set with "One Mic."
Diddy was posted up with Jay backstage saying, "2kings SHAWN and SEAN!!!!! Nigga we made it!! Live from #coachella".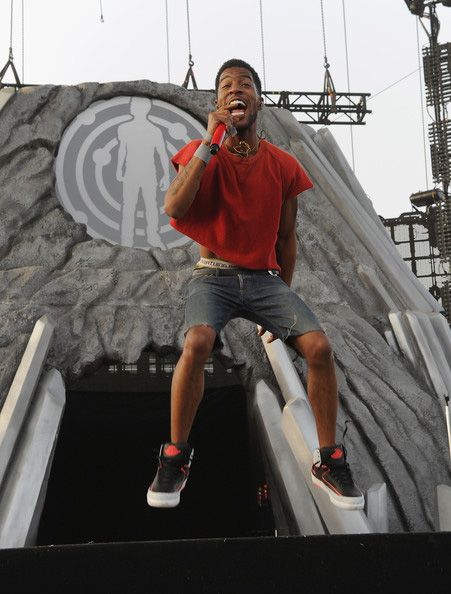 And Kid Cudi bought the party to the stage as he danced around in a red crop top and tight cut-off jeans performing his hits, "Mr. Rager" and "Soundtrack 2 My Life."
Kid Cudi was very excited to hit the stage at Coachella being it was his very first time performing there. But this crop top though....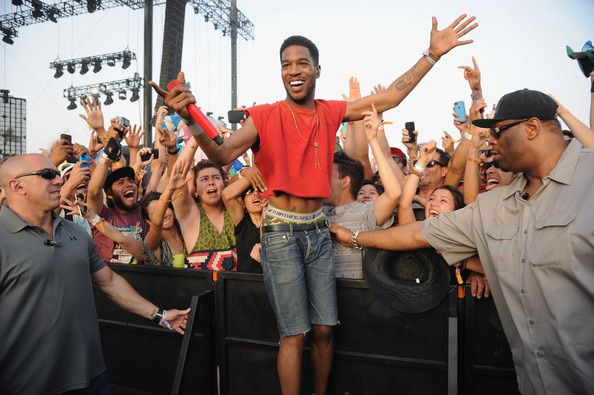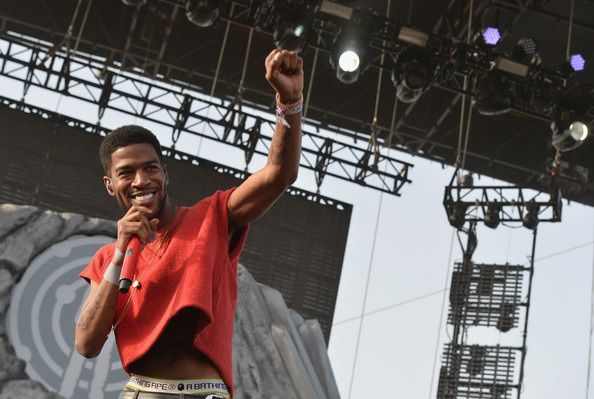 He ended his set with an extended version of his hit "Pursuit of Happyniess" where he ened up hoping off stage and into the crowd to sing along with fans. Nice.

Check the video of their performances below:
Pharrell FULL set:
Nas, Jay Z & Diddy at Coachella:
Nas closing his set with "One Mic":
Clip of Kid Cudi's "Soundtrack To My Life":
Photos/Videos: Splash/Diddy's IG/Revolt TV's IG/@rosesmellslykepoo/@cjbeatz/@whatabouthiphop/@sword_et_shield
Tae Heckard Sexes Up New KRAVE Magazine Cover, E-Flirts With Rumored Boo Brandon Jennings
Posted: 13 Apr 2014 07:40 AM PDT
Model/Actress Tae Heckard is giving Nelly a taste of what he's missing not that he's back with Ashanti (or is he?). Check out the gorgeous gal's sexy KRAVE magazine cover, plus the e-flirting between her and NBA baller Brandon Jennings....
In only a sexy swimsuit by Asherah Swimwear and a Traci Peraza-Williams fur, "The Game" actress Tae Heckard is giving body and pure sex on the cover of KRAVE.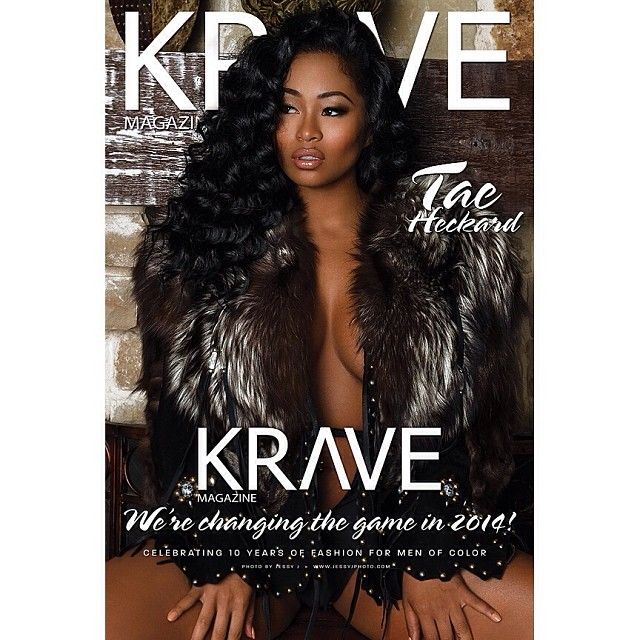 The mag also sees hot "Hit The Floor" actor Robert C. Riley as it's cover guy of the 10th Anniversary issue. Tae is the first female to grace the cover of their mag and she thanked them for the honor on her IG account.
Tae is spending the weekend at Penn State for their 2014 NABA Fashion Show. but her rumored boo Brandon Jennings of the Detroit Pistons is heavily on her mind. The twosome flirted on twitter all night Saturday:
@BrandonJennings me?

— Tae Heckard (@taeheckard) April 12, 2014
"@taeheckard: @BrandonJennings me?" - Yes! Of course! You already know!

— BRANDON JENNINGS (@BrandonJennings) April 12, 2014
You'll recall that we first eyed Brandon and Tae's flirting over a week ago when she coyly talked about being boo'd up with a certain someone. A quick look at her tweets (and the fact she was courtside at his game), and we saw Brandon Jennings was all up in them. He even held up a shirt with her face on it. By the way, Brandon and Tae's girl Teyana Taylor previously dated as well.
These two....
Photos: Tae's IG
NICE! Drake Grants Prom Wish For Houston Teen With Brain Cancer
Posted: 13 Apr 2014 07:38 AM PDT
How sweet! Just in time for a super soulful SUnday, Drake performed a super sweet act for one of his teen fans in Houston. Find out how he made a girl's prom dream come true....
Kennedy Brown is a 15-year-old school student in Houston, TX. She has been living with brain cancer for the last two years and is now in hospice care. And after traveling back to her high school where her classmates surprised her with a prom and prom queen crown....she had another wish granted on Saturday.
Drizzy's on the heels of his Houston Appreciation Weekend where he plans to do something special on yet-to-be-announced dates. And it's all to honor the place where he got his start (he flew there to meet with Lil Wayne years ago and that was the start of his career).
Drake ended up making his way to H-Town on Saturday. And while there, he surprised Ms. Kennedy with an in-person visit...after her classmates started a trending hashtag to get Drake to send a message or come for a visit.
The hashtag clearly worked.
ABC Houston reports:
A young girl is in a serious battle with cancer. Her classmates were so moved by her courage, they made sure she got the prom every teenage girl deserves.

Kennedy Brown, 15, was diagnosed with brain cancer two years ago. She's now in hospice care but made a special trip back to Carnegie Vanguard High School where her classmates gave her a surprise prom, crowning her prom queen, and made sure she received an honorary diploma in a private graduation ceremony. But there was one more wish Kennedy had.

Kennedy was hoping for a message or visit from her favorite artist, Drake.

"We would ask all of your viewers to #DrakeForKen so we can get him to come see her or send something for her because that would mean the world to her," classmate Payton Campbell said.

On Saturday, Drake himself made that dream come true, in a personal visit with Kennedy, that left the courageous young girl with a smile that couldn't be shaken off her beautiful face.
He snapped pics with Kennedy and it looked like she had the best day ever:
Sweet!
Photo credit: Mel Smith // Sr VP Cash Money Records-YMCMB/Drake's IG
COACHELLA 2014: Solange Brings Out Big Sister Beyonce To Dance It Up For "Losing You"
Posted: 13 Apr 2014 07:06 AM PDT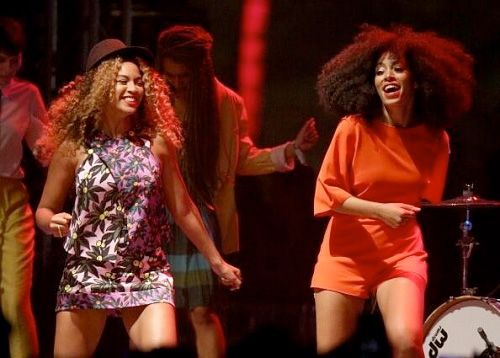 With a surprise guest appearance from her big sis Beyonce, Solange rocked the stage at Coachella 2014 last night. And they looked like they were having the time of their lives. Check the super cute sister-sister pics and videos inside…
Surprise, surprise! Solange hit the stage at the Coachella Music & Arts Festival last night to rock the stage with a mix of covers and some of her own songs.
Solo belted out a cover of Erykah Badu's "Bag Lady" and a few of her own tracks including, "Sandcastle Disco" and "Losing You." But the big surprise was when her big sister Bey popped up on stage for an impromptu appearance.
As Solo danced away to "Losing You," Bey appeared out of nowhere hitting some serious choreographed moves (straight from Solo's video). They looked like they drudged up some moves from when they were dancing around their living room 20 years ago. And we loved it.
Don't act like y'all didn't do that too with your siblings!

The twosome kept their looks just as fun as the performance. Bey hit the stage in a floral printed Top Shop shirt with matching shorts, while her sis rocked an orange Max Mara Spring leather jacket and matching romper.
Check out the video clips below of Bey & Solo tearing up the stage:
Looks like they had a ball. Cute!
Photos/Videos:@beylite/@ix_xxiv/@thejmikeshow/@melwoodsy
SHE'S MAD: Trina Wants To Leave French Montana (And The House They Share) Because He's Boo'd Up With Khloe K?!
Posted: 12 Apr 2014 10:39 PM PDT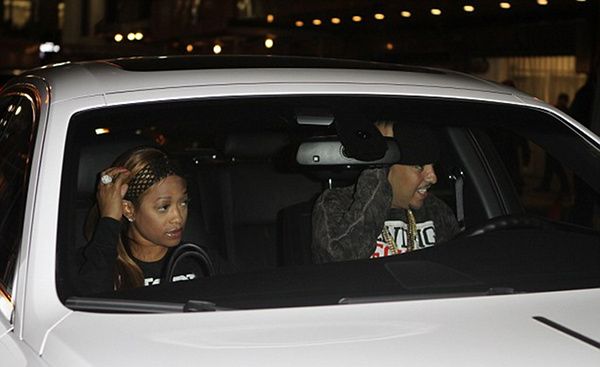 We've been asking the question of "Where's Trina?" all week long as her rumored flame French Montana was boo'd up around L.A. quite openly with Khloe Kardashian. Frenchie and raptress Trina seemed to be pretty close for several months, even though they constantly denied their relationship. We all knew the deal....but apparently that deal wasn't too clear between Trina and French. Because sources say Trina is PISSED he's gallivanting around with Khloe...
We saw this coming. Trina is mad, y'all.
Sources are speaking to media about what she's feeling (which means she likely told all this herself under condition of anonymity) while French Montana runs off to be with Khloe K.
Since April 2013--a year ago--everyone's peeped the obvious relationship between Trina and French Montana. They pop up together at tons of events, she's by his side while he does press, she flies to different countries to meet up with him, and so on.
So when dude started doing those same exact action wit Khloe Kardashian--including going to dinner with her and her entire family the other night--over these last few weeks, we're sure Trina was ready to POP OFF. And apparently, she feels like she got played. Oh, and she and French were LIVING TOGETHER in New Jersey!
"Friends" now tell TMZ:
Trina and French weren't officially BF and GF -- but we're told they were living together in New Jersey -- sources close to the couple say she was devastated after seeing video of Khloe/Montana all over each other last week at a strip club.

We're told Trina feels like she got played -- She and French were talking regularly up until a few weeks ago when he started working in L.A. on his next album ... and now it's radio silence.
Chile...
And it doesn't help that Trina and Khloe are known to be cool with each other, since Trina and Khloe's big sis Kim are pretty tight.
And let's not forget that French is still MARRIED. (And Khloe TECHNICALLY still is too.)
Like Breezy said, these chicks ain't loyal....
BONUS: French isn't letting all this new found publicity go to waste. He just released his new video for his remix for "Paranoid", which appears on his new Coke Boys 4 mixtape. Diddy, Ricki and Kiss all make an appearance:
Photos: Bernard Smalls/Splash
YBF KIDS: Willow Smith Switches It Up To Short & Blonde + T-Boz & Daughter Chase Have FUN At Universal Studios In Hollywood
Posted: 12 Apr 2014 10:33 AM PDT
Willow Smith axed her long braids for a blonde, short hairstyle. Check the pics of the blonde beauty inside, plus T-Boz's daughter is all grown up…
In a look she dubs Mythical Rasta, Willow Smith ditched her long braids and opted for a short blonde cut, channeling her mother Jada Pinkett-Smith's 90s look.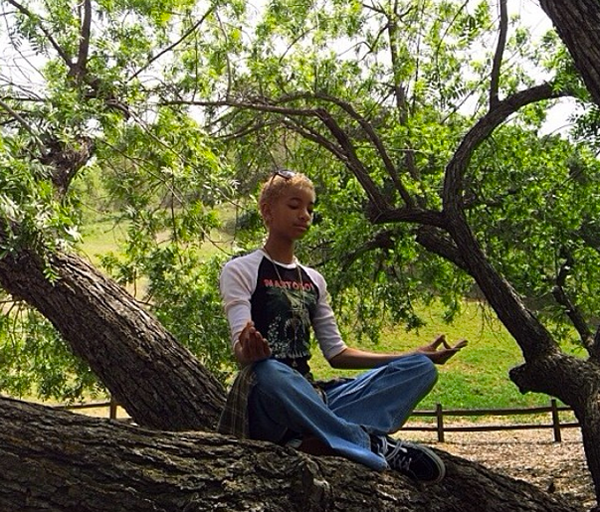 Willow shared her new look as she took a moment to tap into her inner self meditating in a tree sharing, "Me Sending Love Frequencies To This Beautiful Tree." Cute.
And other YBF kids….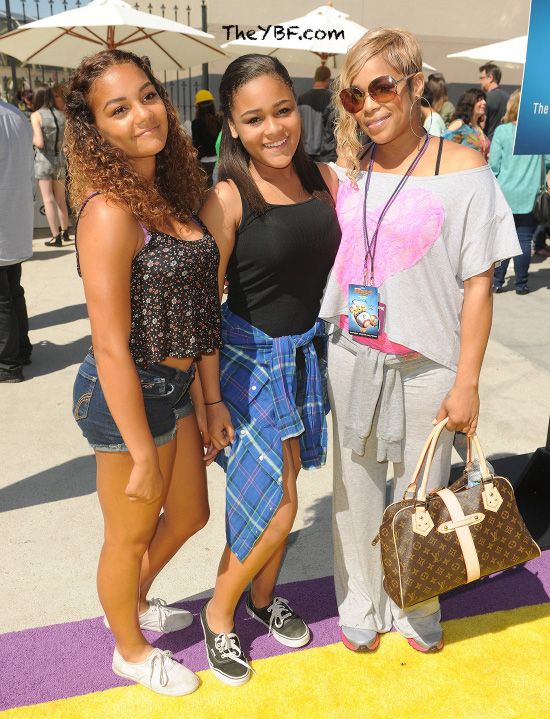 T-Boz and her daughter Chase (middle) along with a family friend decided to hit up Universal Studios in Hollywood for some fun on Friday. Look at Chase all grown up looking like her mommy (and daddy Mack 10 too).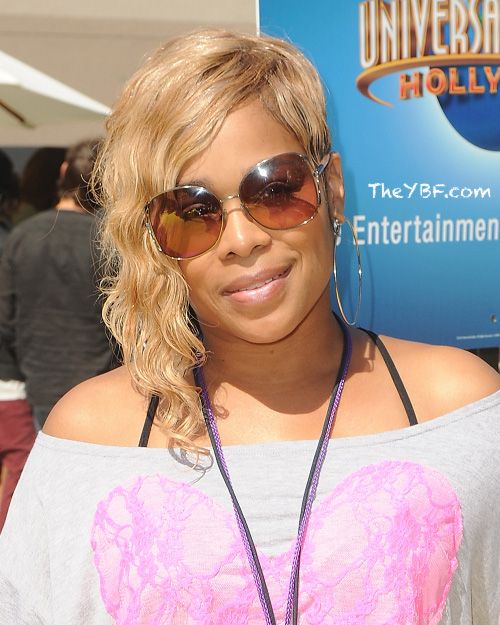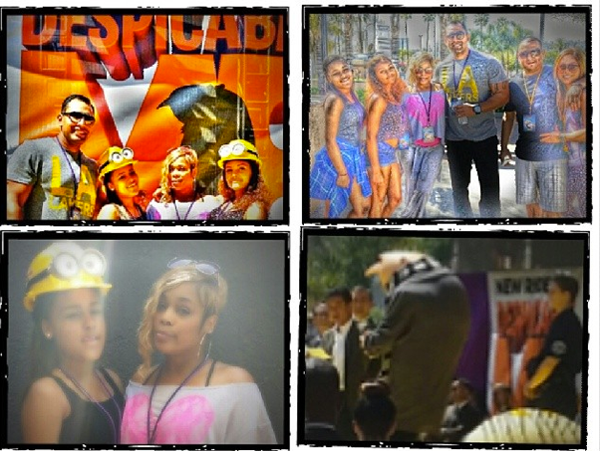 For an all-girls day adventure, they caught the premiere 3D Ultra-HD animation of Despicable Me Minion Mayhem and expansive interactive experience Super Silly Fun Land. T-Boz shared, "Me & @chase_rolison @brianamlani & friends had a ball at #UniversalStudios Yellow Carpet Premier 4 the opening of the #MinionRide !!! #tboz #fun #friends"
But, who's that fine man with you T-Boz?
Fun times.
Photos: WENN/Willow's IG/T-Boz's IG