---
Kandi's Wedding Dress? + Kandi & Todd's Wedding Filmed For TV Special?
Posted: 05 Apr 2014 09:30 AM PDT
Did Kandi Burruss' bestie Tameka "Tiny" Harris accidentally reveal Kandi's unconventional wedding dress before her and Todd's big ceremony last night? It seems she did. Check it inside, plus deets on a possible tv wedding special...
Tiny is that friend who always spills the tea...isn't she? Previously, she revealed her bestie Tamar Braxton's baby was a boy before Tamar could tell the world herself. And last night, she tweeted out a pic of Tiny right before her wedding ceremony, but quickly deleted it. But not before a screenshot was snapped...with the pic (above):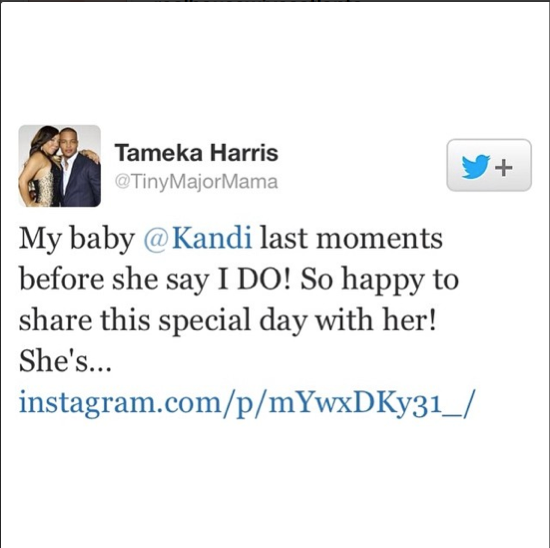 At first glance, it seems to be a reception dress. But based on Tiny's erased tweet, the pic was taken directly before the wedding ceremony. Maybe the dress has an additional part that was going to be added on, or maybe she went the unconventional route with a wedding mini dress.
Her body's on point though, regardless.
Tamar snapped a pic of herself and hubby Vince at the wedding and gushed about weddings reminding her of their special day:
Friday night, Tiny posted a pic of the ladies at the rehearsal dinner: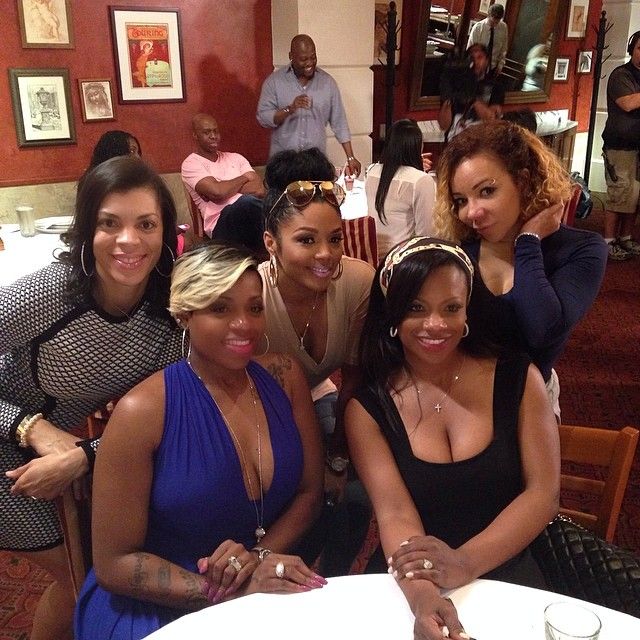 Fantasia, Tiny, friend Tamera, and Rasheeda were all in attendance.
And whether or not we'll see the wedding for ourselves, it seems that we will. In addition to the mega camera you can see in Tiny's pic atop, RHOA executive producer Carlos King posted a pic from the wedding...complete with mic packs and all:
He said, "It's a wrap!!!! @kandiburruss and @todd167 is married!!! Congrats to the couple."
It's unclear as to which network the special will air, but we wouldn't be surprised if Kandi followed in er co-star NeNe Leakes' and former co-star Kim Zolciak's footsteps of a Bravo wedding special.
Photos: Tiny's Twitter, Carlos' IG, Tamar's IG, RealHousewivesAtlanta's IG

SNEAK PEEK: Tia & Tamera COVER "EBONY" Magazine + Tia Wants To Do A "Sister Sister" Movie
Posted: 05 Apr 2014 08:07 AM PDT
We have a sneak peek at Tia & Tamera Mowry's brand new EBONY cover, plus Tia reveals what she'd like to see in a "Sister Sister" movie....

Finally, two of our faves nab a cover! Tia Mowry Hardrict and Tamera Mowry Housley cover next month's EBONY. And they're looking fabulous.
Inside the issue, the "Sister Sister" and "Tia & Tamera" stars discuss their careers in Hollywood, marriage and motherhood.
Speaking of "Sister Sister", Tia revealed to OK! that she'd be interested in doing a movie based on the hit series and she even has a plot in mind! She told the mag,
I would love to do Tia and Tamera go to Paris or to see where are they now. Maybe one of them's married one's not, one of them's extremely successful and the other one's struggling and she has to help the one who's struggling. One of them has a family, the other one doesn't. But I'm a huge fan of the Sex & The City movies and I love the way they put the girls out of their comfort zone so I would love to see that. Tia and Tamera somewhere out of their comfort zone, whether that's traveling abroad to Morocco or Paris or Italy. Something fun like that.
Tia also told PEOPLE that her 2-year old son Cree has a favorite word -- "No" -- and he is a great negotiator. She joked,
"I'm like 'Honey, come on, we're gonna have to learn how to say yes!'" she jokes. "I'm like, 'Cree, what's your name?' 'No.' 'Cree, how old are you?' 'No.' 'Cree, can I have a kiss?' 'No.' Everything is no." She added, "He's negotiating with me. He's not even three yet! Before he goes to bed, he likes to watch Little Einstein. I'm like,'We can't watch too much of it because you have to go to bed.' And he's like, 'Mommy, see Little Einstein. Five more minutes. [Saying no is] a problem. Then we end up watching it for 20, 30 minutes. He's already negotiating with me — oh my God!"
Love these two!
Photo via Kelly Carter's Facebook
HAPPIEST YEAR EVER: It's Pharrell Williams' 41st Birthday! Celebrates With Wife Helen, Alicia Keys & Swizz Beatz, Oprah & More!
Posted: 05 Apr 2014 07:20 AM PDT
Today is the 41st birthday of a man who simply does not age….Pharrell Williams! Come inside and celebrate the many accomplishments of the Virginia-bred producer inside, and everything he has on deck…
Academy Award nominee Pharrell Williams has plenty to be "Happy" about with the incredibly successful year he's been having so far.
Skateboard P garnered a lot of attention after rocking his Vivienne Westwood hat at this year's Grammy Awards, which he ended up selling on EBay for $44,100 and donated to charity.
The uber stylish producer released his sophmore album G I R L and his catchy "Happy" single (from the Despicable Me 2 soundtrack) blew up the pop charts, which landed him an Oscar nomination and allowed him to perform at the Academy Awards. But he didn't stop there…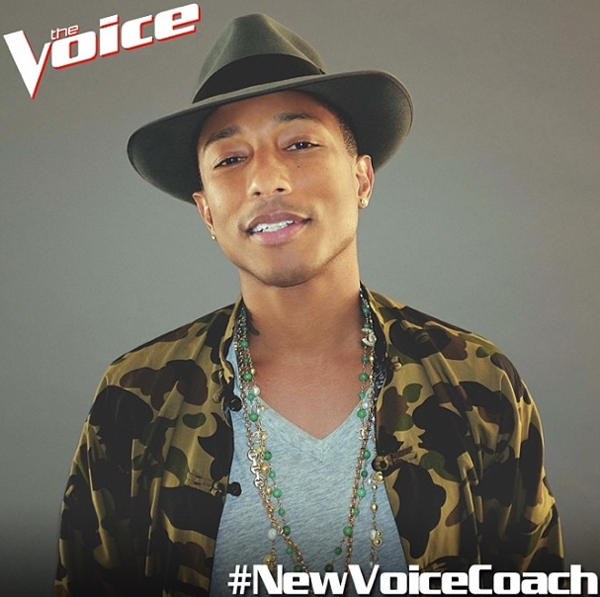 The super producer won 4 Grammys this year, he's gearing up to debut his own clothing line with Adidas, he's set to launch his first fragrance, brought his style to the cover of GQ magazine, declared "International Day of Happiness" AND he was just named one of the new coaches on the 7th season of the hit singing competition show "The Voice." Nice!

As for what's up next: He's tonight's musical guest on "SNL". And he filmed a sit down with Oprah for an all-new episode of "Oprah Prime" airing next Sunday, April 13 at 9 p.m. ET/PT on OWN.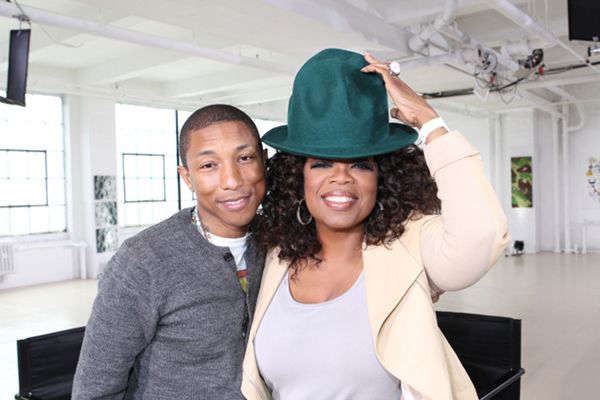 In the episode, Oprah chats with Pharrell about his rise to fame and how his creative vision has propelled him to music superstardom. They also discuss his recent marriage to Helen Lasichanh and fatherhood.
And last night, he partied with is wife Helen (atop) and Alicia Keys & Swizz Beatz at his SpongeBob SquarePants themed, 41st birthday party at Bikini Bottom at Cipriani Wall Street: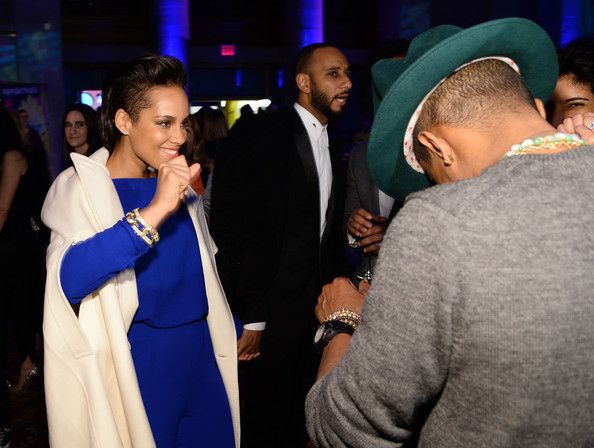 Get "Happy" with Pharrell in the gallery inside…
Photos: OWN/Getty
JUST MARRIED: Kandi Burruss & Todd Tucker Tie The Knot!
Posted: 04 Apr 2014 08:59 PM PDT
Finally! It happened. "Real Housewives of Atlanta" stars Kandi Burruss and Todd Tucker are officially married after a wedding ceremony Friday evening. Deets inside...
Kandi & Todd said "I Do!" tonight in a wedding that took place in Atlanta, Georgia. The singer confirmed the news via her rep, and even gave a statement about her first few hours of officially being a wife:
"This is one of the best days of my life! I never imagined that I would marry my best friend. Todd's been that to me," Kandi tells In Touch. "And to have just had the wedding of my dreams, it's all been so beautiful. Now it's time to party!"
After three years of dating, a season of Mama Joyce raising ratchet hell to block her daughter's blessings, and plenty of tears, Kandi & Todd are officially official.
We're glad they finally took the leap, despite those who had an issue with their love.
On the reality show Kandi's 11-year-old daughter, Riley, appeared supportive of the relationship, as did Todd's teenaged daughter.
It has yet to be confirmed which castmates attended Friday's wedding, but we wouldn't be surprised if everyone showed up to shower the couple with love.
And we're praying to God NOTHING like this went down, at all.
Congrats Kandi & Todd!
Photos: Kandi's IG/Bravo
Rapper The Game Allegedly Being INVESTIGATED For Domestic Violence Against Fiancée Tiffney
Posted: 04 Apr 2014 06:28 PM PDT
Uh Oh! Major trouble in paradise...or whatever these two call their situationship. Rapper The Game is under investigation for an alleged domestic dispute with his fiancée Tiffney Cambridge. Read the deets inside…
Compton rapper The Game, real name Jayceon Taylor, has reportedly been named a suspect in a felony domestic violence investigation.
A police report was filed by Game's fiancée Tiffney last weekend.
She claims that on March 19th her husband repeatedly hit her in the face which resulted in a broken nose and an injured eye socket after an argument erupted! Sources say the police have photos of her injuries and the L.A. County Sheriff's Department has launched a criminal investigation on the rapper.
Game denies that he ever laid a hand on Tiffney telling TMZ, "I don't want to give fuel to these false accusations, but the truth will definitely come out. I am always looking out for my children's safety and have never laid a hand on Tiffney."
Hope they weren't arguing over Game's recent shenanigans with Khloe Kardashian…
In case you didn't know, the couple is currently filming for season 3 of their reality show "Marrying The Game."
Game even shared behind-the-scenes pics last week (above) of him and his son (below) as they taped their confessionals saying, "#MarryingTheGameSeason3 behind the scenes…. Interviews"
Photos: Game's IG
The Randomness:
1. Janelle Monae and M.I.A. collaborate on each other's shows in different states using Holograms. Sweet. STORY
KISSIN' & TELLIN': 50 Cent DISHES On His Past Relationships With Ciara, Vivica Fox, Chelsea Handler...And Talks About Rihanna
Posted: 04 Apr 2014 04:25 PM PDT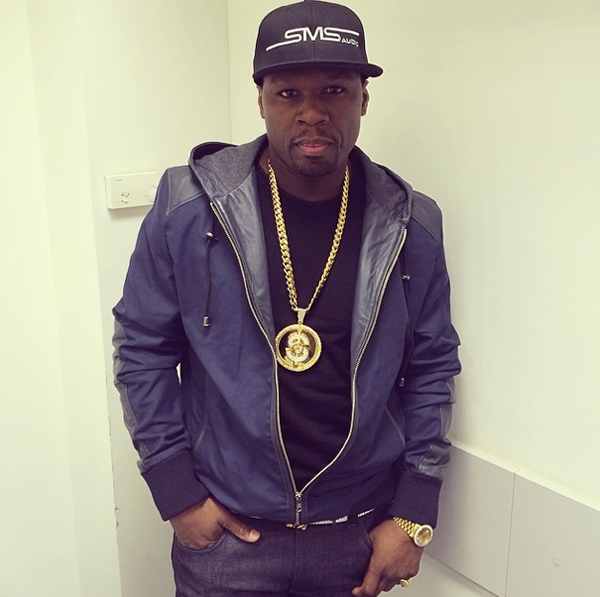 50 Cent is spilling all types of tea on his previous relationships with celebs including Ciara, Vivica Fox and Chelsea Handler. You won't believe which of his past flings had him sprung (well, you might), how they broke up and what he said about Rihanna and her relationships…
We thought only a woman would "kiss and tell", but apparently, that's no longer true. While on his promo campaign for his upcoming album Animal Ambition (dropping June 3rd), 50 Cent hit up "The Rickey Smiley Morning Show" where he dished on his past relationships with dancing diva Ciara, actress Vivica A. Fox and television host Chelsea Handler.
In the interview, 50 revealed whether he has called Ciara since finding out she was pregnant (he's definitely still cool with her fam!), how he was extra sprung over Vivica Fox and how he and Chelsea Handler are still friends. The Queens rapper also talked about his beef with Rick Ross and boxing champ Floyd Mayweather, his relationship with his son's mother and more.
Here are the highlights:
On if he's congratulated Ciara on her pregnancy, expecting a baby with Future:
"I haven't. I haven't. I spoke to her grandmother last night. She's a sweetheart."

On if he's still friends with Ciara and Chelsea Handler:
"Chelsea was cool. I may actually do a show [Chelsea Lately] before it's over." When asked if he was still friends with Chelsea, "Yea Yea…And me and Ciara are still friends. It's not that I don't appreciate the time that we spent during that period. You usually find out about my relationships after they've finished."

On his public relationship with Vivica Fox:
"That was the only one. That was an accident. That sh*t happened so fast. I was so green, I was like the front lawn. You know how women say she need closure and she need to have that conversation or whatever it is…that may spin me right back into the actual relationship.


On how he broke up with Vivica:
"You know what happens…the touring. Our lives would be moving us into different directions at the same time so it's enough space for us to actually still be in to each other. But if you're away from each other and it's not right, she'll start getting off into things while you're getting off into things at the same time. I like to float away."

On Rihanna and Erykah Badu leaving dudes sick after they break up with them:
"Rihanna got a thing with her where she leaves the guys looking like they was the girls. They be hurt like what happened? The only person iller than her is Erykah Badu." [Ha!]

50 had to pick who he would smash, marry or kill between Rihanna, Miley Cyrus and Chelsea Handler:
"I'd smash Rihanna because I didn't do it. I'd kill Chelsea and try something different." He was asked if he would actually marry Miley Cyrus he responded, "I'm trying something different. "
Oh Fif. Check the full interview below:
The Randomness:
1. J.Lo and her company, the NuvoTV network (which she's a minority owner of), outbid her ex Diddy & Revolt to buy the Fuse network. STORY
Photo: 50 Cent's IG
TRUTH SERUM: Phylicia Rashad On 'Cosby Show' VS. Current Sitcoms -- "It Pales In Comparison"
Posted: 04 Apr 2014 03:41 PM PDT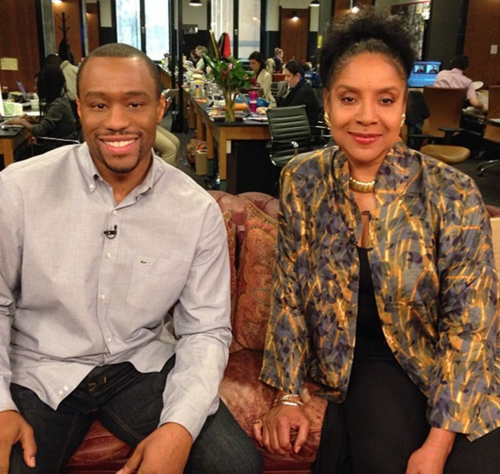 When the mother of all TV mothers speaks, we listen. And veteran actress Phylicia Rashad has some words about the current state of sitcoms...and she's not really here for it.
See why inside, plus what she says about how her "Cosby kids" turned out....
"The Cosby Show" vet Phylicia Rashad, who has been steadily working ever since, hit up HuffPost Live recently. And in addition to promoting her new film in theaters nationwide called Frankie & Alice, starring Halle Berry, she spoke about the current state of television. While we (meaning everyone who grew up watching "Cosby Show") have been saying for years how no current television show seems to compare, Ms. Rashad may have hit on the exact reason why.
She's dropping a little knowledge for the masses and writers and creators alike:
On comedy sitcoms today vs. "The Cosby Show"
"No comparison. I'm sorry, there just isn't. I was in a class in Howard University. Greek literature, literature in the Greek theater. Dr. Frank Snowden was the professor. So he said to us one day after we had been studying the classics for a while, 'Okay, which do you prefer, drama or comedy?'

And I was a drama student. I said 'I like the drama, I love the drama.'
He said, 'Really? Well, Phylicia, that's very interesting you know. Drama appeals to the emotions, comedy appeals to the intellect.'
So the difference between Mr. Cosby's humor and what you see a lot today? Think about that. It appealed to the intellect."
On what causes the differences
"We had a team of writers who were paying attention. This is something else that's different in television today. I just recently was on another television show and I wondered if the writers were ever in the same room together. Yeah, because they work differently today. But back then, the writers were in the same room all the time, and they're paying attention and they're growing and they're moving together. Today, it's a little bit different."

Interesting! And if you're wondering if she still plays a "mom" figure in real life to Cosby kids Keshia Knight Pulliam, Malcolm Jamal Warner, Tempestt Bledsoe, Lisa Bonet and Sabrina Le Beauf:
"These people are grown people," she said, correcting host Marc Lamont Hill's reference to the Cosby 'children.' "Some of them are parents. They're married -- they're beautiful adults. They're grand people. They are amazing human beings."

"I'm not surprised at their successes, I'm not surprised at their brilliance. I'm not surprised by any of it because it was very clear then--aha, these are some people!"

Rashad also commented on her relationship with Lisa Bonet, who left the show a few times due to creative differences. "I haven't seen Lisa in a very long time. She was my doll, she was my little kitten. I loved her dearly and I still do."

She added, "I think she has two sons now as well. I've never met them. And I understand that she's very happy, and that makes me very happy."
Check out her full interview below. So fabulously regal, still.
SUBTITLES ON DECK: Tiny & Shekinah Nab Their Own Reality TV Spinoff + Tracy Morgan Nabs New Comedy Series
Posted: 04 Apr 2014 02:30 PM PDT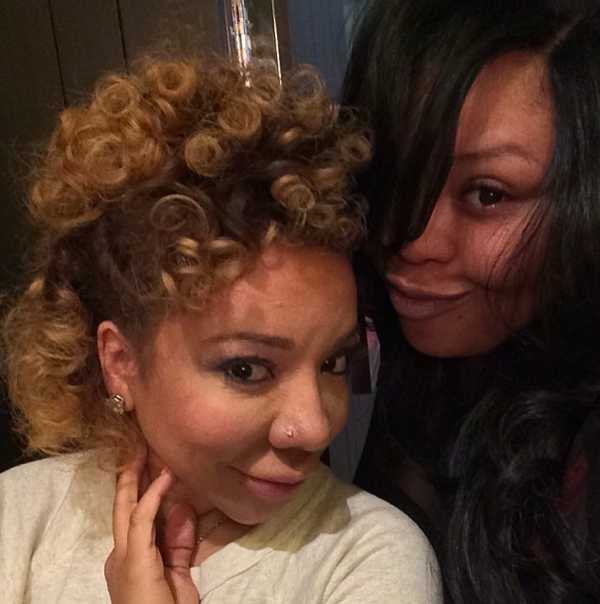 Get your closed-captioned subtitles ready because T.I.'s wife Tiny and her friend/hair stylist Shekinah are bringing their antics (and down south slang) to a TV near you. Plus, Tracy Morgan is returning to primetime TV in a new comedy series. Catch up on the new TV shows inside...
As Tiny makes her rounds promoting "T.I. & Tiny: The Family Hustle" new season, she revealed she and her friend Shekinah Jo will be starring in their own reality TV spinoff show with a Paris & Nicole Richie "The Simple Life" tease.
Tiny sat down with Madame Noire and dished on her new venture, saying they haven't decided on a name just yet but according to the former Xscape singer, the show is going to be hilarious. We sure it will…just hope we can understand what they are saying to each other.
"We haven't named it but it's a Tiny and Shekinah show and it's kinda gonna be like, this idea I had to be like 'The Simple Life' like Nicole [Richie] and Paris [Hilton]. So it's going to be our version of that. We're going to go on adventures and do a lot of things that we haven't done. It's going to be really hilarious. We're going to start shooting in the end of April so this will be another one for me I'm just trying to up my stock."
Here's a sample (a deleted scene from "Family Hustle") of what we might see on their show:
Ha! Will you be tuned in?
And also on TV…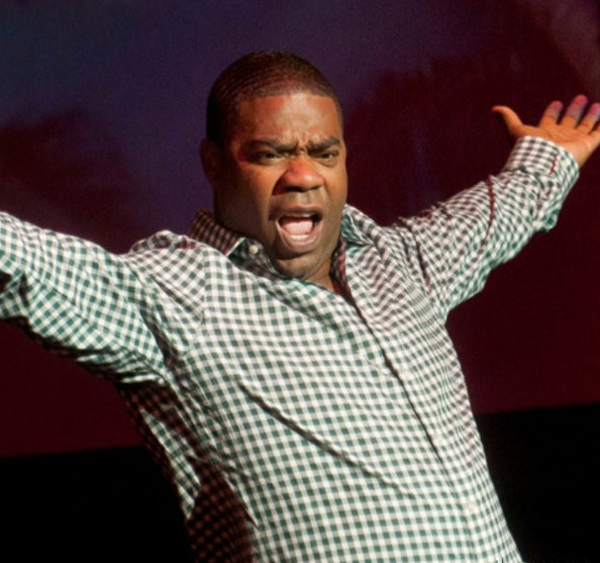 Funnyman Tracy Morgan will be returning to TV after starring in the NBC television show "30 Rock."
The new, untitled comedy series is part of a three-year production deal with FX Productions and the creators of "It's Always Sunny in Philadelphia." Tracy started working with comedy writers Rob McElhenney and Glenn Howerton in January with discussions about the new series and its expected to debut in January 2015.
Nice.
BONUS: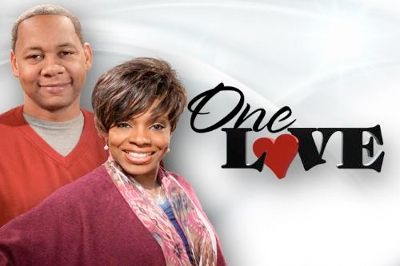 Bounce TV is premiering a new original series titled "One Love" starring comedian/actor Mark Curry and former "Moesha" actress Sheryl Lee Ralph.
The new family-oriented sitcom will feature Mark Curry as Pastor William and Sheryl Lee Ralph as the first lady, Carolyn Winters. The married couple and their children bump heads when their adult children begin relationships of their own. Pastor William and First Lady Carolyn then have to learn the balance of letting their children learn from their own mistakes and offering their wisdom.
The sitcom was created and executive produced by Carla Banks Waddles, who produced "Half and Half" along with Leslie Small who directed Kevin Hart: Let Me Explain.
Tune in Tuesday, April 8th at 9pm/EST for the premiere.
Everybody's getting work these days. Loves it!
Photos: Shekinah's IG/Tracy Morgan's IG
DADDY DAUGHTER DATE: Rihanna & Dad Ronald Fenty Spotted Hand-In-Hand On A Coffee Run
Posted: 04 Apr 2014 01:09 PM PDT
Daddy's girl Rihanna and Ronald Fenty were spotted on a coffee run after they enjoyed an Italian dinner in Santa Monica. Check out the cute daddy-daughter pics inside…
Showing she's a daddy's girl at heart, Rihanna and her father Ronald Fenty spent some quality daddy-daughter time in Santa Monica, enjoying dinner at her absolute fave Italian restaurant Giorgio Baldi on Thursday.
Rih kept it laid back and cute like usual in a grey dress and sneakers.
After dinner, the daddy-daughter duo treated themselves to Starbucks as they walked out holding hands.
RiRi took a break from holding hands with Drake (who released a new track "Days In The East" opening up about their situationship) to get her father caught up on her current happenings, like being named the 2014 Fashion Icon for the upcoming CFDA Fashion Awards on June 2nd!
Although the CFDA Fashion Awards (going down at Alice Tully Hall at Lincoln Center in NYC) is months away, Rihanna seems ecstatic over her Fashion Icon accolade showing off on Instagram:
She captioned, "CFDA Fashion Awards 2014 Fashion. Icon. #FromTheLeftSideOfAnIsland #Blessings #idothisfashionshitforfun"
Work!
And this is how she says she behaved after she found out:
Ha!
Photos: SPW/Splash
IT'S OUR ANNIVERSARY: Beyonce, Jay Z & Blue Ivy Spotted Stylishly Leaving Bey's Office In NYC
Posted: 04 Apr 2014 12:13 PM PDT
Beyonce, Jay Z and adorable Blue Ivy are back home in NYC and they have plenty to celebrate being that it's the couple's 6th year anniversary. Check out the pics of the cute family inside…
After wrapping up the Mrs. Carter World Tour in Lisbon, Portugal last week, Beyonce, Jay Z and daughter Blue Ivy were spotted in the concrete jungle with smiling faces last night. Most likely, going to celebrate...because today marks power couple's 6th year of marital bliss.
Beyonce was spotted looking super cute in her JOE'S JEANS Elsa blue print oversized jacket and matching JOE'S JEANS Darla high water skinny jeans. And she paired the fresh and fun look with blue, pink and gold strappy heels and a bright pink Tom Ford Alix bag.
Jay carried cutie Blue, dressed in a gold trimmed tuxedo pant, in his arms as they walked out of Bey's office in NYC: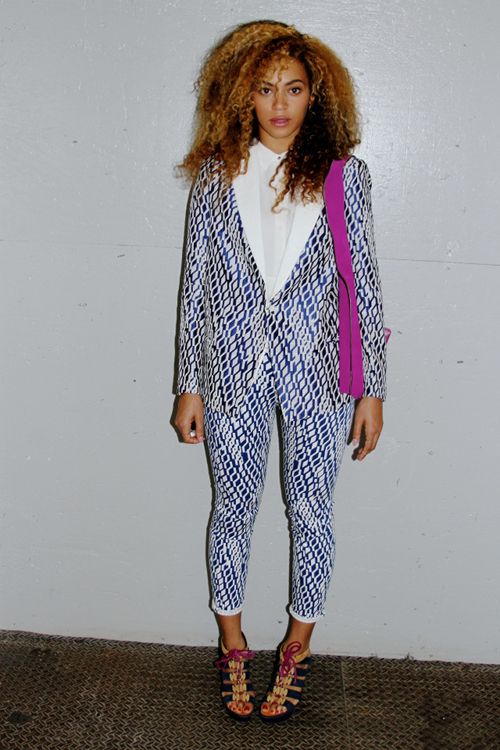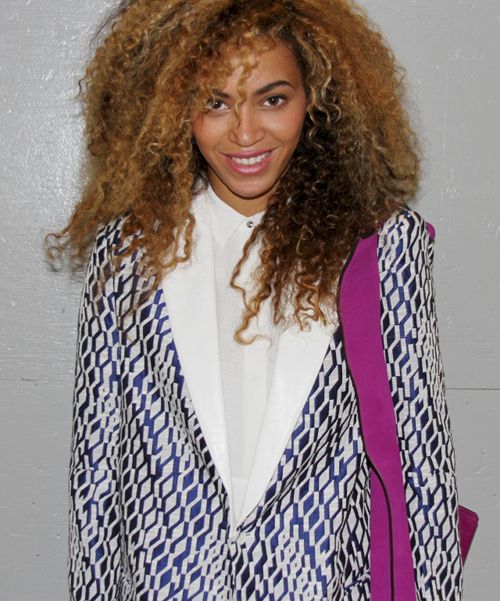 Wonder what she's cooking up....
The hip-hop family is finally back home after traveling the world, sightseeing in Barcelona, enjoying a day at the park in Dublin and spending an afternoon biking and lunching in Amsterdam. Blue definitely has more passport stamps than the average adult.
Happy anniversary!
Photos: Splash/Beyonce's Tumblr

Trick Daddy ARRESTED For Drug & Gun Possession, The Mug Shot & Details....
Posted: 04 Apr 2014 11:33 AM PDT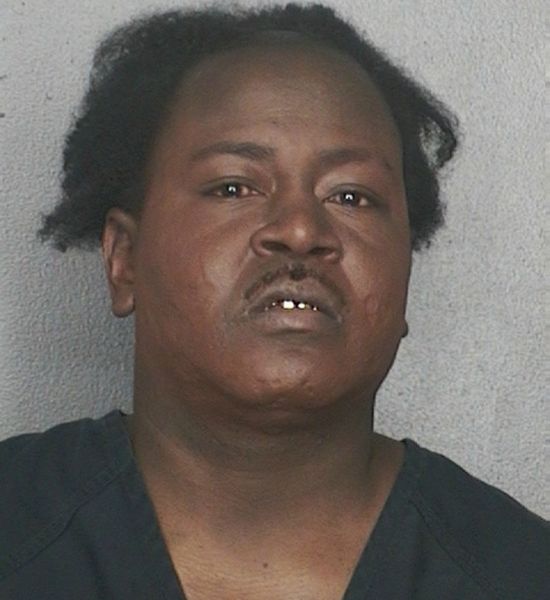 Rapper Trick Daddy was arrested last night near his home in Miramar, FL. His mug shot and details inside...
Well, this doesn't look good. No parts about it. "I'm A Thug" rapper Trick Daddy, government name Maurice Young, was cuffed and booked on Thursday due to being in possession of a gun. Since he's a convicted felon, it's illegal for him to have a firearm in his possession.
His full set of charges this go-round: Two counts of possession of a firearm by a felon, possession of cocaine and driving with a suspended license. He posted $6,100 bond Friday morning.
Sigh.
This long sheet of charges, in addition to this sad mugshot where he's barely even recognizable, signal A LOT is wrong in Trick Daddy's world. And it seems to be more than just his Lupus diagnosis he revealed back in 2009.
Unfortunately, this is just the latest in a LONG string of arrests and foolishness. According to Gossip Extra:
In 2003, he faced assault charges in Miami after he allegedly brandished a gun and threatened to kill a man during a dispute following a street basketball game. He was charged with aggravated assault with a firearm, possession of a firearm in the commission of a felony, and possession of a firearm by a convicted felon.

He was convicted in 1991 on charges of cocaine possession, carrying a concealed firearm, and violating probation, also in Miami. He served two-and-a-half years in state prison.
Trina? Slip-N-Slide? Is anybody out there? Ya boy clearly needs your help...
Photo: Broward Sheriff's Office
Tamar, Towanda & More Hit The "Married To Medicine" Season 2 Premiere + YBF Celebs Celebrate At After Party For "Raisin In The Sun"'s Opening Night
Posted: 04 Apr 2014 11:00 AM PDT
"Married To Medicine" season 2 red carpet premiere kicked off last night as well as "Raisin In The Sun's" Broadway opening and afterparty. Check the pics of the fab events inside…
BRAVO's "Married To Medicine" is back for a new season and to kick things off, a few celebs came out last night to hit the red carpet for the season premiere.
The "Married to Medicine" cast members Dr. Jackie Walters, Quad Webb-Lunceford, Toya Bush-Harris and newcomer Lisa Nicole Cloud hit the carpet, while Mariah Huq, Dr. Simone Whitmore and newcomer Dr. Heavenly Kimes (a dentist married to a doctor) were not there.
Tamar Braxton, Tamar's husband Vince Herbert, Towanda Braxton (looks like Tamar and Towanda finally kissed and made up), "House of Payne" actress Demetira Mckinney, and former "Girlfriends" star Jill Marie Jones were also there to catch the premiere.
Season 2 promises to be "brutally honest" and the "most explosive" season yet with the ending of Mariah and Quad's friendship, Dr. Simone's marriage possibly heading down splitsville lane and Dr. Jackie (who survived breast cancer twice) wanting to expand her family through adoption or surrogacy.

Celeb doctor Jackie Walters (who cares for Toni Braxton, T.I., & Usher) along with her husband Curtis hit the carpet. This season, Dr. Jackie is ready to experience motherhood. Although she's unable to have children on her own, she's open to adoption or using a surrogate, but her biggest obstacle will be getting her husband on board.
Toya Bush-Harris along with her emergency medicine physician husband Eugene Harris continue to search for Toya's dream home in season 2. She will also struggle with her long-time friendship with castmate Simone possibly ending.
Quadriyyah "Quad" Webb-Lunceford and her psychiatrist husband Gregory Lunceford looked great last night. Quad will struggle with her ending friendship with close friend Mariah this season.
And newcomer Lisa Nicole Cloud, a successful entrepreneur and fashion designer will bring a bit of sass to this season.
Hey Tamar!
Vince was all smiles with Dr. Jackie and her hubby.
Check out the season 2 trailer below:
This looks like it's going to be good.
Tune in to BRAVO on Sunday, April 6th at 9/8c to catch the season premiere.
And at another carpet event...
The Broadway opening night for Lorraine Hansberry's "A Raisin In The Sun" debuted Thursday at The Ethel Barrymore Theatre in New York City starring Denzel Washington, British actress Sophie Okondeo, Samuel L. Jackson's wife LaTanya Richardson Jackson, and actress Anika Noni Rose. After the show, the cast hit up an after party at Tribeca Rooftop to celebrate the show's opening night.
Check the pics:
Leading man Denzel Washington played the role of Walter Lee Younger.
British actress Sophie Okonedo played Walter's wife, Ruth Younger.
Anika Noni Rose starred as Walter Lee's younger sister, Beneatha, a medical student on her own journey for self-actualization.
Samuel L. Jackson was there for support for his wife actress/television producer LaTanya Richardson. LaTanya stepped in for the role of Lena Younger, Walter's mother.
Cedric the Entertainer came out to party with the "Raisin" cast.
Director Spike Lee and his wife Tonya hit the scene for the after party. Lee recently went IN on a "lame" NYTimes film critic over gentrification.
Fresh from her B.B. Kings gig, Ashanti took a break from promoting her new album Braveheart to enjoy the festivities…and she looks great by the way.
New "Good Morning America" host Michael Strahan was all smiles sans his fiancée Nicole Murphy.
And NY Knicks center Tyson Chandler along with his wife Kimberly joined in on the fun.
Fab times!
Photos: Robin Marchant/Getty/FreddyO/Jerome "Photo-J" Pearson