---
MAGAZINE FAB: Oprah Proves 60 Is STILL Sexy On 'O' Magazine's May 2014 Issue +"Hit The Floor" Star Robert Riley SEXES Up 'Krave' Magazine
Posted: 11 Apr 2014 10:32 AM PDT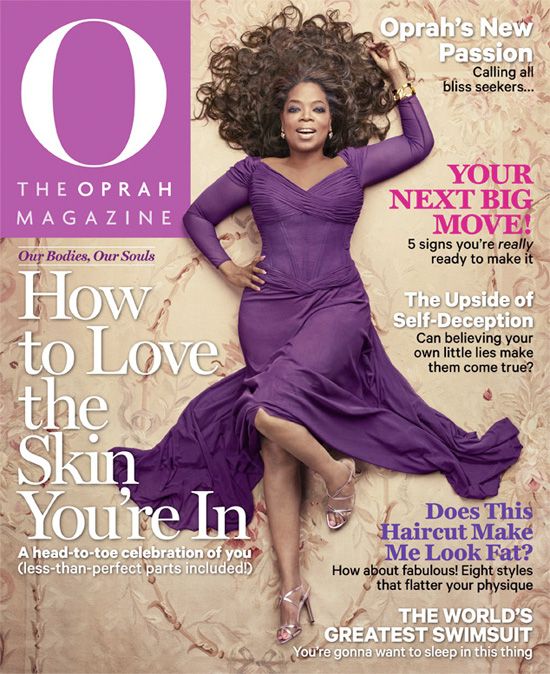 May seems to be the month for HOT covers! Oprah goes glam on the latest issue of her O magazine cover and actor Robert C. Riley sexes up Krave Magazine for their 10th anniversary. See all the hot pics inside…
Oprah is showing us that 60 can definitely be the new 40. The media queen graces the cover of the 2014 May Issue of her O, The Oprah Magazine and she is serving up some serious sexy.
Photographed by Ruven Afanador, Lady O is captured lying on her back in a purple, hip-hugging Carms Couture Designs gown by Vicky Tiel paired with Sarah Jessica Parker collection heels and she is simply stunning.
Work Lady O!
The theme for the May issue is "How to Love the Skin You're In" in which Oprah gives a tip or two with this sultry cover.
She shared,
"I'm not one to get hung up on numbers, but if you want to say 60 is the new 40, I'll take that. You can be and do whatever you want, thanks to exercise and hair color. Hair color: the greatest invention of all time for women. Thank you, Miss Clairol."
Oprah spoke about the good and bad of aging saying,
"The absolute best part is being able to be free and do whatever you want. There's nothing better than that," she said. "The hardest part is really recognizing the time that you've wasted and the things that you worried about that really didn't matter. You regret the time that was wasted."
The May issue of 'O, The Oprah Magazine' hits newsstands on April 15th.
And on another magazine cover…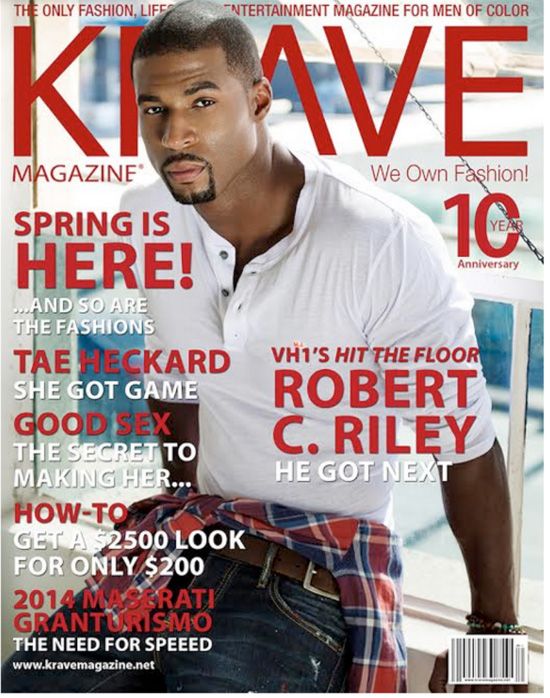 Hottie alert! Canadian lifestyle men's magazine Krave is celebrating 10 years in the magazine game and to kick off he anniversary, they chose cutie Robert C. Riley for the cover. Whew!
Born in Brooklyn, Robert has been making his own lane in the acting world. We've seen this handsome actor make appearances on VH1's "Single Ladies" and Tyler Perry's "For Better or Worse," but most recently he stars in VH1's "Hit the Floor" playing Terrence Wall. And he's def one of the reasons we watch.
When he's not acting, he's showing off his fantastically fit body along with his abs of steel and he also enjoys spoken word, photography and is a novice guitarist.
Check out the eye-candy in the full spread below: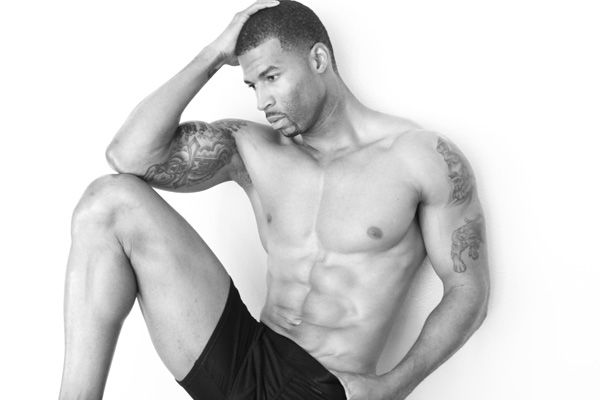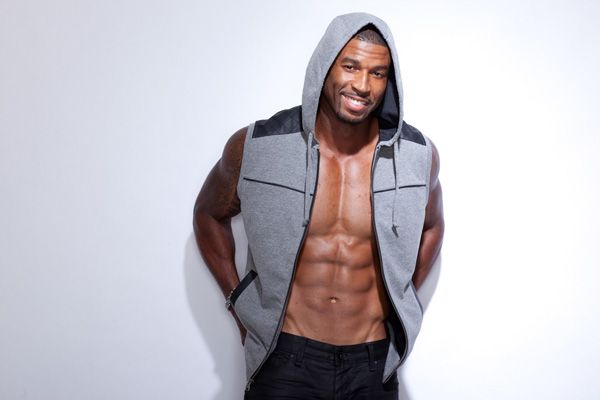 Hello...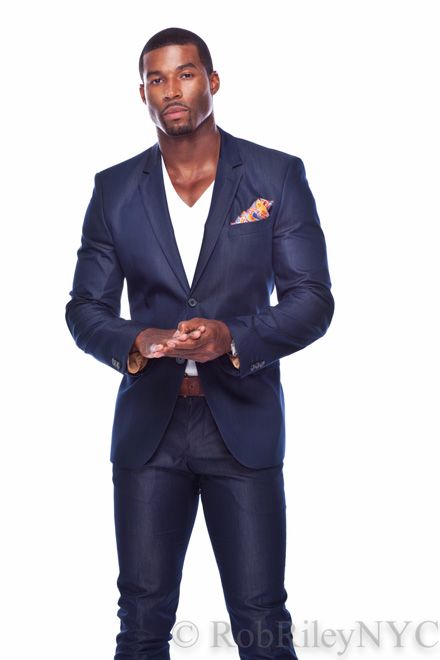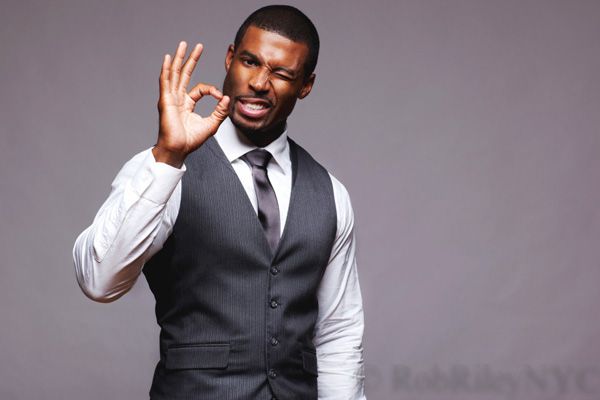 Nice!
The "Hit The Floor" season 2 premiere airs Monday, May 26th 9/8c. We'll be waiting...
Photos: O Magazine/Krave Magazine
IN CASE YOU MISSED IT: "LAHH: LA" Stars Teairra Mari & Princess Love Remain Silent About Big Club Fight Over Ray J! + Porsha's FULL Response About Alleged Song Jacking
Posted: 11 Apr 2014 09:33 AM PDT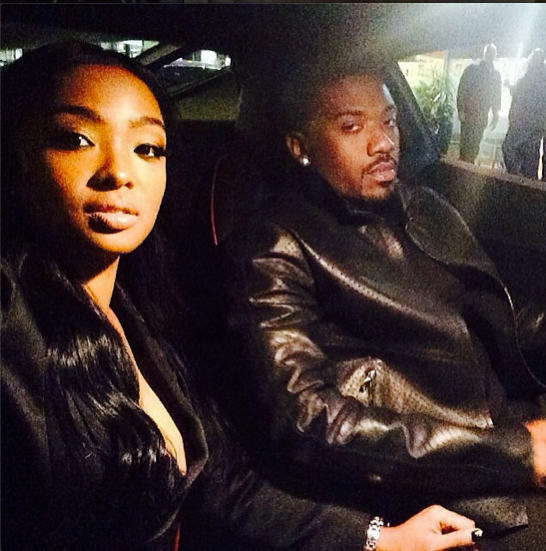 Ray J has two chicks fighting over him....surprise surprise. Everyone in the situation has remained mum about it, but a big fight went down at a club while Ray J, Princess Love and Teairra Mari were filming "Love & Hip Hop: L.A." Deets inside, plus
Not totally sure what's going on here, and no one in this ghetto love triangle is speaking. Reportedly, last night at a club in L.A., Ray-J and girlfriend Princess Love (pictured above) were there filming for "Love & Hip Hop: LA". Singer Teairrai Mari, who will also appear on the show, was there as well.
Sources say Princess ran up on Teairra about why she's been seen in pics around town with HER man Ray-J. And all hell broke loose. By the way, this was DAY ONE of filming.
It's unclear about which pics Princess is speaking of, because we haven't seen Ray with Teairra since LAST YEAR. They did a little shopping together (above) and were cuddled up at the BET Awards.
So if chick is popping off this hard about some year old pics, it seems "LAHH" is scrambling for storylines relevancy in ALL ways.
The whole fight was caught on video. Check it below. Interestingly, based on Ray's IG pic (atop), he and Princess arrived together. But he was standing with Teairra at the time of the confrontation:
The thirst.
Porsha Williams has a response to the accusations made by producer Pierre Medor that she STOLE his song "Perfectly Worthless". He accused her of sounding equally worthless on the track, so he sold it to Syleena Johnson. Pierre was mad when Bravo decided to air Porsha singing the track (even though he was there while it was being filmed). And he lashed out about it. Check out his shade HERE in case you missed it.
Now, Porsha is popping back...with text message receipts. Via her publicist, here's Porsha's FULL statement about the matter where she accuses Pierre of slanderous self-promotion tactics:
"This is an obvious and desperate attempt at riding Porsha's PR coattails, states a rep from the reality starlet. It is obvious that this producer full knowingly used Porsha and the Housewives platform for self-promotion and in his latest slanderous attack is still continuing to do so. Both parties signed a release with the show to tape a scene using the song. There was no contract between producer and Porsha and there has been no continued promotion or discussion of the song by Porsha and the aforementioned producer. Furthermore he sent the below text to Porsha's rep stating his being happy about the television appearance which he now claims to not know about? (Porsha's rep in blue/producer in gray) Since there has been no actual lawsuit filed because there is no viable claim, It is clear that said producer is pathetically using dishonest tactics to harm Porsha and attempt to lift himself further. Since the episode aired, Porsha has moved on with her music career and is currently Promoting her successful new single which debuted at number 3, "Flatline", currently available on iTunes. "
Oh, and to prove her point further, Porsha's rep provided a text message exchange between the Porsha's rep (in blue) and Pierre AFTER the show aired: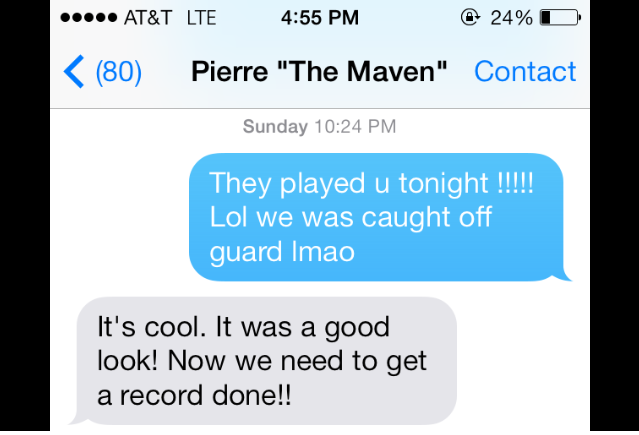 We reached out to Pierre about Porsha's response, and he says he will be providing the FULL text message and what it REALLY said soon.
Photos: Porsha's IG/Ray's IG
FRIDAY FUNNIES: Drake Goes INCOGNITO & Asks People What They Think Of Him For Jimmy Kimmel's 'I Witness News'
Posted: 11 Apr 2014 08:34 AM PDT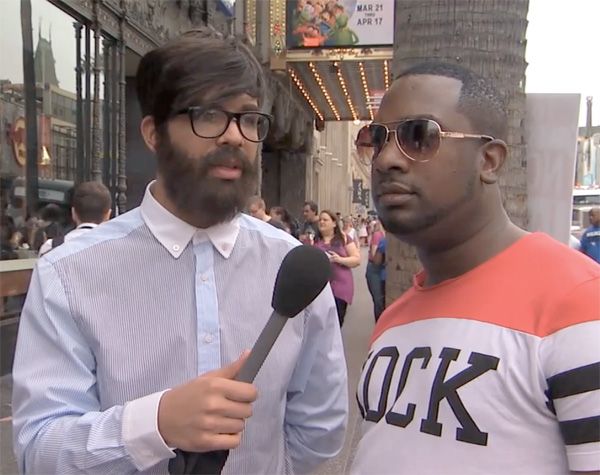 Rapper/actor Drake did a hilarious segment on Jimmy Kimmel Live last night. Watch the rapper dressed in disguise find out what people REALLY think about him when you go inside…
After Drake killed it with his acting skills on "SNL" earlier this year, he landed a new gig as host of this year's ESPY awards.
In an attempt to find out what people really thought about him, the Toronto rapper dressed in disguise to perform his version of "Lie Witness News." Jimmy Kimmel's crew disguised Drizzy with a scraggly beard and an awful wig and sent him out on the street to ask pedestrians what they really thought about Drake.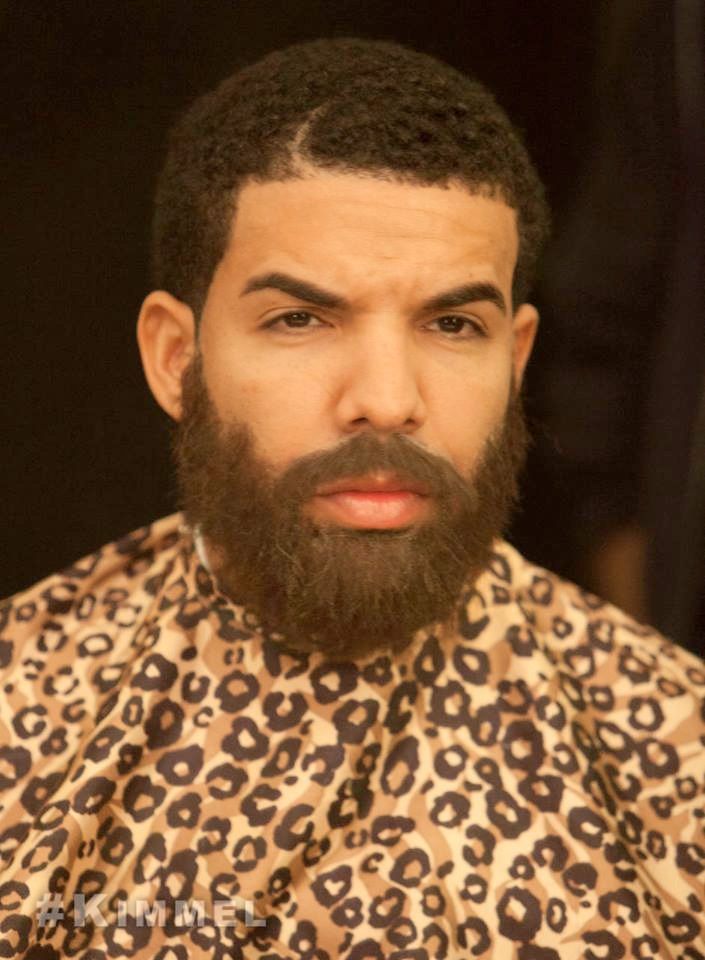 In his "I Witness News" rendition, the Fake Drake asked pedestrians outlandish questions about made up news stories about Drizzy. In one fake story, Fake Drake asked a man how he felt about Drake discriminating against Caucasian athletes during his ESPY hosting gig and another about his sex-tape being aired on a screen at Coachella. One pedestrian even performed a Drake diss song. Ha!
Check out fake Drake below:
Hilar!
Speaking of Drake…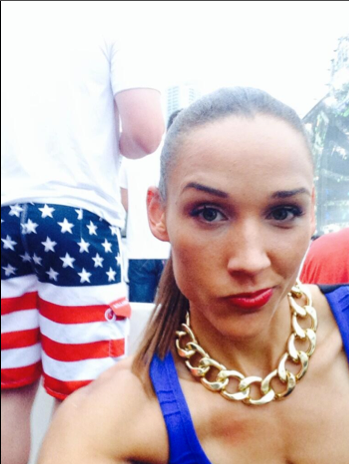 Olympian Lolo Jones (whose known for trolling on social media) got at Drake and Rihanna after it was announced that Drizzy would be hosting the ESPY Awards. She poked fun at Drake saying he is going to have a hard time handing out awards to RiRi's ex-boy toys.
She tweeted:
It's amazing that Drake is hosting the @Espys but it's gonna be tough for him to hand out all those awards to Rihanna's ex boyfriends

— Lolo Jones (@lolojones) April 10, 2014
You'll recall, RiRi use to date L.A. Dodgers player Matt Kemp and was rumored to be dating NY Knicks shooting guard J.R. Smith (but it likely never occured since she called him out for being thirsty).
Chick loves scraping for attention. Water anyone?
Photos: Jimmy Kimmel's FB/Lolo Jones Twitter

EXCLUSIVE SNEAK PEEK: Dr. Simone Whitmore & Toya Bush-Harris Get TESTY On "Married To Medicine"!
Posted: 11 Apr 2014 08:01 AM PDT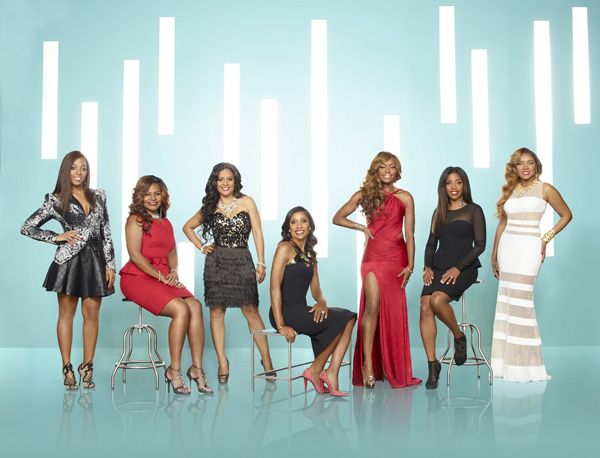 TheYBF.com has an exclusive sneak peek of episode 2 of Bravo's hit series "Married To Medicine." Watch it inside...
This season looks to be one filled with plenty of drama! After the "sit-down" between the "Married To Medicine" ladies on last week's episode, it looks like Dr. Simone Whitmore and Toya-Bush Harris are ready to duke it out! Not sure how we feel about professional doctors displaying their cattiness for all to see, but, ya know. This IS Bravo.
In our exclusive sneak peek, we see Dr. Simone and Toya (wife to medicine physician Eugene Harris) discuss the situation with Dr. Simone gyrating on Toya's husband…right in front of her!
Dr. Heavenly and Toya confronted Dr. Simone at Heavenly's cocktail party...but of course nothing was resolved. So Toya met up with her friend (just the two of them), so they could talk about the incident. That ended up with some neck rolling, hand waving and getting into each other's face in the middle of the street.
Check it:
Can't blame Toya for being upset about another woman (especially her friend) grinding all up on her man.
Also in the next episode, Jackie tells her husband Curtis about her wanting to have a child, while Mariah talks her husband into getting hair transplant surgery.
Episode 2 of "Married To Medicine" airs Sunday, April 13th at 9:30/8:30c on Bravo.
Photo/Video: Bravo

DOUBLE TROUBLE: Tiffney Cambridge Takes Out RESTRAINING Order On Game + Carl Payne Headed For DIVORCE!
Posted: 11 Apr 2014 07:24 AM PDT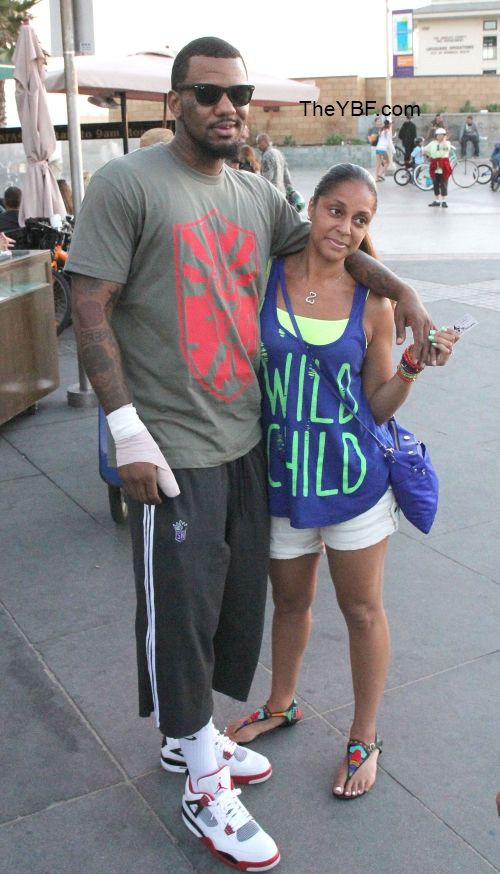 Game and Tiffney Cambridge are no closer to rekindling their engagement. Because Tiffney just took out a restraining order on dude. Deets inside, plus Carl "Cockroach" Payne is headed for divorce!
Things are no better in Jaceyon Taylor's household. Tiffney apparently obtained a restraining order against her on again off again fiancé The Game on April 2nd. And it orders the rapper to stay 100 yards away from her at all times and zero contact.
Not sure how that's working out with them currently in the middle of filming the new season of their reality show, "Married To The Game".
The order stems from last month's alleged domestic dispute where Tiffney claims in a police report that Game hit her in the face repeatedly, broke her nose, and injured her eye socket.
Game denies any of that went down, claiming to have never laid a hand on her. Somebody's clearly lying....
In other news, Carl Payne, who played Cockroach on "The Cosby Show", is headed to divorce court.
He and his wife Melika, who he met the same year he started playing Cole on "Martin", cited irreconcilable differences in the divorce papers filed in L.A. County Superior Court.
Melika wants sole physical custody and joint legal custody of their son...and spousal support. The two were married for 20 years.
Hope he still has those residual tv checks coming in. He's currently starring on BOUNCE TV's new original sitcom "One Love" with Mark Curry and Sheryl Lee Ralph.
Fun Fact: Melika is Bobby Brown's ex girlfriend and the two share son Landon Brown. Carl is Landon's stepfather.
Photos: Wenn
CUSTODY BATTLES: Ludacris LOSES Custody Battle Against Tamika Fuller, Ordered To Cough Up $35,000 + Master P SPEAKS Out On Kidnapping & Wife's Bad Parenting
Posted: 10 Apr 2014 04:49 PM PDT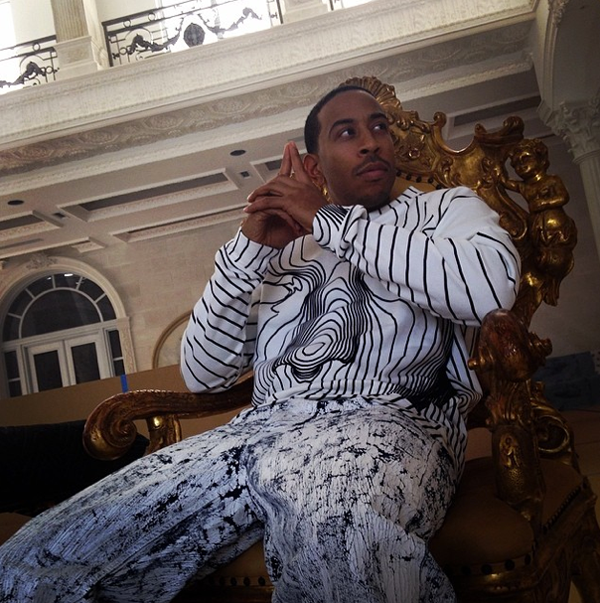 Ludacris was defeated in court recently, after he filed for full physical custody of the baby he had outside of his relationship (with girlfriend Eudoxiee). Plus, Master P is trying to clear his name after reports surfaced about him allegedly "kidnapping" his own kids. Get all the deets inside…
After filing for full physical custody of his "break baby" with Tamika Fuller and claiming he couldn't afford the child support order Tamika filed, a judge has ruled against Ludacris (above on the set of his "Party Girls" video), costing him a total of $35,000!
According to legal documents obtained by RadarOnline, Tamika was granted full physical custody of their 4-month old daughter, Cai Bella, on the grounds that being with her mother is in the best interest of the child. Ludacris also filed a motion to have the mother of his child held in contempt of court, which he also lost.
RadarOnline reported:
"The Petitioner shall pay the Guardian ad Litem's initial retainer of $7,500.00, to be replenished to the full amount when depleted to $1,500.00," the documents read.

"The Guardian ad Litem shall be billed at a rate of $325.00 per hour. The retainer shall be paid directly to the Guardian ad Litem within 14 days of the entry of this order."

"Petitioner shall pay to Respondent's counsel, Thirty Five Thousand Dollars ($35,000.00), in addition to any amounts previously awarded or paid, as an award of temporary attorney's fees and expenses of litigation," the March 20 ruling reads.
During their custody hearing on March 18th, Tamika asked a Georgia judge for the "Party Girls" rapper to pay ALL of her attorney fees. Not only that, he has to pay her the full amount within 10 days from the date of the order. In addition to the $35K he has to hand over, he now has to pay an extra $2,000 after his motion to have Tamika found in contempt was denied.
In the words of Nene Leakes, you never win when you're dirty chile...
And in other celeb custody battles…
In an effort to clear his name, Master P has released videos of him talking to his kids where they admit their father did NOT abduct them, after his estranged wife, Sonya Miller, accused him of kidnapping their children.
Sonya reportedly filed an emergency custody order for Percy Miller (Master P) to return the children to her. Sonya claimed their daughter Tytyana ran away to live with her dad and that P picked up their 13-year-old son Hercy and 9-year-old son Mercy one day after school. Their 14-year old daughter Italy is still living with her mother.

In another attempt to BLAST P, Sonya claimed she had to move in with their eldest son, Lil Romeo and was forced to get public assistance to get by.
In the videos--filmed at Sonya's residence--their daughter Tytyana admitted her mother has smoked marijuana with her and her siblings. And their son Hercy said their mother is a bad influence on them. P even revealed that Sonya allowed their 14-year-old daughter Italy to travel out of town with a boy and his parents for a weekend and Sonya also hosted a party for Italy that involved drugs.
In one video, Master P says,
"Seriously, why is this news? My kids have been living with me for over three months with their mother's approval. Did she forget? Is this a joke? Where is this custody case file? My kids are old enough to speak how they feel, they ask me to come live with me and I'm not going to deny them. I try to do what any good parent would do, protect and provide for my kids and just do what's best for my kids. If she just wants money, she should just say that instead of using the kids. This is embarrassing for me and my family, we've always lived a private life. I've been dealing with this problem with her for over 24 years and I'm not holding it in anymore. I've stayed by her side for many years, hoping that she would grow and change for the better especially for our kids' sake but after two decades; I realize that I can't change her, I can only change myself. It's not healthy for kids to grow up in a home where they can easily access drugs and alcohol. The reason I've moved on is to provide a peace of mind for myself and to provide a stable and healthy environment for my kids. She may be my ex-wife but I will always love and care for her well-being, she is the mother of my kids. I would never turn my kids against their mom, they love her, she just needs help. I'm going to put it in God's hands and pray for her. I don't know whom she's getting bad guidance from but when she's ready, I'll gladly help her get into rehab. Hopefully then, our kids will be more comfortable around her and if they choose to live with her, I'm good with that. For all the people that are buying into the negative gossip, I'm not perfect and I have nothing to prove. My kids are and always have been my priority, I will continue to take care of my kids and I don't need a judge or a lawyer to tell me to. "
The (excluding Italy) kids each gave their reasons as to why they wanted to move in with their dad with reasons including not getting them to school on time, smoking in front of them and being a drunk.
Check it:
Sad…
Photos/Videos: Ludacris' IG/Sean Wright

Taye Diggs Spotted Holding Hands & Leaving The Club With Same Mystery Woman
Posted: 10 Apr 2014 04:14 PM PDT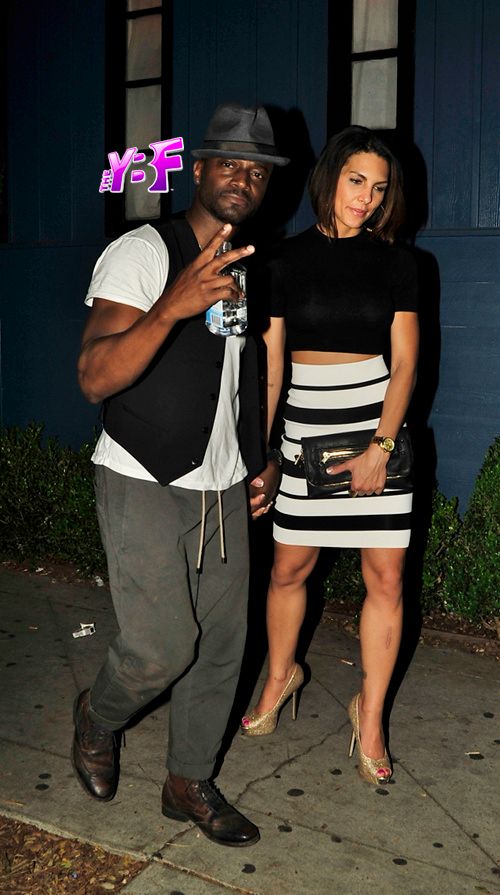 Taye Diggs was spotted leaving Hooray Henry's Nightclub in West Hollywood last night...holding hands with a mystery chick. He damn sure moves fast. Check the pic inside...
The ink isn't even dry on his separation papers yet, and Taye Diggs has already gone public with a new chick.
Taye and his wife, Frozen star Idina Menzel, announced their separation this past December, and within a month, Taye was spotted hitting the clubs and leaving out with a mystery woman. They attempted to act like they weren't together....but we know.
And last night was no different. The Best Man Holiday star was spotted leaving another nightclub with the same woman. This time, the twosome were holding hands and even acknowledged the cameras.
Could this be the cause of Taye & Idina's separation? Time will tell...
Photo: Splash
THEY DID IT AGAIN! Chicago's Urban Prep Academy Sending 100% Of Its GRADUATES To COLLEGE + Kelly Rowland Loves The Kids...Deets On Her TEEN INITIATIVE
Posted: 10 Apr 2014 03:27 PM PDT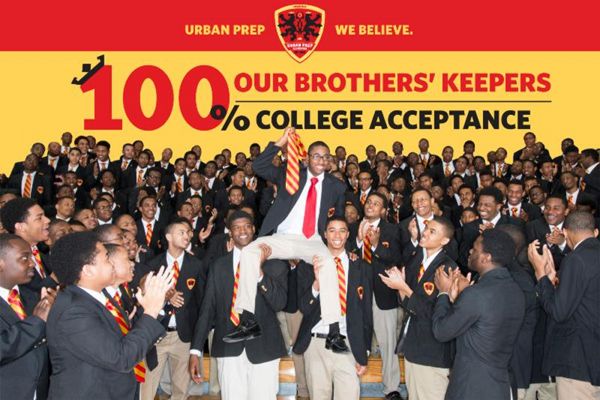 They did it again! For the FIFTH year in a row, Chicago's Urban Prep Academy is sending every single student…yes 100% of their graduating class...off to college. Get the deets and find out how Kelly Rowland is paying it forward inside…
Hopefully stories like this will set a new trend in our nation. We hear/read stories and statistics all the time on how African-American men, especially in cities like Chicago, are dead beats and gangsters who will end up in jail before turning 21. We hear they are uneducated and a slew of other negative comments/statistics.
With young, black men such as Kwasi Enin (who will choose which of the EIGHT Ivy-League schools he will attend) and Akintunde Ahmad (who has been accepted to almost every Ivy-League school in the nation), and thousands of unnamed black teens across the country who are headed to college, what you hear is not necessarily the norm.
The Chicago teens of Urban Prep Academy, specifically, have defied the odds of their environment by excelling academically. It's GREAT to hear more news of young, black men, especially, who are setting the standard.
For the fifth year in a row, Chicago's Urban Prep Academy is proudly announcing that they are sending ALL 240 of their seniors (from their Englewood, West campuses and Bronzeville Campus) to college.
Urban Prep's schools, who operate heavily off donations. are the only all-boys public schools in the state of Illinois. Their mission is to provide a comprehensive, high-quality college preparatory education to young men that results in graduates succeeding in college.
Students from all three campuses, faculty, parents and other special guests, including Chicago Mayor Rahm Emanuel, celebrated the momentous occasion with an assembly on Tuesday, April 8, 2014.
Urban Prep founder Tim King revealed the graduating class, all African-American males, has received over 185 acceptance letters from different schools across the country and have earned over $11 million in scholarships and grants.
Mr. King expressed his excitement saying, "They deserve our attention because they are the young Black men whose hard work and effort; whose dedication, commitment, and focus; who, by being their brothers' keepers, empower me to announce that for the FIFTH consecutive year, 100% of Urban Prep's seniors have been admitted to four-year colleges and universities."
WOW! We applaud these young men for a job extremely well done and encourage them to keep reaching for the stars. The sky is the limit!
And another bit of positivity...
Grammy award winning singer Kelly Rowland and her nude Valentino shoes trekked it to an event for a cause. She's teaming up with fast-food giant Taco Bell for the Taco Bell Foundation for Teens.
In the new initiative to provide resources to deserving young adults, The Taco Bell Foundation for Teens and the Boys & Girls Clubs of America have collaborated with the "Motivation" singer and the Speaker of the House John Boehner (pictured above) to make a significant impact on the lives of more than half a million teens. They plan on enabling teens from across the nation to graduate from high school and prepare them for college, or prepare them for careers.
The foundation's goal is to provide $30 million in grants to the Boys & Girls Club of America (the largest gift in the organization's 108-year history) for resources for students to prepare them for a successful future.
Nice!
Photos: Paul MorigiUrbanPrep.org

UH-OH: Colin Kaepernick Investigated In ALLEGED "Suspicious Incident" Involving A Woman In Miami
Posted: 10 Apr 2014 02:25 PM PDT
Star quarterback Colin Kaepernick has found himself in the middle of an investigation for an alleged "suspicious incident" involving himself, an anonymous woman and two other NFL players. Find out why Miami PD is investigating the NFL baller inside…
San Francisco 49ers quarterback Colin Kaepernick has been training down in Miami during the NFL off-season and it seems he may have gotten himself in a bit of trouble. Sigh.
He's allegedly being investigated for a "suspicious incident" involving a young lady and fellow NFL ballers.
The star quarterback is said to be under investigation, along with his teammate Quinton Patton and former 49er teammate/current Seattle Seahawks wide receiver Ricardo Lockette, after a woman claims she woke up in a hospital bed after a night of drinks and smoking weed with the three men.
According to legal documents obtained by Sporting News, the alleged incident occurred on April 1st at Ricado Lockette's apartment in Miami. The unidentified woman claims she came over to Ricardo's place for a night of fun. She recalls she made drinks for the three NFL players but said that they told her in order her to drink....she needed to "hit a bong containing marijuana."
The woman claims she felt lightheaded and went to a bedroom to lie down, where she claims Colin joined her. According to the woman, she and Colin became intimate, where she ended up undressing, but claims they did not have sex. She also claims they had a previous relationship.
Allegedly, Colin got up, leaving her in the room alone. She said she remembers Ricardo and Quinton peeping in on her (as she laid in the bed naked) and screamed for them to leave…which she claims they did. After that, she says she doesn't remember anything and when she woke up, she was lying in a hospital bed.
As of now, the investigation is still ongoing and no charges have been filed against Colin or the other two NFL players.
People with status and responsibility must learn that perception is everything. Regardless of whether or not they did anything wrong. Even being in a position where an "investigation" such as this takes place and involves you...is a bad place to be.
And with the way the Eagles dropped wide receiver DeShawn Jackson over alleged unproven gang affiliations, does Colin now have to wonder if he's next?
Photos: Colin Kaepernick's IG
OH: Big Sean CLAIMS He Wanted OUT Because Naya Is "Crazed & Jealous" (But He's Still Hanging With Her Brother)
Posted: 10 Apr 2014 01:28 PM PDT
While Naya Rivera is busy gushing about how their seemingly perfect relationship (what they wanted us to believe) blossomed via an awkward new interview...Big Sean is blasting his now ex-fiancée for being an obsessive crazy jealous person!
Deets inside...
Rapper Big Sean seems to be taking a pre-emptive strike against Naya Rivera after their now public break up. Reportedly, it was couple's therapy that made him realize this relationship just wasn't for him. Wonder if they started couple's therapy before or after he wrote bars on a few songs about how amazingly perfect Naya is.
Something changed...because Big Sean is now supposedly saying couples therapy revealed that Naya's "way too controlling".
According to TMZ:
Our sources say Naya demanded to know where he was at all times and would threaten him by saying things like, "If you don't listen to what I say, I'll ruin your career."

We're told she was suspicious whenever Sean was with other women and would work herself up into jealous rages ... once breaking an expensive lamp during a rampage in his home.

We're also told Big Sean and Naya went to couples counseling -- which apparently worked because Sean realized how much he HATED being a couple ... and decided to get the hell out.
Oh? Well, when you (allegedly) cheat on your first chick to get with the next chick....that next chick MAY just be a bit paranoid. As she should be. But, why be in a paranoid based marriage? We guess Big Sean asked himself that question...and then got ghost!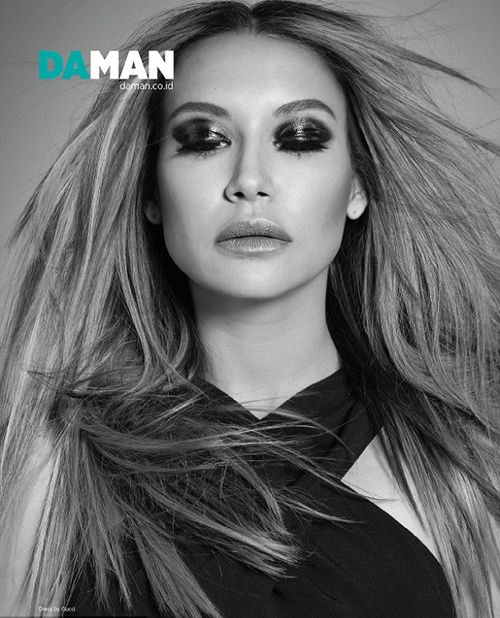 Awkwardly, a new interview of Naya's with DAMAN magazine just came out along with a full spread. It was obviously done before their breakup that was announced yesterday, but she's gushing abut how she and Sean got together thanks to Twitter:
'I actually started following him on Twitter and I mentioned that I was a big fan.

'Then some fans started to alert him that I was following him. His assistant happens to be a big fan of Glee, knows my character on the show and knows who I am. So Big Sean became curious and started to ask who I was.'

'A date was set, and it all just happened from there.'

'The way our relationship blossomed is like any other relationship. We went on a date and we enjoyed each other's company; we went on another and another, and it developed like any normal relationship.'
Interestingly, Sean hit up the L.A. Dodgers game the other night with Naya's brother, NFL baller Mychal Rivera (back left):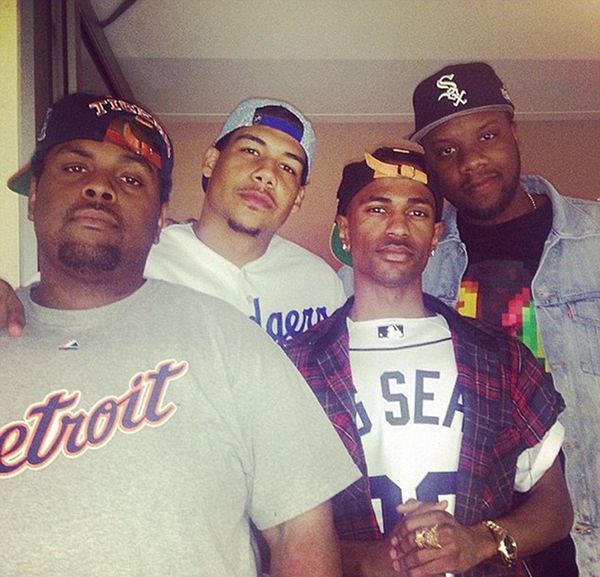 Isn't that the worst when family members stay cool with your ex? Sheesh.
Photos: DAMAN/Big Sean's IG, Getty
AMAZING KIDS: Pharrell Williams Gets "HAPPY" With Detroit Kids Choir On 'Ellen' + Oakland Teen With 5.0 GPA Receives SEVERAL Ivy League Acceptances
Posted: 10 Apr 2014 12:16 PM PDT
Pharrell Williams surprises a Detroit kids choir on "The Ellen Degeneres Show," plus an Oakland teen has plenty to be "Happy" about after he's been accepted to almost every ivy league school in the U.S. Read the deets inside…
A Detroit kids choir from the Detroit Academy of Arts and Sciences created their own rendition of Pharrell Williams' "Happy" and the video went viral, catching the attention of TV host Ellen Degeneres.
If you watch Ellen, you know she loves bringing kids on her show who have garnered a lot attention from viral videos and for her latest kids segment, she surprised the Detroit kids with an unexpected appearance from Pharrell!
The kids were stunned as Ellen's camera crew walked into their music class as they thought they were being interviewed for a documentary. The kids went completely NUTS when they saw Pharrell on the monitor. So cute.
The underprivileged kids had been trying to raise money for a trip to perform at Disney World, so Ellen also surprised the choir with a $50,000 check from Shutter Fly to help make that happen.
And of course, the children performed the Despicable Me 2 track for Skateboard P.
Check it:
Love it!
And speaking of P, he will be appearing on "Oprah Prime" this Sunday on OWN. And he discussing how he and wife Helen settled on their son's name Rocket:
Because we -- in the same way that the Indians name their children like behind a force or an animal or an element, we named him after a manmade machine that was meant to go up. Meant to ascend. And metaphorically, it was because of, you know, Stevie Wonder's "Rocket Love," Elton John's "Rocket Man" and Herbie Hancock's "Rocket." All of my favorite musicians. And his middle name is not Man. It's Ayer after Roy Ayers. Check out the clip below:
And in other amazing kid news…
Despite some judging this young man on outside appearances, he's actually an amazing upstanding well-rounded kid...with tons of smarts to boot. 17-year-old Akintunde Ahmad has been accepted to just about every single ivy league school there is, but he still says he's just an "ordinary street dude."
"Like, my whole life, people have been telling me to stay on this path and everything will fall, the cards will fall like you want them to, so," Ahmad said.
Proving that black teens, like Kwasi Enin, academically excelling isn't a one-in-a-million situation, Akintunde is a product of Oakland public schools graduating with a 5.0 GPA and scored a whoppig 2100 on his SATs. He has been accepted to Ivy League schools across the country such as Yale, Brown and Columbia, as well as Northwestern, USC, UCLA and many more.
The Oakland teen said very few people believe him when he tells them his GPA and his incredible SAT score since he's judged and overlooked due to his appearance. He keeps a picture of his grades and SAT scores on his phone for the non-believers.
Akintunde is not only academically smart, but he also is an exceptional baseball player.
So what school has the Oakland teen decided on and what will he study in college? He says he will attend either Yale or Brown, but he's currently undecided on what to major in, debating between pre-med or pre-law.
Now THESE are the types of decisions our kids should be making.
Check out this young man below:
Work!
Photos: Ellen Degeneres Show/ABC
French Montana & Khloe K. Caught On Video Hugging & Snuggling In The Studio
Posted: 10 Apr 2014 11:41 AM PDT
So...French Montana and Khloe Kardashian may not be admitting to them being in some type of relationship....but their actions speak otherwise. New video footage of the twosome intimately hugged up and dancing has surfaced.
Check it inside...
We doubt French Montana's wife's warnings mean anything to Khloe Kardashian.
In a new video posted by Star magazine, rapper French Montana is seen getting a hug from behind...from rumored new boo Khloe Kardashian. It all went down at a wild party at a recording studio on March 26th where French was busy working with new artist Anjalie.
And it wasn't the type of hug a girl gives a guy as friends. It was that from-behind hug girls do when they want to hold on and snuggle up to their man. We're not saying they're officially a couple, but the proof is in the pudding that they're more than just "Hey, what's up" style friends.
Check it below: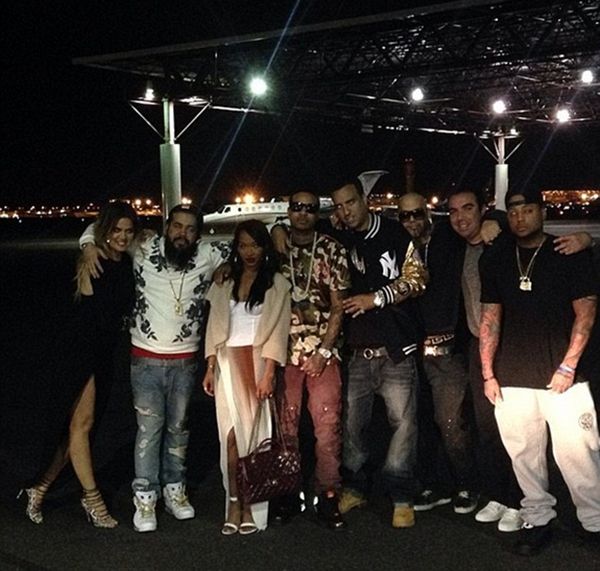 Khloe's posted an IG pic from a later night where both of their friends were with them in L.A. And they all boarded a private jet bound for Phoenix, Arizona, where French was promoting the Pink Rhino Cabaret (the strip club-like place French and Khloe were spotted walking into). Oh the life...
Photos/Video: Star/Khloe's IG