---
Rihanna & Drake BOO'D UP At Melissa's SUPPERCLUB Birthday Party + Christina Milian, Jas Prince, Ray-J & More Party It Up
Posted: 09 Apr 2014 09:46 AM PDT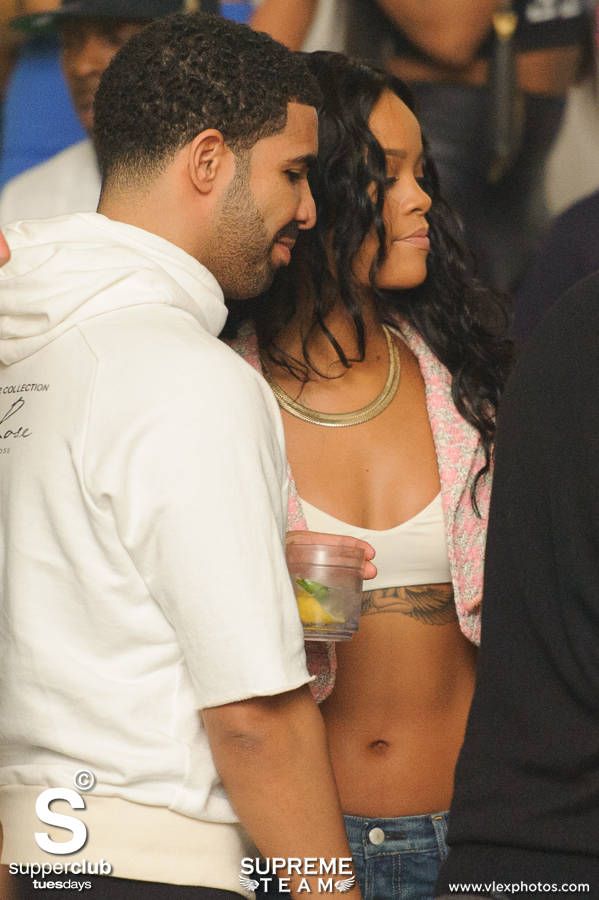 Rihanna's bestie Melissa Forde (or M Dollas as she calls herself), got the celebrity treatment herself as she hosted her celeb filled birthday party at Supperclub. Rihanna & Drake were all boo'd up inside, and Christina Milian, J.Cole and more came out to party. Check the pics inside...
Rocking a pink tweed cropped jacket and pearl trimmed jeans, Rihanna was spotted making her way into Supperclub for her bestie's birthday party last night in L.A. And, of course, she and her loverboy Drake attempted to arrive separately: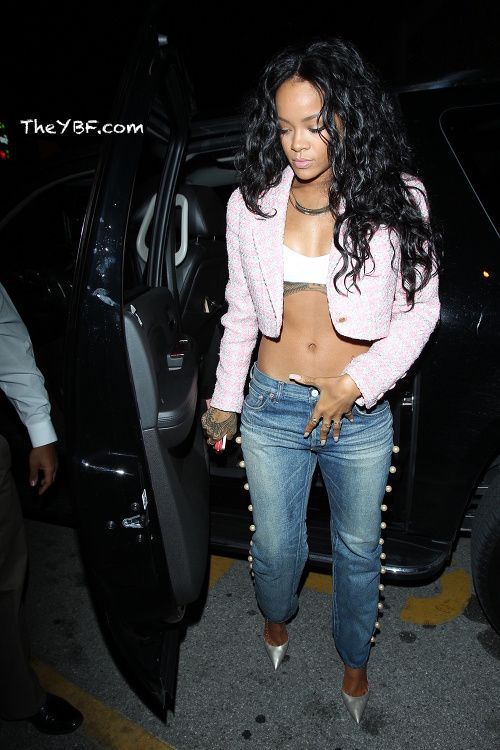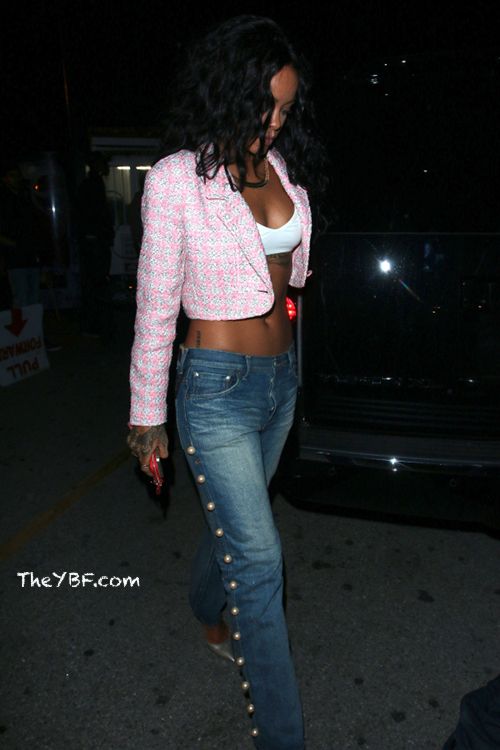 Those abs!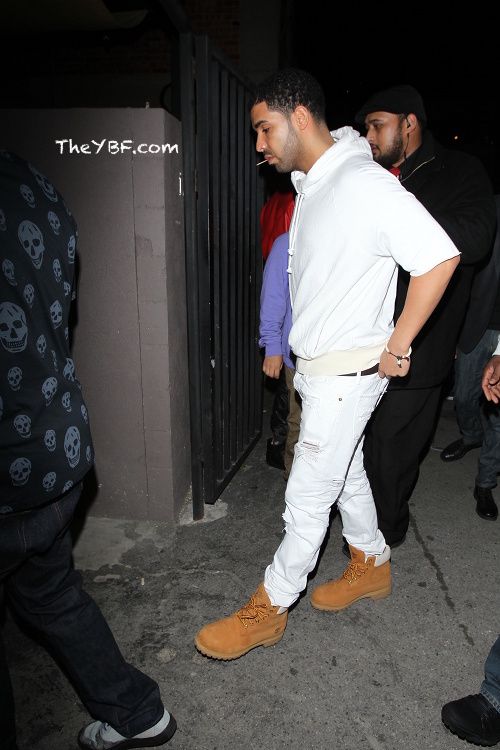 But once inside, the twosome got all public with it being hugged up and danced close all night sipping cocktails and partying hard.
Melissa chilled out with friends.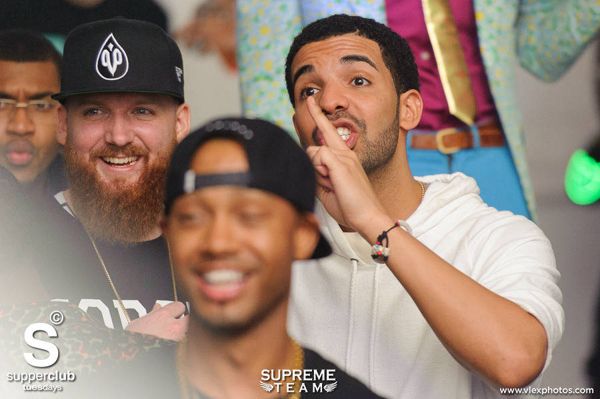 Hey Terrence J!
Christina Milian kept it cute while arriving with her fiance Jas Prince: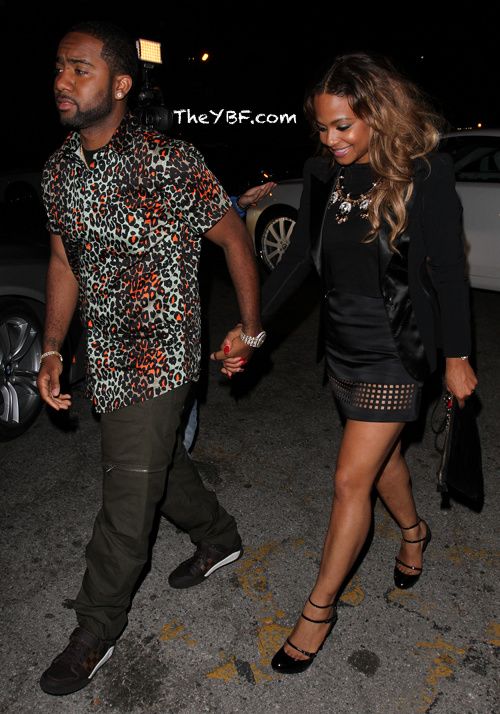 The twosome are gearing up for their upcoming E! reality show.
Ray J showed up, of course, ready to party.
And so did J.Cole....with company.
Also in attendance: Future, Mike Will Made It, and Busta Rhymes:
Fun times.
Please credit: VLEX PHOTOS for SIX 27 BRANDING
AND THE NOMINEES ARE: Pharrell Williams, Beyonce, Rihanna, Robin Thicke & More Are 2014 Billboard Music Awards Finalists
Posted: 09 Apr 2014 08:58 AM PDT
The finalist for the 2014 Billboard Music Awards have been announced and a few of our faves including Beyonce, Jay Z, Rihanna, Drake and more made the cut. Find out which celeb has the most nominations for this year's Billboard Awards inside...
The nominees are in and Beyonce, Jay Z, Rihanna, Drake, J. Cole, Bruno Mars, Eminem and R. Kelly are all up for Billboard Music awards.
Pharrell and Beyonce lead the pack with a total of 7 nominations each including Top R&B Artist, Top Radio Song, Top R&B Album, Top Hot 100 Song and more.
Robin Thicke, T.I. and Pharell nabbed 5 nominations for their infectious "Blurred Lines" which took over the airwaves since its release. Eminem nabbed 6 nominations, while lovers Rihanna and Drake, along with T.I., grabbed 5 nominations. Speaking of Rihanna, she has been a finalist in Billboard Music Award categories 49 times in her career. Go Ri!
Jay Z comes in with 4 nominations; Bruno Mars landed 3 nominations while J. Cole was nominated for Top Rap Album and R. Kelly was nominated for Top R&B Album.
Kelly Rowland will be presenting the 2014 Milestone Award, which she's super excited about saying:
"I'm really looking forward to presenting the Chevrolet Milestone Award at this year's Billboard Music Awards. I love being able to recognize fellow artists for their accomplishments and having the opportunity to present with a fan will make the evening that much more exciting!" said Kelly Rowland.
This year's Billboard Music Awards will be at the MGM Grand Garden Arena in Las Vegas and will air on Sunday, May 18th at 8:00pm/EST on ABC.
Who are you hoping will perform at this year's Billboard Awards? We've got our picks....
Photos: FameFlynet/Getty
SPREADS: 'Yonce Lets It ALL Hang Out In Full OUT Spread + "SNL" Star Sasheer Zamata Gets Comical In Lingerie
Posted: 09 Apr 2014 08:26 AM PDT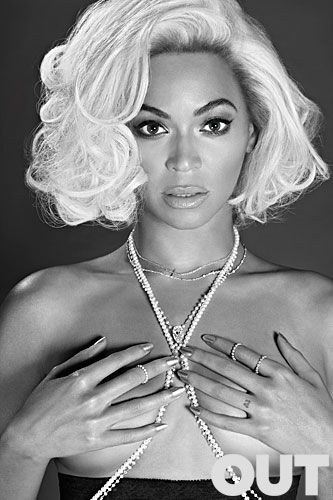 Beyonce Knowles is in full on 'Yonce mode for her full spread in OUT magazine. You've seen the sexy cover, now check out the even sexier spread inside. Plus, "SNL" star Sasheer Zamata is also sexing it up in lingerie....kinda. Check it inside...
She's boss enough to land a major cover and spread without even needing to do a face-to-face interview (just an email exchange). Chick was majorly busy with her Mrs. Carter Show World Tour, being a mom and likely doing a million other things we'll find out about soon. So OUT writer Aaron Hicklin explained that getting access into Yonce's inner sanctum was a tradeoff one can't turn down:
If you want to get to know someone, it helps to get to know the people around them. In Beyoncé's case, there was no alternative. The opportunity to write about her materialized with an unusual condition: There would be no face-to-face interview. The musician was in the midst of an intense international tour, dramatically overhauled to accommodate 10 songs from her new, eponymous album. And although I would get to fly to Glasgow to see her perform the revised set, I would have to settle for an email exchange for this story. But—and this was the silver lining—I would have unprecedented access to Parkwood Entertainment, the tight-knit, furiously devoted team at the heart of Brand Beyoncé. This was more than a concession—this was being invited into Bey's inner sanctum.
Some inside deets on her perfectionist attitude she's become known for:
Although it is technically the 110th date of her eye-popping extravaganza the Mrs. Carter Show, it is only the second night of her dramatically revamped lineup. A few nights earlier she pulled an all-nighter to rehearse her new material before dashing to London for a last-minute appearance at the Brit Awards, only to dash back—still in her ball gown—to finish choreographing the show. This was no minor tweak—10 new songs were added to the lineup; others were abbreviated or turned into medleys to make room. Most artists would spend months working out the kinks. Beyoncé took three days. "She's completely relentless in her pursuit of perfectionism," her creative director, Todd Tourso, tells me as we sit backstage. "It sounds cheesy, but that's why I'm willing to work so hard for her. When you have this type of leadership and muse and mentor, I think the sky's the limit."
And why a few songs on Beyonce--The Visual Album sound perfectly imperfect:
Out: On certain songs, like "XO," your voice is a lot more raw (and beautiful) than fans are used to. Was it a conscious decision to be less polished?

Beyoncé: When I recorded "XO" I was sick with a bad sinus infection. I recorded it in a few minutes just as a demo and decided to keep the vocals. I lived with most of the songs for a year and never rerecorded the demo vocals. I really loved the imperfections, so I kept the original demos. I spent the time I'd normally spend on backgrounds and vocal production on getting the music perfect. There were days I spent solely on getting the perfect mix of sounds for the snare alone. Discipline, patience, control, truth, risk, and effortlessness were all things I thought about while I was putting this album together.
Check out the rest of her pics below: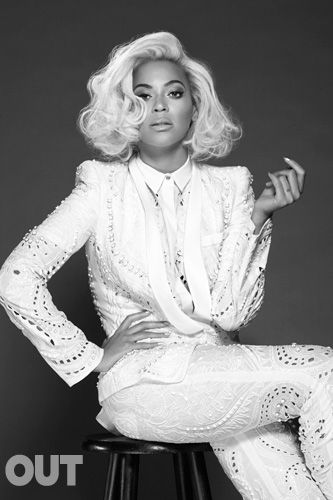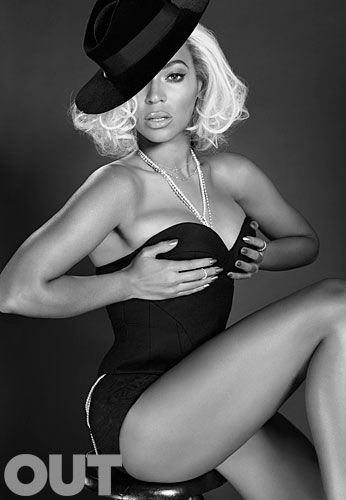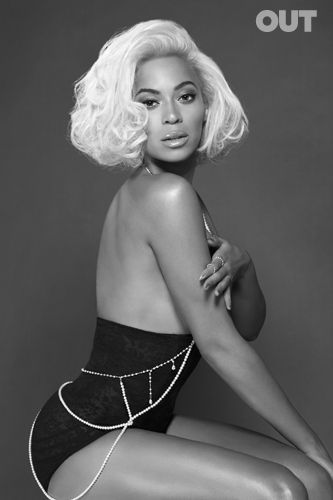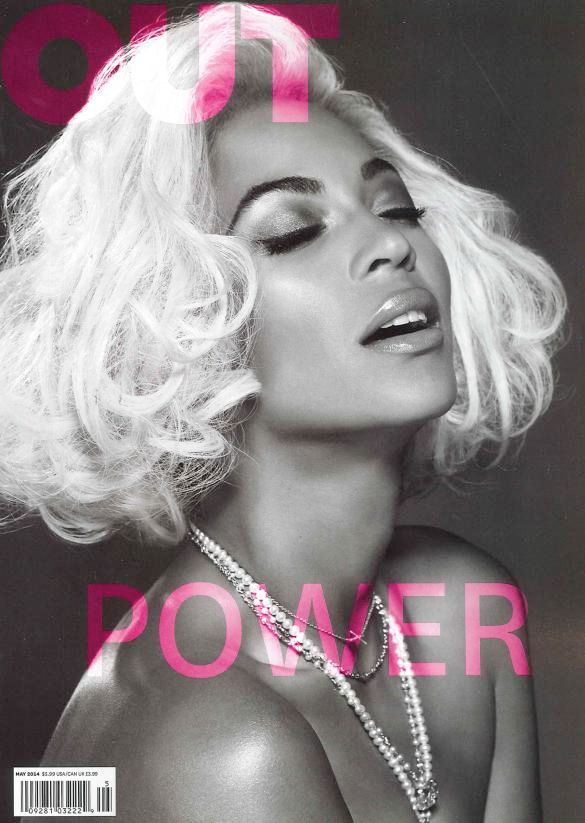 Check out the full story where key #TeamBeyonce and Parkwood Entertainmentmembers get some speaking time: Cousin Angie Beyince, who is Vice President of Operations, Visual Director Ed Burke, stylist Ty Hunter, publicist Yvette Noel-Schure and more.
The newest "SNL" cast member to be added tot he roster, Sasheer Zamata, is poking fun at all the sexy shoots out there. In a new Cosmopolitan magazine feature, she and her female cast members are posing it up--cheekily--in lingerie: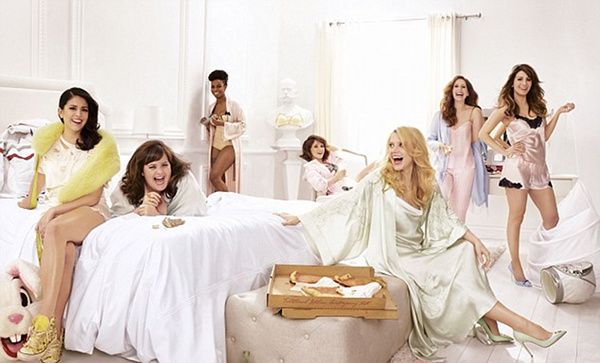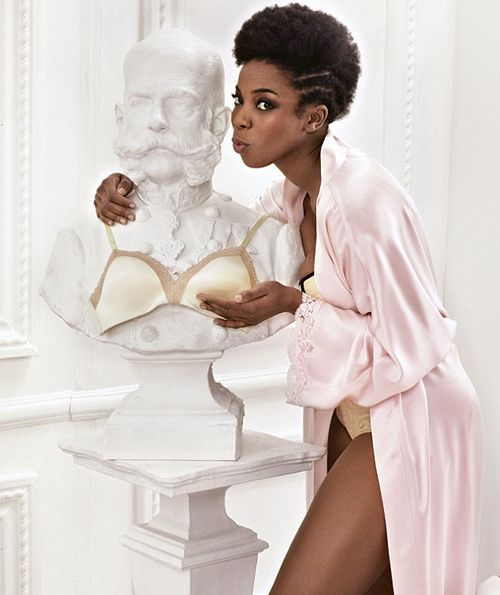 Sasheer told the mag about her making waves as the first black female "SNL" cast member in five years:
'I'm just glad to be hired, honestly. I do love being black - it is a part of my life and identity, but as far as work goes, I'm a comedian. They hired me because I'm a comedian.'

'I don't. I also don't know if black women see me and are like, "She's representing all of us." All I'm doing is telling jokes. I'm not making legal decisions for them. I do want little girls to watch the show and think they could do what I'm doing. That'd be awesome.'
Congrats again to Sasheer!
Photos: OUT/Cosmopolitan
Lupita Nyong'o Goes GLAM For May 2014 MARIE CLAIRE (Double) Cover, Celebrates In Curls & Couture
Posted: 09 Apr 2014 07:27 AM PDT
Lupita Nyong'o has landed herself on yet another top notch magazine cover. Or double cover in her case. She's Marie Claire's May 2014 cover girl...and she's slaying all over the cover and the celebratory event. Check the pics inside....
Well hello gorgeous! Lancôme's newest face Lupita Nyong'o flossed with a new curly 'do at Marie Claire's Fresh Faces event last night. At the Soho House in West Hollywood, Lupita was revealed as one of the three cover girls of the mag's May 2014 issue. And she came dressed to impressed at the fab fashion bash.
Ms. Nyong'o gave us vintage 50's tease in a white silk floral Giambattista Valli Couture dress and metallic Louboutin pumps. And since she never disappoints in the bold makeup department, she topped off her look with bright pink lipstick and Graziela Gems Blue Flower earrings to match her dress.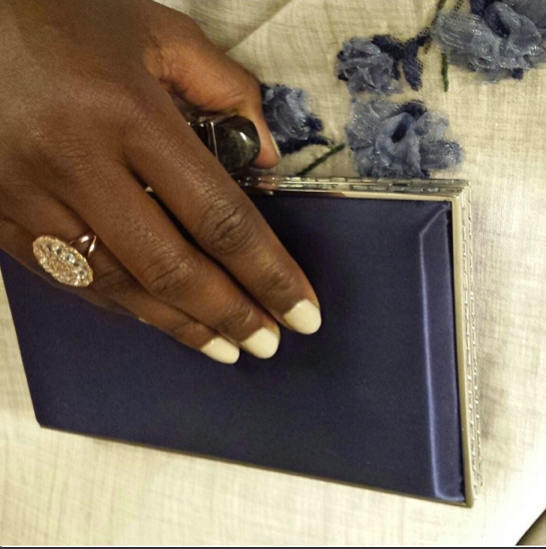 She also showed off her Diana Broussard jewelry and chic clutch for the evening.
Gorgeous look.
And that cover she's holding isn't the only one available: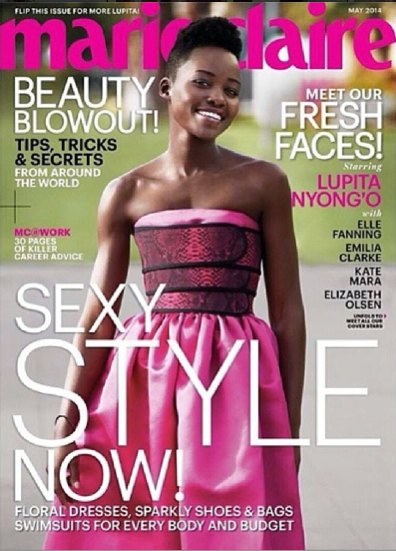 Lupita's gracing a second May 2014 Marie Claire cover looking even more fabulous, if that's even possible.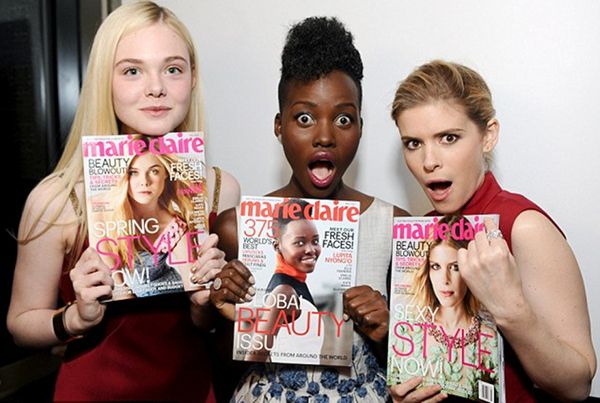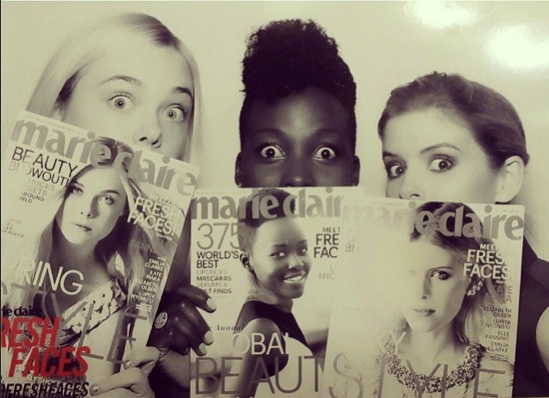 The other two fresh faced chicks to nab the May cover are actresses Elle Fanning, in a Versace slipdress, and "House of Cards" star Kate Mara, in a tuxedo-style Christian Dior dress.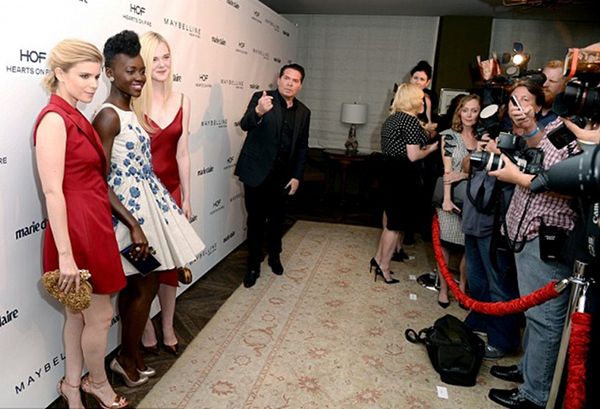 All three style stars have their own solo versions, but Oscar winner Lupita stands out as usual as the only brown beauty on the cover....and the only one not wearing red to the big bash.
Loves it.
Photos: Getty for Marie Claire/Lupita's IG
Nicki Minaj CLAPS BACK At Malcom X's Daughter On "Chi-Raq" Track ft. Lil Herb + Nicki's Mom Carol Maraj Releases FULL "God's Been Good" Track
Posted: 08 Apr 2014 05:30 PM PDT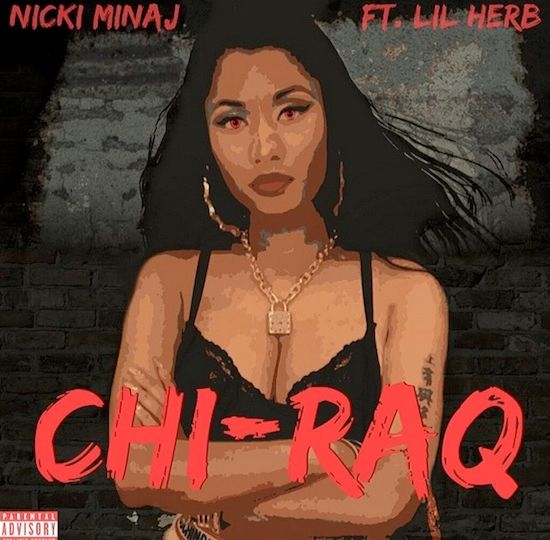 After all the controversy surrounding Nicki Minaj's use of Malcom X's iconic photo as the cover art for "Lookin A** N*gga," Nicki has responded (again) on a recently released track "Chi-Raq" featuring rapper Lil Herb. Plus, Nicki's mom Carol Maraj releases the full track for her gospel song "God's Been Good." Check out the new tracks inside...
We told you Nicki Minaj released a statement apologizing for the unofficial use of Malcom X's photo for the "Lookin' A** N*gga" track saying:
What seems to be the issue now? Do you have a problem with me referring to the people Malcolm X was ready to pull his gun out on as Lookin Ass Niggaz? Well, I apologize. That was never the official artwork nor is this an official single. This is a conversation. Not a single. I am in the video shooting at Lookin Ass Niggaz and there happened to be an iconic photo of Malcolm X ready to do the same thing for what he believed in!!!!
Now Nicki is addressing the controversy again on the Vinylz, Boi-1da and Allen Ritter produced track rapping,
"Malcolm X's daughter came at me / Lookin ass ni**as ain't happy/rolled out with some Latin Kings and some eses in them plain khaki's"
And the YMCMB First Lady also hinted at releasing new music every week until her upcoming album The Pink Print is released:
"I always got a trick up my sleeve. I might give you a new trick every week until this album drop. I don't know. I figured they want some more, I'm gone give you some more."
Listen below:
The Pink Print is expected to drop later this year.
And in other new music….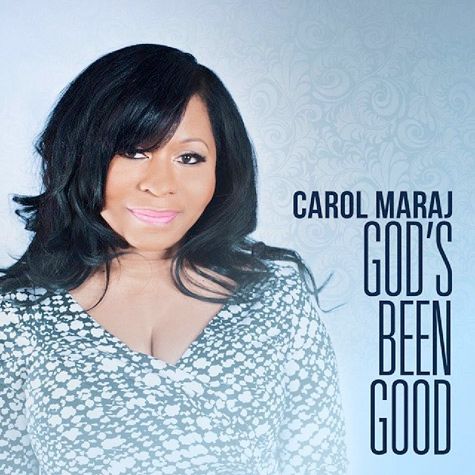 Nicki Minaj's mother, Carol Maraj, just released the full track of her gospel song "God's Been Good." Carol released a snippet of the song last month and now she has released the single in it's entirety along with the cover art (above).
Carol sings praises to God after conquering cancer over an up-tempo beat singing, "God's been good and always been good say yea"
No word on if she will be releasing a full gospel album but the song is available on iTunes to download.
Listen below:
We hope Carol doesn't decide to feature Nicki on any of her gospel-laced tracks. Not sure how that might turn out. They are indeed twinsies though...
"Blood, Sweat & Heels" & "Fashion Queens" RETURN For NEW Seasons + 50 Cent's "Power" Series Debut & Deets On His Headphones Lawsuit
Posted: 08 Apr 2014 04:56 PM PDT
Bravo TV has announced the return of two reality TV shows "Blood, Sweat and Heels for a second season and "Fashion Queens" return for their third season. Plus, 50 Cent's new STARZ series as an official debut date and we have deets on his headphones lawsuit when you go inside…
The first season of "Blood, Sweat and Heels" followed author Demetria Lucas, "video vixen" turned realtor Melyssa Ford, real estate partner Brie Bythewood, modeling agency owner Mica Hughes, affordable-style expert Daisy Lewellyn, and style and pop culture journalist Geneva S. Thomas as they conquered being successful in New York City. Bravo has renewed the show for a brand new second season.
Not sure which of the ladies will be returning officially, but Demetria Lucas announced she's not too sure if she'll be on the roster for the 2nd season (whether it's her choice or theirs). In a Facebook status she said, "#bloodsweatheels renewed for a new season. Announcement came this AM. No clue if I'll return. Congrats to my girls (I hope.) @themelyssaford + @genevasthomas + @briebythewood #300liketheromans"
Demetria has publicly written about the public bashing she's had to endure since appearing on the show. Either way, we'll be watching ....

And another show on Bravo just got the green light….
"Fashion Queens" is back for it's third season featuring two of Atlanta's socialites, celebrity hairstylists Derek J and Miss Lawrence, and New York's fashion socialite Bevy Smith. The three will bring back their colorful commentary on any and everything related to fashion for their third season.
BONUS:
After the release of the official trailer, 50 Cent's highly anticipated STARZ crime-drama series will debut on Saturday, June 7th at 9pm/EST which will also accompany the release of 50 Cent's new music video for "Big Rich Town." 50's new track will serve as the show's main title theme and it was created specifically for the show.

Speaking of 50…he has been ordered to pay $16 million in a dispute against a manufactoring company that was suppose to manufacture 50's new headphones.
According to the Miami Herald, 50 was found guilty of stealing design secrets from Bradenton manufacturer Sleek Audio to make his own headphone line, Street by 50 and Synch by 50. He owes $11.6 million in damages for misappropriation of trade secrets plus an additional $4.4 million in legal fees and expenses. The amount was kept a secret in unsealed court documents until now.
Photos: Bravo

ANOTHER HAIR COLLECTION: Toya Wright, Karrueche, Quincy & More Celebrate Sheneka Adams' Hair Line
Posted: 08 Apr 2014 04:22 PM PDT
Looks like we'll NEVER run low on weave supply, because every other day a new hair line pops up. Check out Toya Wright, Karrueche and more celebrating with their friend Sheneka Adams inside....
Last night in L.A., ATL took over STK Hollywood as model/video vixen Sheneka Adams launched her S.Adams Collection of "100% virgin hair". Her friends from back home in Atlanta were all there to celebrate: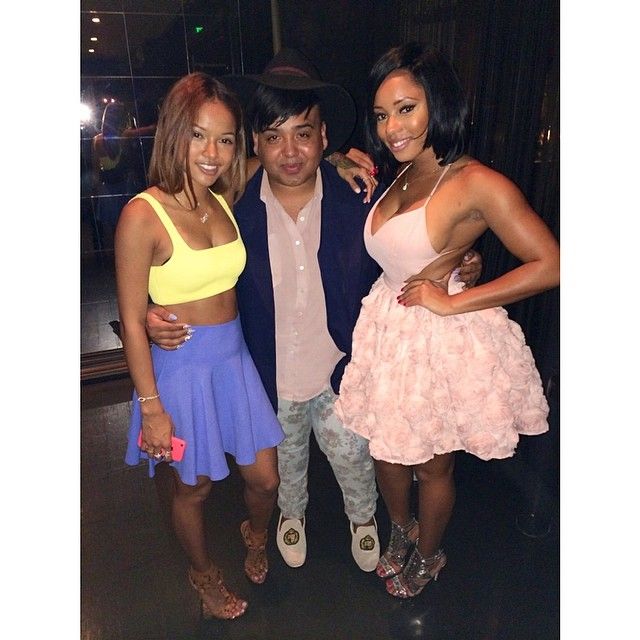 Toya Wright and Karrueche stopped by to celebrate with their girl, who rocked a pink girly dress by Nasty Gal for the PYNK magazine sponsored event.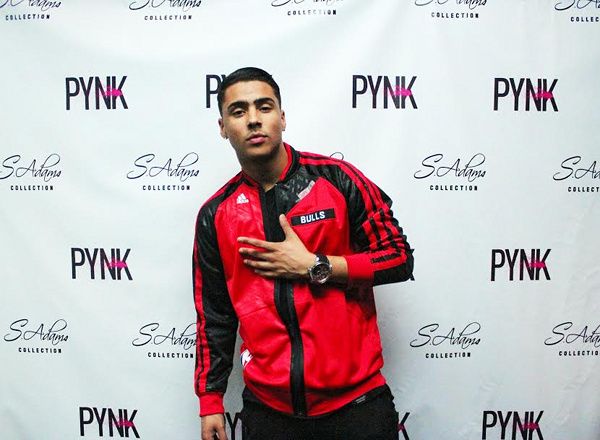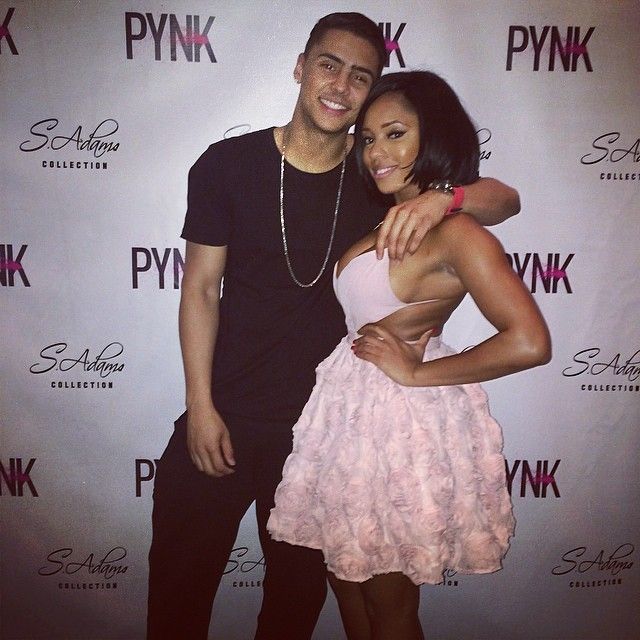 Quincy Brown was there looking cute.
And her and Kae's bestie JRyan Lacour was there to party too. So if you want a cute bob like Sheneka herself, but don't want to cut your real hair, Sheneka says S.Adams Hair ships worldwide.
Photos by Marquis Wooten / Sheneka's IG

FRESH FACE: Model & HOT Computer Programmer Lyndsey Scott Rocks ASOS Magazine
Posted: 08 Apr 2014 03:46 PM PDT
There's a stigma that models aren't that bright,,,but Lyndsey Scott proves models can be beautiful AND smart. Like, super smart. Catch the details and meet this fresh-faced beauty as she graces the brand new cover of ASOS magazine inside…
Beauty PLUS Brains! Victoria Secret model and computer programmer Lyndsey Scott graces the cover of trendy clothing website ASOS' 2014 May issue, where she dishes on balancing being a professional model and a computer programmer.
Proved to be a beauty and a "geek," Lyndsey created a new cell phone app called iPort, for models as they travel to several go-sees. The app allows the model to be organized with all of her (or his) cards, vouchers and portfolios.
For the ASOS spread, shot by Ben Sulivan, Lyndsey posed in an array of pastel colors with subtle prints and adorable skirts.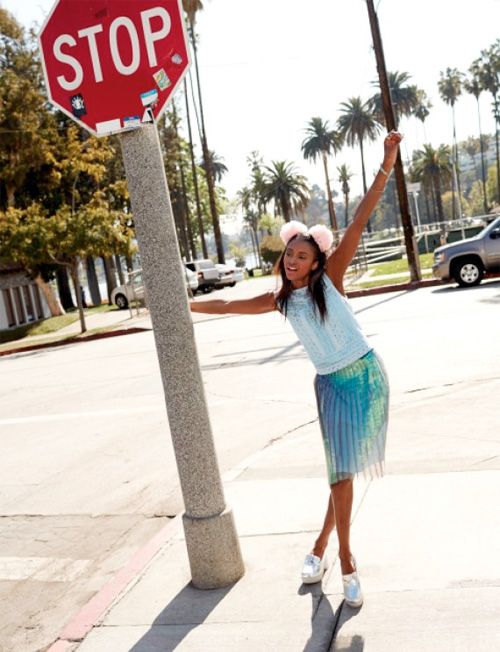 The fresh-faced model is no newbie in the fashion industry game, hitting runaways for designers such as Prada and Louis Vuitton.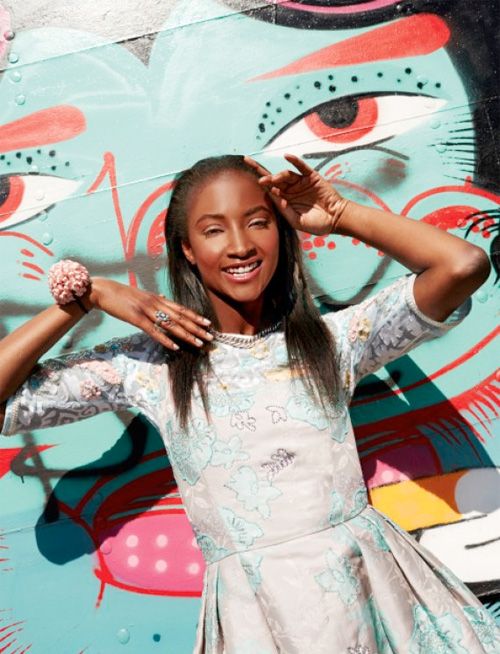 Lyndsey dished to ASOS on the difference between being a model and a coder:
"I have trouble endorsing modelling as a career… I love it so much but you basically have to be a genetic freak in order to do it and most people aren't. Some of the most beautiful girls I've ever seen in my life don't get lucky. It's the sort of career where you have absolutely no control, whereas you have complete control with programming, which I really appreciate it."
She also talked about how she feels when someone refers to her as a geek or nerd:
"I'm fine with being called a geek or a nerd if that means I'm smart," she begins, "but there is a negative connotation to that sort of word and there's an assumption about who you are as a person if you like technology. Perhaps if there wasn't, we'd get more women interested."
And about working with IT Girl Lupita Nyong'o:
"I did a play with Lupita Nyong'o at college. She's so great, it's kind of funny seeing her in all these magazines! She's such a nice girl and really cool."
Nice!
Check out the cute video of Lyndsey explaining her iPort app below:
We love her!
Photos: ASOS
Producer To Porsha Williams -- You STOLE My Song...And You Sounded Like Crap!
Posted: 08 Apr 2014 02:29 PM PDT
A producer is accusing "RHOA" star Porsha Williams of stealing his song. And there was no shortage of shade thrown when it comes to how she sounded ON the song.
Deets inside....
On this past Sunday's episode of "Real Housewives of Atlanta," we heard Porsha attempting to record a song called "Perfectly Worthless." And if you weren't feeling that voice of hers, just know that the producer of the track, Pierre Medor, wasn't either.
In fact, he's claiming he wrote and produced the song in its entirety for Porsha on a trial basis...but decided to pass it to someone else because she did it NO justice. And he's alleging that Porsha STOLE the song for television.
Pierre's rep tells TheYBF.com:
In the business more than one artist will record the same song hoping for the right outcome, as was the case with Perfectly Worthless. Porsha Stewart wanted a song, Pierre Medor wrote and produced this song in its entirety. Not having any previous point of reference for Porsha, we initially recorded the song for the purpose of determining her vocal abilities and how they would fit with this particular song; it was quickly determined that this song wasn't the best match for her, so we chose not to sell her the song and notified her management of our decision.
We're told the recent airing of 'Perfectly Worthless' indeed "came as a complete surprise" to the producer. And Pierre has already started the appropriate legal procedures. The rep continued with the not so subtle shade:
"Perfectly Worthless" is a great song and she loves it…we get that. But just like every body doesn't look good in spandex, every voice doesn't fit every song. It's just unfortunate that Porsha has chosen to create another delusional marriage with this song by airing it and claiming to have taken part in its creation.
Well...
As for who Pierre sold the song to....none other than "R&B Divas" star Syleena Johnson. And to throw even more dirt on the pile of shade, Pierre's rep said about Syleena's version, "This is what the song Perfectly Worthless should sound like!"
Bloop. Check out Syleena's version of "Perfectly Worthless" below, which is scheduled to appear on her forthcoming album...
*UPDATE* Producer Pierre admits to appearing n this past Sunday's episode while Porsha rehearsed the song in the studio. But we're told he agreed to Bravo's filming before he told Porsha she could not have the song. But the footage was edited and aired anyway.
Photo: Porsha's IG
SPEAK ON IT: Monica Describes Going Into MOMMY-MODE After Teacher SNATCHED Up Her Son Rocko
Posted: 08 Apr 2014 02:00 PM PDT
Fab mother-of-three Monica described how she went into full "mommy-mode" after a teacher wrongfully disciplined her son Rocko. Find out how Monica handled the situation and speak on whether you agree or disagree with how she handled it inside…
Being a good mother is an essential part in raising well-mannered, productive citizens, many would agree. And from what we can see, singer Monica is doing a fantastic job in doing just that.
Recently, the real basketball wife served as a panel guest for the Box Tops for Education Town Hall event, which took place last week at the Georgia Aquarium (the same place Monica & LaLa took their kiddies recently for some fun).
During the talk, Monica spoke candidly about an incident that occurred with her 8-year-old son Rocko and his foreign language teacher. Apparently, Rocko's teacher snatched up Rocko by his collar after she felt he wasn't sitting in the proper learning position. Rocko told his mother what the teacher did to him during class and she described how she reacted to the situation:
"If you tell him to do something and he has not done it then that's a different thing. Then the children in the classroom begin to share these stories of her pinching, pushing, squeezing hands until you get answers correct. She don't belong 'round mine.

If you're properly involved you can assess these situations and properly handle them because I took a minute…I did not leave my home immediately because I knew that my immediate reaction was one I did not want my children to see, so I had to check me first. And that takes a lot. The new me is a better me. The old me, I don't know if I could have checked her before she left. I was able to have a conversation with the principal, with her daughter [who is also their language teacher] and have a conversation that said we should talk with these children and her [foreign language teacher] and assess the situation. And that's sometimes what you may have to do but that's only when you're properly involved. Most parents jump in only when they think something is wrong. I was able to make a good decision and handle it properly because I'm always involved."

Check out Monica explaining the incident below on a panel alongside T.J. Holmes and more:
Discipline in schools is a constant hot topic. After hearing how Monica handled the situation with Rocko's teacher, do you agree? How would you have handled the situation after hearing a teacher put their hands on YOUR child?
SPEAK ON IT!
The Ranodmness:
1. Al Sharpton has responded to Mob rat accusations by the NY Post. He said he HAD to cooperate with the Feds decades ago...because his life was being threatened! STORY
TV FAB: Kandi & Todd's Wedding Spinoff Show Details + "Single Ladies" REVIVED At Centric + "Sisterhood of Hip Hop" & "Fix My Choir" Coming To OXYGEN Network
Posted: 08 Apr 2014 01:07 PM PDT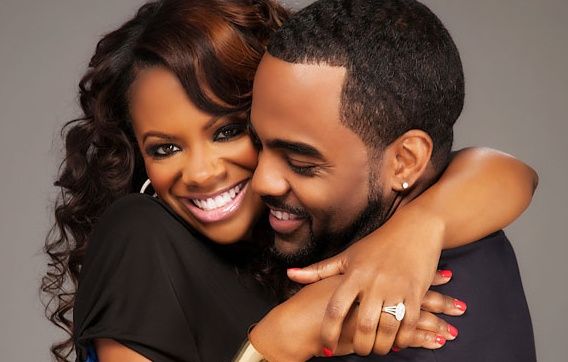 The Oxygen & Bravo Networks have announced their new line-up of shows. On deck: Plenty of new shows including a look inside Kandi Burruss' recent wedding, "Sisters of Hip Hop," featuring raptress Diamond AND "Fix My Choir," with former Destiny's Child member Michelle Williams. Read the deets on the new line-ups inside…
As summer approaches, all of our favorite winter shows will come to an end. But Oxygen and Bravo are giving us something to look forward to.
The first show will give us a look inside "Real House of Atlanta" star Kandi Burruss' wedding to former "RHOA" exec Todd Tucker. Kandi and Todd tied the knot in Atlanta last weekend and their new show (which doesn't have an official title yet) will show us the happenings leading up to their nuptials and the actual ceremony.
Kandi and Todd will executive produce the show as they plan a "Coming to America" themed wedding ceremony, signifying the couple's initial introduction in Africa. Aww…how sweet.
We're interested to see if Mama Joyce will be making any cameos on the show after her recent shade throwing antics.
In an effort to target modern, young women, the Oxygen network has announced several new shows..two of which we plan on watching later this year.
"Sisterhood of Hip Hop," executive produced by rapper T.I., will follow female hip-hop artists including former Crime Mob member Diamond, Siya (who recently shot a video for her track "D.Y.K.E." with singer Tank), NY raptress Nyemiah Supreme, Florida raptress Brianna Perry and Pharrell's female artist Bia as they defy the odds as they make their way up the Hip Hop charts.
The show will follow the ladies as they maneuver in a male-dominated industry proving they can hold their own against the best of the best. The female MCs come to a crossroad when they have to collaborate with one another to make their dreams a reality.
Will they be able to come together for the sake of their music careers? We think we already know the answer, but we shall see…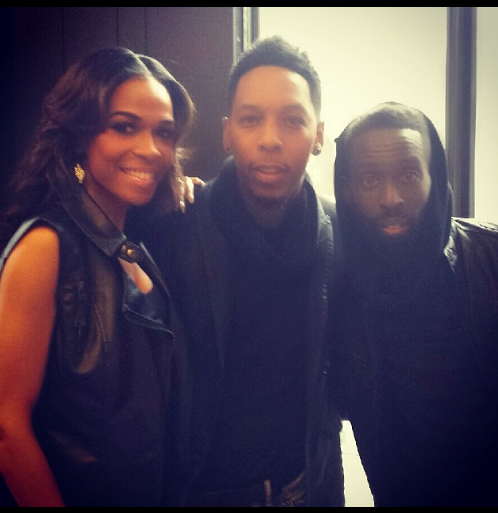 And the last show will feature former Destiny's Child member Michelle Williams along with "Preachers of L.A." star Deitrick Haddon (shown above with gospel singer Tye Tribbit) for "Fix My Choir". Get those church hats and fans ready!
The show will follow the duo as they surprise a community, gospel or school choir each week to help them find perfect harmony within their group. Michelle and Deitrick will help each group tackle the issues most choirs endure including leadership, inter-personal conflicts, artistic direction and presentation.
Michelle seems very excited about her new project posting on Facebook,
"Good Morning!! So umm Deitrick Haddon, Tye Tribbett and myself just did something fun a few minutes!!

We just unveiled a new TV show on the Oxygen Network called "Fix My Choir" that we will start filming soon!! Do you have a choir that needs to be fixed? Lol!!!"
Nice. Will you be tuned in?
Good news for all the "Single Ladies" fans out there! After it was reported VH1's scripted series "Single Ladies" was getting the axed from the network after three seasons, the show has found a new home on BET Networks' Centric TV.
Queen Latifah's Flavor Unit Entertainment company has partnered up with Centric TV to bring an all-new fourth season of the romantic comedy series. No word on if the new season will bring back stars LisaRaye, Charity Shea and Denise Vasi, but here's to hoping they do. Flavor Unit will also be creating/producing new shows for the network as well.
The Randomness:
1. Rapper 2 Chainz has pleaded NOT guilty in felony drug possession. STORY
Photos: S2S/Diamond's IG/Michelle Williams FB
WORKING MOM: Tia Mowry Hardrict Gets FIT & FAB For Women's Running Magazine
Posted: 08 Apr 2014 12:14 PM PDT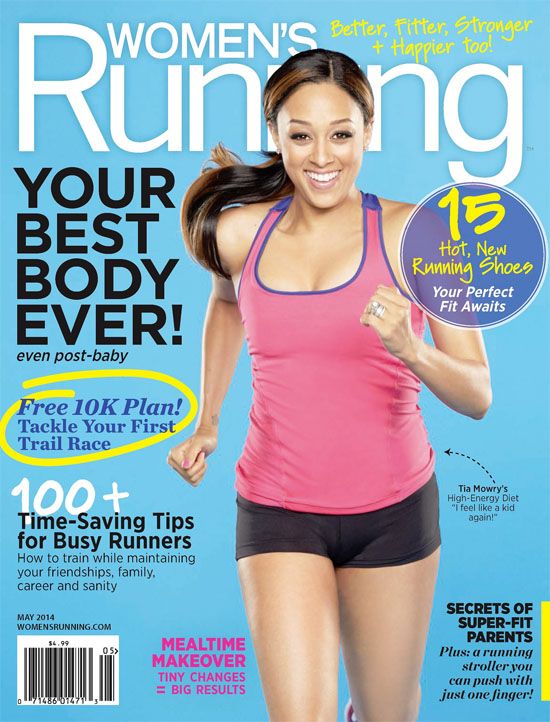 Tia Mowry Hardrict looks fabulously fit on the latest issue for Women's Running magazine. Check out Tia's spread, plus cute pics of her and Tamera's kiddies inside…
With a second season of her Nick At Nite television sitcom "Instant Mom" on the way and gracing the cover of EBONY magazine with her twin sister Tamera, Tia Mowry Hardrict…to say the least…has been quite busy.
Cree's mommy graces the May issue of Women's Running magazine where she talks about feeling like a kid again once she adopted her high-energy diet. After a health scare, Tia decided to ditch the fried foods and started incorporating healthier foods to become the fit, fab and vegan mother we love.

The fab mother-of-one recently shared an "us"ie of herself and her son Cree along with her twin Tamera and her son Aden all showing off their natural curls captioning, "This is what happens when 4 people try to fit in a selfie!! This pic is titled, "curly-cues"! #naturalhair"
Adorbs!
And then the working mom took us back with a little nostalgia, sharing a pic after she enjoyed lunch with Marques Houston (who played 'Roger' on "Sister Sister"):
Had a great lunch with this man today! @marqueshouston1!! Good times! Xx
Were we the only ones screaming "GO HOME ROGER" after seeing this pic? Ha!
In the EBONY interview (check out our updated post), Tia talked about how after their sitcom "Sister Sister" ended, no one was really checking for them. So they decided to take control of their future. Seems Tia has it all figured out now!
Photos: Women's Running Magazine/Tia's IG
STANDING FOR PORSHA: The "Real Housewives Of Atlanta"...Sans Kenya...Reportedly Threatening To Quit If Porsha's Fired!
Posted: 08 Apr 2014 11:02 AM PDT
Porsha Williams has got the "Housewives" on her side...because everyone...except Kenya...is reportedly threatening to quit if Porsha gets fired over her reunion fight with Ms. Moore.
Deets inside...
That huge reunion fight where Porsha allegedly dragged Kenya for filth--both literally and figuratively--seems to be biting the "Flatline" singer in the ass. Because Bravo may use that as ammunition to fire her from the show.
Porsha was already on the chopping block after a fizzled divorce storyline, but breaking the rules and laying hands on a cast member....that's means to shut your ish down.
But, co-stars Kandi (Burruss) Tucker, Cynthia Bailey, NeNe Leakes and Phaedra Parks supposedly aren't having it. TMZ says:
Sources close to the show tell us the women hatched their plan this weekend at Kandi Burruss' wedding ... telling the show's producers how much they despise Moore because of all the drama she stirs up.

...

We're told since the brawl, ALL housewives' contracts for next season have been put on hold -- until show honchos figure out what to do with Porsha.

But sources tell us the women have made it clear ... they'll walk if Porsha gets fired ... and we're told NeNe Leakes and Phaedra Parks are making a play to get Kenya fired instead.
These chicks better be careful, Bravo isn't a stranger to calling a bluff and firing EVERYBODY. And we all know many of them NEED this show.

As for how Kenya feels about the crew seemingly ganging up on her, we reached out to her for comment, but have not heard back yet.
So....your thoughts? Who should go--Kenya or Porsha?