---
IT'S OUR ANNIVERSARY: Tia Mowry & Cory Hardrict Get Cutesy On Romantic Mexican Vacay
Posted: 19 Apr 2014 09:38 AM PDT
If you can't spend these cool spring days on a sexy steamy beach....you can live vicariously through YBF chick Tia Mowry and her romantic Mexican vacay with hubby Cory Hardrict.
Check out their cute pics inside...
"Instant Mom" star Tia Mowry and her Transcendence star husband Cory booked it to Los Cabos for a romantic weekend getaway. They celebrate their sixth wedding anniversary on Sunday, and the super cute twosome are sharing pics for all their fans to get a peek:
EBONY magazine cover girl Tia, rocking a fab Free People slip gown above, shared she's growing her natural curls out again, and it looks super cute.
Beach days and romantic nights....must be nice....
Happy anniversary Tia & Cory!
Photos: Tia's IG
FUTURE MRS. COOPER: Eve Celebrates Her Bachelorette Weekend With Mashonda & More!
Posted: 19 Apr 2014 08:00 AM PDT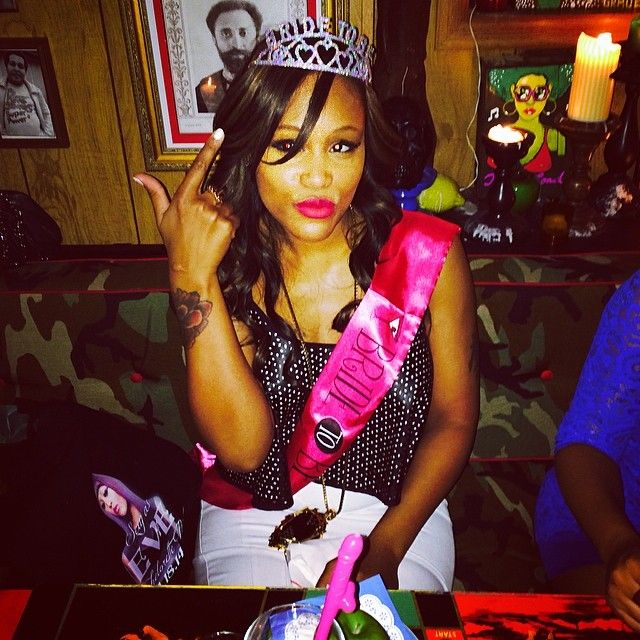 She's almost ready to become Mrs. Maximillion Cooper! Eve spent last night kicking off her big bachelorette party weekend with her girls....and penis straws.
Pics inside....
Rapper Eve is marrying uber rich British fiancée Maximillion Cooper soon, and the wedding is rumored be a swanky ceremony in Spain this summer. But first, a girl always needs her final weekend of foolery with her friends: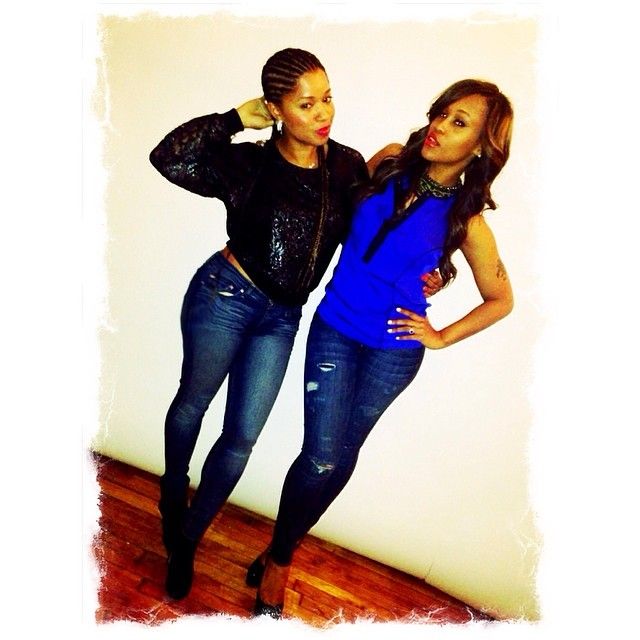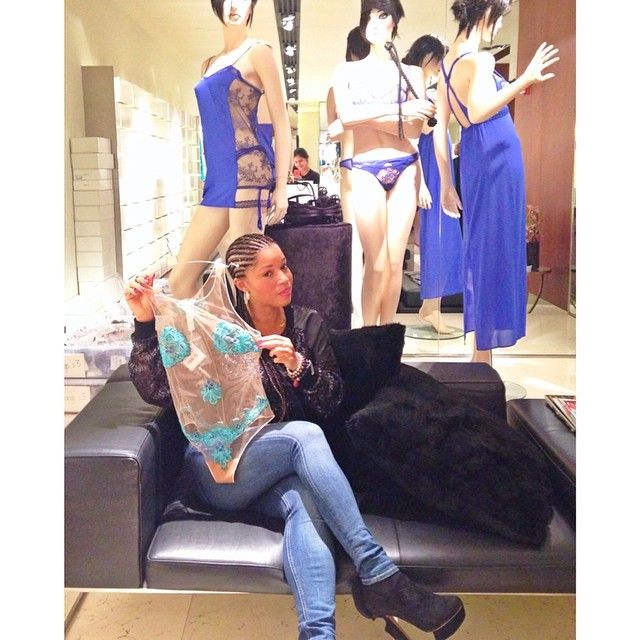 Her girl Mashonda was there to kick things off, but first she picked up a sexy little gift from La Perla. She gushed about her friend from the Ruff Ryder days saying:
Just starting... Knew this girl for 15 years, watched her grow up. Our relationship is one of a kind. But the night is early so I'm not going to get too emotional. Love ya boo... @therealeve
Sweet.
The ladies then spent the evening having some fun with cake, sexy party favors and more: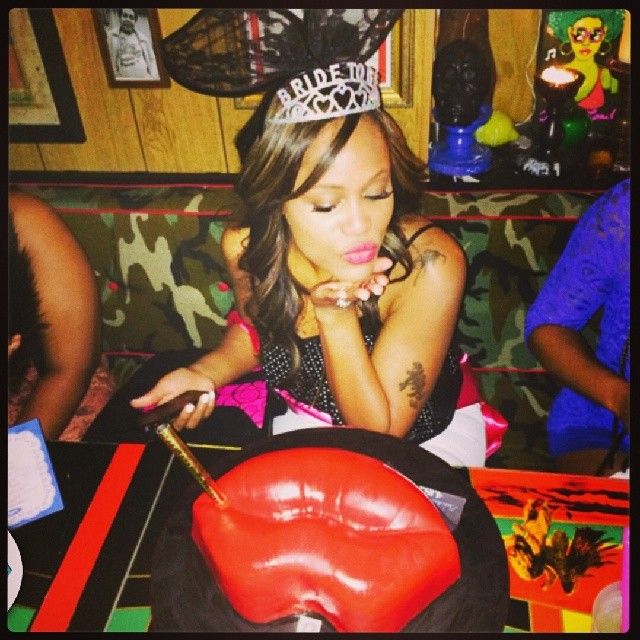 Eve's girl Whitney Cummings, from "Chelsea Lately", was there too.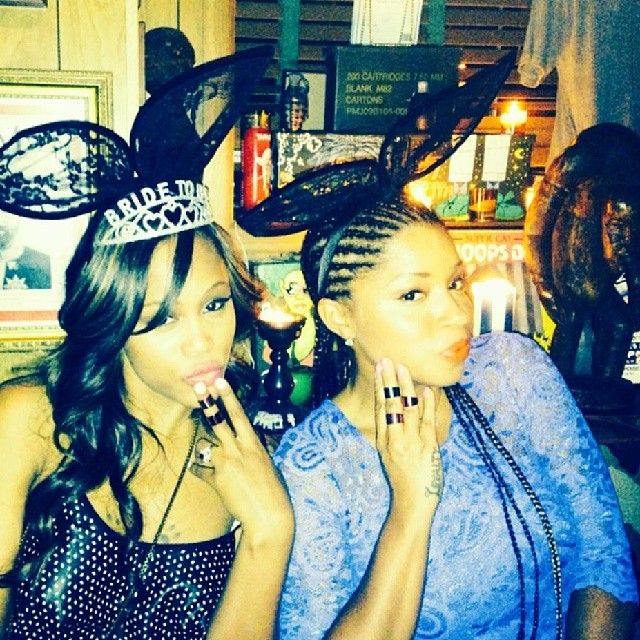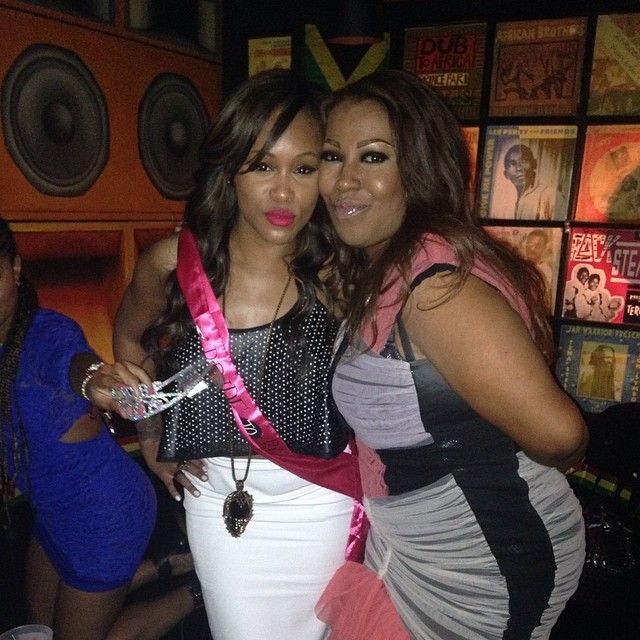 Fab times!
The Randomness:
1. Diddy expressed his sadness over losing his long time doggie Honey Combs. STORY
Photos: sulon_hairandnails' IG, Eve's IG, Mashonda's IG
COUPLEDOM: Beyonce & Jay-Z On The Set...With A Wedding Dress & Motorcycle + Big Boi & Sherlita BACK ON?!
Posted: 18 Apr 2014 07:39 PM PDT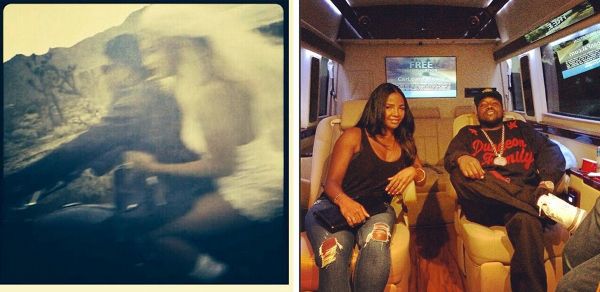 It's a couples style Friday night! Beyonce & Jay Z are busy on the set of a new project...and rapper Big Boi and wife Sherlita seem to have halted their divorce.
Pics inside....
What is this we have here? A new project from The Carters? And it involves Bey in a partial wedding dress and veil....and coasting off into the sunset on a motorcycle with her husband Jay Z?
We're gonna take a stab in the dark and guess this is either the video for the duo's "Part 2 (On The Run)" song off the Magna Carta Holy Grail album, visual content for their upcoming rumored joint tour, or both:
Beyoncé & Jay Z On Set in Los Angeles - April 17 pic.twitter.com/U8srbSz0j1

— Beyoncé Lite (@BeyonceLite) April 18, 2014
"On The Run" is all about the twosome still being on their outlaw behavior after the "'03 Bonnie & Clyde" track, getting married, and riding off into the sunset. So it seems fitting. Time will tell...but we're gonna go ahead and rule out this being "Bound 2" spoof video....
And speaking of "Who wants that perfect love story anyway...", it looks like Big Boi and wife Sherlita Patton are back on the love train. Despite Sherlita filing for divorce last October and Big Boi demanding her to get a job just a couple moths ago, all seems is well with the Pattons. For now.
Big Boi posted pics of the twosome at Coachella today prepping for round 2 of Outkast's performance going down tonight. And he posted more pics of his boo supporting him in a hat bearing his name: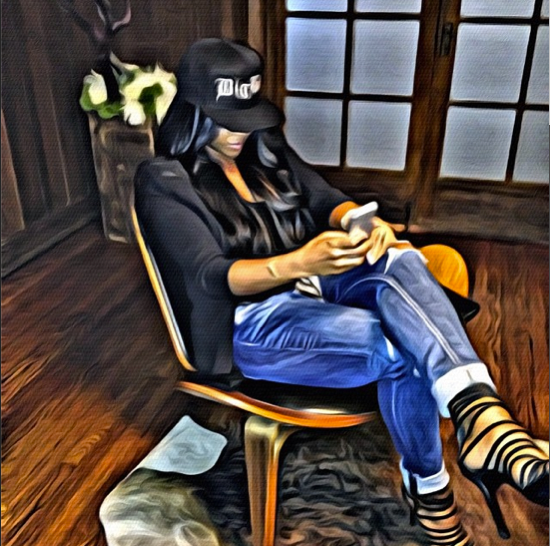 Sherlita was also on hand last weekend for Outkast's first performance: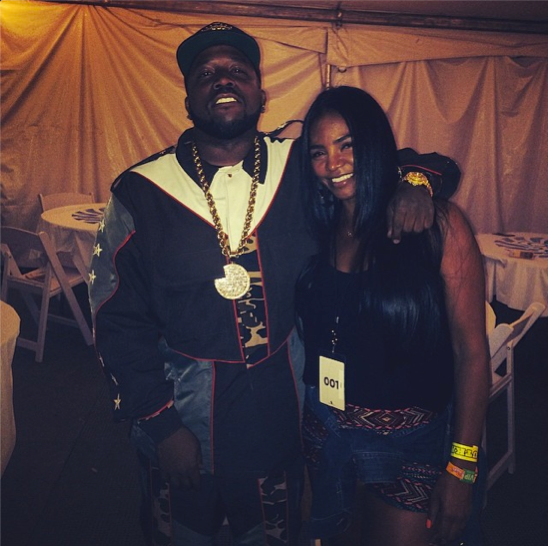 And last month, the reunited couple went on a romantic tropical vacay together for the Mrs.'s b-day. Hope these two have worked it out!
Photos: Beyonce Lite's Twitter/Beyonce's IG/Big Boi's IG
THIS CHICK IS LOYAL: Karrueche & Chris Brown's Mom Show Support For Breezy In Court
Posted: 18 Apr 2014 05:07 PM PDT
As Chris Brown faces trial for an alleged assault on a man outside of the W Hotel in Washington DC, his off-again (on-again) girlfriend Karrueche Tran and his mother Joyce Hawkins (blonde hair) came out to show support for Breezy.
Mama Joyce and Kae were spotted walking inside the Columbia Superior Court today for Breezy's assualt trial. Breezy's haggard mugshot from the arrest surfaced recently, which has some people making drug use accusations from his appearance.
Karrueche has been seemingly happy enjoying her freedom, partying it up with her bestie Christina Milian at Coachella Music & Arts festival last weekend and hanging out in Hollywood at Russell Simmons' "ADD Comedy Live" show. It seems Kae and Breezy gave their relationship the green light once again (or yellow?) after she posted a video of Chris declaring his love for her on a collect call from jail.
Well it was enough to get Kae back in court to visibly show support.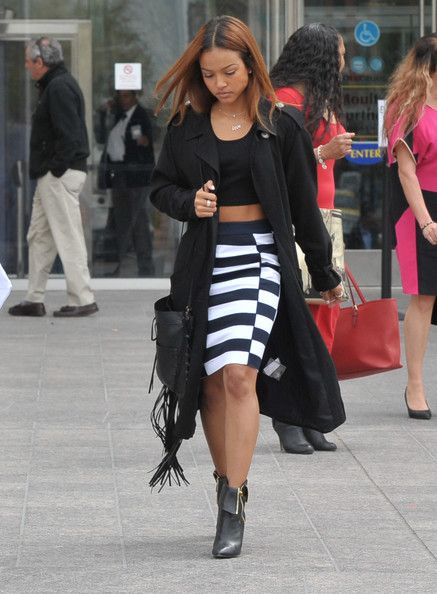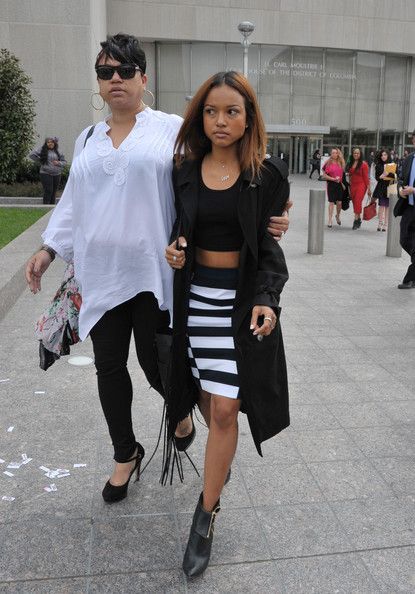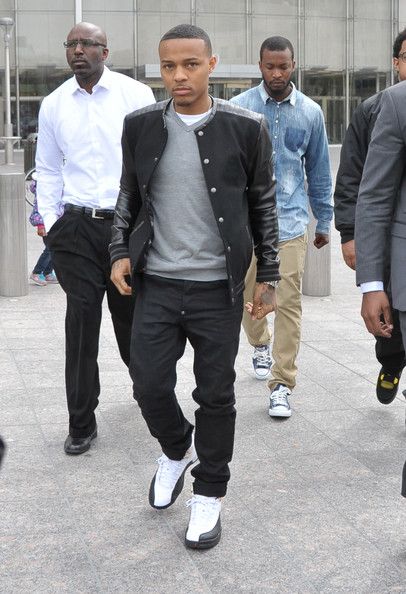 Bow Wow was there to offer up support as well.
Last October, the "Loyal" singer was arrested and eventually charged with a misdemeanor assault charge after allegedly punching a guy and breaking his nose outside the W Hotel in Washington DC. Breezy was hosting an unofficial afterparty for Howard's Homecoming at The Park on Fourteenth nightclub before the incident occurred.
Following the incident, Breezy checked himself into rehab (as you know, he was on probation for Chrihannagate), did his stint and graduated. Then a judge ordered him to return while his Washington D.C. assault case runs its course. Soon after, he was kicked out of the facility for violating "internal rules" and was hauled off to jail.
Breezy and his bodyguard were both charged and have both pleaded not guilty. If convicted, Breezy faces up to four years in prison.
We'll keep you posted...
Photos: Getty
The Randomness:
1. Mase is being sued after he jacked some chick's picture off Instagram for the cover art to his new song, "Why Can't We." STORY
2. Wu-Tang rapper RZA believes Northstar's Andre Johnson (the guy who chopped off his penis and jumped off a building) should seek help from the mental health system. STORY
HOW SHE DOES IT: Kerry Washington Reveals The Struggle Of Filming "Scandal" While PREGNANT + Finale Nabs 10.5 Million Viewers!
Posted: 18 Apr 2014 04:00 PM PDT
In The Hollywood Reporter, Kerry Washington opened up about filming "Scandal" while pregnant and how it affected her character Olivia Pope. More inside.....
Last night, 10.5 million viewers tuned in to watch the "Scandal" season three finale, easily making it the show's highest rated episode. And whether you've got issues with how the tide turned this season with certain characters and plot twists....the talented cast definitely deserves some accolades.
In the latest issue of THR, Emmy-nominated actress Kerry Washington revealed that this was her most challenging season...because of her pregnancy. Kerry, who's expecting her first child with husband Nnamdi Asomugha, opened up about the creative ways producers and stylists had to work around her belly and how the pregnancy affected her "Olivia Pope" character.
What was the hardest scene for you to film this season?

I work very physically as an actor. The biggest thing for me has been the challenge of how to be this person [Olivia Pope] with the personal transformation that's going on for me physically and how to stay true to this character. That hasn't been easy. It's been an awesome challenge for me as an actor because so much of how I access character is through my body. It's definitely been complicated to say the least. I've learned a lot about other ways to access Olivia and be her. It's interesting that Olivia has had such a dark season and that's been hard, too. I have my own understanding about who she is and to watch her go through and have to embody some of the things Olivia had to go through this season has really been challenging. I've always talked about my favorite thing about the character being the balance between her strength and vulnerability, so to be this very strong woman in these very dark periods of emotional vulnerability has been hard -- and fun (laughs).

What do you think about all the creative ways Scandal has concealed your pregnancy? Is there one that stood out to you?

I'm just grateful for how hard everybody has worked to maintain the authenticity of this character in this world. I'm grateful to [costume designer] Lyn Paolo and all our producers. The decision of whether or not a character would be on similar journey, I had nothing to do with that decision. I trust Shonda with all things. I feel very grateful that we have such an amazing team that was able to protect the character within the context of what the actress was going through.

Read more of Kerry's Interview here.
And Neutrogena's newest brand ambassador thanked her Gladiators for taking the ultra rocky ride of season 3:
There is NO way to describe my gratitude for every single one of u #Gladiators ❤️ We would not exist without your support. Miss ya already!

— kerry washington (@kerrywashington) April 18, 2014
ABC has yet to announce the renewal of "Scandal" for Season 4. But we all know it will come.....It better.
Photo/Video via Kerry's Instagram
IS IT OFFICIAL?!: Tae Heckard & Brandon Jennings Make Their Relationship Status PUBLIC + Teyana Taylor Releases New Track "Sorry"
Posted: 18 Apr 2014 02:23 PM PDT
Things are heating up between video vixen/actress Tae Heckard and Detroit Pistons baller Brandon Jennings. See the couple's recent pics and take a listen to Teyana Taylor's new track "Sorry" inside…
After Nelly announced he's 100% single on Instagram recently, Krave cover girl Tae Heckard and 24-year-old Detroit Pistons guard Brandon Jennings are making their relationship public.
You'll recall Nelly, Ashanti, Tae Heckard and Brandon Jennings have been involved in this neverending love "square" situation. One minute it looks like Nelly and Ashanti are a couple then the next he's naming Tae (or Cookie as he likes to call her) as his "Woman Crush Wednesday."
Tae and Brandon have been caught e-flirting via Twitter but were never seen together…until now.
Tae has been happily posting pictures of her new beau on her Instagram lately, showing them engaging in intimate hugs & kisses and sitting courtside at his games:

Brandon has been showering his girl with gifts including a boatload of roses and new shoes (above) all month for her "born month." She captioned, "These Bornmonth gifts I'm receiving tho......#prettyawesome #heckahappy #ilubsurprises"
We bet...
Meanwhile, Brandon Jennings ex-girlfriend is singing sorry…
Teyana Taylor has released a new track titled, "Sorry," anticipating the delayed release of her debut album.
The G.O.O.D. Music's First Lady delivers a heartfelt song about a relationship that unfortunately didn't last. Could she be singing to Brandon Jennings (above)?...
She sings, "I'm sorry you didn't know how to love me / I'm sorry I wasn't beautiful to you / I'm sorry you just didn't understand how to be my man."
But wait...aren't Teyana and Tae friends? Chile...
Take a listen to Teyana's new track below:
But don't feel sorry for T, she's starring in a new upcoming BET scripted series titled, "The Start Up" alongside Diggy Simmons and Bria Murphy.
Photos: Tae Heckard's IG/Brandon Jennings' IG/ Teyana Taylor's IG
SPOTTED: Lupita Nyong'o POPS With Color In NYC, Gearing Up For Big Announcement
Posted: 18 Apr 2014 01:48 PM PDT
Academy Award winning actress Lupita Nyong'o was spotted looking rather cute and casual as she headed out in NYC leaving the Greenwich Hotel yesterday. See her candids inside…
After lighting up the red carpet at the 2014 MTV Movie Awards, 12 Years A Slave star Lupita Nyong'o made her way through the concrete jungle leaving the Greenwich Hotel in New York City dressed in a cutesy black swing coat, black fedora, an eye-catching yellow scarf and chic platform boots. A look only she can make extra chic.
Since the Yale School of Drama alum was awarded the best supporting actress Oscar award, there has been talk about what her next role will be. As the saying goes…you need to strike while the iron is hot!
There are rumors that the Brand Ambassadress of Lancôme would possibly star in a lead role for the highly anticipated sci-fi film "Star Wars: Episode VII," but nothing as been confirmed.
Lupita's agent told the NY Daily News that a big announcement will be made in the "very near future" on the next move the starlet will make.
Guess we'll just twirl our thumbs until the big announcement is revealed...
Photos: FameFlynet

NEWLYWEDS Kandi Burruss & Todd Tucker REVEAL -- "We're Trying To Have A Baby!"
Posted: 18 Apr 2014 12:54 PM PDT
Kandi Burruss wants to have a baby with her new husband Todd Tucker, she revealed. More inside...
In the latest In Touch Weekly, newlyweds RHOA star Kandi Burruss and Todd Tucker revealed plans to have children. Kandi told the mag,
"We're trying now for a baby! We haven't succeeded yet. If it happens today, then we're good with it." She added, "We're really looking forward to having kids together. I can't wait to [have] one big family!"
Kandi is already a mom to daughter Riley, 11, and Todd has daughter Kaela, 17, from a previous relationship. Yep, a 17-year-old.
BONUS:
See who Kandi wants to play her in the RHOA movie......
Watch the RHOA Season 6 reunion on Sunday at 7pmCT
SPOTTED: Rihanna & Drake Spend RARE Night APART In LA Area + Rihanna Drops Accountant Lawsuit
Posted: 18 Apr 2014 11:28 AM PDT
Rihanna & Drake were both spotted in California......but they weren't together (for a change). See their candids inside and get the deets on RiRi lawsuit against her former accountants. More inside.....
Rihanna was seen leaving dinner at Giorgio Baldi Restaurant (one of her favorites) in Santa Monica, CA last night.
She has decided to drop the multi-million dollar lawsuit she filed against New York accounting firm Berdon LLP. What happened? While Rihanna initially claimed she got bad advice from Peter Gounis, co-worker Michael Mitnick and the firm Berdon LLP, (including the green light to buy a $6.9 million mansion) lawyers for Gounis, Mitnick and Berdon fired back with claims of their own saying,
"The tour (2010's "Last Girl on Earth") did not make as much money as projected. The tour was what she wanted, just as the exorbitant amount of expensive clothing and other purchases she squandered her money on were…At the end of her two-year spending spree she had rooms of shoes, clothing and jewelry and fond, if not hazy, memories of extravagant parties, but little cash."
Obviously, TEAM NAVY saw the firm's counterclaims and realized they'd be fighting a losing battle. Now....the case has been dropped and neither side is discussing settlement terms.
Also in Cali....
Drake was seen leaving Madeo Restaurant in Beverly Hills last night.
Drizzy was recently sued by the estate of late jazz musician Jimmy Smith, who claim that his 2013 song "Pound Cake/Paris Morton Music 2″ sampled Jimmy's 1982 song "Jimmy Smith Rap" with permission.
Clearly....news about impending lawsuit didn't ruin their party as the group climbed into a white Rolls Royce and sped away into the night.
Photos via Splash
Jason Derulo Reveals Industry Pressure To Marry Girlfriend Jordin Sparks + Idris Elba & His Girlfriend Welcome Baby Boy Winston!
Posted: 18 Apr 2014 10:37 AM PDT
R&B singer Jason Derulo is speaking out on industry pressure to get married to his long time girlfriend Jordin Sparks, plus Idris Elba and his girlfriend welcome a bouncing baby boy. Read the deets inside…
With the release of his debut album Talk Dirty, cutie Jason Derulo is dishing on the single he wrote for his girlfriend "American Idol" winner Jordin Sparks titled, "Marry Me"
Jason got steamy on the stage with Jordin, performing their duet "Vertigo" (above) this week during Universal CityWalk's "Spring Concert Series". And the "Talk Dirty" singer did an interview with Hot 97 where he explained how he and Jordin are put under a lot of pressure from the music industry to get married...and how the "Marry Me" track came about.
He said:
"I wrote 'Marry Me' for Jordin actually and basically what I was saying in the song is we got forever. Why are we rushing? We get a lot of industry pressure and I don't want her to feel a kind of way. So I wrote this song just for her saying that I swear that I'll mean it when I say it 'Will you marry me?' That'll be an amazing day when I actually say it to you. She was like 'the world needs to hear this song' and I was like 'Nah, I ain't about to play this to the world, this is for you.' She then said 'play it for some people' so I played it and I was like 'aight, let's release it."
Aww…
Listen to Jason talk pressure to get married to Jordin below (at the 15:45 mark)
Also...
Sexy actor Idris Elba and his girlfriend/make-up artist Naiyana Garth welcomed a baby boy named Wintston Elba on Thursday. We told you earlier she was pregnant when she accompanied Idris to the Harper's Bazaar Women of the Year awards (above) with a round belly. And now their baby boy has arrived.
The "Mandela" star happily tweeted a photo (above) of their newborn grasping on to his finger tweeting, "My Son Winston Elba was born yesterday..Truly Amazing :-)"
Idris is a father for the second time with a 12-year-old daughter named Isan from his previous marriage to Hanne "Kim" Norgaard, which ended in 2003.
Cute!
Photos: Splash/Getty/Idris Elba's Twitter

REVEALED: Mike Epps' ALLEGED Victim Is Comedienne Simone Shepherd...And She Has Receipts!
Posted: 18 Apr 2014 10:00 AM PDT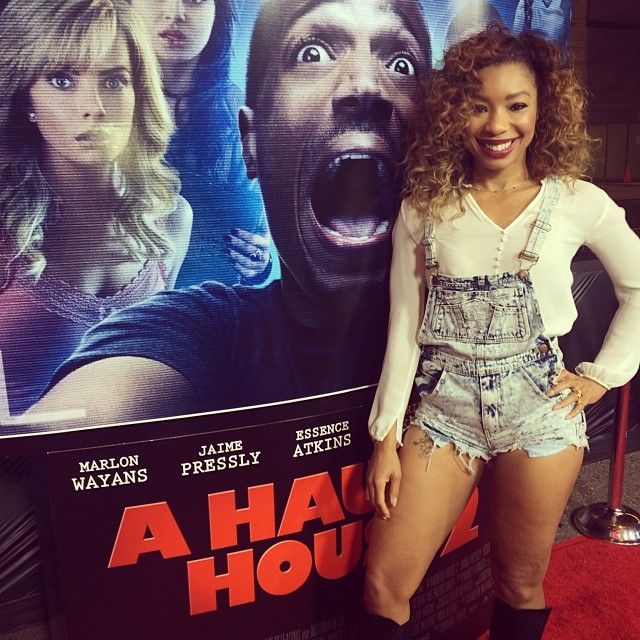 Funnywoman Simone Shepherd has revealed that she's the woman who filed a police report against Mike Epps. More inside.....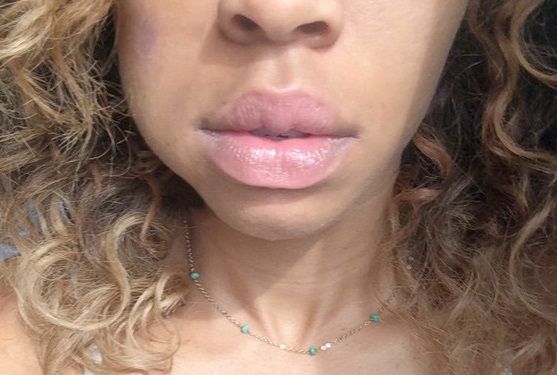 Previously, we told you that Sparkle star Mike Epps is being investigated for allegedly punching a woman in the face And now we know THAT woman is Simone Shepherd.
TMZ reports that Simone (who's semi-famous for her Beyonce and "Basketball Wives" spoof videos) said that she and Mike's wife Mechelle got into a heated argument at Lucky Strike in Downtown L.A. (after the Haunted House 2 premiere). According to Simone, as Mike tried to separate them, he punched her in the face. Although cops called to the scene didn't see any visible scars, Simone posted a selfie of her swollen face and sent it out.
Now...there are a lot of loose ends. As we piece together this story, we're wondering why Simone told the cops (and our own source) that she and Mike had a previous relationship...and dated? Mike and Mechelle have been married for eight years and were a couple for a very long time before that. It's not impossible, but it does leave some questions about possible side chick status....
Photos via TMZ/Simone's instagram
AWKWARD: Columbus Short Gives STRANGE Interview After "Scandal" Finale
Posted: 18 Apr 2014 09:24 AM PDT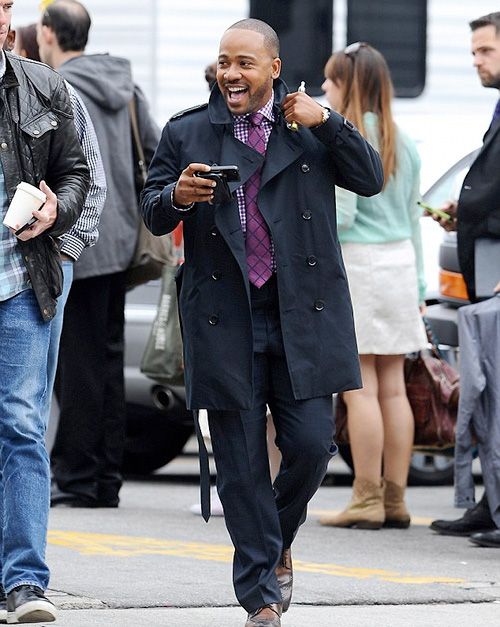 Columbus Short hosted a viewing/listening party in Hollywood last night, performing his new single "Gave Ya." Then, this morning, he called into the Tom Joyner Show to dish on the finale...but the interview went left and got totally weird. Take a listen inside…
After hosting a "Scandal" season finale viewing party in Hollywood last night, "Scandal" star Columbus Short is now speaking out about accusations of threatening his wife with murder/suicide.
The actor called into the Tom Joyner Morning Show for a rather….interesting interview this morning, making sure to keep it "all the way 1000".
Listening to the interview, Columbus seemed to be in good spirits when he first got on the call. Then things suddenly went downhill. It sounded like he began to get annoyed with their questions and really didn't feel like being interviewed (it was 4:45am where he was) so his responses got…strange.
Columbus (pictured above on the "Scandal" set last month) said he had a fantastic time at the viewing/listening party last night and performed his single "Gave Ya." Tom Joyner hosts asked him when did he find out that he was going to (seemingly) get shot in the season finale of "Scandal" and he responded, "The day I got shot. But I'm lying because I didn't get shot n*gga man…I mean people." Say what Harrison?...
When asked about when he originally planned to release his new track, Columbus responded with an annoyed, "When it was ready." He probably was annoyed after being asked if he planned to release the song on the same day as the finale...because he actually released the song last month.
When asked how does he wife feels about the song he responded, "I don't care. How about I don't care."
The interview then ended really awkwardly.
Check it below:
Take a listen to Columbus' "Gave Ya":
Maybe he had one too many drinks at his party last night…
Photo: WENN