---
Jennifer Hudson, Nelly, Estelle & More Attend Brown Shoe Company Celebration + Bria & Shayne Murphy Get Cropped & Sexy For EXTRA Interview
Posted: 24 Apr 2014 10:19 AM PDT
Jennifer Hudson, Nelly, Estelle and more hit up the Brown Show Company celebration last night in NYC. While Bria & Shayne Murphy got fab for an interview with EXTRA. See the pics inside…
Last night, the Brown Shoe Company recognized a monumental milestone celebrating 100 years on the New York Stock Exchange at the 4 World Trade Center in NYC.
Jennifer Hudson stunned on the carpet in a black sheer bondage style Agent Provocateur dress paired with a fab pair of Via Spiga boots.
Hot.
J-Hud posed it up on the red carpet with Black Eyed Peas singer and new mom Fergie.
Nelly (who recently announced he's single) hit the carpet solo in all gray and a fresh pair of J's. His fave.
Grammy Award winning British singer Estelle rocked a blue martini printed two-piece suit with nude pointed toe pumps.
DJ Kiss provided the tunes on the 1's and 2's.
And J-Hud rocked out on the mic as she performed her new track "Walk It Out". Yes, she has a new song. And yes, we almost forgot as well:

J-Hud keeps herself a gig doesn't she?
Over in Cali...
Sisters Bria and Shayne Murphy, daughters of Eddie and Nicole Murphy, made their way to Universal Studios for an interview with EXTRA yesterday.
After flaunting their assets in Hawaii recently, the Murphy girls showed off their modelesque bods in crop tops and denim for their appearance.

The lingerie models (who hope to become Victoria's Secret models one day) have clearly been taking notes from their fantastically fit mother.
Work!
Photos: Chance Yeh/Getty/WEEN/FameFlynet
"R&B Divas: Atlanta" Kicks Off With TWO Premiere Parties For Season 3
Posted: 24 Apr 2014 08:47 AM PDT
Last night, two private viewing parties went down in NYC and ATL for the season 3 premiere of "R&B Divas: Atlanta." Peep the pics of Keke Wyatt, Syleena Johnson, Monifah, Meelah Williams and more inside…
Last night, two parties for the season 3 premiere of "R&B Divas: Atlanta" went down in New York City and Atlanta. Keke Wyatt, Syleena Johnson and Monifah attended a private viewing at the Corner Social in NYC and the ladies were all smiles as they laughed it up with one another and snapped pics with fans.

Keke Wyatt looked nice as she partied with a fan.
And Syleena Johnson kept it cute with a drink in her hand.
Looks like the ladies had a ball in NYC.
And in Atlanta...
New cast mate Meelah Williams held a private viewing party at Buckhead Bottle Bar for the season 3 premiere. SWV member Coko and former Xscape singer/"Family Hustle" star Tiny came out to support.
Girl group Blaque came out to party with the new "R&B Diva."
And two of the members from 90s girl group BlackGirl posed it up with Coko.
And Meelah and her manager Cory stopped for a pic on the carpet.
During the season premiere, was spied Monifah working it out in the gym and revealing her new bod. She credits becoming a vegetarian and no longer drinking alcohol to her weight loss.
Meanwhile, Angie threw a gratitude party where new cast mates Meelah and LaTavia were introduced. Meelah revealed her 4-year-old son (with Musiq Soulchild) was diagnosed with autism. LaTavia opened up about how she dealt with being replaced in Destiny's Child. She revealed she turned to drugs to cope with no longer being a member of the group.
And Syleena decided to throw another engagement party for Monifah since her last party ended terribly. But this one was no different. Monifah and Keke got into it before the night was over.
Check it:
Catch "R&B Divas: Atlanta" every Wednesday at 10/9c on TV One.
Photos: @cokoclemons/Syleena's IG/@jamesobrazil/@naeicanrepeatit

PREMIERES: Taraji P. Henson, LeToya Luckett, Henry Simmons & More At The "From The Rough" Screening
Posted: 24 Apr 2014 06:38 AM PDT
Taraji P. Henson walked the red carpet with co-stars LeToya Luckett and Henry Simmons at the "From the Rough" premiere last night. See pics inside...
"From The Rough" star Taraji P. Henson attend a screening of the film at ArcLight Cinemas in Hollywood, California last night.
Taraji showed off her enviable figure in a Charlotte Ronson dress, Jimmy Choo sandals, and jewelry by final look nyc.
She posed alongside Catana Starks, whom she plays in the movie. Catana, a former Tennessee State Tigers swim coach, made history as the first woman to ever coach a college men's golf team.
Taraji's son Marcel joined her on the red carpet.
The film was directed by Lee Daniels.
In addition to From The Rough, Lee also has a new series for FOX, "Empire", coming up in the fall.
"Single Ladies" star LeToya Luckett is among the cast of talented actors in the film.
Joyful Drake was there.
The Game" actress Candice Patton was also among the attendees.
"From The Rough" (in theaters now) also stars Michael Clark Duncan in one of his final film roles.
Photos via Jason Kempin/Getty Images North America
MAGAZINES: Beyonce LANDS "TIME" Magazine's "The 100 Most Influential People" COVER
Posted: 24 Apr 2014 05:47 AM PDT
Beyonce covers TIME Magazine's 100 Most Influential People Issue. See the photo and watch BTS footage inside....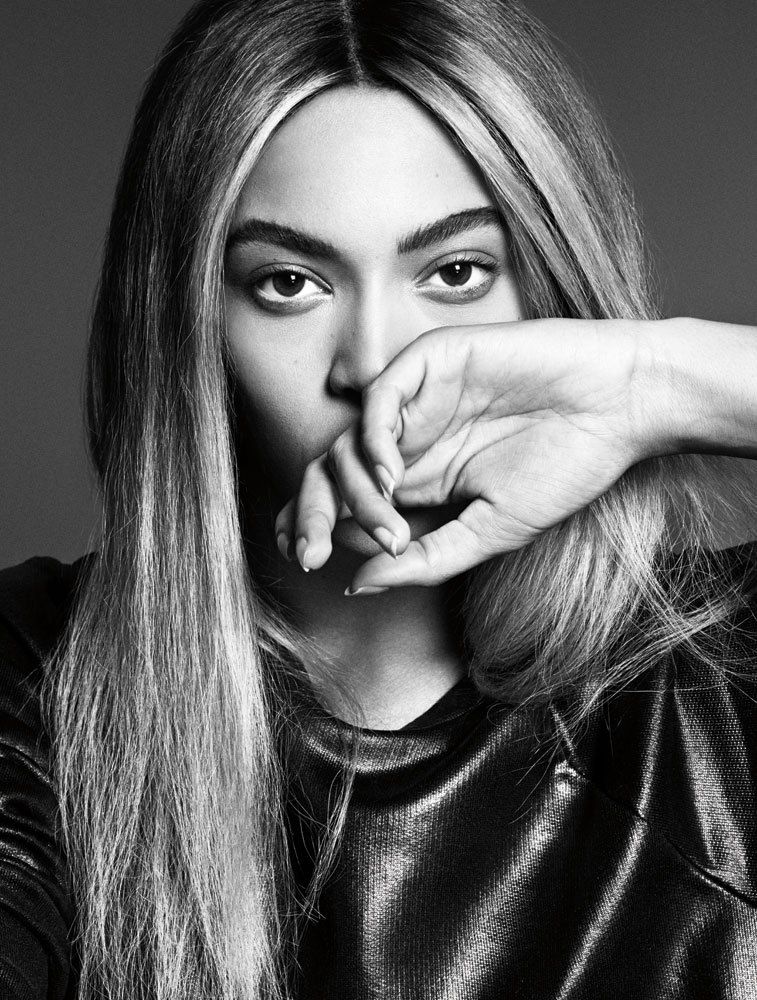 TIME Magazine has revealed its annual list of the 100 most influential people in the world and Beyonce was named the most influential person in the world!
It's been a big year for Mrs. Carter. In addition to landing the cover of one of TIME Magazine's most coveted issues, her Beyonce album sold 828,773 copies in 3 days - an iTunes record! And of course....she looks amazing!
Inside, Beyonce is profiled by Leanin.org founder Sheryl Sandberg who titles the piece, "She's the boss."
"In the past year, Beyoncé has sold out the Mrs. Carter Show World Tour while being a full-time mother. Her secret: hard work, honesty and authenticity. And her answer to the question, What would you do if you weren't afraid? appears to be "Watch me. I'm about to do it." Then she adds, "You can, too."
Other notable African Americans on the list include NBA star Jason Collins, comedian Jordan Peele, Attorney General Eric Holder, President Barack Obama, Pharrell, Kerry Washington, Richard Sherman and Serena Williams. See the full list here.
TIME's 100 Most Influential issue is available now.
Watch BTS footage from the cover shoot here:
Photo via Paola Kudacki for TIME
Sundy Carter Speaks On Having A BABY With MARRIED NBA Baller Larry Hughes, "I Didn't Impregnate Myself"
Posted: 23 Apr 2014 04:18 PM PDT
Sundy Carter is speaking out on her affair with former NBA player Larry Hughes that resulted in a daughter while he was still married. Find out what she had to say about their relationship inside…
Things got heated on the season finale of "BBW LA" when a huge blow out between Sundy Carter and Brandi Maxiell erupted during their trip in Paris.
Brandi & Sundy got into it shortly after Sundy confronted Malayasia on her coming to breakfast and not wanting to talk it out with Jackie. Somehow, Sundy & Brandi got into it and Sundy called Brandi stupid, which set Brandi off, hurling insults about Sundy sleeping with a married man.
Sundy has a 6-year-old named Kennedy Elle (above) with former NBA player Larry Hughes. She also has 2 other children from previous relationships, which she painfully fired back at Brandi saying, "Go try and make a baby, I have three." Ouch.
In an interview with HipHollywood, Sundy opened up about her affair with the married NBA player, explaining that they were both two grown people with a mutual understanding and that it takes two people to have a baby.
"When two people are adults and they have a mutual understanding…I didn't get pregnant by myself. I didn't impregnate myself."

"I know what it is. I don't need to explain myself. I don't need to explain my story on how I got my Kennedy. And clearly it wasn't immaculate conception."

"We made this 6-year-old together. We knowingly did this."
And she knowingly sexed up a married man. And he knowingly cheated on his wife. And it makes both of them wrong. So what does "knowing" have to do with this?
Check it:
Thoughts?
Photos: Sundy's IG/Getty
The Randomness:
1. Judge orders Columbus Short to get his belongings from the house he once shared with his wife… in 2 hours. STORY

Naomi Campbell COVERS VOGUE Australia + Nicki Minaj SIDES With Porsha But DEFENDS Kenya In "RHOA" Brawl
Posted: 23 Apr 2014 03:24 PM PDT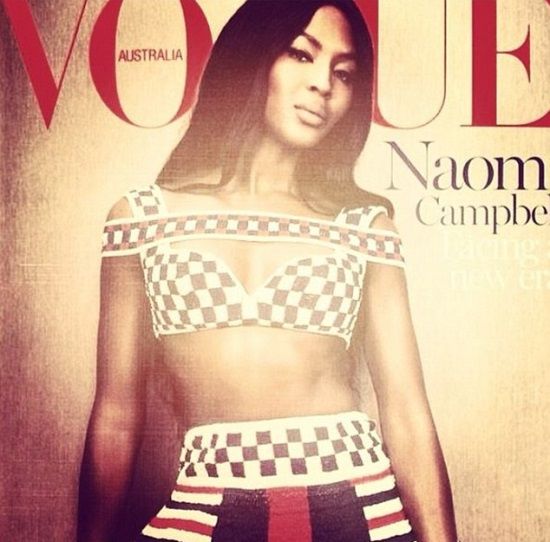 Naomi Campbell covers VOGUE Australia and Nicki Minaj dishes on the RHOA Kenya Vs. Porsha brawl inside...
Supermodel and icon Naomi Campbell covers a special edition of Vogue Australia for their May 2014 issue. The 43-year-old star of "The Face" (who celebrates a birthday on May 22) wears a checker-board bralette on the cover while modeling designs from Givenchy, Lavin, Prada, Stella McCartney and Miu Miu inside.
Fans of Naomi can watch her weekly on Oxygen's hit reality show "The Face" Wednesday at 8/7c.
In other entertainment news...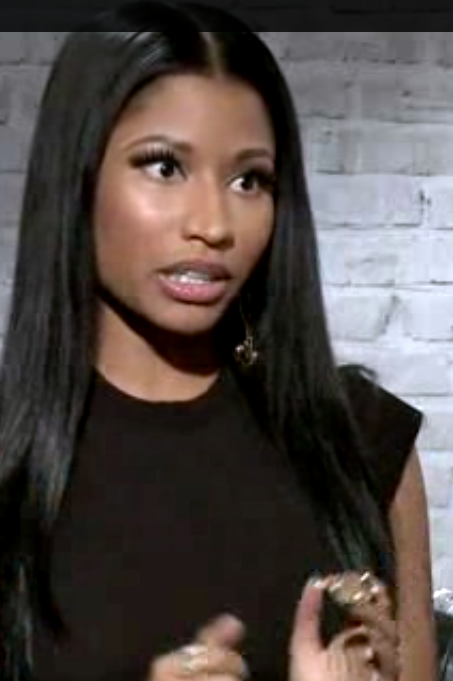 While promoting the release of "The Other Woman" (in theaters on Friday) Nicki Minaj shared her thoughts on the RHOA brawl. While she defended her friend Kenya Moore, she also said she understood Porsha's reaction.
"Let me say this, being that I do love Kenya — if it was someone else and not Kenya, I would have said 'she got what was coming to her,' because she definitely provoked Porsha," Nicki responded thoughtfully, adding, "I mean, I wouldn't have sat there and let nobody do that to me," citing Kenya's provocative props, the scepter and the bullhorn.


"I think Kenya, she's very smart, and she makes chess moves. She knows how to get under people's skin," Nicki said, though she is empathetic to Porsha. "If Porsha knew better, than she wouldn't let people rile her up as quickly. I think it's a learning experience. I've gone through my fair share of feeling like 'oh my god, I let somebody get under my skin.'"
Watch the clip here:
Photo via Cheyenne Tozzi Instagram
MAGAZINE FAB: New "R&B Divas" Stars Meelah Williams & LaTavia Roberson COVER BE Magazine's Music Issue
Posted: 23 Apr 2014 03:00 PM PDT
New "R&B Divas: Atlanta" cast mates Meelah Williams and LaTavia Roberson grace the cover of BE magazine's VOLTAGE music issue. Find out what the divas dished on in the upcoming issue…
Season 3 of TV One's hit reality TV series "R&B Divas: Atlanta" premieres tonight and TheYBF.com was the first to tell you about new divas joining the cast, former Destiny's Child member LaTavia Roberson and former member of 702, Kameelah "Meelah" Williams.
This season looks like it's going to be a good one with the new addition of ladies who'll join returning cast mates Syleena Johnson, Keke Wyatt, Angie Stone and Monifah Carter. Meelah lives in Atlanta with her son's father Musiq Soulchild and their 4-year-old Zac. And LaTavia will give us a look inside her life with her 8-month-old daughter Lyric and her child's father Don Vito.
The two fab chicks landed the May/June cover of BE Magazine's VOLTAGE music issue where they opened up about their past experiences being in popular girl groups' Destiny's Child & 702, how they are handling motherhood and what they plan to bring to the table for the brand new season of "R&B Divas: ATL."
Highlights:

Meelah on 702′s support of her new "R&B Divas" role:
I haven't spoke to them, I don't know how they're going to feel. Hopefully they will BE supportive, there's no BEef or anything. I think they will acknowledge the fact that I did not throw anyone under the bus or I did not give the real tea about what happened…

Meelah on working with LaTavia:
I was so happy (finding out she was joining); it made this opportunity even BEtter. We go way back, from the 702 and Destiny's Child days. We got this dramatic story about how we met at church, and I fell in love with her…

LaTavia on Destiny's Child:
Honestly, working with Destiny Child was one of the greatest things to have ever happened. I would never want to take that journey out of my life, for it has made me the person that I am today. I genuinely like good music and I love them (referring to Kelly, BEyonce and Latoya); the situation had nothing to do with us, so I support them to the fullest…

LaTavia on working with Meelah:
The first time I met Meelah and 702 was at a rehearsal when I was with Destiny's Child, since then I've ran into Meelah at a few engagements. However, there was one particular time that I can recall running into her. I was attending a church service, and this was during the time in which my situation with Destiny's Child had happened, I guess it was her situation at that moment too, and she was knelt at the alter. So I went to her and prayed with her…
Check out more pics from their spread here. And be sure to catch the ladies on "R&B Divas: Atlanta," which premieres tonight at 10/9c on TV One.
Photos: Ahmad Barber

BROWN BEAUTIES: Gabrielle Union & Kerry Washington Nab Spots In PEOPLE's '50 Most Beautiful Issue'
Posted: 23 Apr 2014 02:00 PM PDT
Lupita Nyong'o was named PEOPLE's most beautiful person but YBF chicks Gabrielle Union and Kerry Washington are also featured in the issue. Deets inside…
PEOPLE Magazine announced Oscar winner Lupita Nyong'o as this year's most beautiful person but some other beautiful brown faces have also made the list.
Joining the Kenyan beauty are two beautiful YBF faves Think Like A Man star Gabrielle Union and "Scandal" star Kerry Washington who both nabbed a spot in PEOPLE's 2013 World's Most Beautiful list last year.
Last year, the 41-year-old starlet revealed to PEOPLE her top beauty secrets that keep her young and what keeps her skin flawless…WATER and dating younger men (i.e. Dwyane Wade)!
She said, "I started drinking a gallon of water a day [in my mid-thirties.] It changed everything from weight maintenance, to hair, skin, nails and digestion. Plus, I stay younger by dating younger.
She then added, "Dip into the kiddie pool, ladies! It worked for me!"

"Scandal" star and mom-to-be Kerry Washington was also featured in the beauty issue this year.
The 37-year-old actress simply does not age and when she's showered with such compliments she's very modest to say the least.
She dished, "The reality is we all have nerves and moments of insecurity … But if I said to myself that I'm only going to show up, or speak or be visible when I'm perfect, I would never get out of bed.I [show up] to be of service and to be used for something greater. It's about knowing what I am in this moment is what I need to be, and going for it. The 'imperfections' are actually the gift."
Work ladies!
Photos: PEOPLE/FameFlyNet

Mama Joyce Blames "RHOA" Reunion Fight On JEALOUSY, "Kenya Is Jealous Because Porsha Is So Beautiful!"
Posted: 23 Apr 2014 12:43 PM PDT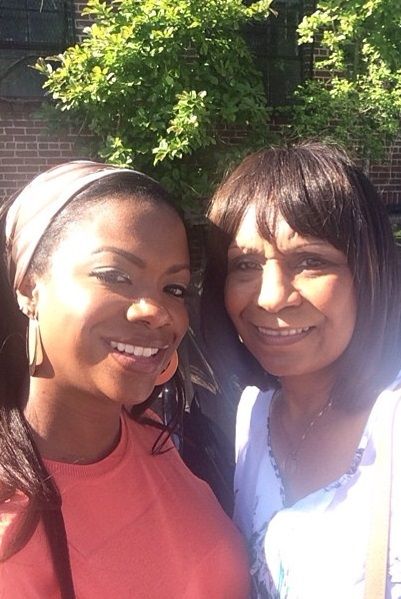 Kandi Burruss and Mama Joyce appeared on V103 this morning in Atlanta where moms revealed her thoughts on the RHOA Reunion fight. More inside....
Newlywed Kandi Burruss appeared on V103 this morning on the Ryan Cameron Morning Show with Mama Joyce where they addressed a series of hot topics. First, both Kandi and Mama Joyce reiterated they WERE NOT offended by Fantasia's drunken reception speech at the wedding.
Then, Kandi defended Porsha against reports that she was drunk and had take prescriptions meds before the reunion. Lastly, Mama Joyce said the Kenya/Porsha fight was due to Kenya's jealously. At the 3:32 mark Joyce says,
"I think that was all jealousy. I think Kenya is just jealous that Porsha is so beautiful. Porsha outweighs Kenya 2:1." She added, Porsha is who Kenya wishes she was 10 years ago.....Porsha is a BRICKHOUSE!"
When Ryan asked "What's Kenya?" Mama Joyce said...."A house."
This lady....
Photo via Kandi's IG
SPLITSVILLE: Cuba Gooding Jr. & Wife Of 20 Years SEPARATE!
Posted: 23 Apr 2014 12:43 PM PDT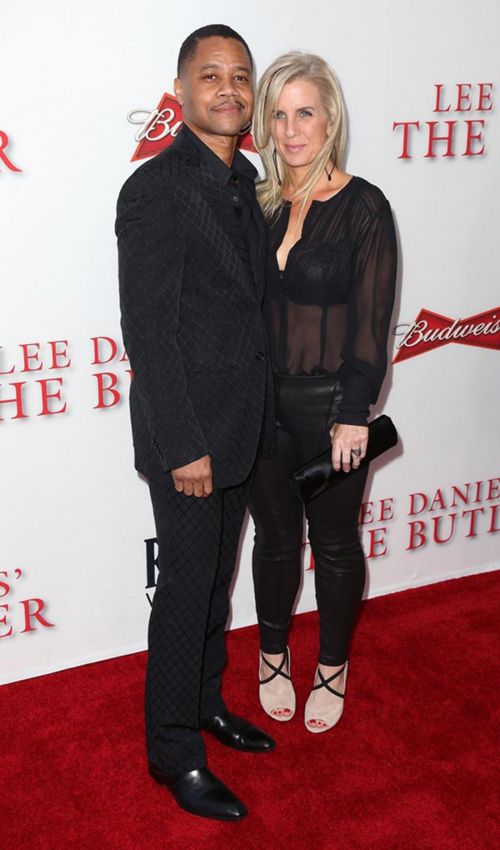 After gushing about his wife last year on "The View" and how they've stuck it out for 20 years, Cuba Gooding, Jr. and Sarah Kapfer have filed for legal separation!
Deets inside....
Damn homie. The Butler star Cuba Goding, Jr. and his high school sweetheart turned wife Sarah are headed toward divorce, according to TMZ.
It was Sarah who filed the separation papers in Los Angeles on Tuesday, citing the usual irreconcilable differences. The couple shares three kids.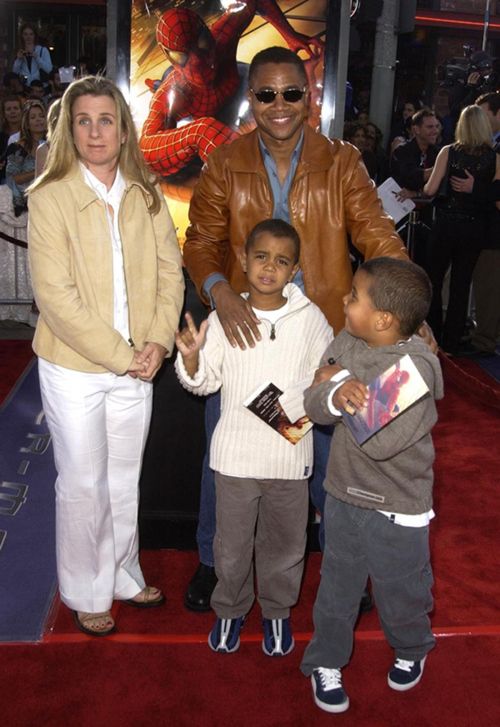 Last year, Cuba told the co-hosts on "The View" about how the couple has lasted 2 decades in Hollywood:
"I'm lucky...Oh I wanna kill her sometimes and she puts up with me."
Well, 20 years is a feat for anyone. So credit to them on that....
Photos: Wireimage
Wiz Khalifa Talks About His "Khalifa Kush" On "Chelsea Lately" + Tupac Shakur & Tavis Smiley Cop Stars On Hollywood Walk Of Fame + Benzino & Steve J's "Blood On My Watch"
Posted: 23 Apr 2014 12:02 PM PDT
Wiz Khalifa hit up "Chelsea Lately" last night promoting his upcoming album and to talk about his beloved Mary Jane. Plus, the late Tupac Shakur and talk show host Tavis Smiley will be receiving stars on Hollywood's Walk of Fame.
Also, reality stars Benzino & Stevie J have released a new track where Benzino raps about getting shot by his nephew. See the interview, read the deets and take a listen inside…
Rapper Wiz Khalifa released new visuals for his track "We Dem Boyz," which is a single from his upcoming album, Blacc Hollywood. So Wiz hit the promo trail sitting down with comedian T.J. Miller (who was filling in for Chelsea Handler) on "Chelsea Lately" last night.
New dad Wiz talked about his upcoming summer tour Under the Influence of Music, how growing up in Pittsburgh helped build his strong work ethic and of course he talked about his favorite thing in the world (other than Amber Rose and his son Sebastian)…WEED.
Wiz revealed he has his own strain of marijuana named after him called Khalifa Kush, which he receives for free from the marijuana company that sponsors him. Must be nice...
Check it:
Up next for Wiz: He's toplining the Under the Influence of Music tour in its third year. Organizers announced today the tour's line up will include the weed senthusiast, as well as Young Jeezy, Tyga, Ty Dolla $ign, and Rich Homie Quan.
Also...
Hollywood Walk of Fame committee chair David Green has released the 2014 honorees. Legendary rapper Tupac Shakur along with talk show Tavis Smiley have been chosen to receive a star on the Hollywood Walk of Fame.
It's reported Tupac, who will be honored posthumously, will be recognized for his iconic music career and Tavis Smiley will be recognized for his contribution to media after celebrating 10 years on PBS (hosting Tavis Smiley on television and The Tavis Smiley Show on the radio).
Wonder who they will get to be at Tupac's ceremony? Should be interesting…
And in reality TV news...
"LAHH ATL" star Benzino is stretching every last minute of his 15 minutes of fame he received after getting shot by his nephew on his way to his mother's funeral.
He and his sleazy buddy Stevie J have released a new track titled, "Blood On My Watch," where Benzino raps about his recent run-in with his nephew, toting guns and forgiveness. Sighs...
Listen below:
Thoughts?
Photos: Getty/Stevie's IG
MUSIC VIDEOS: Pharrell's 'ETHNICALLY DIVERSE' "Marilyn Monroe" Video + Cover Art
Posted: 23 Apr 2014 11:11 AM PDT
Pharrell attempts to squash all "colorism" controversies with an ethnically diverse "Marilyn Monroe" video and a beautiful brown woman on the cover art. Check out both inside....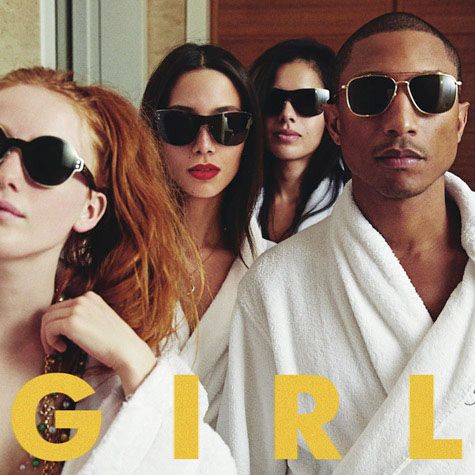 Remember the "colorism" controversy that surrounded Pharrell 's "G I R L" cover and the perceived lack of black women involved? He previously spoke about the incident to TheYBF.com saying,
"Well, they're ill informed. The woman I'm standing closest to, she is black and she's been a friend of mine for a long time. You know, I'm confused by it.

Then they're going to ask me do I not have an Indian woman on there or a Pakistani woman on there? But meanwhile, I do. She is African American and I feel sorry for her that people will look her dead in her face like she ain't black but she is black. It's a girl I use to date years ago.

It's just unfortunate because it's 2014 and we have a President [who's black]. Is this what it is? Is it because she's not brown? I don't feel funny about our President because he is what he is. Meanwhile, has anybody forgoTheYBF.comtten that I'm black myself? I wake up everyday and I wave the black flag. Everything that I'm doing. You know, this "Happy" song going #1. What is the guy that's singing the song? What do you mean?"
Well....you know you can NEVER please everyone, but Pharrell makes a valiant effort with his new "Marilyn Monroe" single cover art. It features a brown woman wearing red lipstick (take that A$AP Rocky), and the accompanying Luis Cervero-directed video features a large cast of ethnically diverse women plus an appearance from Kelly Osbourne.
Watch "Marilyn Monroe" below:
Photo via Pharrell Twitter/IG