---
UNFAZED: Porsha Williams Hits The Club After Posting Bail....
Posted: 18 Apr 2014 08:51 AM PDT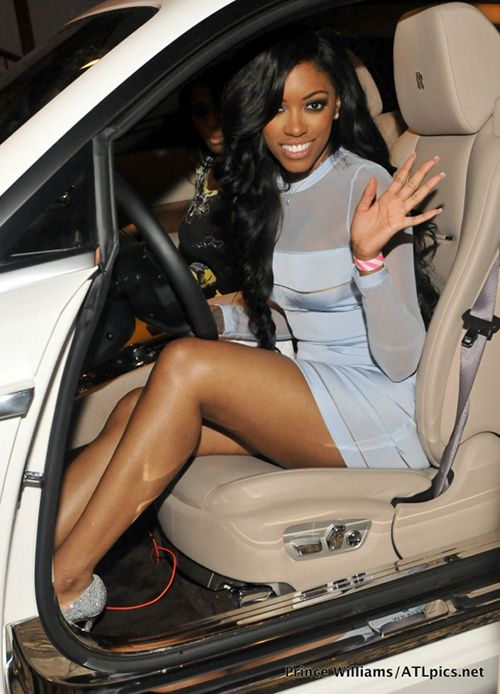 Porsha Williams pulled up to the club last night in that Rolls Royce she's been driving around. Check out the "RHOA" star going on about life after beating down Kenya Moore and posting bail....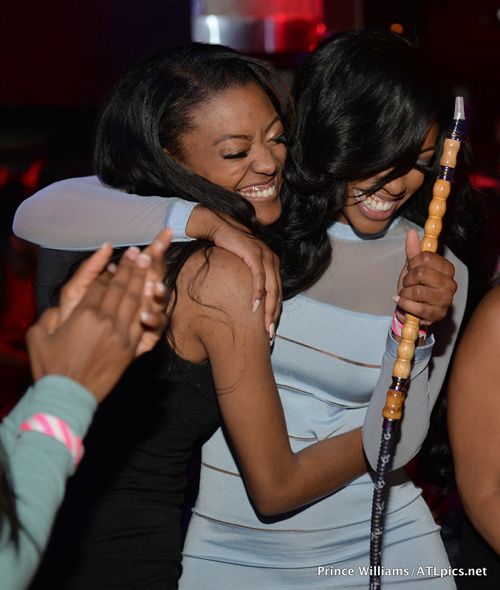 Apparently Porsha's got lots to celebrate. New boobs (which make her feel the need to go bra-less in a sheer dress so she had quite a few nip slips) and a new lease on fame thanks to her and Kenya Moore's fight that hasn't even aired yet.
So the divorcée hit up Reign nightclub in Atlanta last night with her sister Lauren. They drank it up and smoked some hookah while partying with friends.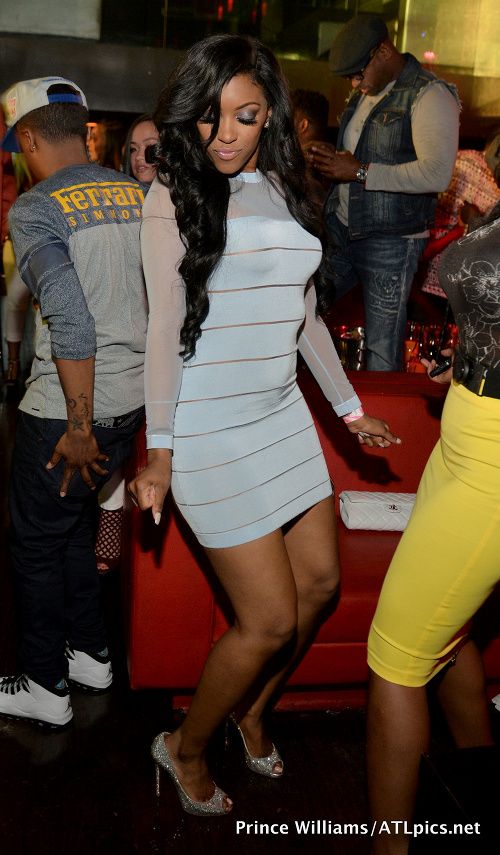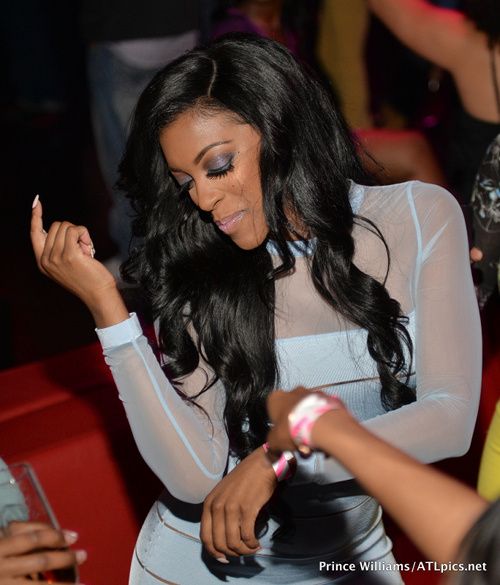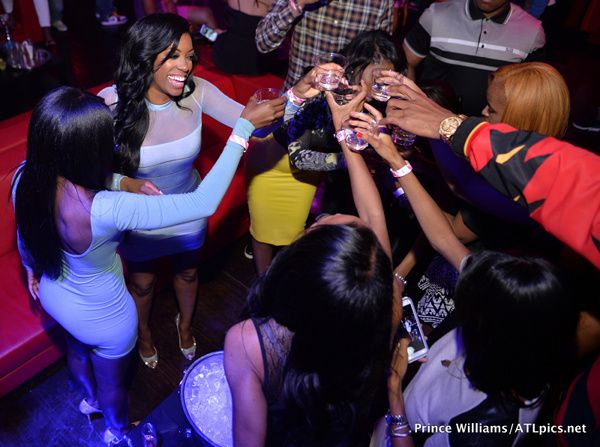 Porsha was booked and released from Fulton County Jail on Wednesday after getting charged with battery due to the epic dragging of Kenya Moore during the recent Reunion taping.
So now that she's out on bail, she's living it up: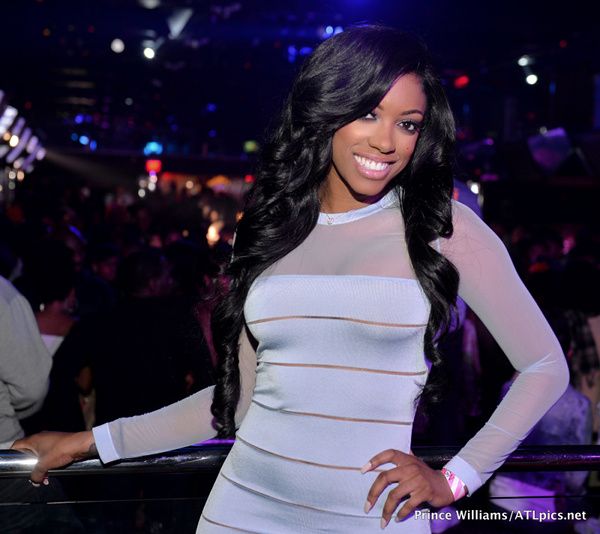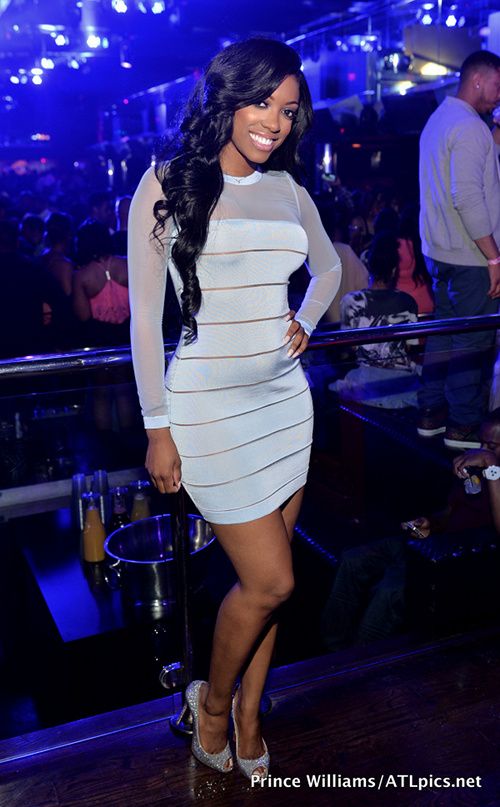 Check out another preview from the upcoming reunion show (with Part 1 kicking off this Sunday) below. Porsha accuses Kenya of having a fake African prince since NO ONE has ever seen him. And she ends up grabbing Kenya's scepter right before things go even further left:
Kenya said she's dated many famous people in her past and always kept her love life under the radar. (Even though she's now on a show about......LOVE LIVES.) She claims we didn't see pics of her and her men before, and we won't now.
Photos: Prince Williams/ATLPics.net
BACK ON! Keri Hilson & Serge Ibaka Are Back Together...Just In Time For The NBA Playoffs!
Posted: 18 Apr 2014 07:54 AM PDT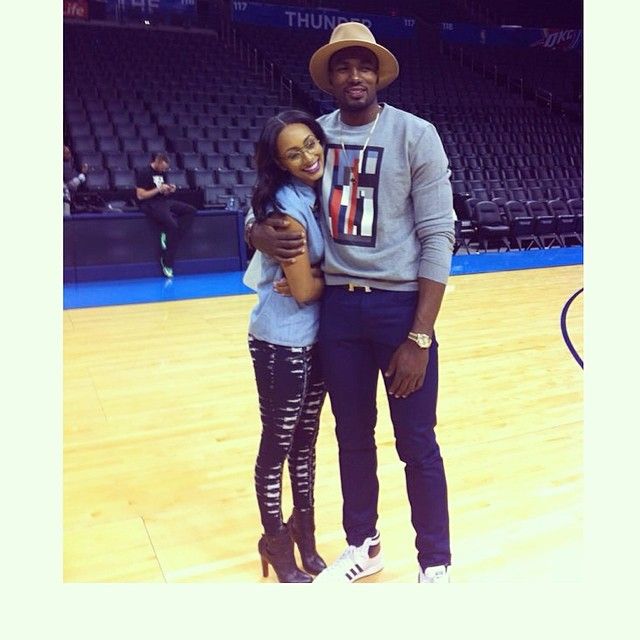 They're back on! Just in time for the NBA playoffs. OKC baller Serge Ibaka told the world that he just HAD to get his girl, Keri Hilson, back. Deets inside....
At Wednesday night's regular season closer, Keri Hilson showed up in Oklahoma to support her man. Well, now that they're back together.
Singer Keri and her fine ass man Serge Ibaka split recently. And Keri constantly talked about getting back to focusing on herself. She's been traveling, working on new music in the studio, working out like crazy, and posting pics to remind Serge about what he's missing: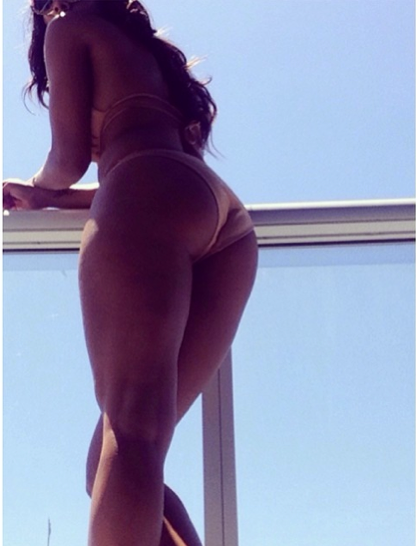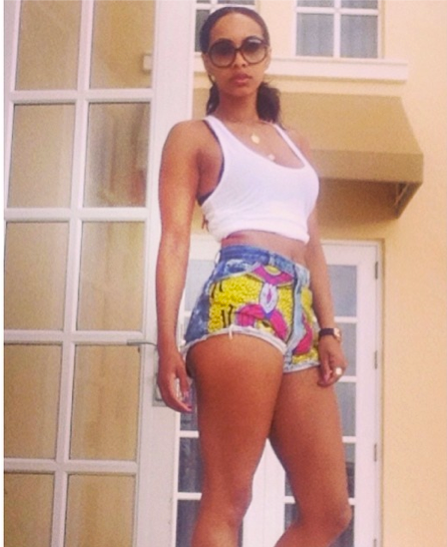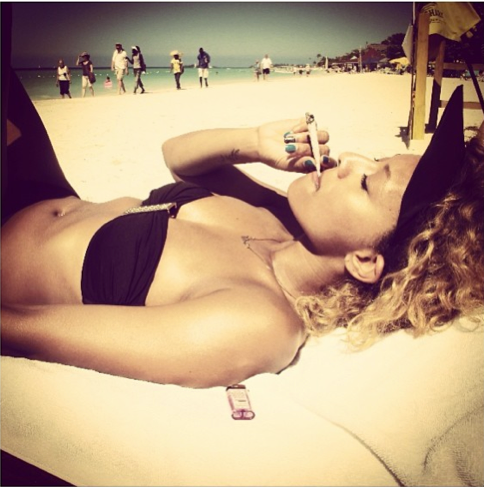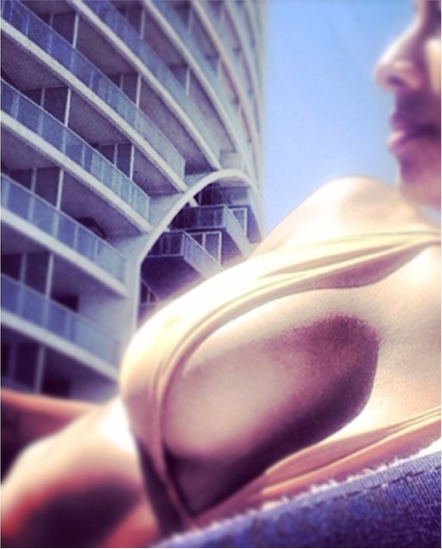 Hot!
Serge posted the pic of them together (atop) after the game saying, "Had to get my girl back". How sweet. Looks like he'll have some moral support on his road to the NBA championship. First playoff game on deck for the sexy baller: OKC vs. Memphis this Saturday.
Photos: Keri's IG, Serge's IG
JET SETTERS: French Montana & Khloe Kardashian Arrive At LAX…Together + Lamar Odom Inks A NBA Deal
Posted: 17 Apr 2014 06:18 PM PDT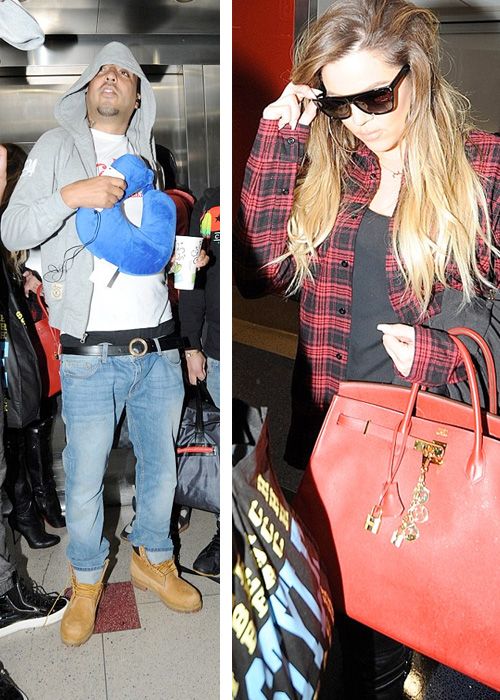 Fueling dating rumors even more, rapper French Montana and Khloe Kardashian were spotted at LAX today. Plus, Lamar Odom has inked a deal with a NBA team. See their candids and find out who Lamar will be playing for inside…
After double date night with Khloe's sister Kourtney and her beau Scott, French Montana and Khloe Kardashian are leaving L.A. to an undisclosed location.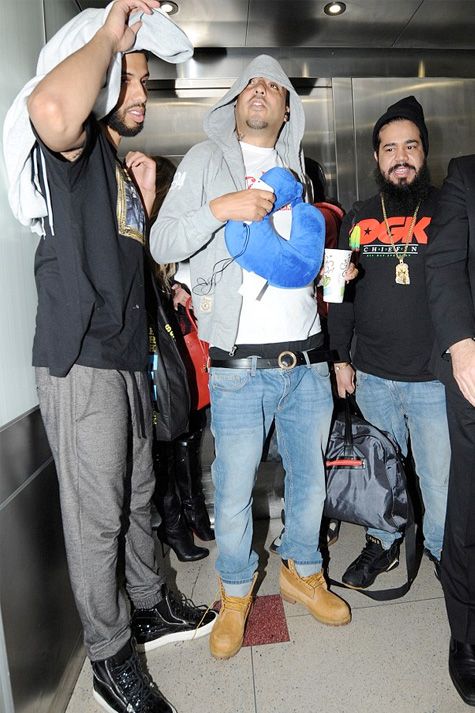 The rumored couple was seen walking through LAX as they waited to board a plane. Not sure why Khloe walked ahead of French like they weren't together (because we've already seen them hugged and cuddled up before) but she made her way along with Frenchie's entourage to the first class holding area.
French appeared not far behind Khloe as he covered his head, shying away from the paps.
The twosome still haven't confirmed or denied if they are indeed a couple, but from the amount of time they're spending together and how ticked off rapper Trina is, it's probably safe to say that they're more than just "friends."
Meanwhile, Khloe's ex-husband Lamar Odom (spotted at LAX back in February still wearing his wedding band) is getting a second chance after he inked a mini-deal to play in his hometown of New York. Lamar will be joining the New York Knicks...but under certain conditions. TMZ reports Lamar was signed a one game deal with the Knicks after being out of the NBA for the entire season.
The Knicks probably want to see the fallen NBA star workout before signing him a full contract for next season. Coming to the Knicks will reunite him with his old Lakers coach Phil Jackson, who is currently the Knicks team president.
Lamar has been desperately trying to get back in the NBA, but with all his alleged crack usage nonsense and DUI arrest, it's no wonder most teams passed on picking him up.
Photos: Splash/INF
The Randomness:
1. Actor Gary Dourdan has been cast as a love interest in a recurring role on BET's "Being Mary Jane" and and will be guest starring on FOX's "Glee." STORY

Kandi Burruss Goes In About Mama Joyce's SHADE At The Wedding, The Reunion Catfight & Attempts MiMi's Shower Rod Moves!
Posted: 17 Apr 2014 05:47 PM PDT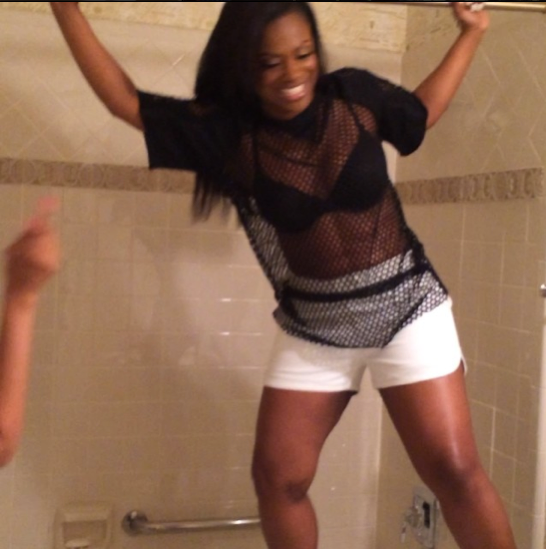 Oh Kandi! The newlywed "RHOA" star is flossing her shower rod skills...and asking MiMi Faust for help on how to get that ish popping like she did in her sex tape. Ha!
Check out what Kandi had to say about that foolery, plus she's dishing on Mama Joyce's shady activities during the wedding and the reunion foolery....
Kandi Burruss Tucker showed up on "Bethanny" today, and she gave us the real deal about her mama's status with Todd. And nope. ish hasn't changed. Kandi revealed her husband Todd started his own company, and moms still isn't impressed.
When asked if she thought her mom simply didn't want to share Kandi with anyone else, Kandi acted like she just had no clue WHY her mama has been acting this way. Chile, Stevie Wonder sees this ish. YES KANDI...that is the reason.
Check out her trying to explain her mama's actions and why she's still not feeling Todd below:
Kandi on how Kenya Moore provoked Porsha Williams on the reunion show:
And her funny IG videos where she tries to get her shower action practice in before Todd comes home from a trip. And it's a FAIL:
She said, "This is what happens when you don't have a @mimifaust pole.... I can't pull up on this!"
BONUS: Steve Harvey has some words for single mothers like MiMi who are letting the thirst take over their lives:
Photos/Video: Kandi's IG
Mike Epps INVESTIGATED After ALLEGEDLY Punching A Woman For Throwing A Drink At Him & His Wife!
Posted: 17 Apr 2014 05:18 PM PDT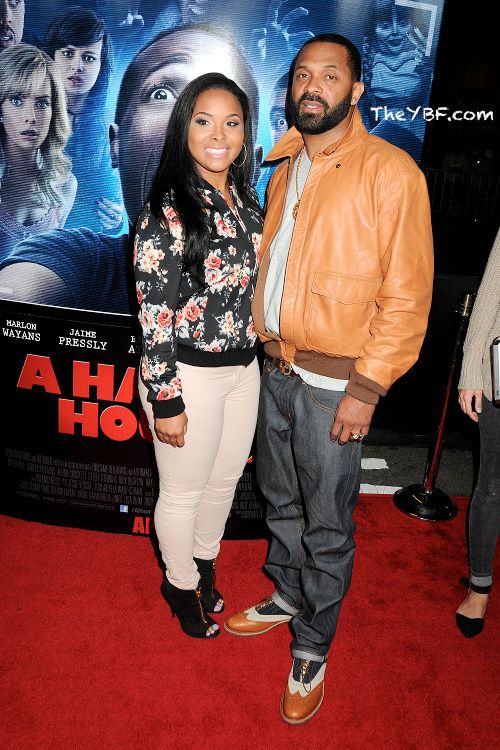 Mike Epps and his wife Mechelle hit up the premiere for comedy flick A Haunted House 2 and then they hit up the after party. 'HIT' being the ironic word here.
Ish hit the fan when a woman reportedly threw a drink at Mike & his wife Mechelle...because chick allegedly got chin checked for it. Deets inside….
Comedian Mike Epps is under investigation after a woman claims he punched her in the face last night.
After hitting the red carpet for the Haunted House 2 event, all smiles as they posed for the paps, Mike and his wife Mechelle went to an after party for the premiere at Lucky Strike in Downtown L.A.
According to TMZ, a woman, claiming she was in a previous relationship with Epps, confronted him about…what... we're not sure exactly, resulting in Mike supposedly punching the woman in the face and demanding security escort her out of the club.
Sources say the woman walked up on the Sparkle actor while he was with his wife (he asked security earlier for extra privacy). The woman apparently became hostile and threw at drink at them. Mike allegedly hit the woman and she promptly called the cops.
Law enforcement says they didn't find one sign that she was assaulted and Mike told police he didn't lay a finger on the woman. Since the woman made claims that she was in a previous romantic relationship with Mike, the case has been transferred to the domestic violence division and the investigation is still ongoing. Oh lawd!
Could be a case of a crazed fan OR...Mike could have treated the woman like he did that paparazzo he snuffed after he invaded his privacy...

Photos: Splash
Rick Ross TALKS Massive Weight Loss & Love Of Lemon Pepper Wings + Future's "Benz Friendz (Whatchutola)" Ft. Andre 3000
Posted: 17 Apr 2014 04:34 PM PDT
During a press stop through Washington, D.C. rapper Rick Ross commented on his dramatic weight loss...while celebrating his 25th Wingstop location. Listen to the two worlds collide inside and hear Future's new track with Andre 3000...
You might have noticed that Rick Ross has slimmed down after all his health scares. During an interview with 93.9 WKYS in D.C., the rapper celebrated the signing of D.C. native Fat Trel and talked about slimming down. He said, "It was time for me to tighten up a bit. As far as me working out, I have no destination...I'm just trying to do some things differently."
Keep up the great work Ricky!
On another note.....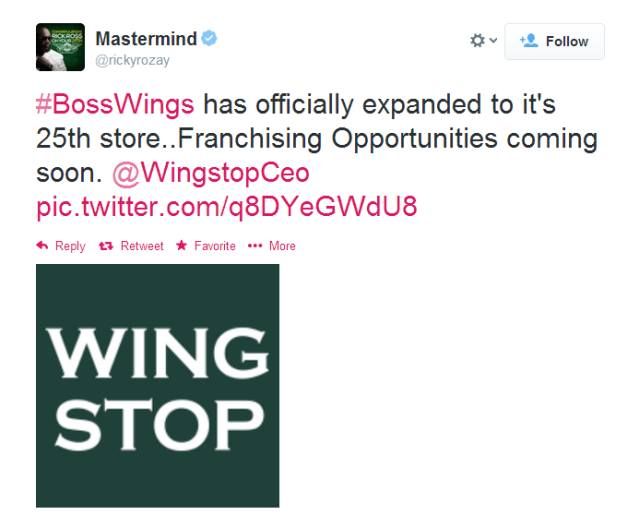 Did you know Rick owns 25 WINGSTOP Franchises? We've talked about him owning 1 or 2...but now, he's got 25 under his tightened belt!
While he says he's doing things differently (and it looks like he is) he still loves his lemon pepper wings! Fans of MMG already know about his love of LP wings because they pop up are references in several songs (see Rick's lemon & pepper track list). Recently, he discussed his wing love and revealed why he saw WINGSTOP as a good business opportunity during a recent Arsenio Hall interview...
Not mad at that business opportunity.
In new music....
Future teams with his former Dungeon Family member Andre 3000 on "Benz Friendz (Whatchutola)," a cut off Ciara's fiance's Honest album (due April 22nd). The duo performed the song for the first time during OutKast's reunion at Coachella over the weekend.
Check it below:
Photos via KYSDC.com
The Randomness:
1. This year, First Lady Michelle Obama will deliver commencement addresses at Dillard University, an assembly of high schools in the Topeka, Kansas Public School District, and the District of Columbia College Access Program (DC-CAP).
2. Donovan McNabb's mugshot has been released from his December DUI charge. He just recently had to serve 1 day in jail as part of his plea deal. Arizona and black men seem not mix.... STORY
NEW HUE: Letoya Luckett Gets FAB For Rolling Out Magazine, Talks Self Esteem Issues & Tells Young Women To Cover Up
Posted: 17 Apr 2014 04:02 PM PDT
Letoya Luckett graces the cover of Rolling Out magazine's latest issue and she looks effortlessly gorgeous rockin' a new hue. Read about how the former Destiny's Child member deals with self esteem issues and peep her simply fabulous spread inside…
"Single Ladies" star Letoya Luckett is serving up some serious fierceness for the new cover of Rolling Out magazine's latest issue. The "Torn" singer stuns in three different looks including neons and floral prints, all shot by celebrity photographer DeWayne Rogers.
The 33-year-old is gearing up for the release of her new film From the Rough and currently working on her third solo album titled Until Then (which is scheduled to drop later this year).
In the Rolling Out interview, Letoya opened up about her own insecurities and learning how to love the skin she's in. Yo're probably thinking what we're thinking, "What insecurities could she POSSIBLY have?"
She said,
"I had things about myself that I [didn't] like. I [would always say] 'I wish I had this, I wish I had that.' I used to have this thing about my legs. If you look at all of the Destiny's Child albums from when I was a part of the group, you never saw me in a skirt. I was always the one who wore the pants, because I felt like my legs were too skinny."

Clearly she's pretty damn confident now with those gams.
As beautiful as Letoya is, it's kinda hard to believe she had self esteem issues, but it goes to show that we all can pick our selves apart and we all should learn to accept our own "flaws".
Letoya also offered up a bit of advice to the young ladies who are exposing themselves for the masses...unfortunately she didn't name any names:
"With the younger gals now, because certain things are being celebrated, they feel they have to show certain things to be appreciated or liked by men.

I don't think I ever found myself being tempted to just go crazy with it. I was dealing with self-esteem issues. I didn't even wanna show my legs, let alone my butt and all of my goodies! There's a certain time for that and only this many people should be lucky to see it: You, Jesus and a couple of other folks, but not the entire world. If you're going to do it, let it mean something. Make a statement. Make it stand for something. Not just to be posing on your bathroom sink, doing a selfie with [your] stuff out!"

Fab!
You can check out her full interview in the latest issue of Rolling Out on newsstands now or online here.
Photos: DeWayne Rogers

DJ Drama & Wife He Cheated On Finally Divorce? MEET DJ Drama's Alleged New Boo Playboy Model Jessica Burciaga
Posted: 17 Apr 2014 03:39 PM PDT
Looks like DJ Drama has a new boo...possibly. Drama and Playboy Model Jessica Burciaga were spotted in the Bahamas recently…together. Isn't he married? Check the pics and the deets inside…
It looks like DJ Drama is possibly seeing someone new and that woman would be Playboy model Jessica Burciaga (who kinda reminds us of Jennifer Lopez).
You'll recall we exclusively told you about DJ Drama and his messy infidelity, allegedly KNOCKING up a then 21-year-old while he was still married to his wife, Summer Walker. His cheatin' behind then tried to PAY his side chick $10,000 to get an abortion and keep quiet....allegedly.
Sighs…
Despite the married couple (above) staying together afterwards, it seems they may have called it quits because we're told one half of the couple recently filed for divorce. We're in the process of confirming this...
Apparently Summer has moved on as well. She posted a picture of herself and her new beau (which she later deleted) with the caption, "Happiness often sneaks in through a door you didn't know you left open. -John Barrymore"
In the comments on the pic, Summer allegedly addressed her current relationship with Drama saying she and Drama are still good friends and that he is currently dating Jessica.
Soon after, Drama and Jessica posted the same picture (above) of what appears to be them hugging, but their heads are cut off. They posted this picture on the same day.
A few days ago, Drama and his new boo Jessica were in the Bahamas enjoying time on some jet skis:
And he also has been showering her with gifts:
She posted the pic above of her in a sexy black negligee with the caption, "Thanks for my new lingerie baby"
SIDENOTE: Would it have hurt her to clean up the mess in the background first?
You may have heard of Jessica Burciaga before. She's a Playboy model who has been reportedly linked to high-profile celebrities such as Kobe Bryant, Floyd Mayweather and NBA baller Paul George. She was allegedly the reason Floyd Mayweather broke up with Shantel Jackson in 2011. Now she has made her way to DJ Drama.
We guess...
Photos: DJ Drama IG/Jessica's IG
Nas ROCKS The Stage And CELEBRATES "Time Is Illmatic" Premiere With Raekwon, Pete Rock, Wale & More
Posted: 17 Apr 2014 02:49 PM PDT
Nas celebrated the 20th anniversary of Illmatic with a stellar performance at the Beacon after the big Tribeca Film Festival premiere of his documentary Time Is Illmatic. See the pics and performance clips inside...

True artistry was on full display last night. And they just don't make 'em like this anymore.
The 13th Tribeca Film Festival kicked off Wednesday night with the Nas documentary Time is Illmatic, directed by multimedia artist and first-time director One9. Nasty Nas hit the carpet before the big night looking dapper.
The movie chronicles Nasir' journey from the Queens projects to the debut of his 1994 record Illmatic. Tribeca Film Festival co-founder Jane Rosenthal said "The nature of the subject is about surviving and thriving. That's what New York did post-9/11. And that's what Nas has done in his career. It's about bridging cultures and bridging communities — that's what his work is about."
The viewing was held at NYC's Beacon Theatre and follow a performance of the entire Illmatic album.
On the red carpet.....
Wale posed on for he cameras.
Famed actor and Tribeca FIlm Festival founder Robert De Niro attended with wife Grace Hightower. Mr. De Niro said, "The fact we're here at the Beacon is great. I've seen so many plays and music performances here over the years and so it's a perfect place to open with this movie."
And then he took it to his after set to rock the stage.
Alicia Keys played the intro to "N.Y. State of Mind" and introduced Nas.
According to The Huffington Post, Nas reflected on his upbringing during the film saying,
"Queensbridge, to me, it looked messed up. It looked like a buried diamond. I had a chance to have a childhood for at least a little bit, and then I felt like I had to become a man early to deal with my environment. I saw the difference early on, the type of parents I came from. Good people, hard workers. We had color television, we had a VCR, we had a carpet. We had nice things in our place, compared to some of my other friends who had nothing. Who ate hot dogs for dinner. Who had no furniture, just living bad. We didn't really lack food. My mom was a great cook. Everybody wanted to come to our house. 'Ms. Jones cooking? I'm over there!' She had a great spirit. She didn't talk with cuss words. She didn't talk street stuff. She was not like that. If we needed stuff she said, 'I don't want y'all to go out there and do it [in the streets], find another way to get it.'"
Check out the full interview with the doc's director about how the classic NYC Festival chose Nas' album over all others to feature.
After the premiere and concert, everyone headed over to Providence night club where guests enjoyed specialty Hennessy cocktails.

Raekwon, Pete Rock, Eric B. (atop) and Steve Stoute (background) were in attendance.
Nas' little brother Jungle posed with a bottle of Hennessy V.S "Wild Rabbit". You'll recall that Nas is the face of the campaign.
DJ D-Nice kept the party moving and the records flowing. Nice!
Watch Nas on stage at the Beacon:
Photos via KirillWasHere.com
LaLa Anthony Reveals It Takes Blood, Sweat, Stilettos...And Sex To "Have It All"
Posted: 17 Apr 2014 02:17 PM PDT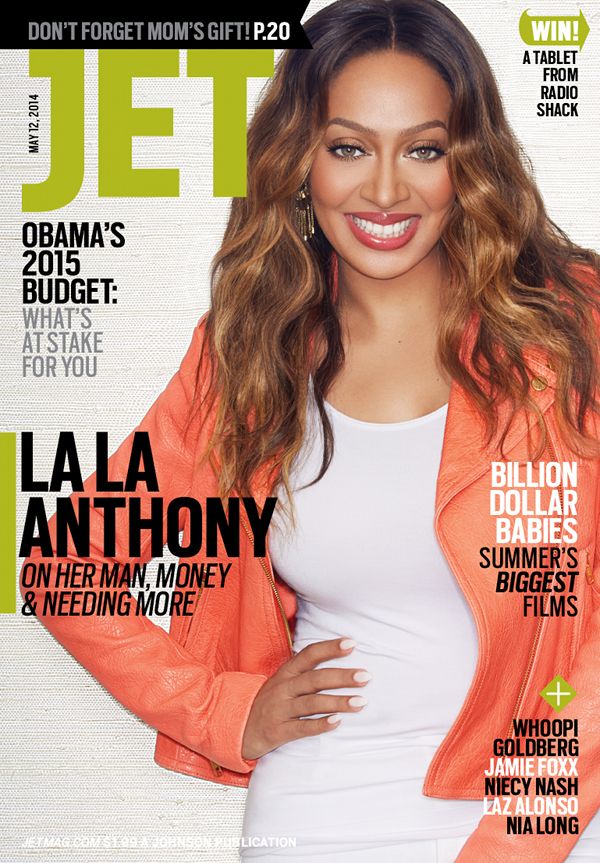 LaLa Anthony is keeping it cute on the cover of JET magazine's newest issue. And the reality star is informing the ladies of how to have it all...but it takes blood, sweat, stilettos...and sex.
Check out the highlights inside,
With a brand new shoot for JET magazine, NYT Best Selling Author LaLa Anthony is dishing up some pointers about how to keep your relationship tight and right.
She seemingly has it all-- a new movie (Think Like A Man Too) on the way, more time with her NBA star hubby Carmelo (now that he's officially in the off season), a successful book– The Love Playbook: Rules for Love, Sex and Happiness, the clothing line 5th & Mercer, and her reality television show that returns next month to VH1, "La La's Full Court Life."
Sheesh.
"I have an independent hustler's spirit," says Anthony about her many ventures. "That drives me to this day. I never want to ask anyone for anything."
So chick revealed how we all can "have it all too". Some of her tips include:
1. Never Stop Doing You – "The difference with me is that when I first got to know my husband I was already hosting MTV's Total Request Live, so I came with a full career," she says.

2. Accept That Having It All Will Require Blood, Sweat and Stilettos – When asked about balancing a family, career and friendships, Anthony responded saying, "It's tough. I always say that people who think it isn't aren't being honest."

3. Sex May Sell, But Love Keeps You Off the Market – "If you don't try to spice it up and keep it sexy, anyone can get bored but the key is really taking time with each other," advises Anthony.
Check out more over at JETmag.com and pick up the May 12 issue on newsstands April 21.
Guess what....Orange Is The New Black is back! The gripping teaser for season 2 just hit the net today, and the Netflix original series returns with 13 episodes on June 6th.
Now, we admit....we haven't FULLY succumbed ot the hype. Only got through half of season 1 because it seemed we were missing something. But we know the rest of the world is freakin' estatic.
Catch Laverne Cox, Uzo Aduba, Piper Schilling and the rest of the crew in the new season as they continue their sometimes hilarious lives at Litchfield Women's Prison.
The Randomness:
1. THIS rapper who cut his penis off...yeah...doctors are unable to re-attach it. STORY
Photo: JET
DRUNK IN LOVE: Nick Young ON Iggy Azalea's A$$ -- "What I'm Gonna Do With This Shouldn't Be Legal"
Posted: 17 Apr 2014 01:01 PM PDT
In a display of "TMI", LA Lakers star Nick Young aka Swaggy P stumbled out of the club last night and made a few ASStastical remarks about his rapper girlfriend and GQ mag co-star Iggy Azalea. Watch what he said inside...
Following the LA Lakes final game (which they won) and a night out at 1 Oak on Sunset Boulevard, a TMZ photographer asked him why HE chose to make a speech to the crowd at the LA Staples Center. Swaggy P and his ego said:
"I'm the star! I'm Swaggy P! You see what I'm going in this car with? (points to Iggy's bottom) ... What I'm gonna do with this shouldn't be legal ... ALL OF THAT ASS!!"
SMH.....
Photo via Iggy's Instagram
BOSS MOVES: The Carters' Joint Summer Tour POSSIBLE New Details + First Poster For "Home" Animated Film With Lead Rihanna
Posted: 17 Apr 2014 12:22 PM PDT
Carter fans get excited! Hip Hop's favorite couple is (rumored to be) going on tour this summer, as previously reported. And we now know the alleged name of the tour and new stops they plan to make. Also, Rihanna is starring in the Dreamworks animated film "Home," which is the first futuristic animated movie that features a black character as the lead star. Read all the deets inside…
The Carters have been full of surprises lately and we can't get enough of them. After surprising Coachella fans with unanticipated appearances, Beyonce and Jay Z are reportedly headed on a joint summer stadium tour, possibly named the Mr. and Mrs. Carter Tour.
We told you that Bey & Jay plan to announce a 20-stadium US tour that will start in June...and now more possible details have emerged.
The Carters will allegedly kick off the U.S. leg of their tour on June 13th in Atlanta and will finish the tour August 6th in San Francisco. It's reported the couple will also perform at the Rose Bowl stadium in Pasadena on August 3rd, four days before Rihanna and Eminem will hit the stage there for their Monster tour two-night stop.
The fab couple will then trek overseas to Europe in September for several shows in Paris, supposedly.
It's likely the Carters will also perform at Jay and Budweiser's Made In America festival (which Jay announced will be in L.A. AND Philly on the same weekend) in L.A. or Philly…or possibly both as they make their way across the nation.
Can't wait!
And in RocNation news...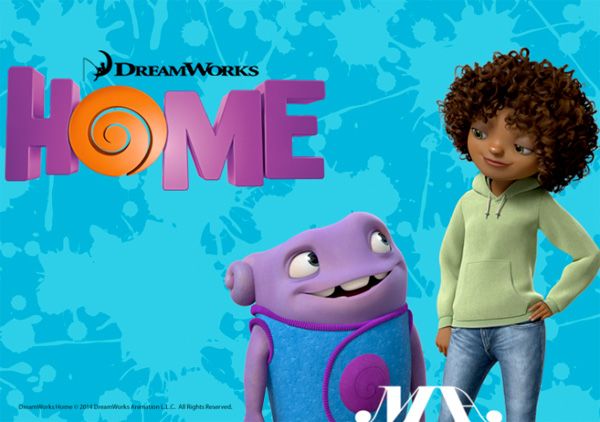 We told you about Rihanna landing a leading role in the upcoming Dreamworks animated 3D film, Home but new details about the film have surfaced.
The futuristic 3D computer animated movie will star a young black girl as the lead character in the movie, the first time a black character has been cast as the protagonist in this genre of animation. RiRi will voice the lead character named Tip, with supporting characters being voiced by Jennifer Lopez and Steve Martin.
Here's a synopsis of the film:
When Earth is taken over by the overly-confident Boov, an alien race in search of a new place to call home, all humans are promptly relocated, while the Boov get busy efficiently reorganizing the planet. But when one resourceful girl, Tip, (Rihanna) manages to avoid capture, she finds herself the accidental accomplice of a banished Boov by the name of Oh (Jim Parsons). Equally stubborn and set in their ways, these two fugitives realize there's a lot more at stake than intergalactic relations as they embark on the road trip of a lifetime. Good thing they have a flying car.
Below is a short sneak peek of the film, excluding an appearance from Tip (Rih's character):
Cute! Home is expected to hit theaters on Nov. 26th.
Photos: Beyonce's Tumblr/Dreamworks
IS THAT YOUR CHICK?: Taye Diggs MYSTERY Woman Revealed!
Posted: 17 Apr 2014 11:26 AM PDT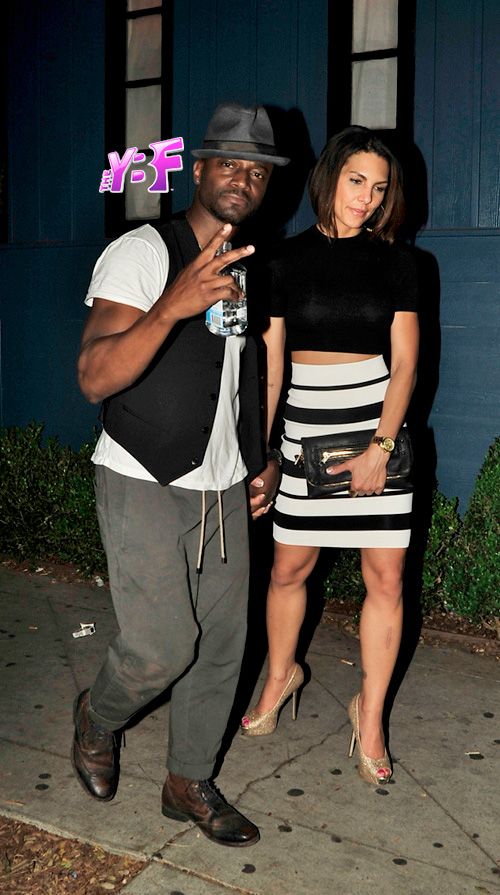 Taye Diggs isn't wasting any time to snatch himself up a PYT. He was spotted hand-in-hand with a mystery chick recently and now she has been revealed. Find out who Taye's been getting close with inside…
We already told you how
Best Man Holiday
actor was
spotted leaving Hooray Henry's Nightclub
in West Hollywood last week...holding hands with a mystery chick. Well, she's no longer a mystery after
sources
tell PEOPLE that she's a model named
Amanza Smith
. And no, that's not a typo.
Now he's holding hands and smiling at the paps as he and his lady friend walk the streets in Hollywood. Could it be love? Sources say, "They are fully dating. They're telling friends they're in love."
He clearly has a type...
It was also reported they couldn't keep their hands off one another on a red eye flight to NYC on Friday.
Just fours months after announcing his separation from his wife, Frozen star Idina Menzel, Taye has found him a new boo and isn't afraid to show it. This guy surely moves fast…
The Randomness:
1. Pat Houston's restraining order against Nick Gordon has been extended to 1 year. STORY
2. Snoop Dogg just nabbed himself a six-date residency at TAO Las Vegas! The "Snoopadelic Cabaret" kicks off Saturday, May 3, after the Mayweather - Maidana fight, with the second event roaring into TAO on Sunday, May 25. Additional dates will be announced throughout the summer and fall seasons.
Photos: Splash