---
Posted: 12 Apr 2014 09:43 AM PDT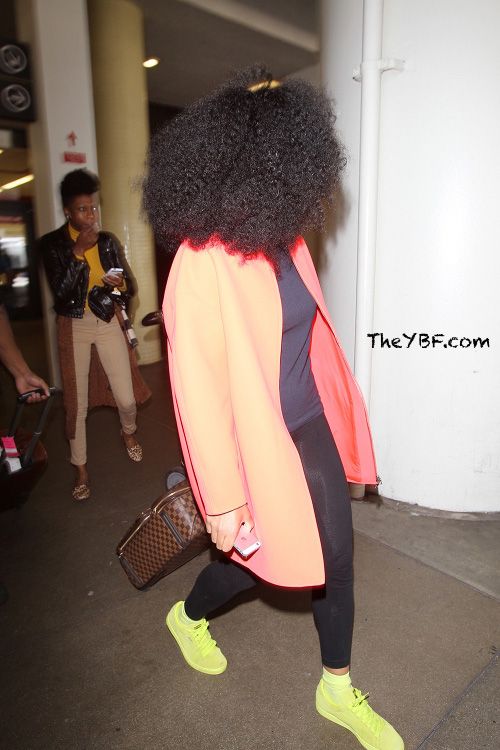 This YBF chick is known for her funky, eclectic fashion and style. Guess who let her hair loose as she trekked through LAX in neon yellow sneakers yesterday when you go inside…
If your know your stylistas, this one is easy.
It's...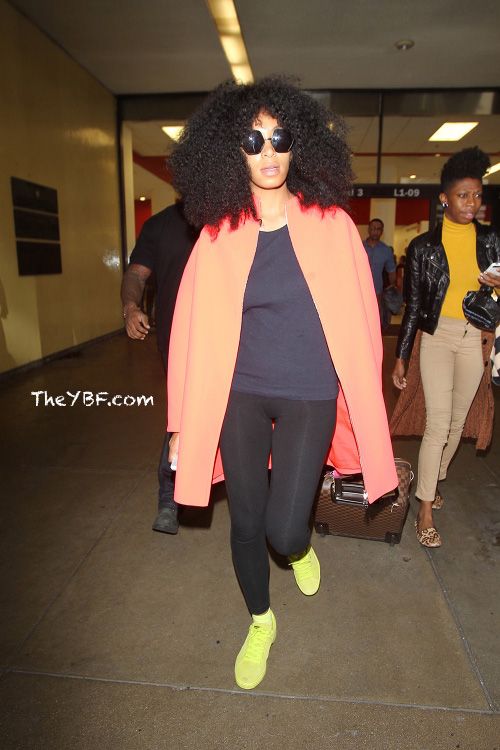 Solange Knowles! Beyonce's fab little sister was spotted looking laid back in a black t-shirt, black leggings, a coral knee-length jacket and neon sneakers arriving at LAX airport, jet setting from New Jersey. While most people would look like that crazy old lady who thinks she's still 25 and only comes out the house for her hair appointments....Solange made this look super cute.
She's probably making her way to Coachella Music & Arts Festival as she scheduled to rock the stage tonight at 8:25pm/PST. Stay tuned for video of her performance...
Photos: Pacific Coast News

CELEBS LINK UP AT COACHELLA: Diddy & Cassie, Zoe Kravitz, Christina Milian & Karrueche, Amber Rose & More
Posted: 12 Apr 2014 09:00 AM PDT
Diddy and Cassie spent last night together at Coachella. Check out the twosome making their arrival, plus Christina Milian, Karrueche Tran and Amber Rose living it up at the Festival....
Over in Indio, CA, The Coachella Arts & Music Festival is officially underway..and a few of your YBF faves were front and center to watch Outkast headline night 1.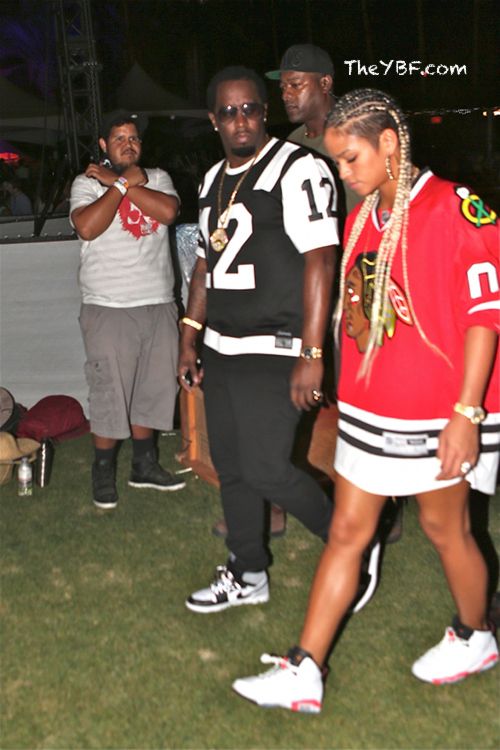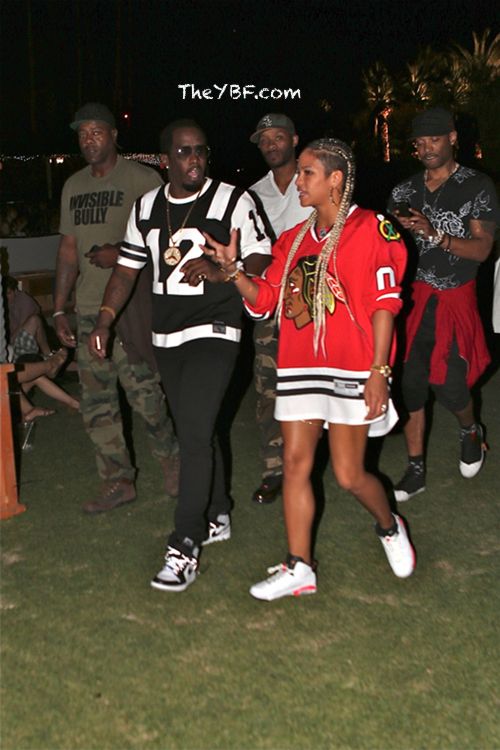 Diddy and Cassie showed up together in their jersey tees, with Cassie rocking her new blonde braids.
The twosome were boo'd up after arriving by private jet with the Revolt crew. Diddy even bought a 1997 Cadillac Deville in Outkast's honor as soon as he arrived. And Cassie didn't mind showing off her custom look:
Cute. She loves a tomboy chic look these days.
Amber Rose was spotted in VIP sipping away on some drinks while watching the music: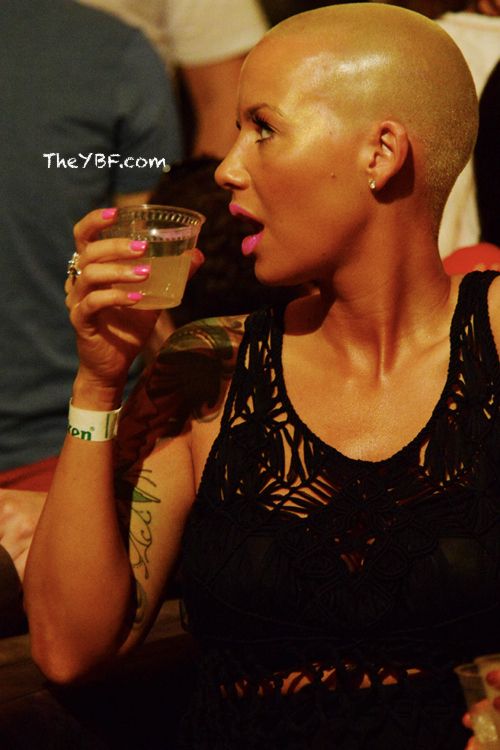 Her husband Wiz was there as well. And it looks like Mommy Amber is enjoying her night out...
Actress Zoe Kravitz put on her other artsy hat tonight....the one that's more like her rocker dad Lenny: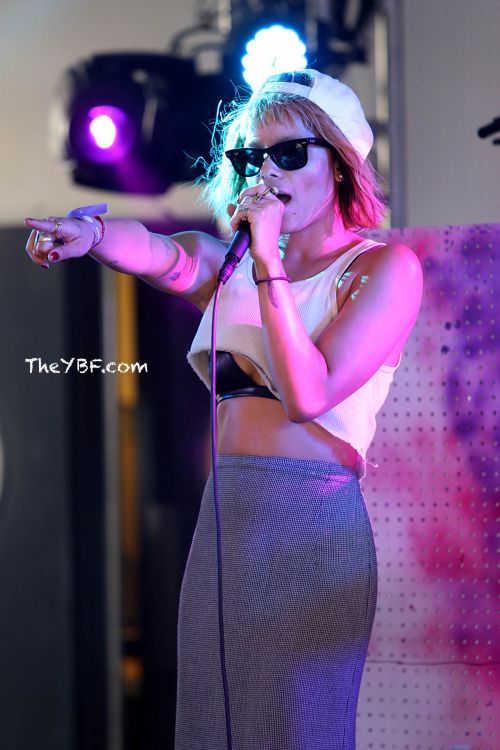 The Divergent star performed at the Ace Hotel in Palm Springs with her band 'Lola Wolf' as part of the Dickies and Tilly's Coachella event.
New besties Christina Milian and Karrueche Tran hit up the gifting suite (of course) to cop some free swag. And they also were there because Christina's Platinum E Hookahs were being featured.
The twosome snapped pics inside a tent at the Kari Feinstein Music Festival Style Lounge at La Quinta Resort and Club"
And snapped pics with all their free gifts: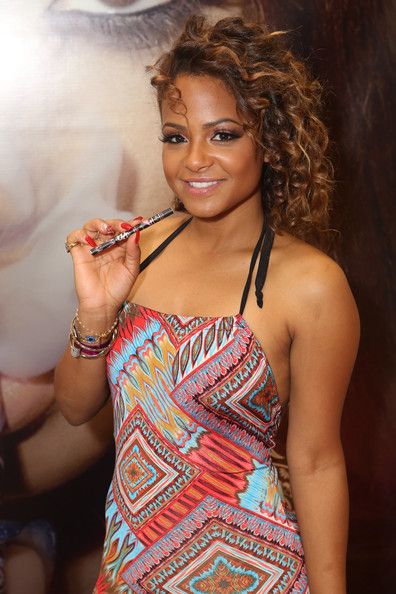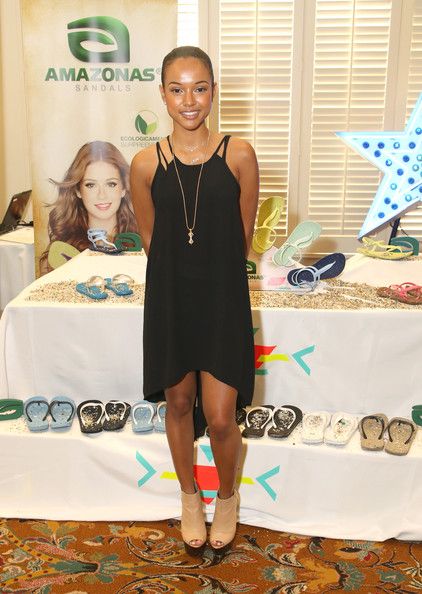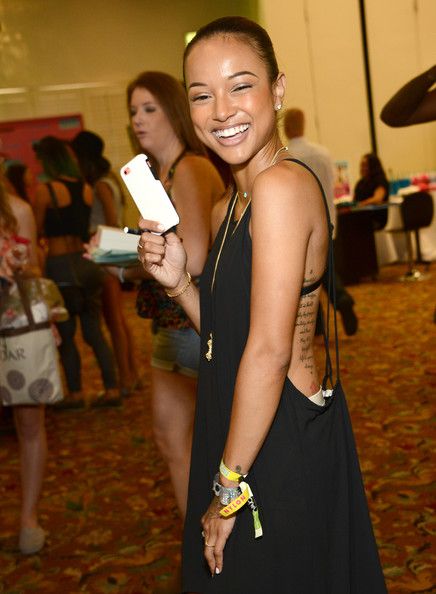 And back at their hotel, Chris & Kae were riding Spyders with friends in the driveway: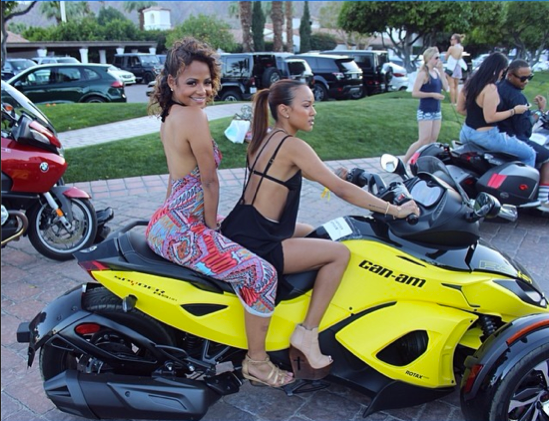 They know how to have fun...
Check out lots more pics of celebs getting it in at Coachella in the gallery below!
Photos: Christina's IG/Kae's IG/Splash/Cassie's IG/Diddy's IG/Getty
DO IT FOR THE VINE: Elmo Performs CUTE Parody With Craig Robinson On "Sesame Street"
Posted: 12 Apr 2014 08:42 AM PDT
Get ready for some Saturday cuteness. Elmo and actor Craig Robinson recreated the popular trending viral video, "Do It For The Vine." Check out the cute & funny video inside…
Our fave Sesame Street character, Elmo and Meet The Peeples actor Craig Robinson performed the cutest parody on "Sesame Street." Their version of the viral video "Do It For The Vine."
In case you missed, there's a video that went viral (below) of a little girl dressed in dance attire and an older girl sitting in a chair telling the little dancer to "do it for the vine." The little girl responds twice with "I ain't gonna do it" before breaking out into a mini-dance routine.
Elmo decided to get in on the fun and made his own rendition of the viral video with Craig Robinson below:
Ha! Too cute…
Videos: Vine/Youtube
NO NEW FRIENDS: Rihanna Heads Out In Sexy Black Mini Dress WITH DRAKE To Celebrate Melissa's Birthday At Giorgio Baldi
Posted: 12 Apr 2014 07:38 AM PDT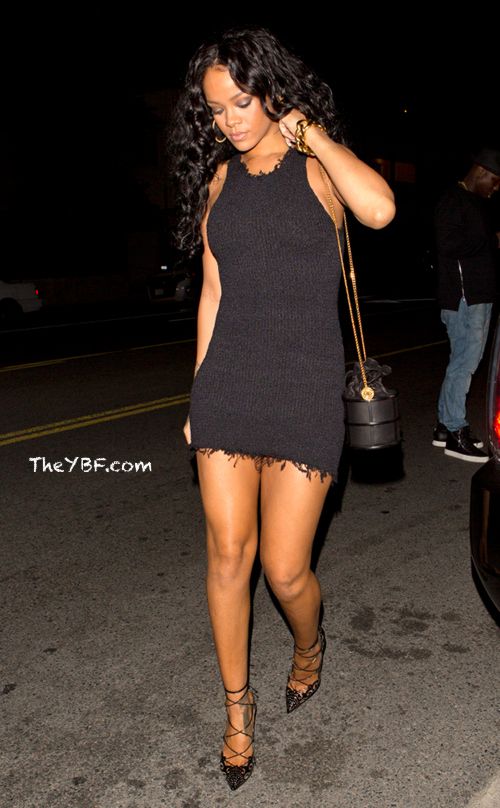 Rihanna spent last night with her best friend...and her best man. Check out the sexy pop star showing off her flawless gams and celebrating Melissa's birthday with Drake and an intimate dinner....
Rocking a fringed hem black mini dress and Louboutin lace up laser cut heels, Rihanna kept it sexy while arriving at her fave eatery last night, Giorgio Baldi in Santa Monica.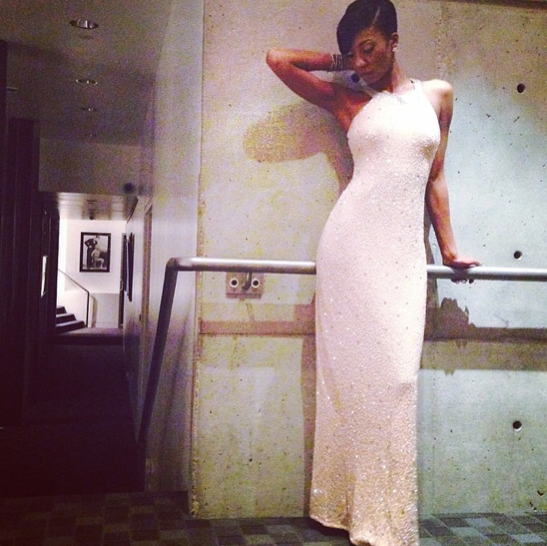 It was all to celebrate her best friend Melissa's birthday.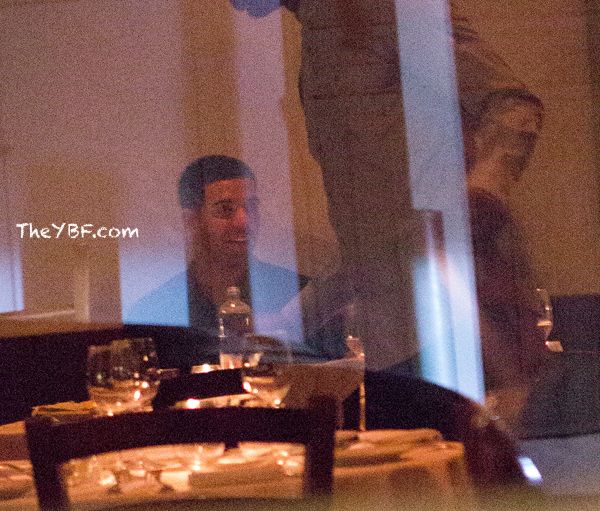 And even Rih's boo Drake was there looking enamored with his girl. Things are definitely heating up...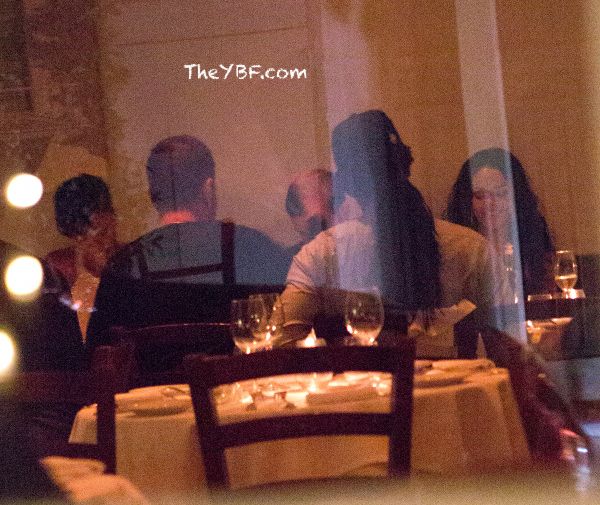 But...is that a mask?!
Before dinner, Rihanna showered her girl with tons of flowers and a super sweet IG note, in her island dialect:
Rih gushed about her girl dropping everything years ago to come hold her down during this journey and said she wouldn't be here if it wasn't for her:
Nobody in de world could mek me laugh di$ ra$$hole hard, Nobody cud talk a$ much cunt a$ you, Nobody cud keep my dirty lil $ecret$ like you, Nobody el$e cud embara$$ my $tyle....You literally make bitche$ wi$h they had an M.Forde by their side! I will never take for granted the day you packed your $hit and left BIM to come hold me down, cuz God know$ I would never be able to $urvive thi$ and remain my$elf through it all! You are literally the $trongest, $exie$t, most perverted, humble, kind, intelligent, $hady a$ PHUCK human being I know! My $i$tren!!! My hitta!!! I know I tell you thi$ all the time, but Money cud neva buy what you give me!! Our friend$hip will alway$ be family! Ya $weet a$ $ex!!! #MDollaz #April11 #HappyBirthday
Sweet.

Fab times!
Photos: Splash/Melissa's IG
COACHELLA 2014: Outkast ROCKS OUT With Special Guests Janelle Monae & Future [VIDEOS]
Posted: 12 Apr 2014 07:17 AM PDT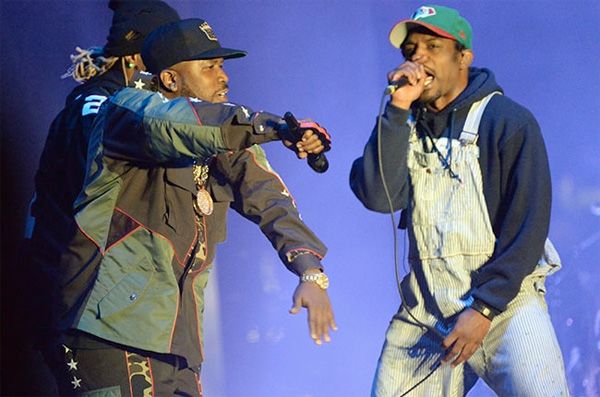 Legendary rap duo Outkast hit the stage at Coachella 2014 last night. Check out their full epic performance and watch special guest Future and Janelle Monae take the stage with the duo inside…
Newly-reunited band Outkast stormed the stage last night for the first time in years at Coachella Music & Arts Festival.
Andre 3000 and Big Boi kicked things off with a rendition of "Bombs Over Baghdad" from their album Stankonia. The Atlanta duo then went through their countless hits such as "ATLiens," "Rosa Parks," "Aquemini", "So Fresh And So Clean," and many others.
"It's good to be back," said Big Boi.
Big Boi performed a solo set with hits including, "Kryptonite (I'm On It)" and Shutterbugg." Soul singer Janelle Monae joined Big Boi on stage for "Tightrope"
Andre 3000 performed his solo set with hits including, "Prototype" and "She Lives In My Lap." And guess who was in attendance to check out their performance? Prince!
"I'ma tell y'all a secret. One of my idols is backstage. Prince is right there. No joke," Andre said.
Rapper Future joined them on stage for "Same Damn Time" and "Ain't No Way Around It." Soon after, Future debuted a new track "Benz Friendz," featuring Andre 3000, from his upcoming album Honest (which drops April 22nd).
Check it:
Outkast closed their set with mainstream hits, "Ms Jackson," "The Way You Move" and "Hey Ya," before the set was cut at 1:00am/PST resulting in boos from the crowd and apologies from 3 Stacks.
Check out their FULL set below: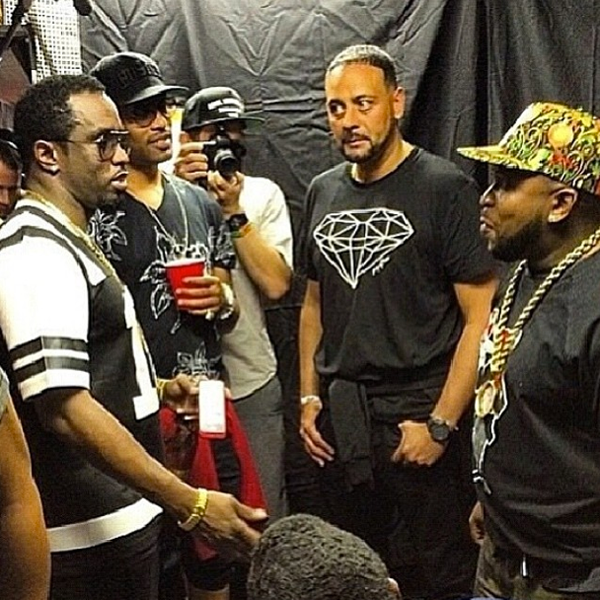 And Diddy caught up with Outkast backstage as he reflected on working with them on their first video saying, "Live from Coachella...talkin to OUTKAST. I'm proud to have directed their first video. Lot of y'all didn't know that look at @jamescruz1 hhaaaa"
Photos/Videos: Getty/DDotOmen/Diddy's IG

LIVE STREAM: Outkast REUNITES At 2014 Coachella Music Festival
Posted: 11 Apr 2014 10:22 PM PDT
It's an Outkast reunion! And we're pretty damn excited about it. Legendary rap duo Outkast will hit the stage for the first time in years tonight at Coachella. Check the live stream inside…
Coachella Music & Arts Festival is in full swing in Cali right now, including performances this weekend from Outkast, Pharrell Williams, Nas, Jhene Aiko, Kid Cudi and Solange.
But tonight at 11:05PM/PST Andre 3000 & Big Boi will take the stage after not recording or performing together in years. The duo was originally scheduled to hit the stage at 11:30pm/PST but due to the amount of hits they want to perform, according to Big Boi, they are hitting the stage earlier. Get ready for an epic performance.
Enjoy the show:
The Randomness:
1. Treach of Naughty By Nature was arrested near his home in New Jersey Thursday night after a short high-speed chase. STORY
Photo: Big Boi's IG
Kandi & Todd HONEYMOONIN' In Bahamas With LaLa Anthony & Taraji P. Henson…At Will Packer's Birthday Weekend
Posted: 11 Apr 2014 05:24 PM PDT
After one-week of married life, Kandi and Todd have finally gotten some down time and jet setted to the Bahamas to party it up with movie producer Will Packer for his birthday. Check the party pics inside…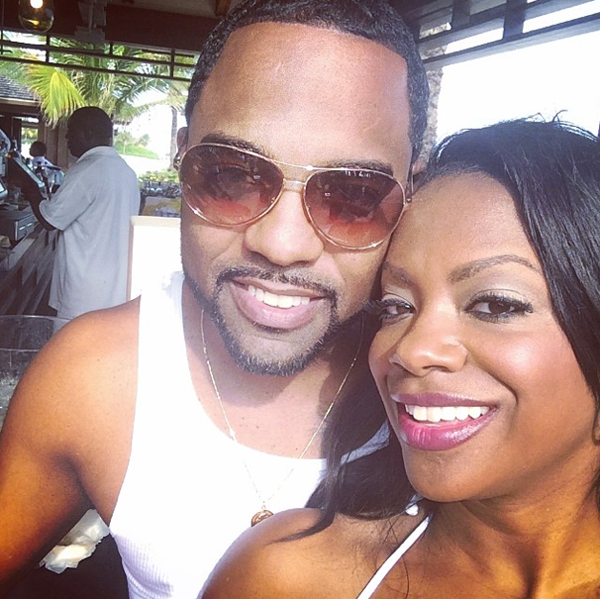 On this day a week ago, "RHOA" star Kandi Burruss and her husband Todd Tucker said their "I Do's" and danced the night away to a Bell Biv DeVoe performance at their reception. The newlyweds have now made their way to the Bahamas for a weekend full of fun in the sun and some celebratory moments with "Think Like A Man" producer Will Packer for his 40th birthday weekend of fabness.
She happily captioned a cute pic of them (above), "#newlyweds kicking it!"

The new wife caught up with USPCALE cover girl Taraji P. Henson and former "Steve Harvey Show" actress (who just announced her third pregnancy) Terri Vaughn along with fellow actress Reece Odum as they smiled for a group shot.
TLAM Too star LaLa Anthony is also enjoying the good life on the tropical island with her cousin Po. And from the looks of everyone's pics, drinks are definitely on deck...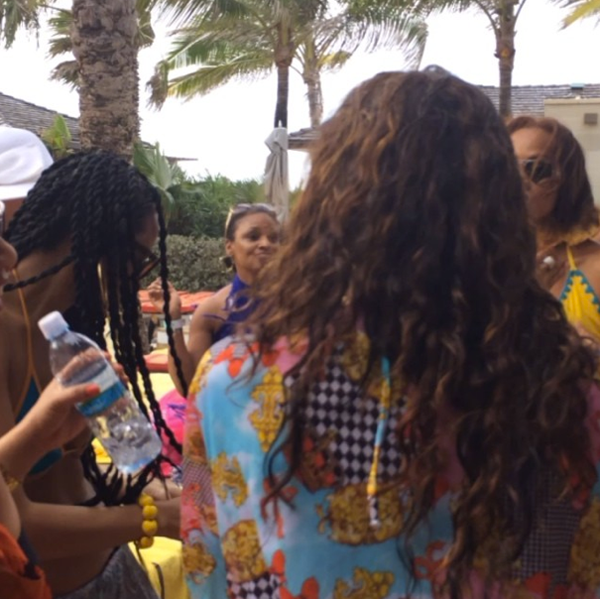 And it looks like the party has already started with Kandi saying, "This party is crazy!!!! Happy bday @willpowerpacker!!! They were dancing to BBD's Poison. It's almost as fun as when BBD performed it live at @todd167 & my wedding reception!!!"
Nice! Looks like a ton of fun...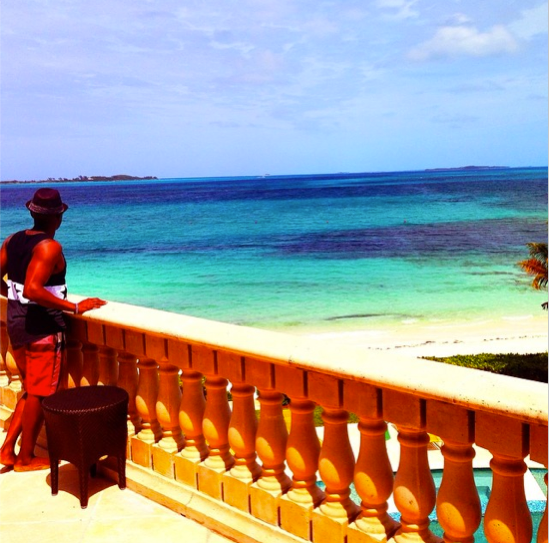 And Will Packer looks to be enjoying his birthday view.
Happy Birthday and Happy Honeymoonin'!
Photos: Kandi's IG/ Taraji's IG/LaLa's IG/Will's IG

DRIVING LORD DISICK: French Montana & Khloe Kardashian's Do A Double Dinner Date With Sister Kourtney & Scott Disick
Posted: 11 Apr 2014 04:07 PM PDT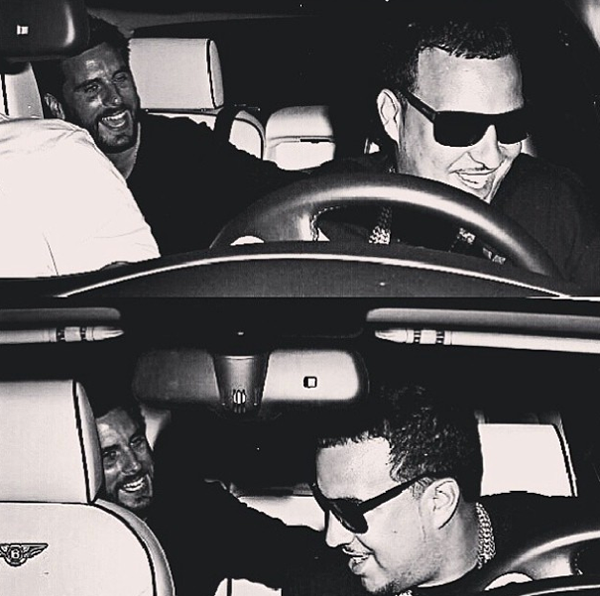 Looks like these two can't get enough of each other. Khloe Kardashian got glammed up for French Montana for a double date night. The rapper and the reality star were spotted walking into dinner to wine and dine with her sister Kourtney and Kourtney's long time boyfriend Scott Disick. Deets on their dinner date inside…
Together again? As they continue to attempt to hide their dating status, it becomes more obvious they've got something going on.
French Montana and Khloe Kardashian must really be enjoying their time together as they were spotted together for the second consecutive night. The night before last these two were hugged up and dancing together at a party in a recording studio. Before that, the couple was seen walking into a club in Arizona…again hugged up and all smiles.
And last night, Khloe slipped into a black plaid knit Narciso Rodriguez dress paired with Christian Louboutin Perspex heels for a night out with friends…and family. Which, by the way is HOT…see it HERE.
It must be getting a little more serious if she's bringing him around family right? The foursome met up at Italian restaurant Cecconi's in West Hollywood. When they were ready to leave, it appears Kourt & Scott walked out first in an attempt to steal the paparaazzi's attention off of French and Khloe.
But they weren't too successful:

Khloe and French Montana leaving Cecconi's in West Hollywood yesterday pic.twitter.com/2fP15jNbkZ

— Kardashian Pedia (@Kardashianpedia) April 11, 2014
Khloe tried to hide her face as the paps caught pics of the two getting into the back of their ride.
Scott and French were spotted playing around beforehand as the "Pop That" rapper sat in the driver's seat (atop) with Scott in the back saying, "@frenchmontana I can't believe you trying to charge me a 100 grand an hour for driving me".
Khloe is clearly not trying to hear what Frenchie's estranged wife is saying...
Photos: Scott Dissick's IG

Colin Kaepernick Says Alleged Investigation Involving Miami Woman Is "All Wrong", Rape Kit ALLEGEDLY Administered
Posted: 11 Apr 2014 03:30 PM PDT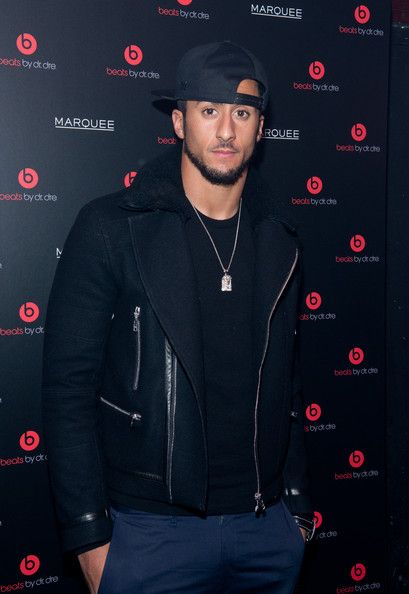 Colin Kaepernick is speaking up about the news of an investigation he, a Miami woman and two other NFL players are allegedly involved in. Check out what he had to say inside, plus the newest development involving a rape kit...
Yesterday, it was a reported that 49ers QB Colin Kaepernick, his teammate Quinton Patton and former 49er teammate/current Seattle Seahawks wide receiver Ricardo Lockette are currently involved in a "suspicious incident" investigation in Miami. And it all stems from a Miami woman who claims she ended up in the hospital after blacking out at an apartment with the three men.

No charges have been filed on anyone, and the unnamed woman claimed she smoked weed with the men and was intimate with Colin that night, yet 'sex" did not occur. She blacked out and ended up in the hospital, according to docs obtained by TMZ. Now, the site alleges that a rape kit has been administered.
A rape kit was administered on the woman at the heart of the Colin Kaepernick investigation ... a Miami Police Dept. official tells TMZ.

We're told ... cops were summoned to the hospital where the woman wound up after allegedly hanging out with Colin and two other NFL players at an apartment at the Viceroy Hotel in Miami on April 1.

The woman told police she smoked pot at the apartment ... then started to hook up with Colin and even got undressed -- then blacked out and woke up in a hospital bed.

We're told cops spoke with the woman at the hospital and a rape kit was administered. We were not told the rape kit results.
Colin is now speaking up about the investigation. He says "someone" is making things up and the story is completely wrong. It's unclear if he means that media is making up the investigation (not likely)....or if the woman is making up her story.
Check out his statement below:
(1/3) The charges made in the TMZ story and other stories I've seen are completely wrong. They make things up about me that never happened.

— Colin Kaepernick (@Kaepernick7) April 11, 2014
(2/3) I take great pride in who I am and what I do, but I guess sometimes you have to deal with someone who makes things up.

— Colin Kaepernick (@Kaepernick7) April 11, 2014
(3/3) I want to thank all of the people who have shared their encouraging sentiments. I assure you that your faith is not misplaced.

— Colin Kaepernick (@Kaepernick7) April 11, 2014
Again, no charges have been filed. But we will keep you in the loop on developments in the investigation...
Photo: Getty
SNEAK PEEK: Rihanna Covers May 2014 Issue of VOGUE Brasil
Posted: 11 Apr 2014 01:00 PM PDT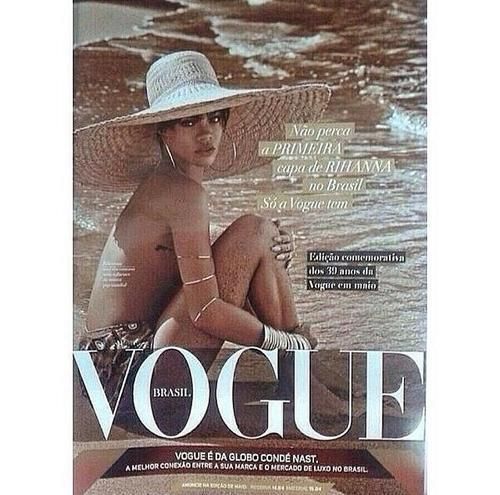 A sneak peek of Rihanna's supposed VOGUE Brasil cover has surfaced on the net. Check out the timeless cover shot inside, plus her fun pre-birthday party for her bestie Melissa....at Drake's house?
In a gorgeous shot for the May 2014 issue of VOGUE Brasil, Rihanna is topless on the beaches of Brazil and donning a chic wide brimmed hat and lots of gold bangles.
As for why she was chosen as the newest cover subject, it's reported:
"We always go after the exclusive. So, when we were discussing who we wanted on our anniversary cover, after Kate Moss, Naomi and Sharon Stone, the answer was unanimous: Rihanna," said Daniela Falcão, the magazine's editor-in-chief.
The above photo was spotted on Tumblr and rumored to be the final st that will be used for the upcoming cover. Loves it.
And right before Melissa and Rih celebrated M Dollas' 28th birthday with a party at Supperclub in L.A. earlier this week, it looks like Rih threw her girl a pre-party. And we hear it was done at the YOLO compound...Drake's house: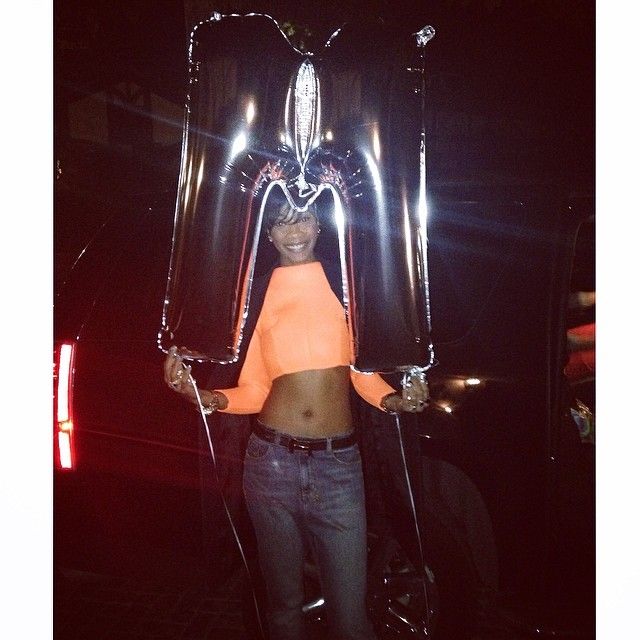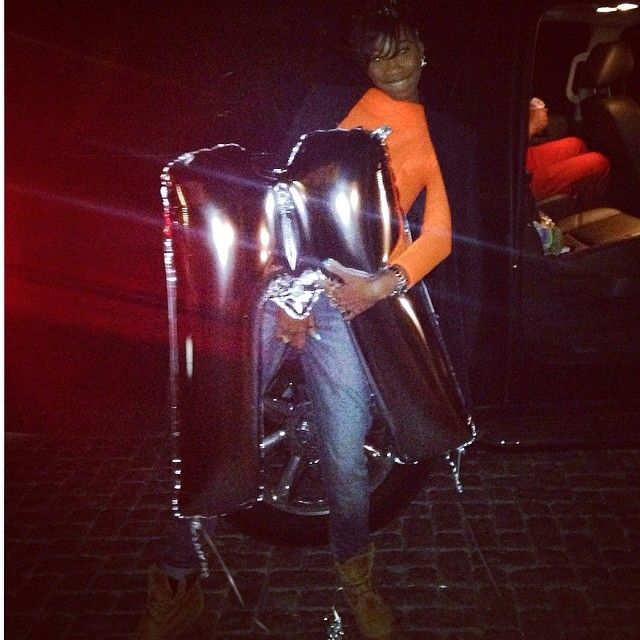 If those mylar ballons look familiar, it's because Rihanna copped WYLAT balloons for Drake when his tour wrapped recently: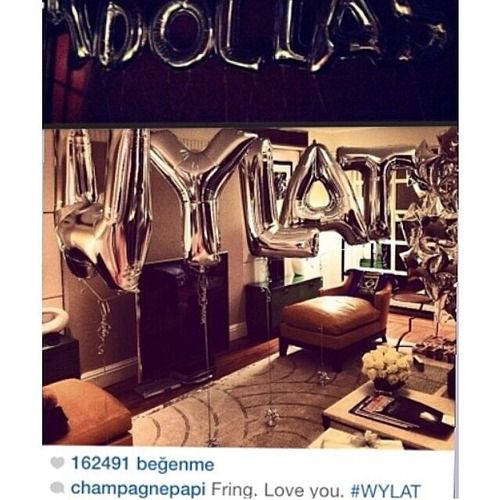 He IG'd the balloons, and used what we hear is his nickname for his boo, Fring. Fring is the name of a character on "Breaking Bad", one of Rihanna's favorite shows.
Awwww...
VIDEO FAB: Keyshia Cole & Juicy J -- "Rick James"
Posted: 11 Apr 2014 12:01 PM PDT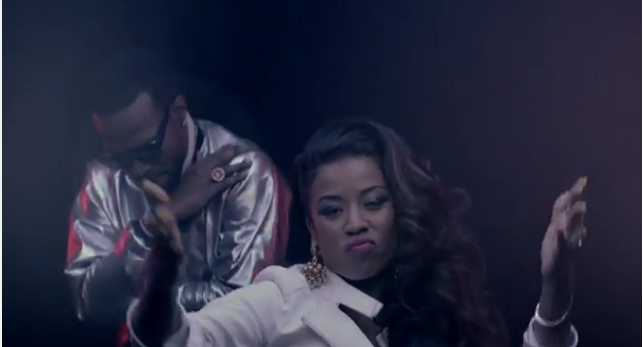 Keyshia Cole's new video for "Rick James" is out. And she's slapping up chicks like Rick James. Chicks who are cheating with her man that is. Peep KeyKey Cole and Juicy J on their Cali steez inside...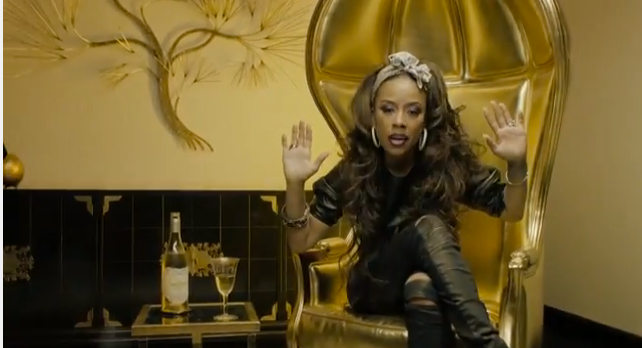 Keyshia Cole's new "Rick James" video is her latest offering from her upcoming Point of No Return album. And she's serving up all her hurt and anger over her cheating ass man.
She still hasn't confirmed if this song is about her estranged husband Daniel Gibson, but she may not need to.
Check out the John Colombo-directed video below featuring Keyshia and her girls riding out on their glow bikes to go catch her man in the act:
MESSAGE: Is Tamar Braxton Sending Subliminal WARNINGS To Hubby Vince's Jumpoffs?!
Posted: 11 Apr 2014 11:30 AM PDT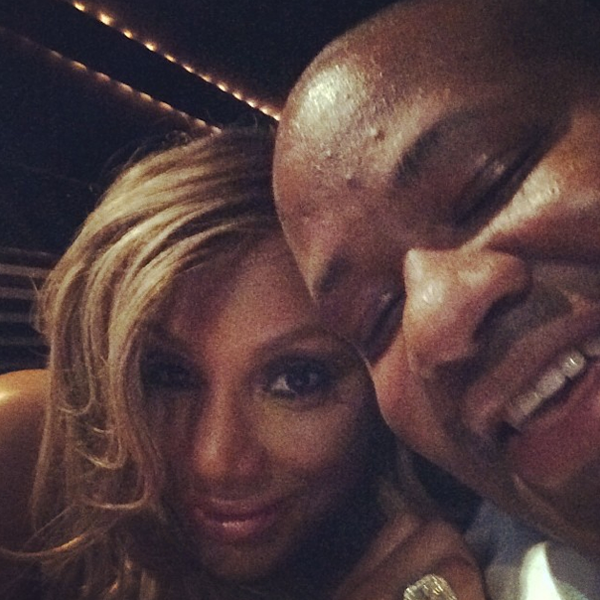 Apparently, someone (not sure if it's one or more really) is relentlessly trying to take Tamar's place and she's not happy about it, sending subliminal messages to her hubby's jumpoffs via her social media pages. Check the tweets and undeniable shade when you go inside….
Although Tamar Braxton and husband Vince Herbet seem madly in love, spotted on family outings in NYC and celebrating Vince's birthday with a lavish party, it looks like all isn't peachy keen in the Braxton/Herbert household.
Tamar has been lashing out recently on the Internet, warning Vince's alleged jumpoffs to steer clear of her man! The receipts are in the tweets. She first said over a week ago:

;
The "Dot Com" queen hopped on Instagram as well to warn these chicks, who claim they have a man that you never see them with, to find their own man and stay far away from hers:
She reminded us all with a selfie of she and Vince (above) at Kandi's wedding that their love is strong and nothing (or no one) will come between them saying, "Weddings ALWAYS reminds us of the day we said "I do"...nothing will EVER change that! #iwill #imdoingit #iwillALWAYSloveyou xo"
But ish got real when Tamar went completely NUTS about chicks who sleep with married men. She clowned "full time side chicks" that think it's cute to cheat with a married man and made it clear that there is no competition when it comes to side chicks vs. married women: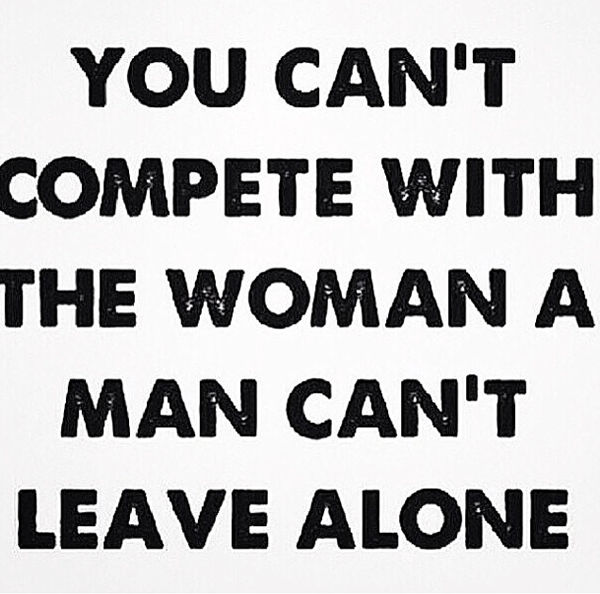 She captioned, "Saw this & I had to Rp for the women who think this is cute... Just in case u r the BOMB or u #won cause u cheating with someone's man.....U #LOST cause u must NOT be all that for a man NOT to claim you and respect&Love you to show you off to the world! However... U can always tell when a woman ain't married! Only full time side chicks thinks like this!! How's that working for you? #wakeup #ulookdumb #hesmashingbuthesgoinghome #dontbeaOLDhoe #ifhelikeitthenhewillputaringonit #hecanttakeuoutinpublic #somebodycouldgethurt #youwill #sitallthewaydown"
But should a WIFE waste their time responding to these "full time side chicks"?
So who is this mystery side chick? We're not sure...BUT it seems that it could be someone who's trying to make a come-up in the music game after she posted this today:
She said, "Hoes be like: u think Vince will manage me??....#umightwalkoverbutuwillLIMPback #jokes"
Sounds like fighting words to us...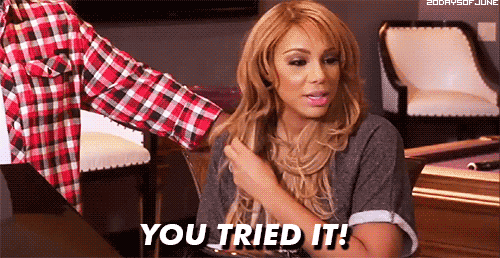 Photos: Tamar's IG