---
CAUGHT ON TAPE: The Game & T.I. In REPORTED StandOff With LAPD Outside Popular Nightclub
Posted: 30 Apr 2014 08:29 AM PDT
T.I. and The Game were involved in a nasty standoff with LAPD at the Supperclub last night. Watch what went down inside....
Last night, rappers T.I. and The Game were involved in a nasty verbal confrontation with the LAPD outside of the Supperclub. The standoff arose after two members of T.I. and The Game's entourage were denied entry into the Supperclub. The "denied" fellas were then assaulted by the club's security (see video #1).
After the fight, T.I. and The Game emerged from the club, mistakenly believing that their friends had been assaulted by the LAPD. This led to their standoff (see video #2). Once, T.I. realized that the Supperclub security were at fault and NOT the LAPD, they shifted their anger towards the club.
According to TMZ, the 2 injured men were taken to LAPD's Hollywood division but no one wanted to file charges. Neither The Game nor TI have said anything about the incident on social media.
SMH...just another day in the hood?
#1
#2
Zoe Saldana CELEBRATES New AOL Show "My Heroes" With Hubby Marco Perego & Her Sisters AND Hosts PRIVATE Dinner
Posted: 30 Apr 2014 07:10 AM PDT
Zoe Saladana was spotted boo'd up with her husband Marco Perego at the AOL NewFronts. See pics and get the deets on her new show inside....
Rosemary's Baby star Zoe Saldana stepped out in a printed cobalt dress for the 2014 AOL NewFronts at Duggal Greenshouse in New York City yesterday.
Shown above with sisters Cisley Saldana and Mariel Saldana (in a gorgeous cobalt maternity dress), Zoe attended the upfront to announce their new show "My Heroes." "My Heroes" is produced by Cinestar, a production company started by the Saldana sisters.
Zoe spoke to the audience about "My Heroes" which AOL called '...an uplifting show featuring celebrities paying a surprise tribute to one person who changed their life by giving them an over-the-top, heart-felt surprise.'
While at the NewFronts, Zoe caught up with fellow celebs Mike Epps and Nicole Richie. Nicole also hosts an AOL show, "#CandidlyNicole"
Following the NewFronts, Zoe and her gorgeous husband Marco celebrated her and her sisters' production company, Cinestar, with a private dinner attended by designer Prabal Gurung.

Photos via Dimitrios Kambouris/Getty Images North America/AOL
ACCUSATIONS & ALLEGATIONS: Columbus Short's Wife SAYS He RANSACKED Their Home! + The-Dream's Baby Mama CLAIMS He ASSAULTED Her!
Posted: 30 Apr 2014 06:13 AM PDT
In new allegations, former "Scandal" star Columbus Short is accused on ransacking his wife's home while The-Dream's baby mama says he assaulted her. More inside....
According to TMZ, Columbus Short's estranged wife Tanee claims he ransacked their home over Easter.
Despite a restraining order, Tanee says Columbus broke a door off its hinges, ripped off her bed sheets and left on all the lights. She says this made her fear for her safety and the safety of their 2-year-old daughter.
For now, Columbus has not spoken out about the latest allegation and we're sure his main focus now is find a new job.
P.S. We'll miss him on "Scandal."
In other news....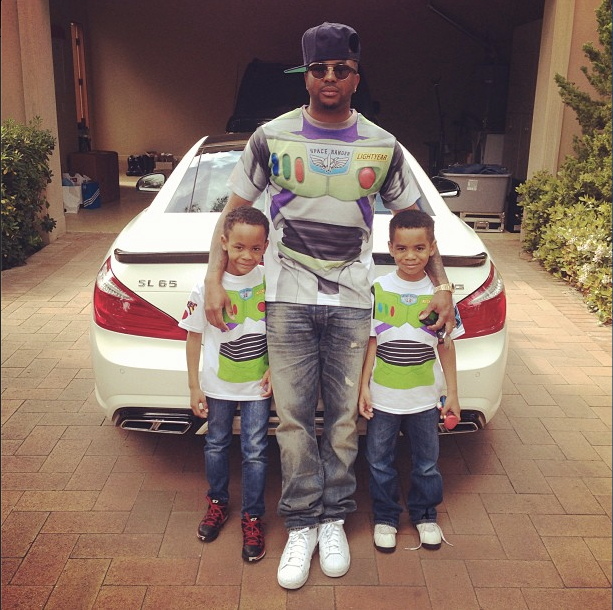 The- Dream (shown above with older sons Christian and London Nash) has been accused of assault by his baby mama Lydia Nam. TMZ reports that police in New York want to question The-Dream about a report Lydia field in November 2013, where she claims he allegedly punched, kicked, and strangled while she was pregnant in April 2013!
Reps for The-Dream told TMZ the allegations are bogus. They insist Lydia is a vengeful woman who's plotting to use this "case" as a way to extend her visa in the U.S.
A little backstory....law enforcement sources say The-Dream was arrested for a separate domestic violence incident (involving Lydia) last June in Newport Beach, CA ... but she refused to press charges, so the D.A. rejected the case.
SMH.....we'll keep you posted.
Photos via Columbus Short's Facebook/Getty

UMMMM, WHAT?: V. Stiviano -- 'I NEVER Had A Romantic Relationship With Donald Sterling....And I DID NOT Release That Racist Audio!'
Posted: 30 Apr 2014 12:12 AM PDT
Well...this is odd. V. Stiviano, who has come to be known as the married Donald Sterling's girlfriend who was the other voice on the leaked racist audio that got Sterling banned from the NBA on Tuesday, is now dropping her own bombs. Deets inside about what she said about Sterling...
While this chick continues to parade around in front of her home in a metallic sun visor covering her face....Tuesday she actually did so on roller skates and with a camera (above)...she is speaking via her lawyer about the the outcome of that leaked audio.
Her lawyer Mac Nehoray, on her behalf, told the L.A. Times once again that V. is NOT the person who leaked the audio. But, he says SOMEONE did for money.
He said that "someone released it for money" but it wasn't Stiviano. "My client is devastated that this got out," he said.
And about NBA Commish Adam Silver's ruling to ban Clippers owner Don Sterling from all parts of the NBA for life, she said she's "very saddened." Alrighty then.
But then, get this. V.'s lawyer says she never had ANY type of romantic involvement with Sterling.
The attorney also said that Stiviano and Sterling never had any sort of romantic relationship and descriptions of her as his mistress in a lawsuit filed by Sterling's wife are false.

Sterling's wife, Rochelle, sued Stiviano last month in an effort to reclaim a $1.8-million apartment, luxury autos and cash Sterling gave her.
Yes, this was actually said. We guess the bag-load of Instagram pics of V. showing off her super expensive gifts (that we're willing to bet are from Don) and her pics of herself attending the games with Don in his private suites and beyond...are just a show of acquaintanceship? Not to mention the very deliberate and open images of them sitting together courtside at games. And the fact she was on the audio seemingly very comfortable with pouring him juice and ordering workers (it seemed they were workers) around at home just shows their...friendship?
Oh, ok.
And if that $1.8 million apartment and autos were gifted to her buy Sterling, how is she being sued for embezzlement?
Oh, by the way, a few of her "friends":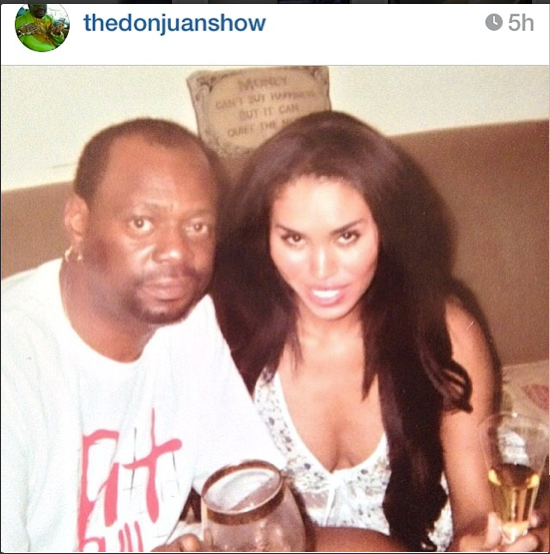 Supahead and Pimp Don Magic Juan? It's all coming together now....
This entire story is as nutty as this chick. And her status with Sterling may not matter at all anymore...
Photos: Snoop's IG/Karrine's IG
Porsha Williams On "The View" -- I Regret Crossing The Line, But Kenya Was A BULLY With That Scepter WEAPON!
Posted: 29 Apr 2014 04:37 PM PDT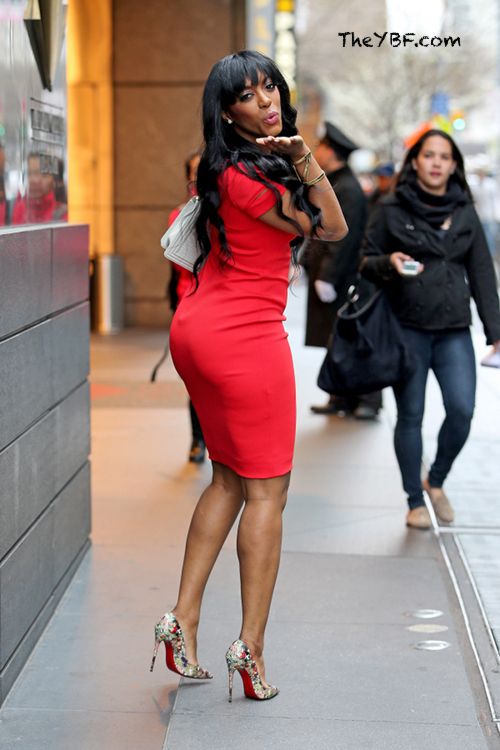 Porsha Williams isn't keeping quiet about her legal woes involving Kenya Moore. Fresh off telling Us Weekly about Kenya's bullying tactics (as she saw it), she hit up "The View" today--in a tight fitting red dress and Louboutin heels--to give her side of that story to that epic "RHOA" reunion brawl...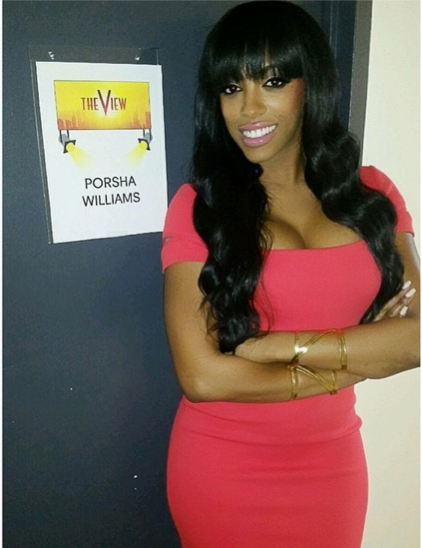 Porsha revealed why she thought Kenya Moore was imply being a bully on Part 1 of the reunion show that ended up with Porsha yanking Kenya's hair and them brawling on the ground. And since Porsha was asked not to return for the rest of the reunion show, she's speaking her piece in the media.
The "Flatline" singer told the ladies of "The View" today that she (and her lawyer) saw Kenya's scepter as a weapon--seeing that it was super heavy and metal. And that being shoved all in your personal space over and over again is provoking.
When Sherri Shepherd asked Porsha the question about her signing up for this, since she knew what the reality show was about....Porsha said she did NOT sign up for a mugshot and a simple battery charge.'
As for whether she is suing Kenya back for her part in the brawl...she is heavily considering it with her lawyer.
Porsha, spotted above out in NYC on Tuesday, did maintain that she regrets how she handled the situation, and that she let Kenya's provoking behavior get to her. She also revealed she had dealt with bullying in elementary school and beyond.
Check out the full video below:
The Randomness:
1. Sterling claims he WON'T sell the Clippers. STORY
Photo: Porsha's IG, WENN/Splash

MAGAZINE FAB: Regina Hall GLAMS It Up For UPSCALE Magazine Cover, Talks Working With Kevin Hart In A Thong
Posted: 29 Apr 2014 04:25 PM PDT
Regina Hall got extra glammed up for the newest cover of UPSCALE magazine. She dished to the magazine on Kevin Hart demanding she work in a thong during sex scenes. Check her cover and read the deets when you go inside…
About Last Night actress Regina Hall is gracing the cover for the May 2014 issue of UPSCALE Magazine and she looks absolutely gorgeous. The hilarious rom-com was a huge success at the box office landing in the #2 spot after it's debut. Woot!
The 43-year-old actress talked about working with funnyman Kevin Hart (who landed his own cover on GQ) and deal breakers when it comes to dating. We all know how frustrating dating can be...
On working w/ Kevin Hart:
"Kevin [Hart] has this thing about panties. He only allows thongs! Every time we're doing a scene, he's like, 'I can't do this with Regina's granny panties!' And I'm like, 'I don't have to have a string up my ass to shoot a scene every day, Kevin and this is what this is going to be!' We're like family and I think that's why we work so well together. We can have so much fun when we're doing love scenes because there's never any extra underlying agenda."

On dating:
"That's the deal-breaker… If someone looks at me and is like 'you can't wear sweats…' that's not to say I won't make efforts. Every woman wants to be beautiful for her man. I just don't want to be looking like I'm getting ready into walk to a photo shoot all the time."
Speak Regina!
In other news…
Regina recently teamed up with Verizon, for their "It's Up to Me" campaign, launched to help raise awareness during Distracted Driving Awareness Month, which is recognized in the month of April. Regina urges drivers to stop texting while driving and to keep their eyes on the road to avoid being involved in a distracted driving accident.

Nice.
Photos: UPSCALE
"Kandi's Wedding" SNEAK PEEK: Kandi & Todd DISAGREE Over Prenup, Mama Joyce & Todd's Mother Almost Come To BLOWS & More
Posted: 29 Apr 2014 03:23 PM PDT
The first sneak peek at Kandi & Todd's wedding spin-off has surfaced and we have the drama-laced video for you inside…
In the newly released trailer for Kandi & Todd's wedding spin-off, Mama Joyce is still up to her Todd-hating ways, which we see erupt in front of Todd's mother, while Kandi and Todd hit a major bump in their relationship over…you guessed it…money.
On Sunday, June 1st we will get to see first-hand how "RHOA" star Kandi Burruss and her husband-to-be Todd Tucker planned their extravagant "Coming to America" themed wedding without a wedding planner and in a matter of weeks. To add to the already huge amount of stress, Mama Joyce and Todd's mother almost come to blows!
While hosting Todd's mother at their house before the wedding, Todd's mother and Mama Joyce come face-to-face and it gets ugly. Remember when Mama Joyce said on the "RHOA" reunion that Todd's mother called her a "b*tch?" Now we get to see why.
Clearly, Todd's mother is NOT to be messed with.
We will also see Kandi and her friend Carmen have a heart-to-heart after a rumor circulated (we're assuming by Mama Joyce) that she and Todd slept together and also catch Apollo giving "prenup advice" to Todd after Kandi serves him the agreement the night before their nuptials.

Peep the sneak peek below:
Photos: BRAVO
Taraji P. Henson SIZZLES In VOGUE Italia + Mariah Carey COVERS "WONDERLAND" Magazine
Posted: 29 Apr 2014 02:31 PM PDT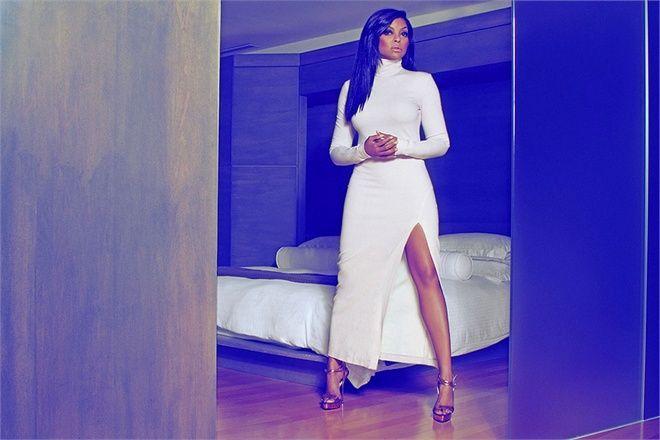 In the latest issue of VOGUE Italia, Think Like A Man Too star Taraji P. Henson dishes on her most challenging roles and how Howard University changed her life. Read the highlights inside and see Mariah Carey on the cover of WONDERLAND.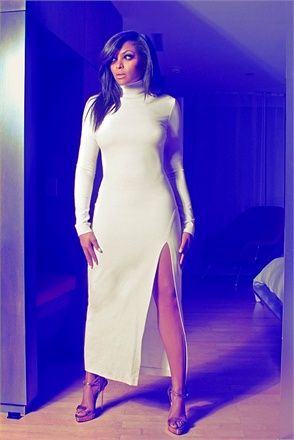 Hello Hottie! Taraji P. Henson stars in a sizzling pictorial (shot by Itaysha Jordan) for VOGUE Italia. In the accompanying interview, Taraji reveals her most challenging role, who's been influential in her life and what it's like being a Black woman in Hollywood. Here are the highlights:
What is the most challenging aspect of being an actress?

The most challenging aspect of being an actress is being a single mother while navigating my career. I am a mother first.

What is the most rewarding part of being an actress?

The most rewarding part of being an actress is having my performance touch or inspire my audience.

What has been your most challenging role to date and why?

The most challenging role was that of Queenie in The Curious case of Benjamin Button because of the challenges of the aging process. My Mom Bernice and my Grandmother Patsy were my inspirations.

Who were the most instrumental people in your career?

The most instrumental people in my career are my business team that supports me. That starts with my long-term manager Vincent Cirrincione. You need to know the people in your life are looking out for you and have your very best interests at heart.

What did you study at Howard University?

I am a proud graduate of Howard University where I majored in Theatre Arts.

Where did you study acting?

I was fortunate to have incredible teachers and mentors at Howard and I wouldn't trade those experiences for anything. That training prepared me well for the journey ahead.

How was it working with Idris Elba?

Working with Idris Elba is so terrible because he's so hard to look at !!! Idris is a wonderful human being. We have great chemistry and have become the closest of pals. He flew from London to see my play in Los Angeles. We truly support each other and I'm so excited about our movie coming out in September No Good Deed.

What changes have you seen for actresses of color in the industry over the past 5-10 years?

In the last 10 years I have seen more opportunities for actresses of color but there is still a long way to go.

What changes would you like to see?

I would like to see films that mimic my everyday life and those of my friends. I would like casting to reflect all of the nationalities and all of the colors that make up our lives.

What does your beauty regime look like?

It's important to keep my hair healthy and strong so I wrap it every night. I give my face a rest from make-up when I can. I make sure I wash my face every night before bed and moisturize, moisturize, moisturize.

Who are your style icons?

My style icons are Diana Ross, Cher and Cate Blanchett.
More gorgeous pics: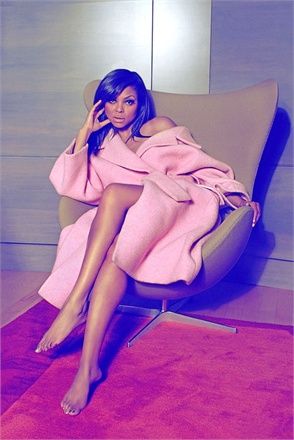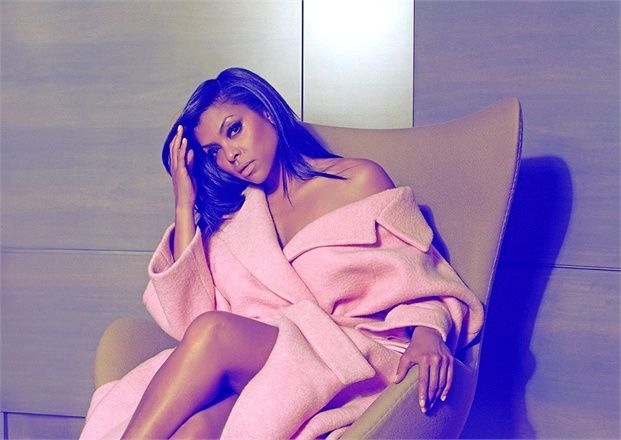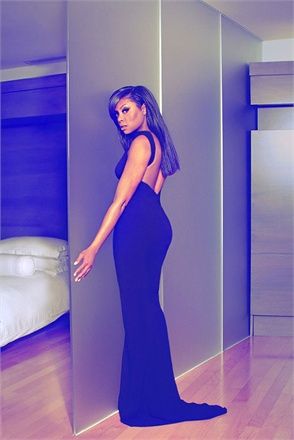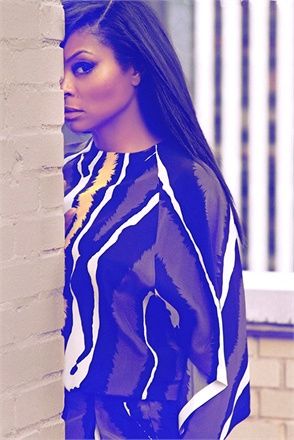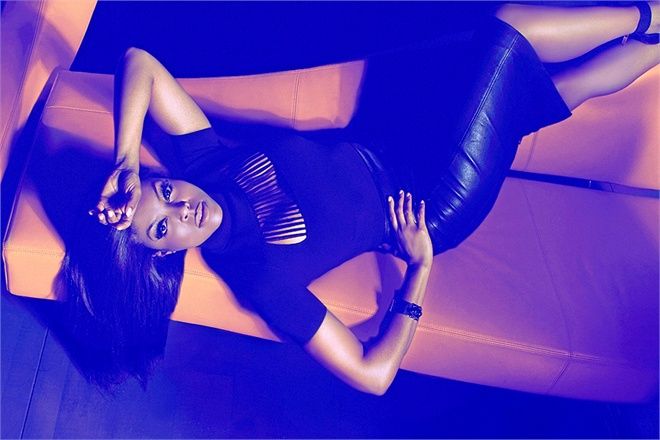 In other magazines.....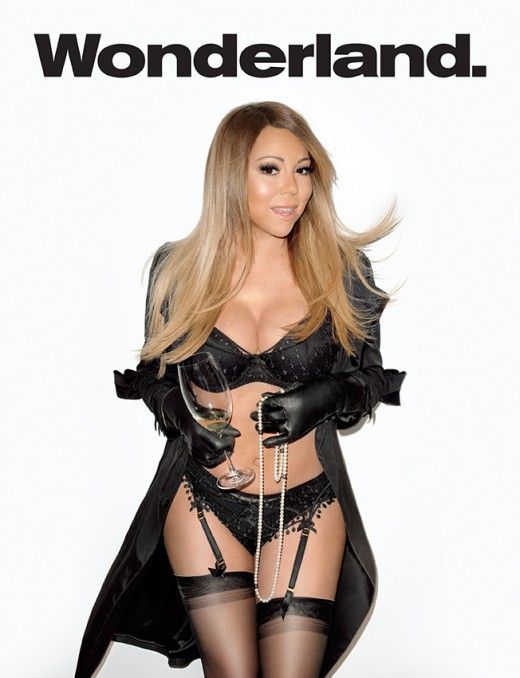 With a cover photo shot by Terry Richardson, Mariah Carey covers the summer issue of WONDERLAND Magazine (on newsstands Friday). Mimi wore a black lace bra, knickers and suspender set by Agent Provocateur, black silk jacket by Roberto Cavalli, black leather gloves and pearls. Mariach also announced that she'll kick off the TODAY Show Summer COncert series on May 16th.
Also, Mariah earned her 17th No. 1 on Billboard's Dance Club Songs chart this week when "You're Mine (Eternal)" hit the top of the chart.
Here's the rest of the 2014 "Today" Summer Concert Series:
May 16 – Mariah Carey
May 23 – Tim McGraw
May 26 – Austin Mahone
May 30 – Rascal Flatts
June 5 – Pharrell Williams
June 6 – Sara Bareilles
June 13 – Train
June 17 – Little Mix
June 20 – Fall Out Boy
June 27 – Phillip Phillips
July 4 – Ed Sheeran
July 11 – Fifth Harmony
July 17 – Jason Mraz
July 25 – OneRepublic
July 29 – Jennifer Hudson
August 1 – Aloe Blacc
August 8 – TBD
August 15 – Neon Trees
August 22 – TBD
August 29 – Ariana Grande
September 1 – Maroon 5
September 5 – Usher
The Randomness:
1. The home of Indiana Pacers player Paul George was robbed of $16K worth of items as the Pacers played the Atlanta Hawks in Game 5. Story.
Photos via Terry Richardson/Wondaland/Itaysha Jordan
FROM INSTAGRAM TO NBA GAMES: Nelly & Shantel Jackson Spotted...TOGETHER Courtside At Heat vs. Bobcats Playoff Game
Posted: 29 Apr 2014 01:25 PM PDT
Nelly seems to have a thing for picking up chicks using a simple Instagram hashtag. Two weeks ago, Nelly made Shantel Jackson his #WCW (Woman Crush Wednesday) and now they're sitting courtside at a NBA playoff game. Check the pics and get the deets inside…
Game with @Nelly_Mo pic.twitter.com/0TeM3uoVg1

— Jerry Moore (@jerrymoorerx) April 29, 2014
To add another angle to his already "love square" situation involving Ashanti, Tae Heckard and Brandon Jennings, Nelly seems to have moved on to a new "friend" who is also someone else's old "friend"--better yet old fiancée.
Sitting courtside at the Miami Heat and Charlotte Bobcats Playoff Game 4, Nelly and Floyd Mayweather's ex-fiancée Shantel Jackson sat together as they watched the Heat defeat the Bobcats.
Miss Jackson is at the heat game with nelly

— Caresha (@_DaBitchIsBack) April 29, 2014
Hard to see Shantel's face, but she confirmed she was at the playoff game posting a pic of her Tom Ford boots (below) as she sat courtside with the caption, "NBA playoffs..... Came to support my team. Let's go Heat!!!!! #miamiheat #tomfordboots"
Seems Nelly likes to use Instagram to grab the attention of the current chick he's trying to entertain. Earlier this month, Nelly named Tae Heckard (who recently revealed publicly she's dating NBA baller Brandon Jennings) his #WCW sparking rumors that the two were back together.
Two weeks ago, Nelly posted a picture of Shantel (below) naming her his #WCW with the caption, "#WCW DAMMMMM Shantel aka @missjackson if ya nasty ...!! #TTMX"
Oh.
Clearly, Shantel saw Nelly's cry for attention and now the two are hanging out together, hitting up NBA games. Back in September, boxing champ Floyd Mayweather Jr. confirmed he and Shantel were still engaged, but apparently they have called it quits.
In a recent interview with Showtime show "All Access," Floyd confirmed his split from his on-again, off-again fiancée of four years saying,
"You always want a strong, beautiful woman that you can share your everything with. But I have to go my separate way. She's focusing on her career in L.A., which is acting. And I'm focusing on my career, which is boxing. Sometimes people can outgrow one another, but we're still friends."

He then added,
"I just don't understand. A person get to a certain point where they forgot that you are the person that helped them get to a certain level where they feel like they can teach you stuff. "

"You can't teach me nothing, I've been at this level for more than 20 years."
Hard to keep up with the way they pass these chicks around…
Photos: Nelly's IG/Shantel's IG/@jerrymoorerx/@_DaBitchIsBack

Rihanna Goes TOPLESS & BOTTOMLESS, Shows Off Her TAN LINES In "LUI" Magazine + Chanel Iman On "106 & Park" Style File
Posted: 29 Apr 2014 12:32 PM PDT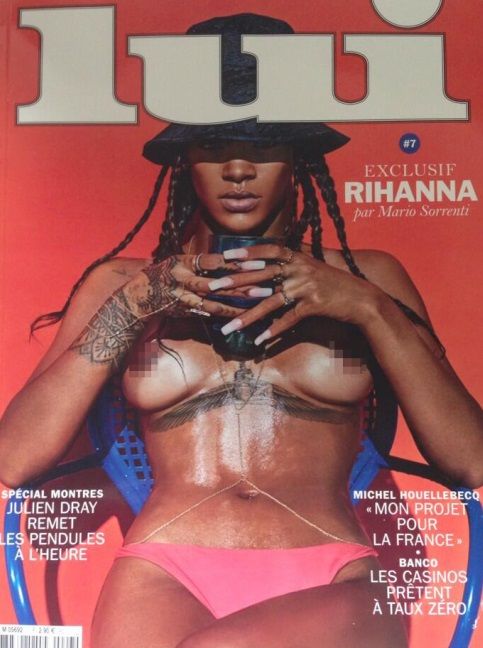 Rihanna shows off her tan line and ta-tas in LUI magazine while Chanel Iman offered some style critiques on "106 & Park". More inside....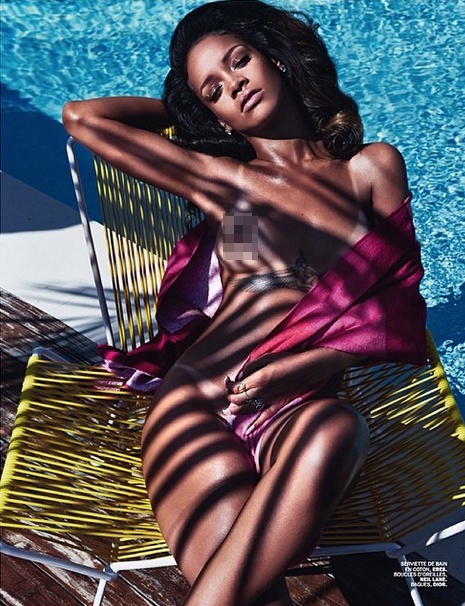 Rihanna shot one of most risque photoshoots she's done for the new issue of French Lui Magazine. The sexy pics were taken by Mario Sorrenti in Los Angeles.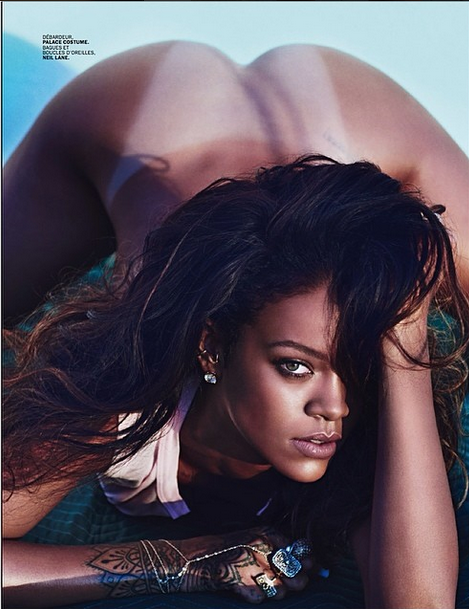 These were the pics from those BTS shots of her on all fours, remember those?
On Instagram, Rihanna joked that the shoot had one rule -- "tan lines." However, Instagram did not see the humor and the pics have been removed from their site (likely due to their risque nature). Oh wells......we got them for you!
On television.....
High fashion model and "Yonce" star Chanel Iman appeared on "106 & Park" yesterday.
She joined host Keshia Chante and stylist Wouri Vice as they compared notes on celebrity styles. Looking hot Chanel!
Photos via Rihanna's IG/LUI Magazine
BREAKING: Donald Sterling BANNED FOR LIFE From ALL Associations With The NBA, Fined $2.5M, Will Be FORCED To Sell
Posted: 29 Apr 2014 11:36 AM PDT
NBA Commissioner Adam Silver's just dropped some major bombs in the Donald Sterling saga. The outcome of Sterling's future inside...
In a press conference today in NYC, Commissioner Adam Silver just levied the ultimate punishment possible for an owner. While an NBA owner, based on the bylaws of the organization, has pretty much free rule and almost no one to answer to, the NBA has taken swift and strategic action to accomplish the goal of expelling Sterling anyway.
While according to the bylaws, an owner cannot be "fired" in the traditional sense by the Commissioner or really anyone, there are other ways to force him out.
Commissioner Silver has BANNED Donald Sterling from any and all NBA related business, functions, games, etc. for LIFE.
Here's the run down:
-Silver said he will IMMEDIATELY urge the NBA's Board of Governors to force sale of Sterling's Clippers Team. Owners can force sale of the team (which could possibly result in the disenfranchising of the team itself) with a 3/4 vote.
-The central findings in the investigations of the recording in question is that the voice is Sterling's. And the hateful opinions voiced were made by Sterling.
-Silver said that views of this kind are deeply offensive and harmful, and it's upsetting that it occurred within an organization that has taken a leadership role in race relations.
-Commissioner Silver apologized to Magic Johnson, Bill Russell, and many others.
-Sterling is BANNED FOR LIFE. He cannot attend any NBA games, practices, or any business involving the Clippers team. Sterling is also barred from attending NBA Board of Governors meetings or any and all league activities. (This essentially ties his hands to be unable to perform ANY duties of an owner).
-Sterling has been fined $2.5 million, the maximum amount allowed under the NBA constitution. Funds will be donated to organizations focusing on diversity and inclusion, selected by NBA Players Associations.
-Commissioner Silver said he will do everything in his power to force him to sell.
-About why the NBA ignored his past KNOWN racist actions, Silver said he can't speak on past actions. When Sterling's current specific actions were brought to the NBA, they have acting on those. The past legal cases were lost by the plaintiff or settled.
There is an argument that Sterling still wins, because when he sells, he will likely make a MAJOR profit as he team is now worth half a billion dollars. He only put in $13 million ($3 mill of his own and $10 mill on "layaway" of such).
As for us, we are indeed pleased with the outcome.
We applaud Commissioner Adam Silver for taking the absolute most drastic action possible for a Commissioner, who essentially is UNDER the owners. He used his power to its fullest extent. And we applaud our readers and everyone who spoke up via social media and beyond, making sure the legitimate outcry was heard...and acted upon appropriately.
Here's what's taken over the Clippers' NBA website homepage: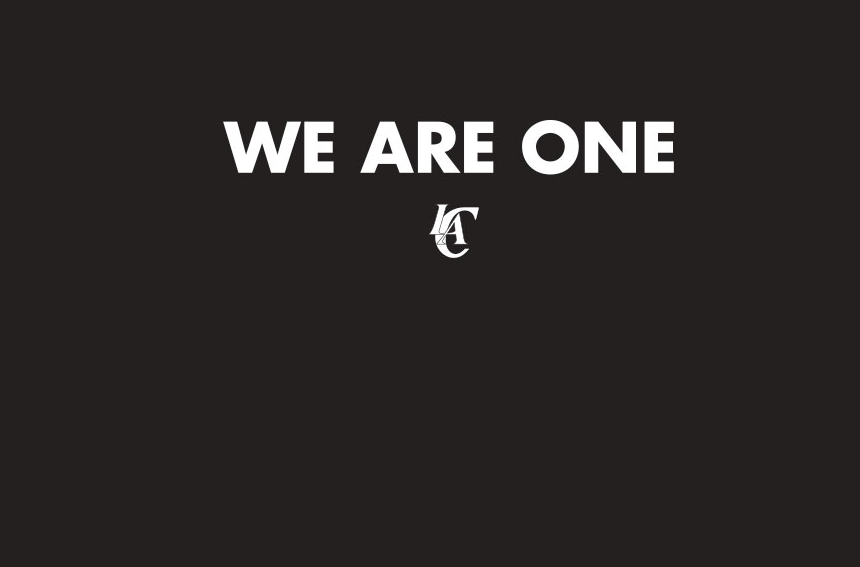 Keep speaking up!
Just for S's and G's: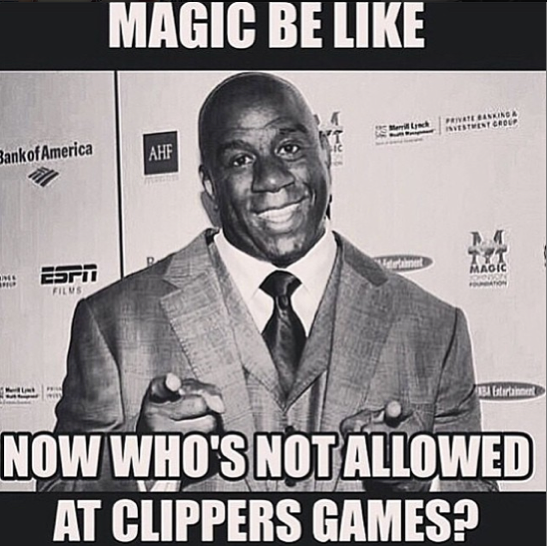 *UPDATE* The NBA ballers past and present are speaking up in FULL support of today's ruling. Check out what everyone's saying below:
Great move by the @NBA today! #NoPlaceInOurGameForThis #NoPlaceInLifeForThis

— JR Smith (@TheRealJRSmith) April 29, 2014
'Standing ovation' for Commissioner Silver. Big time decision standing up for the league and it's players. Now, Gotta see it through

— Stephen Curry (@StephenCurry30) April 29, 2014
Big ups to Adam Silver. I think this is a very appropriate way to handle this situation. Now it's up to the owners to make him sell.

— Mario Chalmers (@mchalmers15) April 29, 2014
Commissioner Silver thank you for protecting our beautiful and powerful league!! Great leader!! #BiggerThanBasketball #StriveForGreatness

— LeBron James (@KingJames) April 29, 2014
Way to go, Commissioner Silver! The NBA stands for everybody!

— SHAQ (@SHAQ) April 29, 2014
Commissioner Silver....STRONG...way to take charge and protect our great league.

— THREE (@DwyaneWade) April 29, 2014
Commissioner Silver showed great leadership in banning LA Clippers owner Donald Sterling for life.

— Earvin Magic Johnson (@MagicJohnson) April 29, 2014
The people who I'm happiest for are Coach Doc Rivers, the Clippers players and fans.

— Earvin Magic Johnson (@MagicJohnson) April 29, 2014
Chris Paul and Blake Griffin have yet to comment about the newest ruling.
Photos: SLAMOnline's Twitter/Clippers' Website/ItsPatRichards' IG

NBA PRESS CONFERENCE UNDERWAY -- NBA CONFIRMS It's Donald Sterling's Voice On The Racist Tape...V. Stiviano Guards Her Grill After Helping Authenticate
Posted: 29 Apr 2014 11:07 AM PDT
V. Stiviano isn't here for the press attention. Or wait, actually...she just might be based on this ridiculous visor she wore to guard her face while leaving out of legal proceedings yesterday in this Sterling case.
Deets inside on the new developments...
With the help of Donald Sterling's (ex?) girlfriend V. Stiviano and others, the NBA has officially confirmed, reportedly, it is indeed Sterling's voice on the leaked racist audio circulating the net. Yes, we all knew it was him. But legally, the NBA must confirm the authenticity before taking action. And that's now done.
Meanwhile, the girlfriend who he engaged with in the racist conversation in the audio, was caught arriving back home with her lawyer yesterday.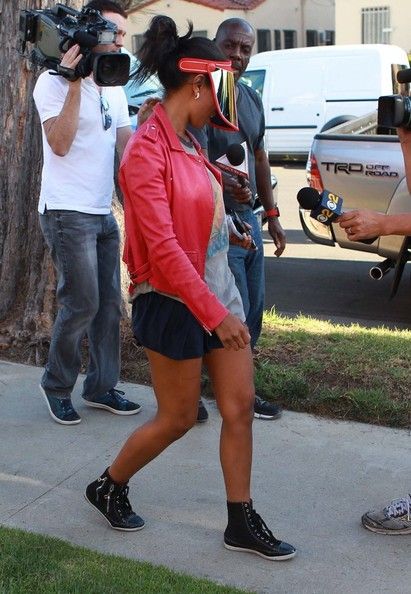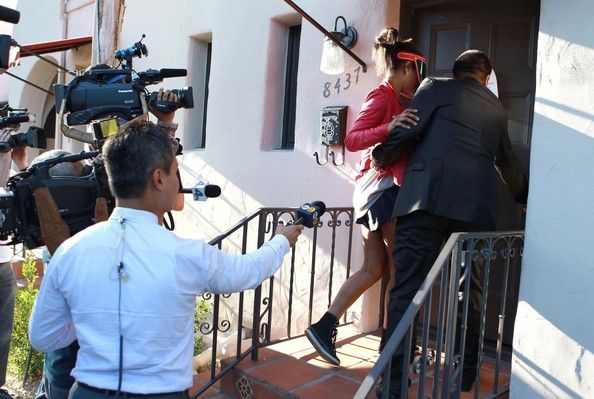 Now that the audio tape of Sterling hurling disgustingly racist comments has been authenticated, the NBA Commissioner is about to have a press conference today.
There are also talks of fans boycotting tonight's Clippers playoff game.
Stay tuned for updates.
Photos: FameFlynet
Foolery Reaches EPIC Level On "Basketball Wives: LA" Reunion: Sundy's Boyfriend Accused Of Joining Fight, Audience Crashes Stage & Draya Films Reunion SOLO
Posted: 29 Apr 2014 09:38 AM PDT
If you missed last night's BBW: LA" reunion show--which was just as disappointing as the entire season--pat yourself on the back. But for those who want to know about the ratchetry that went down....and why certain reality stars do not need a platform to spew their venom....check it inside....
For last night's "BBW: LA" reunion show, Moderator John Salley had to go back to his BOXING OUT days to separate the women, the audience, and apparently a man.
Tensions amongst the ladies -- and we use that term loosely -- have been at an all time high over the last few months. To the point where they are not even allowed to do appearances together...or mention each other's names in interviews.
So last night, all were brought together at Phillippe Chow in Beverly Hills for the reunion show. All but Draya....who has attempted to wear the Queen Bee crown all season. The stripper turned alleged mistress turned reality chick who seems deadset on becoming NFL boyfriend Orlando Scandrick's wife said she didn't want to be around a bunch of women who did nothing but made it a point to send her to a place she doesn't like to be in. She wanted to be "comfortable in her own home". So Shaunie O'Neal hopped on the opportunity (you already know her mess-loving self did) to blow that up. She interviewed Draya--solo--for her own reunion portion.
Basically, Draya had the opportunity to talk as much ish as she wanted to with out having to say it to the women's faces and suffer consequences.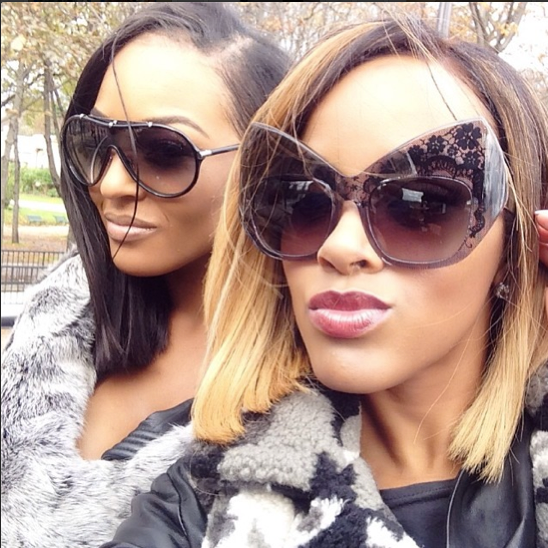 Back on the main stage...Malaysia Pargo admitted she and her husband Janero Pargo have been having their issues. And despite the many rumors circulating they have split, she was still wearing her wedding ring. And she said when they're ready to say something, they will.
Then all hell broke loose once Brandi Maxiell called out Sundy Carter for being a mistress. Sundy got super heated....because you know mistresses who are actually mistresses...never like to be called what they are. One thing led to another and shoes came off and an all out brawl took place. WITH the audience getting involved too and crashing the stage (they were messy the whole time to be honest). Jackie Christie claims that Sundy's boyfriend 'grabbed up' Brandi in the middle of everything:
"I didn't see the actual blows being thrown, but Sundy told me that she swung a shoe and hit Brandi with the shoe in her face. I don't know because I didn't see it, but I do know that it was straight chaos. It was a free-for-all. People were fighting, Sundy's boyfriend grabbed Brandi up, you know, and told her 'you're not going to touch her.' She was cursing at him; it was crazy. People were fighting, camera guys got hit by accident trying to film. It was an all out brawl pretty much."
Chile...
Brandi and Malaysia returned alone--with no audience--to discuss what had just happened and their future on the show (they wouldn't reveal of course). And Brittish, Sundy and Jackie returned separately to give their last take on everything. And Sundy still doesn't fully grasp why attacking Brandi for not being able to have more kids to her CANCER TREATMENTS....is beyond "attacking below the belt". It was quite gross to listen to....and it became even more clear that not everyone deserves a platform.
Oh...and Brittish thought it was cute for her "fiancee" Lorenzo to propose to her for a second time on the show...to make up for getting caught cheating with some chick in Houston. Again.
Sundy tweeted during the show:
I came with the intent to make peace but ya intentions were to fight clearly!!

— SUNDY CARTER (@SUNDYCARTER) April 29, 2014
Um, ok. Check out the full reunion show below.
Photos: Malaysia's IG/Sundy's IG/Draya's IG