---
ADORABLE ALERT: Tracy Morgan BUYS Flowers For Girlfriend Megan Wollover, Hits The Airport With Her & Baby Maven
Posted: 31 May 2014 08:27 AM PDT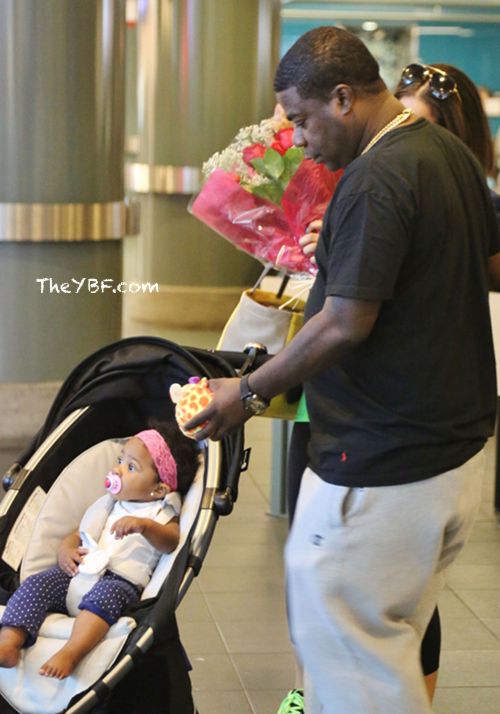 Funnyman Tracy Morgan was spotted in Vancouver with his girlfriend and adorable daughter. See the family photos inside....
Former "30 Rock" star Tracy Morgan put all jokes aside yesterday as he escorted his long-time girlfriend Megan Wollover and their adorable daughter Maven Morgan through Vancouver International Airport in Vancouver, Canada yesterday. Tracy had that serious "Dad" look on his face as he guided the family safely though the airport. Cute.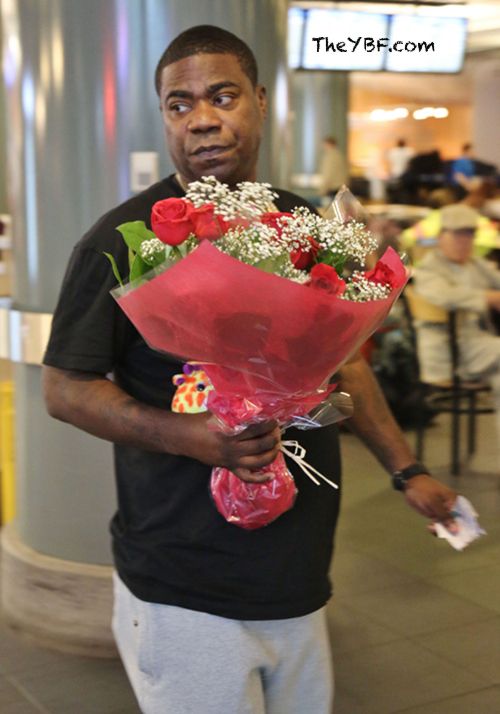 Tracy, who just released his latest stand-up special, "Bona Fide" in April, was in Canada doing stand-up. On his way back, he picked up a bouquet of roses for the ladies in his life. How sweet.
Next.....Tracy will voice a character in the animated flick The Boxtrolls (due September 26). Nice!
Photos via Fame/Flynet
Kanye & Kim Hit Another European Wedding....While Ray-J Gets Busted For Battery & Trespassing
Posted: 31 May 2014 07:34 AM PDT
Kim and Kanye stepped out in Prague last night. Get the deets on where they went inside and find out why Ray J spent last night behind bars.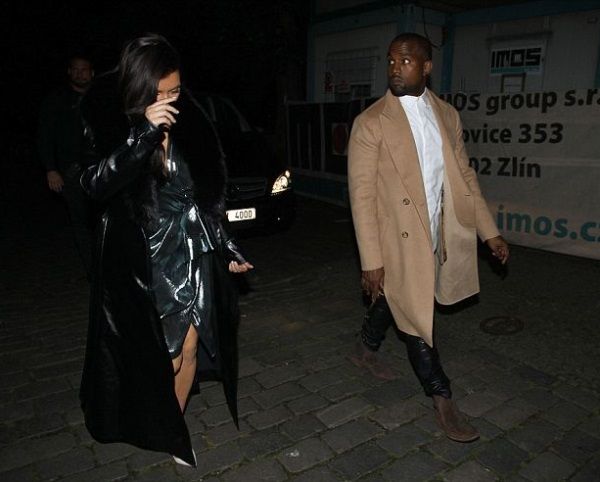 Honeymooners Kanye and Kim have been in Prague for a few days, and now we know why. The couple was in town to celebrate the wedding of Kanye's stylist, Renelou Padora. Earlier in the day, they strolled the streets of old Prague and went shopping on "Parizska" street. Then the twosome threw on their metallics and leathers and headed out for somebody else's Euro-wedding festivities.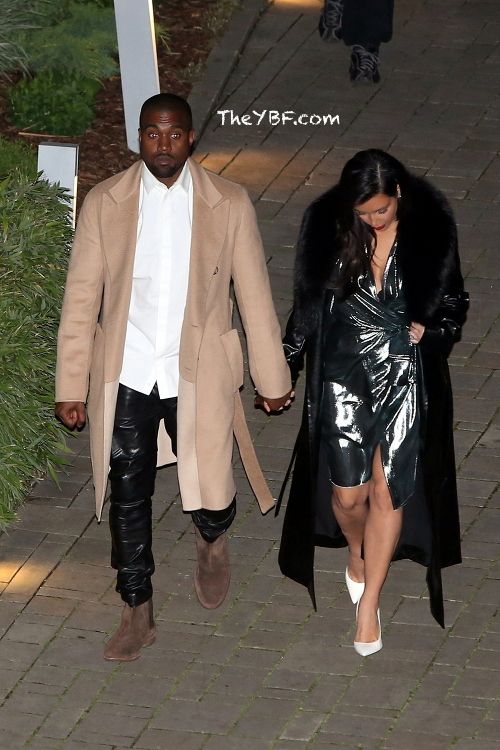 In the pics above, the couple was seen taking some time out of their honeymoon to head to the rehearsal dinner at Bluelight. Oddly, we've learned that the camera-loving couple brought a pair of "clones" to Prague to act as decoys for the paparazzi.
Why? We thought they loved the attention.
In related news.....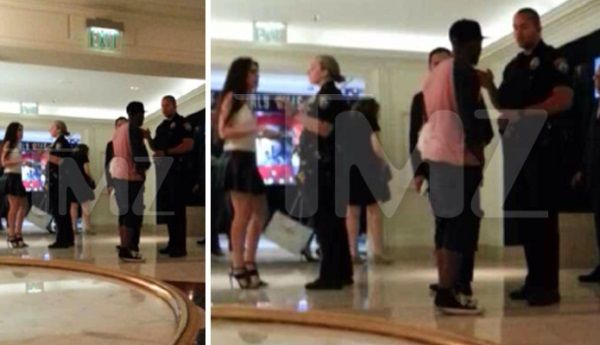 Kim's sex tape "co-star" Ray J was arrested last night after he caused a ruckus at the Beverly Wilshire Hotel . According to TMZ, hotel staff called the cops on Ray J after they asked him to leave and he refused. Once police arrived at the scene (above) Ray J was reportedly irrate. Sources even claim he kicked out one of the patrol car's windows AFTER he was taken into custody...allegedly.
He was booked by Bev Hills PD for trespassing, vandalism, resisting arrest, and battery (he allegedly spit on an officer during the arrest). SMH....we hope this wasn't some "LAHH LA" -ish.
One report says it was all over Ray-J grabbing a woman's ass. Sigh.
According to Splash News, Ray J posted bail early this morning and was seen leaving the station with his girlfriend (and their little white dog) at 3am. Sources say he left the jailhouse with a smile on his face....we can imagine. Ray J ain't about that jail life....
Photos via INF/TMZ/Pacific Coast News
Lupita Nyong'o REPORTEDLY Options The Film Rights To Chimamanda Ngozi Adichie's Best-Selling Novel "Americanah"
Posted: 31 May 2014 06:12 AM PDT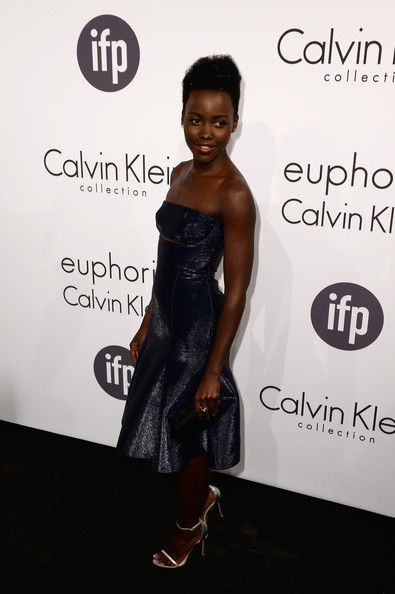 Academy-Awarding winning actress Lupita Nyong'o reportedly has her sights set on turning Chimamanda Ngozi Adichie's best-selling novel Americanah into a film. More inside....
During Stylist magazine's inaugural book club event at the Waldorf Hilton hotel in London, author Chimamanda Ngozi Adichie (shown above) reportedly revealed that Lupita Nyong'o has optioned the film right to her novel Americanah.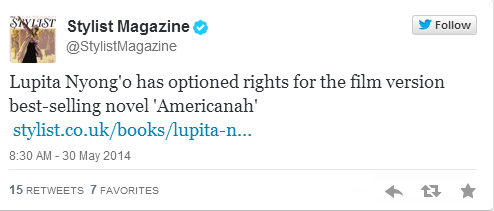 For those unfamiliar with Chimamanda's work, outside of her guest appearance on Beyonce's "***Flawless", Americanah is a love story that centers on a young man and woman from Nigeria who face difficult choices and challenges in their country. The book was selected as one of the 10 Best Books of 2013 by the editors of the New York Times Book Review and it won the 2013 National Book Critics Circle Award (Fiction).
During an earlier interview with ARISE 360, Chimamanda hinted at Lupita's desire to create a project around the book and now it's official, it seems.
"Lupita was a very early fan of Americanah, And so before she was sort of well-known in the way that she is now, she wrote me … the loveliest email, a very long and passionate email about Americanah."
Congrats to Lupita on making major moves in Hollywood on her own!
Photos via Getty/Arise360
Tyra Banks Nabs ANOTHER Talk Show + CBS Backpedals...CANCELS "Arsenio Hall Show"
Posted: 30 May 2014 04:08 PM PDT
She's baaaack. Somebody gave Tyra Banks another talk show. Get the deets on her 2015 return inside, plus how Arsenio Hall got cancelled after all....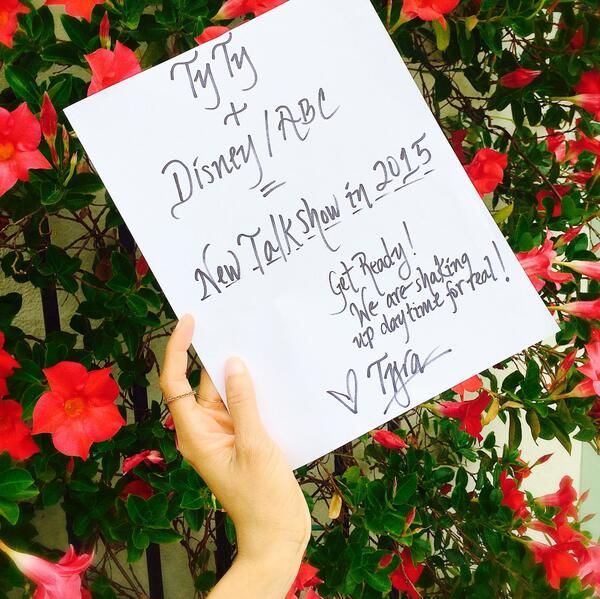 Model and business woman Tyra Banks has a new outlook on life now that she has her Harvard Business School certification. So she's got lots to talk about again as it relates to lifestyle and women. So, set for a 2015 launch, Tyra and Disney-ABC announced today that the "America's Next Top Model" honcho will be hosting her own talk show again on daytime tv.
"The fire to inspire women and help them to blaze new paths fiercely burns inside of me," she said.

"I'm excited to be partnering with Disney-ABC to usher in a new era of lifestyle, beauty and entertainment that will inspire women to be the CEO of their lives via honesty, humor and the newest tips and tricks without being intimidating or precious. To my fierce fam of future viewers: I can't wait to shake up daytime TV together. I have a lot of information to give and still lots to learn. Let's do it!"
Deadline describes the "team" style show below:
The yet-to-be-named show will have the model-producer-TV personality leading a team of lifestyle experts as they tackle a range of topics – from fashion and beauty to home and entertaining to empowerment and individual enterprise – and will offer a cross-platform experience incorporating Banks' social media reach of more than 28 million followers across all platforms. Broadcast from Los Angeles, the show will feature celebrities, popular Web personalities, experts and everyday people as guests.

Will you be watching?
But not everybody's getting a continued second chance. Arsenio Hall just received cancellation news about his late night talk show, just months after CBS (and Jay Leno) announced his show would be renewed!
Back in February, CBS renewed "The Arsenio Hall Show" after securing a two-year deal with the Tribune stations pre-launch. And Jay Leno even surprised Arsenio on his own show to deliver the news, right after exiting his own.
CBS claims the show has dropped from 1.9 million viewers to about 700,000.
"While there are many loyal fans of the show, the series did not grow its audience enough to continue," a CBSTD spokesperson said. "Arsenio is a tremendous talent and we'd like to thank him for all the hard work and energy he put into the show. We'd also like to thank Tribune and all our station group partners for their support of the show."
Arsenio has already spoken out saying:
"When I started this adventure with CTD and Tribune, we all knew it would be a challenge – I'm gratified for the year we've had and proud of the show we created. I'd like to thank everyone on my staff for rallying around me and striving to make the best show possible every night."
Sigh. His show was definitely necessary to the late night tv landscape. Hopefully another network picks him up!
Photos: CBS/Tyra's Twitter/Getty
MOVIE FAB: Ludacris, Terrence Jenkins, Jerry Ferrara & Michael Ealy Hit Magic Johnson's "THINK LIKE A MAN TOO" Screening
Posted: 30 May 2014 03:03 PM PDT
Magic Johnson invited Ludacris, Terrence Jenkins and Michael Ealy to join fans for a special advanced screening of their film Think Like A Man Too. More inside.....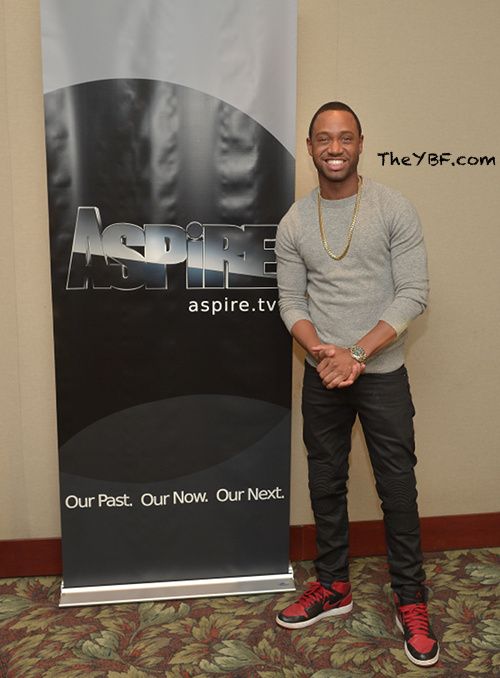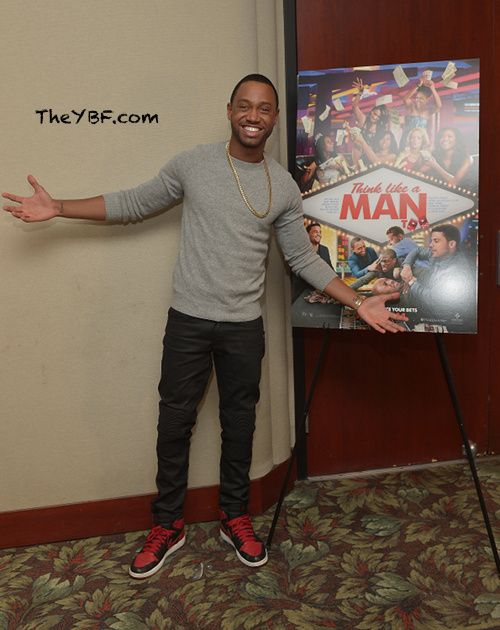 E! News host Terrence J joined host Magic Johnson at the Quinn Theater at Sony Pictures Studios in Culver City, California last night for an advanced screening of Think Like A Man Too.
Ludacris, who's been busy filming Fast & Furious 7, surprised fans at the screening.
With Think Like A Man Too hitting theaters June 20th, the sexy Michael Ealy thanked Magic Johnson for his early support of the film, dubbing him the mayor of LA. He tweeted, "Big Love to the "Mayor of LA" , @MagicJohnson for screening #TLAMTOO last night! @jerrycferrara @TerrenceJ @Ludacris."
Also.....check out Mary J. Blige's new single "Suitcase" from the TLAM2 soundtrack here.
The Randomness:
1. Former internet celebrity Antoine Dodson ("Bedroom Intruder") had a baby boy! Yep, you read that right. Story.
Photos via Charley Gallay/Getty Images for Sony Pictures Entertainment
THE HONEYMOONERS: Kanye & Kim Kardashian West Shop & Dine In Prague
Posted: 30 May 2014 12:19 PM PDT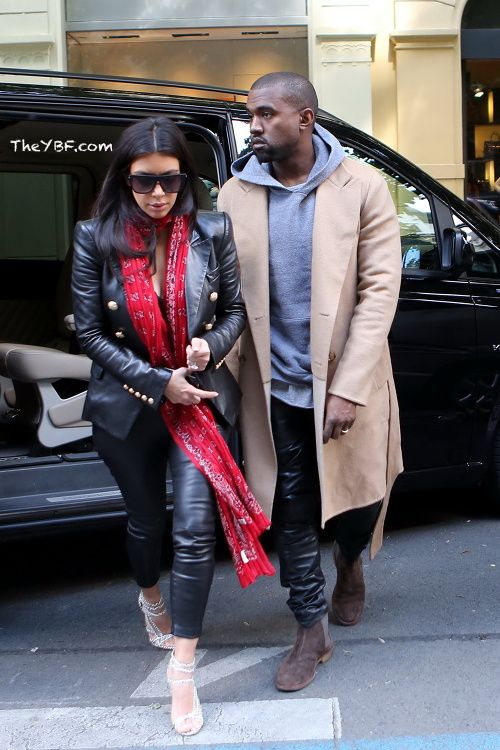 Newlyweds Kanye and Kim West were spotted out to dinner yesterday. See their matching leather pants pics inside....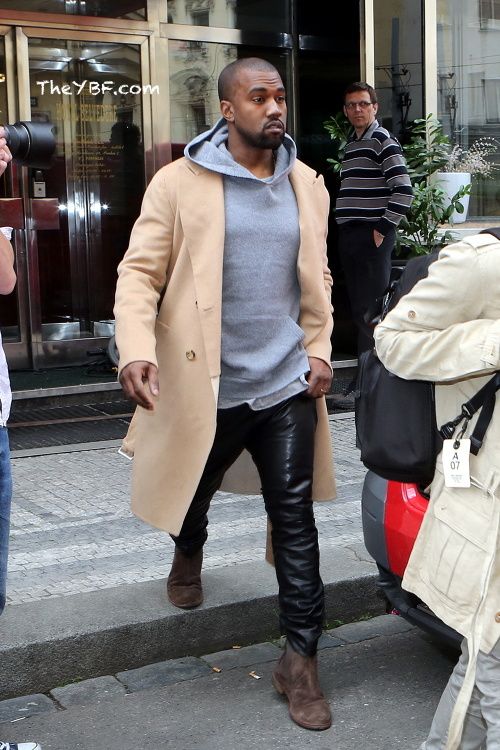 Married last weekend, newlyweds Kim Kardashian West and Kanye West were spotted heading to a restaurant in Prague for dinner. They've been chilling in Ireland and spotted going to the movies several times. Now it looks like they've skipped over to a new country.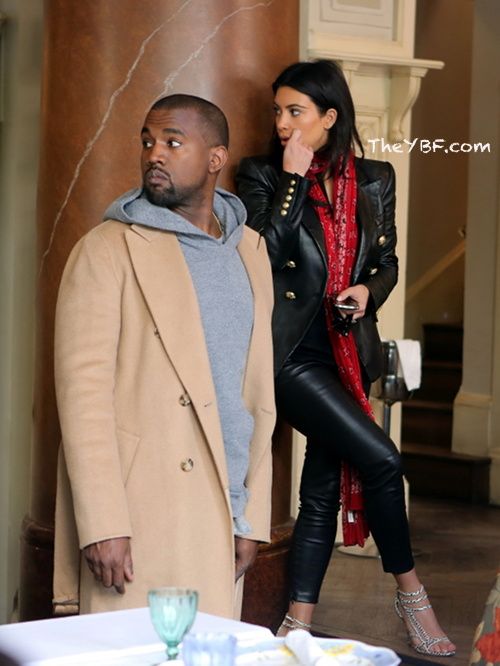 Since last week, 1.9 million Instagram users have "liked" the couple's wedding photo, making it Instagram's most popular pic of all time.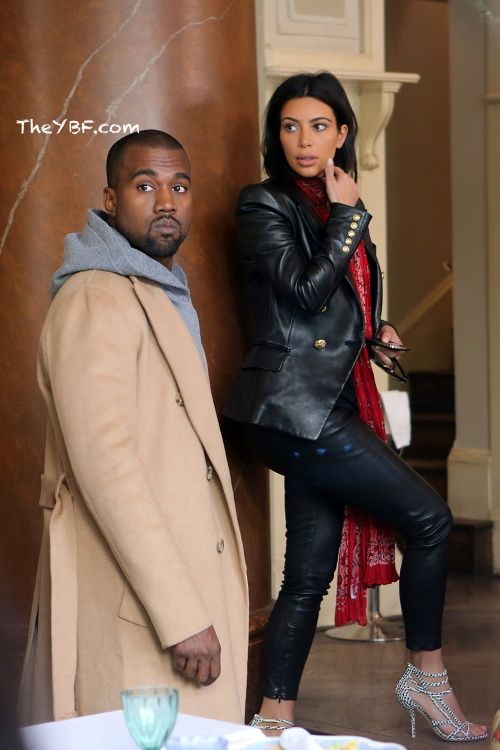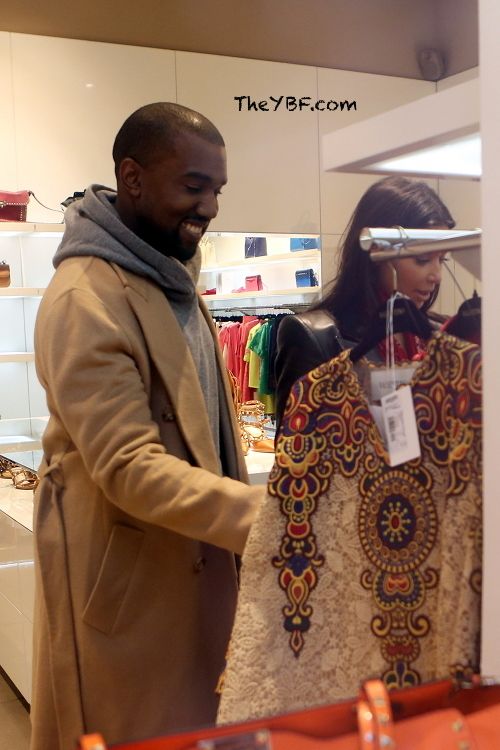 The two also shopped it up in a luxury retailer in Old Prague, their fave pasttime.
Once he's done "honeymooning", Kanye will head back to the States to perform in Austin, Texas (June 7). Also.....32 seconds of a previously unreleased Kanye track titled "Black Bruce Wanye" has leaked. We're not sure if this is something "new", but it's worth a listen:
Photos via PacificCoastNews
NEW MUSIC: Mary J. Blige's "Suitcase"
Posted: 30 May 2014 11:41 AM PDT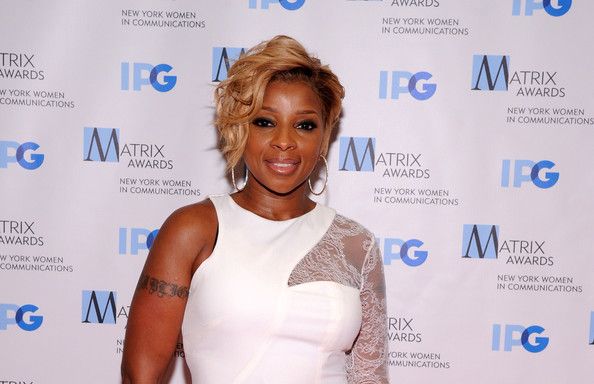 Fresh off the Think Like A Man Too soundtrack, dropping June 17th, Mary J. Blige's track "Suitcase" just hit the net. Check it out inside...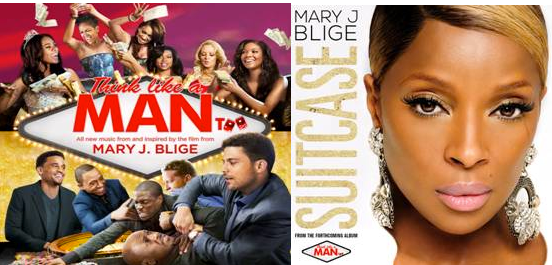 As Think Like A Man Too readies to hit theaters thi summer, the movie has teamed up with EPIC Records again (previously used for the original film-- John Legend's "Tonight (Best You Ever Had)", Jennifer Hudson & Ne-Yo's "Think Like A Man" featuring Rick Ross) for the soundtrack. And this go round, Mary J. Blige is handling the whole shebang.
Mary recorded an entire collection of music from and inspired by the film. The first single "Suitcase" has her signature sound, and is a remake of Shalamar's hit "A Night to Remember". The track, along with her whole collection of new music for the movie, is inspired by key scenes in both the film and trailer.
Check out "Suitcase" below:
Think Like A Man Too (Music From & Inspired by the Film) drops June 17th.
Photo: Getty
ON THE 'D': Mariah Carey HOPS On The Subway...In Her BALLGOWN...To Receive 2014 Fresh Air Fund AMERICAN HERO Honor +June Ambrose, Adrienne Bailon & More
Posted: 30 May 2014 11:03 AM PDT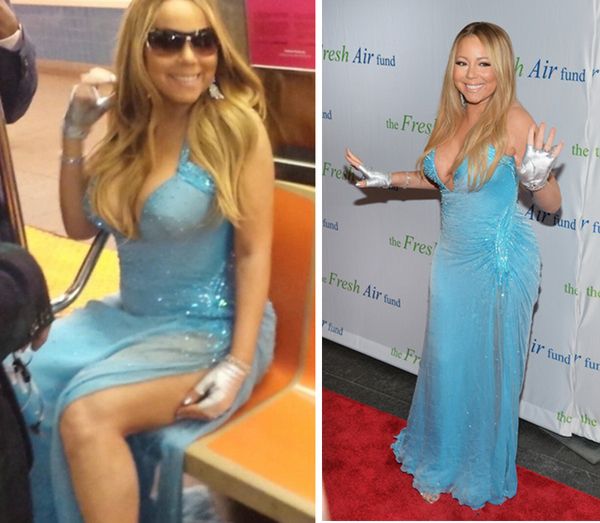 "The Diva Next Door" Mariah Carey was honored at last night's 2014 Fresh Air Fund Gala and you won't believe how she got there! See pics inside....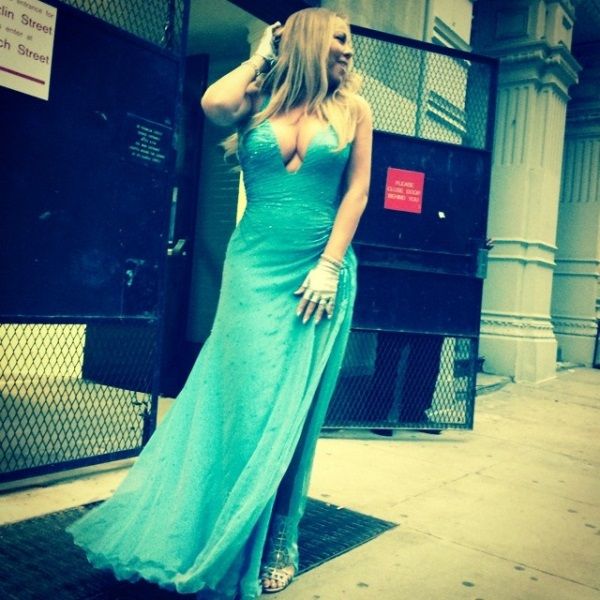 Mariah Carey, the elusive chanteuse, stepped out in her glittery style last night on the way to the '2014 Fresh Air Fund Gala Honoring Our American Hero' event at Pier Sixty in New York City.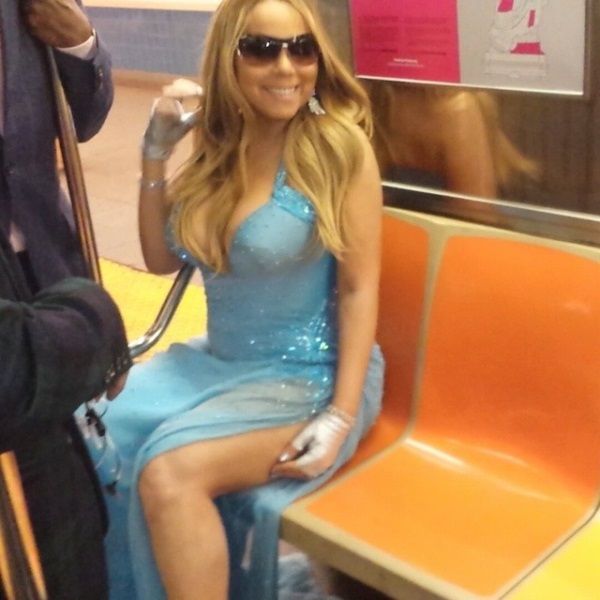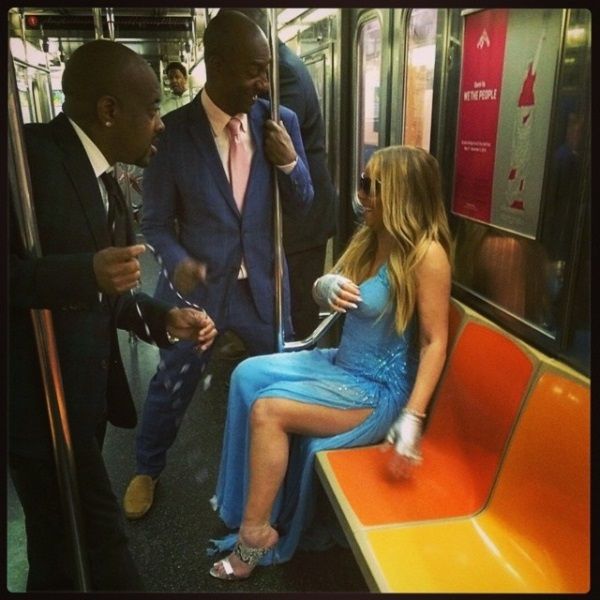 Mimi's evening started off with a subway ride....in her ballgown! She arrived with Jermaine Durpri, exec producer of "Me. I Am Mariah . . . The Elusive Chanteuse", and BET exec Stephen Hill. JD tweeted, "So me @stephengranthill and @mariahcarey just step on the D train at 205th #nyc"
Mimi dazzled in an Atelier Versace dress, Sergio Rossi shoes, and Chanel gloves. How many security team people did she have around her though on that train?
So extra...and we love it.
The gala honored "Our American Hero" board member Mariah Carey, and celebrated the 20th Anniversary of Camp Mariah. For those who may not be familiar with the Fresh Air Fund, it provides free summer experiences in the country to more than 1.8 million New York City children from low-income communities.
Inside....
Amar'e Stoudemire posed with wife Alexis. While nursing a few injuries from last season, the Knicks star signed on as the new face of The Art of Shaving's Lexington Collection this month.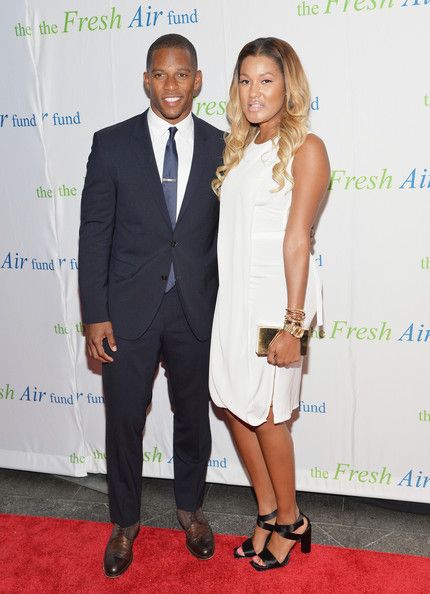 NY Giants star Victor Cruz and his fiancee Elaina Watley looked very elegant on the red carpet. You'll recall the twosome turned a few heads at the 2014 MET Ball earlier this month as well.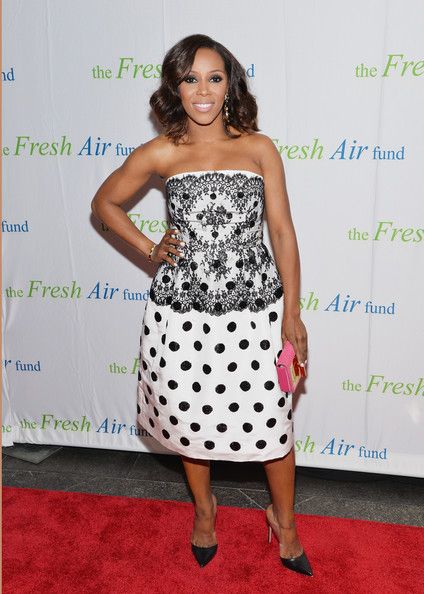 Stylist to the stars, June Ambrose, worked polka dots (on trend for this season).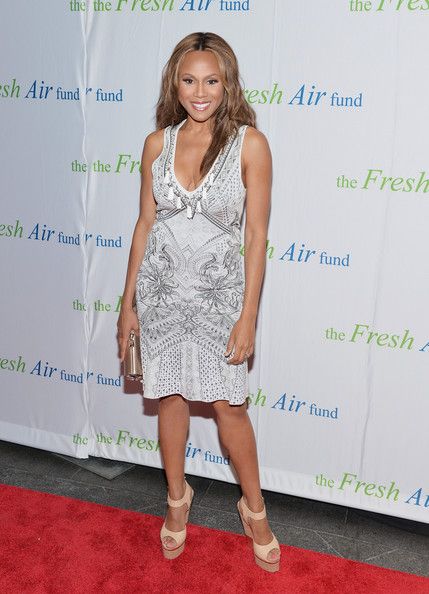 Broadway songstress Deborah Cox looked amazing. Deborah recently announced that she'll headline the Latino Carnival stage during LA Pride Week this summer.
"The Real" co-host Adrienne Bailon will host a new reality show called "Nail'd It" for Oxygen later this year. The show will pit the country's top nail designers against one another.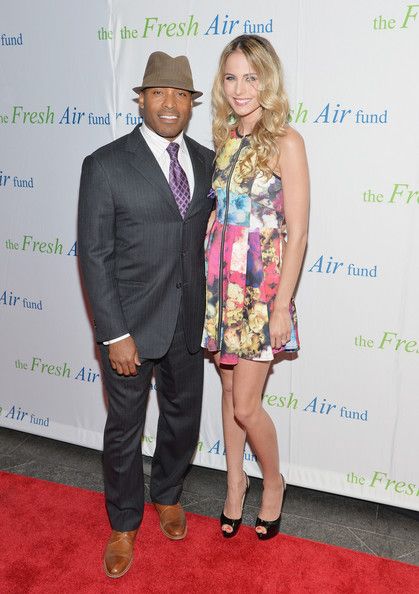 Tiki Barber arrived with wife Traci Lynn Johnson.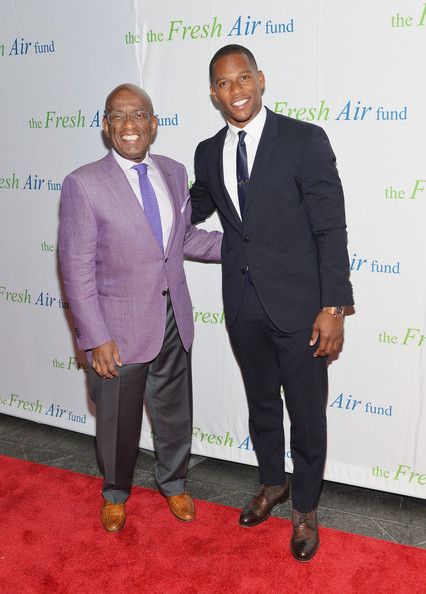 Victor posed with "Today" show anchor Al Roker.
Lee Daniels, who's working on "Empire" for FOX, walked the red carpet in flip flops!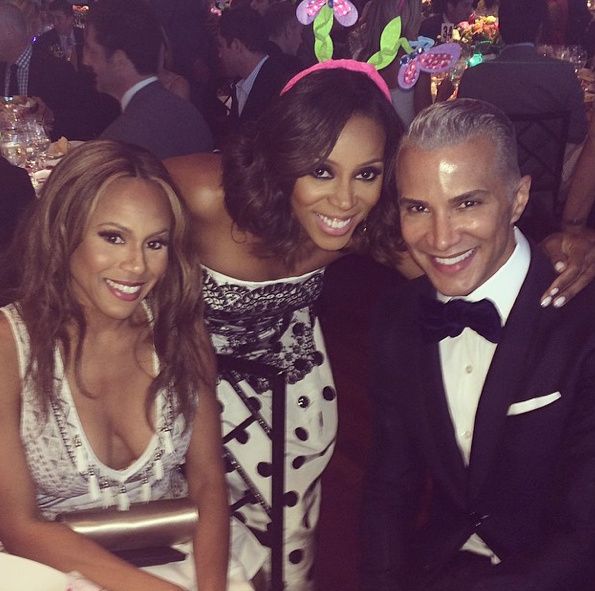 During the dinner, June mingled with Jay Manuel, Deborah Cox and Amar'e & Alexis.
Fab times.

Photos via Mike Coppola/Getty Images North America/June Ambrose's Instagram
50 Cent Talks Terrible Pitch, Brings Out Trey Songz & Joe To Rock "GMA" Summer Concert Series + Jagged Edge Returns With "Hope"
Posted: 30 May 2014 09:31 AM PDT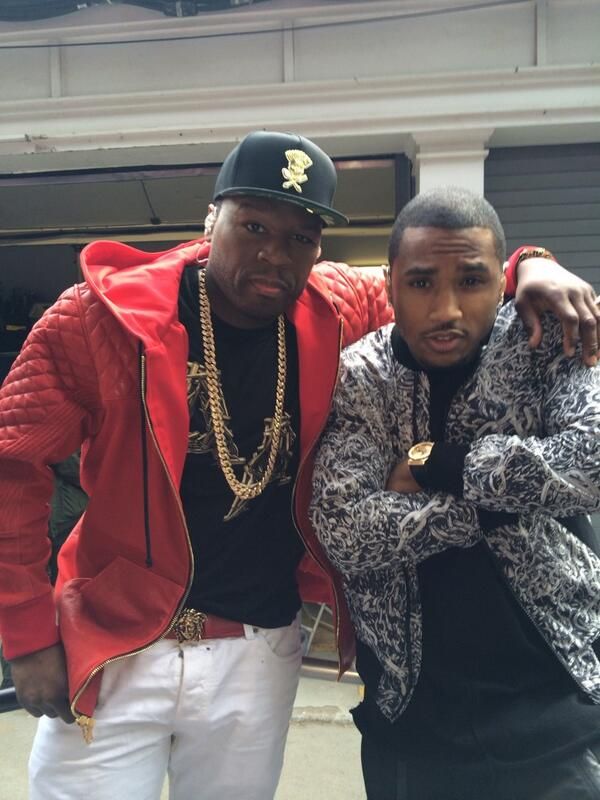 50 Cent took over the "GMA" Summer Concert Series today in Central Park. And he brought his homies Trey Songz (picture backstage above) and Joe to help on a few tacks. And he also talked about that horrific METS game First Pitch of his. Plus, Jaged Edge is back. Their new song is inside...
Curtis "50 Cent" Jackson pulled up to Central Park in his white Lambo this morning to rock the "GMA" Summer Concert Series stage in his hometown. But before performing, he talked about that horrific pitch at the METS game he threw the other night. He said:
"That was Curtis that did that. I'm trying to get Curtis to be like 50 Cent. Curtis just does things for no reason.
He revealed even the NYC cops were mad:
"I got pulled over NY City police. Like, what did I do? I was a little nervous because I was getting pulled over. And he said, 'You know, that pitch was terrible!'
He didn't give me no ticket, no nothing. He said 'I don't want to mess up your day, but that pitch, it made me laugh.'
50 also said it wasn't a publicity stunt, despite reports claiming it was. He said, "Nah, it slipped. I'm not a professional pitcher, I make music."
Check out Fif performing "Smoke", which appears on his upcoming Animal Ambition album (due out June 3rd), with Trey Songz. Plus, his sit down with and performances of "In Da Club" and "Big Rich Town", which is the theme song for his new show "Power", with Joe.
And look who's back: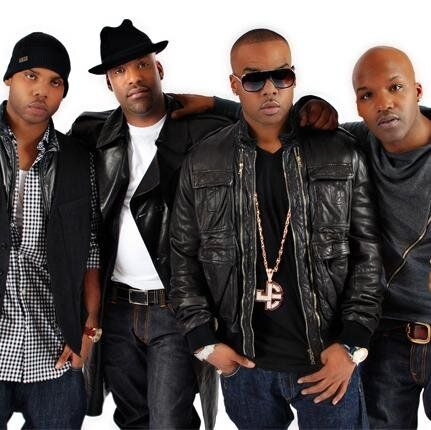 Yep. Jagged Edge. The ATL-based group just released a new song called "Hope". It's the new single from the group, produced by Bryan-Michael Cox, and available with all digital retailers on June 17th.
Check it out below, or click HERE to listen.
Photos: GMA's Twitter/Jagged Edge's Twitter