---
KEEPING IT MOVING: Keyshia Cole PARTIES Like A Single Lady With Colin Kaepernick, Geno Smith & Baby + Ashanti Finally Gets "Braveheart" Release Date
Posted: 10 Feb 2014 08:50 AM PST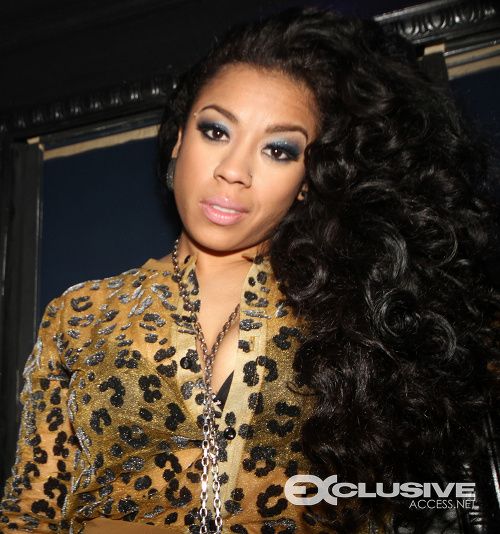 Keyshia Cole was spotted at DJ Stevie J's birthday party with Colin Kaepernick, Geno Smith and Baby. See the pics inside and get Ashanti's new release date....

Keyshia Cole didn't let her IRS woes or marital discord stop her from partying over the weekend. She was spotted at Eye Candy Saturdays where she celebrated the birthday of YMCMB DJ Stevie J. Outside of parties, Keyshia is in the studio with Manny Halley working on new music.
San Francisco 49ers QB Colin Kaepernick partied with the crowd.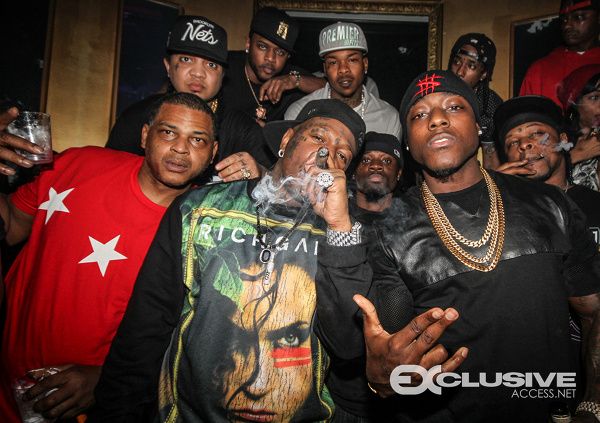 Cash Money CEO Baby puffed on a cigar.
"Bugatti" rapper Ace Hood tossed back a few shots.
And New York Jets QB Geno Smith (with the water bottle) didn't seem affected by his recent nude pic scandal. We hope he picks his birds & jumpoffs more wisely.
In other keeping-it-moving news.....
Ashanti, who collabo'd with Keyshia Cole on "Woman To Woman", has announced that BRAVEHEART finally has a release date. The new album will hit stores on March 4, 2014.
She's dropping the video for "I Got It" featuring Rick Ross this week on "106th and Park" and VEVO. We've also learned that she'll shoot the video for her next single, "First Real Love," later this month in Jamaica with Beenie Man.
This album has been pushed back so many times, we have our fingers crossed for her.

The Randomness:
1. The story of the Cali law student who was shot on the streets of NYC in broad daylight last year has taken an interesting turn. It's reported that the slain law student and "Cookout" actor Quran Pender (who ended up not coming to NY with him), were involved in a cocaine operation, and the murder was a hit. STORY
2. Nike pulled a Beyonce and put out Kanye West's previously shelved Red October sneakers at 1p on Sunday on their website. The $300 sneakers sold out in under 10 minutes, and are now being resold for millions! STORY
Photos via Exclusive Access.Net
TEA & SHADE: Kenya Blames NENE For Pajama Fight Throwdown + Says NeNe Is THREATENED & The Ladies Are Her PUPPETS!
Posted: 10 Feb 2014 07:53 AM PST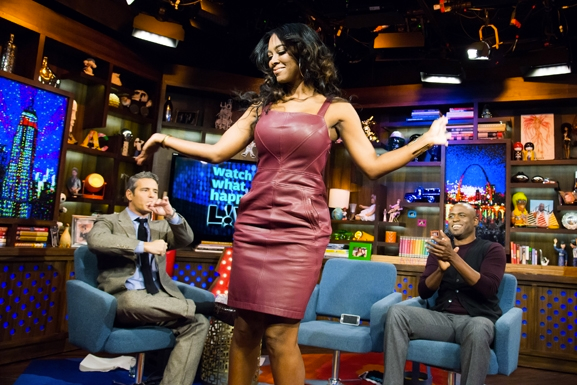 Oh Kenya. Leave it to the resident messy "RHOA" star, who actually makes plenty of sense sometimes, to spill some pre-tea about what really went down with that pajama fight.
WHat Kenya had to say about last night's foolery inside...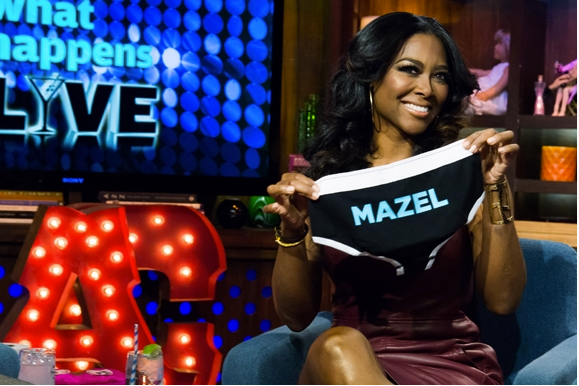 After Part 2 of that foolish pajama throw down aired last night, Kenya hit up "WWHL" to say who she blames for it all. And she's pointing the finger at NeNe Leakes, the "host" of that Pillow Talk set-up.
Kenya revealed that she thinks jealousy plays a part in NeNe's sour attitude toward her (when NeNe popped off on Kenya at the spa). She says NeNe had all these Hollywood jobs and didn't need "RHOA", but now that those Hollywood jobs are non-existent, Mrs. Leakes may view Kenya as her "replacement". And about the entire situation, Kenya prepped us for some tea she's going to spill at the upcoming reunion about it all:
"It was more to it, but I'll save that for the reunion and hopefully production will back me up. It was a lot more to it. This is a woman I considered to be my friend. I spent Thanksgiving with her and in Savannah. I was a NeNe fan. Then out of nowhere she just attacks me....I've never seen anything like it."
Kenya also took Cynthia's side in that dust up with Kandi & Todd, but she had some words for her as well:
"Cynthia is not an aggressive person. She talks with her hands. Everyone knows that. I just don't feel she meant anything aggressive by the way she was talking. But I wasn't there. I really didn't appreciate how she didn't have my back when she was here and blamed the whole situation on me."

"It just goes to show you how a lot of times, NeNe has these puppets and makes them dance. And I feel bad about that."
Bloop. Check out a few video clips below as Kenya chopped it up alongside Wayne Brady:
Photos: Bravo
BRAVE: NFL Hopeful Michael Sam To Become First Openly Gay NFL Player?
Posted: 09 Feb 2014 09:07 PM PST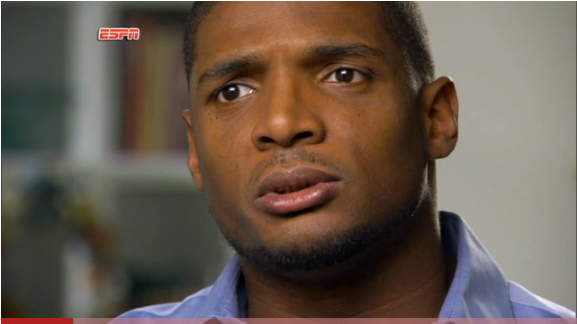 College football star, who is set to enter the 2014 NFL draft, Michael Sam just made a brave announcement to the world that he is gay. Check out his interview inside and get into his amazing story....
In a major announcement--which really shouldn't be that major in 2014 but it is since he's possibly about to make history--Missouri University football player Michael Sam just revealed in a national interview that he is a gay man. And if the Associated Press' SEC Defensive Player of the Year does get drafted, he will become the first openly gay NFL player.
Speaking to ESPN a few months before the 2014 draft, he said:
"I understand how big this is. It's a big deal. No one has done this before. And it's kind of a nervous process, but I know what I want to be ... I want to be a football player in the NFL."
But Michael, who dated another athlete (who wasn't a football player) at school, said his close friends already knew. Still, coming out was still a bit scary:
"I didn't realize how many people actually knew, and I was afraid that someone would tell or leak something out about me," he said. "I want to own my truth. ... No one else should tell my story but me."

"Coaches just wanted to know a little about ourselves, our majors, where we're from, and something that no one knows about you," Sam said. "And I used that opportunity just to tell them that I was gay. And their reaction was like, 'Michael Sam finally told us.' "
Asked what that moment felt like, Sam said,
"I was kind of scared, even though they already knew. Just to see their reaction was awesome. They supported me from Day One. I couldn't have better teammates. ... I'm telling you what: I wouldn't have the strength to do this today if I didn't know how much support they'd given me this past semester."
And the small town Texas native explained how he first discovered his sexuality, and why his past hardships prepared him fro this moment:
"I knew from a young age that I was attracted to guys," he said, "I didn't know if it was a phase ... I didn't want to say, 'Hey, I might be gay. I might be bi.' I just didn't know ... I wanted to find who I was and make sure I knew what was comfortable. So I didn't tell anyone growing up."

"I endured so much in my past: seeing my older brother killed from a gunshot wound, not knowing that my oldest sister died when she was a baby and I never got the chance to meet her. My second oldest brother went missing in 1998, and me and my little sister were the last ones to see him ... my other two brothers have been in and out of jail since 8th grade, currently both in jail.
Congrats to Michael for living in his truth. And, if drafted, encouraging others to do the same in professional sports.
BONUS: NBA baller Jason Collins, who came out to world two years ago, also tweeted his support:
For the past 2 days I have met with @MikeSamFootball here in LA. He is a great young man who has shown tremendous courage and leadership

— Jason Collins (@jasoncollins34) February 10, 2014
INSIDE The 2014 BET HONORS With Ice Cube, Janelle Monae, Tamar Braxton & More
Posted: 09 Feb 2014 12:01 PM PST
TheYBF.com was on the scene of last night's taping of the 2014 BET HONORS at The Warner Theatre, and we've got inside scoop on what you'll see BEFORE it airs. More inside.....
One of the year's most exciting "feel good" events, the 2014 BET Honors, had witnessed Aretha Franklin (get into her mink!), Berry Gordy, Kenneth Chenault, Ice Cube, Nelson Mandela and Carrie Mae Weems being honored for their many contributions to our culture. In addition to a bosom-popping performance from Mariah Carey, Wayne Brady (who hosted), performed Ginuwine's "Pony" with two dancers and plenty of water. Yeah...
Actor Joe Morton (aka Papa Pope!) introduced honoree Kenneth Chenault.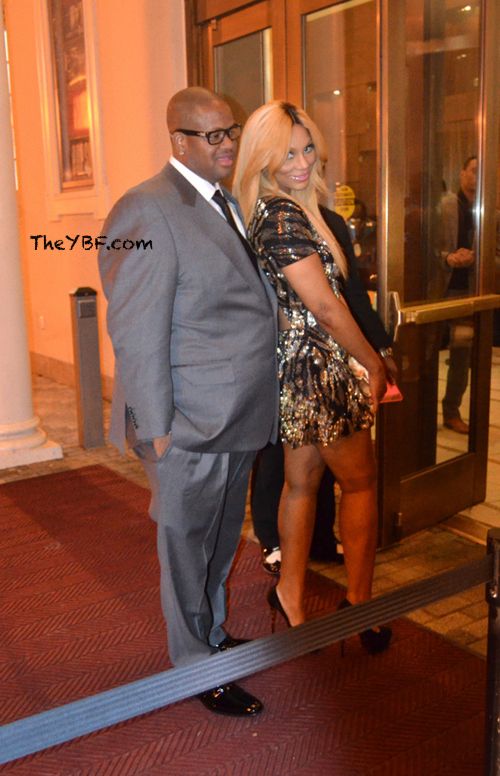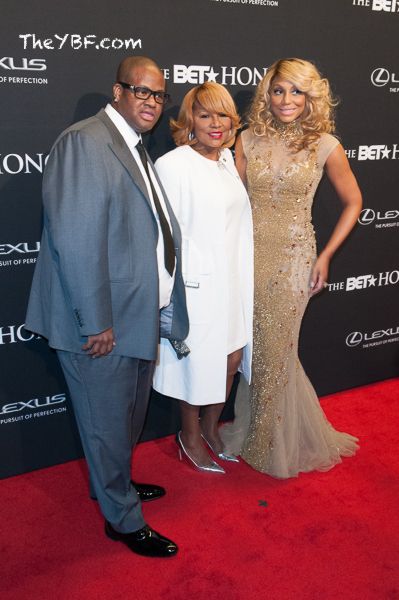 Tamar Braxton looked stunning on the red carpet (shown above with mom Evelyn Braxton and husband Vincent Herbert at the afterparty). Tamar performed a tribute to honoree Berry Gordy, which included a medley of Diana Ross hits "Do You Know Where You're Going To" and "Upside Down".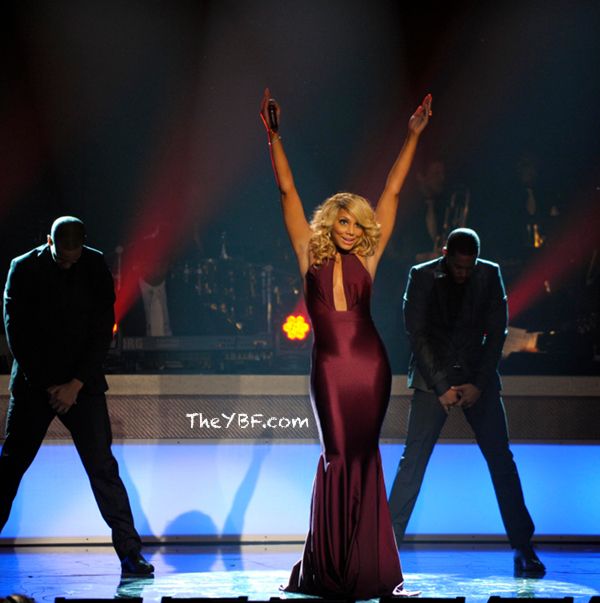 She told the crowd that when she and his sisters were younger, they pretended to be The Supremes and fought over who would play Miss Ross. Who do you think snatched that crown...her or Toni?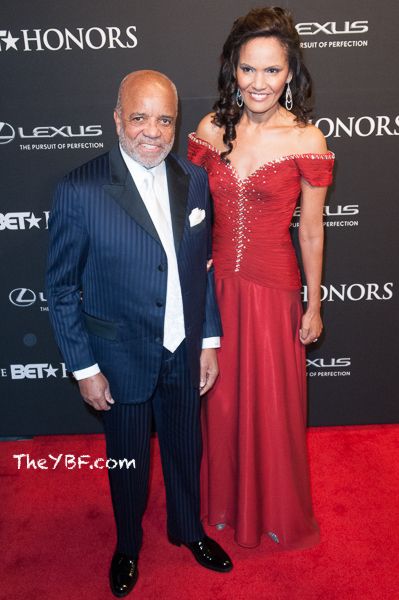 Honoree Berry Gordy attended with the fab Eskedar Gobeze. During his acceptance speech he talked about founding Motown, calling it a dream come true. After his introduction from Smokey Robinson, he joked about straight men and their "bromances". Oh.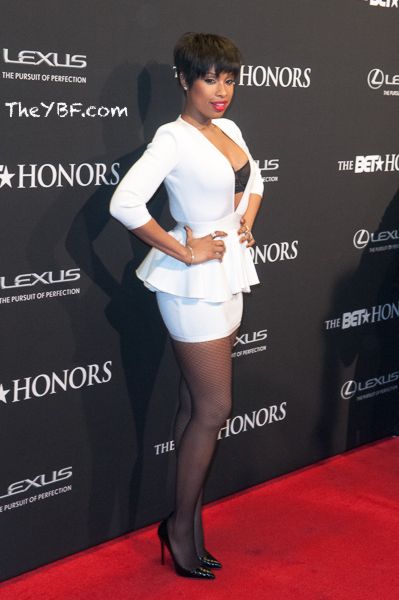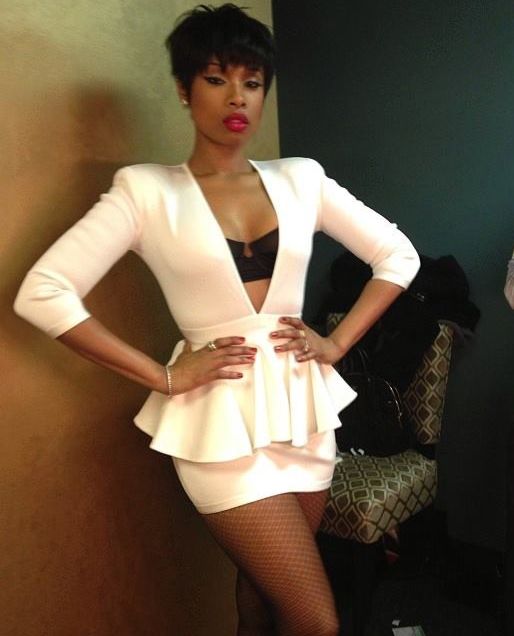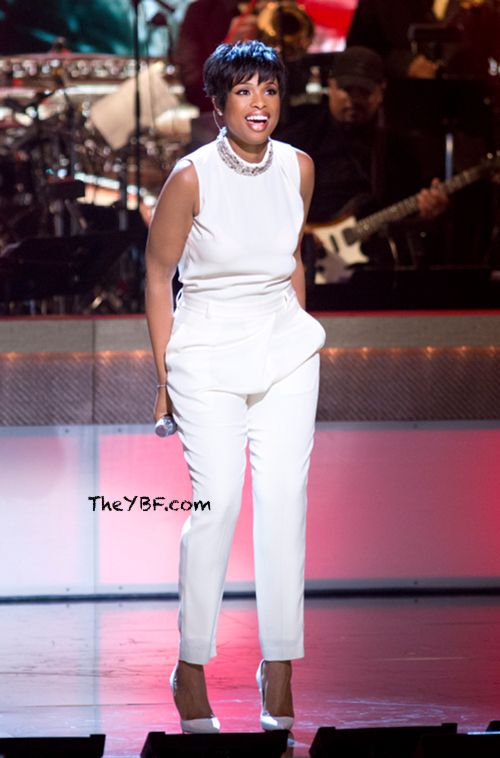 Jennifer Hudson (along with Karen Clark Sheard) both performed tributes to Aretha Franklin. Jennifer's tribute included "Rock Steady" and "Respect" while Karen sang "Amazing Grace." Jenny's looking great by the way.
Honoree Aretha Franklin was introduced by Al Sharpton. During her's tribute, her granddaughter Victory sang Tamela Mann's "Take Me To The King."
And about that fur coat she rocked at the beginning (PETA better not play with her), she explained that the coat "protected her voice from the cold air inside the building." She tossed that mug on the floor during her own tribute her Nelson Mandela like a true diva.
Janelle Monae also performed a tribute to Berry Gordy, which including her own take on some Jackson 5 classics.
Ludacris (shown above with BET's Stephen Hill) did the introduction to honoree Ice Cube. He joked about Cube writing songs that used to be far from honorable.
During his acceptance speech, Ice Cube said he never thought he's shared the stage with people like Berry Gordy and Aretha. He ended his speech by thanking his wife...who was there for him when he went from getting letters from the FBI - to playing an FBI agent on tv. Ride or die!
Radio host Russ Parr posed with wife Darnell.
And Judge Mathis arrived with wife Linda.
The 2014 BET HONORS airs Monday, February 24 9P/8C.
Photos via Aaron J. / RedCarpetImages.net, Jennifer's IG

BRING ON THE GIFTS: Evelyn Lozada Celebrates Her Million Dollar Baby At L.A. Baby Shower
Posted: 09 Feb 2014 10:11 AM PST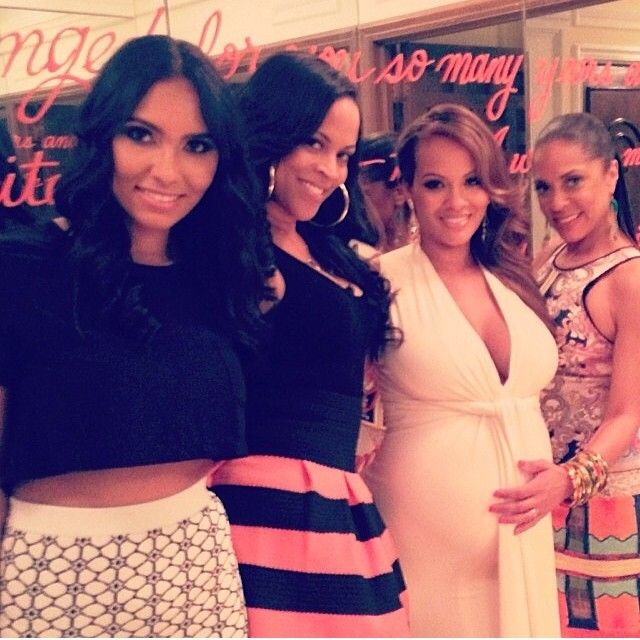 Baby Boy Crawford, whose dad Carl has a $142 million MLB contract and is now with the Dodgers, is on the way. And Evelyn Lozada celebrated with a Diamonds & Diapers themed baby shower Saturday afternoon in L.A. with her celeb friends and fam.
Check out the girly pics inside...
With her hot daughter Shaniece and close friends like Shaunie O'Neal and Tiffney Cambridge on hand, former "Basketball Wives" star Evelyn Lozada munched on cake and copped some major presents (from Hermes and more) at her Diamonds and Diapers baby shower. Her publicist and good friend Danika Berry put together the fancy schmancy affair: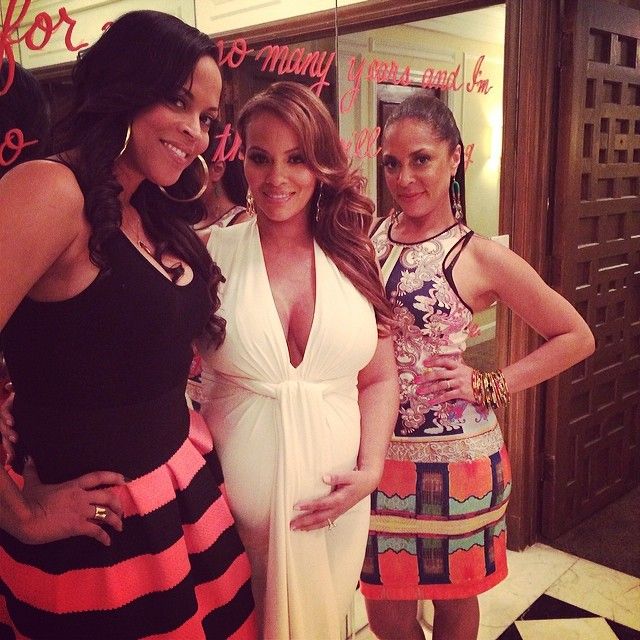 Ev's friends from reality tv Nikki Chu and Rah Ali were also there. Donk competition?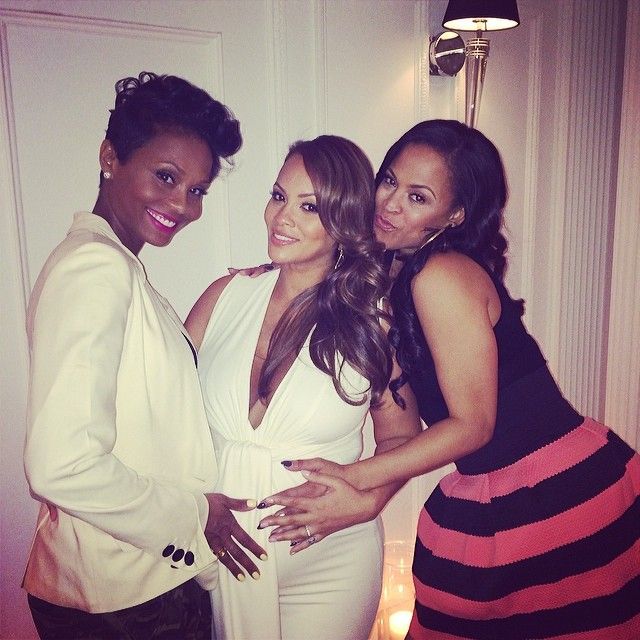 And so was her "BBW" co-star Tasha Marbury. No Tami & Suzy?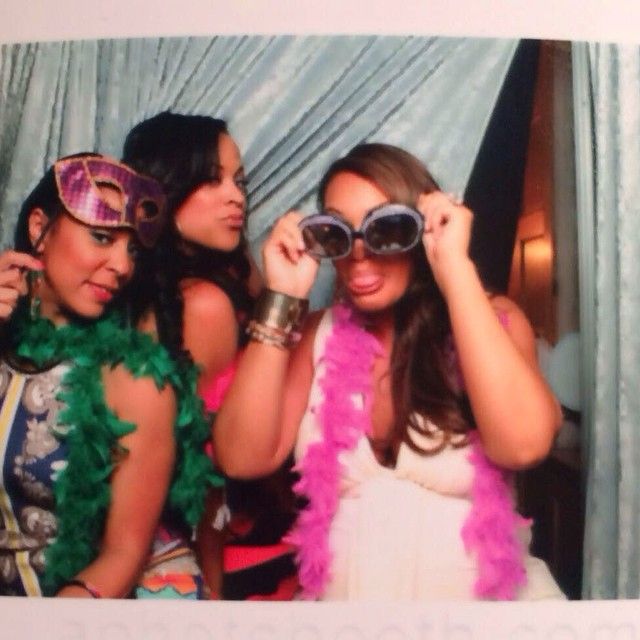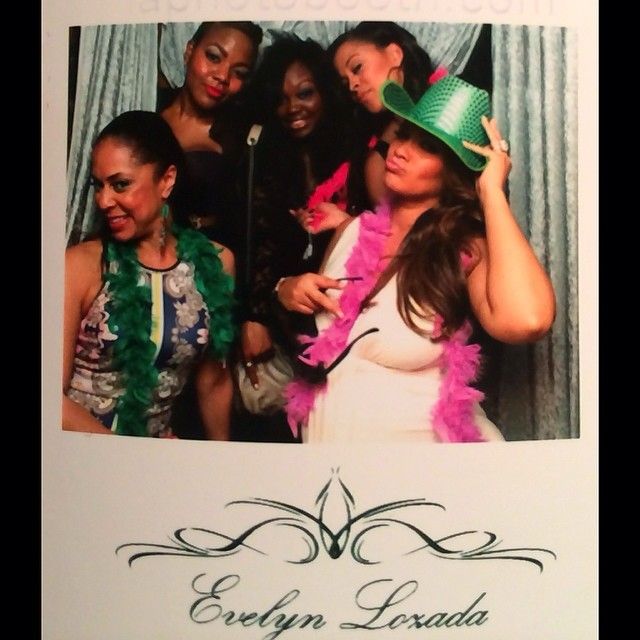 The ladies hit up the dress-up booth that's usually at weddings. Looks like Ev pulled out all the stops for Baby #2. No "sprinkle" here....it was a full out shower.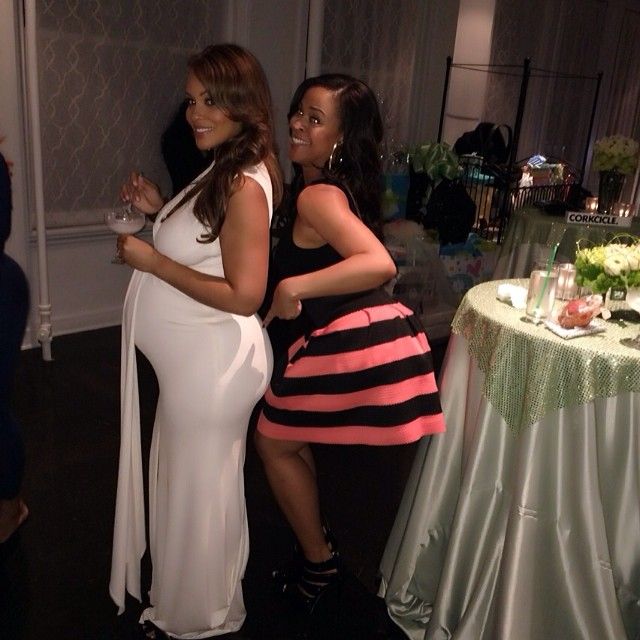 Julissa Bermudez and Bow Wow's mom, Teresa (Ev's bestie), was also there to celebrate with her fellow Latina reality star.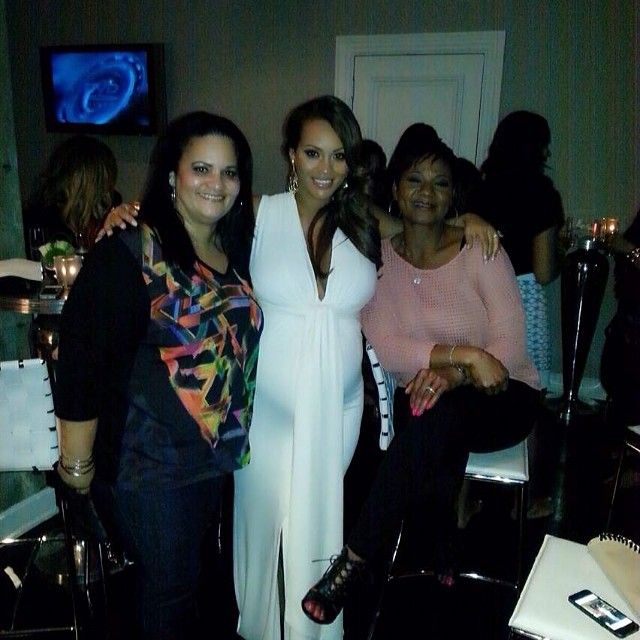 Her mom and Carl's mom were there for the festivities. And Ev posted a pic with her sister saying she was more excited than anybody about Ev having a boy.
And before eating the cake, the girls danced it up to Beyonce's "Drunk In Love" and "Partition":
Fab times. Congrats Ev! She did an interview from the shower for OMG Insider, and it will air on Monday.
Photos: Evelyn's Instagram