---
Lupita Nyong'o DAZZLES In Christian Dior Couture At The 2014 BAFTA Awards + "12 Years A Slave", Chiwetel Ejiofor & Barkhad Abdi Take TOP Honors
Posted: 17 Feb 2014 08:55 AM PST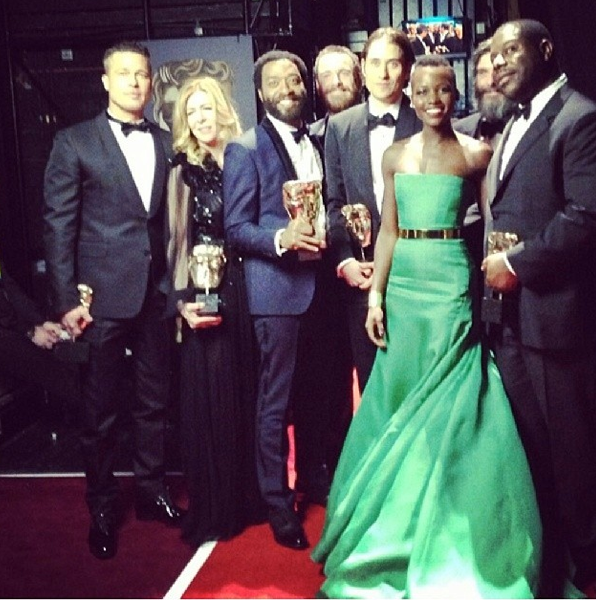 The 2014 BAFTA Awards were held over the weekend and "12 Years A Slave" grabbed the evening's biggest honor. See red carpet pics inside and find out which YBF celebs took home awards...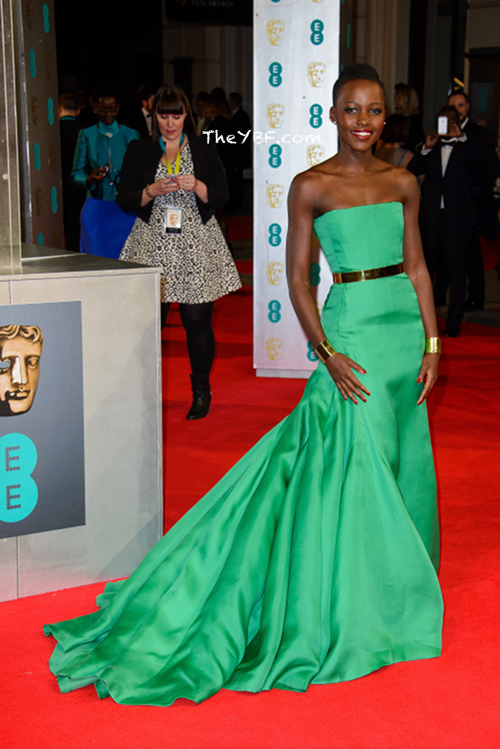 The road to the 2014 OSCARS continues!
Last night, some of our favorite YBF actors and actresses walked the red carpet for the British Academy Film Awards 2014 (BAFTA) held at The Royal Opera House in central London.
"It" girl and red carpet darling Lupita Nyong'o turned heads in an amazing emerald strapless gown with a long flowing train from Christian Dior's Fall 2013 Couture collection. She punctuated the look with a metallic gold belt and accessorized with Ana Khouri gold 'Ildeman' cuffs and gold-and-pearl 'Laura' earrings. Her heels, not seen here, were Christian Louboutin.
She was a vision, as usual.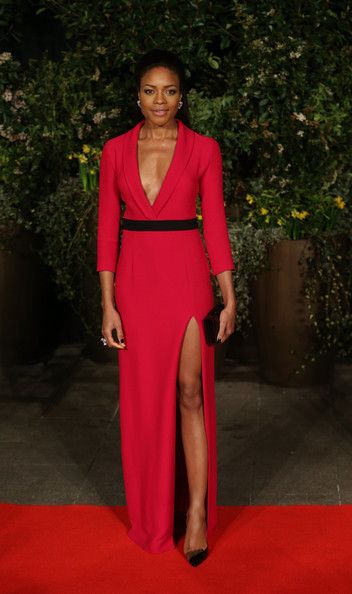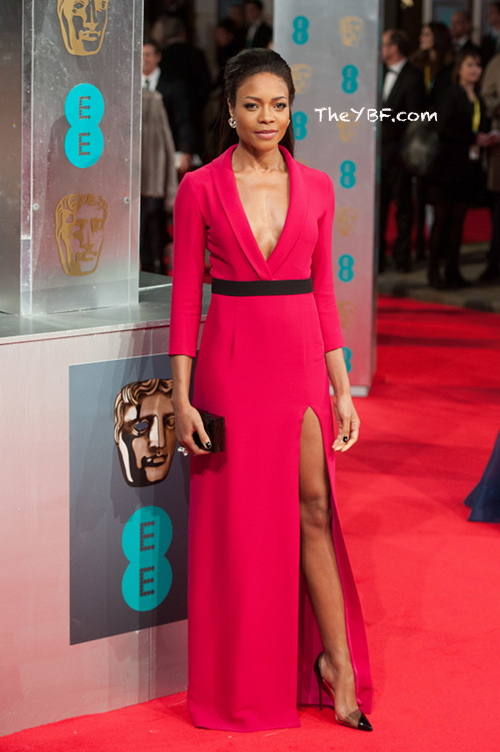 "Mandela" star Naomie Harris kept it red hot in a Gucci gown with a plunging neckline and thigh high slit.
"Captain Phillips" star Barkhad Abdi (seen in the winner's room) won the award for supporting actor. It was his first film!
At the official dinner.....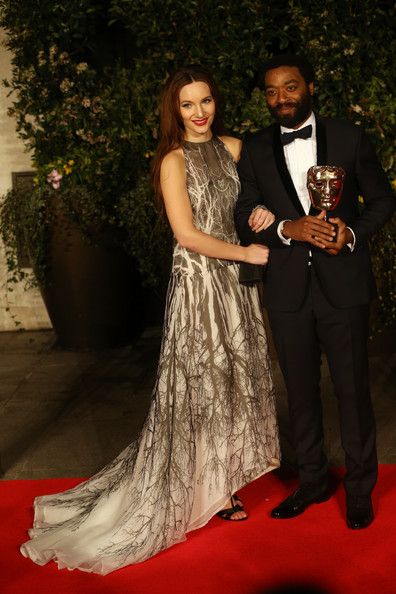 Lupita's "12 Years A Slave" co-star Chiwetel Ejiofor received the Leading Actor award. The cameras caught him arriving at the official dinner party at The Grosvenor House Hotel with girlfriend Alice Evans.
Although Steve McQueen did not win the award for Best Director, his film, "12 Years A Slave" won Best Film. During his acceptance speech, THR reports Steve said, "21 million people in slavery now as we sit here. I just hope there will not be another 120 years of ambivalence that allows another filmmaker to make a film like this." He attended the dinner and awards show with long time girlfrien (they also have two kids) Bianca Stigter.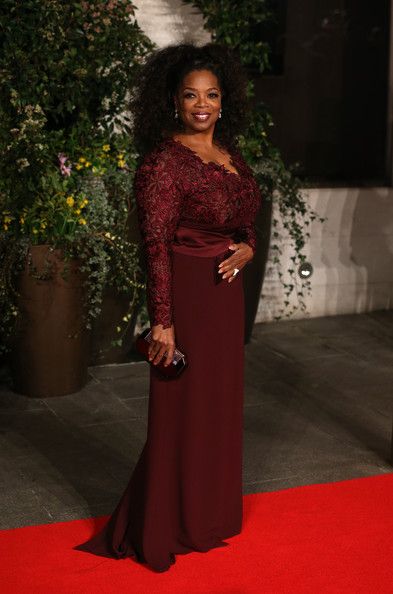 Oprah Winfrey (who was also a presenter) arrived at the dinner party in a crimson gown with a satin bow from Stella McCartney.
Photoa via WENN/Getty/Chris Jackson/Anthony Harvey
STILL IN TROUBLE? T.I. & Tiny Competing For Who's Having The Most Fun?! ALL-STAR VS. THE STRIP CLUB
Posted: 17 Feb 2014 08:21 AM PST
Last week, we sensed some trouble in Trouble Man T.I. & Tiny's paradise. And it seems to be continuing to play out via social media. Check out how the twosome appeared to be competing to have the most fun over the weekend as they spent time apart....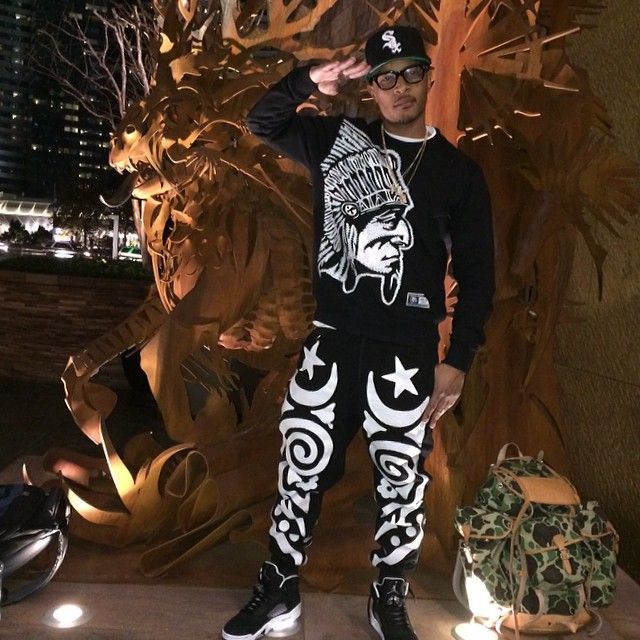 After T.I. hosted a party in New Orleans Saturday night with Miguel for the 2014 NBA All-Star weekend, he snapped a pic showing off his flossy gear. And seemed to send a subtle shot to his wife Tameka "Tiny" Harris saying:
#KickinMajorFlav #hustlegangovererrrrthang #ImHavinWaaaaayMoreFunThanU #Hahahahahaha (JokerVoice)
Tiny wasn't at her husband's side during the All-Star weekend, like she usually is, so it raised a few eyebrows amongst their fans and followers.
Instead, Tiny spent her weekend back in Atlanta at her fave place--the strip club: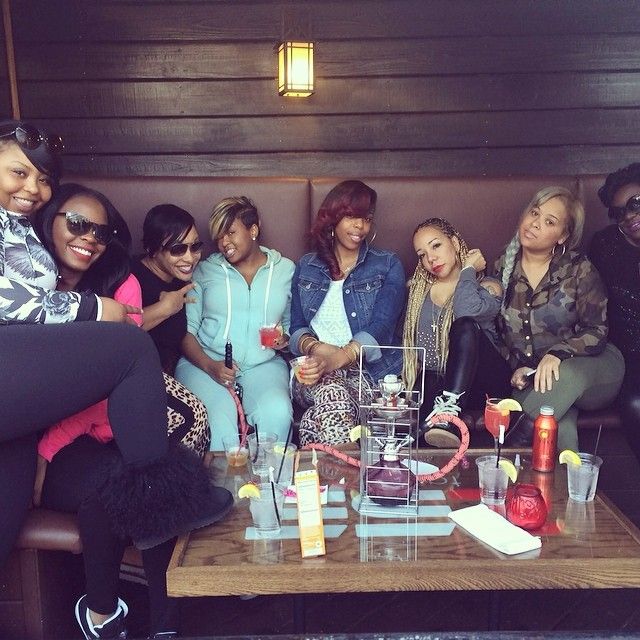 She posted a pic yesterday of all her girls saying, "Turnt in the day time..& we ain't even at AllStar..but u wouldn't een no it!! #Folliesgoing".
We hear Follies is a hole-in-the-wall ratchet type of strip club (probably Tiny's favorite). But she was determined to show off just how much fun she could have without her husband:
She said, "Damn we club hopping today! & we keep getting deeper & deeper!! #Atlnights."

These two. It's been a while since we've actually seen them together. Hope they work out whatever is going on....
Photos: Tiny's IG, T.I.'s IG

BADDIES: Rihanna Kicks Off Birthday Week With Her Killer Legs + Bria & Shayne Murphy Shows Off More Tight & Toned Modeling Pics
Posted: 17 Feb 2014 07:36 AM PST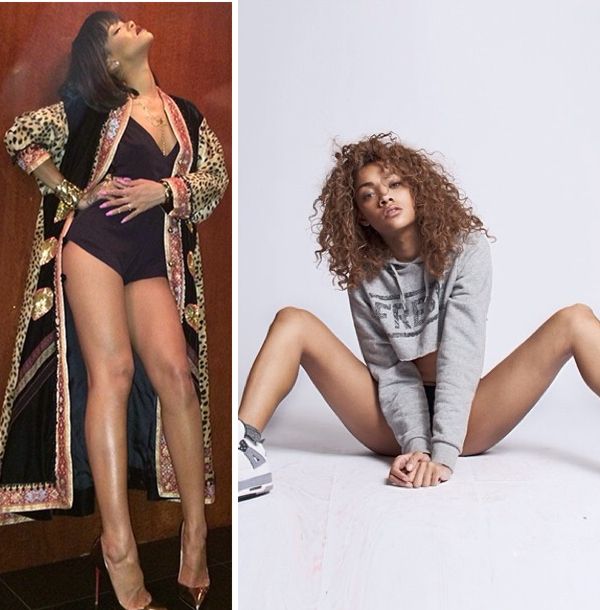 Rihanna and the Murphy girls are setting off our Monday morning by giving us tight & toned body action. Check out how RiRi is kicking off her birthday looking hot as ever and the Murphy girls' new fitness modeling pics...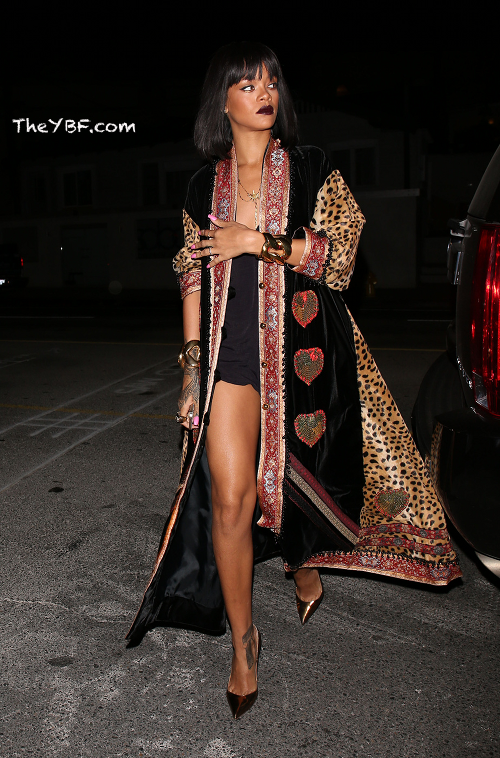 Rihanna threw on her sexy gold Louboutin pumps and a super mini black jumper with a mixed-media super luxe coat last night while hitting up her fave eatery, Giorgio Baldi Italian restaurant in Santa Monica. The baddie and her bestie Melissa kicked off her birthday week festivities with a stylish diner...and a new wig.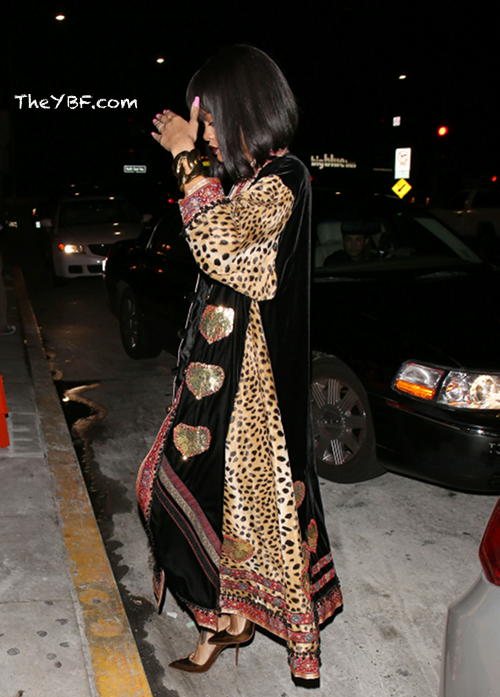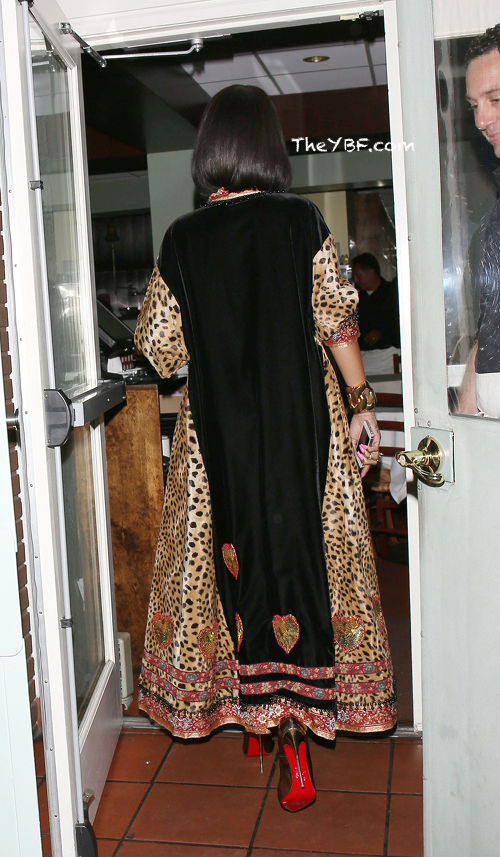 HOT! We're totally loving this crushed velvet plush leopard & embroidered fabric coat thrown over her tiny jumpsuit.
And she posted a few of her own pics as well to show off those legs for weeks. Ri skipped out on the All-Star festivities to relax with her friends in L.A. And we're sure we'll be getting some feisty pics all week as she rings in her 26th birthday this Thursday.
Speaking of baddies, Bria Murphy and her sister Shayne Audra are still trying to make mama Nicole and papa Eddie proud by
embarking on their modeling careers
.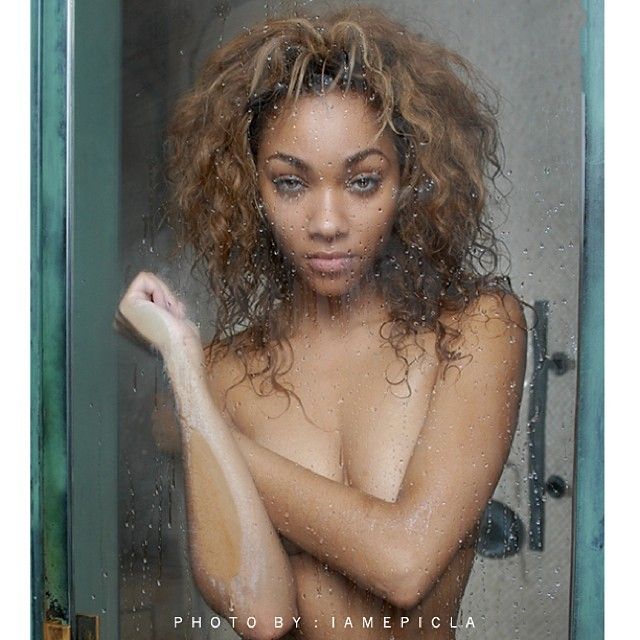 The two showed off their newest fitness-inspired modeling pics shot by iamEpic. Looking good ladies...
Photos: Pacific Coast News, Rihanna's IG, Bria's IG, iamEpic's IG
ROUND UP: Celebs Have A Ball At The 2014 NBA All-Star Game & After Party + Performances From Pharrell, Janelle Monae & More
Posted: 17 Feb 2014 06:40 AM PST
A celeb-studded 2014 NBA All-Star game went down last night in New Orleans. And we've got pics and video galore for you to catch up on what you missed...or what you just may want to see again.
Peep it inside....
Pharrell slayed his performance during the introduction of Team East & Team West last night at the Smoothie King Center (formerly the New Orleans Arena) in the 504. Team East finally broke their 3-year losing streak and beat the West 163-155.
But first, Skateboard P rocked the stage and brought out his slew of celebrity friends you see above. He went through a medley of his hits with Diddy, Busta, Nelly and Snoop. And yes, that Vivienne Westwood hat made a return, this time in red, while he performed "Happy". Check out his entire performance below in case you missed it:
Pharrell commented, "No words for how grateful I am that these legends joined me on stage tonight." His NERD homie Chad Hugo also hit the stage for a surprise appearance.

Diddy had his little sis Janelle Monae (above, posing it up outside the arena together) on the bill for the halftime show. She rocked out with Earth, Wind & Fire, New Orleans' own Trombone Shorty and Texas guy Gary Clarke, Jr. Check out their electric performance below:
And around the game: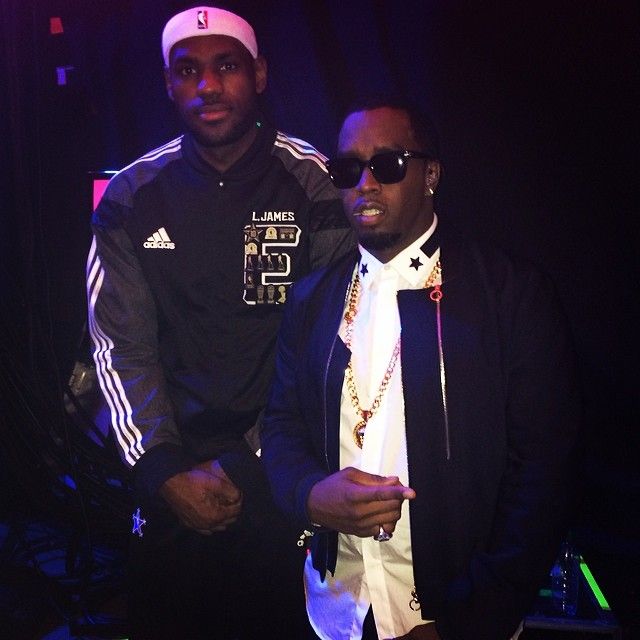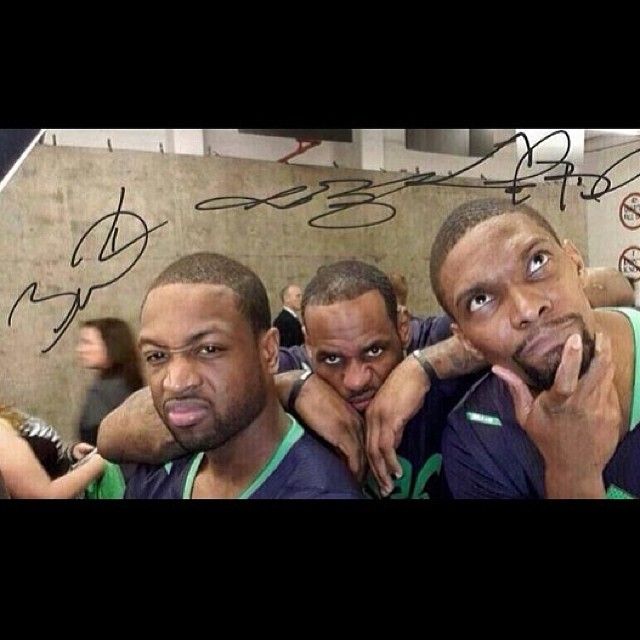 Dwyane Wade, LeBron James and Chris Bosh repped for the Heatles on Team East.
LeBron's wife Savannah looked hot in a Stella McCartney short suit, Giuseppe Zanotti shoes and an Hermes clutch. She was there to watch her man help turn the All-Star game into a slam dunk fest.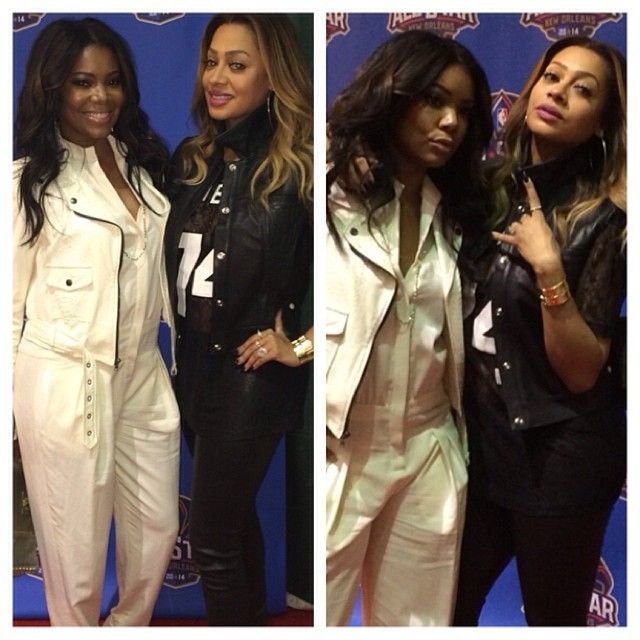 Gabby Union was there to cheer on her partially injured fiance and chill with her bestie LaLa Anthony, who was there rooting for "her everyday MVP" Carmelo Anthony.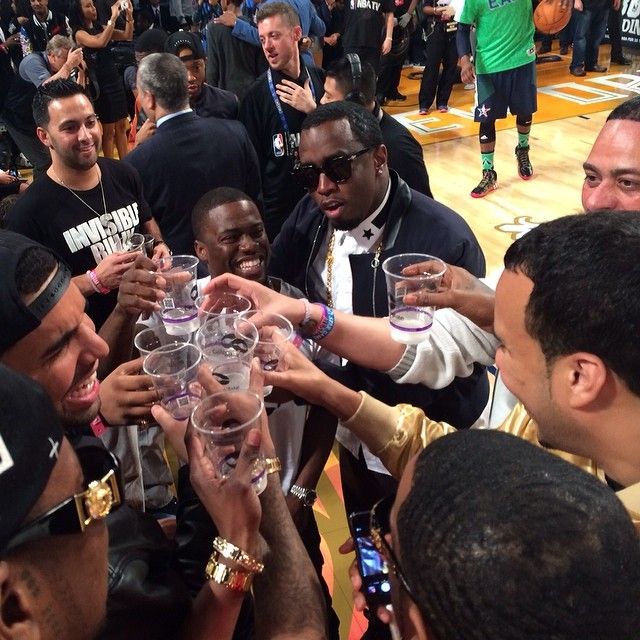 Diddy and his homies--Drake, French Montana, Kevin Hart and more toasted it up with their plastic cups courtside.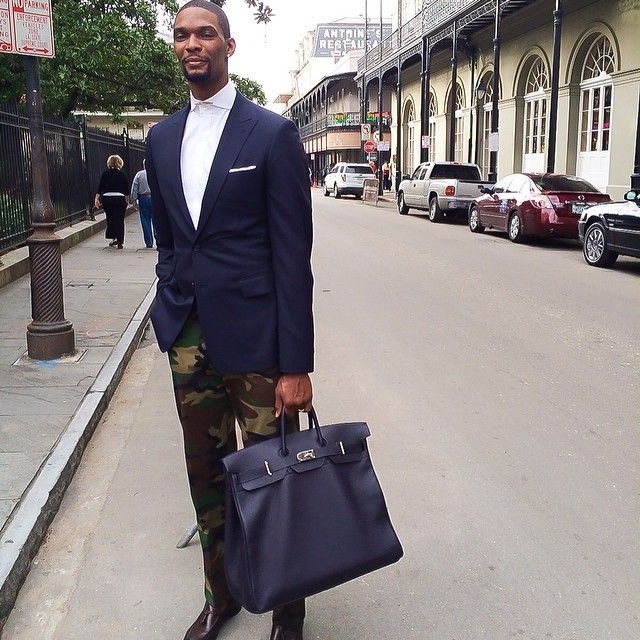 Chris Bosh had his Hermes bag on display as he made his way to the game. OK Chris...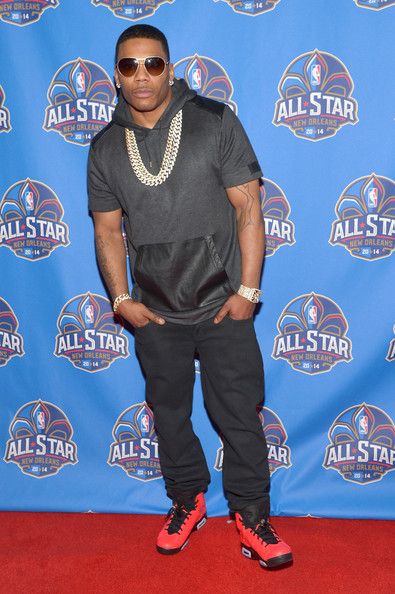 Nelly, Gary Payton and Spike Lee hit the red carpet before chillin' courtside.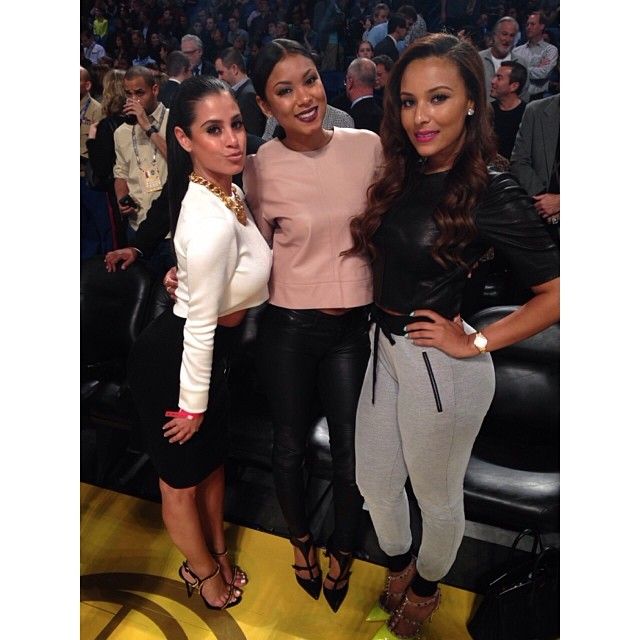 Eudoxie (who was there with boyfriend Ludacris) and Eniko Parrish (there with boyfriend Kevin Hart) spent their girl-time courtside as well. Loving Euoxie's bangin' body she's been working out hard for these days, and her lime studded Valentino shoes.
Eniko kept it sexy in an Alexander Wang leather shirt. Casadei heels, J Brand leather pants and a chic Tom Ford bag.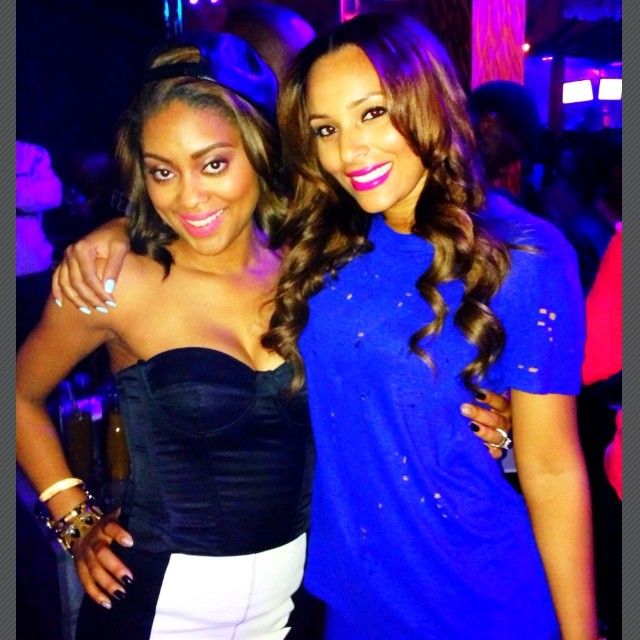 And by the way, Eudoxie celebrated with Chris Paul's wife, Jada, at her birthday party Saturday night in New Orleans.
Trina showed off her ASSets in a 5th & Mercer zip-back leather skirt before hitting the festivities. We're going to go out on a limb and say she was playing French Montana's arm piece all weekend.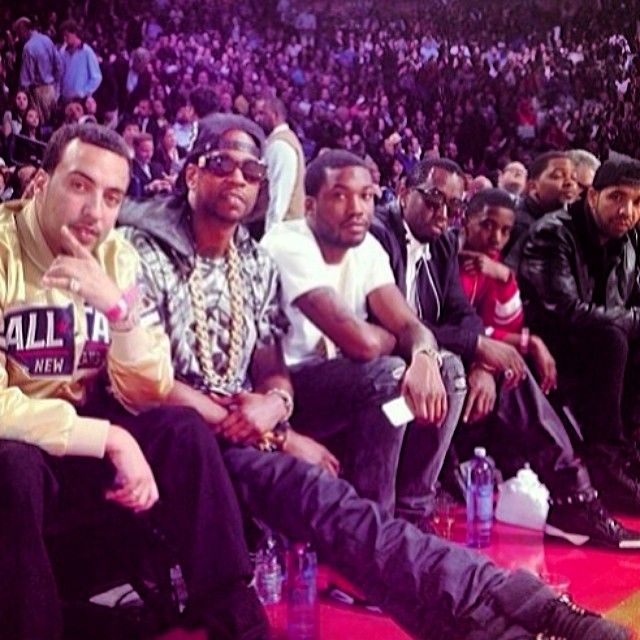 The fellas--French, 2 Chainz, Meek Mill, Diddy, Christian Combs and Drake--kicked it courtside. And Drizzy posted a video making fun of Kevin Hart's eating situation:
Ha.
He also chopped it up with Michael Jordan at the afterparty at Metropolitan Nightclub.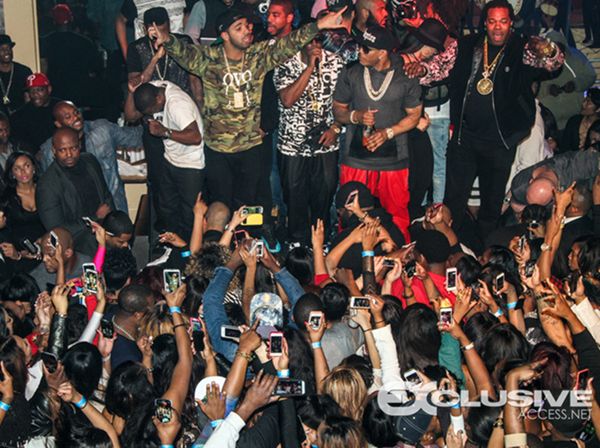 Fabolous hosted Kevin Hart, Diddy, Busta, Nelly, Drake and everybody else for the big finale party. Peep the video below:
Fun times!
Photos: Instagram accounts of LaLa, Diddy, Drake, Eniko, Eudoxie, Trippy Luna, Dwyane, Gabby/Getty/ExclusiveAccess.net
IN CASE YOU MISSED IT: Rosie Perez Reveals Bitter Fly Girl Feud With J.Lo! + Meagan Good LANDS Leading Role In "Babylon Fields"
Posted: 17 Feb 2014 06:20 AM PST
Rosie Perez opens up about her long-standing feud with Jennifer Lopez in her new memoir. Read an except inside and get the deets on Meagan Good's new television show.
In her new memoir, "Handbook for an Unpredictable Life" (due Feb. 25th), actress and former "In Living Color" choreographer Rosie Perez revealed that she and former "Fly Girl" Jennifer Lopez haven't seen eye-to-eye since their "In Living Color" days. In an except published by the NY Post, Rosie reveals that she started out as a champion and supporter of J Lo (even convincing Keenan Ivory Wayans to hire her), but their relationship soured because of her diva ways.
"All of the girls were coming into my office complaining how she was manipulating wardrobe, makeup, and me, all to her advantage,"
Rosie says Jennifer even snapped on her one day,
"You pick on me, me and only me, every f–king day! Every f–king day! I work my ass off, deliver and you keep pushing me aside, treating me like sh-t! I know I'm good! I'm better than any of these girls, and you know it," Lopez roared.
After J.Lo left the show, Rosie "thought" they were cool until Jenny From The Block blasted her in a magazine.
"I was blindsided," writes Perez. "I'd thought we were cool. I called her up. She wouldn't pick up. Frustrated, I left her an irate message on her answering machine. Instead of calling me back and hashing it out like friends do, she went on a major talk show and reiterated my lashing,"
Unfortunately, the two bumped into each other, months later, and it wasn't pretty.
"Jennifer came over to me, smiling, saying hello as if nothing had happened. I should've let it go, played it off, too. Instead, I killed her with my biting tongue,"
Also, Rosie revealed that Jennifer was asked to lose 20lbs before she was hired and some "In Living Color" castmates thought she was "corny."
In new gigs......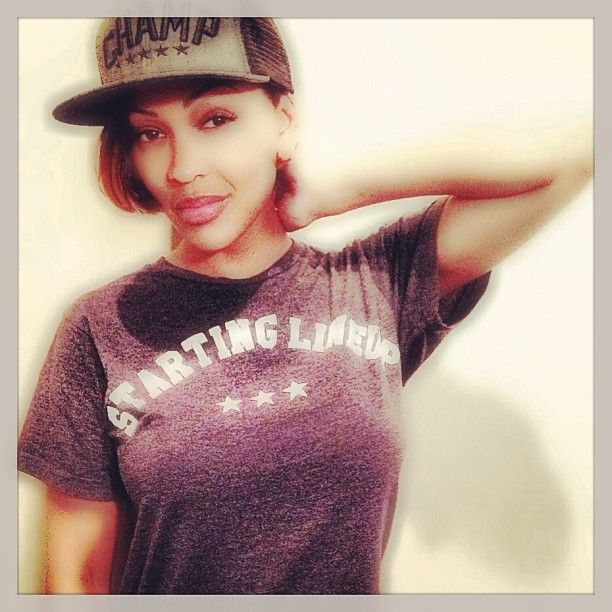 Although NBC cancelled Meagan Good's show Deception, the peacock network still believes in her star power and has cast her in a leading role for a new series called "Babylon Fields." According to The Hollywood Reporter, the series goes down like this:
The Gerald Cuesta series "...centers on the dead rising again in Babylon, N.Y., where lives are regained, old wounds are reopened and families are restored -- for better or worse. The newly regenerated bodies are healing faster and growing stronger, prompting discussion that this might be the next step in human evolution."
Hmmm....it sounds like Meagan will be taking a dive into science fiction with this new gig. Her character is Janine Beltran, "a beautiful local doctor." The series pilot will be written by Gerald Cuesta and directed by Michael Cuesta for 20th Century Fox Television.
In other news, Meagan and her husband DeVon Franklin will be featured speakers at the Mount Zion Baptist Church "2014 Relationship Summit" in Nashville, TN on Feb. 22nd. Looks like Meagan will be putting on her church lady hat for that one....
Photos via Meagan Good's Instagram, Rosie Perez's Twitter
"About Last Night" PEAKS At #2 With $30M + Charlamagne's Response To Kanye West's Rant
Posted: 16 Feb 2014 11:46 AM PST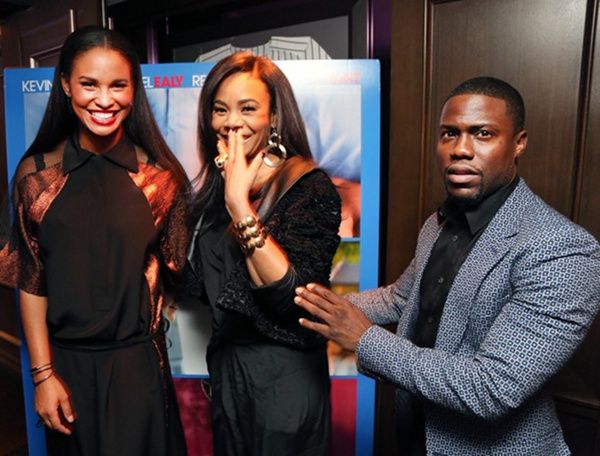 The cast of About Last Night just slid into the #2 spot...only behind the new kids' flick The LEGO Movie. Deets inside, plus Charlamagne popping back at Kanye West...
$30 million later, producer Will Packer has another hit movie on his hands in 2014. About Last Night, the 80's remake starring Kevin Hart, Michael Ealy, Regina Hall and Joy Bryant, is predicted to stay at the #2 spot throughout this 4-day Holiday weekend.
The Lego Movie nabbed the #1 spot--as many kiddie movies do. But Kevin & Co. still have lots to celebrate.
The hilariously sexy rom-com is def worth seeing. Check out our new interview with Kevin Hart in case you missed it!
Welcome to a top spot once again folks!
And in other weekend news, after Kanye's rant at Penn State University during his Yeezus tour stop Valentine's night, Charlamagne Tha God has responded to 'Ye name checking him.
He calls Kanye out for NOT talking all this ish to his face when he last visited The Breakfast Club, how he loves how he said Char-la-MAGNE, and he ended with, "Happy Valentine's Day Kanye...You be cool sweetheart." Ouch!
Photos: Splash/GETTY
Misa Hylton's Home Is Getting FORECLOSED + Khia Goes IN On K.Michelle's Booty Lumps
Posted: 16 Feb 2014 10:01 AM PST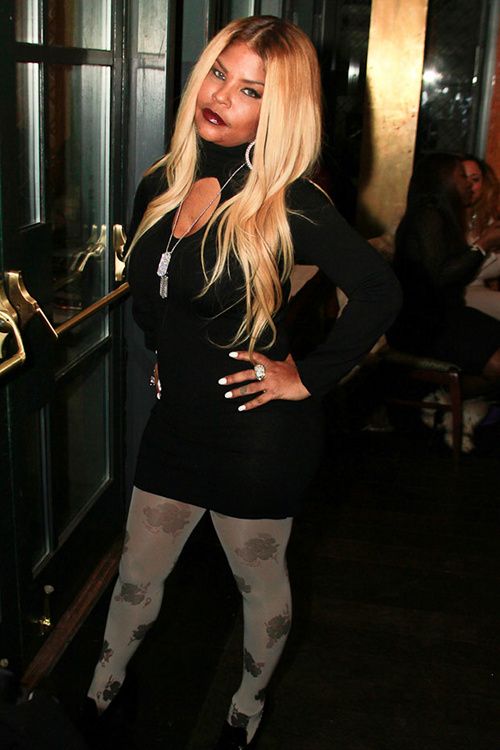 Oh no! Diddy's first child's mother, Misa Hylton, is reportedly facing home foreclosure. And Khia is popping off about K.Michelle's admitted Brazilian Butt Lift booty. Check it inside...
Back in 2003, Diddy purchased a 3-Bedroom, 3,215 sqft Westchester home for Misa and their first born Justin Combs. He took out a $712,000 mortgage, and as of 2010, he still owed $266,518.
The bank claims they stopped receiving payments in 2010, and now they want ALL of it...or they're putting that house up for auction.
Did Diddy get tired of funding Misa's lifestyle, even before Justin moved out and went to college to play football at UCLA?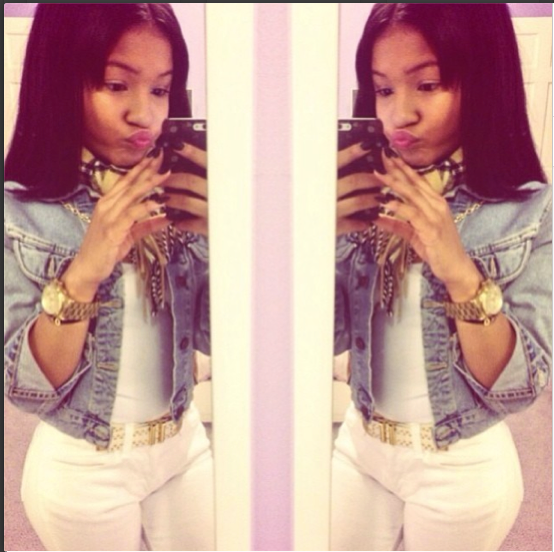 Especially when she has other kids (pictured above) we believe are living there as well.
Hmmm...
In other news: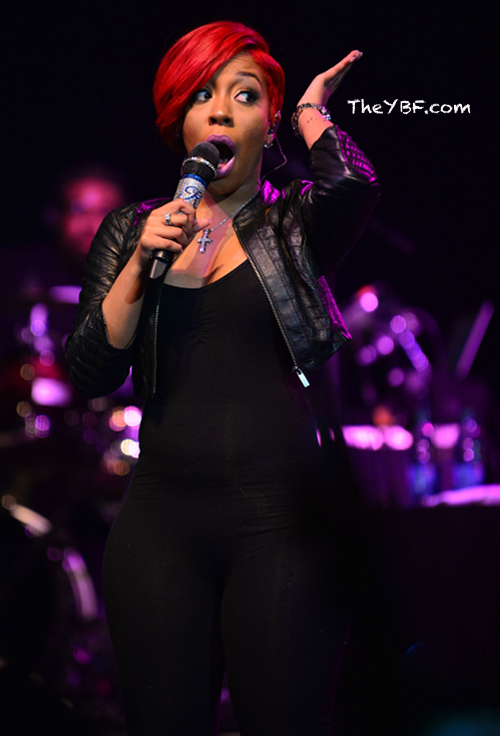 After K.Michelle performed at LoveFest Miami 2014 this weekend (above), rapper Khia had some ish to say. Y'all know she's always good for some random shade.
Khia posted this video below saying, "#This What Y'all Want?? KMichelle Booty?? Photo Shop Implants #ChildBooBye"
And she didn't stop there. She tried to 1-Up EJ Johnson in the bag game:
She said, "Check Out My Fierce New Hand Bag!! Designer Ms.Khia Shamone #TakeThatEJ I'm A Star Now #Gaggggs #HollyWood"
That damn Khia...
Photos: Khia's IG/WENN/PYNK