---
Eminem Teams Up With Rihanna For The MONSTER Mini-Tour + DID SHE KILL IT? JoJo Covers Anita Baker's Classic "Caught Up In The Rapture"
Posted: 22 Feb 2014 07:56 AM PST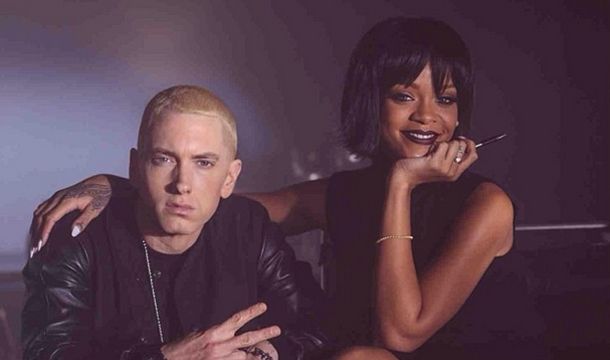 Before you say 'Wait a minute, no she is NOT covering Anita!', listen up because JoJo may just surprise you. The gray-eyed brunette that first hit the scene as a pop tart has grown into a little R&B diva.
Check out how she covered Anita Baker's classic "Caught Up In The Rapture", plus Rihanna's heading out on ANOTHER tour...this time with Eminem.
Eminem is sticking with the Roc and taking his "Monster" collabo partner Rihanna on a mini-stadium tour as a follow up to his previous stadium tour with Jay-Z in 2010.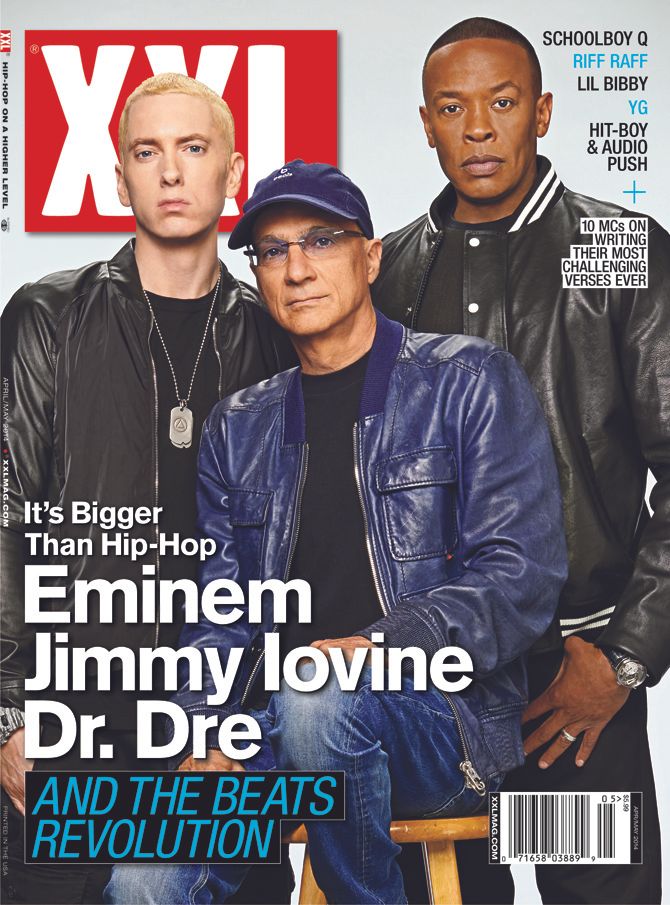 Em revealed in the upcoming April/May 2014 issue of XXL, which he's covering with his Interscope homies Jimmy Iovine and Dr. Dre, that he's kicking off "The Monster" Tour this August. And one of the stops is Em's hometown of The D.
"There are some shows coming up with Rihanna. It's a three-city tour: New York, L.A. and Detroit coming in August. The Monster Tour."
NYC/DET/LA this August with @Rihanna! #TheMonsterTour - http://t.co/ilA9IqOgIa

— Marshall Mathers (@Eminem) February 22, 2014
The rapper will be rocking out with his new The Marshall Mathers LP 2 album, while we wouldn't be surprised if RiRi has a new album drop by this summer.
Birthday girl Rihanna is not trying to quit these tours anytime soon after surviving that bankruptcy situation. She just wrapped her Diamonds world tour in November 2013. Gotta make that money...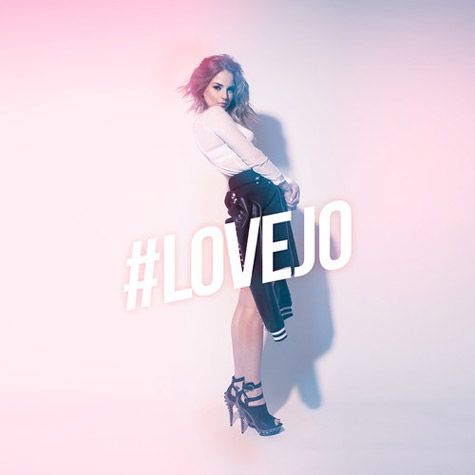 Remember JoJo? She hit the scene at 12 with a Pop-N-B sound and her hit "Leave (Get Out)" . Now, she's 23 and moving more into the R&B/pop arena. On her new EP called #LoveJo, she had the balls to cover Anita Baker. And you might just be surprised. Check it below:
Are you feelin' her cover of this classic?
Photos: Eminem's IG, XXL
Saving Our Daughters Snatches Down Original Statement On Kenya & Charity Gala
Posted: 21 Feb 2014 03:08 PM PST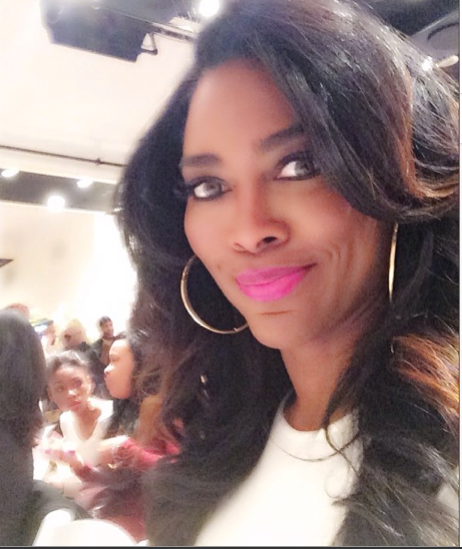 With all of the drama the past few days surrounding Kenya Moore and the Saving Our Daughters organization, the charity has retracted their statement that said Kenya paid them no money from her gala.
Deets inside, and the trouble the charity is reportedly in.....
But why you mad though? LOL FB to anyone who can correctly guess how many times my name was mentioned?

— KENYA MOORE (@KenyaMoore) February 21, 2014
After NeNe's stint on "The View" today, Kenya Moore and her followers took notice of how many times her name was mentioned during the interview.
And apparently, those receipts she provided this week to prove that Saving Our Daughters indeed received funds from the charity gala, have led the organization to remove their statement.
Currently, when you visit the original link where S.O.D. posted their statement, the entire page has been removed. And so have the tweets.
Kenya may know how to stir a pot..but chick also knows how to provide receipts for the tea.
Nene Leakes Hits "The View", Throws SHADE At Kenya Moore & Marlo Hampton + YG's "My Ni**a REMIX" Video With Nicki Minaj
Posted: 21 Feb 2014 01:52 PM PST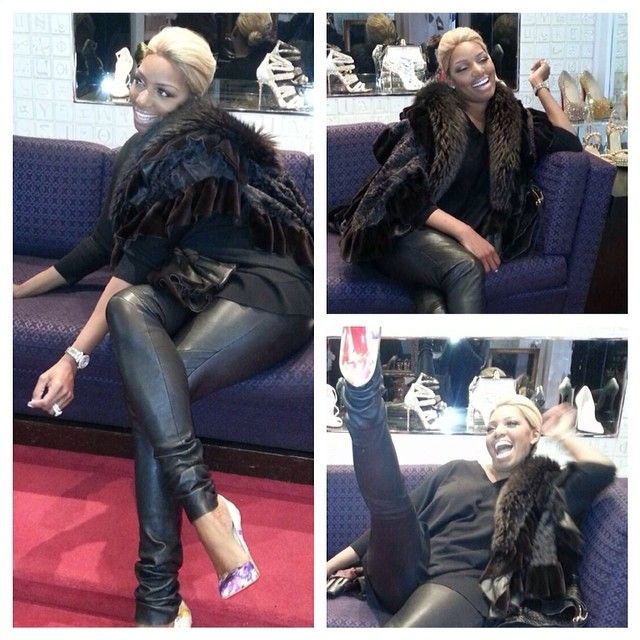 Nene Leakes appeared on "The View" to address the controversial charity event that was captured on "RHOA". Watch the shade-filled interview inside and watch YG's "My Ni**a (Remix)" featuring Lil' Wayne and Nicki Minaj...
Nene Leakes (shown above with guest co-host Jerry O'Connell) appeared on "The View" where she wasted no time showing her distaste for her co-stars. When asked what she thought about Kandi, Mama Joyce and Todd Tucker, she curtly replied, "Nothing".
She saved the most wrath for Kenya Moore, saying,
"I heard through the girls that there was going to be a charity event in my honor. I happen to be a big supporter of Saving Our Daughters, women of domestic abuse and all those things. I heard about it the night before from Kenya. I felt like if you're gonna honor someone, you should at least call them up and say, 'hey, I would like to honor you, are you available on this date?

"Yes, I was angry with Kenya. She sent an evite. How do you send an evite to someone you're honoring? This is a charity event. She and I have differences. I felt like she could've called me and said, "hey, let's put our differences aside for a night of charity".
When Barbara mentioned that Kenya "might" quit the show, Nene said, "Really girl? You haven't worked in ten years!"
Later on, Jerry asked a question about Marlo Hampton and Nene seemed shocked because "she isn't a housewife". She added, "I didn't not invite her on to the show, she came on with Phaedra. She and I got to know each other and we became friends. So I think people just know her from being with me. She actually came on through Phaedra."
Watch the interview here:
Rapper YG added Lil Wayne, Rich Homie Quan, Meek Mill, and Nicki Minaj to the remix to his hit song "My N**a and he gave it a video treatment.
The black-and-white clip was directed by Motion Family in L.A. YG's debut disc My Krazy Life drops March 18 and will feature Kendrick Lamar, ScHoolboy Q, and Jeezy.
This is that track you SECRETLY...very secretly...bump to.
Photos via Nene Leakes' Instagram

Evelyn Lozada Opens Up About Getting SAVED By Fiance Carl Crawford
Posted: 21 Feb 2014 01:05 PM PST
Evelyn Lozada is opening up about how she was saved by her fiance & baby's father Carl Crawford. Check out her gush about her life-changing year inside...
Evelyn knows she's a lucky woman to get proposed to for the umpteenth time. And by yet another super rich man. But she says Carl Crawford of the LA Dodgers entered her life at the perfect time when her life wasn't so perfect.
The mom-to-be once again told Life & Style that after her abusive situation, brother-in-law's death and divorce from Chad Johnson, Carl was her savior and key to happiness. We're sure.
"But that entire incident [with Chad] led me to where I'm at now."
"I would say my broken bridge led me to happiness," she says. "If I had to do it again, I would because I truly feel complete right now in my life and I wouldn't change it for anything."
"He came into my life at a perfect time. Everything that happened makes me appreciate him 1,000 times more and he also makes me a better person.
"I appreciate everything and I thank God every day for my life…I'm really lucky and really, really blessed."
And about how different it will be to have a little boy at 38:
"He's going to give me a run for my money! I'm like, 'Oh my God, he's going to want to play and get dirty,'"

"I'm just looking forward to all these amazing things that come with having a boy and a baby....I just want him to love and respect all women."
Sweet.
Photo: Ev's IG
RIHANNA'S BIKINI BIRTHDAY BEHAVIOR: Pics From Her Personal Stash
Posted: 21 Feb 2014 11:36 AM PST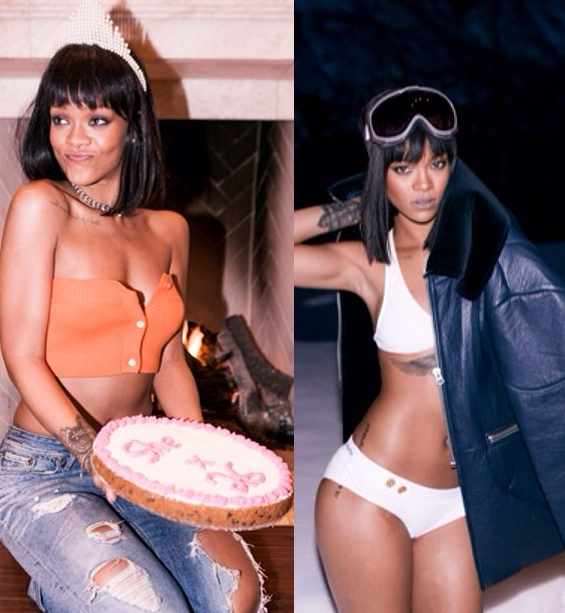 Rihanna celebrated her 26th birthday yesterday and she shared bikini pics from the festivites inside....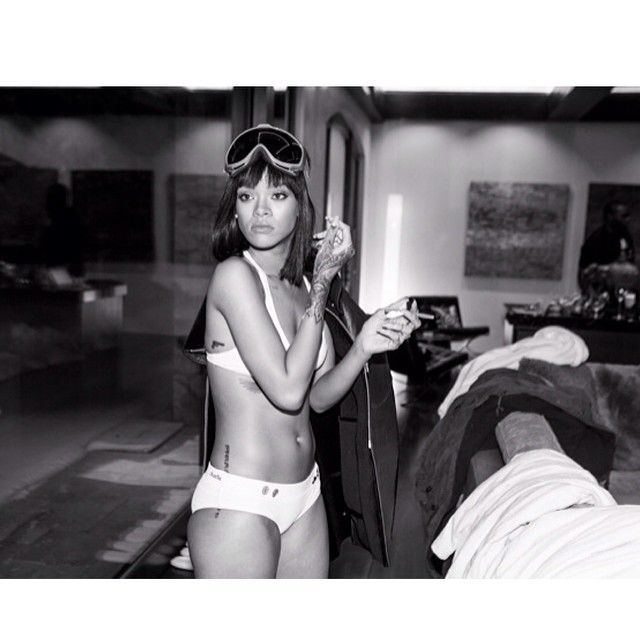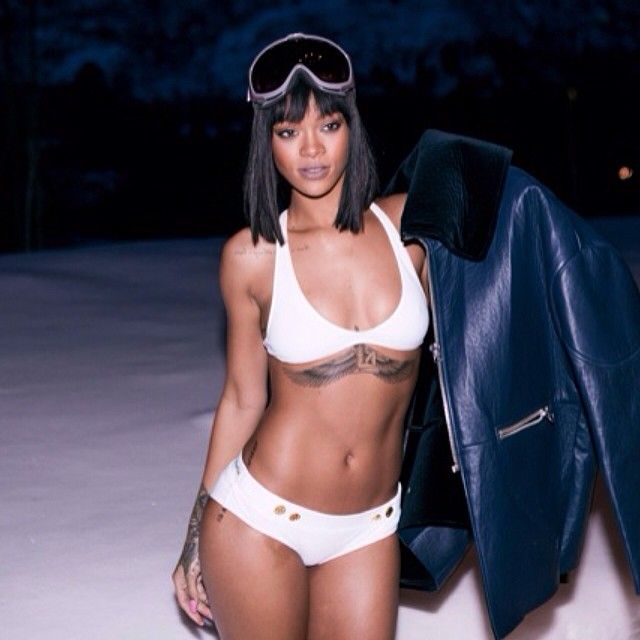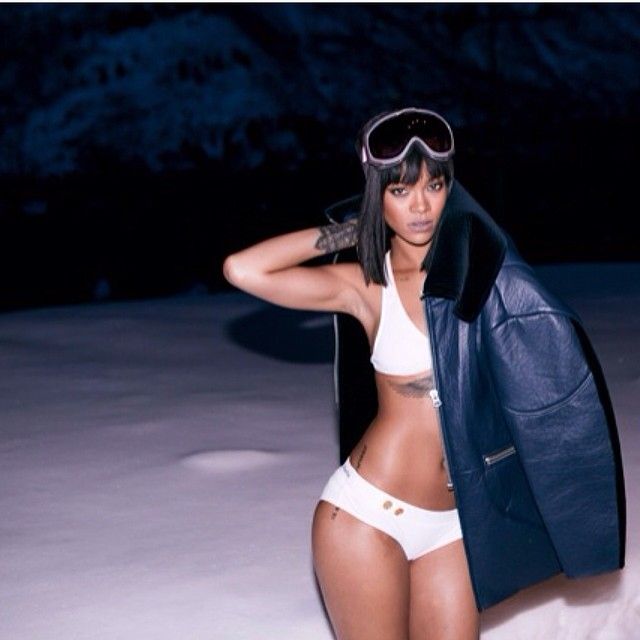 Rihanna is celebrating her 26th birthday with a trip for Aspen, CO with her friends. And this is what it looked like. HOT.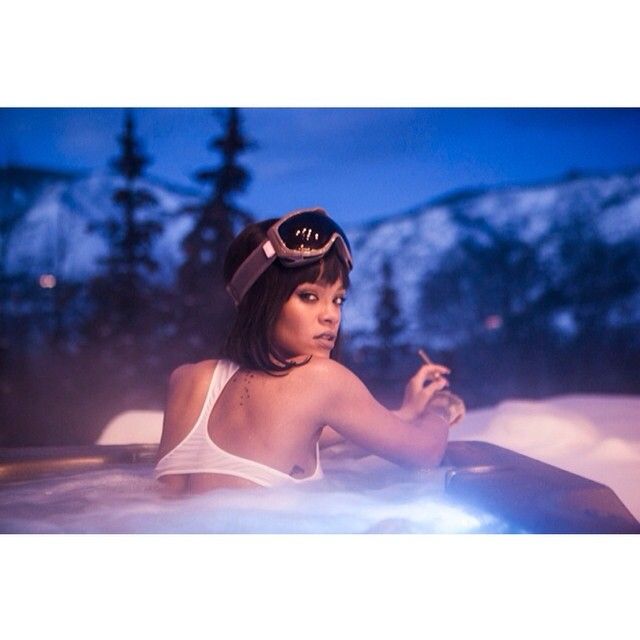 During yesterday''s festivities, Riri donned a white bikini, hit the hot tub and took a few puffs and pulls.
During dinner....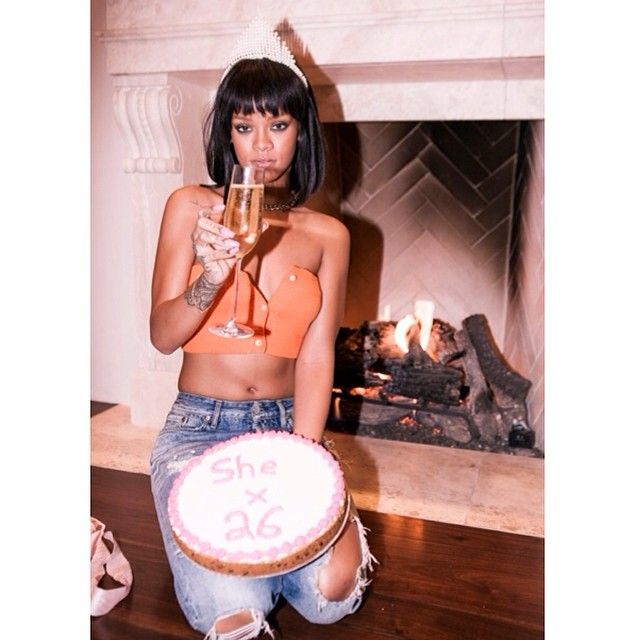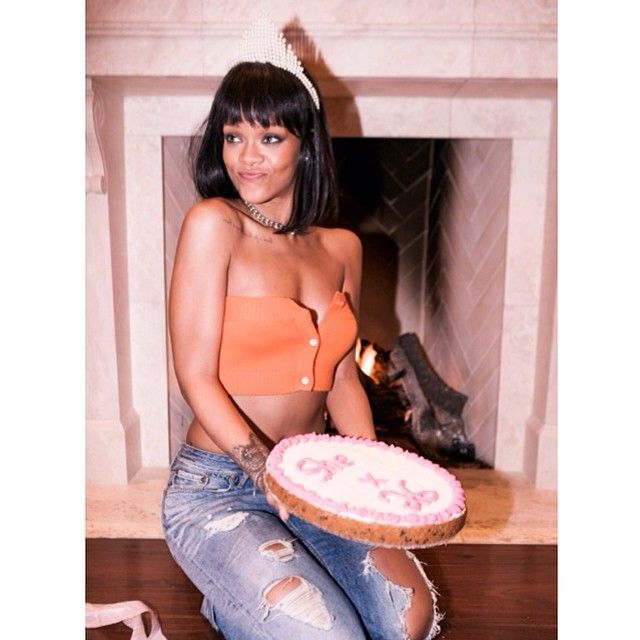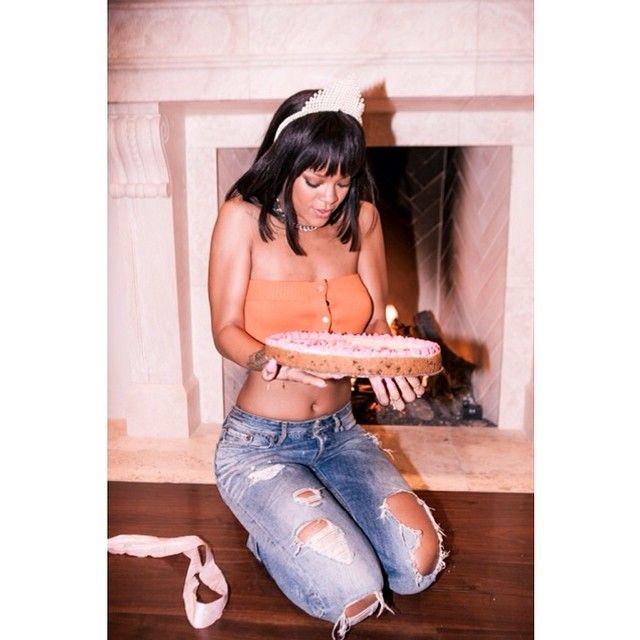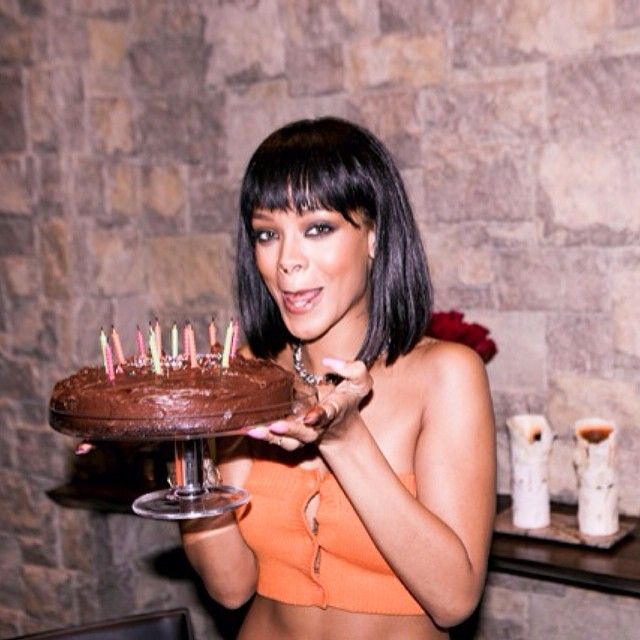 She and her friends capped off the evening with Champagne and desserts created by Chef Debbie Solomon. Must be nice...
Photos via Rihanna's Instagram

Tameka Raymond, Phaedra Parks & LaTavia Roberson Cover UPSCALE Magazine + Man CONVICTED In The Death Of Kile Glover
Posted: 21 Feb 2014 10:42 AM PST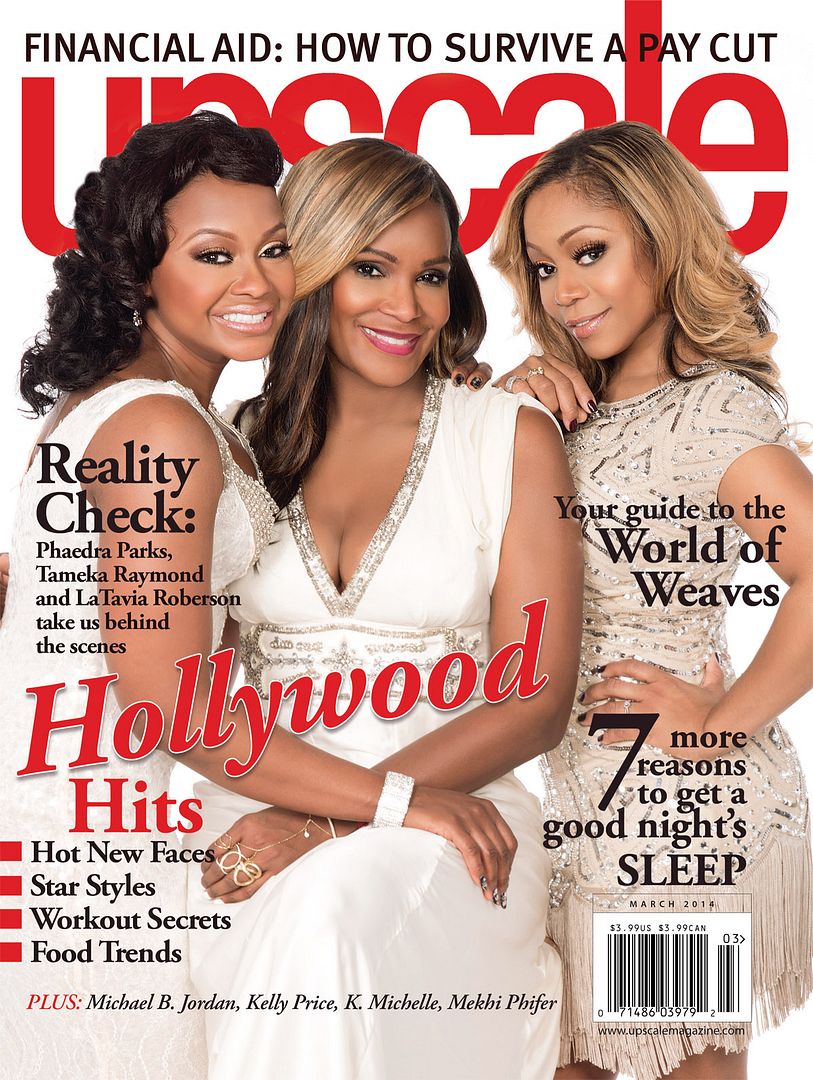 Tameka Raymond, Phaedra Parks and LaTavia Roberson cover the March issue of UPSCALE Magazine where they discuss making reality tv. See their pretty cover inside and get an update on the homicide trial for Tameka's deceased son Kile Glover...
Stars from three Atlanta-based reality tv shows, Tameka Raymond ("Atlanta Exes"), LaTavia Roberson ("R&B Divas: Atlanta") and Phaedra Parks ("RHOA") posed for the March 2014 cover of UPSCALE (shot in Atlanta by Drexina Nelson) where they provided a "Reality Check" about living their lives in front of millions. Check out a few interview quotes from each of the reality tv divas....
Tameka on why she's doing reality TV now:

"I'd previously received several offers to do a variety of different shows, but I'm all about timing.No matter what people have reasoned were the best things for me, I know myself better than anybody. I know my family and I know my needs. The timing wasn't right. Now, it's better. People have begun to focus more on me as an individual, a mother, a business woman and I think that this new exercise of introduction to the world is meant to happen right now."

Tameka on never being scared:

"Let's be clear, there's not a lot that I'm actually "scared" of—that's the Oakland in me.

Phaedra on the realities of reality television:

"We're not members of SAG so it's not like we're getting benefits from replays. We're talents that aren't being considered as actors, so their getting talent for a nominal fee. They've found a way to make money and cut the cost on studios and productions so they're making the largest profit with the least amount of residual."

LaTavia Roberson on how she'll be perceived:

"There is nothing I can say about how people are going to perceive me. I have to stay true to myself. I know who I am, I love who I am. As far as the reality [television] part goes, I'm being myself; I really can't change that… I'm not going to try to change that."
Both Tameka and LaTavia will make their reailty tv debuts this fall while Phaedra will likely be in court with her husband Apollo. No shade.
In other news about the Raymonds.....
Tameka and her ex-husband Usher Raymond (shown above at LAX airport yesterday) received justice yesterday as Jeffrey Hubbard, jet skier who was found responsible for their 11-year-old Kile Glover's fatal accident, was convicted of homicide by vessel.
Jeffrey, a family friend, who was part of their group outing on Lake Lanier, was also found guilty of serious injury by vessel, reckless operation, unlawful operation of personal watercraft and boat traffic violation.
Following Kile's death, Tameka launched "Kile's World Foundation" to increase water safety- thru implementing laws, policies & education.
BONUS:
When TMZ caught up with Usher and asked him about the trial, he said "The loss of a child is enough....."
Photo via Splash/Drexina Nelson
WIG FIGHT! Nicki Minaj Getting Sued By Ex-Wig Stylist For $30 MILLION!
Posted: 21 Feb 2014 10:02 AM PST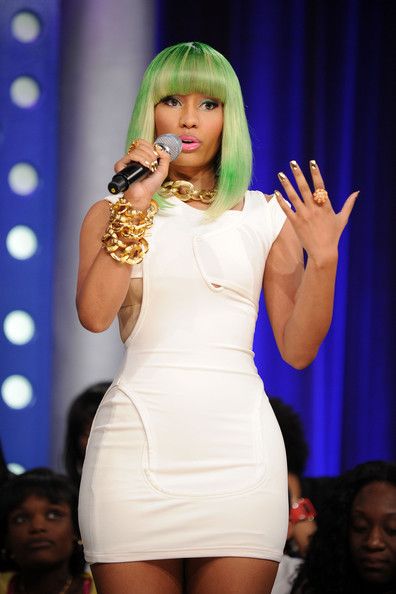 The wig beef between Nicki Minaj and her ex stylist Terrence Davidson continues! Find out how he served Nicki with a $30 million lawsuit inside...
Now this just got extra messy. Terrence Davidson filed a lawsuit in a district court in Atlanta this morning alleging that his former client Nicki Minaj (he was the maker of all those multi-colored wigs that got her so much attention) STOLE his wig designs. He also claims she discouraged him from taking a potential reality show deal.
Nicki and Terrence split last year and it was an extra messy fall out.
Now that Nicki is selling wigs on her website--allegedly in the same likeness as the wigs Terrence once created--Terrence is pissed.
CNN reports:
Both Davidson and his attorney, Christopher Chestnut, talked to CNN about his influence on crafting Minaj's image as well as the fact that the rapper now sells wigs on her site based on the designs Davidson says he created. The stylist said he discovered the wigs were being marketed and sold after someone sent him a picture and he began researching.

"I see these wigs online," said Davidson, who has also worked with others in the industry, including singers Patti LaBelle and rapper Remy Ma. "People are basically duplicating what I created for Nicki Minaj."

"Nicki Minaj is reaping great success and financial bounty reward for Terrence's creative expertise, and he is entitled to participate in that," Chestnut said. "Someone's got to stand up for the artist. We applaud the fact that she's making millions, but she's also got to pay bounty to those whose creative designs she's making millions off of."
Wow.
Terrence also revealed in the suit that he and Nicki discussed launching a wig line together, with an accompanying reality shiw. But that neevr went down:
"...The suit claims, "Minaj and her agents became mum about the business ventures and took active steps to isolate Mr. Davidson and preclude him from the notoriety he deserved for his wig designs."

"On its face you might think, what this guy is suing over wigs," Davidson's attorney Chestnut said. "But we really have to consider this in context. Hair is a multibillion-dollar industry, but moreover these are not your grandma's wigs. These are eclectic. They are decadent, and they are creative. This is about a brand that Terrence has built."
Wiggery is serious y'all!
The Randomness:
1. Former New York governor David Paterson apparently had a secret lover--his reported chief of staff--for the last two years. His wife filed for divorce last month, but they had been separated for a while. STORY
2. Judge Rules that Martin Luther King Jr.'s Bible and Nobel Prize Belong to the State of Georgia, for now. STORY
3. Brooklyn Nets are considering Jason Collins. STORY

Photo: Getty