---
SPOTTED: The Game & Khloe K. Cozy Up At The Club For During Hosting Gig
Posted: 11 Feb 2014 08:45 AM PST
Well looky here. The Game is cozying up pretty damn close to his "friend" Khloe Kardashian. Peep the twosome's love in the club last night inside...
They keep trying to convince us that they are simply long time friends. But we have yet to be convinced.
The newly divorced Khloe and rapper The Game--who we still can't understand if he's with on again/off again fiancee' Tiffney or not--pulled double duty as hosts of Tru nightclub last night in L.A.
They were spotted with their arms around each other, dancing closely, and having a good ol' time with their friends.
Game's assistant was there too, of course, since they may have already kicked off taping "LAHH: LA".
And Game & Khloe were spotted arriving together with the Kardashian clan as well--Mom Dukes Kris and bestie Khadijah Haqq.
We give it a couple months before they tell the world "their friendship has blossomed into something beautiful".
Mmhmmm...
Here's to (quickly) getting over that divorce boo....
Photos: Spalsh/WENN
LIKE FINE BRANDYWINE: Happy 35th Birthday Brandy Norwood!
Posted: 11 Feb 2014 07:51 AM PST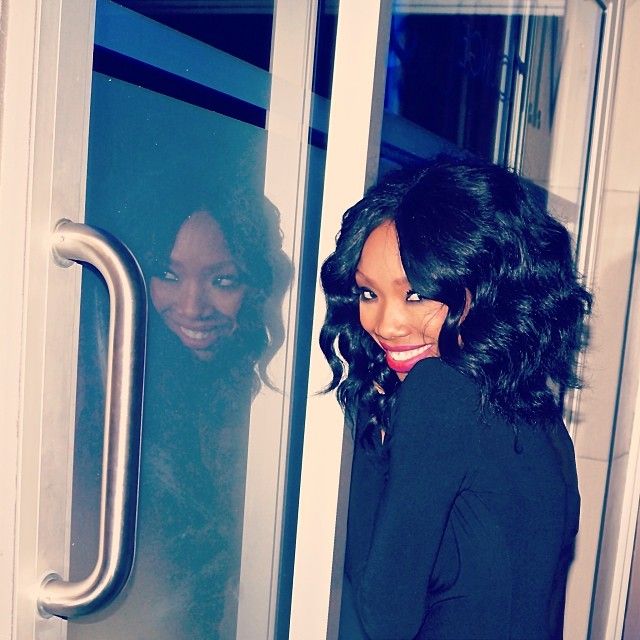 Fab chick Brandy Norwood turns 35 today. Celebrate with her inside.....
Today, B-Rocka is totally on grown woman status. The "Full Moon" singer, who entered into many homes as the star of "Moesha" and even has a Barbie-doll in her honor, continues to floss her talents through music and her acting gigs.
With her upcoming wedding to Ryan Press (they haven't revealed a date, but we hope it's still on), we look forward to seeing Brandy live out her "Wildest Dreams" right before our eyes.
Also, Watch Brandy as "Chardonnay" when BET's "The Game" returns on March 4th.
Celebrate B-Day in our gallery.......
Gabby Union -- I'm Getting A PRENUP...And There Will Be NO Bridal Party!
Posted: 11 Feb 2014 06:48 AM PST
Gabrielle Union is doing a few things differently this time around when it comes to her marriage to Dwyane Wade. Check out what she revealed about a prenup and details about the wedding inside...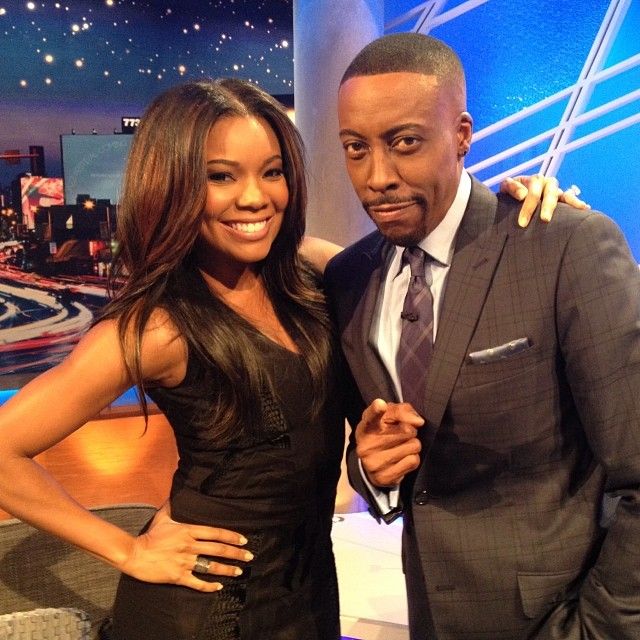 Ms. "Being Mary Jane" revealed some things about her upcoming second marriage while sitting on Arsenio Hall's couch last night. But first, peep that rock: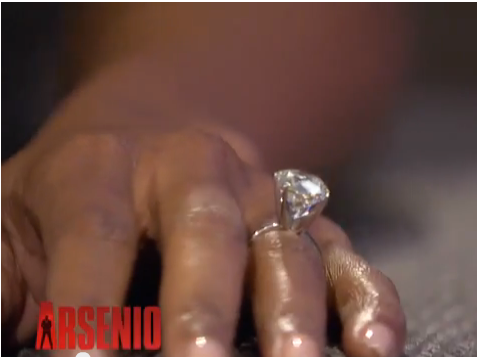 Gabby divorced her first husband, NFLer Chris Howard, in 2005. And when asked what she will be doing differently in her upcoming marriage to NBA star Dwyane Wade, she said a prenup!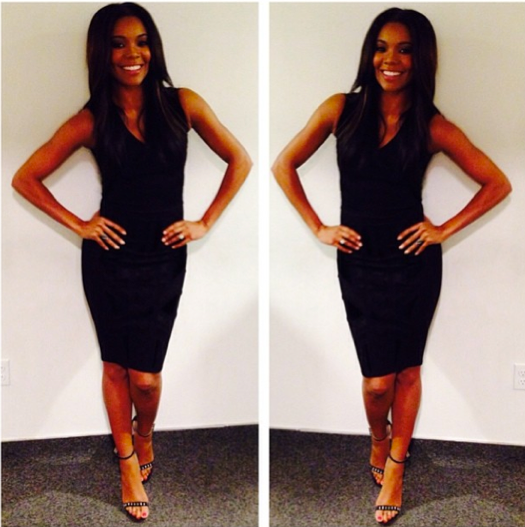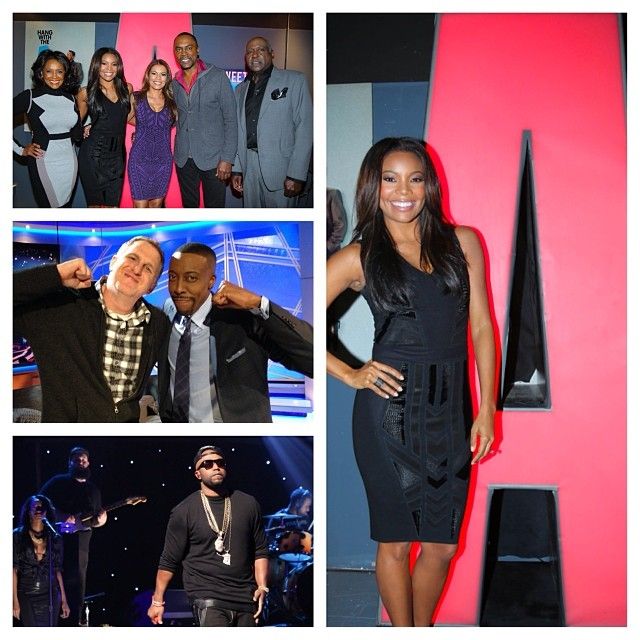 While rocking a little black dress by Amen and Aperlai shoes, Gabby posed it up with her "BMJ" cast. Then dished it all.
"The biggest difference between this and the last marriage, will be a pre-nup. At my insistence. When you have your own stuff, you don't need to worry about anybody else's stuff. So everyone should go into the relationship saying I'm here for you and you're here for me. And the reality is, I've never seen Dwyane balance a check book. So I got to protect my stuff."
She also dished some deets about her & D-Wade's upcoming wedding. It will be very small with no bridal party. And she revealed who is NOT invited.
"There are no bridesmaids and no Groomsmen. Trying to wrangle a bunch of broads...somebody wants one type of dress, somebody wants something else, you start to not like them after a couple months. And we're older. This is the second time around. It's us and the kids. We're just riding out...just us.

"There's a lot of people that think they're coming. They're not. He's the executioner. He's like, 'Let's go through your list...absolutely not.' I'm like, 'My cousin?' If you're not about us, and we don't both have a relationship with you, you're not going to make it. So if we were at Magic City in Atlanta, you're probably not coming."
Ha! Check out the videos below:
GROWN WOMAN: Happy 33rd Birthday Kelly Rowland
Posted: 11 Feb 2014 06:03 AM PST
Kelly Rowland turns 33 today. And she's looking more fabulous than ever. Celebrate with the singer inside....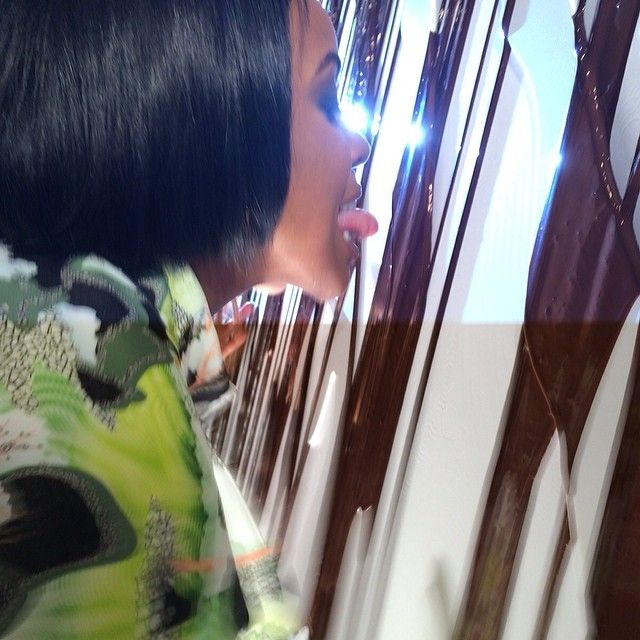 Kelly Rowland, who went from one part of Destiny's Child to a solo star with abs of steel, celebrates her 33rd birthday today. Kelly's celebration comes along with some bittersweet news this week...."X-Factor", where she served as a judge this past season, was cancelled by Fox. Though Kelly will no longer have a platform to showcase her sexy style on a weekly basis, she leaves singing the praises of Simon Cowell to the BBC,
"You know what? It was an incredible experience and I made new friends. "You've got to think about the fact there's American Idol, The Voice and all these new shows that are coming up. But I have to compliment Simon because he started it all with American Idol."
At least now, Kelly can completely focus on her upcoming fifth studio album and wedding to fiance Tim Witherspoon. And serving up more hotness with more bikini time on Miami Beach...her fave place.

Also.....
In addition to February 11th also being Brandy's birthday, it's also the day Whitney Houston made her transition in 2012. Kelly posted Whitney's pic on Instagram in remembrance.
Give some kisses to Kelly in the gallery......
Kelis' New "Rumble" + Pharrell & Lupita Get HAPPY At Oscar Luncheon
Posted: 10 Feb 2014 05:17 PM PST
Kelis just served another tasty morsel from the upcoming "Food" disc. Listen to "Rumble" inside, plus check out the YBF folks at today's Academy Awards Luncheon...

With an expected release date of April 22nd, Kelis has released another track from her next project, FOOD. "Rumble" produced by Dave Sitek.
"I know I said leave but baby, don't go! / We got so much history / I hurt you, you hurt me / No we don't need therapy / What I need is you to leave."
Listen to "Rumble" below:
And in L.A. today, Pharrell and Lupita Nyong'o were amongst the Oscar Nominee class of 2014 as they celebrated at the annual luncheon at the Beverly Hilton.
Lupita, who is up for Best Supporting Actress In A Motion Picture, posed it up in a spring-like frock with a fellow YBF chick, Academy of Motion Picture Arts and Sciences Cheryl Boone Isaacs. Yes ladies!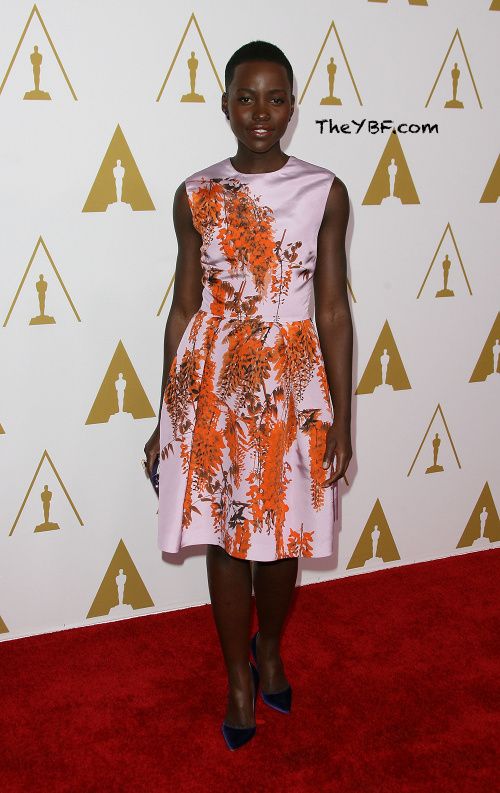 The reigning red carpet queen rocked a soft pink floral Christian Dior frock, Paul Andrew blue velvet pumps and a Judith Leiber clutch.
And Pharrell kept to his usual look. With yet another Vivienne Westwood smokey the bear hat.
The full nominees photo is below:
The votes are due next week. Good luck!
Photo via Kelis Instagram, Lupita's FB, WENN
Jamie Foxx Parties It Up With Beach Babes On Miami Beach + John Legend's Wife Chrissy Preps For SI Swimsuit Issue...With Topless IG Video
Posted: 10 Feb 2014 04:26 PM PST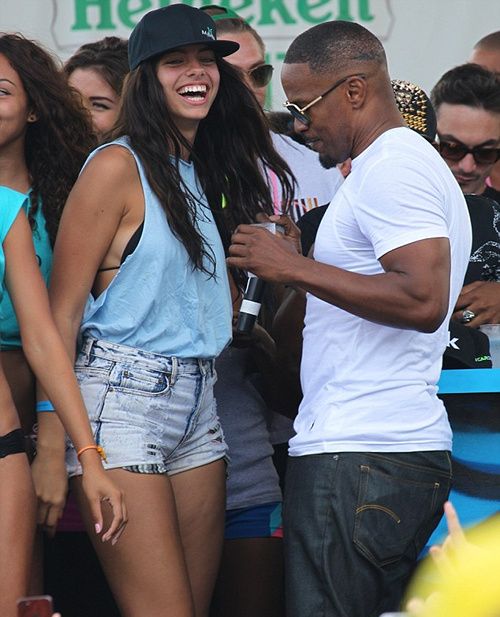 Jamie Foxx loves a party girl...as he's often seen drinking it up and doing the most with random chicks at some type of event. And yesterday on Miami Beach was no different. Pics inside...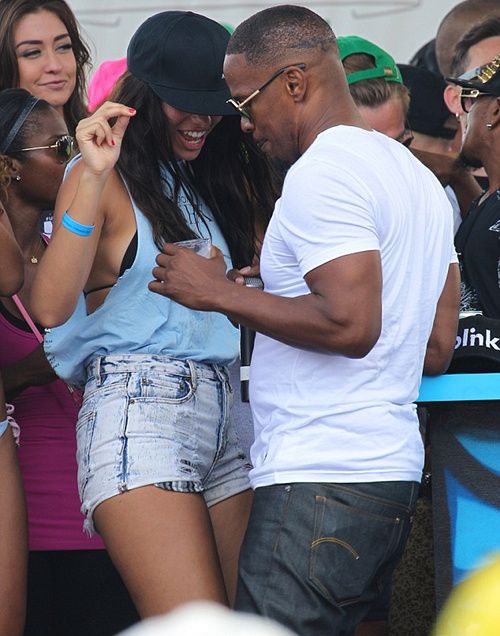 Jamie Foxx loves himself some models. And since he was in Miami hitting up the 2014 Market America conference this weekend, he also made an appearance at the fifth annual Model Beach Volleyball Tournament.
The annual two-day event features models from the best agencies competing against each other in a co-ed beach volleyball tournament. So you already know, Jamie was there front and center: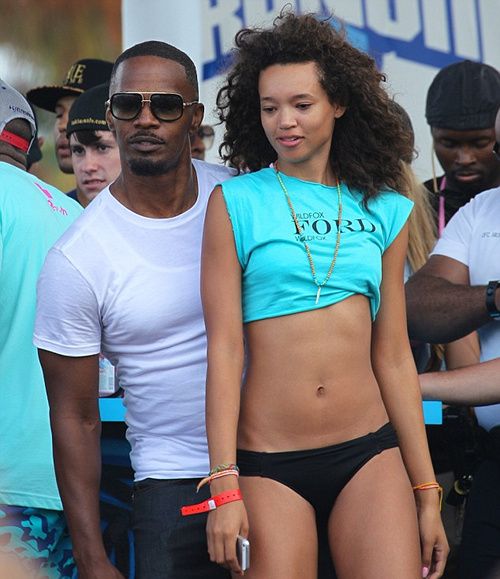 And speaking of models:
Chrissy Teigen is gearing up for the release of the annual Sports Illustrated Swimsuit Issue. And as she awaits who the cover girl will be (she's in the running), she snatched off her top to do some random Instavideos with her husband John Legend.
These two...
Photos: Splash
Mariah Carey REVEALS Next Single "You're Mine (Eternal)" + Babyface And Nicole Patenburg Are ENGAGED!
Posted: 10 Feb 2014 01:27 PM PST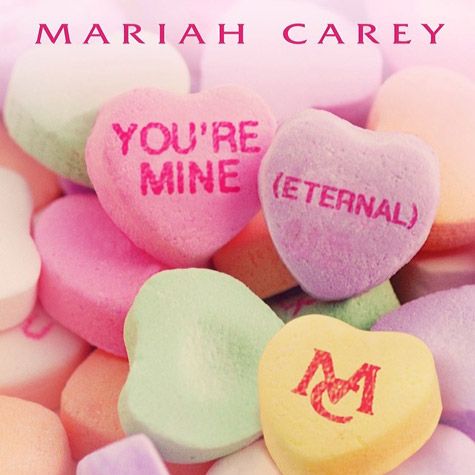 Just in time for Valentine's Day....
Mariah Carey is gearing up for a new album and we have deets about the first single. Find out about Mariah's return to radio inside and get the deets on Babyface's engagement.
Mariah Carey plans to release her next single in two days. The announcement came via Instagram where Mimi posted the V-Day candy themed artwork for the single "You're Mine (Eternal)," which will premiere on Wednesday, February 12. She debuted the song over the weekend at the taping of the BET Honors.
The track will appear on her follow-up to 2009′s Memoirs of an Imperfect Angel, which will hit stores on May 6. Wale, Nas, Rick Ross, Hit-Boy, Mike WiLL Made-It, and Jermaine Dupri (also the executive producer) will all appear on the album.
In other Mariah news, she and Nick Cannon have put their Bel Air mansion on the market for $12.99 million. The 11,750-square-foot home has seven bathrooms and nine bathrooms. Looks like they're making a move either back to NYC fully...or an even bigger mansion in Cali.

Watch the announcement clip here:
In other love-themed announcements.....
Famed producer Kenneth 'Babyface' Edmonds is engaged to long-time girlfriend Nicole Patenburg. Yeah, we said "Weren't they already engaged?" too.
The announcement came during a BET interview (reported via ESSENCE) where Babyface responded to the question, "Would you ever consider getting married again?" with, "I've already considered it. I'm engaged, so yes."
Oh....
The couple have been dating for seven years and are the parents of Peyton Nicole (born in 2008)
His album with Toni Braxton, Love, Marriage and Divorce is in stores now.
Photos via Mariah's Instagram/Getty
MORE TROUBLE IN PARADISE? Tiny Pops Off About T.I.'s Cheating Accusations...Before He Tells Her To Stop Flaunting Her ASSets
Posted: 10 Feb 2014 12:25 PM PST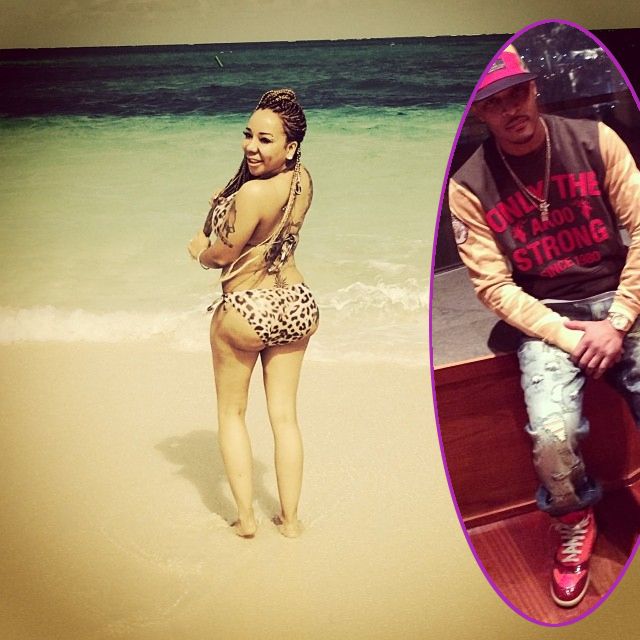 After T.I. & Tiny tried to downplay a very public fight during GRAMMY weekend, it looks like all isn't as perfect as they're trying to make it seem. T.I. is putting his girl on blast for flossing her ASSets constantly. And Tiny is popping off about cheating accusations...and she seems unbothered about where exactly Clifford is putting his piece.
Deets inside...
A few weeks ago, Tiny, her daughter Zonnique, and friends took a trip to some warm sandy beaches (above). And they posted pics all over IG. There was no shortage of ass shots of Tiny in a bikini (she had to show off her doc's work some type of way).
So when Tiny posted the below pic yesterday to show off her new tattoo...and we're sure she got her booty in the shot for an extra bonus...her husband T.I. commented on her pic about it being too much for IG:
Mr. Troubleman said:
u have so much more going for u other than you a**. Although it is magnificent, I think u should spend just as much time showcasing those other things as u do ya #booty….Awesome pic tho. Luv.
Tiny responded:
Seems like some passive aggressive lovin' there, right? Well, we happened upon some brazen comments from Tiny from a few days ago. While she was posting pics of this ginormous tatt, this happened in the comments:

She also posted this:
Hmmm....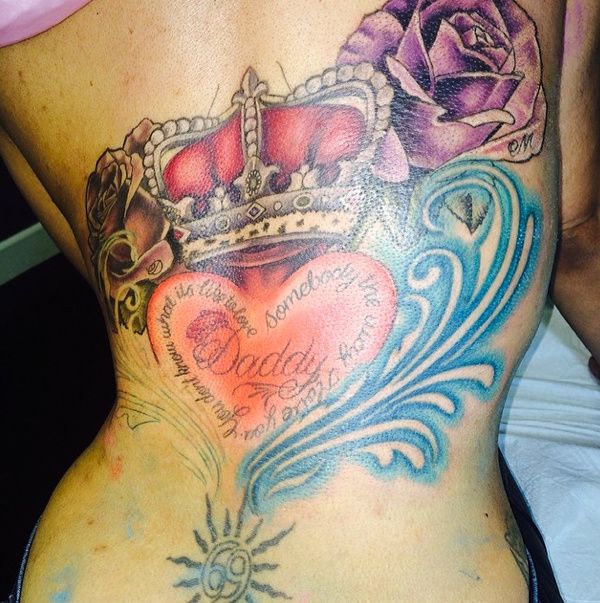 This is MUCH.
Meanwhile, TIP spent the day in the studio recently with his sons Domani and Messiah...and Justin Bieber: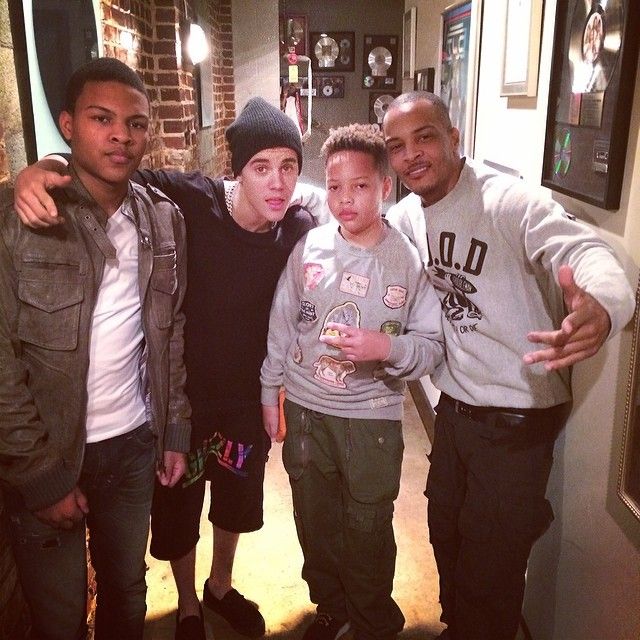 Photos: Tiny's IG
DOUBLE DO WE LOVE IT: Joan Smalls Shows Her Ta-Tas In "W" Magazine + Angela Simmons' Revealing Dress At The Vivienne Tam Show
Posted: 10 Feb 2014 11:02 AM PST
In honor of NYFW, it's another double dose of DO WE LOVE IT. See Joan Smalls and Angela Simmons in risque looks inside....
Joan Smalls, who walked in yesterday's DVF 40th Anniversary show, is featured in the March 2014 edition of W Magazine. The hot model goes topless for a Steven Klein editorial named "Warrior Stance." She said about her big news:
So proud of this moment in my career. My first shoot with the talented Steven Klein for @wmag March 2014. @edward_enninful you made this possible. #Milestone #Editorial #SocialMediaIssue
It's risque and not her usual look, but are we feeling it?
In New York.....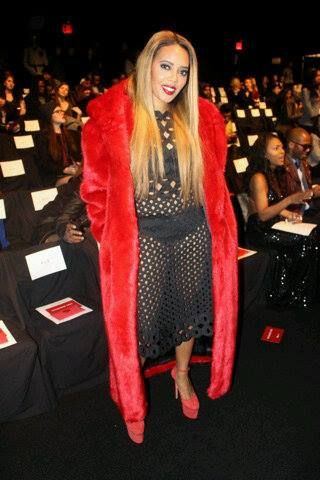 Fitness queen Angela Simmons sat on the front row for the Vivienne Tam F/W 2104 presentation in a pretty daring outfit. With her black bra and panties exposed, Angela stepped out in an eyelet black dress that she topped off with a floor-length red fur coat.
Both Joan and Angela took risks, but.........
DO WE LOVE IT?
Photo via W Magazine/Angela Simmons Instagram
Diddy, J-Lo, French Montana & More Light Up The 2014 Market America World Conference + Tyler Perry & ESSENCE To Celebrate "Black Men In Hollywood"
Posted: 10 Feb 2014 10:23 AM PST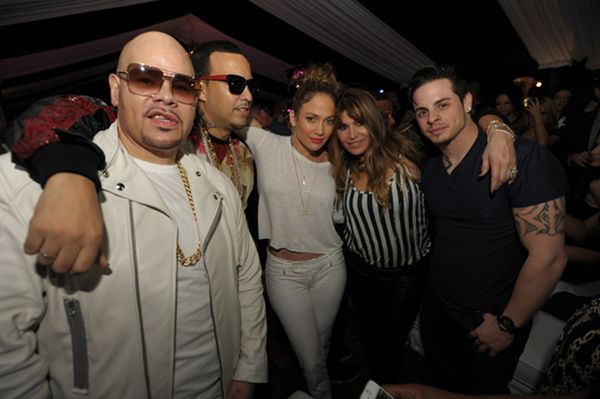 Exes Jennifer Lopez & Diddy joined French Montana and more at Market America's World Conference 2014 and afterparty. See pics inside and get the deets on Tyler Perry and ESSENCE honoring Black Men in Hollywood.
Market America makes the Ridingers (Kim K. and LaLa's besties) millions of dollars every year. And now, the owners brought in all their powerful celeb friends to the big conference over the weekend:
Jennifer Lopez and Fat Joe posed with Market America co-founder Loren Ridinger at the Market America SHOP.COM's World Conference 2014 over the weekend in Miami.
The conference kicked off with Lala Anthony celebrating her book The Love Playbook Book and debuting new products from her Motives for Lala makeup line. The weekend included a huge afterparty at the home of Market America Founders JR and Loren Ridinger. Others spotted over the weekend included Jamie Foxx, French Montana and Ramona Rizzo from "Mob Wives".

Joseph 'Fat Joe' Cartagena was at the conference to launch his Market America UnFranchise. In a press release from Market America, he said "I feel like I'm definitely an entrepreneur first and foremost, and it's time to take that to another level. I can now teach anyone, who is willing to grind it out, how to build the kind of lifestyle few ever get a chance to experience."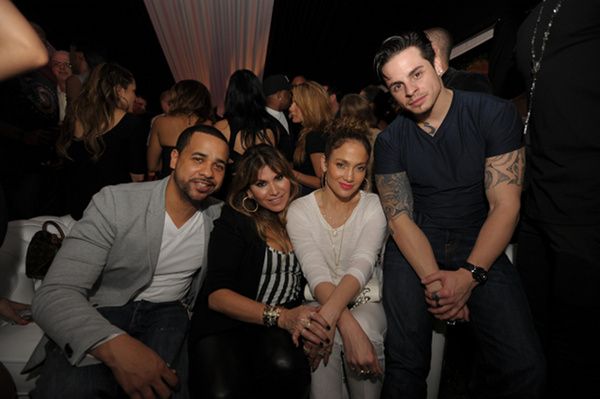 Jen's beau Casper Smart was there.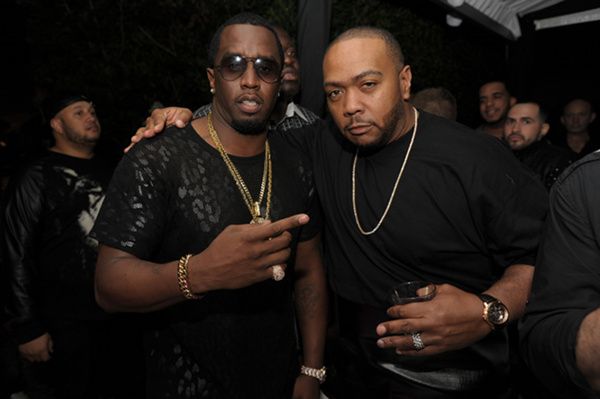 Diddy and Timbaland were there to cheer on Fat Joe.
FUBU founder and star of ABC's "Shark Tank" Daymond John attended the event to offer up his multi-million dollar his expertise.
In other entertainment news....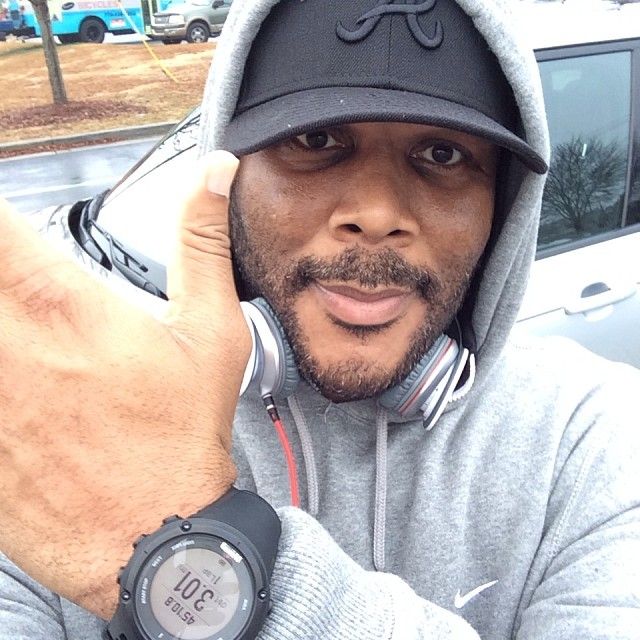 Tyler Perry's been on a health kick these days. And now he's giving back. He and ESSENCE Magazine have joined forces with to produce "Black Men in Hollywood." The event will be launched during OSCAR week and will salute the exceptional work of breakthrough and trailblazing performers and visionaries. ESSENCE Editor-in-Chief Vanessa K. Bush said,
"Throughout the year, ESSENCE has chronicled the multitude of extraordinary performances and unforgettable moments in the pages of the magazine and on Essence.com. To be invited by our friend Tyler Perry to partner in this intimate celebration of Black cinema during OSCAR® week is especially significant, as we salute some of the most powerful, authentic and multi-dimensional images we've seen on screen—images that serve to inspire our young men of color."
The intimate celebration will also spotlight The California Endowment's influential Sons & Brothers (#sonsandbrothers) campaign, which acknowledges those stand-out achievers who are vital role models for young men of color. Black Men in Hollywood will precede ESSENCE's annual Black Women in Hollywood luncheon, which will be held at the Beverly Hills Hotel on February 27, 2014.
Cheers to the fellas!
The Randomness:
1. Anthony Anderson will host the 45th NAACP Image Awards on Sat., Feb. 22 on TV One at 9:00 p.m. ET.
2. Samuel L. Jackson went IN on a local news anchor for mistaking him for Laurence Fishburne! STORY
Photo via Tyler Perry Instagram/Market America Staff Photographer