---
Lupita Nyong'o Tells "Letterman" About Sucking Her Thumb...And Meeting Oprah!
Posted: 20 Feb 2014 07:58 AM PST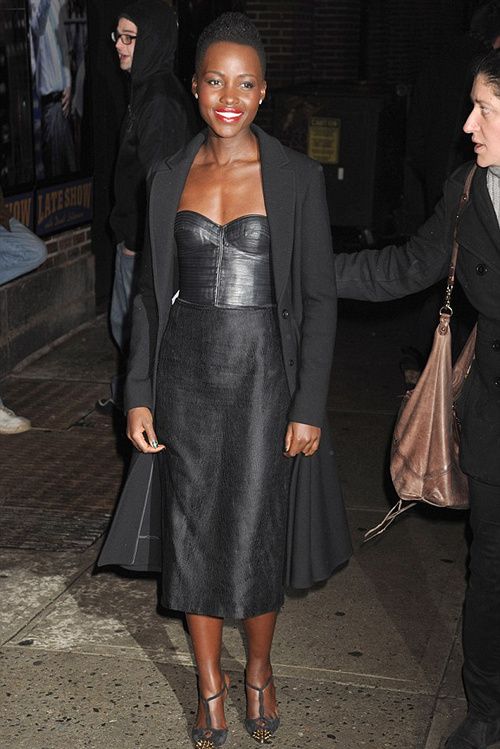 Academy Award nominee Lupita Nyong'o chatted with David Letterman last night about meeting Oprah, her love of American television and one of her embarrassing childhood habits. Watch the clip inside....
Lupita Nyong'o was spotted leaving a taping for "The Late Show with David Letterman" yesterday.
She kept it sexy in all black rocking a J. Mendel Resort 2014 Stripe Lace High-Waisted Pencil Skirt, a J. Mendel Resort 2014 Lightweight Leather Strip-Mounted Bustier and Christian Louboutin Geotistrap 100 Suede Sling-Back Pumps.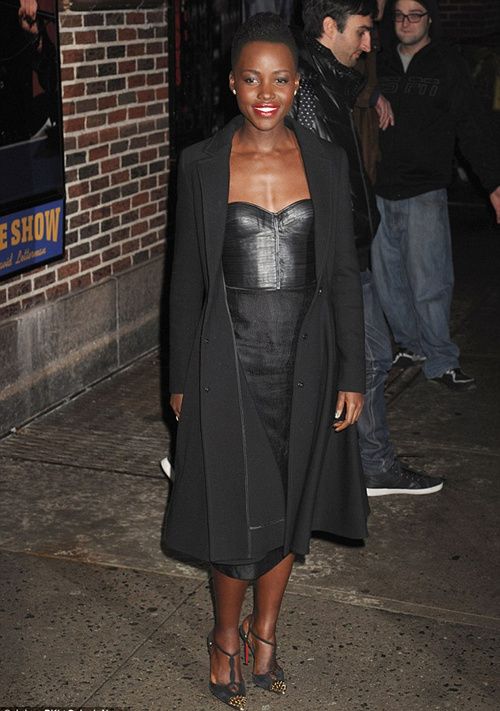 During the funny segment, Lupita's personality sparkled as she recalled stories from her childood (her mom called her "space cadet" because she loved to daydream), she fell in love with Linus from "Charlie Brown & The Peanuts" because he sucked his thumb like she did, and she said "The Oprah Winfrey Show" was one of the only shows they were allowed to watch growing up.
And she joked about her mom meeting Oprah at the BAFTA Awards where she thanked her for all the lessons she's taught their family. How sweet!
Here's the interview:
Extras:
1. WWE superstar Big Daddy V died of a major heart attack on Tuesday. Story.
Photos via Thelonius / Splash News
EXCLUSIVE: David Otunga Talks Falling In Love With Jennifer Hudson & Breaking Down Barriers In The WWE
Posted: 20 Feb 2014 07:09 AM PST
In celebration of Black History Month, David Otunga talked to TheYBF.com about breaking down barriers as a black wrestler in the WWE and how he knew he'd fallen in love with Jennfer Hudson. More inside.....
He's gone from Harvard Law School, to VH1's "I Love New York 2" to becoming a high profile wrestler for the billion dollar business that is the WWE. The extra fit 33-year-old Chicago native also works with the WWE's anti-bullying campaigns and other charitable endeavors. And he dished about his Academy Award-winning fiancee Jennifer Hudson (who's had her own amazing fitness journey since being in a relationship with David) and their adorable 4-year-old son David Jr.
Tell us about WWE's Black History Month initiative and what it's like being one of the few African Americans in such a high-profile international sport?

The WWE is doing a great job with the video packages they post every week highlight African American superstars who've made a huge impact on the world of wrestling. There's Tony Atlas, Rocky Johnson, Ron Simmons, and so many more.

It feels really good to be one of the WWE's African American superstars and to know there are little kids looking up to me. So it's very cool to represent for everybody.

Is there a sense of rivalry or camaraderie among you and the other African Americans in the WWE? We've seen how The Funkadactyls and others interact on the E! show "Total Divas".

I think everyone gets along really great because we're on the road together…we're like a family. There's a shared bond…we're really close. We didn't know each other before…but there's that bond there.

How do you view your cultural impact?

I try to use the platform to show everything that I can do. Not just to show that I'm a wrestler, but also that I'm a lawyer too. I graduated from Harvard Law School and I do a lot of different things in that area. Also, I do a lot of the WWE charity events and I give talks about bullying. I tell kids that you can achieve anything, no matter who you are or where you came from. I really stress that to the African American kids. I've achieved everything I wanted. I set a goal and I achieve it.

How can one enter the WWE?:

It's a lot easier now…..they have the WWE Performance Center in Orlando and it's awesome. They hold tryouts there all the time.

How did you and Jennifer spend Valentine's Day?

With a couple of surprises. I'm very romantic. It's something I pride myself on.

How did you know you were in love with Jennifer?

It's just one of those things…one day it's there. You wake up and you can't imagine your life without this person.

What do you plan to teach your son about love?

I'm gonna teach him to respect a woman and treat her like he'd treat his mother.
Good advice Papa David!
Watch David in action below:
Photo via David's Instagram
From ASPEN With LOVE: Happy SNOWY 26th Birthday Rihanna!
Posted: 20 Feb 2014 06:08 AM PST
Bad Gal RiRi turns 26 today. Puff Puff Pass on the slopes with her inside....
Today is the 26th birthday of the always Unapologetic Robyn Rihanna Fenty. A pop star, model, businesswoman, MAC philanthropist, actress and rebel, Rihanna has spent her career becoming the princess of pop music--whether folks like it or not--and a social media queens!
As we speak, VOGUE's March 2014 cover girl Rihanna is sliding down the slopes with her girls Jenn and Melissa and staying in a super luxe cabin in Aspen. Have fun!
Revisit some of her most popular looks from the year in the gallery below....
Photos via Rihanna's Instagram/Melissa Forde's Instagram
SECRETLY MARRIED: Kimora Lee & Tim Leissner WED Under-The-Radar!
Posted: 19 Feb 2014 08:30 PM PST
It looks like Kimora Lee MARRIED her new Goldman Sachs investment baller boo without ANYONE knowing. Well, anyone outside her close fam and ex-husband Russell Simmons.
See how Russ outed the couple inside...
Well looky here. Kimora went and got secretly hitched! According to her ex Russell Simmons, her lover Tim has been part of the family for a while now. But, the public just only recently got to know him after pics from a family vacay in St. Barts surfaced this past December.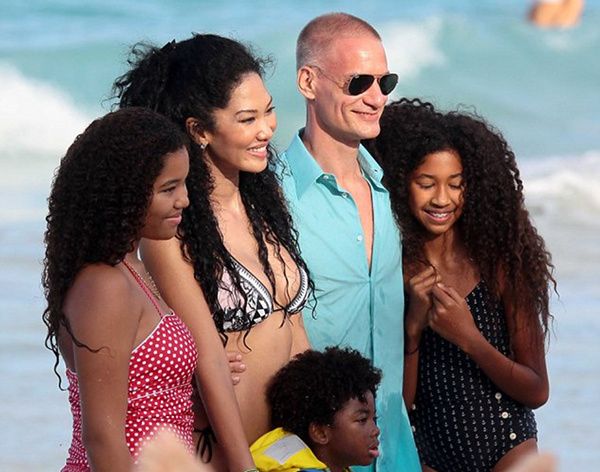 Kimora & Tim hit up a few red carpet events together, but most had no clue it was on the marriage level already. But apparently, Tim is now step-dad to 14-year-old Ming Lee, 11-year-old Aoki Lee, and 4-year-old Kenzo Lee.
In response to a gossip item about the couple, Russell posted the below on Wednesday exposing Kimora & Tim's marital status:
All of us love @OfficialKimora but the fact is she is happily married. . Tim is has been family for a while now. #gossipcop....

— Russell Simmons (@UncleRUSH) February 19, 2014
Oh?!
Hopefully it's a legal marriage recognized here in the 50 states, unlike her last "marriage" to Djimon Hounsou...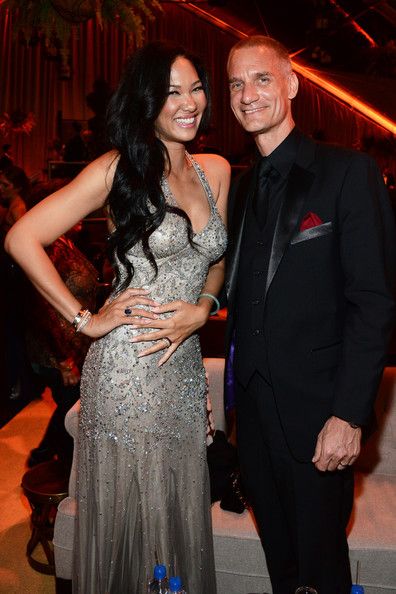 They were spotted all smiles at the Golden Globes afterparty last month, and Kimora is rocking a diamond band on her ring finger.
The couple looks happy as pie. Congrats Kimora!
Photos: INF/FAME/Getty
Beyonce Rocks The 2014 BRIT Awards With "XO" Performance, Jets With No Passengers On Her Plane....
Posted: 19 Feb 2014 04:32 PM PST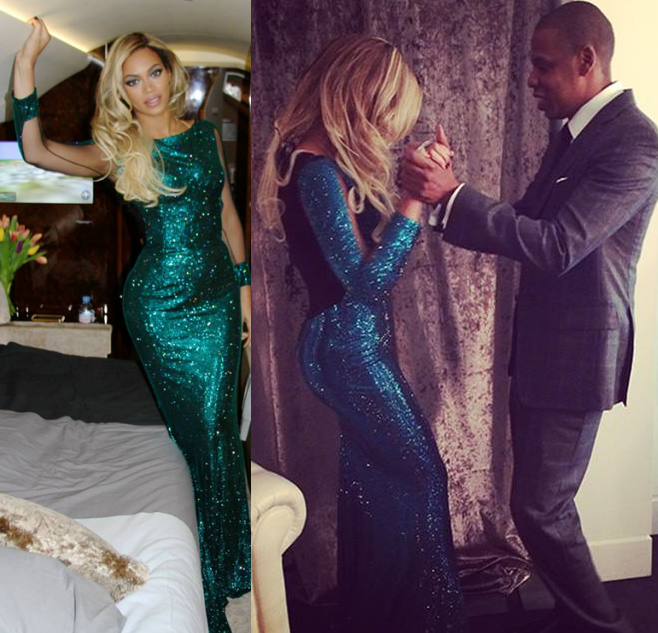 Beyonce performed "XO" live at the 2014 BRITS. Watch the performance inside, and see how she catches her private jet.....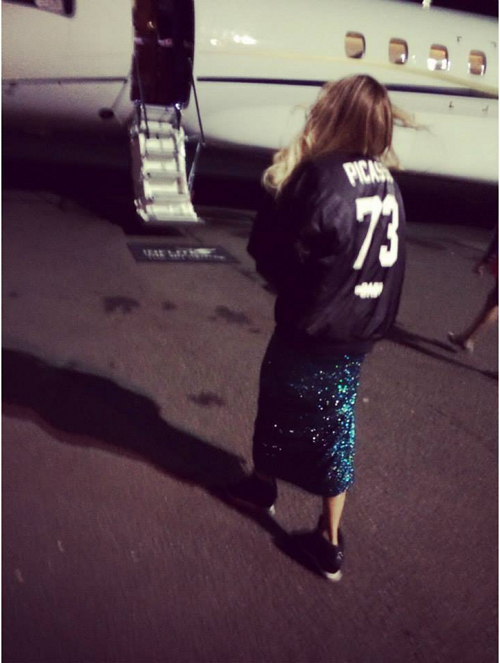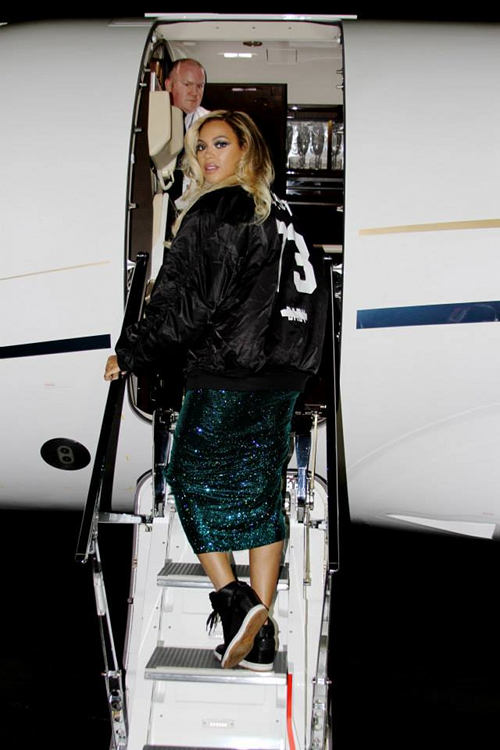 Beyonce was spotted boarding a private jet in Prestwick, Scotland where she jetted off to London for a special appearance at the 2014 BRIT Awards Wednesday night.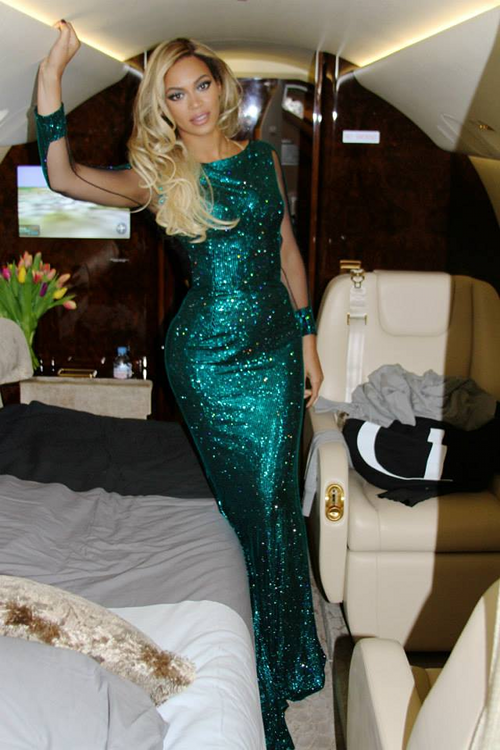 News about her special performance was confirmed a few hours before the show by host/comedian James Corden who told BBC 2 Radio, 'I must be able to tell you? Beyoncé. 'Beyoncé is performing tonight. She's performing a track she has never ever performed live before. Ever.'The show was held at the O2 Arena in London where she performed "XO."
She rocked a black jacket from BPP (atop), an emerald Vrettos Vrettakos dress and Lorraine Schwartz jewels for the ocassion. And she looked amazing.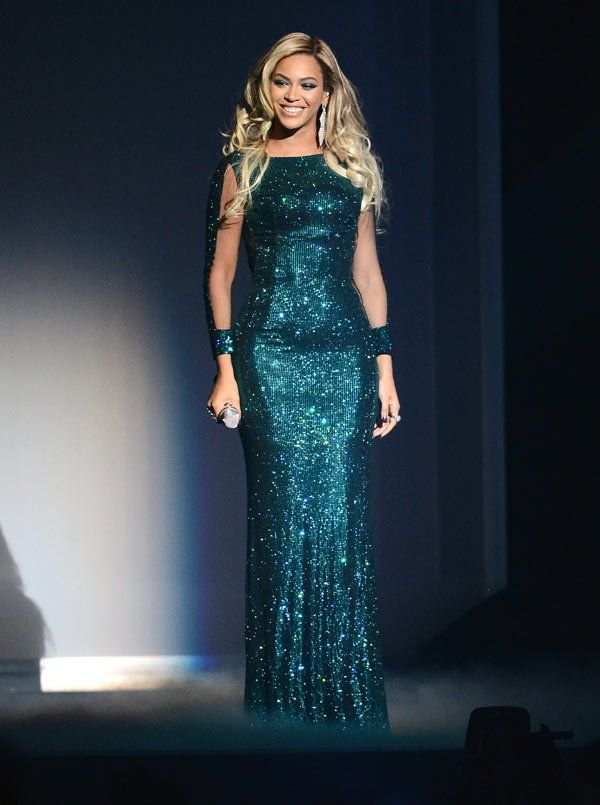 In other Bey news, she's kicking off the UK leg of The Mrs. Carter Show World Tour and has launched the #BeyGood campaign which is partnering with UK youth charity, The Prince's Trust, to change the lives of disadvantaged young people. Together, they will raise vital funds for The Prince's Trust on the UK tour dates of the Mrs Carter Show World Tour.
Watch her rock the Awards with "XO" below:
BONUS: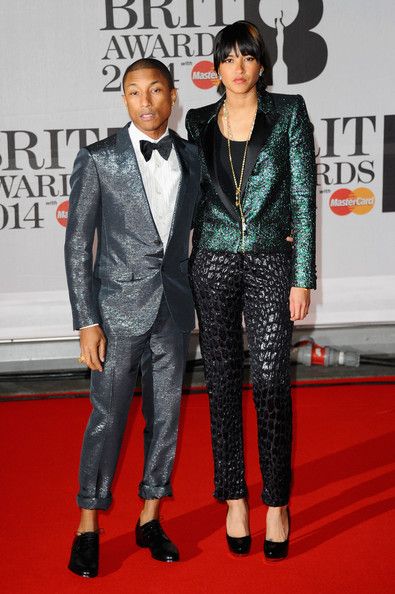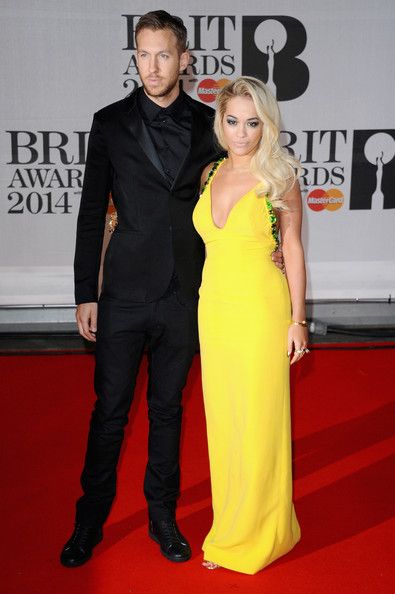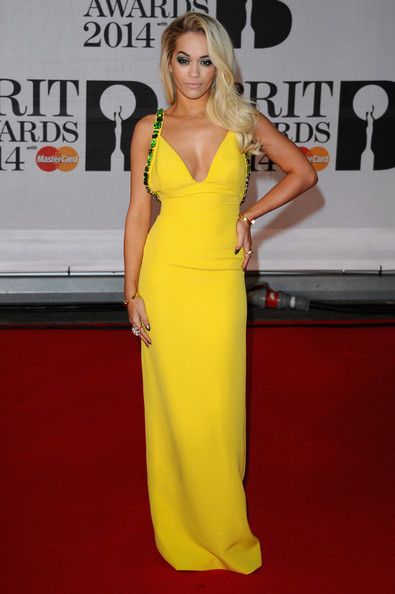 Pharrell and his wife Helen, as well as a super bright Rita Ora, in canary yellow Prada, (with her boyfriend DJ Calvin Harris), were all spotted on the red carpet for the BRIT Awards at the 02 Arena tonight.
Photos via Ian Gavan/Getty Images/Bey's tumblrAnthony Harvey/Getty Images Europe

Is Marlo Hampton Trying To Snatch NeNe Leakes' "RHOA" Spot? The Tea On Their BEEF Inside...
Posted: 19 Feb 2014 03:52 PM PST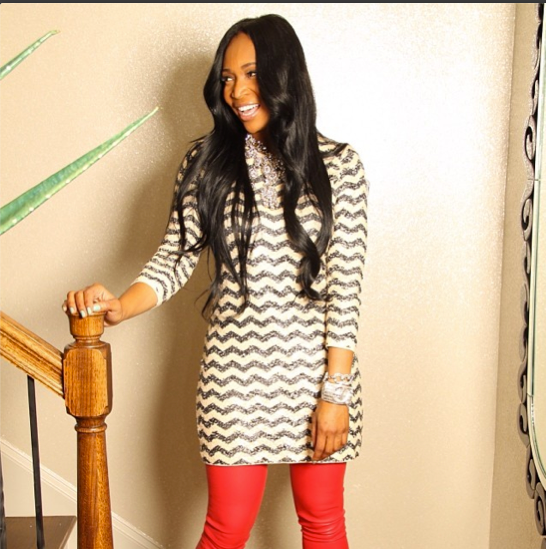 Oh Marlo. Now that NeNe Leakes is feeling like the cameras and spotlights are flipping the script on her, putting her in a negative light due to all he recent "RHOA" drama, it seems Marlo may be trying to get in where she fits in. And tis may be why NeNe no longer considers her a frined. Check out what Marlo has said and done recently inside....
So, after Nene tweeted a while back she and Marlo are no longer friends, we're now starting to see why. NeNe may feel that Marlo switched to Kenya Moore's Team Twirl on her after the last episode when Marlo and Keyna randomly teamed up to audition men for that charity gala.
And with little things being said on social media, Marlo's now calling Nene out for being mad about her two shows she spoke so much about getting the axe. And Marlo claims Nene is simply feeling like her light is dimming, and she's not trying to let anyone else's shine.
Here's Marlo's blog, in part, she just wrote:
As I said, when I first started spending time with NeNe, (who initially was not too happy about me being on RHOA, but then "appeared" to take me under her wing), I didn't let the warnings from Kandi and Phaedra deter me from giving her the benefit of the doubt. I looked up to her as a big sister since she and my oldest sister, (who is 8 years my senior and full of wisdom) are the same age. I really thought she understood where I came from and how I was trying to change my life for the better, just as she had done. We all have a past, but we can choose to leave it behind us. (I guess I should have listened to the ladies, huh? Sorry…)

I've been called an opportunist, often! But honestly, who among us does not take advantage of opportunities that improve the quality of our lives and allow us to realize our dreams? Who among us doesn't use our gifts, brains, beauty and talents to our benefit? Let she/he who lives in the glass house, (of delusions) throw the first stone at me. Unlike some of us, I don't believe that there are people who "are not on my level!" Last I heard, God created all of us equal.

That "taste" of Hollywood is like fresh, sweet ice cream. The only problem is, eventually it will melt and the "taste" will fade leaving not even a linger of flavor… Perhaps some of us should learn the meaning of humility because just like an elevator, the people you put off, might be the same ones you want to hold the door when you're trying to get back on… Ijs!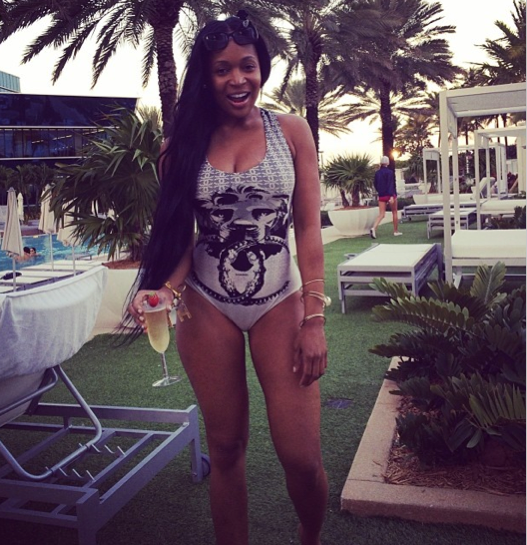 Welp, cheers to that! We're also hearing from uncofirmed sources that Marlo is being set up to take Nene's spot next year on "Housewives". And Nene is NOT feeling any of this ish. Bravo production has supposedly gotten involved, allegedly, and ish just doesn't look good for Team Rich. Not sure how much we believe, but apparently Nene has allegedly stormed out of taping more than once.
Check out a couple previews from next week where the drama will be breing between Team Rich and Team Marlo:
Photos: Marlo's IG
FASHION HEADS: Rita Ora, Pharrell & Jourdan Dunn At The 2014 ELLE Style Awards + Chanel Iman, John Legend & Chrissy Teigen PARTY With Sports Illustrated
Posted: 19 Feb 2014 02:41 PM PST
Rita Oa, Jourdan Dunn and Pharrell and wife Helen all stepped out in their finest for the 2014 ELLE Style Awards. See photos inside along with Chanel Iman, John Legend and Chrissy Teigen at the SI party.
Fashion and style icon Pharrell Williams (shown with wife Helen Lasichanh who kept it sassy in a pink suit) was honored as International Recording Artist for his standout style during the ceremony.
The trendy designer/Academy Award nominee, will drop his Columbia Records debut "G I R L" on March 3rd. Also, he spoke about the Vivienne Westwood hat he rocked a the Grammys.
Rita Ora, who also doubles as a spokeswoman for Madonna's "Material Girl" label, donned a tiered & tulle Marchesa dress. Very pretty. Bridal like, but pretty.
Katy Perry may have won for Woman of the Year at the Elle Style Awards, but British bombshell Jourdan Dunn looked ridiculously hot wearing a sexy Tom Ford minidress dress. She's currently starring in the latest YSL Beauty campaign with Cara Delevingne. Hot.
At other parties....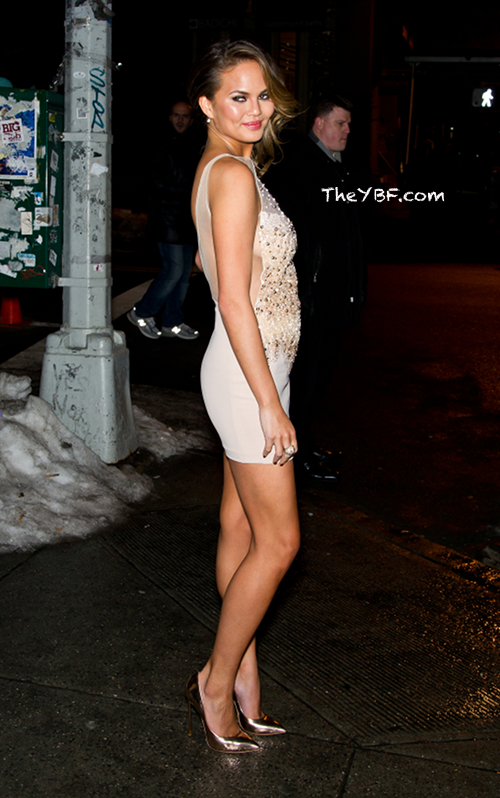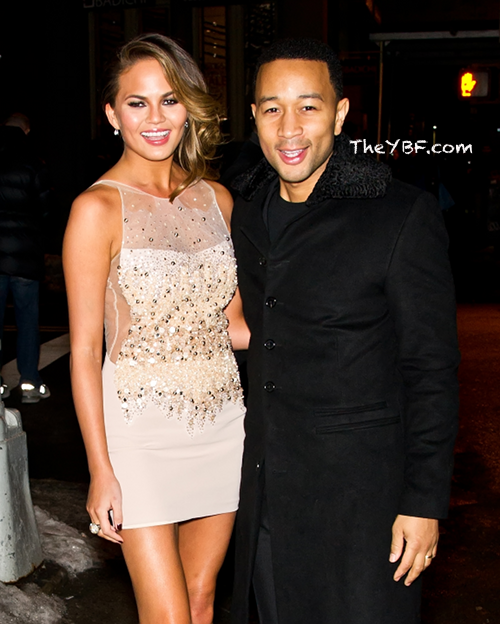 Last night, John Legend and Chrissy Teigen stepped out for The Sports Illustrated Swimsuit 50 Years of Swim party in NYC. The event was held at the Sports Illustrated Swimsuit Beach House. And since Chrissy was one of the three models featured on the cover of the swimsuit issue, she was front and center with her new hubby: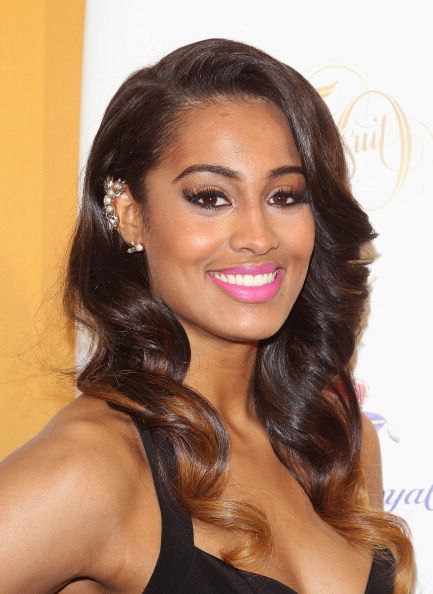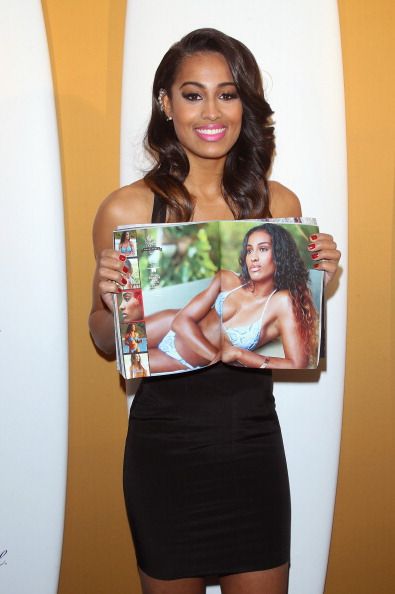 Tulsa Shock guard Skylar Diggins is also featured in the issue. We've got her pics HERE in case you want to drool a bit more.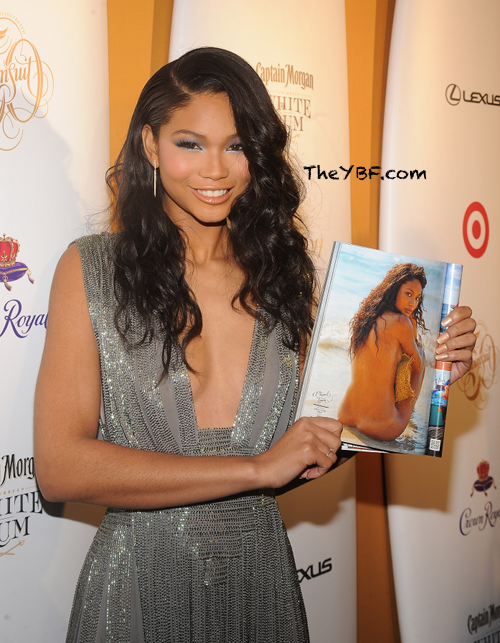 Chanel Iman (also in the issue) attended with her boyfriend, A$AP Rocky. She and her beach waves looked gorge as usual.
Photos via Getty/Andres Otero/WENN.com/Ian Gavan/Getty Images Europe/Jackie Brown/Splash/Roc Nation

LADIES WHO PUT IN WORK: Halle, Letoya Luckett & Jada Pinkett Smith Get Major New Roles & Releases
Posted: 19 Feb 2014 02:08 PM PST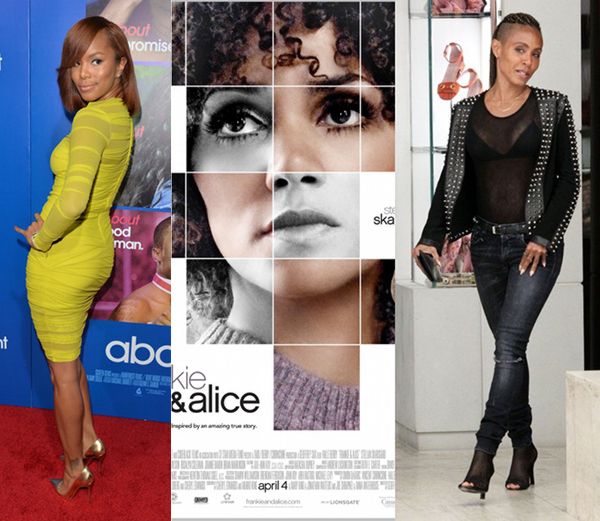 A few of our fave chicks are making major moves. Deets inside on Letoya Luckett & Jada Pinkett Smith's new roles and Halle Berry's movie getting the big screen green light inside...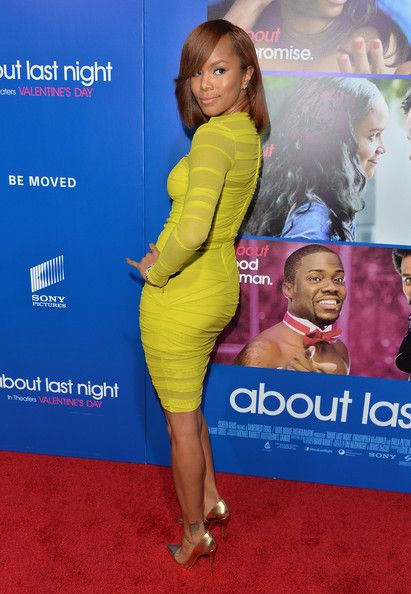 Hottie Letoya Luckett isn't stopping at "Single Ladies" when it comes to her budding acting career. Reportedly, she just nabbed a spot in the case of the upcoming HBO series "Ballers".
Headed by lead Dwyane "The Rock" Johnson (who plays a retired professional football player), the cast already has Omar Benson Miller and Denzel Washington's son John David Washington attached.
The former D-Child singer will play "Tina", the widow of one of the lead characters.
The cast and crew start production later this year. And since the show is produced by Mark Wahlberg, you already know we're going to get that "Entourage" feel. We're here for it.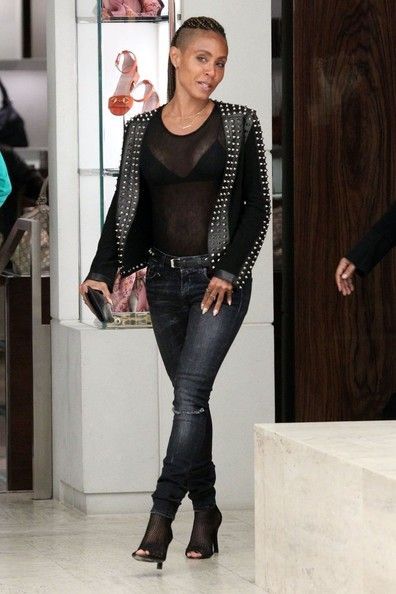 In other working news, Jada Pinkett Smith is in villain mode. And it looks like Fox is putting more and more black actors on their network. A move to get black viewership? Hmmm...
Anywho, Fox is gearing up to debut their Batman prequel drama "Gotham." And Jada has been tapped to play Fish Mooney, "an imposing, hotheaded and notoriously sadistic gangster boss and nightclub owner with street smarts and almost extra-sensory abilities to read people like an open book" Whew.
We totally see her for this. About the movie, Deadline says:
Based on DC characters from the Batman universe, Gotham explores the origin stories of Commissioner James Gordon (McKenzie) as an idealistic rookie detective in Gotham City, along with Bruce Wayne and the villains who made Gotham City famous.
And Jada broke the news to her Facebook fans today saying:
Last night, I decided to accept the role of Fish Mooney, who is the sadistic villain in thee upcoming Batman prequel, Gotham, for Fox TV. I've committed to a year to work alongside a very talented cast, a super cool, creative and talented head writer and an extraordinary director. This one...is going to be funnnnnn!

Stay tuned:)
Congrats Jada!
And finally, after what seems like FOREVER, Halle Berry's film Frankie & Alice is finally getting a theatrical release. Even though she and the cast and celebs had a big Hollywood premiere back in 2010, the movie never got a nation-wide release. But now, 4 years later, it's here.
A brand new trailer was just released for the flick based on a true story, and it looks intense. Halle said about the film:
"'Frankie & Alice' is an emotionally compelling film that I cannot wait for audiences to finally see. I am extremely proud of the film because it focuses on the very real issues of mental illness, and it is my wish that Frankie Murdoch's story will give hope and support to those struggling."
Lionsgate & Codeblack Films describe the flick below:
FRANKIE & ALICE is inspired by the remarkable true story of an African American go-go dancer "Frankie" with multiple personalities (dissociative identity disorder or "DID") who struggles to remain her true self while fighting against two very unique alter egos: a seven-year-old child named Genius and a Southern white racist woman named Alice. In order to stop the multiple voices in her head, Frankie (Halle Berry) works together with a psychotherapist (Stellan Skarsgard) to uncover and overcome the mystery of the inner ghosts that haunt her.
Peep the trailer below. The movie now hits theaters April 4th.
BONUS: Terrence Howard was just tapped to lead the upcoming Fox Hip-Hop Drama pilot from Lee Daniels & Danny Strong. It's called "Empire" and is described as the following:
Empire is described as a unique family drama set in the world of a hip-hop empire. It centers on Lucious Lyon (Howard), a charismatic, savvy music superstar who is about to take his company, Empire Entertainment, public. Raised on the streets, he has never backed away from a fight and will resort to any measures, fair or foul, to defend his beloved Empire.
The Randomness:
1. CeeLo is not returning to the "The Voice". Source
2. Nas is getting a documentary, and it will open the Tribeca Film Festival this April. STORY
A Nude Iggy Azalea & Nick Young Floss Their Coupledom For "GQ" + Pharrell Williams REVEALS Beauty Secret To Youthful Look, Album Release Date
Posted: 19 Feb 2014 12:27 PM PST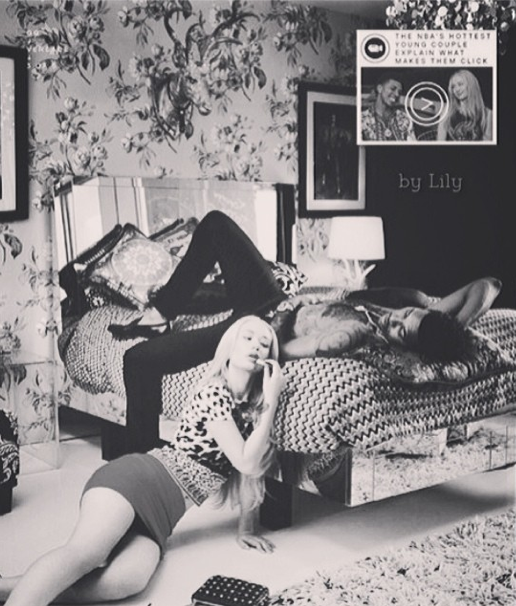 Rapper Iggy Azalea is posing it up with her boyfriend, LA Lakers baller Nick Young in the latest issue of GQ. So it looks like things are getting serious. See their spread inside and see what Pharrell said about his upcoming album and beauty secrets...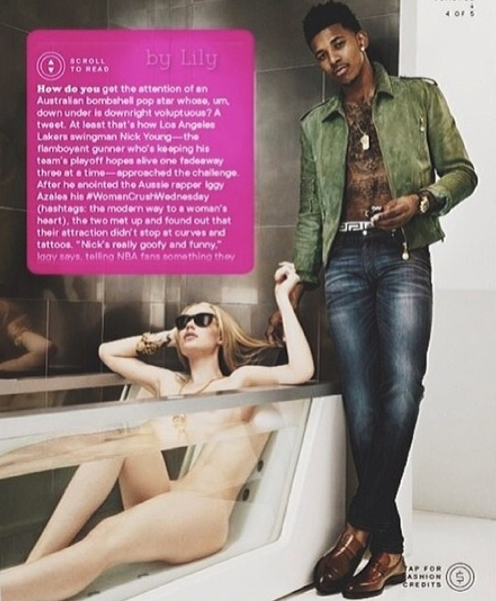 Iggy Azalea goes totally nude in the latest edition of GQ where she poses with her boyfriend, Nick Young, of the LA Lakers. Nick is wearing these smedium jeans (that fit him more like jeggings) in every pic. But Iggy seems to like 'em.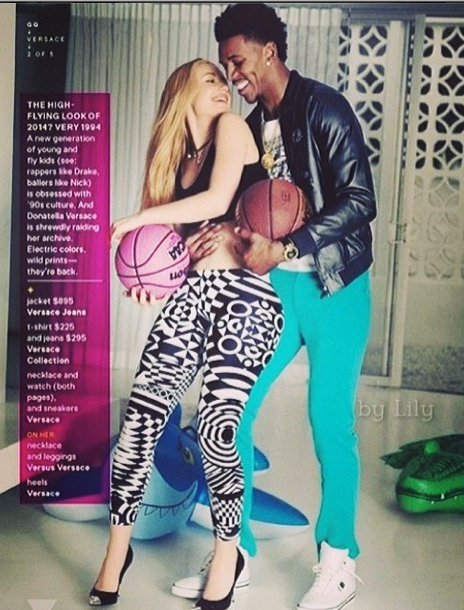 They've been dating for several months now, but a boo'd up spread in a major mag already? Must be nice...
In COMPLEX Mag, Nick revealed that his friends call him "Swaggy P" because of his fashion sense and love of sneakers.
First things first. Where does the nickname "Swaggy P" come from?

Just from hanging around the homies, and how I dress. They just came up with something and I just ran with it. They would talk about how my jeans are too skinny, and my style is different.

I know you have a crazy sneaker game, how many pairs do you own?

Man. I don't even know. It's too many right now. My brother has been coming to take sneakers and everybody has been coming for sneakers lately. I've been losing some, gaining some. I probably have 200 to 300 pairs.

Do you have a pair of sneakers with sentimental value?

Probably the "Swaggy P" Nike Kobe 9 sneakers. For Nike and Kobe to let me debut the sneakers, that was pretty big. They're sold out everywhere since I wore them. I need to get a percentage [laughs].
In other music news....

Pharrell Williams has revealed that his Columbia Records debut "G I R L" will drop globally on March 3. The album cover is above, where he's rocking hot Thom Browne shades.
He released a statement saying,
"When Columbia Records presented me with the opportunity to make an album, three things came to mind. One was the sense of overwhelming honor that I felt when I realized that they were interested in partnering with me on the album that I had always dreamt of making. Two, it would have to feel festive and urgent. And three, I instantly knew it would be called 'G I R L'. I hope you like it."
Also, during an interview with TIME OUT, the 40-year-old Oscar nominee revealed his secret to his youtuhful skin. Folks have gone as far as calling him a vampire because, let's face it, dude DOES seem like he's Benjamin Buttons or an extra on "True Blood". He said:
"I'm willing to go on record as saying that I don't drink people's blood. How do I stay so young-looking for a 40-year-old? I wash my face."
That's it people....it's that simple! For him...
Photos via Iggy Azalea's Instagram
Kenya Moore Offers Up Receipts That She Paid 'Saving Our Daughters' $500 + Spends Valentine's In Nigeria With Her Mystery Boo
Posted: 19 Feb 2014 11:41 AM PST
Kenya Moore is popping back at the accusations that Saving Our Daughters received none of the money she raised from her "charity gala" on "RHOA". Check out the receipts she's providing inside...
Well, Kenya provided the receipts we all asked for. Even though the CEO & Founder of the Saving Our Daughters organization claims they never received a dollar of the $10,000 the gala raised in their (and NeNe's) honor, Kenya says that's simply not true.
She tells the folks over at B Scott:
"It's unfortunate Mr. Curtis Benjamin was not aware of the effort I put into trying to make the event a success for Saving Our Daughters or overlooked the texts regarding the intended honoree. I spent over $10,000 dollars to make the charity event successful, in addition to making a personal donation from the event as well as forwarding any and all donations collected. I hope the focus can shift to the young girls and I wish the organization nothing but the best in the future."
And the site published a copy of what appears to be Kenya's (the name is blacked out) $500 check that was written out to the organization. Now, whether or not the company ever received the check is a different story. Or it's also possible this is the same $500 they did admit Kenya gave as a "Christmas donation". Was the Christmas donation supposed to be the same as the charity gala donation? Or nah?
The site also published text messages, which seemed to have come from Kenya, that prove she was in communication with CEO Curtis Benjamin himself. One response from Curtis said:
"Hi Kenya – Thank you for your personal donation as well. Here is the address so we can make it on time. Saving Our Daughters 311 Ryan Trail Dallas, GA 30157 :) . We will email over your thank you receipt letter this week from our trustee board for your total donation. Again thank you. :)"
Reportedly, Kenya had all attendees write out their donation checks to HER, not the S.O.D. org. So maybe she gathered up all--or some--and handed over a donation in her own name?
So, how does NeNe, the alleged honoree, play into all this again?
Who knows. But Kenya tweeted last night:
I have video proof more check copies and a contract too so pls do not come for me unless I send for you. #dropsmicrophone #grabsbible2pray4u

— KENYA MOORE (@KenyaMoore) February 19, 2014
And she's not too bothered by it all. She's on a vacay as we type in Lagos, Nigeria. And you already know why. She hinted she's spending time with her mystery boo we've heard so much about (but have yet to see):
Night night it's 5am in Lagos now. Someone is not happy I'm up. Going to bed teamtwirl #theytriedit #keepingitclassy

— KENYA MOORE (@KenyaMoore) February 19, 2014
The Randomness:
1. An Executive Producer of "Preachers of L.A." and Lionsgate Executive are being sued for breach of contract. STORY
Photos: Kenya's Twitter
BIRTHDAY BEHAVIOR: Mel B CELEBRATES Phoenix Chi's 15th B-Day At Mr. Chow + Rihanna's CHEEKY Aspen B-Day Activities
Posted: 19 Feb 2014 09:56 AM PST
Tv personality Mel B celebrated the 15th birthday of her firstborn, Phoenix Chi, yesterday. Find out what the ladies did inside and see Rihanna's cheeky Instagram post...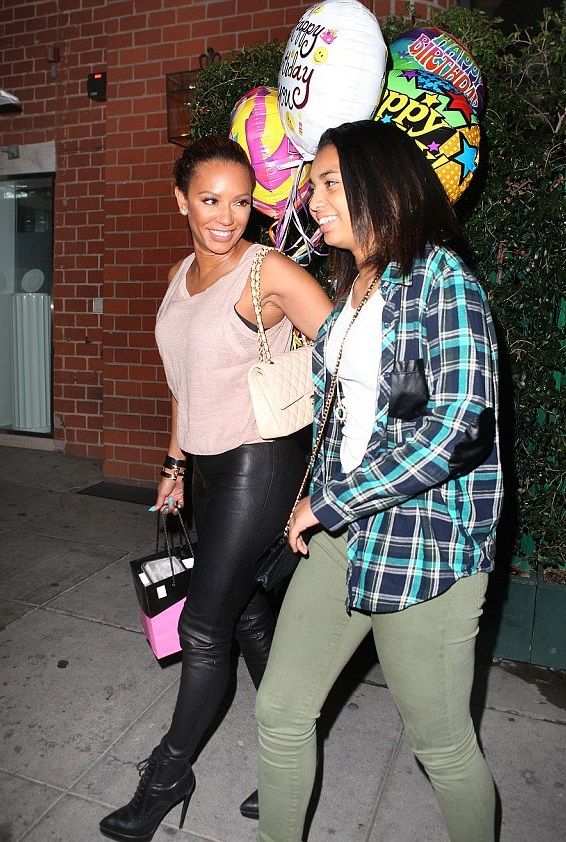 "America's Got Talent" personality Mel B donned a pair of tight leather trousers while celebrating the 15th birthday of her daughter, Phoenix Chi, at Mr. Chow in West Hollywood.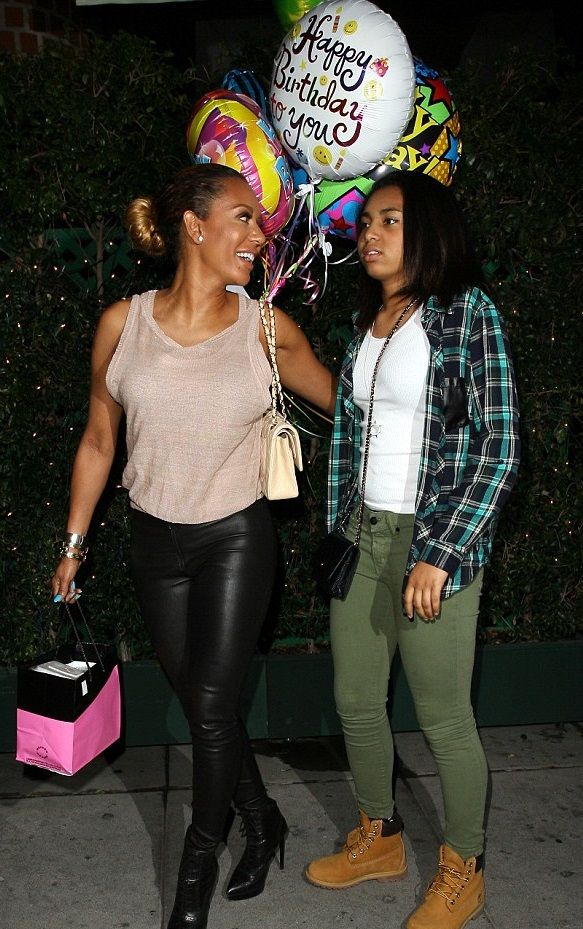 It looks like the love of skinny jeans and tight pants is generational.
On the way back to her vehicle, photographers snapped a gratuitous shot of Mel's rear end.
In oher birthday news......
Rihanna celebrates her birthday tomorrow and she and her crew are in Aspen, CO for the festivities. She posted this booty "cheeky" pic on IG.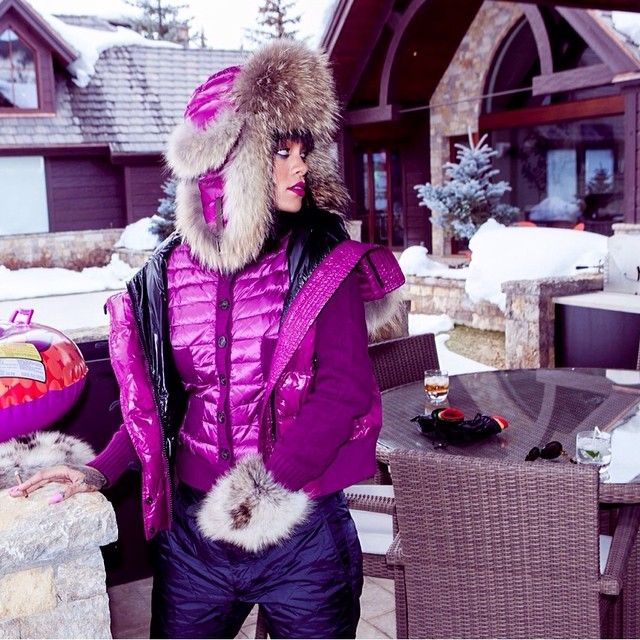 Fur-loving Riri already shared this cute snowsuit shot too saying, "badgalriri #cabinlife #birthdayish."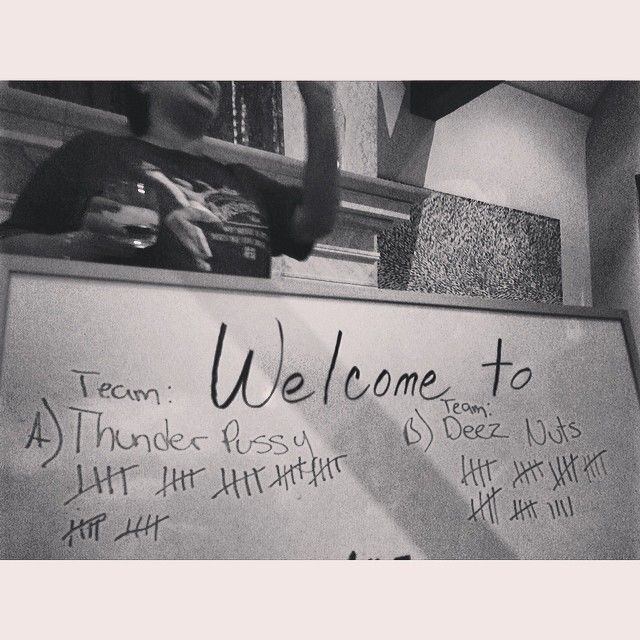 There were also some "cheeky" party games going down at the cabin. Looks like Thunder P*ssy wins again...
And out on the slopes: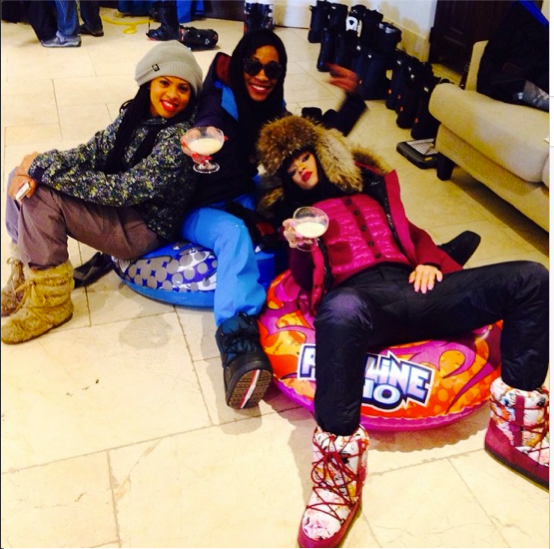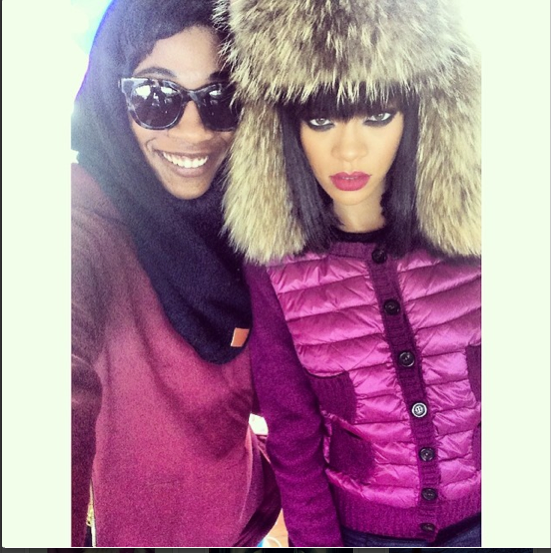 Fun times!
The Randomness:
1. Oprah bought her long lost half sister a $500,000 home. STORY
2. This "Jeopardy" episode from Monday is going viral after all three contestants avoided the Black History Month category like the plague. STORY
Photos via Splash/Rihanna's Instagram, Melissa Ford's IG, LeLeBoo's IG