---
PEEK-A-BOO: Rihanna Sexes It Up At Christian Dior In Red Fur, EXPOSES Nipples At Balmain Afterparty!
Posted: 28 Feb 2014 08:01 AM PST
Rihanna is the official "Bad Girl" of fashion as she taken Paris by storm with a series of unforgettable looks. Her latest looks incorporate fur, pearls and her bare nipples. Watch Rihanna turn it out inside...
Paris is burning and Rihanna apparently lit the match.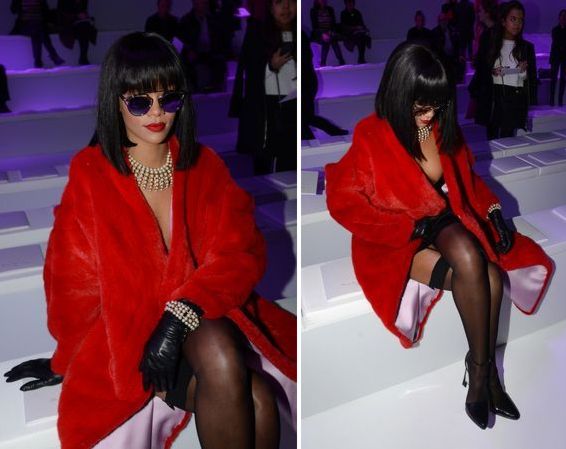 The "Fresh Off The Runway" singer sat front row at the Christian Dior Paris Fashion Week Show today wearing a flaming red fur, thigh high stockings, black leather gloves and pearls. And made it all look chic as hell.
Following the show, she posed with Steve Harvey's wife Marjorie Harvery (must be nice to be at Paris Fashion Week huh Marjorie?...) and one of the models backstage.
But last night, she let it all hang out at a posh cabaret club.....
Rihanna went to the Balmain afterparty at Crazy Horse in a highwaisted leather skirt and a sheer fishnet top that exposed her bare breasts. But we censored her nips because..well, it just seemed necessary:
You have to give props to Rihanna and her glam squad....they know how to pull off a look. Even when minimal clothes are involved.
Photos via INF/Instagrams of lisbethdarling /rihanna_97/wefoundlove_7/kpalms888/Marjorie Harvey

Kerry Washington Reveals Her PREGNANCY Eating Habits & More On "Jimmy Kimmel" + James Brown Biopic SNEAK PEEK
Posted: 28 Feb 2014 06:16 AM PST
Kerry Washington welcomed "Scandal" back to Thursday nights with a funny appearance on "Jimmy Kimmel Live". Watch the interview inside and watch a sneak peek of "Get On Up", the new James Brown biopic.
A very pregnant Kerry Washington stopped by "Jimmy Kimmel Live" last night, after the new episode of "Scandal" snatched all our wigs, where she talked about her pregnancy (she says she eats healthy) and revealed that her mom wanted her to go to law school.....not become an actress!
She also told a funny story about starring in a college musical called "Croak: The Last Frog". And she added that she takes her acting gigs very seriously and even researched her role by visiting frogs at the National Zoo. She always had a little "over achieving Olivia Pope in her".
In other tv news....
Get On Up, the new James Brown biopic is heading to movie theaters on August 1, 2014.
The music icon will be played by Chadwick Boseman ("42") and the story follows the Godfather of Soul from his impoverished childhood to his evolution into one of the most influential figures of the 20th century.
Shot on location in Mississippi, and directed by Tate Taylor, the drama co-stars Viola Davis (as Susie Brown, James Brown's absentee mother) and Dan Aykroyd (as Ben Bart, Brown's longtime, at times contentious manager), as well as Octavia Spencer, Nelsan Ellis, Tika Sumpter and Jill Scott. You here for this?
BONUS:
Via messenger, of course, Prince announced that he will take over "The Arsenio Hall Show" as the one and only guest on Wednesday, March 5. He will perform several songs and sit down with the late night host to share his 2014 plans. Get your best purple outfit ready......
I WANT YOU BACK! Robin Thicke Breaks Down On Stage About Separation, Says "I'm Not Going Without A Fight!"
Posted: 27 Feb 2014 09:47 PM PST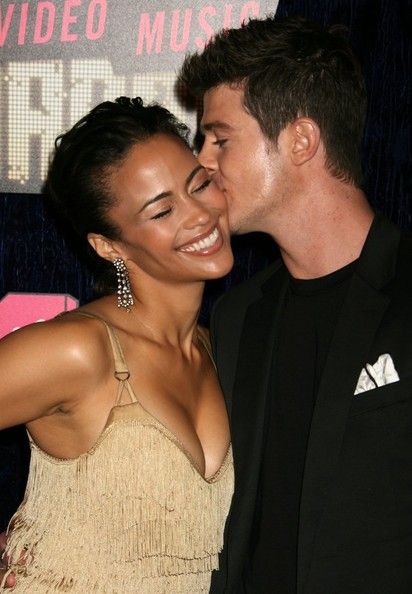 Robin Thicke may still be a day late and a dollar short. He returned to his self-titled tour Thursday and revealed to the crowd that he's fighting for his marriage! Deets inside...
We've heard "friends" of the Patton-Thickes and sources speak out about Robin Thicke's attempts to get his wife Paula back. But Thursday night was one of the first times we heard it straight from the horse's mouth. And he's making it known he's not going anywhere without putting up a fight.
At the Patriot Center in Fairfax, VA, Robin finally returned to the stage after missing a few dates due to "vocal issues"....which seem to have been more like "separation issues".
A concert goer tells us he revealed this to the sparse crowd right before launching into "Lost Without You":
"Y'all know I'm going through a separation, but I'm not going without a fight. I want my baby back."
We're told he even got a little "choked up" during a few of his songs.
Check out video below:
Something tells us he's going to have to come harder than this for Paula to forgive his recent booty grabbing, groupie-kissing, twerking with Miley Cyrus antics.
Photo: Fame/Flynet, Video: clemdeleclem's IG
Kanye Reveals YEEZUS Film Trailer, Gets Brought Out By Drake In Berlin + Rick Ross' "Nobody" Video Ft. French Montana & Diddy
Posted: 27 Feb 2014 09:18 PM PST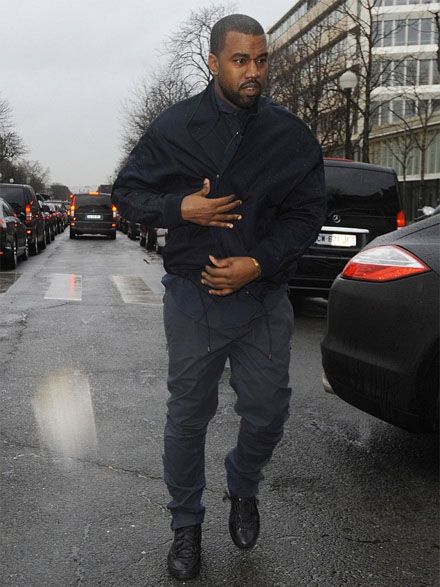 Kanye West has been a busy man this week. After hitting up the Paris fashion Week shows, he jetted to Berlin today to surprise the crowd at Drake's Would You Like A Tour? stop. And he also dropped the trailer for his new movie is out. Check it all inside, plus Rick Ross' new video for "Nobody"....
Yeezy headed over to Berlin today and hit the stage with Drake at his sold out Would You Like A Tour? stop. The two rocked out on stage with 'Ye performing "Black Skinheads" and Drizzy just...trying to stay on beat. Check it below:
Kanye also made good on his promise to release a Yeezus movie in theaters. because dude already dropped the trailer:
It's as odd as you would expect it to be: Crazy masks, nude-like bodysuits, horses running wild and other creepiness wile Kanye is performing on stage. He posted it on his website saying, "Yeezus film directed by Hype Williams coming to theaters."
Oh goodie.
And in other rap news, Ricky Rozay dropped his video for "Nobody" featuring his homies Diddy and French Montana. The track will appear on Ricky's upcoming Mastermind album.
And speaking of French, he just performed Thursday night at Coppin State University in Baltimore along with Sevyn Streeter. And peep this ridiculous ass fur he was rocking: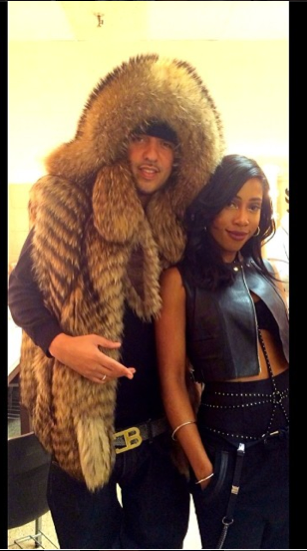 This guy.
Photos: Sevyn's IG/Fame
STUNNERS! YBF Celebs Shine At Essence's Black Women In Hollywood Luncheon
Posted: 27 Feb 2014 07:15 PM PST
The gorgeous ones made their way to the 2014 Essence Black Women In Hollywood luncheon this afternoon at the Beverly Hilton. Get your fill of fabness with honoree Lupita Nyong'o, Kerry Washington, Brandy, and lots more...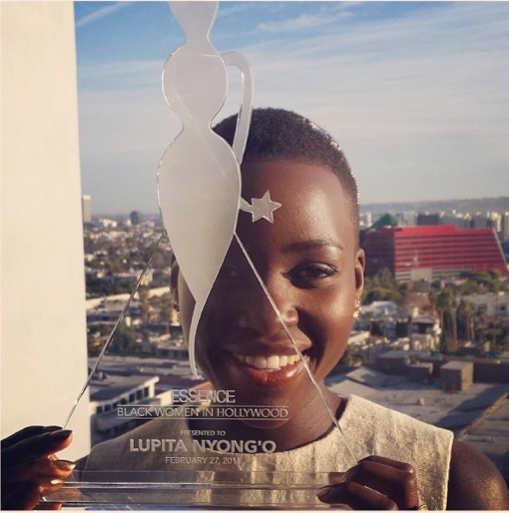 Lupita is snatching awards and taking names as we get even closer to Oscar night. Today in Beverly Hills, the 12 Years A Slave actress rocked a white embroidered crop top and pencil skirt by Giambattista Valli with matching white pumps by Sophia Webster. And she was honored with the Breakthrough Performance of the Year award at the Essence Black Women In Hollywood luncheon.
She was absolutely smitten with her award, and had the whole room teary eyed with her acceptance speech. Here's an excerpt:
I remember a time when I too felt unbeautiful. I put on the TV and only saw pale skin, I got teased and taunted about my night-shaded skin. And my one prayer to God, the miracle worker, was that I would wake up lighter-skinned. The morning would come and I would be so excited about seeing my new skin that I would refuse to look down at myself until I was in front of a mirror because I wanted to see my fair face first. And every day I experienced the same disappointment of being just as dark as I was the day before. I tried to negotiate with God, I told him I would stop stealing sugar cubes at night if he gave me what I wanted, I would listen to my mother's every word and never lose my school sweater again if he just made me a little lighter. But I guess God was unimpressed with my bargaining chips because He never listened.

And when I was a teenager my self-hate grew worse, as you can imagine happens with adolescence. My mother reminded me often that she thought that I was beautiful but that was no conservation, she's my mother, of course she's supposed to think I am beautiful. And then…Alek Wek. A celebrated model, she was dark as night, she was on all of the runways and in every magazine and everyone was talking about how beautiful she was. Even Oprah called her beautiful and that made it a fact. I couldn't believe that people were embracing a woman who looked so much like me, as beautiful. My complexion had always been an obstacle to overcome and all of a sudden Oprah was telling me it wasn't. It was perplexing and I wanted to reject it because I had begun to enjoy the seduction of inadequacy. But a flower couldn't help but bloom inside of me, when I saw Alek I inadvertently saw a reflection of myself that I could not deny. Now, I had a spring in my step because I felt more seen, more appreciated by the far away gatekeepers of beauty. But around me the preference for my skin prevailed, to the courters that I thought mattered I was still unbeautiful. And my mother again would say to me you can't eat beauty, it doesn't feed you and these words plagued and bothered me; I didn't really understand them until finally I realized that beauty was not a thing that I could acquire or consume, it was something that I just had to be.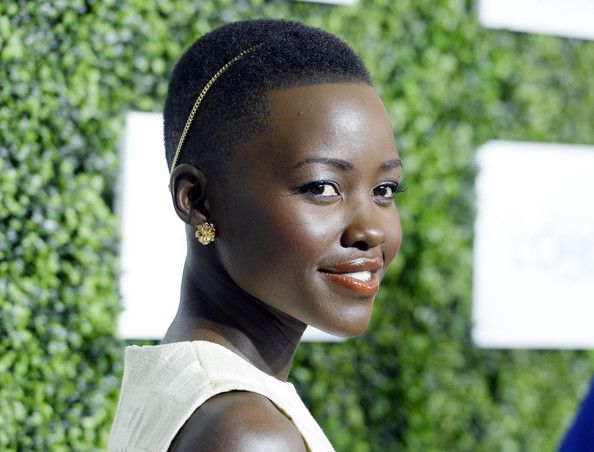 And we're so here for this dainty gold head piece. Perfect. Chick knows ho to accessorize her 'do.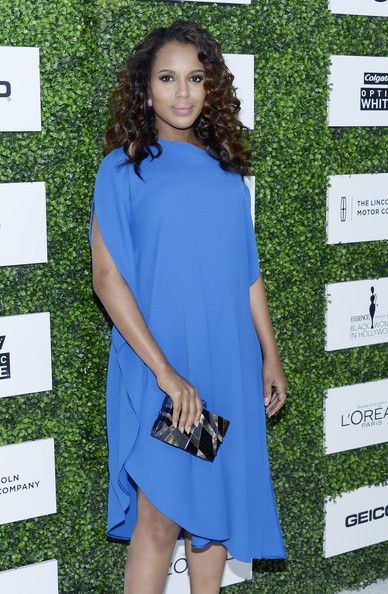 Mom-To-Be Kerry Washington rocked a simple flowing blue Calvin Klein dress, and she's definitely glowing: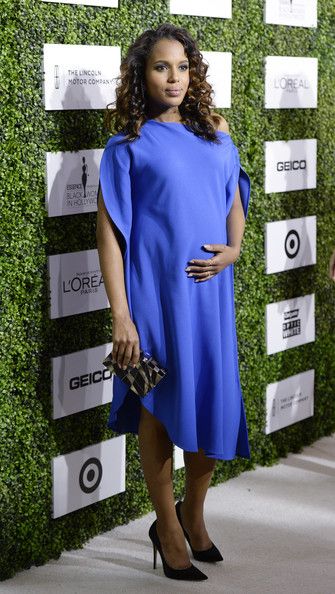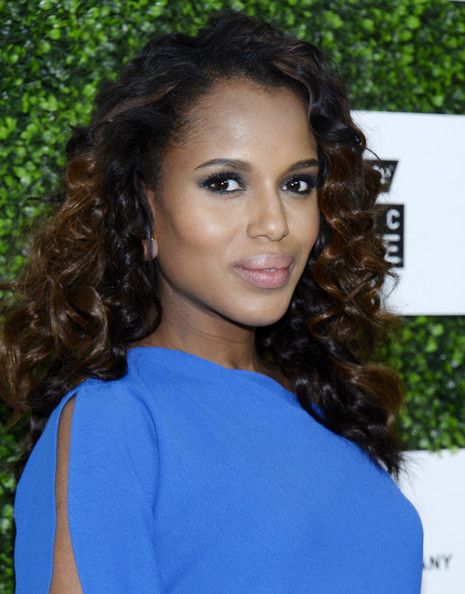 Pretty!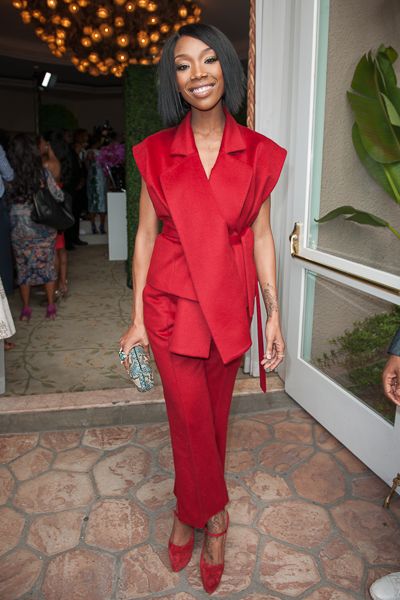 Brandy came through in a chic red pants suit by Elena Reva with matching red suede ankle strap Louboutins. And it was the perfect 'ladies who lunch' look for the occasion.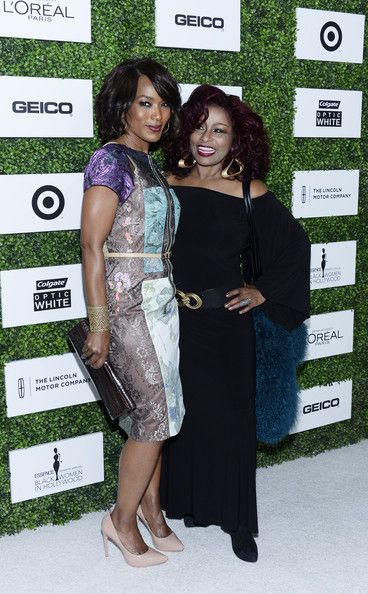 Angela Bassett and Chaka Khan had some fun on the carpet.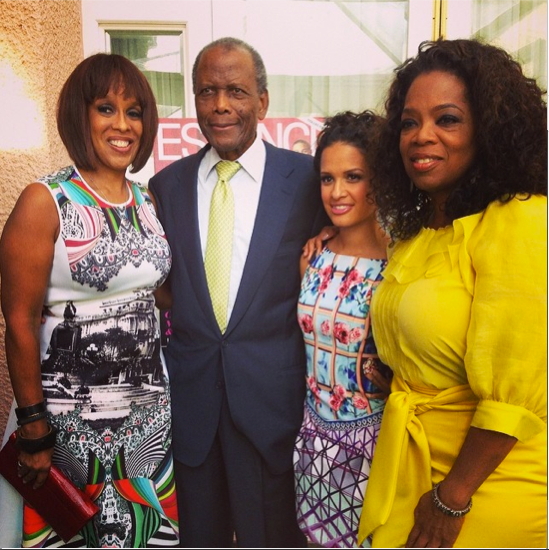 "ET" correspondent Rocsi Diaz kept it cute and colorful on the carpet in a Mary Katrantzou dress and shoes by Christian Louboutin. And she was in good company with Oprah, Gayle and Sydney Poitier.
And Academy President Cheryl Boone Isaacs received the Trailblazer Award.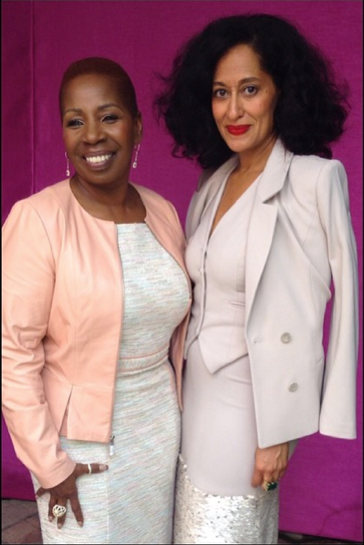 Tracee Ellis Ross, in an HONOR NYC suit, posed it up with Iyanla Vanzant as she got her life fixed.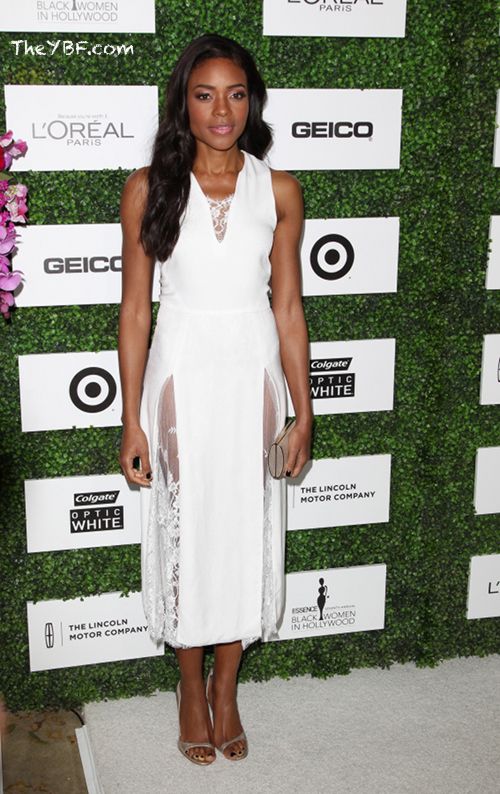 Naomie Harris looked chic in white with lace and sheer paneling.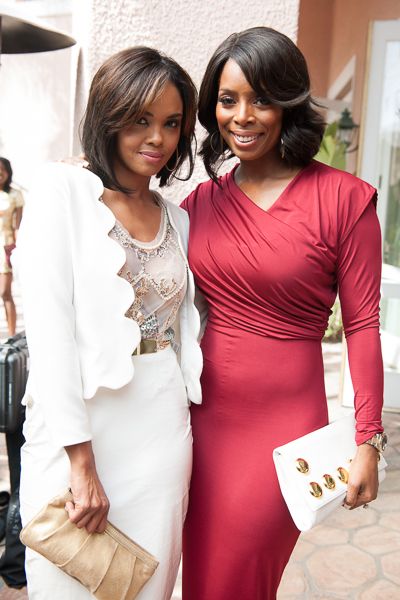 Both Sharon Leal and Tasha Smith looked gorge.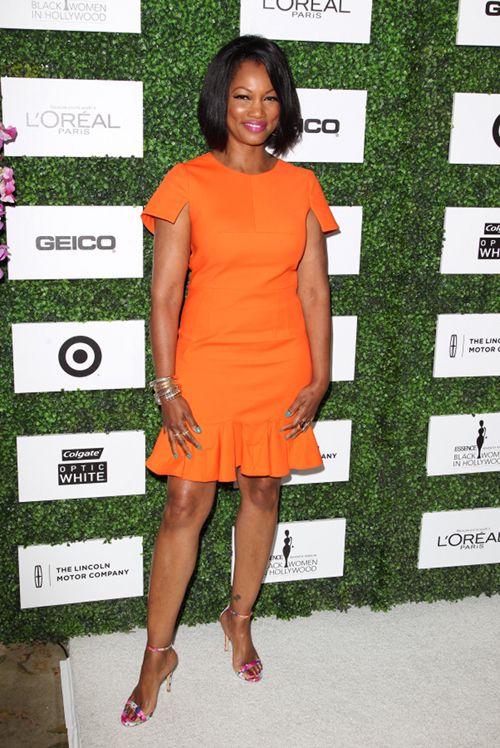 Garcelle Beauvais rocked the perfect color for her skin and accessorized with multi-colored sandals. Loving this hair cut.
Regina King went a little church-y on us in this white floral satin ensemble...and round toe heels.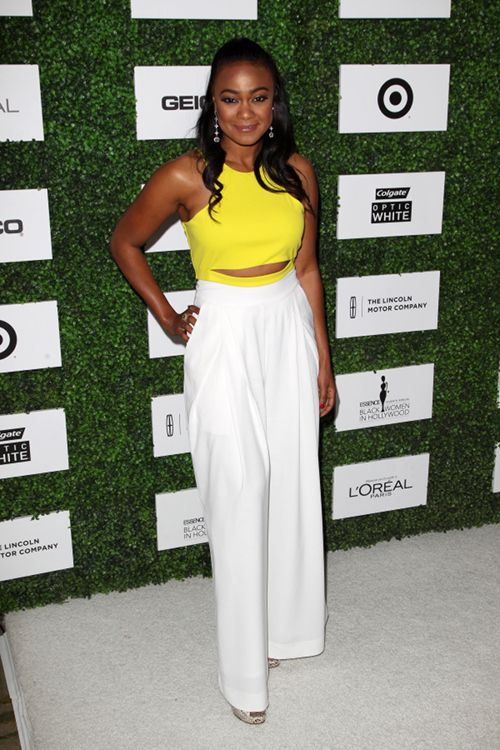 Tatyana Ali made a bright entrance with a white wide leg pant and yellow halter jumpsuit by Hidden Gems boutique, Ron Donovan shoes and Erica Courtney diamonds. Great look for her.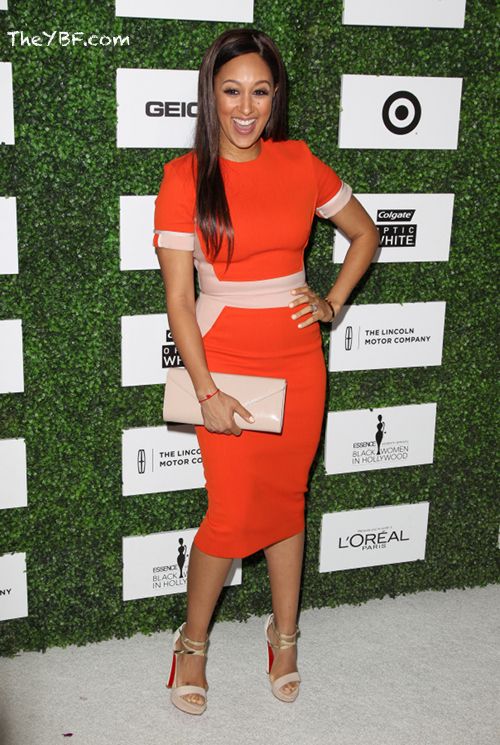 "The Real" host Tamera Mowry showed off her slender post baby curves she's been working so hard on lately. And also decided to go with a long wig for the carpet instead of her short new natural cut.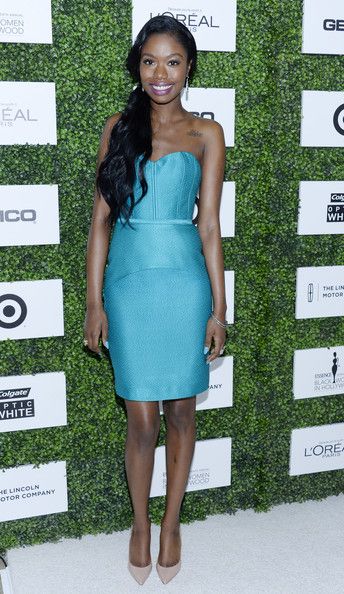 And Precious star Xosha Roquemore looked pretty in teal.
Photos: Getty/WENN/Brandy's IG/Tracee's IG/Lupita's IG/ Zsanae Davis / RedCarpetImages.net.

FAB FACTS: 5 Things You May Not Know About "Grey's Anatomy" Star Jesse Williams
Posted: 27 Feb 2014 04:03 PM PST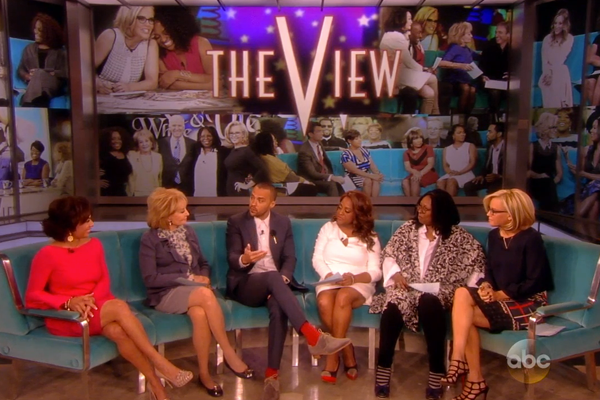 ABC's "Grey's Anatomy" star Jesse Williams stopped by "The View" earlier today. Watch the candid interview and find out 5 things you may not have known about the sexy actor inside…
Hottie Jesse Williams appeared on "The View" earlier today and shared a few things you may have not known about him. And if you thought he was just a pretty face, he's ot an equally sexy mind to go along with all of that.
1. He has a degree in African American Studies. The 32-year-old is an alum of Temple University in Philadelphia.
2. He was a high school teacher. Jesse became a high school teacher post graduation. He recently revealed he did commercials in college. It was when he reached out to his commercial agent again when he was finally booked on "Law & Order" and "Grey's".
3. He wanted to be a lawyer: If he wasn't successful in acting, Jesse says he would have gone to law school.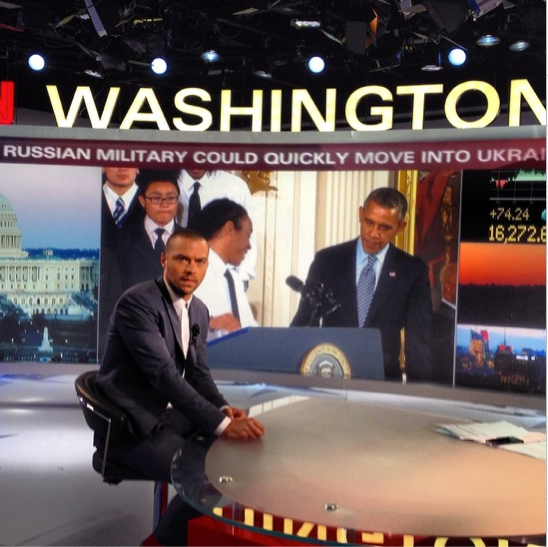 4. He's joining President Obama for his historic African American male initiative program: Jesse is teaming up with President Obama for the My Brother's Keeper Initiative. He spoke passionately about the statistics that work against young men of color saying 50% of Americans under the age of 25 are of color, and having them tap into their potential is crucial for our future. The Initiative is raising money to improve educational opportunities for young men of color. He jetted off to The White House right after his interview this morning for an event with the Initiative where he spoke with the parents of Trayvon Martin and Jordan Davis, as well as an appearance on CNN's "Situation Room" (pictured above)!
5. He pops up at MANY Hollywood events, but he'd rather spend his time with a little girl who can't even speak yet: Jesse has a 2-month-old daughter named Sadie. He revealed she was the greatest Christmas present and he wants to spend as much time as he can "chillin' at home" with her and wife, Aryn Drake-Lee.
Check out Jesse's interview with the ladies on 'The View' below:
How can you not love this guy?
The Randomness:
1. Tyler Perry hosted the star-studded ESSENCE Black Men In Hollywood event with a dinner at his home Wednesday night. STORY
Photo: Jesse's Twitter
Rihanna GETS FURRY At The Lanvin Show In Paris + Kyla Pratt, Tae Heckard & Tony Rock AT Russell Simmons Inside Jokes Wednesday Night
Posted: 27 Feb 2014 03:28 PM PST
Rihanna & her fur attended the Lanvin show during Paris Fashion Week, while Kyla Pratt, Tony Rock, Tae Heckard and others were seen at Russell Simmons' Hollywood comedy show. See pics inside....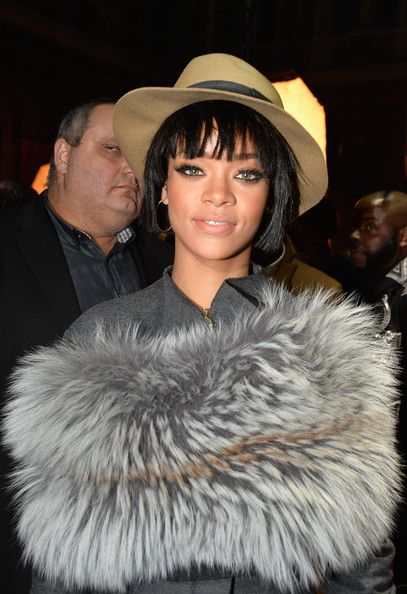 Bad gal Rihanna was spotted in Paris today giving PETA major fever with a gorgeous fur wrap as she sat perched on the front row of the Lanvin Show.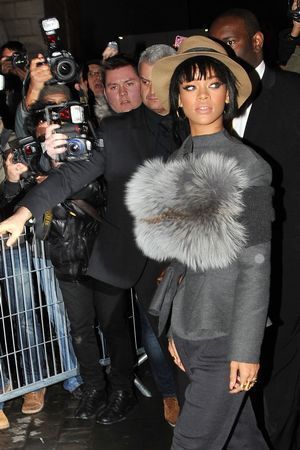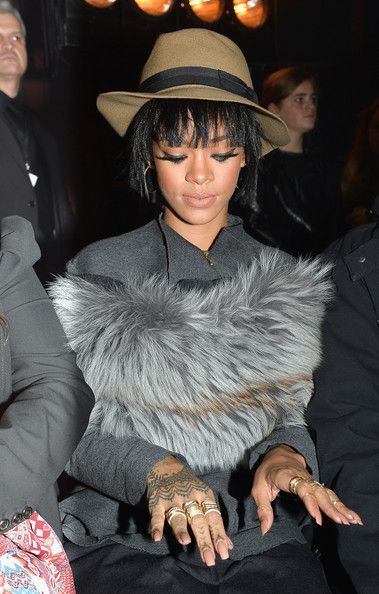 Riri showed off her numerous hand tattoos and gold rings as she waited for the show to start.
We love this chic yet hipster look.
In other spottings......
Last night in Hollywood, Tony Rock hosted Russell Simmons Inside Jokes Wednesday Night at The Chinese Mann Theatre, which brought out young Hollywood. He posed with actress Tae Heckard and promoter Miss Diddy.
"Let's Stay Together" actress Kyla Pratt posed with her baby's father Danny Kilpatrick aka a.ka. IAmCompton. On another note.....hmm....we're going to look into something (what we ALL notice) and get back to y'all....
Rapper Lola Monroe was there.
Actress Camille Winbush posed with friends.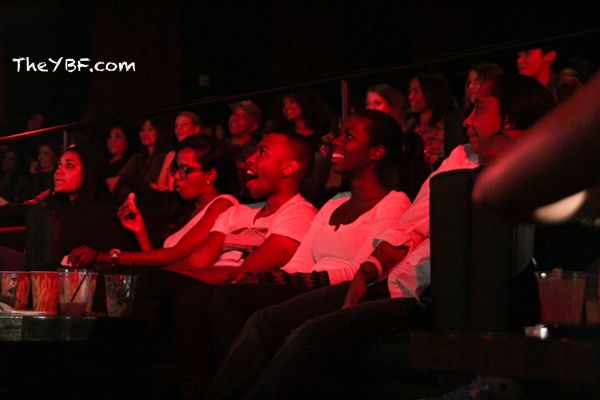 Kyla and Camille enjoyed the show.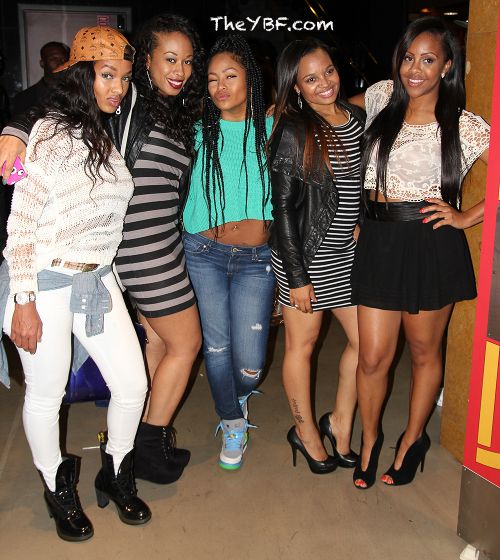 Lola, Kyla, Miss Diddy and Tae all posed it up together as wel.
Photos via Pascal Le Segretain/Getty Images Europe/Kaas
Da Brat Ordered To PAY $3.7 Million To NFL Cheerleader She Bottle-Smashed In The Head + Kanye West To Produce New YEEZUS Film Featuring...Kim Kardashian
Posted: 27 Feb 2014 02:56 PM PST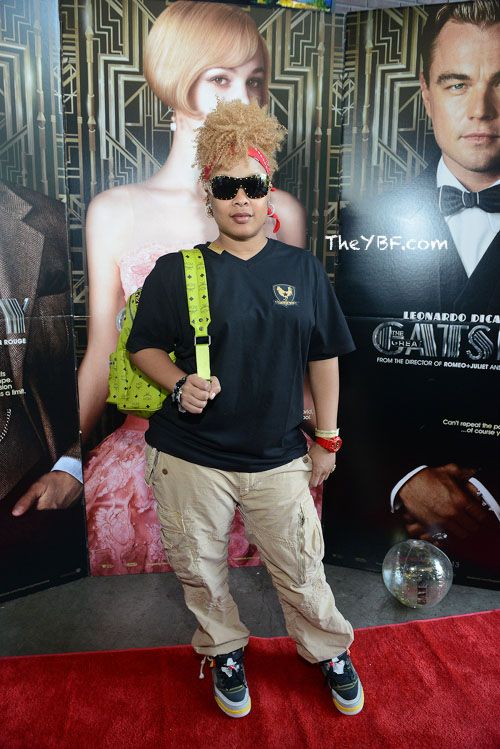 Rapstress Da Brat is going to have to cough up some serious cash to pay the victim of that insane nightclub incident where she knocked a cheerleader in the head with a bottle. Plus, Kanye West is producing a new film featuring none other than Kim Kardashian. Find out what the jurors found Brat responsible for and the deets on Yeezy's new film inside...
Da Brat, aka Shawntae Harris, is going to have to dig DEEP to cough up $3.7 million to the NFL cheerleader she hit in the head with a glass bottle back in 2007 in an Atlanta nightclub.
Brat served 2.5 years of her 3-year sentence after pleading guilty to aggravated assault and was released from prison in 2011. The Atlanta Falcons cheerleader sued Da Brat in 2009 while she was still incarcerated. The jury took the cheerleader's side and granted her a hefty pay out to the tune of $3.7 million.
According to TMZ, Da Brat is responsible for causing the victim permanent facial scarring, neurological impairment, and severe mental pain.
Damn. Does Da Brat even have this much dough to pay her debt? Can her sis LisaRaye put in on this? What about her bestie Mariah?
Overseas…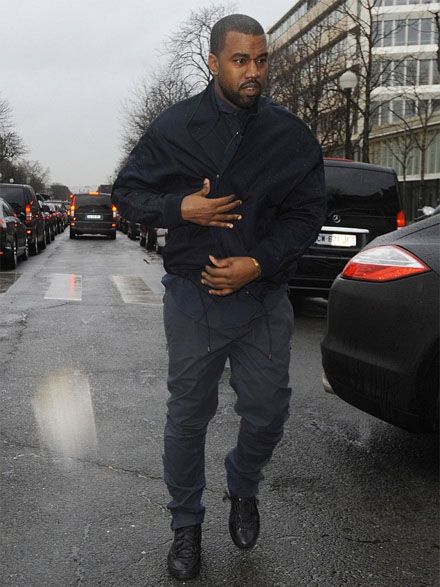 Kanye West arrives at Paris Fashion Week outside the Paris Observatory for the Balenciaga runway show. And he rolled up in a matte black four-door Porsche.
According to sources, Kanye is teaming up with 'American Psycho' author and screenwriter Bret Easton Ellis to produce a new YEEZUS film based primarily on his Yeezus album. Yeezy is expected to co-write the script with Ellis and is eager to write in a leading role for his future wife Kim Kardashian, who is currently over in Austria being paid $500,000 to be the date (which looks awfully similar to "the girlfriend experience" prostitutes get paid to do) of a wealthy man who likes socialites.
Dude is determined to shine a spotlight on his girl...and he's just dying for everyone else to care. Will you care enough to watch?
Photo: Paras Griffin/FameFlynet

Pharrell ADMITS In GQ He Wanted To Be Like Jay Z & Diddy + New Music From Diddy ft. Rick Ross "Big Homie"
Posted: 27 Feb 2014 02:03 PM PST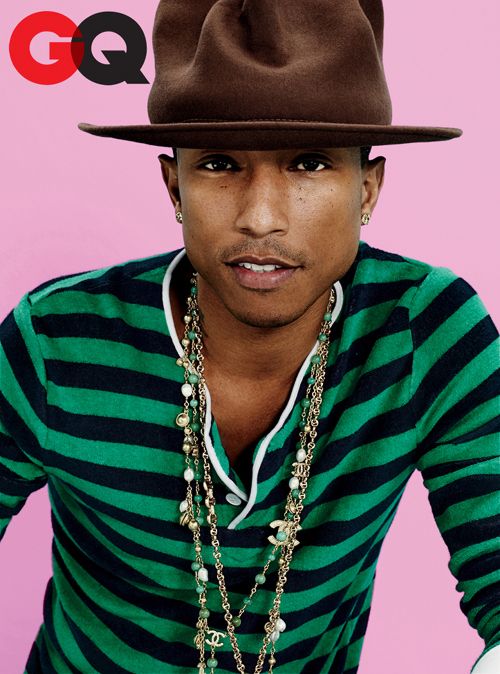 Pharrell revealed how he made music to imitate Jay Z and Diddy while Diddy released some new music featuring Rick Ross. Find out what P had to say and listen to Diddy's new track inside…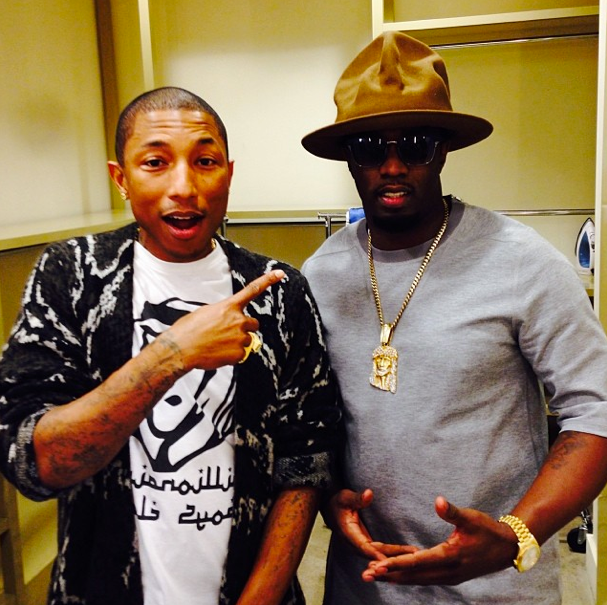 GQ sat down with "Happy" creator Pharrell Williams to discuss his second solo album G I R L and how this album has more meaning than his previous work. He talked about success being a lot to handle and how the money, cars and women got to his head.
On his first solo album In My Mind:
"I wrote those songs out of ego. Talking about the money I was making and the by-products of living that lifestyle. What was good about that? What'd you get out of it? There was no purpose. I was so under the wrong impression at that time."

"The money was too loud. The success was too much. The girls were too beautiful. The jewelry was too shiny. The cars were too fast. The houses were too big. It's like not knowing how to swim and being thrown in the ocean for the first time. Everything is just too crazy. You're like, flailing and kicking and whatever, and you know what happens, don't you? You sink. My spirit sank. I just felt like, 'Fuck, what am I doing?' "
On him creating music to be like Jay Z & Diddy:
"That was just bragging. I wanted to be like Jay. I wanted to be like Puff. Those are their paths. I got my own path. But I didn't know what my path was. I knew that I was meant to do something different. I knew that I needed to inject purpose in my music."
Pharrell recently spoke with TheYBF.com to address the controversy surrounding the lack of black women being used on his album cover. He revealed he DOES have a black woman on his album cover and that it's unfortunate that it's 2014 and we're still stuck on the race topic.
In other music news…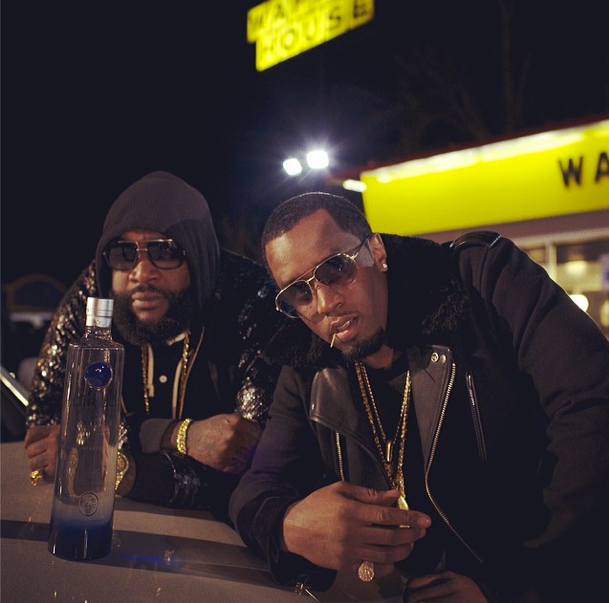 Diddy just dropped a new single called "Big Homie," which is actually his first single released in nearly 4 years.
Diddy and Rick Ross teamed up for the new track where they both brag about being the "big homie" calling all the shots. Sounding a lot like Chuck Smith from "RHOA" right?
Mr. Ciroc is also co-executive producing Rick Ross' delayed sixth-solo album Mastermind and he's also been hinting at a new project titled MMM.
Listen to Diddy & Rick Ross rap about being bosses below:
You feelin' it?
Photos: Pharrell's IG/ReVolt's IG/Paola Kudacki/GQ

Kelly Rowland & Michelle Williams Spotted Shopping At BARNEYS In Beverly Hills...Sans Kelly's Engagement Ring
Posted: 27 Feb 2014 01:31 PM PST
Former Destiny's Child members Kelly Rowland and Michelle Williams were spotted in Beverly Hills indulging in a little retail therapy. Check out their laid back looks inside…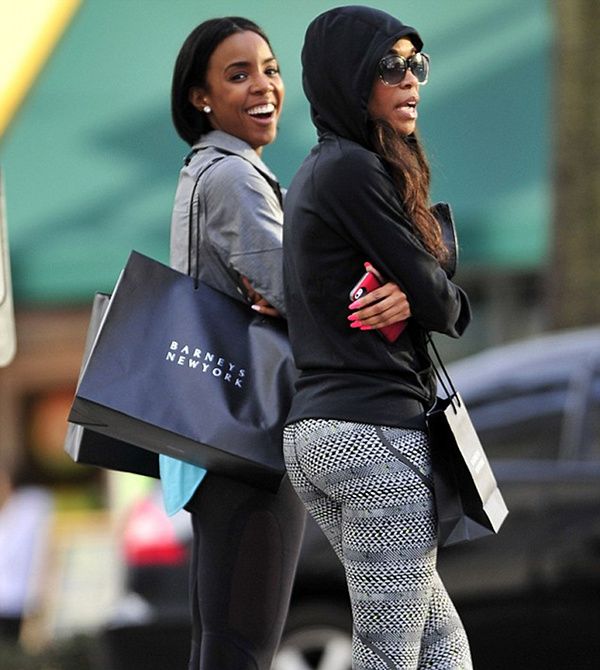 Recently engaged Kelly Rowland and her former Destiny's Child bandmate Michelle Williams were spotted together in Beverly Hills yesterday hitting up a few luxury department stores.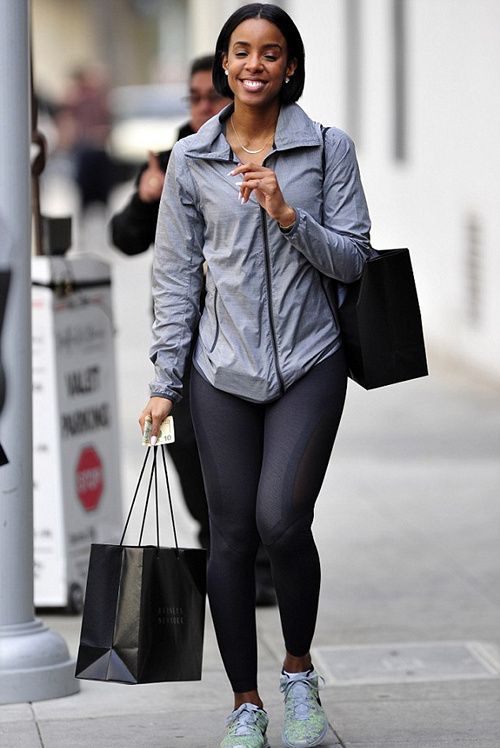 As you can see, Kelly does not have on her wedding ring, but she and Michelle had just come from working up a sweat at a Nike/Essence Magazine event, so that could explain why her ring was M.I.A.
The flawless 33-year-old was all smiles for the paps as she and Michelle walked out with their Barneys New York bags. And the ladies kept it comfy in workout leggings and jackets.
And what brought on this shopping spree: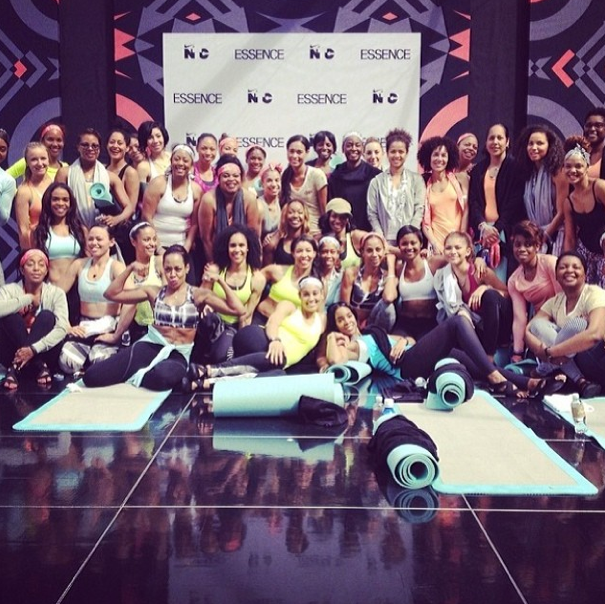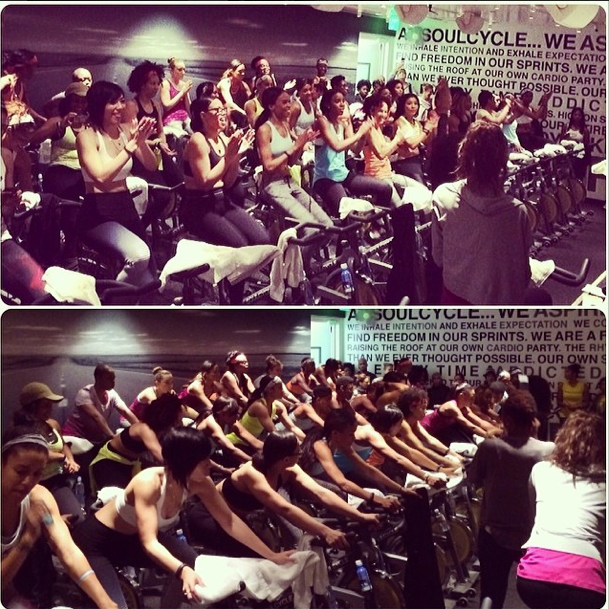 The Essence Magazine and Nike "Move More" event to benefit A World Fit For Kids organization. They did yoga, Soul Cycle and other athletic activities.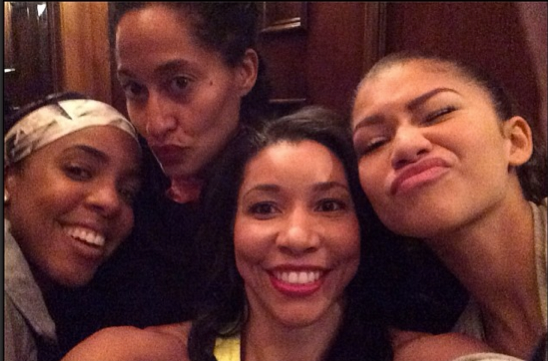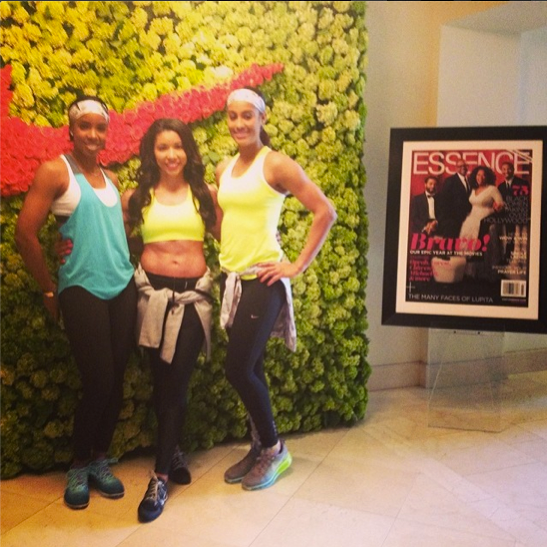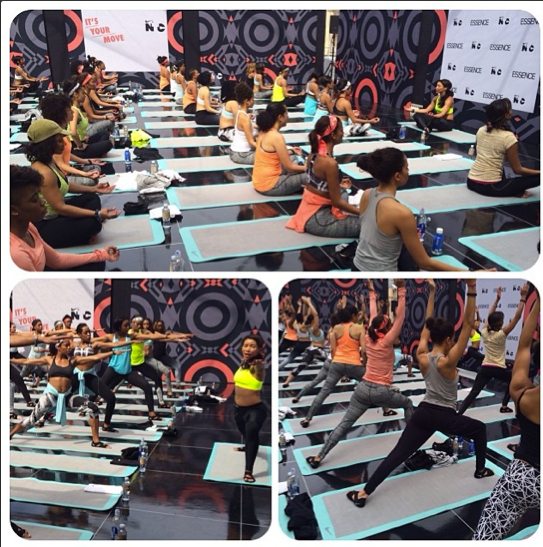 Kelly posted to her Instagram along with celebs friends like Skylar Diggins, Jeanette Jenkins, Zendaya Coleman and plenty more. "Completed amazing day with amazing women at the #NikeWomen #ESSENCEredcarpet. And I was able to donate my fuel to @worldfitforkids."

Work hard, play harder. Loves it.
Photos: WENN/Kelly Rowland's IG/Michelle Williams' IG/Essence's IG/Jeanette Jenkins' IG

Nas' Child's Mother Calls Him A "Repeat Criminal Non Supporter", Says She's Owed $11K + Dawn Richard's "Dark Horse (Unicorn Remix)"
Posted: 27 Feb 2014 12:55 PM PST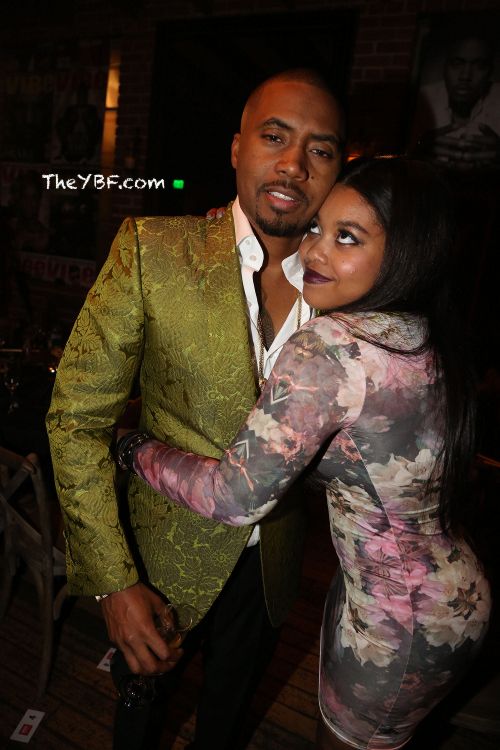 Though Nas' daughter Destiny is 19-years-old, his baby momma Carmen Bryan says she's still owed $11K and Nas is a "criminal" deadbeat dad. Get the deets on their latest legal battle and listen to Dawn Richard's remix of Katy Perry's Dark Horse.
For the fellas who think 'baby mama' drama ends once the child reaches 18-years-old...think again. Carmen Bryan, the mother of Nas's 19-year-old daughter Destiny Jones, has filed legal docs claiming Nas owes her more than $11K in back child support and claims that he refuses to pay Destiny's college tuition and medical bills.
She brands him a "repeat criminal non supporter" and asked the judge to cite him for contempt (and maybe throw him in jail). Goodness!
But Destiny surely seems to be all about her Daddy. She's often seen right by his side at events and tweeting about spending QT with him. And really, $11,000 for Nas is not a drastic amount. Is it possible that someone just found a technicality or easibly rectified error and is trying to make someone else look bad by filing papers for it...instead of simply bringing it to his attention?
In other Escobar news, he recently sat down with COMPLEX to discuss his brand new store in Las Vegas called 12 AM RUN, his love of sneakers and their place in hip hop. Here are the highlights:
So one of the biggest sneaker hip-hop songs was "My Adidas" by RUN D.M.C. Do you remember how that song affected you?

Nas: We was already buying shelltoes. That was the hottest shoe, hands-down. When they made that song, it was right on time. It just went crazy. You had to have shelltoes. If you just got up on shelltoes when RUN-D.M.C. did it, then you were blown away, like what is this?

They had the blue stripes, red stripes, black stripes, you know. RUN-D.M.C.'s name should be on every pair of shelltoes right now. That may be my number-one sneaker. My favorite sneaker of all-time.

How long would you say you were into sneakers? How big is your collection?

Nas: Since I was a kid. My collection's too big. It needs its own house. I have storage for my sneakers.

What does the name 12AM RUN mean?

Nas: To me, 12 a.m. sounds like go time in Las Vegas. Run, that's athletics, feet, sneakers, movement. You hit the ground running here in Vegas.

This should be a Mecca for everything to happen in sneaker culture. I want Michael Jordan to throw his next party there. - Nas

Rappers are starting to actually design sneakers now. What are your thoughts on deals like Kanye/adidas or Drake/Jordan?

Nas: That's what we do. That is what we are all about. If those sneakers come out and kill, it just shows how much hip-hop guys love their shoes. Hip-hop guys should be behind the design of sneakers.

NS: I think its also hip-hop guys not doing it for hip-hop guys anymore. This is mainstream. I think that is pretty dope too. These guys are doing their signature shoes and it creates a bigger buzz than anything. For all of last year people talked about the red Yeezy. And it wasn't just the hip-hop crowd, it was everybody. It shows the power of sneakers.
In other music news.....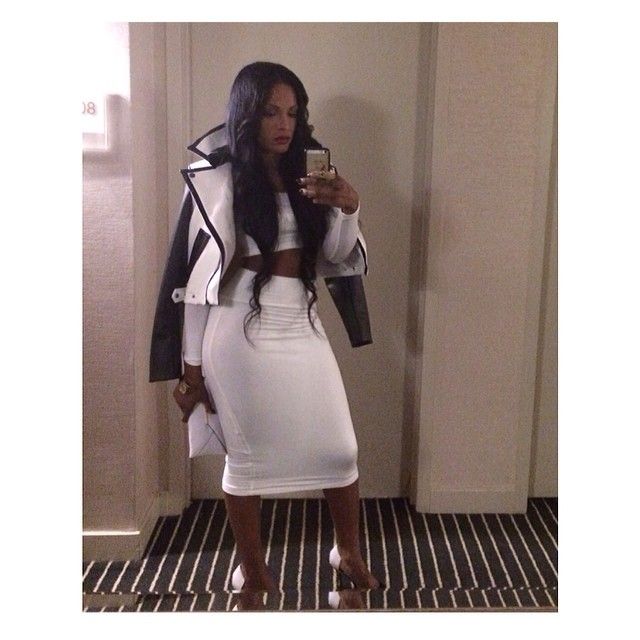 "Goldenheart" singer Dawn Richard (in case you didn't recognize her above), who recently reunited with Danity Kane, has lent her unique talents to a remix of Katy Perry's Dark Horse. When speaking about the track, now called the "Unicorn Remix", Dawn said:
"It's always fun to be in the lab with NoisecastleIII. We were working on the Danity Kane project and decided to randomly take a break and this happened lol… For shits and giggles… Something only the hearts can appreciate. We always do things with our little twist. Done in true heart music form."
Listen to the "Dark Horse (Unicorn Remix)" below:
The Randomness:
1. Is she serious? Paula Deen compares struggle to Michael Sam's coming out as gay. Story,
Photos via Destiny Jones Instagram/Dawn Richard's IG
Zoe Kravitz Dishes On Her Fun Personal Style In "ASOS" + Mya Does The "Nae Nae" For The "BE" 2014 Spring Fling Issue
Posted: 27 Feb 2014 12:04 PM PST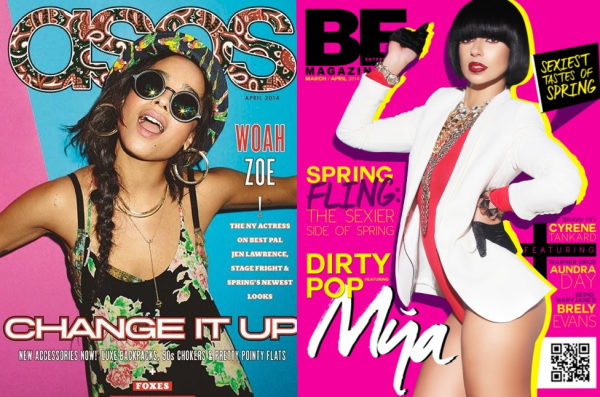 Zoe Kravtiz and Mya are looking hot while rocking the new covers of ASOS and BE magazines. See pics, video, and highlights inside...
Divergent star Zoe Kravitz covers the April issue of ASOS Magazine. She's rocking stylish prints from the British based e-commerce site--which happens to be one of our absolute faves.
Inside, she models ASOS clothing in a pictorial shot by Ben Sullivan and discusses spring trends, movies and her friend Jennifer Lawrence. Here are the highlights:
On her style:
"In high school, I was very eccentric…trying things out and wearing a lot of weird shit. Now I'm into t-shirts and jeans, dresses and floral prints. White t-shirts are my thing – vintage or ex boyfriends' – love 'em and take their shirts! And I'm really into the 90s thing. Now I get to dress like all the girls who were cool at the time – I'm living out the fantasy I had when I was 13."

On the expectation of her new movie, Divergent:
"It's a nerve wracking process…the book has fans and people are expecting things. They have ideas on what it should look like, or who should play the characters. I wasn't aware of the books before I read the script, but that was a good thing, because I probably would have freaked out."

On her friend Jennifer Lawrence's second Oscar nomination:
"I texted Jen…I was like 'Really?!'…she texted back, 'I know people are going to think I'm sleeping with one of the Academy or something.' But when it's people you know getting nominated for Oscars, it's like, wow, my generation's here now, we're being paid attention to."
Love her style. But really, only she can pull it off.
Watch Zoe's interview here:
Also in magazines....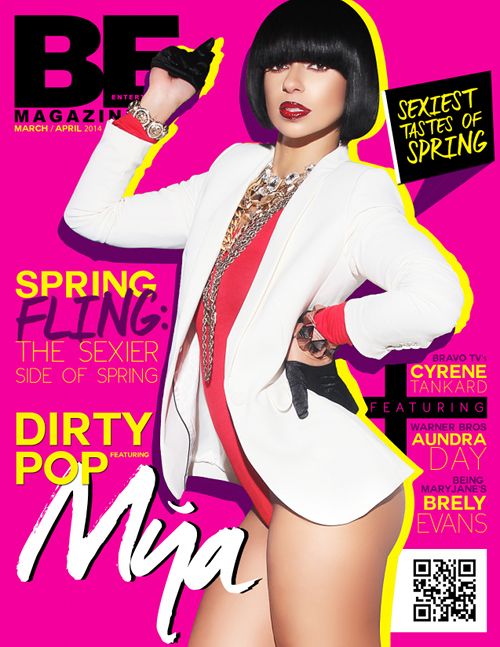 Mya is back and is covering the 2014 Spring Fling Issue for BE Magazine. Inside, the "House Party" singer is showcasing a sexier side. And she's discussing spring style, lasting 20 years in the industry and her style. She also learns how to do Atlanta's latest #NaeNae dance craze.
A few highlights:
You have a mantra called K.I.S.S. Can you tell our readers what K.I.S.S means?


Keep It Sexy and Simple (K.I.S.S) is basically all about LIFE. It means getting rid of all the necessary junk in your life and keeping it Sexy and Simple so you can obtain more...


Who are your go-to/must-have designers for the spring?


As far as shoes, Giuseppe is one of my favorites. I've loved them for years. The style and comfort of his shoes, and they are very consistent and different. And as far as clothes, I'm in love with Dolce and Gabbana. They always make dresses that fit the body like a glove...



Tell us about your ideal date?


Well if I'm all dressed up and dolled up, I expect to go out. I put effort and time into my make-up, hair and outfit so I want to have fun, BE fancy and go out somewhere to eat, not like BE in a club or in a movie...

See Mya's BTS footage here:
Watch Mya do the "Nae Nae":
What in the world....
Photos via ASOS/Ahmad Barber
CHECK IT: Pharrell ADDRESSES The 'Black Girl Controversy' With His "G I R L" Album Cover
Posted: 27 Feb 2014 11:01 AM PST
Pharrell is speaking out about the supposed lack of "color" on his new album cover G I R L. Find out what the ridiculously talented P tells TheYBF.com about the controversy and what he had to say about the black women who surround him. He has lots to get off his chest....
So it seems many people are upset for the lack of representation of black women on Pharrell's new G I R L album cover. Ebony Magazine's senior digital editor Jamilah Lemieux wrote an article this week on her dismay that Pharrell chose "three extremely pale women" to be featured on his album cover. Even Twitter went in on his choice of women, but now P has LOTS to say about the controversy that he feels has no merit.
While speaking to TheYBF.com about the "black girl controversy" surrounding his album cover, Pharrell dropped the bomb that there IS actually a black girl on the cover. And...he revealed she just so happens to be a woman he used to date!
According to Pharrell, the woman he's standing closest to (in the middle) is black. He says he was trying to put ordinary, beautiful women on the album cover...and that's it.
The Oscar nominee told TheYBF.com in our interview on Wednesday:
Well, they're ill informed. The woman I'm standing closest to, she is black and she's been a friend of mine for a long time. You know, I'm confused by it.
Then they're going to ask me do I not have an Indian woman on there or a Pakistani woman on there? But meanwhile, I do. She is African American and I feel sorry for her that people will look her dead in her face like she ain't black but she is black. It's a girl I use to date years ago.

It's just unfortunate because it's 2014 and we have a President [who's black]. Is this what it is? Is it because she's not brown? I don't feel funny about our President because he is what he is. Meanwhile, has anybody forgotten that I'm black myself? I wake up everyday and I wave the black flag. Everything that I'm doing. You know, this "Happy" song going #1. What is the guy that's singing the song? What do you mean?
Pharrell didn't stop there. He went on to explain how black woman are such an important part of his life, and challeneged others to truly see what his much-anticipated album is about:
I'm standing by a black woman. My business is run by a black woman. My mom partially looks after my business and she's a black woman. I'm married to a black woman. I'm confused. I guess once you get the album you will look inside and see she's a black woman. I'm sorry that from that vantage point you can't look at her hair and tell that she's black.

My intentions are…this album is an ode to woman. It's not necessarily an ode to a shade, it's an ode to women. And to people who are confused by that, you have got to know me better than that. Look at the "Frontin" video.

And here I am trying to put ordinary, beautiful girls on the cover…not no models. I didn't go to 29 agencies looking for runway models. I wanted ordinary people because I don't think celebrities or models are the stars anymore. I think pedestrians are the stars. And I think beautiful pedestrians will run the world and that's what I consider myself, like a pedestrian.

I understand it. Hopefully when they see, they'll see.

Well, there you have it. Check back soon for the rest of our amazing (if we do say so ourselves) interview with Skateboard P.
HOTTIES: Lupita Nyong'o STUNS In Two Looks In One Night + Rihanna Keeps It Sexy For BALMAIN Show At Paris Fashion Week + LaLa Anthony, Adrienne Bailon & More Attend "The Nueva Monologues"
Posted: 27 Feb 2014 10:20 AM PST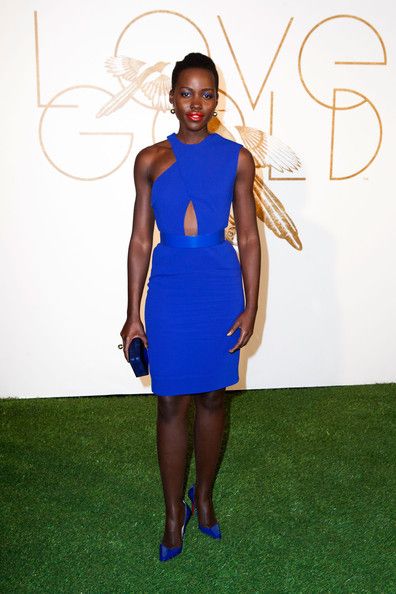 Our new fave YBF hottie Lupita Nyong'o stuns in two different bold looks while Rihanna served some fierceness at Paris Fashion Week's Balmain show (and sh served a little something after the show too). Meanwhile, LaLa Anthony, Adrienne Bailon and Angie Martinez kept it cute for the "Nueva Latina Monologues". Check the pics inside…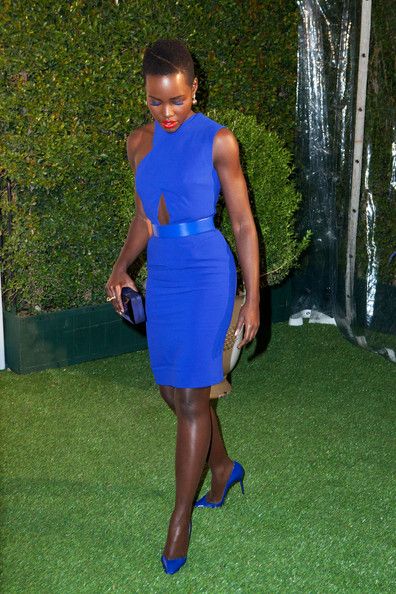 Oscar nominated Lupita Nyong'o is still making her rounds during Awards season and looking effortless doing so.
We know Lupita loves daring colors and last night was no different. Lupita was honored by Sally Morrison & LoveGold at Chateau Marmont in L.A.
She rocked a blue Stella McCartney cut-out dress with matching blue Christian Louboutin pointed pumps. She accessorized her look with Elena Votsi earrings and a dark blue Rauwolf clutch. To finish her look, she went with blue eye shadow (which would normally make us cringe) and a red lip.
Hot!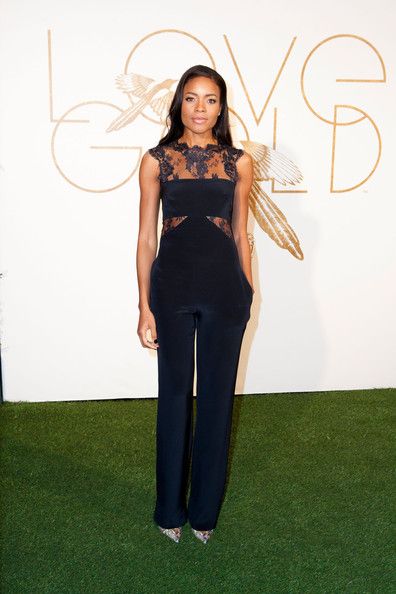 British actress Naomie Harris hit the carpet wearing a black Monique Lhulier jumpsuit, Christian Louboutin pumps and a Eva Fehren ring.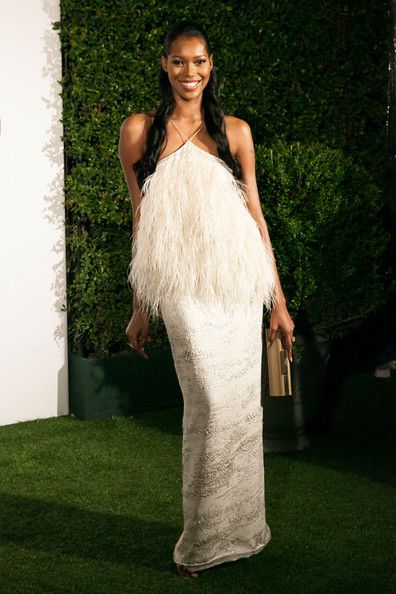 Model Jessica White rocked a white fringe top from Christian Siriano's spring 2014 collection paired with a long white, textured skirt. She accessorized her look with a pair of Manolo Blahnik shoes, a L.K. Bennett clutch and Love Gold Scot Louie' jewelry.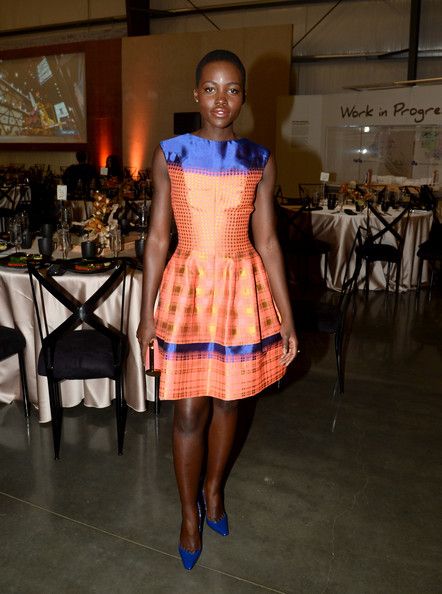 Earlier yesterday, the "12 Years A Slave" star posed on the carpet for the Q&A with His Holiness The 14th Dalai Lama at the California Science Center in Los Angeles.
Lupita rocked an orange and blue Vivienne Westwood printed frock and matching blue Christian Louboutin pumps. She accessorized her look with an orange Ferragamo clutch and Dana Rebecca Designs post earrings.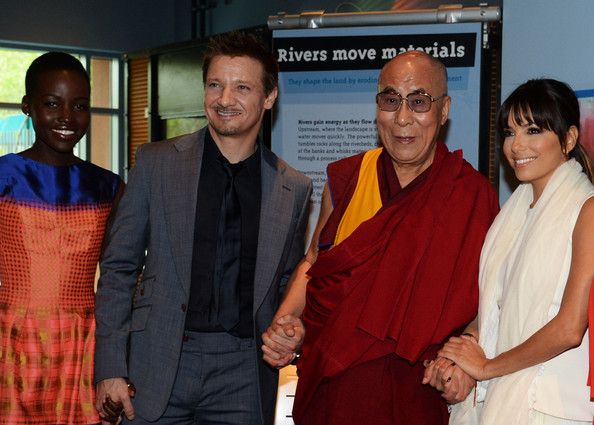 Lupita, Jeremy Renner and Eva Longoria even snapped a picture with the Dalai Lama himself! Chick can do no wrong on the red carpet! We can't wait to see what she decides to wear for the Oscars on Sunday.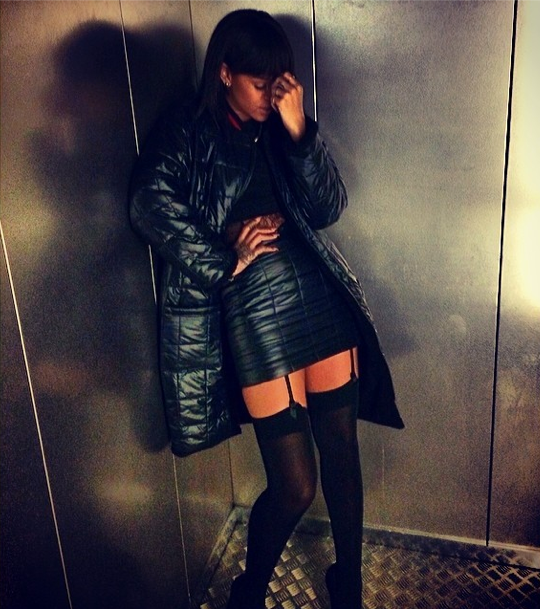 Rihanna hit up Instagram to issue a "#GagOrder" and show off her black Adam Selman quilted coat and mini skirt from his Fall 2014 collection. She finished her look with a pair of black thigh high stockings and a garter belt. Hot!
As you know, Rihanna's been spending a lot of her free time in Paris with YMCMB rapper Drake. The two were recently spotted together inside Colette and the Mandarin Oriental Hotel. And the two later hit the stage to perform "Take Care" with RiRi giving Drake a little twerk action.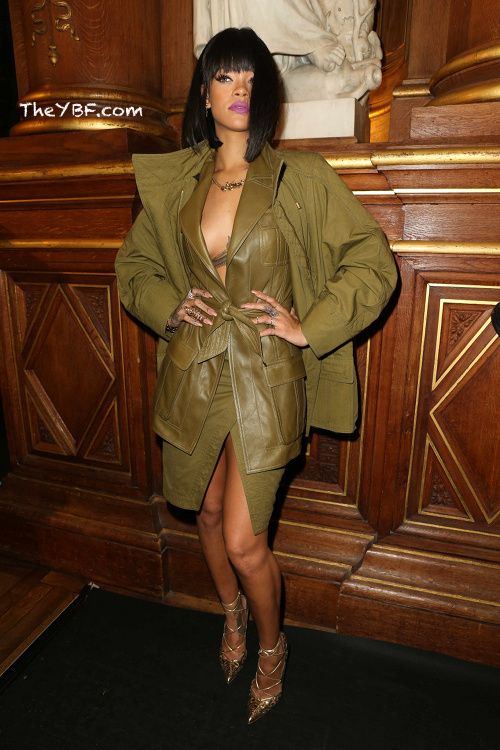 Rihanna is still serving up fierceness in Paris today at the Balmain show for Paris Fashion Week Womenswear Fall/Winter 2014-2015. She looked hot in an olive coat dress and gold strappy, pointed heels.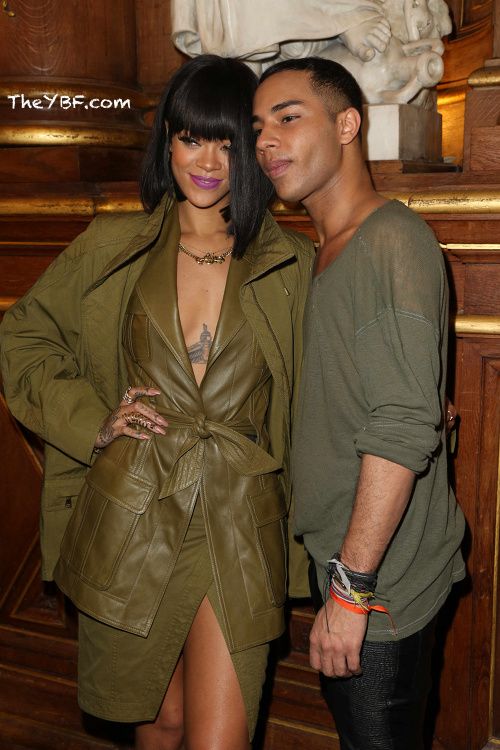 And she posed it up with Balmain's Creative Director Olivier Rousteing. Sickening how effortless she makes this look.
And in other hottie spottings…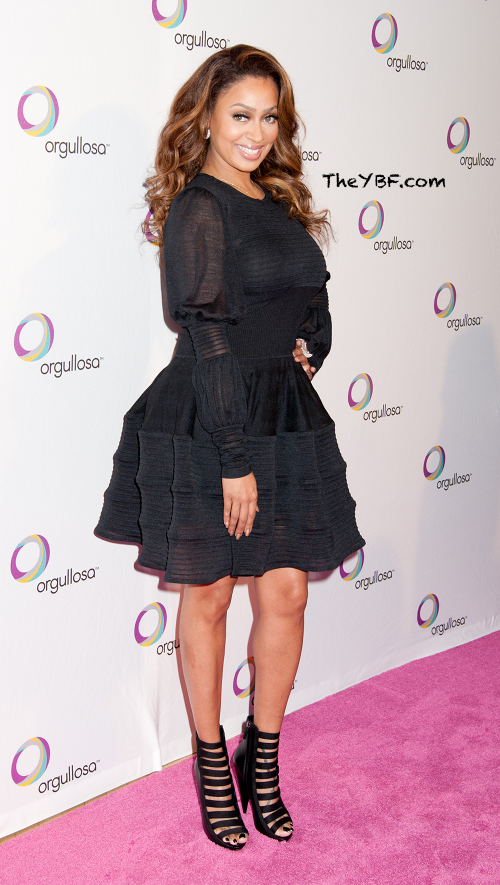 LaLa Anthony, Adrienne Bailon, and Angie Martinez attended the launch of Nueva Latina's Campaign "The Nueva Monologues" at Helen Mills Event Space in New York. According tot he press release, "The Nueva Latina Monologues personifies the unique and complex journey of the bicultural Latina experience through emotion, comedy and authenticity."
And a few of our fave women of color were there for the cause. LaLa, who posed it up with "Devious Maids" star Roselyn Sanchez, wore an all black, long sleeved dress with matching black, strappy heels.
Actress/singer Adrienne Bailon rocked a gold-studded, fur-sleeved jacket with leather pants and black pointed pumps.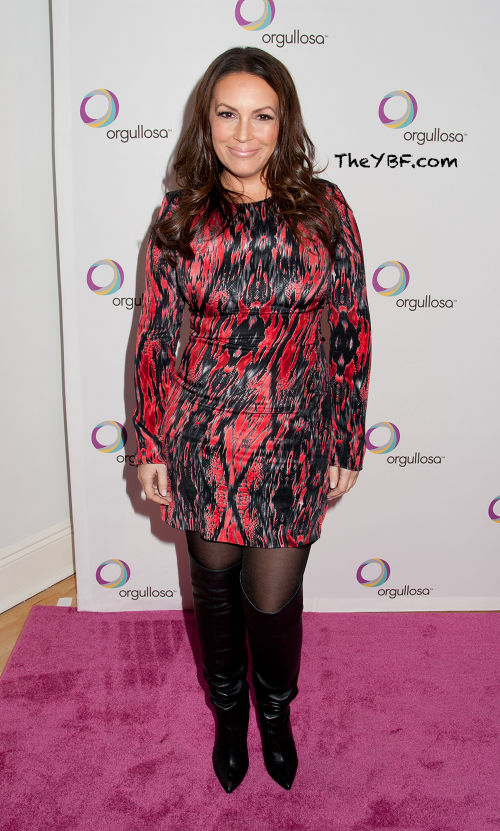 And Angie Martinez kept it simple in a red and black long sleeve printed dress paired with black knee high pointed boots.
Fab times.

The Randomness:
1. Arsenio Hall was just renewed for a second season of his late night talk show!
Photos: Getty/ INF/ Mayer RCF / Splash News/Rihanna's IG/Diane Bondareff/Invision for P&G Orgullosa/AP Images

Sexy Jason Momoa Dishes On The FIREWORKS With Wife Lisa Bonet -- "I Wanted Her Since Seeing Her On 'Cosby Show'!"
Posted: 27 Feb 2014 09:28 AM PST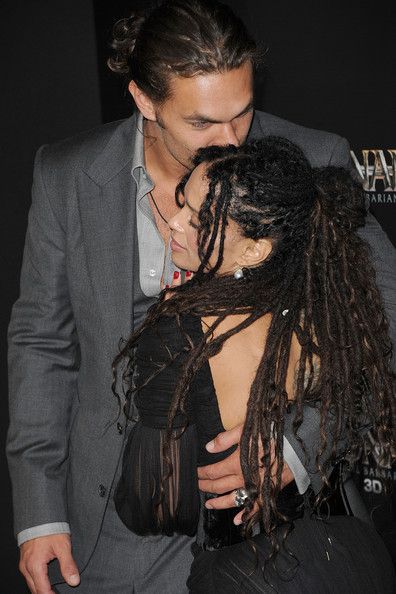 As if we needed another reason to think former "Game of Thrones" star Jason Momoa is sexy as all hell, he went and made our hearts melt with his story about falling in love with his wife of seven years, Lisa Bonet.
Check out what he said about their fireworks and his "Cosby crush" inside...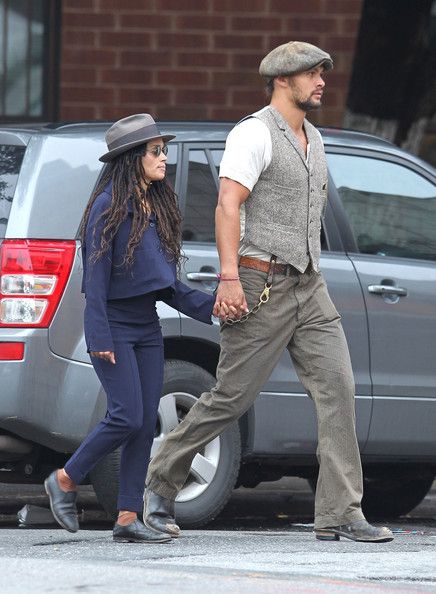 It's pretty obvious how in love 46-year-old actress Lisa Bonet and her man Jason Momoa are--based on the fact they're constantly all lovey-dovey in pics and appear to be super supportive of each other's career. And, not to mention, their sexy Hawaii vacay pics we still take a peek at every now and then.
And even though they've been married for several years and have two kids, 5-year-old Nakoa-Wolf and 6 and a half-year-old Lola Iolani, Lisa can still make her man totally shy.
34-Year-Old Jason hit up the "Katie" show yesterday to dish on his new Sundance Network tv show "The Red Road", and the convo turned toward wife Lisa, who will be appearing on the show as well.
Jason dished about his crush on his future wife, and freaking out when he finally met her:
"We met through mutual friends. But when I first met her, she didn't know I was a stalker, but I was. I was with one of my best friends and when I turned around, and they were going to introduce us, literally like, FIREWORKS. She said 'Hi I'm Lisa'. And I said 'Hi, I'm Jason' and I just turn around to my buddy like... (freaking out). Inside, I was like a little girl and I (deepend my voice] and tried to pull it together. She definitely makes me shy. It's been an honor."
And how he knew he was going to marry her after watching "The Cosby Show" all those years ago:
"I was definitely...that was the first time when I was like, 'I want that one. I want her. I'm going to get her.' I didn't tell her till after we had our two children. But I told her--'I kinda stalked ya. I was going to find ya.'"
Awwww!
Jason also wrote, starred in, and directed a new movie called Road To Paloma which will be in select theaters July 15th in NYC and LA.
Photos: Getty/FAMEFLYNET