---
Ludacris Now Demanding FULL CUSTODY Of New Baby + Chris Brown Leaves Rehab For Community Service Event, Drops New Track "B*tches" Ft. Tyga
Posted: 23 Feb 2014 09:00 AM PST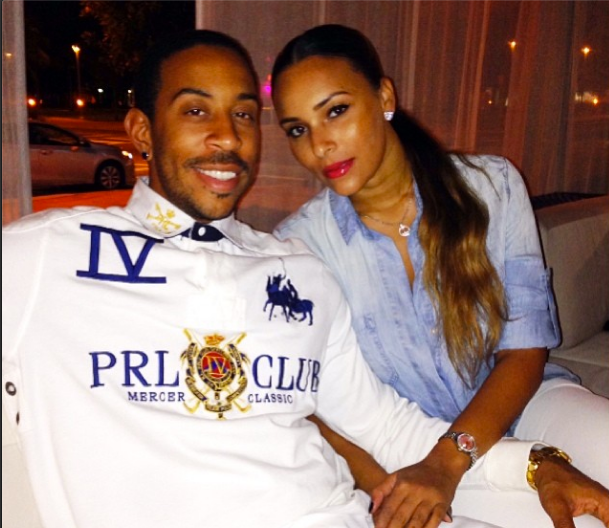 Ludacris just pulled a shocking move in this nasty custody battle with his newest baby's mother Tamika Fuller. He's reportedly demanding full custody...after claiming he can't afford the child support he's been ordered to pay!
Deets inside, plus what Chris Brown has been up to lately...
After claiming that he was in the relative "poor house" just a few days ago and couldn't afford the child support order that the judge ordered, rapper Ludacris has now filed papers asking for full physical custody of his and Tamika Fuller's 2-month-old daughter.
So...you claim to only have made $55,000 last year and you claim to be hurting financially due to Fast 7 co-star Paul Walker's death...but now you want to take this child from her mother so you can have full custody?
And it gets nuttier. He is also requesting Tamika pay HIM child support!
TMZ states:
The rapper now says in legal docs he's a "fit and capable parent" and should get full physical custody. He offers up his parental resume, saying he's always been "an active father" to his 12-year-old girl.

Now the plot thickens.

Luda has also asked the judge to force Tamika to pay HIM child support. That's interesting, because Tamika was asking for $15K a month in child support and Ludacris pleaded poverty, saying Paul Walker's death derailed "Fast & Furious 7" and his cash flow dried up. The judge awarded her $7K a month.
Well, this is interesting. Is it just us, or does this seem like more of a spiteful move than anything else?
In other news, Chris Brown got out of rehab yesterday to do something good: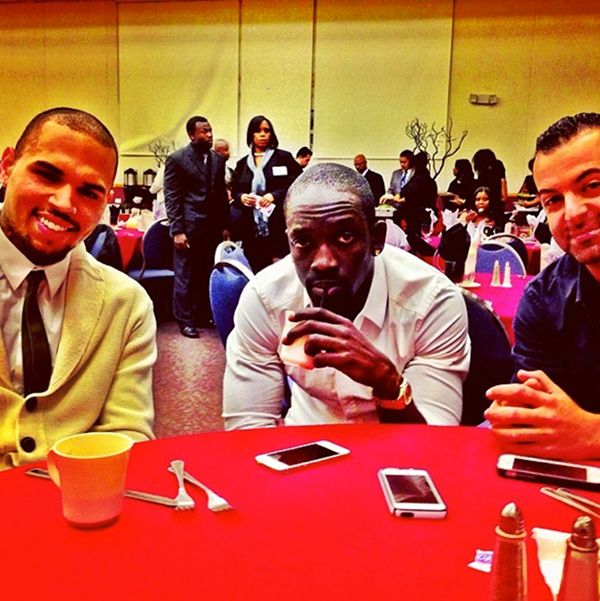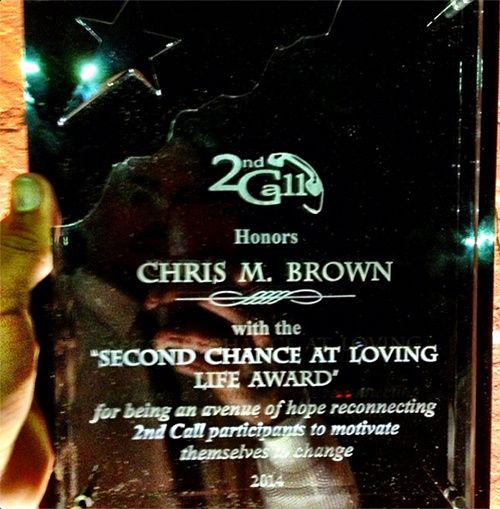 He and Bu Thiam hit up the 2nd Call awards event to celebrate what he and his Team have done recently in the field of community service yesterday. Chris received the Second Chance At Loving Life Award for all of his hard work lately.
Nice.
Chris is also making some music moves. Yesterday, he dropped a song called "B*tches" with Tyga...which will appear on a mixtape the two are working on together called Fan of a Fan 2. This will be a follow up to their 2012 mixtape Fan of a Fan. Check out the new anthem for ratchets everywhere below:
And by the way, that mixtape drop will be in addition to Breezy's own studio album, X, which just got a release date of May 5th.
Photos: Eudoxie's IG/Chris Brown Official's IG
NOW THIS IS GETTING WEIRD: Scaff Beezy Gets MORE Nicki Minaj Tattoos
Posted: 23 Feb 2014 08:26 AM PST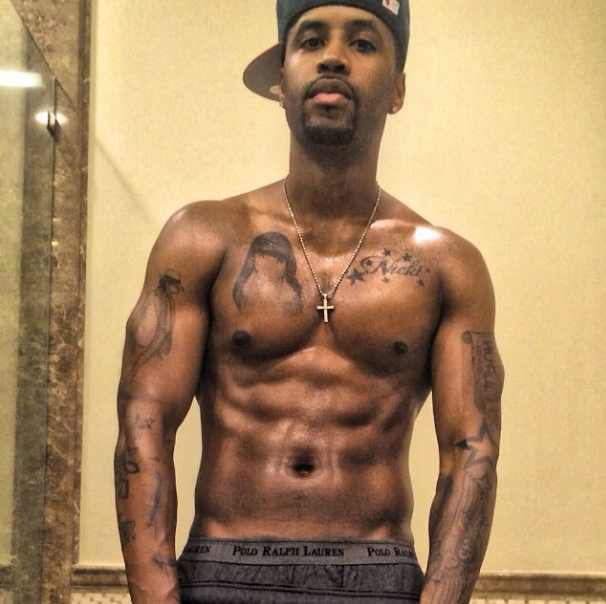 This is just getting weird. Nicki Minaj's hype man/rumored boyfriend Scaff Beezy has two new tattoos and BOTH of them are of Nicki Minaj. Check out SB's new ink inside...
For Nicki Minaj and SB to not be in a confirmed relationship, it just seems weird SB's getting all inked up with Nicki's name and face over his body.
This isn't SB's first tattoo of the raptress. Back in November, he revealed his 6-hour long Nicki Minaj face tattoo on his arm.
NOW, he's flexing Nicki's face on one side of his chest and her name with stars around it on the other side. We haven't seen Nicki sporting any SB tattoos so we wonder how she really feels about him inking her face on his body.
Guess he had to tat her face so she knows it's real...
Photo: SB's IG
Garcelle Beauvais Says Her Comments About Beyonce's Sexiness Were Taken Out Of Context + Kordell DENIES Dating Towanda Braxton...But He Had A VALENTINE
Posted: 23 Feb 2014 07:46 AM PST
After a comment by Garcelle Beauvais recently had the BeyHive in a tizzy, she's speaking out to say her words were totally taken out of context. Get the deets inside, plus Kordell Stewart dropping a dime about his new Valentine...
In case you missed it, White House Down star Garcelle Beauvais, had some words about herself being a sex symbol and kids being subjected to oversexualized entertainment. And while speaking about it, she mentioned Beyonce, who she said she loves, as an example. Garcelle, who posed for Playboy in 2007 magazine, told Hello Beautiful recently:
For me, you're obviously flattered when someone calls you sexy or thinks you're sexy. I think that's great. But, for me now, there's so many ways to be sexy without being overt about it. I think you can wear a great short dress, but if you have long sleeves and you're only showing leg. I think you have to stick to a body part and show that. I don't think you have to show all of it. As I get older, I still want to be sexy, but I want to do it in a different way. I want to do it in a way that's more classy. Certain things are just too overt for kids. I love Beyonce. I love her. I think she's beautiful and talented. But, I think there has to be a fine line where you have to take responsibility for what you do. I think it's good to be sexy, but sexy can come across in so many different ways. It doesn't have to be everything showing out grinding, all of the time.
Y'all already know the BeyHive went to work. Especially with the fact that Garcelle has posed naked more than once in magazines. And the story took on a life of its own. So Garcelle just responded saying this was taken out of context:
I love Beyonce! What I said was taken out of context, and of course I support women being sexy!

— garcelleb (@GarcelleB) February 22, 2014
It sounds like she's saying that children watching ANYONE being overtly sexy could be problematic. And Beyonce was used as one example, even though she's also saying Beyonce has every right to be sexy. But kids simply shouldn't be watching.
Well, unlike some oversexualized artists who are well aware kids are watching, Mrs. Carter did label her latest super sexy Beyonce album as EXPLICIT. So, monitor your kids.
By the way, Garcelle also spoke on the debate about the number of black women on television being portrayed as mistresses. And you KNOW she has real life experience after her very public and EPIC lash-out at her cheating ex-husband years ago.
My thoughts are that entertainment is entertainment and you have to do what's happening so people can relate. But, I do think it's glorified and I do think that nowadays it seems like there are no consequences for bad behavior, there are no consequences for mistreating another human being. That part saddens my heart because I feel like young kids are seeing that it's okay to do this and, as a mother and human being, we do have to take responsibility for some of the things that we put out there. It seems like now it's okay to do that, if you're not caught. And, even if you're caught, nothing really happens. You can have a girl, be pregnant with somebody's child and then be engaged to somebody else, it just seems like everything's ok and it shouldn't be.
Thoughts?
In other news, Kordell Stewart has denied dating Towanda Braxton. For some reason, rumors spread that the two were dating--and Towanda didn't do much to squash them--after the MET for the first time at a recent movie premiere in ATL (above).
Kordell told the Tom Joyner Morning Show recently that none of it is true, they are absolutely not dating.
As you see on the blogs, we were at an event. You guys know Big Tigga from the radio. He and I were hosting the Grudge Match – a red carpet event. And we took a picture together. And it just shot off from there. Reality TV, first thing you know it, it's a big story. And one thing leads to another. But a nice lady. I got the opportunity to meet her. She's cool people. But I got a lot going on over here. Again, my relationship is parenthood.
But....he did have a boo for Valentine's Day. But he refused to name who she is. Looks like he's moving on already to audition a new mom for little (since that seems to be his thing)....
Photos: Garcelle's Twitter/Fame/Getty
YBF Celebs TAKE OVER The 45th Annual NAACP Image Awards!
Posted: 22 Feb 2014 10:42 PM PST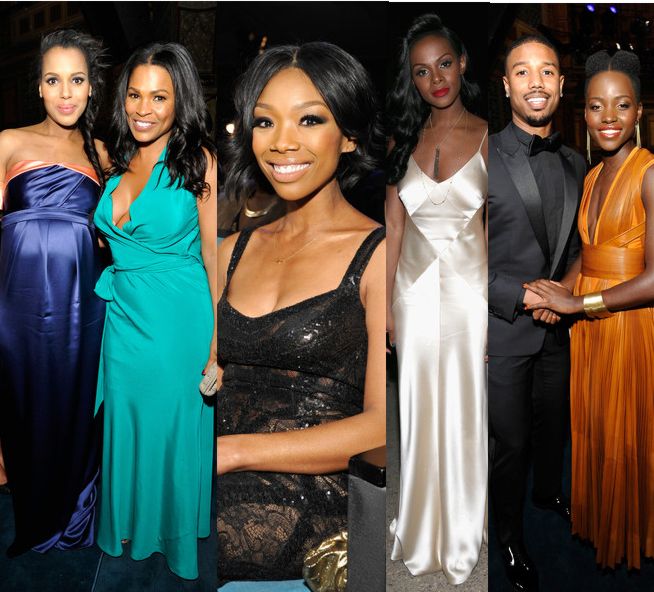 The 45th Annual NAACP Image Awards went down at the Pasadena Civic Center Saturday night. And everybody who's anybody in television and movies in Black Hollywood showed up.
Check out all the fab looks inside...
From baby bumps to bright colors, Saturday night's NAACP Image Awards had an amazing turnout that probably even surprised Chairman Roslyn Brock.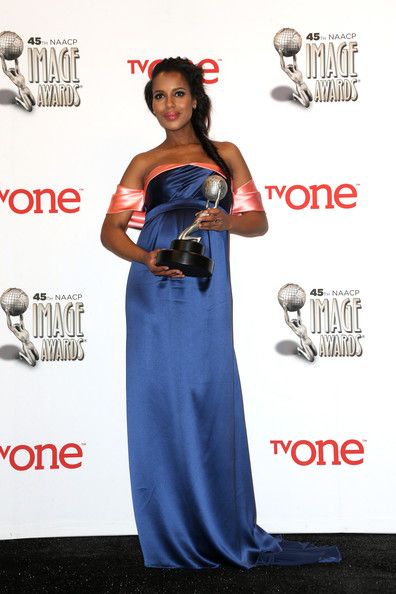 Kerry Washington made a stunning appearance in a not-so-stunning custom Thakoon dress. Her burgeoning baby bump didn't stop her from running in her Louboutins to the stage to accept her award for Outstanding Actress in a Drama Series for slaying in "Scandal".
She topped off her look with a Prada clutch she brought up on stage with her and Suzanne Kalan jewelry. And she even took a moment to thank God for her husband, Nnamdi Asomugha. Snaps.
Loving this hair and fishtail braid!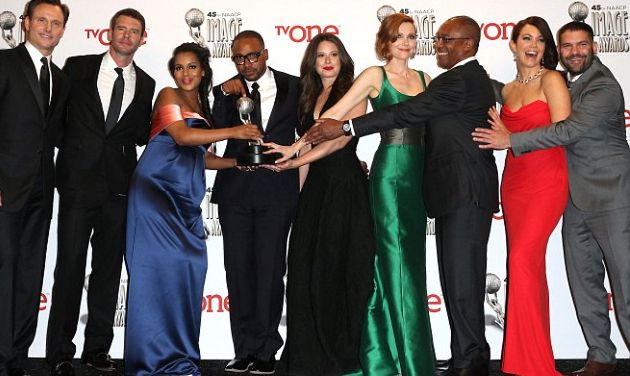 And the entire cast of "Scandal", sans "Cyrus", gathered up to accept their award for Outstanding Drama Series. Well deserved!
Lupita Nyong'o, who received the award for Outstanding Supporting Actress in a Motion Picture for 12 Years A Slave, rocked a copper Givenchy gown with matching shoes and a split afro.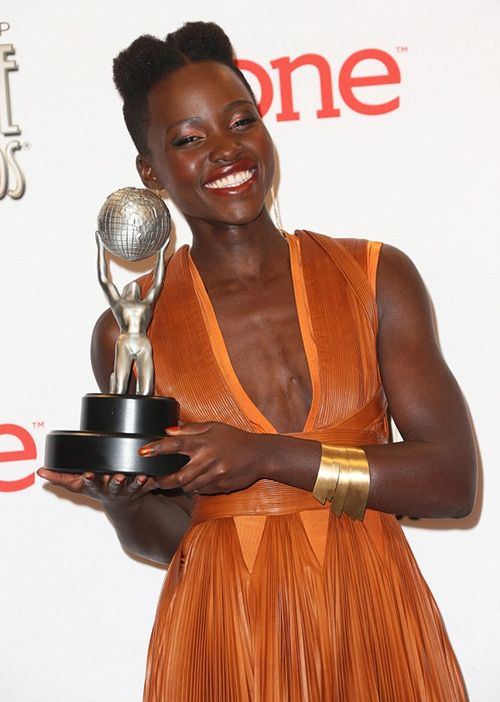 And after accepting her award, she snapped a pic with hottie Michael B. Jordan.
Nia Long rocked a mint green Nicole Miller wrap dress that made sure her chi chis were on display. She paired it with a nude Salvatore Ferragamo basket-weave clutch.
And she exchanged some words with Idris on the carpet. We see you Nia...
Hey 'Dris!
Morris Chestnut, who won for Outstanding Supporting Actor in a Comedy Series for "Nurse Jackie", posed it up with his Best Man Holiday co-stars.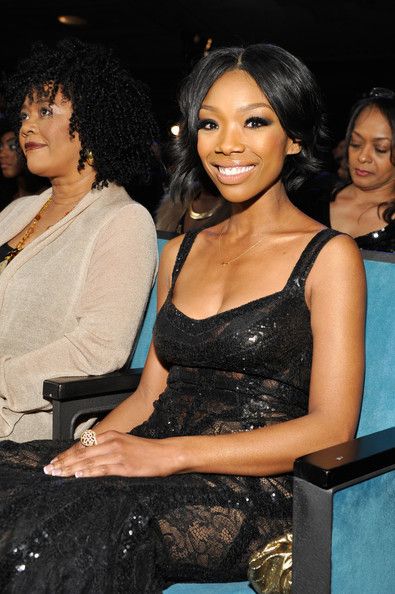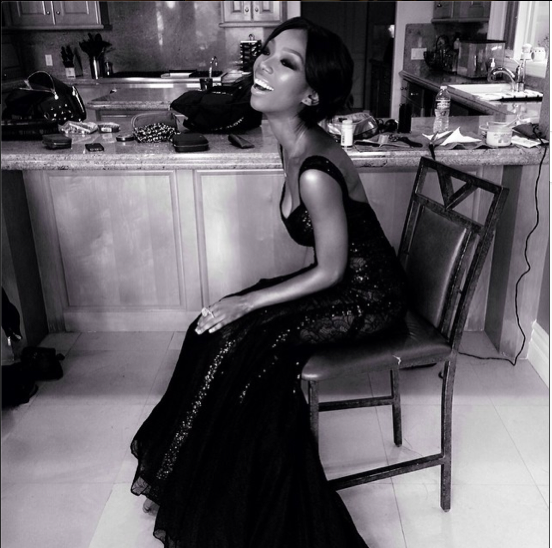 Brandy, who took home the Outstanding Supporting Actress in a Comedy Series award for 'The Game", looked stunning in a black long sequined dress and a short coiffed 'do for the night.
Tika Sumpter kept it sexy in this satin white Johanna Johnson gown with a few long stand necklaces and jewels by Paolobongia.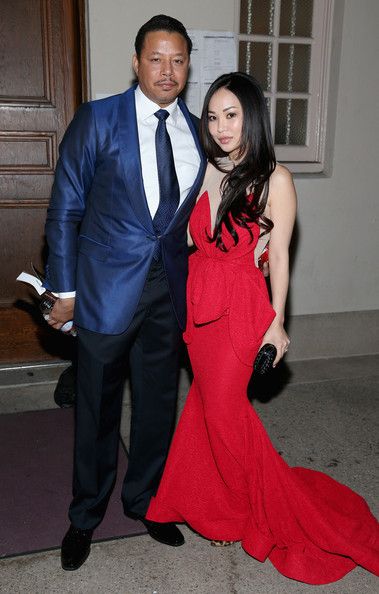 Terrence Howard brought his new wife along. She was spotted in the audience looking...lost...during Stevie Wonder's performance.
Regina King wants to constantly remind y'all that she's 43 and looking DAMN good. So she rocked a majorly cut-out Michael Costello dress to serve up some oblique work.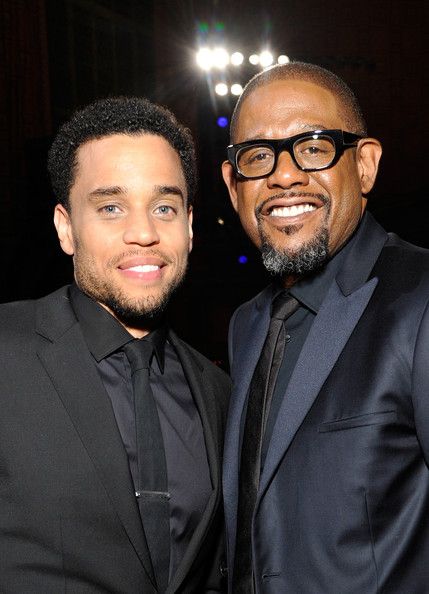 Michael Ealy posed it up with the Chairman's Award recipient and Outstanding Actor in a Motion Picture winner Forest Whitaker, who looked dapper in his fave designer Calvin Klein.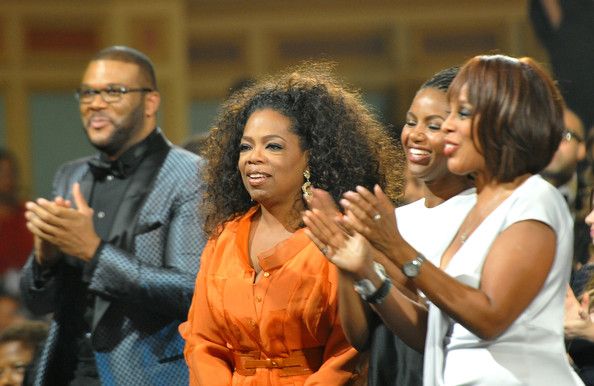 Oprah was spotted in the audience next to her besties Tyler Perry & Gayle King. She didn't receive either of the two awards she was nominated for.
Kevin Hart racked up Saturday night.
While having his gorgeous girlfriend Eniko on his arm, he posed it up with Terry & Rebecca Crews and also picked up the Entertainer of the Year Award, Outstanding Actor in a Comedy Series for real Husband of Hollywood, and Real Husbands itself copped the award for Outstanding Comedy Series.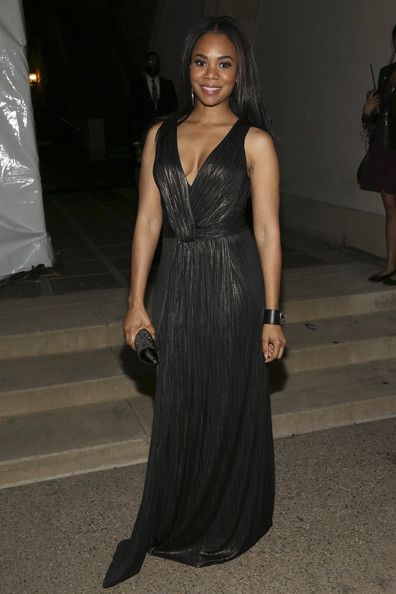 Plunging neckline lovers Regina Hall and Naomie Harris, in Valentino, made their way to the glam event.
Radio legends Cathy Hughes and Tom Joyner walked the carpet together.
Sherri Shepherd....why in the world...out of the many wigs you have in your entire wig line...was THIS wig chosen? She clearly jacked it from that Chuck Taylor white anchorman character from "The Dave Chappelle Show". She posed it up with her co-presenter Arsenio Hall, who you know wanted to comment about it.
"Sleepy Hollow" star Nicole Beharie wore an all black Saint Laurent Sequin Sleeve Gown as she was nominated for two awards for 42 & "Sleepy Hollow". You can grab her dress from the 30% off rack from Luisaviaroma.com.
Vanessa A. Williams was there to support her girl.
And the fellas:
Tyrese, Rickey Smiley and Shemar Moore donned perfectly tailored suits for the occasion.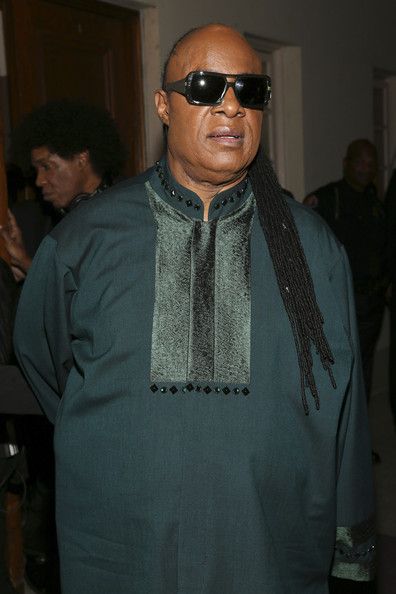 And Stevie spent time rocking out with a medley of his hits.
Paris Barclay, the President of the prestigious Director's Guild of America, received an award for all his career accomplishments and breaking down barriers while becoming one of the first hip hop producers.
He was inducted into the NAACP Hall of Fame. And during his acceptance speech, he said he's the first person in his position to thank his husband, who was sitting in the audience.
Queen Latifah shared a pic with Iyanla Vanzant, who won for Outstanding Reality Series with "Iyanla: Fix My Life".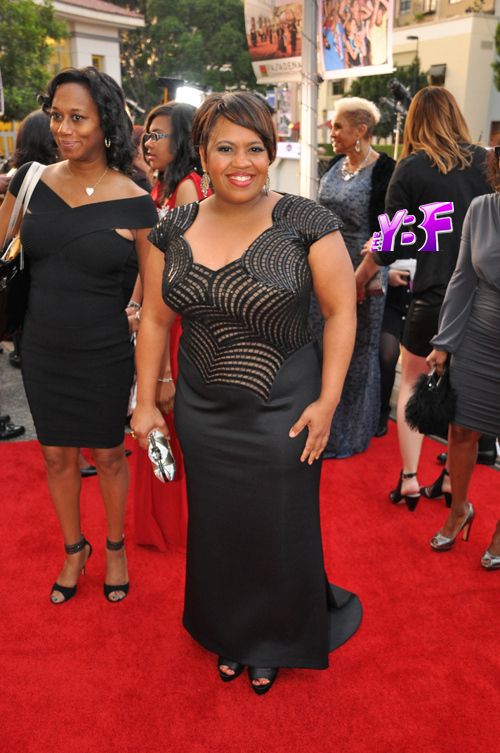 Chandra Wilson of Grey's Anatomy was nominated and rocked her face designer Tadashi.
The sexy Dennis Haysbert served as announcer for the evening.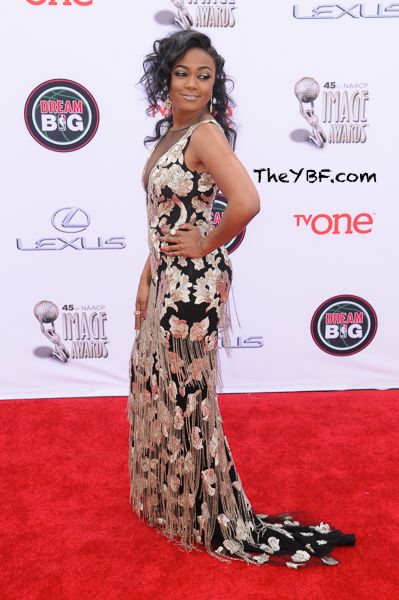 Tatyana Ali wore this floral and fringe Lorena Sarbu dress. Not the best design for her, but it could have been much cuter without the fringe. And without the 1991 hair and makeup. Way too pretty for that.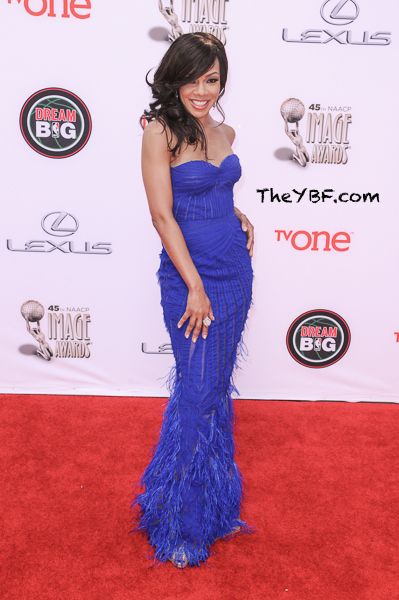 Wendy Raquel Robinson did feather fringe right in this cobalt blue mesh paneled strapless dress.
Holly Robinson Peete hit the carpet in a Mandalay dress with her gorgeous 16-year-old daughter Ryan Peete.
And "Being Mary Jane" creator Mara Brock Akil looked amazing in a sexy little black dress.
Check out the full list of winners HERE.
Photos: Getty/Brandy's IG/Aaron J. of RedCarpetImages.net/ Lauren Smith for TheYBF.com/Reuters
SPLIT! Brandy & Ryan Press Call Off Engagement...FOR NOW!
Posted: 22 Feb 2014 12:48 PM PST
Where's that ring, you ask? We've learned that Brandy and her fiancé, Ryan Press, have called it quits. For now. Deets inside...
Brandy is single again. But we're not sure how long she'll be solo.
After getting engaged to her manager Ryan Press in December 2012 in Hawaii (directly above), the twosome have recently decided to take a break.
A source in the couple's close-knit circle revealed to TheYBF.com that after moving in together, the two decided marriage may not be in the cards right now. But we're not ruling the couple completely out just yet.
We've learned that Brandy & Ryan have decided to take a step back to re-evaluate their relationship. And it's very possible that after this mature and honest decision, they may rekindle their love again.
But in the meantime....
We hear that Ryan may be dating someone new. Allegedly, Ryan was recently set up on a semi-blind date with a friend of a friend, according to a close friend of the mystery woman.
Meanwhile, last night in Pasadena, Brandy showed up RINGLESS to the 45th NAACP Non-Televised Awards ceremony.
The "Wildest Dreams" singer and Ryan are still friendly toward each other, since Ryan is still managing her. He even attended her surprise 35th birthday party last week, but steered clear of the cameras. By the way, Brandy wasn't wearing her ring at that party either. Check out the video above.
Photos/Video: Brandy's IG
WHO ROCKED THE HOTTEST LOOK: Lil Mama VS. Brandy VS. Wendy Raquel Robinson At 45th NAACP Awards Non-Televised Awards Ceremony
Posted: 22 Feb 2014 11:21 AM PST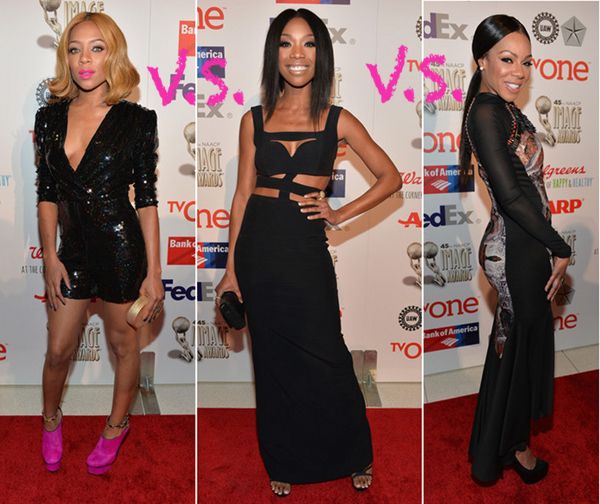 The ladies made a stylish red carpet appearance at last night's 45th NAACP Awards Non-Televised Awards Ceremony at the Pasadena Civic Auditorium in Cali. Decide if Lil Mama, Brandy or Wendy Raquel Robinson had the best look of the night...
Before tonight's live airing of the 45th annual NAACP Image Awards, the YBF folks hit up the non televised award ceremony Friday night. And a few of the ladies were standout.
Lil Mama kept up her much improved image with a black sequined short onesie with a deep plunging neckline, and threw in a pair of pink suede booties and a matching hot pink lip.
Brandy kept it grown and sexy, after just turning 35 last week, in a hot cut-out black dress that added curves to her slim & trim figure. She also took home the award for Best Supporting Actress in a Comedy Series for playing the hilarious 'Chardonnay' on "The Game".
And Brandy's co-star Wendy Raquel Robinson rocked a high-low printed curve hugging dress by designer Alpana Neeraj, with her hair pulled back into a rare extra long ponytail. We barely even recognized her!
So, whose look are we loving the most?!
Photos: Getty
Kimora Lee Leissner Flosses Her BIG Rock At The Airport
Posted: 22 Feb 2014 09:22 AM PST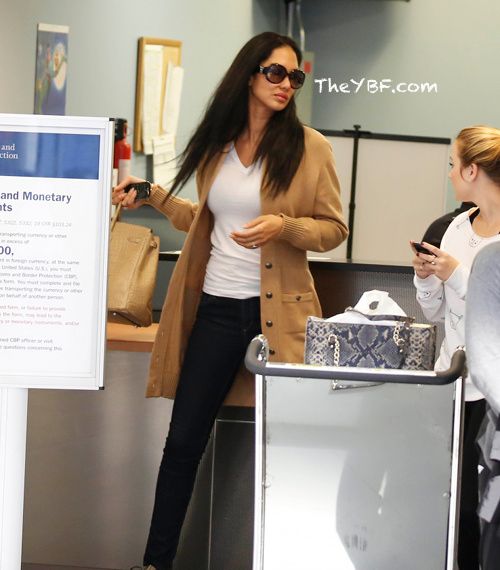 Now that Kimora Lee is a Mrs. again, apparently, she's showing off that ring for all to see. Check out pics of the model mogul's newest accessory inside...
This time, the focus isn't on her gorgeous Birkin, it's on her newest jewelry. Since we found out via her ex-husband, Russell Simmons, that she and Tim Leissner secretly wed, Kimora's down for showing off what looks like a wedding ring.
The mom of three was spotted arriving to LAX after a flight looking cute and comfy: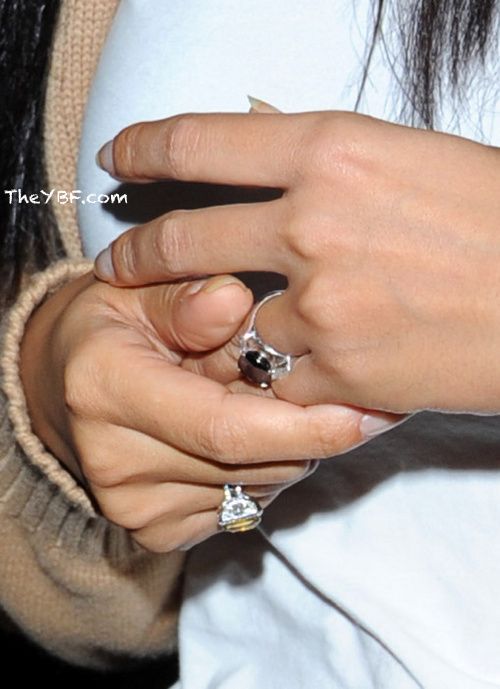 It looks like she's wearing a jewel or colored diamond on that ring finger. Or is the pretty ring on her other hand her actual wedding ring? Hmmm...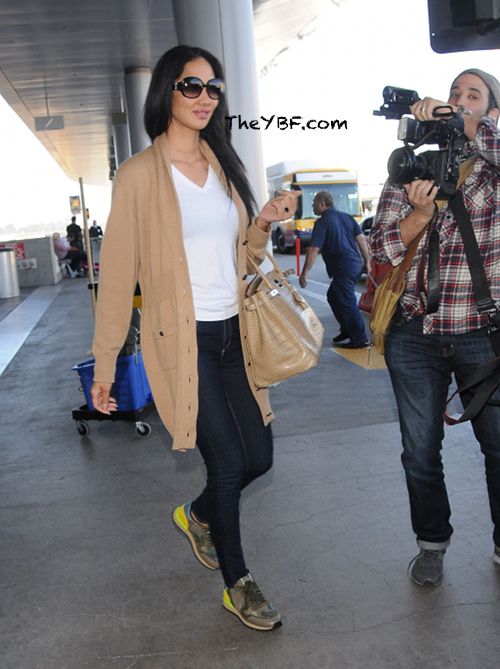 She passed up the paparazzi and headed into an awaiting car. Wonder what she's been up to besides her epic man grind...
Photos: FAME/Splash