---
Kanye West GOING Kid-Friendly Since Baby North "Changed His Approach To Life" + K. Michelle FLEXES Classical Music Skills, Says "I Have The Best Climax!"
Posted: 26 Feb 2014 08:13 AM PST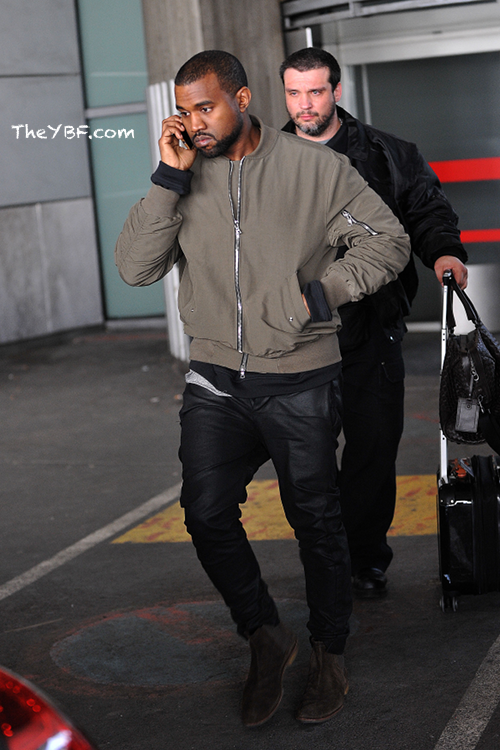 Kanye West appeared on "Late Night With Seth Meyers" where he revealed we may see a more kid-friendly side in the future. Watch his interview and performance inside and see K. Michelle on "Arsenio."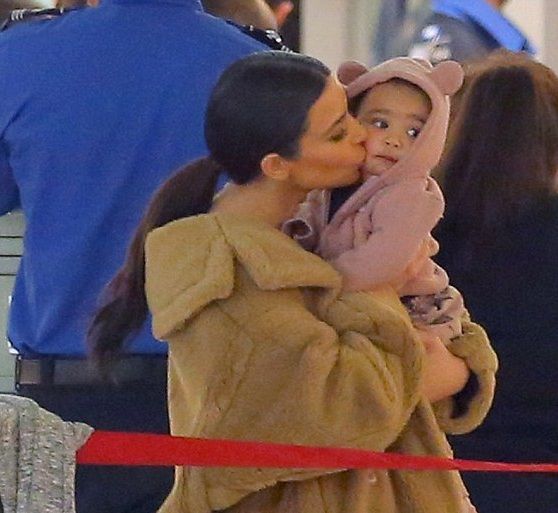 Kanye West (shown atop in Paris, France earlier today) appeared on "Late Night with Seth Meyers" last night where he talked about the changes he's experienced since the birth of daughter North and his engagement to Kim Kardashian (shown above snuggling at JFK airport on Tuesday).
So what can we expect Yeezy to do differently? Maybe....fewer curse words? He told Seth, 'My approach to life has changed' and he'll be recording music for 'artistic intellectual kids' now that he's a father. Alrighty then.
Also, he discussed his clothing line (from a much calmer perspective than his Sway interview) and shared--again--why he's so frustrated that people put him in a box.
Watch Kanye and Seth Meyers talk about on why he wears a mask on tour & his fashion line:
On going "Kid Friendly" and artistic music for kids:
Watch Kanye's rock his medley of hits ("Jesus Walks", "Touch the Sky", "Stronger", "Heartless", "All of the Lights", "Mercy", "Black Skinhead)" here:
Also on late night.....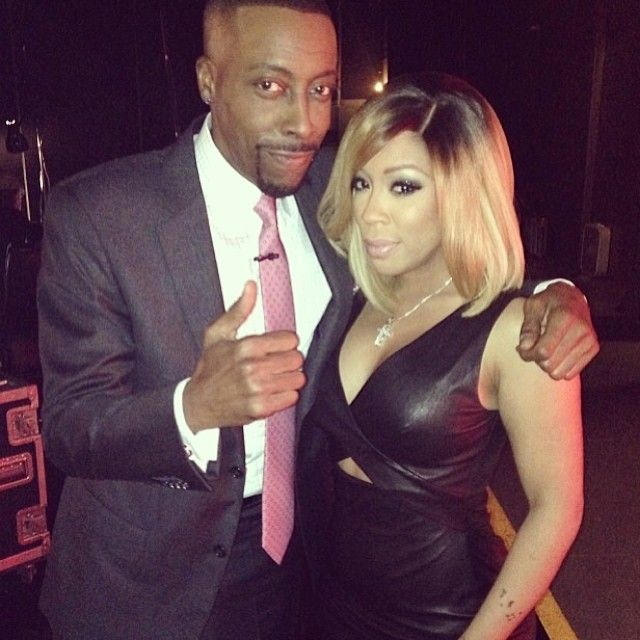 During her appearance on "The Arsenio Hall Show", singer K. Michelle (the "ghetto girl with table manners") revealed a few hidden talents (she's classically trained on the piano, can play guitar, and she also yodels). She says certain websites owe her a check because she drives hits. Oh?
"I don't think it's fair at all because you don't know me. You would react the same way as me to a lot of those situations. I'm just bold enough to do it in your face and I can. Those reactions from those blogs and everything, I make their hits go up, so they should thank me or maybe even send me a check."
Also, she said you see so many scenes of her popping off on ""LAHH" because she has the "best climax" of all her castmates.
Watch the clips and see her performance below:
K. Michelle on haters, bloggers and why she's the "most calm" character of LAHH...but has the best "climax":
On her classical music training, guitar and love of country music:
Watch her rock "Can't Raise A Man" below:
Photos via K Michelle's Instagram/Splash/INF
LEADING LADIES: NeNe Leakes Set For "Dancing With The Stars"?! + Shonda Rhimes Casts Viola Davis To Lead "How To Get Away With Murder" Pilot!
Posted: 26 Feb 2014 07:28 AM PST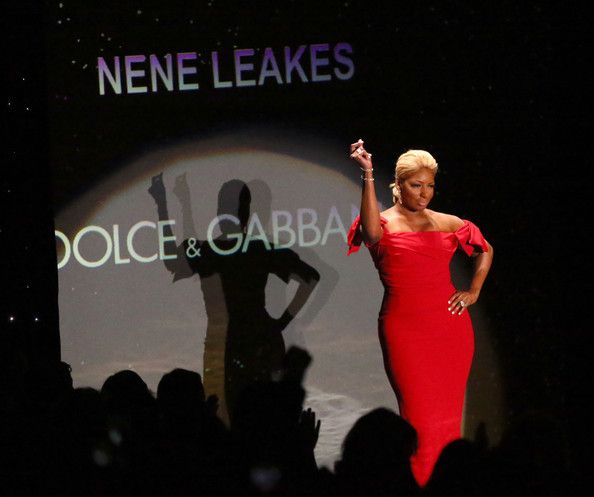 "Scandal" producer Shonda Rhimes is making major moves with A-list actress Viola Davis nabbing the lead role in Rhimes' newest production, "How To Get Away With Murder" pilot.
Find out the deets inside, plus NeNe Leakes possibly joining the upcoming slate of contestants on "Dancing With The Stars"…
NeNe Leakes is determined to stay in somebody's spotlight, other than Bravo's and the two now-nixed tv shows she was on. So, word has it, she's joined ABC's "Dancing With The Stars" for Season 18!
E! Online reports that when the new season kicks off March 17th, folks will likely see Mrs. Leakes, along with former "Full House" star Candace Cameron Bure--taking the ballroom dance floor. Sports reporter Erin Andrews will also be replacing Brooke Burke as a co-host.
ABC refused to confirm, as usual. But the official announcement will be made March 4th on 'GMA'. NeNe going for that Mirror Ball trophy will be...interesting.
And we are about to enter another world of Shondaland with ABC Studios' newest drama pilot "How To Get Away With Murder" starring Oscar-nominated actress Viola Davis as the leading lady.
Shonda Rhimes is executive producing the new show alongside writer Peter Nowalk. The show is described as a sexy, suspense-driven legal thriller. Viola will play a criminal defense professor who gets caught up in a murder plot that could cause drastic consequences for the university and everyone involved.
This is Shonda's second consecutive drama pilot where she has cast an A-list African-American actress in a lead network TV role. Loves it!
Will you be tuned in?
The Randomness:
1. Rashida Jones is starring in a new TBS comedy series pilot called "Tribeca"...and her real life parents Quincy Jones & Peggy Lipton have been cast as her tv parents. Cute! STORY
Photos: Getty Images
LOST WITHOUT YOU: Robin Thicke Reportedly DESPERATELY Trying To Save Marriage To Paula Patton
Posted: 26 Feb 2014 06:18 AM PST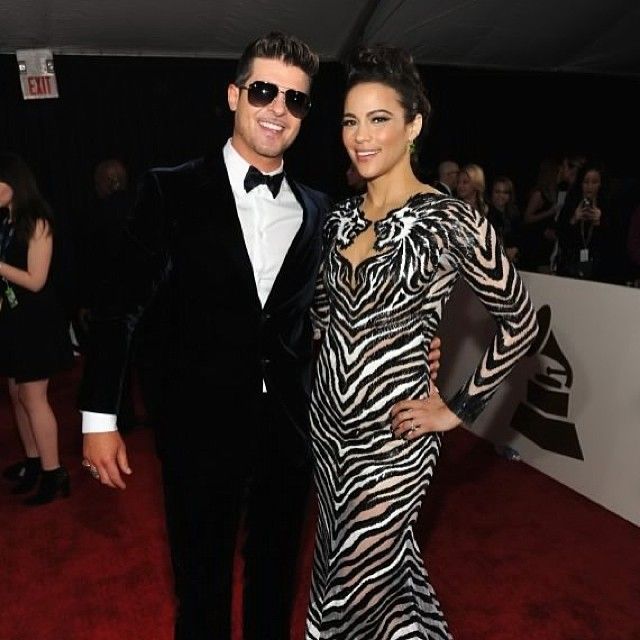 Robin Thicke won't let his marriage to Paula Patton end without a fight! See what his friends are saying inside....
Earlier this week, Robin Thicke and Paula Patton announced their separation, but friends of the "Blurred Lines" singer admit that he's not on-board with the end of their relationship. Talking to TMZ, friends of Robin say he's "determined to win Paula back."
After a few cancelled concert dates (and an improptu trip to Canada to meet up with a working Paula and to talk out), sources revealed that Robin will resume his tour on Thursday in Washington D.C. But...won't hit the club scene afterwards (he's trying to show Paula he can change).
Seems a dollar short at this point...
According to friends, one of the main motivations for saving the marriage is that Robin does not want to raise their two-year-old son Julian in two-separate homes. Guess he didn't think about that while he was grabbing girls' asses in pictures and kissing on random chicks in clubs.
Good luck you three....
Photos via Robin Thicke's Instagram/Paula Patton's Instagram
ON AND ON: Happy 43rd Birthday Erykah Badu!
Posted: 26 Feb 2014 05:16 AM PST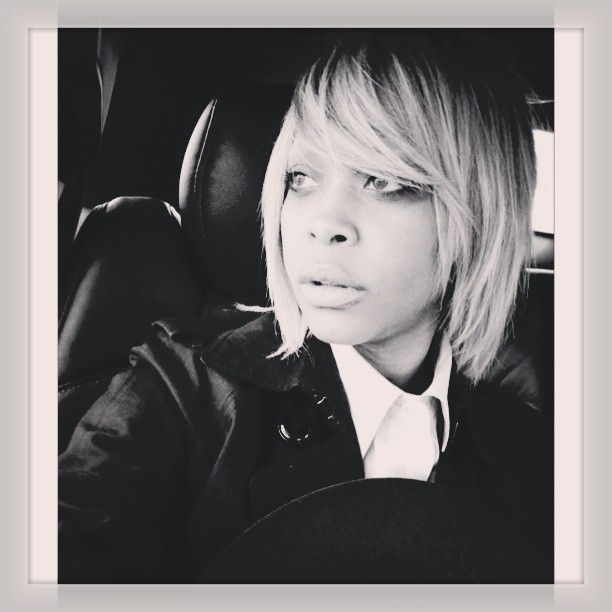 Erykah Badu celebrates her 43rd birthday today. Celebrate with the neo-soul goddess and her style evolution inside....
Today is the 43rd birthday of Erykah Badu. Since bursting on the scene with a head wrap and Ankh in the late 90s, Erykah's fashion sense and eclectic style of music help usher in a new wave of urban hipsters with neo-soul that shows no sign of slowing down.
With her new partnership with Givenchy, Erykah is gaining a new legion of fans in the fashion world for her next-level approach to patterns, colors, and looks. And the mom of three knows how to kill 'em with sex appeal when she wants to.
Revisit some of Erykah's famous looks in the gallery below....
Photos via Givenchy/Erykah Badu's Instagram
YBF KIDS: Ciara Practices Mommyhood With Monica's Baby Girl Laiyah + Bow Wow & Joie Take Baby Shai To Disneyland
Posted: 25 Feb 2014 06:47 PM PST
It's all about those adorable YBF kids! Mr. 106 was on daddy duty with his baby girl Shai and his baby's mother Miss Joie recently. Check out their cute trip to Disneyland inside, plus Ciara practicing those mommy skills with Monica's baby girl....
Bow Wow headed to Mickey Mouse's house recently to grant his little girl's wish. Cutie Shai apparently had been asking to see Mickey & Minnie, so Bow rounded up his munchkin and her mom (who he may or may not be seeing again) fitness lover Joie to make that happen.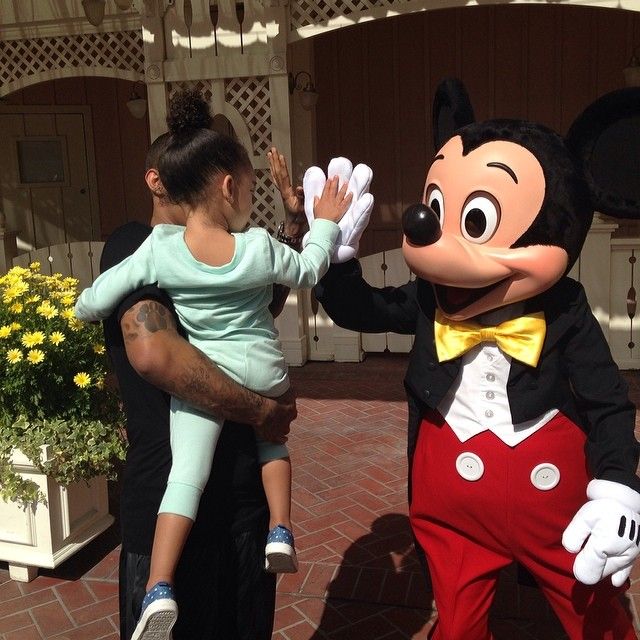 The "106 & Park" host gushed about his love for his baby girl saying:
Hardly ever like to post pics of my baby girl.. For my own personal reasons. But disney was dope. All she wanted was mickey & mini mommy n daddy made it happen. Felt like daddy of the year! Now i know how yall dads feel when yall say "my daughter would kill me if i dont get a picture bow" feels good to be a proud dad! She aint gotta worry for the rest of her life. My lil monster!
Awwww!
And now that Bow's ex Ciara has a baby on the way with her fiance Future, CiCi's getting in all the practice she can: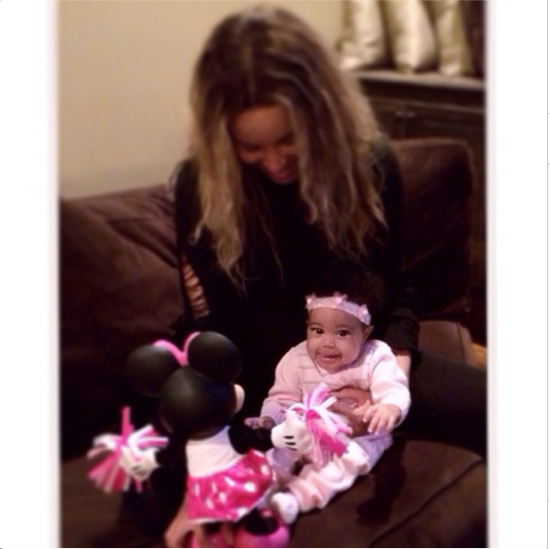 The "Promise" singer spent some QT with a cutie named Laiyah, who happens to belong to singer Monica. Monica said about the cute pic:
Becoming a mother changes everything about who u are in the most beautiful way !!! CC your going to be a great Mommy #Love #Family #Purpose #Joy.... @Ciara & #Laiyah
And Ciara gushed back:
Precious Moments With Momma @Monicabrown and Princess Laiyah! I want to just eat her little cheeks:) She's Is 2 Cute With So Much Personality!
Awww. Don't mind us. We're just having an ovary overload over here....
The Randomness:
1. NY Knick Raymond Felton, who was arrested for possessing a gun and pointing it at his estranged wife, was just let out on $25,000 bail and his case has been adjourned until June 2nd. Conveniently, that date is near the end of the basketball season. STORY
Photos: Bow Wow's IG, Ciara's IG
JUST MESSY! Mathew Knowles' Baby Mother & Son Nixon Appear In FIRST TV Interview, Reveals Beyonce Has NEVER Met Her Little Brother
Posted: 25 Feb 2014 04:41 PM PST
And the Mathew Knowles deadbeat baby daddy files continue! The mother of Daddy Knowles' lovechild, Alexsandra Wright, has revealed in her first televised interview that she has vowed to keep fighting so that her son can know his identity AND to get the help she deserves from Papa Knowles.
Find out what Alexsandra had to say inside…
44-year-old Alexsandra Wright and her now 4-year-old son, Nixon Alexander Knowles, sat down with Inside Edition and revealed that Daddy Knowles has NOT spent any time with his son nor has he introduced their son to his big sis Beyonce.
According to Wright, she never wanted to make their scandal public and tried everything in her power to do so, but Mathew chose to make their situation public. She said, "I tried everything to not have it public. But unfortunately, that's just not the way that Mathew chose to deal with this."
She even confirmed she and Mathew had an 18-month affair while he was still married to Tina Knowles.
She claims Mathew has NOT paid her any child support and now owes about $32,000 in court-ordered child support. His negligence has forced her to get on food stamps in order to support their son (which she proved by recently posting a picture of her food stamp card).
And she's still sticking to the story that Mathew insisted she give their son to Beyoncé and Jay Z so they could raise him as their own before Blue Ivy was born.
"I don't expect Beyoncé to take accountability. It's not her problem. It's not her situation. Beyoncé and Jay Z have never attacked me. They've done anything wrong to me. They've never been negative at all," Wright added.
Check out cute little Nixon and his mother in the interview below:
We get she wants her money for her sonn but sitting on national TV airing out their dirty laundry is a bit much. Especially if she wasn't getting paid to do so (we'e not clear on that one).
Photos/Video: Inside Edition
SECRET RENDEZVOUS? Rihanna SPOTTED With Drake In Paris, Hit The Stage Together + Drake's Other "ALLEGED" Boo Zoe Kravitz COVERS "FOAM" Magazine
Posted: 25 Feb 2014 03:39 PM PST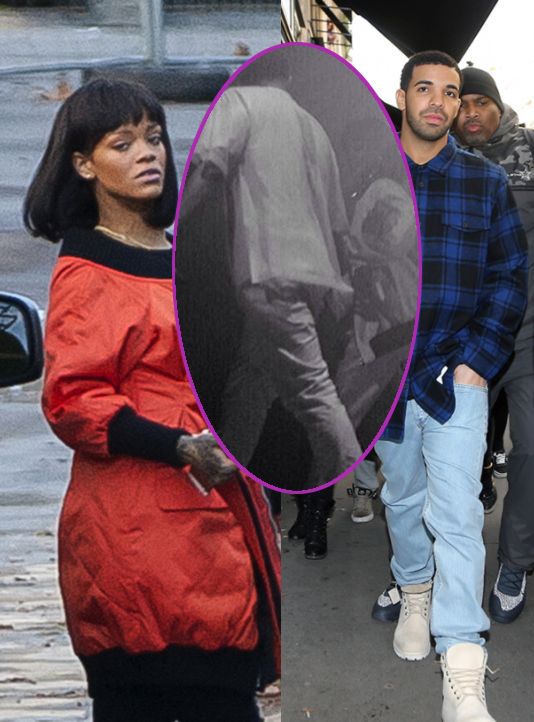 Drake's tour stop through Paris saw a familiar guest behind the scenes...Rihanna. Find out where the two were spotted inside and see Zoe Kravtiz on the cover of FOAM.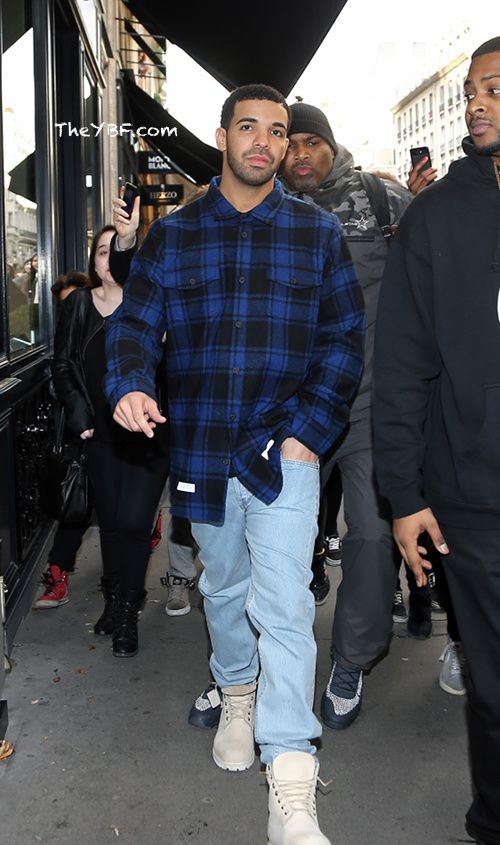 While trekking across Europe for the "Would You Like A Tour?" tour, Drake was spotted walking to the Cartier store in Paris yesterday.
The shopping trip happened a few hours prior to his sold out concert at the Palais Omnisports de Paris Bercy.
Interestingly, Drake had a surprise visitor during his trip.......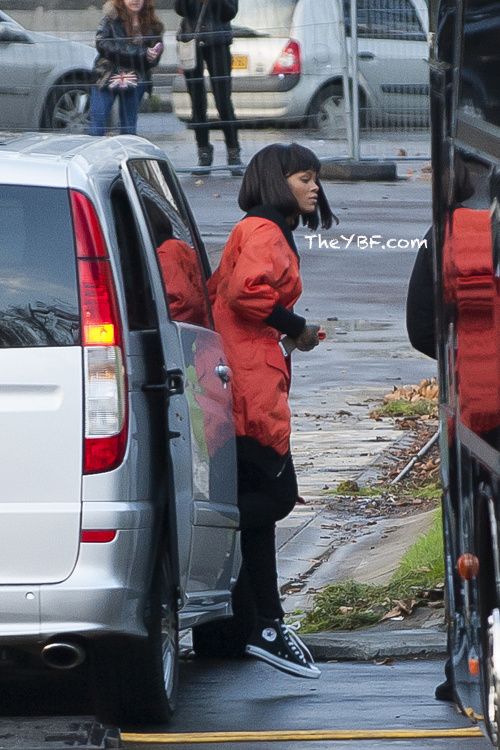 "Diamonds" singer Rihanna, who's likely in town for Paris Fashion Week, was spotted hopping out of a car to creep onto Drake's tour bus.
The two were also spotted together earlier inside Colette and the Mandarin Oriental Hotel.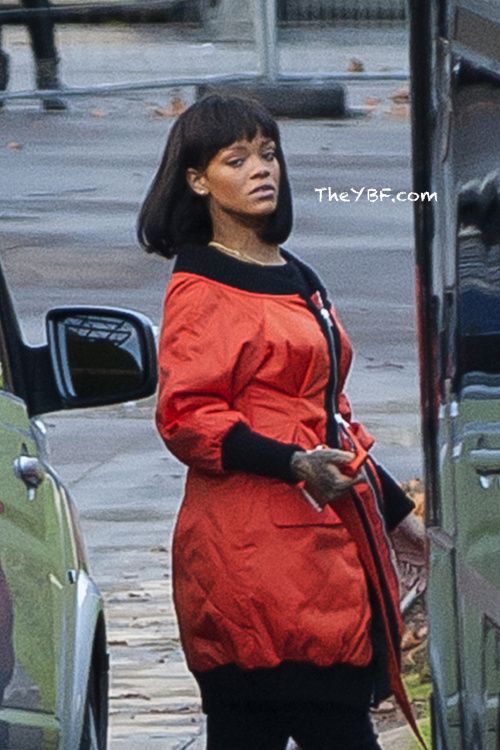 Earlier this month, Rihanna and Drake were spotted sneaking out of the same club in LA. Now...it looks like they've taken their possible secret...thing...across the ocean too. Hmm....
Drake just posted his own pic bringing RiRi out on stage and he captioned it, "paRIH". How...sweet.
And here's the video of them doing "Take Care" with some booty work from Rih.
Rih was also spotted posing it up with singer Jhene Aiko, who is also in Paris helping Drake out on tour since they have a few collabos together.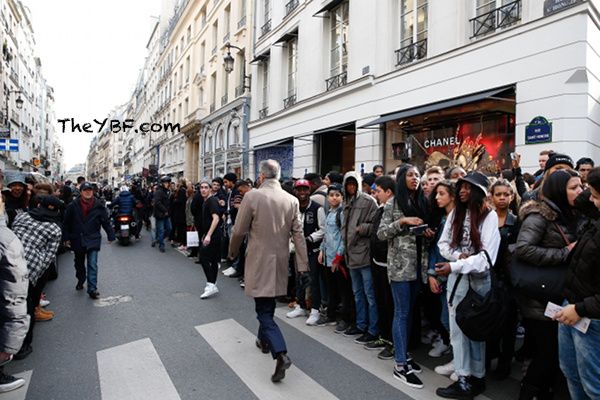 Unfortunately, it will be hard for Drake and Rihanna to deny that they had a rendezvous in Paris as a crowd gathered outside the Mandarin Oriental Hotel hoping to spot them together. And by crowd, we mean massive droves of Parisians.
BONUS: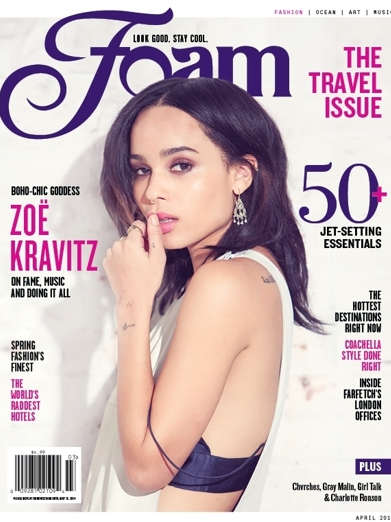 We don't know what Drake and Rihanna were up to in Paris, but you'll recall Drizzy was spotted smooching Zoe Kravitz a few months ago. Maybe he's moved on?! Or maybe he's having his cake and eating it...in one sitting...too.
In the meantime, fab chick Zoe covers the March/April Travel & Spring Fashion issue of FOAM, a glossy magazine that covers the best and most-buzzed-about destinations around the globe.
The issue hits stands on starting March 11.
Photos via FOAM/ KCS Presse / Splash News / PacificCoastNews/ Jhene's IG

COMING SOON: Will Packer & Malcolm D. Lee Readying "Girls Trip" Movie -- Who Should Be Cast?!
Posted: 25 Feb 2014 02:55 PM PST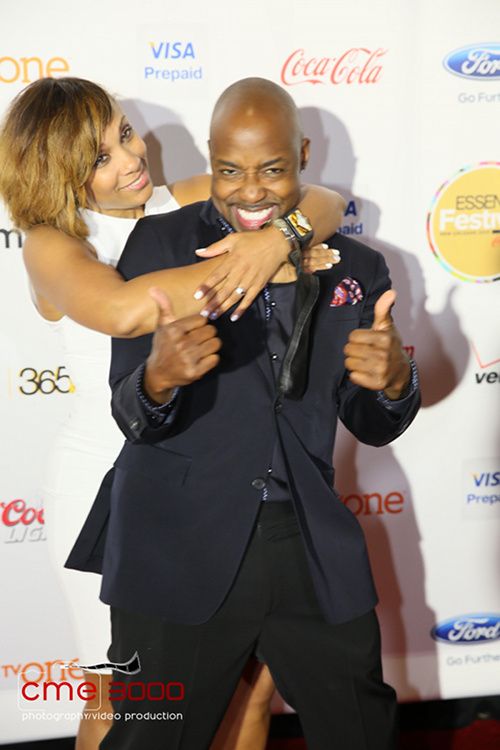 Get ready y'all! Another fun movie is on the way from mega-producer Will Packer (pictured above with his fiancee) and director Malcolm D. Lee. And we're going out on a limb to say it'll probably have a fabulous chick-flick feel.
Find out about "Girls Trip" inside...
We're hoping this will be Think Like A Man meets Best Man (like, both the originals and the sequels)! According to the press release, TLAM and Ride Along producer Will Packer and Best Man director Malcolm D. Lee are teaming up for a brand new movie called Girls Trip. And while details are few and far between, we're already here for it. Hotness, hilarity and hormones flying with emotion? Yes please!
Kevin Hart & Ice Cube's Ride Along has made over $120 million so far. So Will Packer is ready to do it again! Via his Will Packer Productions company, he's breaking out a new flick that's using the working title "Girls Trip."
And with Malcolm D. Lee is set to direct, production is expected to begin this summer.
Now, the real question is, which celebs should be cast for a movie--that we're sure will involve plenty of YBF chicks--that's all about an epic Girls' trip?
Thoughts?
The Randomness:
1. Steve Stoute went in about Macklemore winning all the rap GRAMMYS. STORY
2. Reports allege Aaron Hernandez just attacked a fellow inmate. No word on what provoked the situation. STORY
Photo: CME 3000
DOWN FOR THE CAUSE: Savannah James Collects Tickets At Hometown Children's Fashion Show For Autism
Posted: 25 Feb 2014 02:31 PM PST
LeBron James' wife Savannah James was spotted in her hometown of Akron over the weekend donating her time to a children's fashion show put on by her close friend. Savannah was even spotted collecting tickets from fashion show guests. Check the pics and deets inside…
It's always nice to see a REAL basketball wife giving back. Miami Heat star LeBron James' wife Savannah James went back to her hometown of Akron, Ohio to attend a children's fashion show put on by her best friend, Amber.
When she's not attending fancy events with her star hubby, she makes time to give back to others. And keeps it down to earth in the process.
Mrs. James traveled to Ohio this weekend to show support for her friend's 1st annual children's fashion show to raise autism awareness.
And she was even collecting tickets from guests as they arrived to the event. Love that she's at that door the door collecting tickets!
Nice to see a YBF chick in touch with reality...and what really matters.
Fab times!
Photos: @melt324/@ms_deidre/@ambeey
Angela Stanton's Attorney Wants Phaedra Park's DEFAMATION Suit Dismissed...Says Angela Told The Truth And Phaedra Knows It!
Posted: 25 Feb 2014 01:50 PM PST
The attorney for Angela Stanton wants Phaedra Parks' $30M defamation lawsuit dismissed because Phaedra hasn't produced any evidence to prove Angela defamed her! More inside....
As "RHOA" star Phaedra Parks continues her Secrets of The Southern Belle book tour and Apollo Nida guards his grill against federal charges for fraud and identity theft, the lawyers for Angela Stanton (whom Phaedra filed a $30M lawsuit against) are striking back. They want a judge to see through Phaedra's B.S. and force her to pay Angela's mounting attorney fees, as well as dismiss the case.
A while back, we told you about Angela's tell-all book, Lies of a Real Housewife (it linked both Apollo and Phaedra to several elaborate federal racketeering schemes) and now Angela's lawyer wants to know why Phaedra won't sit for a deposition related to the lawsuit she filed against Angela that essentially said all her claims were a lie.
A few months ago, Phaedra was all set to defend herself (when she initially filed the lawsuit) but now she and her legal team have repeatedly dodged efforts from Angela to hear Phaedra's side of the story. Now, Angela's lawyer, James Radford, has filed a motion asking a judge to dismiss Phaedra's lawsuit for three reasons:
1. Phaedra has placed no evidence supporting her claims (pg. 15)
2. There is no evidence to support claims that statements Angela made were false (pg. 19)
3. Phaedra has not proven malice or reckless regard for the truth (pg. 21)
And we're sure it helps Angela's case that Apollo DID get recently arrested on fraud charges that were similar (if not the same) to what Angela originally said...and what Phaedra originally sued her for saying.
The lawyer is also asking that Phaedra be forced to pay Angela's attorney fees (since she's the one dragging the case out).
Read the motion here.
And the House of Parks may just be crumbling before our eyes. Somebody get Phaedra's mama a church fan...
Photo via Angela Stanton's Twitter
Toya Wright Celebrates Sheen Magazine Cover Debut + A Very Pregnant Kerry Washington Spotted In Her "Pope Coat" On The Set Of "Scandal"
Posted: 25 Feb 2014 01:21 PM PST
Last night in Atlanta, Toya Wright, her husband Memphitz and other celeb friends celebrated the official debut of Toya's Sheen Magazine cover. Meanwhile, a very pregnant Kerry Washington was spotted on the set of "Scandal" in full-on Olivia Pope gear. Check the pics inside…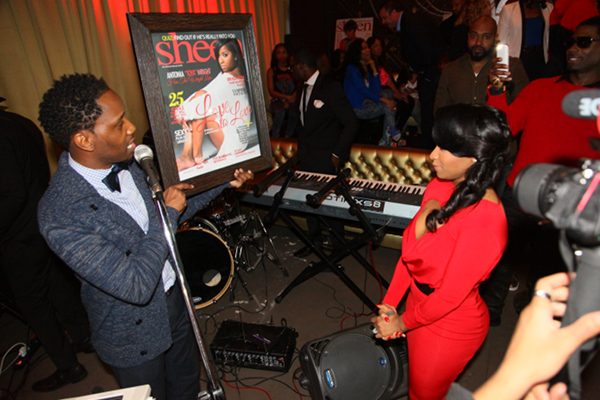 Last night, reality star Toya Wright looked red hot as she premiered the official Sheen Magazine Cover for its "Love and Relationship Issue" at Aurum Lounge in Atlanta. Of course, Toya's husband Memphitz was there along with Neffe, the "Atlanta Exes" stars Monyetta Shaw, Torrei Hart and more.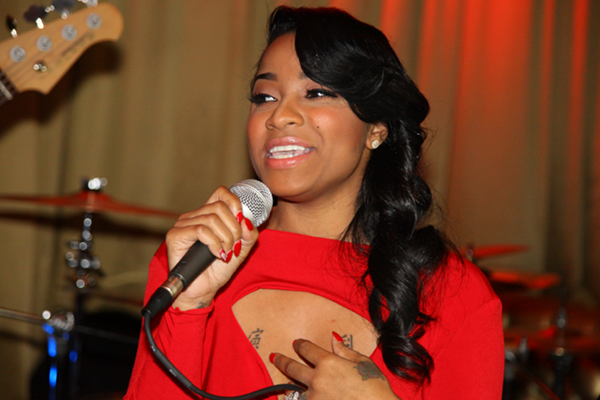 Toya is featured in the March/April Romance and Relationships Issue where she opened up in detail about her current marriage and what it feels like to still be considered "Lil Wayne's Ex-wife".
She showed off her cute bod and celebrated with the homies like Monyetta.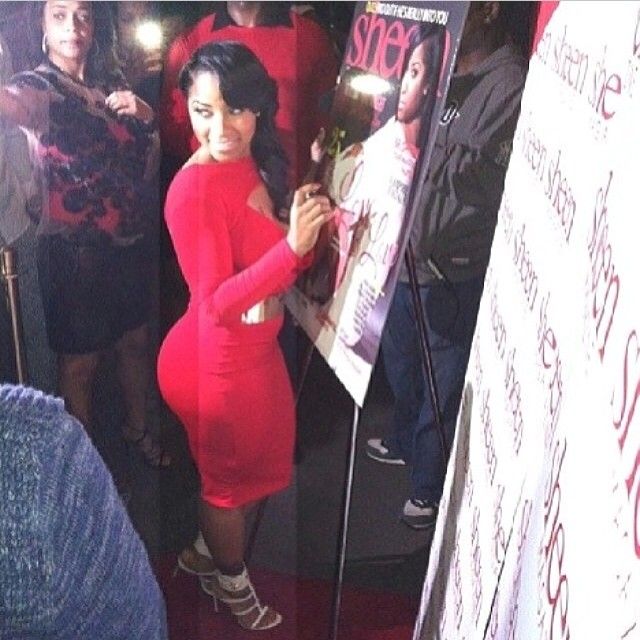 Congrats Toya.
Meanwhile...
Kerry Washington was spotted leaving the set of "Scandal" in Pasadena, California.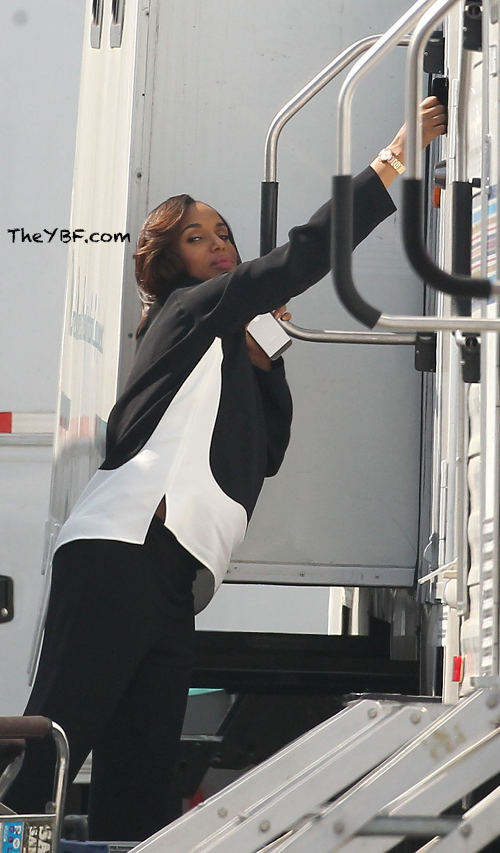 The very pregnant Kerry was seen in an oversized white coat (we know how Olivia loves her coats) before changing into her own clothes and Uggs while walking alongside her father, Earl. Kerry has been busy working on the "Scandal" set with her growing belly. It's still unclear if the writers plan on writing her pregnancy in the show. But the season has been shortened by a few episodes.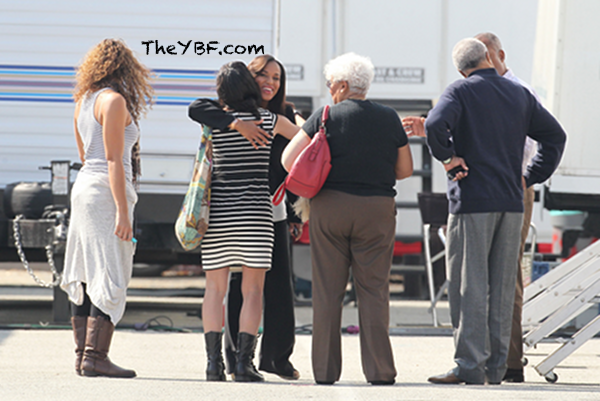 Kerry gave out hugs to friends and her parents, Valerie and Earl, as she was leaving.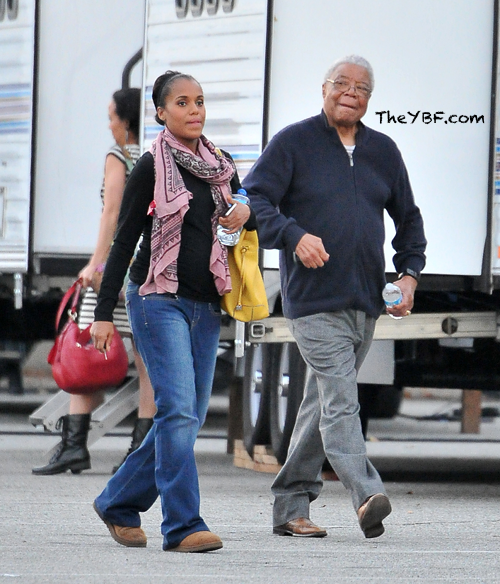 Pregnancy is looking good on Mrs. Asomugha!
Photos: Fern/Splash News/PCN/Toya's IG/ @atlbeautybar's IG/SHEEN Magazine

Did LL Cool Jay Throw A Little Shade At Kanye West? + Rick Ross Performs "Devil Is A Lie" On "Jimmy Fallon"
Posted: 25 Feb 2014 12:11 PM PST
Rap legend LL Cool J named Kanye West as one of his favorite rappers…but only when he's NOT complaining! Rick Ross hit the stage on Jimmy Fallon to perform his hit "Devil Is A Lie." Find out what else LL had to say about Yeezy and see Rozay's performance inside…
Rapper/actor LL Cool J hit up The Arsenio Hall Show and when asked about who his favorite rappers are right now be named newcomers like Schoolboy Q and then went on to name Kanye West…but with a stipulation. LL said Yeezy is one of his favorite rappers, but only when he isn't complaining! He also clowned Yeezy for running into a pole, which was caught on camera.
Check out LL's interview below:
Ha! Do you think Yeezy will come for LL? He's good for a random rant...
Speaking of rappers…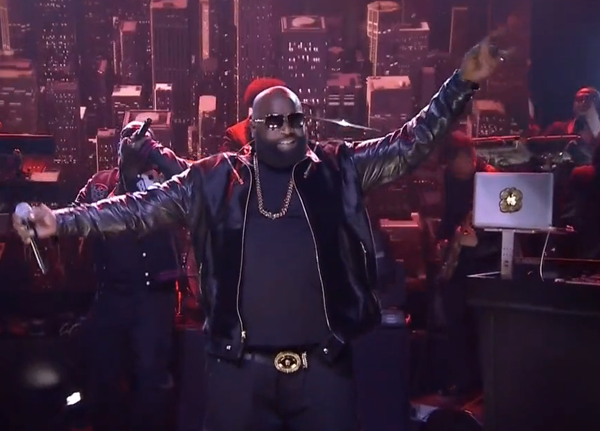 MMG rapper Rick Ross was tapped to perform his track "Devil Is A Lie" (which features Jay Z but he was not present for this performance) last night off of his upcoming album Mastermind on "The Tonight Show Starring Jimmy Fallon". Rozay teamed up with The Roots for his hip-hop performance. Check it out below:
Rick Ross' much delayed sixth-solo album Mastermind is being co-executive produced by Diddy and will drop March 4th. It will feature collaborations with Jay Z, Kanye West, Lil Wayne, Meek Mill, and Jeezy, whom he apparently once had beef with. Yeah, we just found out as well.
So how did Jeezy land on Ross's album? Rozay recently spoke on his beef with Jeezy to Atlanta's HOT 107.9 saying they both decided to let bygones be bygones.
Well alrighty.
Photos/Videos: LL Cool J's IG/Aresenio Hall Show/Yardie
Beyonce Releases "Partition" Video + Chris Brown RANTS About His Former Manager Leaking His New Music
Posted: 25 Feb 2014 10:53 AM PST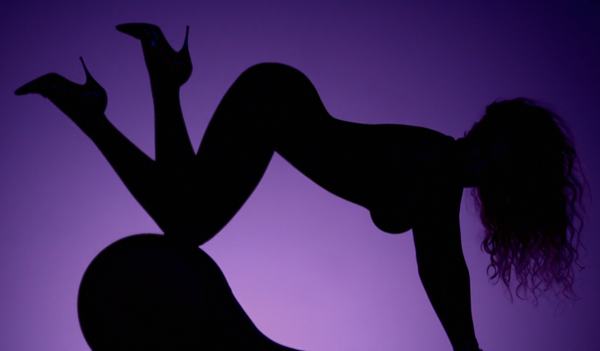 The Chris Brown drama continues! Chris Brown is accusing his former manager, Tina Davis, for leaking NEW music from his upcoming album, X. And Beyonce just released the sexy ass visuals for "Partition."
See what Chris had to say about his music being leaked and Bey's latest video inside…
Beyonce just released the visuals for her latest video, "Partition" off of her hit visual album, Beyonce, on VEVO.
"Partition" is the 3rd video released following "Drunk In Love" and "XO." Yes, we know this video was already released on the visual album, but this is the "official" release to the public.
Bey spoke to PEOPLE about the track saying:
"It takes me back to being in my car as a teenager. It takes me back to when me and my husband first meet, and he tries to scoop me and he thinks I'm the hottest thing in the world.

I kinda had this whole fantasy of being in the car, and this whole movie played in my head. I didn't have a pen and paper. I got to the mic, I'm like, 'Oh, press Record.' [Starts singing] Driver roll up the partition please, I don't need you seeing 'yoncé on her knees…"
Work! Roll up your partition and check out Bey keeping it uber sexy below:
Tidbit: We're not sure if you noticed, but Kid Cudi pulled a Bey move by releasing his new album without notice today. Cudi released his new album Satellite Flight: The Journey to Mother Moonhere in North America at midnight last night, and can be purchased on iTunes. It releases to the rest of the world tomorrow.
In other music news...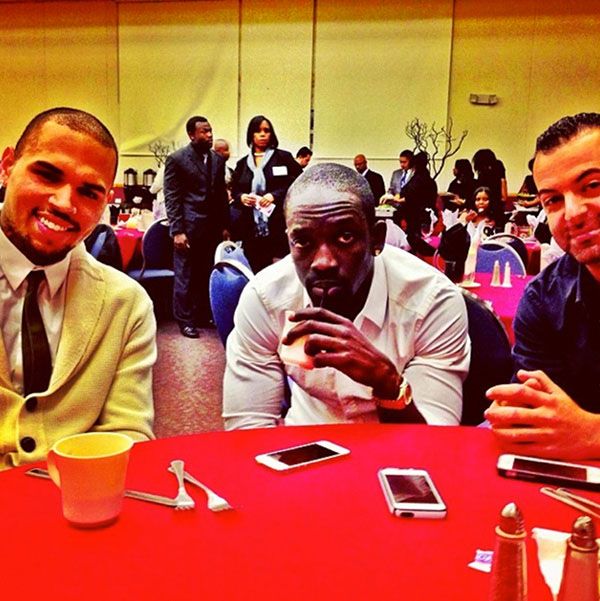 Although Chris Brown just graduated from his 90-day anger management stint, that didn't stop him from going on a Twitter rant recently accusing his ex-manager, Tina Davis, of LEAKING tracks from his upcoming album, X. In fact, the whole album has been leaked.
Chris ranted: "My old manager is leaking my NEW album music and refuses to give me my back up hard drive to sabotage my album. That's F'd up G!"
He then deleted the tweet and posted:
Snakes in the grass..... Just stay positive

— Chris Brown (@chrisbrown) February 23, 2014
Tina decided to respond to Breezy's accusations via her Twitter account posting, "@chrisbrown Trace it! Find out where it originated from…RCA can do that for you. Then send a defaming tweet out on who really did it."
She later deleted her tweet. Tina has been Breezy's manager since the beginning of his career, but they recently parted ways. Now, Akon's brother, Def Jam VP of A&R Bu Thiam, is his new manager (pictured above).
Chris simply needs to stay off social media. PERIOD.
Photos: Parition video/Chris Brown's official IG
SPOTTED: Maxwell & Julissa Bermudez, Chanel Iman & Colin Kaepernick Catch Some Rays On Miami Beach
Posted: 25 Feb 2014 09:37 AM PST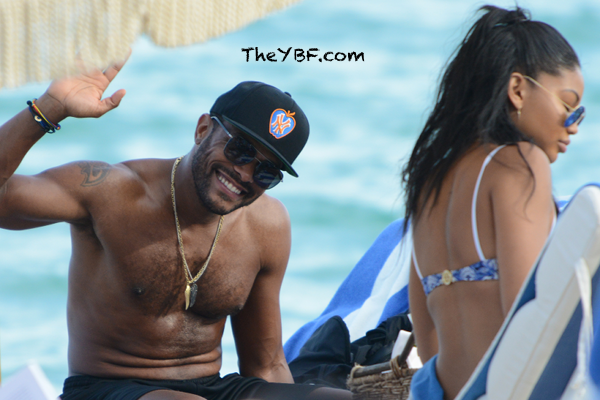 Maxwell seems to really be enjoying himself down in Miami after he was spotted on the beach with friends Julissa Bermudez and Chanel Iman. 49ers QB Colin Kaepernick was also spotted on the beach with the crew too. Check the pics inside…
Singer Maxwell was spotted having some fun in the sun on the beach in Miami with former "106 & Park" co-host Julissa Bermudez and sexy model Chanel Iman. Maxwell took a break from the studio to enjoy the 76 degree weather Miami had to offer.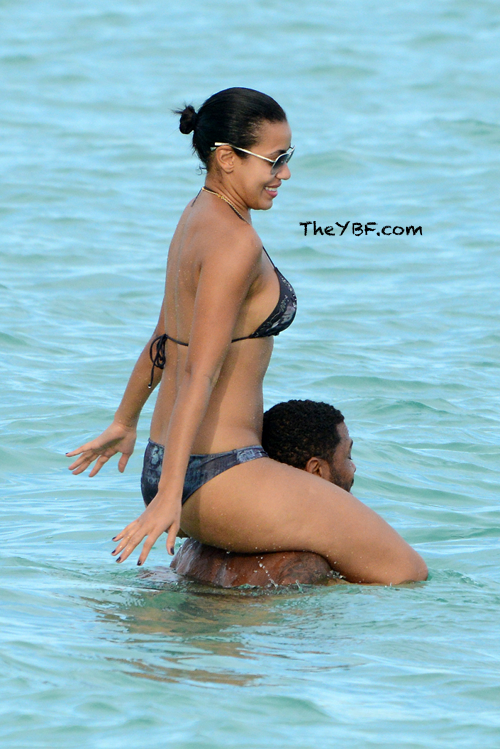 Maxwell and Julissa (above playing around in the ocean) were spotted last month enjoying each other's company on the beach where they rode jetskis and were hugged up in the their beach chairs. New couple perhaps?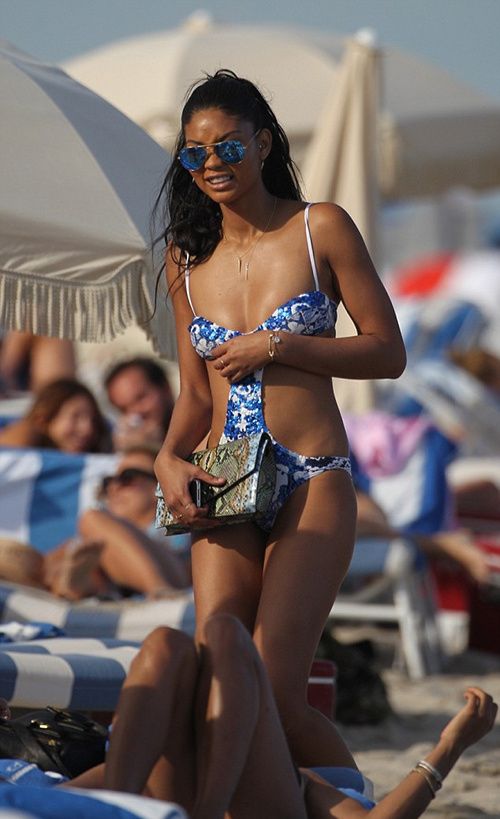 Victoria Secret model Chanel Iman rocked a blue and white cutout swimsuit with blue aviator style sunglasses and snakeskin print clutch.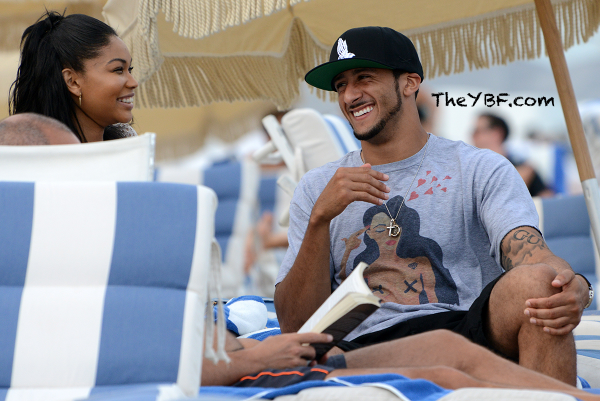 Chanel was spotted sharing laughs with San Francisco 49ers quarterback Colin Kaepernick. Hope Chanel's boyfriend A$AP Rocky doesn't get jealous easily but even if he did, could you blame him? Mr. Kaepernick is all types of sexy....
Photos: MGoetz / Splash News
LOCKED UP: NY Knicks Point Guard Raymond Felton FACING Three Gun Charges, ALLEGEDLY Pointed Loaded Gun At ESTRANGED WIFE!
Posted: 25 Feb 2014 08:45 AM PST
NY Knicks point guard Raymond Felton is headed to court this morning where he'll face three gun charges. Inside, find out the shocking chain of events that led his estranged wife to turn him in....
After the NY Knicks lost to the Dallas Mavericks last night (110-108), 29-year-old point guard Raymond Felton found himself cuffed and behind bars with three gun charges. The events that led to his early morning arrest today are quite shocking....and you can blame his alleged cheating ways AND his "fed up" wife.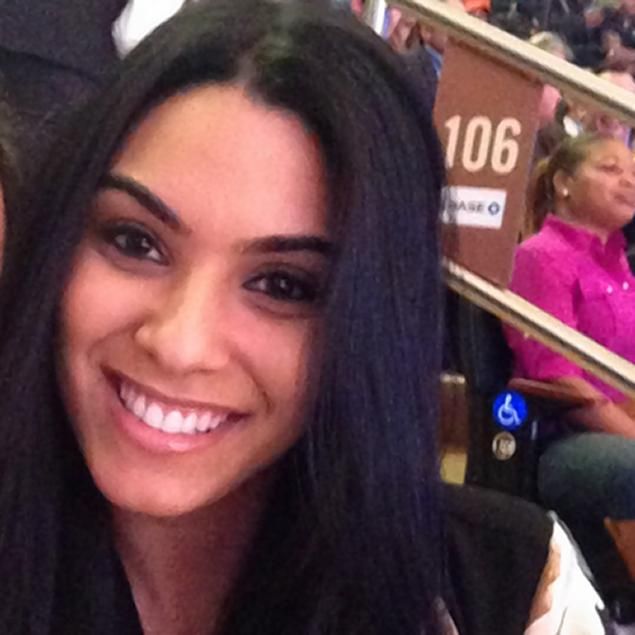 According to the NY Post, Raymond and his 26-year-old law school student wife, Ariane Raymond-Felton (above), recently filed for divorce after 19-months of marriage. And sources claim they have engaged in several nasty arguments about his cheating.
"The wife is saying they had four verbal altercations since July last year. On the last one, he pointed a gun at her. It's an armor-piercing gun, loaded. It's a bad ass gun," a law enforcement source told The Post.

"She said, 'He's out doing his thing.' Looks like he was [having sex with] some girl on the side. They were arguing about bulls–t domestic stuff, but on this last one he pulled the gun, she said," the source added.
Wow. Initially, reports on Daily News said a girlfriend of Raymond's was involved, but that has now been edited (for some reason).
So what did Ariana do? Both ABC NEWS and The NY Post report that Ariane boxed up Raymond's gun and took it down to the 20th Precinct on the Upper West Side because she didn't want the gun in her home anymore. And if you remember anything about NFLer Plaxico Burress, you'll recall that NY has some of the nation's strictest gun laws. You DO NOT want to get caught with one unlicensed...or in an improper way!

As of this morning, Raymond was charged with criminal possession of a weapon in the second, third and fourth-degrees and is headed to court shortly. We'll keep you posted.
Last week, Raymond told the Daily News he didn't want to let his divorce affect his game (even though according to sports analysts, he's played poorly this season:
"It's your life. When you're going through certain things in life it's on your mind, no matter what. You try not to let it come into your job, into your workplace, but sometimes it does. You're human and it's a part of life. But at the same time, it is what it is. That's my personal life, though; I don't want to discuss that part."
Chile...
BONUS:
1. DMX is facing foreclosure on his NY mansion and blames Tashera Simmons (whom he's still legally married to his rep tells TheYBF.com) for living above her means. When TMZ asked him about the siutation, he said, "I told her she is living above her means, that you can't still live on the same block as Martha Stewart and Chevy Chase, you gotta downgrade, but she refuses to do so because the house is in my name. She doesn't give a f*** about my credit." Story.
Photos via AP/Getty/linkln