---
IN CASE YOU MISSED IT: Katy Perry Feat. Juicy J'S "Dark Horse" VIDEO
Posted: 21 Feb 2014 07:57 AM PST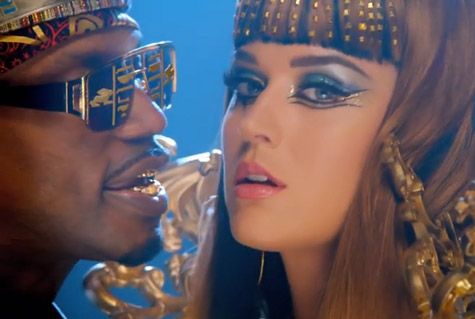 Katy Perry teams up with Juicy J in the video for "Dark Horse." Watch her channel an Egyptian queen inside...
In the Matthew Cullen-directed clip for "Dark Horse", Katy Perry channels her alter-ego Katy-Patra, the blinged-out queen of "Memphis, Egypt". HA. As men from all over the world attempt to entice her with gifts, she turns them into dust if they don't impress her.
Amid the videos numerous dance routines, "Twerk" king Juicy J gets in on the fun as Katy does a pole dance to his verse. Of course.
Juicy's everywhere these days.
Watch "Dark Horse" below:
ADORABLE BABY ALERT: Reggie Bush & Fiancee Lilit Avagyan Take Little Briseis Out To Lunch
Posted: 21 Feb 2014 06:53 AM PST
Get ready for a morning dose of ADORABLE with pics of Reggie Bush's little girl Briseis. More inside....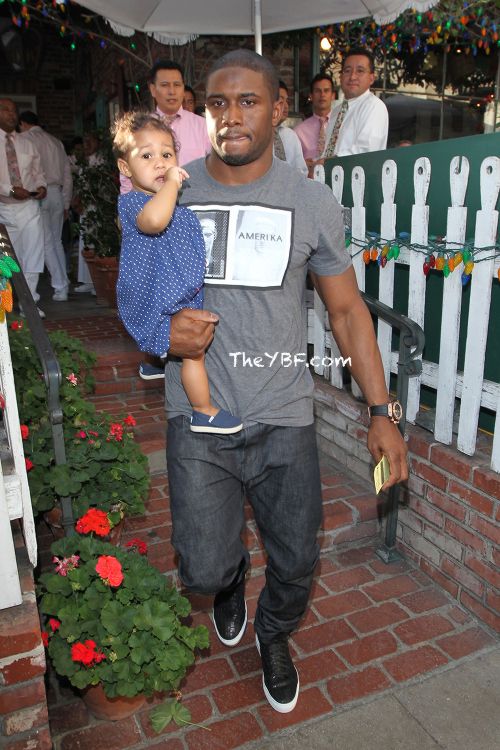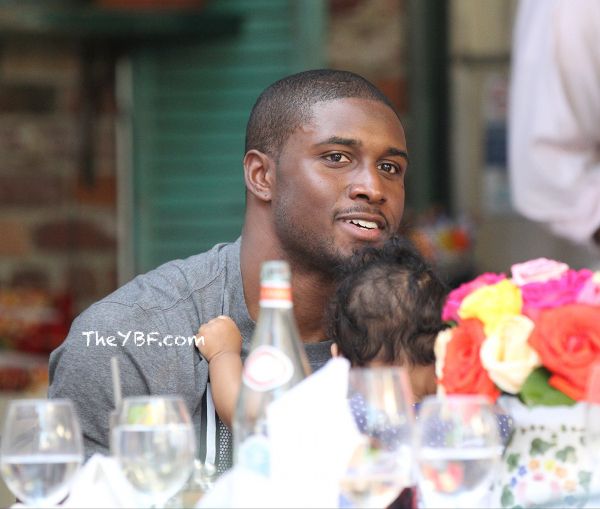 Yesterday, photographers spotted Detroit Lions running back Reggie Bush holding his little girl Briseis as he and fiancee Lilit Avagyan dined out at The Ivy in Los Angeles.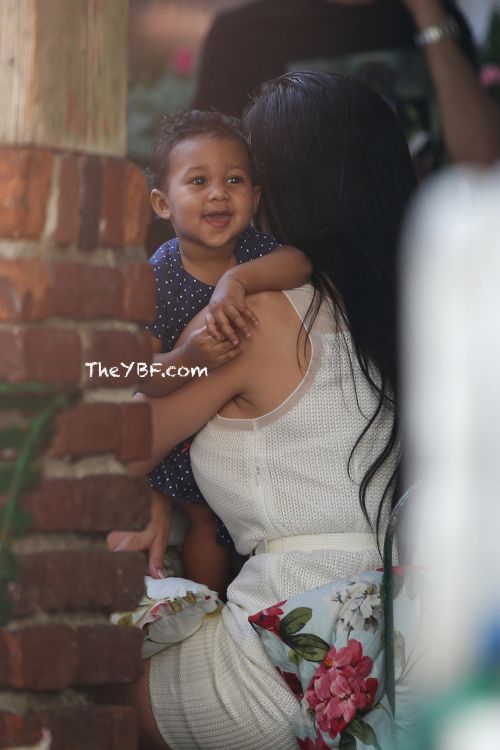 During Reggie's off-season, he and Lilit live in LA where she works as a dance teacher and choreographer.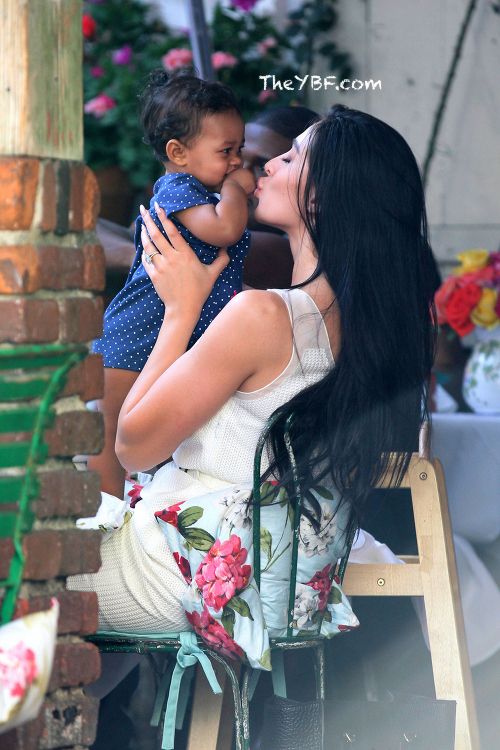 It's amazing that Briseis looks a little like Kim and Kanye's daughter Nori.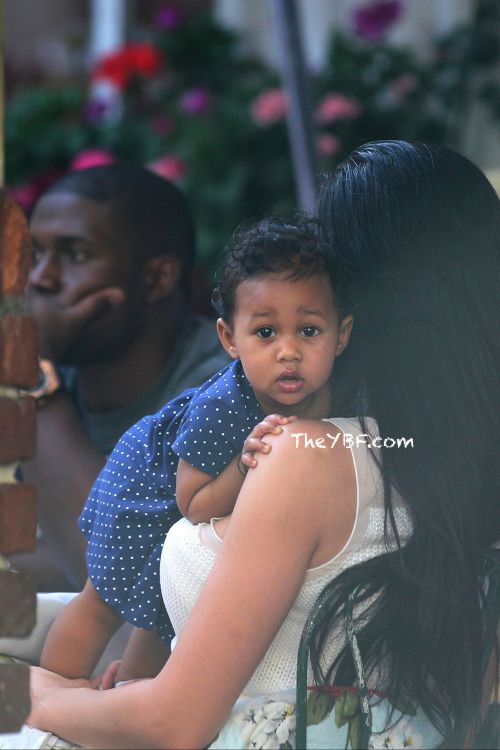 We wonder if Briseis is enjoying her new car seat. How absolutely adorable is she?!
Photos via RevolutionPix, PacificCoastNews
NEWS: Juror No. 8 In The "Jordan Davis" Murder Trial SPEAKS OUT, Says RACE "Did Not Factor Into Her Decision"
Posted: 21 Feb 2014 05:57 AM PST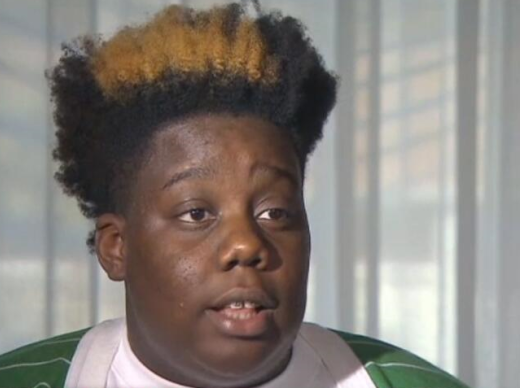 One of the two Black female jurors for the Jordan Davis murder trial says Michael Dunn was guilty...but this trial wasn't about race. Watch the shocking interview inside...
In case you're wondering why the jury of twelve failed to convict Michael Dunn for killing Jordan Davis, Juror No. 8's shocking views about the case may shed some light on the mistrial.
During a head-scratching interview with CNN, 21-year-old Creshuna Miles, told reporter Alicia Machado that she believed Michael Dunn was guilty of second degree murder, but members of the jury could not come to an agreement. Oddly, Creshuna told CNN that the subject of race did not factor into her decision.
"I never once thought about, 'Oh, this was a black kid, this was a white guy.' Because … that wasn't the case."
Oh?
When Alicia asked her how she would respond to people who said a white man got away with killing a black kid, Creshuna said, "I would tell them that they really should knowledge themselves on the law."
Unfortunately, Creshuna was unable to explain what she meant by that statement.

As the interview continued, Alicia asked her to explain what the case what about, since "race" did not play a role in it for her. She replied "It was about justice."
Um...come again? Well, at least she believed that Dunn was at least guilty of second degree murder....
Beyonce Rocks New Looks, New Performances For First Night Back On The MCSWT In Glasgow
Posted: 20 Feb 2014 10:07 PM PST
Beyonce is officially back on her Mrs. Carter Show World Tour. And she kicked things off in Glasgow Thursday night with a show that included performances from her new self-titled album.
Check it inside, plus a few intimate backstage pics from Mrs. C's personal stash....
At Glasgow's SSE Hydro Thursday night, King Bey gave fans their first taste of live performances from the Beyonce album. She's got new outfits (like the glittery black look above) to accompany her newly updated show.
She also kept it sexy in plaid shirt and leather hot pants in another look: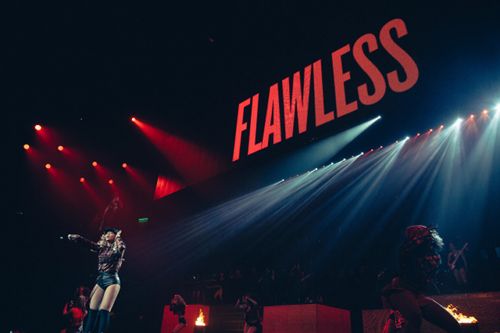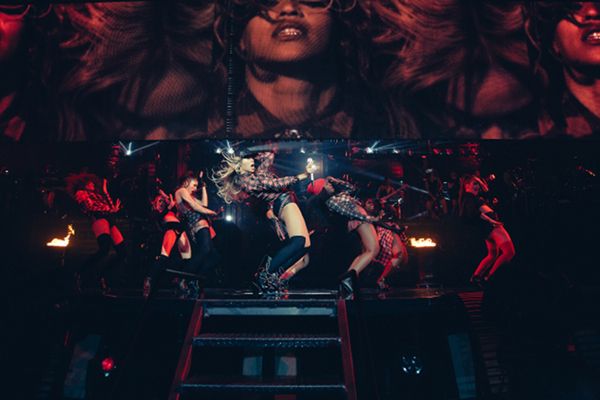 And a glittery body suit in another: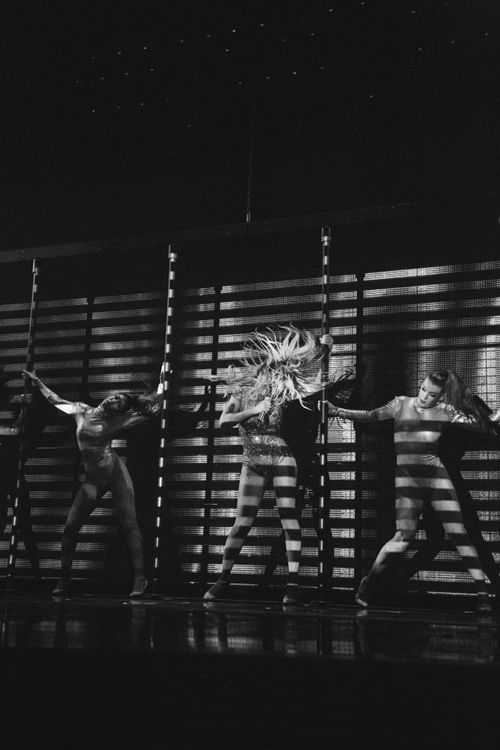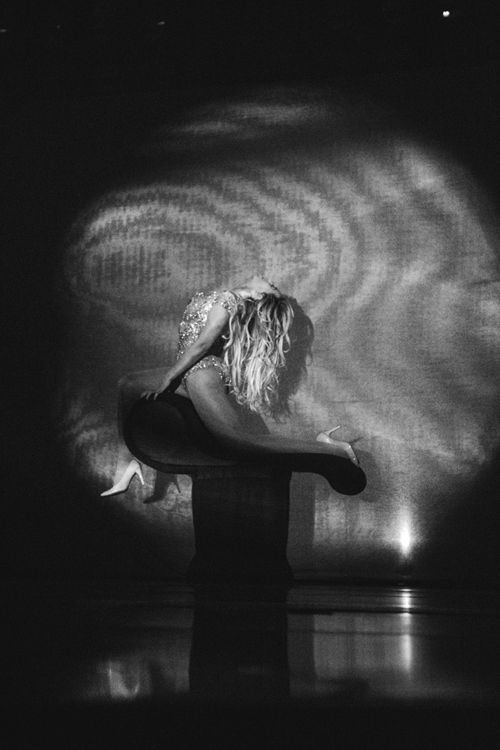 Here's a first sneak peek at her performance of "Yonce" for her UK fans. She also did "Partition", "Drunk In Love", "Blue" and most of the new visual album:
Meanwhile, she was busy uploading her personal pics on Tumblr today from Wednesday night's sexy BRITS 2014 performance of "XO". Here's a backstage look at her and Mr. Carter just being cute: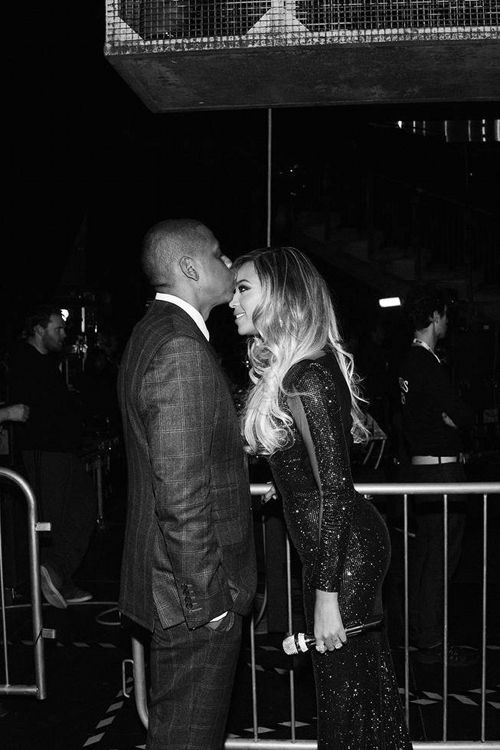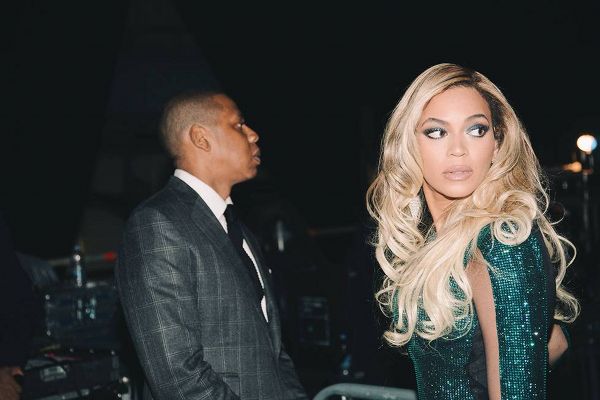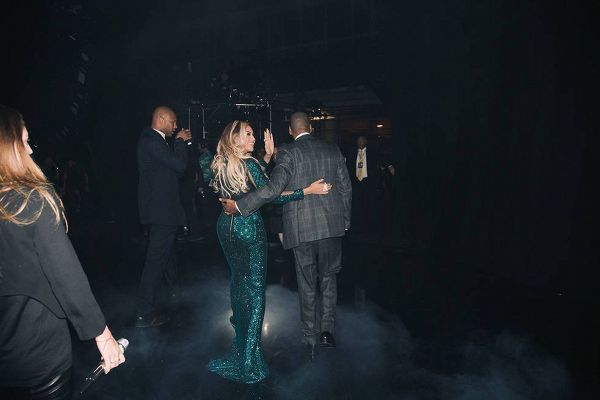 Nice! Next up: London.
Photographed by Robin Harper/Beyonce.com
STILL WORKIN': Tracee Ellis Ross & Anthony Anderson Sign On For ABC Pilot + Taraji P. Henson & Michael Clark Duncan Starring In "From The Rough"
Posted: 20 Feb 2014 04:27 PM PST
Some folks keep themselves a job. And we love it.
Tracee Ellis Ross and Anthony Anderson are heading to ABC for a new pilot. Get the deets inside and find out about Taraji P. Henson's new movie...
Former "Girlfriends" star Tracee Ellis Ross and funnyman Anthony Anderson have signed on for an untitled ABC pilot.
The show will be produced by Laurence Fishburne's Cinema Gypsy company and will centers on "...an upper-middle-class black man (Anthony) who struggles to raise his children with some sense of cultural identity despite constant contradictions and obstacles coming from his liberal wife, old-school father, and his own assimilated, color-blind kids."
We'll keep you posted as the show develops...
In other entertainment news....
Taraji P. Henson and Michael Clark Duncan are starring in a new film, opening April 25th, called From the Rough. The film stars Taraji P. Henson and is based on the true story of Catana Starks, a former Tennessee State Tigers swim coach, who became the first woman ever to coach a college men's golf team. With drive, passion, and guts, she took an unruly group of mismatched kids from around the world and guided them to an all-time record at the PGA National Collegiate Minority Championship.
The film also stars Tom Felton and LeToya Luckett. The film was co-written by Michael A. Critelli and Pierre Bagley and directed by Bagley.
SPOTTED IN SPAIN: Lamar Odom Is STILL Wearing His WEDDING RING, Says He STILL Talks To Khloe!
Posted: 20 Feb 2014 03:05 PM PST
Lamar Odom was spotted at LAX on his way to Spain today. But before he departed, he revealed in an interview that he still speaks to Khloe Kardashian...and he's even wearing his wedding ring! More inside....
Lamar Odom was spotted at LAX where he boarded a flight bound for Spain. Why? Because he signed a 2-month contract with the team Saski Baskonia (also known as Laboral Kutxa) where he'll get to play basketball again.
It's interesting to note that he wore his wedding ring to the airport and still refers to Khloe as his wife. During an interview recorded shortly before his ride to the airport, he revealed that Bruce Jenner was influential in his decision to head to Spain and that he still speaks to ex-wife-to-be Khloe.
Khloe filed for divorce qabout two months ago, and has stopped wearing her ring and has been in thegym daily to get a bangin; body to attract her next man.
But Lamar told Access Hollywood, "Bruce is… he means a lot to me...Bruce is one of the reasons why I am going to do this." He added, "I always speak to Khloe. She's my wife."
Is she? Maybe legally, but...
What about Kris? "I left Kris [Jenner] a message today. [I'm] always texting back and forth with Bruce. Hopefully they'll be able to come see me soon."
Interesting.....those Kardashians have a hold on everyone.
Lamar will make his debut on Feb. 27th.....

Photos via INF
Tamera Mowry-Housley On Handling Racist Criticism Of Her Interracial Marriage, "I've Learned To Love My BLOCK Button"
Posted: 20 Feb 2014 02:49 PM PST
"The Real" co-host Tamera Mowry-Housley stopped by "Bethenny" where she dished on dealing with critics of her interracial marriage. More inside.....
On tomorrow's episode of "Bethenny", Tamera Mowry-Housley stopped by to dish on the controversy surrounding her interracial marriage and how she deals with haters. She's spoken about the issue previously, and it looks like the racism her family has faced is continuing.
She told Bethenny,
"I think maybe because social media is what it is right now. I have a Twitter account and people feel like they can just come to it and say whatever but I've learned to love my block button and I'm just choosing to see the positive side of it. We have more people loving on us than hating on us and we are choosing to focus on that now.

I was actually hurt because my parents had experienced it way back in the day and I was hurt because we as a community have come so far and we fight against it all the time. I was hurt that people still felt that way but the opposite way, you see what I'm saying? So if anything, I was devastated, hurt, and like I said I'm just going to pray and look at the positive."
Tune into "Bethenny" on Friday to see the full episode and catch Tamera when "The Real" returns this fall.....
Photo via Bethenny
STILL BEEFIN': Kandi Burruss & Todd Tucker Take On Mama Joyce On "The View"
Posted: 20 Feb 2014 02:03 PM PST
Kandi Burruss, Mama Joyce and Todd Tucker all rolled to "The View" today. And they kept it real as always with their drama as Whoopi, Sherri and guest host Jerry O'Connell played referees.
Check out the vids inside...
So, today on "The View", "RHOA" star Kandi Burruss brought her mom Joyce and fiance Todd to discuss their triangle of beef.
Ms. Joyce STILL refuses to admit she's simply mad she will no longer be Kandi's #1 concern...because Todd is now taking that spot.
Mama Joyce grasped at all the straws, telling "The View" co-hosts that she doesn't like that Todd took two months off of work a while back, and that he didn't mention Kandi's daughter Riley when he went on Andy Cohen's show "WWHL" recently.
Sigh. The co-hosts saw straight through her B.S. and Whoopi straight up told her to let Kandi's grown ass make her own decisions...and mistakes if that's what occurs.
Todd defended himself and held his anger in quite respectably. And Kandi wept. As usual.
Check out the interview below:
Before their appearance, Kandi, Todd & Mama Joyce snapped some pics backstage. And Kandi said she freaked out when Whoopi--who she's a big fan of--surprised them in their dressing room:
Good luck with all that Kandi...
Photos: Tresa Sanders' IG, Kandi's IG
Yacht-Loving Ludacris CLAIMS He Can't Afford More Child Support! + Tyrese APOLOGIZES For Bailing On "Arsenio Hall"
Posted: 20 Feb 2014 12:12 PM PST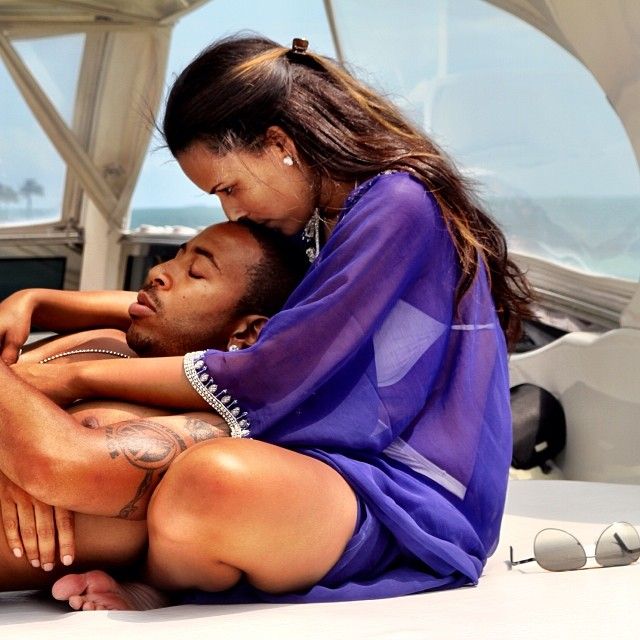 Despite his lavish lifestyle, Ludacris claims he can only afford $1,800/month in child support! Get the deets inside and read Tyrese's apology to Arsenio Hall for cancelling an appearance....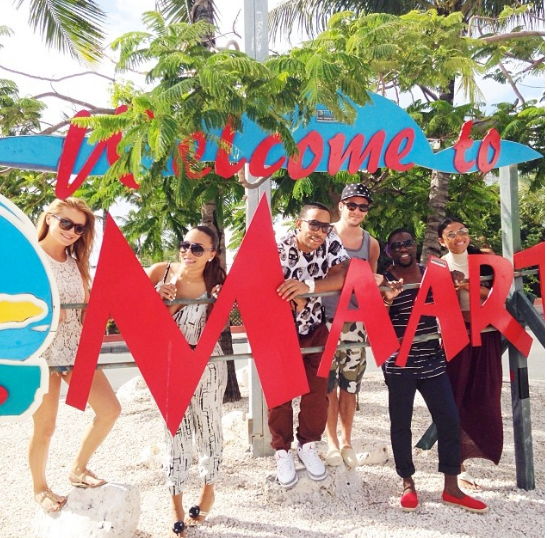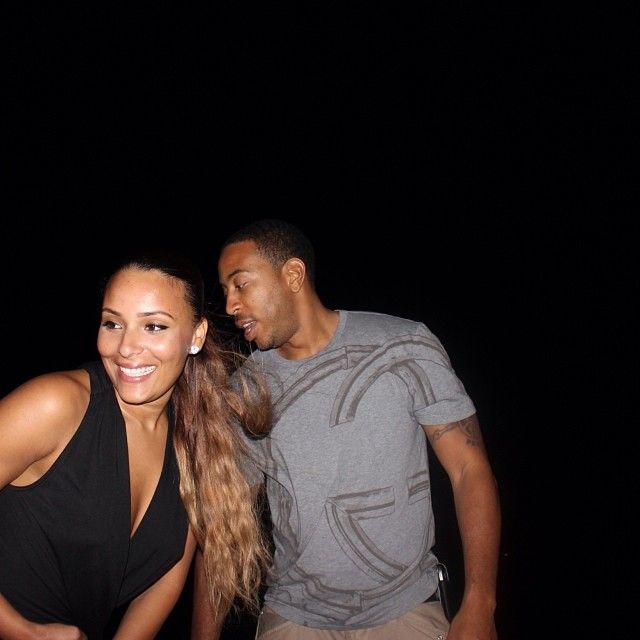 Maybe you've seen Ludacris and his girlfriend Eudoxie on fancy yachts (atop), chic vacations with Kevin Hart (above) or lavish parties all over the United States, but he claims he only made $55K last year! SIDEBAR....that guy can really stretch a nickle and a dime apparently! Either that, or he's flat out lying.
In new court documents, Luda is battling his baby's mother Tamika Fuller (the one who was just recently discovered) and says he can only afford to pay $1,800 a month in child support. He told the judge he was counting on Fast and Furious 7 money to make his payments and now that the movie is on hold due to Paul Walker's death, it's messing up his money (by the way....Tyrese reportedly claims something similar).
But clearly, he's got way more than $1800 to be hopping across the world with his fiancee on private jets, every All-Star 2014 party and more. He said himself during the Christmas Holidays that he and Eudoxie and Kevin & Eniko hit multiple Caribbean cities in just a few days.
On Wednesday Luda and Tamika (who wants $15K a month) met in court and a judge ordered him to pay $7K a month. For now, the judge is reviewing Luda's financial documents and may "rule" again.
In other music news.......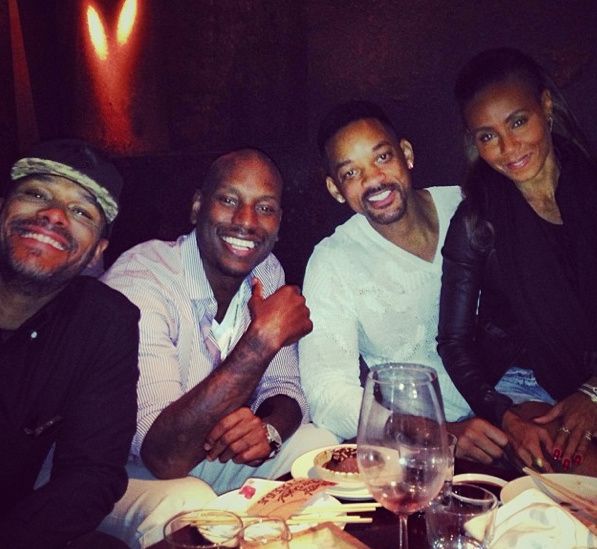 Tyrese, who's also claiming financial hardship since "Fast & Furious" star Paul Walker's death (despite fancy vacations with Will & Jada), went on Twitter to apologize to Arsenio Hall and the studio audience for cancelling a scheduled "TGT" appearance.
"TGT is not on the show tonight and it's completely on someone in our camp who f**ked it up. It's expected of A-Hall to publicly speak on it! I've been sick to my stomach all day cause it was ME who asked him to let us come back on for the fans! Arsenio Hall bro we feel like shit. It's gonna take years to recover from this but I will earn your trust again cause I know you are committed to your viewers we will fix this."
What in the world...
The Randomness:
1. 50 Cent leaves Interscope/G-Unit and goes independent. Story.
Photos via Eudoxiee's Instagram/Tyrese's Instagram
Hotties Being Cute: Idris Elba RESPONDS To "I Am Not Idris Elba" + Colin Kaepernick & Cam Newton Do KARAOKE To Katy Perry's 'ROAR'
Posted: 20 Feb 2014 11:21 AM PST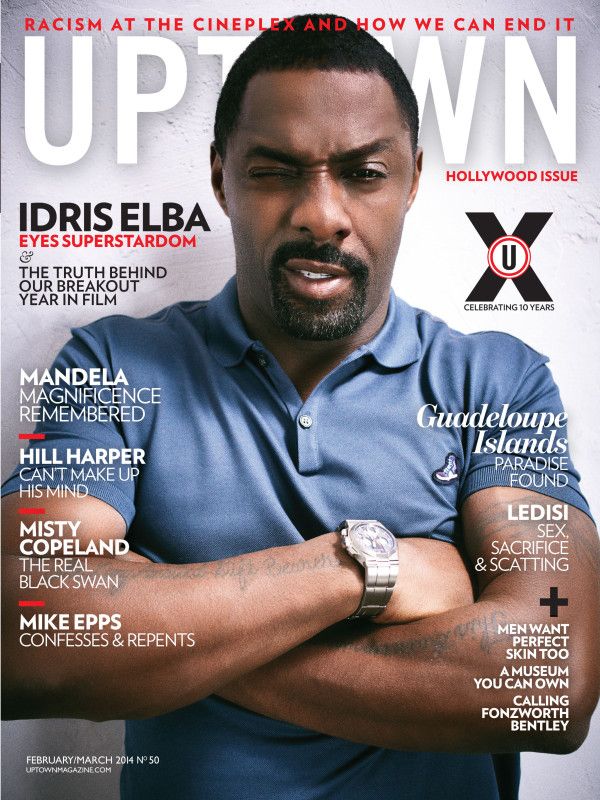 We love when our fave sexy guys keep it cute.
Idris Elba has responded to the "I Am Not Idris Elba" post heard round Black Twitter. Also, Cam Newton and Colin Kaepernick sang Katy Perry's "Roar". See all the "sexy" inside....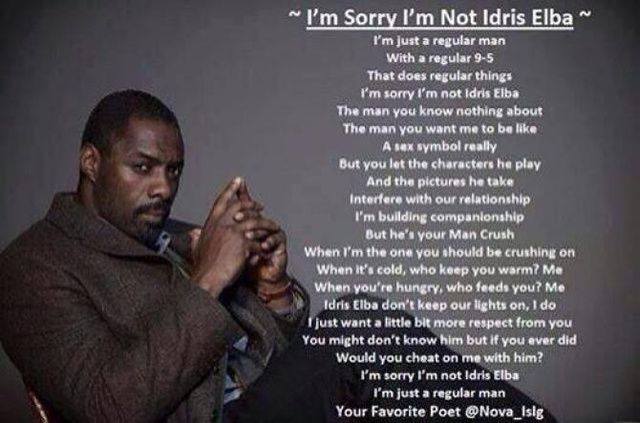 In case you missed it, one dude is fed up with being compared to Idis Elba, so he posted this statement above, which set Black Twitter on fire. In response to the post, Idris, who covers the latest issue of UPTOWN Magazine, tweeted his own response....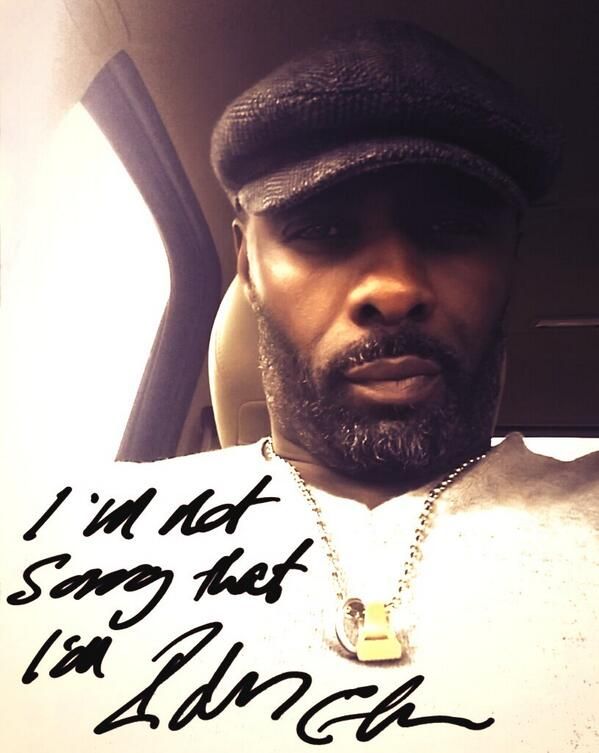 It's cocky, classy and self-assured. All the reasons we're obsessed with Idris Elba. #SorryNotSorry
And speaking of sexy:
Carolina Panthers QB Cam Newton and San Francisco 49ers QB Colin Kaepernick hosted the Cartoon Network's Hall of Game awards earlier this week where they shocked the audience with their own take on Katy Perry's 'Roar' at (4:02). They may not be able to sing....but they're soooooo cute!
Photos via Idris Elba's Twitter
MUSIC FAB: Ashanti's "First Real Love" Feat. Beenie Man
Posted: 20 Feb 2014 10:22 AM PST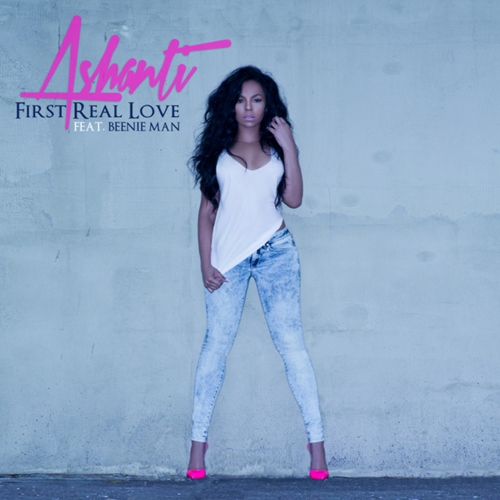 Ashanti just dropped a new track fresh off her upcoming Braveheart album. Check out the reggae inspired "First Real Love" ft. Beenie Man inside...
As the March 4th release of Braveheart creeps closer Ashanti is giving fans pieces of what to expect. She just dropped a love-inspired banger with a reggae feel to heat up the winter.
The song, which gives us a Mya "Girls Dem Sugar" vibe, is all about the sexy singer's first experience with real and true love. And we can't help but think it's about her ex Nelly.
Ashanti told TheYBF.com recently about her ex & the Braveheart album:
"Did Nelly inspire some records? Absolutely. It's just about being real, being honest and being brave. Writing about what I really felt and what I really went through. Yeah, he was part of it."
Check out "First Real Love" featuring Beenie Man below.
ON THE SET: Vivica Fox Fights Off Killer Sharks In "Sharknado 2"!
Posted: 20 Feb 2014 09:25 AM PST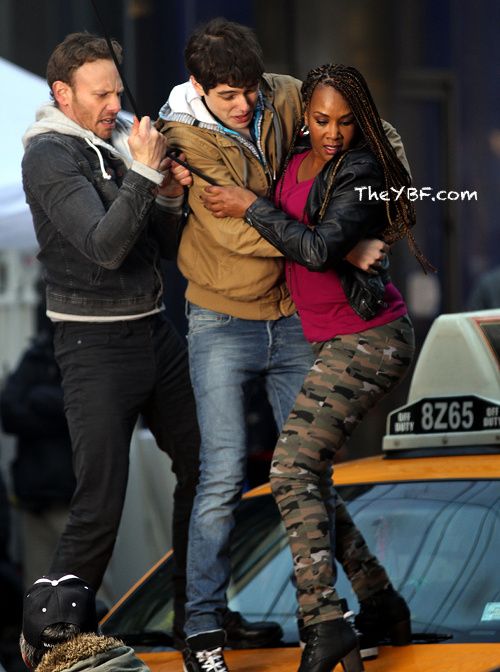 Vivica Fox just copped herself a new gig. And this one is a shark fighter in the upcoming tv movie Sharknado 2: The Second One, which is the sequel to the instant cult classic Sharknado where torandoes of sharks took over L.A. And the follow up is headed to Times Square!
Check out the diva on the set inside...
Vivivca made sure to rock braids for this film, because we ALL know chick wasn't getting her hair wet or messed up with these tornados of sharks! The 49-year-old actress was spotted on the NYC set of the Sharknado sequel yesterday. And she's going all in: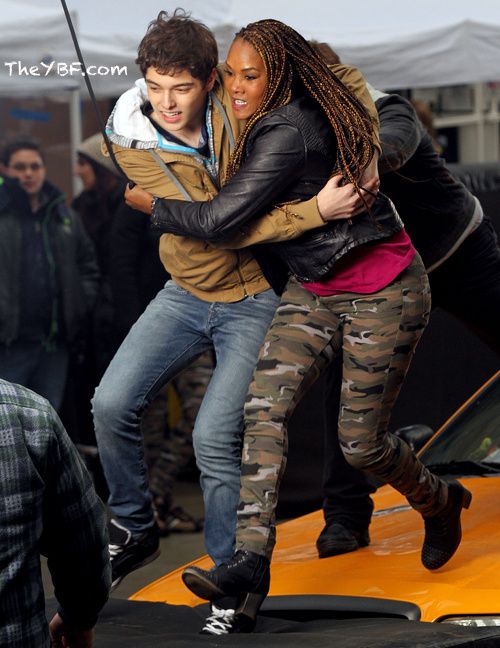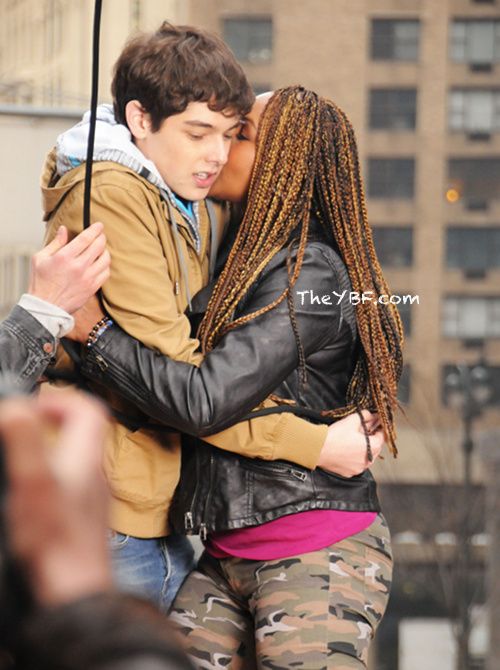 The original movie was the type that's SO bad it's ogood. So we can only imagine how insanely unrealistic, yet funny, this sequel will be. Viv is starring alongside the star of the original, Ian Ziering, and more. And it looks like she's giving neck kisses to this dude who could be her son. Interesting....
The TV Movie will hit your screen July 2014.
The Randomness:
1. Michael B. Jordan is (almost) officially one of the Fantastic Four! STORY
2. Zoe Saldana is featured in the new trailer for the upcoming sci-fi superhero epic. STORY
Photos: INF/Pacific Coast News