---
HOUSEWIFE FIGHT (On Twitter): NeNe Leakes & Marlo Hampton Slice & Dice Their BEEF With Major Insults!
Posted: 24 Feb 2014 08:10 AM PST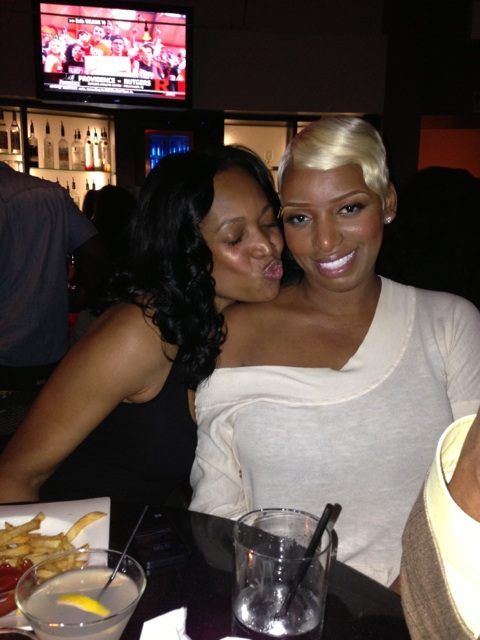 Marlo Hampton and her alleged real tears showed up and out on last night's episode of "Real Housewives of Atlanta". And her fight with former bestie NeNe Leakes spilled over from the television to Twitter. And we were here for it all....
So....last night we saw the Bailey Brawl Bowl go down...and not without its drama. Marlo Hampton was "upset" and screaming about NeNe supposedly not inviting her onto Team Rich for the games. So she joined Kenya's Team Twirl instead, and Marlo feels NeNe now hates her BECAUSE of her friendship with Kenya.
So Marlo shouted insults to NeNe about only wanting "friends" who kiss her ass. And she attempted to read Mrs. Leakes about NeNe's style being upgraded...only because of Marlo! And she also told her to go handle that Donald Trump hair as well.
We cackled.
But NeNe didn't sit back and take it. She tried to walk away from the situation--after throwing her water bottle Marlo's way and fiercely throwing down her mic pack--because she didn't want to give Marlo the reaction she wanted.
But over on Twitter, NeNe had some ish to say about her former BRIDEmaid (this KILLS us) Marlo. She blasted her about Bravo NOT wanting Marlo's "brand", and NeNe being the only reason Marlo is seeing the light of day on "RHOA". And...she called her Manlow.
We cackled again.
Peep the catty exchange below, with Kenya Moore chiming in:
@NeNeLeakes >. Manlow?thats laughable coming from someone that has on Donald trumps hair piece and mr ed, the talking horses fake teeth.

— Marlo Hampton (@iheartMarlo) February 24, 2014
Manlow wouldn't even b on TV if it wasn't 4 me being her friend & havin her back because the other housewives hated her

— NeNe Leakes (@NeNeLeakes) February 24, 2014
I will never have anything 2 do wit Manlow or Krayonce again n life! NEVER

— NeNe Leakes (@NeNeLeakes) February 24, 2014
Funny how Donald trump called me last night to settle this off camera! Mad b/c your BRIDEmaid left you boo? pic.twitter.com/PEN8CQSJvq

— Marlo Hampton (@iheartMarlo) February 24, 2014
I would NEVER n life call her! Was calling Mashella Hampton & dialed Manlow Hampton by accident! But I deleted her number so no worries now

— NeNe Leakes (@NeNeLeakes) February 24, 2014
Now @iheartMarlo is suddenly an opportunist bc she is cool with me? #byefelicia #RHOA

— KENYA MOORE (@KenyaMoore) February 24, 2014
Photos: Marlo's IG, Bravo
BIKINI BABES: "Hollywood Exes" Nicole Murphy Flosses Her KILLER Bod On The Beach In Maui With Castmates, Andrea Kelly Busts Those Splits!
Posted: 24 Feb 2014 07:34 AM PST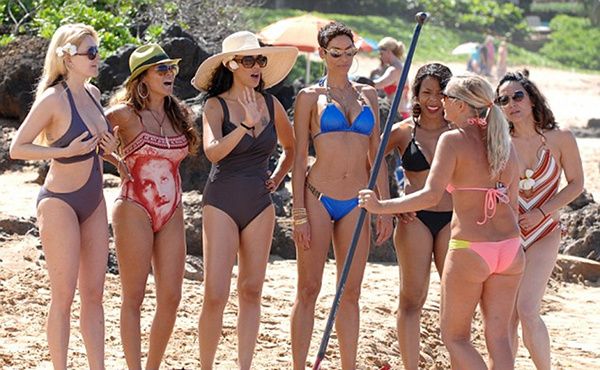 Cougar alert! The third season of VH1's reality series "Hollywood Exes" is set to premiere this spring and the ladies have been spotted catching some rays on the beach in Maui during filimg. Check out Nicole Murphy's banging body and the other exes inside...
The "Hollywood Exes" cast is living it up in Maui as they film for their third season. The ladies hit the beach for paddle board lessons and beach yoga. You know, the activities that make them look pretty damn hot over 40.
Andrea Kelly (R. Kelly's ex-wife), Sheree Fletcher (Will Smith's ex-wife), Mayte Garcia (Prince's ex-wife), Nicole Murphy (Eddie Murphy's ex-wife), Shamicka Lawrence (Martin Lawrence's ex-wife) and newest cast memeber Shanna Moakler (ex-wife of Travis Barker) were all smiles filiming their segment.
Sidebar: Did anybody else watch "Meet The Barkers" in 2005-2006 when Shanna was married to Travis Barker? Loved it!
46-year-old Nicole Murphy looked SUPER hot in her mini royal blue bikini showing off her toned long legs and washboard abs. She accessorized, like any beach babe would, with big gold hoop earrings, gold body chain and gold bangels.
This woman's body is sick. One can only WISH to look like this at 46 years old. We're assuming she's been working hard in the gym to get ready for her wedding to retired NFL player Michael Strahan (who's currently hosts Live With Kelly And Michael). Not sure what else they're waiting on....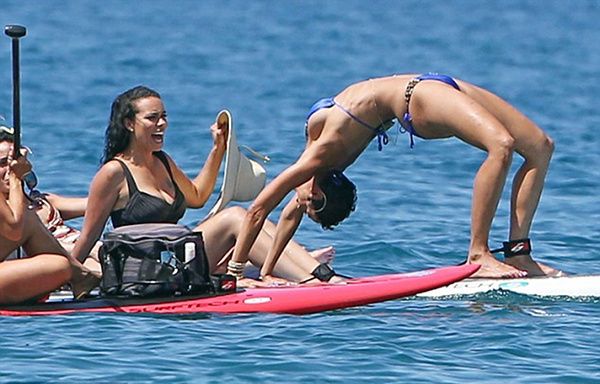 Probably much harder than it looks.
Andrea showed off her flexibility skills doing splits on the beach.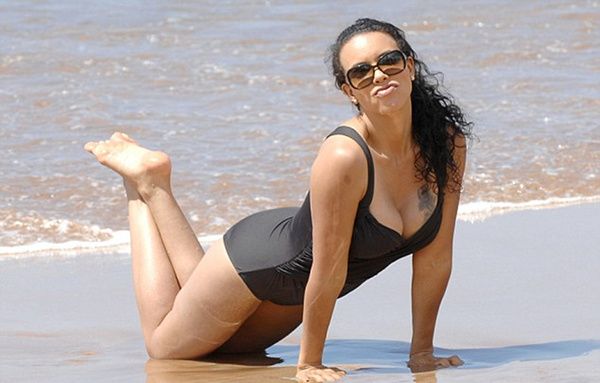 While Shamicka got cute posing in the sand.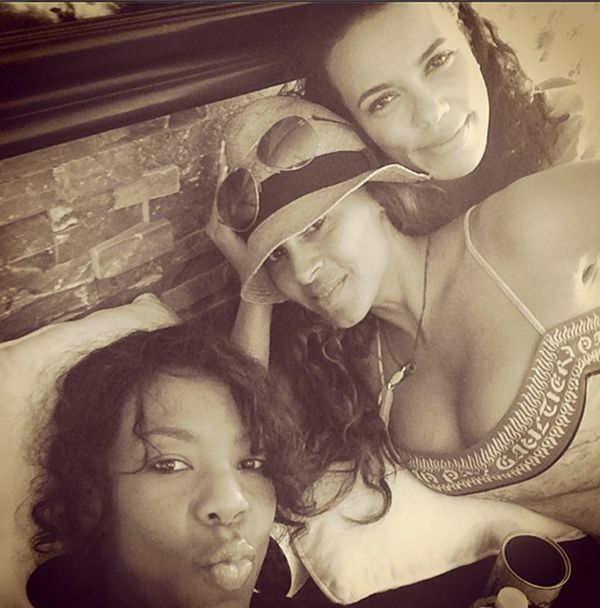 Fun times.
"Hollywood Exes"premieres Wednesday, April 30th at 9:00 PM ET/ PT on VH1.
Photos: Splash News/FAMEFLYNET/@officialdreakelly
SPORTS: Jason Collins Takes The Court For The Nets, Makes History As FIRST Openly Gay Athlete In Major League Sports
Posted: 24 Feb 2014 07:08 AM PST
Over the weekend, Jason Collins made his debut with the Brooklyn Nets, becoming the first openly gay athlete in one of the four major league sports. More inside....
Jason Collins, the NBA player who first made national headline when he "came out" in an open letter published by Sports Illustrated last year, made sports history Sunday night when he hit the court for the Brooklyn Nets.
On Sunday afternoon, Jason signed a 10-day contract with the Brooklyn Nets and later played against the LA Lakers (finishing with zero points and two rebounds in 12 minutes of action), making him the first openly gay athlete to participate in major league sports (NBA, NFL, MBA, NHL).
The signing reunited Jason with former teammate turned Nets head coach Jason Kidd (shown atop) whom he played with him in New Jersey from 2001-08. Since the landmark announcement, support for Jason has been wide and mainly positive.
Nets general manager Billy King said in a statement.
"The decision to sign Jason was a basketball decision. We needed to increase our depth inside, and with his experience and size, we felt he was the right choice for a 10-day contract."
Brian Ellner, a member of the Athlete Ally board of directors (a non-profit organization that works with the NBA on LGBT inclusion) said in a statement,
"Today, Jason Collins tore open the last remaining closet in America, and became the first openly gay player to be signed by a team in one of the big four sports. We are especially excited that Jason will be playing in Brooklyn, just like Jackie Robinson, and in a marriage equality state. This is a piece of history, an important point on the continuum toward justice and a moment to celebrate."
NBA commissioner Adam Silver said in a statement,
"Jason told us that his goal was to earn another contract with an NBA team. Today, I want to commend him on achieving his goal. I know everyone in the NBA family is excited for him and proud that our league fosters an inclusive and respectful environment."
Openly gay college football player Michael Sam tweeted,
Sports parody account "Not Bill Walton" made a little-light hearted humor at Jason's appearance:
Could the Nets deal kick off Jason Collins' second-act in the NBA? Or is this simply a PR move on both sides?
We'll be watching....
Watch Jason's press conference below:
EXTRAS:
1. Roy Simmons, who came out as gay after his NFL career, has died at 57. STORY
Photo: BK Nets' Twitter
Kanye Wraps The Yeezus Tour's US Leg, Racks Up On PRADA Spree With Kim K.
Posted: 24 Feb 2014 06:25 AM PST
Kanye West and his fur were spotted in SoHo yesterday before he left out for his last show on the Yeezus tour. And he made sure to celebrate with his fiancee and more than a litle bit of Prada....
Mr. West brought his Yeezus tour to the Nassau Veterans Memorial Coliseum in Uniondale, New York Sunday night. And for his last stop, his fiancee Kim Kardashian, her mom and sister, Kourtney, were all in attendance to support the newest member of the fam once again.
But right before the Kardashian-West clan migrated right outside of NYC, Kanye was spotted in his big as ever fur shopping it up in SoHo. PETA who?
It seems he bought his new luxe coat while out shopping, because earlier, he was spotted leaving his apartment with Kim--on their way to do a shopping spree--without it:
And their suited up security and doormen helped carry all the PRADA bags into Kanye's apartment. We're sure it's tons of black, white & nude apparel to keep the couple happy.
Must be nice...
The tour will continue with five concerts in Australia this May.
The Randomness:
1. Adele & Prince may be doing a collabo for the "Rolling in The Deep" singer's upcoming third album! STORY
Phoos: WENN/FAME
Chris Brown Graduates From Rehab, Shoots "Loyal" Video, Drops "Do It" + Beyonce Makes 'Em Bow Down In New VERSACE Look
Posted: 23 Feb 2014 08:28 PM PST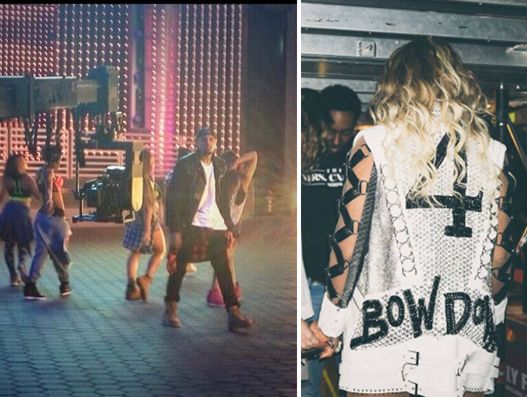 Chris Brown just graduated from anger management school....and celebrated with a new video shoot. Check the pics inside from the set of "Loyal", plus his new track "Do It". And Beyonce is serving up a brand new MCSWT look to Bow Down to in the UK.
Fresh out of rehab for anger management, Chris Brown was recently spotted on the set of the video for his single "Loyal".
Reportedly, Chris "graduated from an exclusive anger management rehab school in Malibu" this weekend after making another appearance at the 2nd Call Community Service Awards event.
So he's officially completed that 90-days of live-in rehab after being ordered to do so by the judge in his Rihanna assault case.
Other reports circulating the net say that Chris has decided to stay in for some extra time at the request of the judge, but it seems (for now) he's out and about, getting back to his music.
Breezy was spotted at the Universal City Walk shooting the video for his X album single "Loyal" this weekend: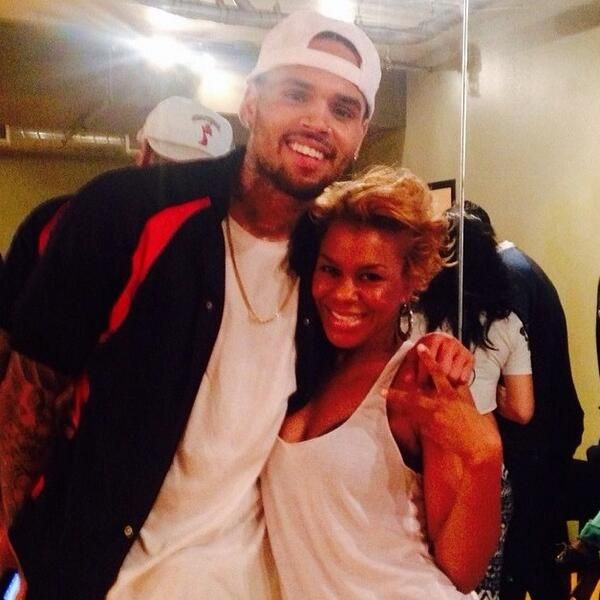 And even posed it up with one of his dancers.
Meanwhile, after dropping a track called "B*tches" this weekend that will appear on his and Tyga's upcoming mixtape Fan of a Fan 2, a second track off that very mixtape has leaked. It's called "Do It" and features Chris rapping and singing, plus Tyga doing what he does. Check it:
And over in the UK:
Beyonce debuted a hot new look for her fans at Sunday night's show in Birmingham:
It's a white and black leather belt sleeved jacket with '4 BOW DOWN' embellished across the back. And paired with a silver & white sexy cut-out body suit, it's a custom Versace piece fit for a Queen.
Work!
Photo Credit: Robin Harper, @neechyflyback's Twitter, @DoMyDanceOnCJ's Twitter
GET IT IN: Leather Clad Kelly Rowland Parties In ATL With T.I. & Fiance Tim Witherspoon
Posted: 23 Feb 2014 09:31 AM PST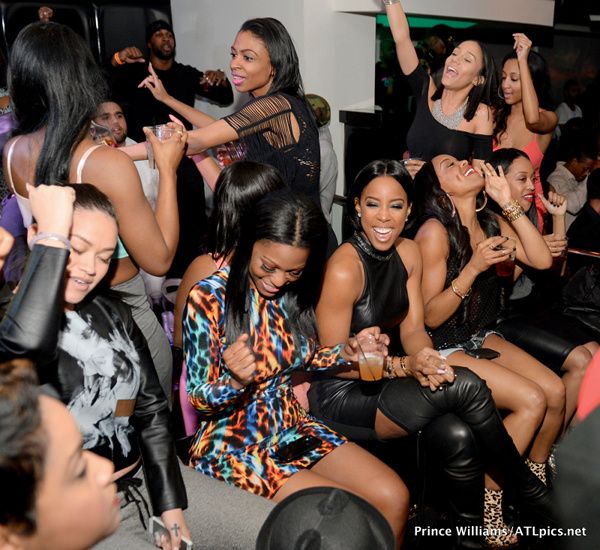 Kelly Rowland knows how to have fun and celebrate her birthday all month long. The "Kisses Down Low" singer put on her sexy thigh high leather boots and hit the club in Atlanta this weekend with T.I. and her fiancee Tim Witherspoon. Peep the pics inside...
Kelly Rowland kept the (birthday) party going as she hit up Compound in Atlanta Saturday night with her friends: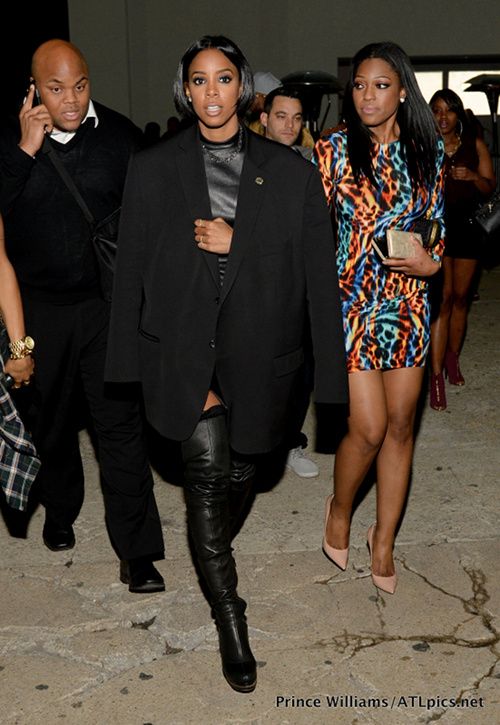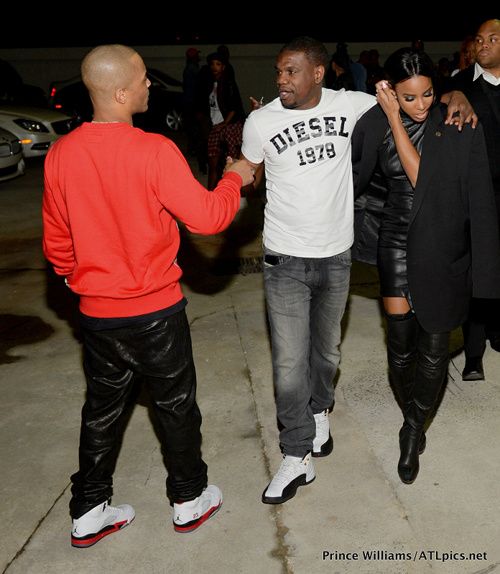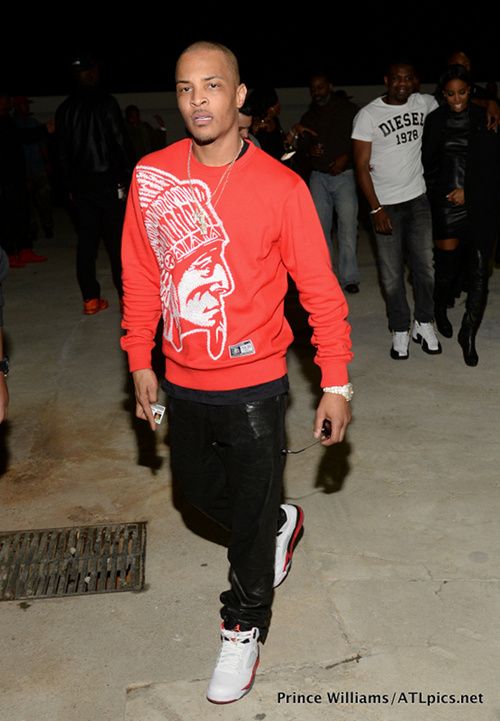 After getting escorted in, the hot 33-year-old caught up with ATL's "Kaaang" T.I. to party HARD: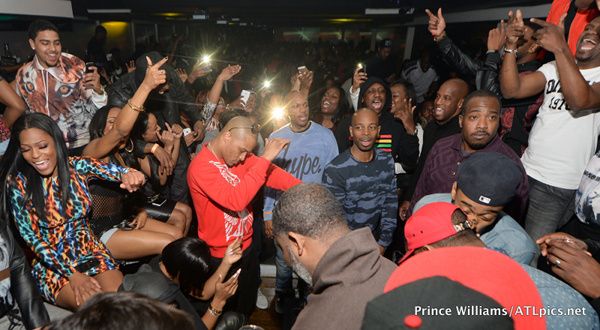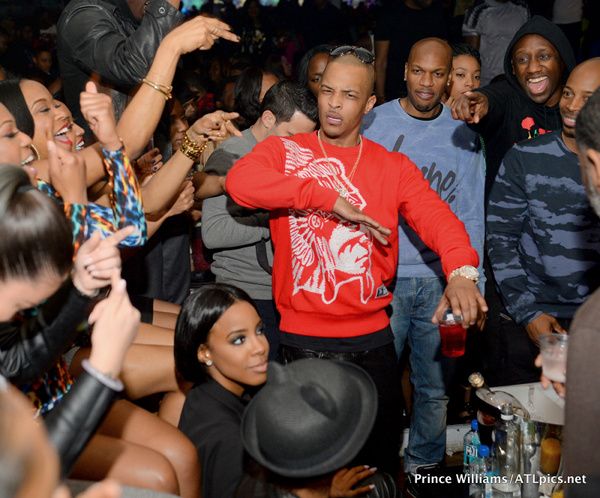 And fiancee Tim was there as well.
How cute!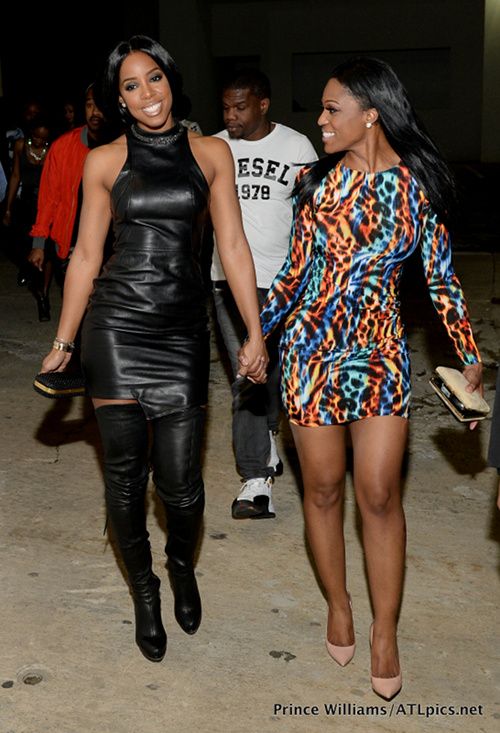 Loving Kelly's look for the night. Fab times!
Photos: Prince Williams/ATLPics.net