---
Drake Pops Off At ROLLING STONE, QUITS All Magazine Interviews + Tyrese's Baby's Mother Called The Cops On Him!
Posted: 13 Feb 2014 08:22 AM PST
Drake is MAD at ROLLING STONE for yanking him from the cover and supposedly including some quotes that may get him in hot water. And he says he's DONE doing magazine interviews! See his "angry" tweets and find out why the cops were called on Tyrese inside....
We told you yesterday about Drake popping off about macklemore/Kendrick Lamar in the latest issue of ROLLING STONE....but there's more. Drizzy was PISSED when he found out that the magazine, according to him, included some unapproved quotes to get a better story. And he's REAL MAD that Phillip Seymour Hoffman's drug overdose had bumped him from the cover.
So he expressed his outrage on Twitter. like only emo Drake can, and declared (Kanye/Chris Brown-style) that he's DONE doing interviews!
Drake also took issue with RS quoting him about the Yeezus album. In the issue, he supposedly said, "There were some real questionable bars on there. Like that 'Swaghili' line? Come on, man. Fabolous wouldn't say some shit like that."
Hmmm. Sounds indeed like something Drake would say. So it doesn't seem he's mad the the mag twisted his words, but mad that they included them at all. Yeezy must have called him up to ask 'WTF?'
If you want something "off the record" kids....you gotta say that.
Is Drake's hissy fit warranted?
In baby mama drama.......
A short while ago we told you about the custody battle between Tyrese and his ex-wife Norma. And now, the cops are involved! Why? TMZ reports that Tyrese wanted to pick up his daughter on Tuesday, but Norma didn't want to "hand over" little Shayla because she was sick.
Norma called the cops (as a preventative measure) because she felt the custody order did not require her to hand over Shayla, so she wanted cops to look at the document. LAPD arrived at her home around the same time as Tyrese and thankfully, there was NO disturbance and no police report filed.
Everyone remained civil and Tyrese didn't take little Shayla that night. But, sources say he's going to court to ask a judge to hold Norma in contempt and throw her in jail for violating the custody order.
This ain't over......
Photos via Getty/Tyrese's IG
Newly Single??!! Keri Hilson CAUTIONS Women About Lowering Their Standards, Says "MUSIC" Is Her Boyfriend - Not Serge Ibaka
Posted: 13 Feb 2014 06:00 AM PST
While on the "About Last Night" red carpet, Keri Hilson dodged questions about her love life. Is it over for her and Serge Ibaka? Find out what she said inside....
Keri Hilson is up in her feelings about Serge Ibaka. While she didn't completely own up to a breakup, we don't expect them to spend Valentine's Day together.
While on the red carpet for "About Last Night", in a stunning dress by Ekaterina Kukhareva, Marion Ayonote heels, and necklace from Charles Albertshe, she told The Jasmine Brand,
"This is going to be an interesting Valentine's Day. That's all I'll say. It's going to be interesting. I'm working, I'm just busy, I'm busy. I feel like right now, music is my boyfriend. That's how I feel, right now. So, I don't know."

As her statement hinted at romantic conflict, Keri went on to offer advice to women: don't lower your standards.
"Know who you are. Umm, never drop your standards, for anyone. That's it. And I mean that in every since of the relationship. Business, you know whatever, if there's a certain standard that you uphold, and you're so strong-minded. There are some things that you [can] tweak in a relationship, but not your standard. Not that."
Watch the interview clip here.
Phots via Alberto E. Rodriguez/Getty Images North America
BUMPIN' AT BEL BAMBINI: Ciara Goes Shopping For Baby With Kim K. In L.A.
Posted: 13 Feb 2014 05:29 AM PST
As Ciara continues playing out of Kim K.'s operating manual of copping a (similar) ring from a rapper and then getting knocked up, the two besties were spotted having some mommy-time shopping for baby Future.
Pics inside....
Ciara was glowing as she made her way around L.A. in a flowy white dress and gladiator sandals on Wednesday afternoon. She kept a protective hand over her cute baby bump while the sheriffs & bodyguards kept the crowds of fans and paparazzi away from CiCi & Kim during their shopping excursion.
The "Overdose" singer and reality star (yep, Kim's cameras were rolling as always) were spotted rolling into the high end baby boutique Bel Bambini in West Hollywood, which is the same place Kim spent many-a-days shopping it up for little Nori.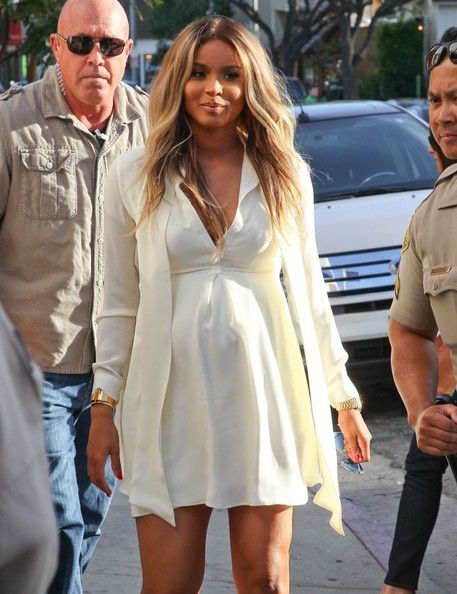 Well, she does know how to make pregnancy look sexy.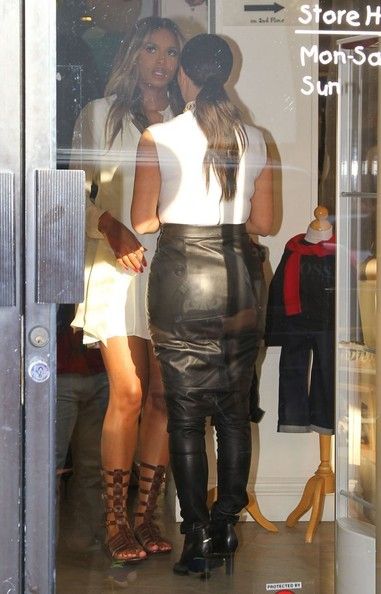 The bride-to-be posted her own cutesy pic saying:
Me Before Going 2 Do Some Baby Prep Stuff With My Friend Kimmie. #ExcitingTimes.. Still Feels Surreal That This Is Actually Happening. Xo. Mommy @kimkardashian. #PerfectDay
Looking gorge Ci!
Photos: Fame/Flynet, Ciara's IG

Mariah Drops "You're Mine" Video With Leading Man Trey Songz
Posted: 13 Feb 2014 05:13 AM PST
Mariah dropped her "You're Mine (Eternal)" video via MTV just in time for Valentine's Day. Check out the diva getting her mermaid on while Trey Songz is tortured in his sleep by lust....
In typical Mariah fashion, she's glittered up and giving us mermaid tease as she sings in her signature high pitched tone for her new song and video for "You're Mine (Eternal)".
Mimi is living out her sexual fantasy, shot in Puerto Rico, as she sings out atop some rocks for her long lost love...who appears to be played by Trey Songz.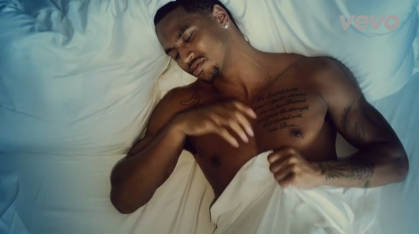 Trey will sing on the remix, but for now, he's writing around in the sheets after a photoshoot, clearly affected by his long lost love for Mariah. Mariah's gold glitter even ends up in his bed, even though they have yet to be physically together. Check out the two in their own worlds below:
FYI--Mariah traveled to Puerto Rico's El Yungue National Rain Forest to film this video. And, according to her press release, she sought to further highlight the need to protect and preserve our planet's natural resources and to raise awareness so our future generations will be able to enjoy the same.

Her new album will be in stores May 6th.
So....Lil Kim Is Pregnant?! Peep Her Baby Bump....
Posted: 12 Feb 2014 08:14 PM PST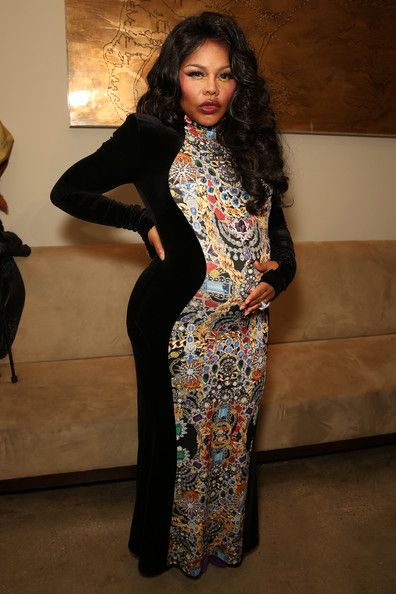 Well, this isn't one of the bombshells we expected to come from New York Fashion Week, of all places. The Queen Bee Lil Kim shocked everyone by showing up to the Blondes show Wednesday night...very pregnant. Check out pics of the mini bee on the way inside....
Oh, hey there Lil Kim. And baby bump. Wednesday night at The Blondes show at MILK Studios, Kim sat front row in a long print-front panel dress. And it was obvious to everyone that she's pregnant.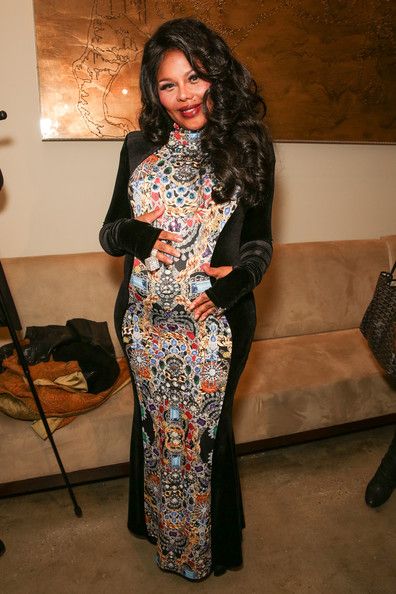 Folks were all a-Twitter about the bump display, but Kim seemed to act pretty cool about it all.
The Hard Core rapstress hasn't formally confirmed the pregnancy herself just yet. But many of her celeb friends have already tweeted their congrats.
The real question is, who knocked her up?! She supposedly broke up with her boyfriend Mr. Papers a while back. But, who knows...
And she's not too pregnant to perform. Kim's set to rock the MAC x Blondes Bash tonight. (Pics now below)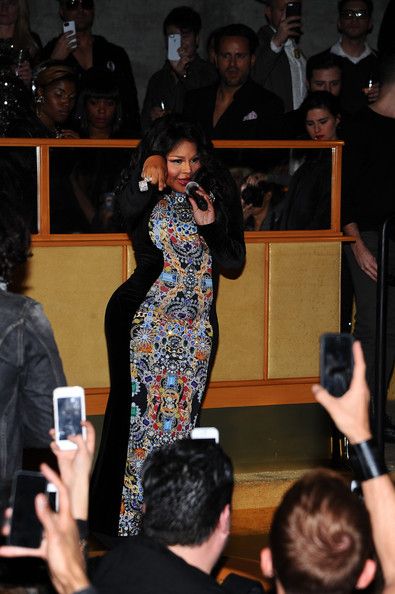 Congrats Lil Kim!
Photos: Getty

NEW VIDEOS: Nicki Minaj "Looking A$$ N*gga"
Posted: 12 Feb 2014 04:50 PM PST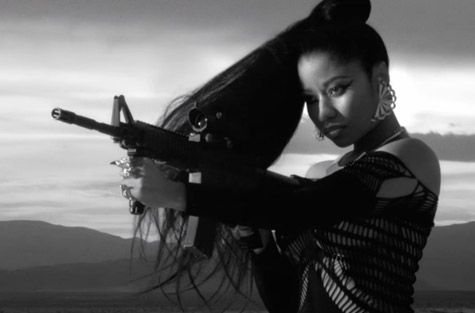 Nicki Minaj released a new video, "Looking A$$ N*gga." Watch it inside....
Nicki Minaj heads to the desert (with an AK47) in the Nabil-directed video for her new Detail-produced song "Lookin A$$ Ni**a."
The song will appear on the Young Money compilation Rise of an Empire (March 11th) and Nicki's forthcoming studio album The Pink Print.
The Randomness:
1. Derek Jeter announces retirement. Story.
2. Ex-New Orleans Mayor Ray Nagin found guilty of corruption charges. Story.
Drake Get MESSY, Calls Macklemore's Apology To Kendrick Lamar "Wack As F*ck" + FIAT's 2014 Global Campaign "Mirage" Features Diddy & Pharrell Williams' "Happy" Song
Posted: 12 Feb 2014 04:00 PM PST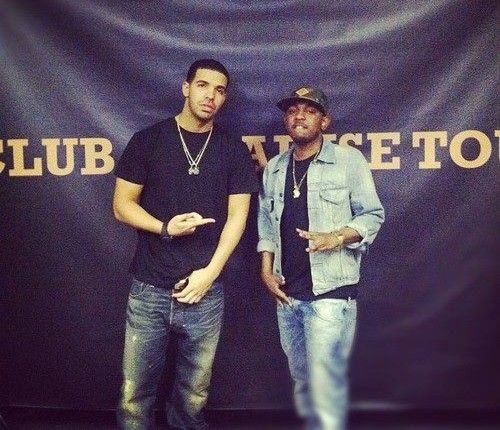 Drake says Macklemore's public apology to Kendrick Lamar was "Wack." Find out what else he thinks inside and watch Diddy in Fiat's new promo.
You'll recall that Macklemore made a public apology to Kendrick Lamar after he won 2014 Grammys for Best New Artist and swept the three rap categories, tweeting "You got robbed. I wanted you to win." In the latest issue of Rolling Stone, Drake took "issue" with the tweet, saying "that shit was wack as fuck." He added,
"I was like, 'You won. Why are you posting your text message? Just chill. Take your W, and if you feel you didn't deserve it, go get better — make better music. It felt cheap. It didn't feel genuine. Why do that? Why feel guilt? You think those guys would pay homage to you if they won?"
So how does Drake explain Mackelemore's win?
This is how the world works: He made a brand of music that appealed to more people than me, Hov, Kanye and Kendrick. Whether people wanna say it's racial, or whether it's just the fact that he tapped into something we can't tap into. That's just how the cards fall. Own your shit."
In sum, he also felt the apology didn't go far enough. Why stop at Kendrick?
"To name just Kendrick? That shit made me feel funny. No, in that case, you robbed everybody. We all need text messages!"
Read a portion of the article here and pick up the issue on newsstands this Friday.
In advertising news.......
In Fiat's new 2014 global campaign, Sean "Diddy" Combs touts the new four-door Fiat 500L, while also promoting his own brand of "performance water" Aquahydrate and his new cable TV network Revolt. If you're wondering why Diddy promots so many products in the ad, Chrysler chief marketing officer Olivier Francois called it "triangulation of brands."
"Fiat could never write a check for an appearance from Diddy. But we are able to offer something instead. The connection. The exposure. The triangulation of brands. Is it product placement? Of course it is. It's Diddy's products in our ad. But it makes as much sense as water in the desert. And in return, we get something unique. Him."
The promo also features Pharrell Williams' "Happy" in the background.
Photo via Rolling Out
DIVA FAB: Mariah Carey Does RADIO Promo For "You're Mine (Eternal)" In NYC, DISHES On Nannies, Her "Diva Fit" & More
Posted: 12 Feb 2014 03:20 PM PST
Mariah Carey did a few radio shows in NYC this morning where she donned a hot pink satin dressed and dished about her life with tales of fired nannies, diva fits and "Glitter." More inside....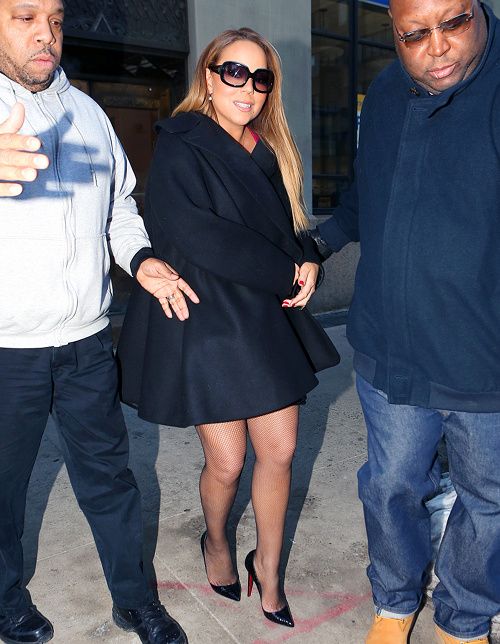 With the video for her latest single "You're Mine (Eternal)"" arriving later today, Mariah Carey did a string of radio interviews in NYC, including The Breakfast Club and Z100.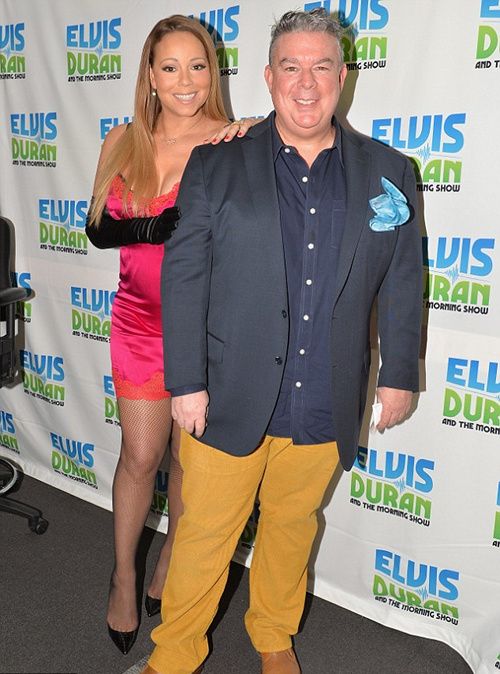 Mimi posed for a few sexy pics with EZ100 host Elvis Duran while wearing a hot pink satin dress. During their talk, she premiered her new track "You're Mine (Eternal)" which will lead her upcoming 14th studio album, due for release on May 6th.
Mimi also appeared on The Breakfast Club on Power 105.1:
We learned a few interesting deets about Mimi and her life:
1. She shot down rumors that she ever hooked up with Cam'Ron although they recorded "Oh Boy (Remix)" and hung out often.
2. While some people insinuated that she had a "breakdown" in 2001, she calls it a "diva fit" because it was the first time she was spoke up for herself as an artist. She also revealed that she owns the masters for the "Glitter" and all the music.
3. She says she's run through a FEW nannies and will fire a nanny if she oversteps her boundaries with Dem Babies.
4. She's interested in writing a memoir but does not want to make being "bi-racial" the main focus of the book (as one publisher suggested).
5. Being on "American Idol" was a bad experience and she wants to press "delete" and forget it ever happened!
BONUS:
Mariah tweeted, "Tune in for the world premiere of You're Mine (Eternal) music video on MTV at 7:50pm & tweet #AskMariah for the LIVE Q&A!"
Photos via Getty/Mariah's Instagram
HERE WE GO AGAIN: Siohvaughn Wade Accuses Dwyane Of Domestic Abuse & Fraud!
Posted: 12 Feb 2014 02:28 PM PST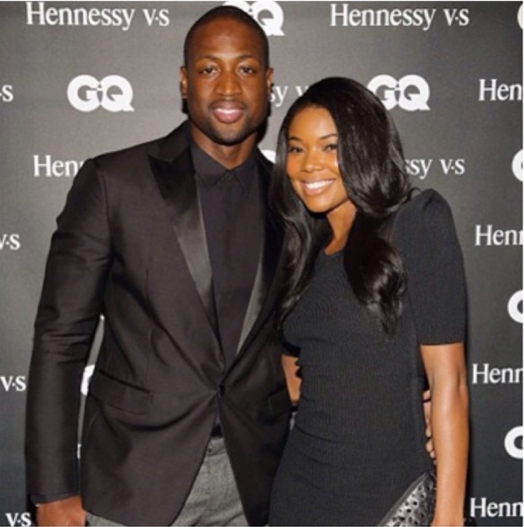 Siohvaughn Wade isn't done yet. In court papers filed just two days after Gabby Union & Dwyane Wade announced their engagement (coincidence?), Dwyane Wade's ex-wife is dishing up some major abuse accusations, and shes suong him and all his sponsors for fraud!
Chiiiiile. Just when we thought Siohvaughn had finally picked herself up off that Chicago sidewalk and started to move on with her life that she claims was torn apart by NBA baller Dwyane Wade, she went and filed more papers.
According to Radar Online, Sioh claims that Dwyane physically abused her during their marriage, and she even ende dup in the hospital for a week because of it. And she brought up the cheating and STD story again. And it all seems to be in an effort to get money she believes she's owed by him.
In a lawsuit filed in the Circuit Court of Cook County in Chicago, Siohvaughn says:
"I had known that Dwyane Wade had a temper and could become violent at times, but when we moved out of my mother's home … into our own apartment with our infant son, the violence increased. This, however, was just the surface of the domestic violence Dwayne Wade would inflict upon me."
"As Dwyane Wade's income increased, his arrogance and pride increased as well. Dwyane Wade began to call me derogatory names more, throw things at me, hit me, take all my money from me, and even kicked me out of the house causing me not to have a place to live. … As a means of controlling me, and as part of Dwyane Wade's domestic violence pattern, he would often hit me, lock me in rooms and not allow me out, threaten to take my sons from me and frighten me by telling me he knows judges and that they are on his pay roll and he can take the children from me at any time he wanted. The domestic violence and abuse continued on for several years in our family."
She gave an example saying:
"He picked up a garbage can made of marble stone and threw it at me. Dwyane Wade picked me up into the air above his head and slammed me down onto a large ottoman with such force that the ottoman broke into pieces when he slammed my body on it and banged my head against a marble bathroom floor."

"Subsequently, I ended up having to be rushed to the emergency room of Christ Hospital and spent an entire week hospitalized."
And about the alleged fraud, she says his sponsors like T-Mobile, Staples, his shoe campany,e tc. are not depositing his paychecks in their court-ordered mutual bank account, but are instead circumventing it and giving to Dwyane directly. So she's unable to afford life in general it seems.
Check out the full 112 page document here. She claims Dwyane threatened to leave her unless she birthed his second child (which she did), how the domestic violence allegedly escalated once she became pregnant again, him allegedly threatening to take the kids from her, and how she caught an STD from HIS cheating--after she discovered sext nessages on his phone.
YBF Olympians To Keep An Eye On: Lolo Jones, Jazmine Fenlator, Lauryn Williams & Aja Evans Of USA's Women's Bobsled Team
Posted: 12 Feb 2014 12:43 PM PST
There are more YBF Olympians to watch during the 2014 Winter Olympics in Sochi. Meet Lolo Jones, Jazmine Fenlator, Lauryn Williams & Aja Evans from the US Women's Bobsled team.
We've been introducing you to YBF Olympians representing the US and beyond at the 2014 Sochi Winter Olympics. Now meet Lolo Jones (far left) (who just competed in track & field in the Summer Olympics), Jazmine Fenlator (far right), Lauryn Williams (second from left) & Aja Evans (third from left) from the US Women's Bobsled team. Here's a few tidbits about these fab chicks.
LoLo Jones

* Lolo has an extensive resume in track and field, winning consecutive indoor national and world championships in 2007, 2008, 2009, 2010 and 2012.
* Her birth name is Lori and in the 60-meter hurdles, she set a record of 7.72 seconds (holding the American record).
*On her sporting philosophy: "I am inspired by failure. The process of defeat, picking yourself back up again, is the hardest thing in the world."
*She catches mad hate from others both in and outside of her sport due to her "celeb" status, but she always has a comeback to say...often which gets her in even more trouble.
Jazmine Fenlator -
* On how her accomplishments might inspire others: " My first thought was a flashback to 'Cool Runnings.' My next thought was remembering how Vonetta Flowers became the first African-American woman to win a gold medal in a winter sport in the 2002 Games in Salt Lake City, and it was in bobsled. I wanted to show disadvantaged kids that it's not where you come from, it's where you end up."
* Her family nearly lost their home in 2011 because of Hurriance Irene.
Lauryn Williams -
* Lauryn began her athletic career in track and field. She competed in the 2004 summer Olympics, the 2008 Beijing Olympics, and the 2012 London Olympics winning a gold in 2012 for the 4x100 relay and silver in the 100-meter dash in 2004.
Aja Evans -
* Aja comes from a family of famed athletes. Her brother Fred played defensive tackle for the Minnesota Vikings; her uncle Gary Matthews Sr. had a 15-year MLB career and later coached the Chicago Cubs; her cousin Gary Matthews Jr. was an MLB outfielder for 12 seasons.e's absolutely gorgeous.
*She's absolutely gorgeous.
*Her fave artist and actor are Beyonce & Idris Elba--because of his accent.
*When asked about her fave food, she couldn't pick just one: "My all-time favorite meal is my Mom's Thanksgiving dinner! Everything from the Cajun turkey, Sweet potatoes, Macaroni and Cheese, Greens, Shrimp salad, Cranberry Sauce, Honey Glazed ham, Sweet potato pie, Carmel cake. This list goes on, and on."
Whew. Kill it ladies!
Photos via Getty Images
Kelly Rings In Her 33rd Birthday With Beyonce, Solange & Tons Of Luxe Gifts!
Posted: 12 Feb 2014 11:36 AM PST
After spending her 33rd birthday chillin' with the ladies of "The View", Kelly Rowland capped off her night with tons of gifts...and her besties Beyonce, Solange and Angie Beyince.
Check out their cute pic inside...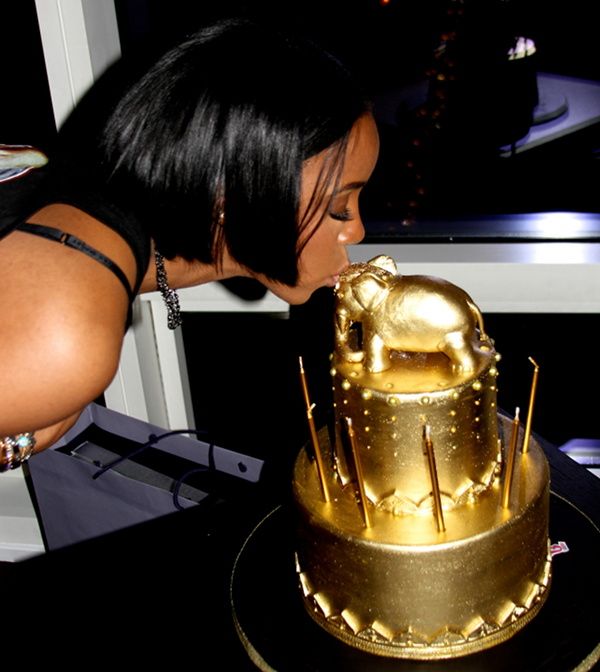 In between all the MOET and Bergdorf Goodman goodies, Kelly Rowland had a good ass birthday last night.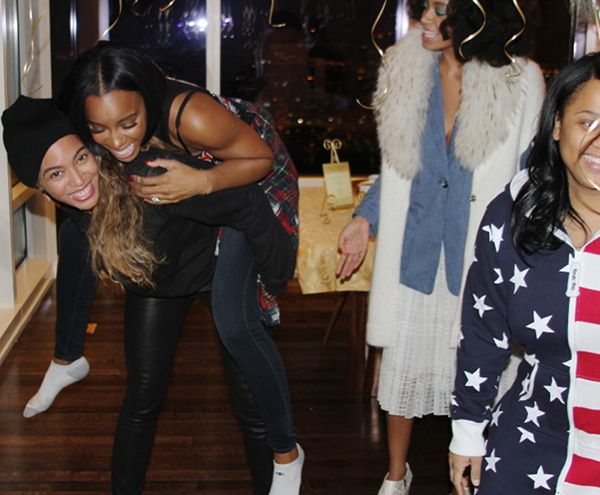 Her girls Bey, Soloange & Angie showered her with gifts and love.
Earlier in the day, the "Kisses Down Low" singer said she wanted to spend her birthday eating and chillin'. And we're so not mad at that.
Kelly posted:
THANK YOU ALL FOR THE TREMENDOUS AMOUNT OF BIRTHDAY LOVE!! Your tweets, Facebook, Tumblr messages and videos, everything!!!You are ALL so thoughtful and forever hold a place in my heart! Thank You ! xo
Awww. We wonder what her fiance' Tim copped for her....
Photos: Kelly's IG
CUT-OUT FACE OFF: Eniko Parrish VS. Adrienne Bailon
Posted: 12 Feb 2014 11:00 AM PST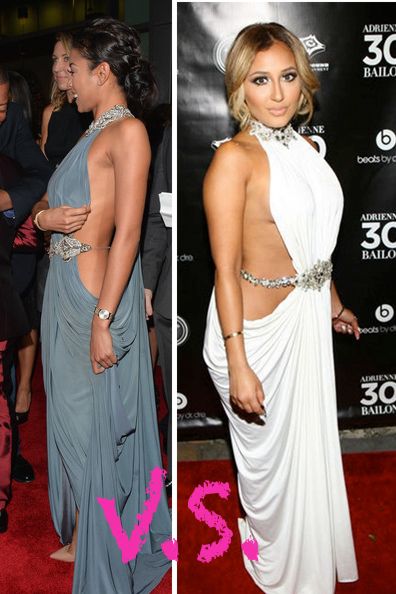 It's a body battle between Eniko Parrish and Adrienne Bailon as both ladies recently rocked similar sexy cutout dresses. Decide who ran it inside...
At Tuesday night's About Last Night premiere, Kevin Hart's Jamaican hottie of a girlfriend, Eniko Parrish, stole his shine in this light grey sideless, and almost backless, draped Roberto Cavalli gown. She paired her look with nude pumps and a braided updo as she hit the red carpet on Kevin's arm.
And this past October, for Adrienne Bailon's 30th birthday, she rocked a very similar gown in white, this one by Michael Costello. She had her blonde tresses in a partial updo to show off the jeweled embellishments on the dress.
So....
WHO ROCKED IT BEST?!
Photos: Wenn/Getty
Angela Simmons Presents Her Fall/Winter 2014 Angela IAM Collection + Ex Bow Wow, Ashanti, Kimbella & Juelz & More Hit The Show
Posted: 12 Feb 2014 10:09 AM PST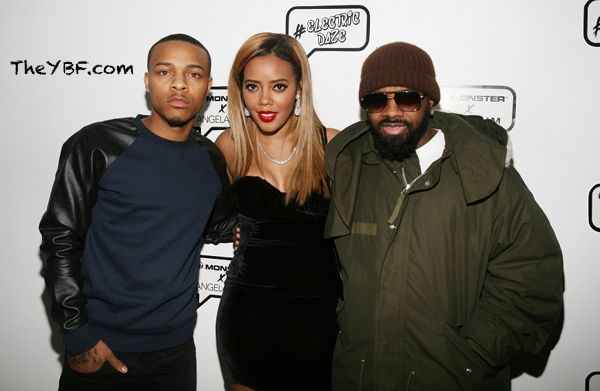 Angela Simmons is showing her Angela IAM collection once again at NY Fashion Week. And plenty of her celeb friends came out to support. Check the pics inside, and whose looks we're loving (and not so much loving)...
Angela and her ex Bow Wow are still the best of friends (they co-hosted "106 & Park" together for months) as he was front and center supporting her at her show. He and Jermaine Dupri and Uncle Russell posed it up with Ange as she rocked her little black dress: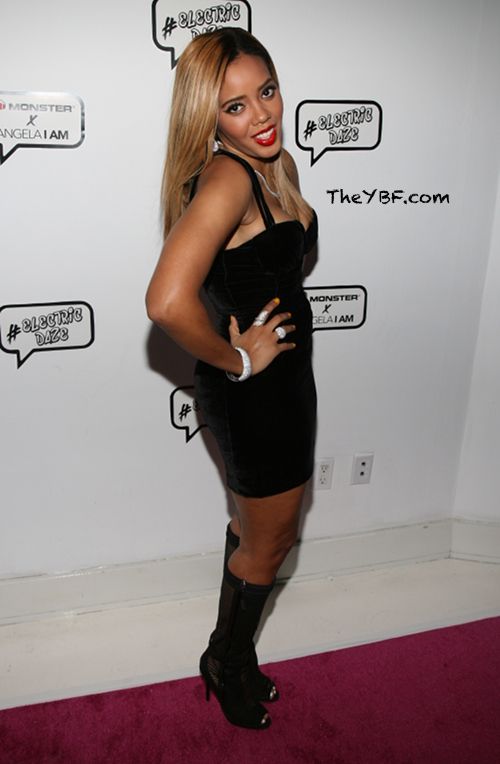 Cute.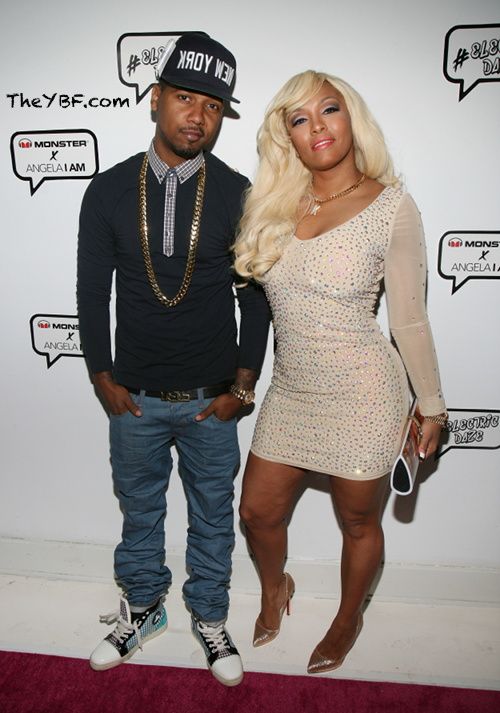 As for these two....Juelz Santana and Kimbella hit up the event. And not sure why Kim, who i a pretty girl, is looking so....cheap...these days. But maybe she just wants to show off that post-baby bod.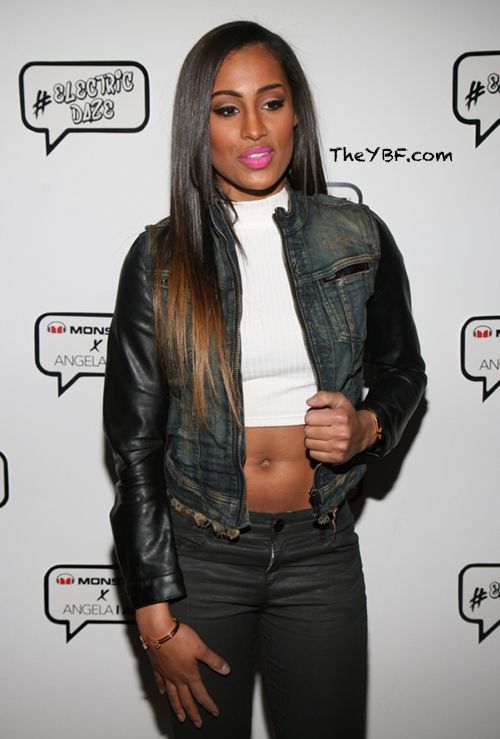 Skylar Diggins is showing off her killer abs that we would expect from a WNBA star.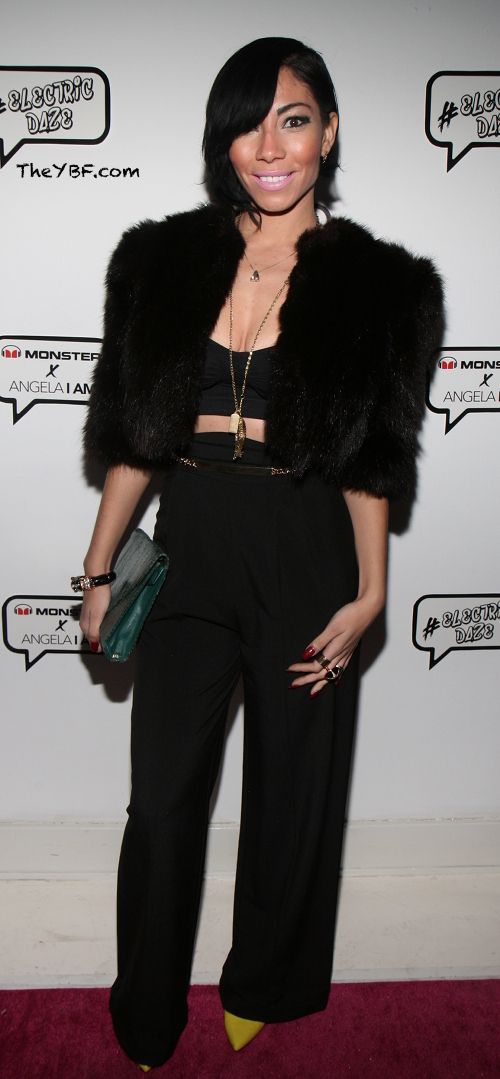 Bridget Kelly brought her fur to the show and bright yellow pumps.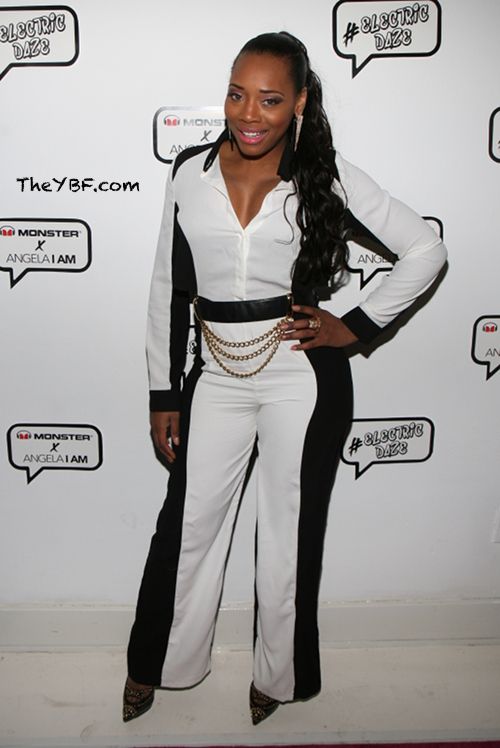 "LAHH NY" star Yandy Smith went the black and white route....and we're not toally sold on it.
Look at cutie Diggy. Lookin' all grown and stuff.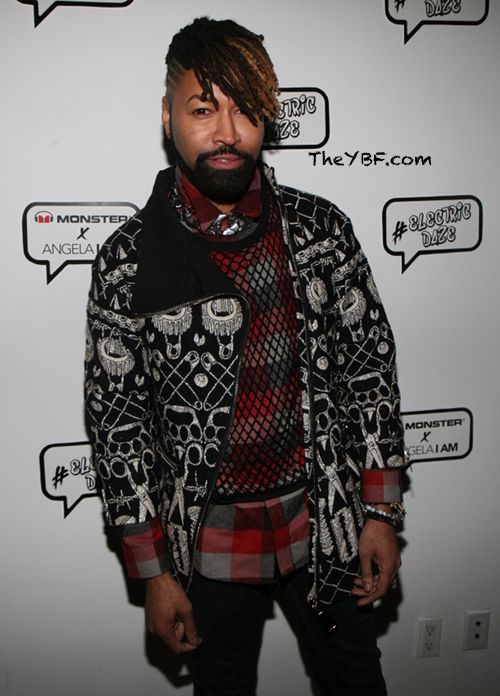 Ty Hunter brought his stylish self out to support.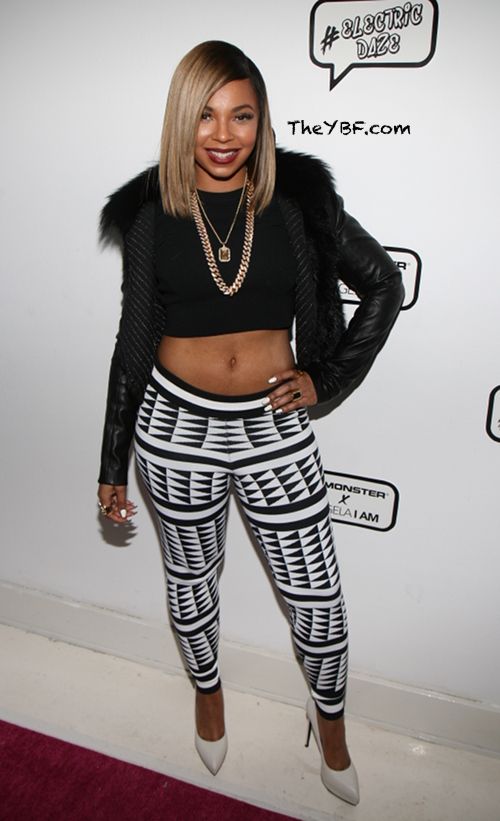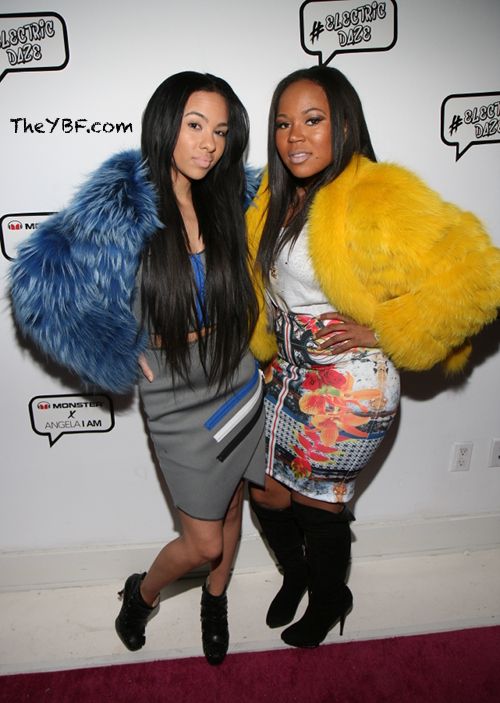 And Ashanti and her little sis Shia (on the right) kept it cute. This yellow fur though...a bold move...
Photos: WENN