---
BALL OUT: YBF Celebs Take Over 2014 NBA All-Star Celebrity Basketball Game
Posted: 15 Feb 2014 09:07 AM PST
The Red West team & Blue East teams took over the 2014 Celebrity All Star Basketball Game Friday night in New Orleans. Kevin Hart got his Muggsy Bogues on last night, but it didn't help the West take the Win. Check out all the celeb b-ball game fun inside....
Before the East took the crown, teammates Kevin Hart, Snoop and Tamika Catchings posed it up with Skylar Diggins. Kevin tried to crash the East's trophy party after being voted the MVP for the third year in a row.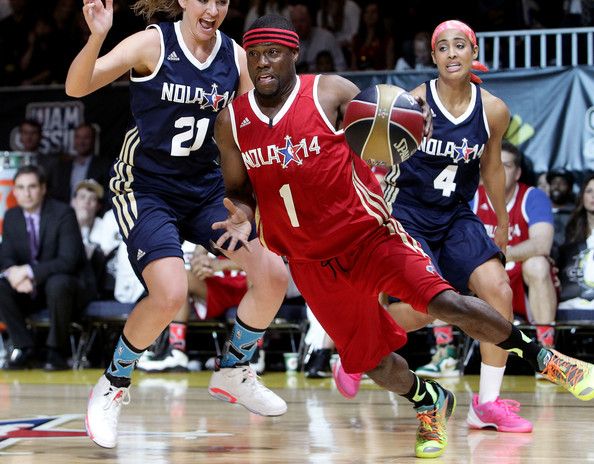 Ha!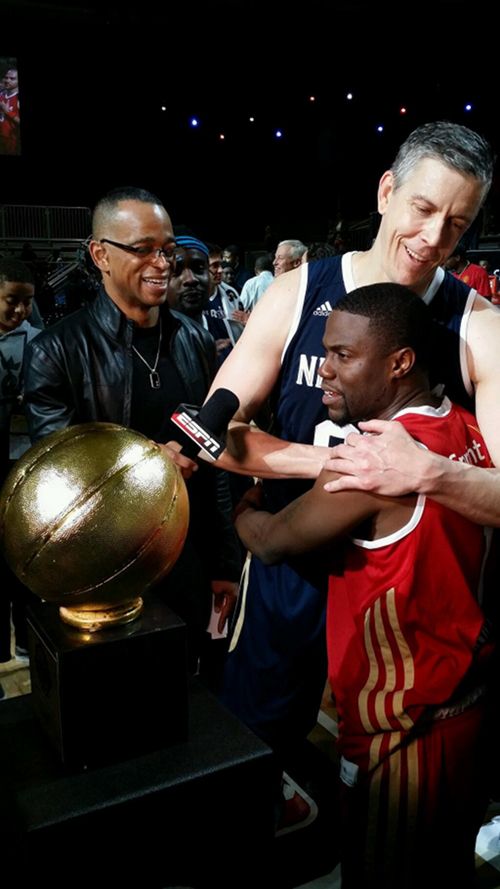 But he gave up the MVP to Arnie Duncan, Secreatry of Education who can BALL by the way, who had 20 points.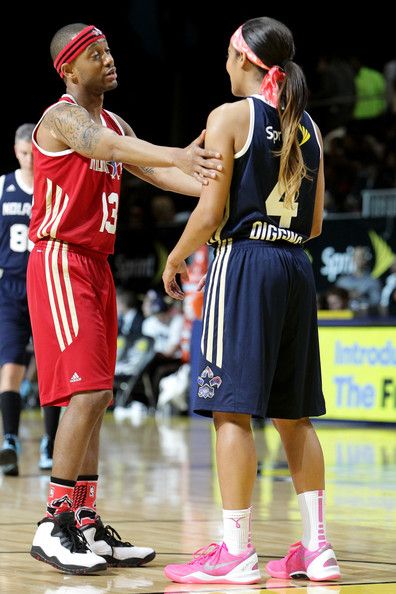 Terrence J went toe to toe with WNBA star Skylar D.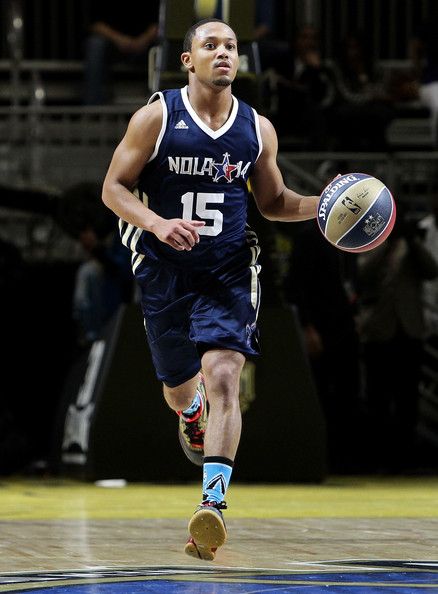 Heeey Romeo.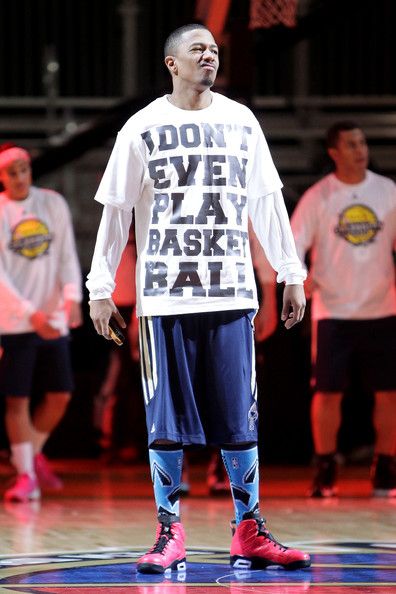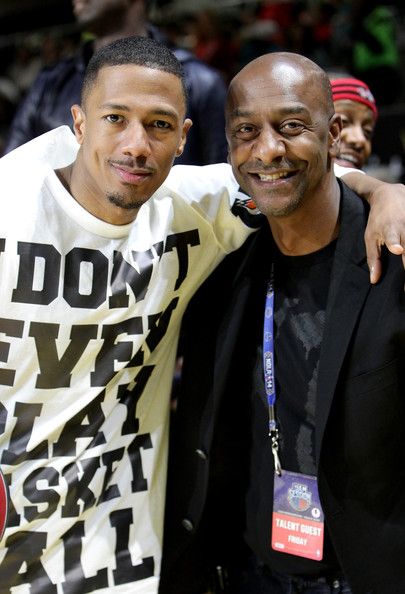 Nick Cannon hit the court and posed it up with Stephen Hill.
The Awkward Moment star Michael B. Jordan showed his Red West pride.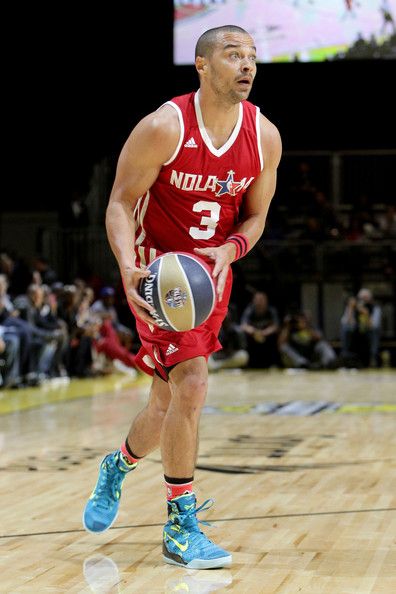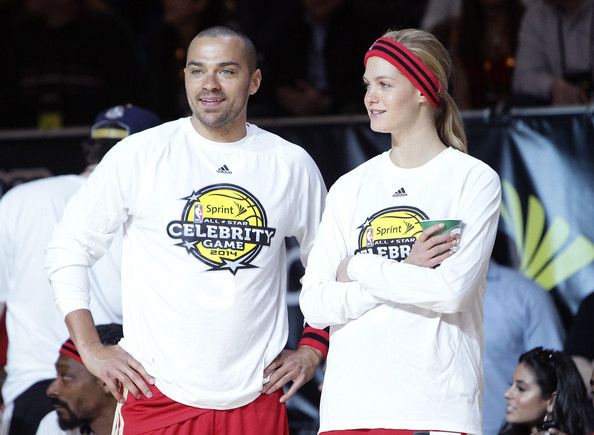 "Grey's Anatomy" star Jesse Williams took a pause with Victoria's Secret model Erin Heatherton. Watch yourself Jesse. You have a new wife and baby at home...
Wale was in the mix for the Blue team.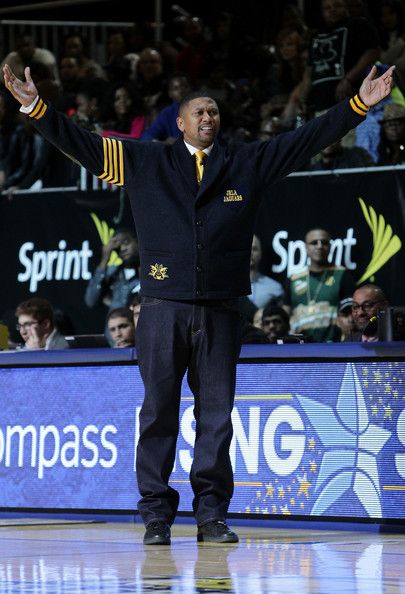 And Jalen rose coached from the sidelines...if that's what you want to call it.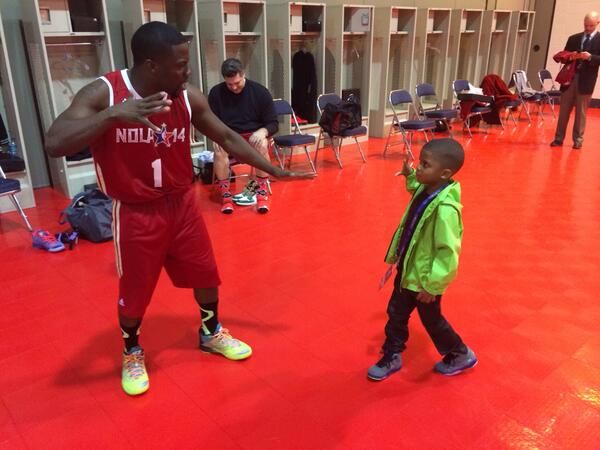 And Kevin geared up for the game in the locker room with Chris Paul's son. The sports media clowned him saying they're about the same height..
Looked like tons of fun. Checkout the highlights below:
Meanwhile, sports fanatic Lil Wayne is back home in N.O. taking over NBA First Take. And slamming the Miami Heat every chance he got:
Photos: Getty/NBA's Twitter
BABY COME HOME: Mariah Carey Doused In Candy Bra & Glitter In Sexy Snaps To Lure Nick Back Home For V-Day + Drops "You're Mine (Remix)" Video
Posted: 15 Feb 2014 08:04 AM PST
Leave it to Mimi to give us candy and glitter for something probably what it wasn't intended for. The queen of all Holidays literally wore Valentine's Day out in these new snaps.
Check out how she lured her husband Nick Cannon home on V-Day, plus the new remix video for "You're Mine (Eternal)" with a shirtless Trey Songz...
Remember when Mariah posted THIS
Well, since Nick was away working hard and making that cash (he had to play in the Celebrity All-Star Basketball Game in New Orleans last night), he had to miss Valentine's Day with wifey. And MiMi was PISSED. She called him The Abandoner on Ryan Seacrest recently saying:
'The abandoner is going to be somewhere else. And by abandoner, I mean Nicholas Scott Cannon. I was giving him [beep] about it all day.

'I'll be alone with the babies, but they're my Valentines anyway,' she added.
Well Mimi...somebody's got to help keep up this lifestyle of yours. Plus, Nick has always been a workaholic since pre-Mimi.
Mariah decided to take to her Instagram to show Nick what he was missing. And it invlved a Candy bra and glitter...in a bathtub: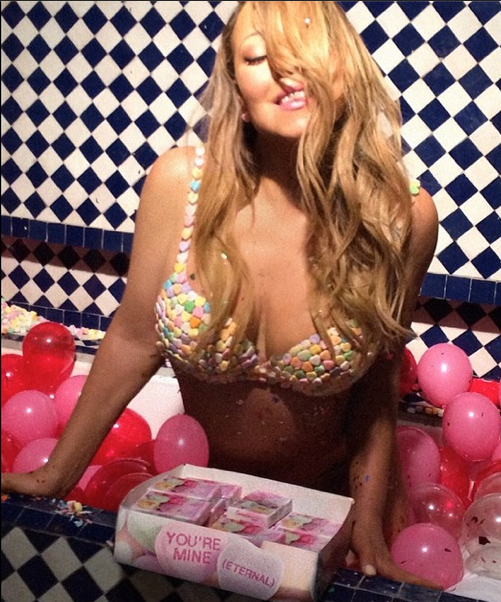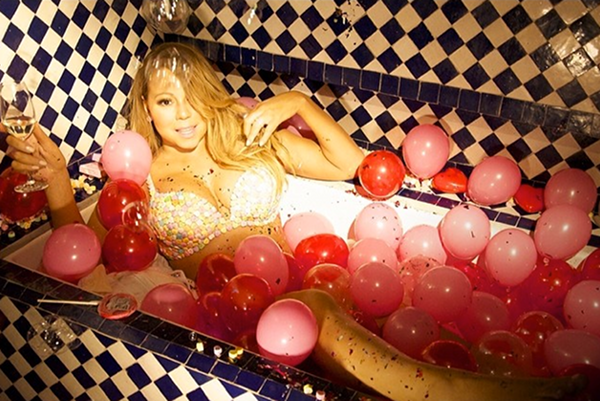 Only Mariah. And guess what...it worked. Because Nick hopped his happy ass on a plane right after that B-ball game and rushed to Mrs. Cannon's side...while she was still covered in candy and glitter: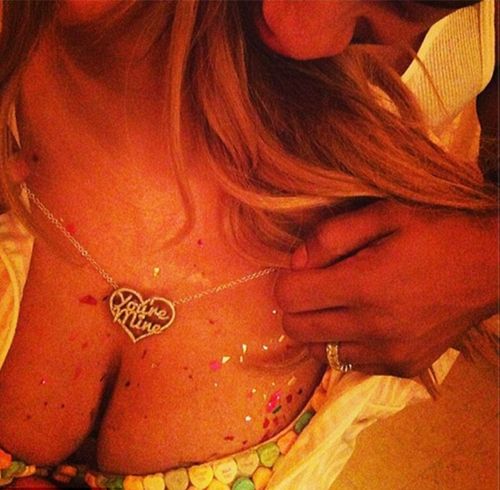 And he had gifts for his Mrs. (a pendant that said "You're Mine") and Dem Babies. Mariah said:
Surprise! #YoureMine #Diamonds #CandyBra #ConfettiOnTheBody #PartyTime #PutTheKidsToBed'
So cute!
Meanwhile, Mariah also celebrated V-Day with a new video for the remix of "You're Mine (Eternal)". This one pics up where the original left off...with the mermaid ish in Puerto Rico...but this time we get a shirtless singing Trey Songz. Check it:
Mariah's The Art Of Letting Go album hits shelves May 6th.
The Randomness:
1. K. Michelle released a new mixtape on V-Day called Still No F*cks Given. MUSIC
2. Christina Aguilera is engaged to boyfriend Matt Rutler! PIC
3. Simon Cowell's and his lover--who cheated on Simon's best friend with him--Lauren Silverman. STORY
Photos: Mariah's IG
Mathew Knowles' Baby's Mother Forced On FOOD STAMPS To Support Baby Nixon + Kanye Drops "Drunk In Love" Remix
Posted: 15 Feb 2014 05:40 AM PST
The deadbeat daddy files reportedly continue involving Mathew Knowles. Check out what his baby's mother is being forced to do now, plus Kanye ripping The Carter's "Drunk In Love" track...
Oh Papa Knowles. This doesn't look good.
Mathew's baby's mother, Alexsandra Wright, has reportedly been forced to get on food stamps in order to support their son Nixon. She's destitute and in need of public assistance, since apparently Mat still hasn't paid that child support they've been battling about for years.
TMZ reports:
We're told Alexsandra Wright hasn't seen any money from Mathew Knowles since we posted our story back in December -- when he allegedly owed $24K. We're told he now owes $32,135.90.

Wright -- whose son is Beyonce's half-brother -- is now on public assistance ... and gets $300 a month on a state-issued EBT card to pay for food and other expenses.

The judge is now deciding on what to do. She's even got a pic of her EBT card floating around, in which she goes by the name "Sandra":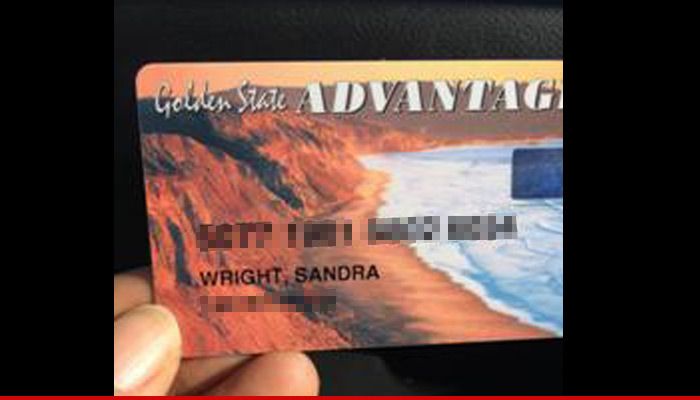 A mess.
And speaking of the Knowles clan, Beyonce & Jay's good friend Kanye West just flipped their "Drunk In Love" track for a little X-rated remix. He's boasting about how he and his fiance get down in the bedroom and everywhere else....plus a few other things. NSFW...
He released it last night for V-Day. Check it.
Photos: Pacific Coast News, Getty, TMZ
JUST DELIVERED: Vanessa Simmons & Mike Wayans Welcome Baby Ava Marie!
Posted: 14 Feb 2014 08:06 PM PST
Welcome to mommyhood Vanessa Simmons! Deets on her new baby girl inside...
It looks like Vanessa Simmons just gave birth to her first baby. She and long time boyfriend Mike Wayans welcomed a newbon baby girl named Ava Marie Jean Wayans. And it was Vanessa's Uncle Danny who broke the news on Valentine's night saying:
My brand spanking new Grand niece is named Ava Marie Jean [Wayans]...you go mommy Vanessa ...
We can't wait to see her! Ms. Ava Marie will have a stylish auntie in Angela Simmons, as well as lots of cousins, uncles and grands thanks to being the product of two of the largest families in hip hop/television.
Congrats all around!
Photos: Vanessa's IG
Joy Bryant Gets Sultry On The Cover Of ROLLING OUT, Dishes On BEST Valentine's Day Ever...And Sexing Michael Ealy (In "About Last Night")
Posted: 14 Feb 2014 04:32 PM PST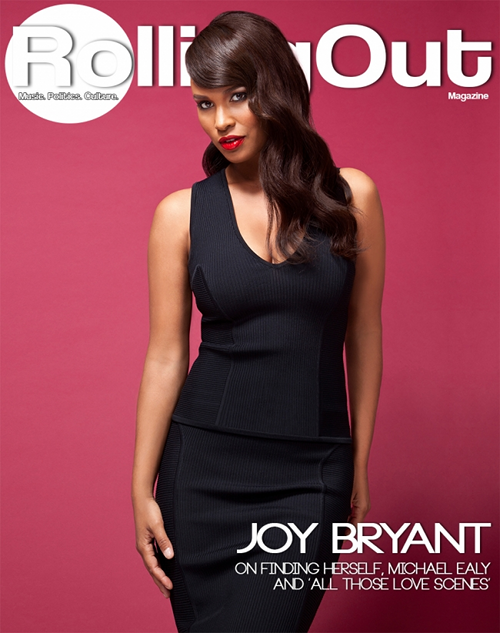 She's rarely given the spotlight we think she deserves...at least sometimes. But now we finally get to learn more about the fabulous Joy Bryant. The actress who went from a modeling career to playing 50 Cent's love interest to being in an interracial relationship on the mainstream NBC show "Parenthood" (one of our faves!), Joy's definitely had a good career projection of her own.
Find out more about the subtly sexy YBF chick inside...
We kinda want to hate her. She had that hot sex scene with 50 Cent in Get Rich or Die Trying, has a steady job on network television on "Parenthood", rarely wears makeup or gets glammed up for red carpets (and still looks cute), and now she gets to be swept off her feet in About Last Night by Michael Ealy.
But it hasn't always been hot men and roses for her. She just told her fans today about her favorite V-Day ever saying:
The best Valentines Day I've ever had was with my homegirl @amoycoutureny about 13 years ago in NYC.After having fights with our boyfriends earlier in the day and crying about it on the phone together, we decided that we weren't gonna let them ruin our Valentines Day. We would be each other's valentine. So we got dressed real fly and sexy and went out for dinner at a bomb ass restaurant. We clinked our champagne glasses and toasted to us, friends. After dinner we teetered in our Manolos to the nearest hot spot and danced the night away. Love is love
Sweet! And the newest Rolling Out cover girl is dishing on everything from what it's like to get intimate with Mr. Ealy to why she dropped out of Yale.
On deciding to do About Last Night
"When I found out they were doing a contemporary funny remake [of the film], it was a no-brainer for me," Bryant says. "Equally important was being able to work with Kevin [Hart] and Mike and Regina [Hall]. We've all known each other for a while, but I've never worked with them before. They'd all worked together and Mike and I have mutual friends and Regina and I always saw each other out socially, so to have the opportunity to go to work and play with them every day was something that I was really, really excited about."
On letting loose during sex scenes
"I think it's pretty obvious when [sex scenes and nudity] are gratuitous," she explains. "But if it makes sense — people do have sex — I don't have a problem with that, as long as it's not gratuitous. If it's not necessary, then we don't need to do it. But I have a healthy comfort level in terms of my body in regards to shooting those kinds of scenes. Not that I think I'm all that! [laughs] But I'm cool with it if it serves the purpose of the piece.
On getting to live out sex scenes with Michael Ealy
"I knew going in there was a lot of sex in the original movie. I already knew that!" she continues. But she says that she and Ealy found a very easy comfort with each other very quickly. "We didn't know each other very well, but we have mutual friends that we're both really close to, and we met before — so that kind of made us 'homies by proxy.' So that was natural. The chemistry was already there and we came in with trust and feeling comfortable with each other. We didn't have to act that. It was just there. You want to be comfortable with the person you're intimate with, right? Well, it's the same thing on set. It wasn't a big trip for me. I think it all made sense. All those love scenes! [laughs]"
On the culture shock of growing up in South Bronx, then going to Yale
"The [worlds] were total opposites of each other," she recalls. "I went from there and went to Yale [later], but when I went to Yale, it wasn't as much of a culture shock as it was when I was 13 years old going from 167th and College Avenue up to Shrewsbury, Connecticut.
"And I think that for me, while going from the South Bronx to a predominantly white, rich school and area was a huge trip; but the thing that struck me most was not so much the racial differences — it was the economic differences. It's a class thing a lot of times. Racism comes into play but when I was there, it was like 'Oh, I'm that poor?' " she says, chuckling. "My 13-year-old roommate had a credit card. I didn't know adults who had credit cards! Going between the two [environments], you've got one foot in one world and one foot in the other. There were times where I felt like I stuck out like a sore thumb in both worlds. When you're in that environment on scholarship and don't do well, you don't get asked back. Whereas, someone else coming from means who doesn't do well can just go to the next best thing. There was a lot of pressure at a young age to not get your a– sent back home."
On dropping out of Yale for her career
"When I dropped out of Yale and started modeling, having had exposure to a world outside of my neighborhood was great," she says. "I always loved getting out into the world. When I was younger, I loved going into Manhattan and down to Greenwich Village. I thought it was so cool, it was the hip place to me, like 's–t is happening down there!' I got to expand my horizons."
Check out the rest of her interview over at Rolling Out. About Last Night is in theaters today!
SURPRISE: Michael Ealy & Wife Khatira Have A Son Named Elijah! + Lil Kim's Baby Daddy Revealed As MR. PAPERS
Posted: 14 Feb 2014 03:29 PM PST
Michael Ealy has a baby y'all! This guy must be competing with Kerry Washington on who can keep their personal lives more private it seems. Deets inside about the About Last Night star's big reveal today...
Not only did sexy actor Michael Ealy pull a sneak attack when he married now wife Khatira Rafiqzada in total secrecy, but now they had a baby without anyone knowing as well.
"I never understand why people announce the birth of their children." - See more at: http://madamenoire.com/400882/michael-ealy-son-revealed/#sthash.IeT66n5m.dpuf
Michael hit up the Steve Harvey Show today to promote About Last Night with co-star Regina Hall. And when the convo turned to Michael's personal life (which he HATES talking about), everyone got served a nugget of unexpected info.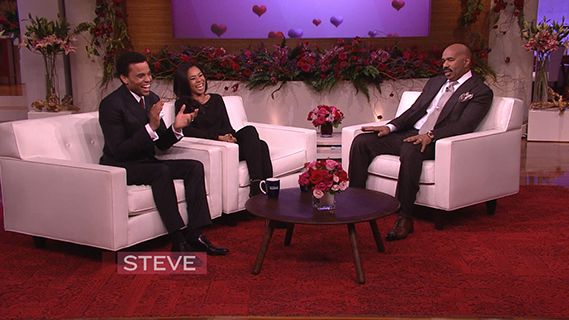 According to Madame Noir, after Steve asked Michael how married life is treating him one year in, Mike revealed all that he's learned so far about marriage. And when Steve asked if kids were on the way....Michael dropped the bomb.
"We have a son."
Oh?! Who knew?
Apparently Regina, because she chimed in saying, "He's a beautiful little boy."
Michael said, "I never understand why people announce the birth of their children."
No explanation on if the baby was born before or after marriage...or any other details. But Michael as a daddy seems like a super cute image in our heads.
And in Who's The Daddy news of the day, Lil Kim's on-again/off-again boyfriend is laying claim to her baby. Radio host Rickey Smiley called up Mr. Papers to ask him what he knows about Kim's pregnancy. And he confirmed....No Maury.
"Yeah that's my baby. No Maury (Povich) needed."
This statement is so hood-tastically funny to us. And not even sure why...
When asked if they were currently split (since Kin has tweeted about them being on and off so many times), he said:
"No we are together. That's my wife. He (the baby) gonna be a Gemini."
And no, we don't think he means "wife" in legal terms.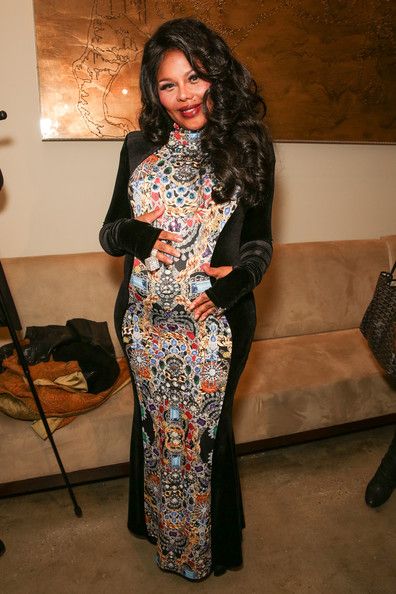 Anywho, Kim has still yet to formally confirm her pregnancy--outside of holding her belly in pics at The Blondes NYFW show the other night.
Photo: Steve Harvey TV
YBF INTERVIEW: Kevin Hart Serves Up Valentine's Day Tips For The Fellas + Dishes On Those "About Last Night" SEX SCENES!
Posted: 14 Feb 2014 01:51 PM PST
Kevin Hart talked to TheYBF.com about making Valentine's Day special, offered advice to men in relationship, and gave us the 411 on his "About Last Night" sex scenes. More inside....
We knew we loved this guy. With "About Last Night" hitting the silver screen today, box-office slayer Kevin Hart chopped it up with TheYBF.com (and yes, he's funny as hell in real life) about his Valentine's Day plans, offered advice to men and revealed why you should rush to see his movie: The sex!
First, we asked 34-year-old Kevin to give us his top 5 most WTF moments this year so far, because we just know there must have been a few.

1. "My fan based is broader. I had an old woman literally pass me going into Whole Foods she said, "I just wanna tell you that you're funny as shit." And she was OLD! I was laughing like where does she know me from, where has she seen me?"
2. "Any morning just with my kids. Seeing my kids become little people with personalities. Watching my son mimic me and do what I do. It makes me smile on a different level."
3. "Being able to promote this film. The shock factor. I'm excited cause I'm having sex in this movie. The fact that people will see me have sex scenes. That can be 3, 4 and 5."
4. "About Last Night" sex scenes.
5. "About Last Night" sex scenes.
Ha! He also served up some advice for you fellas out there still experiencing the V-Day struggle:
What makes "About Last Night" the perfect way to spend Valentine's Day?

It doesn't matter if you are in a relationship or not, it isn't just a movie for couples. It's not just for women. It's not just for men. It's for everybody. We deal with relationships in a real way. From a real perspective where people are gonna be able to relate to this. It's funny. It's edgy. It's smart. It has levelsl. I'm having a bunch of sex which is what everyone body wants. I can't wait for people to see it.

On his Valentine's Day plans:

I'm taking my lady out and putting a smile on her face like I do everyday. Valentine's day is everyday. Your lady should feel special everyday if you're doing what you're supposed to. And I'm doing what I'm supposed to.

Tips for men for V-Day:

Don't attempt romance. Be yourself. Romance comes by simply being who you are. That's what's attractive to a female. When you do things you wouldn't normally do and step out of your comfort...that's how you look stupid. You start singing or playing the guitar…sit your ass down and have a conversation!
"About Last Night", also starring Michael Ealy, Joy Bryant and Regina Hall, opens today!
Watch Kevin's Valentine's vid below:
In case you missed it:
BONUS
1. Romany Malco has been tapped to star in Kevin Hart's ABC sitcom. Story.
Photos via Kevn Hart's Instagram
LISTEN UP: Kanye Names Names, Goes BALLISTIC About DJ's Telling Them "Shut The F**k Up!"
Posted: 14 Feb 2014 12:24 PM PST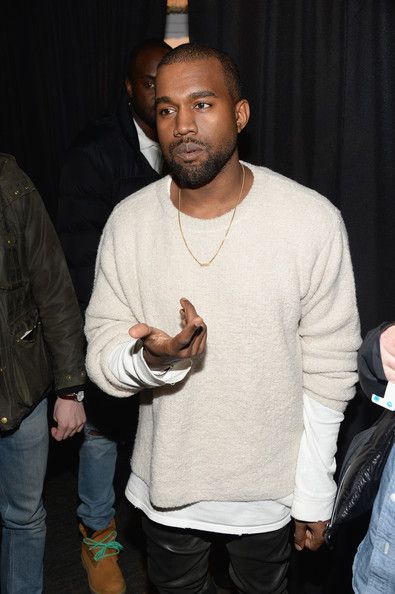 Kanye West is back on his rant tip. And yes, this time it's an actual rant. Since Kanye has sworn off doing interviews (even though he'll be on the new "Late Night" show soon), he has found an alternate route to promote his Yeezus tour he's on. Continue with the rants and name names. That'll get folks' attention.
Check out Yeezy's latest words inside...
This may be one of Kanye's most livid rants yet. While rocking the stage at Penn State University arena last night, Kanye cut into the performance of his own song "Touch The Sky" and went off. He came out the blue screaming, "This is what the f**k I'm talking about! 10 years of this sh*t!"
And while he is super excited about crossing that decade mark in this game, he's equally pissed off about folks still "talking about him". Or something. And he went in on Shade 45's Sway and The Breakfast Club's Charlamagne:
'Ye screamed next:
"If I go to a radio interview, SHUT THE F*** UP!!! ... Diss me, talk sh*t. What the f*** did you do? What have you done with your motherf**kin' life, Charlemagne? Sway?"
Not sure why he didn't say all this to heir faces when he visited. But dammit...he's Yeezus! (Kanye's words)
In between likening himself to Beethoven and Shakespeare, he also screamed about nighttime talk show hosts showing pics of him and his fiancee...and not-so-kindly cursed them out about it.
While this ish was funny as hell to watch, we're just a little confused. You want DJs to "shut the f**k up" when you go on the air for an interview...so you don't want to be spoken to....during an interview?
And you're mad talk show hosts show pics of you and your fiancee during their shows....yet you voluntarily go on said talk shows when you're selling something for people to buy?
Got it. We'll see what the new "Late Night" host Seth Meyers has to say about it all when Kanye visits his show during his premiere week later this month...
Check the video below:
Extras:
1. Ne-Yo dropped a brand new EP in celebration of Valentine's Day called 3 Simple Rules. MUSIC
2. Andre 3000's father has sadly passed away. STORY
Photo: Getty
Nicki Minaj DISHES On Valentine's Day, Drake & "The Pink Print" + Trey Songz "Look At Ya'll" (Response To Nicki Minaj)
Posted: 14 Feb 2014 11:12 AM PST
In an interview with Angie Martinez, Nicki Minaj address the Malcolm X controversy, her Valentine's Day plans and her friendship with Drake. Listen inside and her Trey Songz response record.
Nicki Minaj called into Hot 97 to clear the air about the Malcom X,"Looking A$$ N*gga" controversy, spilled deets on her upcoming disc and talked about her Young Money family. She also apologized for using the pic of the iconic leader and said she didn't want to upset the family. Here are the highlights, Thanks to Rap-Up:
On Drake and Young Money:

"Drake and I are great. That's my baby. Drake is the one that told me to get on 'Danny Glover.' He told me to get on that and Safaree SB told me to get on 'Boss Ass Bitch.' 'Cause I was in album mode, so they both were just comin' at me like, 'You're gonna have to get on that,' and I just happened to do it. But Drake and I are great. We are in a great space. I think the whole team collectively just feels so together right now. We all kinda just wanna win. Wayne's about to put out his album and I know Drake's been in the studio with him. We just workin', no bad blood, no bad vibes at all."

On her Valentine's Day plans:

"I was thinking about buying some real sexy stuff and taking some pictures. I was gonna do like the picture I did for Halloween. I was gonna do a new picture like in the red version, but I don't know. It would be nice if I got some candy, but I don't know."

On her new album:

"The Pink Print is not gonna have a release date. You'll never know when it's coming until it just comes."


On whether she's going to pull a Beyoncé and release it without notice:

"No, no. I'm not. Not all the way. Just meaning in terms of a release date, I won't set a release date until the album is really done and I've lived with it for a long time. I'm not gonna pull a Bey, but I'm just gonna chill for a second and see how it goes."
Listen to the interview here:
In new music...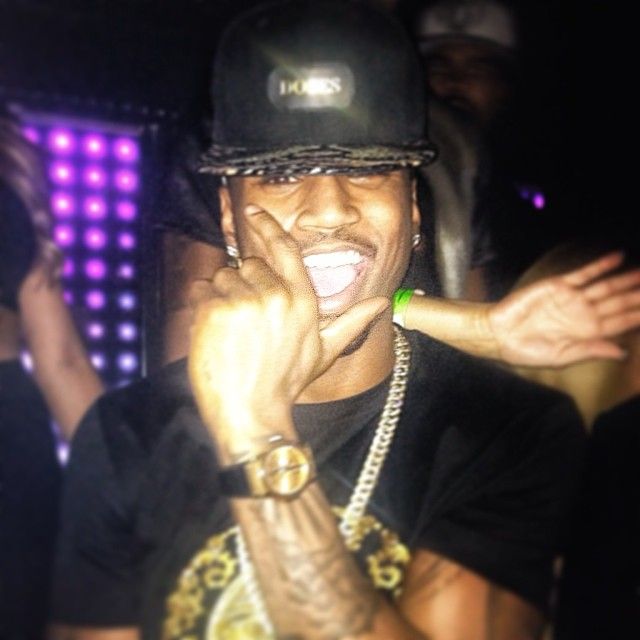 Trey Songz recorded a response to Nicki Minaj's controversial record "Lookin A$$ N*igga" called "Look At Ya'll". He tapped into his nasty rapper persona saying, "Look at ya'll worn out, whored out, slored out, pu**y walls tore out, all ya'll bitches."
Oh.
Listen to "Look At Ya'll" here:
Photos via Nicki's Instagram/Trey's IG
TWERK SOMETHIN': Beyonce Snapped Partying It Up In Sexy Crop Top & Mini Skirt Inside Private Party
Posted: 14 Feb 2014 10:10 AM PST
If this chick isn't showing us what having the time of your life every day looks like, we don't know who is. Beyonce's serving up what being drunk in love--inside a private party--looks like....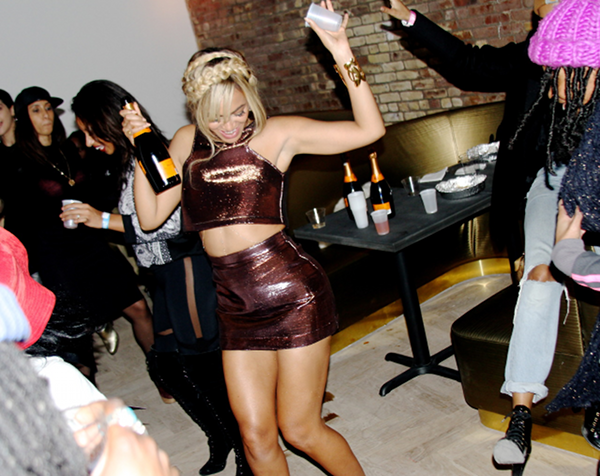 Beyonce twerked out and poured up the bubbly at a recent private bash in a mysterious location. She posted her own pics dancing it up and holding on to that champagne bottle and plastic cup (gotta love that) for dear life. She rocked this super sexy rose gold crop top & matching skirt both from Topshop (both less than $80 each), scoped by Fashion Bomb Daily. And she topped it off with a cute braided updo and nude Charlotte Olympia Dolly Platform pumps.
Gotta love a chick who knows how to make a high-low pairing look like a bag of money.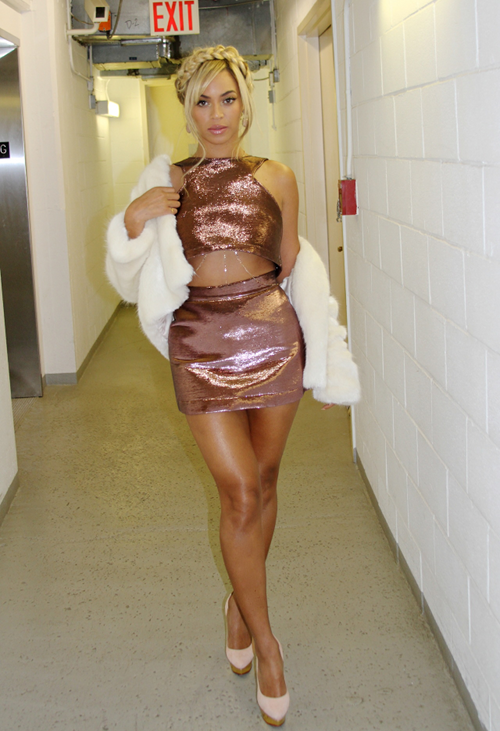 The 32-year-old hot mom showed off her killer new bod with a white fur for the winter, and hit the party with her little sis Solange Knowles: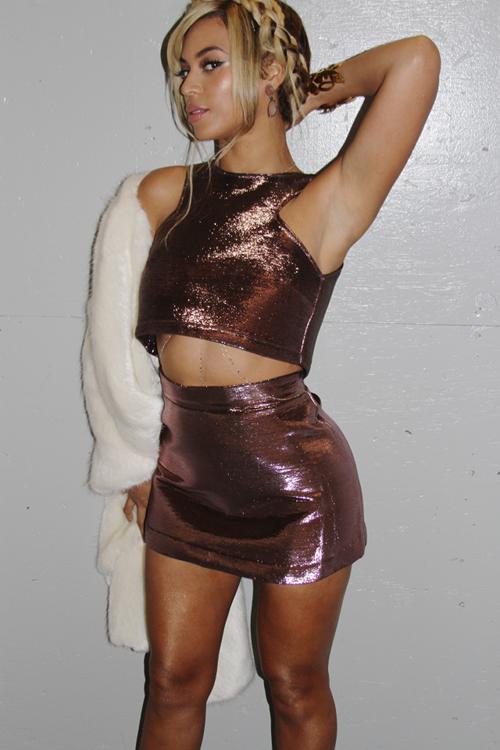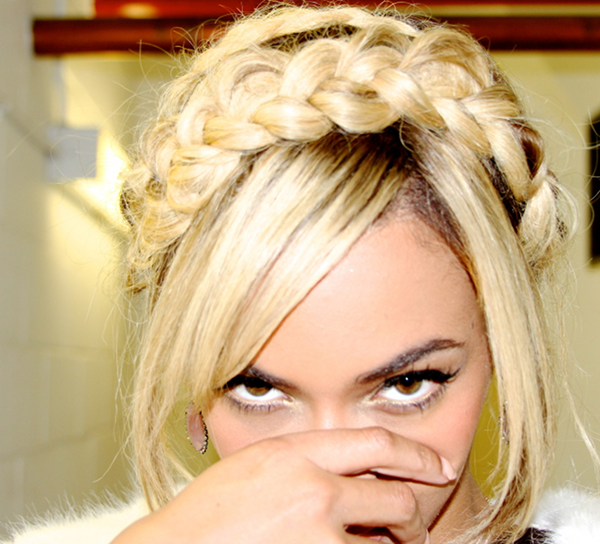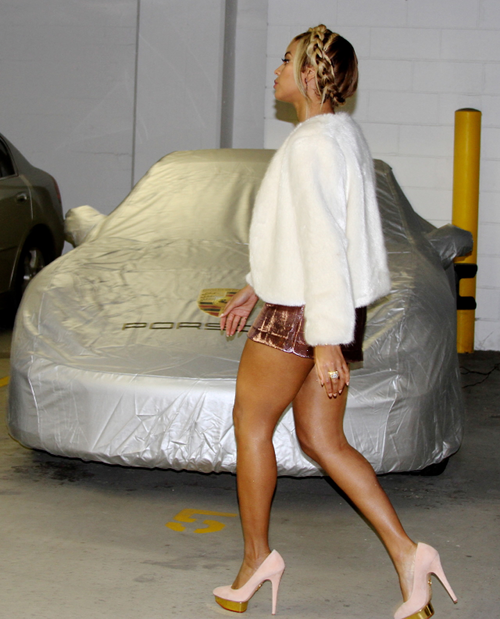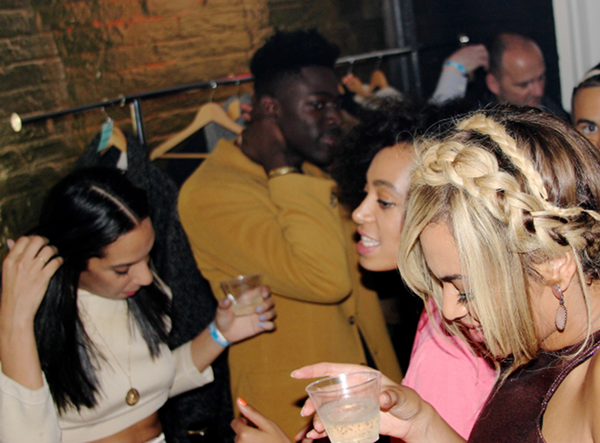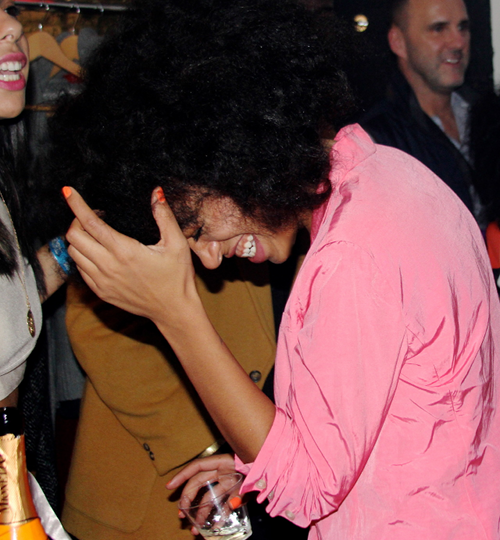 Loving Solo's pink on pink too. Looks like Bey is squeezing in all the partying and fun she can before she returns to her Mrs. Carter Show World Tour next week in the UK.
Work!
Photos: Beyonce's Tumblr
YBF KIDS: Monica Shows Off Her Adorable Kiddies In New Shoot + The Combs Girls Rock Their First Print Ad Campaign
Posted: 14 Feb 2014 09:36 AM PST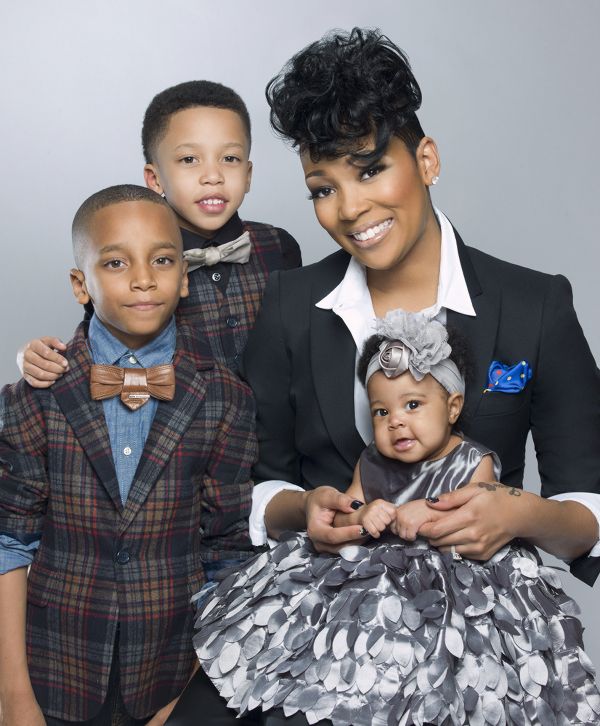 Monica unveiled the sweetest pic of her babies for Valentine's Day. Take a look at her newest bundle of joy Laiyah, and her boys Rocko & Romelo inside, plus Diddy's little angels land their first print ad campaign....
Because she loves her little ones to pieces, Monica is celebrating V-Day with a new professional shot of herself with her three kiddies. Shot by Derek Blanks, Monica dressed up her 5-month-old baby girl Laiyah--in what could be baby couture for all we know--for a family portrait. And it's totally adorbs.
Rocko, who's now 8, and 6-year-old Romelo donned their bow ties and plaid blazers to keep it dapper. Noticeably missing is Monica's husband Shannon Brown. Maybe he had an NBA game that day?
In other YBF kid pics: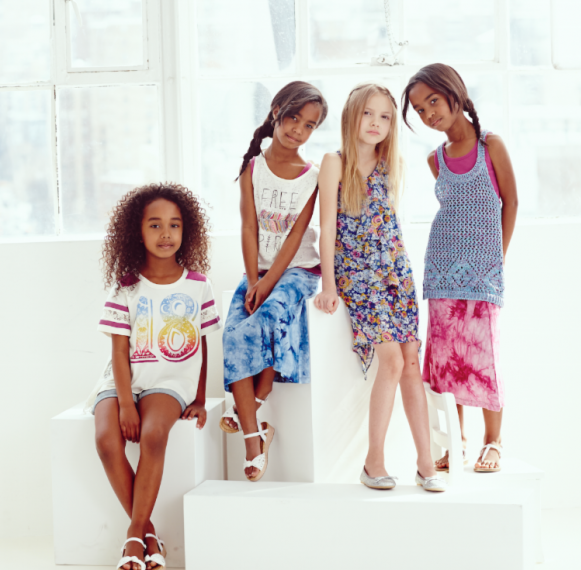 Check out Diddy's adorable girls Chance, D'Lila & Jessie Combs in their very first print ad campaign! The mini fashionistas, who are not just sisters but seemingly the best of friends, donned cute & colorful clothes for Ruum American Kid's Wear.
The company, which launched last year, hosted a full out shoot in New York City for all three girls. And their moms, Sarah Chapman and Kim Porter, were front and center on set. And according to Talking With Tami, their proud papa Diddy Facetime'd them on set to wish them luck. Cute!
The Anna Palm-shot campaign is the twins' and Chance's first real modeling gig...and they're naturals.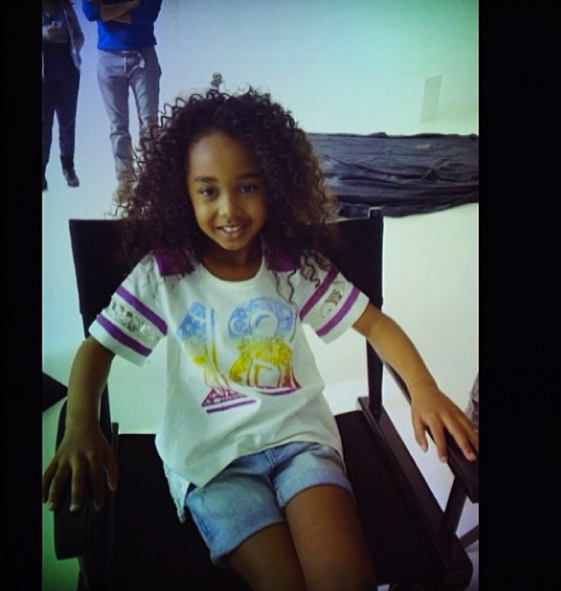 Congrats to these little ladies! They're coming for their daddy's crown....
Photos: Talking With Tami, Diddy's IG, Derek Blanks