---
TAX MAN COMETH: Keyshia Cole SLAPPED With $162K TAX LIEN!
Posted: 04 Feb 2014 08:20 AM PST
Keyshia Cole owes the IRS a huge amount of money. Find out how much inside....
Uncle Sam filed a lien in Georgia against "Let It Go" singer Keyshia Cole.
According to Radar Online (who published the documents), the lien was filed on November 25 and based on the feds claim that she failed to pay taxes in 2009. So what are they claiming she owes? The tab is allegedly $162,158.93!
The IRS claims Keyshia made a lot in 2009 when her headlining A Different Me Tour had a profitable time on the road.
"We have made a demand for payment of this liability, but it remains unpaid. "Therefore, there is a lien in favor of the United States on all Uncle Sam property and rights to property belonging to this taxpayer for the amount of the taxes and additional penalties, interest and costs that may accrue."
We reach out to Keyshia's management and have not received a response. We hope Keyshia takes care of this very soon and doesn't find herself behind bars like Fat Joe and Lauryn Hill did.
BONUS:
It looks like Keyshia is working with Wale. Maybe this song could hit #1 and solve her money woes.....
"When a Nicca recording on the the low and u act like u don't know! anyway, this is the song I was telling y'all about with @wale I don't think think he knows how dope he is but whatever! That makes 2 of us! That's what keeps the true essence of an Artist. In my option."

Read the documents here.
Photo via Keyshia Cole's Instagram
SNAPSHOTS: Mariah Carey's VACAY Bikini Pic + Will, Jaden And Trey Smith's POST-Skydiving Pics
Posted: 04 Feb 2014 06:30 AM PST
Mariah Carey posted a new bikini pic! See the photo inside along with the Smith men (Will, Jaden, Trey) after their skydive.
Does Mariah Carey have bad hair days? She seems to think so. In her latest post from her fab vacay, Mimi threw on a halter bikini top and matching sarong (via Instagram). The only issue was her hair! She said, "Working in my most favorite environment clearly having a bad hair day.. Haaaaaa." We DO NOT agree. You look fab Mimi! Hair and all.....
In case you missed it......
Yesterday, Mariah posted a video of herself making a splash in the ocean....just like the "Honey" video!
In the friendly skies......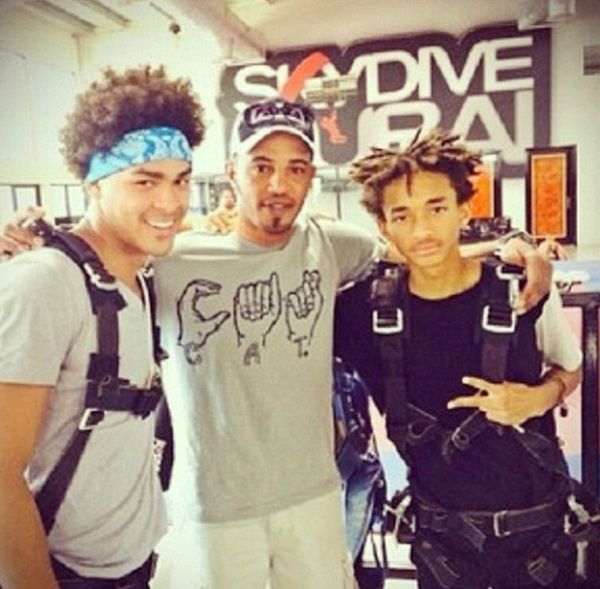 Over the weekend, we showed you a pic of Jaden Smith jumping out of a plane. Thanks to Jada Pinkett (via Facebook), we now know it was a family affair! All the Smith men went along for the skydive. Trey and Jaden shared a photo they took with one of their instructors.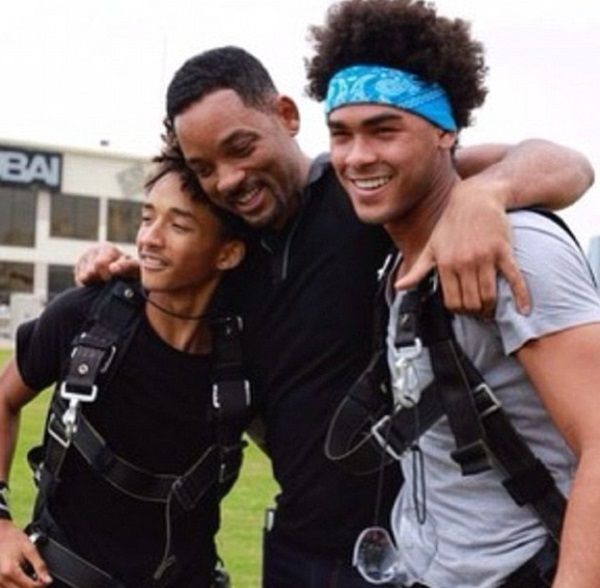 Following their jump, Will posed with sons Trey and Jaden. We didn't see photos of Will making a leap (we noticed he wasn't wearing safety gear either) but he's obviously a fan of the friendly skies. Mr. Smith went outdoor and indoor skydiving in Dubai last month.
Photo Mariah Carey Instagram/Jada Pinkett Facebook
BABIES & BESTIES: Ciara's SHARES Her Baby Bump Photoshoot, ATTENDS LaLa Anthony's LA Book Signing
Posted: 04 Feb 2014 05:40 AM PST
Ciara was spotted at LaLa Anthony's LA booksigning yesterday and also posted new pics of her baby bump. Check them out inside....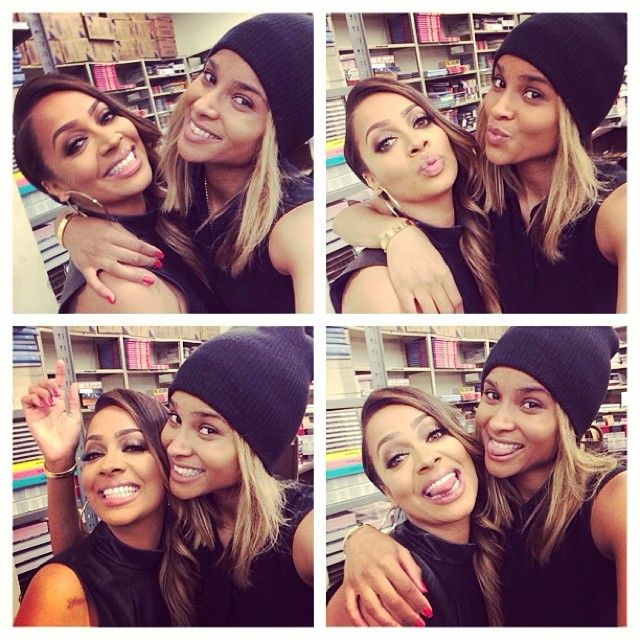 Ciara stopped by LaLa Anthony's Barnes & Noble at the Grove Book Signing for her new novel "The Love Playbook." LaLa complimented CiCi on her motherly glow saying, "You are glowing!! I love u!!!"
Before the book signing......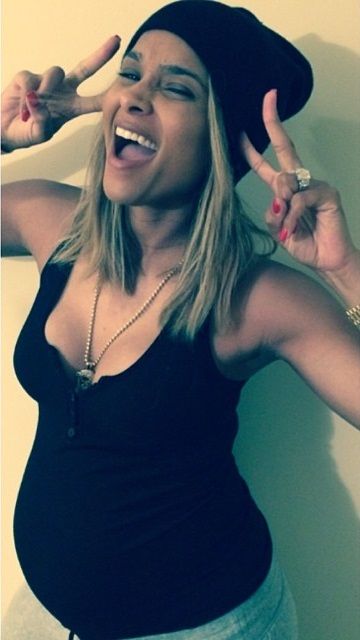 Ciara took a few fun photos of her baby bump and shared them via Instagram.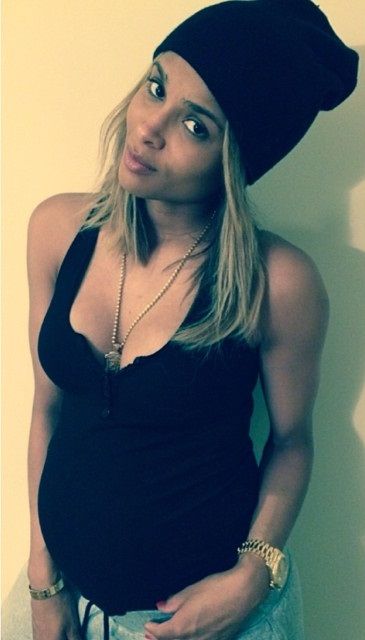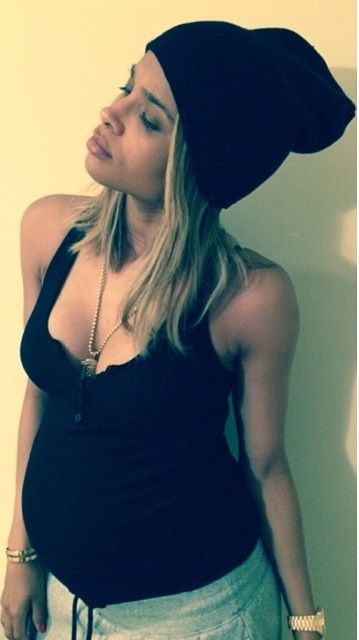 During the shoot, Ciara may have been listening to the Digable Planets because she captioned the pics "I'm Cool Like That, I'm Peace Like That, Im Love Like That, N We Out...;)"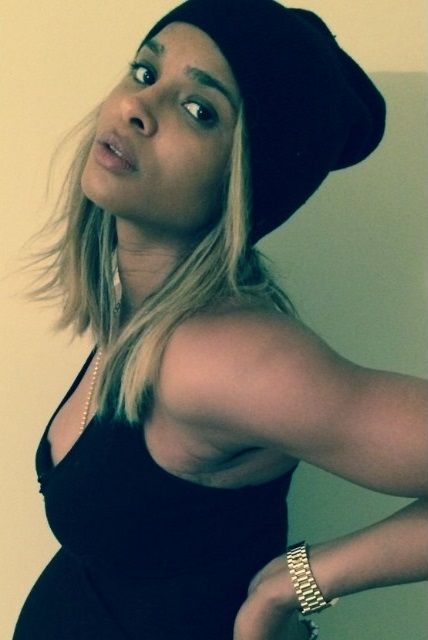 Congrats to Ciara and Future on their pending birth.
Photos via Ciara's Instagram
BALL OUT! Beyonce, Jay Z & Super Bowl Champ Russell Wilson Chop It Up Courtside At The Nets Game!
Posted: 04 Feb 2014 04:05 AM PST
The Carters may not have an official stake in the Brooklyn Nets any longer, but they're still staunch supporters. Former minority owner Jay Z and wife Beyonce braved the NYC snowstorm to hit up the game Monday night at the Barclays Center. And they were spotted chopping it up courtside with the new Super Bowl champ Russell Wilson.
Pics inside...
Well we'd love to be a fly on the wall for that convo. After a weekend full of Super Bowl festivities, celebs chilled out at last night's Nets game. And the champ himself was on the mix, Seattle Seahawks QB Russell Wilson.
He was spotted mixing it up with the casual Carters: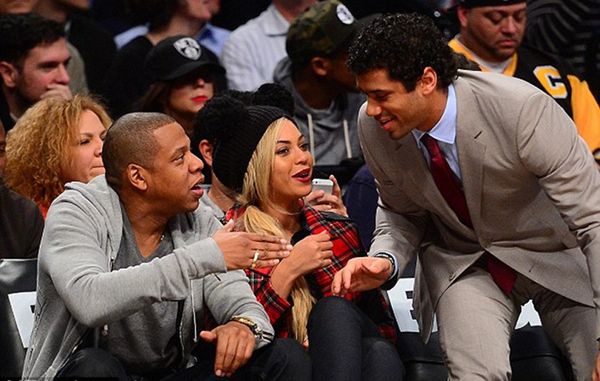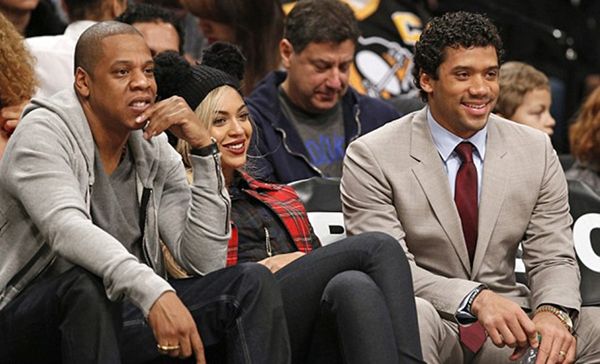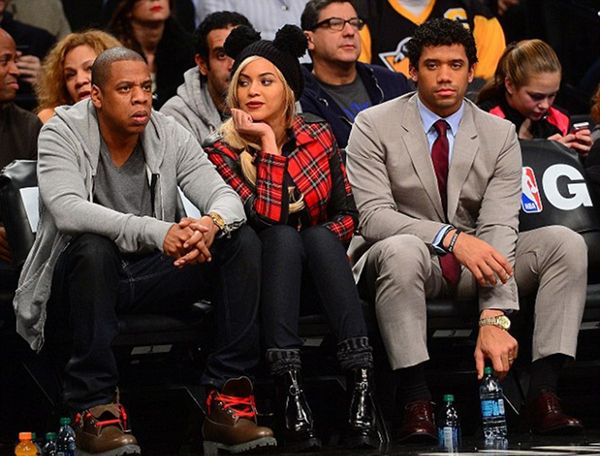 How cute is Bey's double puffball hat?!
Billboard's top ranked power couple got a little affectionate and cuddly during the game. And we can only wonder if Jay is laying down the ground work to woo Russell over to Roc Nation Sports as his third NFL client after Victor Cruz & Geno Smith. Hmmm...
Former President Bill Clinton and actor Michael J Fox were also spotted at last night's game.
BONUS: The commercial for Beyonce's new Rise perfume is out. Check it below:

Photos: AP/Getty/@Bey_Legion's Twitter
HERE WE GO: The New Girls On "Basketball Wives: LA" Stir Up Drama In New SUPER TRAILER
Posted: 03 Feb 2014 05:16 PM PST
We've already given you confirmation that three new cast members, Sundy Carter, Brittish Williams, and Brandi Maxiell, are joining "Basketball Wives: L.A." to stir the never ending home wrecking/catfight/bitchy pot.
Now, check out the super trailer inside and what we've learned so far....
Today, VH1 premiered the three minute super trailer for "BBW: LA" season 3 kicking off February 17th.
Here's what we've learned from the super trailer: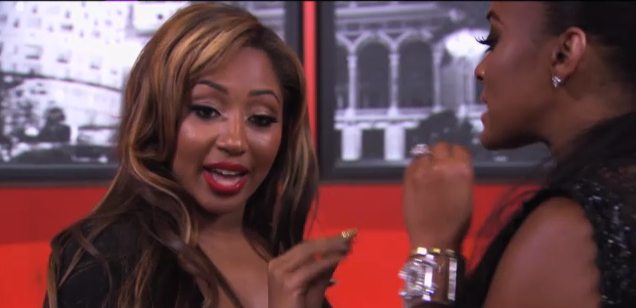 Brittish, who is not even 25 yet, cares more about the the money & lifestyle she has (from her "business" and her man Lorenzo Gordon) than she does about whether her man is cheating on her.
"He might still dip and dab sometimes but as long as I don't know about it we're good," Williams says in the trailer. "I don't know if he dips and dabs, but do you think I put it past him?"
Girl, bye. She also seems to be taking her new job on the show real seriously as the resident firecracker. She and Malaysia may fight it out. And speaking of Malaysia, she may finally address her rumored split from husband Janero Pargo.
The three new chicks seem to have been drawn into Jackie's clutches as her new "posse". We'll see how that holds up throughout the season...
There will be unnecessary catfights about "attitudes". And about certain cast members sleeping with married men (our money is on Sundy).
This is the look Draya gives when she's about to go in on her man, Orlando Scandrick, about allegedly cheating with Jackie's daughter.
Peep the super trailer below:
Will you be watching?
Bruno Mars Makes Super Bowl History! + SWV Says The "Never Saw Their Money" Thanks To Managers + Miguel's "Simplethings" + Jodeci's Coming Back
Posted: 03 Feb 2014 04:58 PM PST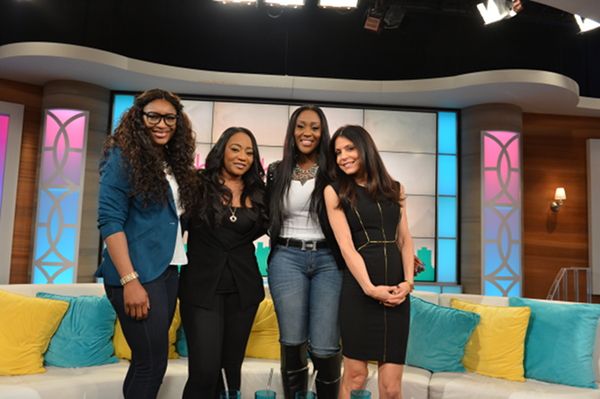 SWV is making their promo rounds, and they're revealing how they had their own "alleged" TLC/Pebbles situation with management allegedly taking their money.
Check out what they had to say inside, plus Miguel's new song "SimpleThings" and Timbaland working on Jodeci's next album...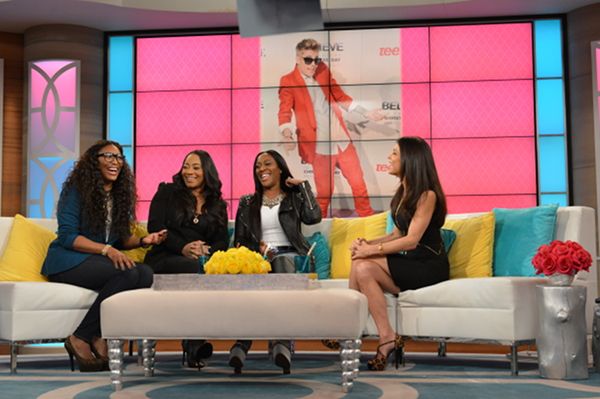 Our fave girl group from the 90's is back in the spotlight these days as they continue to promote their WeTV reality show "SWV Reunited". And Tuesday on "Bethenny", the ladies are revealing how they got stuck for their paper...by their won management. We've heard this story before...
While dishing on how and why they hit rock bottom after being on top of the R&B game, the girls said they never got to see the money they were pulling in. And it was all thanks to "alleged" money hungry managers who had that lethal power of attorney. And it seems the money they made, never ended up in their own hands. This led LeLee to contemplate suicide after being homeless and completely broke.
Taj: We were just at a point in our career where I guess everything that had happened all the people who had planted their seeds, their seeds began to grow to the point that it was pushing us out, pushing us away from each other.
Bethenny: Give me an example, what do you mean?
Taj: Well like for instance, we had horrible management, our management was not there to keep us as a cohesive group. She literally planted seeds to tear us apart.
Bethenny: Why would she want that? She wouldn't make anymore money?
Taj: I don't know. Ask her one day. I have no idea.
Lelee: You know it's always, you gotta be careful when you have a team of people it's always a meeting after the meeting. People would meet with us as a group and then meet with us individually and the conversation is totally different.
Bethenny: I mean you had to make a lot of money. Who was handling the money?
Coko: Accountants, they had power of attorney over everything. We made money but we didn't see our money.
Lelee: Everybody but us.
Bethenny: You never saw your money.
Coko: We never saw our money.
Lelee: And there's this special thing called power of attorney, you run the hell from that.
Coko: That's a killer. That will kill you.
Bethenny: I think someone told me that Oprah signs every check and won't let anyone sign…
Coko: We sign our own checks right now, we've learned a lot.
Check out the videos below:
Tune in tomorrow (Tuesday) for the ladies talking brokeness and butt lifts.
Meanwhile, congrats are in order for Bruno Mars!
According to press release, Bruno Mars is the reigning King of the Super Bowl half time show. Mr. Unorthodox Jukebox himself had 115.3 million people watching him tear down the stage with a special guest appearance by the Red Hot Chilli Peppers.
This beats out the 110.8 million delivered by Beyonce last year and the prior record of 114.0 million set by Madonna two years ago.
Next up for Bruno, the Grammy winner is heading out for the second leg of his already mostly sold-out Moonshine Jungle World Tour.
And speaking of groups from the 90's we love...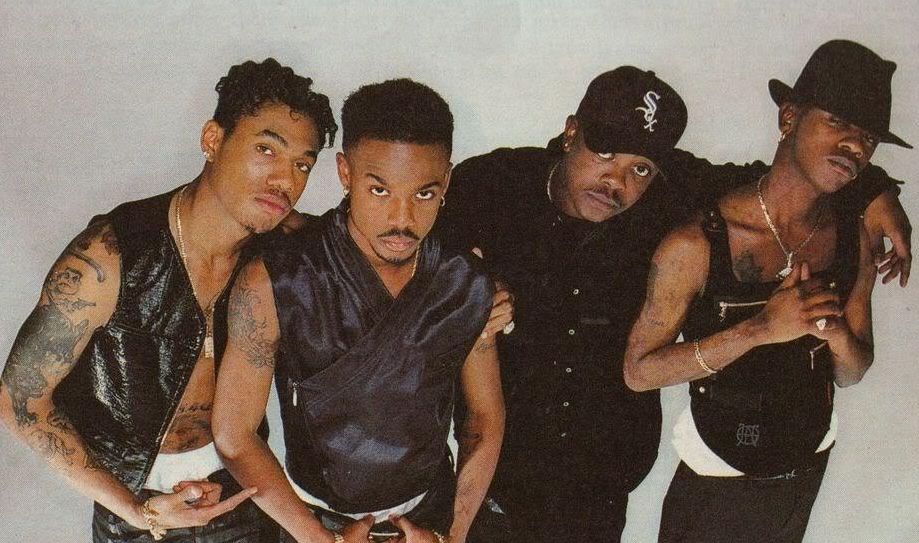 Timbaland has revealed he's working on bringing Jodeci back. Yup. Not sure how anyone overlooked this as he actually said it in a fan Q&a session a month ago.
Hip Hop & More reports today:
Timbaland went live on the Hang With app almost a month ago while taking a break from his tour with Jay Z and answered some fan questions live from his phone.

Apart from other things like his background and come up in the industry, Timbaland revealed (3:20 mark) that he's working with Jodeci on their comeback album and says it's sounding good. The group, made of K-Ci & JoJo, DeVante Swing and Mr. Dalvin last released an album, The Show, the After Party, the Hotel in 1995.
We are Here.For.This. As long as K-Ci and DeVante...and everybody else for that matter...have their ish together....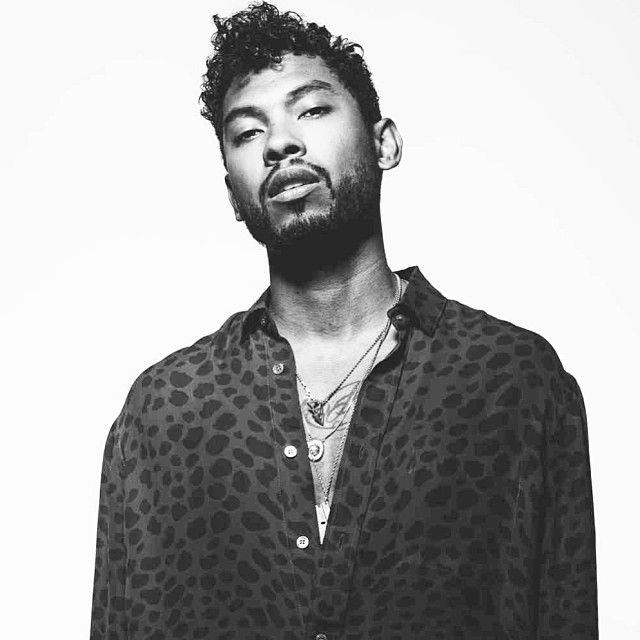 Miguel is appearing on the HBO "Girls" soundtrack called Girls, Vol. 2: All Adventurous Women Do… And his sexy track, that "Girls" creator Lena Dunham commissioned him to do for the show, is called "Simplethings". Check it below:
The soundtrack hits stores February 11th. We're feeling this...
SNEAK PEEKS: Oprah & The Hottest YBF Hollywood Men Cover ESSENCE + Toya Wright Talks Marriage & Kids With Memphitz In SHEEN Magazine
Posted: 03 Feb 2014 03:56 PM PST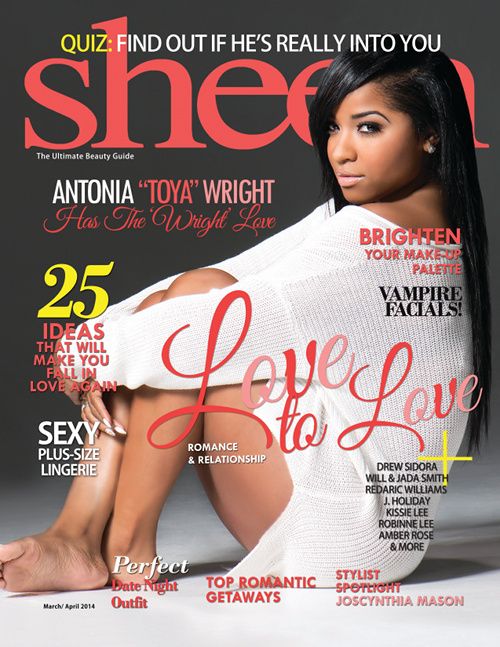 Toya Wright is covering the March/April 2014 issue of SHEEN magazine....and she's serving up what marriage is really like between her and Memphitz. Check out the cover pic inside, plus a seak peek at ESSENCE's new cover with Oprah and more inside....
Toya is sitting pretty in a white sweater for the cover of SHEEN magazine's Romance & Relationship Issue.
And while we all got to know Antonia "Toya" Wright first as the former wife of Lil Wayne and as 1/2 of BET's "Tiny & Toya" show...she's branched off into her own spinoff show, another Garb boutique store in the ATL area, and being an InstaStar along with her (and Wayne's) daughter Reginae.
Now, as the wife of Memphitz, she's in the March/April Romance and Relationships Issue going into more detail about her marriage and what it feels like to still be considered "Lil Wayne's Ex-wife".
The fashion lover also talks about the exhaustion of maintaining a healthy relationship in the public eye, how she and her husband first met, and the possibility of her and Memphitz having children.
Get ready for a new reality show if that's the case...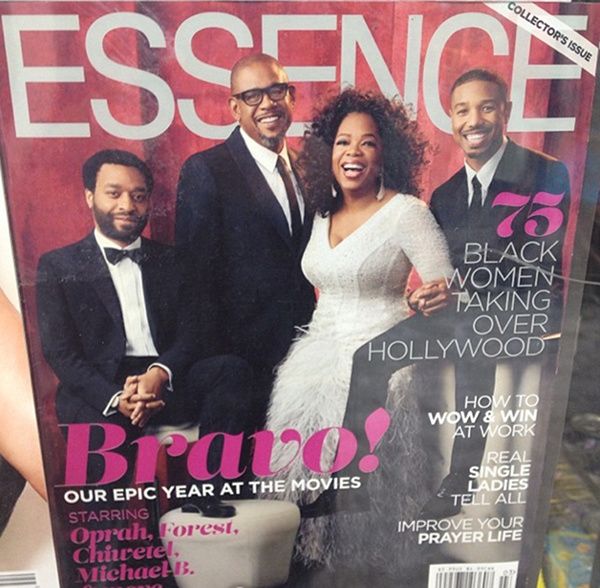 A sneak peek of ESSENCE mag's upcoming cover with Oprah, Forest Whitaker, Chiwetel Ejiofor and Michael B. Jordan has hit the net. Lady O is looking perfectly pulled & feathered for the cover of the Collector's Issue.
It's all about black men taking over Hollywood this year. And we're not mad.
Chris Brown (With Karrueche) Looks WAY Healthier Arriving To Court....Avoids Jail Time Again
Posted: 03 Feb 2014 03:31 PM PST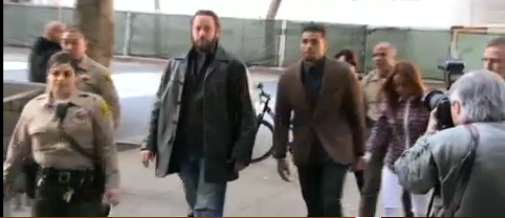 Chris Brown is out of rehab....for the afternoon. He had to make a stop at an L.A. courthouse today with his girlfriend Karrueche. And it looks like rehab is doing him some good....
As he walked into the criminal court building in downtown in L.A. this afternoon, Chris Brown looked like he had put back on the weight he lost while he was going through his darkest times. While he never clearly admitted to a drug or alcohol addiction, and claims to only be in rehab for anger management, it's widely suspected substance usage played a major part in his fall.
But it looks like he's on his way to healthy. And he had his girlfriend Kae by his side as usual. Chris headed to court today (at the same time as CeeLo for a separate case) for a hearing in the Rihanna assault case. And according to TMZ, "the judge had some questions about the D.C. assault case as well as his anger management rehab."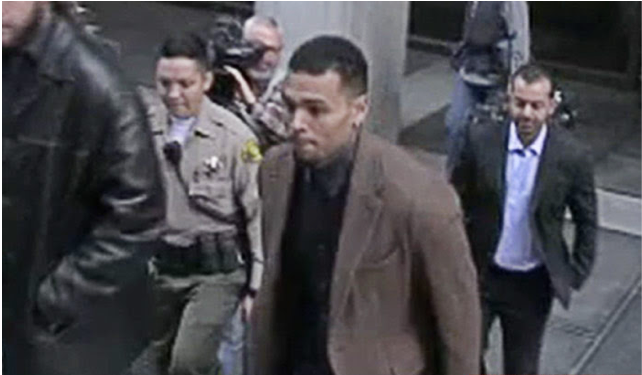 And even though he looks to be doing well physically, the prosecutors reportedly want him in jail ASAP.
Prosecutors asked the judge to throw Chris in jail immediately and set a probation violation hearing. Prosecutors claim "Brown's violent behavior continues to increase in severity and frequency" and he poses "an increasing danger to society."
The judge shot down the request and said he's better off finishing out his 3 months in rehab.

Check out video of his and Kae's arrival below:
Photos: TMZ
IN CASE YOU MISSED IT: "SNL" Cast Gives Folks Plenty Of Reasons To Celebrate Black History Month + Erykah Badu In GIVENCHY For PURPLE Mag
Posted: 03 Feb 2014 02:52 PM PST
Erykah Badu is serving up Givenchy exactly how we knew she would...with a side of slayage. In case you missed it, check out her pics for PURPLE magazine, styled by Givenchy head designer Ricardo Tisci. Plus, the hilarious "SNL" skit that teaches folks the real reasons for Black Hilstory Month...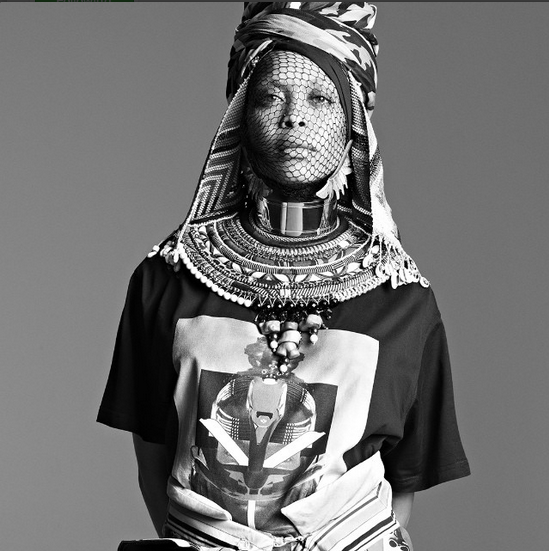 Recently, we got to see Ms. Badu in all her eclectic fabulous glory thanks to Ricardo. And she looks to have styled the new face of the Givenchy house for french magazine Purple.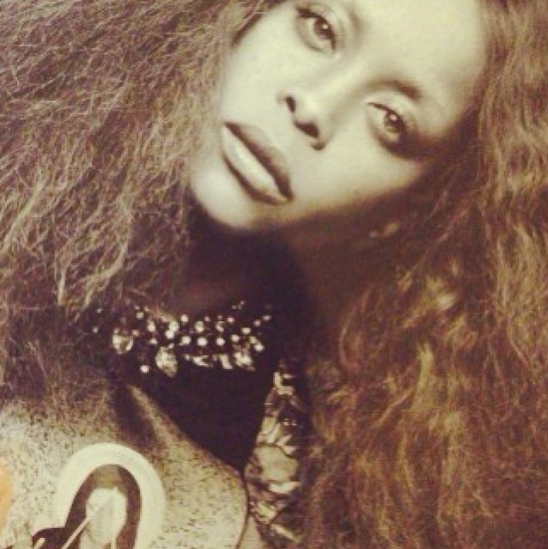 Hot. She's rocking Givenchy designs spanning from 2009 to present. And she's the perfect face for the gig.
And over on "SNL":
This hilarious skit has now gone viral. Check out what black cast members Jay Pharoah, Kenan Thompson, and Sasheer Zamata rapped about for black history month...and their 28 reasons why you should give a black man a hug during February.
Photos: Ricardo's IG
INSTAGRAM PROPOSAL? Diddy Finally Pops The Question To Cassie...On IG?!
Posted: 03 Feb 2014 01:09 PM PST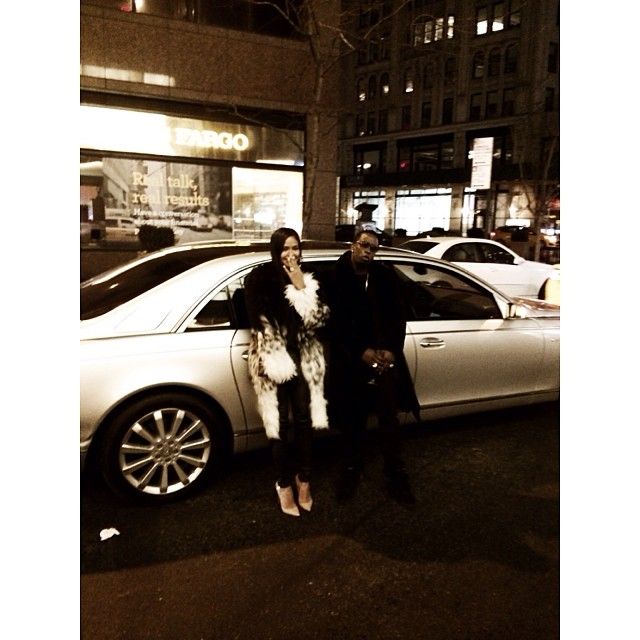 Despite rumors that have been floating around for about a year now that 44-year-old Diddy & 27-year-old Cassie were already secretly engaged, they seem to be doing some type of official engagement for the public to see. At least that what their IGs tell us.
Check out how Diddy seems to have officially popped the question to girlfriend Cassie during Super Bowl weekend inside...
Cassie posted a pic yesterday of her and her man Diddy hitting the NYC streets for Super Bowl festivities. And she looks to be flashing a (new?) rock on her ring finger.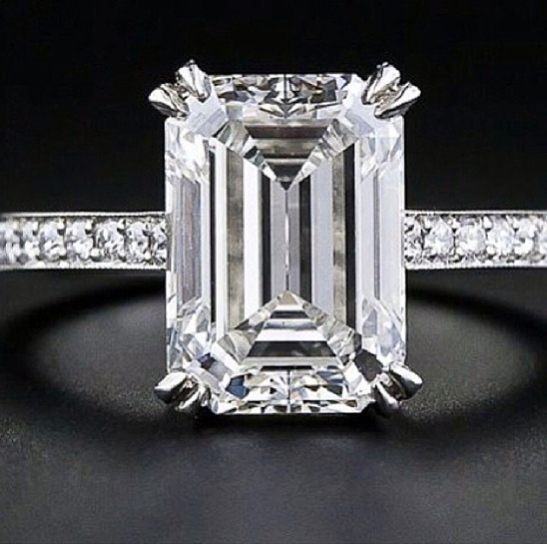 Could it be THIS fat emerald cut diamond that Diddy posted on IG for his long time girlfriend? He captioned:
Baby do you like it? I just want to get you wat you Like ! I just wanna Mk you smile :) #takeDat. !
Sounds like Diddy's version of a proposal to us. But Cassie's also been wearing a diamond ring on her ring finger for several months now. The pic was purposely shot from far away to keep folks guessing.
But this may clear it up. Shortly after Diddy IG'd that fat rock, Cassie commented on the pic saying:

The twosome also partied it up Saturday night after he posted the ring: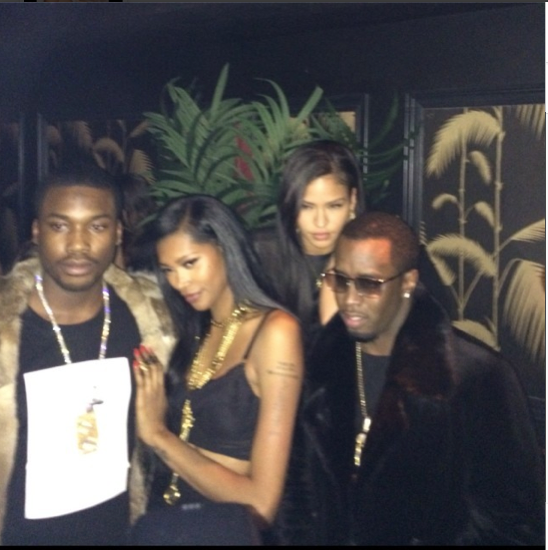 They hit up some parties with Meek Mill and Jessica White. And she and Keyshia Cole snapped a pic yesterday with the ring on display.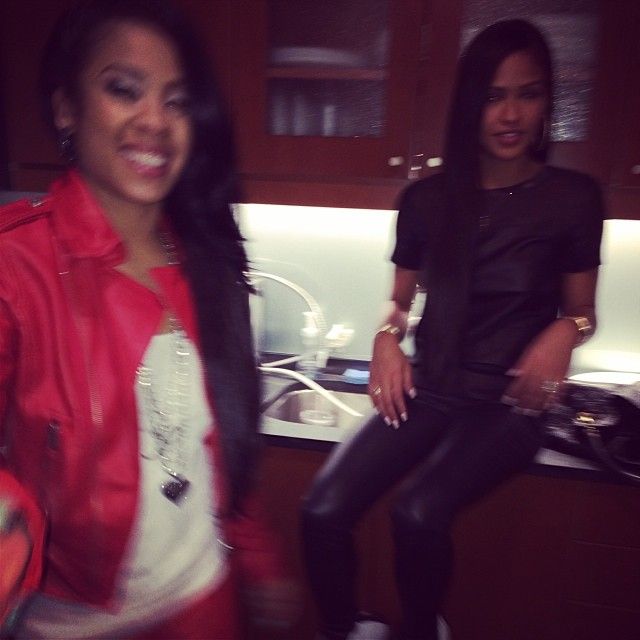 Well, it looks like Cassie finally got what she's been twiddling her thumbs waiting on (while watching him vacay with his children's mom Kim Porter). And Diddy may finally be somebody's husband.
This will be interesting...
Photos: Cassie's IG/Diddy's IG/Keyshia's IG

Lupita, Idris, Michael B. Jordan & More Amongst VANITY FAIR's 20th Annual Hollywood Issue Cover!
Posted: 03 Feb 2014 11:20 AM PST
It's almost too much fabulousness to handle. VANITY FAIR's annual Hollywood issue is out. And a total of six YBF stars are gracing the front and inside covers. Check out the hotness inside...
Twelve of the biggest stars were tapped for VANITY FAIR'S 20th Annual Hollywood Issue. Half of them are the hottest black actors of the moment. And we're loving it.
The three-panel foldout, shot by contributing photographer Annie Leibovitz, features Oscar nominees Julia Roberts (August: Osage County), Chiwetel Ejiofor (12 Years a Slave), Jared Leto (Dallas Buyers Club), and Lupita Nyong'o (12 Years a Slave).
Additionally featured: Idris Elba (Mandela: Long Walk to Freedom), George Clooney (Gravity), Michael B. Jordan (Fruitvale Station), Naomie Harris (Mandela: Long Walk to Freedom), Brie Larson (Short Term 12), Chadwick Boseman (42), Margot Robbie (The Wolf of Wall Street), and Léa Seydoux (Blue Is the Warmest Color).
In the outtakes, Lupita posed it up with Margot Robbie, Brie Larson and Michael.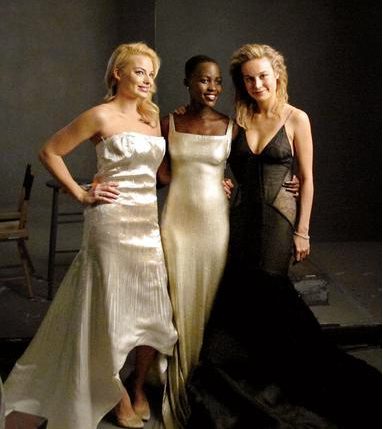 And hot Brits Chiwetel and Idris were spotted chopping it up.
The Hollywood issue will be on stands in NY and L.A., as well as on every handheld device/tablet, starting February 7th. It will be available nationwide February 11th.
Photogs: Annie Leibovitz, Rachel Williams
PARTY DOESN'T STOP: Nas, Kelly Rowland & Fantasia Rock Celeb Studded Hennessy Super Bowl Afterparty
Posted: 03 Feb 2014 10:06 AM PST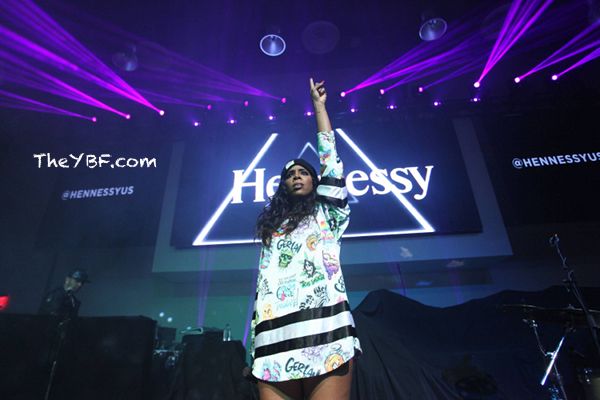 Kelly Rowland brought her kisses and fabness to Spring Studios in NYC last night for an epic Super Bowl after party hosted by Hennessy. And Mr. Hennessy himself, brand spokesman Nas, also rocked the stage. Pics and video of the celebs who came out to party inside...
After the Seahawks copped the Vince Lombardi trophy, celebs and fans took the party to Soho as Hennessy celebrated year three of their "Never stop. Never settle." campaign.
Both Nas & Kelly, who rocked a sexy GERLAN Jeans t-shirt dress and thigh high boots, hit the stage to perform with their live bands, while the rest of the night's soundtrack was provided by DJ Mark Ronson.
Beyonce and Jay-Z were there to support their homies, and so were plenty other celebs.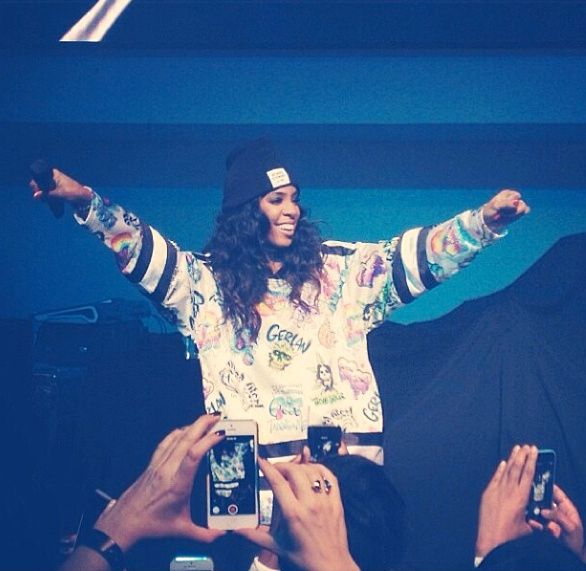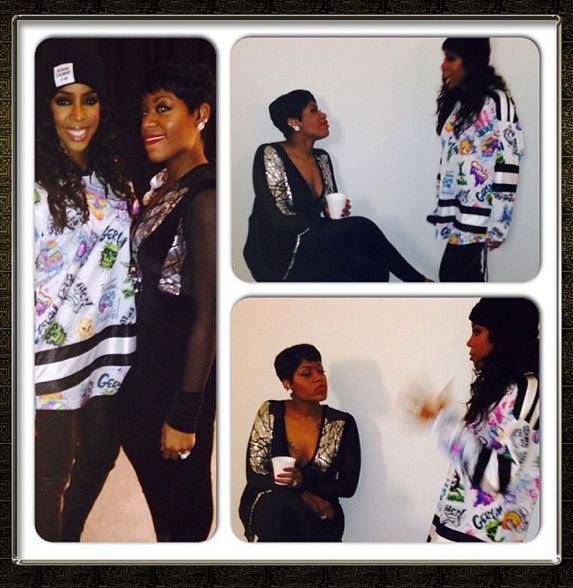 Kelly even brought out Fantasia to rock their "Without Me" single.
And the Houston hottie posed it up on the carpet beforehand looking gorge as usual.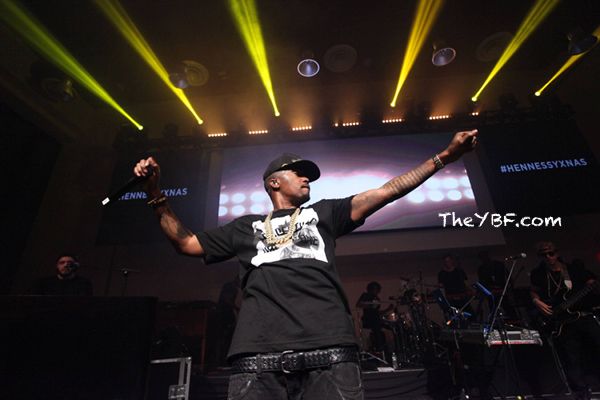 Nas pulled a Joe Namoth and rocked his fur before taking the stage. The spokesman was also celebrating 20 years of his hit album Illmatic.
The Carters headed straight from MetLife stadium, where they were spotted in a VIP suite at the Super Bowl, down to SoHo over to the after party: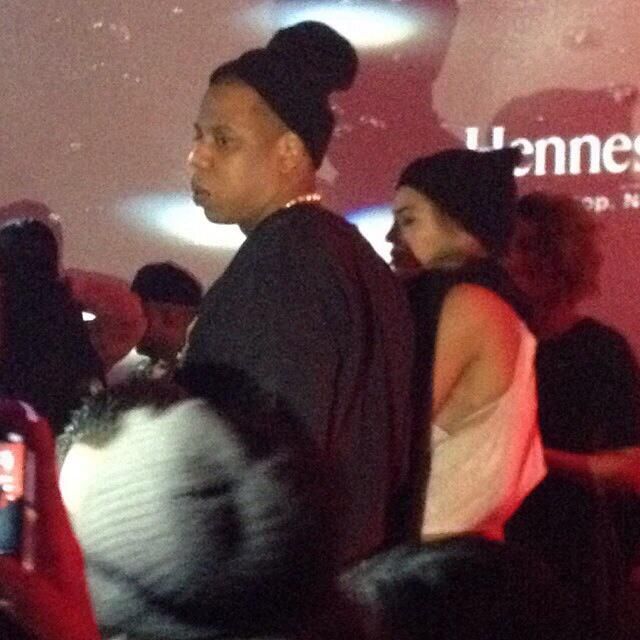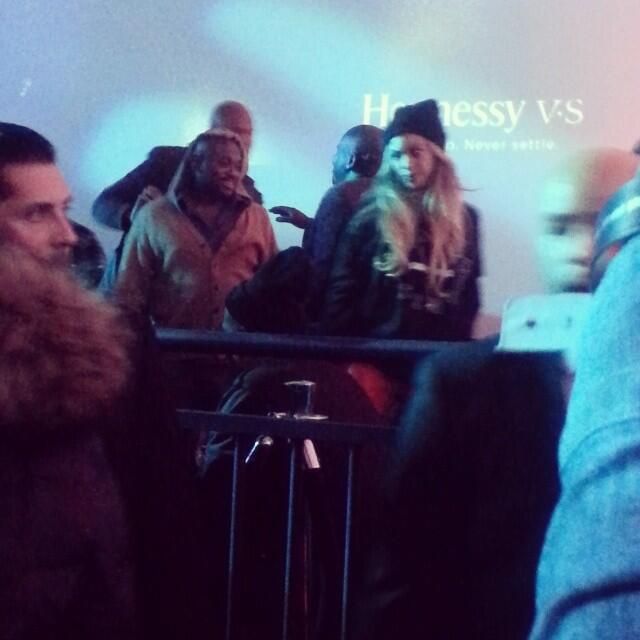 Cute.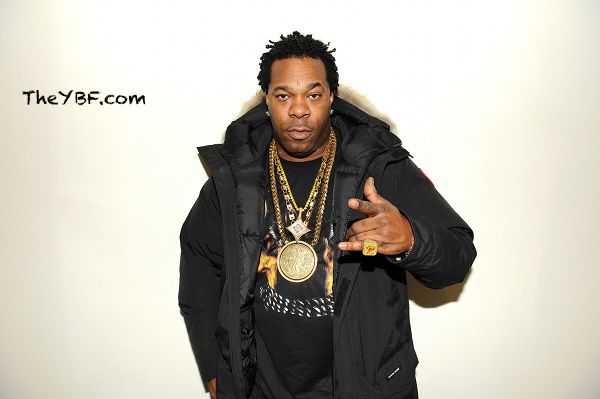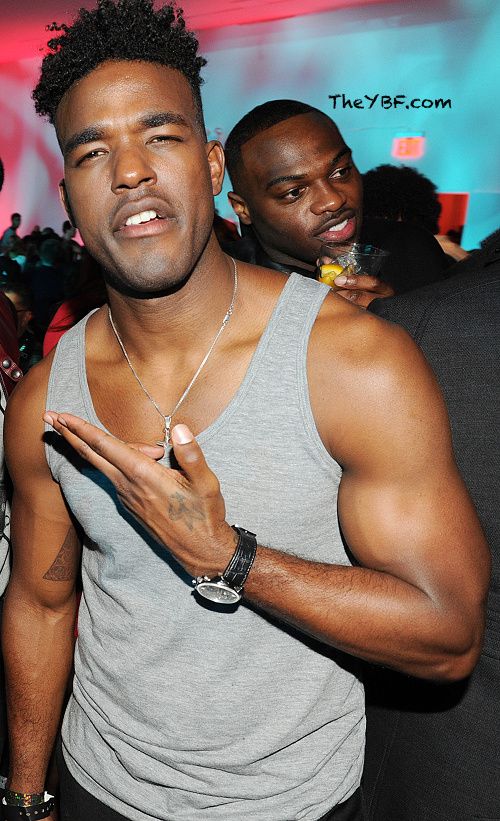 Busta Rhymes and Luke James rocked the same hairstyle it seems.
Model Jessica White and her pretty face hit the afterparty in all black...and an interesting top we can't really figure out.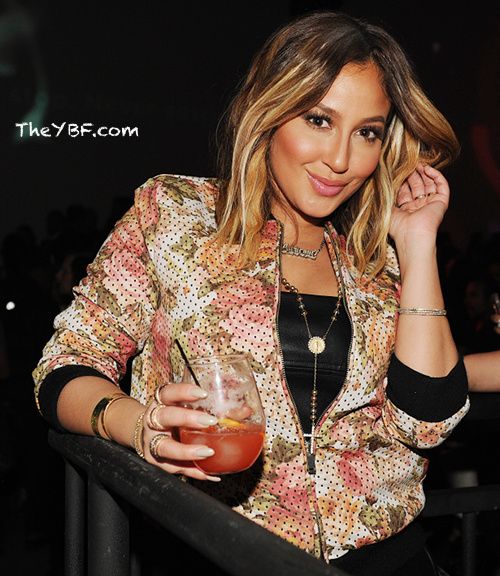 Y'all already know Adrienne Bailon was in the mix.
Jermaine Dupri jacked Nas' fur and a fur hat to pose it up with Bow Wow and Bun B on the carpet.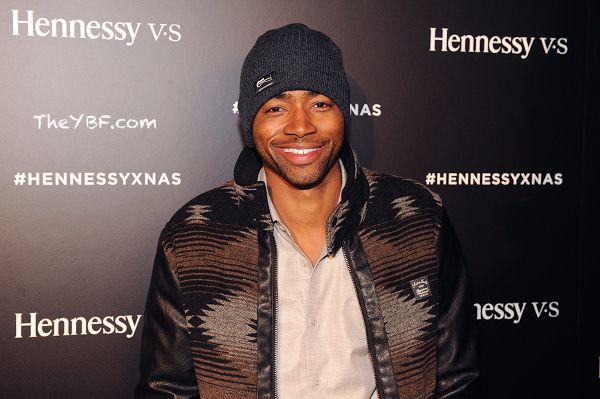 Jay Ellis of "The Game" made his way to the party. Life imitating art maybe...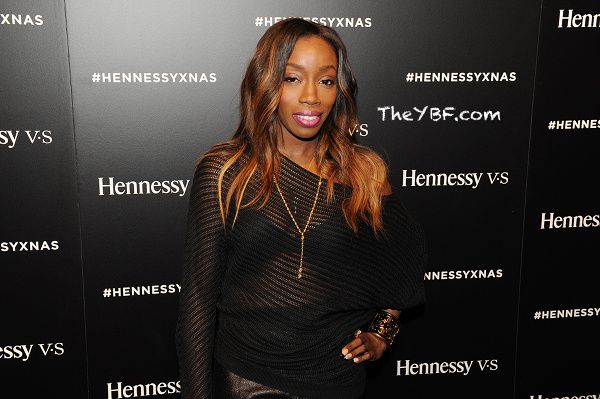 Estelle brought her newer blondeish locks out to party.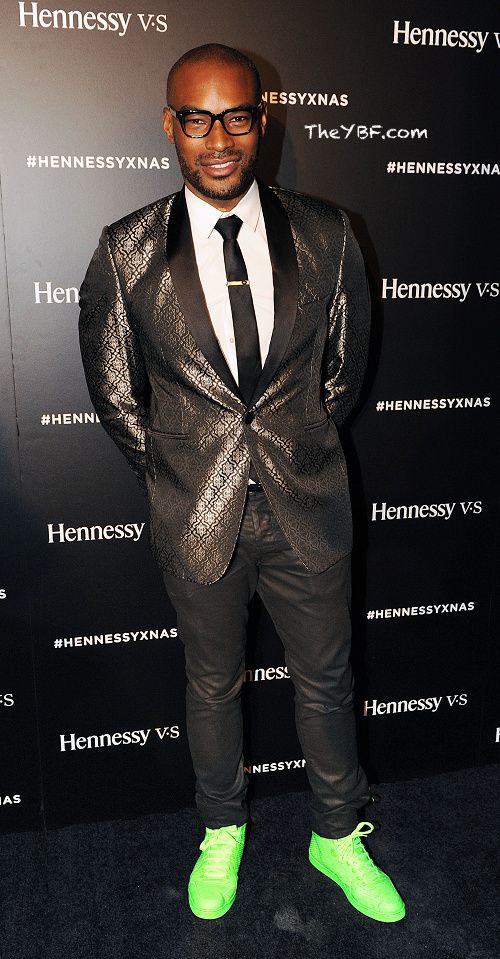 Tyson Beckford rocked a hot shiny blazer and neon green sneakers for the party.
And rapper Theophilus London was also in the mix. Check out video of Nas rocking the stage below:
And Kelly rocking "Kisses Down Low":
Photos: Hennessy, @Bey_Legion's Twitter, Fantasia's IG